Benefits & Claims
Mountain Region
Canton VSC
(828) 646-6937
120 Main Street. 
Canton, NC 28716
Hickory VSC
(828) 322-6616
1985 Tate Blvd S.E., Suite 113
Hickory, NC 28602
Morganton VSC
(828) 430-7136
301 East Meeting Street, Suite 2
Morganton, NC 28655

Peidmont Region
Charlotte VSC
(704) 563-2037
5500 Executive Center Drive, Suite 132
Charlotte, NC 28212
Clemmons VSC
(336) 766-1496
3802-C Clemmons Rd.
Clemmons, NC 27012

Central Region
Garner VSC
(984) 232-7060
1027 Highway 70 West, Suite 202
Garner, NC 27529
Fayetteville VSC
(910) 778-5888
225 Green Street Suite 903
Fayetteville, NC 28301
Wilmington VSC
(910) 251-5704
3205 Randall Parkway Suite 102
Wilmington, NC 28403

Coastal Region
Elizabeth City VSC
(252) 331-4741
1023 US 17 South, Suite 2
Elizabeth City, NC 27909
Greenville VSC
(252) 355-9052
3740 South Evans Street, Suite A
Greenville, NC 27858
Kinston VSC 
(252) 522-5050
1136 Hwy 268 N Suite 101
Kinston, NC 28504
Wilson VSC
(252) 237-2422
1901 Tarboro St. SW, Suite 202
Sours: https://www.milvets.nc.gov/services/benefits-claims
"Working together to wrap our arms around our Veterans is what makes this successful"
IT IS OUR MISSION TO BUILD A COMMUNITY BASED ON THE FOUNDATION OF FAMILY. FROM OUR VOLUNTEERS, OUR STAFF, TO THE VETERANS AND FAMILIES WE SERVE.
Who we are
–
Veterans Services of the Carolinas is a division of Asheville Buncombe Christian Community Ministry. Our mission is to assist our nation's Veterans and their families by identifying needs and connecting them to community partners across North Carolina.
What we do
–
Veterans Services of the Carolinas provides services including rapid rehousing, homeless prevention, service coordination, employment and training, and outreach to homeless Veterans.
how we do it
–
We carry out our mission of providing the unique services to Veterans across North Carolina not as one individual unit, but a united front.
why we do it
–
At Veterans Services of the Carolinas it is our core belief to care for those who answered the call to serve our great nation. While our Veterans have fought for our freedom, we now fight for theirs.
Brandon Wilson | director
Follow us on social media!
Sours: https://www.abccm-vsc.org/
VSC Members
---
Bill Baumann, Chairman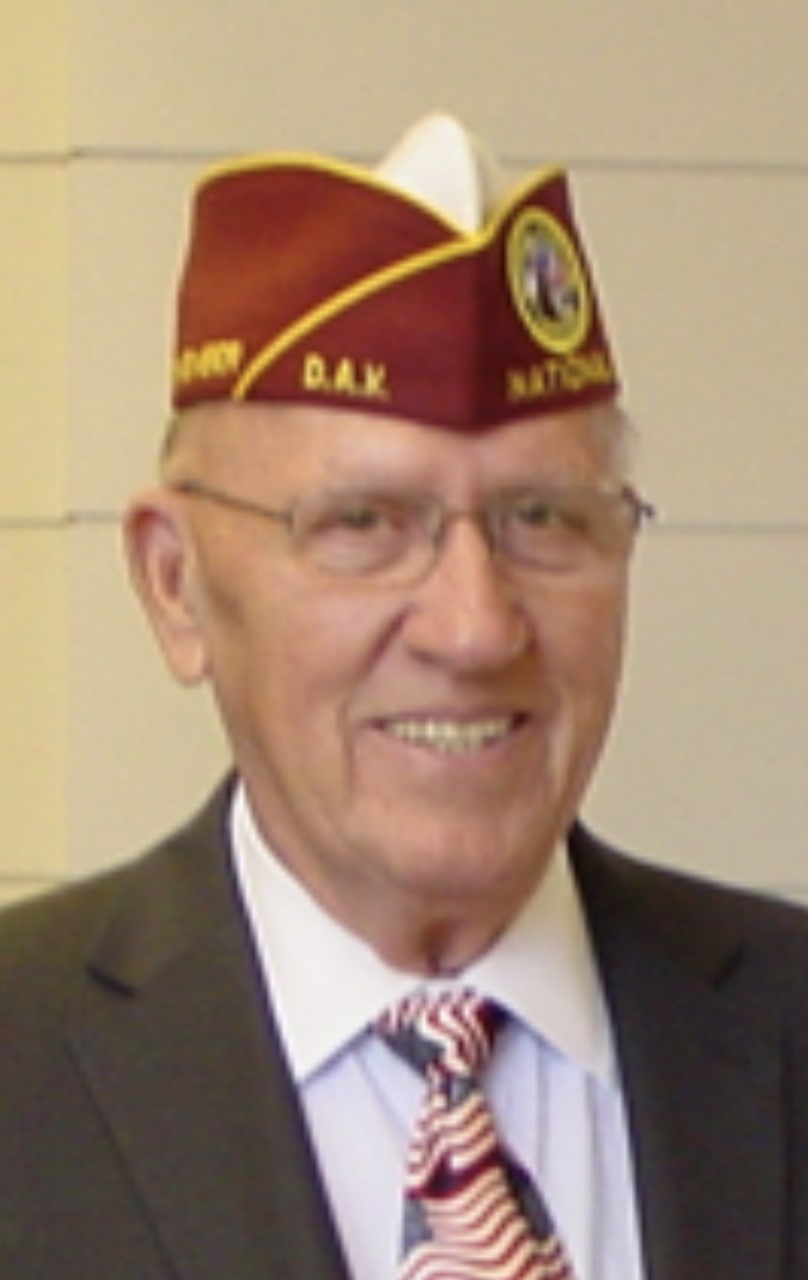 Bill Baumann's role as a Veterans Service Commissioner is to provide advisory support to the Director of the Nevada Office of Veterans Services, and review and make recommendations to NDVS and the Commission on veterans' issues and bills being placed before the legislature. In this capacity, as in his roles as a member of the Southern Nevada Veterans Memorial Cemetery Volunteer Advisory Group and former member of the Southern Nevada Veterans Memorial Cemetery Advisory Committee, he assists NDVS in any way he can be of service to the mission to support the needs of Nevada's veterans. He previously served as Commission Vice Chairman, and was elected Chairman in January of 2011.
Mr. Baumann, originally from Des Moines, IA, has lived in Nevada for 7 ½ years. He has a broad and diverse educational background, including training in mediation and conflict management, FAA air traffic systems, Defense Contractor management, and marketing. He retired from the Air Force in 1971, where he served in both the aircraft maintenance and flight operations fields and completed his career as an Non-commissioned Officer In Charge of Training in 22 specialist career fields. He served in both Korea and Southeast Asia, where he was launch control NCOIC at U-Tapio, Thailand, and trained Ethiopian Air Force technicians in country during the Cuban Missile Crisis. Mr. Baumann is a Life Member of the Disabled American Veterans, and provides oversight to the day-to-day operations of the DAV Transportation System throughout the State of Nevada.
Mr. Baumann and his wife Joan have three children, sons William Jr. and Aaron and daughter Dana, and a grandson, Calvin. He resides in Henderson and spends his free time repairing and delivering wheelchairs to America's Heroes in Nevada.
Michael Musgrove, Vice-Chairman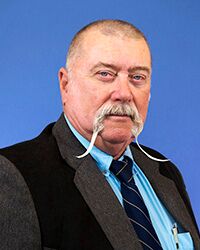 Michael Musgrove was born in San Diego, California, and is a 40-year resident of Nevada, currently residing in Spring Creek. He served in the United States Air Force from 1968 to 1976 and attended Clark County Community College and Great Basin College.  Mr. Musgrove is a member of the Veterans of Foreign Wars, the American Legion, and the Military Order of the Cootie. He was reappointed to his second term on the Commission in January of 2010, and was elected Vice Chairman in January of 2011. Mr. Musgrove continues to be instrumental in the development of NDVS rural outreach efforts. His goals as a commission member are to ensure veterans always have a place for interment at a veterans cemetery, that they receive health care and assistance they need, and that they are afforded the respect, dignity, and consideration they deserve for their service to the country. He is a father of two and grandfather of three.
Dr. Anne Davis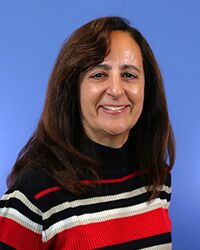 Dr. Anne Davis is a native of Michigan. She graduated from the United States Military Academy in 1982 earning a Bachelor of Science degree and a commission as a second lieutenant in the Ordnance Corps. She served in the Army for 29 years in various locations and positions, to include battalion and brigade command. She commanded the Hawthorne Army Depot from 2000-2002, a government-owned, contractor-operated (GOCO) ammunition depot located in Hawthorne, Nevada.
Anne Davis earned an MBA from Harvard Business School in 1991 and her Ph.D. in Business from The City University of New York in 2005. Following her retirement from the Army, she joined the faculty at Walden University in their Doctor of Business Administration Program. Anne Davis is dedicated to serving Women Veterans and has served as the Chairperson of Nevada's Women Veterans Advisory Committee since its inception in 2014. Anne also volunteers as an ambassador for the VA Sierra Nevada Health Care System and is a member of the United States Military Academy Admissions Department Field Force where she assists and encourages high school students who are interested in attending a service academy. In addition to being a member of the Military Officer Association of America, Anne is also a lifetime member of Disabled American Veterans and the Women Veterans Alliance.
Jeanette Evans
Jeanette Evans, C.P.M., has served her country and her country's veterans for more than 30 years. She served in the Air Force both on Active Duty and in the Reserves, retiring in 2002 with nearly 24 years of military service. Jeanette was one of the first women in the Air Force to complete training and serve as an Explosive Ordnance Disposal Technician (EOD). Later in her career, she served as a Career Counselor in the Air Force Reserve. Jeanette's Military decorations include the Air Force Commendation & Meritorious Service Medals. Jeanette has continued to serve Nevada's veterans as an Accredited Veterans Service Officer. As a Certified Public Manager, she served as the State of Nevada Veterans Services Program Manager where led State Service Officers throughout Nevada who act as advocates assisting veterans with the complex task of completing and filing claims for disability and medical benefits. She retired from State service in 2011 and accepted a position with the VA Medical Center Reno as Chief, Eligibility and Enrollment and fully retired at the end of 2014. In retirement, Jeanette now volunteers to assist veterans through her membership in the American Legion, where she has held positions as Post Commander, State Commander and National Vice-Commander. She currently serves as a member of the Veteran Affairs and Rehabilitation Commission, Health Administration Committee. She also serves locally as Chairman on Senator Heller's Northern Nevada Veteran's Advisory Council, is a member of the VA Sierra Nevada Health Care System, Reno facility Veteran and Family Advisory Council; and is a member of the United Veterans Legislative Coalition where she helps shape both Federal and State policies that affect veterans. Jeanette grew up in Auburn, California and currently resides in Fallon, Nevada with her husband David. She enjoys country western dancing and Yoga. She has two sons who live in California and Idaho with their wives and children.
Kealii Kalawao-Cummings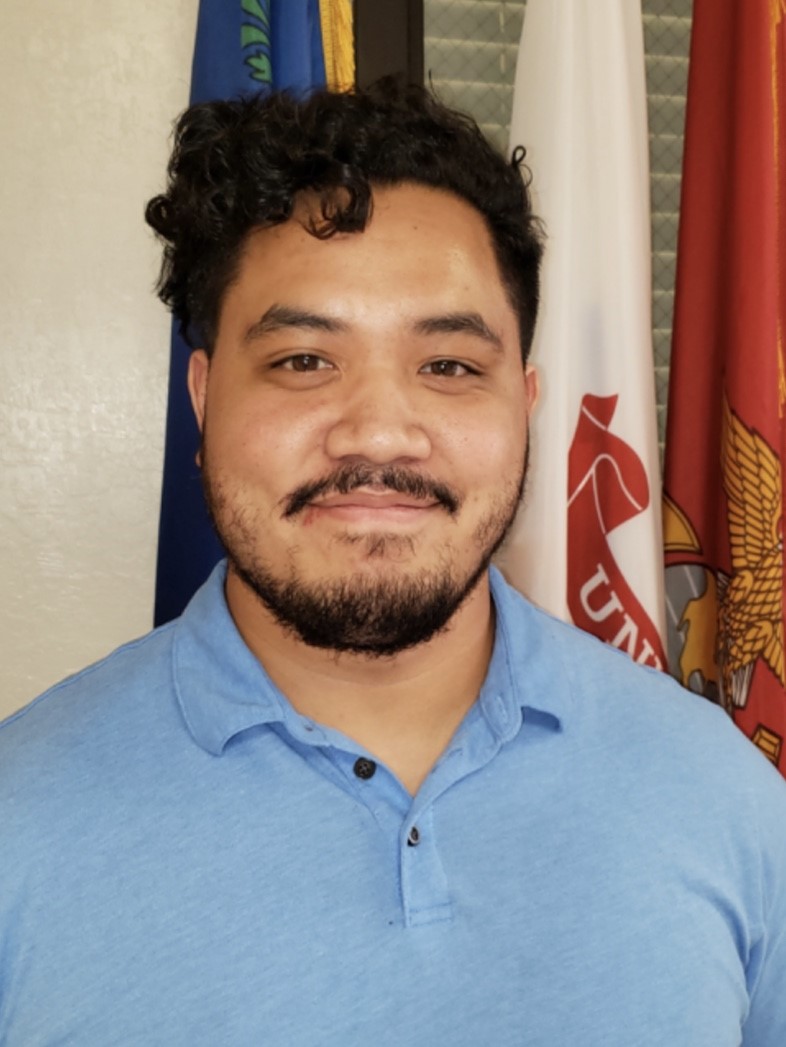 Commission Student Veteran Representative
Kealii Kalawao-Cummings was appointed as the Student Veteran Representative on the Veteran Services Commission in November of 2019 and will serve until July of 2021. He will be the point of contact to provide information and suggestions regarding Nevada's student veterans to the Chairman of the Commission. As a student himself, Kealii can help voice the opinions/concerns, and vote in favor of those opinions/concerns of his peers.
Although Mr. Kalawao-Cummings was born in Honolulu, Hawaii, he has been a resident of Nevada for 13 years and has been living in Reno for 1 year. He is currently a full-time student studying business at Truckee Meadows Community College (TMCC). Mr. Kalawao-Cummings works inside the Veteran Resource Center (VRC) at TMCC, where he assists veterans in applying for school and their veteran's education benefits. He is also a member of the Veterans Leadership Academy (VLA) at TMCC, the group that focuses on providing veteran leadership in the wider community.
Mr. Kalawao-Cummings served in the Marine Corps for 4 years as an infantry mortarman with 2nd Battalion 7th Marines. During his time, 2014-2018, he completed 2 deployments to the middle east where he served in Kuwait, Syria, Iraq, and Jordan. When Mr. Kalawao-Cummings is not spending time at TMCC, the VRC, or with the VLA, you can find him at the gym, training to compete in regional Strongman Competitions.
Wendell Blaylock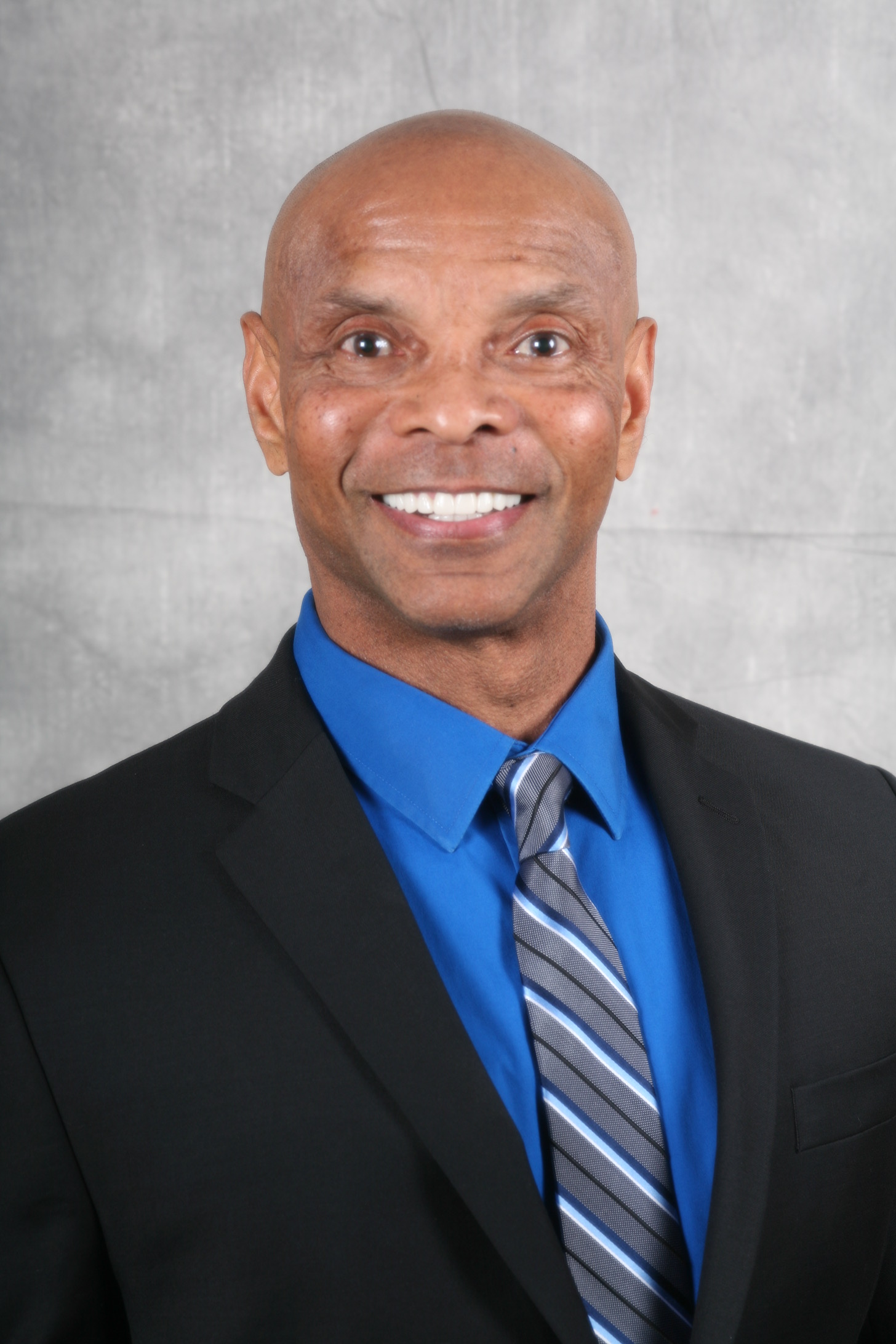 Wendell Carl Blaylock is recognized as a company and community leader, Wendell Blaylock has advocated successfully for the development of organization programs, policies and practices that have resulted in significantly increased diversity and inclusion in the areas of on-boarding, mentoring and promotion within a major multinational banking and financial services holding company.
Wendell is a United States Air Force veteran (Captain) and supported the 831st Tactical Squadron Hospital at George AFB, CA. He grew up in a military family. His father was a career Air Force Officer and one of the Original Tuskegee Airmen of World War II. His older brother is a retired Navy Officer and the first African American to command a flight wing in the U.S. Navy. Wendell's younger brother is a retired Air Force Officer who served in Combat Control & Special Operations.
He earned his Bachelor of Science degree from Baylor University and his Master of Science degree from the University of Texas-Arlington. Wendell completed Executive Certification programs in Strategic Diversity and Inclusion Management sponsored by Georgetown University and the Society for Human Resource Management. In addition, he is certified in Employee Relations Law from the Institute of Applied Management & Law and served as an adjunct faculty member with the Georgetown College of Continuing and Professional Education.
Wendell was appointed in 2012 as an advisor to the U.S. Commission on Civil Rights assisting with fact-finding, investigations, policy guidance and the dissemination of information pertinent to local and state civil rights issues. He currently serves as the Chair of the Nevada Advisory Committee to the Commission.
Wendell's community involvement and recognition are extensive. He is on the Advisory Board for Teach for America – Las Vegas and serves with a number of community and veterans organizations including: the Thunderbird Chapter of the Air Force Association, National Association for Black Veterans, Merging Veterans and Players, attended the Congressional Black Caucus Military/Veterans event in 2017, presented to the Armed Forces Chamber and other organizations advocating for military & veteran causes.
As a result of his outstanding professional and community achievements in Nevada, he is recognized as a Citizen of Distinction by the Foundation for an Independent Tomorrow – Las Vegas, Who's Who in Black Las Vegas and named one of the Distinguished Men for the State of Nevada
Kacy Drury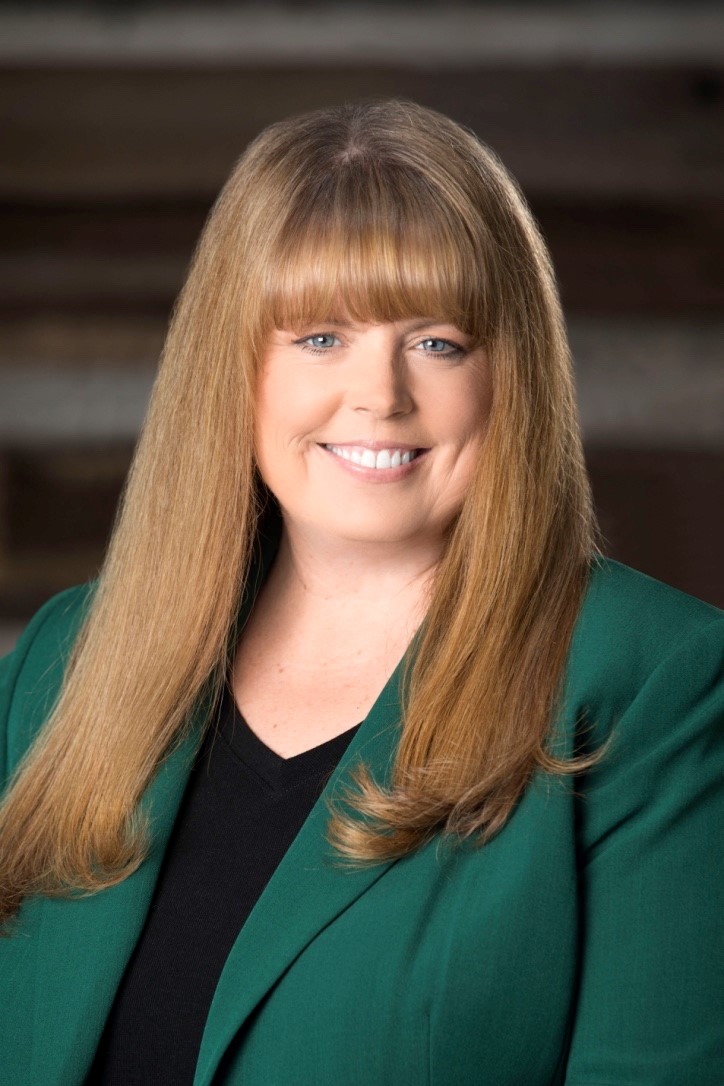 Kacy Drury was appointed to the Veterans' Services Commission in 2020 and has been a resident of Las Vegas, Nevada for 17 years. She is a senior executive for a local company with sixteen years working in the gaming industry and eleven of those in the financial services sector. Kacy is also a member of the International Association of Certified Anti-Money Laundering Specialists as well as a member of the local Southern Nevada ACAMS Chapter and is CAMS and CAMS-Audit Certified.
Kacy has twenty-six years of diverse work experience in a variety of industries in Nevada as well as California and holds a Bachelor of Arts in Business Administration from California State University, San Bernardino. She also sits on the Board of the Community Roots Foundation, a charter school in Laguna Niguel. Ms. Drury finds it a privilege and an honor to serve the State and her community by contributing as a Member of the Veterans' Services Commission.
Commissioner Jefferson Detrick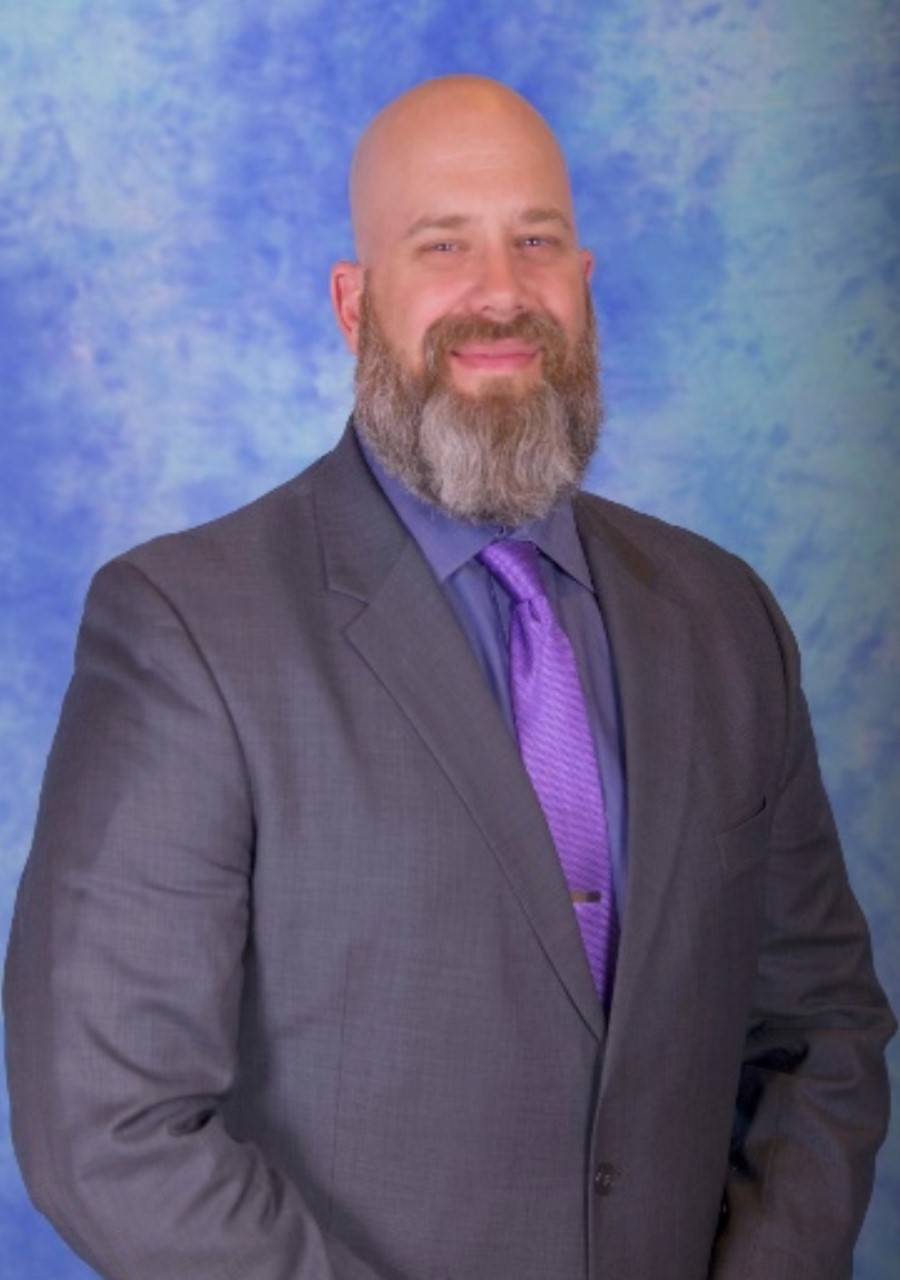 Jeff Detrick is a US Army veteran who served 12 years as a medic, deploying to Iraq and Afghanistan. Currently, he works as an Academic Coordinator at the University of Nevada, Las Vegas where he assist adults pursuing a university/vocational/technical diploma/certification or their high school equivalency diploma. He sits on the Adult Learner Advisory Committee and the Non-Traditional Student Scholarship Committee at UNLV. Jeff is also a student pursuing his Master's degree in Public Administration at UNLV.
Jeff is a Committee Member on the Southern Nevada Veterans Cemetery Advisory Committee and the president of the UNLV Alumni Veterans Club. Jeff was the president of the UNLV Rebel Vets (2013-2015) and the first Team Leader for the Peer Advisors for Veteran Education (PAVE) program at UNLV (2015-2016).
Jeff spends his free time with his wife Elizabeth, also an US Army veteran pursuing her Master's degree in Public Health at UNLV, and their two dogs, Chuck and Odin.
Senator Pat Spearman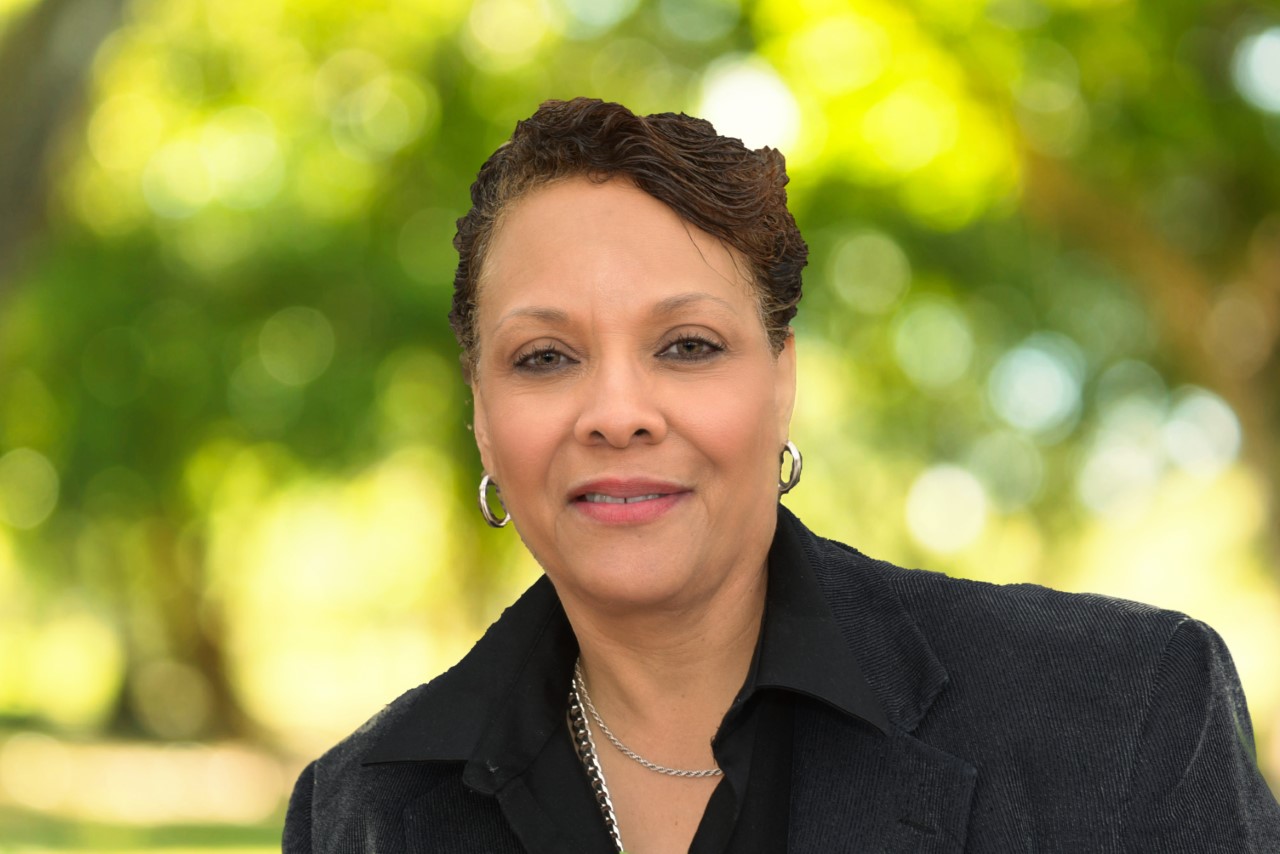 PATRICIA "PAT" SPEARMAN, DBA
Dr. Pat holds several accredited degrees; a Bachelor of Science (BS) in Political Science from the Norfolk State University, Norfolk, VA; a Master of Divinity (M.Div.) from The Seminary of the Southwest; and a Doctor of Business Administration (DBA) from Walden University. Her military education includes Military Police Officer Basic and Advanced Courses; Equal Opportunity Management Institute; Military Public Affairs Officer; Food Advisor and Technical Supervisor course; Nuclear Biological, and Chemical Training Course; Command and General Staff College Pat is an Ordained Minister, former Pastor, and serves on the Global Social Justice Ministry Team of The Fellowship of Affirming Ministries. She is also a former part-time lecturer at the University of Louisville and Professor of Military Science at Kentucky State University. Pat served in the U.S. Army for more than two decades and retired as a Lieutenant Colonel and her final assignment was at the Pentagon as a member of the Army Operations Center for worldwide missions.
Dr. Spearman earned a Doctorate in Business Administration from Walden University with an emphasis on Energy Policy. She is serving in her second term as a Nevada State Senator representing Senate District 1 in North Las Vegas, NV. Her doctoral study, Using Sustainable Development as a Competitive Strategy, provided her the opportunity to gain professional and academic expertise to facilitate improvements in policy development and implementation within the energy industry. Global researchers have read or referenced her Doctoral Study more than 800 times and that number is growing. She is also a published author. In 2015, Dr. Pat co-authored "A Call to Action: Military and Civilian Collaboration in Energy Policy Discussions". The research is Chapter 7 in Volume X of the Refractive Thinker (RT). The RT is a 15-time, award winning, and international peer-reviewed anthology series. She has spoken at several events promoting "Energy Independence, Energy and National Security, and the importance of expanding Renewable and Clean Energy. In 2017, she was one of the featured speakers in the HBO Documentary "Happening: A Clean Energy Revolution".
In 2017 she was also invited to be one of the speakers for the 2017 Massachusetts Institute of Technology (MIT) C3E Women in Clean Energy Symposium. Pat has also received national recognition for her work including 2018 Solar Champion Award (renewable energy, 2015 Female Veteran of the Year EMG (advocate for military and veterans services), 2018 Visionary Voice Award for her work on behalf of sexual assault and human trafficking survivors (National Sexual Violence Resource Center (NSVRC). In 2017, Women in the Legislative Lobby (WiLL) selected her to receive their coveted Pacesetter Award for her work on women's equality issues. Her military honors include Army Staff Badge, Joint Service Accommodation Medal, Army Commendation medal, Global War on Terrorism Service Medal. Dr. Spearman's legislative experience include Majority Co-Whip (2017- present) current Chair of Senate Commerce and Labor Committee, Vice Chair of Senate Committee on Health and Human Services, Member of Growth and Infrastructure. Her previous committee assignments included Chair of the Committee on Legislative Operations and Elections, Chair Health and Human Service, Chair of the Energy Sub Committee, Vice Chair of Government Affairs, Vice Chair Commerce Labor & Energy, and member of Revenue & Economic Development, Education, and Transportation committees in the Nevada State Legislature. She is active at the national level as well.
Her service includes Chair of The West Trends Board, Past Chair of PATRICIA "PAT" SPEARMAN, DBA Active Military and Veterans Affairs subcommittee, member Energy and Environmental Public Policy Committee, member of Health and Human Services, and the Executive Committee for the Counsel of State Governments. She currently serves as a member of the Energy Resource Task Force, and the Natural Resources and Infrastructure Committee of the National Conference of State Legislators. She is a State Director for Women in Government and Women in the Legislative Lobby. Dr. Spearman is a member of the Government Relations Advisory Board for the Las Vegas Metro Armed Forces Chamber of Commerce. For more information please visit Spearman4Nevada.com. Dr. Pat is also an active member of the Alpha Kappa Alpha Sorority and Walden University Online Chapter of The National Society of Leadership and Success. She enjoys travel, learning about different cultures, music, and spending time with her family.
Assemblywoman Melissa Hardy
Sours: https://veterans.nv.gov/about/commissions-and-committees/veterans-services-commission/vsc-members/
Introduction to the Veteran Success Center (VSC)
VA Claims & Benefits
Veterans continue to pay the price for freedom every day. Many of whom, have sacrificed their lives, limbs and carry mental scars in order to preserve our precious way of life. We at the Summit County Veterans Service Commission are here to answer the call to serve those who have served us. We offer the services to assist the veteran, the widow of a veteran and their dependents with filing claims for VA Benefits. The VA benefit system can be an intimidating maze of red tape at times, but our experienced and well qualified Service Officers can help guide you through the process from start to finish. Unlike some groups that charge ridiculous fees for these services, we provide them free of charge. We have Service Officers that are State and Nationally certified that can assist with filing for:
Service Connected Compensation and Service Connected Death Claims
Survivors Pension Claims
Education Benefits
VA Home Loans
VA Insurance Benefits
Burial Benefits
Request for Military Records
VA Medical Health Benefits
Submitting medical evidence and etc.
The Compensation and pension checklist can be downloaded here
Sours: https://www.vscsummitoh.us/va-claims-benefits/
Veterans vsc
Welcome Military-Connected Students
The Veterans Services Center (VSC) provides assistance to military-connected students - veterans, reservists, National Guard, active duty, and dependents - in obtaining their U.S. Department of Veterans Affairs (VA) education benefits. The VSC is responsible for submitting certification requests for incoming and continuing military-connected students, answering questions military-connected students may have concerning their VA educational benefits, and providing resources to assist military-connected students in navigating their transition to student life at UC Irvine. 
Current Announcements 
09/20/2021
The VSC is available for in-person services and support beginning on 09/20/2021. We are located in the Student Center Building, Room G306 (third floor). Our office will continue to be available through Calendly (Zoom) and email at [email protected] for students who would like to connect virtually.
We look forward to welcoming you back at UCI!
07/01/2021
The following is an update with regards to the Request for Certification (RFC) form and its requirement. The RFC will no longer be required on a quarter or semester basis, instead the form will only be required annually. Although the request will be submitted once per year, after a student is certified for a given term, they will still have to report any enrollment changes (i.e., class adds/drops, major changes, etc.) via email to [email protected] We believe that making the request an annual process will remove barriers for military-connected students while minimizing certification delays.
The new RFC form is now available in an updated, user-friendly webform and can be found on our Submit Your Forms webpage. If you experience any technical difficulties, please reach out to [email protected] with a detailed description of your issue.
03/16/2020
The VSC is available remotely until further notice. Please follow the Submit Your Forms webpage to submit your CalVet College Fee Waiver, Certificate of Eligibility (COE), and Request for Certification (RFC). In addition, read our Frequently Asked Questions (FAQ) webpage for answers to some of the most common questions during the COVID-19 Pandemic. You can reach us at [email protected] and we will respond to your inquiry in the order it was received.
Sours: https://veteran.uci.edu/
VS Code Extensions you absolutely need in 2021
Attention Afghanistan Veterans - Because of what has happened in Afghanistan, you may question the meaning of your service or ask whether it was worth the sacrifices you made. You may feel more moral distress about experiences you had during your service. Just remember, you, like us Vietnam Vets, done the job we were hired and sworn to do. We served your country with pride, dignity, respect, and, more importantly, honor. Because of your service to America, we have not had a terrorist attack on American soil for more than 20 years. That's quite an accomplishment, and you should be proud of your service because America is proud of you.
If you are having trouble coping with this, remember, sometimes it takes the strength of a warrior to reach out for help. Please talk with your family and friends, reach out to organizations like Battle Buddies, connect with a peer-to-peer network like Vet-to Vet, or Connect with the Veterans Crisis Line to reach caring, qualified responders with the Department of Veterans Affairs. Many of them are Veterans themselves. In addition to reaching out to your local Veteran Health Indiana, Veterans are also encouraged to contact any of the following resources:
Veterans Crisis Line - If you have thoughts of suicide, please call 1-800-273-8255, then PRESS 1 or visit http://www.veteranscrisisline.net/. For emergency mental health care, you can also go directly to Indianapolis VA Medical Center, Emergency Room, 24/7, regardless of your discharge status or enrollment in other VA health care. Emergency Dept., (317) 988-2539.
Vet Centers - You can also discuss how you feel with other Veterans in these community-based counseling centers. 70% of Vet Center staff are Veterans. Call 1-877-927-8387 or visit the Vet Center in Indianapolis.
---
---
---
---
Memorial Day is a day to remember and honor those who made the ultimate sacrifice while serving in our military.
.....
Veterans Dayis a day to show appreciation to those who have served in our military and are still living.
---
---
---
Attention Vietnam Veterans
If you served during the Vietnam War from 1955 to 1975, you are entitled to the FREE "Gift." To receive your FREE "Gift," please visit www.VetsGift.com.

This project collaborates with the Indiana Department of Veterans Affairs (IDVA) & Welcome Home Vietnam Veterans (WHVV). This Indiana Vietnam Veterans "Gift" is an outreach program to honor and give thanks to those Indiana Vietnam Era Veterans who served our great country.
---
---
---
Congratulations to MACV for 10 years of service to our Veterans Services community.
VSC & MACV's Commemorative Challenge Coins celebrating the 10th Anniversary of the Mayors' Veterans Appreciation Day event are now available at VSC, MACV meetings, or online. Please visit our Donate Page to place your order for immediate delivery. Thank You.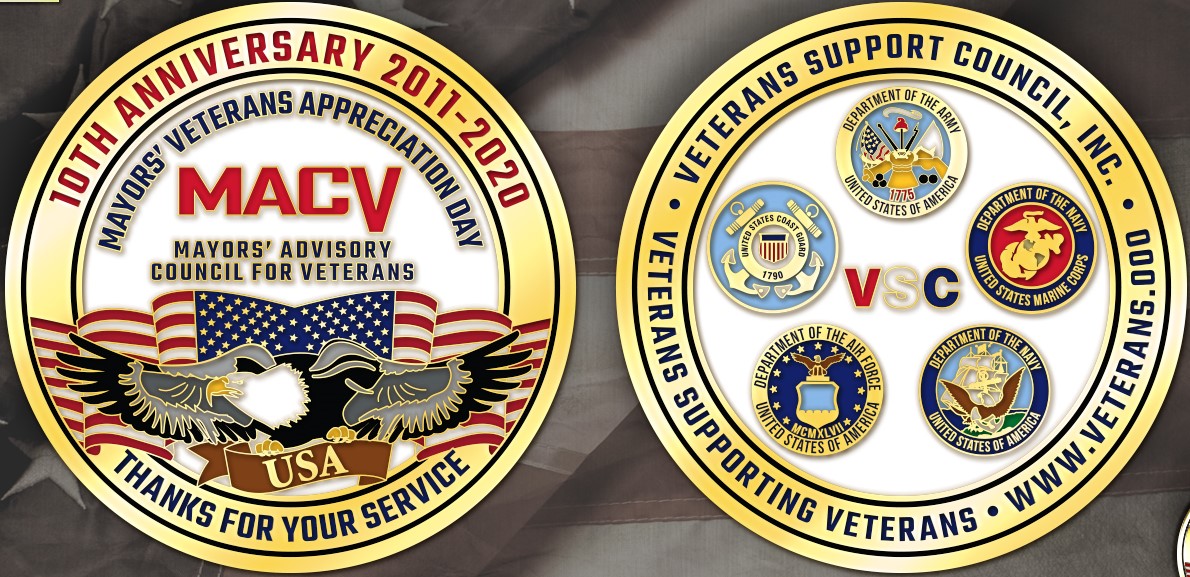 ---
"On the battlefield, the military pledges to leave no Soldier behind. As a Nation, let it be our pledge that when they return home, we leave no Veteran behind"..... | Dan Lipinski said it, and VSC and its Partners thrives to keep that pledge!
---

VSC's Information
MACV's Information
---
VSC, partnering with MACV, seeks to Partner with Veteran Service Organizations and Community Service Providers that offer help, support, and benefits to our Veterans, Military, and their Families. We help them secure the vital resources they need and are entitled to for their service to our country.
VSC also Promotes Awareness of All Veterans Issues, encouraging Communities, Veteran Service Organizations, Service Providers, and Media Outlets. We encourage them to get more involved in helping inform our Veterans and Military Community on where they can get goods, services, programs, and benefits available in their communities.
VSC's website lists local, state, and federal organizations that offer Veterans, Military, and their Families; the goods, services, programs, and benefits they have earned.
VSC Partnered with MACV in 2014, making VSC the official sponsor, fundraiser, and promoter of the annual Mayors' Veterans Appreciation Day event.

Starting in 2021, the Mayors' Veterans Appreciation Day event will invite Veterans Service Providers, Veterans, Military, and their Families from all the Central Indiana counties to participate with us at the Marion County Fairgrounds, with the city of Indianapolis being the Hosting City.

VSC is looking to Partner with other Communities and Veteran Service Organizations to better serve and support our Veteran and Military population.
MACV is a Marion County networking organization made up of local Veteran Service Providers, Veteran-focused, and Veteran owned business that meets monthly to plan on how to better serve our Veteran and Military community.
MACV advises the Marion County Mayors and Town Managers on the needs of the Veteran community.
Together, VSC and MACV's mission is to better serve and inform our Veterans, Military Community, and Government Officials.
---
VSC & MACV Events
---
Awards & Achievements
---
---
Your name, logo & link could be here for 12 months and have an exclusive on all TV, Radio, Media Ads & Billboards for $25,000
---
Your name, logo & link could be here for 12 months for $5,000
---
---
---
---
AMERICA is the Land of the Free, Because of the Brave
---
All Gave Some, Some Gave All
---
Words to Live by:
Honor-Courage-Commitment
Peace through Strength
Attitude is Everything
Freedom Is Never Free
God-Family-Country
Duty-Honor-Country
Honor Before Glory
Believe in Yourself
Service Before Self
Be All You Can Be
Trust But Verify
Integrity First
Never GIve Up
Stay Strong
Aim High

---

"Ask not what your country can do for you, but what you can do for your country." - John F. Kennedy

---

"There is NO LIMIT to the amount of good you can do if you don't care who gets the credit." -Ronald Reagan

---

"A woman is like a tea bag - you can't tell how strong she is until you put her in hot water." - Eleanor Roosevelt

---

"We make a living by what we get. We make a life by what we give." - Winston Churchill

---

Blessed is the nation whose God is the Lord" - Psalm 33:12
---
---
---
---
Don's Suggestions of the Day and Everyday:
Always Try to Be the Person Your Dog Thinks You Are!
---
Don't Let Your Past Determine Your Future, Your Current Choices Do That!
---
On a Personal Note:
"Of everything I've done in my life, being a United States Marine (Vietnam Veteran 66-68) has turned out to be one of the best things that has happened to me. I feel that serving our country with pride and honor made me more respectful of our God, our Country, my Family, Friends, Coworkers, and Fellow Veterans. Hopefully that has made me a better and more productive person" - Don Hawkins
---
This Website is Dedicated to all the Men, Women and Animals that Have Served this Great Country.
Sours: http://www.vscmc.com/
You will also like:
Not worse and not better. Just differently. The hands are male and heavy. Lips assertive.
943
944
945
946
947