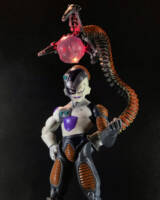 Custom Mecha Frieza
(Dragonball Z)
by Homura Kujo
I got this jakks mecha Frieza used with no tail. I attached a new tail from a movie doc ock and used a joint from a model building kit, painted up to match the rest of his mech parts....[See More]
2 Comments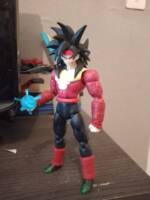 Just Jo
(Dragonball Z)
by Just Jo
I present to you an update of my super dragon ball heroes ssj4 bardock custom made with mainly 2 figurines from the dragon stars series, a little bit of paint and glue and latex balloon and the job...[See More]
1 Comments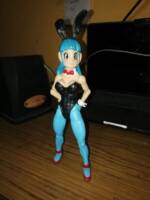 Bulma Bunny Version
(Dragonball Z)
by Tino
I realized that there is no articulated figure of Bulma "bunny" version. So I decided to work on it. The base is a Wasp figure from Marvel Legends, which I made re-sculpted. There were two things...[See More]
3 Comments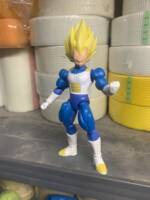 Super Vegeta
(Dragonball Z)
by JRG
Used the 2.0 body of super saiyan Vegeta and I wanted to make him as bulky as possible without limiting the movement too much, I started out with the arms as well as the chest area and then finished...[See More]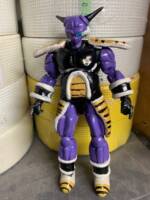 Captain Ginyu
(Dragonball Z)
by JRG
Finally got around to finishing this to complete the Ginyu force I used a lot of different pieces of different old figures including a body base of the hasbro reaper and the head was heavily modified...[See More]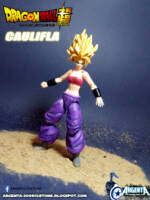 Caulifla
(Dragonball Z)
by argenta-2008
Here is one of the most challenging customs I've had to do this year. Not only she is a Dragon Ball character, which always requires some extra, more even than a regular anime character, a female...[See More]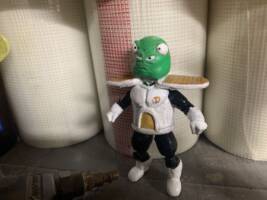 Guldo
(Dragonball Z)
by JRG
Used spare parts of figures that I had discarded and other parts I had collected in case of if I wanted to use them to create a custom out of them the torso was from a figure the hands are some I...[See More]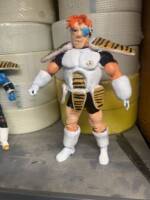 Recoome
(Dragonball Z)
by JRG
Had to use some spare hands to put on the left arm and sculpted the gloves, boots, head, and armor. Used primer to bring out the colors better and painted the whole figure entirely to match color of...[See More]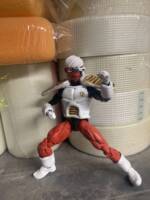 Jeice
(Dragonball Z)
by JRG
Sculpted armor onto the torso and as well as boots, gloves and the head. Did a little bit of sanding and painted the whole figure after priming it. Most of the time spent on the figure was painting...[See More]
1 Comments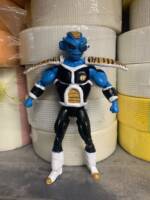 Burter
(Dragonball Z)
by JRG
Took the top portion of the Rock Python and the bottom half of the Shazam to give the figure more height and the top heavy look that Burter has. Sculpted the armor and more muscles, especially on...[See More]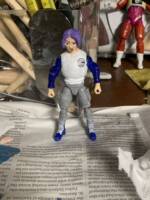 Future Teen Trunks
(Dragonball Z)
by JRG
Minor sculpting on chest and leg for shirt and pant rip, sculpted the head though because it was so small it looks a little odd, repainted the entire figure to fit the color scheme of the character...[See More]
1 Comments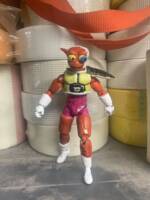 Neiz
(Dragonball Z)
by JRG
I made Neiz one of the three members of Coolers Armored Squadron, I sculpted more mass and muscles to make the figure look more muscular and sculpted the armor on top of the base as well, after I...[See More]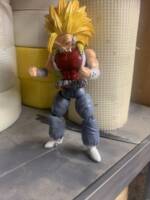 Dragon Ball Heroes Cumber
(Dragonball Z)
by JRG
Sculpted and/or painted the base figure completely and removed the head off the WCF Cumber to connect it to the figure after drilling a hole and connecting it to the ball peg, overall pretty happy...[See More]
Nappa
(Dragonball Z)
by JRG
Base rock python marvel legends, I sculpted the muscles on top and the head after prepping the figure with epoxy sculpt this is my first action figure custom and critique would be good to hear....[See More]
1 Comments
Sours: https://www.figurerealm.com/customfigure?action=series&id=41
Custom Dragon Ball PS5 Controller Looks Incredible
By Nicola Jean Kapron
ShareTweetEmail
One Dragon Ball fan shows off an incredible custom PS5 controller inspired by Son Goku's iconic orange and blue martial arts gi.
Dragon Ball is a blockbuster franchise that has spread across manga, anime, video games, and more in its 40 years of existence, so it's not exactly a surprise to see Dragon Ballfans customizing their video game peripherals. Now, one fan has created a striking custom PS5 controller modeled after Son Goku's iconic orange martial arts gi.
A picture of the custom controller was shared by Twitter user SLOplays, who described it as their Goku PS5 controller and confirmed that it was a custom design. While Goku is known for his powerful transformations, this controller appears to be based on his default outfit, which tends to be noticeably shredded by the time Goku goes Super Saiyan or higher.
RELATED: Super Smash Bros. Ultimate Modder Adds In Frieza from Dragon Ball Z
The recent releases of Dragon Ball Fighterz and Dragon Ball Z: Kakarot appear to have brought new life to the Dragon Ball gaming community, so perhaps the Goku PS5 is just the tip of a new iceberg. Regardless, the controller combines metallic navy blue plates with a flat orange background and buttons, just as Goku wears his orange gi over a navy blue undershirt. This custom design does not appear to have the iconic 悟 kanji symbol Goku wears on his gi, which is pronounced "Go" and meaning wisdom or enlightenment, but fans may have an easy time seeing where the color scheme came from.
Goku is easily one of the most popular characters in the Dragon Ball franchise, and games likeDragon Ball Fighterz contain multiple versions of Goku. However, this controller appears to be specifically inspired by the version of Goku that first appeared in Dragon Ball Z--or during the Saiyan Saga of Dragon Ball, for fans whose countries didn't chop the original series in two. While Goku has been wearing an orange gi for most of his life, the blue undershirt only came into the picture later, after a particularly demanding training arc.
As of this writing, it appears that fans are quite enthusiastic about the Goku PS5 controller, though the lack of kanji has been noted. However, several other users did tease SLOplays about controller drift--or about needing a PS5 to go with it, which turned out to be more accurate than gamers might expect. Once the topic was raised, SLOplays admitted they didn't actually have a PS5 in the new or original model, they just had the controller. That kind of cheerful audacity is very on-brand for a fan of Dragon Ball.
MORE: Dragon Ball: Estimating Vegeta's Power Level In Every Major Saga
Source: ComicBook
ShareTweetEmail
VFX Artist Imagines Aaron Paul As Vegeta For A Live-Action Dragon Ball
A VFX artist wants to see Breaking Bad star Aaron Paul as Vegeta in a live-action Dragon Ball film and hopes to make it themself one day.
Read Next
About The Author
Nicola Jean Kapron (278 Articles Published)
A late arrival to the gaming field who grew up in a household devoid of consoles. Her life changed after she found an old Gameboy Color and a copy of Pokémon Crystal at a garage sale. While she specializes in narrative-driven games, JRPGs, indie games, games with cute monsters, and horror games, Nicola appreciates all kinds of games. She hopes to use her experience as a writer to give her work at GameRant a unique flavor.
More From Nicola Jean Kapron
Sours: https://gamerant.com/dragon-ball-ps5-custom-fan-controller/
Your idea + Expert artists = Legendary results!
Can't find what you are looking for? Ask our team of professional graphic designers for a custom design to fit your needs.
Bring your idea to life with free custom design!
Our team can bring your ideas into reality, for free! You'll love the experience of working with your personal expert who will create your original design & unique product.
Let's get started!
Step 1: Provide us design instructions
Do you have a quick sketch, a detailed draft, a finished artwork, or are you inspired by an existing design? Send us the image(s) to be used for the design. For optimal results, high-resolution images are recommended.
Step 2: Choose your product type
Let us know which product type you would like your design on. Our product range is very large, from t-shirts, hoodies, to snapbacks and much more. Do not hesitate to ask even for the moon! We might still be able to help you.
Step 3: Send us an email
Send us your design instructions as well as the image(s), and the product type desired to this email address: [email protected]
What's next?
After sending the email, our design team will begin creating your mock-ups and you will receive an email as soon as they're ready along with the link to the product.
First design is 100% FREE! We charge $5.00 per additional request (100% refundable if you place the order).
Sours: https://saiyanstuff.com/custom-dragon-ball-z-clothing-merchandise/
CUSTOM PAINTING Goku \u0026 Gohan ANIME STYLE! - Timelapse - Dragon Ball Z Banpresto Diorama (Part 1)
The Dragon Ball series is an anime that is beloved all across the globe. For at least half of the people reading this article, Dragon Ball was the first anime they ever saw. It opened up a gateway for many, turning them into hardcore Otakus. The world of Anime began with Dragon Ball. And it has been going strong ever since. The current Dragon Ball Super series is only making the franchise reach newer heights. Fans all over the world are doing their bit to show their love and adoration for the cult classic series. Some have gone above and beyond, giving their vehicles Dragon Ball themed custom paint jobs. These are the ones to die for.
It looks like a callback to the classic Dragon Ball Z series. Is that Goku's Super Saiyan 3 form we see on the sides? The front portion of the car shows some remarkable detailing. They managed to keep all the Z Fighters on one body. That's impressive.
The classic orange jump suit that is Goku's trademark color is the base template for this one. The artist wantonly kept the detailing to a minimum so that the color comes out naturally. If there were too many colors, it would have taken our eyes off of the magnificent pose goku's making in the middle.
That's Chris Brown in there. And he owns a Lamborghini that he custom built with Goku's face. The red and black look minimalistic and deliver the message. Sometimes simplicity does feel like the ultimate sophistication.
Beauty is always in the inside. The car may be ugly but if this is what the inside looks like, we are pretty sure the thing is a chick magnet.
The car sports Super Saiyan Blue Kaio-Ken AND Super Saiyan Blue Evolution. The engine of that car must be a beast. It just might be faster than light if you ask us.
Another inside job. Get it? Vegeta looks flushed. Has the driver been driving too fast? Just kidding. Nothing's too much for our man Vegeta.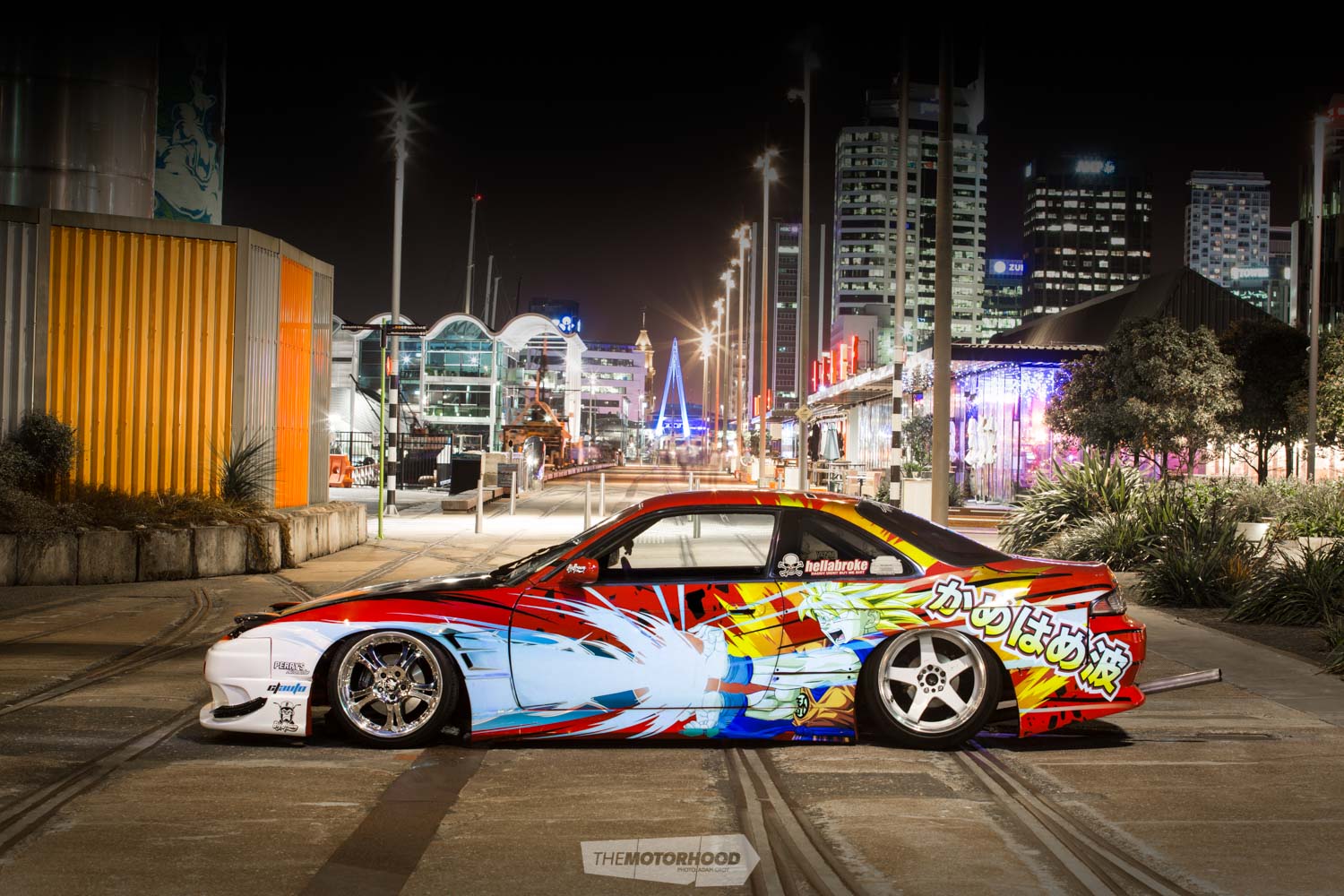 Presenting the Dragon Ball: Kamehameha version. You punch the accelerator hard enough and the exhaust leaves a trail of spirit energy while marking the trail.
This takes us back to the roots. Is that Akira Toriyama's car? if not, is he seeing this one? Because that's his original artwork from the Manga right there. They forgot to give him picture credits.
Legend says it that the moment you sit in that seat, you feel your spirit energy rumbling. Those seat covers have all of Goku's transformations from the original Kaio-Ken to his Ultra Instinct form.
How many of you are of the opinion that Super Saiyan Rose looks way more epic that Super Saiyan Blue? The one who ordered this paint job thinks the same as well.
Sit your ass down and make a wish. Goku is looking at you. Do not break any of the traffic rules or face the wrath of the Kamehameha. Do it twice and he will hit you with a Spirit Bomb.
Not even Shenron could have granted this car to us!! Look at the colors. They even managed to put in Broly. This is one hell of a custom job.
This is the wish granting car. You make it have a good time and it grants you all your wishes. Someone did his homework when they did this job.
This Porsche RSR deserves all the love it could get. The Super Saiyan Rose form on the sides is such a cool color shade. We are in love with this one It looks absolutely stunning!!
This takes us back doesn't it!! The image is a still from the original Dragon Ball anime's opening theme. Aah happy memories of our sweet childhood!! Can we go back?
While we are not saying you can do all those custom car jobs, this one looks damn affordable. Just replace your car's gear knob with a Dragon Ball. And it would still look a hundred times cooler.
Sours: https://www.animatedtimes.com/16-dragon-ball-themed-custom-car-jobs-that-will-blow-you-away/
Dragon ball custom
Dragon Ball Goku Cursor
This guy with dark eyes, spiky black hair is called Goku and he is the main character in the adventure manga and anime Dragon Ball. For those who didn't know, Goku is a Saiyan who was sent in infancy to destroy the Earth, but in the end, now Goku is constantly training to become the greatest warrior, which has protected the Earth and the universe from destruction many times. The anime cursor for a mouse with Dragon Ball Goku!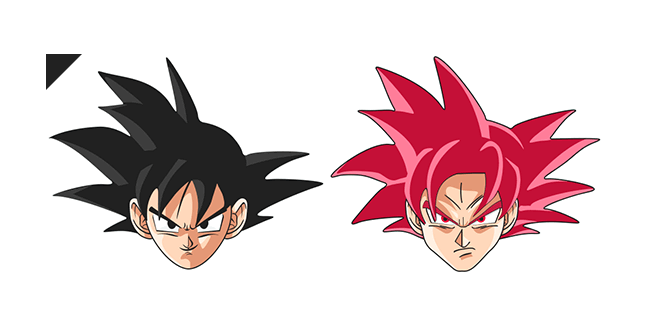 You still do not have a Custom Cursor for Chrome extension?
Install it from official Chrome Web Store
download
You still do not have a Custom Cursor for Edge addon?
Install it from official Microsoft Edge Addons site
download
You still do not have a Custom Cursor for Opera addon?
Install it from official Opera addons site
download
You still do not have a Custom Cursor for Yandex addon?
Install it from official Opera addons for Yandex site
download
You still do not have a Custom Cursor for Firefox addon?
Install it from official Firefox Browser Add-ons site
download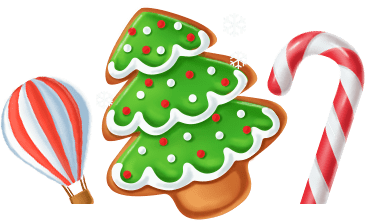 Community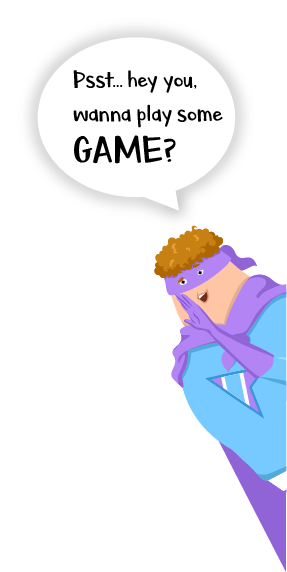 Sours: https://custom-cursor.com/en/collection/dragon-ball/dragon-ball-goku
Minha Coleção de Bonecos Dragon Ball - CUSTOMS
Dragon Ball
Cursor Collection
Dragon Ball is a popular anime and manga that is considered one of the most famous works in the world. Based on the incredible Dragon Ball manga, three anime series, seventeen animated films, a collectible card game and a large number of video games have been made.
The plot of the anime tells the story of the main character, Son Goku, who studies martial arts and explores the world in search of the seven Dragon Balls - these are mystical items that, according to legend, can summon a dragon that fulfills any desire. In this adventure, Son Goku meets many friends and even enemies that you can see as Dragon Ball cursor for a mouse with Trunks and Sword, anime cursor Dragon Ball Granolah, fanart cursor for a mouse called Dragon Ball Vegeta, Dragon Ball cursor with Zeno and Button and many others!
In search of the legendary Dragon Balls, anime heroes find themselves in amazing places on Earth, space, with famous masters, and they also manage to see heaven, hell, and gods! Over time, the comedy plot of the Dragon Ball anime turns into an epic saga, in which even aliens from other planets take part, who can turn Earth into dust.
Find your favorite characters in this Dragon Ball collection of fanart cursors! Among them, there are anime cursor for a mouse Dragon Ball Cell, Dragon Ball cursor with the main character Goku, fanart cursor called Dragon Ball Piccolo, DBZ cursor for a mouse with Frieza, anime cursor for a mouse Dragon Ball Nappa, Dragon Ball Z cursor with Beerus, fanart cursor called Dragon Ball Jiren and the rest!
Add AllSours: https://custom-cursor.com/en/collection/dragon-ball
You will also be interested:
Settle down there. Great, you can just lie down, and in the corner the pillow is so cute, apparently the driver rests there if possible. Tatyana lay down comfortably, stretched and then saw the eyes of a young lieutenant, who had obviously recently completed his training and was on his way. To his duty station, shining in the semi-darkness of the cabin.
He treated all the passengers with champagne, they say, he is going after graduation from military school to the place of service, asking everyone to wash his new.
9145
9146
9147
9148
9149