Bedroom Ceiling Design Ideas
When you're redesigning your bedroom, it's easy to overlook the ceiling. But if you think of that space as a clean canvas, there are a number of options you can choose from to add unforgettable style to your space.
Your ceiling design options go beyond whether to stay with a traditional flat, bright white surface or a ceiling with "popcorn" or some other texture. Your ceiling doesn't even have to be white. For a simple and inexpensive but dramatic change, consider painting your ceiling the same shade as the other walls of your room. Some design experts recommend painting your ceiling a lighter shade of the same color as your walls. Consider the colors you're using throughout the room, even in your accessories. You could also have a mural painted on the ceiling. Favorites for bedrooms include clouds, stars and other sky scenes.
Ceilings are a great place to incorporate architectural elements such as coffers and boxed beams. If your remodel includes construction, consider a vaulted ceiling to add both drama and light to your bedroom. A barrel-vaulted ceiling over the bed can help create an intimate space while also adding room for dramatic lighting options. A vaulted ceiling flanked by large windows can create a stunning focal point looking out over a beautiful nature scene or garden. Skylights between the beams of a vaulted ceiling will help create the feeling of sleeping outdoors, and they can give you a great view of the stars at night and sunshine in the morning.
You don't have to raise the roof to add interest, however. A tray ceiling gives a room a traditional and elegant touch, and beadboard overhead softens a room's look and works well with a country decor.
Architectural elements work particularly well with ceilings in large rooms, adding interest and eliminating the often monotonous look of the flat, white surface overhead. Coffers or boxed beams add dimension and work well in rooms with high ceilings. If you are remodeling an older home, boxed beams can hide new electrical wiring, conduits or heating and air ductwork. The spaces between the beams provide yet another opportunity to add interest to your bedroom, perhaps with colored glass pieces arranged in a unique design. Or you can install coffers in geometric shapes other than rectangles. Paint the coffers or leave the wood bare depending on your personal preference and the decor of your room.
Lighting is another important part of ceiling design. If you install a tray ceiling, lighting can be a hidden element. You can also place lighting behind a gossamer canopy for a dreamy effect.
Sours: https://www.hgtv.com/design/remodel/interior-remodel/bedroom-ceiling-design-ideas
In every room of every home, there's an entire fifth wall, that is, without second thought, resigned to a life of bored design: the ceiling. From cathedral-style beams to bold vintage stripes, the ceiling can become a unique focal point in your home that everyone will look up to.
If you're looking to jazz up your bedroom, read below for 15 great ceiling ideas to get the inspiration flowing.
1Dreamy Grasscloth
In an East Hampton summer home designed by Celerie Kemble, a master bedroom's walls are sheathed in a blond grass cloth, which extends to the ceiling, assembled in a checkered pattern.
2Colombian Villa
The two-story, high-ceilinged villa of fashion designer Johanna Ortiz features carved wood and painted concrete. In the master bedroom, the rustic style is enlivened with a fantasia of blues and whites.
4Spiral Motif
A Miami penthouse designed by Jean-Louis Deniot blends a European elegance with oceanside charisma, as is evident in the whimsical master bedroom. A modest palette is elevated with a hand-painted, spiral motif mural, designed to make the ceilings appear higher.

5Adobe-Style Ceiling
In the Marfa, Texas, home of arts pioneer Virginia Lebermann, handcrafted white walls, exposed wooden ceiling beams, and oiled mesquite floors envelop the space in an elevated coziness.
6Barrel-Vaulted
The breathtaking master bedroom in a 19th-century landmark home in San Francisco features a barrel-vaulted ceiling, covered in custom, delicate plaster tracery.
8Gilded Paper
In Cameron Diaz's luxe Manhattan apartment, designer Kelly Wearstler conjures a space of both elegance and warmth. The master bedroom's neutral palette is given a touch of glamour with de Gournay gilded paper ceilings.
9Attic Bedroom
In Christian Siriano's Connecticut home, his attic-turned-master-bedroom features white-washed floors, white painted brick and walls, along with natural wood beams, creating a cocoon-like escape.
1119th-Century Farmhouse
An 1840s Southampton guest bedroom has a coastal palette and cozy architecture. The shiplap extends to the ceilings, where off-white wood beams frame the space.
12Patterned Wallpaper
The wallpapered ceiling of this monochrome-blue guest bedroom creates a surprising focal point in the sultry space.
14Crisp White Cathedral
In a colorful Sonoma Valley lake house, designer Ken Fulk chose to add a hand-painted mural wall to the master bedroom, which is balanced by a pure white, cathedral-style ceiling.
15Hamptons Barn
A modern vacation home's master bedroom retains a barn-style with vaulted ceilings, clad in a natural wood paneling.
Lucia TonelliAssistant EditorLucia Tonelli is an Assitant Editor at Town & Country, where she writes about the royal family, culture, real estate, and more.
This content is created and maintained by a third party, and imported onto this page to help users provide their email addresses. You may be able to find more information about this and similar content at piano.io
Sours: https://www.elledecor.com/design-decorate/room-ideas/g26227284/bedroom-ceiling-design/
False ceiling designs for bedroom that will win your heart (50+ designs)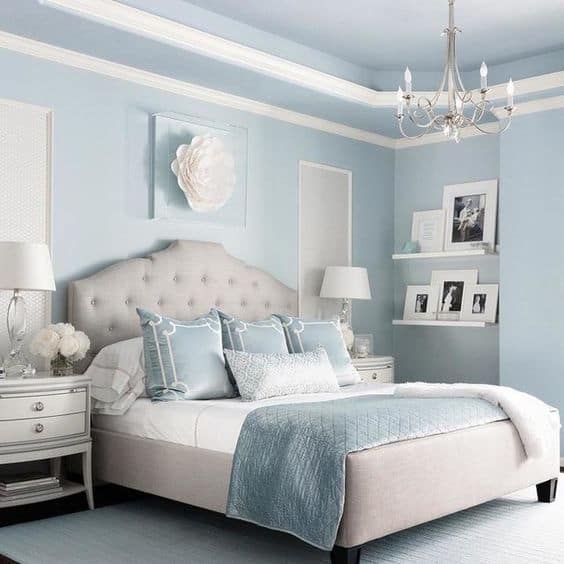 In recent years, false ceiling designs have made their way to urban bedrooms.
Aspects of false ceiling designs for bedroom
False ceilings in bedrooms are a recent trend in the industry. A false ceiling is just the perfect accessory for your bedroom design.
There are several factors to consider while choosing the false ceiling designs of the bedroom. The shape of your bedroom false ceiling determines its style quotient to a great extent.
Another aspect of false ceiling designs for bedroom is the color. Relaxing or vibrant- the vibe heavily depends on the color of the false ceiling.
You will also find simple false ceiling designs for Indian bedrooms in this article. We will also bring you up to date on modern false ceiling designs for bedroom.
You can design a false ceiling even in small bedrooms. You can also find child bedroom false ceiling design ideas!
This article will give you some ideas for false ceiling design in bedrooms along the following lines:
1. Shapes in false ceiling designs for bedroom
There are so many geometric patterns and textures that can make a bedroom stand out. You can choose the best false ceiling design for bedroom from among the following:
a) Coffered false ceiling designs for bedroom
A coffered ceiling is a series of indentations or recesses on the surface of a false ceiling. These ceilings create the illusion of height.
Simply put, coffered ceilings are not smooth. Architects often experiment with the depth and shape of the coffer to create attractive designs.
This coffered false ceiling design for the bedroom adds character.
Coffered false ceilings are created using a crisscross pattern to create a grid-like structure. The crisscrossed beams usually create geometric designs, such as squares and rectangles.
Gypsum false ceiling material and POP false ceiling material make for great coffered false ceilings. They can even be made of wood. The looks offered by a coffered ceiling are manifold.
b) Tray false ceiling designs for bedroom
As the name suggests, a tray false ceiling design looks like an inverted tray. It has recessed lights which give a sleek look to your bedroom. It is made of POP. Hence, the installation of this ceiling is easy.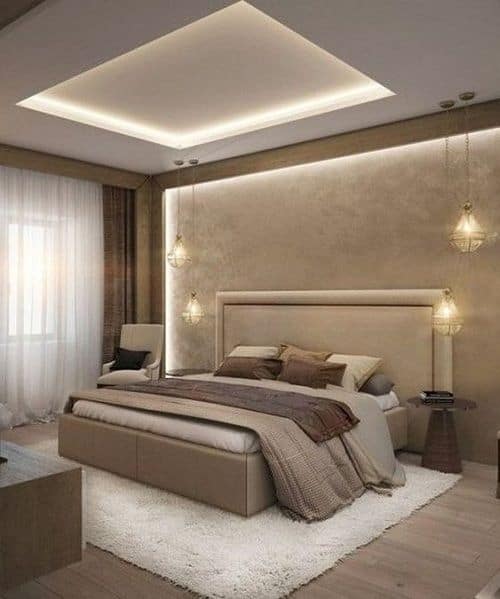 A tray ceiling works best for a simple bedroom design.
The shape of the tray ceiling allows the recessed LED lights and the cove lights to light up the bedroom evenly. It keeps your bedroom design simple by removing the need for other lighting fixtures.
c) Circular false ceiling designs for bedroom
For false ceiling designs for bedrooms with fans, the circular design is your best bet.
In this kind of false ceiling, there is a circular hollow in between. This circular space is apt for hanging fans or elaborate lights.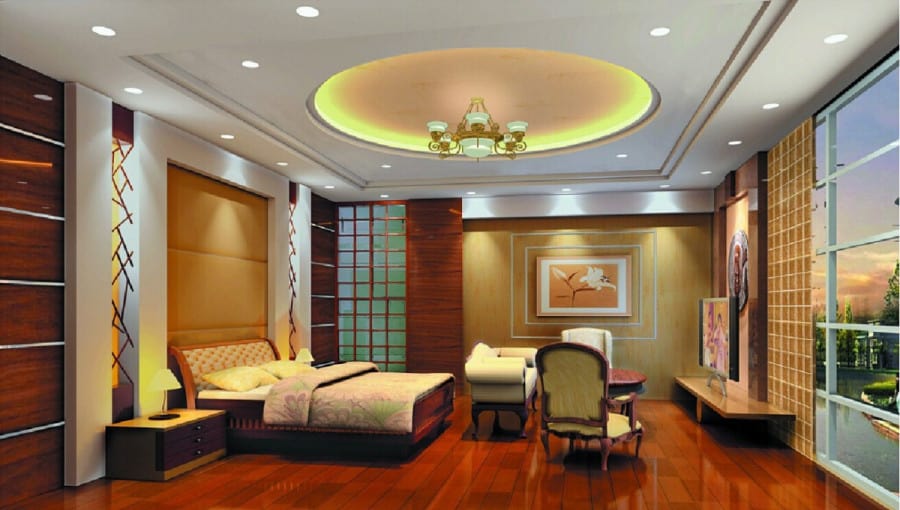 A circular false ceiling makes the bedroom grander.
A circular cut-out in the middle of your ceiling will also emphasize the bed and the ceiling.
Another option with a circular design is to have multiple smaller circular hollows in the ceiling. Each circular space could then be filled with recessed lights for a magnificent effect.
d) Suspended false ceiling designs for bedroom
A floating false ceiling works best when you want to highlight an area. In the bedroom, it's mostly the bed, above which the floating island is installed.
This false floating ceiling is suspended from the real ceiling. There is a considerable gap between the two. This gap may even be filled with insulation material.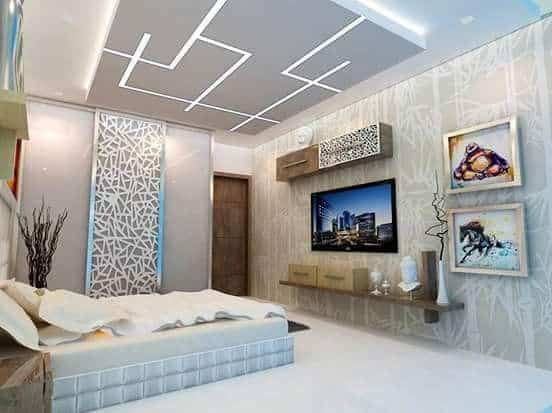 A floating false ceiling design makes this bedroom look futuristic.
These ceilings come in many shapes, the square-shaped ceiling being the most popular. Also known as suspended ceilings, the floating ceiling design offers a futuristic look to your bedroom.
e) Vaulted false ceiling designs for bedroom
Vaulted ceilings are ceilings in which the creation of a vault permits the ceiling to look higher than a flat ceiling. The construction of a self-supporting arch is the defining feature of a vaulted ceiling. This arch can be conical or dome-shaped.
Vaulted ceilings, for obvious reasons, are only used in stand-alone houses. They utilize the otherwise wasted roof structure space.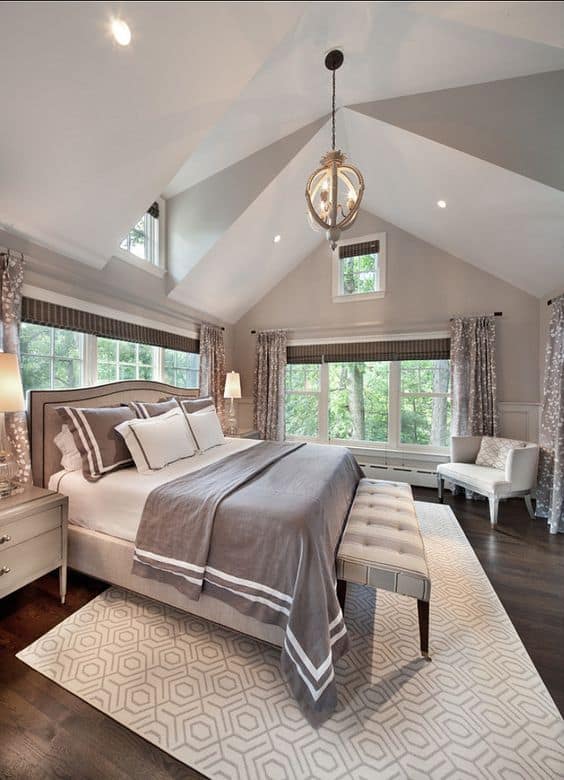 The vaulted false ceiling in this bedroom gives the illusion of the ceiling being higher.
Vaulted ceilings serve the purpose of adding a rustic appeal to traditional homes. In modern homes, a vaulted false ceiling design is used to make a bold statement.
2. Color palette in false ceiling designs for bedroom
After the selection of the design, we come to the million-dollar question: Which colour is the best for false ceilings? No worries, we have got your back with these bedroom false ceiling colour ideas.
Plain white is the most popular choice for bedroom false ceiling designing. Since white goes with almost every colour, it is the easiest choice for the ceiling.
Monochromatic grey and white false ceiling colours look elegant.
In case the walls of the bedroom are painted in a light colour, the false ceiling could be painted in a darker shade of the same colour.
You can never go wrong with a pastel color scheme.
Pastel shades of grey, pink, green, or blue on the false ceiling are easy, fail-proof design ideas for a bedroom.
For a rustic touch, wood-toned design of false ceiling for bedroom is also in vogue. If the theme of your bedroom leans towards wooden, this is the best option.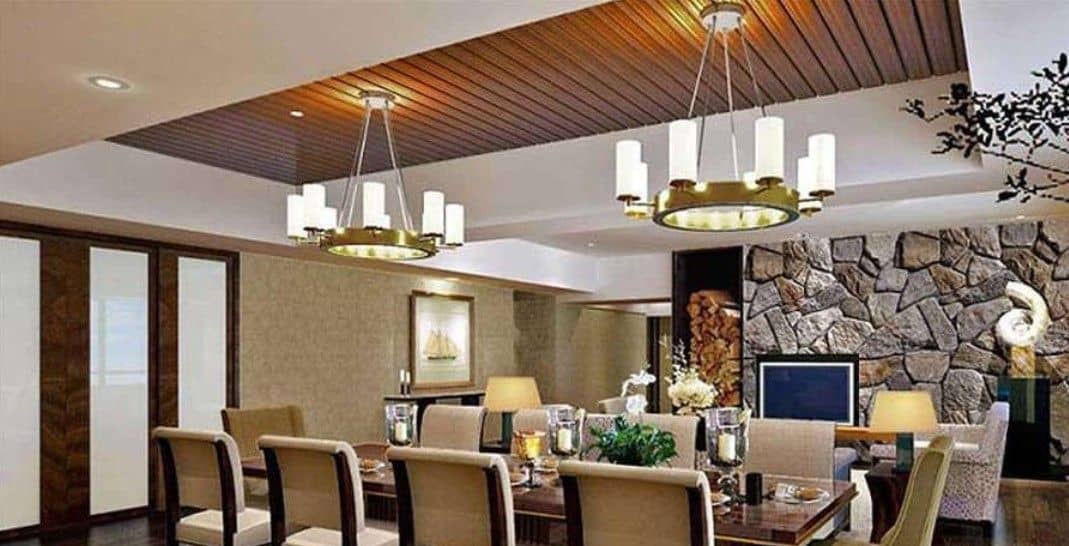 3. Simple false ceiling designs for bedrooms
Minimalism is the trendy theme in home interiors these days. Over-the-top designs and decors are considered tacky in comparison to modern false ceiling designs for master bedroom.
For a simple, minimalist look, the false ceiling design should focus on clean lines. A tray false ceiling or a floating island work best for a simple false ceiling design.
Clean lines are the key!
Coved lighting for the false ceiling design of bedroom creates an elegant ambience. Avoid pendant lights and chandeliers. False ceiling lights for the bedroom should be as subtle as possible.
The colour palette should be restrained. Light-coloured false ceiling ideas for bedroom help create the illusion of more space and light.
For the Indian summer, here is a simple false ceiling design for bedrooms with fans. Material-wise, POP false ceiling designs for bedrooms are quite popular in India.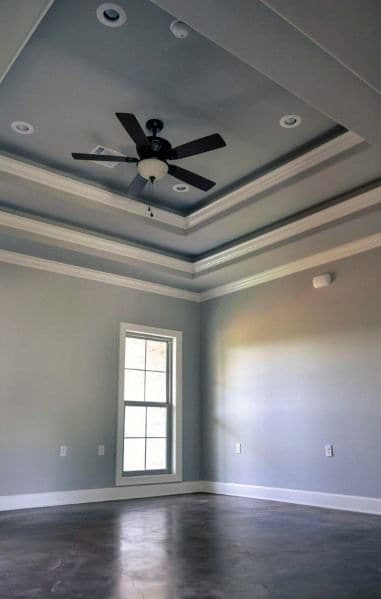 Install a ceiling fan at the center of a layered false ceiling of bedroom.
4. Modern false ceiling design for bedroom
All homeowners want unique false ceiling designs for bedroom. It is not an impossible want because design innovation in false ceilings has advanced a lot. There are so many options to choose from in false ceiling designs of bedroom.
Here are some of the latest false ceiling designs for bedroom:
a) Extended panel false ceiling designs for bedroom
An extended panel is a wall behind your bed that is connected to the false ceiling. The color and the material of this panel is the same as the false ceiling. The panel and the ceiling are as broad as the master bed. This is a very modern bedroom false ceiling design.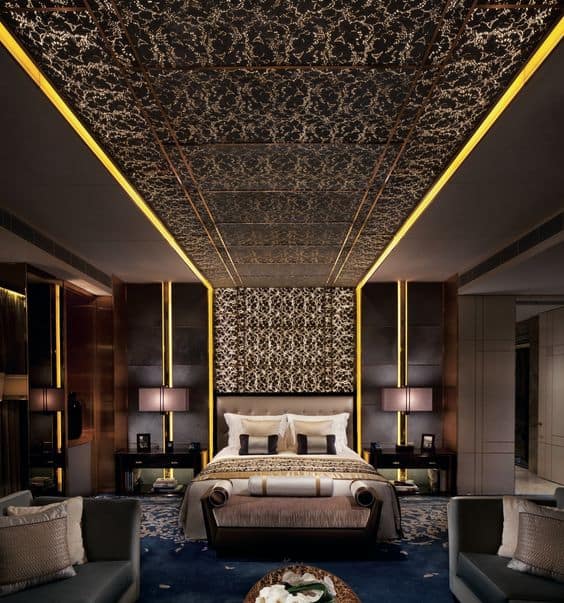 This royal false ceiling design for bedroom is exquisite.
b) Sloped false ceiling design with skylight
If there is a sloping roof in the bedroom, a skylight installed in the false ceiling adds several points to the style quotient. A skylight in the bedroom ceiling is ideal for those who like to wake up to the sun's rays streaming through their bedroom.
A skylight adds freshness to an attic master bedroom.
c) Mirrors on the ceiling as a false ceiling design
For people of experimental temperament, a large mirror covering the entire area of the false ceiling is a great option. It is an out-of-the-box modern bedroom false ceiling design idea. It gives a very modern and futuristic look to the bedroom.
A mirrored ceiling in a bedroom makes a bold statement.
d) Fashionably geometric false ceiling designs for bedroom
Multiple square-shaped false ceiling designs for the bedroom infuse life in the master bedroom. Squares of different sizes are installed like a modern art piece on the ceiling. This kind of false ceiling is the perfect showstopper in a master bedroom.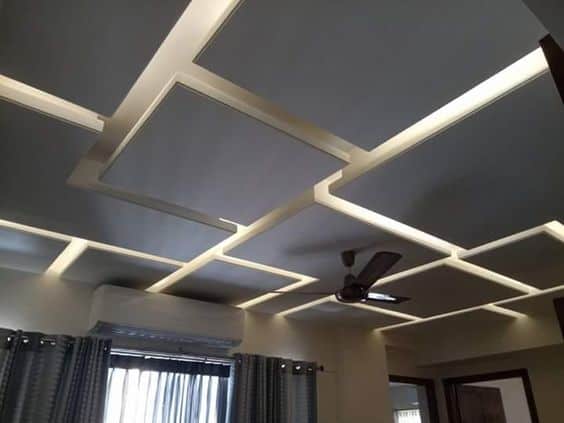 This geometric patterned design makes your bedroom false ceiling stand out.
e) Metallic false ceiling designs for bedroom
This is a minimalist and modern false ceiling design for the bedroom.
When the bedroom furniture and paint lean more towards darker shades, a false ceiling with a metallic sheen helps to accentuate the look.
It also looks great on a bedroom false ceiling with plain white walls.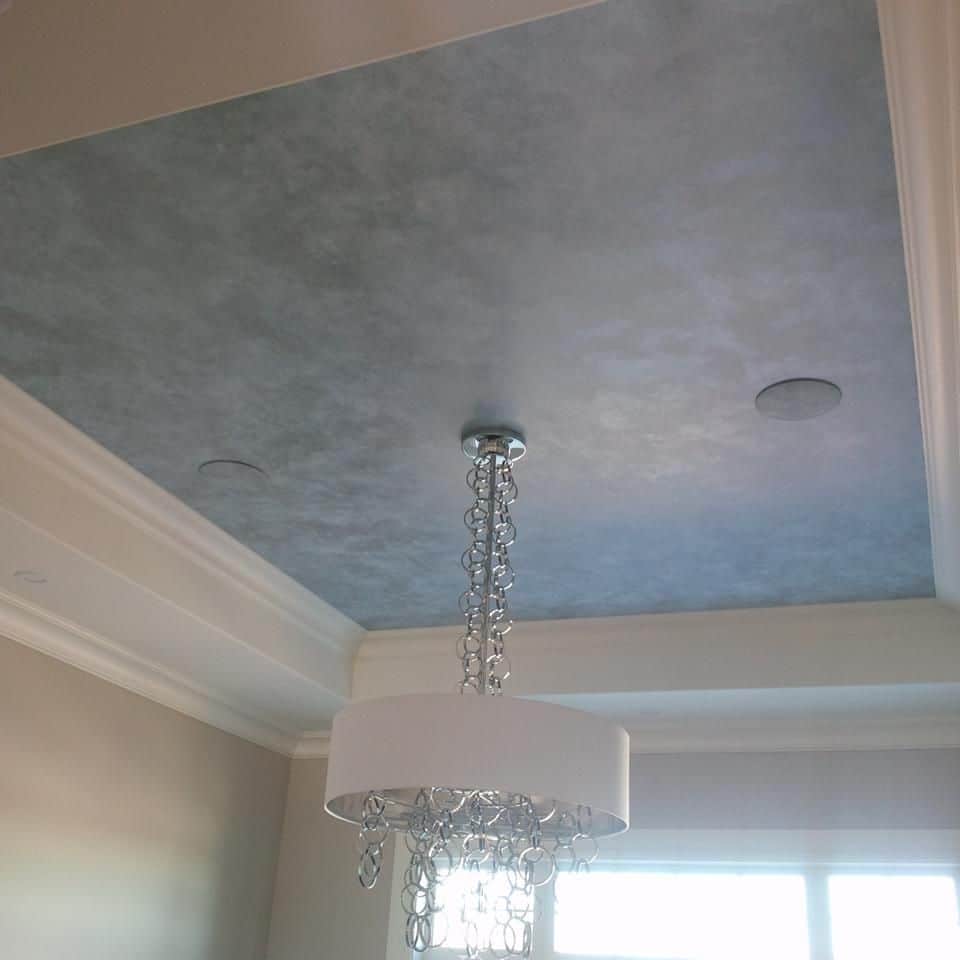 The metallic paint finish is one of the latest false ceiling designs in bedrooms.
f) Zoned false ceiling designs in bedroom
Implement this idea in large bedrooms that serve multiple purposes. For example, if there is a study area or a sitting area in the bedroom, divide the different areas into "zones". The height of the false ceiling is different for each zone, hence demarcating certain areas from the top itself. This is one of the best master bedroom false ceiling designs.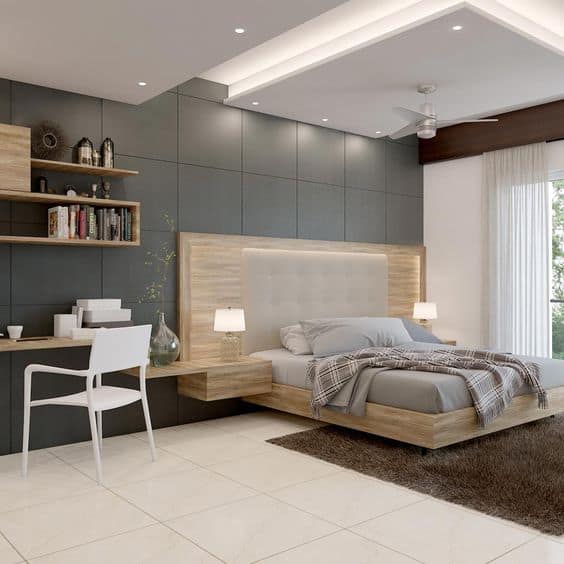 The false ceilings separate the area of the bed from the work area.
5. False ceiling designs for small bedrooms
There's no reason for a small bedroom to remain devoid of the stylish presentation of a false ceiling for bedrooms.
The focus should be on creating an illusion of more space in a cramped bedroom. For that, a mirrored ceiling is one of the best false ceiling ideas for bedroom.
Appropriate false ceiling lights for bedroom is also an effective option to make space feel roomier.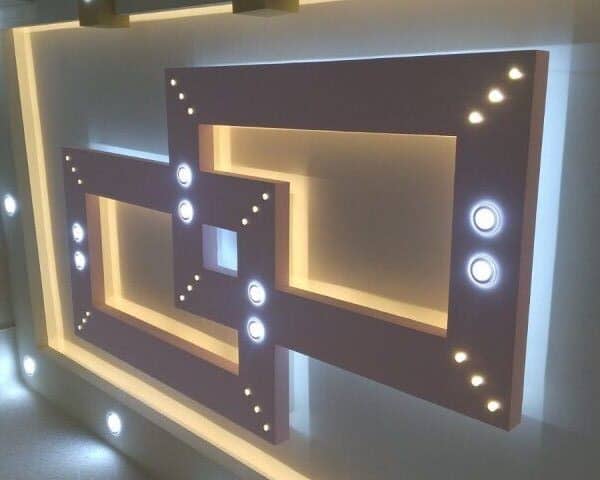 Utilize lighting options in the false ceiling designs for small bedroom.
6. Fun false ceiling designs for children's bedroom
The false ceiling designs for children's bedroom should be such that the children like spending their time in it. This task requires a lot of thought and care.
The ceiling plays a very important role. Children often struggle to sleep when they're put to bed. A fun, creative false ceiling would break the monotony of the room during the night. Unique false ceiling designs for bedroom are the best for kids.
Here are some quirky ideas for the child bedroom false ceiling design:
a) Starry night design of false ceiling for bedroom
This night sky-themed child bedroom false ceiling design can capture any child's wonder!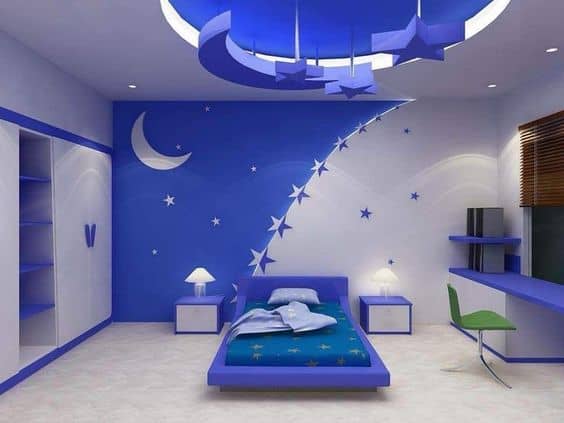 This is a beautiful false ceiling for a kid's bedroom.
b) Cloudy sky design of false ceiling for bedroom
False ceiling clouds for a dreamy child- bring a piece of the sky to a child's bedroom!
Bookmark
Please login to bookmark
No account yet? Register
Sours: https://buildingandinteriors.com/50-false-ceiling-designs-for-bedroom-that-will-win-your-heart/
Top 50 False Ceiling Designs - Simple False Ceiling designs For Living Room - Gypsum Ceiling
When you're re-doing your bedroom, you're thinking of furniture, paint color, probably wall art—but have you given some love to your ceiling? It's an underrated part of a room that can actually make a seriously big difference. Whether you have wood beams and have no idea how to style them, or you're wanting to totally re-do everything and add some paneling, we've got plenty of ideas for how to make your bedroom ceiling legit goals.
Advertisement - Continue Reading Below
1Paneling
Here's definitive proof that paneling doesn't always have to read farmhouse. This industrial-style chandelier and iron-frame bed add an edgy vibe to the room.
See more at Amber Interiors.
2Add Some Paint
A stark white ceiling can feel jarring, so to soften the aesthetic, paint the ceiling a soft, neutral shade. The overall effect is warm and intimate.
3A-Frame
When your ceiling is naturally a unique shape, you don't have to do much. A statement light fixture is all you need to make a basic white room a little more interesting.
See more at Emily Henderson.
4Wood on Wood
Not only does this ceiling featured exposed wood beams, but it's also got wood paneling. To keep it from feeling too rustic, add a white bed with a flowing canopy.
5Drop Ceiling
If you've got high ceilings and you want to add lighting, a dropped beam ceiling is a good solution. Paint beams white to keep the room feeling light & airy.
See more at Lark & Linen.
6Matchy-Matchy
Paint your ceiling the same color as the rest of your room. It might sound like a bit much, but it creates a cohesive, flowing feel.
7Exposed Beams
If you've got killer exposed beams, choose a soft wall color so it doesn't detract from them. Instead, let the architectural details stand out.
See more at Nicole Franzen.
8Striped
This one is not for the pattern faint of heart. If your motto is the bolder, the better, you have to try striping your ceiling.
9Glammed Up TIle
Inlaid tile on the ceiling adds serious elegance to this bedroom. Though it's OTT glam, the velvet headboard and faux fur blanket make it feel cozy.
10Crown Molding
Is there really anything more classic? Molding can add a timeless vibe to an eclectic room, or just accent one that's more traditional.
Sienna LivermoreCommerce EditorSienna Livermore is a commerce editor at Hearst covering best-selling products, home items, fashion, beauty, and things you just can't live without.
This content is created and maintained by a third party, and imported onto this page to help users provide their email addresses. You may be able to find more information about this and similar content at piano.io
Sours: https://www.housebeautiful.com/room-decorating/bedrooms/g25063642/bedroom-ceiling-designs-ideas/
Design bedroom roof
We know that photos can be an amazing source of design inspiration, so this article may contain affiliate links that will direct you to a particular decor item. Clicking on a link may result in a portion of proceeds being paid to www.decoist.com
When most of us think about the ceiling for our homes, the thing that comes to our mind is white and flat. Some of us may even suffer from dreaded popcorn ceilings (check out ManMadeDIY's guide on how to remove popcorn ceilings if this is you). Not many think of incorporating a unique ceiling design to their bedroom or living area. Ceiling designs are usually the last thing we think of when decorating our homes, but it can give a room a unique character that no amount of art or furniture can do.
The best part about a great ceiling design that draws the eye, is that you don't have to completely remodel your house to achieve your desired look. There are great money-savvy ways such as buying stick-on coffered ceiling tiles that can be painted any color or even these simple DIY crown molding trim! Or if you're looking for something more elaborate you can even try gold, design-encrusted, tiles or the decorative, regal ceiling trim. Finally, if you're ready to take the plunge, you can just hire a contractor and re-do the entire ceiling! The sky (or should we say the ceiling) is the limit.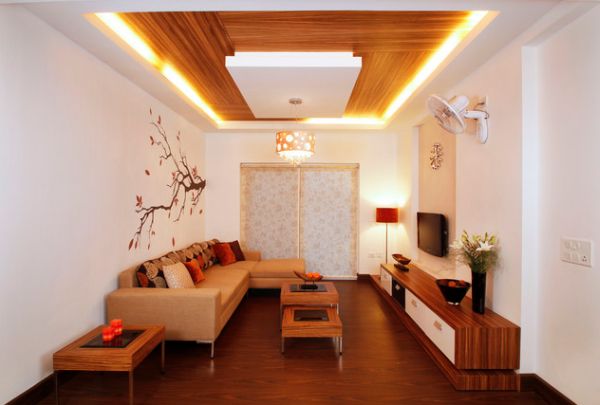 The perfect ceiling design varies for each room and each home and depending on the available space. The surrounding walls and the overall theme of the house, there are infinite patterns and colors to choose from. From tray ceiling to beam ceiling, cove ceiling to the highly popular drop ceiling, these beautiful ceiling inspirations and ceiling ideas give a room that exclusive and exceptional feel you're after.
So let's delve into an amazing collection of ceiling designs that will surely inspire you.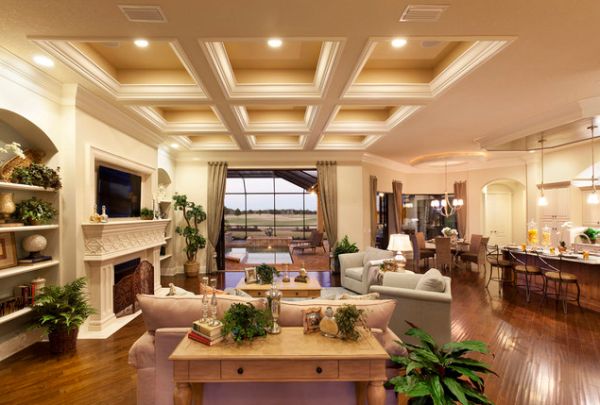 by Lee Wetherington Homes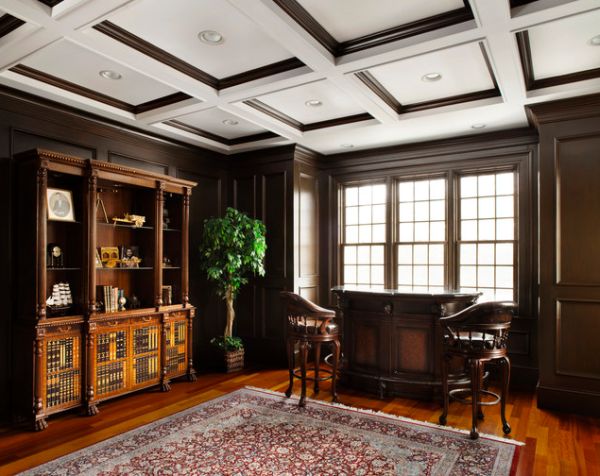 by Prestige Custom Building & Construction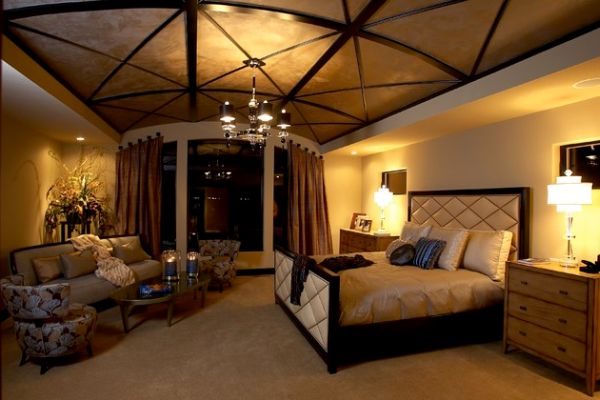 by Jaque Bethke for PURE Design Environments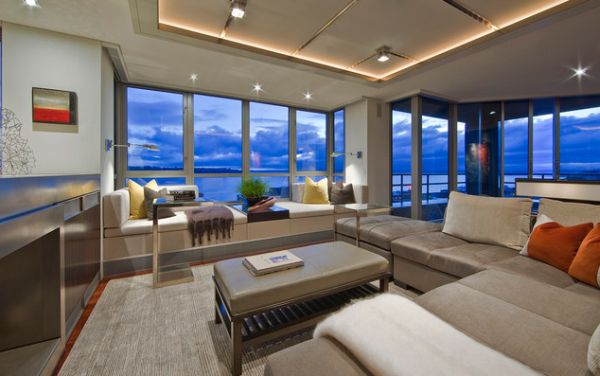 by Garret Cord Werner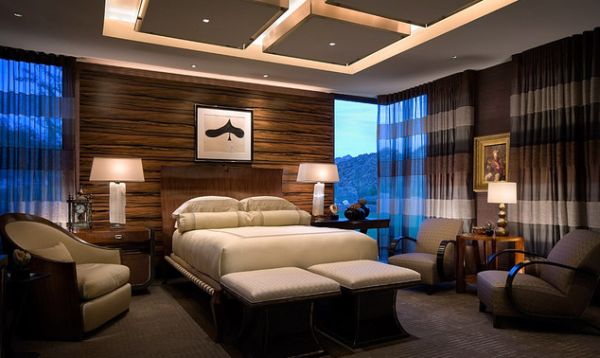 by Harte Brownlee & Associates Interior Design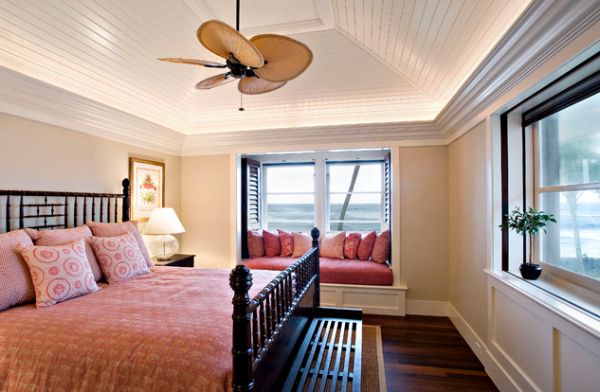 by Sutton Suzuki Architects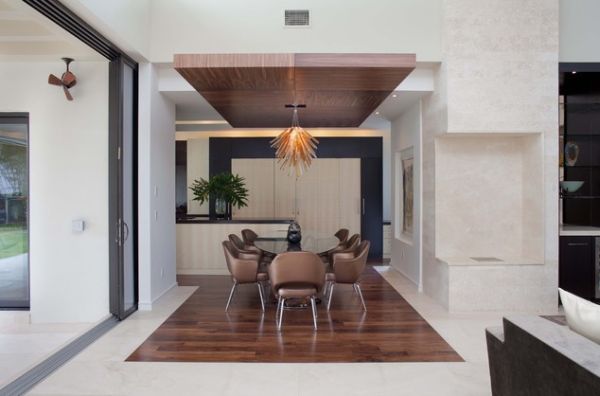 by Phil Kean Designs
Shining A Spotlight With A Unique Ceiling Design
Modern ceilings can do a whole lot more than just provide a plain white roof. With the amazing number of designs on offer, you can do anything imaginable. Architects play with both form and function, so you can obviously include beautiful LED lighting units as part of an elaborate and exquisite roof design.
From providing a sleek and stylish modern alternative to offering the classic look by employing pendant lamps and chandeliers, an innovative roof design can do wonders to any existing room when combined with proper lighting techniques.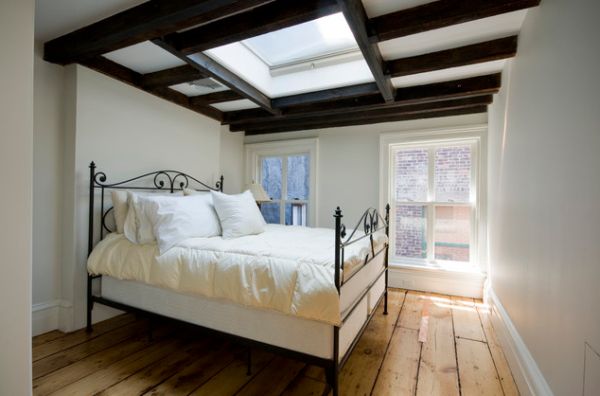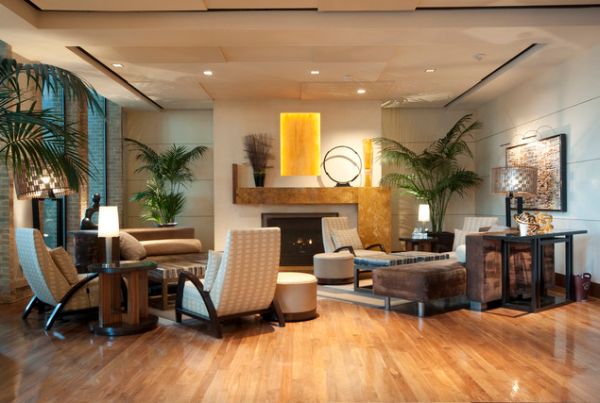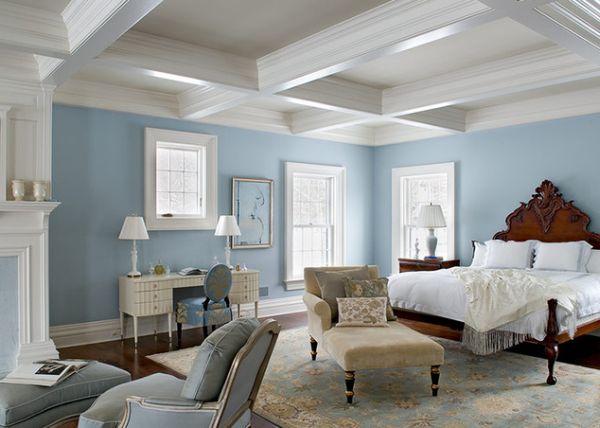 by Crisp Architects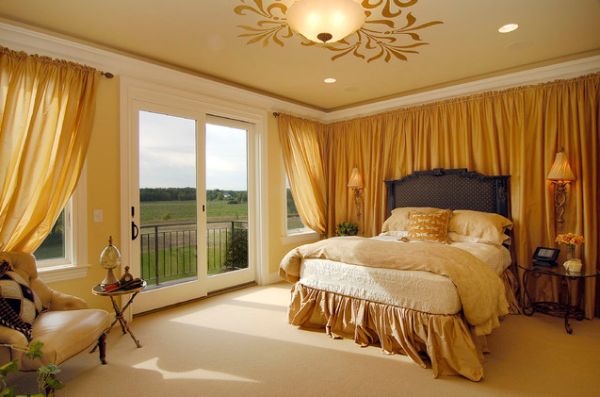 by John Kraemer & Sons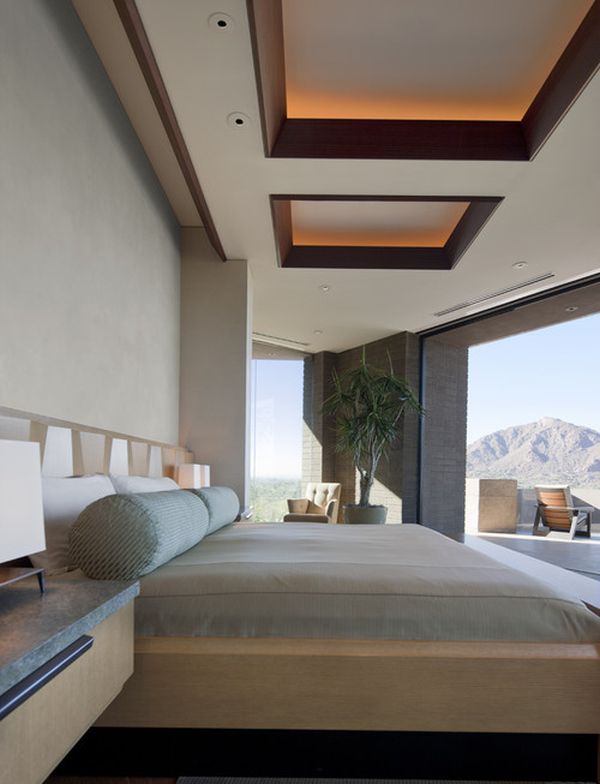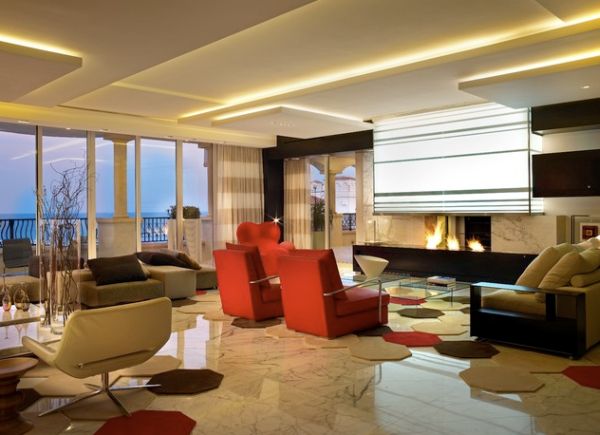 by Urban Concepts Modern Fireplace Design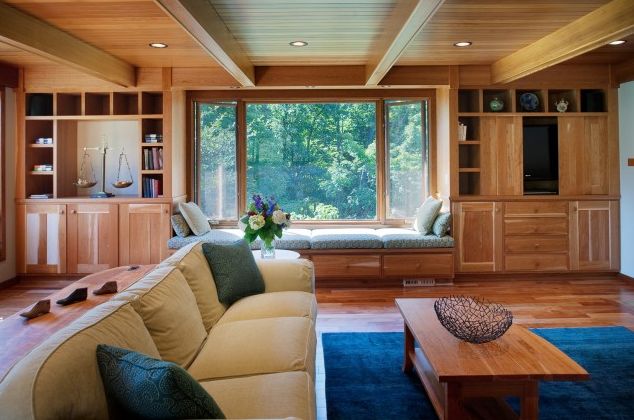 by Wright Street Design Group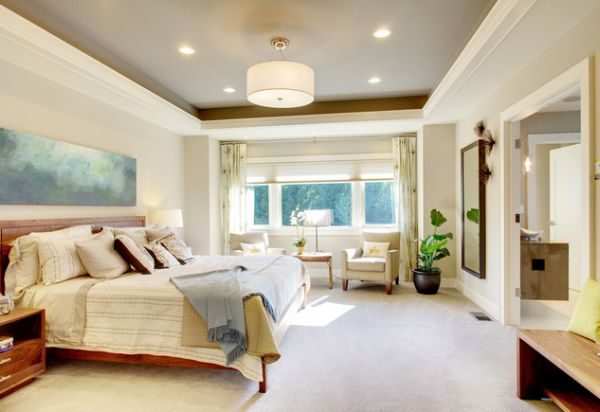 Ceiling Designs That Play With Depth Perception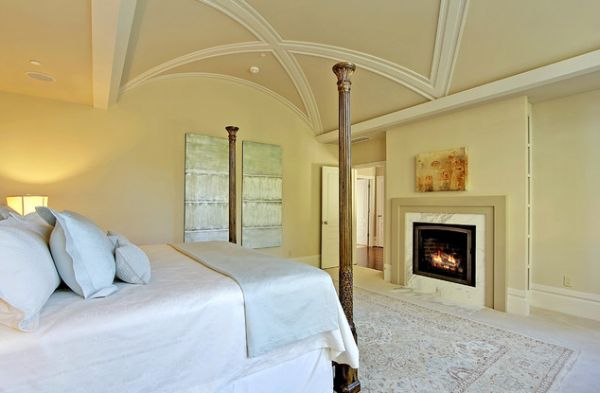 A custom-designed ceiling can offer a unique and brilliant appeal. One of the reasons is the simple fact that it can alter the visual impression a particular room makes in a grand fashion. While a cathedral roof can give your interior a spacious feel, a drop roof design can offer a compact and contemporary twist. It is also more in line with modern design trends.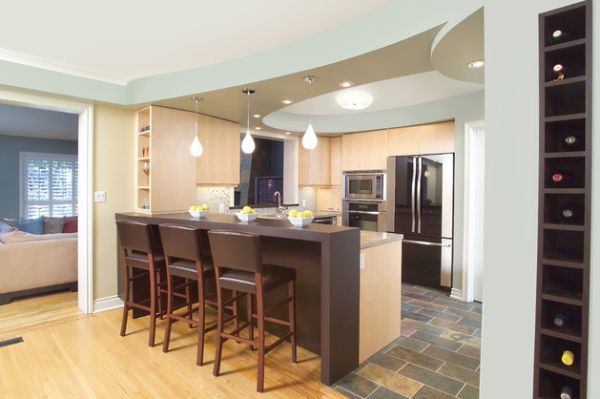 by XTC Design Incorporated
A coffered ceiling can create a sense of height and an airy feeling for a home. All while giving it that 'old English' charm that so many designers and homeowners dream about. It gives the impression of a more spacious interior with a modern outlook and can be created using the Tray Ceiling. While it works best for homes with a higher ceiling, it does bring in a fresh perspective.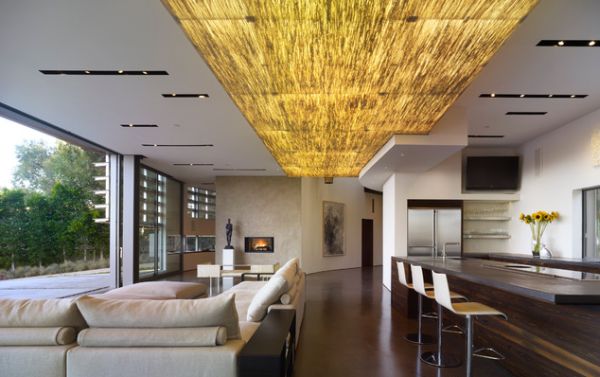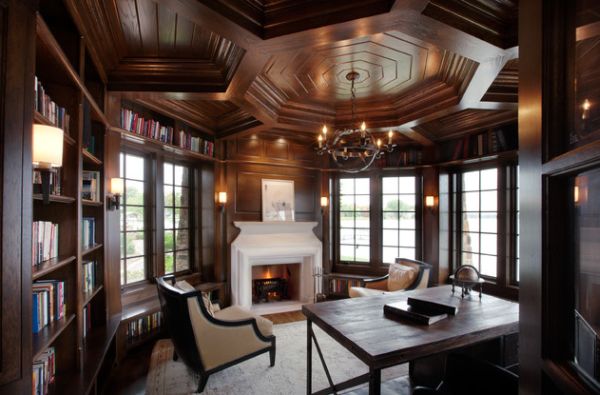 by Murphy & Co. Design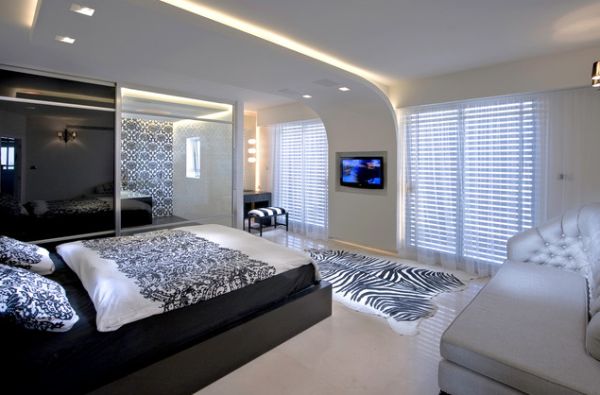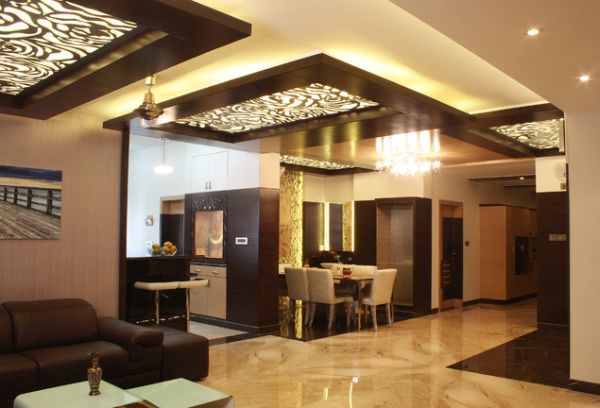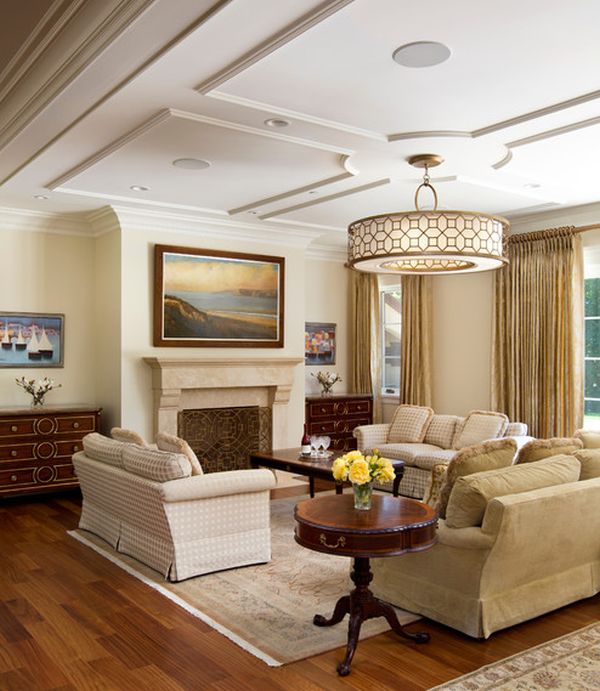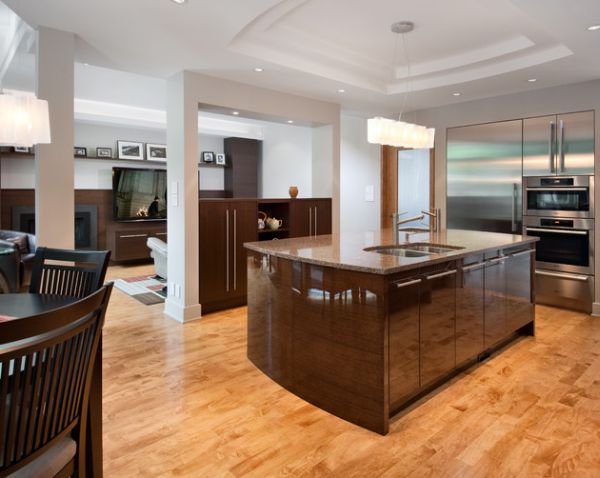 by Design First Interiors
Blending In While Standing Out!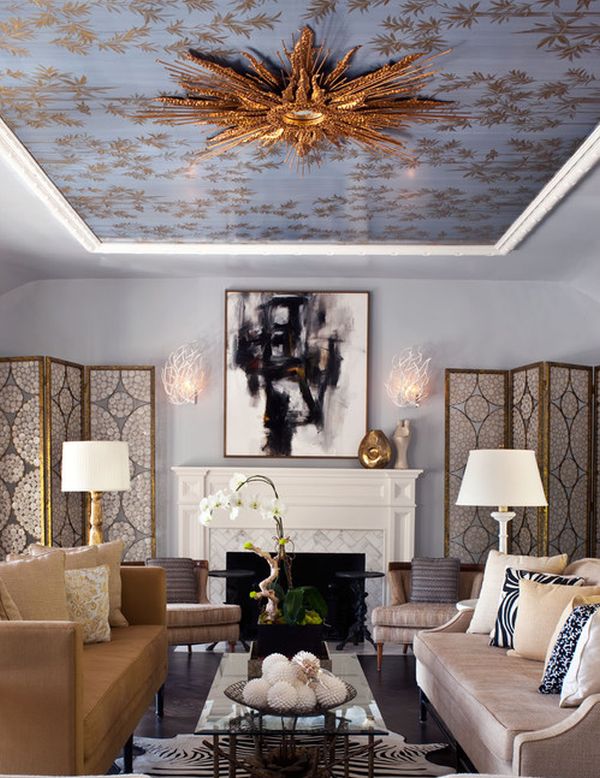 As discussed above, there are plenty of options available for those who want to replicate the classic 'beam' look. There is the obvious choice of going in with the Beam ceiling. Even if it might not be part of structural support, it brings in a timeless and historical appeal.
The best part about many of these amazing ceiling designs is they blend in seamlessly with the remainder of the home. Even though it blends it with the chosen theme, it still steals the spotlight in a modest fashion.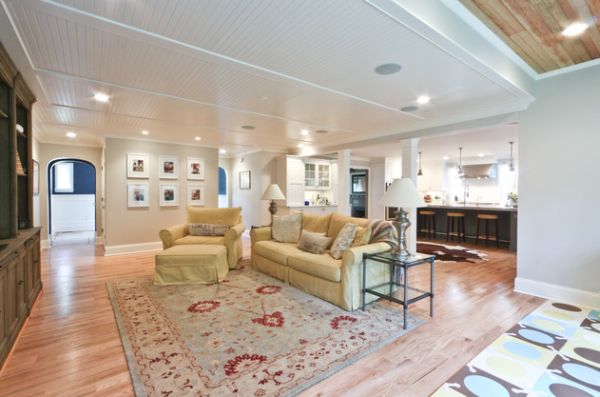 by Michael Robert Construction
A great ceiling complements the rest of the room, lifts its visual appeal and offers it a fresh new perspective that is both ergonomic and aesthetic. At the end of the day, it is the perfect blend of style with substance!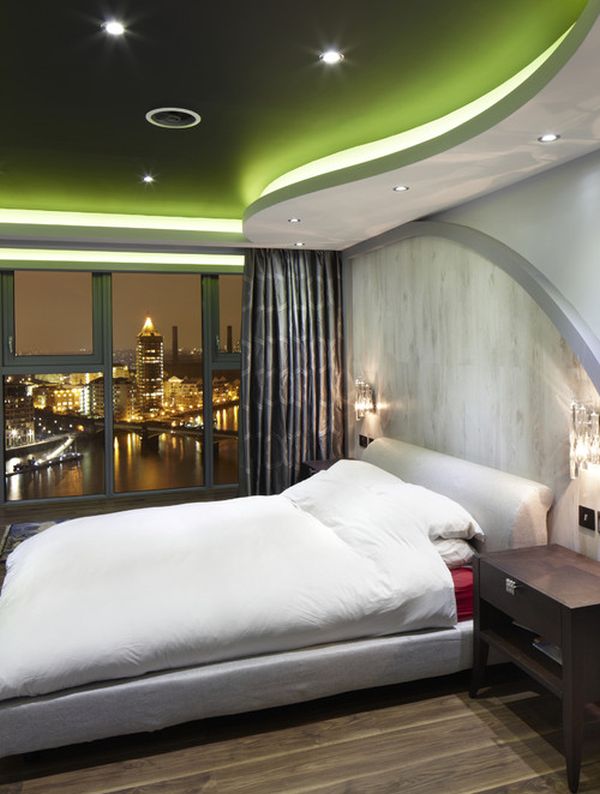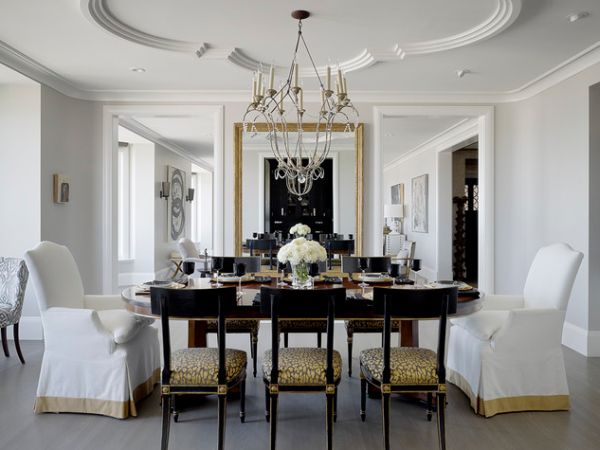 by Candace Cavanaugh Interiors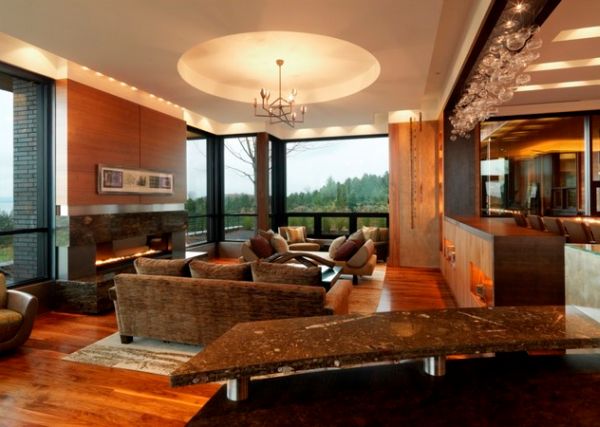 by Birdseye Design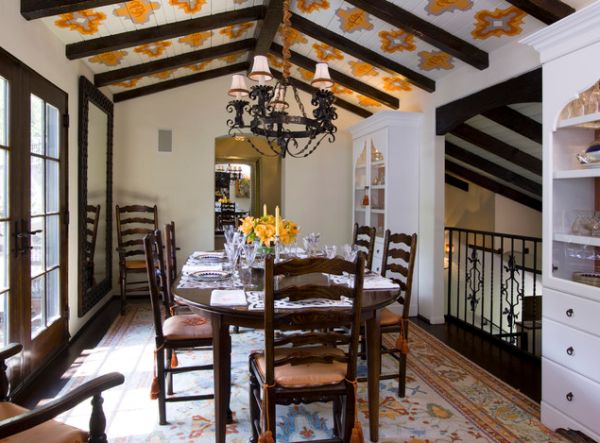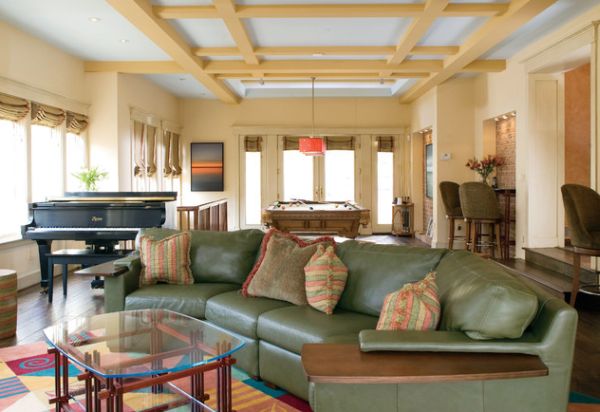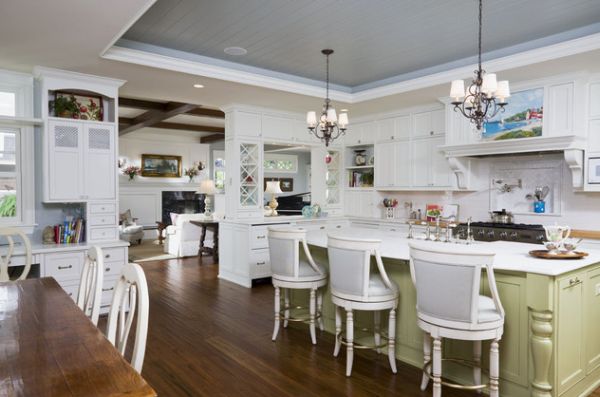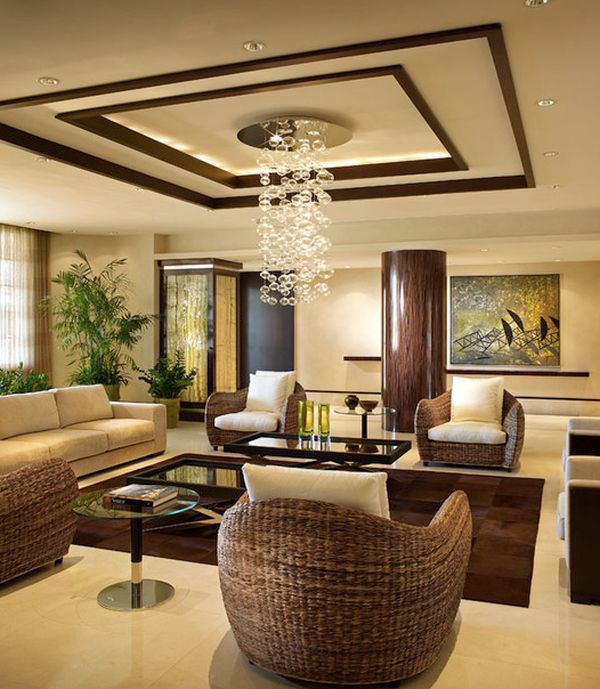 by Pepe Calderin Design- Miami Modern Interior Design
Sours: https://www.decoist.com/2013-02-06/ceiling-design-ideas/
Top 50 false ceiling design 2020 ! Bedroom gypsum ceiling
They were lovely. Like two moons. I had a wonderful moment for comparison, since the real Moon was located slightly to the left of Katya's face. But the moon was dead and lifeless.
You will also like:
When we went to the river for the first time, I just followed the example of others and took off my white. Unusual for those times, underpants. So we gathered at the river during the first week of my stay in the village almost every day. At the end of the week, Kolya's grandfather, grandmother's sister's husband, heated the bathhouse.
885
886
887
888
889