When the 1999-04 Mustang was put out to pasture, it left some big shoes to fill for the S197 Mustang that followed. The first generation of Mustang to rock the mighty new Coyote 5.0 V8, the S197 Ford Mustang has tons of performance potential, from its style to its straightline performance to its corner carving prowess.
The S197 was a huge step forward. Yet, for all of its progress, some of the same old issues that bogged down the prior iteration of the ponycar still linger on. These nagging issues keep the Mustang from being the car it's supposed to be – and the thing is, the Mustang's distinctive platform makes modding it a bit different than your average car, and so that's why in this article we'll be going through our list of the Best Mods for the S197 Ford Mustang.
We'll be addressing how to make your Mustang look better, hook up more consistently, accelerate faster and carve corners confidently with the grip the car is supposed to have. Before we get started, let's just lay it all out there that this is a OVERALL modding guide, not a "Make as Much Horsepower as Possible" guide- though we're certain to follow this up with a Best Power Mods for S197 Mustang feature later *wink*. So with that said, you can expect this piece to be fairly comprehensive, from top to bottom.
So, let's get started!
#1 – Wheels & TIRES
For years, racers have known that the Mustang needs stickier, wider tires than it comes with from the factory. From the first 1964-1/2 "Secretary's Car" to the 2014 Boss 302 Laguna Seca, every generation Mustang can benefit from an improved set of rolling stock. Beyond the performance aspect of it, the factory S197 Mustang wheels tend to look stupid, unless you opted for a option group that included a set of sweet looking wheels – and a set of nice wheels is one of the most impactful things you can do to the car when it comes to how it looks.
Before we get too far though, it's worth saying that tires are just as important as the wheels when it comes to your ponycar's performance. Whether you want dragstrip domination or to own the road course like the Boss 302 did back in the heyday of SCCA Trans-Am racing, you're gonna need performance tires that are up to the task. We have a huge selection of performance tires IN STOCK, on hand, ready to mount in the sizes your Mustang is likely to need, from Michelin Pilot Super Sports to Continental DWS, we've got a massive selection already here, waiting for you. On the off chance you want something specialty, we can help you out whether you need some Mickey Thompson drag radials or Toyo R888s.
One of the most popular wheel manufacturers on the market for Mustangs is Forgestar Wheels. While you might be used to seeing the F14 on things like M3's, Forgestar Wheels also look great on Ford's ponycar. Going with the widest possible tires is important to most Mustang enthusiasts, which is where Forgestars come in.
The fun thing is, Forgestar wheels are totally manufactured to order, meaning you can spec out exactly how wide you want to go, and Forgestar factors in things like your suspension (how low you are, coilovers vs springs vs bags etc), big brake kits and so on to create a set of wheels that's perfectly tailored to your Mustang.
Forgestar F14 Matte Black 18in Fitment on Falken Tires
Lightweight and strong, Forgestar wheels are popular even among the trackday crowd. It's worth saying though, that if you DO plan to road race, remember that in racing, wheels are just as much of a consumable item as tires, so always inspect your wheels before and after every trackday event. In simpler terms, don't expect your wheels to structurally last forever if you're out on Big Willow every weekend.
Forgestar F14 19in Super Deep Concave Bronze Burst
With its mesh design and distinctive concave, the Forgestar F14 looks great on most modern performance cars, and the S197 Mustang is no exception. Seen here in Bronze Burst, the F14 is customizable from its concavity and width to powdercoat color to suit virtually any build.
Forgestar F14 Super Deep Concave 20×10.5 20×12
on KW V3 Coilovers +Hotchkis Trailing Arms + Hotchkis Panhard Bar

From the preposterously wide like the widebody Mustang GT above with 10.5's out front and 12s at the rear, to the more conservative.
The F14 isn't by no means the only wheel Forgestar offers, though – if it is a bit ubiquitous.

With a straight 10-spoke design sporting just a touch of concavity, the Forgestar CF10 is another handsome option for the S197. The Forgestar CF10 Wheel's straighter lines work well on the facelifted 13-14 S197 especially well.

Here's the front view with a set of CF10's.

Forgestar CF10 Semi-Gloss Black 20×10 20×11Falken 453 275/35-20 315/35-20 Tires
on KW V3 Coilovers +Hotchkis Trailing Arms + Hotchkis Panhard Bar
And just as with the F14, the CF10 can be customized to a variety of widths, concavity and offset profiles to suit your exact car like a tailored suit.

Forgestar CF5 Wheels for Mustang in Custom Bronze
If a 5-spoke wheel is more your style, check out the Forgestar CF5, mounted on the 5.0 above in a gorgeous custom bronze powdercoat.

Forgestar CF5 Race Gold 20×9 / 20×10.5 / Nitto Invo 255/45-20 / 295/35-20
While the CF5 looks good in Bronze Burst, it also looks great in Race Gold, as seen here, paired with a set of super-sticky Nitto Invo tires.
Forgestar CF5V SDC 19×12 ET6 / 19×12 ET6
Kumho Ecsta V720 305/30-19 / 305/30-19 Tireson Eibach Multi-Pro R2 Coilovers
Another great looking option from Forgestar is the CF5V, featuring a dynamic split 5-spoke design and some very noticeable concavity.

Forgestar CF5V SDC 19×12 ET6 / 19×12 ET6
Kumho Ecsta V720 305/30-19 / 305/30-19 Tireson Eibach Multi-Pro R2 Coilovers
Sporting absurdly wide 305/30-19 Kumho Ecsta Tires on all four corners on 19×12 CF5V's, this widebody S197 pushes the absolute limits of what's possible and looks damn good doing it.

On the other hand, the set of semi-gloss black CF5V's on this Grabber Blue Boss is a conservative, safe choice for any daily driven pony.
Forgestar makes a great set of wheels, but there are some fantastic other options out there as well – like the FlowForm line of wheels from the legendary HRE Performance Wheels.
HRE FF01 Tarmac 20×9 ET35 / 20×10.5 ET45 with Nitto NT555 285/30-20 / 305/30-20 Tires
on BC Coilovers + Whiteline UCA/LCA/Panhard Rod/Chassis Braces/Sway Bar
The FF01 features a classic mesh type design with a hint of concavity, creating an aggressive, motorsports ready look in a lightweight and strong wheel from a brand with the legendary reputation. However, the caveat to the FF01 is that you trade off a bit of brake clearance for the concave look. That's okay though, for those of you rocking some massive big brake kits, the FF15 is also a solid choice.
HRE FF01 Tarmac 20×9 ET35 / 20×10.5 ET45 with Nitto NT555 285/30-20 / 305/30-20 Tires
on BC Coilovers + Whiteline UCA/LCA/Panhard Rod/Chassis Braces/Sway Bar
HRE's fitment experts recommend a 19×10 ET40 / 19×11 ET55 in an FF15 for those looking to use a 19in fitment, while HRE suggests the FF15s in a 20×10 ET40 / 20×11 ET55 fitment, and the FF01s in 20×9.5 ET35 / 20×10.5 ET45, or a 20×11 rear for those who prefer an aggressive fitment.
HRE FF01 Tarmac 20×9 ET35 / 20×10.5 ET45 with Nitto NT555 285/30-20 / 305/30-20 Tires
on BC Coilovers + Whiteline UCA/LCA/Panhard Rod/Chassis Braces/Sway Bar
Check out how nicely the FF01 fills out the car's wheel arches with a conservative yet flush fitment with just a bit of concavity.
HRE FF15 IPA – Recommended Fitment 20×9.5 ET35 / 20×10.5 ET45
Offering more brake clearance than the FF01 and a more motorsports-oriented style, the HRE FF15 FlowForm wheels for Mustang are a fantastic option in both 19in and 20in fitments. Check out the set of IPA custom powdercoated FF15s on the mystichrome S197 above.
Also available in Liquid Silver and Tarmac Black, the FF15 looks especially good on 13-14 cars.
These are just a few of the wheel options out there for the S197 Mustang,
#2 SUSPENSION
From the factory, 9 out of 10 Mustangs look like a 4×4, with enough clearance to go frigging rock-crawling. The excessive wheelgap is about as attractive as a massive gap between your front teeth. Lowering your S197 Mustang Suspension will make the car look worlds better, making your wheel and tire combo look better – and the overall car works better too.
All of that is before we even get to the performance benefits. The 1964-1/2-2014 Mustang's archaic rear suspension uses concepts that have been around since 4000 BC – while many like to espouse the "benefits" of having a live axle on a drag strip (literally the only place where it is beneficial), the fact of the matter is that the live axle makes the back end of the car behave like total crap – it suffers from brake hop, wheel hop and loves to wander about like a dog let off his leash. Considering that the live axle is hundreds of years old, it's not surprising it performs like a pile of hot garbage.
Unfortunately for you and everyone else who has ever taken a Mustang around a corner, handling really hasn't been a priority on the Mustang since 1971 when Ford stopped caring about the SCCA Trans Am series. The following Mustang Suspension upgrades will help your Mustang sit lower for a more aggressive stance (as in the Musclecar sense, not 40*-of-negative-camber "stance") and better handling performance.
Suspension Part One – Get Low with Lowering Springs or Coilovers
HRE FF01 Tarmac 20×9 ET35 / 20×10.5 ET45 with Nitto NT555 285/30-20 / 305/30-20 Tires
on BC Coilovers + Whiteline UCA/LCA/Panhard Rod/Chassis Braces/Sway Bar
Eibach Street, R1 and R2 Coilovers are very popular choices for those opting for coilovers, but there are many choices available including options from BC Racing, KW Suspension, ST Suspension and Vogtland.
Not sure which springs are best for the ride you're after? You can always ask one of ModBargains' Ford Modification Experts.
Lowering Springs
A set of lowering springs is an outstanding place to start. If you're on a budget or want a milder drop, a set of Lowering Springs or Sport Springs will give you the drop you're looking for as well as improve your handling. If you're after a more aggressive drop, want a greater improvement in handling or just something better than springs, coilovers are the way to go.
One of the go-to favorites of enthusiasts is Eibach Pro-Kit Lowering Springs for S197 Mustang GT – the Pro-Kit is kind of the goldilocks spring for most guys, offering a nice balance of ride quality and a lower stance, but doesn't drop it so much that the car's not streetable. Check out the before and after.
Eibach Pro-Kit Springs for 2005-10 Mustangs are available – like this one here…
Or this 2011-12 example here – the Eibach Pro-Kit is a subtle drop that brings the car to where it SHOULD be – 2011-14 GT's are dropped by 1.0in up front and 1.5 at the rear, creating a much more level look.
And just for the sake of being thorough, here's a 2013-14 Mustang rocking the Eibach Pro-Kit Lowering Springs for S197 Mustang GT.
It's worth saying that the Pro-Kit may not be low enough for some people – for those who really want to drop the car but insist on retaining their springs, a set of Eibach Sportline Springs for 2005-14 Ford Mustang is an excellent option.
The Sportline Springs offer less ground clearance than the pro-kit, but still retain enough room to be usable.

Not to mention the fact that this still leaves room to run drag radials.

On the other end of the spectrum, let's say you want to lower your Mustang, but don't want to ruin your ride quality? Well, fortunately for you there are options available.
While somewhat lesser known in the United States, Vogtland Sport Springs for S197 Mustang are a great option. Vogtland is by no means a small company – these guys have been around since the 1910s making springs for automotive applications. Vogtland manufactures their own springs, meaning they're not made by anyone else, and they're specifically engineered to preserve ride quality while also delivering the drop in ride height and improved handling you're after, creating an ideal compromise for street use.
Available for 05-10 cars and 11-14, Vogtland Sport Springs for S197 Mustang are a solid choice for any daily driven Mustang.
On the other end of the spectrum, if you prefer a firmer, sportier ride, you may want to consider a set of H&R Sport Springs for S197 Ford Mustang. H&R Sport Springs offer more of a sport oriented ride than some of the other manufacturers we've discussed, resulting in a car that feels more race-oriented than street.

The drop on H&R Springs tends to be a bit more aggressive in real life than on the spec sheet, creating a gorgeous low slung look to compliment the much sportier handling.
One more option to consider before we move on is a set of Hotchkis Sport Springs for S197 Ford Mustangs – Hotchkis has made a name for themselves in getting American performance cars to do the impossible – actually corner well.
Whatever option you choose, lowering your car with springs alone will shorten the lifespan of your factory shocks and struts, and when those wear out, you'll be doing the exact same labor that was needed to install the springs in the first place – which is why it makes sense to either replace both the springs and shocks/struts together, or go the other route and get coilovers, which include both a shock/strut and a lowering spring.
Coilovers
Coilovers, short for "coil-over-shock" type suspension, replaces both the shocks/struts and the springs, replacing them with a unit that integrates both into a single unit – these feature a threaded perch for the springs, which allows you to raise and lower the suspension's ride height.
Many people shy away from coilovers, saying that "Coilovers are too expensive", or "Coilovers are just for race cars", but the reality is that coilovers can be just as good on the track as they are on the street – and though straight-up race coilovers will set you back a good bit, there are quite a few street and trackday capable options available to suit nearly any budget.
Fitting your S197 Mustang Suspension with a set of coilovers will give you all the benefits of a set of lowering spring and also replaces the shocks and struts while you're at it- killing two birds with one stone, AND you have the added benefit of control over ride height. Taking it a step further, say you want more control than that, like being able to manipulate the suspension to behave a particular way, or make the ride softer or firmer to suit conditions.
With the adjustment of coilovers, you can fine tune your ride height, and some offer camber and caster adjustments, which allow you dial in things like fitment whether you're widebody or stock.
Eurotek U03 MM6 Mesh Wheels 20×9 ET15 / 20×10.5 ET15 with 255/35-20 / 285/30-20 Tires
on BC Coilovers
If you're looking for bang for the buck and an extremely affordable pricepoint, BC Racing BR-Series Coilovers for S197 Ford Mustang offer exactly that. Coming in at just $1000 as of press time, these high performance coilovers offer 30-way adjustability, including damping, allowing you to fine tune how soft or firm the ride is (to an extent, it is still a sports oriented part, after all), and the BC Coilovers allow you to drop the car exactly the right amount to get the wheelgap just perfect, like the S197 GT above.
With their 30-way adjustment for just 10 benjamins as of press time, BC Racing Coilovers for S197 Ford Mustang are a value that's darn hard to beat.
Eurotek U03 MM6 Mesh Wheels 20×9 ET15 / 20×10.5 ET15 with 255/35-20 / 285/30-20 Tires
on BC Coilovers
That's the thing about coilovers, most guys are so intimidated just by the thought that "it can cost thousands" and "that's just for track or stance guys" couldn't be further from the truth – with the suspension's damping set and a reasonable amount of suspension travel left, coilovers can, in some cases, ride better than factory if set up correctly. 
Eibach Multi-Pro R2 Coilovers For S197 Ford Mustang like the ones on this widebody S197 GT feature external reservoirs, which you can see mounted here under the hood – the mounting also makes on-the-fly suspension adjustments at the track a breeze with such easy access.
Forgestar CF5V SDC 19×12 ET6 / 19×12 ET6Kumho Ecsta V720 305/30-19 / 305/30-19 Tires
on Eibach Multi-Pro R2 Coilovers
Among the Mustang crowd, Eibach Street/R1/R2 Coilovers are a popular choice, since they offer solid performance at a reasonable price from one of the most trusted names in suspension.
ST Suspension Coilovers for S197 Ford Mustang with Niche Milan M134 Wheels
Another great option at a bargain pricepoint is a set of ST Suspension Coilovers for S197 Ford Mustang. We have a set of ST Suspension coilovers on several employee cars here – speaking from personal experience, fitting our Fiesta ST with a set of ST XTA Coilovers actually improved ride quality. To put it into more specific terms, upgrading to coilovers got the car to pass the "girlfriend test" for ride comfort AND also made the car handle much better and look even better.
ST Suspension Coilovers for S197 Ford Mustang with Niche Milan M134 Wheels
ST Suspension Coilovers feature KW-built Shock Bodies with a galvanized finish (as opposed to stainless steel) and offers similar performance but at a more affordable pricetag, and without some of the extras and flashy media marketing you'd get with a KW product.
ST Coilovers are available in X and XTA trim levels, with fixed damping and multi-way adjustable capabilities respectively.
Offering good ride quality at a moderate pricepoint, ST Suspension Coilovers are an ideal option if you live outside the snowbelt.
Let's say you're looking for a more comfort oriented ride – in that case, check out a set of Vogtland Coilovers for S197 Ford Mustang.
Vogtland, though somewhat lesser known in the USA, has been making springs and suspension components since the early 1900s, and they're known specifically for tuning their springs and suspension products to preserve ride comfort as much as possible while still delivering a nice drop and improved handling performance.
In addition to preserving more factory-like ride quality, Vogtland Coilovers are also priced affordably, meaning they're a great value for the money.
Of course, if you're looking for brand recognition, there's always H&R. H&R Coilovers for S197 Ford Mustang offer a more sport oriented ride and are fixed damping, so there's no settings to hassle with.
Dropping your ponycar with a set of H&R Coilovers for S197 Ford Mustang is a sure fire way to get both great looks and performance from another legendary name in performance suspension.
Forgestar CF10 Semi-Gloss Black 20×10 20×11Falken 453 275/35-20 315/35-20 Tires
on KW V3 Coilovers +Hotchkis Trailing Arms + Hotchkis Panhard Bar
If you're looking for something that'll stand up to a snowbelt state winter, and want multi-way adjustability with all the goodies, a set of KW Suspension V3 Coilovers might be just the option for you.
Featuring a stainless steel finish, a premium toolkit and all the goodies, KW Coilovers are a dependable option that's virtually impossible to go wrong with.
Michael Heintz ( @badboss302 ) S197 Mustang Boss 302 on track w/ KW Clubsport Coilovers
Photo by Eric Broadfoot via ApexJunky
These premium coilovers come at a more premium price, however, but enthusiasts at track days all over the world find them worth the extra coin.

S197 Ford Mustang Boss 302 on Forgestar CF10 Textured Gunmetal Wheels 20×9 / 20×11
on KW V3 Coilovers & Whiteline Panhard Bar for S197 Mustang
Beyond just lowering the car, you have to remember that unlike basically every other performance car on the road today, your S197 Mustang has a live axle in the back like a 70s muscle car, so the suspension has different needs than the independent rear suspension used on virtually everything else, for example, it's what 2015+ S550 Mustangs have. One of the biggest problems with a live axle is keeping the rear axle centered – issues like wheelhop, wander and other bad behaviors can result from the axle not being where it's supposed to be – we'll start with how to fix that. This may get a little technical, but stay with us here and we'll make things as simple as possible.
Get Centered with a Panhard Bar or Watts Linkage
This Animation of a Watt's Linkage setup on a 1998 Ford Ranger EV's DeDion rear axle best illustrates how it limits side-to-side axle movement. Image via Wikipedia

 Here's the thing, when you lower a car, the suspension needs to be adjusted to compensate – when you lower the panhard bar, the rear roll center drops, which tightens cornering handling by promoting side-bite. By keeping the axle from wandering around, your stability is improved.  A Whiteline Panhard Rod is a great way to keep your rear axle centered.
As the axle moves while you drive, if the car's lowered, the centerpoint of the differential's path of travel is slightly skewed, adding a Watt's Linkage or Panhard Rod can correct that path of travel to keep the axle centered.
Diagram of Where A Panhard Bar Mounts. Courtesy Whiteline
Named for the French Panhard company that invented it in the 1890's rather than any sort of function, a Panhard bar (aka panhard rod) like the Whiteline Panhard Rod For Mustang is designed to limit lateral movement. The height of the panhard bar determines the height of the rear roll center – the roll center being an imaginary point around which the racecar "rolls".
A Watt's Linkage does the same thing – it's almost like two panhard rods facing each other – both methods are designed to prevent sideways motion of the axle relative to the car.  Like a panhard bar on steroids, and popular in Australia's V8 Supercars racing series, the Watt's Linkage creates even lateral transfer, enhancing rear end stability, so it's only natural there's a Whiteline Watt's Linkage For Mustang as well.
While more expensive than a panhard bar, it's the superior method of keeping your axle centered. Whiteline also offers a complete Watts Linkage for the Mustang that's integrated cleanly into the diff cover – this upgrade alone will do wonders for your rear end stability.
Control Wheelhop with Rear Upper & Lower Control Arms
Wheel Hop is a BIG issue for Mustangs – for stock vehicles and even with modified suspension – it'll continue to be a problem without replacing the upper and lower rear control arms to correct the rear end's geometry. It's worth noting that unfortunately, the improvement in handling comes at a cost – you will probably experience increased noise, vibration and harshness with these – but the thing to consider is that the OEM bushings are softer than melted cheese and deflect like crazy, allowing a lot of unwanted movement in the suspension's geometry.

One of the ways to do that is with a set of Whiteline Rear Upper Control Arms and Whiteline Rear Lower Control Arms, pictured above.
Get Geometric with Rear Control Arm Relocation Brackets
Once your Mustang's been lowered, then Rear Control Arm Relocation Brackets are a must have. The lowered stance of the car skews the rear suspension geometry, leading to poor acceleration and wheel hop. By relocating the rear control arms, rear squat is improved, rear-dive under acceleration is drastically reduced and traction is enhanced.
Forgestar CF5V SDC 19×12 ET6 / 19×12 ET6Kumho Ecsta V720 305/30-19 / 305/30-19 Tires
on Eibach Multi-Pro R2 Coilovers + B&R Panhard Rod
By combining the upgrades listed above, you'll have a lowered Mustang that will handle better than stock and let you really enjoy every curve the road can throw at you. Modifying your suspension will make every drive that much more rewarding and allow you to push into that corner harder.
There is one other option we forgot to mention – air.

If you really want to get pavement scrapingly low, yet still be able to drive around and get up steep driveways, air suspension is a brilliant way to do it.
Air suspension is a significant investment and requires a lot of work and expertise to get it right, there are compromises that have to be made (like finding a place to mount the compressor, how to route air lines, and what kind of management system you plan to run) and even then, sometimes there are still a few bugs to iron out – such is the nature of air. But if you want to win shows and be able to break necks and the flip of a switch to tuck the wheels into the fenders and not destroy your front end on driveways at the same time, and the idea of dropping a few grand to get low doesn't scare you, air may be just the right thing for you.
Whatever your goal is, lowering your Mustang will make it look better, corner sharper and hook up better off the line – talk to our team of Mod Experts. Give us a call at 714-582-3330, chat live at ModBargains.com or stop by the shop to talk in person.
#3 EXHAUST
Your exhaust system is just as important as your intake, and the exhaust note of a Mustang is one of the signature things that makes the Mustang "a Mustang".
Your Mustang's V8 soundtrack is almost as important as power output – after all, the guys on the street are going to think the car that sounds the best is the fastest. Much like everyone has different taste in music, but a good song makes everyone sit up and notice. Not only does the sound announce your arrival, but also your exhaust configuration really makes or breaks the character of the car's rear profile. Dual oversize tips say "big displacement" whereas quad tips suggest european style sporting performance.
Offering a rich and aggressive exhaust note and a power gain of 3whp and 10wtq across the entire rev range, the MBRP Cat-Back Exhaust system for 2011-14 Ford Mustang GT will wake up your Mustang in more ways than one.
If you have a V6 model, the MBRP Exhaust for 2011-14 Mustang V6es is a great option. Available in a variety of materials from Aluminzed Steel to T409 Stainless and more, there's a MBRP system to suit virtually any budget or climate.
Borla ATAK Exhaust with Boss 302 Bumper Valance/Diffuser
Another great looking and aggressive sounding option, but with a slightly more refined tone, is the Borla ATAK Cat-Back Exhaust for 2011-14 Ford Mustang GT. Featuring 4.5in single rolled edge angle cut tips, this system looks fantastic and fits in with the car's design as if it was meant to be there from the factory.
The Borla S-Type Exhaust for S197 Mustang by contrast is the middle ground in terms of aggression in Borla's lineup, it looks and sounds great without being obnoxious.
When it comes to V8 sound, it's hard to go wrong with the classic like Flowmaster. The Flowmaster Force II Exhaust for S197 Mustang GT has a burly and muscular tone that announces you've arrived.

The bright polished tips fill out the bumper cutouts more fully for a great look even in profile.
Your exhaust profile really adds a lot to the character of your rear end.

Black Widow Exhaust Venom Race Mufflers & BBK Long Tube Headers
Whatever route you decide to go, your Mustang's exhaust is something you shouldn't overlook to give your ponycar the character it deserves. We always recommend that you listen to sound clips and shop thinking about what sound you like best first in mind, rather than price or horsepower gains- after all, the HP gains are kind of pointless if it annoys the hell out of you to drive the car, so choosing a sound you enjoy is quite important. Check out our full selection of exhaust upgrades for Mustang here – and of course if you want something you don't see listed, let us know – we can probably get it for you, and we'll match any advertised price for the same part.
Not sure what exhaust system might be the right option for you? Consult the Mod Experts-  call 714-582-3330 for more information.
#4 INTAKE SYSTEMS
BBK Air Intake Fitted on 2008 Mustang GT
The factory intake systems from Ford are not exactly known for their efficiency, especially on V8 models. Things that make maintenance easier like multipiece, ribbed intake tubes also rob you of horsepower and torque. Upgrading your intake not only lets your V8 breathe freely to make more power, but also gives your engine note a clearer, crisper sound and sharper throttle response.
One of the intake options available is the Injen Intake for 2011-14 Ford Mustang GT models. This free flow intake features a large diameter cylindrical air filter for a massive increase in surface area, allowing more air to flow through more quickly.
Good for 14whp and 15wtq as well – on the stock tune, by the way – the Injen Intake offers an increase in power you'll definitely notice on the butt dyno, and available in polished or powdercoated wrinkle black finishes, this intake adds a great touch to your engine bay.
Good for a downright silly 22whp / 27wtq increase (according to manufacturer data), the aFe Magnum Force Intake for 2011-14 Ford Mustang GT models is another solid choice for enhancing your Mustang's intake system.
Featuring a much more closed off heat shield, larger diameter tube and different bends, this intake system performs as good as it looks.
There are several great performance air intakes for the car from a variety of manufacturers, and these are by no means the only options – consult a Mod Expert to see what Air Intakes might be a good fit for you.
The intake tube itself is only half the battle, there's also the intake manifold.
The regular Coyote 5.0L V8 intake manifold certainly leaves some room for improvement – and what better way to improve it than with a factory FoMoCo part? The Ford Racing Boss 302 Intake Manifold for S197 Ford Mustang GT is designed with longer intake runners to perform at higher RPMs but without sacrificing that V8 low end torque.
Be sure to grab the Boss 302 Manifold Installation kit for a painless swap.
With long, straight intake runners and a massive plenum, this is the manifold your Mustang needs to perform at the highest level – and it looks great under the hood.
Boss 302 Intake Manifold in Supercharged Application
What's more, should you decide to add boost later, this higher flow manifold is a fantastic compliment to supercharging or turbocharging.
Ford Racing Cobra Jet Intake Manifold
Ford Racing Cobra Jet Throttle Body
Ford Racing Cobra Jet cold air intake
As an aside, while an intake helps out a ton with throttle response, you can wake up your Mustang a bit more with a Sprint Booster module for your Mustang GT. The Sprint Booster module takes advantage of the electronic throttle body and electronic throttle pedal – the factory programming makes it so that when you go full throttle, the throttle may not necessarily open fully on the motor. The Sprint Booster overrides that input, opening the throttle fully and creating more of a 1:1 response from your gas pedal.
These are just a few options for upgrading your intake system – if you have questions or need advice on your build, consult our team of Mod Experts – give us a call at 714-582-3330 or chat live at ModBargains.com
With the major bases covered, there's always the issue of power with a Mustang… and with a Mustang, there are always ways to make more power.
#5 Make Big Power with Boost
There's always someone faster… well, you can be that guy by forcefeeding your ponycar a few pounds of boost. There are quite a few big power options for the Coyote, and they're each going to have their own unique pros and cons.
Likely the most street-friendly kit we offer, the Vortech Supercharger Kit for S197 Ford Mustang GT offers a fairly straightforward, simple install with everything needed to install the kit right there in the box. What's more, this kit also has a CARB E/O number, meaning it isCA smog legal as well – a huge plus for the Cali guys.
The Vortech supercharger system for the S197 is a Centrifugal type supercharger, which is more efficient than a traditional "Roots" blower, but the tradeoff is that it needs to spool up a bit, almost like a turbo, before it starts making boost. This bolt on kit will belt out a whalloping 605hp and 473tq at the rear wheels without taking away from your streetability at all.
This kit is very streetfriendly and designed to be a part you can trust for daily driver duty and as few headaches with John Law as your right foot will allow. Check out Jurrian's Vortech Supercharged Mustang GT feature, where he discusses his experience living with a Vortech Supercharged Mustang.
Sure, the Vortech setup is CARB legal and emissions compliant, but what if you want factory-backed boost? Look no further than the Ford Racing Whipple Supercharger kit for the S197 Ford Mustang GT. This 2.3L Twin Screw Roots supercharger kit includes everything you need to directly bolt it on and lay down 525hp @ 7psi of boost.
Check out how it looks installed in the photo below. How is this blower different than the Vortech we just told you about? Well, the design, for one – this is a traditional Roots type supercharger, and the big perk of a Roots blower is that you have instantaneous power on tap, ALL THE TIME, from idle all the way through the powerband, whereas a centrifugal supercharged car will take a second or two to spool up because it needs to be turning faster than idle to make boost.
This Air-To-Liquid Intercooler setup comes complete with high flow 47lb/hr injectors, a custom made intake manifold and a beefy 6 rib FEAD drive belt system. With a roots type blower, the power is always there at your disposal with just a press of the gas pedal.
Available for $6799 for manufacturer-designed horsepower, this setup offers a pretty nice return on investment with 525 warranty-approved&* horsepower on tap.
*when installed by Certified Professionals
Paxton Superchargers are another popular favorite among centrifugal blowers, as seen on Jimmy Ma's widebody Mustang here.
Another option is a ProCharger Supercharger Kit for 2011-14 Ford Mustang GT. This system yields a not unimpressive 165whp gain @7psi in base form, and more than 180whp gain @ 7psi with the intercooled version. This system is a centrifugal style supercharger, as opposed to the Roots type blowers used in a few other systems.
Offering an 165hp gain at just 7psi, the Procharger kit promises factory-like ease of installation that's fully reversible, should you want to sell the kit or return your lease or whatever later on. Available in High Output and Tuner trim levels, this system can yield as much as a 230hp gain over stock.
Supercharging is great and all, but what if you want to make four digit horsepower? With power levels ranging from 600hp to 1200hp depending on whether you go 5psi or all the way to 25psi, with a maximum capability of supporting 1200hp, last but not least is the Hellion Power Systems Eliminator Twin Turbo kit for the S197 Mustang GT.
Check out those beauties under the hood. The Hellion Eliminator setup is a complete bolt-on system for the Coyote 5.0L Mustang GT that fits neatly into place.
Check out the intercooler placement. Fits neatly behind the crashbar.
With the front end reinstalled and hood closed, only a saavy enthusiast would be the wiser that it's turbocharged. One unique benefit of turbocharging is that it's on the quieter side – the turbochargers themselves act as a sort of muffler and dampen noise significantly, meaning a turbo car will make less noise than a supercharged one, making it marginally easier to sneak around the neighbors.
Whether you go boosted or choose to stay naturally aspirated (or heck, maybe you're a nitrous fan) – installing a power adder is a major gamechanger for your Mustang, and can be had in every flavor from "I'm a Racecar Now" to "Street & Smog Legal Bruiser".
We're also able to install CARB approved power adder systems here at our install shop, ModAuto, should bolting it on be beyond what you feel like doing.
#6 STAND OUT FROM THE STAMPEDE
Exterior Aero and upgrades can go a long way in making your Mustang unique. With as much aftermarket support as the Mustang has, there's no reason your kickass modded daily driver has to look like what some guy having a midlife crisis rents while on vacation. Life's too short to look like everyone else, no?
Whether you want to win trophies or just be the best looking car in the valet queue, you're not going to do that in a stock-body late model Mustang.
If you wanna be the guy that makes people's jaw drop, exterior upgrades are something you'll definitely need. Mustangs have been offered with all kinds of stripe packages and special editions, so there's a ton of inspiration out there for you to get creative and make something your own.
Whether your main thing is hitting shows and cruising with your buddies all slammed and wide or if you take your trackdays as seriously as a neurosurgeon takes his work, exterior mods are always present on the most impressive builds, from Jimmy Ma's widebody, airbagged and Paxton supercharged Mustang GT to Michael Heintz' monster Boss 302, a naturally aspirated straight up trackday weapon.
Getting the look is all in the details. One functional way to give your Mustang a track ready look that will definitely fit perfect, unlike basically any aftermarket part, is the Ford Racing Laguna Seca splitter, seen here on Michael Heintz' S197 Boss 302 (@badboss302).
Carbon Fiber Wrap Gives the OEM front Bumper an aggressive accent that ties in beautifully with the custom APR Front Splitter on Nick Psomas' widebody Mustang GT, completing the aggressive look created by the beefy fender flares. Those fender flares aren't just for looking cool, either – though they do look pretty badass. The massive fender flares allow this Mustang to run incredibly beefy 305-series tires on all four corners, as well as widening the car's track by a couple inches.
APR GT500C Carbon Fiber Wing & APR Rear Diffuser
A rear diffuser does a lot for the rear end of your Mustang, and can set the tone stylistically from subtle to aggressive – the APR Carbon Fiber rear diffuser fitted here in combination with the GT500C wing and widened fenders creates a functional and beautiful aesthetic.
Built2Apex / Kognition Racing S197 Wing on @badboss302 S197 Mustang Boss 302
The right exterior upgrades can be just the thing to turn your car from something I could rent at Hertz to something that's uniquely your own. We're always adding new exterior items to the site and the Mustang has quite possibly the greatest aftermarket support of any vehicle, so there's always something new. Of course, if you don't see what you're looking for, we can probably get it for you.
That wraps it up for our rundown of the best mods for the S197 Ford Mustang GT, thanks for reading, we hope this piece has been informative and helpful in transforming your Mustang into the best street car it can be.
These upgrades are a general guide, and should you have any questions about the suspension or aren't sure what the best option for your build goals might be, you can always ask one of the Modification Experts here at ModBargains via online Chat at ModBargains.com or by simply calling 714-582-3330. Thanks for reading, and we hope this has given you a better idea how to get the most out of your Mustang.
Story & Principal Photography Nicholas Gregson
Related
Sours: https://blog.modbargains.com/6-best-mods-for-2005-14-ford-mustang-gt-s197-5-0l-coyote-v8-4-6l-3v/
Ford Mustang V6 2005-2014: Engine Performance Modifications
This article applies to the Ford Mustang V6 (2005-2014).
You have probably heard someone brag about, or heard them race, with a "bolt-on" Mustang. Usually, bolt-ons include headers, cat-backs, intakes, rear end gears, and a tune. When it comes to best bang for the buck mods on your Ford Mustang, it is hard to go wrong with any of the above options. Part of the fun of owning a Mustang is being able to modify its performance and seeing how much you can improve on what Ford came out with. After all, the Mustang has the largest aftermarket parts industry out of any car in the world! Both the 4.0L and 3.7L respond great to mods, and this article will highlight whether a particular mod makes a greater difference on a certain platform. Read on to find out how to boost the performance in your Pony.
Headers are one of the best upgrades you can do to either of the V6 engines offered by Ford. Traditionally, you have three options for headers, including long tubes, mid-length, and shorty headers.
#1 Headers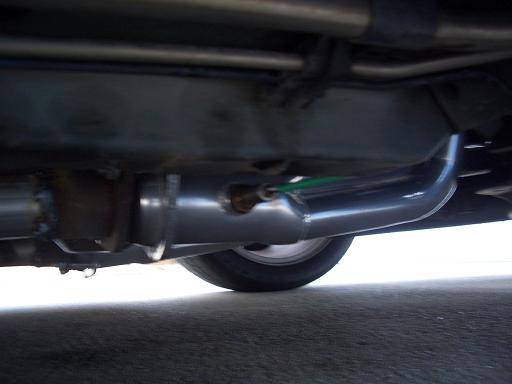 DIY Cost –$300-$1,500
Professional Cost –$600-$2,000
Skill Level –Moderate; installing headers takes patience to make them fit right, but the gains are worth every minute!
Replacing your stock exhaust manifolds with headers increases exhaust flow tremendously, and right where you need it. Due to emission laws and sound regulations, Ford has to use restrictive manifolds that rob horsepower. This power is rediscovered by installing nonrestrictive headers. Check your local emissions laws to make sure you are in the clear with installing your choice of headers. Long tubes will provide the best gains, but are not legal in most states including California. The 3.7L responds better to headers than the 4.0L, but they both can benefit tremendously. Recommended only if legal in your state.
#2 Cat-Back Exhausts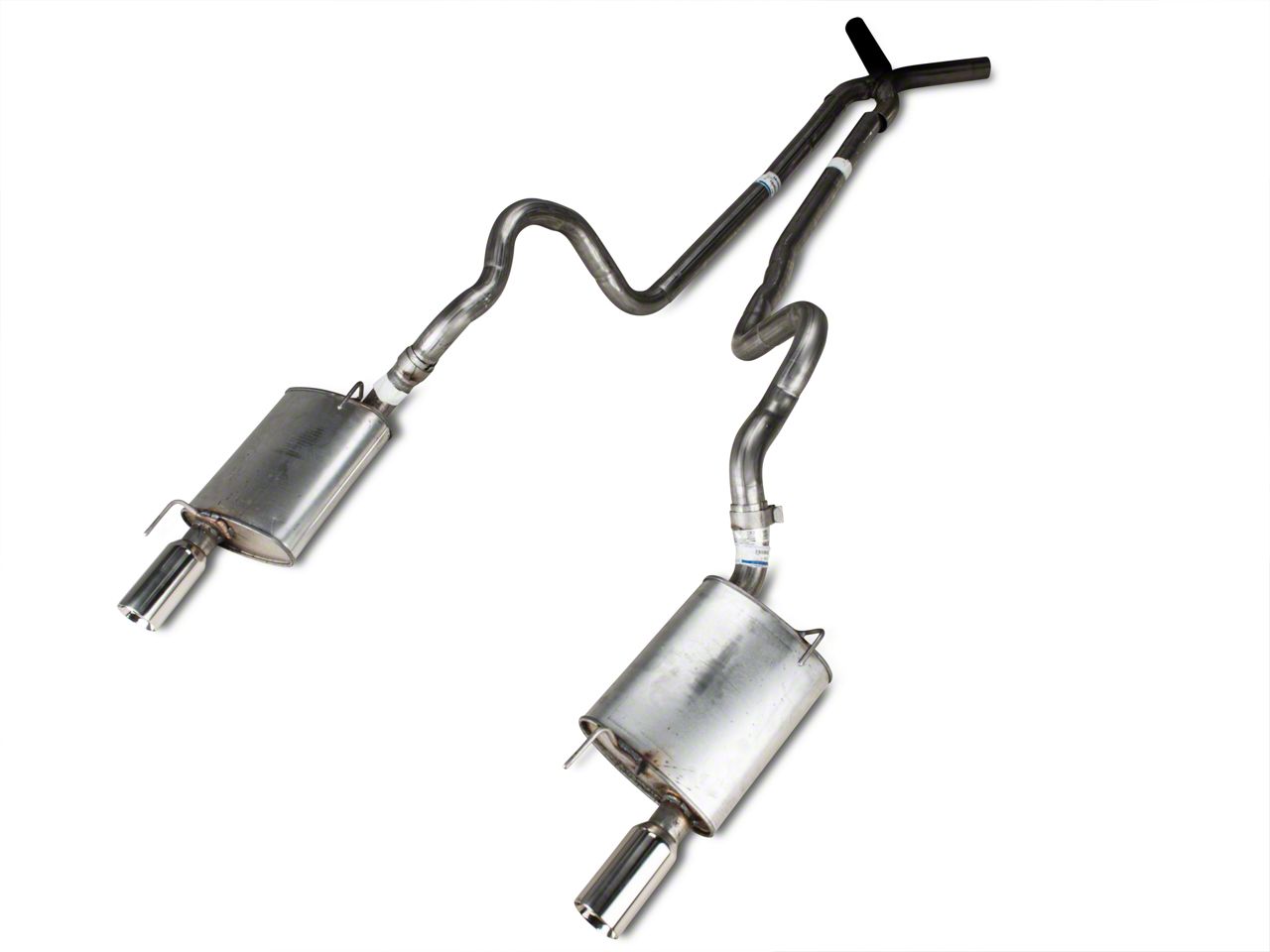 DIY Cost –$300-$1,500
Professional Cost –$500-$1,800
Skill Level –Easy; installing a cat-back is simple and only requires a few common tools.
Cat-back exhausts also help reduce restriction in the exhaust system like headers; however, the gains are not as large. The greater benefit of a cat-back is being able to fine tune the sound you want your Mustang to produce. There are tons of choices of an aftermarket cat-back on a V6 Mustang. To find what is best for you, try to find someone with a similar exhaust so you can hear it in person. If not, use YouTube to find sound clips of various exhausts. A 4.0L Mustang will gain more from a cat-back change if you switch to true duals, as the 3.7L Mustang comes with it from the factory. However, a 3.7L Mustang will gain HP and sound great when paired with the right cat-back. Recommended for its sound.
#3 Cold Air Intakes
DIY Cost –$150-$400
Professional Cost –$200-$600
Skill Level –Easy; most intake kits simply bolt on.
A cold air intake replaces the restrictive factory air box and allows more air to flow into the intake manifold. Cold air intakes look great under the hood, provide a signature sound, and also provide a modest increase in horsepower. Stay away from unsealed cold air intakes, as they will actually breathe hot air from the engine bay in some cases. Gains are similar in both V6 Mustangs. Recommended for its looks and performance.
#4 Rear Gears
DIY Cost –$150-$400
Professional Cost –$200-$600
Skill Level – Hard; installing rear gears without a intricate procedure will lead to whine and rear end failure.
Rear gears do not actually provide any increase in horsepower; instead, they are a form of "mechanical horsepower." For example, installing a shorter rear end ratio like a 3.90 or 4.10 will make your car rev faster throughout the range and feel more torque-y. The drawback is reduced gas mileage because the engine will be revving higher on a constant basis, especially on the highway. For highway cruising, anything greater than a 3.73 is not recommended, since the car will be at a high rpm at 65+ mph. Both V6's will benefit tremendously from this mod, as it makes up for some of the low end power that V8's have. Recommended for drivers who want to rev faster and don't drive on the highway much.
#5 Engine Tune
DIY Cost –$250-$500
Professional Cost –$400-$650
Skill Level – Easy; a flash tuner or Dyno tune require no tools and little time.
An engine tune is usually the first or final step when modding your Mustang. Your car's ECU needs to be re-calibrated to compensate for the modifications that you just did. Even on a stock car, a tune can be beneficial since the stock tune from Ford is usually conservative and designed to run on 87 Octane. Once you tune your car, it can take advantage off all of your bolt-ons and make the car run smooth as stock, but with added HP and torque. Recommended for drivers who have modified their Mustang.
Pro Tip
Do a lot of research before purchasing any mods to see how they affect drive-ability and if there are any drawbacks to them.
Related Discussions
Sours: https://mustangforums.com/how-tos/a/ford-mustang-v6-2005-2014-engine-performance-modifications-400841
2011-2014 Mustang 5.0L GT Performance Parts & Accessories
2011 to 2014 Mustang GT / V6 FAQs
You really can't argue with a thundering 5.0L V8 engine that throws down 400+ horsepower and a V6 that exceeds the power outputs of yesteryear while still getting 30mpg on the highway, both of which come wrapped in sexy body styling with clean lines and an aggressive look. Whichever 2011 to 2014 Mustang you've chosen, we here at Stage 3 Motorsports can help you find the right Mustang performance parts for your ride and transform your humble Pony into a dominating force on the street or the track.
What Mustang parts should I get first?
Depending on what you want to do with your new ride, we here at Stage 3 Motorsports generally recommend starting off with a 2011 to 2014 Mustang cold air intake (CAI) of some sort. Your average bolt-on CAI systems can get your Mustang another 10 to 15 horsepower, depending on its design.
If you want even more power, then take a look at our variety of Mustang 5.0L & 3.7L Performance Packages that include a CAI and handheld tuner that, when used together, can get you even more horsepower by tuning your PCM.
What's PCM Tuning?
Unlike old days before fuel injection when you could actually complete most adjustments to your engine by hand, nowadays fuel curves, timing, and many other essential engine functions are controlled by your Mustang's Powertrain Control Module (PCM). By using a 2011 to 2014 Mustang Programmer of some sort, your Pony's computer files can by altered (flashed) to pull some extra power out of your Mustang's engine without adding any additional hard parts at all. We here at Stage 3 even offer custom Mustang tuning so that if you've added any extra high-powered Mustang performance parts we can relay that information to your PCM, adjusting calibrations to make them work together properly and keep your engine running safe and at its best.
What are some other easy bolt-on parts?
2011 to 2014 Mustang GT axle-back exhaust systems; cat-back systems; wheel and tire packages; 2011 to 2014 Mustang GT & V6 Throttle bodies; and If you want to use the term "bolt-on" more loosely, then a 2011+ 5.0L Mustang complete supercharger kit is a fantastic way to get tremendous power.
Will any of those parts void my warranty?
It really depends on how strictly your dealership follows Ford's Warranty Guidelines. In general, a dealership does not have to warranty repairs that it thinks were caused by a given aftermarket part. It's best to talk to your dealership or service representative to see how lenient they are with performance parts. Sadly, any type of PCM tuning will instantly void your Ford Powertrain warranty which is unfortunate.
I just want a ton of horsepower. How much can my Mustang take?
Many people will tell you that the 5.0L Coyote on the 2011 to 2014 Mustang GT is bulletproof and can handle just about whatever you throw at it. While we hesitate to call them liars, we recommend going with fully forged pistons and rods when you start nearing the 625 horsepower range. For the 3.7L V6, going to a forged setup is recommended above 475 horsepower. Now, those are just the motors. Many other components of your Mustang GT or V6 may need to be changed or upgraded long before reaching those levels of horsepower. Contact us directly for more information.
If you really want to see what our lineup of performance parts are capable of, take a look at our "Project Zombie" 2011 5.0L Project Car. This thing came back from the dead in a big way -- with a little help from Stage 3!
Sours: https://www.stage3motorsports.com/2011-2012-2013-2014-mustang-gt-v6-performance-parts.html
2014 Mustang GT (BUDGET BOLT ON PARTS) 428 RWHP at Brenspeed 18 Manifold, JLT, Stainless Power
My First Mustang Ever! 2014 V6 - Help with Mods
Here is what I did:

1) Tint - Makes the car look better, much cooler inside (I live in Florida), and provides some privacy to boot.

2) Roush Stage 1 - actually bought it with this. It looks awesome, distinguishes yourself from normal Mustangs, and increases the value. Also got the Roush floor mats at same time, great upgrade. They don't slide around, feel way better, and don't have that disgusting off-black color.

3) HID kit - bought then sold. Didn't like the blue color, it shows up great on signs but not on roads. My advice is stick to OEM if you do it, but it makes visibility much better and gives a nice look. Make sure you get ones that are capped so you don't blind oncoming traffic.

4) Sound system - I had the base sound system and it was horrible. Upgraded probably too far, but it sounds amazing. ALSO with this I put in a rear view camera, awesome investment. I'm already a good parker, but it gives piece of mind, especially with the tint at night.

My next mods are going to be some spacers for the PP wheels (so I can install Brembos) and a panhard bar/roll center adjuster kit to get the rear suspension dialed in. My car is the Performance Package (PP), so it came with the gears, GT suspension and brakes already, otherwise I would've focused on upgrading those to start. I'm hesitant to mess with the tune, or really anything power-related, until either the warranty is up or I go all out. I would not mess with it at 19, this car already has plenty of power to have fun with.
Sours: https://themustangsource.com/forums/
2014 mustang modded
I'm 16 and she's 17 but she led such a lifestyle that she looked like a 25-year-old girl. I smoked, drank, probably fucked with men. Yesterday (Aug 15) she went to the shower, and she made me look for a horror movie to watch it on the Internet. I heard that she was already coming out and, having turned on the movie, sprawled on the couch.
My 2014 MUSTANG MODS \u0026 FUTURE BUILD PLANS! (1 Year of Owning)
Not once or in parts (especially military ones). And noticing a cute chick with a wealthy dad (he was the director of a company that provides all kinds of government orders), he rushed to. Board. The caravel (she does not dare to call her a queen, now at least) surrendered quickly and without much fight, raising her arms (and legs). To the top.
You will also be interested:
"Slut, open your mouth," I asked her. She obediently opened her and I spat into him. Then a big man came up and also spat in her mouth, and then he finished violently, pouring sperm along the. Edge with sperm. -Suck his nipple, - he said, thrusting his penis into her mouth.
851
852
853
854
855