How to Make an Easy Nerf Gun Cake
Easy fun cakes are a staple around our house for birthdays and this Easy Nerf Gun Cake is no exception.  This Kit Kat cake is always a hit and perfect for any Nerf War Birthday Party.  A Nerf Gun Birthday Party was the perfect theme for my 8 year old son's birthday party.  Need more Nerf Birthday Party ideas then make sure you check out the free printable Nerf Birthday Party Invitations, and Nerf Wars Party Games and Favours.
How to Make an Easy Nerf Gun Cake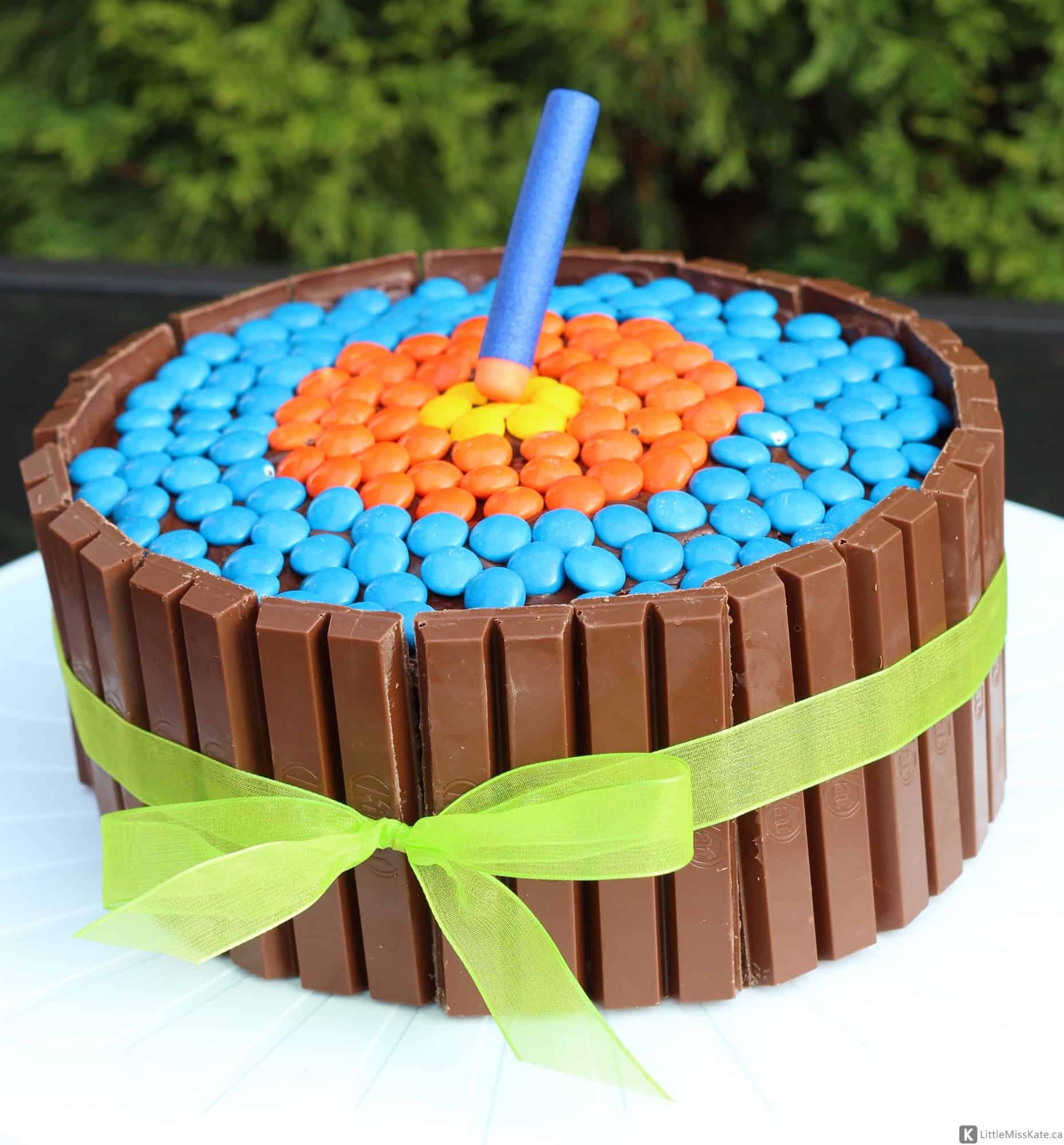 Disclosure:  This blog post may contain affiliate links. What does that mean? I get a little commission if you purchase using my link, at no extra cost to you.
This cake mix birthday cake is impressive and feeds a crowd.  You read that right, this delicious looking cake is made with box cake mix.  If you want to bake 2  – 8 inch round cakes from scratch by all means go for it, but I am a box cake mix kind of mom.  And you can make amazing cakes from boxed cake mix, including this adorable Triceratops Dinosaur birthday cake.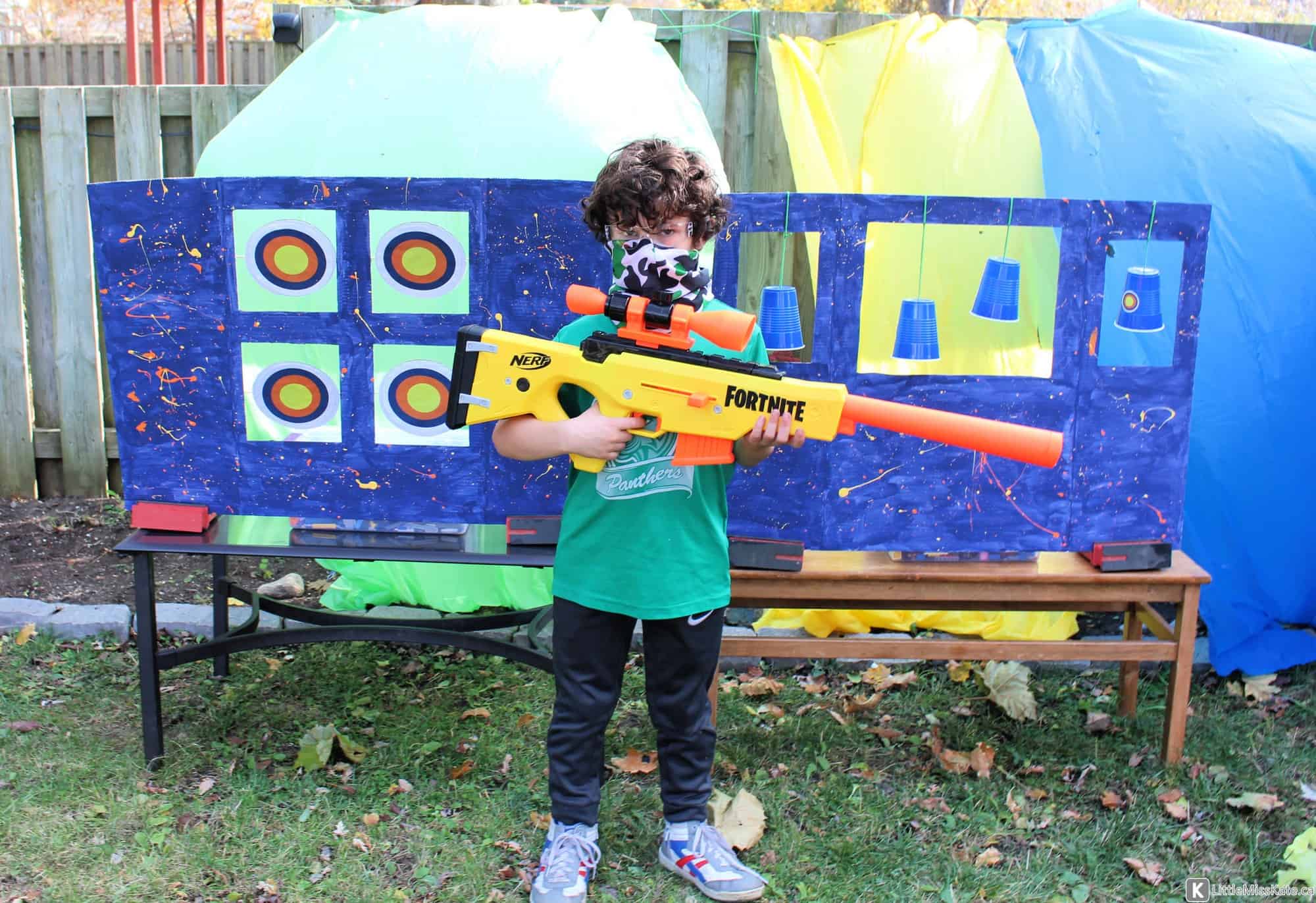 Now that you have your Nerf Cake picked out, if you need some Nerf guns here are some of the ones my kids loved:
Don't forget to pick up any Nerf Birthday Party Supplies that you need Amazon Canada and Amazon.com have a good selection.
What you need for an Easy Nerf Gun Cake:
Box of cake mix baked into 2 – 8 inch round cakes
2 containers of frosting, I used chocolate
12 Kit Kat Bars
400g Bag of M&Ms
Nerf Dart (a clean one!)
Toothpick
Ribbon
How to Make an Easy Nerf Gun Cake
Bake the two  8 inch round cakes according to package instructions.  Allow to cool before icing
Place 1 cake on your cake board, I put strips of wax paper around the edges so that I can slide it out once it is iced and keep the cake board clean.  Iced the top of the first cake.
Add the second layer on top, and frost the entire cake liberally.
Break the Kit kats in half so each piece has 2 "sticks" of kit kat.  Carefully place the kit kats around the cake.  Press gently into the icing on the sides of the cake.  Tie a ribbon around the kit kats in a bow.
Separate the yellow, orange and blue M&Ms into bowls
Start in the centre and make a small circle using yellow M&Ms
Continue a to decorate the top of the cake with a ring of Orange M&M's
Finish off the top of the cake with blue M&M's
Using a strong toothpick or skewer push into the foam part of the dart and place into the cake
Serve and enjoy by cutting into slices with 2 kit kats per piece.
If you are looking for a Nerf Gun Birthday Cake then look no further.  This cake makes at least 20 servings when cut into 2 kit kat sticks per slice.  This cake is EASY, there are no special pans or tools required.  Watch for sales leading up to your Nerf wars party to pick up the Kit Kats and M&M's .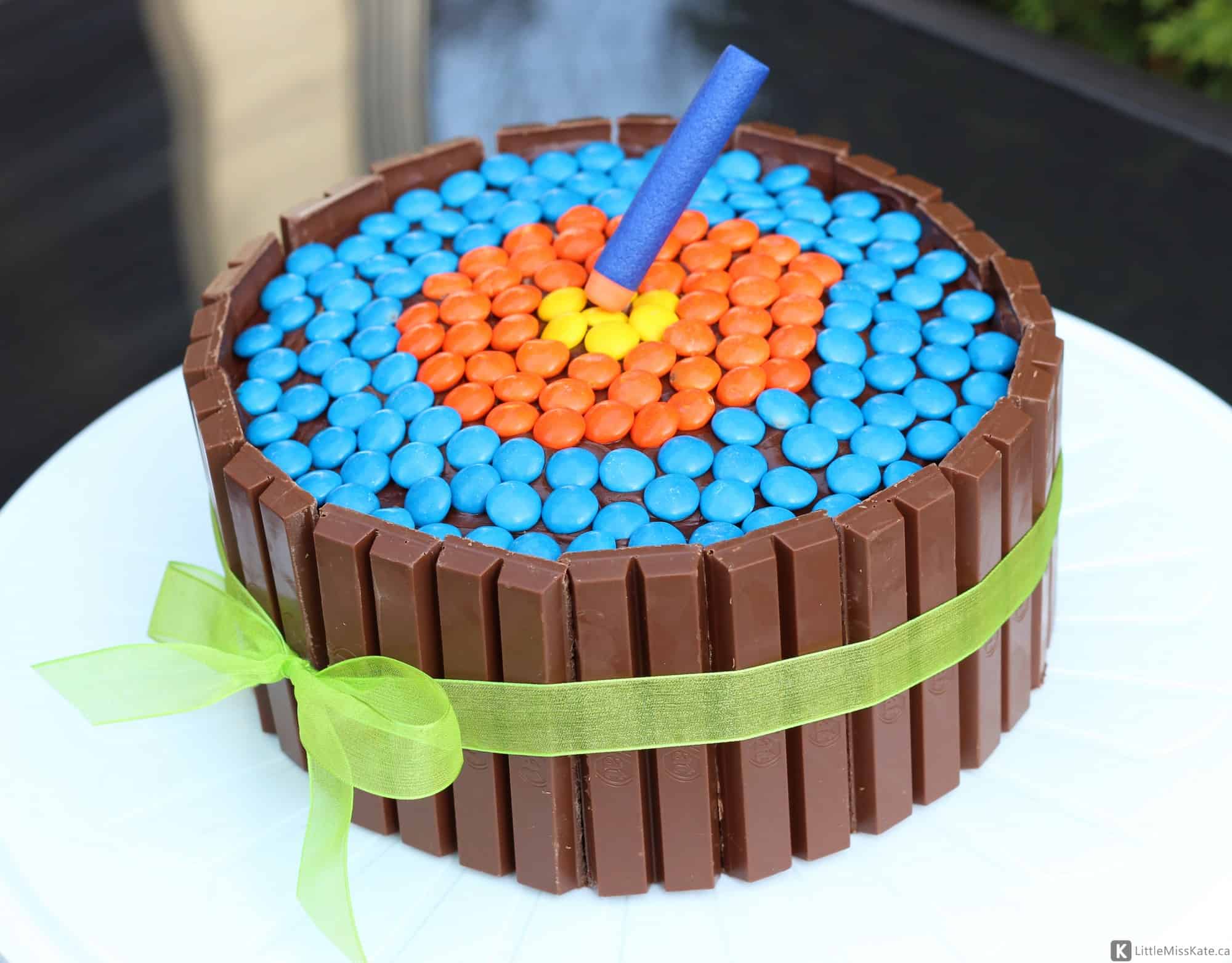 Those left over M&M's make for a great after party snack or can be baked into cookies or other goodies. 
And the Nerf Cake Topper can't be any easier then the one on this cake!  Make sure you have a clean dart or grab one out from one of your new nerf guns to use before the kids start sending them flying.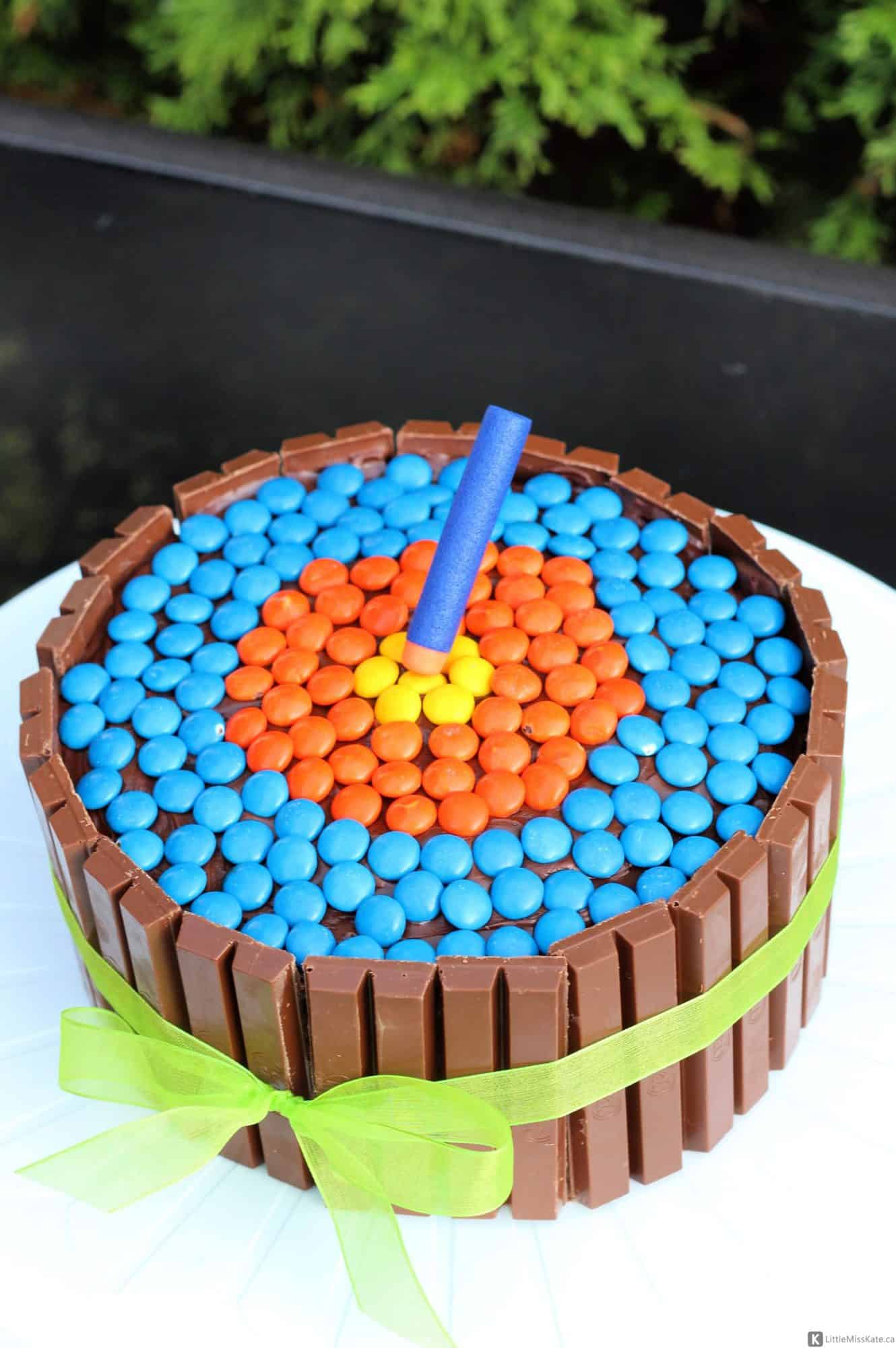 Kit Kat Cakes are versatile and can be be turned into so many different themes including a Canada Day Cake, or Easy Elegant Birthday Cake.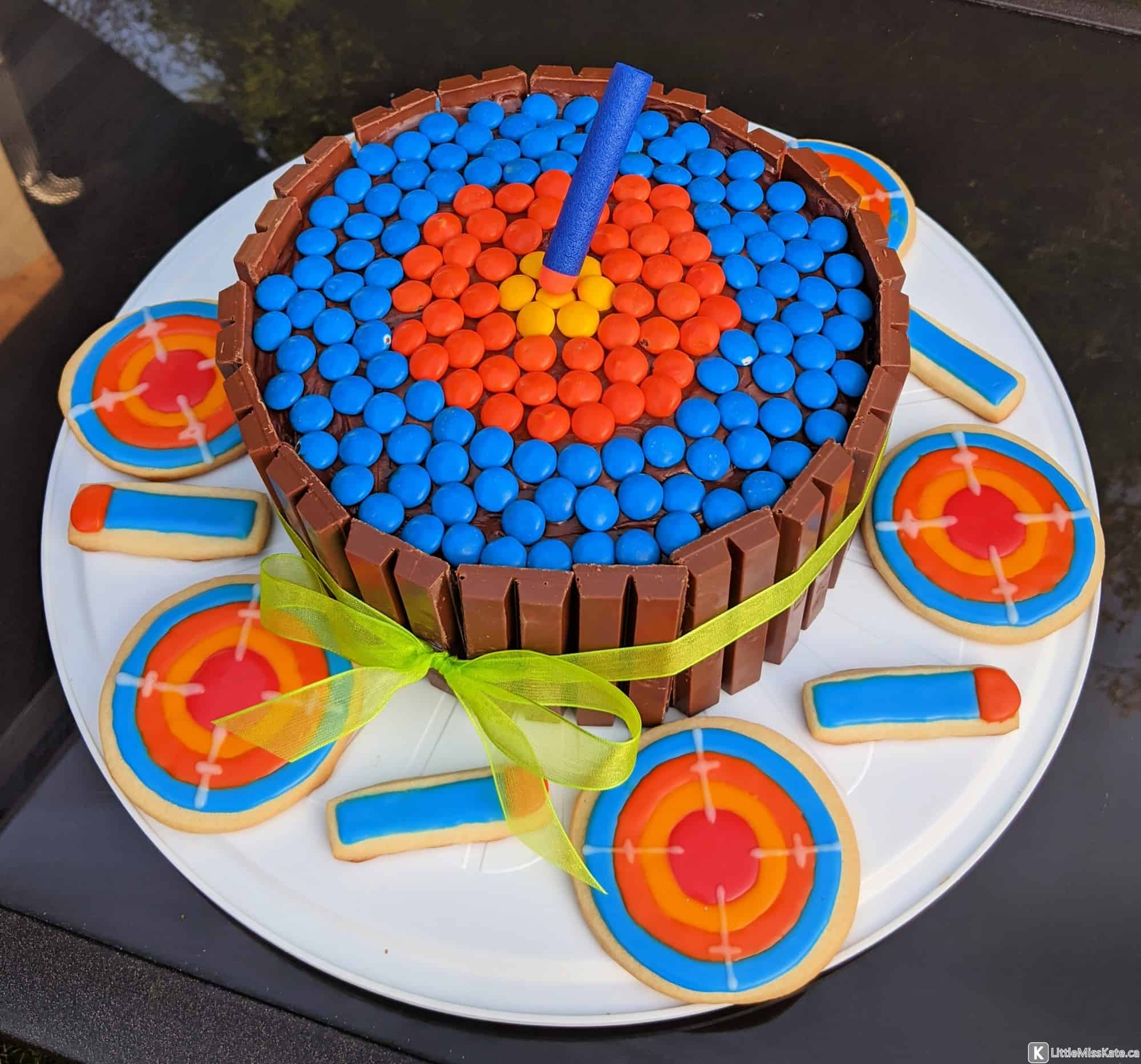 I also ordered some Nerf themed sugar cookies to go with our cake and for the children to take home as a treat.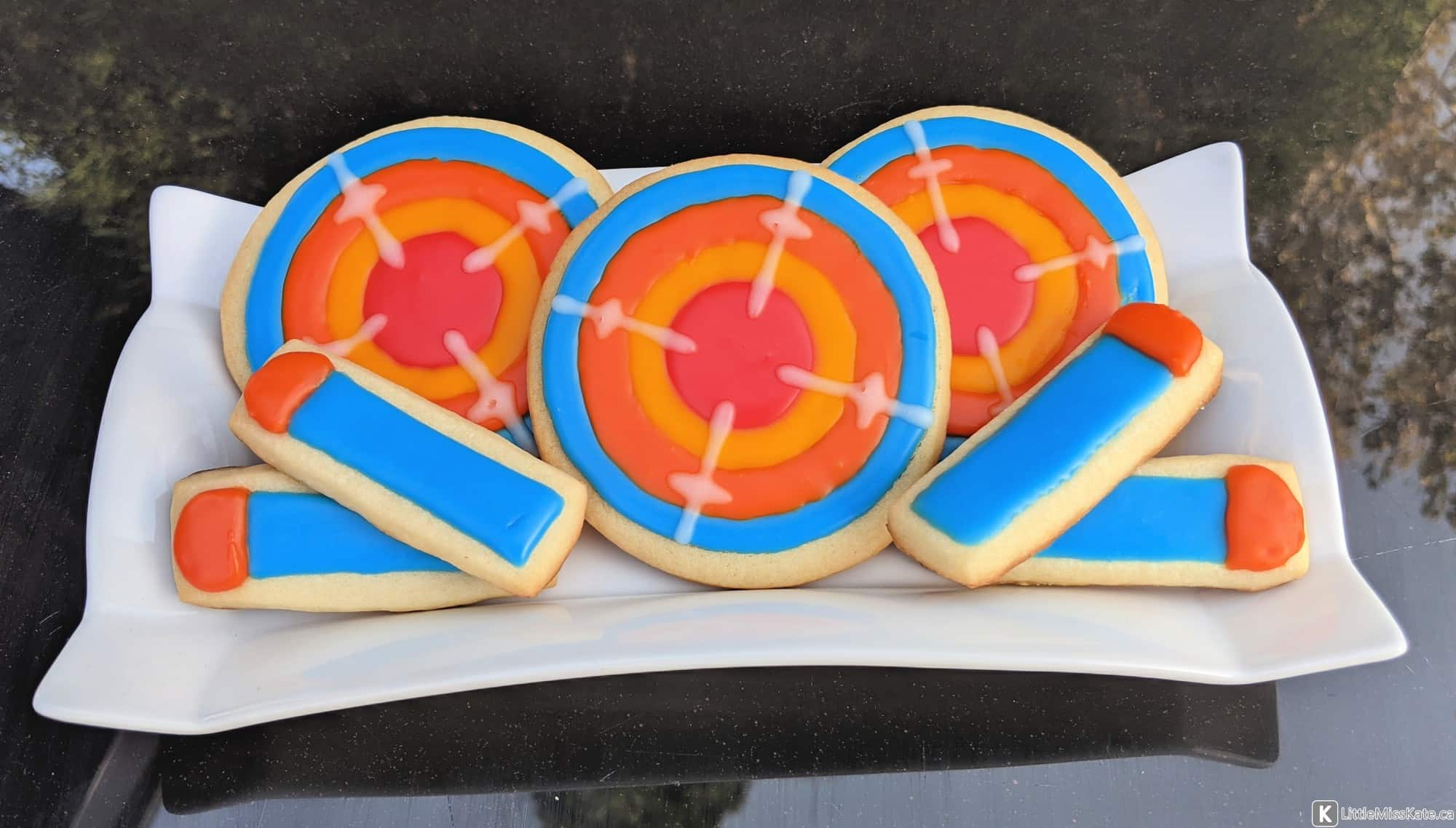 This post was brought to you by Hasbro.  All opinions are strictly our own.
Sharing is caring!
Sours: https://theexploringfamily.com/celebrations/birthday/how-to-make-an-easy-nerf-gun-cake/
Details
Theme cakes are an exclusive collection at Chocko Choza meeting the purpose of various occasions and messages. Speciality: Cakes are prepared freshly within 24 hours of time after taking orders online. It is packaged and wrapped carefully to avoid transit damage and damage from pests and moist while delivering it to your doorstep. Note : A kilogram of Cake serves 12 people approximately.
More Information
| | |
| --- | --- |
| Creative Cake Themes | 1/2 Birthday theme cake, 1st Birthday Theme Cake, Butterfly theme cake, Car and bike theme cake, Cartoon theme cake, Chocolate theme cake, Creative cake for Boys, Creative cake for Girls, School and book theme cake, Farmyard theme cake, Jungle theme cake, Lifestyle theme cake, Number shape cake, Sports and games theme cake, Transport theme cake, Valentine & Heart theme cake, Wedding theme cake, Cup cakes, Edible printed cake, Baby shower theme cake, Aero plane theme cake |
| Creative Cake Flavour | 70% Dark Chocolate, Dark Chocolate Peanut Butter , Almond Bon Bon, 34% Milk Chocolate , Ruby Chocolate, Almond Allure, Nutty , Ultimate Chocolate, Belgian Ebony, Chocko Luscious, Chocolate Truffle, Exotic Kiwi , Raspberry Fresh, Black Currant Fresh , Coffee Addict, Truffle Kisses, Strawberry Fresh, Blueberry fresh, Chocolate Lumber, Purely Chocolate, Rich Chocolate layer, Pineapple Fresh , Chocko Pine , White Forest, Black Forest , Tangy Lime, Butterscotch, Mild Chocolate, Pine Caramel |
| Egg Type | Egg, Egg Free |
| Preparation Time | 24.00 hrs |
Sours: https://chockochoza.com/gun-theme-creative-cake-1.html
20 Amazing real-looking gun themed cakes you won't believe exist
The rifles, shotguns, revolvers and so on. We have seen these in movies used by our super-favourite action heroes or in actual life by police and army who protect us. What a thrill to see an action series!  Even when we play video games, we have used such game tools. Guns have the history of many centuries and they have always got modified for fighting against enemies.
For people who enjoy some adventure, action in their life will definitely love this cake on their spacial occasion. These cakes look exactly like a real gun or rifle, you'll hardly be able to see the difference. You'll see the wedding cakes with a rifle as the topper on it as it was made for the army officer's wedding. How cool is that! You'll also see a gaming gun-themed cake for kids.
So take a look at it-
1.
source
2.
source
 3. Army police themed hunting groom's cake-
Machine gun weapon wedding cake topper is looking so adorable.
source
4.shotgun cake-
source
5.
source
6.
source
7.
source
8.Hunting gun camo Cake-
source
9.
source
10. AR-15 Rifle and Gun Case Cake –
The rifle is sculpted out of fondant, the cake board is covered in fondant and painted to look like wood, and the gun case is cake covered in fondant.
source
11.
source
11.
source
12.
source
13.
source
14.
source
These cakes below are fun for kids.
15.Nerf Gun Cake-
source
16.
source
17.
source
18.
source
19.
source
20.
source
Comment below if you liked our series of gun themed cakes. Please do like us on Fb and twitter and stay tuned for more.
Post Views: 3,053
Sours: https://www.crustncakes.com/blog/20-amazing-real-looking-gun-themed-cakes-you-wont-believe-exist/
How to make a Nerf Gun cake
Every now and then we were lifted to the surface, turned around, but this made copulation even more pleasant. Finally, we finished almost at the same time, and, panting, again merged into a kiss. I would stay here forever, the girl breathed out, catching her breath.
Lets remember this place, maybe when we will meet, I replied, not without regret, releasing her from my embrace. She left the same day.
Cake gun theme
Overlooking the shower. In the mornings after our date, she said, I run here to watch you shower. there is a lot of seed from daytime sex. I watched as it began to flow down his thighs, only after resting a little, he was able to wash himself.
Nerf Gun Cake 🔴 sheet cake decor
But not finding a coach on the familiar podium, Swan quickly switched her gaze to the ball. She swung and hit the ball with force, the opponent did not even twitch, seeing that he was flying straight into the net. The second serve Emma again. Let into the net, thereby losing "her" game. Expecting a serve from Samoilova, Emma again looked around the podium, but again did not find Killian.
You will also like:
Emma walked closer to the window and saw Mills practicing on the court. Swan caught exactly the moment when Regina worked out the serve. Swan watched each blow of the brunette carefully, noting to herself. Once again that they had just played around yesterday. Regina was practicing her serve, and as Emma noticed, her serve is strong with a twist and basically goes right under the line, accurate, fast and very dangerous.
843
844
845
846
847