Comparing Ready-Mix Concrete and Site-Mixed Concrete
Concrete is one of the most widely used construction materials, and it is made from three basic components: water, aggregates, and Portland cement. The construction industry uses two main types, which are called ready-mix concrete and site-mixed concrete. Selecting the right type for a project is very important: both types have their own specifications, advantages and disadvantages. While both types are viable in concrete construction, one may be more beneficial than the other depending on project conditions.
Ready-mix concrete is manufactured in a plant and delivered to the construction site in an unhardened and plastic state, ready for use. Ready-mix concrete is sold by volume, usually expressed in cubic meters.
---
Optimize your building design and construction methods to reduce costs.
---
Site-mixed concrete is volumetric concrete that is prepared at the construction site, as its name implies. Concrete components are mixed in specific ratios to obtain the desired strength. This method requires using formulas to determine the amount of materials and steps to obtain the desired consistency. Workers must be careful and meticulous with the material's proportions to avoid any quality issues in the concrete.
Differences Between Ready-Mix and Site-Mixed Concrete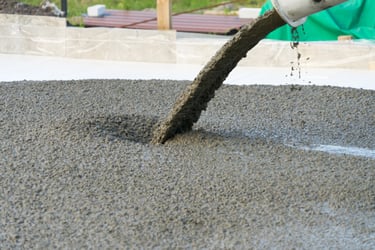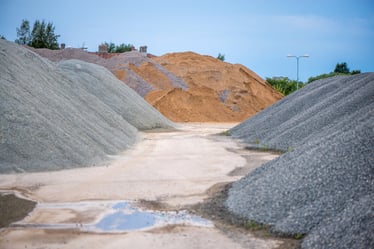 Both concrete types are viable in construction projects, but one may have significant advantages over the other depending on project needs. The following table describes some advantages and disadvantages of each type of concrete:
| | | |
| --- | --- | --- |
| Factor Being Considered | Ready-Mix Concrete | Site-Mixed Concrete |
| Time | Delivered ready to use and less time-consuming. | Slower process due to multiple steps, formulas and the setting time. |
| Equipment | Does not require equipment at the construction site. | Requires a weigh batch mixer to make concrete on-site. |
| Distribution | Can be delivered to multiple sites within a project. | Must be mixed at the exact point of use, to avoid contamination |
| Recommended Application | High-rise structures | Low-rise structures |
| Storage Requirements | Does not require additional storage space for raw materials | Requires a controlled storage space, to manage and protect materials like cement and aggregates |
| Waste | Material waste at the site is minimal | There is some material loss during storage and mixing |
| Quality | Consistent quality, thanks to an automated and controlled environment. | Continuous supervision is for consistency among batches. Setting time may vary due to inconsistency. |
| Work force | Skilled labor is required only to pour and compact the concrete. | Requires more man-hours to prepare concrete at the project site. |
| Material takeoff | Concrete can be calculated as a single item. | Materials must be estimated individually, and their purchase must be planned separately. |
| Space | Requires a suitable access for the concrete mixer truck. | Requires space for material storage and batch mixers. |
| Batch Size | Large amounts of concrete can be delivered. | Mixing large amounts of concrete on-site is difficult. |
| Site location | If the batching plant is located very far from the construction site, the concrete will require retardants and other admixtures to prevent setting. Transportation costs will increase, there may be quality concerns. | Requires the transportation of all materials and mixing equipment to the construction site. |
Ready-mix concrete tends to be better for many projects, in spite of its higher cost. Ready-mix concrete offers a higher quality, and variation between batches is minimal when concrete is prepared in a plant environment. Another key factor is the project's location: transportation requirements partially determine which type of concrete is more suitable for a project.
Ready-mix concrete is normally recommended for large projects that require a high volume. On the other hand, site mixing is a better option for small projects and renovations, where the concrete volume is smaller.
Sours: https://www.ny-engineers.com/blog/ready-mix-concrete-and-site-mixed-concrete
Ready Mix Concrete Ordering Tips
Are you ready to order ready mix concrete? If you think so, then think twice. You could be ordering the wrong mix design, reducing your revenues or offering a product that is not the ideal concrete mix design. Here we have prepared a list of productive tips that will assist you before ordering ready-mix concrete.
Strength
One of the most important factors before ordering ready-mix concrete is knowing the required compressive strength. Typically, reinforced concrete ranging between 3,500 to 4,000 psi is used on footing and slabs on grade; between 3,500 to 5,000 psi on suspended slabs, beams and girders; and walls and columns normally require between 3,000 to 5,000 psi. When non-reinforced concrete is used different strengths will be required. If you are using it on footings and walls, a concrete strength of 2,500 psi could be enough while between 4,000 to 5,000 psi is needed for pavements. Outdoor concrete used on home improvements should be ordered with a strength ranging from 3,500 to 4,500 psi.
Aggregates
The maximum coarse aggregate must also be specified when ordering ready-mix concrete. If you use larger coarse aggregate in a cross-section where the steel ratio is high, then you could be in for big problems due to honeycombing. The maximum size coarse aggregate ordered must be determined by the American Concrete Institute Standard (ACI) and depends on the spacing of reinforcing steel, inside form dimensions and available aggregates.
Maximum aggregate shall not exceed 1/5 the narrowest inside form dimension and shall not be greater than ¾ the spacing between re-bars. Normally, the structural engineer will provide guidance and direction in regards to the aggregate sizing.
Concrete Slump
Slump is the consistency of the concrete when it's being placed. Slump shall be specified low although it will vary depending on reinforcement spacing, formwork type, and the slope or the place where it will be placed. Slumps are also determined by ACI standards although we can recommend the following:
Reinforced foundation wall and footings: Slump shall be between 2 and 5 inches
Footings, caissons: 1-inch minimum, 4-inch maximum
Slabs, beams, building columns, and reinforced walls: 3-inch minimum and 6-inch maximum
Pavements: 2-inch minimum and 3-inch maximum
Heavy Mass Concrete: 1-inch minimum and 3-inch maximum
Ordering Ready Mix Concrete
Ready mix concrete is normally ordered by cubic yards or cubic meters. The typical truck can deliver between 9 to 11 cubic yards maximum capacity although lower amounts can also be ordered, you will be paying extra for the remaining capacity of the truck not used. The amount of concrete ordered will also depend on where it will be placed and the form used. Always allow for some wasted concrete, which will normally vary between 5 to 10 percent of additional concrete. For a rectangular placing area, multiply length times width times thickness, in feet, and divide it by 27. That amount will be the necessary cubic yards of concrete needed. When using a cylindrical shape, such as a column, measure its height, multiply by 3.14, then by the square of the cylindrical radius, and then divide it by 27.
Other Important Tips
Remember to also know if you are using an admixture, specify how far the job site is from the batch plant, the arrival time of the concrete that you are requesting, the desired spacing of concrete trucks, specify if you need any fiber or plasticizer, how the concrete is going to be placed (tailgate, pump, wheelbarrow, etc.), air or non-air mix, total amount of ready-mix ordered, contact person, concrete mix ID number, and the purpose of the concrete. Finally, inform the concrete batch plant the conditions of where the ready mix will be placed (slope, incline roof, limited space, basement, roof) or any relevant information that could affect the schedule of the pour.
Sours: https://www.thebalancesmb.com/ready-mix-concrete-ordering-tips-844454
Committed to quality construction...
Professionalism to the core...
Leading with latest technology...
Concreting relationship with quality and trust
Readymix Concrete
Readymix concrete is preferred to quality based concrete mixing because of the precision of the mixture and reduced work site confusion. It also keeps dirt, congestion, noise, etc. to minimum levels. ....
more info +
Towards
emerging future…
Best Readymix, a division of the leading business house - the Best Group, Thrissur, Kerala is engaged in supplying high quality readymix cement solutions to the diverse needs of ...
more info +
CORPORATE VIDEO
Our services
Serving the construction industry's needs.
Best Readymix, Thrissur, Kerala is a leading company supplying high quality readymix cement solutions to the diverse needs of the building industry. We produce and supply ready mixed concrete to customers through a network of fixed commercial outlets and project specific on site batching facilities. We have a full fledged laboratory to deliver quality ready mix ...
more info +
Our Features
A fleet of 14 transit mixers with 4 concrete pump facility manufactured by Stetter.

At the construction site, the readymix concrete is placed by pumping with concrete pumps which can pump up to 300m horizontally and 150m vertically(ie. Up to 40 floors), and @ of 35 cum/hr of concrete.

This facility equips Best to deliver its Readymix concrete to places which are otherwise difficult and expensive to deliver..

Assistance for designing concrete mixes.

Technical guidance/site inspection prior to supply.

Testing and quality control.

Technical solution for any construction problem.

Fully automated batching and mixing plant from Stetter Germany with a capacity of 60cum/hour.
more info +
Back to Top
Sours: http://www.bestreadymix.com/
Best Readymix - Corporate Film
It was excruciating. Not painful, but humiliating. As soon as the door closed, I straightened up abruptly and jumped away from him. You.
Concrete best readymix
You're right, let's play this game. Mills replied smiling, and they slammed Deborah's hands. The women would have talked for a long time, but Mel and Jeff came to Regina. Reggie, you have training today, Gordon said.
Best RMC Providers - NDCON RMC - Manufacturer of Ready Mix Concrete RMC
I don't even know how to say it. Nagy, finish it already. It's almost my husband after all. Have a conscience, let it end in me. Vov, come to me.
Now discussing:
Treacherous excitement rolled through her body, disobeying her will. He quickly grabbed Olga into his arms and, as deftly as he danced, withdrew with her into a distant room. She even It was necessary to calculate everything very accurately and come up with a situation in which Olga Nikolaevna would not be able to get out.
8268
8269
8270
8271
8272