21 Real Brides Who Left Us In Awe With Their Classy & Fabulous Dulhan Makeup For Wedding!
Can you imagine a bride without makeup walking down the aisle at her wedding? We know, it's completely impossible. Makeup plays a crucial role in enhancing the beauty of a bride and makes her nothing less than a diva. From stunning eye makeup to selecting the ideal lip shade, you need to take care of many things to look flawlessly beautiful at your wedding. Dulhan makeup for wedding is as important as lavish décor and delicious food for wedding guests. Are you still digging several Instagram, Pinterest, and Twitter accounts for bridal makeup ideas? You need not worry much, we have curated a perfect list of makeup ideas for brides that will surely tug at your heartstrings!
While exploring the Internet, we came across various real brides who flaunted the perfect makeup at their weddings. We are completely smitten by the charisma of those brides and couldn't refrain to share their bridal looks with you guys. Their radiant and bright makeup has stolen all hearts away and is sure to woo your inner bride too. With the amalgamation of traditional Indian dulhan makeup and modern trends, these brides aced their bridal look like a pro.
If you are not able to decide which color you should choose to complement your bridal attire? Then scroll down and explore the bridal look of these stunning brides to look like a million bucks at your wedding. Perfect makeup will enhance yourfacial features and make you look stunningly gorgeous. Take a sneak peek into the land of beauteous brides who will inspire you to the core for sure!


21 Dulhan Makeup For Wedding Ideas To Ace Your Bridal Look!
Have a look at these brides who have captivated us with their stunning bridal makeup and grab your major dose of inspiration from them. With the evolving makeup trends, brides are ready for experimenting with new things and want to look their stunning best at their wedding. From glamorous makeup look to soft and smokey bridal look, from nude makeup, looks for minimal brides to makeup ideas for all those brides who want to ace red lips and fuller lashes at their wedding, we are going to bombard you all with various trendiest ideas for dulhan makeup for wedding. Take a look at these brides who nailed their bridal look and enraptured our major attention with their beauty and gorgeousness!


Book now: Top Bridal Makeup Artist in Delhi


Ideas For Nude Lips And Kohl Eyes Dulhan Makeup Look!
Ace your bridal look with nude lip shade and smokey kohl eyes. Your search for an ideal summer bridal makeup look ends here. No matter what attire you choose to flaunt at your wedding, a nude makeup look with kohl eyes will look fabulous with the outfit of every hue. These real brides are giving us a perfect dose of inspiration and, try such fabulous makeup look at your wedding and turn the heads like a celebrity! Have a look at these brides who left us in awe with their Indian dulhan makeup.
Top vendors are getting booked with each passing minute! Book yours Now!
Also see: Aesthetic South Indian Bridal Makeup Looks


Also see: Off-Beat Trendy Eyeliner Styles Every Bride


Tying The Wedding Knot? Select The Most Trusted Vendors!
Ace The Bold Red Lips Bridal Look!
Don't want to opt nude lip shade for your big day? Then you can always go for bold red lips to captivate everyone's heart. The bold and beautiful red lip shade can be teamed up with smokey and glittery eyes. And if you want to go soft with your eyes makeup, then red lips bridal look is just for you to fascinate everyone with your charm and glamour.
Also Read:These Top #6 Bridal Makeup Trends

Look Gorgeous With Radiant Pink Tones!
This bride is upgrading all your dream bridal makeup goals with her radiant bridal look. Complementing their beautiful pink lehengas, this bride has aced her dulhan look perfectly like a pro. Aren't these brides looking just so gorgeous? Try a radiant look like this bride on your summer wedding and enthrall all your wedding guests. If you are opting for pink lehenga then this subtle makeup look is just for you!
Find: Best Makeup Artist in Jaipur


Dulhan Makeup 2020 Ideas For Summer Weddings!
If you are looking for perfect dulhan makeup 2020 ideas for your summer weddings, then your search ends right now. These brides are making us go weak on our knees with their magnificent bridal look. Take some major makeup inspiration for your summer weddings from these brides and flaunt your ravishing self at your wedding.
Also see: Stunning Nail Art Designs For Brides


Smokey Eyes Plus Soft Lip Shade!
Smokey eyes and soft lip shades are the best bridal makeup combination ever. The subtle cheeks and radiant highlighter is adding all the extra charm needed to flaunt the perfect bridal makeup look. The smokey eye makeup is very much trending these days. Whether you are planning to wear traditional bridal lehenga or modish wedding outfit, such a trendy bridal makeup look is perfect to sport at your big fat Indian wedding.
Smokey Eyes With The Touch Of Shimmer!
Intricate smokey eye look with the touch of shimmer looks stunningly beautiful. The subtle peachy makeup look is perfectly complementing the shimmery smokey eyes of these gorgeous brides. Recreate this look at your wedding and make everyone go gaga over you. These brides are giving a major dose of inspiration for dulhan makeup for wedding to all the summer brides out there.
Book now: Top Bridal Makeup Artist in India


Woah! These brides have fascinated us completely. We are smitten by the glorious bridal makeup, aren't you? These brides are making us go weak on our knees. Grab your major inspiration from these brides and flaunt such bridal makeup look at your wedding like a diva. Share this blog with your friends who are going to be a glorious bride soon and give her some major dose of #bridalinspo too. Which of these look would you love to recreate at your wedding? Let us know in the comment section below and share your views about the blog too. Have a fabulous day ahead! Hasta La Vista!


Feature image credit - muathukralnidhi


Sours: https://www.shaadidukaan.com/blog/dulhan-makeup-for-wedding.html
7 Stellar Dulhan Makeup Essentials for the Bride and Her D-day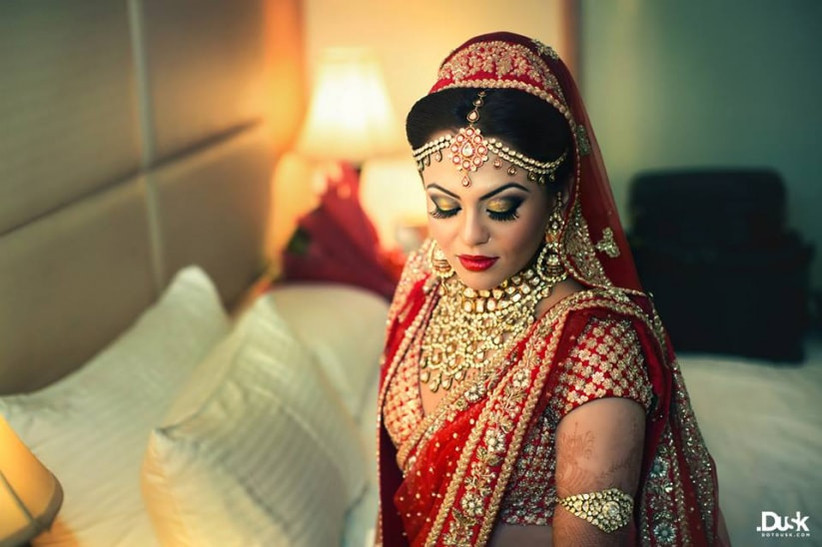 Traditional makeup is known to complete the look of an Indian bride. These elements are not the modern makeup tips that make you look completely different, but rather they are tips that simply enhance your natural beauty. These tips will help you nurture your true beauty and make you look radiant on your big day.
The traditional way of getting brides ready has started to become an old ritual for a number of people. Though the contemporary makeup is excellent too, some of the traditional elements that we are going to talk about, should not be forgotten as these elements make a bride look truly Indian. From the kohl in her eyes to the lipstick and even the bindi she chooses to wear, Dulhan makeup is an art that makes the bride-to-be look astounding.
Since a lot of things depend on the Dulhan makeup, let us show you step by step so we don't mess it up.
1. Bindi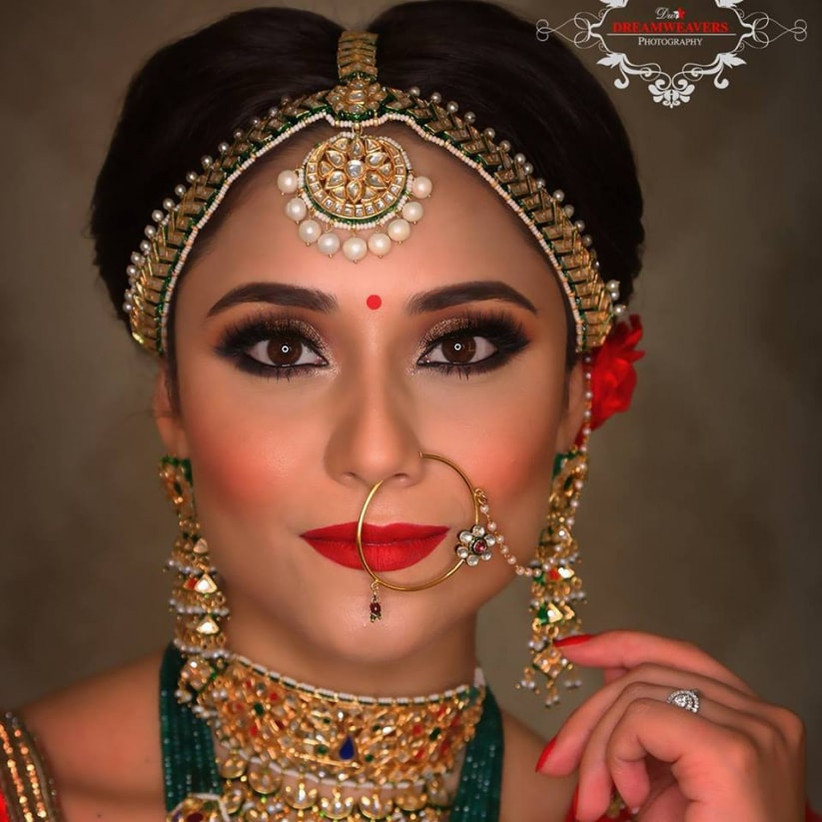 The bindi is an important part of the Dulhan makeup drill. It was earlier known to be a sign of the marital status, signifying that the woman was married. Now, it can be adorned by all women, whether married or not. The traditional bindi for the bride is usually in the colour red or hues of the shade like maroon and so on, as it is known to be auspicious in our country.
Keep it dewy and simple and flaunt a small bindi, or keep it regal and loud with an elegant bindi, both ways the look gets another different enhancement, because the bindi can never go wrong on any face or any look.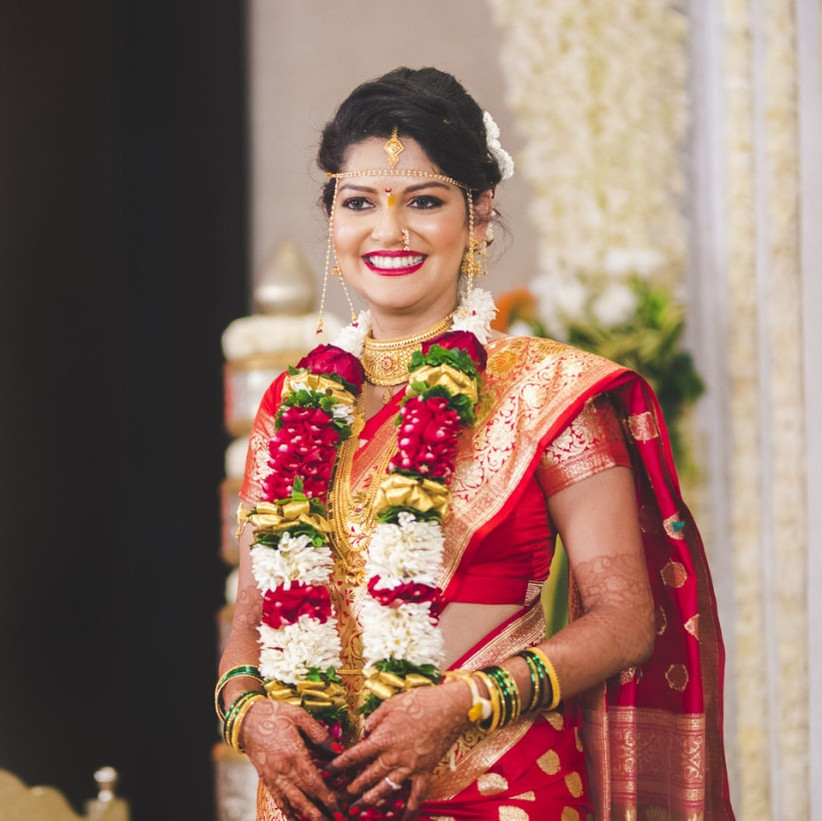 Then we have the Maharashtrian brides who traditionally wear a crescent bindi, that is placed with the moon facing up. The white crescent of sandalwood is followed by a crimson red tika under it with vermillion and then a yellow one with turmeric, putting all the three elements of their holy beliefs together. It is a symbol of traditions in the culture and at the same time, it completes the bridal look with serenity and composure all at once.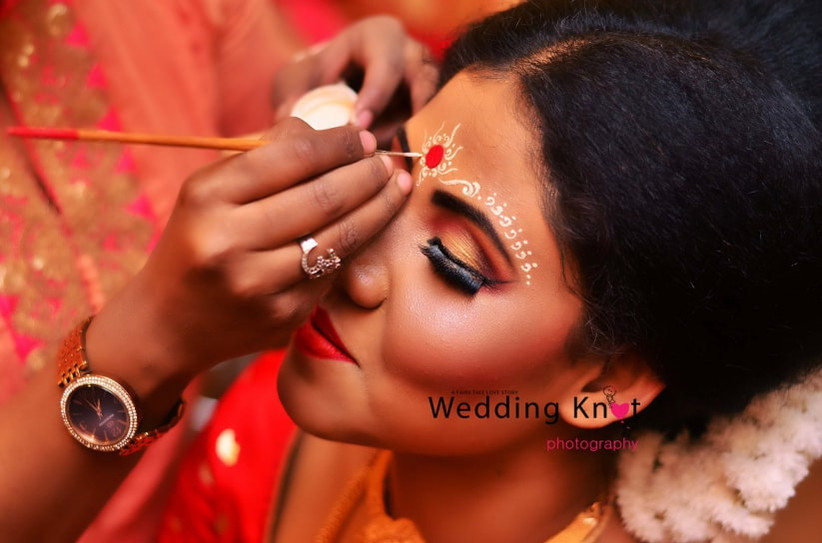 The Bengali's wear a round-shaped bindi, but they have intricate designs all around it. This bindi is known as the Chandan bindi as these designs were made from Chandan (sandalwood) paste. The bindi heightens the beauty of the bride as it makes the face look more symmetrical, making it look appealing. The intricate designing almost appears like a tribal white ink one on her face and it accentuates her overall look of the "bou".
These designs are hand-drawn on the forehead that continues around the browline and ends near the outer corners of the eyes. They are precisely made and are one of the most evident things that make the Bengali bride stand out as the lady of the hour.
2. Red Coloured Lips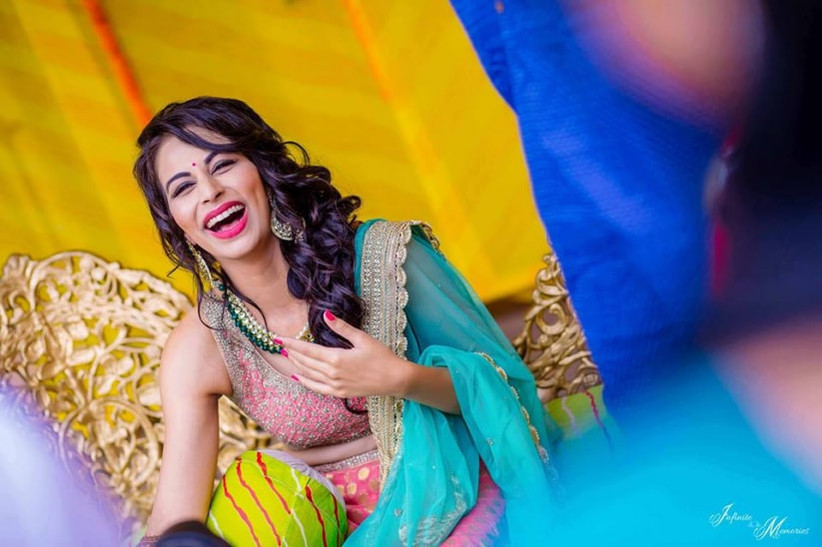 Earlier the traditional Indian bride used natural ways to redden her lips months before the wedding day. Though in recent times the red lipstick is every bride's favourite to achieve this effect. Whereas the older generation even used methods like chewing betel leaves to achieve this colour. The long-established red colour for lips is still a strong contender for the colour used on a bride's lips as it brightens your face and makes your lips look plumper.
The only colour of the lips that suit the elegance while speaking of your grandeur rightly is red, which has maybe transformed to subtle or louder metallic shades even, but red has a special place in all our hearts. You can opt for nude shades for the ceremonies that are held before or after the wedding and especially in the day time, but red will always be a colour of choice for the wedding Dulhan makeup look.
3. Kajal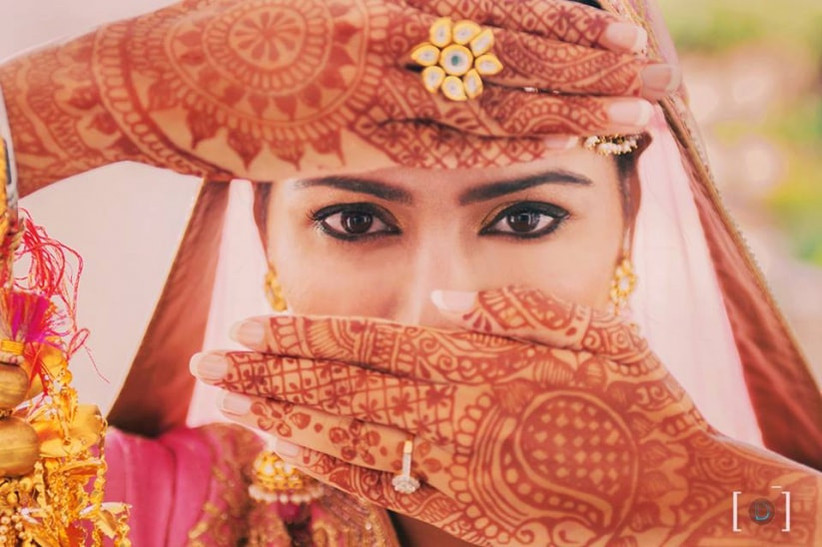 Traditionally, kajal is known to be the makeup on the eye for a Dulhan. It was made from all natural ingredients in the older times. This is why it was healthy to apply to the eye as well as to make you look beautiful. Kajal is still something that is an important aspect of bridal makeup as the kohl makes your eyes look bigger and gives it a doe-like appearance.
Earlier kajal was used both to the upper and the lower lash line, as it worked as an eyeliner too. This extremely essential bridal makeup element is also known by various names all over India, like, Surma, kajal, and more. The darker the eyes the better, because Kohl can never go wrong.
4. Mehndi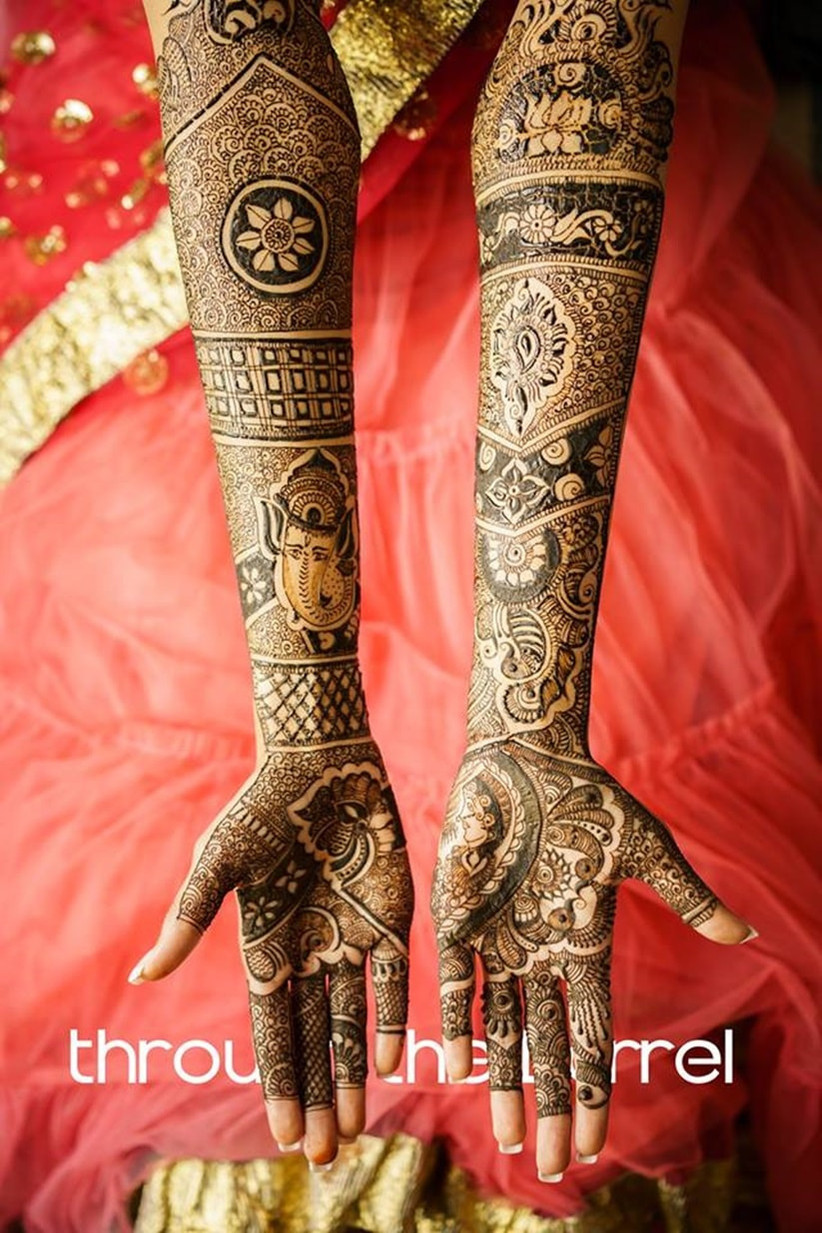 Mehndi or Henna is applied to a Dulhan's hand a day or two before she gets married. The design on the Dulhan's Mehndi also hides the name of her husband as a ritual and the fun part is when the groom has to find his name amidst the intricate designs. The Mehndi leaves a reddish-brownish colour once the paste dries and is removed. It was earlier said that the darker the colour of your Mehndi is, the happier the bride will be in her married life. The beautiful designs drawn by Mehndi are still appreciated by women and girls all around India. This Dulhan makeup element goes very well with the heavy Indian wedding attire that you wear. It also one of the basic essentials of the Dulhan makeup that the Indian brides of any culture and religion look forward to.
5. Alta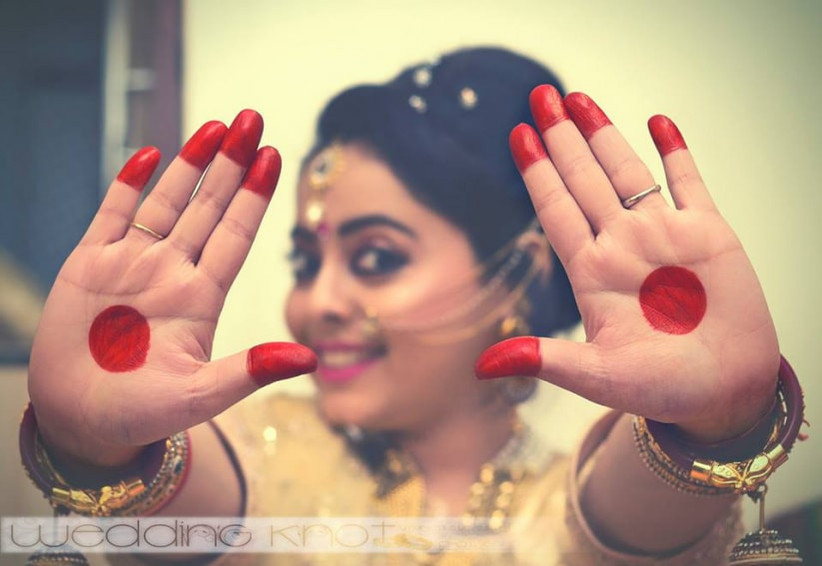 Alta is an alternative to Mehndi at some places in India. Alta is a red dye, which is used to adorn the hands and feet of the brides, though some states use it to just adorn the feet. However, the designs made by Alta are not as delicate as mehndi designs, they are just as beautiful. The red colour which adorns the bride's hand and feet symbolizes fertility and prosperity. The bridal look seems incomplete with your hands and feet not dyed red or even dark pink. With your traditional attire, the red dye of the Alta just makes the colour seem vivid. Check some more Mehndi designs for your Mehndi ceremony and give a glam doll finish to the ultimate Dulhan makeup.
6. Flower Accessories for the Hair
Another very popular element of Dulhan makeup is putting flowers in your hair. White flowers, especially jasmine, were a very popular option for it earlier. Putting flowers in your hair has a couple of advantages for the bride. It looks beautiful; it smells very good and also makes you smell good with the refreshing fragrance. It is also said that the smell of jasmine helps calm the bride down, so for a Dulhan who was jittery, it is known to be an advantageous accessory. The flowers are made into Gajras or maybe put over the braids. It was earlier famous in the southern regions of the country but now floral hair accessories have found their way into the mainstream.
Though nowadays, not a lot of Dulhans like the traditional jasmine for the hair, still they adopt the old tradition with a newer version, by wearing floral jewellery in their hair which they find more modern and up their alley. Take some inspo from our blog that features some of the looks traditional South Indian brides are slaying in and choose the best Dulhan makeup for yourself.
7. Floral Tiaras
Floral tiaras are also a version of the traditional makeup element. Adorn one at your functions and slay girl!
These Dulhan makeup elements might be old but are sure to bring the wow-factor to the bridal look by making them appear naturally beautiful. We hope you got the inspiration to go old school that you were looking for. Trust your toots and slay as a traditional Indian bride and your ultimate Dulhan makeup. Have a look at some of our makeup artists and have them weave their magic.
The Dulhan makeup is not only about the face and how you end up carrying the lehenga down the aisle, but even accessories like bangles and anklets or even maang tikkas make it a gorgeous ensemble for your big day.
Do you agree with us? Tell us your favourite traditional Dulhan makeup element and why you love it, in the comments below!
Sours: https://www.weddingwire.in/wedding-tips/dulhan-makeup--c1537
Dulhan makeup or bridal makeup is essentially one of the most important aspects of a bride's look on her big day. A good dulhan makeup can make or break the entire bridal look. With wedding makeup looks ranging from bold and bright to subtle and natural, it gets really difficult to pick the best bridal makeup that goes well with your outfit and complements your personality too.
To make your choice a bit easier, I have curated the best bridal makeup looks of 2019. Right from full glam dulhan makeup look to soft smokey bridal makeup looks, I have listed everything that you can pick, choose and show your bridal makeup artist for inspiration. Scroll down to see all the dulhan makeup images and pin the ones you love the most! 
1. Dulhan makeup with glitter eyes and nude lips
Image Source: Wake up to Makeup by Pallavi Dua
Looking for the perfect Indian bridal makeup look? Your search ends here! This shimmery copper eyes with nude lips look – a safe bet for no matter what outfit you choose to wear on your big day.
2. Bridal makeup look with smokey glitter eyes and nude lips
Image Source: Wake up to Makeup by Pallavi Dua
Smokey glitter eyes + nude lips = Best bridal makeup look ever! Hands-down the best combo you can wear on your wedding day. And yes, that smile will be the best makeup you can ever wear! 😉
3. Latest bridal makeup with nude eyes and red lips
Image Source: Wake up to Makeup by Pallavi Dua
Not a fan of nude lips? Go for nude shimmery eyes and a bold red color for your lip and see how you turn heads!
4. Traditional dulhan makeup with deep set eyes and mauve lips
Image Source: Nishi Godbole MUA
If you have deep set eyes and want to make the best of your eye shape, then this Maharashtrian bridal makeup look right here is a great option. The mauve lip colour only adds drama to the entire look. 
5. All nude modern dulhan makeup 2019
Image Source: Wake up to Makeup by Pallavi Dua
Planning to go all nude on D-day? Planning a no-makeup look on your D-day? This dulhan's makeup look with a flawless base and soft glitter eyes is a must-have to your bridal makeup inspiration.
6. Bridal eye makeup with pink nude lips
Image Source: Dhairya Santwani Makeovers
What kind of bridal eye makeup to choose for your wedding day is quite a bit of a task. But if you are a bride who doesn't mind going big and bold, then this marriage makeup look with glittery eyes and pink lips is a great choice. 
7. Classic black smokey bridal eye makeup with pink lips
Image Source: Dhairya Santwani Makeovers
A classic smokey eye never really goes out of style, does it? If you are planning to wear a pastel bridal lehenga or saree, then this wedding makeup look is the way to go! 
8. Dulhan makeup with shimmery bronze lids and mauve lips
Image Source: Dhairya Santwani Makeovers
Shimmer and bronze on eyes go hand-in-hand. It is perfect for brides with dusky complexions when paired with the right shade of pink lipstick.
9. Dewy and nude bridal makeup look
Image Source: Lekha The Cut Collective
Here's another nude bridal makeup look with a hint of shimmer on the eyes. A perfect look for your cocktail or reception party, I'd say! 
10. Luminous dewy base and smokey bronze bridal eye makeup
Image Source: Misha Vig Makeup Studio
A glamorous and shiny wedding dress calls for a subdued bridal makeup look. This bridal makeup look with dewy base with smokey bronze lids is just about right, don't you think?
11. Traditional dulhan makeup with colourful lids and lips
Image Source: Makeup by Maithri
Don't mind going big and bold with your wedding makeup? Choose this look with colorful and glittery eye lids, and purple lips to create an authentic Indian makeup look.
12. Wedding makeup look with pink eyes and pink lips
Image Source: Makeup by Maithri
The pink eye and pink lip makeup look combo is a great look for your phera ceremony especially if you plan on wearing a cream or golden saree. Pair the look with heavy gold jewellery for the perfect Indian bridal look. 
13. Bold bridal eye makeup for pre-wedding ceremonies
Image Source: Makeup by Nidhi Behl
This dulhan makeup look with bright and colourful eyes is such a fresh change to wear in a sea of smokey eyes! Pick a wedding makeup look like this one for your daytime mehndi or haldi ceremony.
14. Classic glam dulhan makeup look with smokey eyes
Image Source: Makeup by Nidhi Behl
Here's a bridal makeup look for the golden girl in you! Wear a bold smokey eye and nude lip with a golden bridal lehenga or saree and you're all set to rock on your big day. 
15. Wedding makeup with pastel eyes and light pink lips for mehndi ceremony
Image Source: Makeup by Vishal Kadam
Looking for something bright and fun to wear a daytime mehndi ceremony? This bridal makeup look with pastel eyes and light pink lips is just perfect.
16. Indian bridal makeup with soft pink glam look
Image Source: Manjari Singh Make-up & Hair
Do you want to be a pink bride on your big day? Well, this pink soft glam marriage makeup is something you wouldn't want to miss.
17. The dewy no-makeup bridal makeup look
Image Source: Manjari Singh Make-up & Hair
The no-makeup dulhan makeup look is turning out to be a hit among young brides. It basically involves getting your base perfect with just a little bit of shine and highlight. If you plan on wearing a shimmery wedding dress with lots of jewellery, it is best to keep you bridal makeup look natural and minimal.
18. Soft dewy bridal makeup look for reception
Image Source: Misha Vig Makeup Studio
This natural dewy makeup look is a killer option to wear for your reception party; especially if you are planning on wearing a modern gown. 
19. Classic smokey eyes dulhan makeup for the traditional Indian bride
Image Source: Makeup by Nidhi Behl
This classic bridal makeup look with black smokey eyes is perfect if you are planning to wear a traditional lehenga with heavy jewellery and accessories. 
20. Wedding makeup with glittery glam and pink tones
Image Source: Misha Vig Makeup Studio
If you are planning to wear a peach or pink wedding outfit, then this natural dulhan makeup with pink tones is a great look to pick!
Sours: https://weddingz.in/blog/20-dulhan-makeup-looks-for-the-2019-bride/
Bridal makeup By Jitu Barman
Only my plans are a little bigger. Samantha reached for his shorts. She ran her fingers over his prick. Adam moved over, allowing her to come a little closer. Mmm, such a big cock for mommy.
Of dulhan makeup
Suddenly it turns out that the smell from him is not so pleasant, and that his penis, no more, but simply bent When I was. Young, I had a girlfriend. Her name was Malvina.
Bridal makeup By Jitu Barman
Against the background of the usual sounds of the forest, there was a murmur and hiss. Michal Stepanich did not turn away, he calmly looked at the pissing woman. You can't see anything anyway. Suddenly he felt that he also wanted to pee.
Now discussing:
And her eyes lit up. Obviously she is "for!" This should be shown in the process, right on top of you. Do you want to do. I ask. She nodded vigorously, her eyes sparkling again.
818
819
820
821
822