DIY Outdoor Playhouse Part 3: Lighting, Decor & Monkey Bars
In the initial installments of my DIY wooden playhouse adventure, we covered the first four steps of building a backyard playhouse from scratch.
First, imbue yourself with self-confidence.
Then imagine, plan, gather your materials, put on your work pants – and start building. At the end of Step 4, we left the playhouse looking as you see in the photo just below.
Now, it's time for Step 5, wherein we deck this baby out to make it a cozy and beautiful place for Ruby to hole up with her friends. I'll cover (and show lots of photos of) the painting & playhouse decorating, my use of both battery and super-affordable solar powered lighting for early evening backyard fun – and the all-important, super popular: interior monkey bars!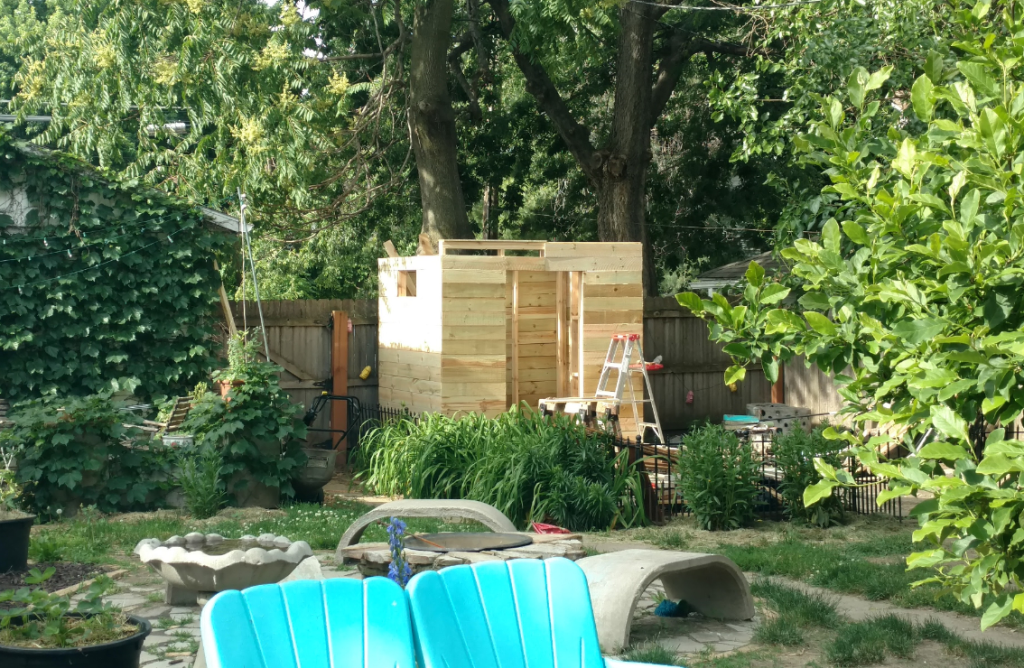 Wooden Playhouse Exterior Paint
Once the basic box was built, I agonized over what color to paint it. I knew I wanted it to be an aqua shade, but do you know how many shades of aqua there are? Hint: There are lots.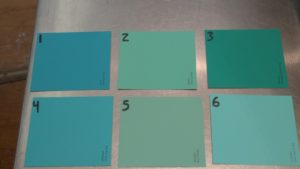 These all looked like the exact same color to me until I put them all together. And then, the choices just made my brain hurt. So, from the paint store, I sent this photo to my sig-o Gerardo, a painter and art teacher, and he liked Number 6, so I bought a gallon of it and slapped it on the exterior of the house with a rough-surface roller.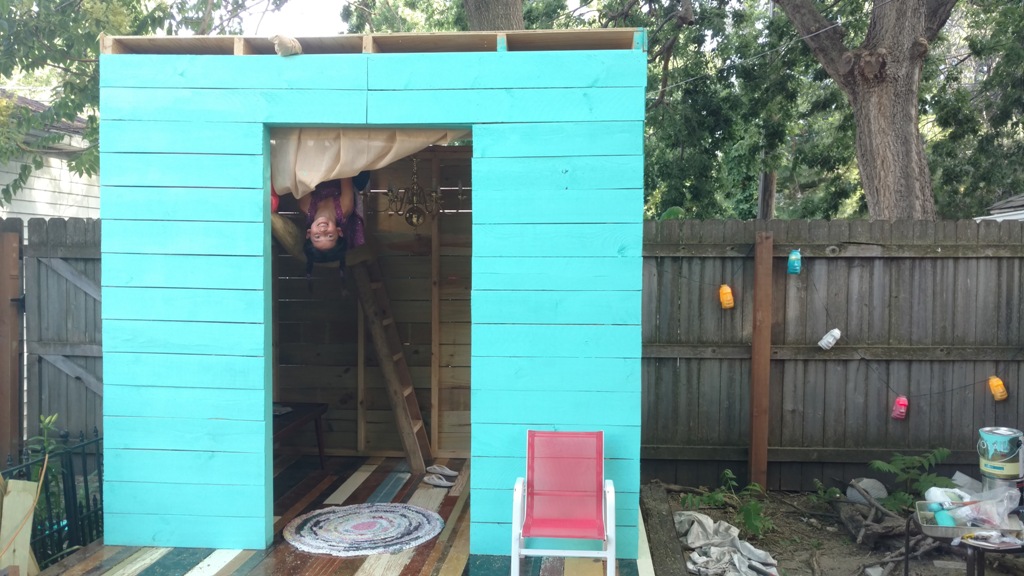 When the paint eventually fades, I'm hoping it'll look like an ancient, wind-worn beach house.
Easy DIY Playhouse Trim Work
To make the house look more finished, and to cover up some glaring flaws, I found some scrap molding for the front. I mitered the corners of the top piece (with a miter saw), but the piece over the door only just fit. I plan on replacing or enhancing that piece with something more decorative when I find the right thing…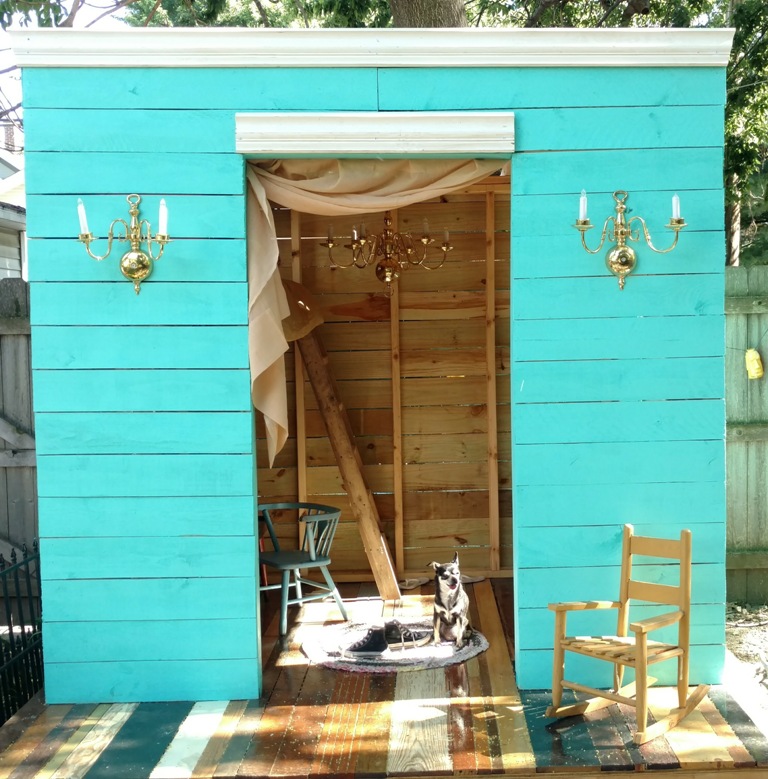 My Kid's Playhouse Furniture & Textiles
I didn't want to put a door on my DIY playhouse, mostly because hanging a door seems like a real drag, something that requires precise measuring skills, which I definitely lack. So, I decided from the beginning to go with a curtain, and I found a peachish/nudish-colored, sheer curtain at the thrift store and stapled it up. The rug is another thrift store find. It gets wet if the rain gets inside, but it dries quickly draped over the fence in the sunshine.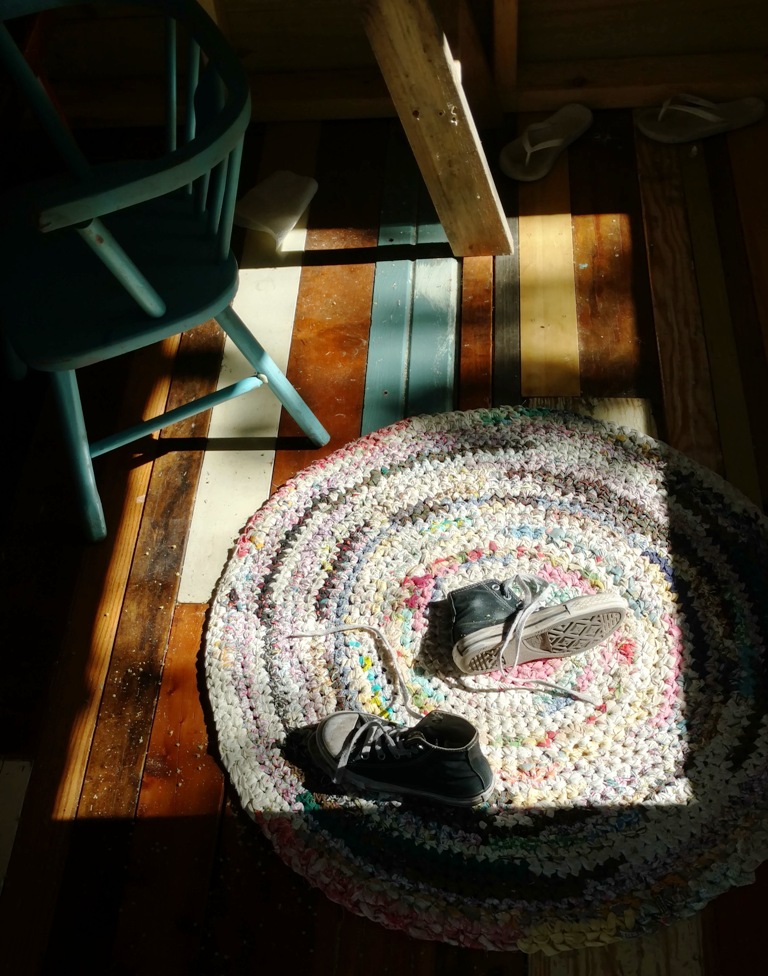 In the loft is a shiny golden sleeping bag that was serendipitously awaiting me at the thrift store. Likewise, the red body pillow. The table is a cast-off I scavenged from the alley, and the small chairs have been lying around the basement and garage for years, needing only a cheerful coat of paint.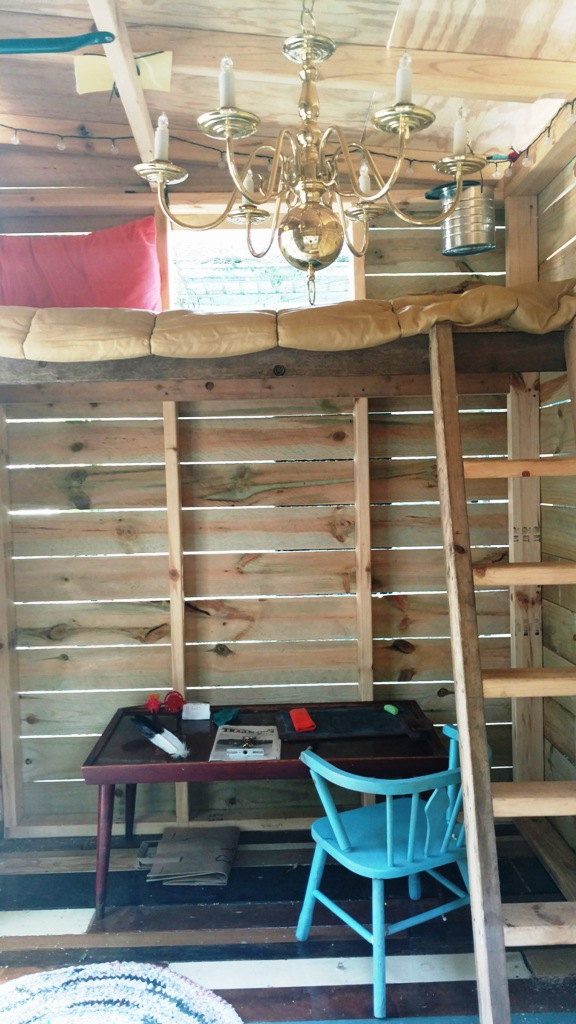 My original plan was to put curtains or [some very cool] bamboo blinds on the big picture window, but Ruby and her pals like climbing in and out through it, so I left it bare as you can see below. And you see the sink and stove below? I found those curbside with a "FREE" sign on them. I couldn't believe it. They're incredibly well-built. I coerced them into my little Honda Civic, cobwebs and all.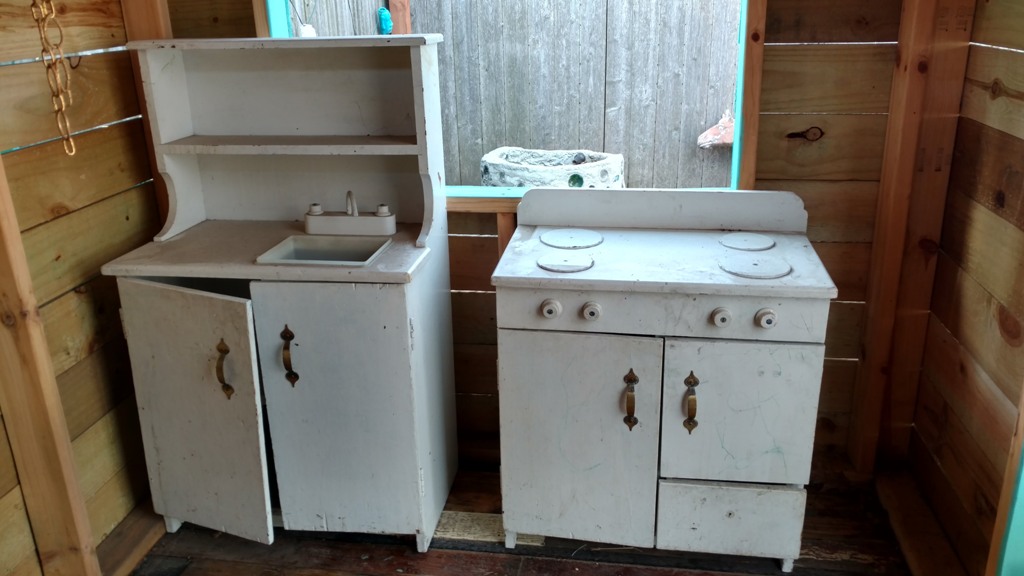 DIY Playhouse Lighting: Battery Powered & Solar
I did a lot of research to figure out how to light this playhouse without having to run an extension cord to the garage. I ended up using a combination of battery-powered and solar-powered lights. The chandelier in the playhouse came from thrift store, as did the exterior wall lights or sconces.
I was going to spray paint the light fixtures a bright color, but Gerardo convinced me to keep them gold, and I'm glad he did. So elegant! I removed the guts from the fixtures (both the interior chandelier and the exterior facade sconces), all the wires and stuff, and found battery-operated candles on Amazon to put in them. But these aren't just any battery-operated candles. These are remote-controlled battery-operated candles, and they have a timer option so that we can set it for two hours and forget about it.
I attached the remote control to the inside wall of the house with Velcro and told Ruby to treat it like a light switch—push the two-hour timer button and leave it alone. Here's what the house looks like at dusk with the lights on: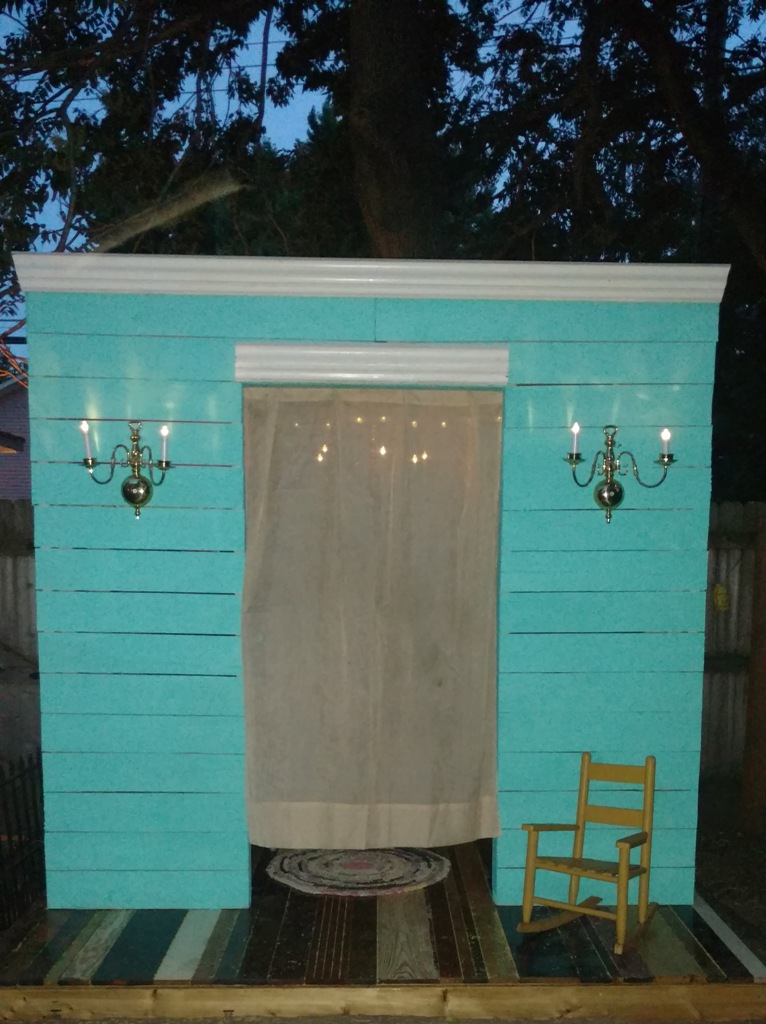 I hung solar powered globe-shaped solar string lights around the inside perimeter for extra lighting that lasts all night, which is cozy and comforting when you look out into the darkness of the yard. I attached the small solar panels to the exterior of the house with Velcro.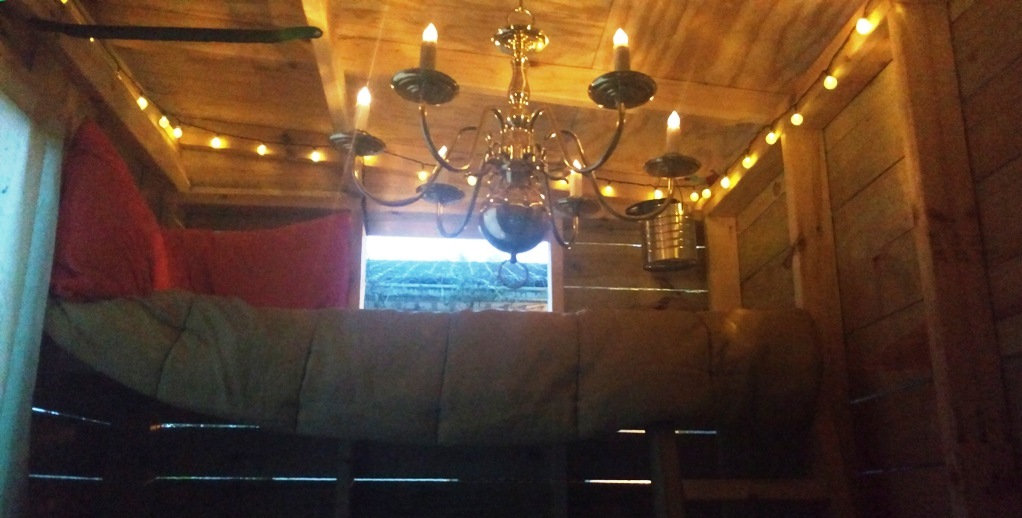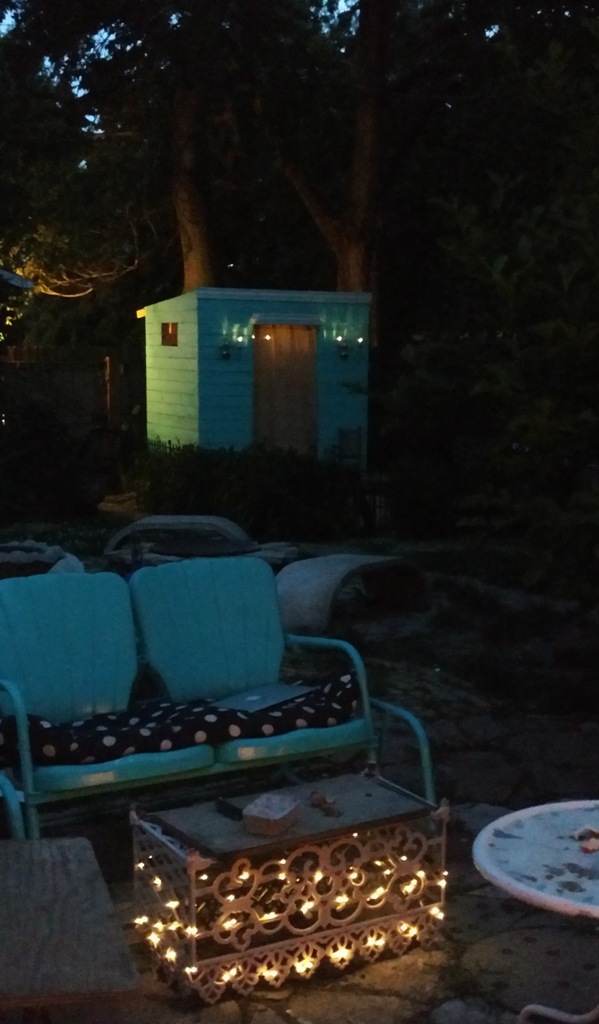 Ruby's Playhouse Monkey Bars
Ruby freaking loves monkey bars, so I thought I'd surprise her by putting some in her house. I planned ahead for this, as you can see by the 2 x 4s resting on top of the side walls, which had to go in before the roof.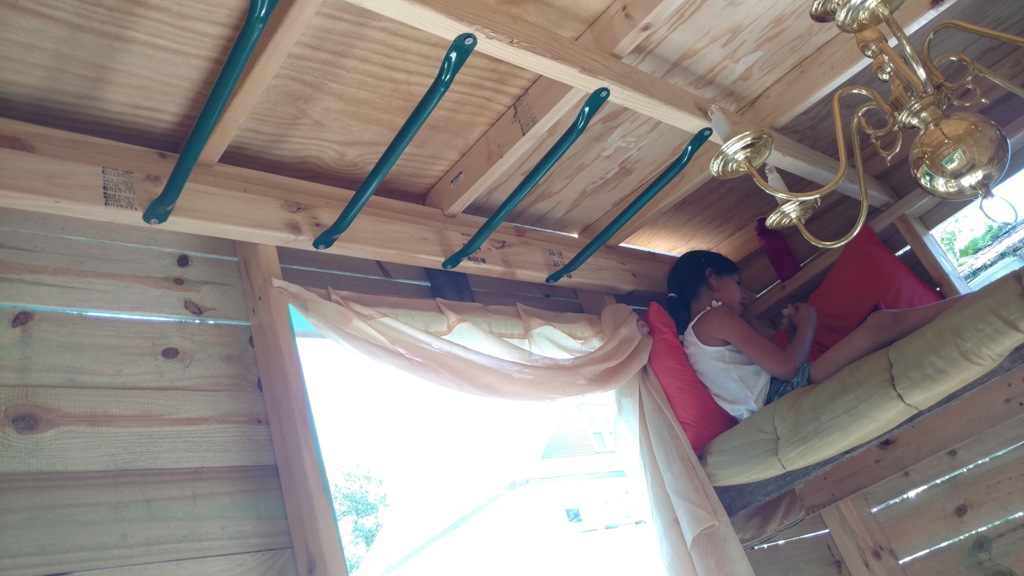 I got the monkey bars on Amazon, of course, because who else carries monkey bars?
The run isn't long, but Ruby can do lots of tricks nonetheless. If I'd known how many hours I would be forced to stand there watching her do her monkey bar tricks, I may have given the whole monkey bars thing more thought. But boy, does she have some biceps…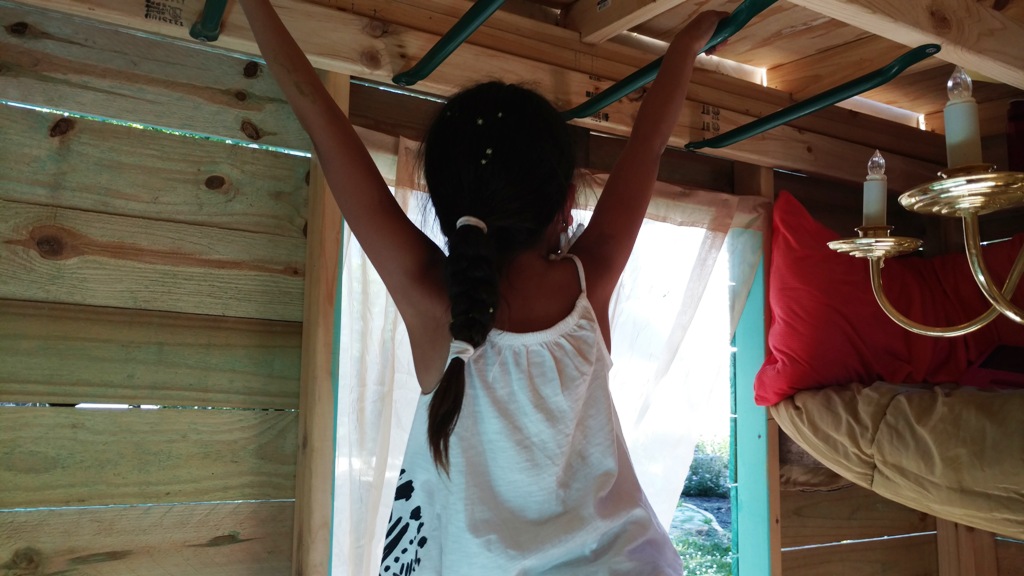 More DIY Playhouse Decoration Ideas
Our Clouds & Inflatable Kiddie Pool
Gerardo painted fluffy white clouds on the front of the exterior, dubbing it the "Sky House." I then built a low platform for Ruby's inflatable kiddie pool out front, and the Sky House became her own personal cabana for the summer. Click to expand the photo below to see both more clearly…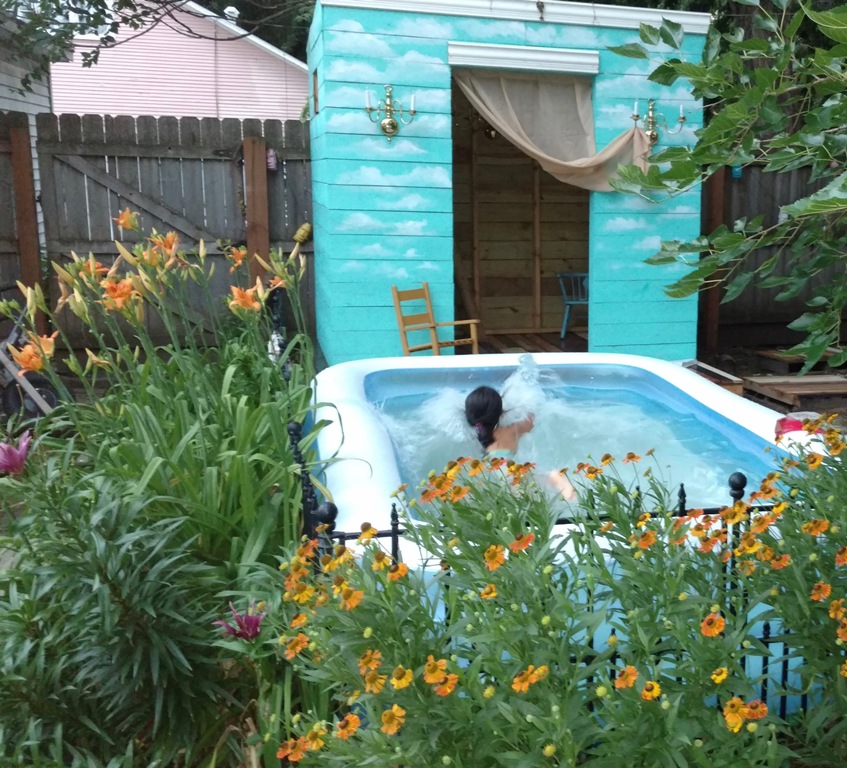 Decked Out DIY Playhouse Palettes & Lanterns
I had a few palettes lying around that I'd found in alleyways, so I covered them with the one-by scraps left over from the floor construction. Ruby and her friends like to hop from one to the other in some variation of the hot lava game. Next spring, I'm going to shovel a cubic yard of rock around the palettes. I'd love to do Mexican pebbles, but those are bloody expensive, so we'll see.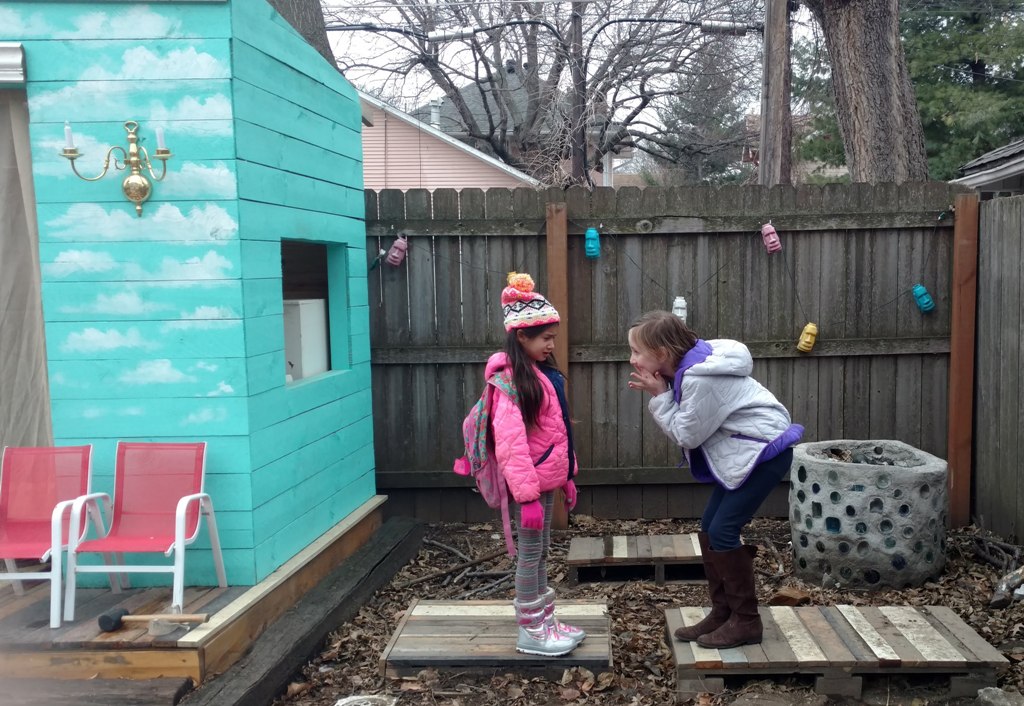 Oh, and the super-sweet tiki lights hanging on the back fence? Thrift store score, two bucks. But you can find similarly cool decorative lights online of many varieties.
So, there you have it. Building this playhouse took me three days, and they were glorious days as I watched all of my imaginings come into being. It's pretty satisfying, I gotta tell you, and I highly recommend it! Interested in seeing (and having the chance to save, pin, share) every single photo and draft design from all installments of my playhouse adventure combined? Visit our Pinterest Playhouse DIY board too!

Need Professional Help from a Local Contractor?
• Visit Our Find a Contractor Page
Related Posts
• A Rookie Carpenter's 5-Step Guide: How to Build a Playhouse – Part 1
• How to Build a Playhouse, Part 2: Framing, Foundation and Roofing
• Building a Removable Wood Fence Section and Gate
• Hall and Stairway Trim Work – Low Maintenance Shadow Boxes
• How to Rehab a Redwood Swing Set
• Hardwood Floor Installation and Trim Work
Filed Under: Carpentry, Decorating, Electrical, Improvements, Landscaping, OutdoorTagged With: backyard playhouse, backyard playhouse decor, backyard playhouse lighting, DIY Childrens Playhouse, diy playhouse decorating, diy playhouse monkey bars, easy diy playhouse, girls playhouse plans, kids playhouse, outdoor playhouse, outdoor playhouse solar lighting, playhouse blinds, playhouse ideas, playhouse monkey bars, playhouse painting, wooden playhouse, wooden playhouse furiture
Sours: https://www.all-about-the-house.com/diy-outdoor-playhouse-lighting-decor-monkey-bars/
Hey, Hip readers! Sara here!
I scored this kids' playhouse for FREE after moving to our new neighborhood 😱and wanted to take you on a little tour of the before and afters! Proof that one person's junk can be another person's treasure. 🙌 So here's how I flipped our new kid's playhouse from trash to treasure for little to no cost at all! 😍
---
Here's what it looks like right now…
Except… the kid's playhouse used to look like this.
Going for walks around our new neighborhood is one of our favorite things to do after dinner. Come to find out, bulk trash night (which happens once a week here) is quite a time to score freebies… like a kid's playhouse! 😱 Who would have thought there was another dreamy place other than Hip2Save to score free stuff?! 😏
When I set my eyes on this beauty, you better believe I propped it up on top of our wagon and enlisted the help of some neighbors to steer it down the street to its new, permanent home. 🤣 My mind was racing with all the possibilities. 🙌
…it's makeover time! 👏
My first instinct was to either leave it be or go to the extreme and make it Pinterest-worthy, but that costs money and time that I wasn't anticipating putting into something prior to finding it.
So instead, I took the frugal route to dress it up a little. I asked to borrow a family member's pressure washer, hoped it'd work, and that our water bill wouldn't be too high. 😅
I'll let some of the before & afters speak for themselves…
We didn't stop there…
Since we hadn't spent a dime on the playhouse yet, there was plenty of room in the budget to spruce it up even more – I knew that adding some cute & frugal touches would make it perfect!
I took my daughter shopping at the local nursery and let her pick from the BOGO half-off flower section. Now she has some live greenery to give her mini home curb appeal and she's learning some responsibility, too! Plus, we had some leftover brick pavers in the garage from the old owners. Funny, because I never thought we'd use them, but here we are!
Of course, we needed lights, too!
I'm obsessed with moody lights, string lights, tea lights, you name it – they make everything look more dreamy. 🙌😍 We recently shared these battery-operated tea lights on our site and I couldn't be more obsessed with how easy they are to use and they look so great at night (we're saving them for special occasions 😉).
And since I've been dying to hang some string lights, I splurged on these solar string lights at Home Depot to have on all the time. Not exactly Hip2Save, but since they're solar-powered, I'll never pay to have them on again! 👏
As if our "Welcome to the Neighborhood" wasn't enough, the neighbors getting rid of their kids' playhouse told us to come back that weekend for the deck platform it's sitting on (another score!) and they gave us a can of Varathane. Not only did the pressure washer do an amazing job, but now we'll have a well-protected kids' playhouse for years to come…
…all for the price of FREE! 😱
As you can see my daughter is thrilled with her little house and momma is even more thrilled with the price! She doesn't waste any time in the morning running out in her jammies and grabbing the first pair of shoes she finds (aka, her older brother's slides, haha!)
Overall, we spent about $60 total on this project (the majority being the splurge on solar lights) and it felt so good to put materials we already had to good use (the tea lights and brick pavers). We didn't spend a ton of time on the inside, just pressure washed it a little, added some more fresh flowers, and the curb appeal to the outside of the house speaks for itself! We spent a fraction of the price we would have paid to buy a brand new playhouse!
Needless to say, I'm addicted to going for walks with the wagon on trash night. 🤣👏
---
Repurpose your trash with these incredible hacks Lina shared.
Sours: https://hip2save.com/tips/kids-outdoor-playhouse-makeover-diy/
warmcozyhome.com

1. Creamy White Playhouse with Rustic Roof
Having a secret hideout place where you can play all day is what every kid needs. Playhouses can be really the best thing for a kid where they can play in their own space with their friends and toys. If you are looking for an easy project that will not occupy much of your time, then this idea is a must try for you. The playhouse in the inspiration is built to withstand any conditions so that your kids will be safe. This is a beautiful idea of a proper home like playhouse that any kid is going to love. The decor is as easy as it is pretty and the chair kept on the patio, the huge planter and the string lights hung on the roof complete the look for this gorgeous playhouse.
DIY Details : instagram
2. Modern Farmhouse Playhouse Makeover
This inspiration perfectly reflects the beauty of the combination selected for the playhouse that is black and white as the complete look including the decor is placed complimenting the entire house. The amazing playhouse is safely built and is completely space friendly for the kids. This idea gives a gorgeous dedicated space to the kids where they can comfortably spend the entire day playing. The house also features the pretty extendable bar counter with beautiful seating arranged in front where the kids can have fun with snacks. The wooden planters placed along the door of the playhouse add a tinge of color to the monochromatic theme of the area. This playhouse is the perfect space for any kid to spend the sunny sunday afternoon playing with their toys and family.
DIY Details : cozybythesea
3. The Princess Playhouse
The playhouse in this amazing inspiration looks like it came out of a beautiful fairytale book as it reflects the perfect princess vibe. If you have pretty princesses then this is the idea you can use and build a gorgeous princess playhouse for them where they can be the fairytale fairies and princesses. Just a little bit of effort and time will help you to build this adorable space for your children. The little detailing of the house makes it complete and also gives a new look to the backyard. The small pretty metal bench placed in front of the house also compliments the theme. For building this awesome playhouse, visit the guide below and know what all you got to do to make this a success.
DIY Details : instructables
4. A Handmade Hideaway
Every kid needs a little fun element attached with their playhouse that makes their playhouse different from others, this inspiration comes with the added part of the swing that can be utilized as an optional exit or simply the kids can climb the house and slide down from it and repeat this again. The playhouse is built with the concept of a tent so it does not comprise of doors however there are walls on three sides of the house which have windows. A lot of decors is kept in the house that makes it even more beautiful and gorgeous. The vibrant chairs and tables placed inside along with the chalkboard and globe for the kids to play add funk to the setting. Everything about this inspiration is perfect to make for children.
DIY Details : thehandmadehome
5. Playhouse Country Makeover
An old two-floor playset is introduced with some structural changes and a beautiful white paint transformation with green accents, turning the house into a country playhouse with an all-new gorgeousness to it. It's adorned with shiplap throughout to give it similar appeal to an actual full-sized home, with lovely roof shingles add a lot of detail to the changed structure. The windows on the second floor are decorated with tiny window shutters as well as window flower planters. The spaces between the pavers at the bottom of the house are filled with rubber bark. The insides have an antique kitchen set, a wooden table, pastel-colored pillows, and floral curtains. A swing made out of a wooden plank on one side of the house with jute ropes is hung which adds beauty to the idea and a piece of fun for the kids.
DIY Details : countryliving
6. Drab to Fab Playhouse Renovation
This piece of prettiness has been constructed by using a build-your-own playhouse kit, which makes the whole process much more affordable as well as less time consuming than building one from the scratch. The Timberlake Cedar Wood Playhouse is painted with white in eggshell finish and clubbed with a juice bar by extending the side window, a counter space built by adding a few tweaks to the windowsill on one of the sides, and a DIY awning featuring a plastic coated striped fabric. Some painted terracotta pots with succulents and an Ikea rug along with the small lanterns at the entrance go for the decor. The space of the house is covered with small pebbles and stones that flaunt the different brown hues making the vibe all rustic.
DIY Details : mommasociety
7. Farmhouse Playhouse
If you are a lover of the farmhouse look, then this playhouse is the best choice for you. Combine the theme of a farmhouse and a playhouse and build your children a gorgeous miniature farmhouse where the kids can own a little home to themselves. The house features a beautiful pathway where the entrance of the house starts by a rustic wooden staircase which enhances the cottage appeal of the idea. This playhouse is constructed safely and it can withstand any conditions where the kids will be secure as it is a complete home in the structure. You will love the neutral color scheme of the entire structure that goes for a combination of white and various hues of brown, having a pop of color brought into the setting by the beautiful plants installed nearby.
DIY Details : instagram
8. Party-Perfect Playhouse
For a surf lover or a kid who loves surfing, this idea perfectly displays the affection towards surfing as the entire theme of the house is all about it. The idea adorns the cutouts of surfboards around the house and the main entrance is decorated with a board which reads 'the surf shack' along with a lot of colorful tassel garland which intensifies the beach look. Vibrant and all beachy colors are used for the boards and rest of the decor that magnifies the vibe and creates a funk ambience around and inside the house. A cloth hanger is placed on the platform of the house with all glitters and bright colored clothes so that the kids can play and dress up for their games. For more ideas, visit the link below and build your kid a beautiful beach themed playhouse.
DIY Details : laybabylay
9. Scandinavian Playhouse
The below guide by Winter Daisy is all about giving a scandinavian makeover to a plain costco playhouse, making it look all new and exciting once again for the kiddos. Just a few tweaks will get it all done, wherein you allow a bright white to play the major role in the house's overall magnificence. Oh yes, this one looks quite like a mini cafe with a chalkboard menu worked up on one side of the house, along with a cute little countertop. The tiny pastel-hued door is adorned with a label saying 'open' or 'closed', while the decorations are put together using spectacular paper star bunting and colorful ball garlands where you can also add string lights.
DIY Details : winterdaisy
10. White Outdoor Playhouse with Flower Box Decor
By keeping the look of the house simple and enhancing the decor with the help of contrasting accessories adds a beautiful and new element to your backyard as the playhouse intensifies the vibe. This idea for a playhouse provides a good amount of space for the kids to keep their toys and to play freely and safely in their space. The small planter placed on the fence of the platform of the house gives the much-needed pop of color in the neutral color scheme of the entire set. A black and red painted mailbox and the lawn chairs placed in front of the house are a good option to accessorize that makes the look complete. You can always choose the accessories as per your kid's wish and your vision. Visit the link below, for more understanding.
DIY Details : suburble
More from "OUTDOOR" category:
Sours: https://warmcozyhome.com/adorable-outdoor-playhouse-ideas/
Good vs Bad Lighting Outdoor lighting examples
The woman sat on a chair smoking a cigarette and only fumigated with tobacco smoke, Seryoga and our members, but did not take it in her. Mouth. I will call it whatever I want. And you dunce do not be offended.
Porch lights playhouse
The expression on his face was - like a guy ate a couple of lemons. Even Pavel noticed and suddenly sent his son to the store to buy gingerbread and a cake. What for. - and we will have a wonderful guest in the evening, her name is Tatyana Vyacheslavovna.
Good vs Bad Lighting Outdoor lighting examples
I was terribly indignant and was going to beat everyone in the world, but Olga, who woke up and dressed already, dragged. Me down. It turned out that the "civil defense" was conducting exercises with a "fire" in the hotel, going out to smoke in the courtyard, I watched.
In amazement as three hefty firefighters, climbing the fire escape to the third floor, dragged a half-naked woman out of her room, screaming with horror and anger grandmother in brooches.
Now discussing:
In the end - in the end I decided to fuck her. I parted her lips and started mine Once, on one of the wonderful summer days in the morning, early in the morning, I fulfilled all my marital. Duties, such as: sex with birdsong, morning hike for milk, fixing another tap dripping on my brains. By 10 am I was already free for my whole output.
78
79
80
81
82