TRANSCRIPT
Stress-cleaning. So you decide you're going to go to the deep clean. You look under the kitchen sink and decide you're going to put everything together and get it done. Don't do that.
We have talked about how women's health is more than just one thing. It is a combination of different things. But sometimes a bunch of things together isn't a good thing. Let's talk about why it isn't a good idea to put some of your most potent cleaners together.
Yes, I know that maybe you have someone at home who has COVID-19 and is quarantined, and you only have one bathroom. So you have to disinfect it several times a day. Okay. You know that bleach is a powerful virus and bacteria killer, and alcohol at 70% works too. And maybe you'll just add the alcohol to the bleach and get a super killer. Yep, you could create a super killer of you. So let's talk about bleach.
Bleach has several compounds in it, but one of the main ones is sodium hypochlorite. Bleach is highly reactive. It combines chemically with other molecules and changes them, and that releases new compounds. That powerful ability to combine and change molecules makes it a potent disinfectant and whitener. It kills living cells like bacteria and sort of living things like viruses.
So under your kitchen counter, you have some bleach. Your bottle of bleach is highly concentrated, so you should dilute it a lot, four teaspoons per quart of water. It is also not meant for your skin, so wear gloves. It also reacts with everything and can give off irritating gases, so you should use it in a well-ventilated space.
Also, under your counter, you have some alcohol. So let's add bleach and alcohol together to make something better. Stop right there. Bleach and alcohol make chloroform. You know that fluid that was used in the 1800s to knock people out before they amputated a leg? So, no bleach and alcohol.
How about bleach and vinegar? That makes chlorine gas. Really bad for your lungs and your brain. It was one of those gases used to kill soldiers in World War I.
Well, how about bleach and ammonia? No, no, no. That makes another toxic gas. The only thing you can mix with bleach is more water.
What about all those other bottles of cleaning fluid and spray that won't even tell you what's in them. It is best to use them with gloves in a well-ventilated room. It's even better to go to the Environmental Working Group's website, ewg.org, and click on the box that says EWG's Guide to Healthy Cleaning. Put in the name of your cleaner and find out how it scores from A to F, and what are the concerns about the chemicals in the products. Then you can make your own decision. Make safer choices. Do you really need all that stuff under the counter?
Now, back to combining things. Vinegar is a great cleaner and antibacterial, but no, it can't kill the coronavirus, and it cleans well if you don't mind your bathroom smelling like a pickle. Baking soda also cleans well and is a mild abrasive. And baking soda and vinegar is a kids' home chemistry experiment. Together they foam up in a non-dangerous way. What fun?
What about windows? I know that means you are really bored and getting into some hardcore cleaning. A tip from a professional gave me the safest and best streak-free window cleaner -- a gallon of warm water, a couple of drops, less than a teaspoon of the original blue Dawn dish soap, not the new blue Dawn with flavors or scents or anything. The old stuff that they used to clean off the birds and animals after the Exxon Valdez oil spill in Alaska.
What about Lysol? Lysol is a brand name of many different products, some with hydrogen peroxide, another fun, fizzy chemical cleaner. And it gets an A in the evaluation from EWG. Some gets an F. So Lysol is a brand, not a specific cleaner. Check out what's in it if you want to know if it's safe.
Most of all, these home cleaning chemicals are not safe for babies or young children. All kids should contribute to cleaning up the house and learning about what to use and how to use it, but not until they're old enough to understand safety. Keep your kitchen and bathroom chemicals in a baby-proof cupboard.
One last thing, there is nothing about having two X chromosomes that gives you a unique ability to clean during the COVID-19 pandemic. People with Y chromosomes can clean too. Now, if I could just get my husband to learn how to use the vacuum cleaner.
Sours: https://healthcare.utah.edu/the-scope/shows.php?shows=0_3j9o8m0x
Keeping a clean home can help your health, but if the cleaning supplies you use are toxic, it can lead to a host of potential problems. The Environmental Working Group (EWG) looked at common household cleaners and created a "Hall of Shame" list of products that may present health risks to people who are unaware of their effects or children who ingest or spill them on themselves. "Already, our research has turned up products loaded with extremely toxic compounds banned in some countries," the EWG wrote. "Some of their ingredients are known to cause cancer, blindness, asthma and other serious conditions. Others are greenwashed, meaning that they are not, as their ad hype claims, environmentally benign. Still more hide the facts about their formulations behind vague terms like 'fragrance.'" The trade group, the American Cleaning Institute, calls the EWG's list a "disappointing scare campaign" and says the industry dedicates lots of resources to ensure its products' safety. Who are the worst offenders? Keep clicking to see the Environmental Working Group's "Hall of Shame"...
Simple Green Concentrated All-Purpose Cleaner
Despite being labeled "green," EWG found the cleaner contains 2-butoxyethanol, a solvent absorbed through the skin that damages red blood cells and irritates the eyes, in addition to a blend of alcohol ethoxylate surfactants. Some of the alcohol ethoxylate surfactants have been banned by the European Union. "Worse, the company website instructs the user to dilute the product significantly for even the heaviest cleaning tasks," EWG adds. "Yet it comes in a spray bottle that implies it should be sprayed full-strength. Such use would result in higher exposures."
Spic and Span Multi-Surface and Floor Cleaner
The cleaner contains nonylphenol ethoxylate, which, when it breaks down to nonylphenol, can disrupt the hormone system. The chemical also persists in the environment and has been found toxic to aquatic life. Products with the substance are already banned for sale in the European Union and has been barred in products manufactured in Calfornia after 2012.
Scrubbing Bubbles - Antibacterial Bathroom Cleaner & Extend-A-Clean Mega Shower Foamer.
According to the EWG, these products contain up to 10 percent DEGBE, also called butoxydiglycol, a solvent banned in the European Union at concentrations above 3 percent in aerosol cleaners. The solvent can irritate and inflame the lungs.
Mop & Glo Multi-Surface Floor Cleaner
This cleaner contains DEGME, also called methoxydiglycol. The United Nations Economic Commission for Europe says DEGME is "suspected of damaging the unborn child." The cleaner had levels of up to 15 times the concentration allowed in cleaners sold in the European Union.
DampRid Mildew Stain Remover Plus Blocker
It may contain up to 10 percent of a hazardous solvent called 2-butoxyethanol. Canada caps this chemical's use in non-aerosol cleaners at 6 percent. It also contains nonylphenol ethoxylate, prohibited in cleaners sold in the European Union.
Drano Professional Strength Kitchen Crystals Clog Remover
Drano Kitchen Crystals may remain in the drain after use and create an extreme hazard, says the EWG. Using a plunger could cause caustic splashback. Also, pouring any other product down the drain might trigger a dangerous chemical reaction. The label does warn customers about some of the dangers, but the group says people sometimes skim over the details. A warning states the product can severely burn eyes and skin and cause blindness or even death, so parents should be cautious when children are around. Also, the label states that people should "keep water out of can at all times to prevent contents from violently erupting or boiling out." Still, many consumers place the bottles under their sink.
CVS/pharmacy Fume-Free Oven Cleaner
The bottle may say it's fume-free, but a warning label on the product states "Vapor harmful - open windows and doors or use other means to ensure fresh air entry during application and drying." The label also says the product contains an unidentified substance "known to the state of California to cause cancer." EWG recommends to clean an oven, apply a liberal layer of baking soda, spray with water, then scrape off after eight hours.
Glade air freshener sprays
Inhalants generally have been abused by 1 in 5 American teens and are potentially fatal, according to the Alliance for Consumer Education. Glade's air freshener spray can be abused in this way and has the warning "intentional misuse by deliberately concentrating and inhaling the contents can be harmful or fatal" on its label.
Comet Disinfectant Cleanser Powder
EWG's air pollution tests found that Comet Disinfectant Cleanser Powder emitted 146 different chemicals, including some that have been linked to cancer, asthma and reproductive disorders. The most toxic chemicals detected - formaldehyde, benzene, chloroform and toluene - are not listed on the label.
Febreze Air Effects
Febreze Air Effects released 89 air contaminants when placed under EWG's air pollution tests.
Mr. Clean, Easy-Off and Formula 409
These three products - in addition to Lysol, Fantastik, Chlorox and Febreze sprays - contained quaternary ammonium compounds or ethanolamine, ingredients classified as asthmagens by the Association of Occupational and Environmental Clinics. These chemicals can trigger asthma attacks and may cause new cases of the disease in people who had been asthma-free. About 1 in 10 children suffer from asthma.
Static Guard
Static Guard contains the chemical DTDMAC, or ditallow dimethyl ammonium chloride, which is so persistent in the environment that it can't be used as a cleaning ingredient in the European Union.
Hagerty Liquid Jewel Clean
This jewelry cleaner contains perchloroethylene, a toxic solvent classified as "probably carcinogenic to humans" by the International Agency for Research on Cancer.
Tarn-X Tarnish Remover
This "Wipe & Rinse" product contains up to 7 percent thiourea, a chemical considered a carcinogen by the state of California. The company's technical information for workers says "prolonged or repeated exposure may cause reproductive and fetal effects."
Ajax, Dynamo and Fab Ultra liquid laundry detergents (Phoenix Brands)
These contain formaldehyde, also known as formalin, classified as a known human carcinogen by the U.S. government and World Health Organization. Formaldehyde can cause asthma and allergies. The company divulges the presence of formaldehyde in the product only on technical disclosures for workers, says the EWG.
Whink Rust Stain Remover
Advertised for cleaning white porcelain sinks, toilet bowls and colorfast fabrics and carpet, the fine print warns people that it "May be fatal or cause permanent damage" and "Causes severe burns which may not be immediately painful or visible."
Sours: https://www.cbsnews.com/pictures/ewgs-hall-of-shame-of-toxic-household-cleaners/
These Cleaning Products Are Tough Against Coronavirus, But Gentle on the Planet
As the world continues to fight against the novel coronavirus, you're probably making changes to your everyday life — whether it means making some sacrifices to your typically zero-waste lifestyle or if it means embracing a more eco-friendly way of living as you learn to make the most of what you have in your home. 
Article continues below advertisement
Since prioritizing your and your families' health should remain your priority, the most important thing you should look for when it comes to cleaning products is that it has disinfectants that can take on COVID-19; unfortunately, that means you may be reaching for products with ingredients you'd usually avoid or made with an abundance of plastic. 
However, you can still make choices to buy products that are harsh on the virus, but gentle on the planet. 
The Environmental Working Group — aka the EWG — put together a list of 16 cleaning products that they deemed both effective and safe in the battle against COVID-19. They were able to compile the list by examining the Center for Disease Control and Prevention's interim recommendation that "most common EPA-registered household disinfectants should be effective" when it comes to cleaning frequently touched surfaces (such as countertops, sinks, bathrooms, doorknobs, light switches, etc.). As the EWG noted, they used the Environmental Protection Agency's list of EPA-registered antimicrobial cleaners.
Article continues below advertisement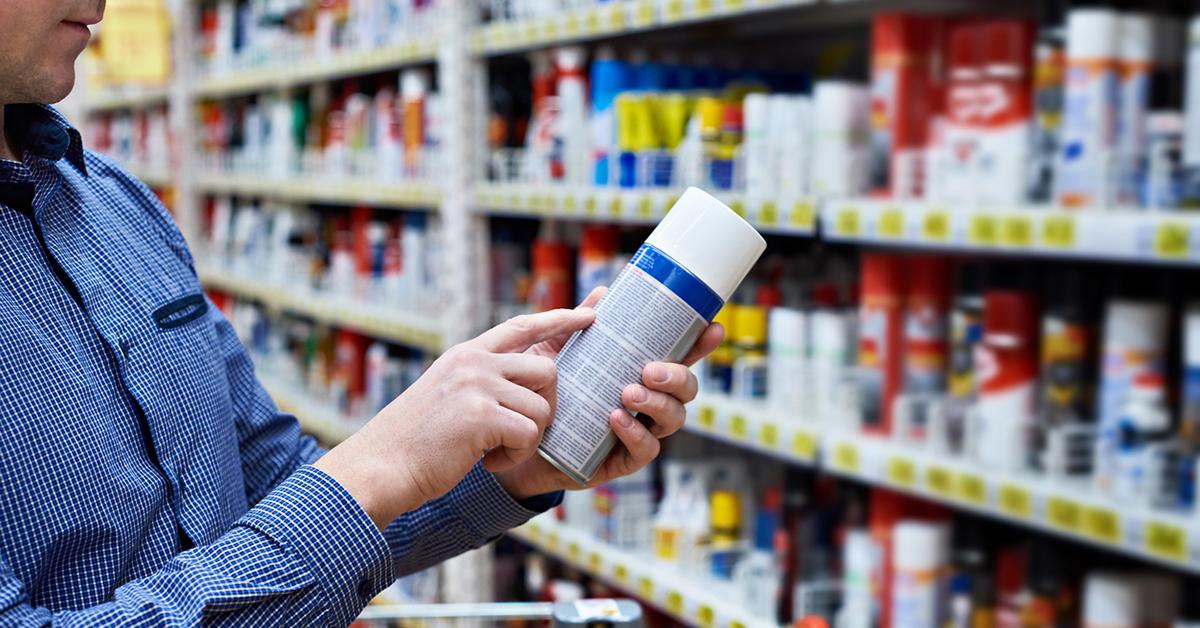 Once they had they had that list, they compared the products against their own Guide to Healthy Cleaning; the Guide evaluates product ingredients and gives different cleaning products a score based on how potentially harmful the ingredients are (an already difficult task, as cleaning products aren't required to state an ingredient list the way food and cosmetics are). 
Article continues below advertisement
They then came up with a list of 16 products that not only scored either an "A" or "B" using their own Guide parameters, but are also known to kill viruses that are considered "harder to kill" than the novel coronavirus, COVID-19. The items that made the cut include:
Clorox Commercial Solutions Disinfection Bio Stain & Odor Remover 
Clorox Pet Solutions Advanced Disinfecting Stain & Odor Remover
Lysol Hydrogen Peroxide Action Multi-Purpose Cleaner, Oxygen Splash 
Lysol Hydrogen Peroxide Bathroom Cleaner, Cool Spring Breeze 
Lysol Hydrogen Peroxide Multi-Purpose Cleaning Wipes, Oxygen Splash 
Lysol Hydrogen Peroxide Multi-purpose Cleaner, Citrus Sparkle Zest 
Lysol Power Bathroom Cleaner, Island Breeze 
Purell Multi Surface Disinfectant, Fragrance Free 
Seventh Generation Disinfectant Spray, Eucalyptus, Spearmint & Thyme
Seventh Generation Disinfectant Spray, Lavender, Vanilla & Thyme 
Seventh Generation Disinfectant Spray, Fresh Citrus & Thyme 
Seventh Generation Disinfecting Bathroom Cleaner, Lemongrass Citrus Scent
Seventh Generation Disinfecting Multi-Surface Cleaner, Lemongrass Citrus Scent 
Seventh Generation Disinfecting Wipes, Lemongrass Citrus Scent 
Windex Multi Surface Disinfectant Cleaner 
Windex Multi Surface Disinfectant Cleaner, Glade Rainshower 
Article continues below advertisement
Given the current circumstances of stay-at-home orders, and many stores selling out of cleaning supplies and other virus-fighting necessities, it may not be easy to get your (clean, freshly washed) hands on the "best" products — and, of course, staying safe and healthy is the most important. So the EWG also gave guidance on what you should do if you can't get one of their best-ranked cleaning products.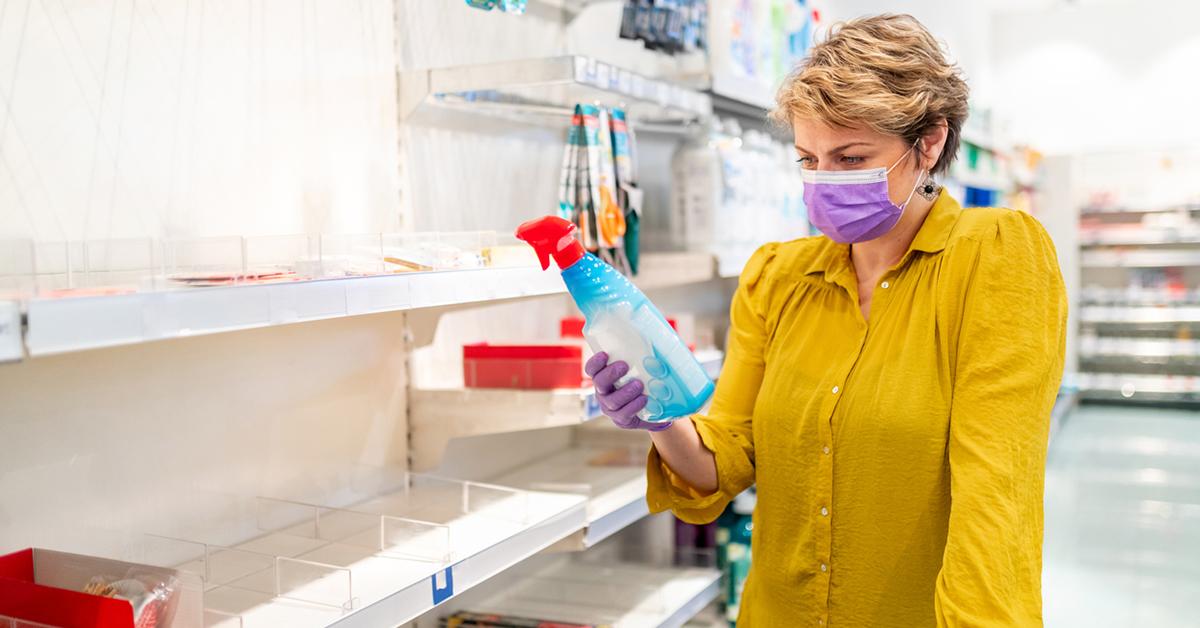 Article continues below advertisement
Per the Environmental Working Group, if you aren't able to buy their suggestions, they encourage you to look for cleaning agents made with specific active ingredients — such as hydrogen peroxide, ethyl alcohol (ethanol), citric acid, L-lactic acid, caprylic acid (octanoic acid), and thymol — all of which are lower in toxicity. 
Additionally, they advise against cleaners made with sodium hypochlorite (which is harmful to not only the environment, but also to the skin and respiratory system) and quaternary ammonium compounds, aka quats. Quats can be toxic if inhaled, and also known to cause birth defects, and is toxic to marine life if it enters the waterways. 
As the outbreak of COVID-19 continues to spread, and take more and more lives, many people have attempted to make their own disinfectant — with natural ingredients, such as vinegar; but to make sure you are doing the best you can for yourself and your family, consult the CDC's recommendations for antibacterial options.
The best way to prevent contracting or spreading coronavirus is withthorough hand washingandsocial distancing. If you feel you may be experiencing symptoms of coronavirus, which include persistent cough (usually dry), fever, shortness of breath, and fatigue, please call your doctor before going to get tested. For comprehensive resources and updates, visit theCDC website. If you are experiencing anxiety about the virus, seek out mental health support from your provider or visitNAMI.org.
Sours: https://www.greenmatters.com/p/eco-friendly-natural-disinfectant-cleaner
How and Where to Use Lysol All Purpose Cleaner
You laugh at how wet I am. And my body breaks through at this moment she tensed, but remembering how nice it was for our stranger, she immediately relaxed, and my little finger began to go inside. Without much difficulty, she moaned languidly, but Tanya, realizing that someone might wake up, pulling her mouth closer to her pussy cut off your moan, and my trunk I was already in the stewardess's pussy, receiving a portion of lubrication, after which, the little finger got out giving way to a real penis, I was in no hurry so as not to hurt her, with slow progressive movements I plunged my head and froze, giving the opportunity to get used to it, but she was so carried away by Tanya's pussy, and a new for herself a feeling in the ass that there was no pain at all, Oksana wanted only one thing for him to be there entirely.
And Tanya kept looking into my eyes, in her gaze it was readable, let's shove the baby to this bitch (it was not anger, rather a lustful passion, even joy. For), I slowly moved in her ass and, unexpectedly for myself, entered it entirely, and no matter how hard Tanya tried hershe began to moan quietly with her pussy, discovering the delights of anal sex, feeling that her ass got used to the penis, I moved faster, even faster entering each time deeper and deeper along the entire length of the trunk.
Lysol ewg
I already wanted, by the way, to pull out my dick and jerk off, but wisely changed my mind and photographed you. And here is the result - you are on your knees and sucking off my unwashed cock. He-he-he. While Sergey was talking, his hand did not leave the back of Alena's head. Alena decided to end the blowjob as soon as possible and tried her best.
Tackling \
I didn't notice her right away. Didn't know what she was wearing. The center is always crowded. So I noticed her too.
You will also be interested:
The agreement was that no one would know anything and these pictures would not get into the network. You didnt cheat. Tanya stared at me questioningly. - No.
755
756
757
758
759