Five Features for a Mediterranean Pool Design in Arizona
Of the many pool design Arizona ideas, one of the most popular styles of all time is the Mediterranean pool design.  These fancy pools reflect a traditional style but, with just a few twists and customizations, can be given a more modern feel.  Here are the 5 features to consider when constructing a Mediterranean dream pool:
1. Infinity Pool Designs
When one thinks of the Mediterranean Sea, they envision an endless stretch of deep blue waters.  Homeowners can replicate this look by turning their pool into a negative edge or infinity pool.  Infinity edges can be added to fountains and spas to further support that Mediterranean atmosphere.
2. Dark Colors
Want your pool to reflect a Greek oasis?  Then opt for dark, rich blue tones as a finish for your pool. Not only will this color choice allow pool owners to replicate the water of the Mediterranean sea, but it will give your pool waters a deep, calming look.
3. Terra Cotta with Ornate Tiling
Terra cotta fountains and decking are a must-have for anyone who wants to transform their backyard into garden worthy of a Grecian god or goddess.  Ornate, detailed tiling featuring bright, bold colors such as blues and pinks can easily be used as a border along the outside of fountains, incorporated into the pool tiling, or placed along the deck.
4. Fountains
Whether you choose to build a small terra cotta fountain in the yard or add one to your poolscape, fountains are surefire way to enhance the Mediterranean atmosphere of any backyard. Better yet, if you have a fountain that doubles as a statue, you'll be able really capture that old world feel.
5. Urns
Here's a budget-friendly idea:  when decorating and landscaping around your Mediterranean pool design Arizona, consider finishing off the look with some simple urns.  Fill the pots with plants such as vines, bougainvillea, or a dwarf fruit tree, or you can get really creative and turn the urn into a water feature.
Shasta Pools is a Phoenix pool builder who provides a variety of services including swimming pool remodeling, commercial pool building, and pool service and repair. Since its establishment in 1967, Shasta has helped over 80,000 families realize their dream of pool ownership. By providing exceptional value, quality craftsmanship and superior customer service, the Shasta team continues to fulfill the corporate mission of astonishing and delighting their customers and exceeding expectations. You can learn more about Shasta Pools & Spas by visiting them online, or by connecting with them on Facebook or Twitter.
Sours: https://shastapools.com/blog/five-features-for-a-mediterranean-pool-design-in-arizona/
Mediterranean Pool Design
Let's take a look at Mediterranean pool design and how to incorporate it into your backyard space.
South Florida homes frequently borrow this type of architecture and create a type of Spanish Revival, which we'll focus on in this blog post. You'll see elements of this design throughout Florida with the use of formal architectural details, stucco walls and barrel roof tiles.
Our ultimate goal at Apex Pavers & Pools is to design a pool area that seamlessly flows into your existing architecture while creating an enjoyable outdoor space for years to come. Integrating a few Mediterranean elements into your design enables us to carry the style into your pool shape, tiles and decking.
Materials: Lining the inside pool line with tumbled marble and matching the look on the pool decking is used often in Mediterranean pool designs. Alternatively, using brightly colored tiles in blue and orange hues can give your waterline a pop. Glass tiles can be used for the interior of the pool and a patterned geometric design can also be used on the bottom for added interest.
Shape: Mediterranean pool designs are often simple geometric shapes with square or inverted radius edges. Steps are centrally located (not corner entry) and if a hot tub is included, it is also usually square or 1/2 circle and located along the center of the pool's length.
Grass: Simple geometric shapes are used not only in the pool's shape but can be also be incorporated around the pool. Using grass between the deck material softens the hard lines often associated with Mediterranean design.
Water Features: Simple fountains designed from ornate greek figures, fish, or trickling from a raised wall are also nice Spanish Revival features.
Decor: Urns filled with vines, bougainvillea, or a flowering bush will complete the Mediterranean look and feel of your backyard space.
At Apex Pools, our pool design specialists can create a professionally-designed backyard space that will complement your home beautifully. View our portfolio on Houzz, and when you're ready, contact us today at 772-419-5151 (Treasure Coast) or 561-844-9370 (Palm Beach County).
Sours: https://www.apexpaversandpools.com/mediterranean-pool-design/
Beautiful Pool Pictures of Mediterranean Pool Designs
The concept of Mediterranean pools is fascinating for modern homes. You'll love the idea when everything pulls together and creates the right ambiance. It will remind you of a vacation in Mediterranean waters with its soothing elegance. The beautiful pool pictures taking inspiration from this concept can be alluring. So, before you build a pool, go through these pictures for your design inspiration. Remember, a Mediterranean poolscape boasts of colorful tiles, rustic textures, citrus greens, shaded areas covered in vines, and ornamental grasses. Merge them all to create any of the following pool designs.
A Mediterranean Design with a Fire Pit
In the huge backyards, you can blend various elements to create unique designs. You will find an Italianate-styled garden with a large pool and stunning landscaping in many beautiful pool pictures. They have many playful design elements like pool fountains and Mediterranean features such as arches, terracotta walls, tiled roofs, outdoor kitchen, Italian cypress, and vine-covered pergolas.
Mediterranean Pool in Earthy Tones
The Mediterranean influences extend beyond conventional in many Charlotte homes. If you prefer privacy in your pool area, you can either build a fence or build your pool in the central courtyard of your home. Finish it with earthy tones, iron accents, and natural stones. Add a spa to the pool to ward off the heat and enjoy a soak in soothing water.
Mediterranean Design with Natural Edges
Even if your pool has a simple and clean design, you can accentuate its Mediterranean style with natural edges. Use flagstones for covering the area from patio to the pool coping and deck. Also, you can add features like vine-covered pergolas, rustic seating area, and terracotta benches surrounding the pool.
Mediterranean Sophistication
In a Mediterranean garden, the pool is the centerpiece around which you can place other elements. Since it is the focal point in beautiful pool pictures, you'll find many stunning and sophisticated styles that blend with this form of architecture. You can go for a simple rectangular pool and design a relaxing patio beside it. Add details like fountains, citrus trees, and native landscaping to increase the sophistication of your Mediterranean poolscape.
Provencal Mediterranean Garden
Imagine a beautiful rectangle pool in the midst of a Mediterranean garden. It is a charming sight that you can recreate in your backyard. Look for some original sources and beautiful pictures from Mediterranean regions to match the native style. Elements like lavender, linear garden beds, and decomposed granite are some essentials for a Provencal garden.
A Freeform Pool in a Mediterranean Setting
The outdoor living spaces inspired by Mediterranean influences can be unique in many ways. Instead of sticking to classic rectangular shapes, opt for a freeform pool in your Mediterranean garden. Use of flagstones covered seating, and earthy tones with bright accents will complete the look.
Mediterranean Pool Design with Stone Wall
You can merge the Mediterranean architecture with the existing landscape by building a low stone wall around the pool. It will create privacy and give your pool a fascinating charm. Other Mediterranean influences can include terracotta stone, grass-covered pavers, and water fountains.
These are some beautiful pool designs inspired by Mediterranean design concepts.
Sours: https://premierpoolsandspas.com/beautiful-pool-pictures-mediterranean-pool-designs/
Grand 3-story Mediterranean-inpired Home With Swimming Pool in BF Homes - 626sqm Corner Lot
Swimming pool is a Mediterranean masterpiece
The front landscape of this home features curving, flowing beds of low maintenance plantings.  A gentle berm raises the landscape to an attractive fence which separates the front of the home from the secure side and rear areas.  Plumed seagrasses are interspersed with ligustrum trees, ixora, variegated schefflera and other plantings for contrasting color and texture.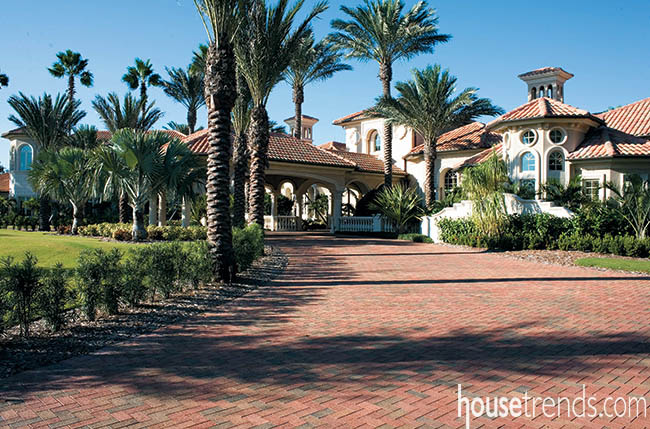 The soft, dense grass used in the front of the property is Paspalum grass, a special hybrid that owner Bill Baumgart found while researching on the Internet.  He saw that it had been used at an island resort so he called them to find out more information about it.  By coincidence, it is actually grown in Sebring, Florida and is used on golf courses all over Florida.  It is also used extensively in Las Vegas because it takes very little water; in fact, too much water will kill it.  This grass is also very salt tolerant so it is well suited to Florida's west coast.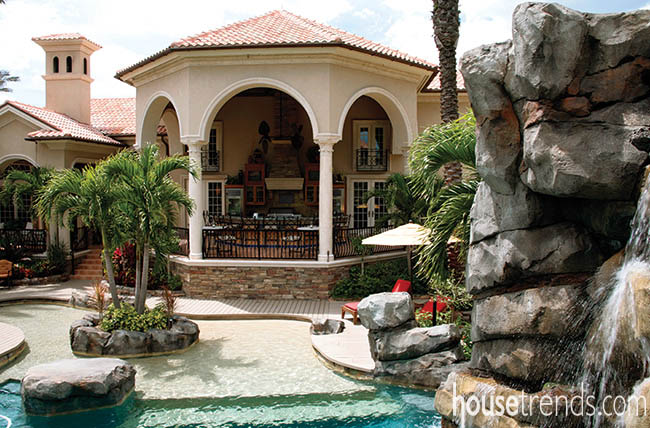 "Tom Levin with Ekistics Design Studio did the landscape design and the initial pool area design," says Jerry Glaser, owner and president of Glaser Homes. Jerry, the builder of this amazing home, also oversaw the building and construction of the pool area project.  It involved pulling together many specialists to put this puzzle together into one dramatic whole.  "The coordination was enormous!" Jerry exclaims.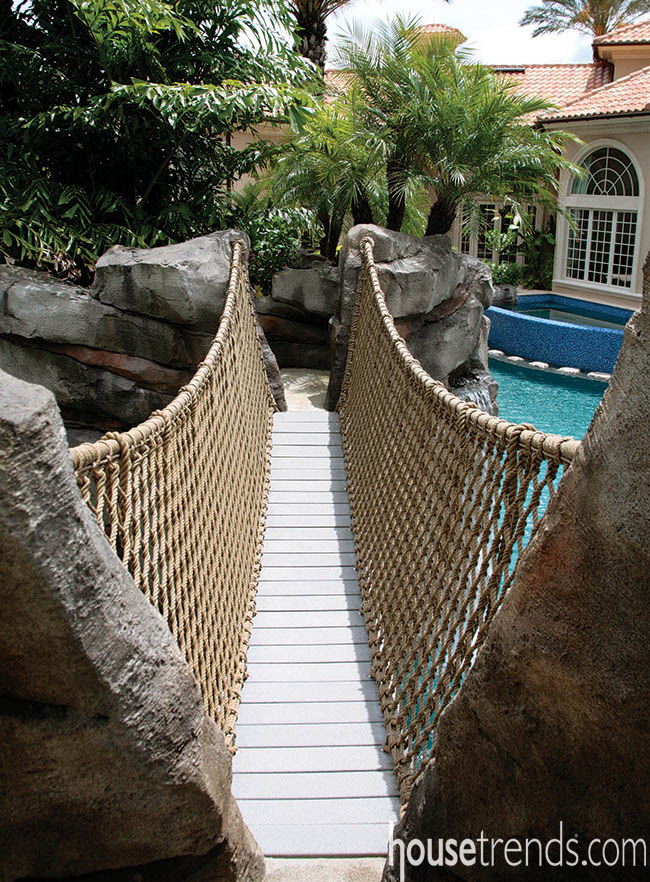 "I told Jerry I wanted two mountains connected by a rope bridge," Bill says with a grin. A glance out back shows he got that and more.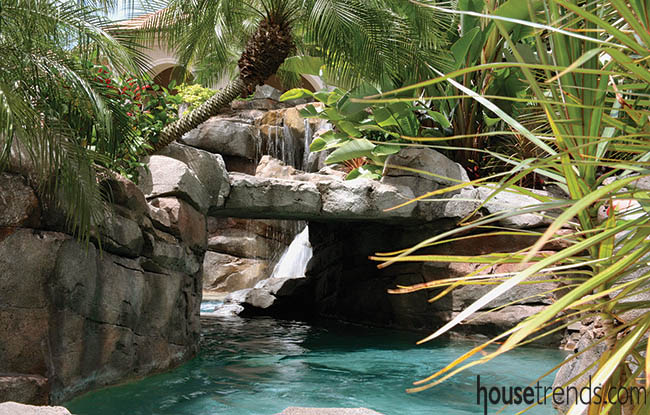 The massive pool complex, built by Landmark Pools, is purported to be the largest residential pool in Florida.  With approximately 200,000 gallons and a lazy river or "jungle cruise" as Patrick O'Connell, president of Landmark Pools calls it, this is easy to believe.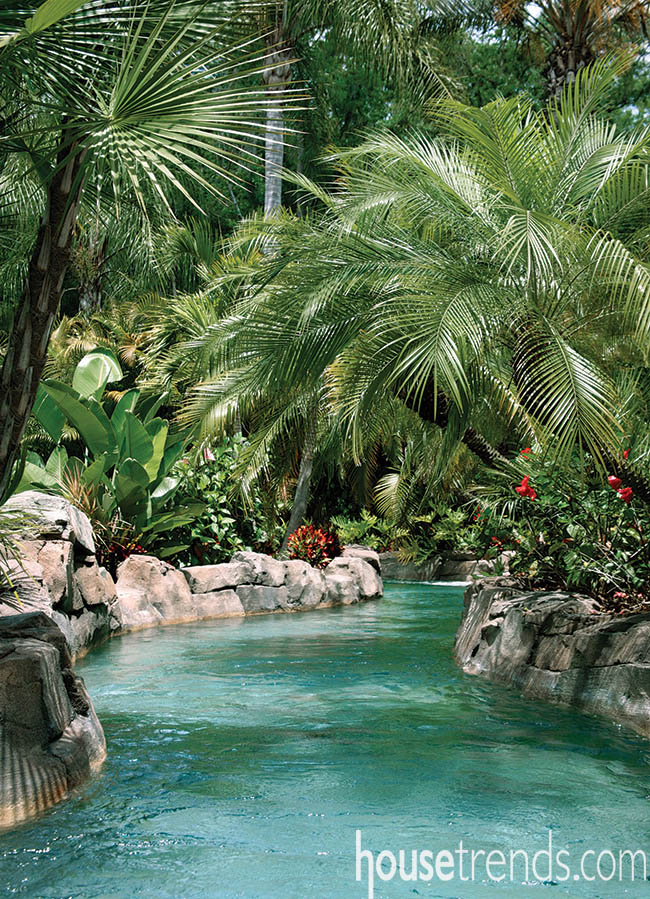 To get to the "volcano" hot tub, one takes a winding route leading down the mountainside and across the aforementioned rope bridge to another smaller rock island.  To complete the water adventure, a lazy river winds around the property for lazy lolling in the pool.  "The lazy river is everybody's favorite," Bill says.  "It takes five minutes to get all the way around it."  A carved tiki head peers down from a nook in the boulders while long vines trail down for a truly tropical island effect.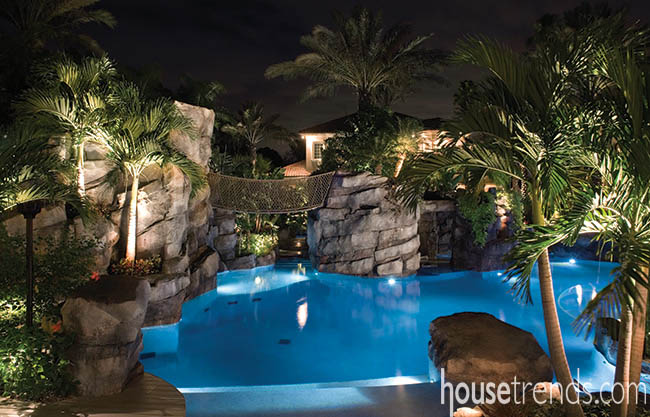 "I wanted the rocks to look like the Jurassic Park rocks at Islands of Adventure at Universal Studios," Bill says.  Jerry researched the options and found Valley Crest, the contractor who had actually did the work at that ride.  While primarily known for their commercial work, he found they did work on large residential projects as well.  The massive boulders, waterfalls and mountains were built out of wire, lathe and steel; then sprayed with a stucco slurry.  Finally, they were hand carved and hand painted right down to the "faux" moss in the waterfall overspray areas.
Planting the backyard area required some real creativity in regards to the larger trees and plants.  "Getting the trees in the back was a real challenge," Jerry explains, pointing to all the large palm trees and other mature plantings.  "They couldn't 'plant as they go' because it would be too hard to keep everything healthy with all the time involved in construction."  To handle this they brought in a crane to lift everything into place once the area was built.  One massive palm even had to be lifted by crane over the entire house.  "We never lost a plant," Jerry says proudly.
This property is so large that gardener Frank Lucas works full-time to maintain the property.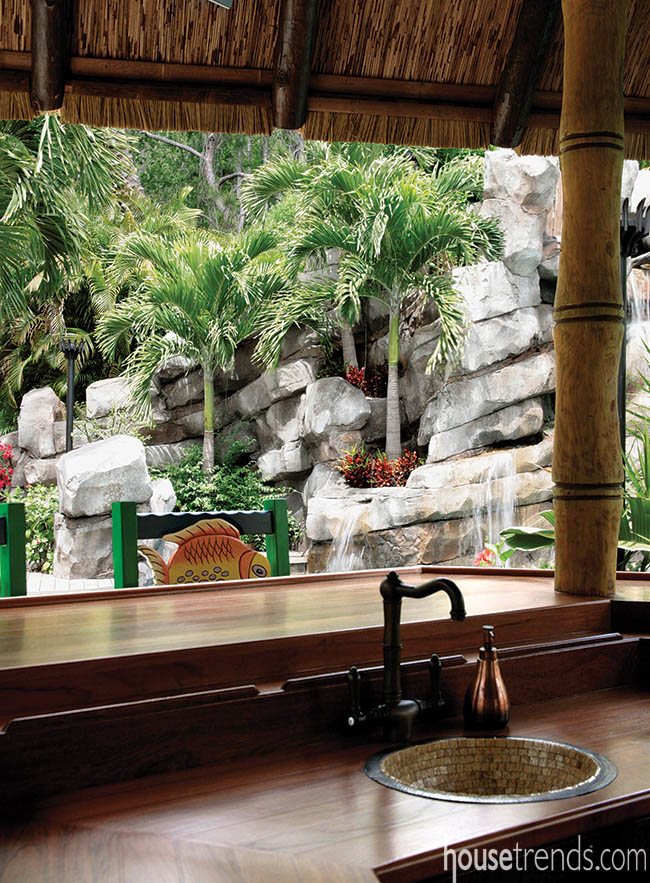 The rear of this home is a playground for kids of all ages.  Directly adjacent to the wall of the home, a small infinity edge pool pours down into the larger pool below.  Swimmers here can swim over to the thatched roof tiki hut, complete with hanging life-sized shark and sit on submerged stools while sipping a refreshing beer, straight off the tap.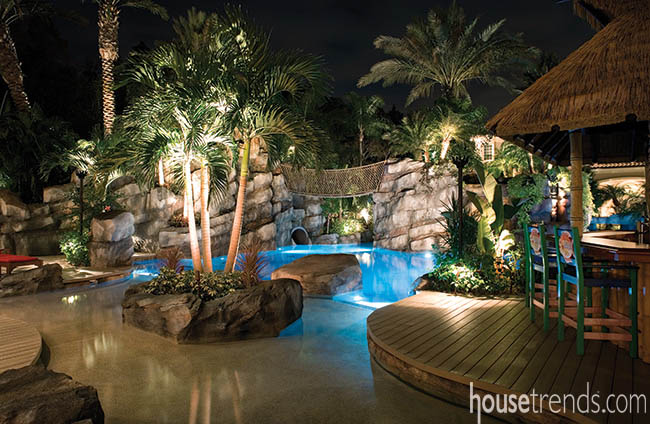 Or, they can walk across the submerged stepping stones the run just below the water's surface below the lip of the infinity pool.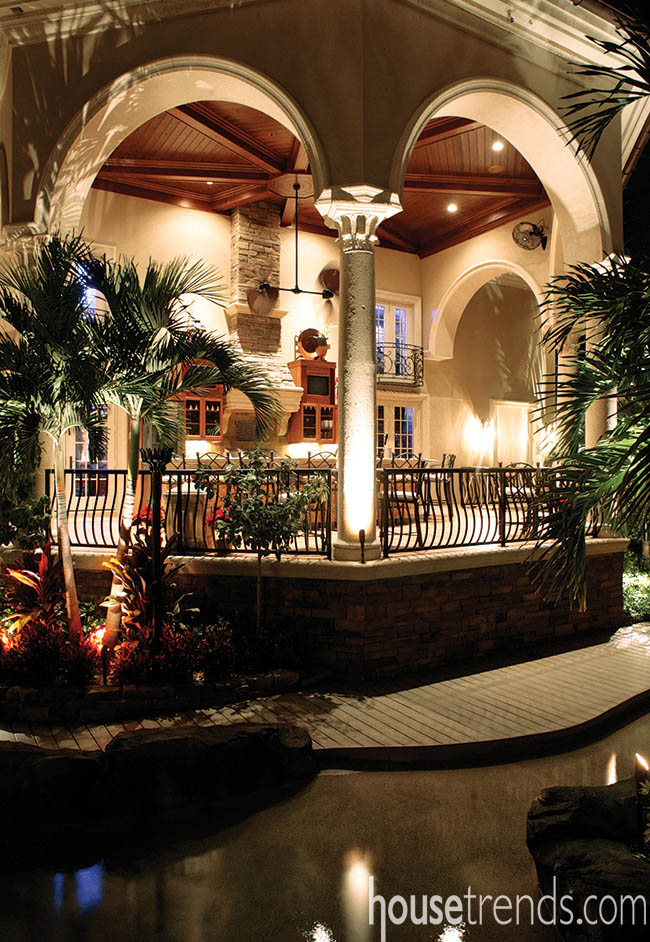 While one steps down to the tiki hut, the upper patio levels feature a more formal dining area, an outdoor living room with large fireplace and lounging chairs and an elegant outdoor kitchen.
The patio decking closest to the water is a "permanent wood" product—a composite made to look like wood but with a far longer lifespan.  Pavers in tan and peach colors help differentiate the stepped patio levels while 1×1-inch terracotta tiles make up the flooring of the outdoor kitchen and dining area.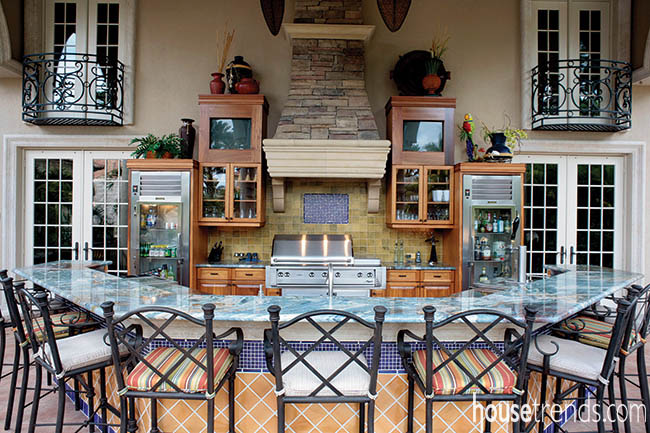 The outdoor kitchen, complete with dual Traulsen drink refrigerators, Alfresco gas grill, beer on tap and massive stone hood make outdoor cooking a treat.  Dramatic teal granite counters, rich wood cabinetry and glass backsplash tiles of blue and gold add an elegant islands touch.  "I have to give my wife Nancy a lot of credit.  She designed this whole area and it looks beautiful," Bill says.
His-and-her pool baths, identified by male and female tiki masks complete the picture and, to keep it comfortable, an all-natural insect repellent system using chrysanthemum oil spray, mists the pool area 3 times a day to keep biting insects at bay.  With a back yard like this, who ever needs to leave home?
Sours: https://www.housetrends.com/articles/swimming-pool-mediterranean-masterpiece/
Pools mediterranean swimming
25 Fascinating Mediterranean Pool Ideas That Will Blow Your Mind
Installing a pool in your outdoor space is an excellent idea. First, it will adorn your place and add beauty to it. Second, a pool is entertaining. You can take a swim to relax and have fun whenever you want. If you are looking for a fabulous pool idea, you will definitely find it in this article. It contains 25 Fascinating Mediterranean Pool Ideas. Scroll down and check them out.
Landscape pool Design
This is an alluring yet simple pool design. Every part of this pool design looks authentic. It is colorful and it gives a feeling of peace.
2. Courtyard Pool
If you have a country yard, you should definitely opt for this pool design. It is not only relaxing but it is also ornamental.
3. Small Mediterranean Pool
Having a small yard does not mean that you should not have a pool. There are many small pool ideas that can fit into your small yard. This pool idea, for example, is perfect for tiny yards.
4. Pool With Fire Pit
This is a great pool idea for large outdoors. This pool is very stylish and it is distinguished by a series of playful elements. It contains:
fountains
urns
sculpture
armillary
5. Private country yard pool
This is one of the most pleasant pool ideas. This idea, although it is a bit expensive, it will provide you with an extremely amazing pool that will adorn your outdoor space and make it absolutely remarkable.
6. Mediterranean pool idea
This is one of the most alluring Mediterranean pool ideas. It features flagstone, terracotta, and a vine-covered pergola. This design is adorable and sturdy. It will last for decades.
7. Tiny Mediterranean pool
All you need to make this tiny pool is some small stacked stone. They are installed in varying levels making this design very exceptional and attractive. The best feature of this design is that although it is tiny, it looks big and does not look overcrowded.
8. Provencal Pool
This an outstanding pool design. Together with that outdoor garden, they make an absolutely beautiful view. The pool is quite simple and it won't cost much. The main element of the garden are:
decomposed granite
lavender
linear garden beds
9. Wine Country Pool
Looking at this view every time you step outdoor will definitely help you live a happy stressless life. Besides being absolutely charming an eye-grabbing, this design contains outdoor storage to store your gardening tools and a small kitchen to prepare snacks and drinks.
10. Hill Country Pool
Most of us can only dream of having this gorgeous house but many of us can afford to build this nice pool.  It is very attractive and ornamental.
11. Madrid style pool
This is one of the most elegant pool ideas. This pool is not only elegant but it is also sophisticated. It will definitely embellish your outdoor space and make it outstanding. This pool is in Madrid and it is designed by Etno Design Marbella.
12. Freeform Pool
This is one of the most beautiful pool ideas. This design is marvelous. It is beautiful, attractive and most of all it looks very unique. It contains a dining area, a sitting area, and a fire pit. This design is expensive but it worth investing your money in.
13. Chic Mediterranean Pool
This is one of the most old-fashioned pool ideas. Although pool idea is traditional, it remains extremely ornamental. Besides, this pool is quite cost-effective as it is made of:
wide jars
earth tones
flagstone
stacked stone
fountains
small well-pruned trees
shrubs in pots
14. Crete style pool
We found this pool on one of the fancy houses on the island of Crete. Although not so many people can afford this pool design, it remains one of the most inspirational pool ideas. This pool is not only beautiful but it is also authentic and unique.
15. Spanish Bungalow
This Spanish Bungalow does not require much space. Although it looks large and big, it is not. In fact, it is built on a small lot.
16. Stone Wall pool
This pool is designed by  Neolithic Designs.  It will adorn your outdoor space as well as protect your privacy.  This pool design is a bit expensive but highly recommended as it is fabulous.
17. Landscaping pool
This pool is amazing. It is calm, warm and inviting. It will help you relax and relieve your stress. Besides, it creates a joyful outdoor atmosphere. AMS Landscape Design Studios is the creator of this design.
18. Narrow Mediterranean Pool
Neolithic Designs built this amazing pool. At first glance, it looks large but in fact it quite small. It is perfect for small yards. This design is modern and contemporary thus it is perfect for cities.
19. Wide pool
This amazing pool idea is brought to you by AMS Landscape Design Studios. This idea consists of a low, wide planter as a focal point near the pool.
20. Mediterranean Pool with a fountain
Lewis-Aquatech always gives us the best pool ideas. This pool idea is one of them. The fountain adds beauty, charm, and sophistication to this pool. This design is based on a classic pool shape, brick, planters, and pruned arborvitae.
21. California Style pool
This pool idea will transform your outdoor space into a classy European landscape design.
22. Old-fashioned pool ideas
This is an ideal pool design that is perfect for large outdoors. It will cover a vast proportion of your empty outdoor space turning it into an extremely amazing water feature.
23. Pool House
Bill Bocken Architecture and Interior Design designed this piece of art. This crystal pure pool design will make your outdoor space magnificent. What makes this design exceptional is that the pool so is clear and pure that it reflects the house on the surface creating a uniquely fascinating view.
24. Provencal Farmhouse
This is one of the most remarkable pool designs. It is terrific.
25. Small and Formal
This is one of the most expensive pool designs. Only a few people can afford this design. However, you can duplicate it if you have good DIY skills. You will need:
fountains
flagstone
 fountains
columnar trees
pavers with groundcover
stacked stone
These are the best Mediterranean Pool Ideas. These pools are different and vary in terms of size and cost. However, they will make your outdoor space fascinating.  If you wish to see amazing DIY pools, check out this post. 
Sours: https://gardenerknowhow.com/25-fascinating-mediterranean-pool-ideas-that-will-blow-your-mind
this water slide should not exist..
An overview of pool and spa regulations in Mediterranean countries with a focus on the tourist industry
The Mediterranean area is densely populated and a very popular tourist destination. This study aimed at gathering up-to-date information on current national pool and spa regulations. We formulated and duly distributed to 20 Mediterranean countries a questionnaire divided into two sections: for pool and spa facilities, respectively. The questionnaire was formulated in such a way that a positive answer would imply that the specific topic was addressed effectively. While all 20 countries responded to the swimming-pool-related questionnaire, only 11 of these countries reported the existence of spa-related regulations. When combining the response overall of all countries for pool and spa facilities together, of a grand total of 606 answers, 183 (30.2%) were positive. The positive answers in the pool section of the questionnaire were 29% of the total of 420 answers while positive answers in the spa section of the questionnaire were fewer (27.8% of the total of 176 answers). The countries were grouped by geographical area of the Mediterranean basin where they are situated. Also, the questions were grouped into broad thematic categories. The paper presents conclusions drawn on the basis of the data received according to these geographical and thematic groupings.
Sours: https://pubmed.ncbi.nlm.nih.gov/25252339/
You will also be interested:
Day, sleep with their hoods and bumpers buried in each other, the dispatcher can take a nap. In the meantime, all the bosses are in the carpool, until the last driver has passed the waybill, until then the dispatcher could not sleep. As much as you would like. So we entertain, the drivers on duty, dispatchers.
Moreover, the shifts coincide completely.
711
712
713
714
715