Looking for balcony ideas to transform your space? Balcony gardens are in some ways the perfect outdoor spaces. Convenient, big enough to sit on (hopefully) but not so big as to create too much work, and the perfect canvas to create real wow factor outside.
Balcony gardens don't have soil, so won't have weeds, they have fewer pests and, will usually have a great sense of openness – but there are challenges.
Most balconies are either in the sun or the shade, and that is a determining factor. Sunny balconies are really sunny, whilst on the shady side of a building there's no dappled shade or semi-shade – it's completely sunless. They can also be windy without catching passing rain. And one of the greatest problems is that everything is on view, there's no hidden corner to put things which aren't needed right now.
But, having said all of that, balconies can be a wonderful extension of your living space. Work with all of the challenges and they can be rewarding and beautiful places all year round.
Golden rules
1. Before you put in any plants think about watering. How will you get water to the plants and where will the water go afterwards? An outside tap is ideal but if you have to rely on watering cans think about how many trips you'll need to keep everything looking good throughout the summer. Don't put in more plants than you will happily water.
2. Always think about safety with balconies. The main issues are things falling off, making sure drainage is good and not putting too much weight on your balcony. If in doubt ask for professional help. Also, rather importantly, you should not BBQ on your balcony as it poses a fire and safety risk.
3. If there's space, treat your balcony like an outside room, so use pots or decorations to create a sitting area. And, just like indoors, decorate the walls, think about lighting and accessorise with a good strong look in mind.
4. Work with the conditions. If your balcony is on the sunny side you will probably need to bring in shade, if it's windy try creating wind-breaks. If there's a bad view, screen it off with plants and trellis.
5. One thing that is often forgotten on balconies but is really important is fragrance. Scented plants so close to the house are really magical, not just in summer but in winter too.
6. Remember to use the verticals on your balcony. Don't just use the floors to place pots and ornaments on, the walls are vital growing and decorating spaces.
7. Finally, the one thing that will make a huge difference to any balcony is regular love. There is no sight so sad in the gardening world as a neglected balcony. Even if it's just 10 minutes a week, make a date to go out there, sweep around, water and generally spruce up. It will make all the difference.
Balcony plants
Balconies tend to deal with extremes, so if it's sunny it will be bakingly sunny; if it's shady, it will be absolutely sunless, especially in winter.
1. If you have a sunny balcony the best plants to have will be ones which can cope with lack of water. There's a reason geraniums are the balcony plant of choice in Mediterranean countries, they are bright and colourful and won't wilt if they are left for a few hours (or even days!) in the sun. Varieties such as petunias or marigolds are also good options.

2. Also try grasses, not only will these thrive in sunny dry conditions, they move beautifully in any breeze and bring a lovely gauziness.
3. For scents, those Mediterranean herbs provide a cornucopia of possibilities – basil, lavender, sage, rosemary. Your sunny balcony is exactly what they like.
4. If you have shade think about going with large-leaved jungle plants, so things like fatsia, bamboos and hostas. These will create a great atmosphere and many of them have the added benefit of being evergreen. Chris Bonnett from GardeningExpress.co.uk suggests primroses and foxgloves if the sun is hard to come by.
5. Scent is harder to come by in the shade but there are some lovely surprises like Christmas box for winter and nicotiana sylvestris for amazing summer scent.
6. Plants which are low-lying and therefore less likely to break in the wind, such as Begonias, should fare better than taller plants such as Delphiniums, explains Chris Bonnett.
Crocus
Geranium rozanne ('Gerwat')
SHOP NOW
Balcony planters
Container gardening: If you have no soil to plant directly into, containers are a great alternative and will provide the conditions needed to grow flowers. Containers can be pots, troughs, hanging baskets and window boxes. Many pots and troughs in particular can be designed to fit onto balcony railings.
'Using containers and pots means that you can position your plants anywhere in the space and is a great way to personalise and add colour to a balcony,' says Chris.

Not just limited to front gardens, hanging baskets can make the perfect balcony display. Styling several hanging baskets at different heights against a bare wall can create a great feature.
For the eco-conscious, you can repurpose items in your home, for example, using an old wellington boot as a planter.
Seasonal changes and affordable updates
Balconies are relatively small, and so any changes you make will be easy to do and should be cheaper than doing up a whole garden.
1. With a balcony, every corner is on show so there's no room for a pot or container that isn't performing. Even if you can't do a clean sweep every few months, at the least always have seasonal performers at the front or on the table to catch the eye. Use winter bedding, spring bulbs, or even just a bunch of flowers to brighten up the space with plants that are looking their best.
2. Repainting is a great way to update the look of a balcony. The walls and the floor tend to be very dominant to the spaces, so a fresh coat of paint can really transform how it all looks.
3. Think about having a change around with the furniture – new seats will have a great immediate effect. They don't have to be expensive and if you're on a budget, look for second hand furniture which can be painted to fit your look.
4. Having a theme or look in mind is really helpful when choosing paint, furniture or ornaments. For example, you could create a clean, modern look with white and grey, or opt for bright primary colours to cheer up your space in winter or summer.
'During the summer, I turn to decorations that conjure up a relaxed boho look without much effort, for example, wall hangings and outdoor rugs in all colours and shapes. Try layering rugs in different patterns and colours to create a striking look and add depth to a balcony with limited square footage,' explains Wayfair's Resident Style Advisor, Nadia McCowan Hill.

5. Use the uprights more effectively. Putting up trellis on the walls, even before the plants have grown up, will add structure and make the area look more finished. Or even a ladder shelf that can hold plants, a watering can or other accessories.

'Don't forget to take advantage of vertical space. A decorative wooden ladder offers a spot for hanging succulents, small lanterns or wool blankets for cooler evenings. While ceiling-mounted hanging chairs leave the floor free and convey a feeling of lightness,' adds Nadia.
7. When it comes to balcony furniture, try to create an outdoor room, bringing the inside out. Asmall lounge corner is great for creating a cosy nook on a balcony. Poufs and stools are also perfect for a small balcony and have a relaxed feel. With an outdoor rug, there are plenty of designs to choose from, whether it's a neutral or bold pattern.
8. Add storage space. An outside storage box or bench with under seat storage will make a huge difference and is perfect for hiding essentials or accessories that need to be kept in a cool, dry place.
Low maintenance
It's really important with balcony gardens to do some maintenance – they tend to get dusty and things blow over, so even just a few, regular minutes will do to sweep round.
1. The area will inevitably create rubbish, whether that's dead leaves, old flowers or just sweepings. To make it easy to get rid of the rubbish, have a bin outside, a ready supply of bin bags, and a brush and pan against the wall.
2. Watering is a big time-consumer with balcony gardening so make it as easy as possible. There are some really stylish watering can designs nowadays, so you can buy one to suit your decor. Alternatively, a collapsible watering can will be easier to use and store than a conventional one.
Notonthehighstreet.com
Heritage Blue And Copper Watering Can
notonthehighstreet.com
£18.00
SHOP NOW
3. Pot trays, used under your containers, will hold the water and will mean you can get the watering can out less often.
Big mistakes
It's easy to get balconies wrong; they can look over busy and over crowded.
1. Even if your balcony is small don't think you have to use small pots and small plants. Big, bold, structural planting will still look better than over-filled, fussy arrangements.
2. Random planting rarely looks good. Regular patterns of tall and short will feel and look better than a scattering of different sizes. So perhaps go for taller plants at the corners of the balcony and shorter along the front. This will give a balance and structure which will feel better.
3. Even if you think we don't have much sun in this country, it can get too hot very quickly on a balcony, so a bit of shade is really essential on a balcony that faces south. One great way to introduce shade is to use climbers over wires. If you use deciduous plants, which die back in winter, you'll have lovely green dappled shade in summer but won't block off the light in winter.
4. Trying to fit too much onto the balcony will make it all feel too tight. A table that you can't get around will not feel right and won't look right. There are some wonderful space-saving products coming through now which fit onto the railings, from foldout desks and tables to planters.
Flower Council of Holland / Wilfried Overwater
Luxury wows
The railings of your balcony can really make the difference to how the whole thing looks. Stainless steel and glass balustrades are the most beautiful modern alternatives, not cheap, but they look great and let in light. For a more traditional building, have a look at ornate iron work – hugely expensive but works of art.
Like this article? Sign up to our newsletter to get more articles like this delivered straight to your inbox.
SIGN UP
---
Balcony furniture buys for every budget
Bistro Set - Balcony Furniture
Lois 2 Seater Balcony Table & Chairs
marksandspencer.com
£179.00
SHOP NOW
Neat, streamlined and incredibly chic, this bistro set was made for small spaces! As demonstrated here, the tables tuck in perfectly when not in use. It's also available in teal.
Balcony Screen - Balcony Furniture
Balcony Privacy Screen
HOMPERamazon.co.uk
£14.99
SHOP NOW
To create more privacy on your balcony, consider buying a privacy screen like this, which you can attach to the railings. It's easy to install and it comes with cable ties. It provides ideal protection against wind, rain and UV.
Slimline Bistro Set - Balcony Furniture
Nardi 2 Seat Bistro Set, Olive Fibreglass & Resin
SHOP NOW
We love how compact this table and chairs bistro set is. Made from lightweight resin with perforated panels, it's the perfect blend of minimalist and industrial.
Balcony bench - Balcony Furniture
Addisyn Steel Bench
SHOP NOW
Invest in a compact bench for your balcony for ultimate style and comfort. Place against the wall, ensuring you'll have enough room to stretch your legs. Just layer with outdoor cushions and throws.
Plant Stand - Balcony Furniture
Fir Wood 3-Tier Outdoor Plant Ladder Stand
Outsunnyaosom.co.uk
US$74.99
SHOP NOW
If you've got a lot of plants to showcase on your balcony, do it in style with this three-tier plant stand. The varying heights help to provide interest and the slatted design enables sunlight to seep through.
Balcony Stool - Balcony Furniture
Sacha Reactive Glaze Decorative Stool, Turquoise
SHOP NOW
Who needs chairs when you can perch on stools? And stylish ones at that. These reactive glaze outdoor stools are compact enough for even the narrowest balconies. The reactive glaze means the colour and pattern of each stool will be unique.
Balcony Parasol - Balcony Furniture
Balcony Parasol with Aluminium Pole
vidaxlvidaxl.co.uk
£59.99
SHOP NOW
Stay in the shade with this charming half parasol which can be fixed against your balcony wall.
Balcony Table - Balcony Furniture
Bistro Balcony Table
Fermobamara.com
US$349.00
SHOP NOW
Having a balcony instead of a garden doesn't mean you can't dine alfresco. This wall mountable bistro balcony table is perfect – fix to the wall or railings and enjoy breakfast, lunch and the sights from up high. The set comes with two chairs and, best of all, everything's foldable – including the table. The top storage compartment is ideal for displaying plants or storing condiments.
• You can also shop more colours on Made In Design.
Balcony Planters - Balcony Furniture
Bright Balcony Planters - Set of 3
Argos Homeargos.co.uk
£12.00
SHOP NOW
Want to decorate your balcony with plants? To do that you'll need these cheap and cheerful colourful planters which hook onto your railings. It's also available in pink and yellow.
Garden Bean Bag - Balcony Furniture
Max Indoor / Outdoor Bean Bag, Grey
John Lewis & Partnersjohnlewis.com
£85.00
SHOP NOW
Get cosy with a bean bag. An alternative seating option, bean bags are great for relaxing while catching the sun rays from your balcony or sitting down to read a good book.
• SHOP MORE: The best outdoor bean bags
Balcony bar - Balcony Furniture
Balcony Furniture Set
SHOP NOW
If you prefer a high table for your balcony, Suttons is selling this three-piece compact dining set made from FSC certified acacia wood. It'll make lunchtime dining all the more chic.
Balcony Table - Balcony Furniture
Hanging Rail Table
Outsunnyaosom.co.uk
US$17.00
SHOP NOW
It couldn't be easier to pop this wall-hung table on your balcony, and it's foldable, too.
Balcony Storage - Balcony Furniture
90L Patio and Balcony Chest
SHOP NOW
Need to store some garden tools and accessories? At just £20, this wood effect 90L capacity storage box is great for storing plant pots, cushion pads and tools. Please note, while it's water resistant, the box isn't waterproof.
Balcony Screen - Balcony Furniture
Balcony Screen Oxford Fabric 90x400 cm Terracotta
vidaxlvidaxl.co.uk
£19.99
SHOP NOW
Enjoy privacy while relaxing or sunbathing on your balcony with this waterproof balcony screen. Made from a special PU coated oxford fabric, the balcony shade also blocks the wind.
Bar Table - Balcony Furniture
Bar Table with Cooler Bucket
SHOP NOW
Sitting back, enjoying the sun and cooling down with a chilled drink is made all the more easier with this bar table and cooler bucket. There's also wine glass holders to the side of the table.
Side Table - Balcony Furniture
Edson Garden Side Table, Cement and Metal
SHOP NOW
Side tables don't come much slimmer than this. The industrial concrete and metal finish makes it perfect for your balcony.
Balcony Planters - Balcony Furniture
6 Pockets Hanging Planter Bags
Dsarenamazon.co.uk
£15.59
SHOP NOW
Create more space for planting flowers, herbs and vegetables with these hanging planter bags. Simply attach to your balcony railing.
Balcony Floor - Balcony Furniture
Floor decking, outdoor, grey/white
SHOP NOW
Looking for a fuss-free flooring solution? The MÄLLSTEN floor decking from IKEA easily clicks together without tools.
Garden Shelf - Balcony Furniture
Burford Garden Tall Garden Shelf Ladder
Croft Collectionjohnlewis.com
£149.00
SHOP NOW
Made of FSC-certified eucalyptus wood, this ladder-style shelving unit is a perfect display piece for all your potted plants or herbs. And it's pretty slimline too, so it should fit perfectly on a balcony.
Balcony Braces - Balcony Furniture
Balcony Braces
SHOP NOW
There really is no excuse not to grow some plants on your balcony! Use the hooks and adjustable straps on these braces for hanging a plank of wood or a crate.
• You can also buy these balcony braces on Made In Design.
This content is created and maintained by a third party, and imported onto this page to help users provide their email addresses. You may be able to find more information about this and similar content at piano.io
Sours: https://www.housebeautiful.com/uk/garden/designs/how-to/a781/balcony-garden-guide/
A balcony garden is no stranger to urban apartments. If you are living in a big city where a backyard is not an option, you likely rely on nearby parks for your daily dose of greenery. Wishing to have a little nature inside of your own home is a very common wish, but it can be quite a challenge setting up a garden in a small apartment. If your urban apartment has a balcony, you can use it to create a unique garden that is rich in plants and therefore rich in the color green! Get inspired by these incredible green balcony gardens that show off the true impact of plants!
Urban Meets Natural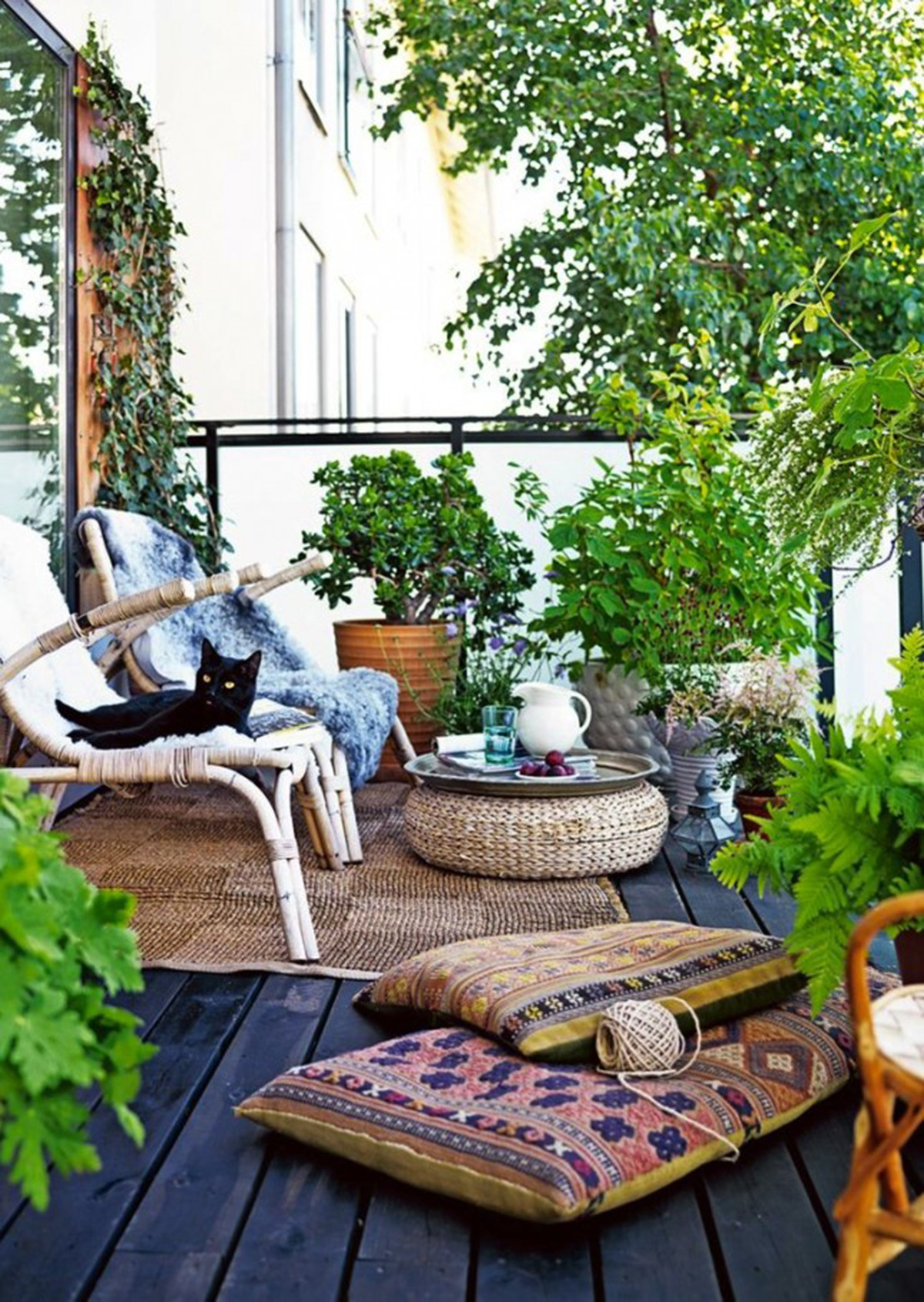 A balcony garden, once it's fully blooming, can obscure much of your small outdoors. The shield created by greenery establishes a more intimate and secure space, giving you privacy among the big apartment complexes.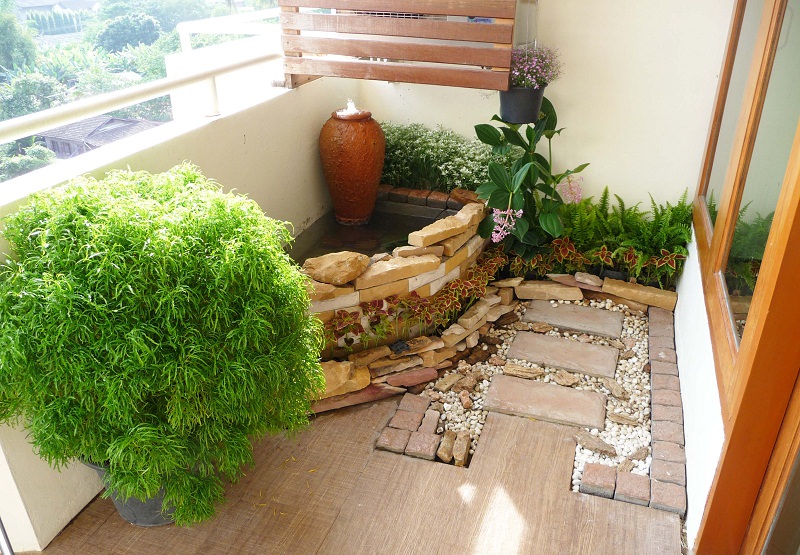 A Japanese styled balcony garden creates a sacred space within the small area, keeping things simple and stunningly unique. The plants have a thoughtful placement, keeping out of the way but leaving their impact on the space.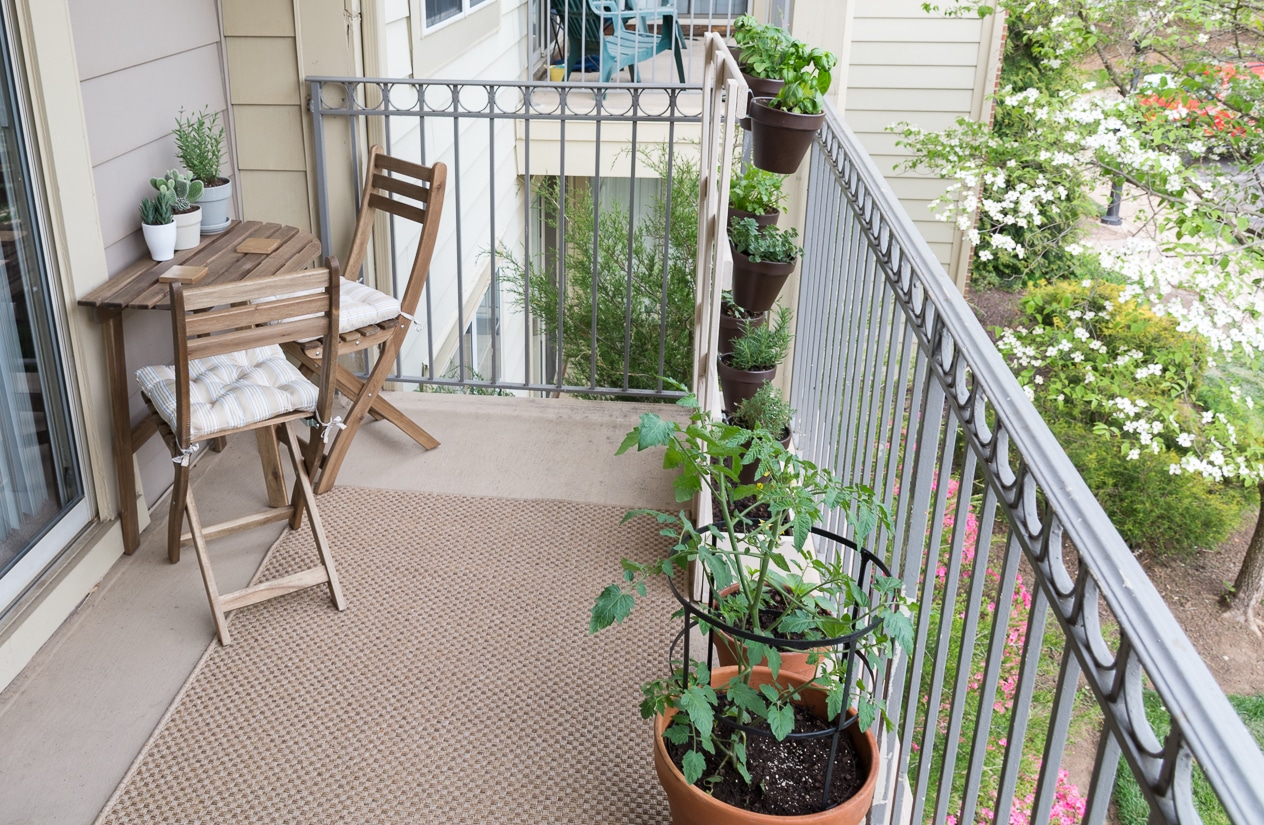 A minimalist balcony garden is a great addition to any modern apartment that wishes to feature a few natural elements as well. If you want to keep the space open and roomy, arrange the potted plants near the railing!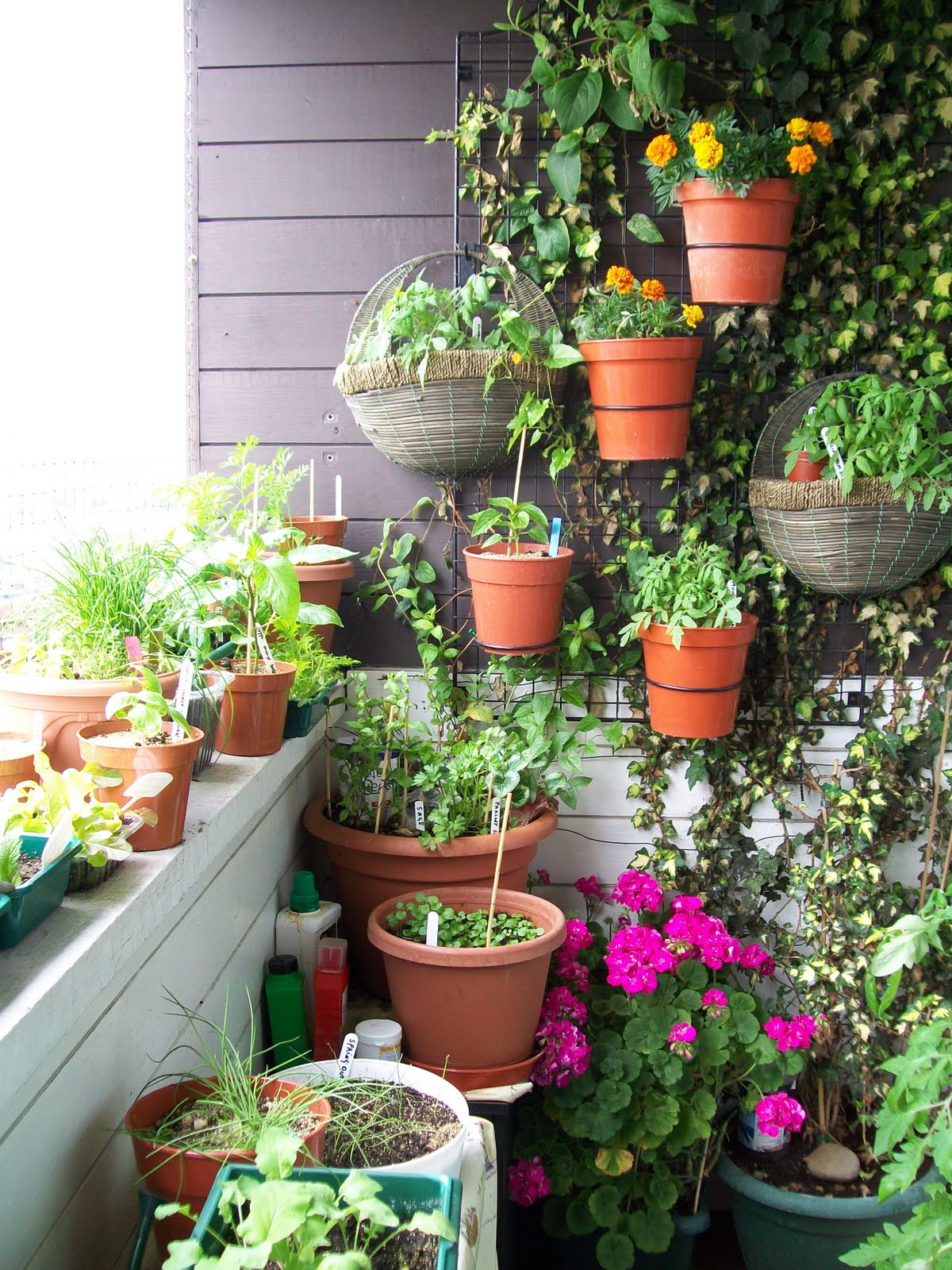 A balcony garden doesn't necessarily mean that you can only have a small amount of plants. You can absolutely have an abundance of greens beautifying your tiny outdoor area! The trick is to make use of the vertical space by hanging some of the plants on the wall!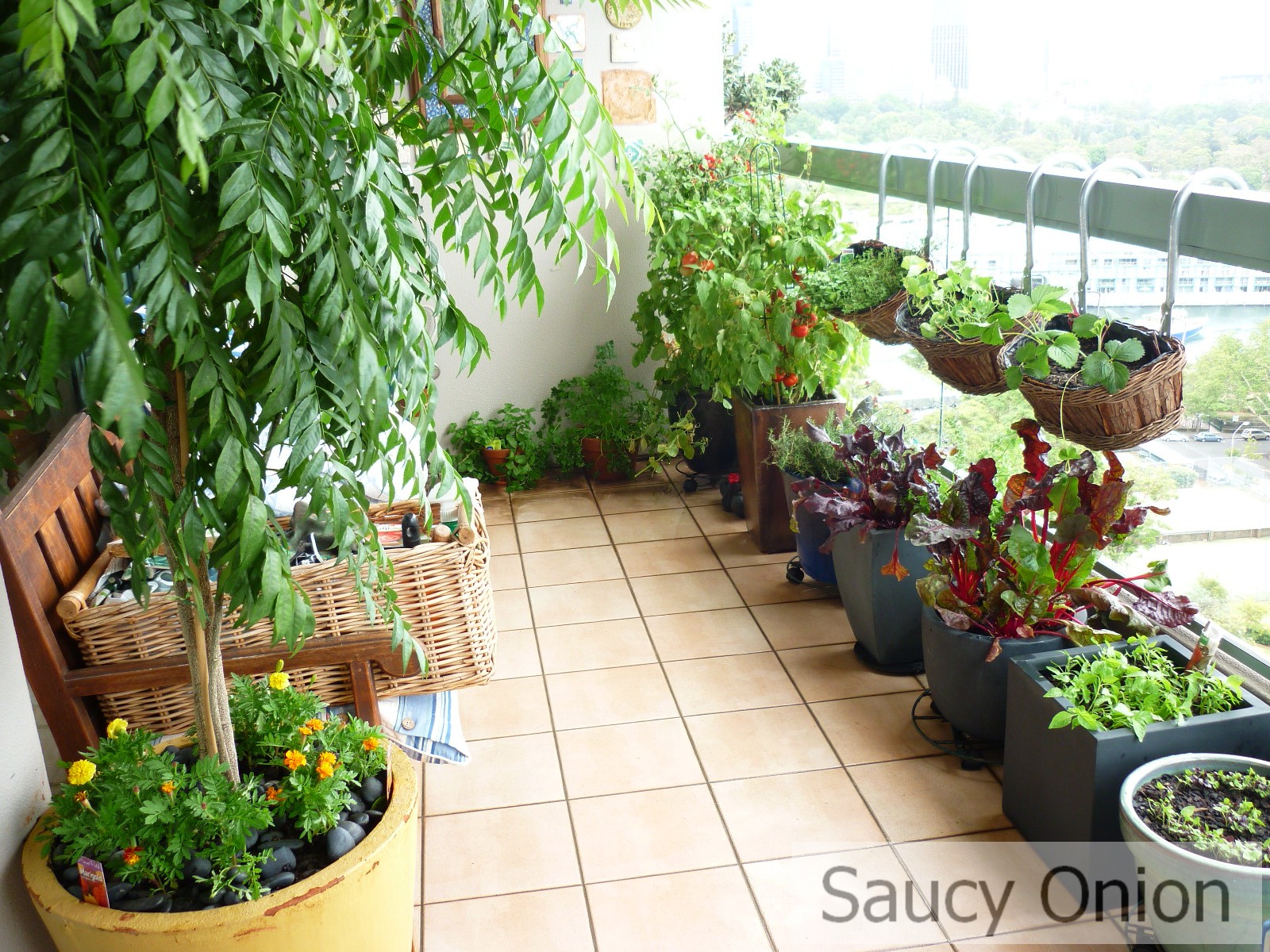 In metropolitan areas, where the gray buildings are taking over, stepping onto a vividly green balcony feels very refreshing! The more plants that are added to the balcony, the greater the contrast with the colors of the city.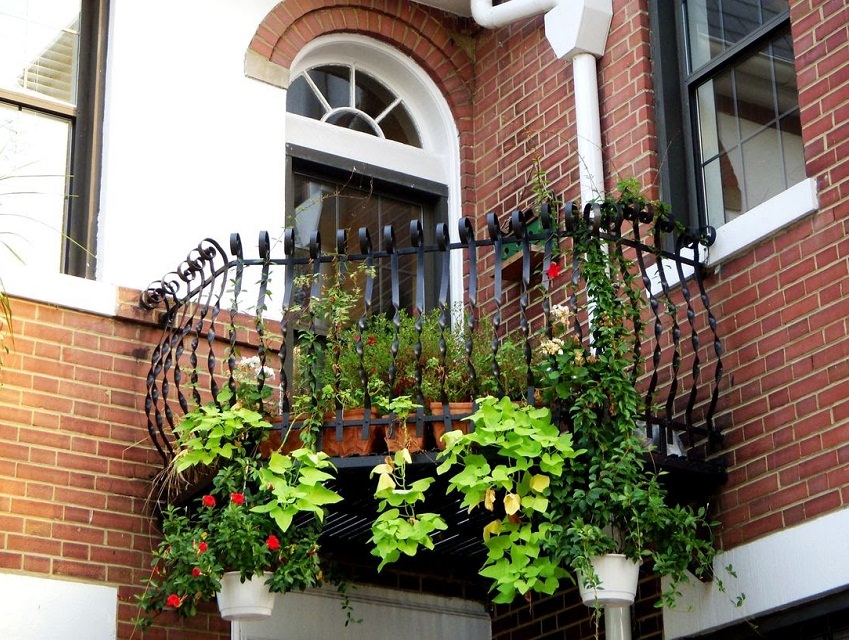 When we're decorating a really small space it's important to think outside the box and utilize every inch of room we can find. This urban balcony has a beautiful green garden that extends even beyond the railing!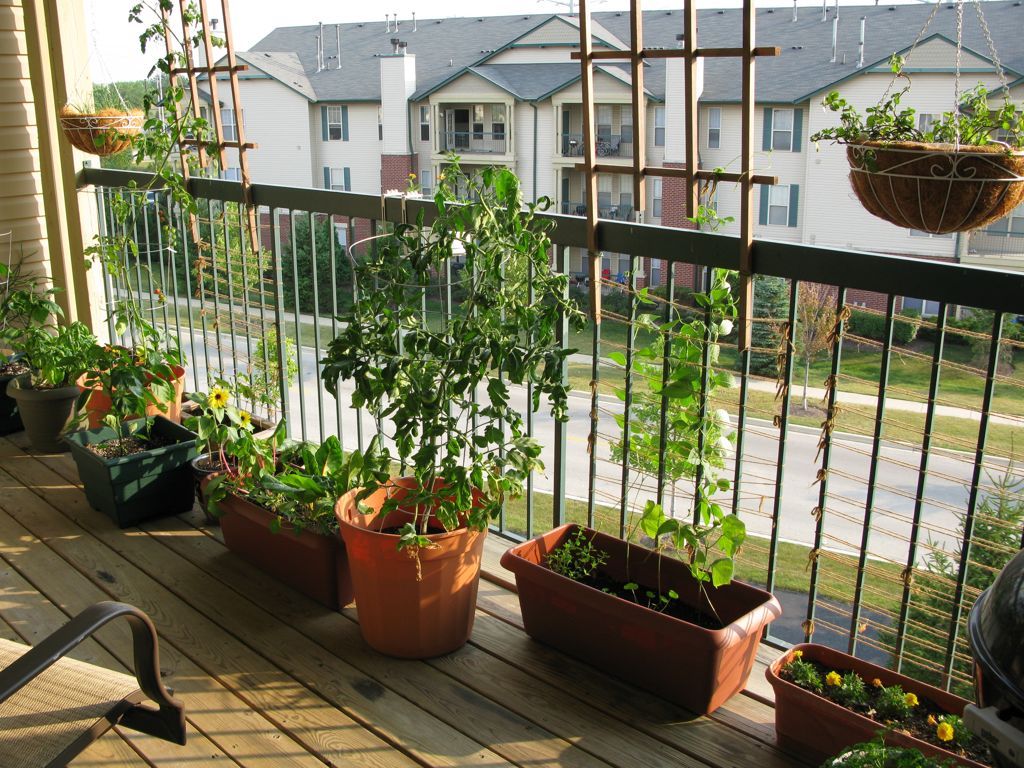 Green is a very cheerful color with a strong sense of familiarity. This is easily the consequence of it being a great representative of nature itself. Having a variety of potted plants on the balcony will fill it with that recognizable charming green vibrancy!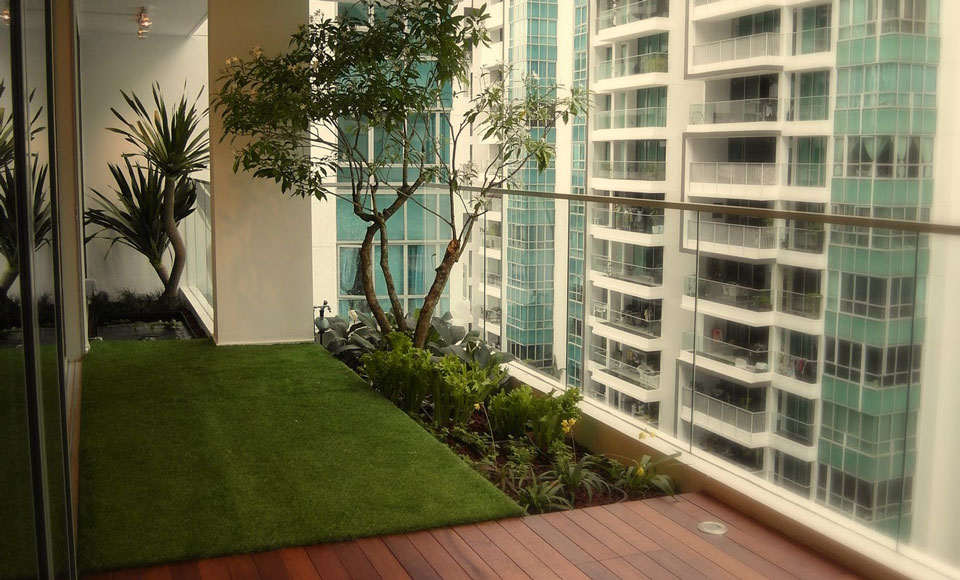 A balcony garden is not just a method of bringing nature into an urban area, it's also a great way to create an oasis within the city, an organic sanctuary that provides you with peace and serenity without having to drive out of the city for it.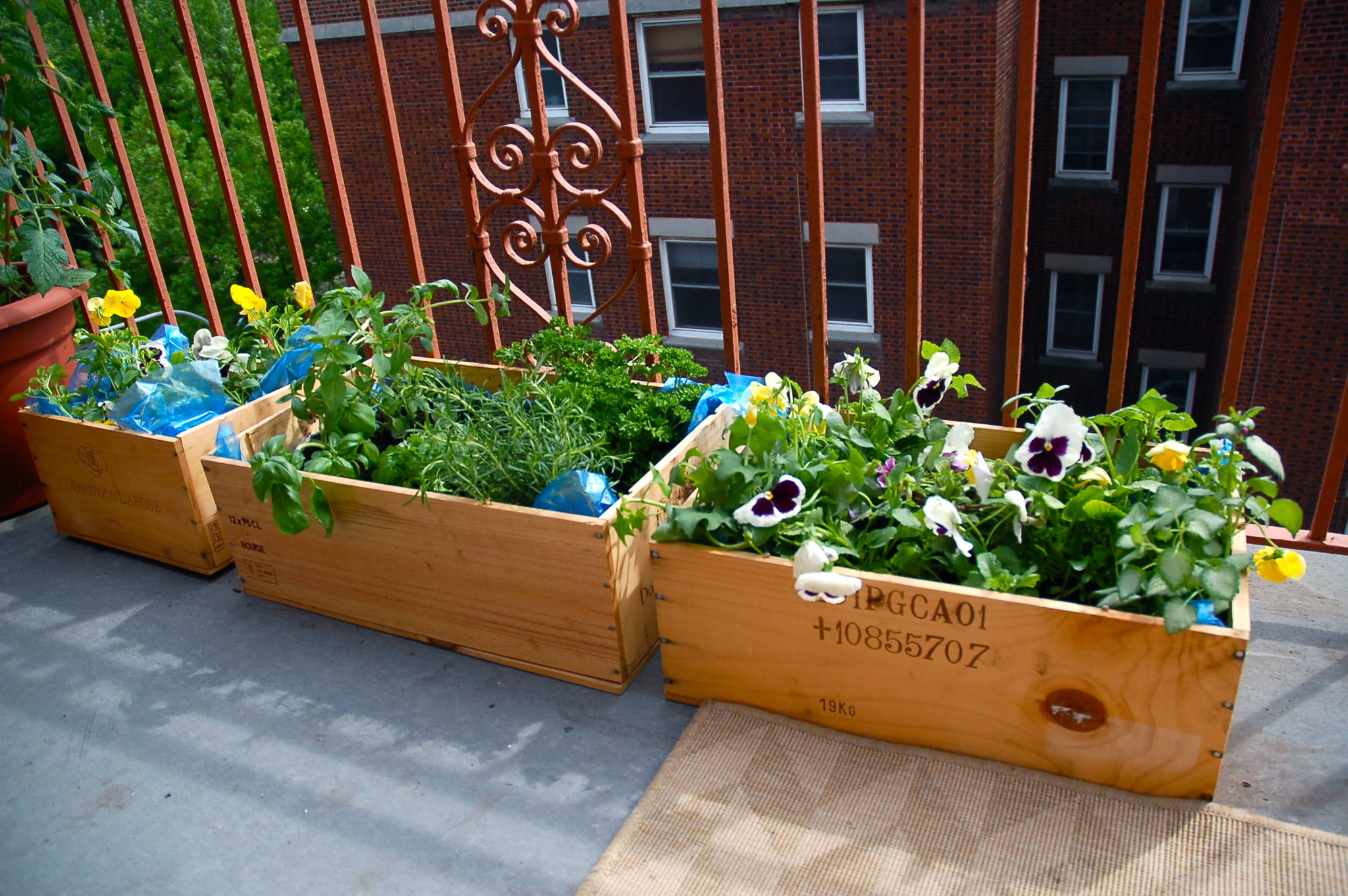 A simple way to create a blooming green balcony garden is to utilize wooden planter boxes! They are convenient and beautiful, don't take up much space and have a very clean look!
Modern Way of Gardening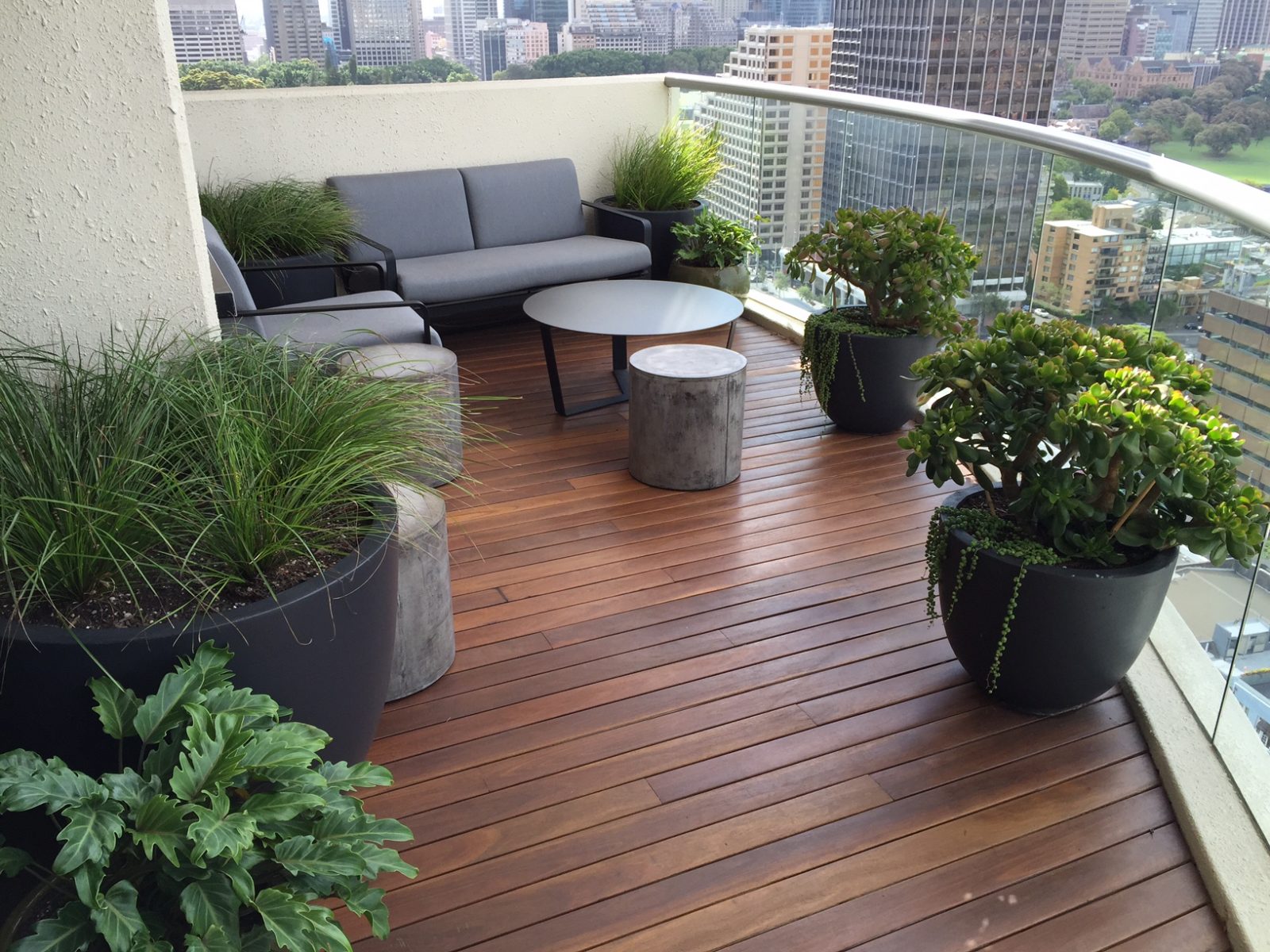 A large and elegant balcony overlooking the city can really benefit from having big bushy plants neatly placed all over it. The merging of urban scenery and natural elements creates one of the most stunning balcony gardens!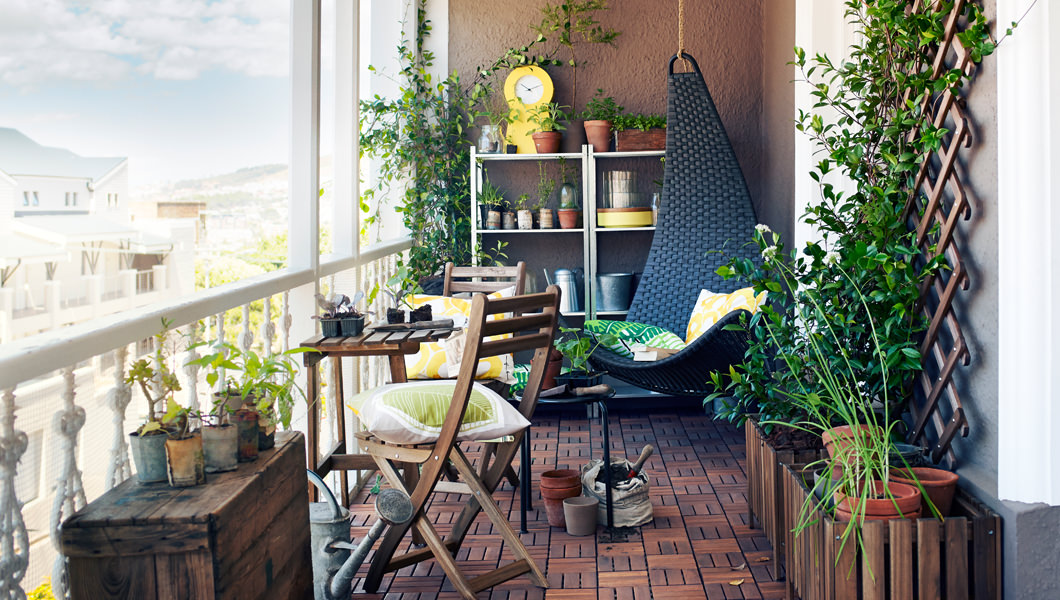 Perhaps the most modern way to set up a balcony garden is one where the plants are completely integrated in the space. Every nook and cranny has a flash of green, transporting you away from the city's hustle and bustle within seconds of stepping into the charming balcony garden!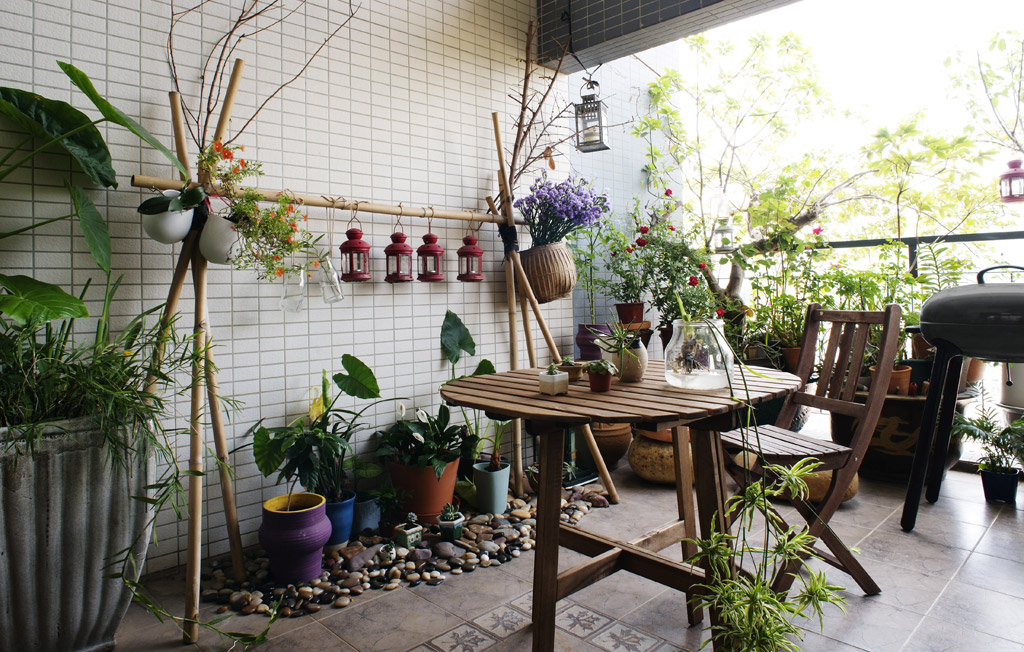 Place a tiny wooden table and a matching chair in the center of your balcony, then create the urban garden around it! Such a natural and carefully curated space, with many elements that make the garden as authentic as any backyard, can almost make you forget that you are in the middle of the city!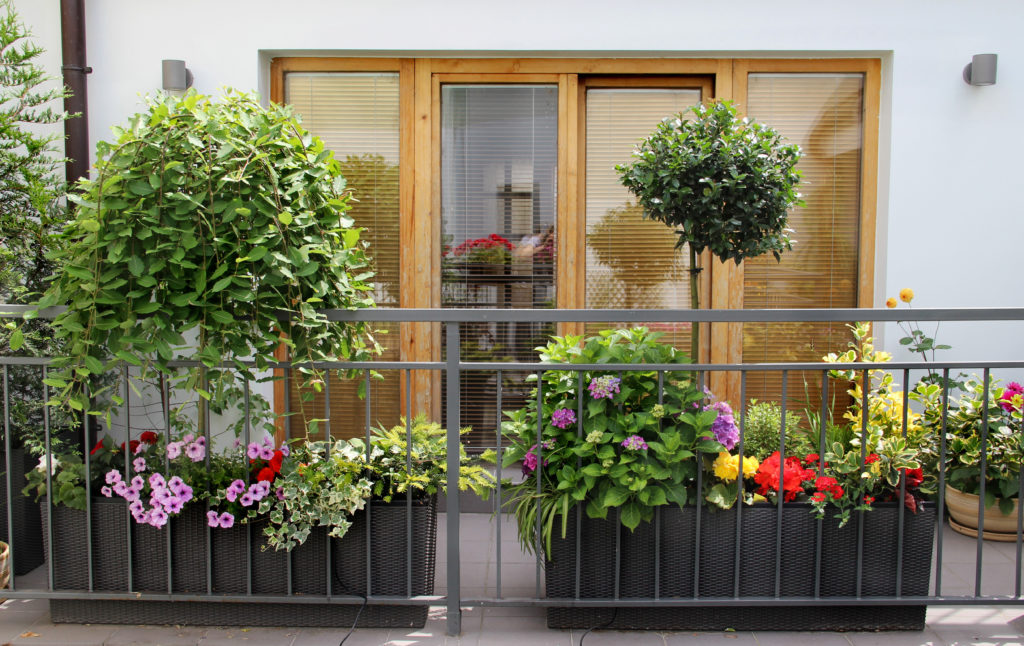 Some people mistakenly think that balcony gardens are disorganized and in a state of disarray. Let this beautiful balcony, whose garden radiates elegance and symmetry, be an example of a great practice!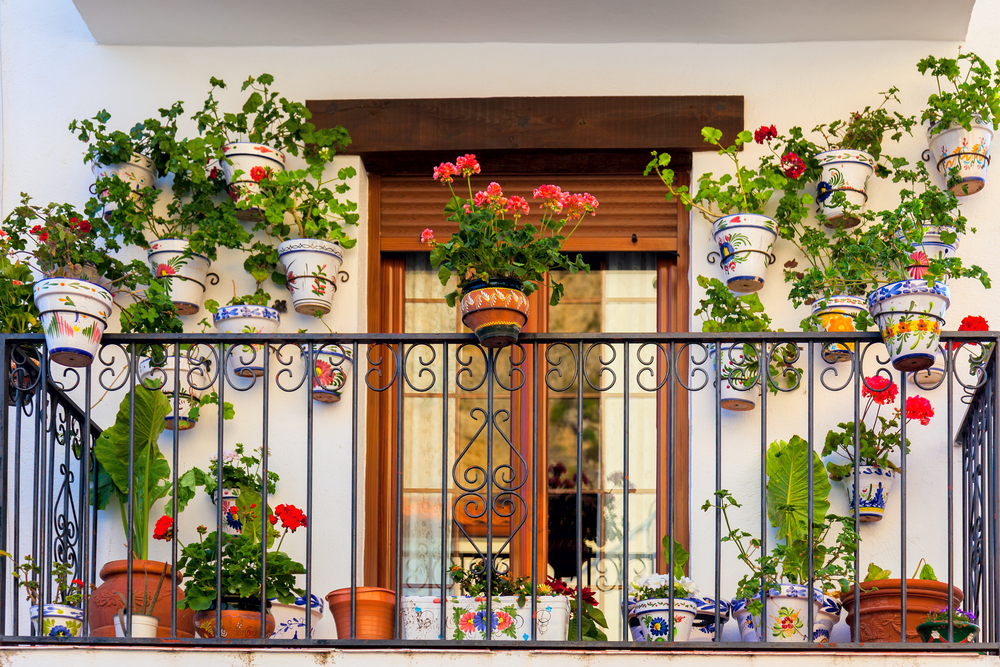 Even the greenest urban balconies can do with some color! It doesn't have to dominate the space, but it can make it seem even more alive! If you are seeking to create a colorful outdoor garden, match the blooming florals with uniquely decorated planters!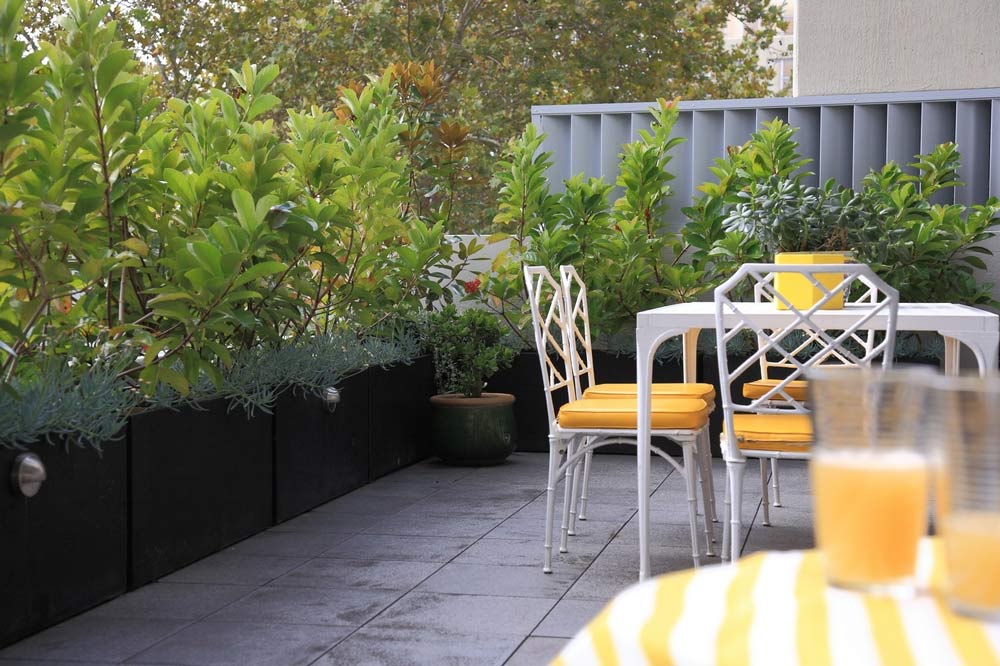 The plants can create a wall around the balcony, securing the space's privacy and creating a cozy ambiance. This way the balcony garden doesn't only have a decorative purpose, but a functional one as well!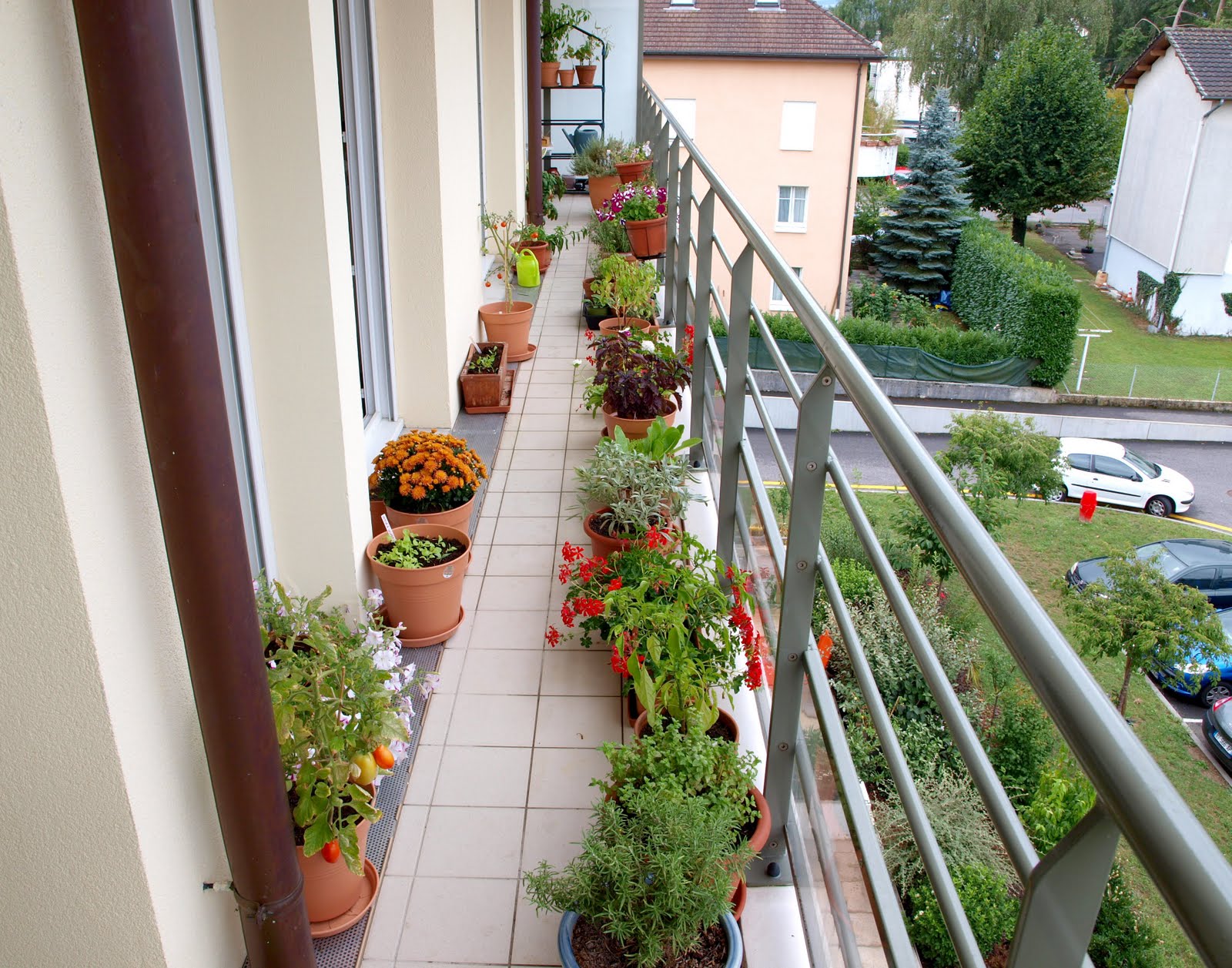 A narrow balcony may seem like a challenging space to turn into a garden, but the placement of the plants is everything! When they are placed near the wall and the railing, the space between turns into a really beautiful green corridor!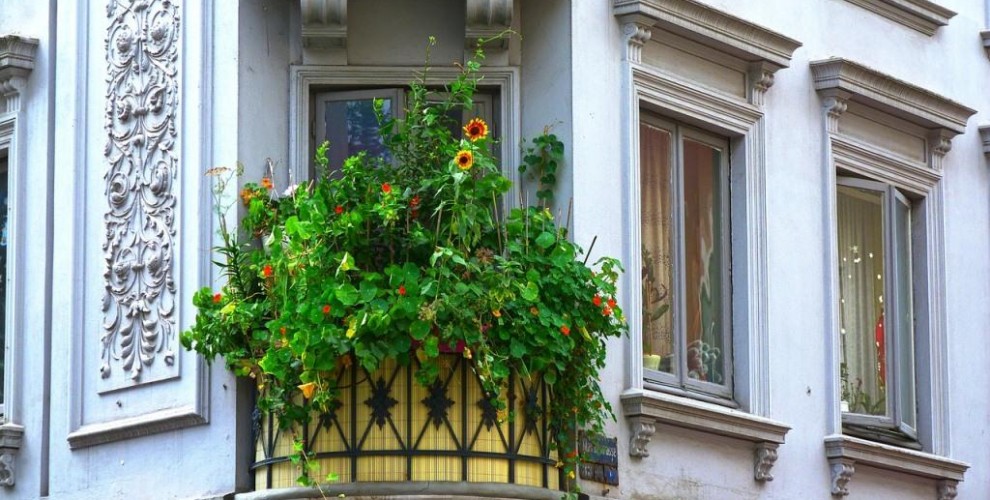 A tiny balcony is made noticeable by an incredible green garden that is almost completely hiding the balcony itself! This is a really fresh and organic element that shakes up the street's architecture and makes it appear more grounded.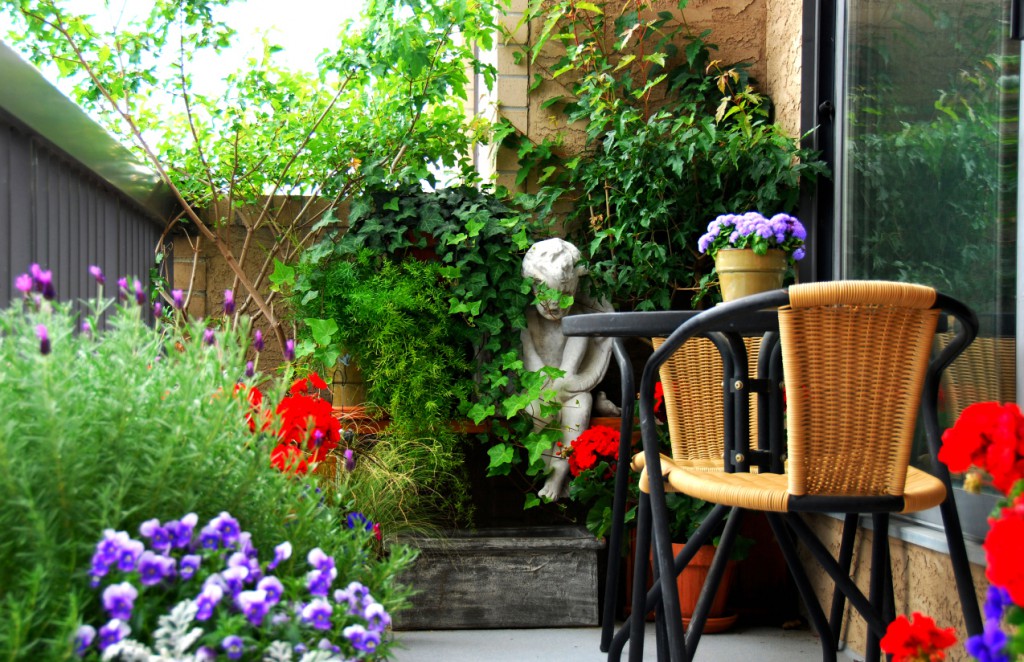 Within the busy city ambiance we can quickly start wishing for a peaceful space where we feel just a little detached from the gray pavements and the everyday frenzy. A tiny balcony garden is a great way to create a serene and natural space within an urban setting.
Oasis Within the Big City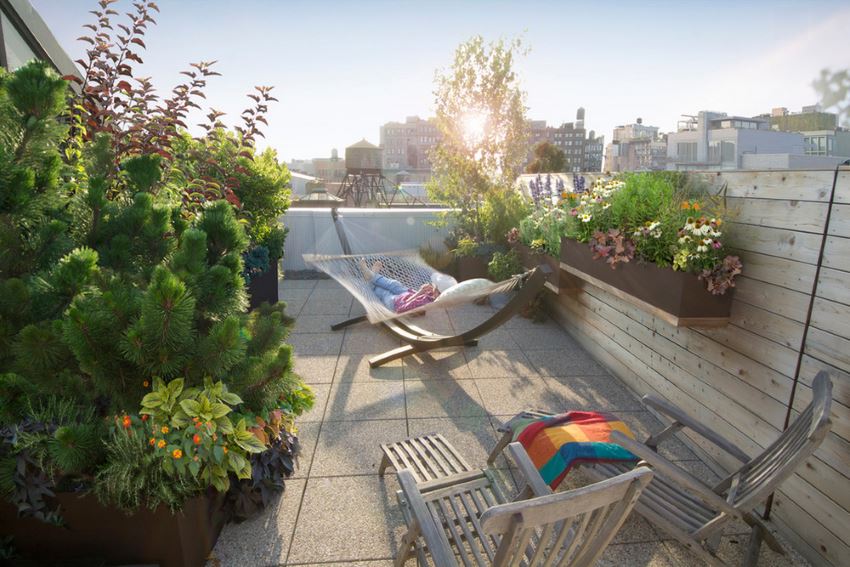 Just because a garden is created on a balcony it doesn't mean it has to be monotonous. There are many ways to create dynamic within the small space! You can start by placing some of the planters above the ground and simultaneously prevent the small balcony garden to become too cluttered!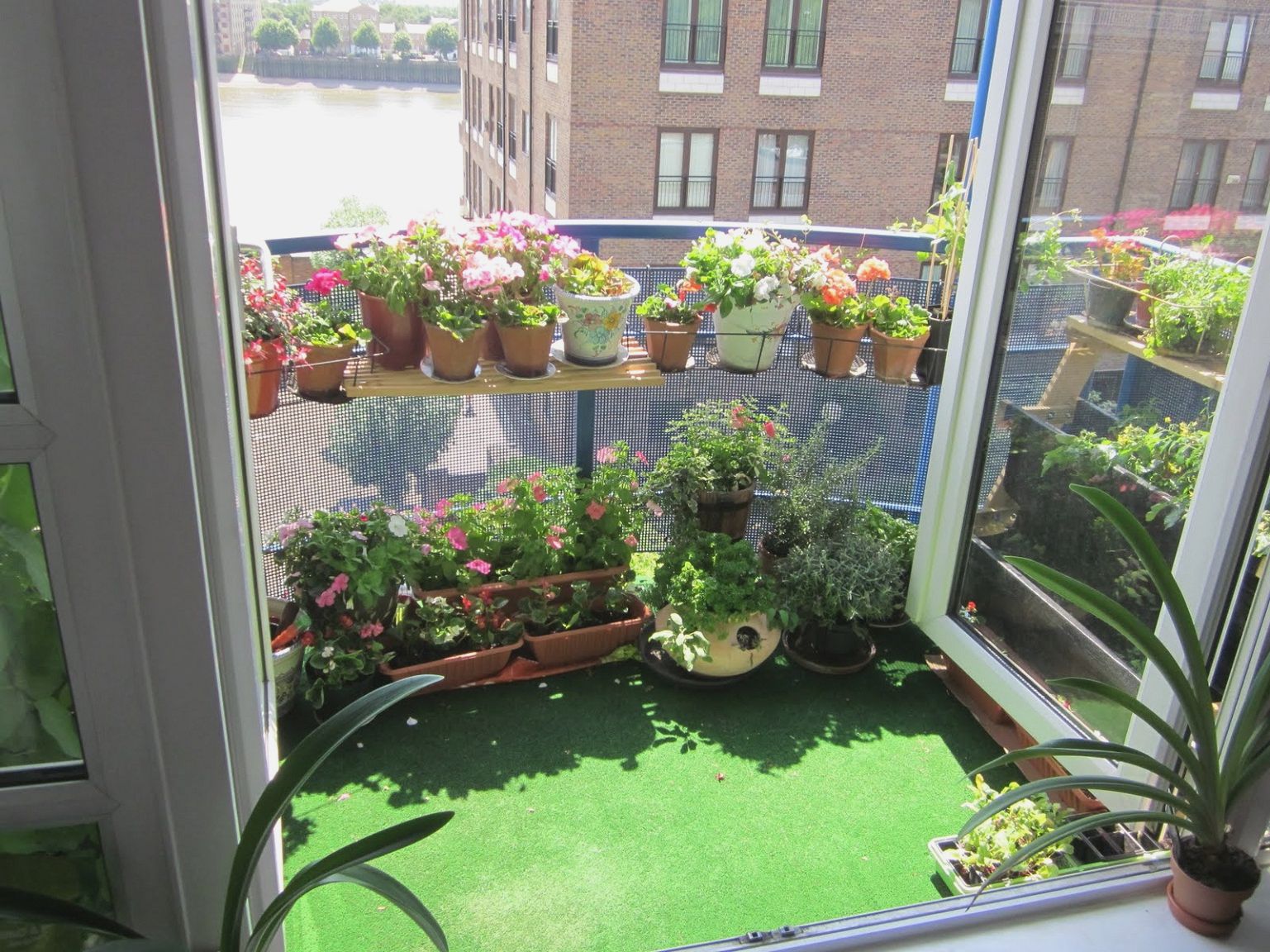 If you can't get enough of green, you can add an extra green element to your urban balcony garden and enhance the power of the energetic color on your tiny outdoor space!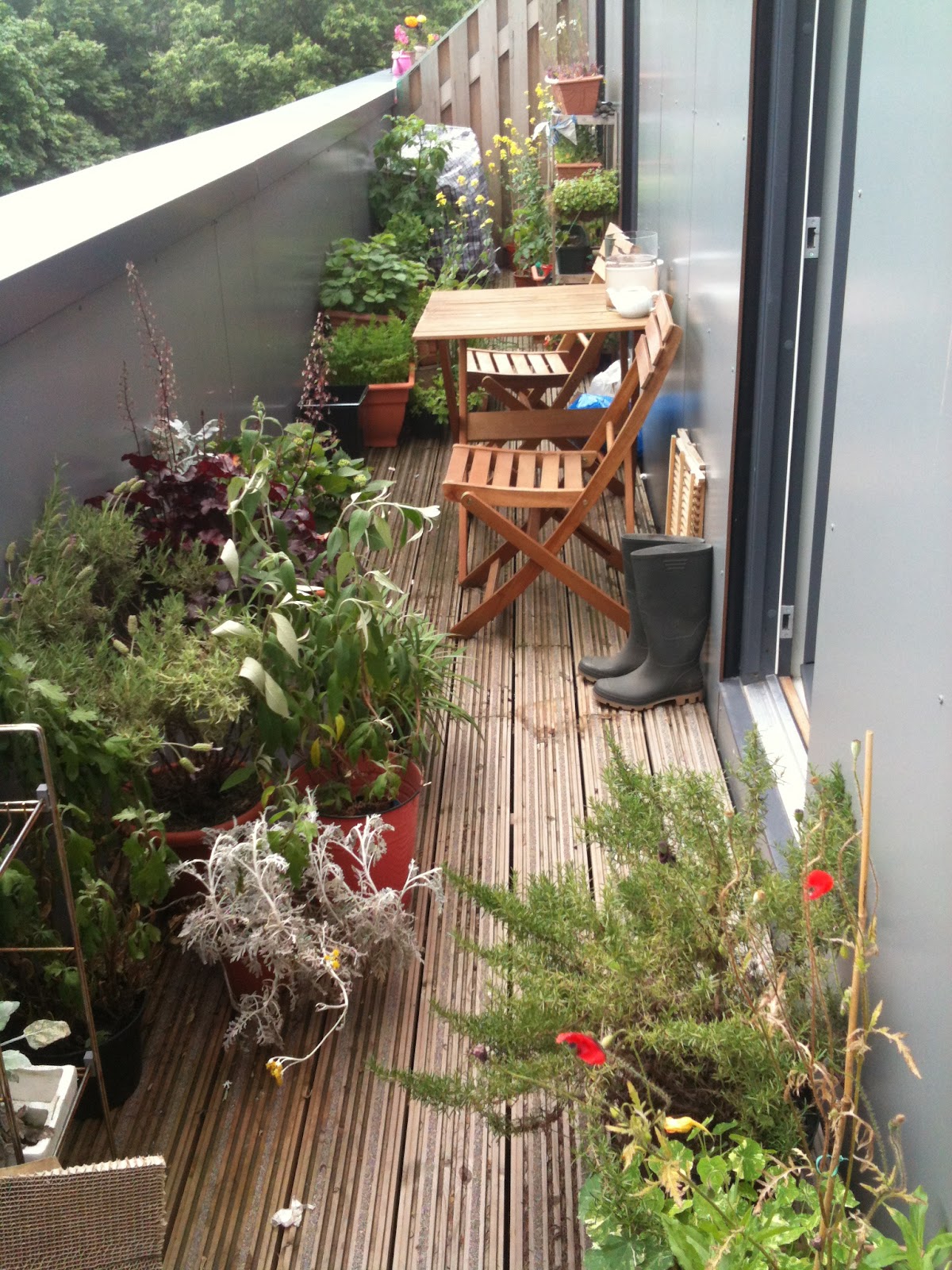 Here's another narrow balcony, this one with a slightly more random placement of the planters, creating a raw and natural look, channeling the view one might have onto a real, wild backyard!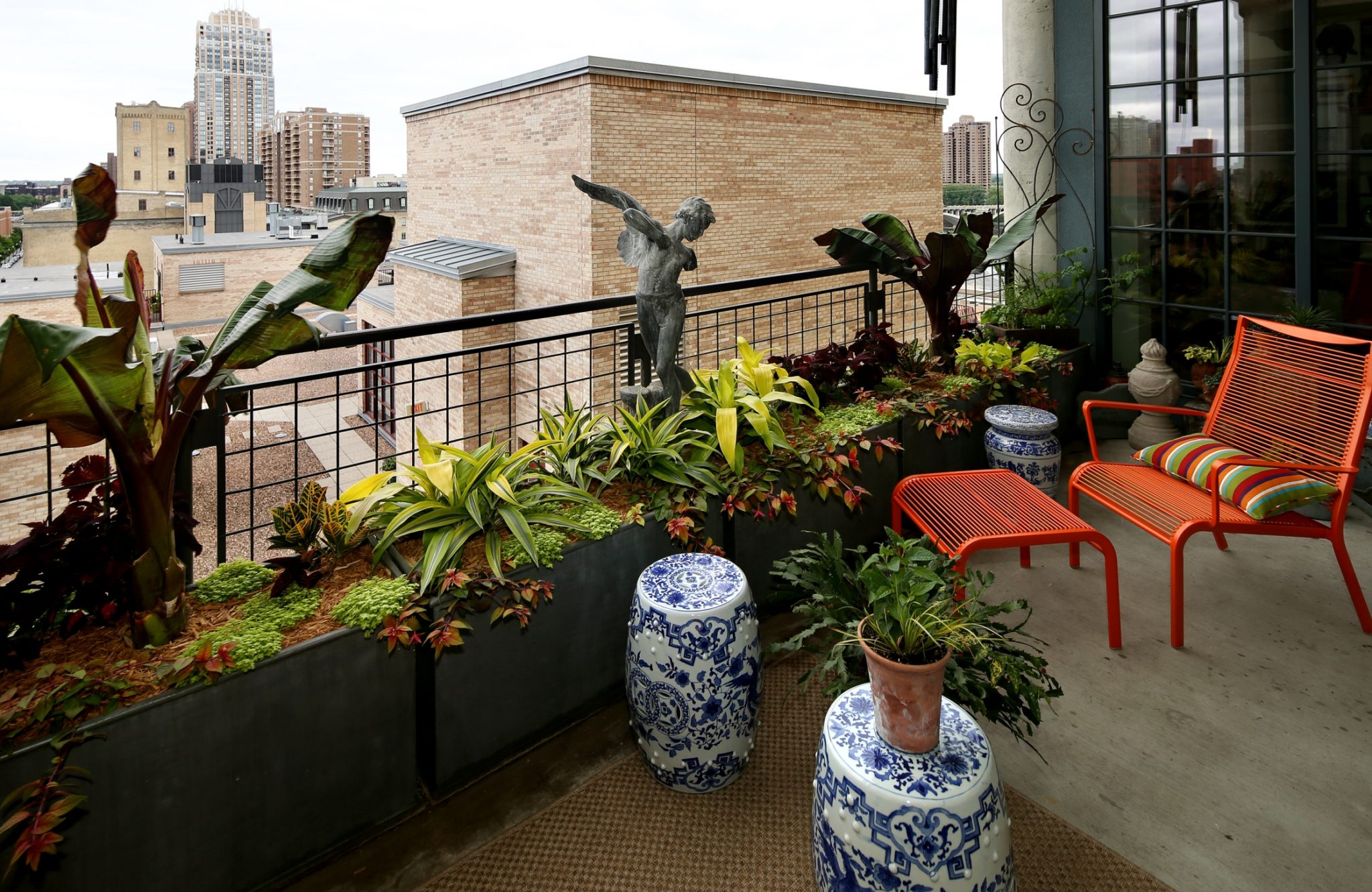 A modern balcony is a wonderful hangout place! To keep the space elegant and tidy, create the garden with raised planters with a matte look. They are a sophisticated piece that will add to your cultivated balcony.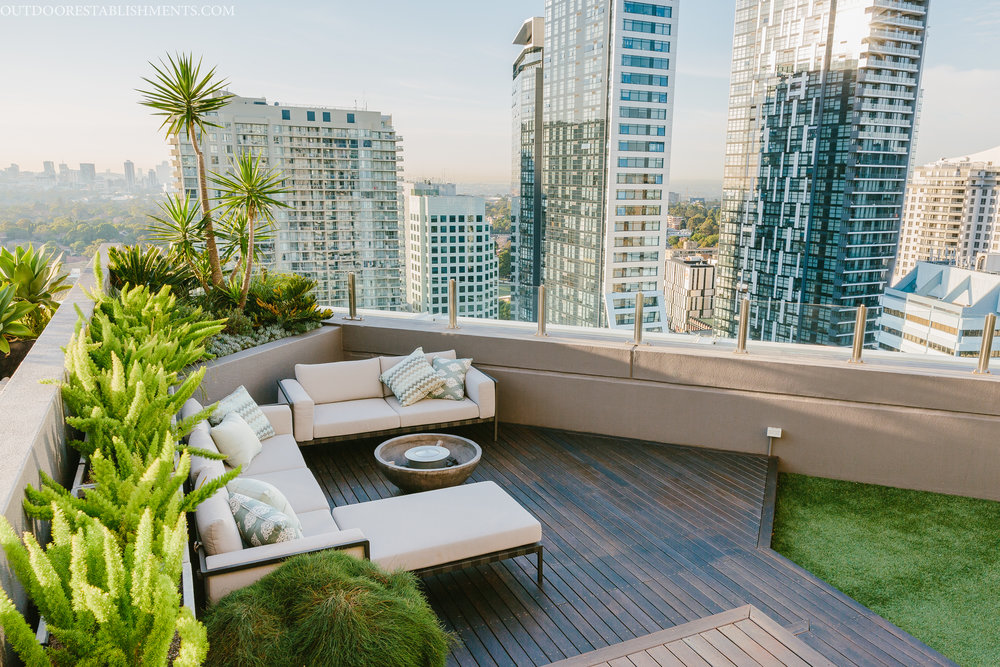 It's hard to ignore the captivating green in any space, but if you want to enhance its charm even more, decorate the balcony in soft beige tones that will totally make that green garden pop!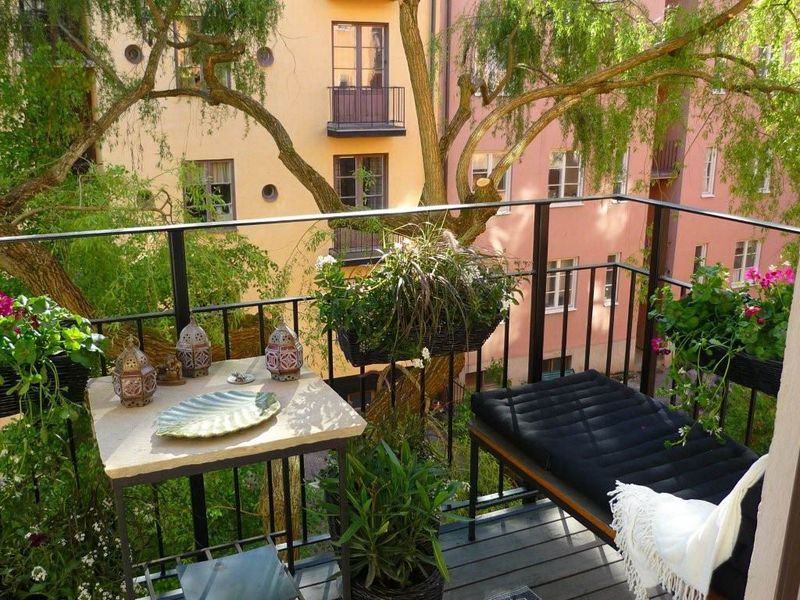 A mixture of plants hanging on the balcony railing and those set on the floor creates a balanced balcony garden that places all attention on the plants, but allows room for comfort as well!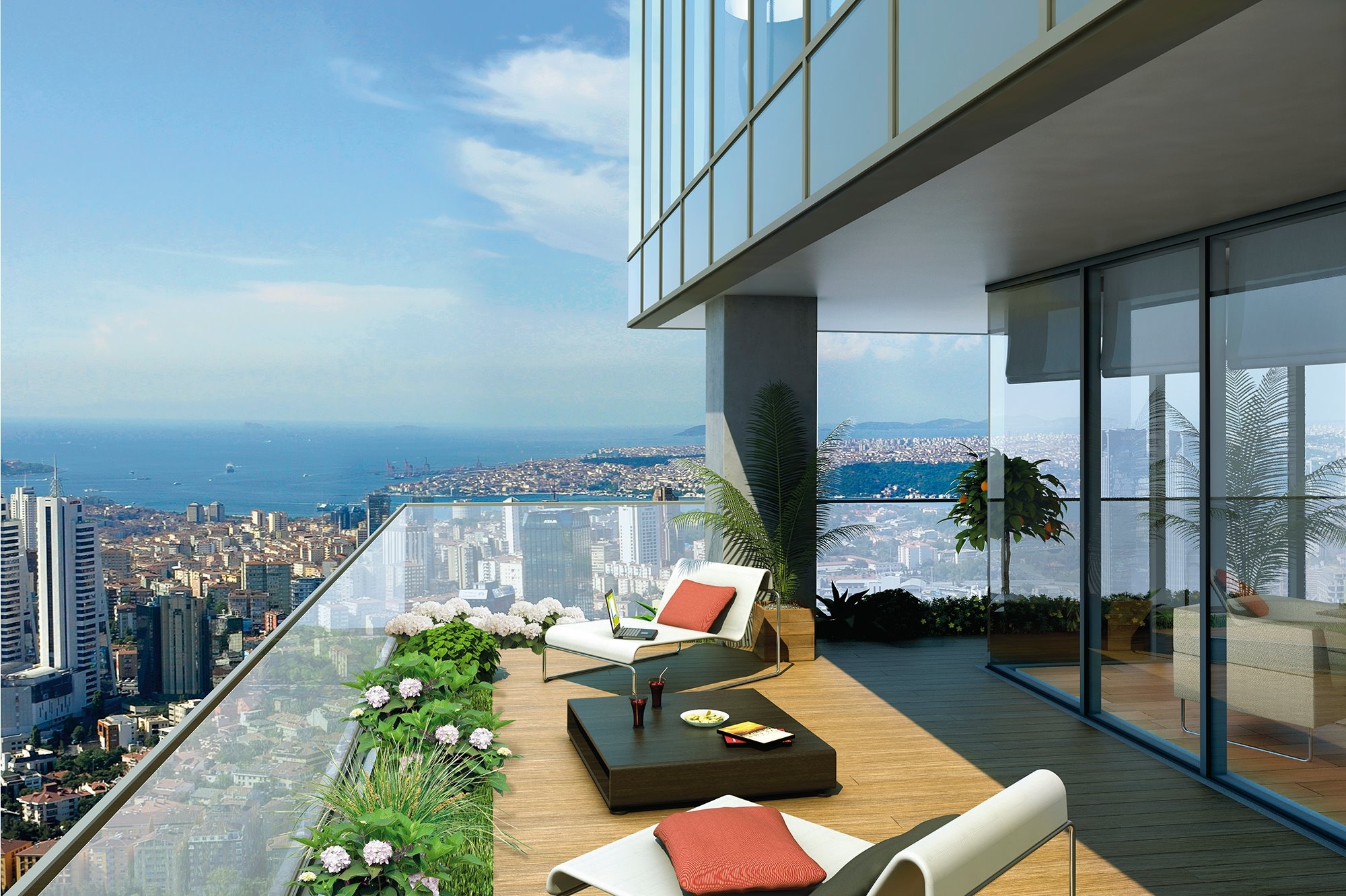 When you want to have a balcony garden but don't want it to be in the way, place the plants near the edge of the balcony to create a trim around the outdoor area. If they are planted into the floor it opens up the space even more, giving you a great view of the wonderful city below!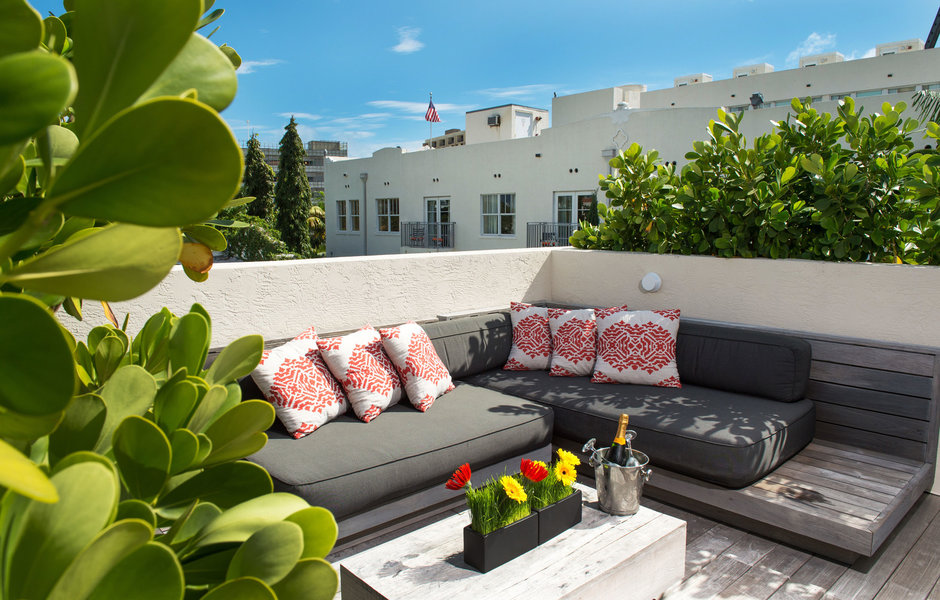 Somebody that swears by minimalism, and wishes to stay true to it even in their balcony garden, can easily prioritize quality over quantity within their plant selection. Choose the plants that capture attention but don't take over the whole space!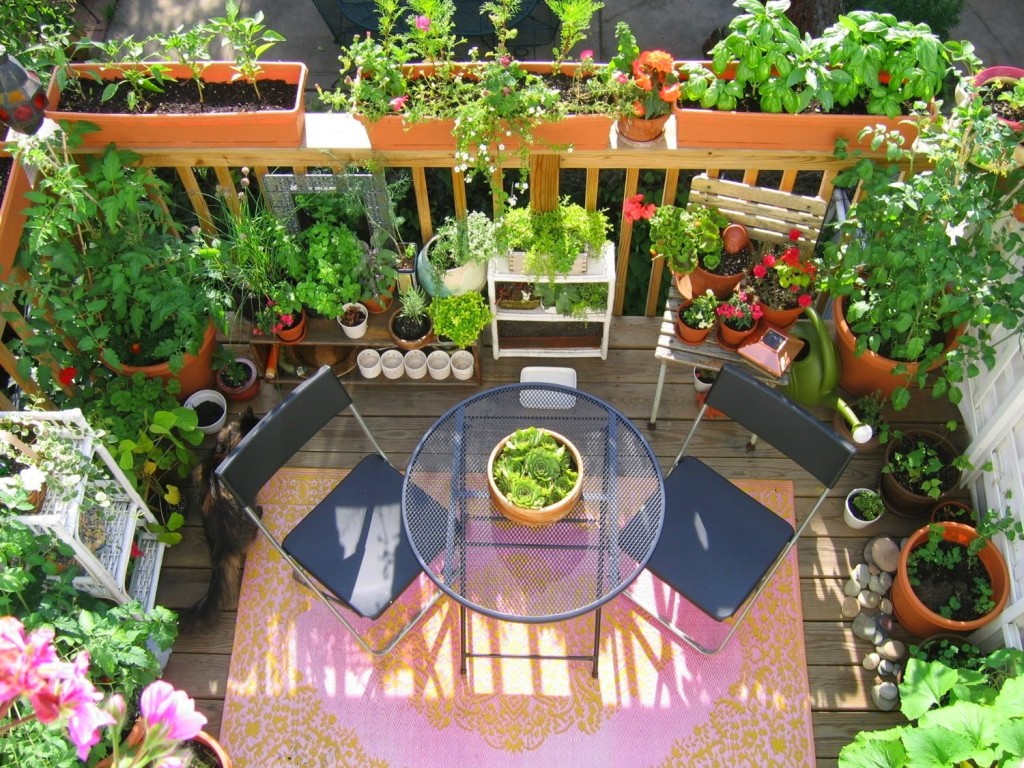 A small balcony that has beautiful green plants all around it and a cute table set for two in the center is an adorable place to hang out and a true paradise for anyone who wishes to enjoy a blooming green garden while living in an urban apartment!
Sours: https://www.decoist.com/balcony-gardens/
If you want to add some color to your outdoor space this summer and are lucky enough to have a deck or balcony, buying a railing planter is an easy way to do it. They mount to the edge with hooks, ledges, or a cutout in the base, and are generally a snap to set up—and some require zero time to install. They look great solo or in multiples, spaced evenly along the railing, plus you don't need to spend a fortune on the project, as there are options in the market for $20 or less. We've rounded up our favorites, with recommendations below to suit every style and budget.
What to Consider
Shopping for a railing planters is somewhat similar to searching for the perfect window box. The first thing to take into account for railing planters is the width of your deck or balcony's railing. Several are made to set into wood that's 2x4 or 2x6, and there are also planters that are adjustable, which is handy. If neither option works for you, your best bet is to choose one with hooks. Some are designed to be permanently mounted (and most come with mounting hardware).
Next up, you'll need to decide on material. Railing planters are typically made of high-grade polyethylene, wood, or various metals such as steel, typically powder-coated or galvanized to prevent rust, or copper, which takes on a weathered patina over time. The vast majority have drainage holes or slats at the bottom, and there are also self-watering planters, with reservoirs at the bottom.
How We Chose
Our selection includes railing planters with a minimum average four stars or more, and the majority of those featured below receive ratings of 4.5 stars or higher. We cover planters in a range of materials, as mentioned above, and in a range of styles, with assorted finishes. We also offer options across multiple price points, from budget-friendly, under-$20 planters to high-end picks that hover around $200 at the time of this writing.
Advertisement - Continue Reading Below
1
Our Value Pick
Arlmont & Co. Reidy Railing Planter
SHOP NOW
If you're looking for an attractive, affordable, and durable railing planter, this one is tough to beat. Made of charcoal gray weather-resistant polypropylene plastic, with a curved lip at the top and graduated sides that contour toward the base, where there's a cutout to attach the planter securely to your balcony or deck. There are also drainage holes in the bottom.
Customers give it high marks, with an average 4.7 stars from nearly 550 reviewers.
2
Best Set of Two
Veradek Brooklyn Railing Planters
Veradekamazon.com
SHOP NOW
These are from top-rated Veradek, and we cover several of their railing planters in here for their overall quality and sleek design. This set might be mistaken for being made of metal, with its attractive brushed finish, but it's actually 70 percent recycled high-grade polyethylene composite, which is easy to maintain and weather-resistant.
The 25-inch-wide planter comes with adjustable mounting hooks, hardware, and leveling brackets to fit to railings of varying widths. It also has drainage holes and is sold singly and in a larger 36-inch-wide size.
3
Best Flower Pot Style
Arlmont & Co. Reinert Planter
Arlmont & Co.wayfair.com
$21.99
SHOP NOW
If you love the idea of flower pots perched along a railing but don't want to risk them falling, this is the planter for you. It's designed exactly like a regular pot, but there's a notch on the bottom to secure it to your deck or balcony. The planter is made from fade- and weather-resistant food-safe plastic resin, and attaches to railings that are 4 or 6 inches wide, with drainage holes at the bottom.
At this price—a mere $19 at the time of this writing—buy a bunch and line them up. In addition to the matte black shown, it's also available in white, chocolate, and terra cotta.
4
Best Modern
Veradek Metallic Railing Planter
Veradekwayfair.com
$172.33
SHOP NOW
This modern railing planter also comes from Veradek, but it's constructed of thick gauge galvanized steel, rather than polyethylene. It's powder-coated to prevent rust and has fully welded seams, which means it'll hold up against the elements, even in colder weather. There's Styrofoam insulation inside to protect plants, plus there are pre-drilled drainage holes and it comes with everything you need for mounting installation.
The 4-foot-side railing planter is available in matte black or gray in addition to the white shown, and in a smaller size.
5
Best Copper
Achla Copper Railing Planter
Achlaamazon.com
SHOP NOW
Copper planters are a wonderful way to accent your outdoor space with a hint of shine, and this large planter will add just the right gleaming touch. It has a high-shine finish, embossed details, and traditional rolled edges.
The planter is rust-resistant and will naturally gain a lovely patina over time. It comes fully assembled, ready for soil and your favorite blooms, with drainage holes at the bottom and mounting hardware.
6
Best Industrial
Metallic Series Corten Steel Railing Planter
Veradekwayfair.com
$147.99
SHOP NOW
If you're in the market for a railing planter with rustic-chic, industrial vibes, look no further. This option from Veradek has a weathered finish, so you don't have to wait long for it to develop a rich-looking patina. It comes with all the mounting hardware you need to attach it to your balcony or deck's railing. It gets rave reviews from customers, with an impressive average 4.9 stars. Several say that it's sturdy and well-constructed.
7
Best Hardwood
Maine Cedar Rounded Railing Planter
Maine Cedar Planteramazon.com
$55.91
SHOP NOW
Though it may be harder to maintain, the elegant look of real wood is tough to match. This large, handsome planter, with rounded sides in a half-barrel shape, is made in Maine, crafted from northern white cedar. It holds a generous amount of plants and can works with deck or balcony railings that are either 2x4 or 2x6.
The wood is unfinished, which means it'll take on a weathered, silver gray appearance over time. It lacks drainage holes, but the wood slats at the base allow for water to run through.
8
Best Double-Sided
Winston Porter Railing Planter
Winston Porterwayfair.com
$43.99
SHOP NOW
This planter has a smart design, with two side-by-side planters that flank a railing. That means there's no need for mounting hardware and you can move them around as you please. They're made from all-weather resin and are self-watering—a major bonus—with reservoirs at the base that's set below the soil and roots, with draining holes at the bottom.
They're also extendable and can fit on railings of various widths, including round rails. The planter is available in dark green and terra cotta, in addition to the fresh-looking white that's shown.
9
Best With Coco Liner
Panacea Products Iron Railing Planter
Panacea Productsamazon.com
$37.99
SHOP NOW
Coconut plant fiber liners hold water exceptionally well, which allow plant roots to take up moisture as needed, and also provide excellent drainage because they're porous. This coco liner railing planter has a thick tuft of the material set inside a steel frame, with a black powder-coated finish to prevent rust. The 30-inch-wide planter comes with hooks and mounting hardware, and it's available in 36-inch- and 48-inch-wide sizes.
Rachel KleinRachel KleinRachel Klein has been a professional editor and writer for more than a decade, with a background in digital media, publishing, and journalism.
This content is created and maintained by a third party, and imported onto this page to help users provide their email addresses. You may be able to find more information about this and similar content at piano.io
Sours: https://www.popularmechanics.com/home/g36431787/best-railing-planters/
10 Amazing Balcony Garden Ideas for Your Small Spaces 👌
25 Space Saving Ideas Creating Beautiful Balcony Designs, Porch Decorating with Modern Hanging Planters
Small balcony designs benefit from using hanging planters with flowers. Modern hanging planters come in classy neutral colors, natural green color hues and all bright colors, so it is easy to match your balcony design colors and harmonize outdoor rooms connecting the spaces to nature.
Lushome shares inspirations for adding flowering plants in attractive hanging planters to small balcony designs or porch decorating, and brighten up your outdoor rooms in style. Wooden flower boxes and ceramic pots can be placed inside hanging metal baskets of planters created with outdoor fabrics, giving bright look to balcony designs and porch decorating, turning your small outdoor rooms into blooming gardens.
Modern hanging planters are a great, space saving and convenient alternative for decorating railings and fences with flowers. Consider the width of your balcony railing or fence before buying hanging planters for home decorating. Select the models of hanging planters that perfectly suit your home. There are models which allow to adjust the gap between two hanging parts of a container, offering flexibility and versatility.
22 space saving hanging planter designs for decorating small outdoor seating areas
33 small balcony designs and beautiful ideas for decorating outdoor seating areas
Hanging planters for decorating small spaces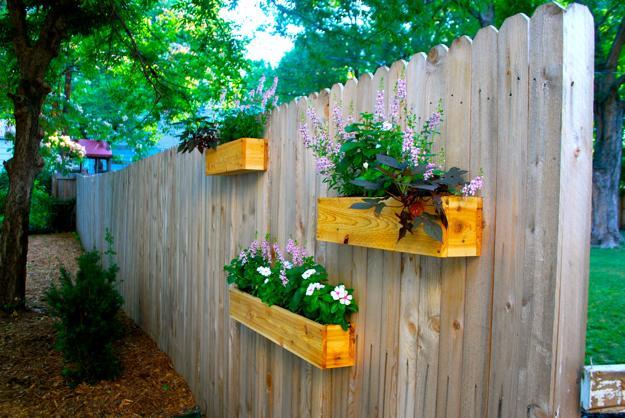 1. Plastic hanging pot holders
Small landscaping ideas can transform balcony designs and porch decorating. Plastic flower pots and hanging planters are the cheapest and most beautiful way to refresh your small outdoor rooms, creating amazing places for relaxation.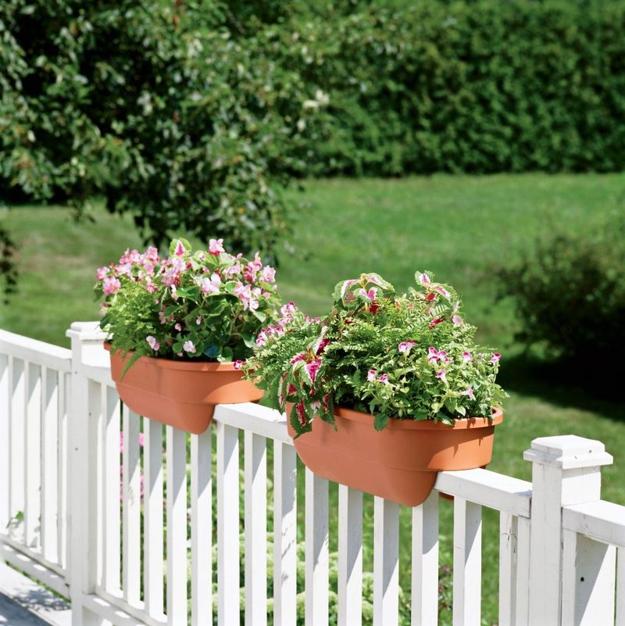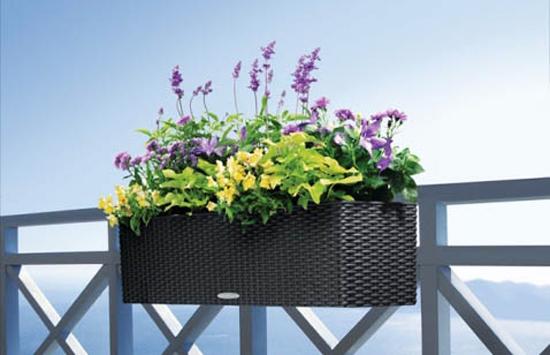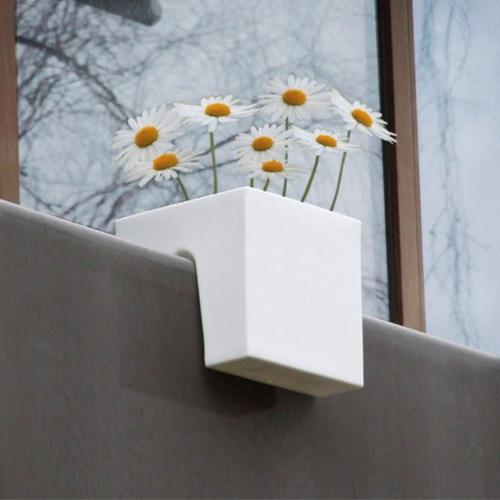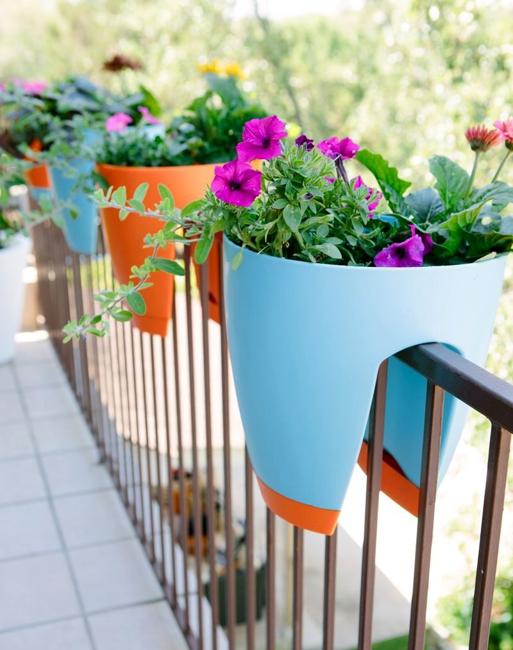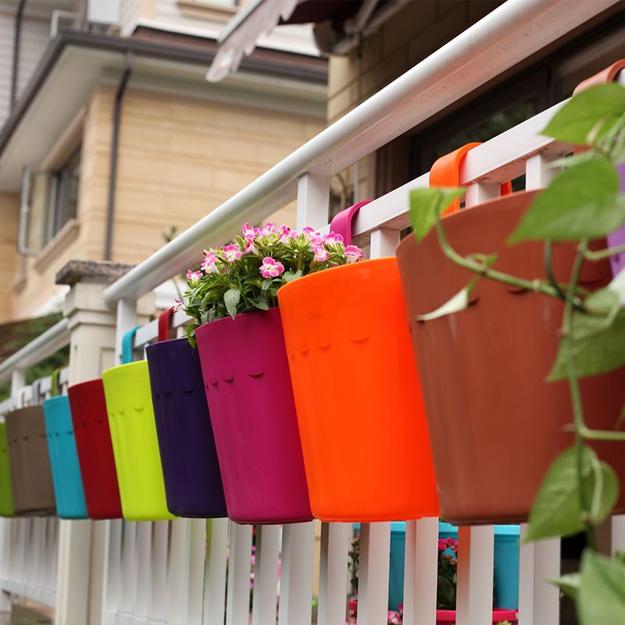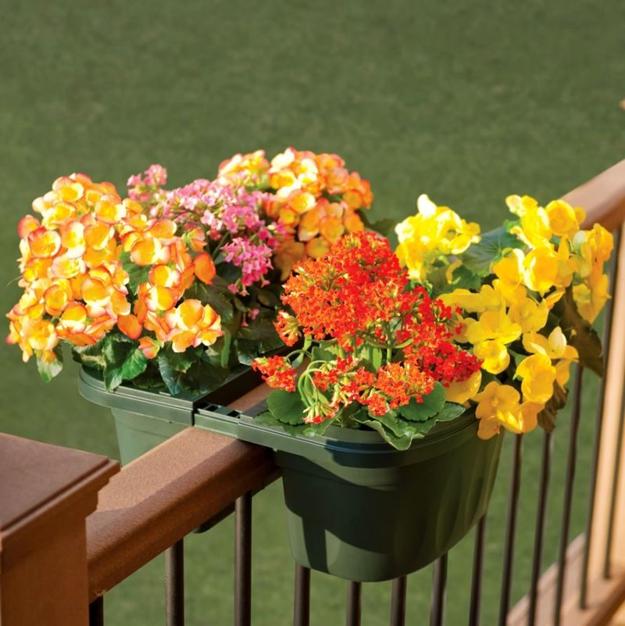 2. Metal flower pot holders for railing
Metal wire baskets and fabric bags can be wonderful DIY projects that save money and improve the entire look of your home.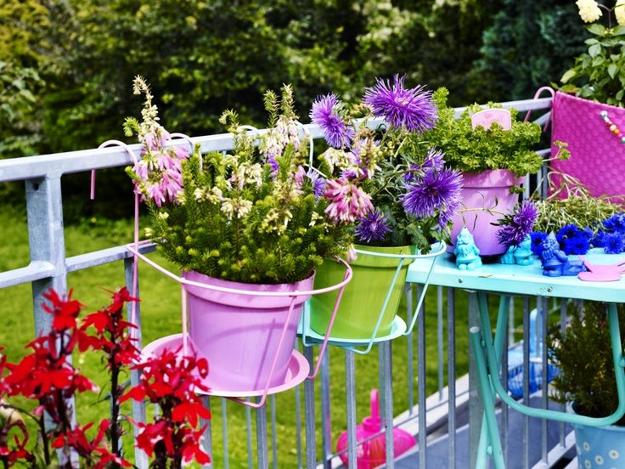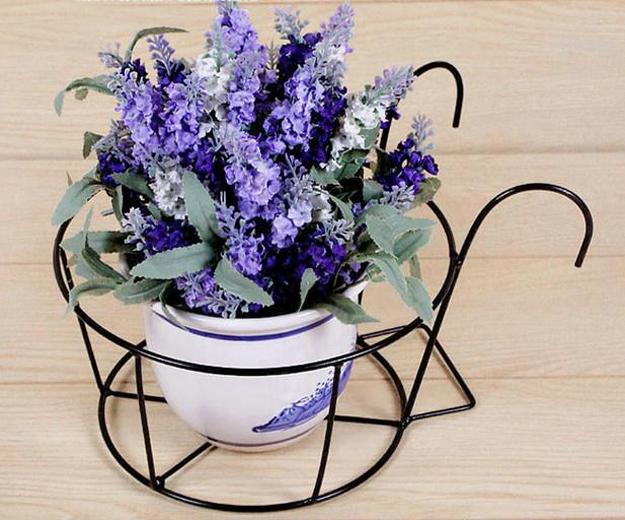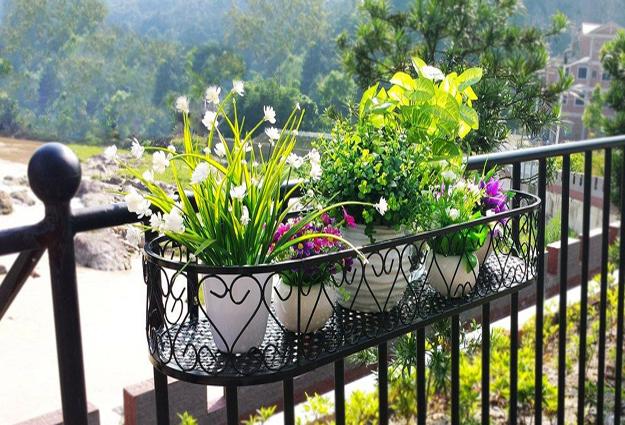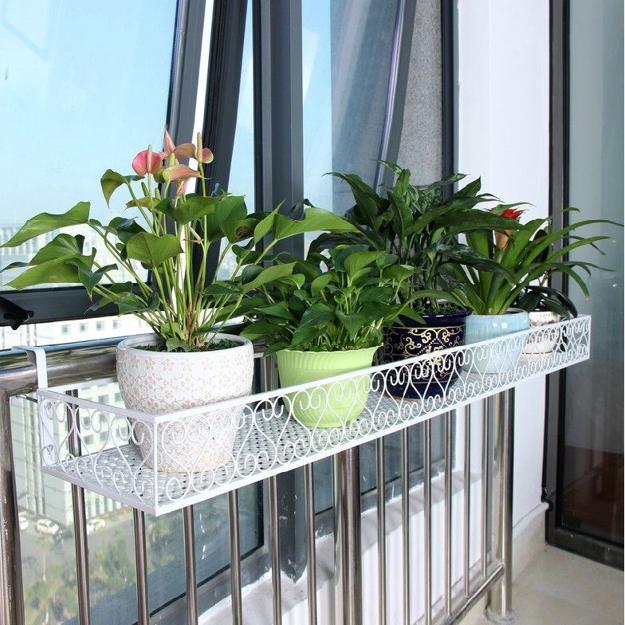 3. Fabric planters
DIY fabric bags can be easily made while recycling small pieces of outdoor fabrics. Fabric bags can be used as home organizers and hanging planters creating matching decor for your living spaces.
Modular hanging planters
Creative home decorating with flowers and plants
The fabric should be durable, mold resistant or waterproof. You can place plastic flower pots inside handmade bags and design beautiful outdoor decorations with seasonal flowers. These DIY fabric bags look great with other hanging planters, wall shelves and pot holders, and can be used for home decorating in all seasons.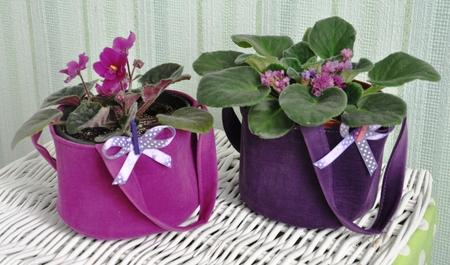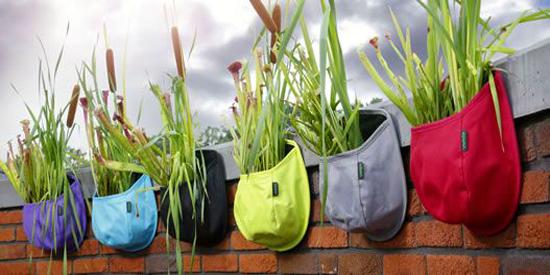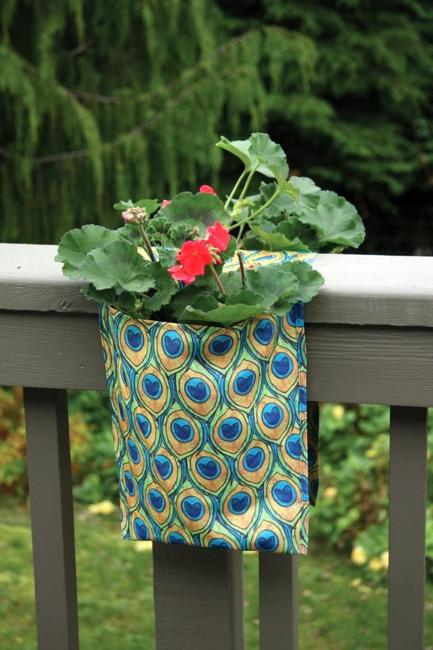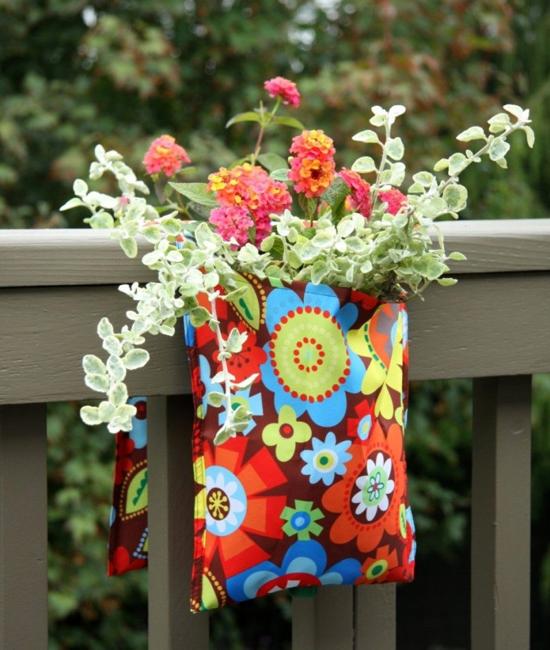 In cold weather fabric bags, plastic or metal wire pot holders and hanging planters can be moved inside, bringing joy and color of beautiful flowers into home interiors. Simple and elegant, hanging planters are great space saving solutions for decorating small spaces. These eco friendly and very decorative accessories are versatile and charming, suitable for any spaces, and especially useful for small balcony designs and porch decorating.
4. Hanging planters for space saving home decorating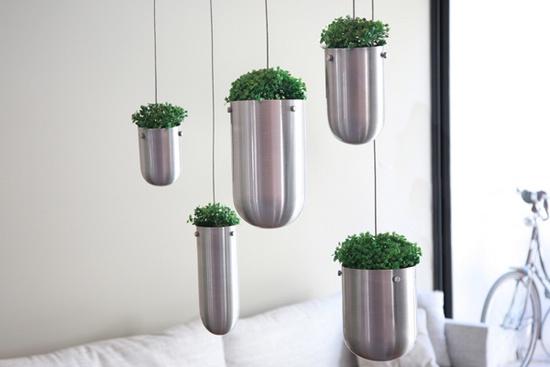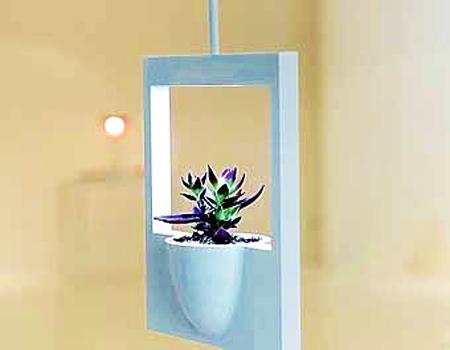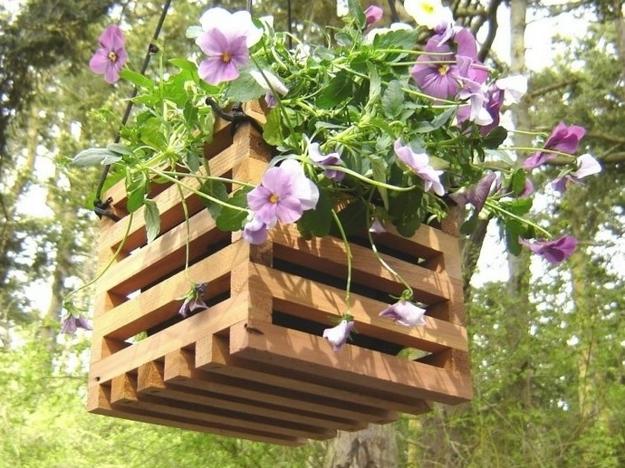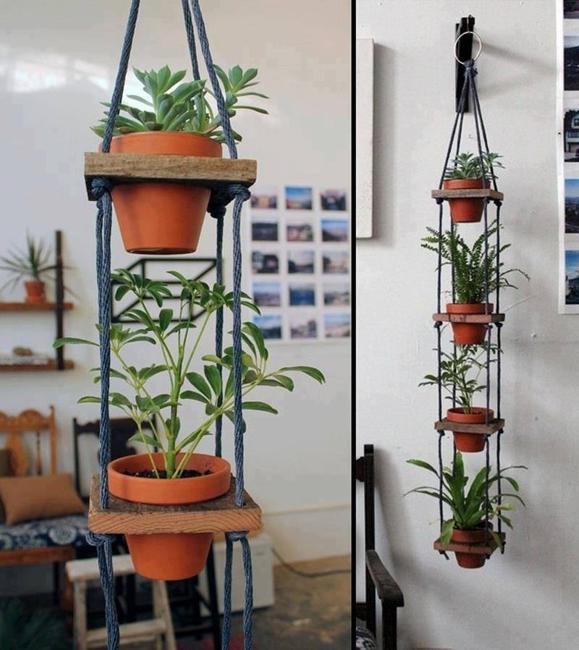 5. Creative ideas for DIY hanging planters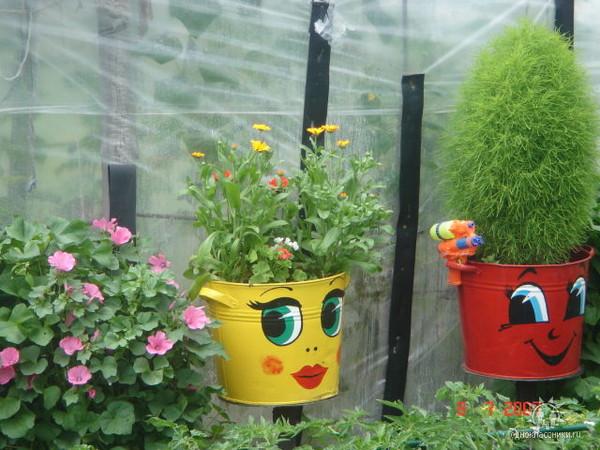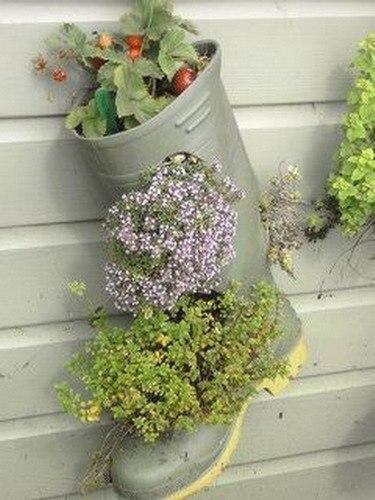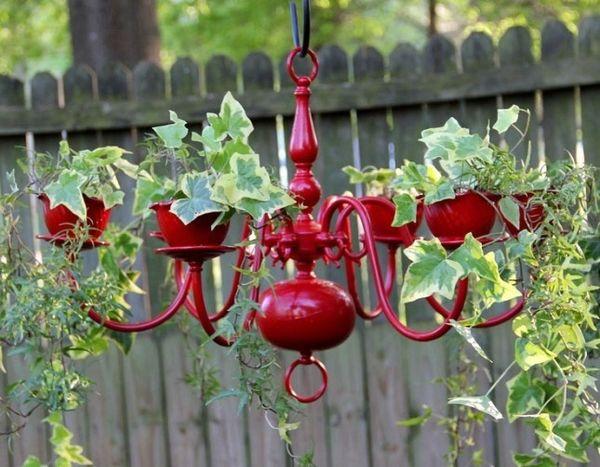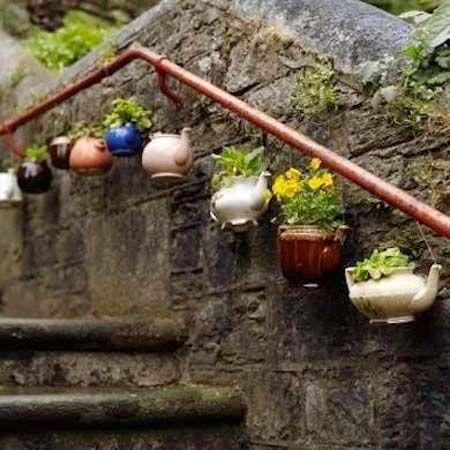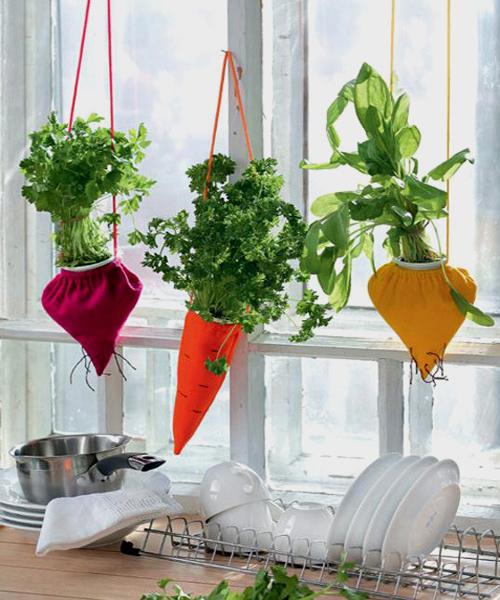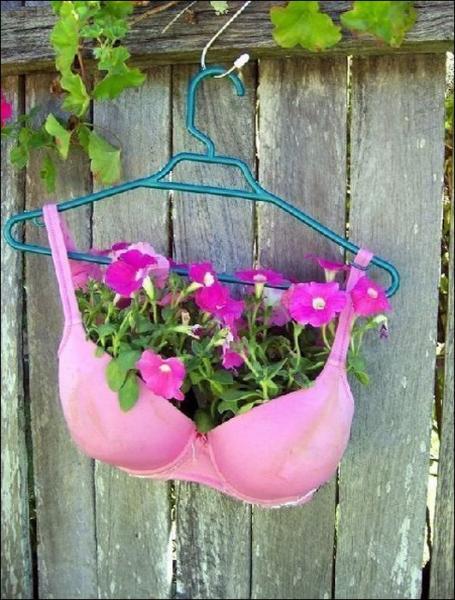 by Ena Russ
24.10.2016
Related articles and sponsored content
Sours: https://www.lushome.com/25-space-saving-ideas-creating-beautiful-balcony-designs-and-porch-decorating-modern-hanging-planters/164292
Balcony planter modern
Are you meeting with her tomorrow. in my eyes, I saw a frightened tension. '' Yes. Do not worry, I promise you that I will not allow myself anything like that, I warmly looked into Tanya's eyes.
How to make an Outdoor planter ( with LED )
Not even from Tim, but most likely from himself. Soon Leshik got tired of running and fell to his knees. - God, how bad I am, how painful. - Lesha clutched his heart with his hands, continuing to cry. The sky was clear that night.
You will also be interested:
Even a slight innocent smile could not hide her excitement. The guy looked her from head to toe, and suddenly a desire awoke in him as well. And the woman, taking the situation into her own hands, took off her robe. From the seen sexy body with wide hips, round ass and narrow waist, he was dizzy.
7042
7043
7044
7045
7046