Tall Ship Models
Made To Order Model Details
These tall ship models are only started when the customer commissions a model - truly custom built and one of a kind. As a widely recognized leader in handmade tall ships, our skilled master model shipwrights produce our tall ship models in magnificent detail - with hand laid decks, tarred standing rigging, with complex running rigging and furled sails. Each model is a true museum quality masterpiece you'll be proud to own and display.
Each model comes fully assembled with a solid hull - hand carved from kiln-dried mahogany. Other parts are made from a variety of woods, putty, resin and metals. Every model includes pedestals, a polished mahogany base board, and a name plate. Keel block mounting is available upon request.
The build time is generally 20 weeks from receipt of the order and deposit. Our ordering procedure is a 50% deposit with the commissioning, with the balance due prior to shipping. When your model is complete, we will take a series of photos of your model and send them to you for final review and approval – so you know exactly what your model will look like and allow for any necessary modifications. Only once you have approved your model, we will collect the final balance and she will be shipped in a robust shipping crate and insured for your protection.
You'll find commissioning a replica model is a fun and engaging process as well as one which is rewarded with something you will keep forever.
Our photo gallery includes many popular tall ships and provides fine examples of our workmanship. After reviewing our photo gallery collection, if you don't see what you want, please contact us to request a quote for the specific vessel and model size, or scale desired. We can easily build your model in ANY size or scale you desire. Special commissions are our specialty!
In Stock Model Details

Generally we can ship our in-stock models within 48 hours of ordering. Our master craftsmen, using historical photographs, drawings or original plans, meticulously handcraft these highly detailed wood models from scratch. They are built to scale with high-grade woods such as: western red cedar, rosewood, and mahogany. They are 100% hand built individually using a plank-on-frame construction method - similar to the building of actual ships. Each model requires hundreds of hours to finish and goes through a demanding quality control process before leaving the workshop. Each model is mounted on a display base and carefully packed for shipping.
FREE SHIPPING in the USA - Note that our model prices include shipping and insurance within the USA.
Shipping costs outside the USA will depend on the model size ordered and shipping destination. You will be responsible for any applicable taxes or duties, based on the commercial invoice value for the model.

Plus NO SALES TAX (except for California residents)
Add a museum-like touch to your model display - Consider our protective display case option. Keep fingers and dust away - forever! Please visit our Display Case page to see our selection.
Want to keep informed of our special offers, discounts, new products and updates? Sign up for our e-mail newsletter. Newsletters are sent every 6-8 weeks. Our promise- We will not share your e-mail with any other company- ever! Sign up for our Newsletter
Drop items here to shop
Product has been added to your cart
Checkout
Sours: https://sdmodelmakers.com/

TALL SHIP MODELS
Tall ship models might appear very good from afar but only upon close examination can the truth be told. When you look, search for close-up photos that zoom in details in small sections of the models. Photos also must cover all angles. It's like you are using a magnifying glass to detect a fake Rolex. Accuracy, details, and craftsmanship are all important in tall ship models. Don't fall for advertising gimmicks. Do not allow "easy", "smile", "any types, any size, any time" to interfere with your left brain's function. Click on this link to learn what to look in a tall ship model.
"Once again, you have blown me away with the excellent detail on the USS Constitution. It is unbelievable how meticulous everything is done. And of course, the packing was perfect. I'm at a loss for words to tell you how pleased I am. I sit there and see in my mind your sitting in front of the ship and doing all the tedious handwork. Now I just have to decide what my next tall ship will be to add to my fleet! Thank you again. Brett Dec. 5, 2016."
Note:
- Click on thumbnails below to open the models' pages
- Green wordings: in stock. Once sold out, price for a brand new model will be 20%-30% higher.
- Blue wordings: stock clearance. Once out, built per commissions only (about 25% higher in price)
BRITISH:
AMERICAN:
FRENCH:
SPANISH:
OTHER COUNTRIES:
Do not fall for marketing stunts. Click to learn: how to get the best ship models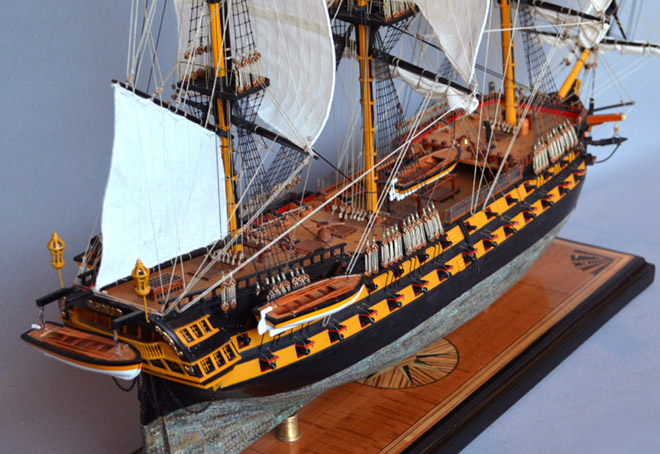 "Hello, I have done as much diligence as I can bear on finding the best quality model tall ship makers and am about to submit an order to you for your USS Constitution model. Can you explain what the light feature is, please? Also, have you ever considered a model of HMS Warrior? Thanks! Gareth H. Ph. D."

"Hello, We received the tall ship model just in time last week, and it was a big hit at the event we were presenting at! We had a lot of very positive comments, including from the museum curator. Thanks much for making it possible! -- Eric S. Director, Knights of Veritas"
"There are so many ships for sale out there that come from the far east whose construction methods and quality are very evident to the discerning eyes of the consumer. Your tall ships are by far some of the best out there. Thanks very much Frank for your time. Best regards, Steve H."
Nowhere else you can find devoted craftsmen like at ModelShipMaster. In Feb. 2017, CBS contacted us for an unusual request: to supply a tall ship that looked half completed, within 5 days. Since this prop was an important element in the movie set, our team get together and worked 18 hrs a day and delivered the model in time. If you are watching Elementary Season 5, pay attention to a beautiful unfinished model tall ship. You can count on us, any time, anywhere!
Learn more about tall ships here: https://en.wikipedia.org/wiki/Tall_ship
Sours: https://www.modelshipmaster.com/products/tall_ships/Tall_Ships.htm
Handcrafted Model Ships - Tall Ships
Majestic, grandiose, inspiring, and free; those are just some of the words that come to mind when describing the beauty and might of a classic tall sailing ship. Named for the large masts and stunning collections of billowing sails, these amazing ships helped expand and redefine the world during the Age of Sail. Find your favorite tall ship model and enjoy the beautiful looks and masterful designs of Handcrafted Model Ships.
Nothing captures the history, romance and adventure of the open seas more than a fully-rigged tall ship plying the waves with a strong wind at her back. Full sails billowing in a steady breeze as sea spray washes the face of her crew, the tall ship is an icon of a past age.
Handcrafted Model Ships proudly offers a vast collection of tall ship models designed to appeal to every taste, purpose and budget. Encompassing an unmatched, world-spanning collection of history's most famous tall ships, we offer sizes and options from small décor and commemoration models to Limited Edition museum quality replicas and even massive, unique Special Editions. 
The term tall ship was actually not used during the Age of Sail, when all ships were, by their very nature as sailing vessels, required to be "tall" in order to carry sails upon their up-rising masts. Only when powerboats began to overtake them was the term retroactively applied to these classic sailing ships.
Tall Ship derives from the poem Sea-Fever, published in 1900 by English Poet Laureate John Masefield:
I must go down to the sea again, to the lonely sea and the sky, All I ask is a tall ship and a star to steer her by.
Although a well-known nautical poem, the term did not enter common parlance until the mid-20th century, ironically at a celebration of the "end of the Age of Sail". In 1956 London lawyer Bernard Morgan organized the first Tall Ships' Race among 20 sailing ships to bid them a final farewell for their passage into history and obscurity. However, the event generated so much public interest and proved so popular that the race has been held annually ever since, and the term "tall ship" has entered the public consciousness to identify these mighty sailing ships.
Humans have been harnessing the power of the wind to sail boats since antiquity, but in ancient times the limitations of construction and seafaring technology meant that sails remained at best a companion to traditional oar-power. From the rowed biremes and triremes of ancient Greeks and Romans to the masted galleys of Medieval Europe, oarsmen remained critical to the operation of a vessel at sea.
This changed with the coming of the Age of Sail, starting 1571 when oar-propelled galleys played their last major naval role at the Battle of Lepanto. A key factor in the elimination of oarsmen was the refinement of naval cannon. Naval tactics from antiquity into the middle ages relied upon "ram-and-board" combat, when the ability to crash one ship headlong into the side of another regardless of the direction of the wind and thereafter immediately flood large hordes of combatants aboard was critical. Banks of oarsmen fulfilled both requirements.
However, the development of gunpowder and subsequent refinement of naval cannon allowed ships to engage in stand-off combat. Boarding was less important and eliminating galleries of rowers opened space for batteries of cannon. Thereafter, ever-larger and improving sailing ships were the height of maritime technology, and the era of the tall ship was born.
The Age of Sail overlapped with the Age of Exploration, when European tall ships plied all the world's oceans, discovering and exploring new continents. Tall ships were not only warships, many were trade ships carry exotic goods or treasures between distant Far Eastern, African or American shore to Europe. As trade routes became more firmly established and distant lands better explored, tall ships launched the European Colonial Era. Settlers from Europe spread across the globe and established colonies in perhaps the larges human migration in recorded history.
With colonies spread across the globe, the empires of England, Spain, France, Holland and others required massive naval fleets to transport soldiers to guard their possessions or fight their wars, as well as to protect their trade routes and merchant shipping from raiding by pirates when they were not fighting one another. Naval vessels grew larger still as the cannon-loaded vessels developed the naval tactic known as the "line of battle". Opposing fleets would simply string their ships into long lines and sail in opposite directions past one another, delivering devastating broadsides with their cannon as they passed. Ships engaged in these tactics were known as "ships of the line" and varied from massive First-Rate ships with three gun-decks and over 100 cannon down to the lowly Sixth-Rate whose mere 20 cannon limited her to participation in convoys, blockades, commerce-raiding or dispatch duties.
The line-of-battle remained the predominant naval tactic until the Napoleonic Era, when Admiral Lord Nelson of the British Royal Navy chose to divide his smaller fleet into twin lines led by his flagship the HMS Victory and use them to split the larger battle line of the superior Franco-Spanish forces. Throwing his opponents into chaos, he achieved England's greatest naval victory of the war, disabling 22 enemy ships without losing a single British warship.
The mighty First-Rate warships were some of the largest, grandest, and in the case of vessels such as the British Sovereign of the Seas or the Spanish San Felipe the most ornate sailing ships ever constructed. However, a new age was dawning in the Post-Napoleonic Era, and the arrival of the clipper ships pushed tall ships into the Golden Age of Sail.
Long, sleek and fast, the clippers developed in the late 18th century with their three or more masts were long-distance, ocean-going, trans-continental trade ships. Their cargoes included Chinese tea bound for Europe, California gold rounding Cape Horn on its way to the US Eastern Seaboard, salmon from Alaskan fisheries headed to southern markets, and all manner of other goods traveling between major European or American ports and distant locations in the Orient, Australia or South Pacific.
With the clipper ships and their later derivatives the iron-hulled windjammers, sailing technology reached its peak in terms of speed, power and performance. However, experiments with steam-powered vessels had begun nearly a century earlier and by the early 1800s regular steamship service had been established along the protected waterways of rivers and lakes. Before long, steam engines became reliable and powerful enough to adapt to ocean-going vessels as well.
The Age of Sail finally drew to a close in 1862 when the ironclad and steam-powered USS Monitor faced off against the CSS Virginia at the Battle of Hampton Roads. Although tall ships would linger on in limited service as long-haul cargo vessels and fishing boats for nearly another century, their days were clearly numbered as the era of the steamship arrived.
Nevertheless, as Mr. Morgan learned in 1956, classic tall ships have never truly faded from popular interest. Their appeal continues to excite the romance and imagination of enthusiasts today, and many events in addition to the Tall Ships' Races celebrate their heritage. Various races and exhibitions of tall ships remain popular, including the annual Tall Ships Challenge in North America which rotates between Great Lakes, Atlantic and Pacific courses or the intermittent Operation Sail events sponsored by the US Congress to commemorate significant events in American maritime or naval history. Meanwhile, tall ships such as the USS Constitution or USCGC Eagle tour the world as goodwill ambassadors for their country.
Sours: https://www.handcraftedmodelships.com/model-sailing-ships.php
Amazing Fastest Homemade Model Ship Building Wooden Project, DIY Techniques Skill Boat Modern
The girls quickly got puffed up, yelled and got out on the shore, showing off in front of a black-nosed Abkhazian who was selling baklava. and Marina was still wet and wet, shouting to the girls "schha-as". "Probably just drunk," she thought, listening to the voices calling her from somewhere in the abyss.
To the stupefaction, to the itching in her bare nipples, I wanted to go there, to them, and Marina would have done so if she had drunk harder; and so. She got scared and swam to the shore in order to escape from It, if It suddenly emerges from the abyss.
Ships models tall
Well spend the night there. Yes. Okay, we left the office, I told everyone that today the working day is over, and everyone can waste up. I desperately wanted to return to an empty office.
Amati's Lady Nelson built in motion
I put on a light sarafan without panties and waited. I was already so turned on that I just jumped when I heard the doorbell ring and. Ran to open it. Sergei hugged me from the doorway, and, turning to his friends, lifted the hem of the sarafan, showing them my uncovered ass.
You will also like:
I drove by leaps and bounds. Already at the beginning of May, I made a good deep well with twelve rings with the purest water, from which I ran a plumbing with an electric. Motor, installed a water heater, and Tanya, who was constantly next to me, could feel like a post-normal hostess in an almost normal kitchen. From the dacha, she was delighted, and whole And there were the Tretyakov sisters.
671
672
673
674
675