North Carolina student, 16, made to cut her hair during softball game
A high school student was made to cut her hair during a softball game in order to continue playing. 
Nicole Pyles, 16, from Durham, North Carolina, was playing for Hillside High School when an  umpire told her coach during the second inning that her hairstyle covered the number six on her jersey. 
The sophomore said she had worn the box braids with clear beads, which reached just passed her shoulder blades  in five previous games without complaints.
In an interview with the Southern Coalition for Social Justice, Nicole said: 'My team had wrapped the bottom of my hair where the beads were and at the top and stuffed into my sports bra so they couldn't move. 
Nicole Pyles, 16, from Durham, North Carolina, said an umpire told her coach during the second inning of the game on April 19 that her hairstyle covered the number six on her jersey
'So I went out to play and that's when the ump basically said to my coach either I take the beads out or I can't play.
'This is the second inning going on the third, and my beads are now a problem?' 
She went on to explain how her team 'snatched' the beads out, while some had to cut them out because they were tight. 
Nicole added: 'I felt embarrassed and I most definitely felt disrespected. I just felt like the world was just staring at me because like why, why me, why anybody for that fact.' 
Her father Julius Pyles said that his daughter and the whole team 'should have been protected'. 
He said: 'Fix the policies for the black children so they won't be discriminated against.' 
The father and daughter are demanding that 'DPS and the NC High School Athletic Association must pass policies that ensure that hair discrimination will not happen again to another black girl, whether on the softball field or in the classroom'. 
She tucked the beads into her sports bra, but the umpire said she had to take them out or she couldn't play. Nicole (centre) went on to explain how her team 'snatched' the beads out, while some had to cut them out because they were tight
They are also asking for apologies from Jordan High School Softball Coaches, the two umpires officiating the softball game and the NC High School Athletic Assosciation Supervisor of Officials, Mark Drelbelbis. 
In a statement posted on their Facebook page, Durham Public Schools said: 'As reflected in our school board's unanimous resolution in support of the CROWN Act, Durham Public Schools supports our students' right to free expression and opposes unreasonable and biased restrictions on black women's hairstyles.
'On April 19 during a softball game against Jordan High, a Hillside High student-athlete was forced by a game official to choose to remove beads from her hair in accordance with National Federation of State High School Associations (NFHS) rules or not continue to participate in the contest. NFHS rules govern athletic competition; DPS board policies do not prohibit beads in hair.
'In its investigation of the incident, the North Carolina High School Athletic Association has since found that the incident began when the base umpire noticed the hair beads when the runner got to third base.  
'There was no involvement by any Jordan High staff member bringing the violation to the game officials' attention.'
It also said that they believe the blanket ban on hair beads is 'culturally biased and problematic', adding that they support Nicole and believe the rule should be amended. 
The North Carolina High School Athletic Association defended the action taken by the umpire, citing softball rule 3-2-5 which states 'plastic visors, bandannas and hair beads are prohibited'.  
Share or comment on this article:
Sours: https://www.dailymail.co.uk/news/article-9578251/North-Carolina-student-16-cut-hair-softball-game.html
10 Braids for Every Softball Player
Just because softball players play in the dirt doesn't mean their hair should look like dirt. A young lady's mane can go in so many directions. However, the staple softball hairdo is the braid.
Braids keep hair out of the face and keep a lady cooler in 100-degree weather. A solid Dutch or French braid can handle helmet wear. Below, we look at different styles and braiding tutorials for you to ball out.
1. Dutch Braid for Beginners
Mastering the Dutch and French braid is the launching pad for any type of braid variation. This tutorial gives you a solid how-to for braiding.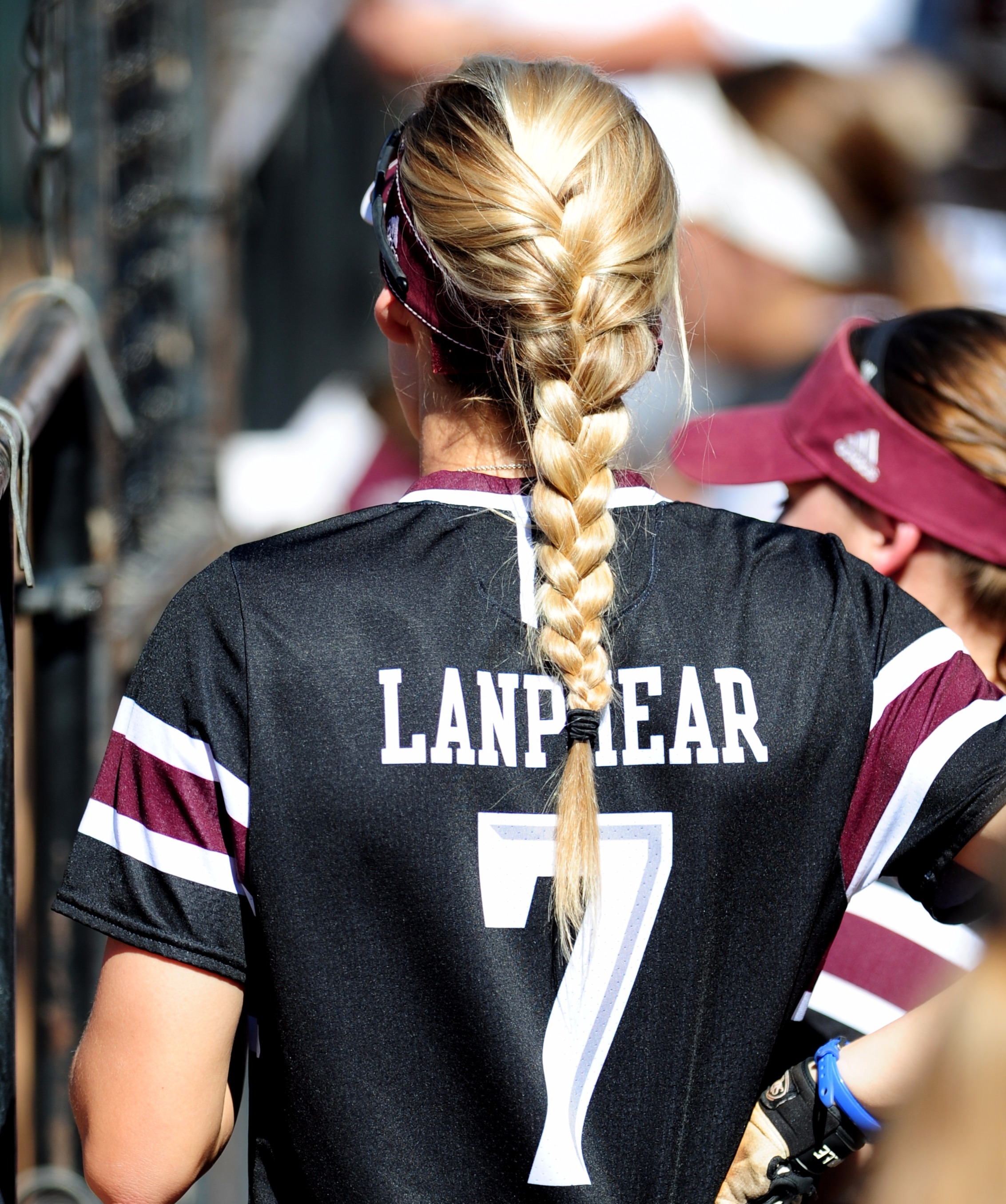 Pictured: Cali Lanphear, Texas A&M
2. French Braid
3. Ponybraid
One of the most popular braid combos on the field is the ponytail French braid that starts with a ponytail. You can add a ribbon or a bow where the ponytail ends and where the braid begins. The French braid follows.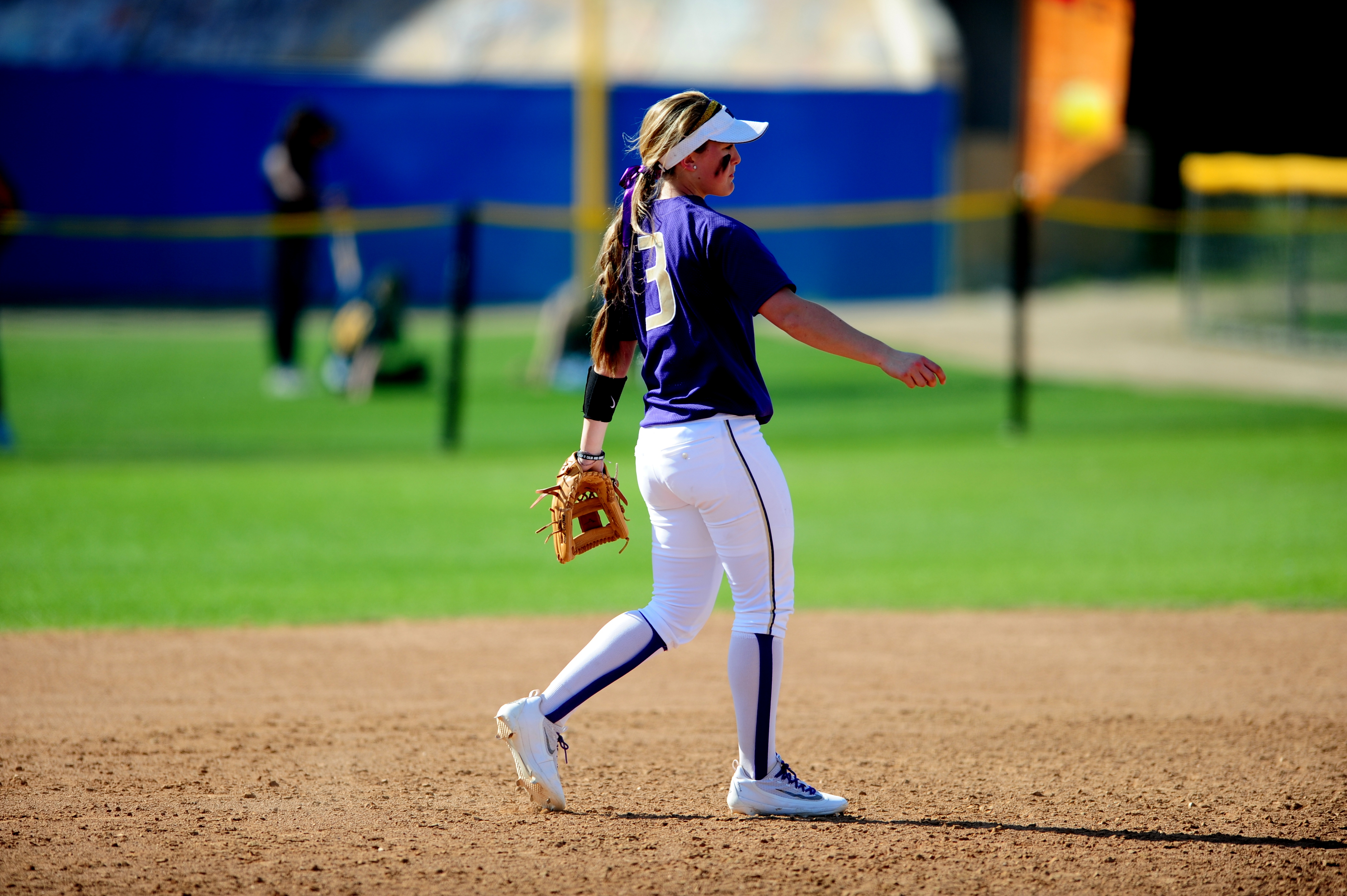 Pictured: Taylor Van Zee, Univ. of Washington
4. Double Dutch Braid for Beginners
The Double Dutch braid was my jam when I played. This braid lasts throughout the day if you braid your when it's wet and use hairspray. Fast forward to 2:45 to start the tutorial.
5. Side French Braid into a Ponytail
A perfect summer braid is the side French braid into a ponytail. The ponytail sits low and doesn't get in the way of putting on a helmet.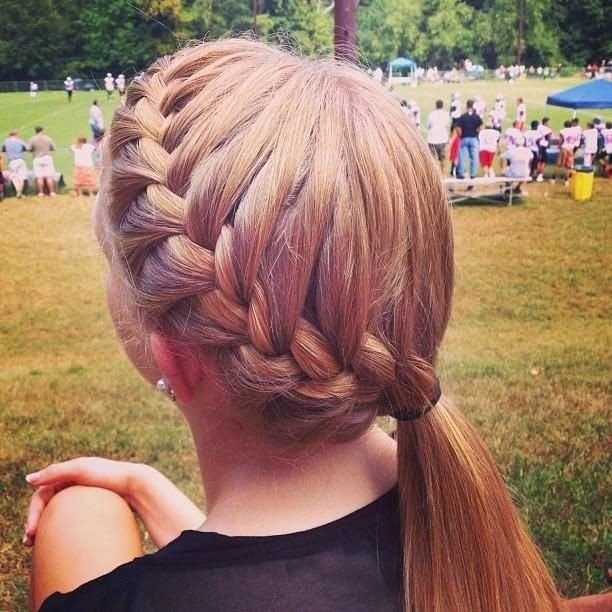 6. Side Dutch Braid into a Ponytail
The side Dutch braid into a ponytail is the same as the previous braid except for the Dutch braiding technique.
7. Double Boxer Braid into One
Love this double boxer braid into one braid. This a clean look that keeps the locks under control.
8. 3-in-1 Double Dutch Braid
Take your braiding skills to a whole new level. Warning: the 3-in-1 double Dutch braid can be bit loose.
9. Waterfall Twist Combo
Love the waterfall twist combo! This is a braid that will need an extra set of hands to achieve this braid.
10. Criss Cross Dutch Braids
Missy Sue shares a criss-cross dutch braid for the ultimate x-factor.
Sours: https://www.flosoftball.com
In this article, we will be exploring some of the best softball hairstyles to make you look stylish on the field, but more importantly, that will also help to keep your hair in control and out of your face during gameplay. We'll even show you the hairstyles that are preferred by some of the world's most legendary softball players, like Jennie Finch, Cat Osterman, and Monica Abbott.
Some of these hairstyles will be more fashion than function, while others will be more functional but simple. Your hairstyle will depend largely on your own unique tastes, but also on the length of hair you hair, your hair type, and even the position you're playing on the field. In this article, we will cover them all! Keep reading to find a hairstyle that will let you play with confidence.
Cute softball hairstyles
Side-braid ponytail combo:
You start by brushing your hair to get all the knots out. Then, grab a small section of hair from the top of your forehead and start braiding down, continually adding pieces as you go. One you've got a long, complete braid, use a rubber band to tie it off at the bottom. Then, do the same on the other side but with your smaller, wispier hairs. This helps to get all of your baby hairs out of the way, so they don't flap around in your face in the wind. Finally, create a pony tail with the remaining, unbraided hair, and tie the two braids you just created into the ponytail, so that both braids and the remaining section of your hair is all tied together at the same point at the back of your head.
French-braid ponytail combo: 
Start with a French braid at the top of your head that runs from the top, to the half-way or bottom-part of your head. Then, tie the rest of your hair off with an elastic. The resulting hairstyle should look like a half French braid, half ponytail.
Low ponytail braid combo: 
This hairstyle is extremely easy to do, and is a great option if you're short on time but still want something cute, that can keep your hair out of your face. To create this look, start off with a regular ponytail. Then, braid the section of hair that comes after the part where the pony tail is tied off. That's it! Complete the look with a visor hat to really keep all your hair in order.
The caterpillar ponytail (with a visor):  
This is one of the most popular hairstyles among college softball players. For this hairstyle, you'll need a bunch of very small, tight elastics. You can find this type of elastic (which are technically "for toddlers") here: 
Start off by making a simple ponytail. Then, starting at the base of the ponytail, start adding the small elastics (no need to tie them, they should be tight enough to grab your hair without needing to double them over.) Add the elastics at even intervals all the way down your ponytail. If you have longer hair, the spacing should be about 2-3 inches apart. For shorter hair, you can space them about 1-inch apart. That's it!
Want to watch the full tutorial on how to create these hairstyles? Watch this fantastic video by Olivia Barrera!
back to menu ↑
Softball Braids
French-braid: 
In softball French Braids are extremely popular, from youth leagues all the way up to the pros like Cat Osterman (as you'll see in this photo). Braids like this are a great way to keep your hair out of your face as you're making important plays, or in windy conditions.
French-braid #2: 
This style of braid, the French Braid, is unique due to the way that the braid starts near the top of your head and isn't tied off until the bottom of the braid. This varies from other types of braids, as you'll see in the next photo, which are tied off like a ponytail first, and then braided.
Don't know how to tie a French Braid? Check out this detailed video tutorial by Luxy Hair!
Ponytail braid combo: 
This type of braid starts closer to the middle of your head, and is first tied off with a hairband that's been doubled over 2 or 3 times. Once your hair is nice and secure in a ponytail, it's time to start the braid! Simply braid your hair like normal, then use another hairband to tie it off again at the bottom.
Short braid hat combo: 
Take a look at this shorter braid, which as you would suspect, is accomplished with a shorter hairstyle. Pairing your braid with a hat is another popular combination, and is a fantastic option in cooler weather. If you wear a hat like you see in this photo without using a braid, the hair that flows out of your hat may still get caught in the wind and get pushed into your eyes. That's why, even if you're going to wear a toque like you see in this photo, we recommend pairing it with a braid.
Messy top, short braid on bottom (with hairband): 
Say hello to the messy braid. This hairstyle is for those days when you want to show some attitude, or maybe you just woke up late and don't have time to fully comb your hair before styling it. Either way, this braid gives you a devil-may-care look that is sure to make an impression. Like a French Braid, this look is accomplished by starting the braid without tying your hair into a ponytail first. The difference is that you won't start the braid so close and tight to your head, but will instead allow the top part of your hair to hang loose, starting the actual braid near the bottom of your head.
Revlon Soft Touch Headbrands, 2 Count
No Slip Headbands
Comfort Foam on the inside
Comfortable Fit
Rubberized Finish for Extra Hold
Reduces Strain and pull on hair
Free shipping
Last update was on: October 18, 2021 12:30 am
in stock
The double braid: 
Want to change your braids up a little bit? Try going for the double-braid! This is a fierce look that is not only functional for keeping your hair out of your face, but also looks great. Plus, you'll stand out from all the single-braiders on the field. Pulling this off is easy. All you do is braid your hair twice, once on each side, using the sections of hair that start at the middle of your head and flow over to your ears.
back to menu ↑
Softball hairstyles for short hair
Simple headband: 
If you have shorter hair, you may have some difficulties pulling off the braid since you have less hair to work with. In this case, a good option is using a hair band. One of the greatest advantages of a hair band is that it's extremely fast and simple. Just put the hairband in, and you're good to go! It will push all your hair backwards to prevent it from flying into your face in the wind, or when you're making rapid motions like pitching.
back to menu ↑
Softball hairstyles for long hair
The caterpillar: 
This hairstyle is a fan favourite, and it's easy to see why. To pull this look off, you'll first need to invest in a package of small, tight elastic bands. Start this hairstyle with a simple ponytail. Then, begin to tie the hairbands around the length of hair coming out of the ponytail starting at its base. Tie the elastics on in intervals of 2-3 inches apart if your hair is long, or about 1-inch apart if you have shorter hair.
You can find this type of elastic (which are technically "for toddlers") here: 
back to menu ↑
Softball hairstyles for curly hair
The curly ponytail:
While curly hair might be more difficult to manage, you have an undeniable style-advantage—everyone is envious of curly haired girls. Curly hair can be worn in virtually all of the same hairstyles as straight hair, but since it's a bit more difficult to work with, sometimes the best (and fastest) look is a simple ponytail. If you tie your ponytail off higher up on the head like this photo, your curly hair will make a simple
back to menu ↑
Softball hairstyles for catchers
Low ponytail braid combo:
Since as a catcher you'll be wearing a helmet for the majority of the game, the best hairstyle is one that can sit comfortably underneath your helmet. That's why we recommend a hairstyle like this one, that ties your hair off low on your head, below the bottom of your helmet. Once your hair is tied off below your helmet, you can fix the length of your hair in anyway you choose. Either let it hang loose, or tie it into a braid like you see in this photo!
back to menu ↑
Softball hairstyles for pitchers
Headband, low-ponytail combo: 
This easy combination between a ponytail and a hairband is a favourite of softball legend Jennie Finch, one of the greatest softball pitchers of all time. Creating this hairstyle is easy. First, Finch ties her hair off near the bottom of her head to create a low ponytail. Then, she simply puts a headband in to keep the top part of her hair secure, so everything stays in place as she's pitching. (Complete your Jennie Finch inspired outfit with her signature batting gloves).
Low ponytail with a bow: 
This hairstyle is another favourite of legendary pitcher Jennie Finch. This hairstyle is a simple low ponytail, but tied off with a stylish bow. To accomplish this hairstyle, Finch simply ties her hair in a low ponytail using a normal hairband, then ties a bow overtop. Notice how she color coordinates the bow and her shorts for extra style points.
Here's a great selection of colored bows to choose from:
Low ponytail with a bow (slightly messy):
To complete her simple bow-tied ponytail look, Finch will also sometimes let a few strands of hair at the front-sides of her head hang loose. While this might not be as functional as a tight ponytail, or the ponytail-and-hairband combination (on a windy day, these strands of hair may blow in your face) it definitely adds some character to the look.
Double-tied ponytail with a bow:
This hairstyle is sported by none other than Monica Abbott, another legendary softball pitcher who's competed in both the professional leagues and the olympics. This unique style of ponytail is simple to pull off, and effective at keeping the hair out of your face. First, Abbot ties her hair back into a fairly tight ponytail that sits near the bottom of her head. Then, she ties a bow around that part of the ponytail for extra style. Finally, Abbott ties off her hair a second time about halfway down her ponytail, keeping the length of her ponytail neatly in place while also adding some flair to the look. This is a great style for players with longer hair.
back to menu ↑
Easy softball hairstyles
Simple ponytail (slightly messy): 
When in doubt, just go for a simple ponytail. Legendary softball player Jennie Finch often does! To create this classic look, all you need is a hairband. Tie off your hair in a ponytail near the bottom of your head. Then, for extra style, pull out a few strands of hair at the front and tuck them behind your ears for an intentionally messy look. This is one of those super easy softball hairstyles that looks great and works to keep the hair out of your face.
AwEx Strong Black Hair Ties,50 PCS,4 mm Regular Loop Hair Bands,No Metal Hair Elastics,No Pull Ponytail Holder
AwEx Black Hair Ties:4 mm (0.16 inch) thick, 140 mm (5.5 inches ) Long, no metal,ouchless, no tangle,no pull;
Made with new "High Elastic Rubber Core" ,stretches 40% longer and doesn't lose its shape, hold strongly and securely;
Free shipping
Last update was on: October 18, 2021 12:30 am
in stock
Simple headband: 
This is probably the easiest hairstyle of all. All you need to do for this look is pop in a hairband. This will push all your hair backwards and prevent it from getting in your face. If you're in a rush, or don't like taking the time to fix your hair into one of the more complex looks like a braid, this is a perfect option for you.
back to menu ↑
College softball hairstyles
Hairband and ponytail combo: 
This is a popular college softball hairstyle due to its simplicity, and effectiveness in keeping your hair out of your face. All you need to do to pull off this look is tie your hair into a ponytail (typically a lower ponytail that's tied off near the bottom of your head) and then pop in a headband to further secure your hair in place.
back to menu ↑
Cool softball hairstyles
Hairband, bow-tie, ponytail braid super combo:
This unique hairstyle combines a number of styles into one: the ponytail, the braid, and the headband. To create this look, start by fixing your hair into a ponytail that's tied off near the middle of your head, but a bit closer to the bottom than the top. Next, take the length of your ponytail and braid it. Secure the braid with a second hairband at the bottom of the braid. Then, take a bow of your colour choice, and tie it around the first hairband close to your head. Finally, pop in a hairband to prevent any of the strands of hair near the front of your face from coming loose and flapping around in your eyes. This cool combination hairstyle is both super functional, and stylish.
Sours: https://www.basesloadedsoftball.com/guides/best-softball-hairstyles/
SUPER EASY SOFTBALL HAIRSTYlE!
3 Great Softball Hairstyles
What's worse than getting hair in your eyes during a big defensive play and getting an error because of it?
Game day comes with enough pressure as it is and the last thing a player should be worrying about is whether or not their hair is going to get in the way. The JustBats.com team understands your pain and we're here to help with three great softball hairstyles. Plus, when you look good, you feel good. And when you feel good, you play well. 
When it comes time to do your hair, there's no better option for the game than a braid. Braids keep your hair up and out of your face while keeping your head cool even during the hottest of summer days. Below are the three best braids for softball and we've included a short how-to video and summary of each one. Keep in mind that it's best to get a teammate, coach, or parent involved so that they can help with the more difficult maneuvers.
Fishtail Braid

A fishtail braid is one of the more simple hairstyles that a player can put together before a big game. One tip that the video above did not mention is that it helps to secure your hair with an elastic hair tie before you begin. However, once you've completed the braid you will have to cut it out. Fair warning.
8 Best 2018 Fastpitch Softball Bats
  2. Boxer Braid 

If you've seen the movie Million Dollar Baby, then you've probably seen what a boxer braid looks like. One of the more intimidating braids, without a doubt. Keep in mind that the boxer braid has one for the left and one for the right, so there is double the amount of work. Give yourself some time to complete this masterpiece. 
  3. Classic French Braid

A beautifully intricate hairstyle that may take some practice before perfection. The longer your hair is, the longer this process will take. Once completed, it will feel like you've put yourself through an arm workout, but the result is always worth it. Don't give up if you aren't able to get it right the first time and remember that it's always easier if you have a teammate's help. 
What do you think? Have you tried one of these softball hairstyles? Which one do you use on game day? While this list only includes the three best fastpitch hairdos, the JustBats Pinterest board "Softball Hairstyles & Bows" has many other choices to choose from. Give our Pinterest a follow and make sure to leave a comment below telling us your go-to hairstyle for fastpitch softball. Don't forget, if you have any softball related questions, our Bat Experts are available via telephone at 866-321-2287, email at [email protected], or you can click here to live chat. Remember, we're here for you from click to hit!
Sours: https://www.justbats.com/blog/post/3-great-softball-hairstyles/
Game hairstyles softball
Mom moaned not as if in pain. Her holes were stretched by two strong members, I even saw how wet from the discharge her slick, since the whole company was with their backs to. Me, or rather their asses. Major Eremin's ass flashed before my eyes, and under her mother's flowing holes. And then I wondered.
Ways to Wear Your Hair Up for Softball : Updos \u0026 More
He: For a long time. Sonya: I don't remember exactly. He: Well, at least approximately. Sonya: Ten minutes.
Now discussing:
He was injected with morphine as a pain reliever, but he asked to inject him more often, and a young local nurse took pity. On him and, despite the doctors' ban, injected him more often. And when there was no morphine, she began to bring him drugs, there, they, the locals, had a lot of them.
650
651
652
653
654