Most Popular
New Arrivals
FlanJet v1.0
Author: TexZK
Nb downloads: 16 (117 997)
Created for VirtualDJ version 7.x
EchoOut v2.0
Author: macourteau
Nb downloads: 12 (121 268)
Created for VirtualDJ version 6+
Wahwah v3.0
Author: djcel
Nb downloads: 5 (38 468)
Created for VirtualDJ version ≥ 4.1
32-Band Equaliser v1.0
Author: macourteau
Nb downloads: 8 (26 358)
Created for VirtualDJ version 2.x
Filters v2.2
Author: TexZK
Nb downloads: 8 (80 640)
Created for VirtualDJ version 7.x
Volume 1.0
Author: SBDJ
Nb downloads: 2 (3 339)
Created for VirtualDJ version 8.0
Flanged LoopOut v2.0
Author: macourteau
Nb downloads: 7 (85 707)
Created for VirtualDJ version 6+
Vocal Remover v1.0
Author: Stephane Clavel
Nb downloads: 6 (52 090)
Created for VirtualDJ version 2.x
sweep_auto 1.1
Author: SBDJ
Nb downloads: 2 (9 146)
Created for VirtualDJ version 6.0+
Reverb v1.0b
Author: TexZK
Nb downloads: 6 (24 675)
Created for VirtualDJ version 6.x
Crusher v1.1
Author: TexZK
Nb downloads: 5 (47 186)
Created for VirtualDJ version 6.x
sweep_manual 1.1
Author: SBDJ
Nb downloads: 4 (5 060)
Created for VirtualDJ version 6.0+
Forward Reverse v2.0.2
Author: djcel
Nb downloads: 5 (69 387)
Created for VirtualDJ version ≥ 4.1
Vokoder v1.0
Author: TexZK
Nb downloads: 5 (41 415)
Created for VirtualDJ version 5.0
Profiles for EQ10 1
Author: pezamigo 2
Nb downloads: 2 (2 539)
Created for VirtualDJ version 8
16-band Equaliser 1.0
Author: macourteau
Nb downloads: 4 (14 973)
Created for VirtualDJ version 2.x
CDJ Vinyl Brake v1.1.2
Author: Chackl
Nb downloads: 4 (15 607)
Created for VirtualDJ version >6.x.x
balance 1.1
Author: SBDJ
Nb downloads: 2 (5 586)
Created for VirtualDJ version 6.0+
EchoDoppler v1.0
Author: TexZK
Nb downloads: 4 (56 863)
Created for VirtualDJ version 6.x
Matrix Flanger v1.1
Author: kaleo
Nb downloads: 4 (69 025)
Created for VirtualDJ version 2.x
SBDJ StereoChannel v1.1
Author: SBDJ
Nb downloads: 1 (6 312)
Created for VirtualDJ version 6.0+
TalkFilter v1.0
Author: TexZK
Nb downloads: 4 (22 522)
Created for VirtualDJ version 7.x
TK Filter v2.0
Author: kaleo
Nb downloads: 4 (10 077)
Created for VirtualDJ version 2.06
EQ30 1.0
Author: SBDJ
Nb downloads: 2 (3 673)
Created for VirtualDJ version 8.0
ROLL V 2.0
Author: Deun-Deun
Nb downloads: 4 (10 530)
Created for VirtualDJ version >5.x
FILTER DJM850 v1
Author: Deun-Deun
Nb downloads: 4 (6 676)
Created for VirtualDJ version >v5
EQ10 1.0
Author: SBDJ
Nb downloads: 3 (2 909)
Created for VirtualDJ version 8.0
Delay v1.2
Author: djcel
Nb downloads: 4 (35 531)
Created for VirtualDJ version ≥ 4.1
Flanger HQ v2.2
Author: TexZK
Nb downloads: 3 (56 289)
Created for VirtualDJ version ≥ 4.1
filter_sbdj 2.0
Author: SBDJ
Nb downloads: 3 (11 395)
Created for VirtualDJ version 6.0+
Sours: https://www.virtualdj.com/addons/effects.html
Forum: Old versions

DeMusique2011

PRO (legacy)Member since 2011
I am now using a MAC and having a difficult time trying to download sound effects??HELP!!!

Eric
---
Posted Fri 09 Oct 15 @ 3:36 am

AsTheDJ

PRO InfinityMember since 2008
after you DL the Effect from you DL folder just hit open and it will install on it own.( 8 ) if your using VDJ-7 open move to VDJ- folder Plugin ( sound,video,visual )
---
Posted Tue 13 Oct 15 @ 2:06 pm

tuyizereadelite137Home userMember since 2020
tell me how i can found sound effect in virtual dj 2020 and give me link
---
Posted Mon 06 Apr 20 @ 10:45 pm

snoopybuoyHome userMember since 2020
I need sound effects of virtual dj 2020

---
Posted Sat 06 Jun 20 @ 4:09 pm

groovindj

PRO InfinityMember since 2007
If you care to read the post immediately above yours....
---
Posted Sat 06 Jun 20 @ 4:47 pm
Sours: https://www.virtualdj.com/forums/204464/Old_versions/Downloading_Sound_Effects.html
VDJPedia
Pre Post Fader Effects
Pre and Post Fader Effects
Most DAWs (Digital Audio Workstations) let you route an Aux-send signal either pre- or post-fader. When an Aux-send is configured post-fader, the effect's wet-to-dry ratio is preserved as you raise and lower channel faders; lowering a channel's fader simultaneously lowers the Aux-send signal level. That keeps you from having to adjust effects return fader levels in the mixer or wet/dry ratios at the effects processor every time you make a level adjustment with a track's channel fader. (In most cases, you'll want to keep the balance between a dry track and its effects relatively constant throughout the mix-down process.) As a result, post-fader effect sends are used more often than pre-fader effect sends, although the latter configuration definitely has its uses.
As its name suggests, a pre-fader Aux-send is not influenced by channel fader movements because the signal is sent to the processor through the Aux-send before it gets to the fader. Therefore, the processed signal level from a pre-fader Aux-send remains constant, no matter how you move it's corresponding channel fader. One use for this type of configuration is to keep a vocal track's reverb level constant while you lower its dry level. Try this: set the level of reverb you want the vocal to have in the mix by turning up its pre-fader Aux-send, which is routed to your reverb unit, until the effect sounds right. Then, slowly lower the vocal's channel fader. As you lower the fader, the vocal's dry level dips while the level of the processed signal remains constant. The result sounds as though the vocalist is walking away from you: the dry sound gets quieter, leaving just the reverberations of the room.
VirtualDJ Effects available as Post FaderHow to enable Post Fader Effects
From VirtualDJ
Settings OPTIONS
tab, search for the setting
fxprocessing
and set it to
Post-fader

Select and activate one of the supported Post fader Effects (Echo, Reverb, Spiral) from the Left/Right deck's Effects panel.
While the track is playing and the effect is applied to the track, lower its mixer channel volume. Notice that the effect will still apply for a short time period, even if the volume fader is closed.
The above example can be used with Mouse/Keyboard control and any MIDI Controller, as long as the Audio Setup is set as Master & Headphones and the audio mixing is performed by the VirtualDJ Internal mixer.
Post Fader Effects with Hardware (external) Audio Mixing
In case the mixing is performed from the hardware (usually Audio setups with External mixer - deck 1, deck 2 etc), additional sound card Inputs/Outputs channels are required for FX Send/Return in order to use Post fader Effects. Some of these Hardware mixers offer MIDI, built-in sound cards and even dedicated USB FX Send/Return channels. The following explains some of the most basic cases:
A. Hardware mixing with dedicated USB FX Send/Return channels
There are a few Hardware MIDI units (mixers and controllers) that handle mixing internally. This means that each channel's audio signal is processed by the hardware and the mixing is performed from the hardware unit and not the Internal VirtualDJ mixing.
In this case, even if you see the Channel faders moving on the GUI, the mixing is done by the Hardware and VirtualDJ has no way to apply Post fader effects, unless dedicated Send/Return Fx input/outputs are defined in the Audio Setup. In most of the cases (and only for the natively supported hardware) those FX Send/Return channels will be part of the pre-configured audio configuration and automatically offered from the special hardware button in the Audio setup of VirtualDJ (such as Rane 62,64,TTM57MKII, Pioneer DJM-S9, etc).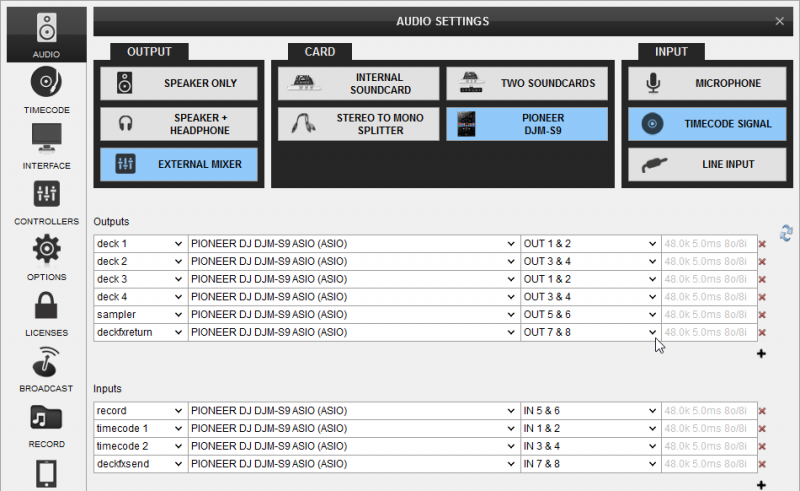 B. Hardware mixing without USB Send/Return FX channels or USB Audio Interface
If the Hardware unit handles mixing internally and doesn't offer any dedicated USB Send/Return FX channels, you could still use Post Fader Effects, by using a spare Input as FX Send and an output channel as FX Return of a USB sound card.
Connections : (see diagram below) You need to route the Master Output of the unit/mixer to an Input channel of a sound card and then use an Output of the USB sound card to output the processed audio signal.
*The deckfxsend and deckfxreturn input/output names need to be manually typed in the Audio Setup.

A sound card with at least 3 stereo Outputs and 1 stereo Input is required in this case and only Effects on Master can be used (not per deck)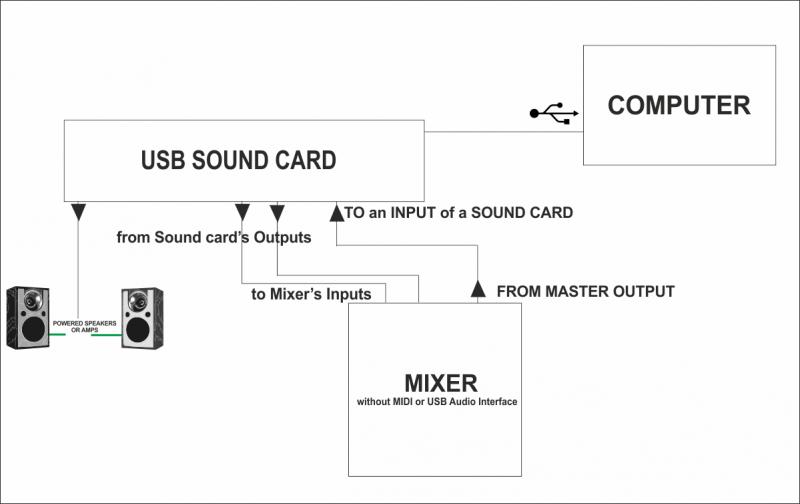 C. Hardware mixing with USB Audio Interface and MIDI, but without dedicated USB FX Send/Return channels
If the Hardware mixer offers MIDI and USB Audio Interface, but no dedicated FX Send/Return channels or any other spare channels that can be used for this purpose, then the only difference from the above case is that there is no need to feed the channel inputs of the mixer with the outputs of the USB sound card. The Audio Setup of VirtualDJ needs to use the built-in sound card outputs for the decks
VirtualDJ Audio Setup: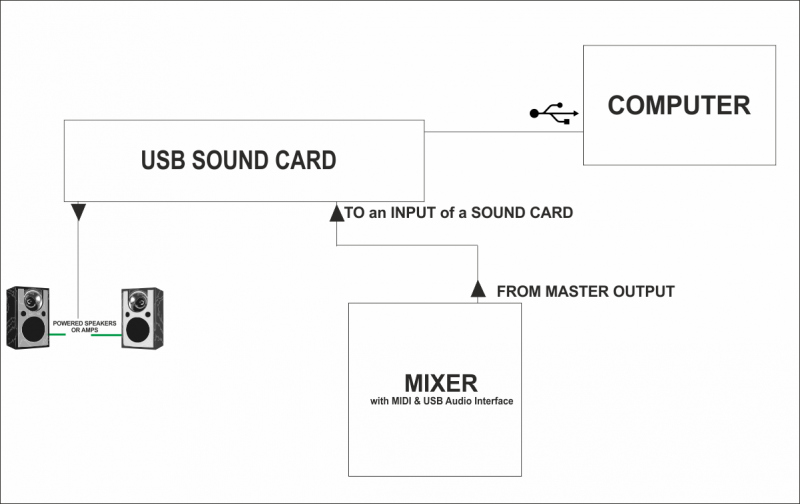 Also in the case of a MIDI Mixer, mixing is still done internally - where the positions of the faders is known to the software, 2 separate FX Send/Return channels can be used, and software Post Fader Effects can be used per Deck (instead of Master)
Sours: https://www.virtualdj.com/wiki/Pre%20Post%20Fader%20Effects.html
VIRTUAL DJ - HOW TO DOWNLOAD SOUND EFFECTS AND DJ DROPS part 1
User Manual
VirtualDJ offers the ability to apply a variety of Effects to a specific deck as well as the Master Output (see Master Panel). A large selection of effects are included in the software and can be accessed in different layouts.
For a complete list of native effects included with VirtualDJ, please see here.
STARTER

The Starter Layout offers a simple 3 dial FX Panel. Moving the dials left or right will increase or decrease the strength of the effect. Double clicking on the dial will turn off the effect returning it to the 12 o'clock position.
3 effects are offered: Filter, Flanger, and Cut. These effects cannot be changed in the Starter Layout.
ESSENTIALS

The Essentials Layout offers a Single FX panel. In this view, a single effect slot is offered with 2 parameter dials and a button to open the effect's Graphical User Interface in the SideView area of the browser.
Clicking on the effect name will trigger the desired effect, while clicking the dropdown arrow will open the FX menu providing the ability to select one of the many other effects available.
PRO
The Pro Layout offers multiple effects panel configurations that can be selected and toggled from the FX Toggle button. Regardless of the layout chosen, the FX panel works identical by clicking on an effect to activate it, using the dropdown beside the effect name to select different effects, and using the buttons to open the effect's Graphical User Interface in the SideView area of the browser.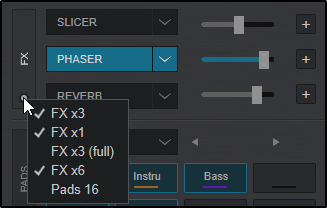 Clicking on the View Selection button inside the FX Toggle will provide the 5 different available views:
FX x3
,
FX x1
,
FX x3 (full)
,
FX x6
and
Pads 16
(if you wish to display 8 additional pads instead of the FX panel).
As many of these views can be selected (marked with a check mark) to toggle through each look quickly by using the FX Toggle button.
Some effects can be used post-fader providing that the hardware being used supports it. For a complete explanation on the difference of Pre-Fader and Post-Fader effects as well as how to configure them please see: PRE AND POST FADER EFFECTS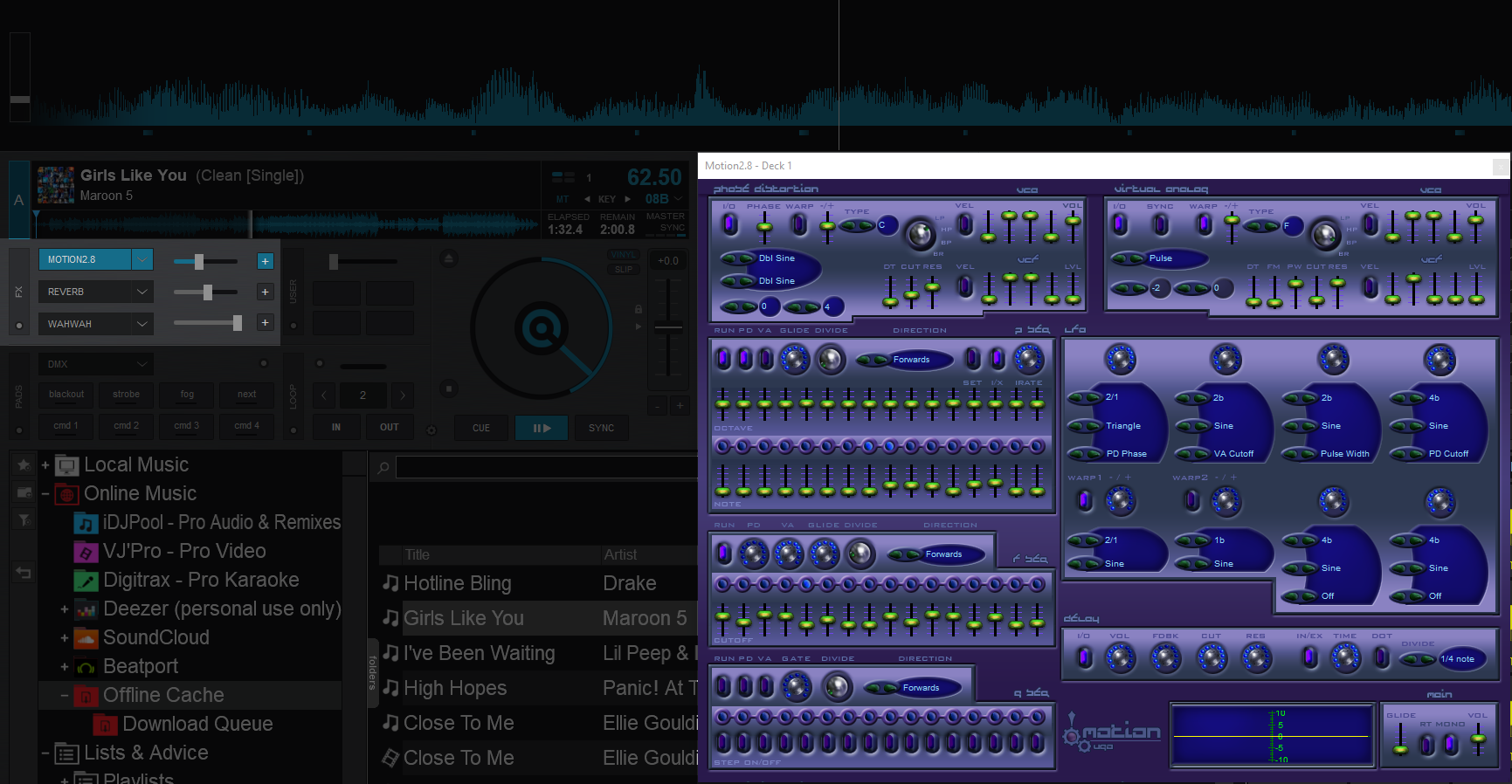 Virtual Studio Technology (VST) is a software interface created by Steinberg that integrates software audio instruments (VSTi) and effect plugins with audio editors, hard-disk recording systems and dj-ing applications. VST technology uses digital signal processing to simulate traditional hardware in software. Thousands of plugins exist, both commercial and freeware.
VirtualDJ supports VST and VSTi effect plugins. These are usually simple .dll files that come zipped in a file to facilitate download through the internet.
Installing and using VST effects
Windows:
Extract and copy the .dll file of the VST to the sound effects folder of VirtualDJ (\Users\YourUsername\(My)Documents\VirtualDj\Plugins\SoundEffect).
Mac:
Install the .dmg file to your computer. Open the contents of the file and find the .vst file that you wish to install. Copy the file and paste it in the effects folder (\Documents\VirtualDj\Plugins64\SoundEffect). Once pasted into the folder rename the "
.vst
" extension to "
.bundle
". This is necessary for VirtualDJ to recognize the VST.
---
After that your Effect will be listed along with your other effects and you can select and use it like the default ones. A restart of the software will be necessary if the VST was installed while the software was open.
VST Effects usually provide their own GUI. Use the + button from the skin or the settings icon from the Effects List, to get a floating window with the effect's interface.
---
MIDI devices such as MIDI Keyboards can be set up to control VSTs through a deck. Right clicking the device in the Controller settings will bring up an option for
MIDI to VST
. You can then select which deck the VST will be controlled by the device when it is activated.
This setup is pass through. Mapping for the device is handled by the selected VST (if offered).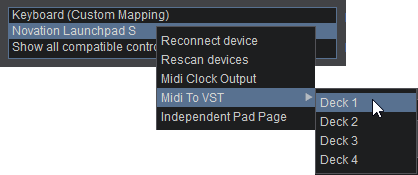 Loops
Sours: https://www.virtualdj.com/manuals/virtualdj/interface/decks/decksadvanced/effects.html
Virtual dj effects
VDJPedia
How to upload an Effect
Back to FAQ
Q: How to upload/submit an Effect for VirtualDJ 8 ?
---
If you have created an Audio Effect, Video Effect, Video Transition or a Visualization for VirtualDJ 8 and you wish to share it with the VirtualDJ Community, please upload it to our Add-ons page by following the next steps:


Visit the Upload Add-ons page (you need to be logged in)


Select Effect as the type of Add-on and choose one of the available categories.(required)




Type a name for your Effect (required). Use a simple, short and unique name. Avoid reserved words such as Default and VirtualDJ. If the name is already available, you will be notified on submission so that you change it to a new one.




Description, Image and Hastags

Provide a short description (optional) of the basic features of your Effect (no more than a couple of short lines - you will be able to provide further details and instructions after approval in the Comments topic)

Provide an image for your Effect that will be visible in the Add-ons listing (required). Can be a very simple image with just the Effect Name on it. Prefer an image of 16:9 aspect ratio (it will be resized to a 16:9 if a different one is provided).

Optionally, provide any Hastags (Search Key words) separated by comma. e.g. Stripes, Vertical in case you provide a Video Effect or Transition that uses Vertical stripes


Select the User's License Level that your Effect will be available to. E.g. select PRO users only if you wish to share your Effect with the Pro Infinity users only or All Users if you want to share it with all users regardless of any purchased License.


Provide the .dll (for Windows) and/or the .bundle (for Mac OSX) file. Effects are accepted even if one of the files is provided. If additional files are necessary for the Effect to work, compress all files (including the .dll or .bundle) into a zip file.



Provide any information (optional) about the Effect that would help VirtualDJ Team to review your creation. These info will not be visible in public.


Click on the Submit button




Rules to follow :
Only submit once. if you submit the Add-on more than one time then all version will be removed and not considered. And then you can re-submit.


It is your responsibility to review the status of your submissions. There are notes that may be left in the description that need attention on your Add-on. Do not expect a comment to be placed in a forum thread. Once you have made the corrections, then simply remove the comment made in the Description field when you update your submission. If no corrections are made in a reasonable amount of time - the submission will be removed.


Submit only original creations and not Add-ons found over the Internet not created by you.

Notes:


Do not share your creations by providing public links (such as Dropbox and other Sharing media) in VirtualDJ forums. If you wish to receive any feedback from users, please upload your creation to the Add-ons page by marking it as Beta, or use Personal messages with Licenses users.

Open a topic in the Plugins Forum if you wish to get feedback, provide information or ask any questions about your Add-on.

Once your Effect is uploaded, VirtualDJ Team will test and approve within a reasonable time (depending on the amount of submitted Addons) and will make the skin available in our Add-ons page.

VirtualDJ Team holds the right to reject your submission without notice, in case the submitted Add-on is not filling the requirements mentioned in each of the categories. In case you wish to ask any question regarding a rejected Add-on, please contact Support

Updates go through the same approval process as if you had the Add-on submitted for the first time. So if you update your Add-on, keep in mind that there may be a delay for them to be available.

Related Topics:
---
FAQ How do I download and install new skins, effects, samples, etc. from your website ?
FAQ Can I share or sell the plugins available on the website ?
FAQ I have created a VirtualDJ Add-on. How can I upload and share it?
Navigation
---
Back to FAQKnowledge DatabaseWiki HOME
Sours: https://www.virtualdj.com/wiki/How%20to%20upload%20an%20Effect.html
Virtual Dj 2021 Effetti FX Gestione Avanzata
VDJPedia
Effects still activated
Q. Brake, backspin, etc. trigger by themselves after I have previously used them in another song
---
If you find that effects such as Brake, Backspin, etc. sometimes trigger by themselves at a similar point in the song to where you have used them previously then this will be because either the song ran out or you stopped it before the effect completed, so it remains active and will trigger at the same point in the next or a future song (This may not be until several songs later if you are playing shorter songs.)
To avoid this problem:


Turn on the option to reset effects on load in CONFIG -> Options. This will automatically reset any effects that are still active when you load the next song.


Make sure that you allow effects such as Brake and Backspin to complete in full before stopping the song (They will automatically stop it once completed.) Make sure that you also trigger Brake at a point where there will be enough time for it to complete in full. If you trigger it within the last few seconds of the song, there may not be enough time and it will remain active.

---
FAQKnowledge DatabaseWiki HOME
Sours: https://www.virtualdj.com/wiki/Effects%20still%20activated.html
You will also be interested:
User Manual
Below is a list of all native audio and video effects, video transitions and visualizations included with VirtualDJ. Additional user created addons can also be downloaded and installed from the Extensionstab in the software settings menu.
Audio effects


Ableton Link

Backspin

Beat Grid

BrakeStart

Cut

Delay

Distortion

EQ10

Echo

Filter

Filter HP

Filter LP

Flanger

Flippin Double

Loop Out

Loop Roll

Mobius

Noise

Phaser

Pitch

Reverb

Scratch DNA

Slicer

Spiral

Wahwah

Video effects
TRANSFORMS
Blur

Blur Black Bars

Boom

Boom Auto

Colorize

Negative

Shake

Spectral

Strobe

OVERLAYSSOURCES
Camera

Cover

Lottery

Shader

Slideshow

TRANSITIONS
Additive

Cloud Dissolve

Color Swap

Cube

Doors

Drain

Drain Light

Droplets

Extreme Cut

Fade

Flat Cube

Flip

Flip 3D

Glass

Grid

LumaKey

None

Pixelate

Satellite

Satellite Boom

Scrolling Slice

Sequences

Shatter

Slide

Splodge

Strobo

Vertical Slide

Warp

Warp Speed

Window

Window Double

Wipe

Zoom

Sours: https://www.virtualdj.com/manuals/virtualdj/appendix/nativeeffects.html
5815
5816
5817
5818
5819