Original Post
Edit 3:34p Don't think of this as a way to fix the AMD driver in Bootcamp, this procedure can be used to update just about ANY driver in Windows, in or out of Bootcamp. You are bypassing all the "plug and pray" we've all got used to over the past 10+ years and making Windows use the driver of your choice.
Let me preface this, It worked for me.
You have to force Windows to accept the driver by doing manually through driver properties. This is a very old-school Windows update method that unless you used Windows 3.11, you're probably not aware of it. And yes, it's still in Windows 10.
This may cause your monitor to not work! Again, it worked for me.
I have a 2019 27" iMac 5K with an i9-9900K, 128GB RAM, and an AMD Radeon 580X. I'm running Windows 10 Pro with the latest Bootcamp drivers, which brings the AMD driver up to the dreaded 19.30.2.
Step 0:
Know how to take Bootcamp into Safe Mode and test it, this is how you back yourself out of things. And make a restore point with Windows.
Step 1:
Download the latest drivers from AMD by working your way through the driver menu. Keep looking for Radeon RX 500X Series (Yes, it exists). Once you do find it, underneath is the 580X, but here's the link. Download and install.
https://www.amd.com/en/support/graphics/radeon-500-series/radeon-rx-500x-series/radeon-rx-580x
WARNING: All screen captures are from a Windows 10 VM, not Bootcamp. This made it simpler to write this up.
Step 2:
Let it install and error out, the installer actually isn't needed, but you do need the drivers it does unload. Now go search for the actual drivers.
C:\AMD\Win10-Radeon-Software-Adrenalin-2020-Edition-20.9.2-Sep29\Packages\Drivers\Display\WT6A_INF
You want the INF file with a "C" at the beginning.
Step 3:
Go to Device Manager, Display Adapters. It should already say Radeon 580X (Ignore the Parallels driver in the image). Right click it, go to Update Drivers, and select "Let me pick from a list…"
Step 4:
And here's the old school part, select "Have Disk". You'll see it defaults to the A: drive, just like with Windows 3.11 did with floppies. Select that and browse to where the driver is and select the INF file starting with a "C".
C:\AMD\Win10-Radeon-Software-Adrenalin-2020-Edition-20.9.2-Sep29\Packages\Drivers\Display\WT6A_INF
Step 5:
This is the tedious part. With Windows 3.11, there weren't that many devices to select from, but now there are hundreds. Keep scrolling through until you find Radeon RX 580 Graphics. This one is different than the one I did last night; I used the Radeon 500 Series one. I'm going to try that one later.
Sours: https://answers.ea.com/t5/Technical-Issues/Windows-10-bootcamp-graphics-drivers/td-p/9538331
Unlike most other laptops, MacBook Pros with dGPUs use a graphics muxer to physically switch which GPU is pushing pixels to the display. By contrast, most other laptops simply share a framebuffer which both GPUs push to and the display can read from via some methodology. If you want to read about this more, I recommend you read up on the Linux kernel's documentation or Arch page on hybrid graphics. The long and short of it though is that the unique hardware architecture of the MacBook Pro means that it can't just operate like most other laptops.
Under macOS (and Linux), this is handled by the OS and drivers sending the appropriate commands to the hardware and switching when needed. However, although Windows does have graphics switching, it isn't as well integrated with Macs. To solve this, by default, MBPs with dGPUs boot into Bootcamp with the iGPU disabled—something that, as you've discovered, can be problematic.
For reasons, this is a particularly sticky issue with eGPUs. As such, the eGPU community has developed tools to get around this by making your MBP think it's booting into macOS, thus keeping the iGPU enabled. I strongly recommend you read the entirity of the Boot Camp eGPU Setup Guide thread (even if you're not going to use an eGPU), but the basics steps are as follows:
Use automate-eGPU EFI to set up the custom bootloader (or rEFInd it if you want to use an external drive.)

Download automate-eGPU EFI to a USB drive or internal partition formatted as FAT
Boot to the drive by holding down during boot
Install Intel graphics drivers

For users of 2016 and 2017 15" tMBPs (not you!), use 0xbb's integrated.bat to set the GPU you want attached to the display.
Install AMD drivers.
At this point, you should be able to switch between your GPUs!
If you're feeling brave, I'd also recommend you use AMD drivers from BootCampDrivers rather than the stock AMD ones. Unfortunately, the stock AMD drivers are very poorly optimized for Macs; these drivers are modified to better support Macs. Note that since they're modified binaries, there's no source to view, and you're trusting that the author to write good code. That said, I personally trust them, and the benefits are real.
answered Jan 29 '20 at 18:59
JMY1000JMY1000
38911 silver badge77 bronze badges
Sours: https://superuser.com/questions/1521171/how-can-i-automatically-switch-between-integrated-graphics-and-dedicated-graphic/1521196
Sharing is caring!
Apple has quietly released new AMD Vega Boot Camp Software Graphics Drivers for running Windows 10 on an iMac Pro. This is significant for mac-based virtual reality enthusiasts as the new drivers finally allow for VR on an iMac Pro without the need for a cumbersome eGPU (external graphics processing unit). After upgrading your Boot Camp installation's Vega 56 or 64 graphics card drivers, you can simply plug your virtual reality headset directly into your iMac Pro's Thunderbolt 3 port, boot into Windows 10, and enjoy effortless virtual reality using the Windows Mixed Reality Portal and/or SteamVR.
Mac-Based VR Before The New Drivers
The new GPU drivers just released by Apple are huge for people wanting to experience virtual reality on an iMac Pro. The previous set of Boot Camp drivers were poorly written and resulted in correspondingly poor performance from the Mac's technically capable internal AMD Vega graphics cards. Accordingly, if you wanted the full VR experience on an iMac pro, you had to connect an expensive and awkward eGPU … more dongles! However, with this simple driver upgrade, the process has been streamlined. This makes Mac-based VR more accessible to the masses, or at least to those lucky enough to own an iMac Pro.
Download The New Apple Boot Camp Software Graphics Drivers From AMD
The Apple Boot Camp Software Graphics Drivers for the Vega 56 and 64 are actually written and compiled by Apple. However, they are distributed by AMD and need to be downloaded from the AMD support Apple Boot Camp Page located here. It will be easiest to download and update the Vega drivers once you have already booted into Windows 10 on your iMac Pro as discussed below.
How To Update AMD Graphics Drivers For Windows In Boot Camp
Supported Macs for this driver update include the MacBook Pro, the large and small iMac, and the Mac Pro "trashcan." However, the GPUs in those Macs are not powerful enough to run current model virtual reality headsets or the corresponding VR apps. However, we do still suggest that you update your graphics drivers if you are using one of the supported models.
To update the Boot Camp Vega graphics card drivers on your iMac Pro, do the following:
• Step 1: Boot into Windows 10 by powering up your Mac, then immediately hold down the Option key; release the Option key when you see the Startup Manager window; select your Windows startup disk, then click the arrow or press Return.
• Step 2: Download the drivers by navigating your Windows browser to this page and click the download button for the iMac Pro drivers (they should be version 18.50 or later).
• Step 3: Install the drivers by expanding the downloaded file and clicking on Setup.exe to run.
Should you encounter any problems during the installation process, the Apple support page for installing Windows graphics drivers in Boot Camp on a Mac can be found here.
Your iMac Pro Is Ready For Virtual Reality Without An eGPU
With the new Apple Boot Camp drivers installed, you are now ready to experience virtual reality on your iMac Pro without an eGPU. For more information on setting all of this up from scratch, check out our instructional page VR On An iMac Pro: The Complete Guide.
Source
AMD: [Company Website]
Apple: [Company Website]
Colin Layner
Colin is and editor at Wear Guide and writes about wearable technology On Your Head.  With a Bachelor of Science in Electrical Engineering from SDSU, Colin presents a unique point of view in his articles, offering both technical expertise and extensive user experience with wearables. Colin also writes for our sister publication Electric.guide.
Send tips and story ideas to Colin at: [email protected]
Sharing is caring!
Categories Virtual Reality HeadsetsTags AMD Vega 56, AMD Vega 64, Apple Boot Camp, Apple iMac Pro, On Your HeadSours: https://wear.guide/virtual-reality-headsets/apple-releases-new-boot-camp-drivers-windows-10/
RESOLVIDO !!! Boot Camp x64 is unsupported on this computer model
I would first check Apple Support Communities to see if anyone else is having trouble with a Boot Camp update.
After, check the Event Viewer>Windows logs>System after the install crash (right-click the Start button and choose "Event viewer") and find errors relating to graphics or installations. See if anything pops up about what is failing.
"No matter where you are, everyone is connected"
Report abuse
Harassment is any behavior intended to disturb or upset a person or group of people. Threats include any threat of suicide, violence, or harm to another. Any content of an adult theme or inappropriate to a community web site. Any image, link, or discussion of nudity. Any behavior that is insulting, rude, vulgar, desecrating, or showing disrespect. Any behavior that appears to violate End user license agreements, including providing product keys or links to pirated software. Unsolicited bulk mail or bulk advertising. Any link to or advocacy of virus, spyware, malware, or phishing sites. Any other inappropriate content or behavior as defined by the Terms of Use or Code of Conduct. Any image, link, or discussion related to child pornography, child nudity, or other child abuse or exploitation.
Details (required):
250 characters remaining
Was this reply helpful?
Sorry this didn't help.
Great! Thanks for your feedback.
How satisfied are you with this reply?
Thanks for your feedback, it helps us improve the site.
How satisfied are you with this reply?
Thanks for your feedback.
Thanks for the reply Entegy.
I spent an hour on the phone with apple support (they said they didnt know what else to tell me, just said call Microsoft). Also posted on the apple forum at https://discussions.apple.com/message/30787411#30787411
I just attempted the install again culminating in the crash, then checked the system log within event viewer as you recommended. Is there anything specific I should be looking for?
Report abuse
Harassment is any behavior intended to disturb or upset a person or group of people. Threats include any threat of suicide, violence, or harm to another. Any content of an adult theme or inappropriate to a community web site. Any image, link, or discussion of nudity. Any behavior that is insulting, rude, vulgar, desecrating, or showing disrespect. Any behavior that appears to violate End user license agreements, including providing product keys or links to pirated software. Unsolicited bulk mail or bulk advertising. Any link to or advocacy of virus, spyware, malware, or phishing sites. Any other inappropriate content or behavior as defined by the Terms of Use or Code of Conduct. Any image, link, or discussion related to child pornography, child nudity, or other child abuse or exploitation.
Details (required):
250 characters remaining
Was this reply helpful?
Sorry this didn't help.
Great! Thanks for your feedback.
How satisfied are you with this reply?
Thanks for your feedback, it helps us improve the site.
How satisfied are you with this reply?
Thanks for your feedback.
Sours: https://answers.microsoft.com/en-us/windows/forum/all/windows-10-in-bootcamp-bootcamp-graphics-driver/a7ad9527-7345-471a-9211-a64cb61d7dd7
Graphics drivers bootcamp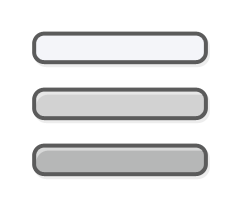 what games can i comfortably run on a macbook pro with bootcamp?
Ok, so, i have a 2013 Macbook pro, 2.6 GHz intel core i5, 8GB 1600 MHz DDR3, and the intel iris 1024 MB graphics card. If i were to use bootcamp and run windows 7, what games could i comfortably play on it. How much storage should i dedicate to windows aswell?

Thanks :)

Segnala questo messaggio
Nota: deve essere usato SOLAMENTE per segnalare spam, pubblicità o messaggi problematici (molestie, violenza o volgarità).
Sours: https://steamcommunity.com/discussions/forum/2/648814845688428258/?l=italian
DON'T install; GLITCH, effecting all MACs with Bootcamp Drivers
I have an Early 2011 MacBook Pro with a Radeon HD 6750m GPU, it's the last 17 inch laptop Apple produced & has handled anything I've thrown at it. For instance during development for Orcs Must Die! 2 I was running heavy sound design sessions in Ableton Live on OSX, with FMOD Designer and the developer builds of OMD2 under a Parallels VM. It all ran without a hitch and was simply amazing that I could do all that work simultaneously in a single portable DAW / GameDev machine. However, I often boot straight into BootCamp to play & develop games in a native Windows environment which brings me to the Achilles' heel of this machine… the old BootCamp GPU drivers that rarely receive updates from AMD or Apple.
In this tutorial I'll show you how to hack support for your Apple flavored AMD GPU into the latest AMD GPU drivers, which at the time of this publication are Crimson Edition 16.1.1 Beta.
Note: I highly recommend you first read the Crimson Edition 16.1.1 Beta Release Notes to verify support for your GPU is included, but it appears to support the AMD Radeon™ HD 5000M & up! Also be advised that attempting any of the following hacks is at your own risk, now let's get on with it.
1. Download drivers
Download the Crimson Edition 16.1.1 Beta drivers and run the installer. The installation will fail with a message that your hardware is not supported, but it will extract the full installation package to:
Note: All file paths in the next steps will be relative to that folder.
2. Edit InstallManager.cfg
Edit the file "Config\InstallManager.cfg" and add this line to the end of the file:
This change disables the "unsupported hardware" alert and allows the driver installer to proceed.
3. Find your GPU HardwareID
Right-click the Windows Start Menu icon, click "Device Manager" and navigate to:
Device Manager > Display adapters > Right-click on your GPU > Properties > Details Tab > Property > Hardware Ids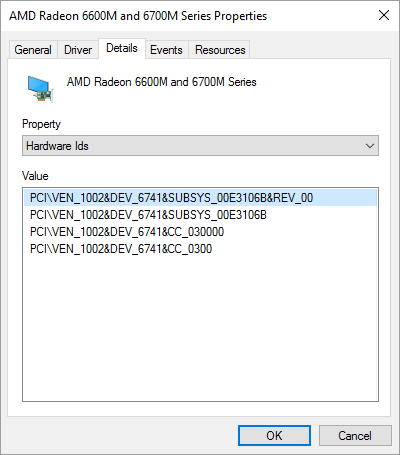 Right-click the top Value to copy it, and paste it in a text editor to save for later. For example the HardwareID of my Apple flavored Radeon HD 6750m is:
4. Edit INF files
The INF files contain all the information needed to install drivers for your GPU, we will edit them to add support for our Apple/AMD HardwareID.
Navigate to "Packages\Drivers\Display\WT6A_INF" where you will find 3 INF files:
Open each of these INF files and search for a HardwareID similar to yours, and replace it. For example I replaced this line:
with this: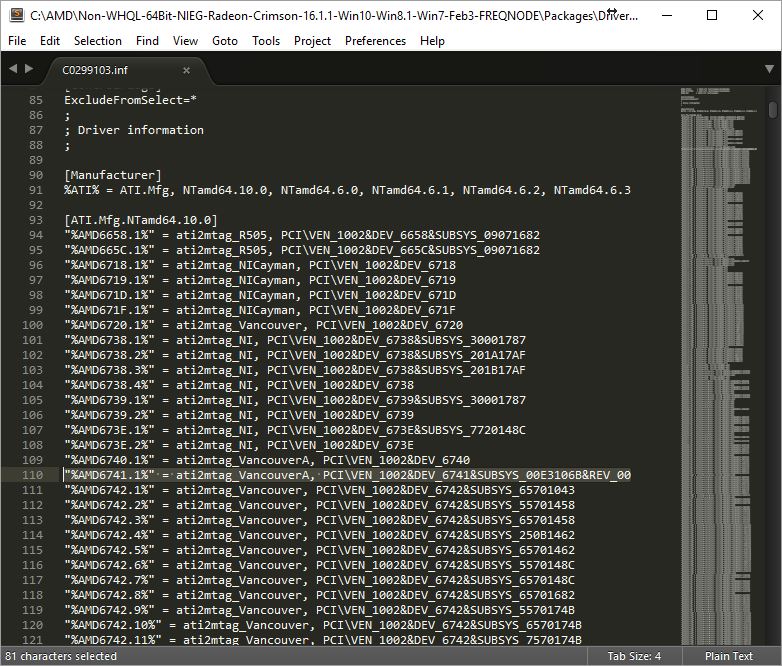 If that all went smoothly you can go to step 5, otherwise read on…
Note: If you can't find a similar HardwareID to replace, try to find your GPU model listed under the section titled "Localizable Strings" in the INF's. For instance the matching string for my GPU is:
Then take the first value "AMD6741.1" and search for it above where we replaced the HardwareID, and insert yours there.
If you still can't find a match the driver you downloaded may not support your card at all, but there is one last thing you can try at your own risk if you are confident that your GPU should be supported. Download the latest Apple or AMD BootCamp GPU driver for your machine, inspect the INF files to find your HardwareID, then copy that & the matching "Localizable String" into the driver INF files as new entries. I don't really recommend doing that but I'm mentioning it for one reason. In the January 30th release of the Crimson Edition 16.1.1 Beta drivers the 6750m was included in the Release Notes as a supported GPU, however it was completely omitted from the INF files and I was able to manually add support with the methods described here. A few days later a February 3rd release of the beta driver was published with the 6750m included, confirming my suspicion that it may have been accidentally omitted in the previous release.
5. Build new CAT files from your modified INF's
The CAT files contain hashes of INF files and are digitally signed to verify the integrity of the drivers. We need to regenerate the CAT files to reflect the changes we made to the INF's. This step requires a program called Inf2Cat.exe from the Windows Driver Kit (WDK) 10, so download and install WDK 10 if you don't already have it. Now you can generate new CAT files with the following commands: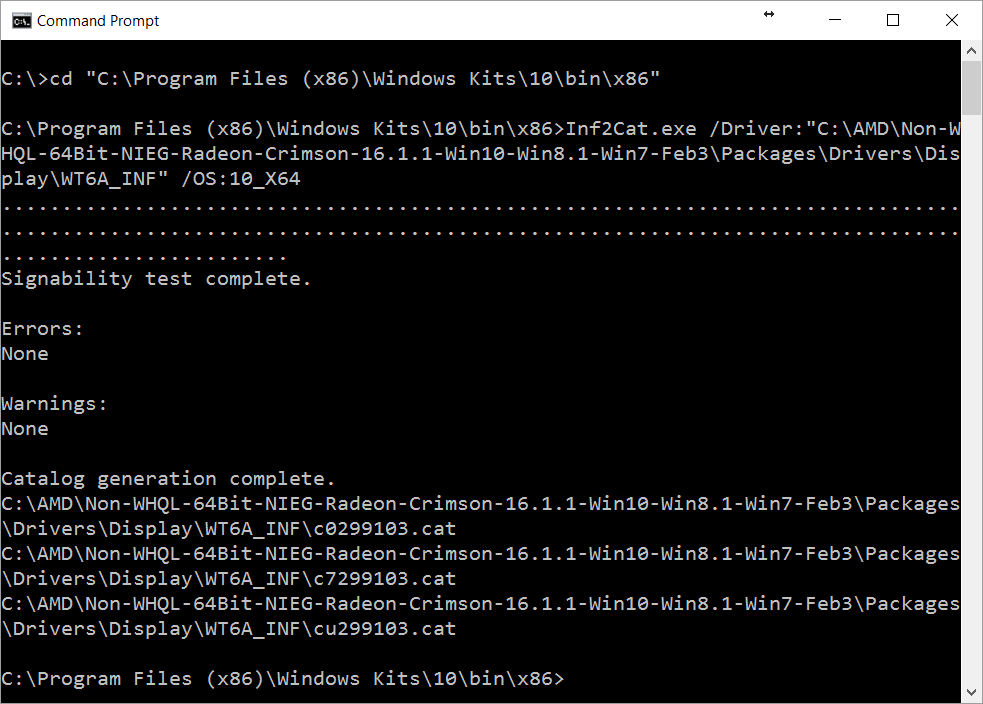 6. Digitally sign the CAT files
Now we will generate our own digital signature certificate and sign the CAT files in order to comply with Windows 10 driver signature enforcement policy. This tells Windows that our modified driver comes from a trusted source, which in this case is you. The first step is to create your own certificate with the MakeCert tool from the Windows SDK, which you should download and install now. The SDK installer contains many tools but you only need the Windows App Certification Kit to get the MakeCert tool.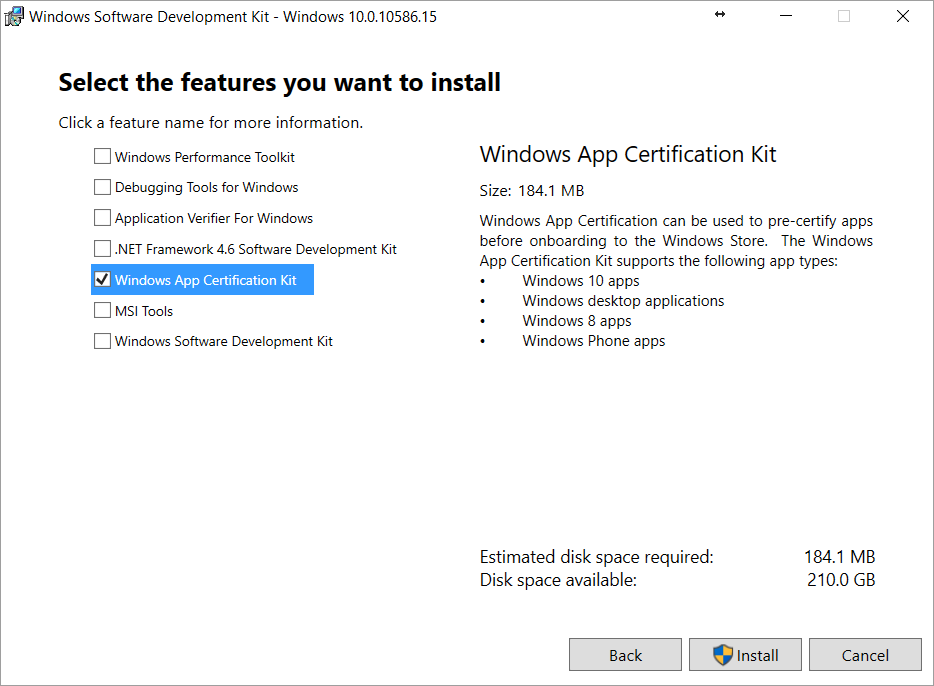 To use MakeCert you must open a Command Prompt with the "Run as administrator" option. Right-click the Windows start menu icon, choose "Command Prompt (Admin)"  then run the following:

The above MakeCert command creates a cert named "FreqNode" written to a file named "FreqNode.cer" and copies it into your PrivateCertStore, you can name yours whatever you like. Then we run the CertMgr tool to install your new certificate in the Trusted Root Certification Authorities certificate store of your system. You can verify it was installed by opening Certificate Manager… click the Windows Start button, type certmgr.msc into the Search box, and press enter.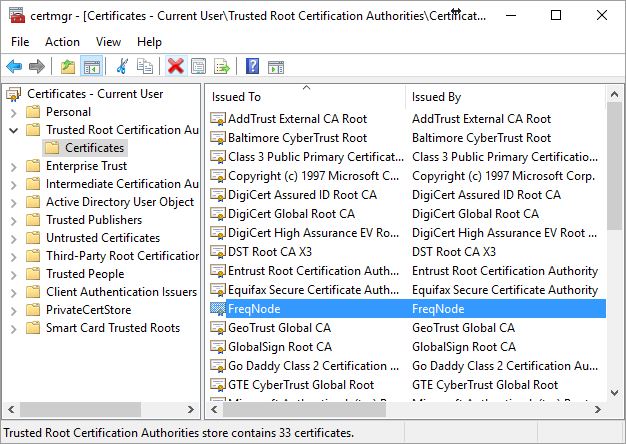 Next we will sign the CAT files with your new cert: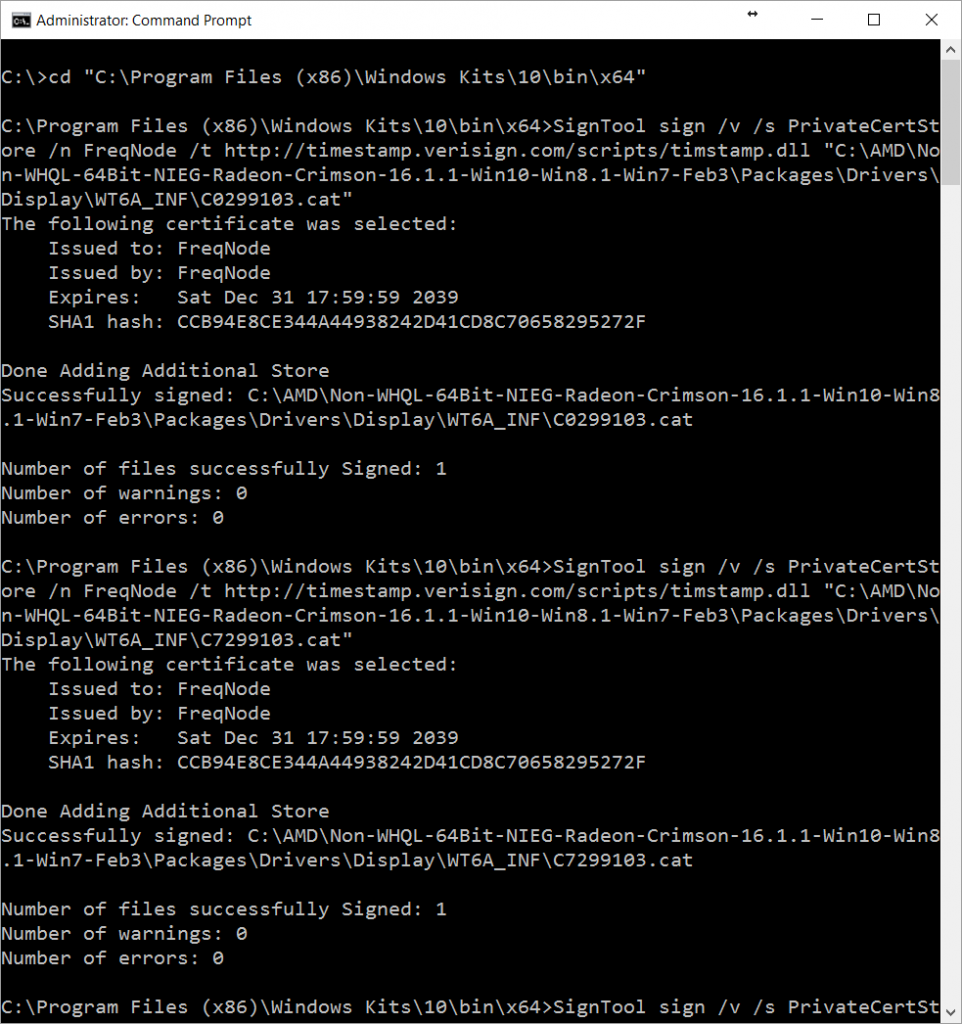 Great job, we're almost ready to install our custom drivers but Windows 10 still won't allow it. The test certificate we generated and signed the drivers with has not been verified by Microsoft, and it won't be without spending a significant amount of time and money to sign your drivers with a production certificate. In order to get around this, enable the TESTSIGNING Boot Configuration Option:
Reboot, then run the driver installer:
You will see a prompt like this with your cert name…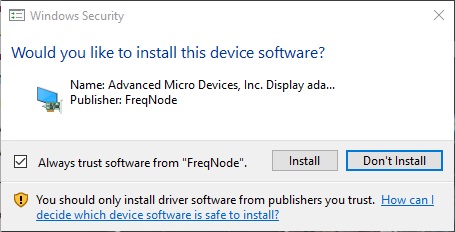 Rad, click Install to proceed then reboot and you're done!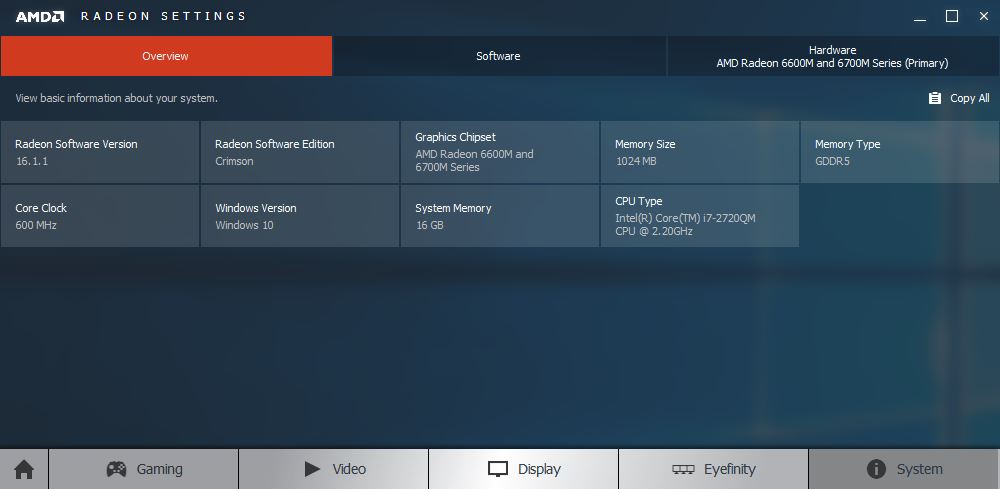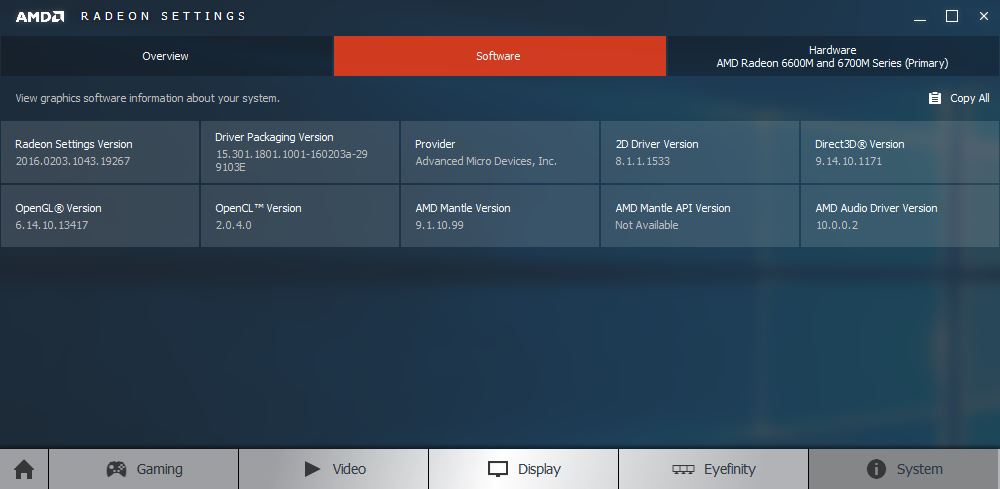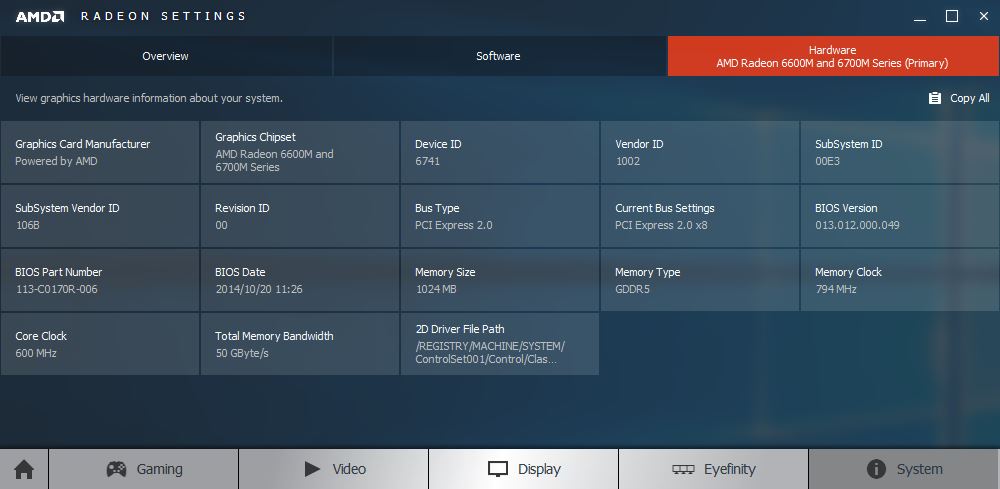 Caveats:
Since installing this driver I have noticed that my Early 2011 MacBook Pro laptop screen operates at full brightness regardless of the settings. I am working on resolving this issue and will update with any success.
Credits:
Much of the information in this tutorial was derived from Remko Weijnen's blog post on this subject, and various articles from the Microsoft Developers Network.
Sours: http://freqnode.com/hack-the-latest-amd-gpu-drivers-into-bootcamp/
Now discussing:
Boot Camp eGPU setup on a Mac can be plug-and-play for some and a total nightmare for others. The easiest Thunderbolt 3 Mac to pair with an eGPU is one that has Intel integrated graphics only such as the 13″ MacBook Pro and 2018/2020 Mac mini. Mac computers with a discrete graphics card often require more resources and Windows isn't always very compliant. Error 12 (lack of resources) or flickering/stuck Windows logo at boot are primary issues when connecting an eGPU in Boot Camp. Now that Apple officially supports external graphics cards in macOS (since 10.13.4), we've devoted more effort to set up and maintain a functional external GPU in Windows 10 via Boot Camp. In the past three years, our community has provided many different solutions [External Graphics Card build guides]. This Boot Camp eGPU setup guide is a collection of those efforts.
Graphics Switching
Let's discuss graphics switching in Windows briefly. Forum member Sky11 explained the three modes in Windows 10 (AMD XConnect, Nvidia Optimus, and Microsoft Hybrid Graphics) in this post. In order for automatic graphics switching to work, the crucial prerequisite is the Intel integrated graphics card. AMD XConnect/Nvidia Optimus provides internal display loopback acceleration through the Intel iGPU with a Radeon/GeForce eGPU. In a Mac that has an AMD discrete graphics card and no functional iGPU, you would need Windows 10 1803 or newer. Win10 1803+ provides manual graphics switching per app/game through Graphics Settings. Therefore the ideal Boot Camp eGPU environment is an Intel iGPU-only Mac.
Prior to setting up an external GPU, it's a good idea to identify the routing of the PCIe connection over Thunderbolt 3 for your host Mac computer to learn about its capabilities. For example we used HWiNFO64 to check the arrangement of PCIe controllers and lane allocation on a Late 2016 15″ MacBook Pro (same as 2017 to 2019 model). The x16 PCI Express Controller connects to the Radeon Pro dGPU (uses 8 PCIe lanes). The x8 PCI Express Controller connects to the left-side USB-C/Thunderbolt 3 ports (uses 4 PCIe lanes). The x4 PCI Express Controller connects to the right-side USB-C/Thunderbolt 3 ports (uses 4 PCIe lanes). They account for 16 total PCIe lanes directly off the CPU. Here's the list of Thunderbolt 3 Macs that can work with eGPU in Boot Camp.
Supported Macs
PCIe Speed
Thunderbolt 3 (USB-C)
32 Gbps
MacBook Pro (13-inch, T2 Chip, Mid 2020)
MacBook Air (13-inch, T2 Chip, Early 2020)
Mac mini (T2 Chip, Early 2020)
Mac Pro (T2 Chip, Late 2019) *
MacBook Pro (16-inch, T2 Chip, Late 2019) *
MacBook Air (13-inch, T2 Chip, Mid 2019)
MacBook Pro (15-inch, T2 Chip, Mid 2019) *
iMac (5K, 27-inch, Early 2019) *
iMac (4K, 21-inch, Mid 2019) *
MacBook Air (13-inch, T2 Chip, Late 2018)
Mac mini (T2 Chip, Late 2018)
MacBook Pro (15-inch, T2 Chip, Mid 2018) *
MacBook Pro (13-inch, T2 Chip, Mid 2018)
iMac Pro (5K, 27-inch, T2 Chip, Late 2017) *
iMac (Retina 5K, 27-inch, Mid 2017) *
iMac (Retina 4K, 21-inch, Mid 2017) *
iMac (21-inch, Mid 2017)
MacBook Pro (15-inch, Mid 2017) *
MacBook Pro (13-inch, Mid 2017)
MacBook Pro (15-inch, Late 2016) *
MacBook Pro (13-inch, Late 2016)

* Indicates a Mac with discrete graphics card as standard equipment
Prior to the 2020 13″ MacBook Pros which use Intel Ice Lake processors (on-die Titan Ridge Thunderbolt 3 controller) all ULV-processor Macs have no direct Thunderbolt 3 to CPU connection. All PCIe lanes are routed through the platform controller hub (PCH). Apple Thunderbolt 3 support article states that the right-side Thunderbolt 3 ports on the 2016 & 2017 13″ Touch Bar MacBook Pro have lower bandwidth than the left-side ports. This is due to the x2 PCI Express Root Port #9 – 9D18 to which these ports attach. 2018 & 2019 13″ models use Intel 8th generation quad-core U-processors that provides more PCIe lanes. Therefore the right-side Thunderbolt 3 ports on these newer 13″ MacBook Pros have full x4 PCIe bandwidth. The left-side Thunderbolt 3 ports attach to x4 PCI Express Root Port #5 – 9D14. We captured the PCIe arrangement of the Thunderbolt 3 15″ MacBook Pro (shown on the left) and Thunderbolt 3 Touch Bar 13″ MacBook Pro (shown on the right) in HWiNFO64 and labeled them for reference.
Overview of PCIe Lane Arrangement in Thunderbolt 3 MacBook Pro
The 2018/2020 Mac mini is one of the very few desktop Macs without a discrete graphics card. This is great news for eGPU users, especially in Boot Camp mode. Also more encouraging is the 65W processor and direct Thunderbolt 3 to CPU connection. In a way the Mac mini combines the most desirable elements of a powerful quad-core+ processor with iGPU-only graphics. On top of that is a pair of Thunderbolt 3 controllers to power four Thunderbolt 3 ports. Similar to the TB3 15″ MacBook Pro, the x16 PCI Express Controller is reserved for the optional 10Gb Ethernet card (uses 8 PCIe lanes), the x8 PCI Express Controller connects to the two USB-C/Thunderbolt 3 ports closest to Ethernet port (uses 4 PCIe lanes), and the x4 PCI Express Controller connects to the two USB-C/Thunderbolt 3 ports closest to the HDMI port (uses 4 PCIe lanes). One major concern with the Thunderbolt 3 Mac mini its firmware. Apple makes constant changes with each macOS system update and the Mac mini has been suffering black screen as well as boot hang issues when an eGPU is connected.
With the exception of a few base 21″ models, the iMac lineup is perhaps the most complicated for eGPU use in Windows Boot Camp. Due to desktop-only use, Apple deemed there's no need for multiple GPU configuration like the 15″ MacBook Pro. Thus they disabled the Intel iGPU in the iMac firmware (Radeon dGPU models). AMD XConnect and Nvidia Optimus are not available for these iMacs so our options are limited to either running the eGPU with an external monitor or Windows 10 1803+ (manual graphics switching) for internal display loopback. One positive news is the full bandwidth four PCIe lanes directly attached to CPU for Thunderbolt 3 connection.
AMD eGPU vs Nvidia eGPU
What's the best eGPU for Boot Camp is a question we've seen a lot. The answer is a sad joke that long-time Mac users understand all too well; get AMD graphics cards for macOS and Nvidia graphics cards for Windows. One AMD eGPU to rule it all in both operating systems is possible but you'd have to work for it. If you decide to go with the green team, stop reading any further and go hot-plug the eGPU to your Mac. More than likely it will work without much trouble. For the red team, get ready to go on an adventure called, error 12. We have learned the version of Windows 10 can make a huge difference. Currently the recommended version is Windows 10 1903 OS Build 18362.295. These are the AMD Radeon cards with native macOS eGPU support and can function in Boot Camp.
Large Memory Allocation
The name of the game is to allocate enough resources for the external graphics card to function in Windows 10 while not severely crippling other functionalities of the laptop. Other than the Late 2016 Thunderbolt 3 Macs, 2017 and newer models have "Large Memory" allocation in the firmware. Large Memory allocation helps Windows handle a PCIe component such as an external graphics card without error 12. Through many different user build guides, we have gathered not only setup procedures but also pre-compiled DSDT override files for those who need to patch the firmware of Late 2016 MacBook Pros.
Mac computers with only two Thunderbolt 3 ports would likely be able to negotiate enough resources for eGPU automagically. If error 12 arises, disabling the connection to the non-essential components such as iSight camera or Ethernet controller would usually resolve it. Macs with four Thunderbolt 3 ports are slightly harder for eGPU implementation due to an extra Thunderbolt 3 controller and two more Thunderbolt 3 ports. It's best to confirm whether the Mac firmware has "Large Memory" in Device Manager > View > Devices by resources to determine the next steps.
Only a handful of Macs can work with an eGPU via hot-plug [connect at Windows Desktop] in Windows Boot Camp. The majority of reported successes are with Nvidia graphics cards. AMD graphics cards are likely to produce error 12. We have also learnt timed hot-plug [connect at Windows logo & spinning circles] can work with both Nvidia and AMD eGPUs. The most reliable method is cold-plug [connect when Mac is OFF]. Here are the recommended steps to set up an external GPU with a Thunderbolt 3 Mac and the reasons behind them. If you're familiar with using an external graphics card in Windows 10 via Boot Camp, proceed to the summarized setup procedure.
Step 1: Install DDU & Restore Point
As of Spring 2020, the best version of Windows 10 to use with an eGPU is 1903, specifically OS Build 18362.295 (KB4512508). Microsoft improved hot-plug detection and handling of Thunderbolt 3 devices in this version. Mac computers greatly benefit from these changes in Win10 1903. With the exception of a few models such as 2017 13″ MacBook Pro (boot loop when paired with Radeon eGPU), most Macs work well with this latest Windows version. If you experience issues, go with Win10 1809. Also keep in mind Security Updates may break eGPU compatibility. Windows 10 1903 [OS Build 18362.329 and 18362.359] for example causes most Macs to experience error 12 with an AMD eGPU. It's best to disable automatic updates once you get a working configuration.
There are setup guides to install Windows on an external hard drive so that the internal PCIe flash storage can be preserved solely for macOS partition. We don't recommend having the Windows volume on an external drive because it would complicate the eGPU setup process and may cause unforeseeable maintenance issues. If your MacBook Pro has a limited amount of storage, partition the Boot Camp volume with 50GB for Windows installation and save the rest for the macOS partition. You can then install all software and games on an external hard drive.
Windows 10 can detect new graphics cards and install the drivers automatically. However the drivers are not up-to-date and sometimes interfere with setting up an external GPU. We recommend using DDU to uninstall the Radeon Pro drivers that came with Apple Boot Camp drivers (part of Boot Camp Assistant in macOS). DDU can also disable Windows automated graphics drivers installation so that you have full control of which drivers version to use. If you have a Mac with Radeon dGPU and plan on using a Radeon eGPU, the modified drivers from bootcampdrivers.com is the best approach to use both dGPU and eGPU concurrently.
Keep in mind Apple itself has not provided support for external GPU in Boot Camp. Therefore the following steps to set up an external graphics card with your MacBook Pro can possibly cause bootup issues. We highly suggest the use of the Windows System Protection feature. You can create manual Restore Points that capture snapshots of Windows in order to revert changes should you run into trouble.
Step 2: Use EFI boot loader
When booting into an operating system that is not Mac OS, the Mac firmware tends to deactivate the internal GPU if there's another GPU present. For example, the 15″ MacBook Pro boots into Boot Camp with only the Radeon Pro dGPU activated. Only having an Intel iGPU, the 13″ MacBook Pro sometimes hangs at the Windows bootup process if an eGPU is connected. Similarly the Radeon dGPU in MacBook Pro or iMac would be deactivated as well when there's a connected eGPU at boot. Obvious symptoms is a stuck Windows logo during boot that flickers or worse a black screen on dGPU Macs. If you have an external monitor connected, you may be able to see Windows Desktop on it (given proper drivers for eGPU was installed). To remedy this hurdle we rely on apple_set_os.efi to trick the Mac into believing it's booting into macOS. This boot loader file can be stored on either a USB drive or in the ESP partition of the Mac's internal drive through the use of an EFI boot manager.
We strongly recommend using Goalque's automate-eGPU EFI, a boot loader that conveniently integrates apple_set_os.efi file. He provided clear instructions on creating a USB thumb drive so that the internal drive stays intact. It's possible to create a small FAT partition on the internal drive as well if you prefer not to attached an external drive for the boot loader. rEFInd is another alternative for the need to use an external USB drive. With Apple T2 Security Chip being used in more Macs since 2018, we have seen issues with EFI boot loader. Thanks to forum member, aa15032261 who modified the apple_set_os to make it play well with Apple T2 systems. Once the iGPU is active in Windows, we want to make sure it has the latest Intel graphics drivers. If the iGPU shows up in Device Manager as "Microsoft Basic Display Adapter," you may need to install the Intel graphics drivers manually.
In the 2016 and 2017 15″ MacBook Pro, we want to attach the iGPU to the internal display so that we can use eGPU internal display acceleration and disable the dGPU if needed. This is where 0xbb's integrated.bat comes in. The purpose of 0xbb's GPU-switch script is to assign a particular GPU to the internal display at the next boot. We want to run integrated.bat in Command with Administrative privilege to execute iGPU attachment to the internal display. Upon the next and subsequent restarts, Windows will use the iGPU to power the Mac internal display. Microsoft Visual C++ 2013 may be required to run this script successfully. Users of 2018 & 2019 MacBook Pro with a Radeon Pro dGPU (both 15-in & 16-in) are encouraged to visit the build guides. This is due to Apple completely disabled the Intel iGPU in these Mac laptops. Force-activation and internal display attachment of the iGPU may cause black screen issue.
Warning: One important thing to keep in mind is that you have to re-enable PCIe Controller x16 – 1901 in Device Manager (if it's disabled) then re-attach the dGPU to the internal display by running dedicated.bat prior to booting back into macOS. Otherwise the next Windows boot will hang due to macOS force-attaching the dGPU onto the internal display. This is another reason why we recommend creating manual restore points in Windows. In the event Windows fails to boot, you can go back to a safe point without redoing the entire setup process.
Step 3: Solve error 12
The last and most challenging step is to overcome error 12 (not enough resources for eGPU). This almost always happens on a Mac with dGPU paired to an AMD Radeon eGPU. There are several methods to resolve error 12. This is also called "yellow-banged," as visually identifiable in Device Manager by the yellow triangle and black exclamation. A reasonable workaround is to disable PCIe controllers/bridges to free up enough resources so that Windows can handle hosting an external GPU. The PCIe arrangement is different for each Mac but the approach is similar. We start with the PCIe component with the least usage.
In the 13″ non-Touch Bar MacBook Pro, disabling the iSight camera PCIe bridge would likely resolve error 12. The 13″ Touch Bar is slightly different in that it has one more Thunderbolt 3 controller to handle the two additional Thunderbolt 3 ports on the right side. Some have success by disabling the PCI Express Root Port #9 – 9D18 that connects to the right Thunderbolt 3 ports and using the lower left Thunderbolt 3 port [closest to the TAB key] for eGPU.
The 15″ MacBook Pro is rather challenging to allocate resources for the external graphics card. By disabling the x16 PCIe controller – 1901 to the discrete Radeon Pro GPU, we found Windows likely has enough resources for an external GPU. From eGPU.io members' experience, Windows has a harder time with AMD cards. When we tried AMD eGPU, we needed to also disable the PCI Express x8 Controller – 1905 that connects to the left Thunderbolt 3 ports. External GPU works reliably using the right-side ports that connect to the PCI Express x4 Controller – 1909. Again 2018-2019 15″ & 16″ MacBook Pro have a completely disabled iGPU and would need to use Windows Hybrid graphics instead of AMD XConnect/Nvidia Optimus through the Intel iGPU.
Unique to the late-2016 Macbook Pros is the lack of Large memory allocation. Nando's DSDT Override via registry works well and can be integrated inside automate-eGPU EFI boot loader.
Boot Camp eGPU Setup Procedure
As the combination of of Host laptop + eGPU enclosure + Graphics Card grow exponentially larger, there's no one setup guide for all. The best and easiest approach is to check our External Graphics Card Build Table which has hundreds of Boot Camp eGPU successes. Find the build with matching components and Windows version and follow the instructions in the build guide would be a good start. For example, here are all the steps from start to finish to get an external graphics card running on a 2017 13″ MacBook Pro. Do not connect the external GPU to the Mac laptop until instructed to do so. Download the linked resources at each step.
Step 1:Windows 10 ISO and DDU
Step 2:automate-eGPU EFI or modified apple_set_os v0.5

Step 3:AMD/BCD Radeon drivers or Nvidia GeForce drivers
Windows Booting Procedure
We've tested different combinations of the R9 Fury/X, RX 480, RX 580, GTX 980 Ti, GTX 1070, and GTX 1080 with the AKiTiO Node, Gigabyte AORUS Gaming Box, Mantiz Venus, Razer Core, and Sonnet Breakaway Box on a Late 2016 15″ MacBook Pro, a Mid 2017 13″ non-Touch Bar MacBook Pro, and a Mid 2017 13″ Touch Bar MacBook Pro. External GPU works well and reliably once these steps are completed successfully. A normal boot procedure is as follows:
Connect the external GPU to designated Thunderbolt 3 port and power MacBook Pro on
Cold boot shows rEFInd boot menu (hold OPTION at boot if apple_set_os.efi is on USB drive)
Press ENTER on apple_set_os.efi boot item – MacBook Pro's display flashes briefly to confirm selection
Press ARROW key to Windows 10 volume then press ENTER to boot
Windows loads to Desktop and AMD XConnect/Nvidia Optimus icon shows up to confirm eGPU activation
There are reports of hot-plug possibilities. However, we've found it's not reliable and can crash Windows. Furthermore it may cause corruption in the bootup process. We've made a habit of always creating a manual restore point following a change. You never know when Windows will decide it can't boot into the Desktop anymore. Having these restore points labeled for each step allows you to go back to a particular stage should something happen.
Closing Thoughts
Apple can facilitate external GPU support in Boot Camp by optimizing its firmware. We're uncertain how many engineers are working on external graphics support for High Sierra. Boot Camp eGPU is likely low on the list of priorities, if on the list at all. We've opened a thread to petition for support of eGPU in Boot Camp. Please voice your opinions so that Apple will hopefully focus more attention on Boot Camp Mac users.
We're all learners as we venture into the territory of eGPU Boot Camp environment. If you know of a better procedure to setup and use external GPU in Boot Camp with a Mac, please share your experience with the community.
Update
Apple has made some firmware improvements in 2017 and newer Macs. Windows 10 now shows "Large Memory" under Device Manager » View » Resources by connection. This means some 2017+ Macs may be able to use Nvidia eGPU without encountering error 12, no workaround needed. AMD eGPU typically requires more resources and error 12 is still an obstacle. Recent versions of Windows 10 (18362.365 and newer) produce error 12 on many Macs. The only remedy is to downgrade Windows 10 to an earlier version without this issue.
This article is also published as a forum topic here »
Sours: https://egpu.io/boot-camp-egpu-setup-guide/
517
518
519
520
521