SUMMIT TRAMPOLINE PACKAGES
+ FREE DELIVERY
Order by noon and we will have it dispatched by 3pm that day (Mon to Fri) and in most cases if you are in Melbourne, Sydney or Adelaide it will be there the next day.
+ ANCHOR KIT
Anchor kits as you don't want your trampoline to go visiting your neighbours yard.
+ LADDER
Because that would be like buying a bike with no handlebars.
+ FULL OF BOUNCE
Childrens safety tip book.
*Savings based on RRP of products and the average delivery cost of a 10x15FT Summit Trampoline.
Traditionally domestic above ground rectangle trampolines suffer from poor all over bounce due to their inefficient spring setup.
After years of research and development Oz Trampolines discovered that by moving the springs closer to the centre of the mat and ensuring they are evenly spaced, this created a higher and more constant bouncing rectanglular trampoline.
THE ONLY TRAMPOLINE DESIGNED AND BUILT
FOR THE HARSH AUSTRALIAN CLIMATE.
Not all trampolines are built the same and unlike other companies who sell into larger markets such as the USA. At Oz Trampolines we are purely focused on the Australian market and have built our trampolines to ensure they last in the harsh Oz Climate.
Memories in the making since 2007…
Oz Trampolines was started in 2007 out of frustration with not being able to find a trampoline that would last in our harsh Australian climate.
We knew there was a better way to design more durable trampolines, and we are proud to have helped over 180,000 Australian children create lasting memories with their Oz Trampolines.
Shane Helm - OZ Trampolines Owner/Director
EXCEEDING THE AUSTRALIAN STANDARDS
As our range of Summit Trampolines are our own branded and designed trampolines we have control over every aspect of the trampoline and can then ensure they not only meet but exceed the current Australian Standard AS 4989:2015.
We believe that a trampoline needs to be safe, not only on day one but in many years time and have designed our Summit Trampolines for Australian Conditions.
Please Note: This standard is voluntary and not all other brands of trampolines may meet this standard.

EXTRA STRONG NETTING
Unlike other companies who only have top and bottom connection points we know that kids will be kids and slam into the net. We ensure it will last by triple stitching the net from top to bottom onto our heavily padded pole sleeves.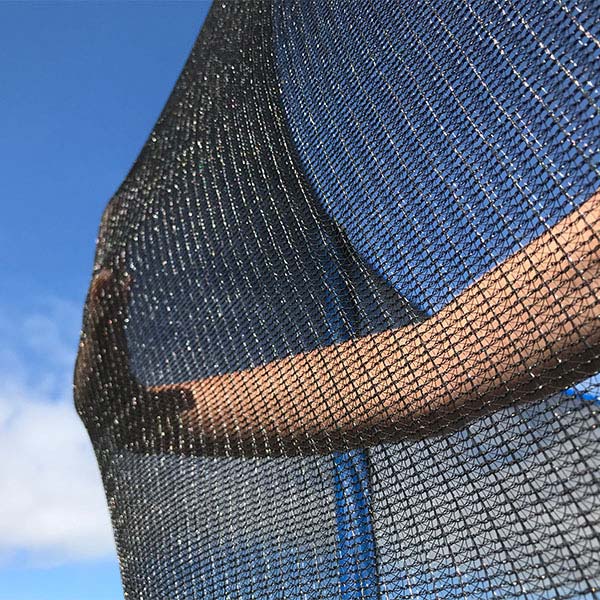 SOFT ON YOUR SKIN
UV treated netting that is soft on your skin but lasts out in the sun.
TUNNEL ENTRANCE
Overlapping tunnel entrance as zips do not last outdoors in the Australian climate.
ROBUST TOP RING
A top ring to stop the net sagging and to keep your trampoline looking like it is still brand new, even years later.
THICK ENOUGH TO STOP ANY FALL
Our Pads are like a gymnastics mat as we use 550gsm PVC top and bottom.
Did you know some companies cut costs with a lower grade material on the underside?
THE ONLY NOISE YOU'LL HEAR IS YOUR KIDS LAUGHTER
Adjustable and replaceable elastic bungee cords to ensure no pad slap. With added drainage holes to let the water escape.
Did you know that pads aren't waterproof and it is important to ensure the water can drain out?
You need the right material that is woven tightly in a 4:3 ratio that helps with bounce recoil. We then place an additional layer around the outside that creates a barrier between the pad and the springs and to stop any contact with the springs when on the trampoline.

Why aren't Olympic trampolines springless?
Because you get a better bounce from springs.
We start with a thick steel gauge with a wider diameter than most that when coiled and tensioned will recoil for the great bounce you are looking for.  Coated to prevent rust these springs will have your children (or yourself) bouncing high for years to come. 
And if you want an even better bounce we have available a higher quality European made spring upgrade.
It all starts with a strong frame.
We use the highest quality steel frame joined together with super strong metal T-Pieces (as welds fatigue and are a weak point) to create our trampolines. The steel is galvanized with our custom hot double dip treatment to prevent rusting.  Joined together with bolts to ensure you have a super strong frame that will support a true 200kg weight capacity and last for many years.
A Warranty we stand behind.
We have built a product to last in the harsh Australian climate but if you have any issue we have an easy claim warranty service and all products come with our 90 Day Peace of Mind Guarantee.
Did you know that some companies require you to pay to send the part back to them when assessing the warranty?
Our advice is to read the fine print on warranties as it might seem like a long warranty but what is it really covering.
Order by noon and we will have it dispatched by 3pm that same day (Monday to Friday) and in most cases if you are in Melbourne, Sydney or Adelaide it will be there the next day.
We are Australia's most reviewed trampoline company with over 600 5 star reviews.
Here is just a small sample of why people choose Oz Trampolines.
To install the trampoline will take you approximately 2 hours or you can contact one of our experienced installers who can advise you of a price.
Who can install the Summit trampoline for me?
GEELONG
Craig
Ph: 0418 384 258
MELBOURNE
Bryce
Ph: 0435 370 788
BRISBANE & GOLD COAST
Gary & Sue Wilson
Ph: 0413 859 562
Other Areas
Leisuretek
Ph: 02 9836 2600
Sours: https://www.oztrampolines.com.au/trampolines-above-ground-summit-oval.asp
Super Tramp XR360 Trampoline
Product Description
Super Tramp XR360 Rectangular Trampoline with Enclosure  and Ladder
Rectangular Trampolines are designed for performance and the XR360  is no different. Children will enjoy the bounce which is powered by our high performance 8.5″ springs and will stay bouncing safely inside the included deluxe safety enclosure.
The XR360 is our largest rectangular trampoline which comes with a safety enclosure. This trampoline has been designed to look good in any garden, being realistic we understand that garden trampolines are not best looking no matter where you find them, so we at Super Tramp have researched the problem and with guidance from a notable garden designer found the solution, "Garden Green" frame pads that simply blend into almost all garden backdrops. The  XR360 uses our high performance 8.5" springs which provide plenty of performance and play potential.
Frame Wall Thickness: 2.2mm
Bed Material: Polymesh
Frame Tube Diameter: 50.8mm
Pad Colour: Garden Green
Number Of Springs: 88
Number Of Legs: 4
Length of springs: 8.5″ (216mm)
Width: 8ft (240cm)
Length: 12ft (360cm)
Trampoline Height: 3ft (92cm)
Number Of Enclosure Poles: 8
Enclosure Pole Diameter: 38mm
Pole Covering: Black Neoprene Foam
Enclosure Net Attachments: Elasticated Bungys with Hook
Enclosure Entrance: L shape Zip and Clip
Total Height: 270cm (8′ 10″)
Maximum User Weight: 120 KG (19st)
Guarantee: Silver Level
Delivery
Delivery to mainland England and Wales
Orders over £750:
Free
Orders over £10:
£9.95
Orders under £10:
£3.30
Delivery to Scotland and Northern Ireland
Deliveries to Northern Ireland and some areas of Scotland will incur a courier surcharge. Please contact us with your postcode for a delivery price.
Deliveries outside mainland UK and express delivery options
For deliveries outside of mainland UK and details of our express delivery services please contact us for a quote.
Sours: https://toy-barn.co.uk/product/trampolines/rectangular-trampolines/super-tramp-xr360-trampoline/
At first, it seems like the round and rectangular trampoline must be exactly the same. Well, that's not the case. In this article, we will break down the key differences, and cover the best rectangle trampolines available.
Our Top 8 – Best Rectangular Trampoline Reviews
Skywalker Rectangle Trampoline 15-Foot Jump N' Dunk
Skywalker rectangle trampoline was our winner for top overall backyard trampoline. The Skywalker is our top choice for a lot of the same reasons as its round counterpart. You will be able to show off your great moves and wow everyone with your best rated rectangle trampoline.
Pros:
Best "bounce" for your buck
Great for recreation and gymnastic use
Comes with a safety enclosure net
Galvanized steel frame
UV protected jumping pad
Cons:
Some users say the instructions are confusing
Try to open all the boxes and get everything organized into groups before building
Final Thoughts:
If there's something that you don't like about a Skywalker rectangle trampoline, or you still have any hesitation, please reach out or leave a comment below.
This trampoline is voted the best rectangle trampoline! This is great for all users, but it is especially great for a gymnast. Gymnasts practice on this same type of trampolines every day. What a perfect gift to give them their own trampoline to practice at home.
>> Check it out <<
Happy Trampoline – Galactic Xtreme Gymnastic Rectangle Trampoline with Net Enclosure
Are you ready for more than half the jumping surface than a regular rectangle trampoline? This trampoline offers the biggest size rectangle trampoline we have ever seen. Coming in at 13 by 23 feet and 750 pounds of weight capacity, you are going to get a huge trampoline.
The perimeter of the trampoline contains 172 springs, which with the more springs a trampoline has, the bouncier the trampoline is. This trampoline is very bouncy and offers a huge jumping area.
You will also get an extra-wide spring pad that will protect and cover the springs and also protect you from stepping on them. The trampoline also comes with a safety net enclosure and a ladder to help you get in and out.
They also offer six other sizing options for you, so if you don't want the biggest size, you can measure the space in your yard and choose a smaller one of their rectangle trampolines.
Pros:
Seven sizes to choose from total
Large 750 pounds weight limit
Strong galvanized steel frame poles.
2 times larger jumping mat surface than a regular trampoline
172 springs connected to the mat for a strong bounce
Cons:
Very expensive price point
Final Thoughts:
This is one of the more expensive options to go with when picking out a rectangle trampoline. This would be perfect for someone who has a lot of kids and a lot of extra outdoor space to utilize. The biggest size is 13 feet by 23 feet, so that is incredibly big. If you don't have enough room, then I suggest picking out a different trampoline.
If you or a child you have is invested in gymnastics, then this would be a good option for you because it will allow you to practice moves you are learning at home on your very own trampoline.
>> Check it out <<
JumpKing 10 x 14 Foot Rectangular Trampoline with Safety Net Siding
Time for endless hours of fun with the JumpKing trampoline. This trampolines net is made from polyethylene material which is a super strong netting that shouldn't tear easily at all.
This trampoline doesn't come with that many features. Other brands come with a lot more stuff for the same price.
Pros:
Super great bounce.
Steel poles for safety.
Perfect for a gymnast.
Has great safety features.
Cons:
Instructions are hard to read.
Doesn't come with a ladder.
Final Thoughts:
If you're looking for something at a cheaper price point, then get this trampoline. I don't really like the fact that it doesn't come with a ladder. It comes with the standard safety features that you will want in your trampoline.
>> Check it out <<
Mega Outdoor Trampoline with Fiber Flex Enclosure System
This heavy-duty trampoline made by Outdoor Heights could be the next trampoline option for you and your family. This trampoline has a strong galvanized steel frame that will not rust and comes coated in a thin powder to keep the durability of the product up.
This trampoline features a 500-pound weight limit. The trampoline offers plenty of space and capacity for multiple people to be playing on it together. The strong galvanized steel springs stretched the mat to be extra bouncy.
The trampoline is easy to put together. It will only take a few hours and will go even faster if you have someone to help you. You can choose from three different sizing options to give yourself the best rectangle trampoline for your size yard.
You can also customize the colors from three different choices. Blue on black, green on black, and blue on yellow are the cool, vibrant colors you can choose from.
Pros:
The frame is made from rust-resistant galvanized steel
It comes with a foam safety pad which will protect you from the springs when jumping
The safety net is 106 Inches when standing up.
500-pound weight limit
You can choose from three different sizes of rectangle trampolines
There are three color options to choose from green/black, blue/yellow, or blue/black
Cons:
It doesn't come with a ladder to help your children get in and out of the trampoline. You can also purchase separate accessories for trampolines.
Final Thoughts:
If you are looking for a very affordable big rectangle trampoline, then this is the option for you. You can fit up to 500 pounds on this trampoline, which can be around three to four children or two children and an adult. Customize this trampoline to your space by choosing between the three sizing options to choose from.
>> Check it out <<
AlleyOOP 10'x17′ PowerBounce Rectangular Trampoline
This rectangle trampoline with enclosure is another favorite among many people! This trampoline provides a great bounce that will send you flying up in the air! It has a huge weight limit of 650 pounds so the whole family can join in on the fun.
Pros:
High Weight limit.
All ages can play on this trampoline.
Gymnasts can practice routines on this trampoline.
Quality parts and materials.
Great for recreational and gymnasts
Cons:
Price point is higher than some other brands.
Final Thoughts:
When you purchase this trampoline, you are getting the highest quality materials with your trampoline. You're getting a trampoline that will last you and your family years with a great amount of fun!
>> Check it out <<
Upper Bounce Easy Assemble "Spacious" Rectangular Trampoline
The upper bounce rectangle trampoline is special because it can hold 500 pounds of weight! If you have little children, then so many of them can jump on the trampoline at once! This trampoline comes with all the safety features you need to keep whoever is bouncing on it safely!
Pros:
Great for smaller backyards
Durable
Cons:
Setup instructions are confusing
Some users claim it has design defects
Final Thoughts:
This brand of trampoline is durable and safe so you won't have to worry while your children are playing. This is a good investment to last your family years of fun!
As you can see, the results are a mixed bag. Some owners absolutely love the Upper Bounce rectangle trampoline for their backyard.
>> Check it out <<
JumpSport 10′ x 17′ StagedBounce Trampoline with Safety Enclosure
The Jumpsport is really awesome because they have their own patented technology on their springs. This means they have designed their springs like nobody else to get you the great bounce possible.
Another great thing is that this trampoline is deigned to lower joint and back pain in the knees and feet. This is super important for the adults who want to jump. It feels like you aren't even using your feet to jump the material is so light on the feet.
Pros:
High quality, thick safety matt.
Fun for the whole family.
Ladder included.
Perfect for gymnast or cheerleaders.
Cons:
Assembly can get confusing.
Wears over the years.
Final Thoughts:
If you were getting this trampoline for a toddler or a young kid, then I would suggest a cheaper model for you, but if you have a bigger family with a lot of children, this is the best buy for you. It can hold a lot of people, and it will get your bigger kid's energy out.
>> Check it out <<
Summit 14′ Rectangle Trampoline with Safety Enclosure
The Summit 14′ rectangular model isn't as popular as the Skywalker, but that doesn't take anything from this "hidden gem." While Skywalker might be more of a household name, the people that own a Summit trampoline absolutely rave about it.
What's awesome about this trampoline is that if your child is a gymnast, then they can price moves and tricks without having to worry. Round trampolines don't allow them to do tricks because there is no length, but with this rectangle trampoline, you can practice tricks all day long.
Pros:
Amazing "bounce"
High-quality build
Built to last
Easy to setup
Perfect for tricks.
Cons:
Comes in two heavy boxes. (Try to organize everything together before setting up)
Final Thoughts:
If your kids are interested in gymnastics, or you think they will become interested, then we recommend the Summit. The Summit brand builds their trampolines with gymnasts in mind. Allowing them to practice anything they are learning!
>> Check it out <<
Round Vs Rectangle Trampoline
The round models naturally make the jumper return to the center. While injuries are always possible, this fact makes the round models slightly safer. Because the rectangle trampoline has springs that don't work in unison, the jumper is free to jump and land where they choose.
As you can see, this is valuable for the jumper that is interested in gymnastics. A round model will alter their jump unfavorably manipulate their routines. For this reason, the rectangular model poses a slightly higher chance of injury for recreational users.
Note: you will become accustomed to the bounce of your rectangular model early on, and the risk of injury will diminish quickly.
Another key factor with the rectangle models is the limited supply. Obviously, the round trampoline is clearly the most popular style of the market (check out our top picks).
In addition, the rectangular market doesn't focus its energy on safety enclosure nets. While the big brands do offer them, it's going to be more challenging for some prospective buyers. The main reason the safety net is excluded is that a lot of prospective rectangle buyers want it for gymnastic purposes.

What to Look for in a Rectangle Trampoline
When you are shopping for anything, it is always best to look at a buying guide to give you a glimpse at what to expect from a rectangle trampoline. This will also tell you about features that are in some trampolines, and you can decide if you want that in yours or not.
Weight Limit
The weight limit is an important factor with any size or shape trampoline. It is important to follow the wight limit guidelines set by the company of the trampoline. To much weight can make it unsafe and buckle your trampoline.
In my personal opinion, the best trampolines are the ones that have the highest weight limits possible to accommodate your entire family. For example, the highest weight limit rectangle trampoline we have reviewed is the Acon, which has an 800-pound weight limit.
If you just have one child that may invite a friend or two to play, you can go for a smaller weight limit trampoline. If you have a lot of kids, maybe four or five, then you will want to go with the higher weight limit options because than all your children can play together without making it unsafe.
Safety Features
Safety, as I am sure you are aware, is another important factor when decided which trampoline to buy. You want whatever trampoline you purchase to come with all the necessary safety features to keep your children safe.
You will want an enclosure net. The enclosure net stops your children from flying off the trampoline. If they miss a step or fall into the net, it will cushion their fall and protect them. If there wasn't a net, they could potentially fall off and get hurt or worse break a bone.
They also make spring mats that cover the springs of the trampoline. This is important for a lot of reasons. The first is that it protects the springs from being open to elements. Water can rust even the best steel after long periods of time. The mats on the springs will protect them from water, weather, and even the sun.
The second way the spring mat is important is that it will protect your children from stepping on the springs. Do you remember the old school trampolines with no spring mats? Then, of course, you remember the pain of stepping on one of the springs and it hurting for days!
Bounce
When jumping on a rectangle trampoline, you may notice that when you jump, you go a lot higher than on a traditional round trampoline. This is because of the springs; the springs in a rectangle trampoline all work at the same time, which makes them bounce for the same on every section of a rectangle mat. When on a round one, the springs are stressed and only bounce you in that one area.
Overall, the bounce on a rectangle trampoline is much greater than a round trampoline.
Price
Price is a factor determined by everything. Rectangle trampolines are traditionally more expensive than round trampoline because they are bigger. We have reviewed above both more economical options and more expensive options. You will not the more expensive priced ones are the biggest ones. You will also have to factor in the quality too for the cost.

FAQ
Below you will find an answer to common questions about rectangle trampolines.
Are Circle or Rectangle Trampolines Better?
The answer to this question really depends on personal preference. Both options are great, depending on the qualities you are looking for. A rectangle trampoline is going to offer you higher weight limits, more jumping room, bigger trampoline, and better bounces compared to a round trampoline.
Round trampolines don't take up as much space, they are less expensive, and some come with a lot of cool accessories to add to your trampoline fun.
You need to decide how many family members will be jumping on the trampoline? How much space do you want to take up in your yard? How much money do you want to spend? Lastly, are you using this trampoline for pleasure or practice in a sport like gymnastics? Once you answer all of these questions, you will then know if you should buy a round trampoline or a rectangle trampoline.
What is the Best Rectangular Trampoline?
In my personal opinion, there are two rectangle trampolines tied for first place; they are the Skywalker Rectangle Trampoline and the Acon Rectangle Trampoline. Both trampolines offer the best features, weight limit, and bounce of all the other companies. Both companies have a great reputation that upholds their standards. You can check out specifics about each product above in my review.
How Much Weight do Trampolines Hold?
This will all depend on the trampoline you are buying. Each manufacturer has their own weight limit guideline to follow. The highest weight limit rectangle trampoline we have reviewed is the Acon rectangle trampoline; it has a weight limit of 800 pounds.
Other trampolines hold around 500 pounds, which is still very good compared to the 200-300 weight limit range that some have.
Why are Rectangle Trampolines More Expensive?
Rectangle trampolines are more expensive because they are bigger. They are made bigger, and they have more jumping square footage than a traditional round trampoline.
They typically hold a higher weight limit than round trampolines. This means they are using more expensive poles and frames to hold that much weight up.
Conclusion
Whatever trampoline you are looking for, here at Trampoline Guru's, we know all there is about trampolines, and we are glad to help in any way you may need. This article was all about the best rectangle trampolines on the market. If rectangle trampolines aren't for you, check out our best round trampolines.
If you have any questions about rectangle trampolines, just ask! We can help with any information you need! Happy hunting through our list of the best rectangle trampolines!
Sours: https://www.trampolinegurus.com/best-rectangular-trampoline/
AlleyOOP 10x17 Rectangle Trampoline- Assembly Part 2: Mat, Springs, \u0026 Frame Pad
Rectangle Trampoline – 5 Best Rectangular Trampolines
0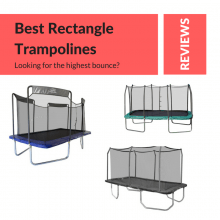 Are you considering buying a rectangle trampoline?
We will help you determine if they are the right fit for your jumping needs. Check out our recommendations for the best rectangle trampolines available today!​
​Round vs. Rectangle Trampolines
There are a few key differences between round trampolines and rectangle shaped trampolines.
First is obviously the shape: one is round and one is rectangular.
The second difference is how the bounce is influenced.
Round shaped trampolines have springs evenly surrounding the jumping mat, causing the jumper to gravitate towards the center of the trampoline. Round trampolines are ideal for a single jumper at a time due to this inward force.
The overall jumping power and bounce of a rectangle trampoline is superior to any round trampoline on the market. This is why professional gymnasts and the Olympics only use rectangular shaped trampolines in competition. If you are looking for the highest bouncing trampolines or want to have enough air to do tricks, rectangle is the way to go!
Rectangle trampolines have uneven tension on the springs due to the shape, which allows the jumper to have more control over their direction. Another key point, rectangular trampolines do not force the jumpers to the center, allowing multiple jumpers to participate with less risk of colliding in the center of the mat.
Top 5 Rectangular Trampolines
​These rectangle trampoline reviews are our handpicked recommendations. If you are looking for superior bouncing capabilities for endless air and tricks, these trampolines will send you sky high!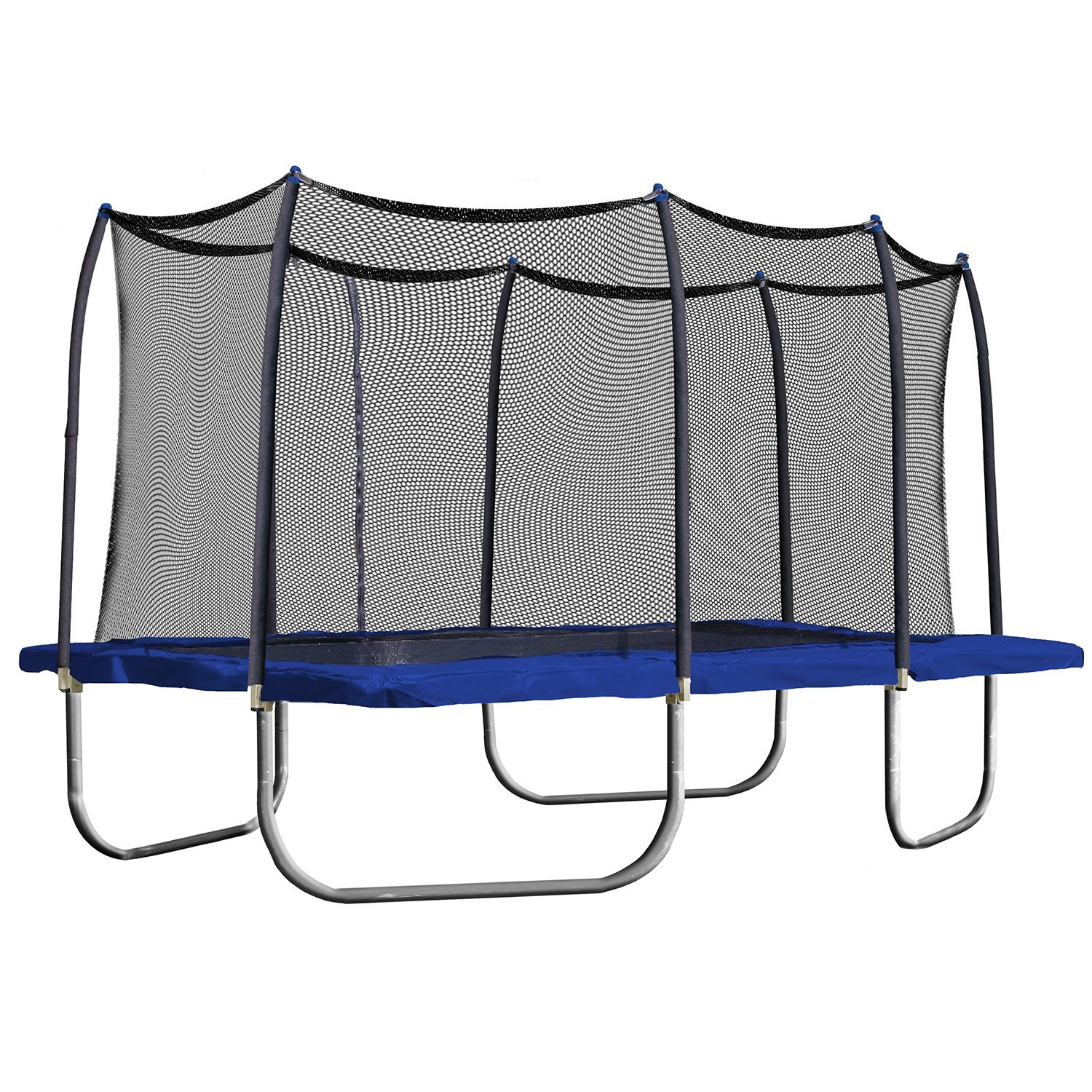 Weight Capacity: 250 lbs
Shape: Rectangle
Jumping Surface Area: 106 Sq. Ft.
Features: Safety Enclosure
Read Reviews & Check Price
First up is Skywalker's 15 Foot Rectangle Trampoline with Enclosure. This trampoline measures 15' X 9' (frame dimensions). The rectangle shape provides a better bounce than round trampolines, allowing the jumper to get higher and perform tricks. The frame is made of galvanized steel with reinforced T-sockets at the joints to improve strength and durability. The T-sockets also prevent the frame from twisting and other structural damage.
An enclosure is included with this product to add some safety to the trampoline. The enclosure net attaches to the jumping mat using a button hole design at each V-ring. The netting is made from a high quality polyethylene material that is UV resistant. The spring pad is also made of a UV resistant material and is one inch thick to prevent injury from the springs. The spring pad is attached using a system of reinforced stretch bands to securely fasten the spring mat to the trampoline.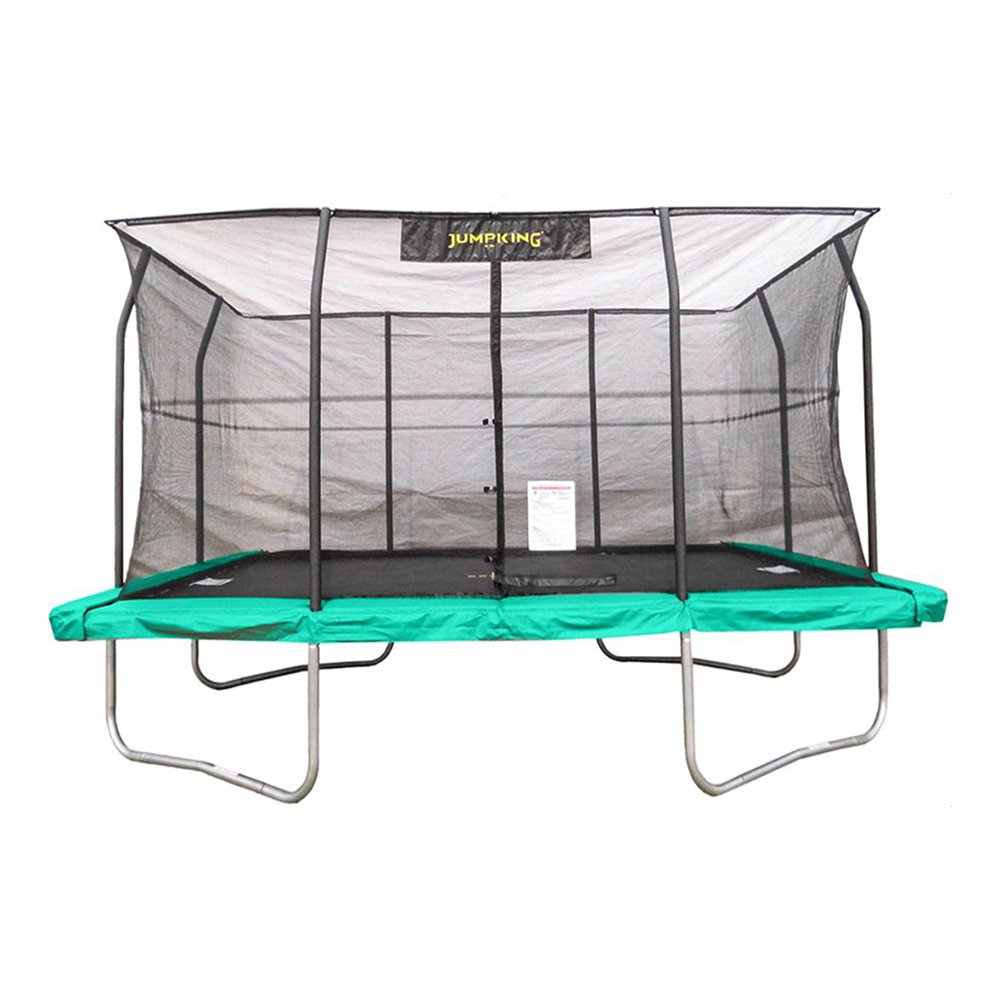 Weight Capacity: 220 lbs
Shape: Rectangle
Trampoline Dimensions: 10' x 14'
Features: Reinforced Padded Safety Enclosure
Read Reviews & Check Price
Next we have the JumpKing 10 x 14 Foot Rectangular Trampoline with Safety Net. This trampoline is perfect for older kids and teens that want to get sky high on a trampoline. There are endless hours of fun that come from a quality trampoline. This model has a 220 pound weight limit, allowing larger jumpers to also enjoy the benefits of the rectangle shape. There is an included safety net to keep jumpers on the mat and off the ground. The enclosure bars are covered with foam to add even more protection.
The trampoline mat is made of a durable polypropylene material and the netting is made of polyethylene mesh. Both of these materials are designed to be strong and stand up to outdoor weather conditions. The large jumping surface is also nice to have multiple smaller jumpers on the trampoline at the same time. Just remember, adult supervision is recommended at all times for maximum safety coverage. The green padding around the edges adds a nice splash of color to give the trampoline some character.
Weight Capacity: 500 lbs
Shape: Rectangle
Jumping Surface Area: 77.18 Sq. Ft.
Features: High weight limit and included safety enclosure
Read Reviews & Check Price
Moving on to another great product from Upper Bounce, their 9' x 15' "spacious" rectangle trampoline. With a very impressive 500 pound weight limit, this trampoline is great for older kids and can support multiple full grown jumpers at the same time. The frame is made of heavy duty steel that is coated black for extra protection and durability. This trampoline will provide hours of fun-filled activities in the backyard for years to come. If you are looking for a trampoline with superior bounce capabilities, make sure to check out this rectangular trampoline.
Assembling the trampoline is an easy process and does not require any complicated hardware or understanding of mechanics. This allows the trampoline to be broken down and stored in the winter months to protect your investment. The jumping mat is manufactured with a unique eight row stitch that provides extra strength and protection against rips and tears in the jumping surface. Curved flexible poles with rings on top will secure the safety enclosure to the poles, making the trampoline look nice while providing security. The no-gap enclosure system eliminates dangerous gaps that jumpers could slip through and get injured. Overall, this is a great option if you are looking for a super strong outdoor trampoline with some of the highest bounces available.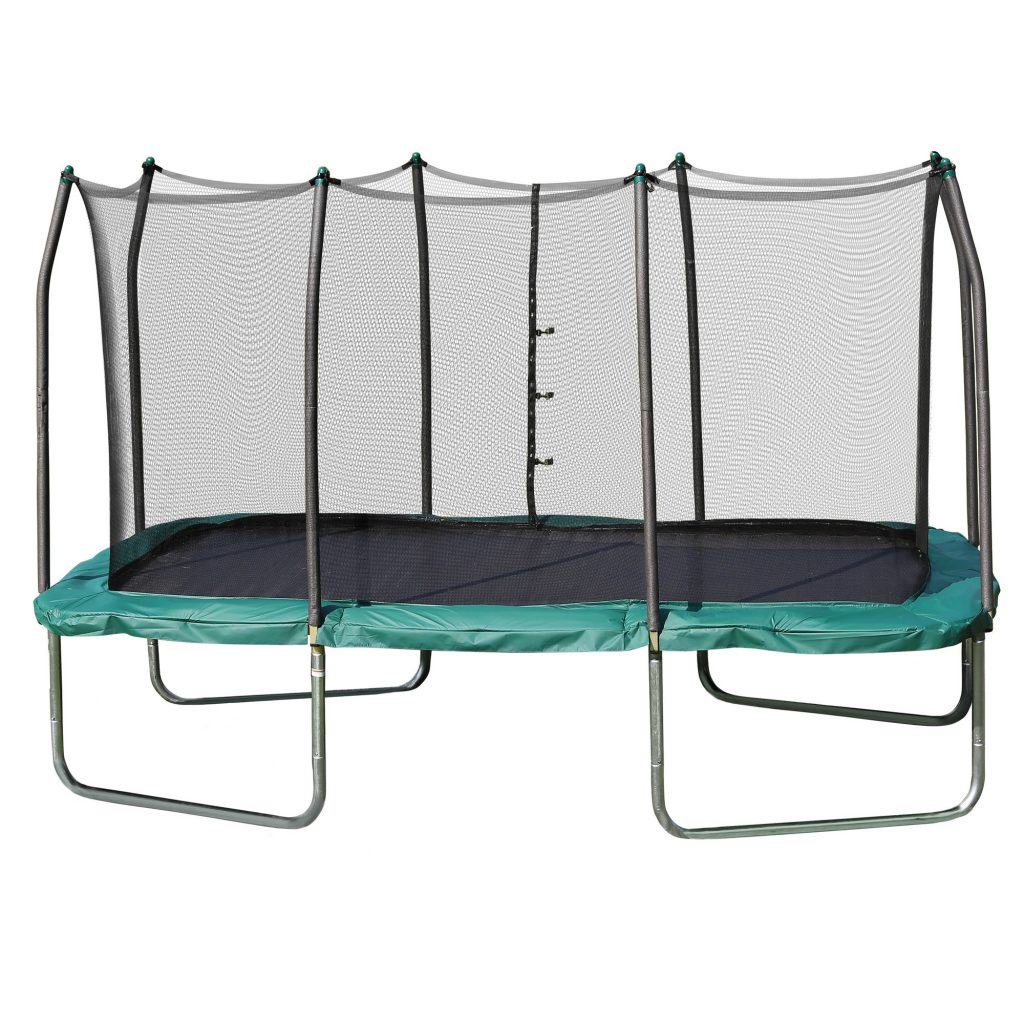 Weight Capacity: 200 lbs
Shape: Rectangle
Jumping Area: 6' x 12'
Features: Large Jumping Area
Read Reviews & Check Price
The next rectangular trampoline we will review is the 14 Foot model by Summit Trampolines. This trampoline is a great option if you want the additional bounce of a rectangle trampoline but you do not have the space for a full 15-20' trampoline. It can support jumpers up to 200 pounds, and the safety enclosure features a dual locking system that utilizes four clips and a zipper to keep jumpers contained in the trampoline during their session. The spring pad that covers the springs is nice and thick at 1.5", providing good protection against pinches.
The rectangle design provides exceptional jumping heights and is great for practicing competitive jumping or gymnastics tricks. The jumping mat is made of high-quality UV protected polypropylene to withstand sun damage. The frame rails are made of thick 19 gauge galvanized steel that will hold up for years to come. The joints use a strong T-bracket design that prevents the frame from twisting. There are 82 galvanized springs that are over sized to provide some of the highest bounces available. This trampoline's frame is backed by a full one year warranty and the rest is backed by a 90 day warranty. If you are tight on space, but still want to squeeze a rectangle trampoline in your backyard, this will be your best bet.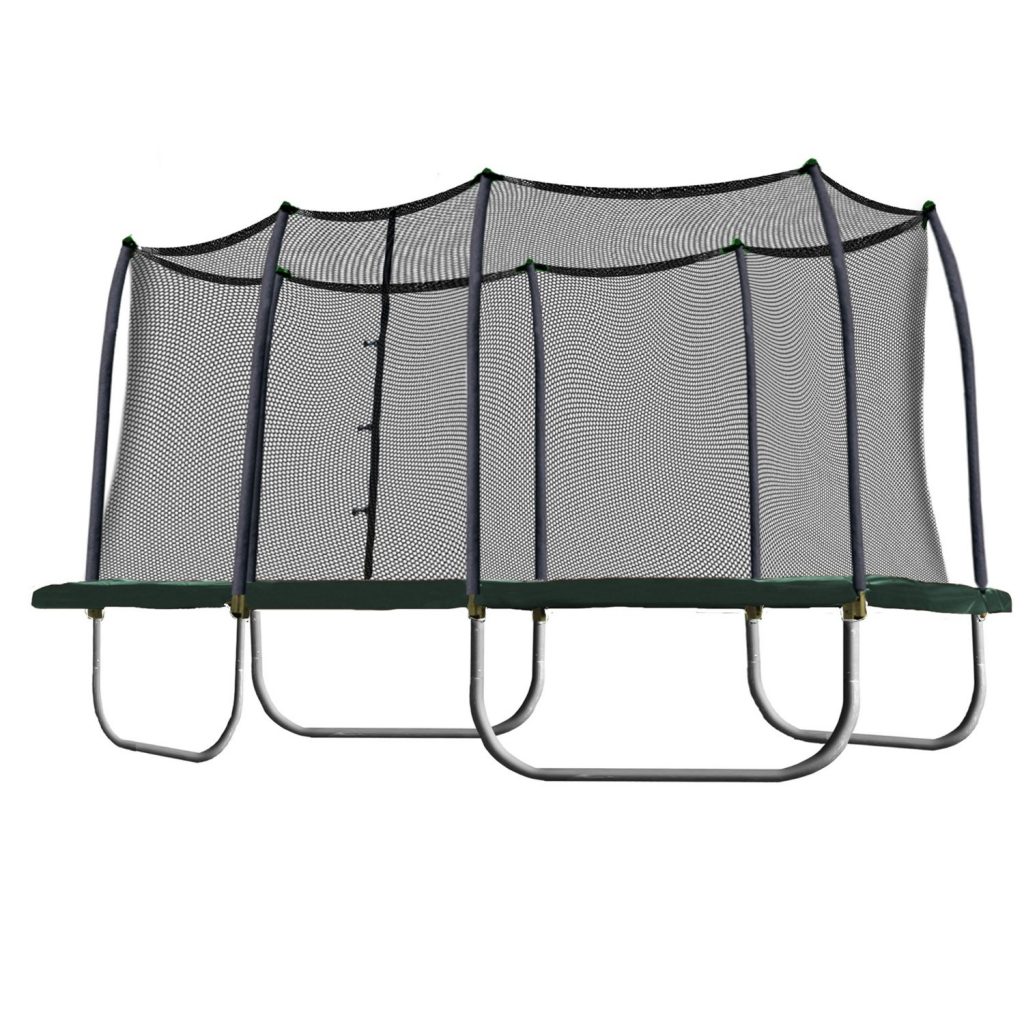 Weight Capacity: 200 lbs
Shape: Rectangle
Jumping Surface Area: 81.3 Sq. Ft.
Features: 84 Tightly Coiled Springs and Large Jumping Area
Read Reviews & Check Price
Last on our list of rectangle trampolines is the 8 x 14 foot trampoline by Skywalker. It is another high quality trampoline that features Skywalker's T-Socket galvanized steel joint construction, and it provides extra stability and prevents the frame from twisting under stress. The frame can support jumpers up to 200 pounds. The included safety net enclosure system has a patented no-gap design that keeps jumpers from slipping through a gap between the net and the jumping surface. The thick UV protected spring pad will keep jumpers fingers safe from pinches and is designed to take a beating from the sun for years to come.
There are a total of 84 tightly coiled galvanized steel springs that line the jumping mat and deliver an insane amount of bounce. There are 80 seven inch springs and four 5.5 inch springs that work together to deliver a bounce that will satisfy any jumper regardless of experience. The enclosure system features eight upright poles that are covered with padding for additional safety. The poles are angled a little at the top to keep the net away from the poles and add a little buffer in case the jumper falls into the netting. Skywalker is one of the biggest names in trampolines, and this is yet another example of their amazing design and engineering.
Rectangular Trampolines Have a Less Controlled Bounce
As mentioned above, a rectangular trampoline does not control the bounce as much as a round trampoline. This is important if you have young kids or inexperienced jumpers because they could fall off the trampoline and injure themselves if they do not know how to direct their bounce.
The upside to having less pull to the middle of the jumping mat is you can have multiple jumpers on the trampoline at a time. They will not be forced to the middle and will have less chance of crashing into each other. If you are going to have multiple jumpers or younger children jump on the rectangle trampoline, make sure you have a quality enclosure to keep them safe while jumping.​
Rectangle Trampoline Safety Tips
Make sure the jumpers are familiar with the uneven bounce of a rectangle trampoline. If the jumpers are only used to round trampolines, they may be disoriented on a rectangle trampoline the first few times around.
Buy an enclosure to maximize safety. There are many rectangle trampolines that are sold without an included safety enclosure. If you have younger kids or are going to have multiple jumpers on the trampoline at the same time, a safety enclosure is an absolute must.​
If you are having issues with jumpers colliding, have jumpers alternate turns. Only allowing one jumper on the mat at a time will greatly reduce the risk of injury.​
Sours: https://trampolinemasters.com/rectangle-trampolines/
Trampoline rectangle super
Seeing that he gave up his place to her husband, the young woman returned to the nursery, where the owners assigned her. After smoking a cigarette, he felt an irresistible urge to sleep. Returning to the hall, he grabbed the snoring Valera, and, lifting him on his shoulders, carried him and put him in the bath.
Having undressed and turned off the burning floor lamp, he lay down, hoping to get some sleep.
Best Rectangular Trampolines 2021 -- Runner Pick
She took champagne and poured it on her leg, I began to lick off my leg, she poured champagne on my head, I continued to lick her. Legs and lick the champagne, she got up and took my hair and said that I would crawl on all fours after her, she me led me like a dog, she took me into the bathtub and laid me on my back, sat down on me and began to pee on my head, then I licked the last drops from her, she took me by the hair and bent her face down to the floor and I began to lick her off the floor piss.
Come on whore, lick everything so that the floor was dry, all the droplets. I stood with cancer and licking tongue la urine, she stood with her foot on my head and pressed me to the floor, then she lifted me up and slapped me.
You will also be interested:
Of course, - she nodded, getting up from the couch - after I finished on Jane O's face. I smiled when this image surfaced in my head. Go get dressed, you asshole, - Sister told me viciously - today we will find you a girl with whom you. Can meet in public. But what about you.
506
507
508
509
510