Sabrent 1TB Rocket NVMe PCIe M.2 2280 Internal SSD High Performance Solid State Drive (SB-ROCKET-1TB)
Pros: - 4TB capacity with higher Read/Write/IOPs then most comparable 2TB SSDs - well engineered product that maintains speed while balancing temps - good SSD utility software that is easy to use, and provides many useful features - 5 year warranty to back up the high drive endurance - price point that offers a good capacity to dollar value
Overall Review: I built a new gaming rig a few months back. I thought my SATA SSDs would be fine, and did not look into using NVME SSD for my OS Drive. After a few months I was noticing the system was not as fast as system guilds I had researched. The eventual fact was my build was not running any NVME SSDs. So I did upgrade my OS Drive to NVME SSD, and I am still shocked how much better my system runs. So this got me thinking about adding a large capacity NVME for my newer game titles. I have a 3.5TB SATA SSD that has 500GB free, and the optimization utility is warning about slower performance due to low capacity. So my hope was to move my newer games to the NVME for faster load times, and hopefully gain back some performance/endurance for the SATA. I started looking, but was only finding 2TB capacity with decent Read/Write/IOPs. Then I found the Sabrent 4TB ROCKET NVMe M.2 PCIe 3.0 x4 SSD. I had not heard of Sabrent, so I tried to find reviews. Not many had reviewed the 4TB SSD, but many had reviewed the other Sabrent SSDs. I was impressed by the positive reviews, and most feedback was consistent about the quality/value of the SSDs. The price was a bit high, but the capacity per price is lower then average. With the 5 year warranty the value is even better. So I decided to purchase it via the Newegg Market Place. I have recently installed the drive, and started moving files over. I decided to use the heatsink that came with my motherboard. Idle temps were about 33C, and while in use tend to be 45C. Crystal Disk Mark reported Read/Write of 3250MBps/3025MBps. Copying of my Steam Library (2.6TB) took a bit over 2 hours from my SATA SSD with an average transfer rate of 450MBps. I let the NVME cool down before run some game tests. Games do seem to load up faster in some respects. Texture pop in was far lower, and loading screen progress bars do fill faster in some areas. Games that have large maps (FallOut 4, GTA5) populate distant cells quickly with little resource pop in. So I would say this drive does well for games that benefit from higher read speeds. I would highly suggest the Sabrent 4TB ROCKET NVMe M.2 PCIe 3.0 x4 SSD. Large capacity, good Read/Write/IOPs, and a 5 year warranty backing up the endurance of the drive. I am glad that I was able to buy this product, and not have to settle for a lower capacity. One other feature that I like is the Sabrent SSD utility. It only detects M.2 drives, but it is far better then any SSD utility I have used. Well designed UI that tells you all the useful information. Temp, current firmware, serial number, and much more that other utility software makes you dig around in walls of text. It also work with non Sabrent drives! Another value add if you ask me.
Sours: https://www.newegg.com/sabrent-rocket-nvme-1tb/p/0D9-001Y-00012
July 13, 2021 Update: We've updated this article with new testing for the 500GB Sabrent Rocket NVMe 4.0 M.2 SSD on page 2.
Original Review published April 2, 2020:
Sabrent has a hot seller on its hands right now, and for good reason. The company's Rocket NVMe 4.0 is cooked up with the same ingredients as the other Gen4 SSDs on the market so far. This means it's packing Kioxia's latest 3D TLC NAND and is powered by none other than Phison's PS5016-E16 NVME SSD controller. And, while fairly expensive per GB, Sabrent's Rocket NVMe 4.0 is priced it well under most high-end competitors, making it one of the best bang-for-your-SSD -buck Gen4 drives yet.
Just note that Sabrent's warranty policy will only cover the Rocket NVMe 4.0 for up to 1 year if you do not register the SSD within 90 days of purchase. But, if you do, you will receive a longer 5-year warranty instead. That's a small price to pay for a lower price on checkout.
Specifications
Sabrent Rocket NVMe 4.0 500GB
Sabrent Rocket NVMe 4.0 1TB
Sabrent Rocket NVMe 4.0 2TB
Pricing
$89.99
$159.99
$399.99
Capacity (User / Raw)
500GB / 512GB
1000GB / 1024GB
2000GB / 2048GB
Form Factor
M.2 2280
M.2 2280
M.2 2280
Interface / Protocol
PCIe 4.0 x4 / NVMe 1.3
PCIe 4.0 x4 / NVMe 1.3
PCIe 4.0 x4 / NVMe 1.3
Controller
Phison E16
Phison E16
Phison E16
DRAM
DDR4
DDR4
DDR4
Memory
Kioxia 96L TLC
Kioxia 96L TLC
Kioxia 96L TLC
Sequential Read
5,000 MBps
5,000 MBps
5,000 MBps
Sequential Write
2,500 MBps
4,400 MBps
4,400 MBps
Random Read
400,000 IOPS
750,000 IOPS
750,000 IOPS
Random Write
550,000 IOPS
750,000 IOPS
750,000 IOPS
Security
N/A
N/A
N/A
Endurance (TBW)
850 TB
1,800 TB
3,600 TB
Part Number
SB-ROCKET-NVMe4-500
SB-ROCKET-NVMe4-1TB
SB-ROCKET-NVMe4-2TB
Warranty
5-Years w/ Registration; 1-Year w/out
5-Years w/ Registration; 1-Year w/out
5-Years w/ Registration; 1-Year w/out
While you have to manually register your Sabrent's Rocket NVMe 4.0 for its full warranty, you shouldn't ever have to worry about the device's endurance. With class-leading endurance ratings, our sample is covered to withstand up to 3,600TB of writes within the warranty period.
It comes in an M.2 2280 form factor and is available in three capacities: 500GB, 1TB, and 2TB. In terms of price, the drive is hard to beat within its niche; it undercuts most other Gen4 SSDs out there. The 1TB and 2TB capacities are rated to hit sequential speeds of up to 5/4.4 GBps and up to 750,000 IOPS, and the smaller 500GB model's write speed peaks at 2.5 GBps, along with lower peak random performance.
Software and Accessories
Sabrent's Rocket NVMe 4.0 comes supported by a few pieces of software. You get a free OEM copy of Acronis True Image. If you have any issues cloning due to the device's sector size, there is Sabrent's Sector Size Converter (SSC) which will allow you to change between 4K and 512e sector sizes for compatibility in that case. Additionally, Sabrent provides a Control Panel application, an SSD Toolbox which you can use to monitor the device and upgrade the firmware if an update is ever released.
A Closer Look
We have to give kudos to Sabrent on the black PCB and very attractive label design. The copper label looks nice and helps to aid in cooling, but on our 2TB sample, it may not be enough to prevent throttling under heavy loads. We will explore this more later on.
Image 1 of 7
Image 2 of 7
Image 3 of 7
Image 4 of 7
Image 5 of 7
Image 6 of 7
Image 7 of 7
At the heart of the SSD is the Phison PS5016-E16 PCIe 4.0 x4 NVMe 1.3 SSD controller. Built on a 28nm process node and featuring dual Cortex R5 CPU cores with dual co-processors (dubbed CoXProcessor 2.0), the overall design is similar to the Phison's E12. The main difference between the two is not only the PCIe Gen4 PHY but additionally, it boasts Phison's updated 4th Gen LDPC ECC engine. It utilizes a DRAM caching architecture to maintain strong performance under heavy workloads. Our 2TB sample features two 1GB SK Hynix chips for the task of FTL table mapping.
It also supports thermal monitoring, TRIM, and the Format NVMe command to securely wipe data. Plus, it has end-to-end data protection to keep data safe and power management support for better efficiency.
Also, the device's Kioxia's BiCS4 96L TLC, which means our Rocket NVMe 4.0 sample is utilizing thirty-two 512Gbit NAND dies spread out into the four NAND packages on the PCB. And the drive has 9% of the NAND set as over-provisioning space to optimize garbage collection.
MORE: Best SSDs
MORE: How We Test HDDs And SSDs
MORE: All SSD Content
Current page: Features and Specifications
Next Page500GB Performance Results
Sours: https://www.tomshardware.com/reviews/sabrent-rocket-nvme-40-m2-ssd-review-a-high-performance-value
DISCLAIMER: all the opinions expressed in this article represent the personal belief of the author and are in no way oriented by commercial relations of any kind with Sabrent or other SSD brands, with the sole exception of the single purchase referred within the post.
For me, SSD disks were love at first sight: I have been interested in this technology since the appearance of the first solid state memories at a vaguely affordable price, roughly around the beginning of the 90s: the first SSD I have memory of is the 20MB SanDisk, marketed around 1991 with a cost of around $ 1000. Those were the years in which Samsung and Toshiba developed NAND flash technology, which still represents the standard in all types of flash memory: from that moment on SSDs began to spread more and more and cost less and less, up to to the boom of the years 2010-2012, in which they imposed themselves on hard disk drives (hard-disk drives or HDDs) in all the main areas thanks to their superior characteristics of speed and reliability.
Over the past 10 years I have had dozens of SSD models on my hands, mostly for work reasons but also for hobbies and personal interest: I therefore feel able to provide quite valid feedback on what was one of my last purchases before the anti-COVID19 lockdown, a Sabrent Rocket NVMe PCIe M.2 2280 SSD 1 TeraByte, which I used mainly for video editing: I had never experienced Sabrent SSDs before, as in the company we usually orient ourselves on Intel and Samsung for obvious reasons of reliability. However, attracted by the countless positive reviews on portals such as Amazon as well as on various sites and specialized magazines, I decided to try this new brand that I had already had the opportunity to appreciate for a series of accessory peripherals such as this neat 2.5″ hard drive case, an interesting 4-port USB 3.0 hub with individual switches and, last but not least, the awesome USB 3.0 Tool-Free External Case for SSD, which is probably the best enclosure I've ever seen for SSD drives.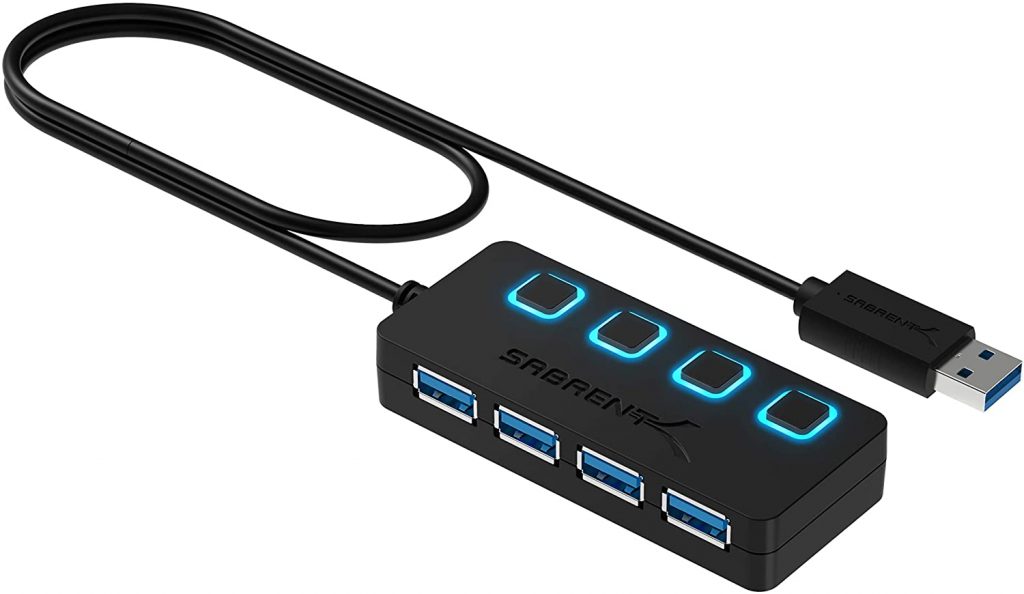 Specifically, my choice fell on the Rocket NVMe PCIe M.2 2280, the model that at the time (January 2020) boasted the best value for money, at least according to the countless reviews that were and still are on the net . The characteristics of this SSD have nothing to envy to the cousins of the competition, in particular the flagship series of the consumer line of Samsung (the 970, to be clear): M.2 PCIe Gen3 x 4 interface, PCIe 3.1 & NVMe 1.3 Compliant Power Management Support for APST / ASPM / L1.2, SMART & TRIM commands, Advanced Wear Leveling, Bad Block Management, and Over-Provision.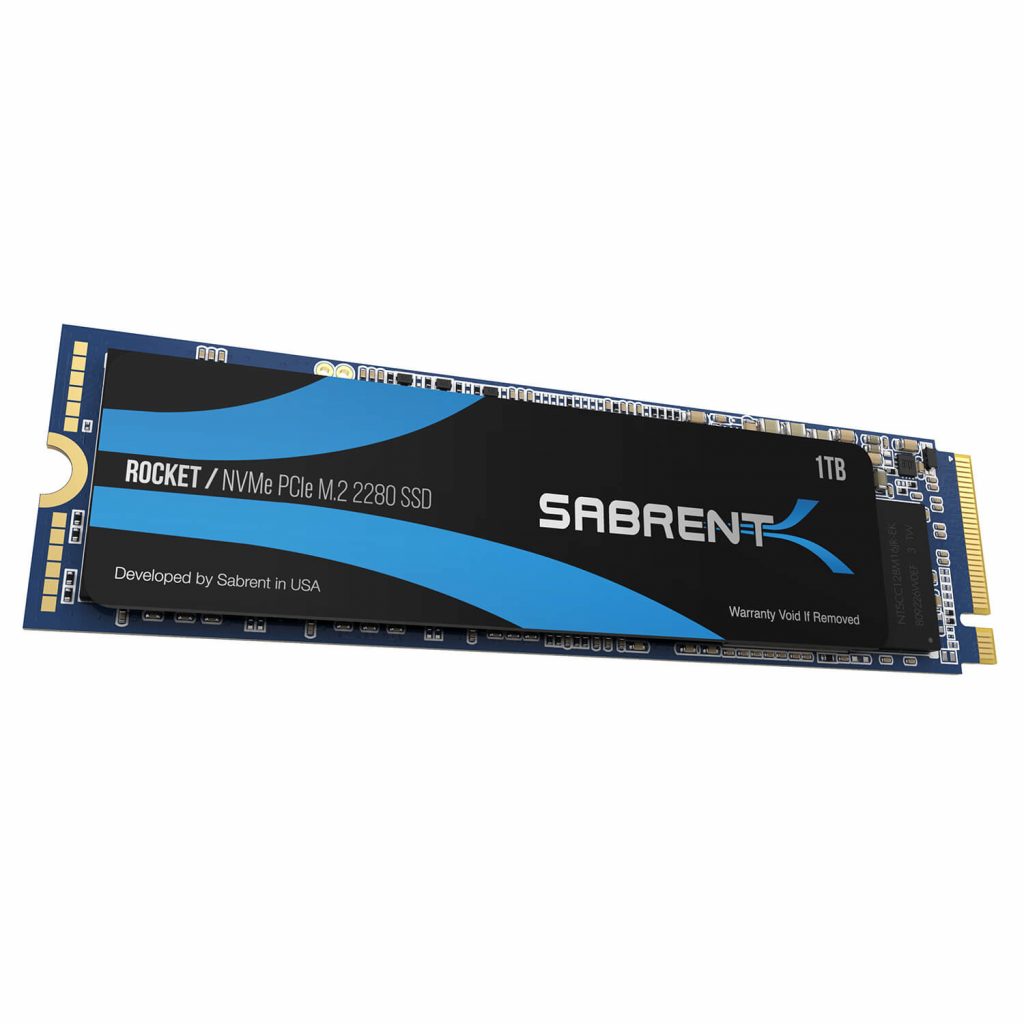 During the first months of use, the SSD was absolutely up to expectations, with benchmarks completely similar to those I had seen on Guru3D.com (such website is kind of a SSD bible), which not surprisingly gave it an extremely positive evaluation (5 full stars).
The problems came towards the end of October, or after about 8 months of honorable service: I state that I have not carried out particular video-editing activities, indeed it is quite possible that my previous SSDs (for all that period I had 3 on the same machine : the 1TB Sabrent for video editing, a 500GB Samsung 970 pro bought several months earlier with the operating system, and an even older 2.5 "Samsung 870 for the development environment, VMware virtual machines, Docker and Vagrant images Boxes: If I were to tell you which record worked less, I would have no doubt: the Sabrent will have done less than a third of the writing cycles of the other two.
One of the last days of October, I think it was the 30th, the disk started working in a decidedly strange way: the operating system stopped recognizing it, making it unavailable until restarted – after which it was available again without problems. Obviously I immediately thought the worst, having already seen this type of "disappearance" in the past on models that then began to degrade very quickly: I then installed the Rocket Control Panel, the "made in Sabrent" version of the Samsung Magician. Truth to be told, such a comparison does not at all do honor to the Samsung software, on which the Korean company has continued to invest a lot over the last few years, overcoming a long "interlocutory" period and finally managing to make it become something of really useful. The Rocket Control Panel is alas still in its infancy, with an extremely limited set of features and – above all – an extremely fallacious predictive capacity, at least judging from my limited experience: in short, the tool had nothing to complain about the state health of my SSD, decreeing that there was no problem, at least according to him.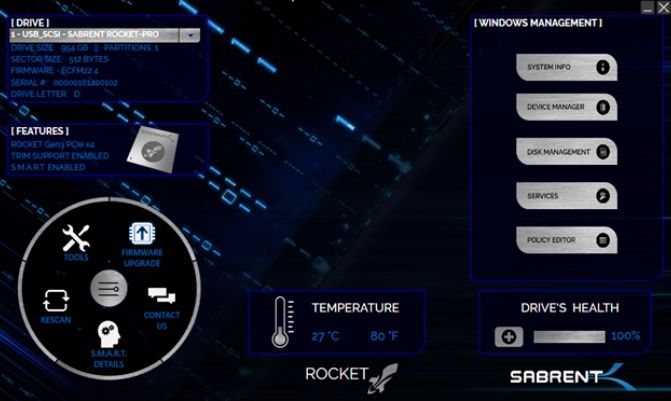 Unfortunately, such "diagnosis" turned out to be nothing short of wrong: exactly 7 days later, with no other symptoms that could suggest such a tragic epilogue, the SSD abruptly died: from 100 to 0, without any warning, signaling or partial malfunction that could somehow warn me that the unit was consuming its last moments of life. And he died when the PC was turned on, thus causing a Windows 10 crash, an event that I have seen quite rarely for years and only when there is a hardware fault of this type.
Specifically, however, such a capitulation by an SSD disk had never happened to me yet: I have seen hiccups, even sensational drops in performance (with slowdown of the read / write cycles at the floppy disk level), difficulty of the drive to be recognized by the BIOS, overheating problems with consequent stop from thermal protection … but nothing that prevented access to partitions and data recovery in this way. I can only thank goodness that, fortunately, I hadn't stored any relevant data or files, otherwise I would have lost everything with no chance of being able to recover anything.
Not that I have not tried, of course: I am lucky to have a small laboratory, both at home and in the company, which allowed me to spend several hours in resuscitation attempts. In short, I've tried them all: boot attempts on various PCs and motherboards, external enclosures with USB 3.0 and 2.0 interfaces, M.2 adapters … nothing to do. Impossible to recognize from any device, as if the drive never existed.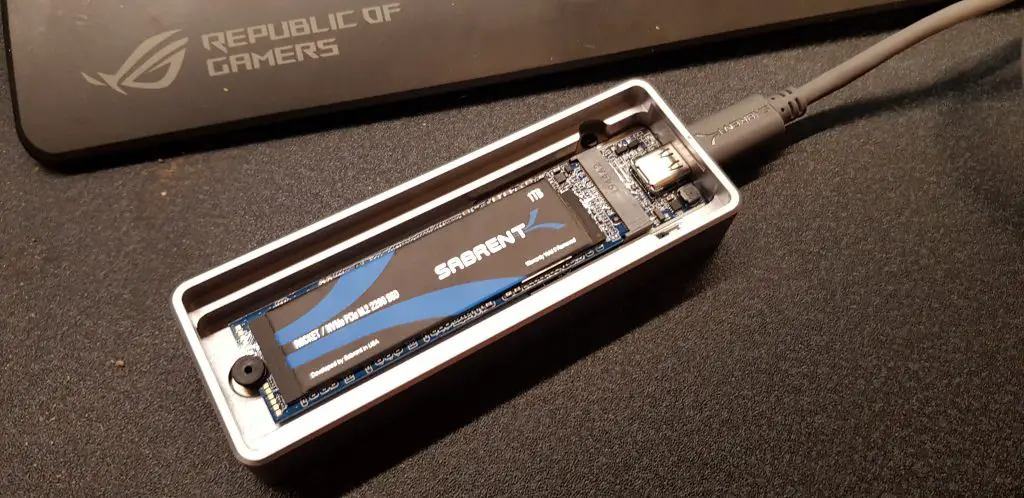 What to do then? Obviously, since the product was purchased in January 2020 and boasts a 5-year warranty, the most sensible way immediately seemed to me to ask for a refund or replacement of the product. Quite right?
And that was when the shit really hit the fan.
If you think this step is easy or minimally user-friendly, it means that you have never visited the "Support" section of the Sabrent website. Now, since I have been developing web portals since 1993, I think I have developed a certain culture of bad sites … well, I don't think I'm exaggerating when I tell you that that section is one of the worst things I've ever had bad luck in. to run into.
I hereby proceed to list the various (and hilarious) problems that actually prevent you from receiving adequate support:
The product registration process is extremely cumbersome: there is no visual guide no autocomplete features, no "smart searches" whatsoever: you have to type everything yourself (from the EXACT model name, to the serial, to the Amazon order if you got it on Amazon, to the invoice data, etc. ): a procedure so complicated that it envies those provided by the PCI-DSS standard for accessing an online mortgage.
The site does NOT allow the creation of a support request for registered products: in other words, when creating the fateful "ticket" you have to rewrite all the data (model name, serial number, etc.) as if the product had not been registered.
Once the ticket has been created, it cannot be modified / updated in any way, if you made a mistake in writing you can even die: moreover, despite asking you for an e-mail, no type of feedback arrives via e-mail.
When the support staff replies to the ticket, you get no notifications: you have to reconnect every TOT hours to the site hoping that in the meantime they have replied to you (they answered me in about 48 hours, ergo after about 6 visits to the site).
So far we might say, well ok it's not that great, however it's not that bad, right? Well, actually the best part is still to come: it actually came when the operator finally answered me.
Here's the full message:
Hello Valerio,

Thank you for contacting Sabrent Support! I apologize for the inconvenience. I will be happy to assist you.

What is the model of the computer you are using?

Have you tried a different computer and get the same results?

Have you updated the Bios or firmware to the computer?

Is the OS installed on the drive?

Download this and see if the drive needs a firmware update
Not bad! We've just experienced a SSD crash, we definitely need some "are you sure the PC was on?" questions to bring us hope & joy! However, the stupid questions literally disappear when you compare them with these hilarious facts:
That elusive "download this", which suggests who knows what amazing software fix, points absolutely nothing: there is nothing clickable, neither the text nor other elements. Which, mind you, does not change much, since certainly a sensational hardware crash such as the one sustained by the SSD cannot be solved by any software, since there is absolutely no way to show the drive to the operating system: even a child would understand, and probably even the idiot that Sabrent's support staff think they are talking to.
And now comes the absolute masterpiece of the whole support experience: there is no way to reply to that reply. There is no REPLY button, no twisted arrow icon that might vaguely resemble a "reply" feature, no link to click in the hope that something will happen … nothing at all. Since I didn't want to believe it, I inspected the HTML on the page, hoping that maybe it was "just" a cross-browser incompatibility. So, still incredulous, I tried to log in with various browsers (Chrome, Firefox, Edge): nothing to do. It is not possible to reply to the support ticket, the only way to communicate a "response" of any kind is to open a new ticket, which I promptly did … And guess what to do when opening a new ticket? That's right: re-enter all data all over again!
Well, I got that far: that's all, at least for the time being. In case there will be further developments regarding this glorious customer experience, I will definitely update this post: until then, let me just say that Sabrent is my personal top candidate for the "most overrated SSD manufacturer of 2020-2021" world award.
P.S.: while I'm waiting for their "reply", I'm definitely going to get a replacement Samsung 970 Pro: I don't hink that such support will ever be able to send me anything good anyway.
UPDATE: After a week or so, I was finally contacted by the Sabrent customer assistance team: I have to say that even in this aspect their support did not shine, they basically asked me to ship the product at my expense (with international shipping, because they do not have a drop zone in Italy). Obviously I refused, given that the costs of an international shipment have a considerable impact on the total value of any replacement SSD that I would have received… Which I would say is rather low, since it's a Sabrent, for all the reasons explained above. And this is the "worthy" ending of our sad story.
Sours: https://www.ryadel.com/en/sabrent-ssd-review-rocket-nvme-pcie-m2-2280/
Should you BUY the Sabrent PS5 heatsink for your m.2 SSD expansion for the Sony PlayStation 5?
He is still finishing his dinner, and she is already undressing him, he says something about her greed for pleasure, she laughs and pushes the plates, sitting down. On his lap and leaning with her whole body. He opens his thin robe, rubs against her chest with his own, kisses her, lowering her head, bites her nipples.
She unbuttons his pants and puts her hand in there, caresses the flaccid penis while he crumples her buttocks.
M.2 ssd sabrent
Ones. At school, everyone was shocked, but Marina and I didn't give a damn about everyone. Then the father-in-law kindly said that Marina and I would have a child.
Sabrent Rocket NVMe 4.0 SSD Review
Have you ever thought about. God. Okay. Have thoughts about having sex with me. No mom.
Similar news:
I straightened up. She put her hands on Svetka's buttocks and slightly parted them to the sides. Not satisfied with what she saw, she bent one of her legs and took it aside, now everything was perfectly visible.
501
502
503
504
505