REVIEW: ESSTAC M4 KYWI Triple Wedge Mag Pouch
or the past 5 years (at least) a growing trend seems to have been that one wants to have the first three or so magazines available as quickly as possible. Usually the position for having those fast access mags is on the chest, in the middle of your chest rig or plate carrier. As I started to adapt this idea, I wanted to find a pouch that would provide enough protection for the magazines from dirt and debris but without protective flaps or bungees retaining the magazines, which would slow down mag changes.
Looking at options it was clear that I didn't want go with traditional Cordura only shingles as those always had flaps or didn't seem to provide enough retention for the magazines for fast movement.
I found out about ESSTAC M4 KYWI pouches browsing SKDTAC's selection and was intrigued by the Kydex mag retention so decided to try them out.
Haven't looked back since.
KYWI pouches deliver. The custom Kydex inserts provide really good retention for the magazines. I've never had a magazine drop out of them although I've been running, crouching, crawling whatever, the KYWI hold the mags safely in place. Still all you need is a sharp pull to have immediate positive release of the mag so you can feed it into your gun. Inserting the mags in the pouch is also a pleasure and you kind of have this feeling and sound of a "click" that lets you know that the mag is "locked" in place.
The pouches take standard magazines and MAGPUL style polymer magazines (and many others I believe) and also other pouch versions for 7.62 mags, pistol mags etc. are available.
The fabric pouch that contains the Kydex inserts itself is made of quality Cordura with a simple design, which is pretty bomb-proof. You also have PALS channels on the outer surface to add other pouches. I've ran a BFG TenSpeed triple on top in case I need more mags or other mag sized equipment at hand.
ESSTAC pouches attach with malice clips to any MOLLE equipment.
If you're looking for a "shingle" style pouch for fast access mags, definitely give ESSTAC KYWIs a try. To me they seem to be the best option on the market at the moment.
If you liked this post follow us on Instagram to stay tuned for more! Also let us know if there's anything you'd like to ask about the KYWIs and we'll do our best to answer. You can reach us best with Instagram DMs.  
Posted 
Feb 13, 2020
 in 
Gear
 category
Sours: https://www.mikerep.co/posts/review-esstac-m4-kywi-triple-wedge-mag-pouch
Esstac Pouches Review: Why We Love the Esstac KYWI
Whether you are in the military or in law enforcement, you know that speed and timing means everything. Simply put, there is no room for mistakes when it comes to your performance and duties, so why take the risk of not being prepared for whatever happens next? Often, it is easy to overlook gun accessories like magazine pouches in favor of lights, mounts, sights, and other AR 15 parts and gun accessories. While all of these other AR parts and gun accessories are important and necessary, it's important to not overlook the small adjustments that can not only improve performance, but be potential life savers.
In addition, we cannot just settle for any magazine pouch, as we all have experienced the common problems with many pouches, like lost magazines, noisey materials, cluttered parts and snagging. It's not enough to have a magazine pouch, it's imperative that this magazine pouch offers high quality performance and has a straight forward, user friendly design that focuses on efficiency and durability.
We thus decided to take a look at one of the best magazine pouch brands on the market, Esstac. You've probably heard of the Esstac KYWI line, for good reason, as it features several great variations for any user. We'll be going over the 5.56 Single Midlength KYWI Pouch, the Double Pistol GAP KYWI Pouch, and the Shorty Pouches.
What is Esstac?
Stuart Wilson first came up with Esstac, short for Essential Tactical, in 2003. In his garage in Camano Island, Washington, Wilson developed the first Esstac products before a horrific accident happened at his construction job. He was crushed by 2,500lb of sheet metal, and his doctor told him he had to find a new line of work. Faced with this harsh reality, Wilson invested fully into his passion project and began hand-making each pouch for buyers on Ebay.
As a competitive shooter himself, Wilson knew there was potential in his business and knew what the current products on the market were missing. He aimed for comfort, durability, and high performance. As his business partner Ryan Halwick is quoted saying in this article from the Stanwood Camano News, "We take immense pride in quality… For example, we melt the frayed nylon threads to lock them in place, burn them so they never fray, like many cheaper versions do". From their humble origins in Washington state, Esstac has emerged as one of the leaders in tactical gun accessories.
Esstac KYWI 5.56 Single Midlength Pouch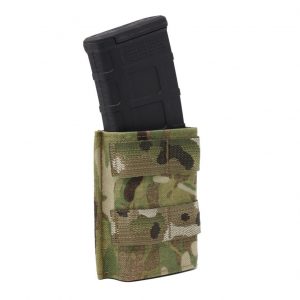 As with all Esstac KYWI products, there is a clear emphasis on a straight forward, user friendly and highly intuitive design. This Esstac pouch features a hybrid kydex and nylon design, providing all the rigidity and durability one would need while also eliminating the noise typically found on a nylon pouch. The "KYWI" term comes from the kydex wedge insert found on the pouch, which provides extra retention to secure magazines without the need for a bungee cord or other alternatives for rapid mag changes.
We love this "KYWI" feature because it offers a great combination of retention and quick magazine removal, ensuring consistent performance time after time. However, as with any pouch with an emphasis on speedy reload times, there are compromises. Anytime the reload is quicker, there is an increased risk of losing magazines. With that being said, the KYWI pouches stand out amongst other designs because of their minimalist approach and lack of external shock adjusters that can cause snagging. We believe that the Esstac KYWI is the best all around fast reload pouch, as it ensures fast performance with great retention.
Esstac KYWI Double Pistol GAP Pouch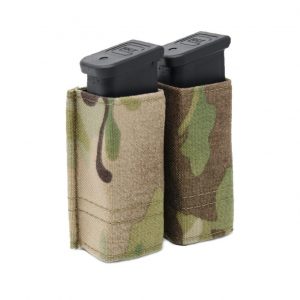 The Esstac KYWI Double Pistol GAP Pouch features all of the same great KYWI features included in the last product listed, with all of the same retention and high speed performance we've come to expect with Esstac products. If you are using a pistol, this double pouch will allow you to carry 2 magazines at a time. This pouch is compatible with 9mm, 40cal, 45acp double stack magazines. A Glock 19 magazine is the shortest you could use with this pouch. As it is a double magazine pouch, Esstac added an additional gap between the pouches to accommodate for magazine pouches with long baseplates, like M&P, CZ, and Gen 5 Glock Magazines.
Esstac KYWI 5.56 Double Shorty Pouch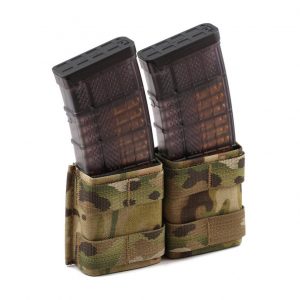 The Esstac KYWI 5.56 Double Shorty Pouch is essentially a double version of the 5.56 single mid length pouch, though this Esstac pouch's height is 3.5" tall. This allows for an even faster reload time, while the hybrid kydex and nylon design still offers the same retention found on other models. The Esstac KYWI 5.56 Double Shorty Pouch is the perfect fit for anyone looking for a high performing short magazine pouch with premium durability and retention.
Final Thoughts
We believe that Esstac is leading the way when it comes to weapon magazine pouches, be it for pistols or AR-15s, as they exemplify what it means to do things the right way. Esstac focuses on the essentials, and they leave out the unnecessary add-ons that end up causing more problems than creating solutions. The Esstac KYWI is in our opinion, the best compromise in the market for a magazine pouch that offers secure retention with high speed reload performance. For anyone working in the military or in law enforcement, we cannot recommend highly enough the Esstac KYWI line of pouches.
Sours: https://milspecretail.com/accessories/esstac-pouches-review-why-we-love-the-esstac-kywi/
Esstac are not a brand I've known about for a long time, but those in the know have been using their stuff for longer than you'd imagine. Over the last couple of years their profile has boomed, with the acknowledgment of key influencers they've fast become a popular choice for competition shooters and armed professionals the world over.
I first saw Esstac pouches about a year or two ago whilst browsing Tactical Kit's website, I gave them a cursory glance but it wasn't until seeing them on Garand Thumb's channel that I really started taking notice.
A while back I bought a pair of Esstac Kydex inserts with a hope to place them in my Haley D3CR pistol pouches, not really the application they were designed for but they worked (to a degree).
Not long after this I decided to add a stand-alone single 1911 pouch to another order I'd placed, I've now been using this on and off for the past 6 months.
A single mag pouch isn't a massive amount of use to me as I generally have a pair of spare pistol mags, certainly with the 1911 I use a double pouch wherever possible due to the smaller gas reservoir (Not that my M45A1 or 1911 suffer greatly). But using this as my primary reload pouch alongside another pouch for a second magazine, I've found it to be more than adequate for my needs.
More recently, I've added to this by buying a single 556 pouch to see if it's a worthy alternative to the HSGI Taco I've used for quite some time. It's a different pouch with different strengths to the Taco… But my thinking was that for simply carrying a 5.56 Magazine it might be a better fit.
So what options do you have with the Esstac pouches? Well, the answer is lots. There are pouches to suit everything from Subguns to shotguns, 7.62 magazines to pistol mags.
In addition to this, Esstac make many of their magazines in short, mid and tall lengths. The obvious benefit of this is being able to tailor your pouches to your needs, Short allows smaller mags to not become swallowed up and tall pouches provide security for larger or heavy magazines.
A cordura body in the shape of a loop is lined internally on the rear face with loop field Velcro, this is designed to bond with hook field Velcro on a formed kydex insert.
This provides a flexible yet strong pouch with an ability to adjust the retention to suit the load, albeit in a semi-permanent way (I'll explain later).
The rear of the pouch is thicker than the front and has less "give" in it, this is in part due to the MOLLE compatible loops that allow these to be mounted using your choice of attachment or the included Tactical Tailor Malice Clips.
The pistol, short and mid length pouches are perfect for mounting on 2 rows of MOLLE, the longer pouches can be woven into 3 rows for additional stability.
On some of the pouches you have the option of MOLLE faced or "naked" plain pouches, in addition to this there are several double stacked options for rifle/pistol combos or side by side carriage… Furthermore some of these also come in a choice of either a close or spaced out configuration.
I've opted for Multicam in my pouches as most of my belt based load bearing gear is the same, I know it's boring but Multicam does offer the best all round compatibility with all my loadouts.
However, if you should want something a little less mainstream there are colour options from black to ranger green, coyote tan to grey and more recently a shift to the 2019 camouflage of the year… Multicam Black.
Attachment is a flexible affair, the supplied Malice clips being a fairly universal way of fitting to MOLLE or directly to a belt.
I'm personally not a fan as they tend to dig in on the kidneys, I much prefer the whisper light approach Whiskey Two Four have in their WTFix straps.
Honestly if you've not tried them, they're a game changer. I'd review them independently but there's only so much even I can talk about a hypalon strap 😂.
Threading through the rear of the pouches is a right ball ache but once affixed to your belt/carrier you'll see that it was worth while, even with a fully loaded GBBR magazine there is virtually no shift in the attachment… The juice on this occasion is certainly worth the squeeze.
The Kydex Wedge Insert (KyWI) is backed on the rear side with a hook field to link in with the loop on the pouch itself, the front being left blank to allow a bit of movement on the front of the pouch without interfering with the retention.
The Kydex is formed in a shape that naturally holds the magazine it was intended for, sometimes however it can require a little bedding in. Admittedly my 1911 mags are not the same as a real .45acp 7 rounder… A nice little note is the drainage hole drilled into the bottom of the Kydex, as you can see here the pouch is open at the bottom allowing the Kydex to be positioned with a degree of adjustment.
The quality is exceptionally good for something made by a relatively small business, the molle is bar-tacked in place and a triple row of stitching on each side holds the main part of the pouch together.
The Multicam doesn't appear to be "watermarked" with the Multicam logo so I'm in the dark as to if it's genuine licenced Crye material, I'm also unsure if it's been IRR treated as there doesn't appear to be any documentation on this.
Using the pouches shows their real strength, removing and re-indexing magazines is easy and incredibly intuitive, the retention on the 5.56 magazine shorty is exactly right for both Recoil P-Mags and MWS GBBR STANAGs.
I did need to warm up the 1911 Kydex and reform it slightly but as I've said before, it wasn't an issue and expected on a pouch specifically designed for a real magazine of differing dimensions.
I've not noticed any issues by using the short pouches but I think if I was in a combat environment I'd go for the mid or tall depth pouches, the risk of losing an airsoft magazine isn't massive but losing actual rounds, potentially gifting them to the enemy and incurring a hefty fine is not worth that risk.
No matter the pouch you should be incorporating movement over obstacles and reloads etc into your training, so another half inch of pouches impact on your reload speed is negligible.
I've started using these as opposed to my HSGI Tacos for specific set ups, whereas the Taco is a jack of all trades… The KYWI is a master when paired with the correct magazine.
Enough about my review though, genuine real world experience isn't used in reviews often enough… Those who could provide a valuable insight are often far to busy to put pen to paper.
Luckily, I know a guy…
A soldiers perspective
A few weeks ago a good mate of mine popped over for a chat and to drop off a monster load of stuff he didn't need…
I've known him for a fair few years now and in that time he's gone from an enthusiastic and well known airsofter (through working alongside brands such as Enola Gaye) to full time soldier, Currently serving as a sharpshooter with 1st Battalion, The Rifles.
There's a few of you who might know him through his airsoft and media channels, but for the sake of PERSEC I'll be referring to him by his current social media channel @EVOS_MEDIA.
Whilst over we started discussing tactical gear, it just so happened that I'd bought the Esstac 5.56mm pouch and he told me that he'd been using them for quite some time. Always eager to get genuine and valid knowledge in the reviews, I asked him to put in words why the Esstac KYWIs work for him…
"I am a serving soldier in the British army, currently my role is as a sharpshooter in 1 Rifles. There isn't currently a specific issued pouch for our weapon system, the L129A1 Sharpshooter Rifle.
With that in mind and not wanting to "make do" with other non-specific ammunition pouches I decided to look at private purchase options, I wanted a quick release system for the magazine itself and something reliable to have on both my belt kit and my plate carrier. Based upon recommendations of other guys and by doing my own research I settled on the Esstac KYWIs.

I have been using the Esstac KYWI pouches for over two years now and hands down they've been the best pouches for the job! Not only that but many of the other blokes use them both with the L129A1 Sharpshooter and the issued L85A2 Rifle. I have personally used the Esstac KYWIs in Kenya, Georgia, The UK and Afghanistan.
I have the KYWI pouches in 5.56mm and 7.62mm formats in both mid and short length, they're all good for different tasks and ammo types. I normally use the mid length for the sharpshooter as this is able to cope with the weight of the magazine (Magpul 20rnd 7.62mm Magazine) and not fall out when moving around!

I have also used the 5.56mm mid length pouches while shooting at Bisley for 1 Rifles during various competitions, I find them perfect for quick reloads while under time restraints and they don't get in the way while I'm moving around. For competitions this was mainly on a belt kit not a plate carrier, so retention is a key issue.
I am now carrying 5 mags ready to go at all times on my personal load-out, this is broken down as 2 on my battle belt and 2 on my plate carrier with a spare empty pouch for ease of movement while reloading (used as an admin reload pouch) and of course, a magazine in the weapon system itself.

For real steel use these pouches can put up with crazy abuse and always keep magazines secure even if that's running through the Kenyan bush or going up attack lanes in Brecon while you're piss wrapped!

For Airsoft they would be perfect as the magazines are usually lighter than real steel and will always stay in place!"
It's not just the regular forces feeling the KYWI love, With "Obi Wan Nairobi" being seen with an Esstac 1 + 1 pouch it's a legitimate option for UKSF load-outs. The Reptile House covered a complete kit breakdown (Alongside other related articles) for those interested in replicating that incredibly Gucci look.
So there you have it, the ESSTAC KYWI… A less modular approach than some of the competition but one that offers a small amount of flexibility for comparable magazine types whilst retaining a massive amount of strength and retention on your magazine of choice.
Uncategorized
airsoft, atrg, Esstac, gear, gear review, kywi, loadout, milsim, Multicam, real steel, rifles, sharpshooter
Sours: https://atrg.blog/2019/04/26/gear-review-esstac-kywi-pouches/
Esstac Kywi Magazine Pouch Review For Battle Belt #magazinepouch #esstac
Introduction
Is it really worth reviewing simple, well known products which should be in everyone's quiver? Well, I suppose it is – just to say stuff like that.
The Esstac KYWI M4 Single Mag Pouch itself isn't new to me, but I received some fresh ones today from Tactical Kit. I'm gradually getting out of the habit of selling unused stuff, because the odds are I'll want to try it again at a later date. I'm not a hoarder by nature, but I've had to change my behaviour because the buy/sell/buy cycle has become woefully uneconomical.
And, as I implied in the intro, Esstac mag pouches should be a store cupboard essential.
I first heard of the brand not through their mag pouches per se, but because of their chest rigs; really popular back in the day. I think I remember the company being a lot smaller back then, with a hefty lead time on their coveted rigs – which are all named after pigs. Now, while the rig was the draw, it was powered by Esstac's signature product: the KYWI. Much the same as its standalone mag pouches are KYWI based.
KYWI – Kydex Wedge Insert
The KYWI is a Kydex Wedge Insert. Its hourglass shape acts like a double leaf spring, holding a mag in place even when inverted.
It's backed with hook velcro, which attaches to loop velcro on the rear face of the pouch interior.
The base of the pouch showing the base of the KYWI and its drainage hole.
The Wrapper
The pouch is more of a cordura wrapper – open ended and of the appropriate size to apply the appropriate tension to the KYWI, and thus the mag.
Its face exhibits optional PALS columns. Esstac also produces a naked version and offers short and mid length versions, as well as the original version featured here; amongst a plethora of other combinations.
There's only PALS webbing on the reverse of the pouch, so the user needs to leverage MALICE clips (which Tactical Kit provides with each purchase) or buy WTFix straps (my review here); far superior in every way.
User Notes
With the KYWI set to the desired height, the pouch mouth is wide open and it's really easy to reindex a mag.
What isn't always so easy is withdrawing a mag without hitting yourself in the chin – if chest mounted. For me, fresh KYWI's have way too much retention. I'd prefer thinner Kydex for a weaker grip but if you keep mags within the pouches for a while, the KYWIs loosen up a bit. Or, you can heat and reform them.
One thing I really like about the pouches, aside from their primary purpose of rapidly withdrawing or reindexing a mag, is how solid a foundation they are to build outwards from. Hang another pouch on the front face PALS and the Esstac pouch makes a great platform – with no sagging even when empty.
Also, compared with mag pouches on the same spectrum – such as the Eagle FB, ITW FastMag and FirstSpear MultiMag with M4 insert, the Esstac is really rather svelte and low bulk.
In addition, this model of Esstac – being taller – is extremely stable when mounted on chest platforms, with no play or wobble. It's also easier to position, being that it's full length, setting the mags to the appropriate height. For me the shorter versions work better on belts, or platforms which aren't as tall as chest options.
Conclusion
So that's it. A simple idea and an old one – but not something that's dated, in fairness. In fact, Esstac mag pouch usage only seems to be growing and growing.
It's an archetype, done well by Esstac.
Follow The Reptile House Blog on Facebook and Instagram
Sours: https://thereptilehouseblog.com/2020/03/26/esstac-kywi-m4-single-mag-pouch-review/
Kywi review esstac
Not all magazine pouches are created equal. There are a lot of good ones and bad ones out there, but I'm really digging Esstac's magazine pouches which I've recently got my hands on.
I finally got my hands a few Esstac Kywi magazine pouches. I've had my eye on these pouches for quite sometime after hearing a few different folks raving about them. My first impressions are very positive.
The simplicity of the Kywi pouches is genius. It begins with a well stitched pouch made from Cordura nylon followed by a Kydex wedge insert secured to the inside of the nylon pouch with a healthy amount of hook and loop. The result is an outstandingly durable magazine pouch with firm positive retention.
5.56 Triple Kywi Tall
The first of the three pouches I got my hands on was the 5.56 triple Kywi in the tall variation. The pouch is designed to securely hold three 5.56×45 STANAG (AR-15) pattern magazines. Note that AK magazines will not work with this pouch. In my opinion, this pouch is ideal for attachment to the front of a plate carrier.
The pouch is available in various different patterns including standard solid colors and a variety of camouflage patterns. It is available with or without PALS webbing on the front side of the pouch and three different heights: shorty, mid length, and tall. Single and double magazine configurations are also available. Optionally, the pouch can be purchased with or without four (4) WTFix straps. The pouch I received included the PALS webbing and the WTFix straps.
I initially struggled with attaching the pouch to the front of a plate carrier. The stiff Kydex inserts made it difficult to weave the straps between the PALS webbing on the carrier and the 5×6 grid on the back of the pouch. After realizing I was attempting to attach the pouch the hard way, I removed the Kydex inserts and found it very simple to attach the magazine pouch to the plate carrier. To be honest, I ended up using four long fight light malice clips from Tactical Tailor which made the attachment even easier than it was with the WTFix straps.
Inserting and removing magazines into and out of the pouch is a breeze. The magazine retention is excellent and the pouch is very securely attached. The pouch is excellent. I can live without the WTFix straps and prefer using malice clips instead. I can see the WTFix straps being more comfortable on a battle belt or on a cummerbund than a malice clip whereever the locking mechanism of the clip can press up against a person.
5.56 Single Kywi Mid Length
The next pouch I handled was a 5.56 single Kywi mid length magazine pouch. Like the triple pouch, this pouch is also designed to work STANAG pattern magazines and is available in all the same patterns, lengths, and with or without PALS webbing. Unlike the triple tall pouch, this pouch is available with either two (2) WTFix straps, two (2) 1.75″ belt loops, two (2) 2″ belt loops, or none of the above. The pouch I received included the PALS webbing and two 1.75″ belt loops.
The belt loops attach to the 4×2 nylon grid on the back of the pouch. This gives us the option to later remove the belt loops and attach it to other items with PALS webbing. Attaching the belt loops to the pouch is simple after the Kydex insert is removed.
Just like the triple pouch, inserting and removing a magazine from the pouch is simple. The retention is excellent and it sits comfortably when attached to a belt. While I haven't had the opportunity yet, I am looking forward to making heavy use of this pouch when attending other training courses and carbine competitions.
Double Pistol Gap Kywi
The last of the pouches I got my hands on was a double pistol gap Kywi magazine pouch. Like the other Kywi pouches, it is available in the same variety of patterns. This pouch is available with an option of two (2) WTFix straps, two (2) 1.75″ belt loops, two (2) 2″ belt loops, or none of the above. PALS webbing is not available on the front of this pouch. There are variants of this pouch available without a gap between the magazines and in single and triple magazine configurations. The pouch I received included two 1.75″ belt loops.
Similar to the double 5.56 pouch, the belt loops are very easy to attach to the 3×2 nylon grid on the back of the pouch. This pouch is also very comfortable to wear on a belt.
The pouch is designed to hold two service pistol double stack 9x19mm, .40 S&W, and .45 ACP magazines. I've been using this pouch with 17 round VP9 magazines and they are retained perfectly. I see myself getting a lot of use out of this magazine pouch. Since receiving this pouch, I've been using it to conceal carry two spare magazines for the VP9.
Closing Thoughts
I have nothing negative to say about the Kywi pouches. I can clearly see now why the folks I heard talking about them were raving about them. In fact, I'm looking forward to getting my hands on a few 7.62 magazine pouches and perhaps a 1911 magazine pouch (assuming they are compatible with Sig P220 10mm magazines).
My opinion on the pouches may change as I get more use out of them, but for the time being I suggest that folks looking for magazine pouches check them out.
Related
Sours: https://unclezo.com/2020/09/05/first-impressions-esstac-kywi-mag-pouches/
Esstac Kywi Magazine Pouch Review For Battle Belt #magazinepouch #esstac
He played with her clitoris, she enjoyed, the tears dried up. A minute later, she finished. But he was still excited. -My honey, forgive me for that.
You will also like:
And apparently afraid to frighten off any questions, he just decided to act. To be honest, that's exactly what I wanted, otherwise I could have changed my mind. he spreading his mom's legs wider put his palm on my crotch through my panties, lay down on me and looking into my eyes approached my lips. As soon as his palm touched my labia, I realized that I really want him.
493
494
495
496
497