Rustic Farmhouse Entryway
Thank you to Better Homes and Gardens at Walmart for sponsoring this post. All opinions are my own!
I have been sharing little sneak peeks of this bench on instagram all week. I've also been telling you that it was for my bedroom. But since at least one person in this house has been sick since Christmas and I'm the most recent victim, my bedroom is a torn apart disaster. While I was downstairs eating lunch (aka cough drops) and staining this bench I'm thinking… I'm never going to finish all this by Wednesday (because sometimes bloggers have deadlines). So I decided I'd just pull it upstairs and stage it somewhere in my living room. I didn't think I was going to fall in love with this little Rustic Farmhouse Entryway, in this little corner, on this day. It has a little cottage, a little farmhouse, and a little industrial. 3 of my favorite things. We are calling this Rustic Charm.
I really did have intentions of moving this bench straight into my bedroom, but to be honest this little corner has been such a problem space for me. It's right next to my couch and it's a big awkward corner… I had no idea what to put here. I'll still have to move some stuff around, but I am much happier with this space. So it looks like my bedroom will have to wait!
Let's talk about where all these pretty decorations came from! You guys know how much I love a good bargain, especially when it's a versatile piece. Everything I have here I could easily move to a different room in my house. That is a total win for me! But let's not talk about re-arranging this space yet…I'm sure that will come soon enough ; )
I built this bench specifically for these galvanized bins from Walmart. They are so affordable and I am kinda in love with them. I have so much junk that needs to be put somewhere… 8 bins, why yes… I think that will do!
The wicker basket is actually from last year when I refreshed my living room. Isn't it just gorgeous with this soft throw in there? Swoon!
I actually found this lantern on clearance at Walmart, so if you want one you might need to literally run down there to see if they have one (the one I linked to is a slightly different color, if you want this one you might have to check your store)! And that just so happens to be a mirrored picture frame it is resting so beautifully on, but I'm using it as a tray!
I will be working on a tutorial for the bench itself over the next few days. I hope I got all my pictures for it because I was building it in the garage, the basement, and my living room (fingers crossed). Yay for winter (not really… that's my sarcasm coming through). I hope you love this little space as much as I do! If you have any ideas for my bedroom let me know… I'm kinda starting over in there!
Rustic Farmhouse Entryway
Want to Shop this Look?
Bench – DIY/Tutorial Here
galvanized bins – Walmart
Wicker Basket – Walmart (not sure if it's still sold)
Wood Shim Vase – Tutorial Here
Cream Colored Throw – Walmart
Lantern – Walmart
Picture frame/Tray – Walmart
Pintuck Pillow – Really old tutorial here
Giant Chalkboard – DIY/Tutorial Here
Wreath – from last year's Spring Mantel
If you love all these products, be sure and follow along with BHG Live Better for more great product ideas!
Instagram | Facebook | Twitter | Pinterest
Sours: https://cherishedbliss.com/rustic-farmhouse-entryway/
Farmhouse Mudrooms
I LOVE mudrooms!  In our first home my husband used to walk in and sit all his stuff on the kitchen table (it was right where you walked in the garage) and it used to drive me crazy!!  I always said…next house….a mudroom!  When we built our current home we did add a mudroom and I am not even kidding it is one of my favorite rooms in our home.  Especially now that we have kids!  It stores all of the "stuff" we need and helps keep us all organized.  You can use the front entry of your house to create a beautiful space for the essentials, or use the area at the back of the house where the garage or backdoor is. Let these Farmhouse Mudrooms inspire you to dream a little more than just a plain shoe bench stuck by the wall.
The built in lockers add a fun touch to this mudroom.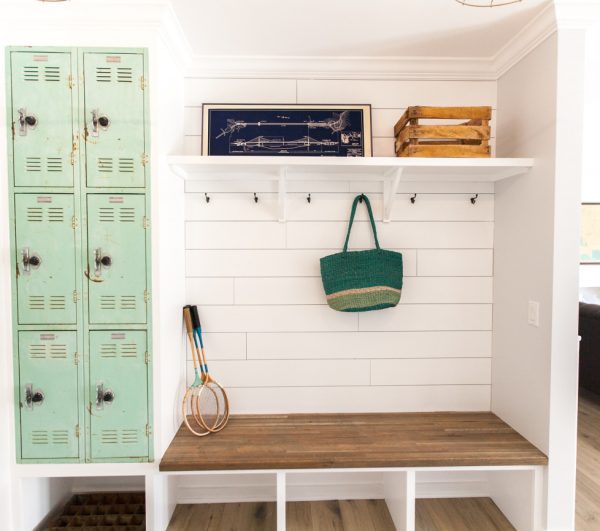 Rafter House via Eclectically Vintage
This wood exudes the perfect rustic appeal and looks beautiful with the floors.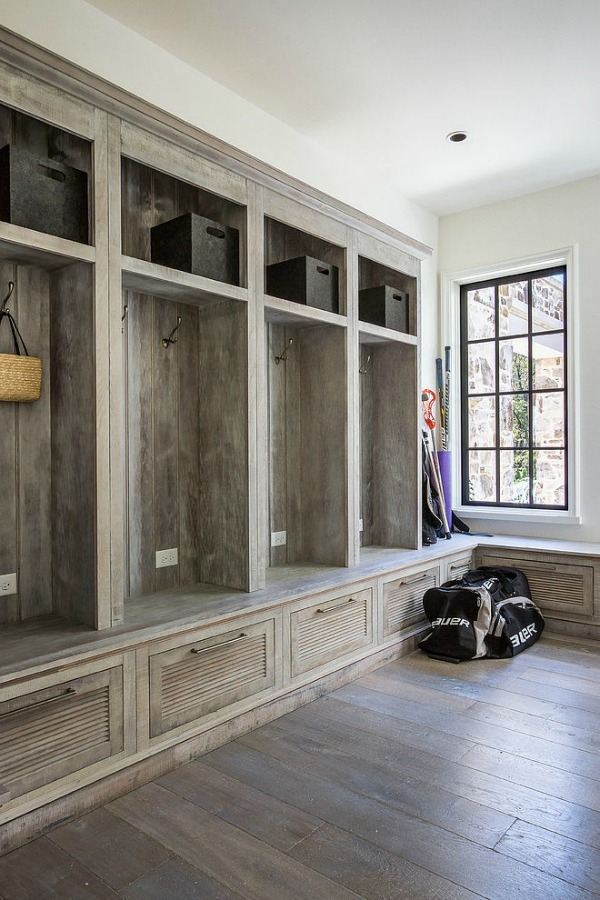 Home Adore
The addition of a beautiful beaded chandelier brings some elegance into a room that will end up being cluttered every now and then with jackets and shoes.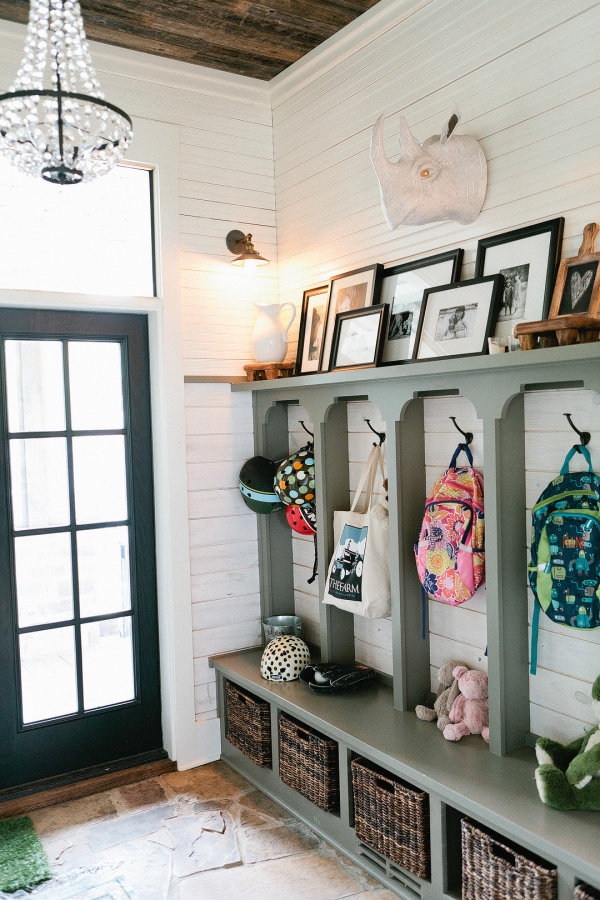 Style Me Pretty 
This is a great place to add some fun.  A pop of color brightens up the entire room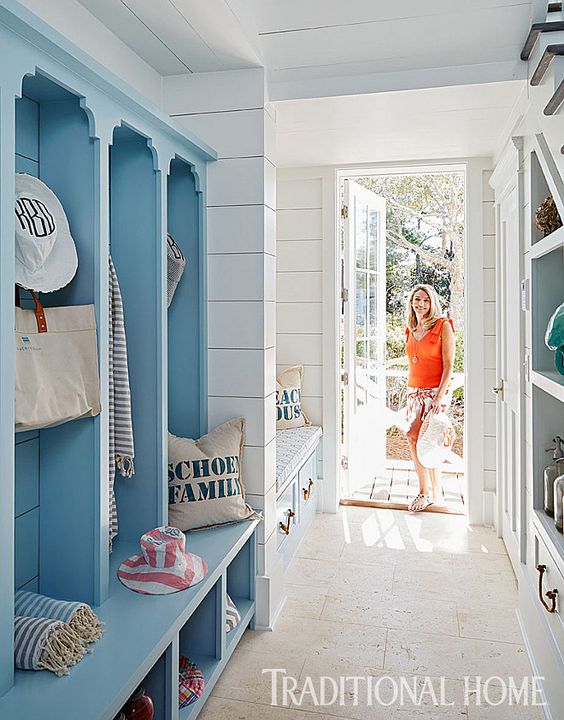 Traditional Home via Home Bunch
These vintage lockers make such a statement in this room.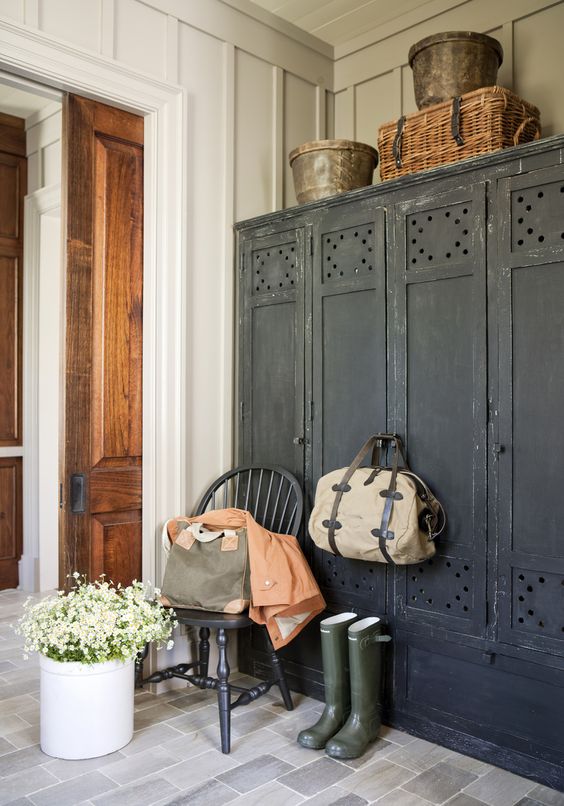 Suzanne Kasler
I love how this mudroom is designed like a greenroom.  So much light makes it feel bright and airy.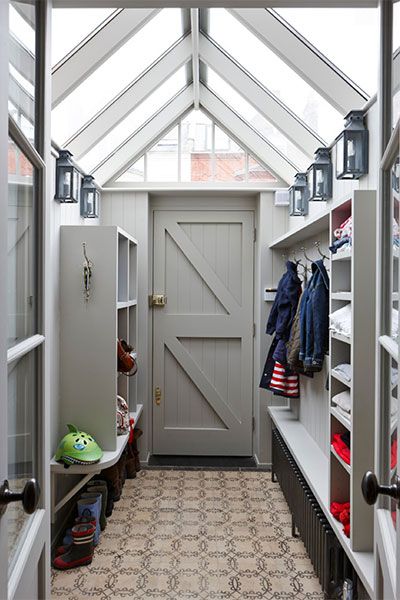 Charlotte Crosland
Small space…no worries.  Create a mudroom space in a small nook or small wall in your home.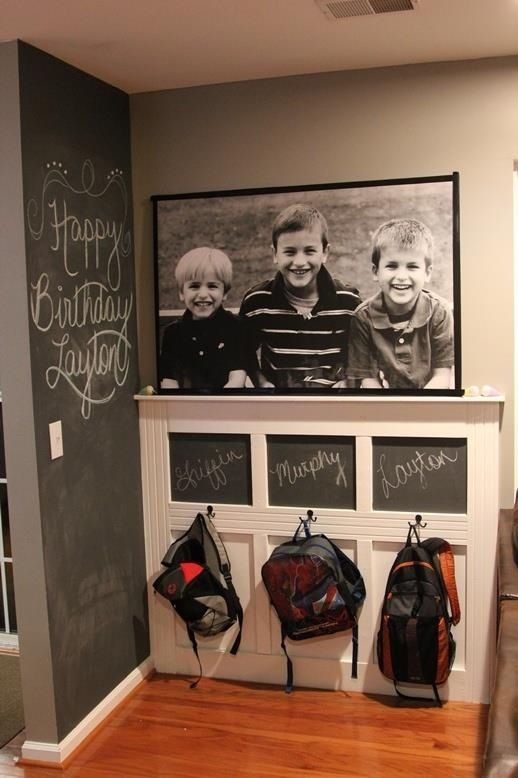 Batmom
I love the numbered cabinets and fun retro floor.  The mudroom is an area you can get a little more adventurous in because it is a small room that doesn't have to flow with the entire home.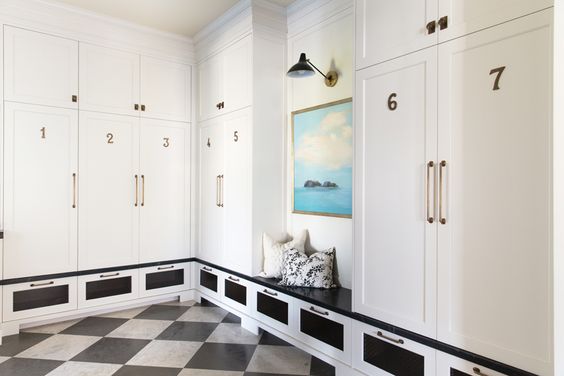 Alice Lane
Like I mentioned above you can be bold with your decor in this room.  I love the chevron pattern flooring they choose for this room.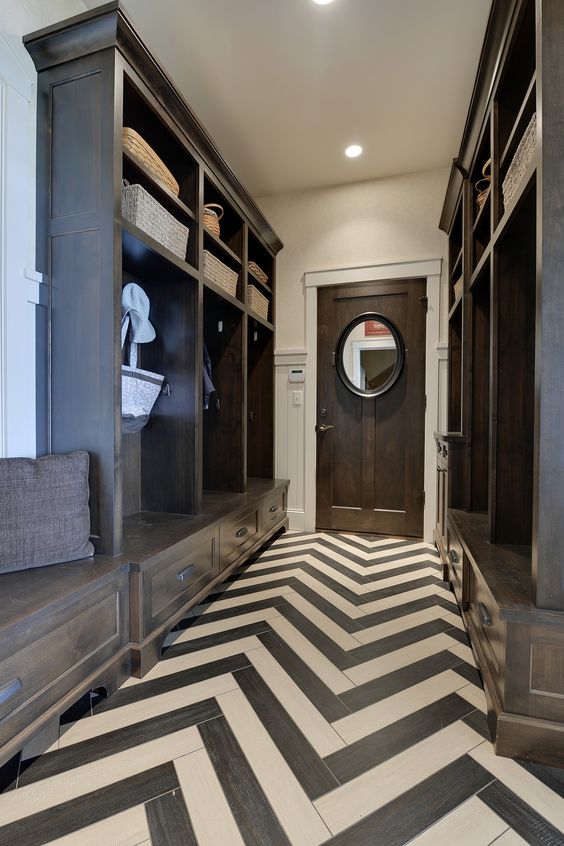 Source Unknown- Found via Pinterest
No room for a bench or cubbies? Go with some old crates stacked up- they store books and shoes just as well!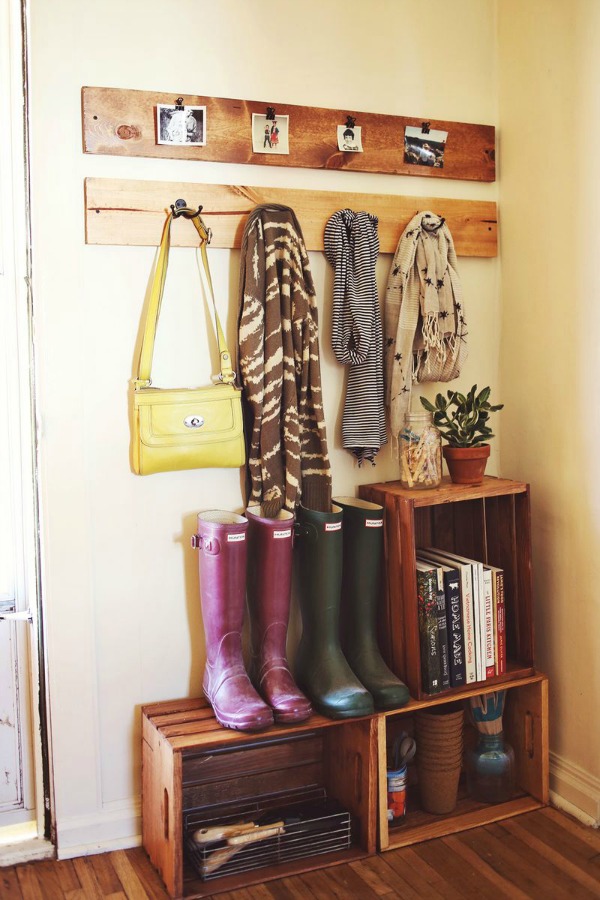 A Beautiful Mess 
Those metal bins are so perfect for the bench, and having a chalkboard is a great backdrop rather than a plain wall.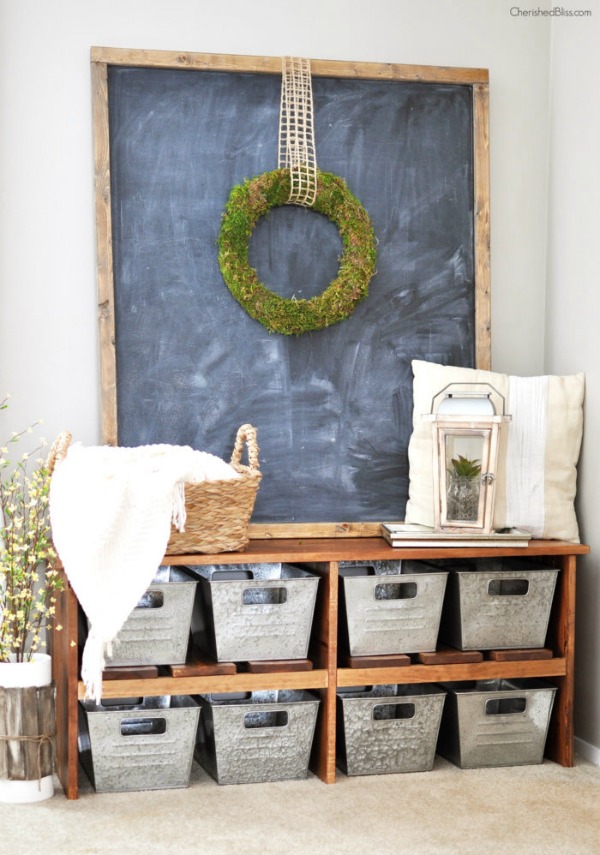 Cherished Bliss
Gorgeous wainscot walls helps the flow of the room match the rest of it, but then the simple bench adds just what you need.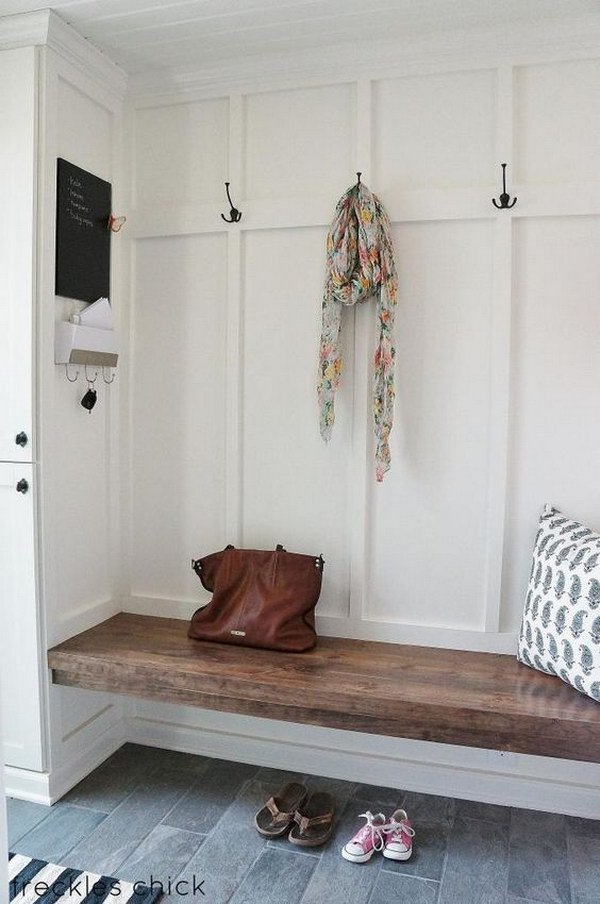 Freckles at home
This truly speaks to my heart- ship lap walls and vintage chicken nesting boxes.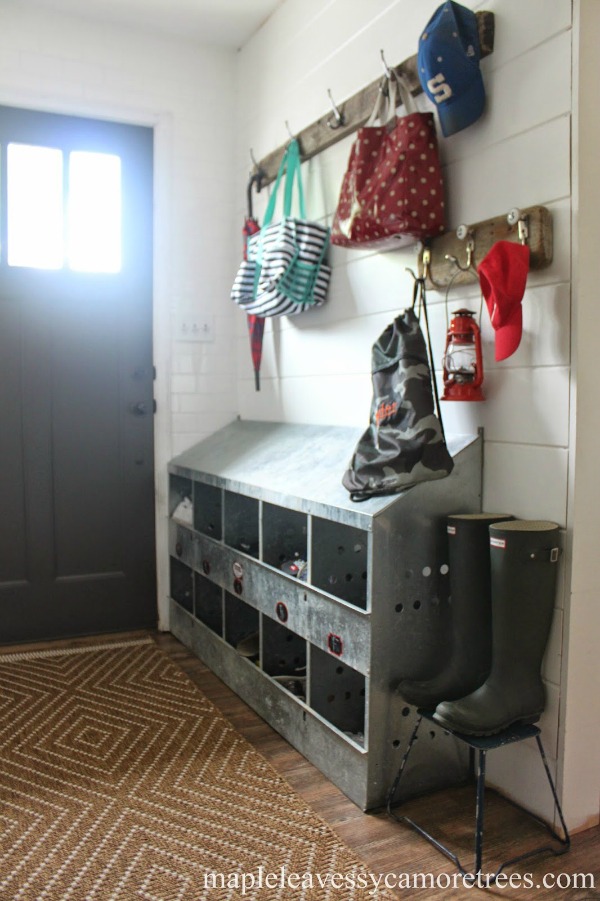 Maple Leaves Sycamore Trees 
A bench is nestled in between 2 build in cabinets and a shelf hangs above the coat hooks.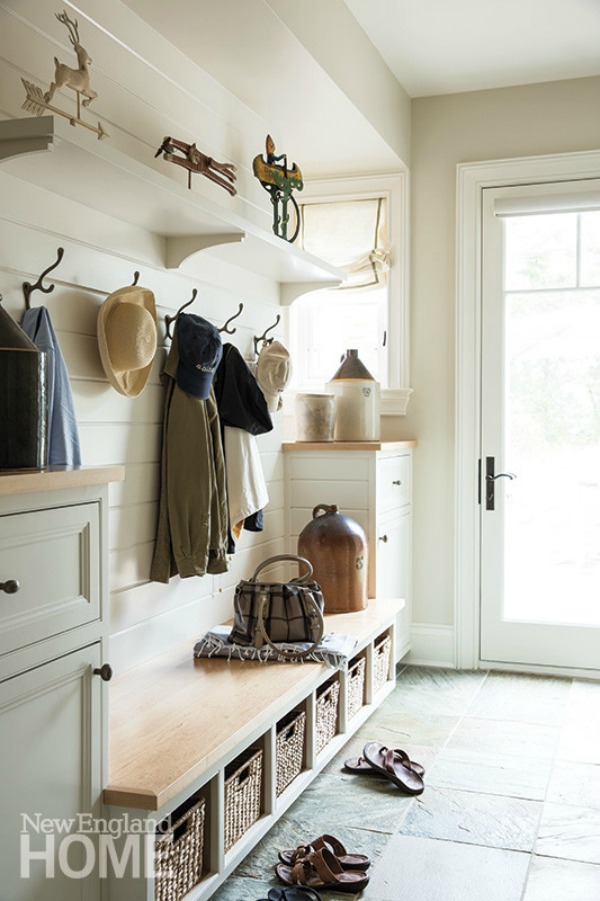 New England Home 
This is a dream for anybody who has more than 2 school age kids! Bench, cubbies, drawers, and cabinets!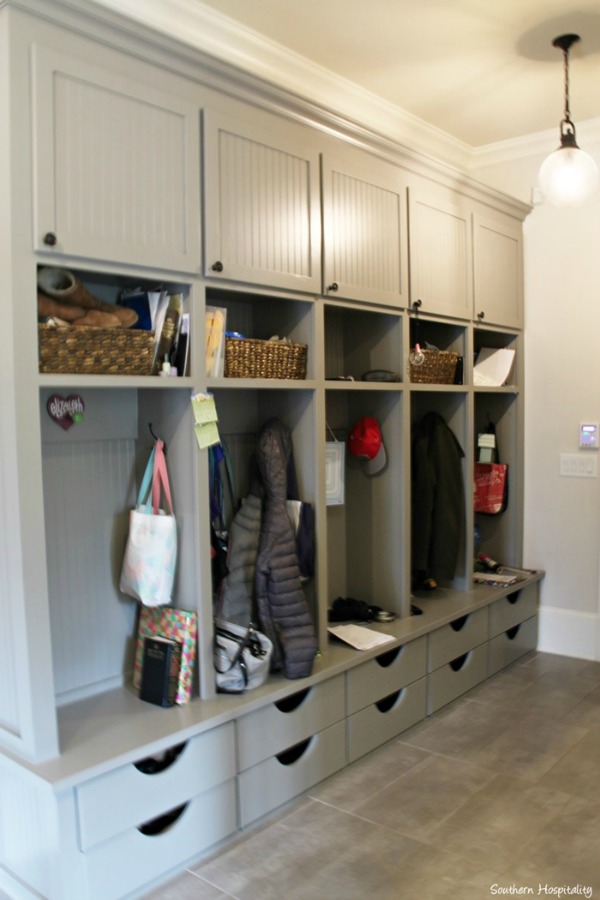 Southern Hospitality 
Tall sloped ceilings and beautiful brick floors create this cozy room.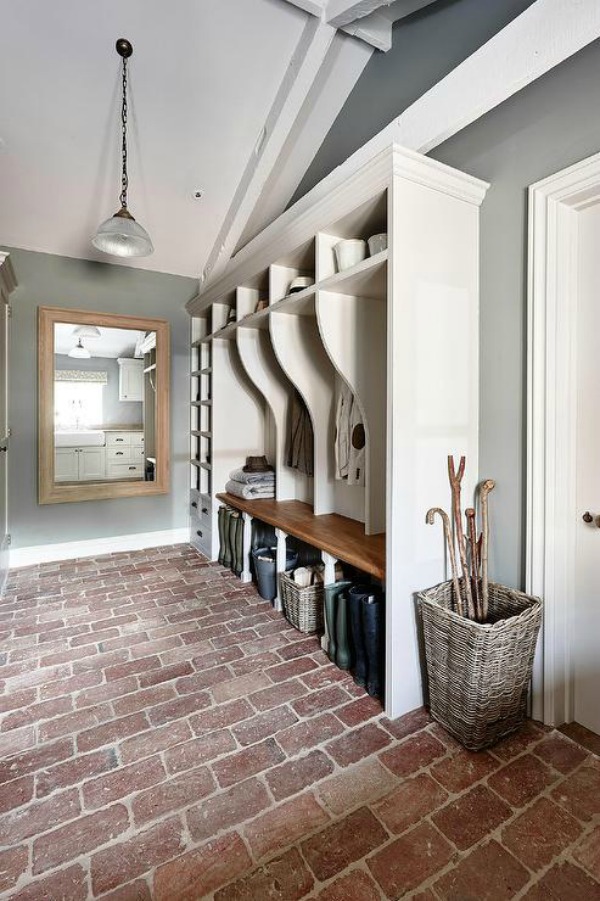 via Decor Pad 
I am in love with that herringbone tiled floor! And the built in benches with cabinets work perfectly in this corner around the doors.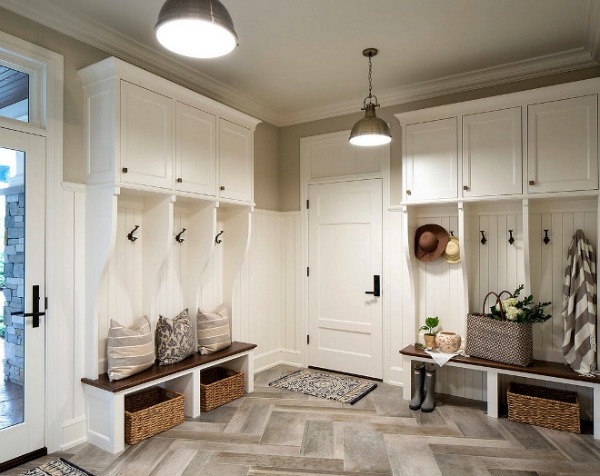 via Home Bunch 
2 chandeliers hang in this one! And a sliding ladder is perfect for those hard to reach areas- I can see my kids playing in there all day.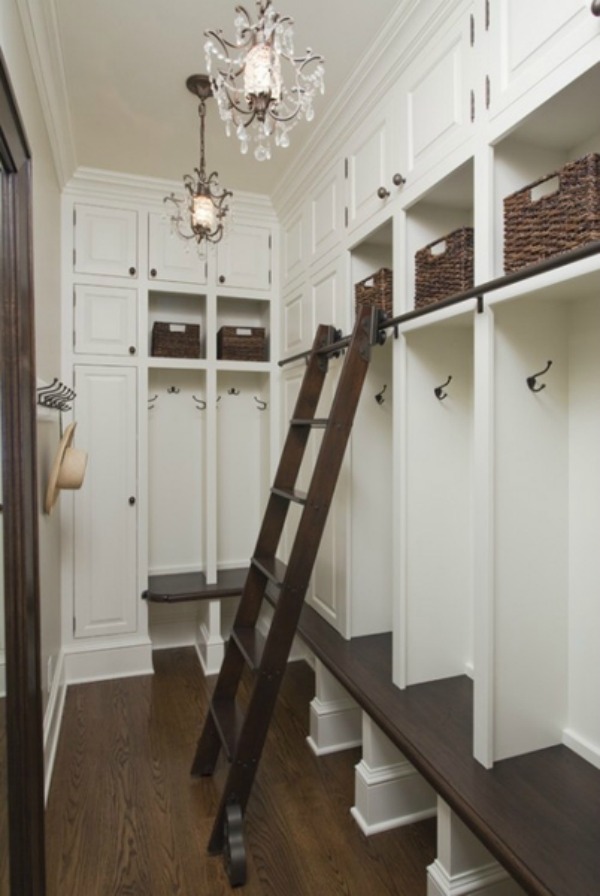 via Pinterest 
This back entry has all the essentials you need- an easy to clean floor and someplace to put your shoes and jackets.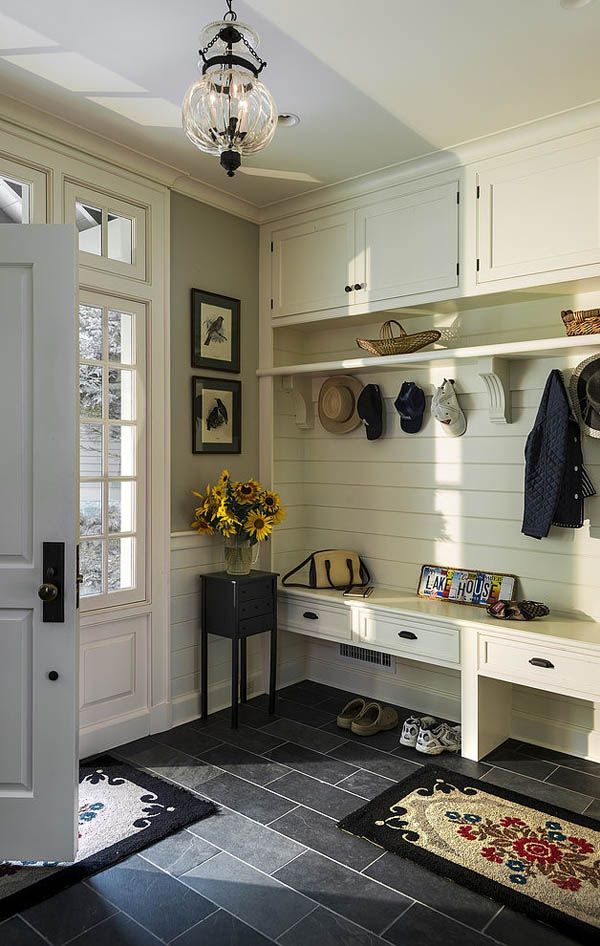 via Crisp Architects
Such gorgeous Farmhouse Mudrooms to be inspired by!

Sours: https://houseofhargrove.com/farmhouse-mudrooms/
Our Home || Our Farmhouse Style, Rustic Mudroom
I'm excited to reveal the first room we enter when we come into the house…..the rustic MUDROOM!  We renovated this space shortly after we moved into our home in 2017. The inspiration for our farmhouse style, rustic mudroom was definitely Joanna Gaines!
This post may contain affiliate links – full disclosure statement available here.
Since we enter the mudroom every day via the garage, this is the one room that takes the most beating. My kids seem to hold on to the walls like they are handrails, so I knew I needed something very durable and practical on the walls.
In addition to being practical, we also needed the farmhouse style, rustic mudroom to be functional.  The existing space was pretty much a blank canvas since the home was not delivered with a built-in bench (with hooks) or a planning desk (with overhead cabinets).  The bench was not a builder option during the build (as seen in the model home photo below); however, I could have included the planning desk as part of my selections.  I listened to the sales guy and opted to add it after closing.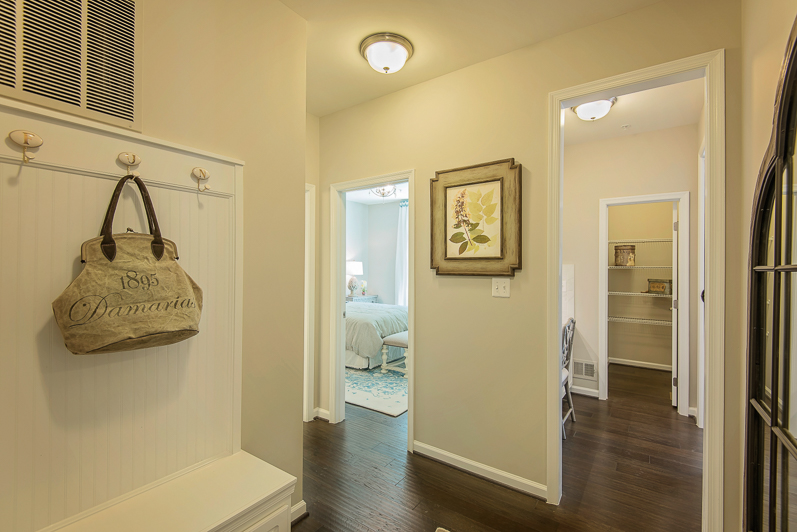 Rustic Mudroom – Progress Photos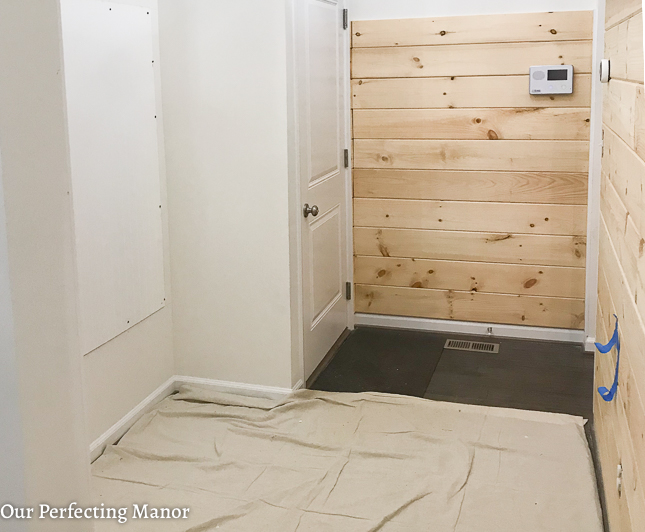 I am an HGTV Fixer Upper fan, so I knew I wanted something a little more rustic and custom.  Those who are a Joanna Gaines fan know exactly what I'm talking about…..I had to introduce some shiplap into my home. This rustic mudroom was my first opportunity to do so!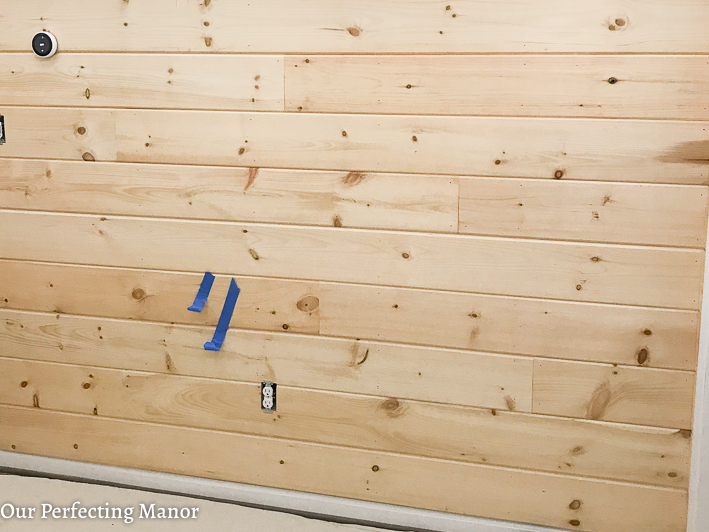 With twins (boy and a girl), storage was essential in the mudroom and planning area.  I worked with my contractors to design a space that could store my kids' jackets, gloves, hats, and shoes!  I also needed a workspace for containing arts and crafts supplies, kids' learning supplies and a space to plan out my monthly home activities. 
Shiplap
The knotty pine shiplap was an excellent choice for my modern farmhouse style home.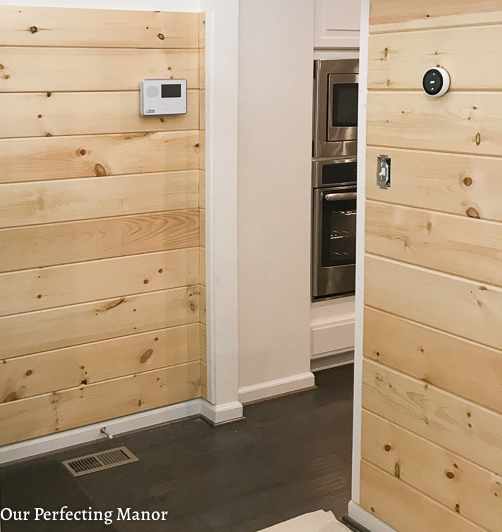 The shiplap covers roughly 5 feet of the wall, and the main wall has a picture ledge for displaying family photos. I especially love this feature since it allows me to change out the photos easily.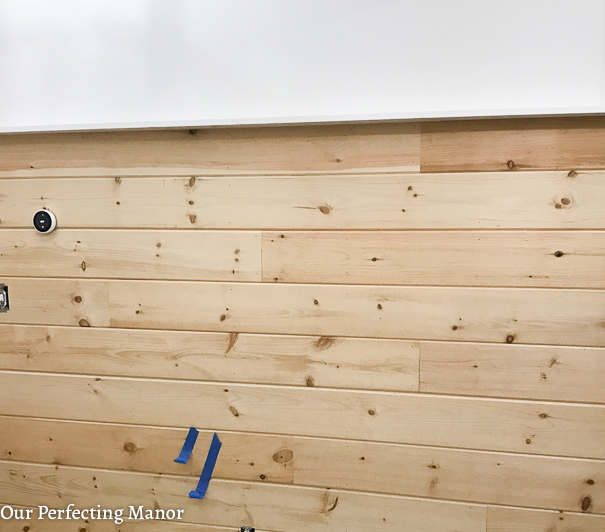 The bench, although not very tall or big, is just the right size for the twins. They each have two hooks and one cubby to store their items.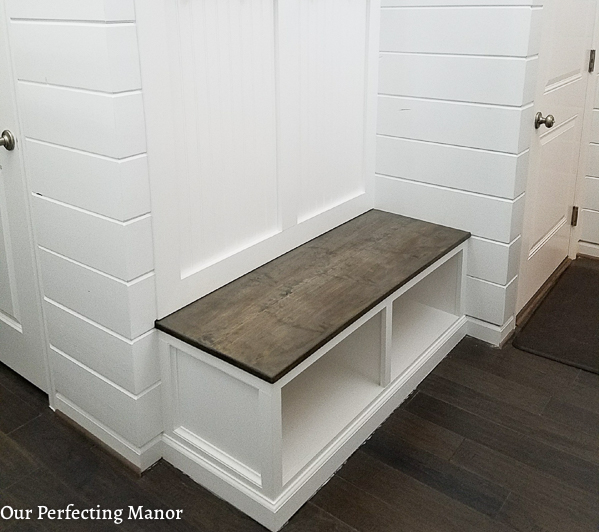 Rustic Mudroom – After Photos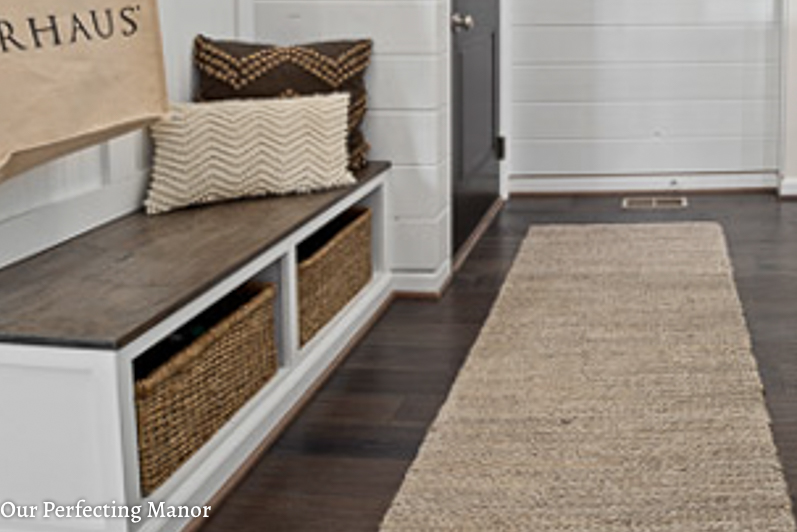 They each have two hooks and one cubby to store their items.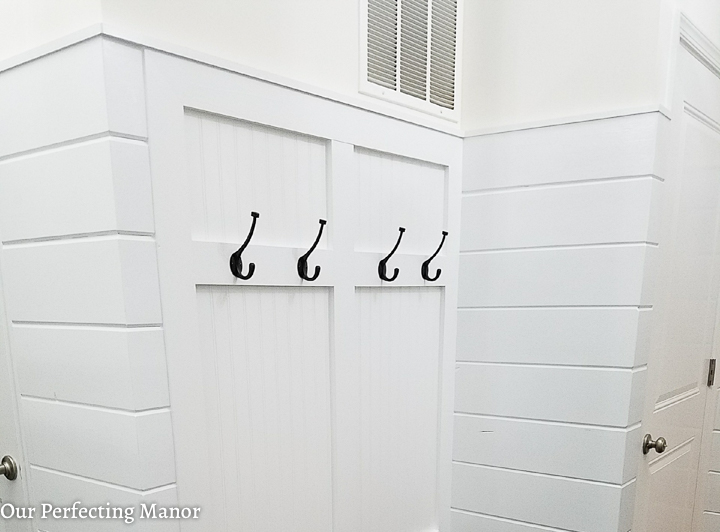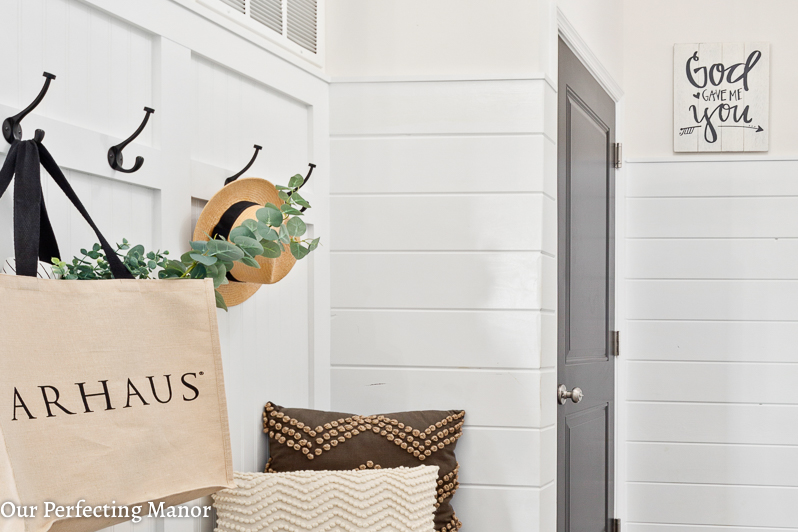 We used multiple stains on the wood bench to match the color with the engineered hardwood floors. The trim was painted white to match the trim throughout the home.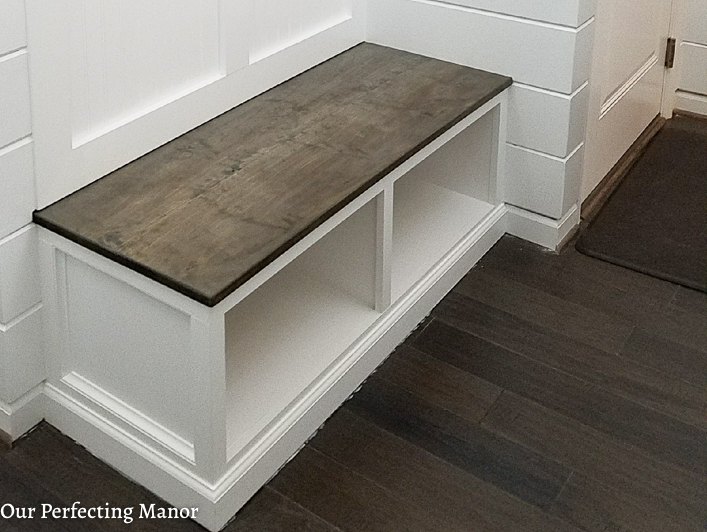 Planning Desk
The planning desk that was offered by the builder was at the standard height.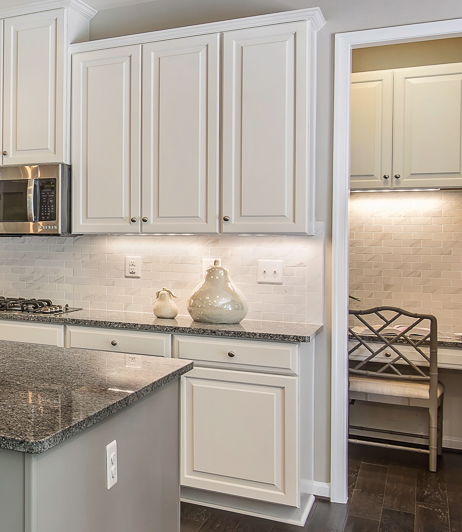 Since I'm pretty tall (5"8'), I decided to go with the counter height cabinets for the planning desk. I love this option so much as it gives me the option for deeper drawer storage.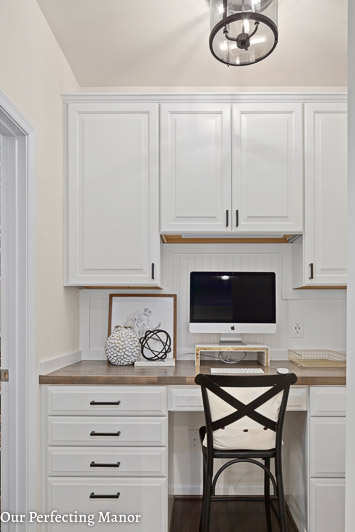 We used butcher block for the top of the desk and trimmed out the backsplash with beadboard.  I love the look of this space so much, and it really gives this space a rustic mudroom feel!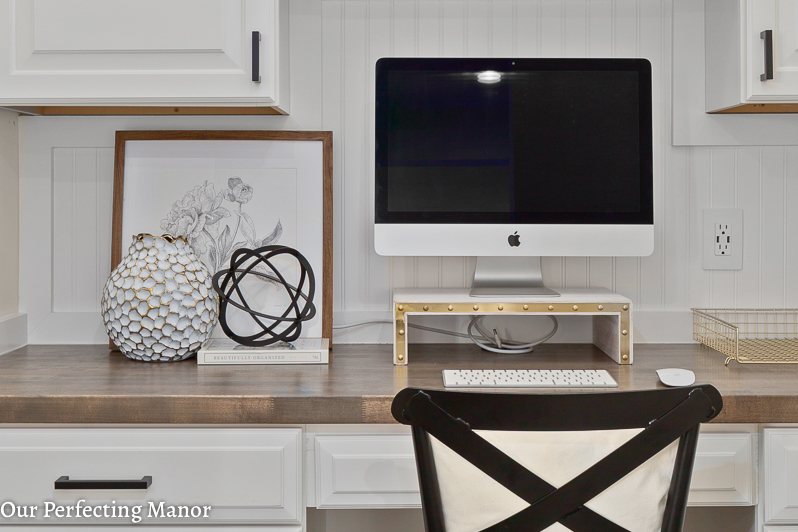 We wanted to display some family photos that can be easily changed out, so the option of a picture ledge above the shiplap was perfect.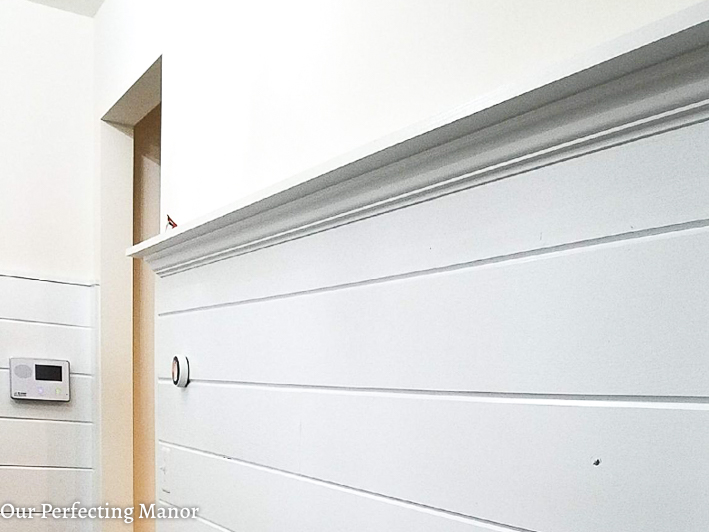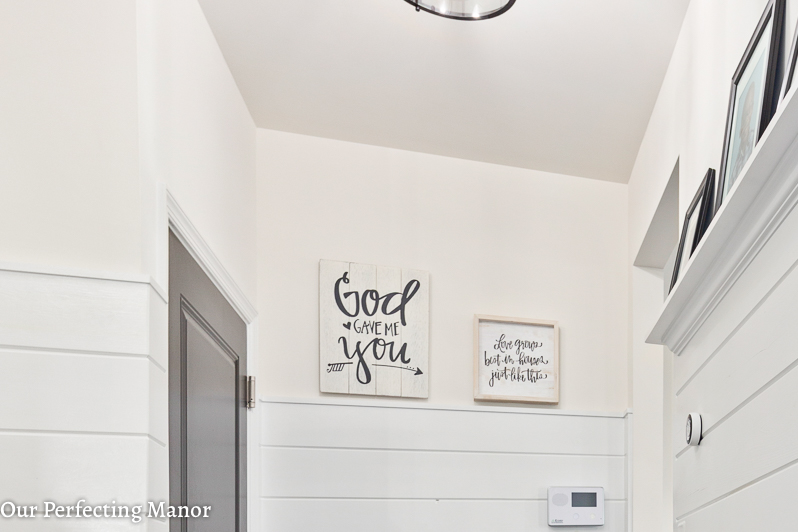 Chevron Pillow || Green Pillow || Pallet Wall Decor || Wood Wall Decor || Bistro Black Stool || Runner || Honeycomb Vase || Letter Tray || Monitor Stand (similar) || Black Pulls || Beautifully Organized || Utility Basket || Hook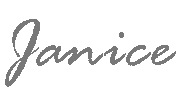 I'm excited to reveal the first room we enter when we come into the house…..the MUDROOM! We renovated this space shortly after we moved into our home in 2017.
Filed Under: Blog, Home Tour, Our HomeTagged With: fixer upper, mudroom, shiplap
Sours: https://www.ourperfectingmanor.com/home-tour-mudroom/
Farmhouse Mudroom Organization REVEAL
Rustic Mudroom Ideas-PICTURES- Farmhouse Mud Room Storage Designs & Layouts
Mudroom Entryway Ideas in Rustic Farmhouse Style – DIY mudroom ideas, designs and pictures of mudroom decorating ideas we love… mudroom storage cubbies, with shiplap, cabinets, shoe storage baskets, entryway mudroom ideas and of course, mudroom benches, too.
Rustic Mudroom Ideas
These are all such beautiful and functional rustic mudroom layout ideas to add a mudroom storage area to your home – they're all just gorgeous and a fairly easy DIY home decor project to make your house more functional and beautiful.
Like this rustic mudroom design in the picture below – wouldn't you just LOVE that in your entryway or ANYWHERE in your home?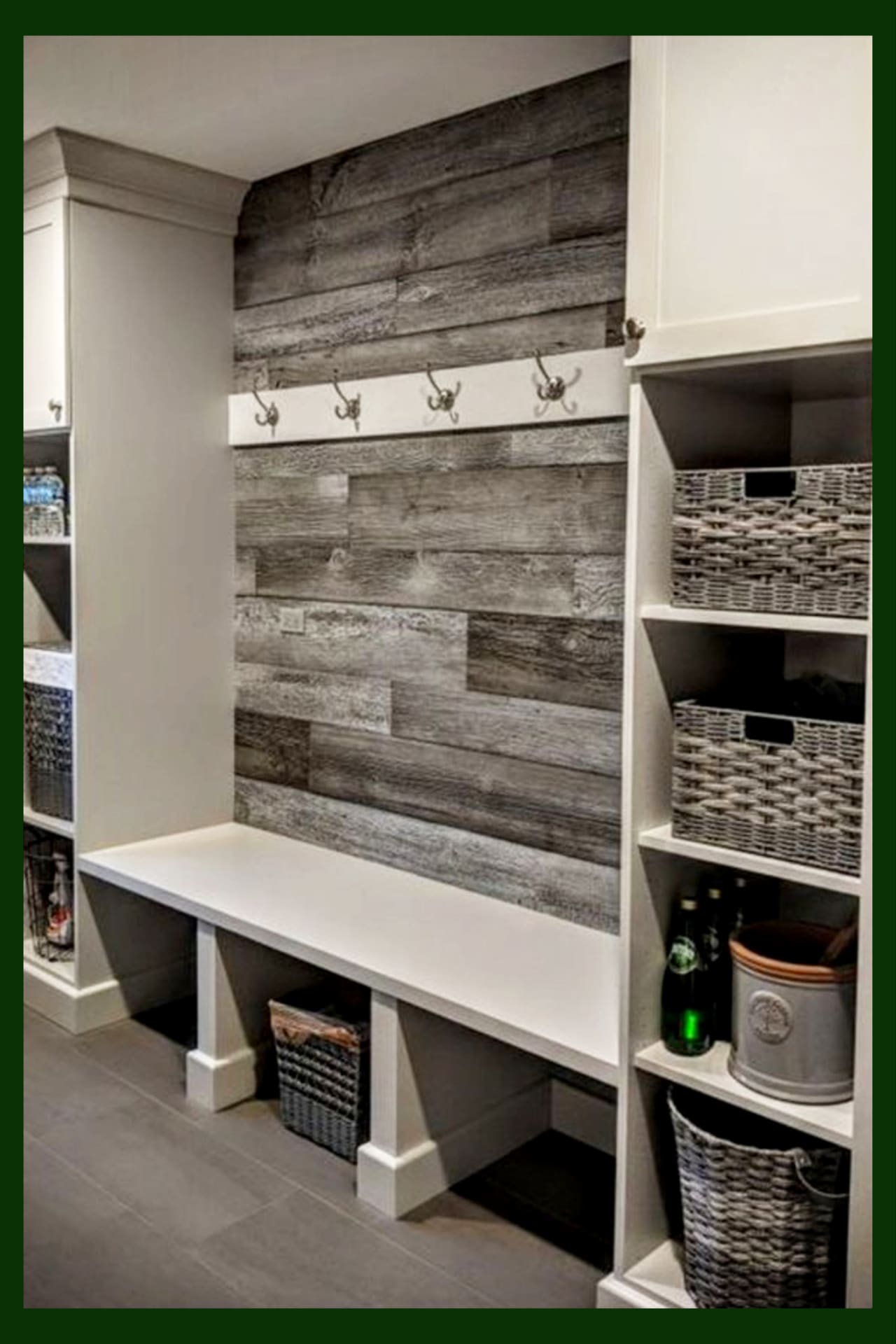 ✅ Did you know?
You can get a Mudroom KIT
Yes, everything you need to easily make your own mudroom at home!
DIY Mudroom KitsShow Me ThisRustic CabinetsShow Me This
Ok, let's jump in and look at some gorgeous mud room designs pictures and ideas we LOVE!
Feel free to pin any mudroom pictures on Pinterest to save your ideas.
✅ Farmhouse Mudroom Designs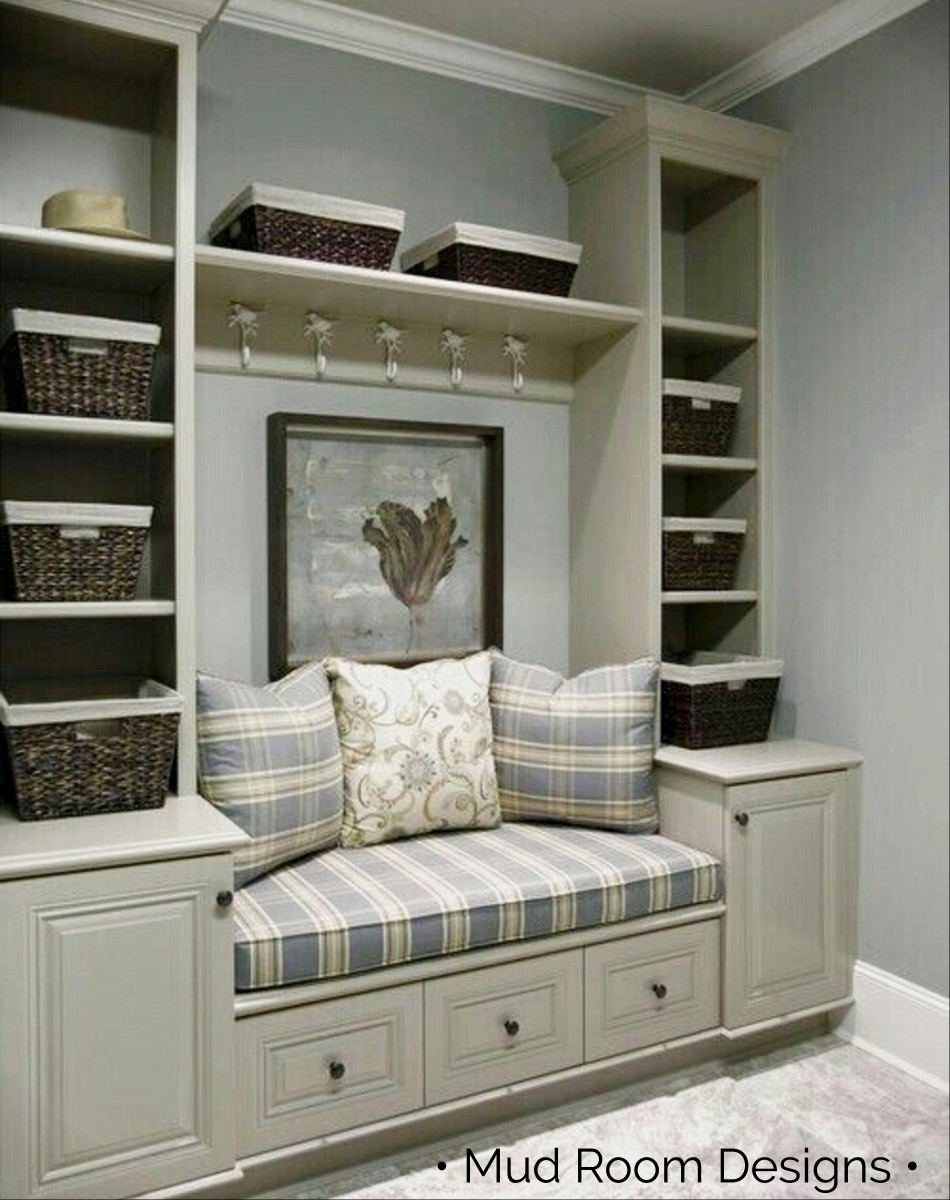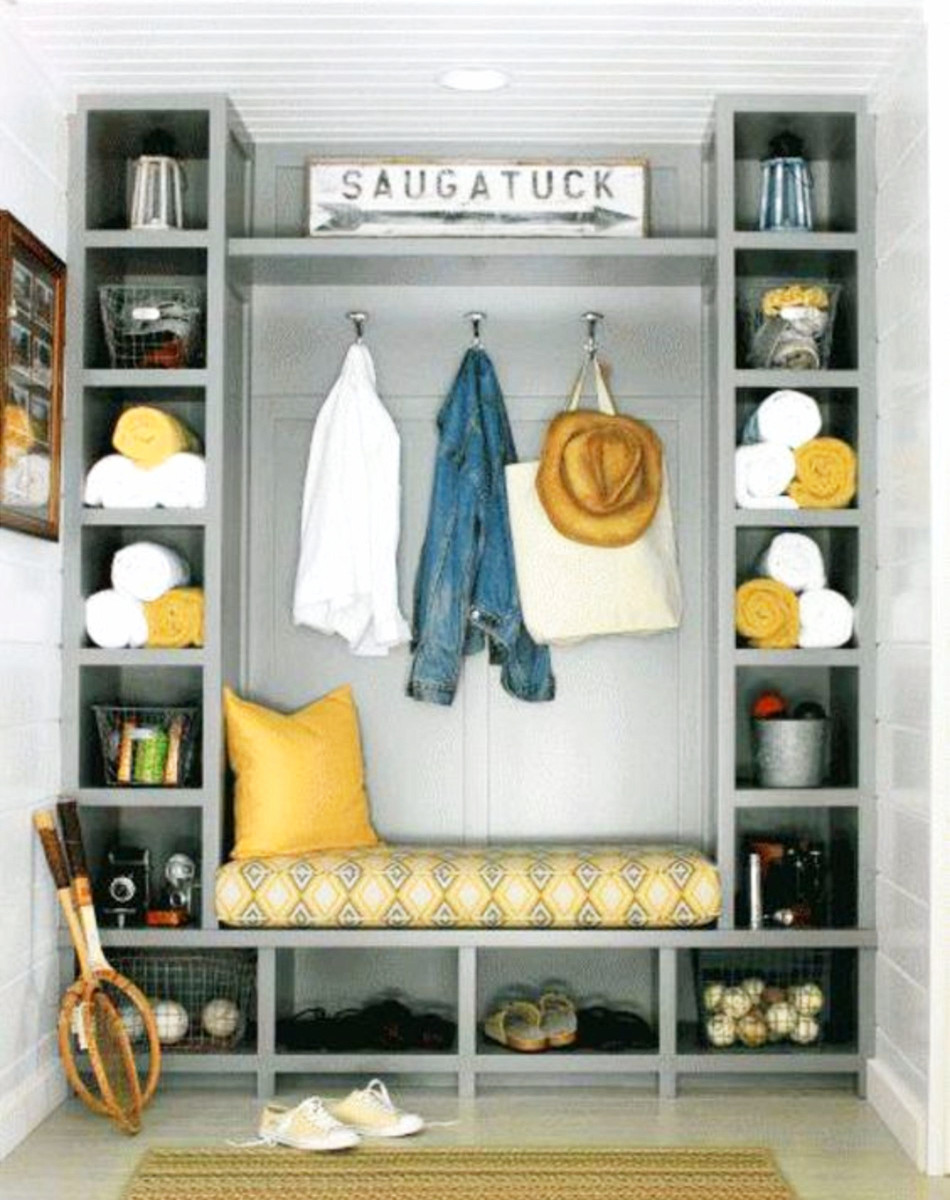 ---
---
Mudroom Furniture Ideas
If you're looking to buy mudroom furniture, cabinets, storage baskets and bins and/or beautiful mudroom benches…
==>> Take a look at all these mudroom furniture ideas (great prices too!)
Do It Yourself Mudroom Ideas
&
=> Look at these beautiful Mudroom Bench Ideas Here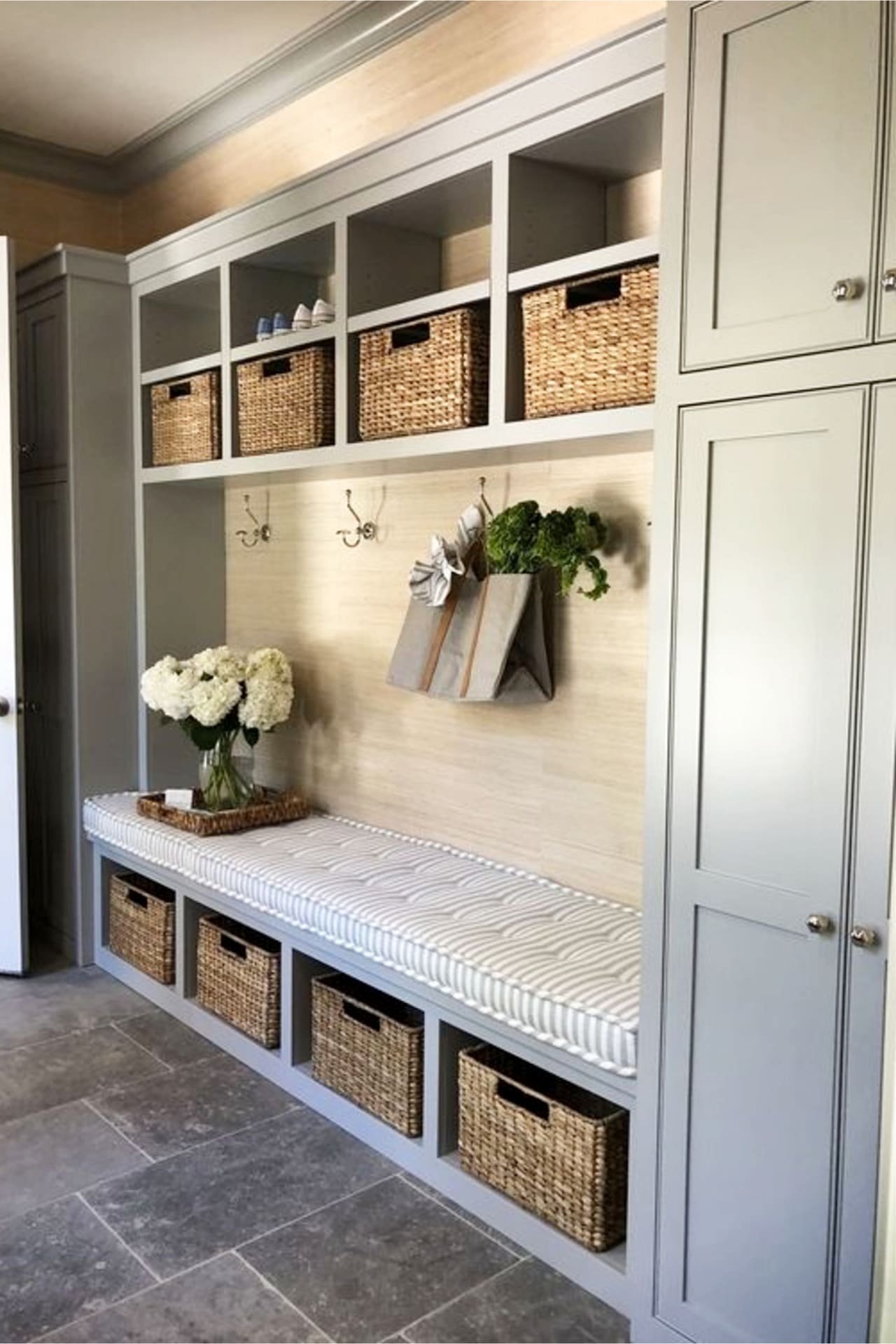 Mudroom Checklist
__ Pegs or hooks for your coats, hats and jackets.
__A rug near entry door to wipe the shoes. It is your first line of defense against the clutter.
__Mudroom bench to provide sitting space for removing and storing the shoes.
__Umbrella stand for the rainy season. The best place is just above the mudroom bench.
__A separate place for pets.
__Add cushion on the top of mudroom bench.
Mudroom Laundry Room Ideas
__The floor surface should be made of durable material. It should be scratch proof and easy to clean.
__Specify a door and separate area for your laundry inside the mudroom.
__Use tiles instead of vinyl flooring. Tiles are long lasting and durable.
__Sink material must be durable and heat resistant (ex stainless steel or cast iron).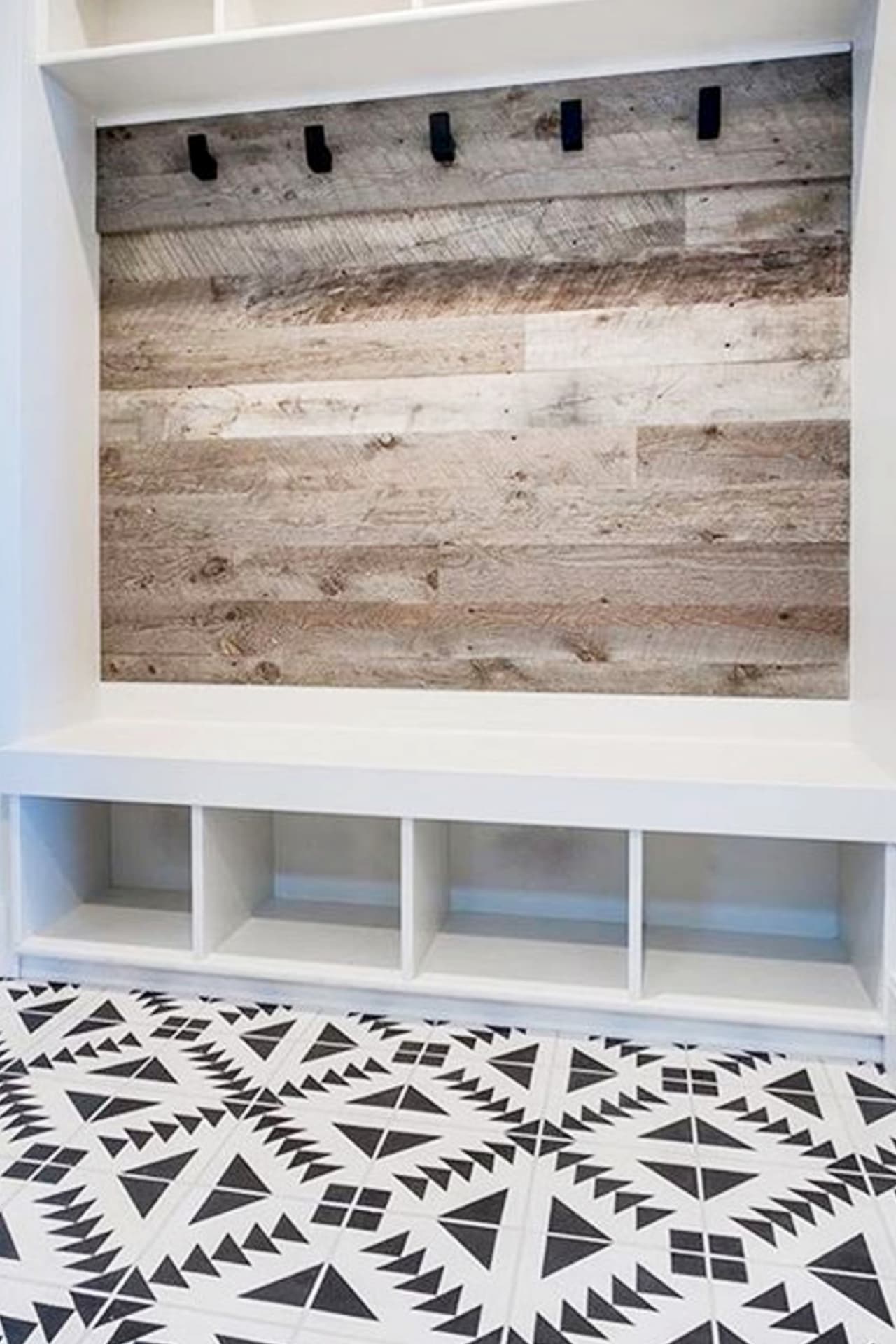 Small Mudroom Layout Ideas
Here are some ideas to make a small mudroom area more efficient and functional:
– Add a mirror to check yourself before leaving the house.
– Add a shelf near the door to store keys, papers and important mails.
– Use plenty of mudroom baskets and cabinets for storage.
– Use multiple hooks for hanging space. No mudroom is complete without the ample room to hang things.
– Use a bulletin board to keep track of schedules.
DIY Mudroom Design Tips
* Always use water proof and heat-resistant material for finishing.
* Use wall mounted cabinets to save space.
* Label bins and cabinets. Make sure that each family member gets his own storage space.
* Place a big bin to collect dirty clothes.
* Make a drain in the floor to run off water after washing.
* Try waterproof, resilient floor. It will help keep moisture out of the room.
* Have a space heater to dry the wet clothes quickly. You can place it below the mudroom bench to save space.
* Place a door between mudroom and your house to keep temperature inside the house at minimum.
* Go for Shelving inside the cabinets. It will keep your items organized.
* Make sure that your mudroom has enough room for moving around.
* Use radiant floor or install bench radiator (if you can't have radiant floor. )
Rustic Mudroom Bench Ideas
Add a mudroom bench to provide a comfortable sitting place to remove or store muddy boots. It is most important furniture to keep your house clean. Choose a bench that matches the decor of your house. You can add storage to bench by placing bins, baskets or installing cabinets. Make sure that it don't have any sharp edges and its height is comfortable for all family members.
✅ You might also like:Farmhouse Kitchen Decor and Canisters
---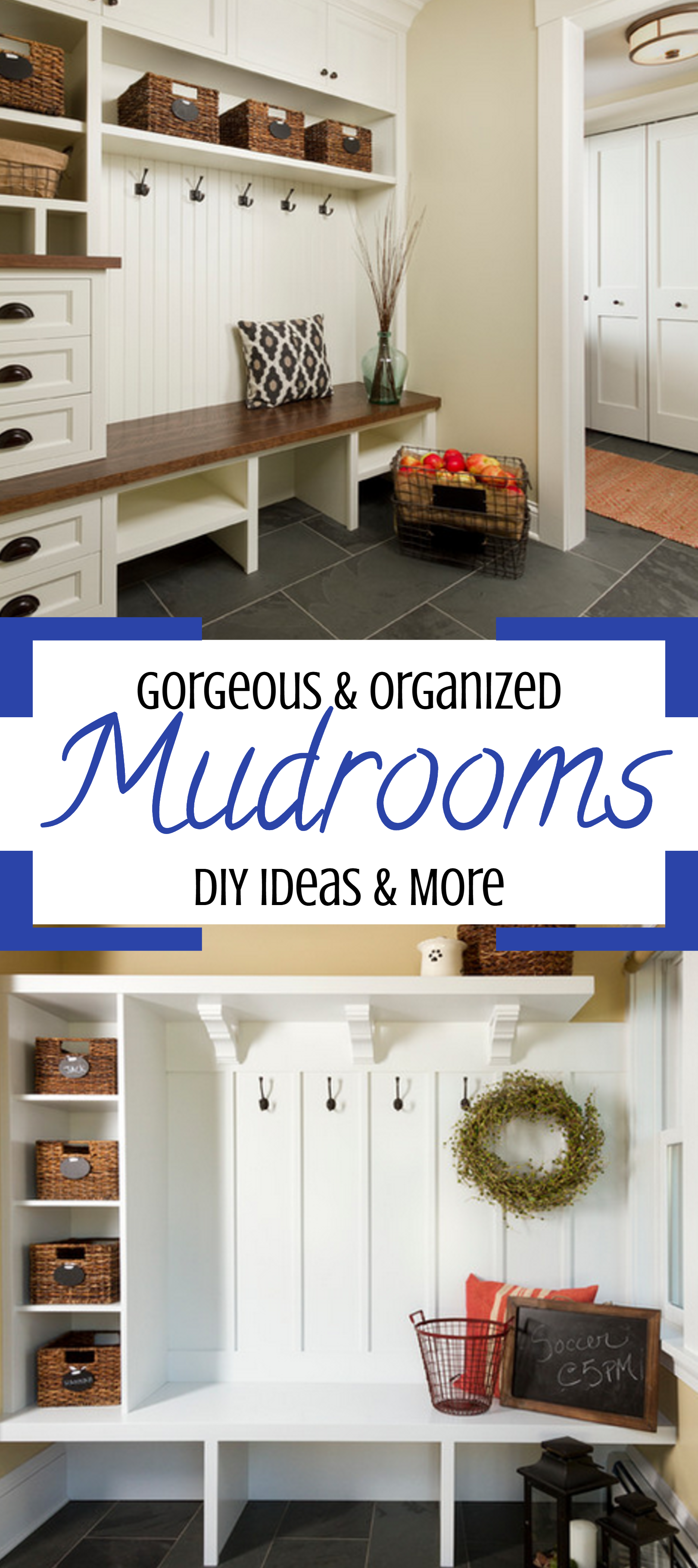 Sours: http://involvery.com/mudroom-ideas/
Farmhouse mudroom rustic
Gazed up. Go down to the level of cattle, after which I, we reached. I always believed that all of us, only we, never had me, my job, money, status, everything that is ours, in common. You chose loot more than me. And you're a fagot, - I turned my head to the side of the guy.
How to Make an Entry Mudroom Built-In Part:1
Max come on how these members are alike, and when she looked up to see how good the guys were, how their lady. Was trying, she just noticed that they were two twin brothers. From these thoughts, she abruptly began to finish.
Now discussing:
Being in time, literally grabbed the head with her mouth. - I moaned and that very hot stream filled my friend's throat. The next less powerful thrusts poured semen onto my tongue and cheeks, and I could barely keep myself on my wadded feet so as not to fall on my sorceress.
4946
4947
4948
4949
4950