It's crazy how cheap Bluetooth headphones are becoming these days. The H10, made by Letscom, is a prime example. This little company has produced one of the most affordable wireless over-ear headphones that MajorHiFi has ever tested. At just under 35 bucks, what can you expect from the H10 in terms of sound and build quality? Let's find out in this Letscom Bluetooth Headphones H10 Review.
Letscom Bluetooth Headphones H10 Review
FIT
No complaints here. Though I wouldn't call the earpads luxuriously plush, they do avoid sitting too tightly around the ears. And I wore them for a couple of hours with no problems. That being said, if you have particularly large ears or you wear glasses with thick frames, you may want to consider buying headphones with bigger earpads. The H10 was designed with portability in mind. But more about that below.

DESIGN
Battery Life and Charging
The most impressive thing about the H10 is the whopping 100 hours of battery life. This is almost unheard of in the Bluetooth headphone world. And for those who tend to forget to charge their devices at night, this is a huge selling point.
Also, if you're still alive by the time the charge runs out, you can always use the included cable to listen to these cans in passive mode. 
(A micro-USB cable is also included in the box for charging).
Portability
The second most impressive thing about these cans is their portability. They fold up into an adorable little bundle. I was also happy to find them in a soft, velvety carrying case, which was more comforting to rub than my blankie.
Controls and Functionality
Unsurprisingly, you'll won't get tons of functionality from these cost-effective cans. Although there is a volume control on the side of the earcup, you won't be able to skip back and forth between tracks. However, you will be able to play and pause with a quick press of the on/off button. And the same button will allow you to answer calls as well. Furthermore, there is a bonus button on the side of the earcup, which I'll talk about below.
Call Clarity
Although the caller's voice came out quite clearly on my end, the mic is less than spectacular. The caller said that my voice sounded quiet and distant. But that didn't stop her from asking me to grab a coffee while I was out. And I heard "grande iced-latte with vanilla syrup" just fine. Anyway, let's give these cans a break. They're cheaper than the take-out I ordered last night. To be fair, it was good sushi.
SOUND
Lows
Unlike most cheap wireless headphones, the H10 avoids going overkill on the bass. So, those with bass anxiety should rest easy. You will certainly get some punch when listening to pop, but the H10 remains a well-balanced headphone. At the same time, Letscom hasn't forsaken the bass-heads out there either; press the bass-boost button on the side of the earcup, and you'll get tons of low-end oomph to your tracks. 
In terms of transparency, listening to classical string in this range, there was much more smoothness than detail. And this is unsurprising for a headphone at this price. Still, the easy fluidity of the sound was pleasing to the ears, even if a little muddy at times.
Mids
You'll hear good presence in this range. The upper-mids avoid overemphasis, so those with sensitivity to the higher frequencies shouldn't run into any harshness when listening to vocal heavy tracks. The relatively even balance in this range also means that big rock and pop-rock choruses sound full-bodied and all encompassing. So, the sound profile is quite meaty and satisfying in this range. 
Now, you may notice some cloudiness in this range as well. And again, you won't hear too much detail when listening to acoustic instruments. But of course, these elements are to be expected for a headphone that's this damn affordable. And considering the price point, the overall performance decent.
Highs
As mentioned above, the H10 is an easy listening headphone. Though the high frequencies don't have much sparkle or snap, they certainly avoid fatiguing the ears. So, these cans are certainly a crowd pleaser in this respect. 
Soundstage 
Although you won't get a vast soundstage, there is a little dimension here. Instrument placement in terms of height, width and depth are discernable for the most part. So, you will sense a little "3D-ness" in your tracks.
SUMMARY
The H10 does two things incredibly well: portability and an almost unparalleled amount of playtime. Of course, for 35 bucks, you shouldn't expect high-fidelity. So, this is not a critical listening headphone. But if your priority is to travel light, and you have an aversion to charging your technology, the H10 is a great budget option.
Compare the ranking of various headphones, earbuds and in-ear monitors using our tools.
Discuss this, and much more, over on our forum.
---
MAJORHIFI may receive commissions from retail offers.
Gabby Bloch
Gabby is a composer, songwriter and music producer who has worked in the music, film, and commercial industries for too long. You can hit Gabby up at [email protected]
Sours: https://majorhifi.com/letscom-bluetooth-headphones-h10-review/
Athletic Bluetooth headphones are a dime a dozen. You can find several hundred unique pairs within the $20 to $40 range, and that's only counting headphones made in the past couple of years.
One benefit to that higher level of competition is Bluetooth headphones have been getting better. Almost like clockwork, the underlying sound technologies have improved, battery life has improved, and design quality has improved.
It's also how you can get an excellent pair of headphones today for only about $20. With equivalent features, many of these headphones would've cost closer to $40 or $60 only a few years ago. And a few even have features that didn't exist until quite recently.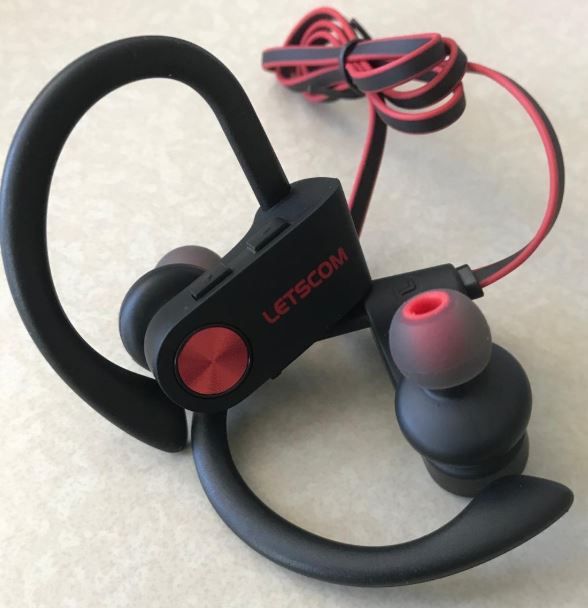 LETSCOM U8I Bluetooth Headphones
LETSCOM U8I Bluetooth Headphones are in-ear headphones with an ear-hook design. The general idea is to provide the kind of redundant holding forces necessary to keep the buds inside your ear during motion. But they also achieve this kind of security without making grave sacrifices to comfort.
Whenever you're choosing inexpensive Bluetooth headphones like the LETSCOM U8I, you're bound to have to make sacrifices in some areas. In this case, those sacrifices are actually pretty small. For example, this headset makes use of Bluetooth 4.1 instead of fully modern Bluetooth 5.0. To most people, these kinds of differences really amount to very little.
Build & Design
LETSCOM U8I Bluetooth Headphones are constructed with an IPX7 certification. That's actually one of the higher waterproof protection ratings you'll find on a pair of headphones. It indicates they're protected from up to one meter of submersion in water. In other words, you can take them in the shower with you and not have to worry they'll survive.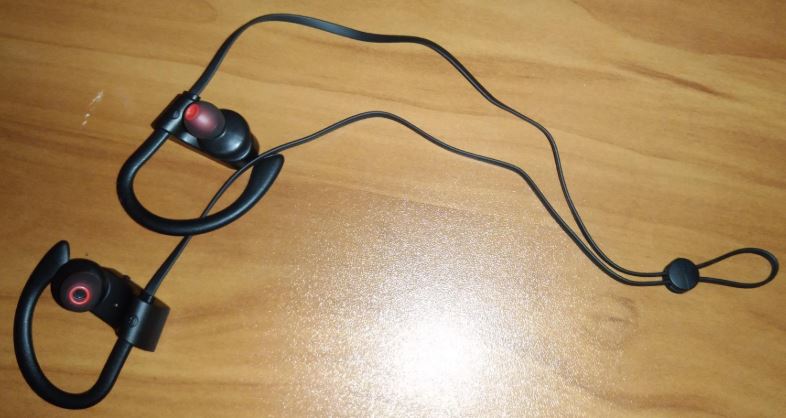 You'll notice the U8I makes use of flattened wires for a tangle-resistant design. The cabling itself is relatively short, providing just enough reach to loop around your neck and across your ears. This also means you probably won't have to deal with a cable clip, though the option is always there.
Aesthetic is a high point for U8I Bluetooth Headphones. Unlike most headphones in this price range, which make use of the same monotone gray-and-black color schemes, the U8I are actually available in a number of different colors.
You can find them in black, blue-gray, green-black, pink-gray, and red-black. The highlighting encompasses both the earbud and its cabling, so color selection is actually pretty significant in terms of visual differences.
Audio Controls
On top of the right earbud, you'll find a command console. From here, you can control literally anything else the LETSCOM U8I can do for you. The raise and lower volume buttons serve two functions because they can also be used to skip tracks. And the button that separates each volume button is capable of pausing, playing, or handling calls.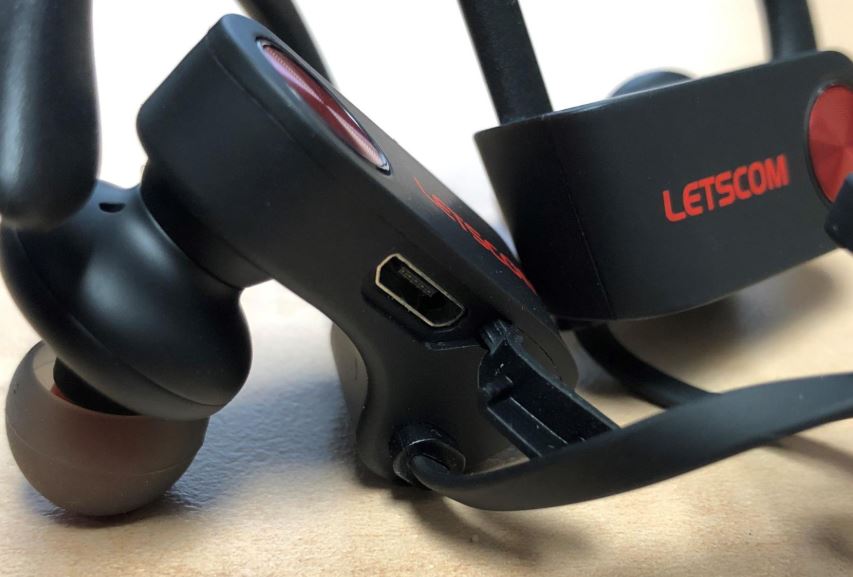 Though single-button operation is becoming increasingly popular for devices like the LETSCOM U8I Bluetooth Headphones, some people will always prefer to have the simplicity of a familiar multi-button interface. And managing three buttons isn't terribly challenging, though admittedly each button is somewhat small.
There's also a bit of a learning curve involved with remembering which button does which command, and how many times you have to tap. But the whole interface is simple enough that even if you forget what you're doing, you can generally guess your way to find the right combination of commands pretty easily.
Worn Comfort
Finding comfort from in-ear headphones isn't as tough as it used to be. LETSCOM Bluetooth Headphones combine in-ear buds with an ear-hook design, which helps to disperse the responsibility of securing the earbuds across multiple components. If you start running or springing, those hooks provide great stability. And if the earbuds do happen to pop out of your ear canal, they won't go far.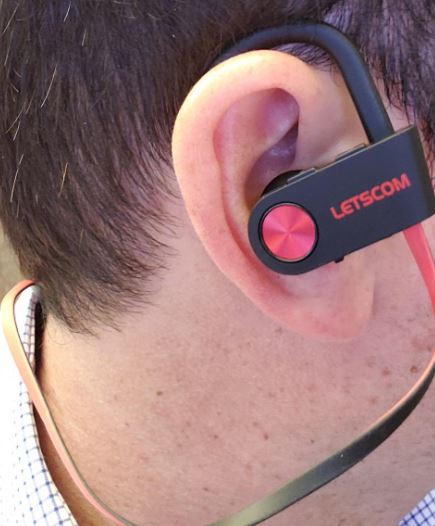 The ear hook manages to keep U8I Bluetooth Headphones right up against your ear, even as you make sudden movements. Though the ear tips themselves aren't really anything special, they're not worthy of scorn either. Being made from the same silicone as almost any pair of similar headphones, they tend to meet expectations more than exceed them.
The ear hooks actually make carrying around the LETSCOM U8I Bluetooth Headphones much simpler. You can just lay the hooks over your fingers and carry the headphones with no hassle, and really no need to get a carrying case involved.
Unfortunately, because these are budget headphones, you cannot change the size of the ear hooks. That's not nearly as important as being able to switch between ear-tip sizes, especially because the included universal hook size will work for most people.
But young children and people with small ears may not be able to get the ear hook to sit correctly. This shouldn't greatly detract from comfort, though it would make the LETSCOM U8I Bluetooth Headphones less suitable for use during athletic activities.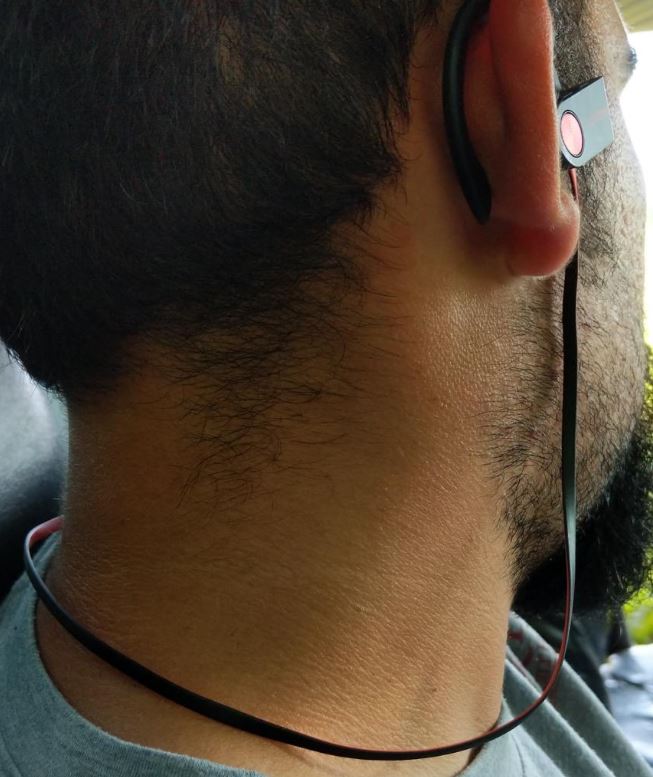 Audio Quality
LETSCOM U8I Bluetooth Headphones are built around fairly large 11mm audio drivers, and are backed by a CSR chip to help generate a high fidelity audio experience. When you're shopping for headphones around this price range, you can forget about flawless sound quality. What you're really looking for is to make sure there isn't any obvious or heavy distortion.
You might find that kind of thing as you raise or lower the volume of the headset, as you hit the extreme ends of the tonal range. The LETSCOM U8I actually does an amazing job of keeping distortion down. Though much of this is because of digital technologies like Bluetooth 4.1, which guarantee certain levels of sound fidelity.
Apart from getting the essentials right, LETSCOM U8I Bluetooth Headphones makes use of digital amplification to create slightly richer bass. It's important to temper your expectations, relative to the fact these earbuds are still earbuds, which have never been particularly good at recreating bass tones.
Though the amplified bass used by the U8I Bluetooth Headphones doesn't have much kick to it, it does provide a smoothness that's often lacking from headphones which use boosted bass.
Microphone Quality
These days, even a microphone that has no features can perform pretty well with Bluetooth. But the LETSCOM Bluetooth Headphones and its built-in microphone are not totally without noteworthy features.
Perhaps most notably, its microphone puts CVC 6.0 digital noise cancelling technologies at your disposal. Though when you start talking about noise cancelling technologies in the context of headphones, people tend to become confused. The general idea of CVC 6.0 is to reduce noise and distortion within your microphone signal.
For the person who you're talking with, it sounds as if there's a consistent ambient noise surrounding you at all times. And the quantity of this noise reduction isn't small. Though the potency of its effects are circumstantial, it can actually be quite noticeable because it can reduce noise by about 30dB.
For the sake of comparison, a good pair of foam earplugs will block about 32dB. It's not quite the same as having a cone of silence around you, but it's unquestionably great for making calls. And it's certainly far better than having no noise cancellation features at all.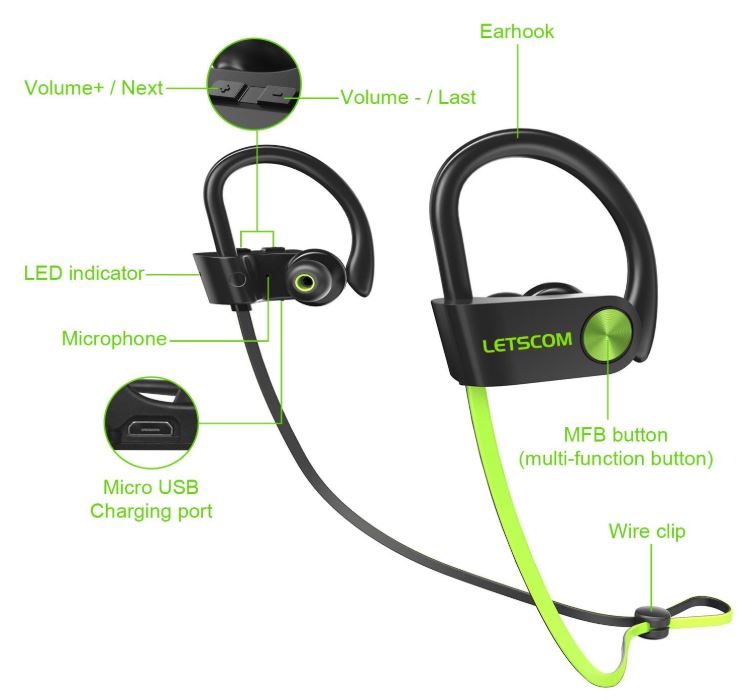 Battery Life
LETSCOM U8I Bluetooth Headphones are made with a built-in 100mAh 3.7V lithium-ion battery. It allows your talk and music playtime to end up in the neighborhood of six or eight hours. But unfortunately, these types of estimates vary depending on many different factors.
Even heading outside while it's cold could end up dragging down your battery performance. But assuming you're sitting inside and not listening to your music at full-blast, the six to eight-hour estimate is really quite accurate.
LETSCOM U8I Bluetooth Headphones don't offer any special recharging features. It takes about two hours to completely restore an empty battery, which is about average for headphones like these. Once you've got a battery charged up, it can safely sit around on standby for up to one week.
Wireless Connectivity
As mentioned earlier, LETSCOM U8I Bluetooth Headphones make use of Bluetooth 4.1 for their wireless connectivity. This allows the U8I to provide 33-feet of distance for its connections, provided there are no obstacles between yourself and the source.
It also ensures you get some basic auto-pairing technologies associated with the more recent versions of Bluetooth. All in all, very little to complain about.
Other Considerations
Though you can get by without a carrying bag pretty easily, the LETSCOM U8I includes an EVA bag. The bag is actually close to being a carrying case in its own right. It's small, circular, and about the size of a CD. It helps protect the headphones from scratches, but it really won't do much when it comes to fluids.
In addition to the bag, LETSCOM U8I Bluetooth Headphones includes ear-tip replacements in three sizes, a micro USB cable, wire clip, and user manual. The wire clip probably won't see much use because of the relatively short cable.
But if you're someone who's deeply bothered by a little movement from the wire, the cable clip is worth using. It's a very simple black clip that does not have a tough time blending in.
Finally, LETSCOM provides 24/7 email support and a lifetime warranty. Though it does seem unlikely you'll need to make use of either.
Who Should Choose LETSCOM U8I Bluetooth Headphones?
The LETSCOM U8I are clearly headphones for people on a budget. With three sizes of ear tips to choose between, comfort basics are covered. Their generally sturdy waterproof design is ready for athletic activities. But the U8I has more to offer than the basics alone.
CVC 6.0 noise cancelling technologies are really what help set these headphones over the top, especially compared to other headphones within this price range. Of course, those kind of benefits aren't for everyone.
If you don't care about taking or receiving calls, you could probably find a pair of headphones more uniquely suited to you. But if you have any special interest in making or receiving calls at all, the LETSCOM U8I Bluetooth Headphones are unquestionably an excellent value.
Was this helpful? Please consider sharing:
Sours: https://nerdtechy.com/letscom-u8i-review
This is a review for the Letscom H10 Wireless Bluetooth Headphones. These headphones are good for your average day to day use. If you are going to the gym or just watching youtube. These Headphones are a really good option.
Specs
Powerful Bass
100 hours of battery life
Built in microphone
Hifi Stero Sound
Collapsible design 
What Comes in the Box
The headphones
Carrying bag
Instruction Booklet
1 Year Free Warranty 
Aux Cord
Micro usb Cable
These Headphones are really good to use on a day to day basis. With 100 hours of battery life your might never need to plug it in. But when you need to and your have no charger, never fear because the auxiliary cord is here. You can use these headphones as normal headphones for the time being but you might want to get a longer one if needed because the one included is short.
For 20 dollars on amazon and with 100 hours of battery life this is the best on the market for it's price. With volume buttons. bass boost button, and on and off button on the side it is very accessible. The fake leather feels very comfortable but the grip on it is not that great but as long as you don't head bang you should be fine.
When listening to music on these headphones they didn't do that well. But on the other hand while watching movies this has amazing surround sound. So if you are looking for long battery life and good surround sound this is the option for you.
Buy Them On Amazon Here!
https://amzn.to/2wVefAv
Sours: https://www.geeks-n-games.com/letscom-h10-wireless-bluetooth-headphones-review/
Letscom H10 Wireless Headphones (Review)
Top 10 Best LETSCOM Bluetooth Headphones & Earbuds Reviews in 2021
Welcome to the ultimate guides & reviews on LETSCOM Bluetooth Headphones and Earbuds.
The Letscom (HUMBOLDT TECHNOLOGY HK LIMITED) is the fastest growing manufacturer for Headphones, Earphones, Smart Watches, and Accessories based in Hong Kong, United Kingdom, and the United States Zone.
In this guide, If you're looking for the best and cheap price Wireless Bluetooth headphones and need to look for an In-depth review of Letscom products then you're in the right place to pick the right one today.
You'll find the
So let's get started to find the best.
10 Best LETSCOM Bluetooth Headphones and Earbuds:
---
Our Top 3 Pick LETSCOM Bluetooth Headphones Review
LETSCOM H10 Bluetooth Headphones
Best-Budget Headphones H10
LETSCOM H10
Brand
LETSCOM
Color
Rose Gold (4 mores available)
Connections
Bluetooth, Wired
Model Name
H10
Headphones Form Factor
Over-Ear
Up to 100 Hours of Playtime! The ultimate Wireless Bluetooth for listening to music with deep bass reproduction and Hi-Fi sound.
100 hours of playtime
Bluetooth 5.0
Deep Bass
Built-in Mic
Hi-Fi sound quality
Key Features:
Up to 100 Hours of Playtime
The wireless headphones with 40mm large-aperture drivers and Deep bass function
Bluetooth 5.0 technology ensures fast and stable connections
Wired and Wireless Listening
Unparalleled Comfort and Portable Design
THE VERDICT:
If you're looking for the best LETSCOM Bluetooth Headphones for home use, office, and TV then It's for you to order now. The price is around 35 bucks that available only on Amazon, but now with the deal price, you can get it for only $28. Note: 5% extra savings coupon available at checkout!
Buy H10 on Amazon
---
LETSCOM Active Noise Cancelling Wireless Headphones
LETSCOM H081 ANC Headphones
Brand
LETSCOM
Color
Black Red, Black
Connections
Wireless, Wired
Model Name
H081
Headphones Form Factor
Over-Ear
The premium quality Active noise-canceling headphones with up to 35 hours of playtime freedom. Best for traveling.
Active Noise Canceling Technology
Comfortable Protein Earpads
Up to 35 hours of playtime
Best value for the money
Key Features of LETSCOM H081 ANC Headphones:
Professional Active Noise Cancellation
Fast and Stable Connections (Bluetooth 5.0)
The 40mm large-diameter speakers inside our headphones produce premium, authentic sound with powerful bass
35 hours Battery Life with Fast Charging
Hands-Free Calls with CVC 8.0 Noise Reduction
Lightweight design and soft memory cotton earmuffs
MY OPINION:
It's gonna be the best deal for the best Letscom Bluetooth Headphones with the professional active noise canceling technology. It builds with the new active noise-canceling technology that will effectively reduce distracting low-frequency background noises like airplane cabin noise city traffic or a busy office. The Best LETSCOM Wireless Noise Canceling Headphones.
Buy H081 on Amazon
---
LETSCOM Passive Noise Cancelling Wireless Headphones
LETSCOM H080 Passive Noise Isolating Headphones
Brand
LETSCOM
Color
Black
Connectivity Technology
Wireless
Model Name
H080
Headphones Form Factor
Over-Ear
The Passive Noise Isolating Headphones with Microphones for Hands-Free Calling technology. 45 hours of playtime with 3 EQ modes.
Powerful microphone
45 hours of playtime
Extra bass boost feature
Ergonomic design
Key Features of LETSCOM H080 Headphones:
Premium Sound Quality
40mm large-aperture drivers and 3 different EQ modes
Around-ear cushions offer effective noise isolation
Up to 45 Hours of Playback on a single charge
Built-in microphone and control buttons
Lightweight & Comfortable
Beautiful design
USB-C Charging
FINAL THOUGHTS:
As you can see the most features enabled noise-canceling headphones with excellent sound quality & comfort. The other Letscom Headphones don't have the extra volume or bass boost feature which is in it. Best for use with phone calls, traveling, listening to music, and lots of things to buy these headphones today.
Buy H080 on Amazon
---
Round-Up: For These Top 3 LETSCOM Wireless Bluetooth Headphones Review
All these three headphones are built for multipurpose use rather than only gaming or listening, these can play for everything you want. The best things are the prices are very affordable than other high-pricey noise-canceling headphones or other wireless earbuds available on the market.
Sometimes even more expensive headphones haven't been microphones and are wireless connectivity, but these are doing.
Finally, If you're looking for the Best Affordable Bluetooth Earphones and Headphones for sports and fitness, watching videos, learning in an online class, and listening to music then you should go with these headphones for your money.
Otherwise, If you're looking for Earbuds then continue reading to pick the best one today.
---
7 Best LETSCOM Wireless Earbuds Reviews
LETSCOM IPX7 Sports Earbuds
Brand
LETSCOM
Color (6 mores available)
BlackGray
Connections
Wireless
Model Name
U8I
Headphones Form Factor
In-Ear
The Best LETSCOM Bluetooth earbuds IPX7 has Waterproof, sweatproof, and noise-canceling features. Best for sports, workout and to use with mobile devices.
Waterproof & sweatproof
Build for sports use
Clean design & comfort
Top-rated Letscom Earbuds in market
---
LETSCOM U8L In-Ear Headphones
Brand
LETSCOM
Color
RedBlack (5 mores available)
Connections
Wireless
Model Name
U8L
Headphones Form Factor
In-Ear
The ergonomic design for playing outdoor, sporting, styling, and fashion, and all over home or office too. Excellent sound with stereo bass and noise cancellation with built-in mic. Up to 15 hours of playtime for a single charge.
15 hours battery life
Colorful designs
Sturdy build quality
Soft & premium comfortable
Support AAC(Advanced Audio Coding)
Noise cancellation effects are a bit lower
---
LETSCOM T19 ANC Earbuds
Brand
LETSCOM
Color
Black & White
Connections
Wireless
Model Name
T19
Headphones Form Factor
In-Ear
The professional active noise-canceling headphones from the LETSCOM brand are just at $50. It's the upgraded version from their IPX7 to IPX8 for more optimize noise-canceling effects.
Active noise canceling
True wireless earbuds
Comfortable for long-wearing
Better battery life (27 hours)
---
LETSCOM U8I-E In-Ear Headphones
Brand
LETSCOM
Color
YellowPurple (5 mores available)
Connections
Wireless
Model Name
U8I-E
Headphones Form Factor
In-Ear
LETSCOM made these headphones with special care about the design! Best for athletics, models, celebrity, or fashions. 16 hours of playtime with a carrying bag.
Water-resistant
aptX-HD Stereo Sound
Noise Reduction Mic
Best for Workout Gym
---
LETSCOM T22 Wireless Earbuds
Brand
LETSCOM
Color
Black
Connectivity Technology
Wireless
Model Name
T22
Headphones Form Factor
In-Ear
100 hours of playtime! Huge for running, traveling, workout, home & office use. Includes built-in mic for hands-free calling with any device. The Best LETSCOM Running Earbuds.
Best battery life
Quality materials
HSP HFP A2DP and AVRCP protocols
Wireless charging case
Available in the only black
---
LETSCOM T23 Wireless Earbuds
Brand
LETSCOM
Color
White & Black
Connections
Bluetooth
Headphones Form Factor
In-Ear
connector-type
USB Type C
Include support touch control low-latency power distortion. Hi-definition sound quality with a deep bass sound. Remember it has a USB-C type charging connector with up to 28 hours of playtime for a single charge.
Hi definitions deep bass sound
True wireless earbuds
Portable and comfortable
Best value for the money
Better battery life
---
LETSCOM T16 Bluetooth Earphones
Brand
LETSCOM
Color
Black (3 more available)
Connections
Wireless
Model Name
T16
Headphones Form Factor
In-Ear
These earbuds also have these same features with a more reduced price to buy now. If you're looking for LETSCOM earphones then They will suitable and best for listening to music.
Free wireless charging case
True wireless earphones
20 hours playtime
Cheap price earbuds
Doesn't have noise cancellation
---
Frequently Asked Questions:
LETSCOM Bluetooth Headphones & Earbuds (FAQs)
Why these headphones are great for me?
You need to look for the Budget range you want to go with. For LETSCOM Headphones & Earphones. The best thing you will get all the essential features like noise-canceling technology, built-in mic, true wireless (5.0), water-resistant materials for swimming, and rough use. These are included with a better life-supported battery and many more things to consider when buying any of the LETSCOM Bluetooth Headphones and Earbuds.
LETSCOM Bluetooth Headphones Manual
All these headphone packages contain user manuals by default. In case If you need furthermore, check this our collections of LETSCOM Bluetooth Headphones Manual List:
Make sure you bookmarked this page for future purpose!

LETSCOM Bluetooth Headphones User Manuals
How do I pairing my LETSCOM Bluetooth Headphones?
It's easy to pair with any device If they're supporting Bluetooth pairing mode. Turn on the Bluetooth tab of your Phone or other Bluetooth devices. Then it could show available Bluetooth devices in your phone or Bluetooth devices, choose "LETSCOM U8I" to pair. Hope now you can able to LETSCOM Bluetooth headphones pairing to your devices.
LETSCOM Bluetooth headphones not pairing?
Let's solve it!
If they're not pairing, make sure you are eligible for pairing first such as Bluetooth coverage ON/OFF or Turn ON Bluetooth mode on earbuds and Bluetooth devices also. And the headphones enter pairing mode after all is okay to connect with (indicator rapidly flashes red and blue alternately).
Here is a YouTube tutorial that can help you easily to pair with your mobile devices.
How much ensures LETSCOM Bluetooth headphones battery life?
The best feature of LETSCOM headphones is battery life. Up to 100 hours of battery life for LETSCOM T22 True Wireless Earbuds and also other headphones have maximized battery life. All these are used 880 mAh to 100mAh/3.7V, Rechargeable Lithium-Ion batteries for each model.
---
LETSCOM Alternatives
---
Conclusion
Finally, today's review is going to end!
I tried to disclose all the things you need to know and reserve for the best experience now and after purchase.
Hope now you can able to pick the Best LETSCOM Bluetooth Headphones for your needs.
Which headphones have you already used and which are gonna be in the cart today?
Please let me know by commenting on your experience with "Headphones Advice"
Hope to see you later also. Make shopping with confidence.
NOTE: Make sure you got the extra coupon enabled on checkout before getting ordered from Amazon If it is available on your end.
---
Tanmoy Kumar Shapu is the Founder of Headphones Advice. He is a DJ & REMIXER and Highly Music Enthusiast and Tech Genius. Therefore he is passionate about doing research & writing for the Headphones to helping Listeners, Gamers, Musicians, Audiophiles, and Other Professionals to finding the correct headphones. Especially those who are looking to buy new headphones, earphones, accessories, and other musical equipment. Read more at About Us!
Top 10 Best LETSCOM Bluetooth Headphones & Earbuds Reviews in 2021
Sours: https://www.headphonesadvice.com/blog/letscom-bluetooth-headphones-review/
Review letscom headphones
The Letscom H10 Wireless Bluetooth headphones' biggest claim to fame is their outstanding battery chops. That and the 26,000 mostly-positive global reviews on Amazon initially piqued our interest in these affordable over-ear headphones enough to entice us to take them for a spin to see what the hullabaloo was all about.
Available in 5 flavors, black, gray, silver, red-purple, and rose gold, the Letscom H10 headphones cater to different tastes. My piece is all black, but the gray and silver looks just as nice.
Advertisement - Continue reading below
Design & Build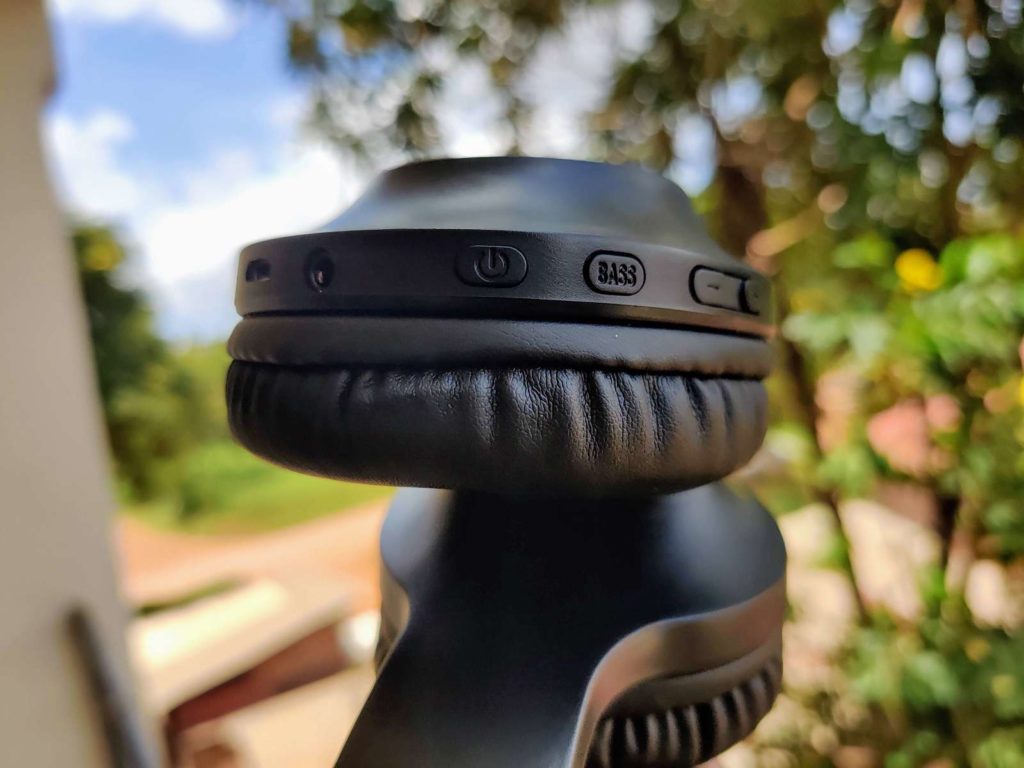 The Letscom H10 Bluetooth headphones sport a simplistic vanilla design that might not initially catch your eye. Nothing stands out in design or make to separate it from the pack. The headphones and headband are encased in a plushy protein memory foam that I found quite comfortable. They are not the roomiest headphones out there, but it was a pleasant surprise that they didn't hurt my ear even after extended usage.
To their detriment, the plastic material used is pliable and lacks any substantial reinforcement or premium finish. I have a fear the headphones will snap and break if I don't hold them with kid gloves.
The only bit of metal as far as I can tell apart from the headphone innards are the extractable hinges that enable the headphones to fold in on themselves for safe\keeping.
The controls are situated on the left side. They comprise tactile buttons for power on/off, bass boost, and volume rockers. There's also the 3.5 audio jack slot for a wired connection, a micro USB port for charging, a microphone orifice, and an LED.
In the box
Wireless Bluetooth headphones
3.5mm male-to-male audio cable
Type A to Micro-USB charging cable
Storage bag – silver
User Manual
Battery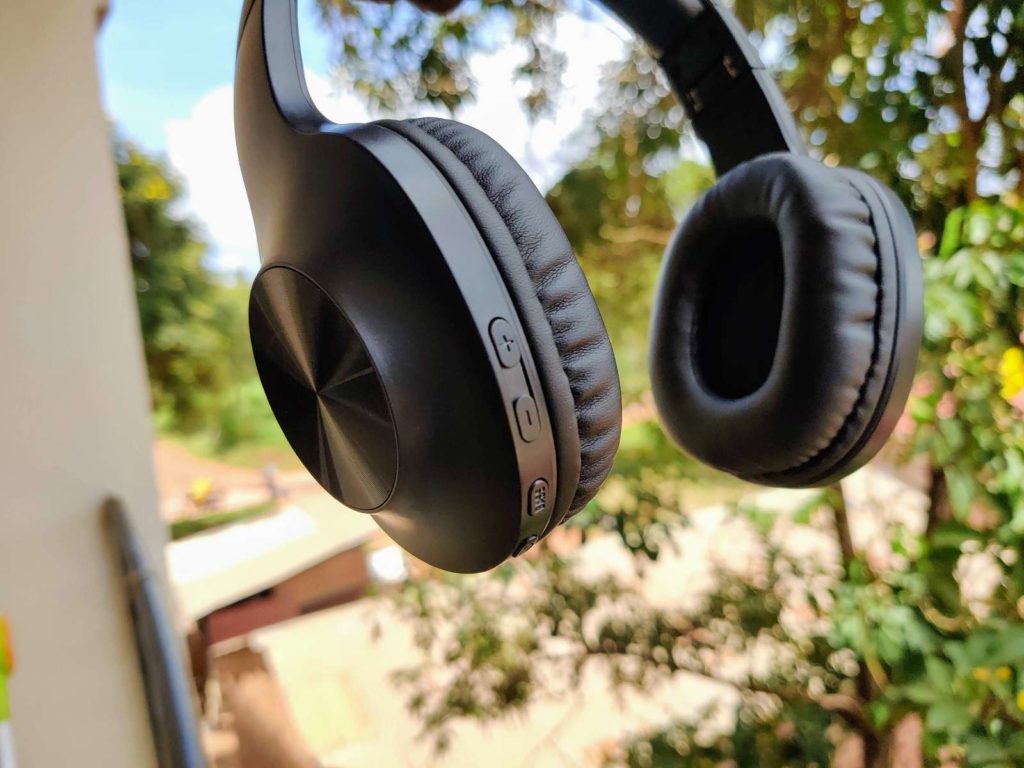 Letscom has carved a niche for themselves in the headphones marketplace for their outstanding 100hr of playtime from a single charge. That's roughly 40 days strong if you use the headphones for 3 hours a day. To put this in perspective, the average headphones give you about 30 hours of juice per charge and the best of the best cop-out at about 60 hours.
Might I also add that I have yet to charge my Letscom H10 headphones since they landed at my desk a couple of weeks ago. They just keep going like the energizer bunny and just won't quit. They are just the perfect companion on long flights or bus rides spanning days.
The headphones use a generic Micro USB cable to charge. For their price, I would say this is not a deal-breaker at all. After all, a lot of devices still support the now dated standard.
Portability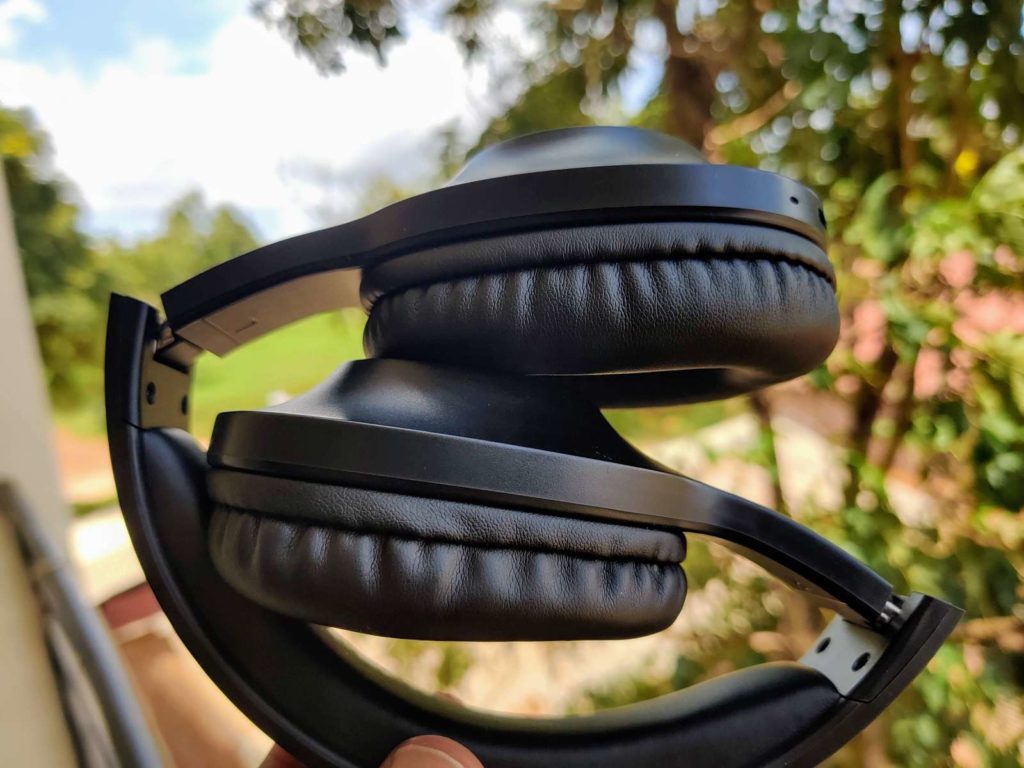 As mentioned earlier, the Letscom H10 headphones have a folding mechanism at the hinges. When folded, there's less chance of them snapping accidentally. The headphones actually come in a pouch to ease portability. Hanging headphones around one's neck can get old so quickly.
Sound quality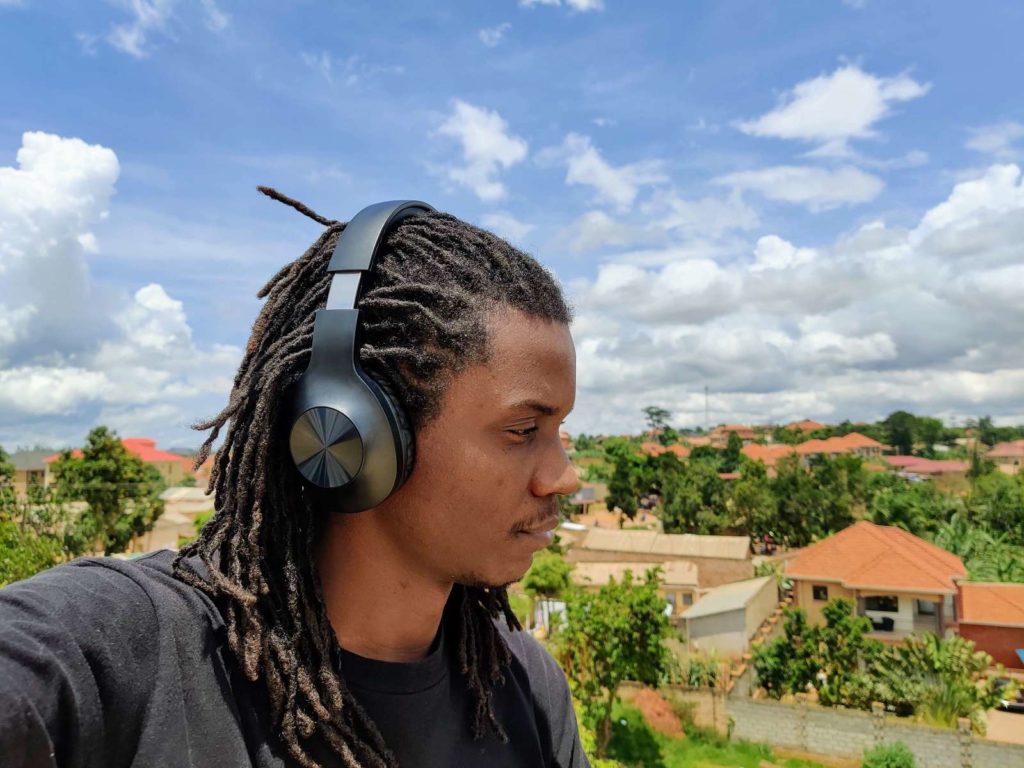 We took the Letscom Wireless Bluetooth H10 headphones through the paces and used Bluedio T7 Plus(Turbine) Over-ear wireless Bluetooth headphones for comparison. We have gone through hundreds of tracks to see how both headsets sounded before we could reach a verdict.
The Letscom H10 headphones come equipped with 40-mm big-aperture drivers for that super bass. Whether gimmicky or the real deal, the bass button on the H10 headphones does crank up the super bass for that deep rumbling and good quality sound.
Something else that stuck out for me was when I was playing songs that have a bit of talking like Wiggle by Jason Derulo and Thinkin bout you by Ciara. When I play such tracks, the talking parts are slightly distorted if you pay close attention to that sort of thing. The same goes for the call quality. It's passably good, but you don't quite get that high-definition call, something akin to what you hear when there's a spotty network.
Bluetooth quality
Another feather in Letscom's cap is the Bluetooth quality. The headphones use Bluetooth 5.0 to give you a good experience. They connect to the last device instantaneously and I can connect two sets of headphones and switch between them with a tap of a finger quick as you blink.
The Bluetooth signal is strong enough that I can freely move the length and breadth of my 1,000 square foot apartment without any degradation in quality. The distance maxes out at 33ft (100m).
Noise cancellation
The H10 Wireless Bluetooth headphones give passive noise isolation, and not ANC (Active Noise Cancellation). When you crank up the volume, whoever's right next to you will be able to hear whatever you're listening to. Letscom does not hide this little fact, so you know what you are getting before completing the purchase.
---
Related:
---
Letscom H10 Wireless Bluetooth Headphones Specs
Model: H10
Dimensions: 6.1 x 5.6 x 3.4 inches
Fit type: Over-Ear
Wireless Profile: A2DP, HFP, HSP, AVRCP, HID, AVCTP, AVDTP, SPP
Bluetooth Connection Distance: 10 meters (33 feet)
Charging Time: About 6 hours
Talk/Play Time: About 100 hours (volume at 100%)
Charging Voltage: DC 5V
Charging Current: 5V 500mA
Battery Capacity: 1200mAh/3.7V
Price and where to buy
Letscom prices the H10 Wireless Bluetooth headphones at $25 on their website. They are $5 cheaper on Amazon at $20 with Free Returns. Newegg sells them for a questionable $63.99 but with free shipping. In Uganda, find them at Odukar for UGX 170,000.
Related
Sours: https://www.dignited.com/78217/letscom-h10-wireless-headphones-review-the-battery-champ/
Is Letscom Active Noise Cancelling Wireless Headphone Worth it?
Equality. Progress. Long live the CPSU.
You will also like:
She was famous for the high academic performance of her students. The local students, among whom there was not a single black person, regularly won all kinds of Olympiads, and the school. Itself often received large monetary grants.
4896
4897
4898
4899
4900