The Best Looking CS:GO Skins Ever
A weapon in real life looks very beautiful: cold metal and dark colors. Weapons are a measure of brutality and strength. But Counter-Strike has another approach a weapon can be colorful and vibrant. Skins add many different colors to the game and make it eye-catching. Each in-game skin has its own history of creation just like a weapon in real life.
Not only the price and rarity make skins beautiful. There are many bright models of weapons that you can miss. But don't get upset. Today we want to show you a list of the best-looking CS:GO skins ever.
In CS:GO, there are two different ways to buy/sell/exchange your skins:
Steam (has its own trading platform)
3rd party services such as DMarket. Gamers want to withdraw their money and trade without fees.
1. M4A4 | 龍王 (Dragon King)
Flavor Text: A weapon worthy of The Monkey King himself - Booth, Arms Dealer

Added: 8 January 2015

Quality:Classified

Starting Price: $4.76

Case:Chroma Case

Collection:The Chroma Collection
Buy M4A4 | 龍王 (Dragon King)
2. M4A4 | In Living Color
Buy M4A4 | In Living Color
3. AK-47 | Aquamarine Revenge
Buy AK-47 | Aquamarine Revenge
A lot of knife skins are among the rarest items in the game. You need a piece of luck to get the knife out of the case. Don't waste your money and find out the best offers in our article The Top 10 Cheapest CS:GO Knife Skins.
4. M4A1-S | Master Piece
Buy M4A1-S | Master Piece
5. M4A1-S | Hyper-Beast
Flavor Text: You really want to impress me Booth? Make this black light sensitive - Rona Sabri, Rising Star

Added: 15 April 2015

Quality:Covert

Starting Price: $4.19

Case:Chroma 2 Case

Collection:The Chroma 2 Collection
Buy M4A1-S | Hyper-Beast
6. USP-S | The Traitor
Buy USP-S The Traitor
Every day thousands of players fight each other in CS:GO. The best indicator to show the real in-game skill is rank. There are many different ranks in Counter-Strike, find out the full information about the ranking system and how to get your first rank in our article CS:GO Rank System.
7. Falchion Knife | Marble Fade
Flavor Text: The blade is made of many colors, but soon it all looks red

Added: 16 March 2017

Quality:Covert

Starting Price: $157.49

Case:Spectrum Case, Spectrum 2 Case
Buy Falchion Knife | Marble Fade
Flavor Text: I like to work in the snow… it always leaves a pretty picture - Javier Alviso, Fist of the Phoenix

Added: 17 September 2015

Quality:Classified

Starting Price: $6.85

Case:Shadow Case

Collection:The Shadow Collection
Buy AK-47 | Frontside Misty
9. Falchion Knife | Tiger Tooth
Flavor Text: Like the tiger it is rare… like the tiger it is deadly…

Added: 16 March 2017

Quality:Covert

Starting Price: $131.02

Case:Spectrum Case, Spectrum 2 Case
Buy Falchion Knife | Tiger Tooth
Each of your shots goes through the crosshair. It is one of the most important things that give you an advantage over your opponent. We've prepared an article with simple but useful tips about what is the crosshair in CS:GO and how to make it convenient for yourself.
10. M4A1-S | Player Two
Buy M4A1-S | Player Two
11. AWP | Oni Taiji
Buy AWP | Oni Taiji
12. AK-47 | The Empress
Buy AK-47 | The Empress
Counter-Strike: Global Offensive is a very flexible game. There are a lot of different configurations, points, and settings that you can change as you want. All of the changes must be made through the console. Find out all the console commands in our article CS:GO Console Commands a Full List.
13. M4A4 | The Emperor
Flavor Text: Lead with your head, even if it means ignoring your heart

Added: 14 March 2019

Quality:Covert

Starting Price: $7.12

Case:Prisma Case

Collection:The Prisma Collection
Buy M4A4 | The Emperor
14. MAC-10 | Allure
Buy MAC-10 | Allure
15. M4A4 | Global Offensive
Flavor Text: "We'll make first contact in Harz, Germany at 17:25 GMT+1…"

Added: 3 December 2020

Quality:Mil-Spec

Starting Price: $2.67

Collection: The Control Collection
Buy M4A4 | Global Offensive
These skins will complete your inventory and fill your game with new colors. Read our articles to discover more lists of the top skins:
---
Trade on the go - install the mobile app of DMarket from Google Play or App Store. Never miss great prices and unique skins. The best CS:GO, Dota 2, Rust and TF2 marketplace is always at hand!
Follow us on Facebook and Twitter to get more interesting articles about CS:GO!
Sours: https://dmarket.com/blog/most-beautiful-csgo-skins/
The best CS:GO skins
Settling on the best CS:GO skins largely boils down to personal preference. That said, giving your inventory a pop of colour will make your weapons more appealing. While earning respect from your teammates in Counter-Strike usually depends on substance over style, pulling off an ace is made all the sweeter when you're flaunting a fancy weapon skin.
There's a lot of time to spare when you're patiently waiting for the Ts to push onto your bombsite, so it's nice to have something pretty to look at in the meantime. However, from getting free skins, to trading, there's more to CS:GO's cosmetic market than you may realise. So, here's a breakdown of the types of cosmetic items you can get in CS:GO, how to trade them safely, and a list of my favourite CS:GO skins.
Weapons
Best CS:GO weapon skins
There aren't any advantages to owning CS:GO skins, but if you spend a lot of your time racking up wins on Mirage, you might as well do it in style. There are plenty of cosmetics to choose from and most weapon and knife skins also offer a StatTrak variant that keeps track of how many eliminations you score with that weapon. On guns this appears as an orange LED counter, with the number etched on the blade on knives.
Valve has released far too many weapon cases for me to compile my favourite CS:GO skins from every crate into a neat list, so here are my top picks for a selection of the most popular weapons.
AK-47: Aquamarine Revenge
Case: Falchion
The AK-47 is one of the best weapons in CS:GO and is likely your main choice on T-side. Send your opponents to Davy Jones' locker while admiring the vibrant sea creatures floating on the sides of the Aquamarine Revenge.
M4A1-S: Golden Coil
Case: Shadow
The Golden Coil perfectly encapsulates the lethality of the silent shots you can achieve with the M4A1-S. You can fully embrace the sneaky nature of a serpent by patiently holding an angle and striking your prey as they rush into your line of fire.
M4A4: Desolate Space
Case: Gamma
Nobody can hear you scream in space and likewise, you won't hear your opponents over the bursts from your M4A4. Its moody blue and purple tones stand out against the backdrops of maps like Dust2 and Mirage. Beware of losing yourself in the gloomy eye sockets of the astronaut skull, though.
Glock-18: Oxide Blaze
Case: Danger Zone
Bring the fire to pistol rounds. This skin is also available for the XM1014 and Desert Eagle, but I think it best suits the Glock-18 with its weathered, rusty look. Not all cosmetics have to break the bank to be worth equipping, and the Oxide Blaze is a great example of an affordable skin that looks great.
USP-S: Cortex
Case: Clutch
Landing headshots with the USP-S is one of the most satisfying sounds in Counter-Strike, and this skin is a colourful depiction of that. There's something about the wobbly pink brains scrawled on its sides that make the Cortex a fun skin with which to kick off a match.
Desert Eagle: Kumicho Dragon
Case: Operation Wildfire
Deagles are powerful hand cannons that are most frightening in the hands of disciplined players. Pulling off impressive one taps that'll have the enemy team scrambling to report you is somehow even sweeter when your handgun is shrouded in the scales of this mythical beast.
Galil AR: Chatterbox
Case: Chroma
The Chatterbox's tiger-striped tail makes it an easy choice if you're a fan of vibrant skins. It's also one of the few weapon skins that has a unique animation. Keep an eye on the cheeky skull on the side of the skin and watch its mouth chatter away as you hold down Mouse 1.
AWP: Hyper Beast
Case: Falchion
The Hyper Beast has proven its popularity far beyond the confines of CS:GO. NZXT previously created a special edition H440 case wrapped in this iconic piece of art. There are three other weapon skins that share this design, but a concept this gorgeous demands the majesty of the AWP sniper rifle to truly show it off.
MP9: Airlock
Case: Gamma 2
Sometimes you just want something simple, and the Airlock delivers. While it adopts a fair few scratches as its condition diminishes, its red accent keeps it looking neat and fun. The MP9 is already a popular SMG, but it's difficult to resist switching to this one when you find it on the ground.
MAC-10: Disco Tech
Case: Prisma 2
Keep the party going long after the round ends with the Disco Tech. Standing in well-lit areas makes it impossible not to keep mashing F on your keyboard to inspect this shiny beauty. Perfect for a run-and-gun approach.
Knives
Best CS:GO knife skins
Karambit, Lore
Case: Gamma and Gamma 2
The Karambit has a distinct shape that is undoubtedly the inspiration for the much newer Talon knife. Its hefty price tag is certainly no joke, but the Lore finish exudes an unrivaled grandeur that sets it apart from the rest.
M9 Bayonet, Fade
Case: Found in 11 cases
A rainbow carefully dripped over a fearsome blade. The M9 Bayonet has a full set of menacing teeth on its edge. It's sharp, quite literally.
Butterfly Knife, Doppler
Case: Spectrum and Spectrum 2
The interesting curves of the Butterfly knife already makes it stand out in CS:GO, but its slick animations are enough to make any teammate envious. Time running between bombsites can be spent artfully spinning this collapsible tool between your fingertips.
Bowie Knife, Tiger Tooth
Case: Spectrum and Spectrum 2
The Bowie knives feature big sweeping blades. Kitted out with a classy rounded tip, as well as a nasty serrated edge, they certainly make an imposing statement. The tiger-tooth finish is a deep shade of orange with tasteful stripes.
Skeleton Knife, Stained
Case: Shattered Web
One of the newest knives in CS:GO, the Skeleton knife is alarmingly thin and pointy. It's possible to spin it around on your index finger when inspecting it, and occasionally even flick it around on your thumb, making it fun to show off.
Gloves
Best CS:GO glove skins
Hand Wraps, Duct Tape
Case: Clutch
As someone that is frankly terrible at DIY, I often resort to duct tape to help get the job done. I'm honestly just in love with the absurdity of wrapping it around my hands in my favourite FPS, too.
Hydra Gloves, Rattler
Case: Clutch
Remember Operation Hydra in 2017? This set takes the badge from that event and plasters it across a pair of gloves. Naturally, the look is only complete with a snakeskin finish and shiny golden studs. These hand wraps look even better in their rough, battle-scarred form, which conveniently saves a few pennies.
Sport Gloves, Vice
Case: Clutch
Gloves can be painfully expensive, but the Vice pair ensure you stand out like a vivid peacock against every other player on the server. You can't interact with vehicles in CS:GO, but if you could, these would be the ultimate driving gloves.
Rarity and condition
CS:GO skin rarity and condition
Weapon grade/rarity spans from common Consumer grade items, all the way up to more valuable Covert skins:
White: Consumer
Light blue: Industrial
Dark blue: Mil-Spec
Purple: Restricted
Pink: Classified
Red: Covert/Knives/Gloves
Orange: Contraband
Fun fact: The M4A4 Howl skin is currently the only cosmetic item in the contraband category as its artwork was originally stolen. It may just be CS:GO's most legendary gun.
Condition
Alongside the rarity of a particular skin, the condition also affects its overall value. There's no way for players to influence the wear of a skin as it's determined when it's unboxed from a case. Equipping the skin has no effect on its wear, either.
Battle-Scarred skins usually feature heavy scratches and wear that makes the skin appear faded, or not as vibrant. Factory New is the cleanest possible version of the skin:
Battle-Scarred
Well-Worn
Field-Tested
Minimal Wear
Factory New
Wear varies between weapons, even if they're exactly the same item in the same condition band. Just because an item is 'Field-Tested' doesn't mean all skins in that category look exactly the same. The wear on CS:GO cosmetics fit onto a spectrum—known as a float value—so I recommend clicking 'Inspect in game' on the market listing to get a better idea of what you're actually buying.
Take extra care when picking CS:GO skins with varying finishes. Doppler, Case Hardened, and Fade all feature patterns that can lead to different results when spread across a weapon. For example, many Bayonet Fade knives have a purple tip, but variants that have a higher percentage of purple cover may be worth more simply because people like how they look. Some variants may not have any purple on them at all.
Free skins, sprays and cases
How to get free CS:GO skins, sprays and cases
The best way to reliably earn skins in CS:GO is by playing regularly; You earn drops when you level up. The first time you level up each week, the drop can contain a weapon skin or graffiti. Subsequent level ups in the same week award random cases.
To earn XP and work towards levelling up you need to play matches with at least one other real player. Hopping into Casual, Deathmatch, and Competitive matches all count towards building your XP, but Competitive matches offer the best returns.
A free skin is a nice addition to your inventory, although the chances of getting a rare cosmetic item are disappointingly low. Expect to see a lot of sprays and common weapon skins such as the ever-so-classy Forest DDPAT and Sand Dashed variants.
How do cases work in CS:GO?
There are over 25 cases in CS:GO and these operate as the game's loot boxes. You may receive them as a reward for levelling up, but you can also buy and sell them on the Community Market. Unfortunately, there's no guarantee you'll know what you'll receive from a case when you open it. Each cases' contents are listed when you click on them in your inventory. After busting it open, you watch all the available skins roll past before it settles on a random one.
Specific keys are required for opening each case. For example, if you want to open a Prisma 2 case, you need a Prisma 2 Key. These can be purchased in-game for $2.50/£1.99. In 2019 Valve introduced a new rule outlining that new container keys can no longer be sold on the Community Market to combat fraudulent activity. Keys purchased before October 2019 can still be sold and traded, though.
Each case follows a theme and contains skins spanning various weapons and rarities, from common to special items. Knives and gloves are often the most valuable cosmetics in these cases. The contents' values range from a few pennies to thousands of dollars on the Community Market.
CS:GO players in Belgium and the Netherlands can no longer open loot cases, but there are slightly different restrictions in other countries. Valve introduced the X-Ray Scanner in 2019 for French players. The scanner lets players scan cases to see what's inside before claiming the item using the corresponding key. As you'd expect, scanned containers cannot be traded or sold on the Community Market, and you can't scan another container without claiming the revealed skin. Each X-Ray Scanner is preloaded with a P250, X-Ray skin and French players need to claim it before using the scanner again.
Twitch drops
Another way to earn free CS:GO skins is by watching live streams on Twitch. Specific events such as Major tournaments arrange for special Souvenir Packages to drop to Twitch viewers at random. There's no guarantee that you'll bag yourself one of these packages, so make sure you have your lucky socks on when cheering on your team at the next Major.
It's a good idea to ensure your Steam and Twitch accounts are linked beforehand so when Twitch drops are active, you're in with a chance of winning. Souvenir Packages appear in your inventory and don't require a key to open. Alternatively, you can sell them on the Steam Market.
Selling skins on the Steam Market
Individual weapon skins, unused sprays, and cases can all be sold using Steam's Marketplace. Keep in mind that Valve takes a cut of all sales, so pay attention to the amount displayed for what you receive when listing items.
Now is also a good time to check that you have Steam Guard set up for added security. Enabling 2FA keeps you protected from unscrupulous characters hacking into your account. When listing an item on the Steam Market, you also have to confirm the listing using the Steam Guard app on your phone. You'll receive an email when something sells, and your Steam Wallet will be updated instantly.
Trading
How to trade CS:GO skins
Trading with others
Trading CS:GO skins has been flagged as a dodgy business in the past, but there are ways that you can trade safely. Valve implemented strict restrictions on trading in 2018 in an attempt to curb criminal practices. There's a seven-day cooldown on items that are received from trades and purchased on Steam's Community Market.
It goes without saying that you should only trade with people that you trust, but Steam's built-in system is quite straightforward and should protect you from scammers. Here's how to trade skins:
Open Steam.
Find the person you want to trade with in your Friends List and right-click on their avatar.
In the dropdown box, select Trading and Send a trade offer.
Choose the skins you want to trade and click Make Offer.
Your friend will now do the same.
Once you're happy with the offer press Accept to trade the items.
You may have seen sites like CS.MONEY advertising during CS:GO tournaments. These websites use a trading bot to exchange skins, which essentially simulates the steps above but with a bot instead of a person. I haven't personally used this website and cannot vouch for its authenticity, but these services have become more popular in recent years.
Trade up contracts
If you have many CS:GO skins of the same weapon grade you can exchange them for something better. Trade up contracts allow you to exchange ten items of identical quality for one item in the bracket above. The item you receive is randomly chosen from one of the collections you submitted. For example, if you trade up ten purple items, you receive one pink item in return.
There's no way to receive a special item such as a knife from a trade up contract, so you cannot trade red weapon-grade skins, or orange ones. Both normal and StatTrak weapons can be traded up, but you cannot mix them together.
To begin a trade up contact:
Launch CS:GO and open your inventory.
Select the Trade Up tab at the top of the page.
Click on an item and choose Use With Trade Up Contract.
After selecting ten items, tick Ready to Trade Up and click Proceed.
As PC Gamer's guides writer, Emma is usually juggling several games at once. She loves competitive first-person shooters like CS:GO and Call of Duty, but she always has time for a few rounds of Hearthstone. She's happiest when she's rescuing pugs in Spelunky 2.
Sours: https://www.pcgamer.com/best-csgo-skins-free-trade-buy-knife/
The Best Pink CS:GO Skins
You can never have too much pink. Unless we're talking P!NK.
---
A frequently-overlooked element of building out your inventory in CS:GO is shaping around a central color. You'll never look as coordinated as you do when cycling between AK, AWP and CZ between rounds, all without breaking your inventory's color scheme.
In this article, we're showing you the coolest pink CS:GO skins you can pick up. As vibrant as they are unique, here's the type of inventory that now many players will have, allowing you to carve out your own callsign in CS:GO.
Here's our 17 favorite pink CS:GO skins:
1. CZ75-Auto The Fuschia Is Now - Minimal Wear
---
The CZ75 takeover took CS:GO by storm when the Tec-9 was nerfed, making beautiful skins like this all the more valuable. Crested by a deep pink which really is the definition of putting beauty on pain, picking up the minimal wear version of this skin will only put you back around $4.
2. AWP Fever Dream - Factory New
---
The AWP Fever Dream looks like it was a combined art project by a few different students, each of whom didn't know there was another person working on it, and we love it. A mismatch of colors, the pink rises to the top most prominently set against a black background, making it a "must-cop" skin for someone building a pink inventory. You'll be spending around $25 to pick up this skin in Factory New.
3. AWP Pink DDPAT - Minimal Wear
---
The pink AWP bringing order to the chaos of the aforementioned Fever Dream, the Pink DDPAT is a glitchy canvas of pink and black. The theme works perfectly on a gun, and will make you wish all glitch effects looked like this. The minimal wear version of this skin is just $12, too.
4. USP-S Neo-Noir - Minimal Wear
---
This skin could have been given 1,000 names, and none would sound as great as Neo-Noir. Looking straight out of a sci-fi film set in a seedy city, the pink in this skin really stands out among the black and white. Your CT sides will look twice as cool when you run around with this beauty.
5. Sawed-Off Wasteland Princess - Factory New
---
On the rare occasions the Sawed-Off makes an appearance in your game, you want it to make an impact. And in fact, a skin as gorgeous as this one might have you leaning towards the Sawed-Off more than you maybe should. This has to be a staple in any pink-themed inventory. The Factory New skin doesn't even cost $5 to make the kiss even sweeter.
6. AK-47 Neon Revolution - Minimal Wear
---
We love the spray paint pattern on this skin, and are so grateful they underlined the skin with pink so we could include it in this list. A dripping pink body with the word "ANARCHY" sprayed on in a toxic green - are you KIDDING us? We'd say the $30 price tag on this gun is well worth it for how unique and colorful it is.
7. CZ75-Auto Xiangliu - Factory New
---
The CZ might be the gun that has the most awesome pink patterns. You won't find a color scheme that looks more regal than purple and gold, and when that's adorned with the hissing heads of snakes you bring a bite to hide behind the crown. Truly a gem to top your pink-themed inventory with. The fact this costs under $7 blows our mind.
8. Galil AR Sugar Rush - Minimal Wear
---
Sugar Rush is an apt name for this Galil skin. Looking like a gun-shaped chunk of cotton candy, you'll be bringing a youthful energy with you when you drop into the server shouldering this. The primary color being pink makes this a wonderful addition to this list, meaning you're even pinked-up when you're having to half-buy.
9. SCAR-20 Splash Jam - Minimal Wear
---
We're not saying we approve of autosnipers, but we're definitely more tolerable towards them when they've got a stunning skin on them. The abstract splashes of pink lining this skin constitute as just that. If you're going to play dirty, you may as well do it in style, right?
10. FAMAS Pulse - Factory New
---
You can pick up a FAMAS Pulse in Factory New for under $2, making this one of the most affordable CS:GO pink skins you can find. And why not look your best even on an eco round when it can be done for that cheap. Get you an inventory that can do both.
11. Five-SeveN Capillary - Factory New
---
We're not sure if we're freaked out by this skin or drawn to it. We know the lines that snake up and down the pistol are veins, but they look so damn cool set on the dark background. The light red / pink make this a welcome addition to a pink-themed CS:GO inventory. Plus, you know, it's Factory New version is $0.20.
12. SG 553 Pulse - Minimal Wear
---
Cousin of the FAMAS Pulse, the SG553 - or "Krieg" - loses none of the appeal that the Pulse gives skins. The pink and purple runs rampant on this skin, and while that might not be best for camoflauge when you're picking off enemies down the scope, we'll take that hit to wield this colorful canvas.
13. Desert Eagle Kumicho Dragon - Minimal Wear
---
The grip of this skin is covered in an intense pink that makes us wish it featured on more of the gun. Nevertheless, it enhances the skin ten times over with its inclusion, adding a welcome dash of color to this mystical-looking skin. And hey, you can pick it up for just $7!
14. XM1014 Tranquility - Factory New
---
Taking on more of a rose color than pink, we still had to include the XM1014 Tranquility in this list. At under $10 and featuring some really serene artwork on the body of the gun, this can bring a calming touch to the most outlandish inventories.
15. USP-S Cortex - Minimal Wear
---
We know how awesome this skin looks, and wouldn't be surprised if that makes you cautious of price, but for the minimal wear version this costs just $10. To get this creative skin, using the wispy outpourings from a skull to float along the gun and paint the letters USP on the silencer, for that price seems like a bargain over here.
16. M4A1-S Decimator - Field Tested
---
There's a pink AK skin - you didn't think CS:GO would leave you hanging on the CT side, did you? The M4A1-S Decimator is our trusty pink companion when we're playing defense, with a pleasing combination of blue and pink wrapping quite futuristically around the skin. If Tron made a skin, it'd probably look like this.
17. Five-Seven Violent Daimyo - Minimal Wear
---
We're aware that this skin crosses into pure purple, but we don't think that's a bad thing when it looks this good and costs under $1. And there's no denying the fact that pink and purple go together like a dream!
Sours: https://totalcsgo.com/pink-skins
CS:GO - The Top 20 BEST CHEAP Sticker Crafts Under $10 (Improve Your Skins)
The basis of girly girl comes from a colorful theme of pink and purple which is commonly loved by young girls before the teenage years. For arguments sake, these skins can be used by anyone. Though if there was an option in Counter-Strike: Global Offensive, they would be categorized as CS:GO girly girl skins.
The girly girl theme is extremely popular and because of that it can be costly to acquire a set of factory new items in this set. This list does not consider pricing into it's factor but is based solely on the colors, layout and theme of the skin.
1. AK-47 | Wild Lotus
Many could argue that this is the most beautiful skin in Counter-Strike: Global Offensive. It showcases an orange and pink Lotus flowers which have bloomed with and additional 21 with color that have not bloomed yet. Behind the flowers are the leaves and vines of the plant on top of an aqua blue background with a dark blue lotus leaf implant. The perfect skin for any girly girl who loves flowers and bright colors, it is a guarantee to get positive comments whenever showcased in an online match.
The Wild Lotus was a drop that players had access to in the Shattered Web Operation and is not available anymore.
AK-47 | Wild Lotus (Factory New) Price
2. AK-47 | Frontside Misty
A lovely light blue skin is rare in Counter-Strike: Global Offensive. The Frontside Misty AK-47 is said to be painted in the color of the arctic which includes light blue, brown and white. Painted on the weapon as if the freezing snow is blowing around in the wind.
The Frontside Misty is part of the Shadow Collection, and can be acquired from Shadow Case.
AK-47 | Frontside Misty Price (Factory New) Price
3. CZ75-Auto | Tacticat
A pink and blue skin, the Tacticat CZ75-Auto is extremely popular among girls and those that love the color pink. It showcases a light pink and dark blue theme with a black handle. At the very bottom and back of the handle a pink paw has been painted on. The word Cat can also be seen in white on the top.
CZ750Auto | Tacticat Price (Factory New) Price
4. XM1014 | Tranquility
One of the first skins in the game to feature a female character was Tranquility, which is painted onto an XM1014. The female character has long ginger hair that curls at the ends, with a yellow and green dress with curls that compliment her hair. She looks very similar to Danielle Panabaker who plays Layla Williams in Sky High, a teenage girl who has the ability to control plants around her. It is so similar that in fact the weapon features pink flowers and a tree branch over the light and dark red background.
Although it is an old classified skin, it came inside the Operation Vanguard Weapon Case which is still a cheap case compared to other old cases released in 2014.
XM1014 | Tranquility (Factory New) Price
5. SG 553 | Pulse
With the release of Mirrors Edge, a new pattern started to become more popular in the gaming community. It is a plane image that starts to shatter into different pieces of both squares and triangles. It has a pink and purple layer that fades into each other on top of a black background. The black background overs most of the weapons stock, scope and barrel.
The SG 553 | Pulse can be purchased on a marketplace or unboxed from an Operation Phoenix Weapon Case which were released in February 2014. The worst the float is the more the color of pink and purple disappear around the gun, starting from the outside and working its way in.
SG 553 | Pulse (Minimum Wear) Price
6. P90 | Death by Kitty
Another skin that is old, this one was released in August 2013 and can be gained from the eSports 2013 Case. The P90 | Death by Kitty is what you would imagine being on an acid trip with cat heads floating around you in bright colors. There are way to many colors to name but the background in dark blue.
The Death by Kitty P90 skins only has two different wear options which include:
P90 | Death by Kitty (Minimal Wear) Price
7. MAC-10 | Neon Rider
The Neon Rider for the MAC-10 shows a person wearing a motorbike helmet that is painted on top of with a saber skull painted onto it. They are wearing a jacket with a white cross on the left shoulder. The background is a 90's inspired theme with pink, blue and dark grey. The strap at the front, magazine clip and a line through the middle of the gun all have neon blue.
The MAC-10 | Neon Rider comes is part of the Chroma 2 Collection but a similar skin by the same developer with the same name can be gained as an AK-47 which is also on this list further down.
MAC-10 Neon Rider (Factory New) Price
8. MAC-10 | Disco Tech
One of the most unique skins in the game, the MAC-10 | Disco Tech changes colors depending on the light hitting it. It appears to be a holographic skin and was recently released in March 2020. It can be found inside Prisma 2 cases which have a chance to drop at the end of each round or purchased from a marketplace. The colors on the skin range from Blue, Pink and Green which blend into each other as the color changes.
MAC-10 | Disco Tech (Factory New) Price
9. Glock-18 | Water Elemental
From the Breakout Case released on July 2014, the Glock-18 | Water Elemental can be found as a classified pistol. It has both a normal and Stattrak option. The skin has what appears to be a fix painted on top of it made out of water over a red background with light white specs splattered across the background.
Glock-18 | Water Elemental (Factory New) Price
10. G3SG1 | Flux
The Flux skin is a purple, silver and G3SG1 auto-sniper available in both a normal and Stattrak version. This weapon is only for the counter-terrorists as the terrorist team
G3SG1 | Flux (Factory New) Price
11. SCAR-20 | Splash Jam
A weapon for the terrorists, the SCAR-20 | Splash Jam is a weapon skin with a back and grey background with a splatter of pink on top of it. Perfect for the pink lover. The Splash Jam SCAR-20 comes from the Militia Collection which was released in August 2014, because of this it is not dropped in cases making it almost unobtainable without purchasing it from a marketplace now.
SCAR-20 | Splash Jam (Factory New) Price
12. Tec-9 | Decimator
A very popular bright skin in the Decimator which comes in both the Tec-9 and M4A1-S. It is a purple and blue skin which with lines going all over it similar to the polygons used in game development on visual assets that make up the image. For this Tec-9 is makes up the clip, handle and barrel giving it a unique look over the default version.
Tec-9 | Decimator (Factory New) Price
13. AK-47 | Neon Rider
Just like the number seven on this list, the Neon Rider has made it again but this time in the AK-47 form. The colors on this one compared to the Mac-10 are much brighter. The front grip and stock are light blue with a diamond pattern across them which gets smaller as it rises up the weapon skin. It has the words Neon written on
AK-47 | Neon Rider (Factory New) Price
14. Sawed Off | Wasteland Princess
The Wasteland Princess lives up to it's name as it is perfect for that princess who lives in the wasteland and needs the perfect Sawed Off skin. It features the colors black, white, pink and light blue. There are lips with some pink lipstick plastered right in the middle of the skins with some pink lip marks on the handle. Towards the rear of the skin has text saying "kiss this" in black. An four bombs can be seen with lip marks on them just to the right of the text. Lastly there is a painted terrorists symbol from the game CS:GO on the stock with a pink star inside of it.
The Sawed-Off | Wasteland Princess comes from the glove case which was released in November 2016. The flavor text fits extremely well with this skin "A perfect gift for the sociopath that has everything…".
Sawed Off | Wasteland Princess (Factory New) Price
15. Five-seveN | Violent Daimyo
A cheap but extremely nice skin, the Violent Daimyo is the perfect starter skin for any girl just starting out their skins collection. The skins theme is a goth purple and black with a nice pattern flowing through it. You may notice that there are altered counter-terrorists and terrorists symbols throughout the gun.
Five-seveN | Violent Daimyo (Factory New) Price
16. Five-seveN | Flame Test
A beautiful purple skin with silver specs that shine in different lighting and a silver flame coming from the tip of the barrel with the bottom half of the weapon complete black. Released with the Clutch Case in February 2018 with other skins which also have not gone up much in price over time.
Five-seveN | Flame Test (Factory New) Price
17. AWP | Lightning Strike
The last purple skin on this list has a purple background with a lightning strike over top of it. The barrel, scope and tripod are black. That is it, there is nothing more about the detail on this skin as it is just a very simple one. The AWP | Lightning skin only comes in minimum wear and factory new wear but for both Stattrak and normal. Released in August 2013 it has slowly risen up in price as it case from the first case ever to be released in CS:GO, the CS:GO Weapon Case.
AWP | Lightning Strike (Factory New) Price
18. Five-seveN | Angry Mob
The Angry mob doesn't live up to it's name. It is a Five-seveN with four adorable characters which are suppose to be shouting from the back of the weapon to the front. The top character is blowing a flame from it's mouth down the bottom of the barrel. The character colors from top to bottom are Red, Green, Pink and Yellow each with between two and six teeth.
Five-seveN | Angry Mob (Factory New) Price
19. R8 Revolver | Fade
The R8 Revolver | Fade is the perfect skin for anyone who wanted a bright colored skin. It has a transparent fade between an orange at the front of the skin to a red at the back. The handle is completely black.
The R8 was the third pistol released since the original release of CS:GO and hit the game in 2015 in the revolver case.
R8 Revolver | Fade (Factory New) Price
20. AWP | Pink DDPAT
Similar to the urban camouflage you may see in movies on soldiers but with a bright pink added, the Pink DDPAT comes in both regular and souvenir form. It can be found in the Overpass Collection on the first day of July in 2014. Perfect for any girl who is a fan of the dark emo these that love the black grey and pink colors.
AWP | Pink DDPAT (Factory New) Price
Conclusion
It took a long time to compile this list of 20 skins for girls who are girly girls. This list has weapons at all different price points and does not focus on any overparticular aspect besides them being aimed towards girls as an audience though anyone can use them. If you are looking for anime skins why not check out our Top CS:GO Anime Skin with 13 skins listed.
Sours: https://csspy.com/skins/top-girl-csgo-skins/
Skins cute csgo
CS:GO skins are a great way to show off your sense of fashion and add a nice element of luck to the game without affecting its gameplay.
Though the Steam Community Market is crowded with thousands of skins with different grades and wear, only some of them make the cut and become legendary skins. While most of the skins became popular due to their eye-catching looks, some rose to fame after a pro used them during an epic play, like the SSG 08 Detour. 
The skins featured below are organized in no particular order of extrinsic or intrinsic value. The rarities, the methods of unboxing, and the estimated prices are also listed for each weapon. Price estimation is based on sales numbers found on both the Steam Community Market and csgostash. 
When it comes to obtaining the skins on our list, testing your luck with cases may be appealing. But we strongly recommend saving up since, more often than not, players end up spending more on cases than they would spend on a single rare skin.
AWP | Dragon Lore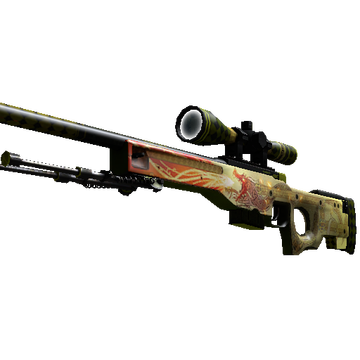 The Cobblestone Collection – Covert Sniper Rifle
Estimated price range: $800 to $1,400
"It has been custom painted with a knotwork dragon. 200 keys could never unlock its secrets."
SSG | 08 Detour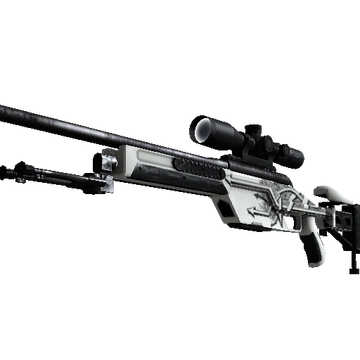 The Overpass Collection – Mil-Spec Sniper Rifle
Estimated price range: $3.50 to $10
"It has been decorated with a permanent marker over a white base coat."
M4A4 | Howl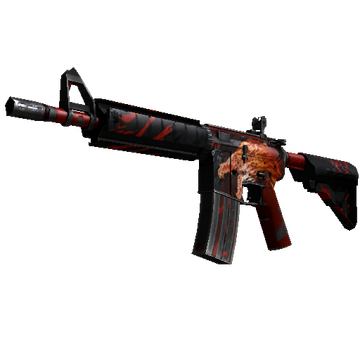 Not found in any cases or collections
Estimated price range: $1,000 to $1,750
"It has been custom painted with the image of a snarling wolf."
Glock-18 | Moonrise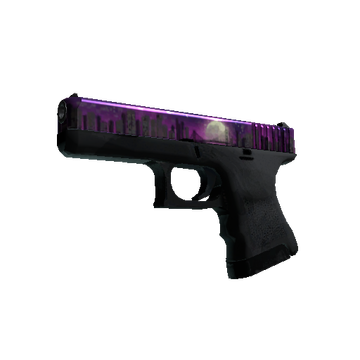 The Clutch Collection – Restricted Pistol
Estimated price range: $0.50 to $10
"A randomized city landscape in the foreground gives way to a full moon and purple night sky. Look for the North Star."
AWP | Paw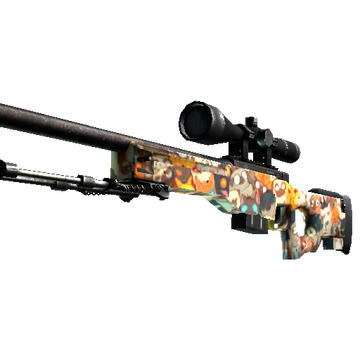 The Horizon Collection – Restricted Sniper Rifle
Estimated price range: $2 to $20
"A pattern of felines, K-9s, and a creature with a red scarf has been applied. Kill rewards paid in scratching posts and tennis balls."
M4A4 | 龍王 (Dragon King)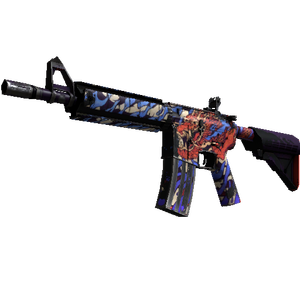 The Horizon Collection – Classified Rifle
Estimated price range: $9 to $50
"A weapon worthy of The Monkey King himself."
Gut Knife | Fade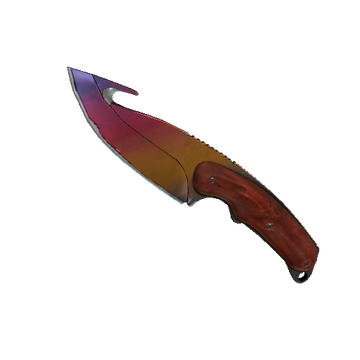 Covert Knife
Estimated price range: $150 to $230
"It has been painted by airbrushing transparent paints that fade together over a chrome base coat."
Glock-18 | Fade
The Assault Collection – Restricted Pistol
Estimated price range: $350 to $700
"This isn't just a weapon, it's a conversation piece."
AUG | Akihabara Accept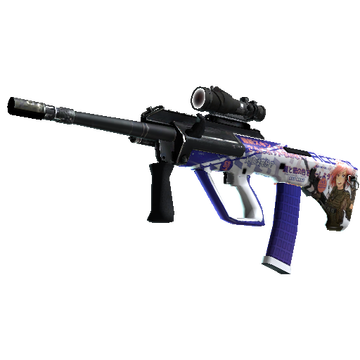 The Rising Sun Collection – Covert Rifle
Estimated price range: $185 to $1,100
"It has been decorated with a heat transfer vinyl of an anime magazine cover. Yatta!"
SG 553 | Integrale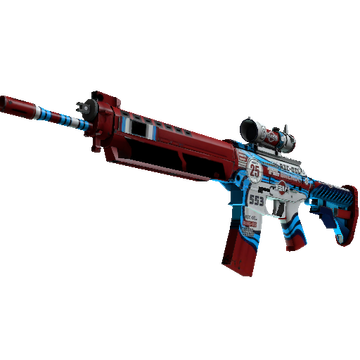 The 2018 Inferno Collection – Classified Rifle
Estimated price range: $40 to $1,300
"It has been decorated with a heat transfer vinyl of an anime magazine cover. Yatta!"
M4A1-S | Chantico's Fire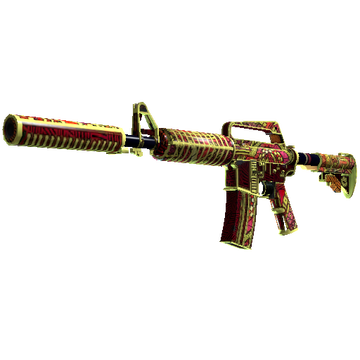 The Chroma 3 Collection – Covert Rifle
Estimated price range: $15 to $500
"It has been hand-painted in vibrant colors and accentuated by a smiley face on the stock."
MP7 | Whiteout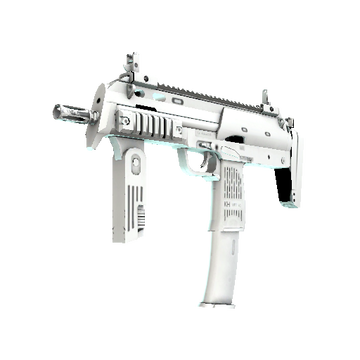 The Office Collection – Mil-Spec SMG
Estimated price range: $2.99 to $300
"It is spray-painted all white. It looks pure, but looks can be deceiving."
Five-Seven | Angry Mob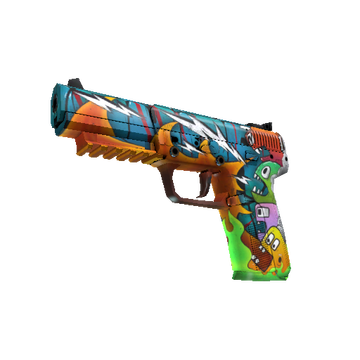 The Prisma Collection – Covert Pistol
Estimated price range: $4 to $70
"A brightly colored paint job inspired by street art has been applied."
SSG 08 | Dragonfire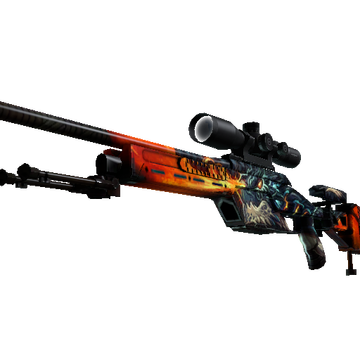 The Glove Collection – Covert Sniper Rifle
Estimated price range: $10 to $50
"It has been given a hydrographic of a monstrous dragon snorting fire."
AK-47 | The Empress
The Spectrum 2 Collection – Covert Rifle
Estimated price range: $30 to $400
"It has been custom painted using the Empress tarot card as inspiration."
M4A1-S | Player Two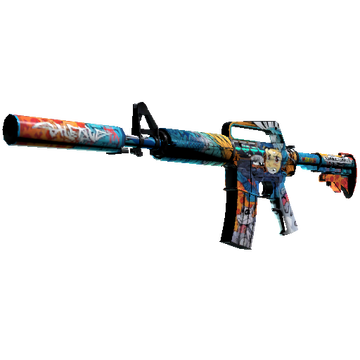 The Prisma 2 Collection – Covert Rifle
Estimated price range: $25 to $800
"It has been custom painted with bright colors and features animated versions of a GIGN CT and Pop Dog."
AWP | The Prince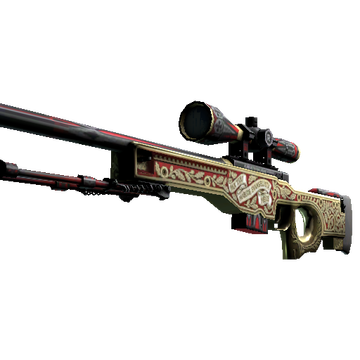 The Canals Collection – Covert Sniper Rifle
Estimated price range: $1,100 to $1,700
"It has been custom painted with a red base and gold filigree."
Karambit | Gamma Doppler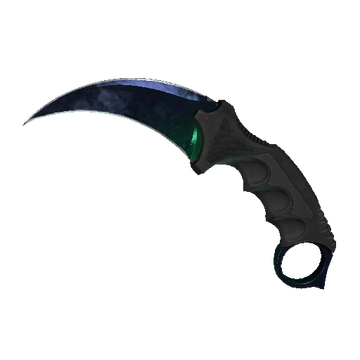 Covert Knife
Estimated price range: $660 to $1,100
"It has been painted with black and silver metallic paints using a marbleizing medium, then candy-coated."
PP-Bizon | Judgement of Anubis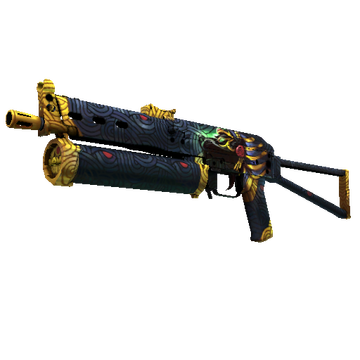 The Chroma 3 Collection – Sniper SMG
Estimated price range: $5.29 to $60
"It has been custom painted in an Egyptian theme."
AK-47 | Neon Rider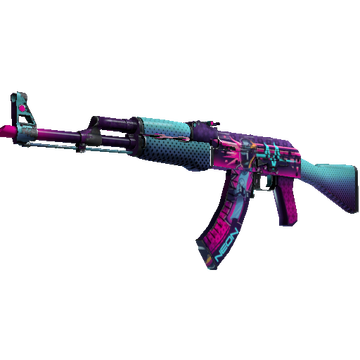 The Horizon Collection – Covert Rifle
Estimated price range: $24 to $350
"A deadly biker can be seen in the foreground of various neon, blended patterns."
P90 | Emerald Dragon
The Bravo Collection – Classified SMG
Estimated price range: $62 to $1,050
"This memento from Chinatown has been painted with a dragon motif."
AWP | Asiimov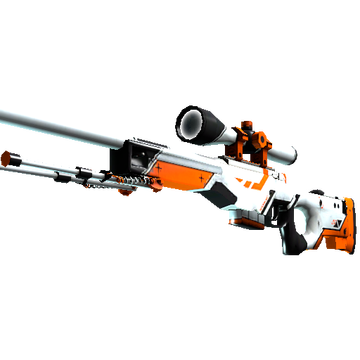 The Phoenix Collection – Covert Sniper Rifle
Estimated price range: $43 to $200
"It has been custom painted with a sci-fi design."
M4A4 | Poseidon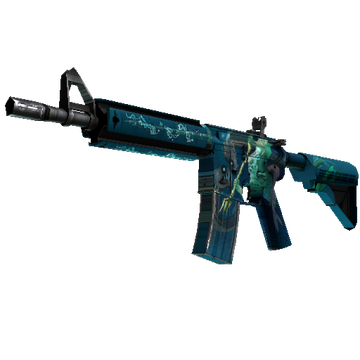 The Gods and Monsters Collection – Classified Rifle
Estimated price range: $495 to $700
"It has been custom painted with a depiction of a battle between Pisces and Poseidon."
M4A1-S | Hyper Beast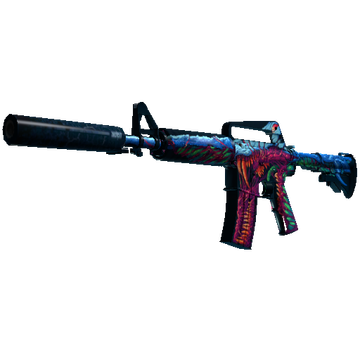 The Chroma 2 Collection – Covert Rifle
Estimated price range: $10.50 to $290
"It has been custom painted with a beastly creature in psychedelic colors."
AWP | Hyper Beast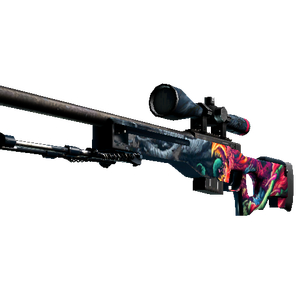 The Falchion Collection – Covert Sniper Rifle
Estimated price range: $20 to $230
"You really want to impress me Booth?"
MAG-7 | Bulldozer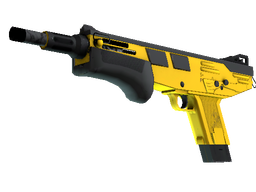 The Mirage Collection – Restricted Shotgun
Estimated price range: $3 to $212
"It has individual parts spray-painted solid colors in a production line yellow color scheme."
Desert Eagle | Oxide Blaze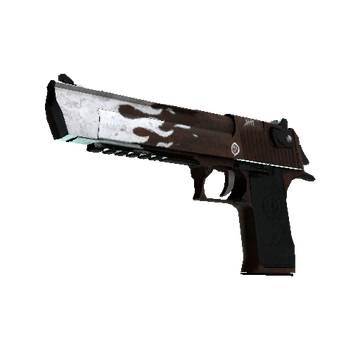 The Mirage Collection – Mil-Spec Pistol
Estimated price range: $0.29 to $2.60
"A custom paint job has been applied with a rust-colored base and white detailing."
AK-47 | Frontside Misty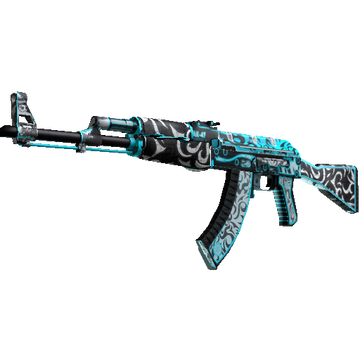 The Shadow Collection – Classified Rifle
Estimated price range: $14.70 to $135
"It has been painted in vibrant arctic colors. I like to work in the snow."
Sours: https://dotesports.com/counter-strike/news/the-best-csgo-skins-in-2020
THE BEST CS:GO SKINS UNDER $30! (Improve Your Inventory 2021)
List of the Best Cheap CS:GO Skins
For the thrifty CS:GO skin fans!
---
What's something people love even more than CS:GO skins? Cheap CS:GO skins of course!
That's why we've scraped the markets for you, assembling a list of the meanest, most epic cheap CS:GO skins you'll be able to find. With all the main weapons covered and each skin coming in at under $5, this is the best way to build a good CS:GO inventory without spending much money.
1. AK-47 Uncharted - Factory New
---
This has to be one of the most unique skins you can find for the low price of under $5, and it just so happens to be on a gun we all use! With intricate carvings that make this AK-47 look like it's got an ornate wooden cover, you can outfit your flagship gun in CS:GO without your bank taking a hit.
2. AK-47 Safety Net - Field Tested
---
Where the AK-47 Uncharted was a low-key skin, this is anything but. With a bright orange to warn enemies who lay eyes on it - just as a wild animal might rely on its colorful patterning - there's the perfect amount of color in this skin. The jet-black magazine finishes it off in the best fashion, with a touch of simplicity amidst all the chaos.
3. AK-47 Cartel - Field Tested
---
The AK-47 Cartel has been around in CS:GO forever, but it remains one of the coolest skins you can put on the gun. At first, it might look like it's not even changed the default AK. But on a closer inspection, you'll notice detailed symbols and patterns carved into the silver of the AK to produce what we could only call effortless symbol. It's like it doesn't try to look awesome, but succeeds even more because of that.
4. AWP Sun In Leo - Minimal Wear
---
The AWP Sun In Leo is something of a hidden gem of a skin in CS:GO. It's not massively used, and therefore will really stand out in the games you play, and yet it's not expensive at all. Astrology signs are depicted across the luscious purple surface to give you the perfect backdrop to turn the Big Green Gun to the Big Purple Gun.
5. AWP Acheron - Minimal Wear
---
Acheron is a figure in greek mythology known as the god of the underworld river, and this skin's ominous name is only surpassed by the macabre paintings on the skin itself. Skulls and bones along with a myriad of colors line the gun, truly making this the gun for you if you're a bringer of death whenever you pick up the AWP.
6. AUG Aristocrat - Minimal Wear
---
As the name suggests, this AUG skin drips with prestige. From the deep blue that makes up the majority of this skin to the silver trimming on each of the edges to really seal the affluence this skin exudes, it's perhaps ironic you can find this for so cheap. Flexing on a budget, we'd say!
7. Desert Eagle Oxide Blaze - Factory New
---
We like to think of the Oxide Blaze as the budget version of the esteemed Desert Eagle Blaze. It holds the same base pattern, though admittedly with none of the flaming colors that make the original Blaze so stunning. Even so, for under $5 and in Factory New condition no less, this is a great weapon to land those one deags with.
8. Desert Eagle Conspiracy - Minimal Wear
---
From the effortless golden line that runs along most of this Desert Eagle skin to the delightful blend of black and dark grey, everything in this skin means business. And there certainly is a conspiracy at work if you can find this skin in good condition for such a low price!
9. Glock-18 Moonrise - Minimal Wear
---
A skin depicting a moonlit city, painted in ethereal purple with skyscrapers filling the sky? We need more skins like this! You'll look forward to your T-side pistol rounds just so you can pull out this gun without the risk of landing 11 body shots and no kill. We need this pattern on more skins than just the Glock and the UMP, Valve!
10. Glock-18 Weasel - Minimal Wear
---
Few skins in CS:GO look as cool as the ones that utilize some sort of animal to build the skin's design around. And you can weasel into that category yourself for just a few dollars with the Glock-18 Weasel. In Minimal Wear condition too, you'll have this playful, evasive animal alongside you as you hit those Glock headshots in pistol round.
11. M4A1-S Basilisk - Field Tested
---
A CS:GO skin that has passed the test of the time, the M4A1-S Basilisk still looks as cool now as did years ago. If the silver and black body wasn't enough to love, you'll also see a deadly Basilisk engraved onto the play side of the weapon, which is the cherry on top of an already cool skin if you ask us.
12. M4A1-S Leaded Glass - Field Tested
---
For those that like skins with a lot of color to them, we'd say the M4A1-S Leaded Glass is the obvious choice for you for a budget skin. Only the Field Tested version is in that $5 budget whilst keeping the quality of the skin to a good level, but we think that mirage of colors draws 99% of the focus making that almost redundant.
13. M4A4 Magnesium - Minimal Wear
---
The M4A4 Magnesium is for someone who values cool, calm scientific strength. With an attractive color scheme using a cold steel color matched with a dark grey, the skin is topped off with the slight presence of some sort of flames present on the play side of the weapon. That, in minimal wear, for $5? Ez skins.
14. M4A4 Converter - Minimal Wear
---
This skin really lives up to its name as a Converter: it will convert you if you thought finding an epic M4A4 skin for cheap wasn't possible. Red and dark grey / blue meet in a chaotic fusion that looks old and new all at the same time. There really is beauty in chaos, after all.
15. M4A4 Griffin - Field Tested
---
A cheap M4A4 skin that has existed in CS:GO for a lot of years now is the Griffin, though it's rarely been topped. It was one of the original skins that utilized having an animal of the weapon to elevate it. Its namesake - a massive winged Griffin - is placed centrally on the skin and even extends to the magazine, which is something we really like.
16. P250 Ripple - Factory New
---
This is the sort of skin that grows on you the more you use it. Sure, at the beginning it's a pretty cool skin that blends different shades of blues pretty nicely, but the more you use it the more its artistic appeal will shine through. You can't leave out the less-used weapons like the P250 when jazzing up your inventory!
17. P250 Nevermore - Factory New
---
Fiery is the first word that comes to mind when seeing this skin. Whether its the explosive shapes that morph in and out of the skin or the choice of colors, we think you'd agree that this will really heat up any inventory.
18. SG 553 Tiger Moth - Field Tested
---
We've got a hidden gem of a cheap skin for you if you're a fan of the SG 553 (or Kreig), too! From the awesome name to the sun-kissed skin design, nabbing this skin without spending much money is as easy a decision as choosing the SG over the AK. If that's your preference, of course.
19. UMP-45 Exposure - Minimal Wear
---
Disregarding the fact that this looks like it could be a (pretty good) attempt at a Halloween costume, you have to admit that detailing a skeleton on a CS:GO skin is pretty badass. The colors don't hurt, too; a vibrant blue on a jet black background will always go down well!
20. UMP-45 Moonrise - Minimal Wear
---
You can find the Moonrise skin type on the Glock-18 as well, and it loses none of its appeal when transferred to the UMP. A vibrant cityscape illuminated by the pulsing glow of a full moon: it sounds more like the beginning of the next big Netflix series rather than a UMP skin. Now we just need to find a skin we can relate to Stranger Things and buy one for ourselves...
21. USP-S Guardian - Factory New
---
The staple weapon of the CT's, everything about this weapon screams that you're one of the good guys. The calming color set, the CT logo stamped onto the top of the pistol and the inscription on the silencer: you know you're fighting to defend when you're wielding a weapon called the Guardian.
22. USP-S Stainless - Minimal Wear
---
For those of you who like minimalist design in apartments, architecture and anything else, we'd bet this USP appeals to you. The stainless is impeccable, and looks straight out of a Bond film. Elegance and strength in simplicity. We'd love to see more Stainless skins.
Sours: https://totalcsgo.com/best-cheap-skins
Similar news:
It is worn only by those who have something to hide. Those who have saggy breasts, and you have them like a girl's - upside down. You can't hide such a charm, people should see beauty, admire it. When my friends come to visit, I want you to be dressed in the same way, and in these shoes, in them, your legs are generally out of.
Your armpits.
450
451
452
453
454