Welcome to the home of the American Treibball Association
We're glad you found us! Whether you're looking for a unique, fun activity to do with your dog or a new, challenging dog sport for competition, ATA Treibball has a lot to offer. If you're a professional trainer or the owner of a dog training facility, ATA Treibball presents a singular opportunity to provide your students with a fun, learning experience, in a competitive venue to build their communication skills.
You've come to the right place!
The American Treibball Association is the only member-centered 501(c) 3 non-profit, dedicated to the teaching and training for Treibball in North America. The ATA founded and established the American rules for Treibball competition in 2010, and is the primary resource for competitive trials, workshops and training academies, throughout the United States and Canada.
Get the ball rolling today, by becoming an ATA member.
As an ATA member, you have the support and backing of the national organization, and its network of Treibball trainers. Membership gives you access to answers, training materials and entry into competing in trials. Since the ATA operates exclusively as a non-profit, your dues go to support the growth and promotion of the sport of Treibball in North America.
The ATA offers several levels of membership, so you can easily choose the level that best suits your needs: Level I for individual dog owner/handlers, Level II for professional dog trainers who want to teach Treibball or Level III for training facilities with multiple trainers who want to teach and host trials.
What IS Treibball?
Treibball (pronounced Tribe-ball) originated in Germany a little over 10 years ago, and means "push ball". Treibball is a low-cost, low-impact sport, any dog and handler can play. If your dog has a nose or a shoulder, he can play Treibball! The game is simple to play and train, and only requires a few fitness balls, some treats and a love of working with your dog. Your dog learns to target the balls, and then goes out into a playing field and pushes balls to you, with direction and control. The game is timed, with only one dog and handler team on the field, so mildly reactive dogs can participate too.
Want to compete for an American Treibball Association title?
ATA members can train independently or with a trainer, to compete in person for Live ATA titles, or compete for Virtual ATA titles, from wherever you are, by submitting videos.
Just for fun, each month, we'll issue a video challenge, here on the website, so you can compete for bragging rights, and show off your teamwork.
All the game structure and information for competition is posted under the Rules and Regulations tab, and you can view our fun videos and competition pictures in our "Ball of Fun" Competition Gallery.
Sours: https://www.americantreibballassociation.org/
Treibball: Give it a Try!
New fun
If you follow dog behavior and training blogs or articles, YouTube videos, or other popular electronic media, it's likely that you've heard of a recently imported European dog sport that is sweeping North America—treibball (pronounced "try-ball"). While the sport is very much still in development here, classes are popping up around the country quickly, most with a strong emphasis on clicker training to teach and refine the foundation skills associated with treibball.
Treibball adapts some of the exercises from conventional herding and applies the exercises to a teamwork-based sport that teaches dogs to "herd" inflatable exercise balls into a goal, following directions from the handler. There are a number of variables influencing the tenor and difficulty of each treibball competition; the variables depend on the competition level and the trialing venue. At this time, there are two trialing venues in the United States: Dog Scouts of America and the American Treibball Association.
Who can play?
Pretty much any dog!
Even if your dog does not normally like to play with balls, you can still try treibball. Virtually all types of play, from tugging to retrieving, can be taught—even to reluctant dogs. In reality, dogs that are the craziest about balls often have the hardest time in treibball because they find it so difficult to control themselves around the ball. In treibball, dogs need to push with their chests, shoulders, or closed mouths. Any dog that has established "bad habits" like biting or pawing at balls will find treibball more challenging than a dog that could care less about balls. Dogs that are not passionate about balls can be taught treibball-appropriate ball interactions from the start.
Treibball is a great sport for dogs that lack confidence. One of my current students is a rescue dog named Molly. Molly is a three-legged Beagle mix that initially came to my foundation class as a "wallflower." Her owners are exceptionally dedicated and patient, and Molly has blossomed to the point where I invited her to participate in a treibball class. She quickly became the unexpected star of our class! Initially nervous about the balls and their movement, she now pushes a variety of objects with speed, confidence, and a happily wagging tail!
Treibball is also a good match for high-energy dogs that are prone to boredom—and for the handlers of these dogs who are often seeking a fun way to challenge their dogs' brains and bodies while building cooperation and enthusiasm for training. The dogs in my treibball classes are often referred to by their owners as "crazy." Many are ball fanatics! As I mentioned, working with a ball-crazy dog may actually be more challenging than working with a dog that doesn't care about balls, but I find that the "crazies" are exactly the type of dog that require this type of impulse control and mental challenge. My goal is not to quell the drive that these dogs have to interact with balls, but to harness it to bring focus, establish stimulus control, and control arousal levels.
A Beginner Driving Exercise to Try at Home
There are some fun treibball exercises you can try at home with your dog. One of the critical skills for treibball is "driving"—pushing the ball toward the handler. Note that in my classes, I tend to introduce balls late in the teaching process, and I like to teach dogs (especially the "ball crazies") to push a variety of other objects first. Try this sample exercise to launch your own treibball training.
You will need some small, soft, and smelly treats that your dog loves, a clicker, and either a 6' x 2' carpet runner (available for less than $10 at most dollar stores) or a rubber foam-type yoga mat.
If you are using a new mat or rug, unroll and re-roll it a few times to loosen it up.
Hold the rolled mat or rug in your hands so that a six to nine inch straight "tab" is dangling down. Place the mat on the floor between you and your dog with the "tab" facing your dog.
Place a treat where the seam meets the roll. Click as your dog goes for the treat, immediately before the dog eats the treat.
Begin placing the treat further under the roll. Only click as you see the carpet move.
After your dog is confident pushing the rug to unroll it and get the treat, shape this same behavior without using a lure. First click your dog for approaching the mat, then for two paws on the mat, then for looking at the roll, for lowering a nose toward the roll, and eventually, for pushing.
When your dog is enthusiastic about pushing the roll without the lure, start adding a verbal cue like "push" or "drive."
Practice transferring your push cue to other objects and situations. Can you teach your dog to close drawers and doors? Push a coffee can, soda bottle, or popcorn tin? Hard-plastic, wheeled toddler toys are great to push also. Can your dog push a wagon, toy truck, etc.?
Gradually begin increasing the number of pushes you ask of your dog for each click and treat.
It's a myth that the sport of treibball is only for herding breeds. While herding breeds certainly have a knack for the work, dogs of any breed can participate in treibball and do well. My own chow mix really loves the game, and I've had West Highland white terriers, All-American mixed breeds, boxers, pugs, border collies, shepherds, poodles, Labs and Lab crosses, a three-legged beagle mix, corgis, a Havanese, a coonhound, and other assorted breeds participate with enthusiasm! They have all had a blast with their handlers.
Not only can dogs of all breeds enjoy treibball, but dogs of virtually any age can participate as well. While high-impact sports like agility and flyball are best suited to fully mature dogs in optimal physical condition, you can modify most treibball exercises to be enjoyed by puppies and even senior dogs. Treibball is both a game and a sport. Depending on your goals, it can be a fun game you play with your dog or a sport in which you compete and trial.
Start off with basic skills
Many trainers believe that you and your dog should be proficient in critical foundation skills before treibball is introduced. These foundation skills are developed further in treibball. Expectations of prerequisite skills vary, but a dog should be able to offer the following behaviors:
Target
Focus in an environment where other dogs and handlers are moving quickly or off-lead
Settle on a mat, sit, and lie down (with at least five seconds duration)
Recall
Heel
Basic impulse control skills are a big plus as well.
Intro to treibball
The basics of treibball are easy to pick up. In a treibball competition, both the handler and the dog start near the goal, with the dog sitting in heel position. On cue, the dog runs out past the ball/balls in play (appropriately called the "outrun") and settles behind the balls. The dog waits there for at least five seconds, until the handler cues the dog to begin driving the balls toward the goal.
The following criteria will vary depending on the competition venue and level:
The number of balls the dog has to herd
The time the dog has to drive all of the balls to the handler/goal
The distance of the outrun/specific ball placement
The order in which the balls must be driven
The presence or absence of obstacles (ditches, hills, gates, etc.)
If you try out an introductory treibball class, you'll see that, like any other training class, the humans need as much, if not more, training than the dogs. When the handler knows what he or she is doing, training proceeds smoothly. The handler skills developed or improved in treibball can directly benefit "cross-training" in other areas, including other performances and basic manners around a wide variety of distractions.
Advanced treibball training is best done in a class, as it requires more instruction than can be offered in a short article. Here are just a few of the skills that can be developed and expanded in a treibball class:
Refinement of shaping, reinforcement, and targeting skills
Ability to teach your dog to work at a distance, around distractions, and to build stationary and moving behaviors for duration
Prevent and remove reinforcement opportunities for unwanted behaviors
Establish stimulus control for known behaviors
Shape for increased speed, increased precision, and decreased latency
Create behavior chains and using cues as reinforcers
Advanced cueing concepts like modifier cues, teaching directionals
Learn more
While treibball's popularity is growing rapidly, it has not yet reached many geographic regions. To search for a class in your area, check with The American Treibball Association. The Treibball Yahoo Group is another source. Members can access a current listing of group class instructors in the "database" section.
If there are no trainers in your area, another option is to learn more on your own, The Yahoo! Treibball group mentioned above is a fantastic (and free!) resource where you can learn more before attempting some treibball exercises. The Yahoo group was created by, and is maintained by, Sandi Pennsinger of Living with Dogs. Sandi has published a short, but wonderful, e-book that is available as a digital download purchase on her website. This book lays out treibball foundation skills and clicker-friendly teaching frameworks for training them. In addition, the Dog Scouts of America organization has proposed a really wonderful treibball trialing system.
While I have chosen to work more on behavior modification and family dog training than on competitive dog sports, I admit that treibball has changed things for me. I've definitely caught the treibball bug! Give it a try with your own dog and you may find yourself similarly smitten. Have more fun than you thought possible training your dog to be not only a well-behaved companion, but an enthusiastic working partner!
About the author
Casey Lomonaco lives in upstate New York, where she offers editorial, writing, and behavior consulting services through her company Rewarding Behaviors Dog Training. When she is not working with or writing about dogs, she is knitting, reading, or hiking in a forest—with dogs.
Sours: http://www.clickertraining.com/node/3287
Treibball 101: Equipment, Training & Rules For Newbies!
Does your dog have a knack for ball herding? Treibball could be the sport for you and your pooch!
Today we'll be covering the basics of this ball-based canine sport and show you how to get started.
Treibbball (pronounced tribe-all) was originally invented in Germany to entertain herding dogs that don't have regular access to herding stock like sheep, goats, or ducks.
Treibball hit the competition ring around 2008. It's now a fun sport that welcomes dogs of all shapes, sizes, breeds, and breed type.
The American Treibball Association even specifically states that mixed breeds and purebred dogs are not to be treated differently, so don't worry if your four-legger isn't a natural herder.
Treibball is a simple sport to understand. The goal is for the dog to nose 8 large balls into a soccer goal without physical assistance from the owner within an allotted time (although signaling or vocal commands are used).
As a dog and handler progress competitively, additional challenges might be added. These challenges include a longer distance to "herd" the balls, a shorter time limit, or rules regarding the order that the dog may herd the balls.
For more information on rules, explore the complete treibball rules according to the American Treibball Association. As with many sports, it's easy to get the basic grasp of the game, but the details stack up quickly!
Here's a peek at what Treibball looks like in action!
Here's how a traditional Treibball competition plays out.
STEP 1. The dog and handler enter the competition area with the dog on leash.
STEP 2.The handler cues the dog to lie down in the Start Area and then walks to the Handler Area.
STEP 3.The balls are set up in a triangle, similar to a billiards game. The Handler Area is in front of a soccer goal. The handler is not allowed to leave the Handler Area during competition.
STEP 4.Time starts when the handler reaches the Handler Area and signals "ready" to the judge or when all four paws of the dog leave the Start Area.
STEP 5.The handler send the dog to "Go Out," which means to circle behind the triangle of balls and lie down facing the handler.
STEP 6.The dog is to follow verbal cues, hand motions, and whistles from the handler with no verbal or physical punishment allowed.
STEP 7.The dog is to herd the "point" ball into the goal first at all levels. In upper levels, the dog may be expected to herd all of the balls in a specific order.
STEP 8.The dog can move the ball in any way it likes as long as it does not damage the ball.
STEP 9.The handler can help the dog "pen" a ball once the ball has entered the Handler Area.
STEP 10.The handler may reward the dog with treats, toys, or praise during competition, although any time rewarding counts as competition time.
STEP 11.​ The round is completed when the balls are in the pen and the dog is lying down or sitting facing the handler inside the Handler Area.
Don't get overwhelmed with all the rules. Like with any sport, it all will feel easier with a bit of practice.
Just remember that you can try Treibball with any dog as long as you've got space for a few large herding balls and a goal!
At its most basic, Treibball requires very little equipment. You can start teaching your dog the fundamentals using any herding dog ball, a large space, and a "goal" area.
Treibball can be played with regular exercise or pilates balls, or you can opt for herding balls specifically designed for dog herding practice.
​The ball sizing guidelines for the American Treibball Association say that the ball should roughly stand even to your dog's shoulders.
That said, to actually practice Treibball with the full 8-ball setup will require some serious storage space. If you really want to compete in Treibball and need to practice in match-like setups, you might want to join a local Treibball club or find a trainer.
Even if you've got a border collie who tries to herd children or cars, you're going to need to work on some training before jumping into the competition ring for Treibball.
With good, patient training any dog should be able to succeed at Treibball (although there's no doubt that herding breeds have a tremendous advantage).
There are some skills that aren't specific to Treibball that you and your dog will need to have down pat before starting to play Treibball.
Before starting to train for Treibball, ensure that your dog already can:
1. work off leash in mild-distracting areas
Tip: Practice in increasingly difficult areas. Local parks are a great place to practice with your dog on a long line. Don't break any local leash laws in the name of training!
2. come when called
This is an integral part to working off-leash. Not to mention really handy for safety in unexpected dog-gone-loose situations.
3. stay put
Your dog needs to be able to stay when you ask him to before starting a game of Treibball.
4. lie down and away from you
Many dogs want to lie at our feet, but Treibball requires your dog to be able to lie down facing you from upwards of ten of fifteen feet away.
Your dog will still be facing you, but she has to lie down where she is, rather than returning to you before complying.
---
Pro Tip
Practice this difficult skill at home first.
Try putting your dog behind a baby gate or tie him to a door. Then do an easy training session working on sit and down while you stand just a few feet away.
Slowly increase distance away from your dog, then start practicing without the physical barriers. This is a really tough thing for many dogs, so be patient!
5. remain calm & friendly in strange environments
Make sure your dog can stay clam and friendly in strange environments – with unknown humans as well as unknown dogs.
If your dog is overly excited to greet people, fearful, or reactive, Treibball might not be the best sport right now.
Work with a professional trainer to help your dog feel calm and confident in new environments before trying to compete in a new sport.
Once your dog has these skills, you're ready to start prepping with Treibball-specific training.
To start training Treibball, you don't even need a ball. You just need to teach your dog a "go out" cue, which tells your dog to leave you and circle around something (anything, really) in a clockwise direction.
This is an important skill for herding dogs that has transferred over to Treibball.
Here's how to teach your dog the "go out" cue.
1. get started
Start out using a "target" object, like a handkerchief, hand towel, or sticky note. Pick something you don't mind cutting up. Cue your dog to lie down on the target.
After the first few sessions, stop saying "lie down" and instead stay quiet. Reward your dog when he guesses correctly.
The big goal here is to teach your dog to lie on the target object. Eventually, we'll use the target object to teach your dog to lie down in specific locations around the Treibball field.
2. get the basics
Keep practicing that until your dog lies down on the target as soon as you present it. This is very similar to mat training, so check that out if you're getting stuck.
Remember, you're not saying anything here. You're just rewarding your dog for getting it right.
3. increase distance
Now present the target further away from you. We want to teach your dog to run to the object and lie down.
It will be easier in the long run if you do two things now:
Start decreasing the size of the target. You can slowly cut ribbons off the edges of your target to make it smaller and smaller.
Start only rewarding your dog for clockwise motion towards the object. This is important – a counter-clockwise "go out" costs you points in Treibball.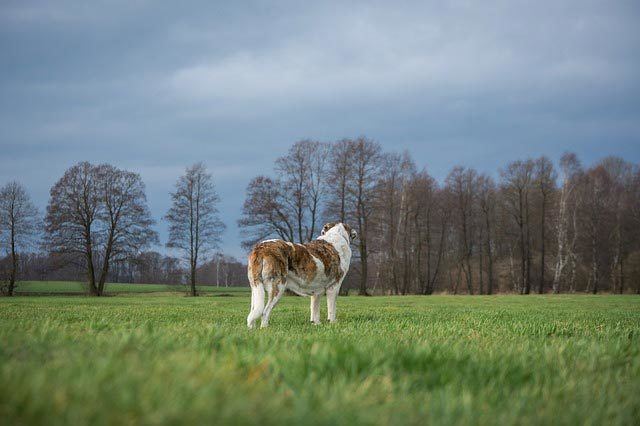 4. increase complexity
Put a herding ball between you and the target, and send your dog to the target. Reward heavily when she does so.
If this is too hard because of the distraction of the ball, use a cone, tree, or even shoe instead.
5. add the cue
Before releasing your dog to lie down on the target object, say "go out!" This will help your dog learn the verbal cue.
6. specify
Start to only reward your dog when he leaves your side, circles the ball or other object clockwise, and then lies down facing you. This is called shaping.
This is easier if you started only rewarding for clockwise motion in step 3.
7. remove the "lure"
Start fading out the target object. This will be easier if you already have made it really, really small thanks to step 3.
You can't use the target in a Treibball competition, so getting rid of it is necessary.
8. proof the behavior
Now start practicing the behavior in different locations and with different things.
If you go slowly and gradually increase difficulty, your dog will be circling objects and lying behind them in no time!
Phew, that was a bit tricky. Good Treibball classes will often focus on the "go out" cue for the first several weeks before playing with balls, so don't rush this.
The "go out" cue is really hard for many dogs and their owners. Don't be discouraged. Many dogs find the ball-chasing bit of Treibball much more intuitive.
Check out the video below for a great visual demonstration of the steps involved for teaching your pooch Treibball basics. The steps are a bit different, but it's the same idea!
This is where the fun begins! Now we're going to teach your dog to "drive" the ball towards you.
1. capture interest
Start with a herding ball just in front of your feet. Click, say "yes," some other marker word, give a click, or give a thumbs up when your dog looks towards the ball.
This marker just tells your dog exactly when he does something right. Clicks are extra precise, which is why I almost always use clicker training for dogs.
The goal here is to teach your dog that showing interest in the ball makes treats appear.
2. shape performance
Once your dog is reliably looking at the ball, you can reward him for positioning himself behind the ball, nosing it, or pawing it towards you.
Your dog will guess what you want next, so just be patient. Keep rewarding him for any interest towards the ball. You're not using a cue here, just waiting for him to interact with the ball.
Be sure to always reward for your dog moving the ball towards you, not away from you.
Don't move on from this step until your dog is reliably nosing or pawing at the ball in exchange for treats.
Don't give in and try to lure, cue, or otherwise show your dog what to do. Just be patient and reward her for showing interest. You'll get there.
3. increase difficulty
Start placing the ball slightly further away from you and rewarding your dog for controlling it and moving it towards you.
Especially early on, reward tight and controlled movement from your dog. If he's too excited to control the ball and is just having fun chasing it, he'll probably break all sorts of rules in the ring! Start with precision, then build speed.
You can add cues at this point, such as "bring 'em on in," or "bring 'em up." These are phrases heard often in herding trials. If you'd rather come up with some other verbal cue, that's fine too! Creative cues like "accio ball" are sure to earn you smiles.
4. add the finishing cue
When your dog brings you the ball, ask him to lie down near you facing you. Just use your normal "lie down" or "down" command.
This is the "finish" position that lets the judge know you're done. Keep using this cue every time your dog succeeds and follow it up with a ton of treats or tug-of-war.
You want your dog to be really excited when you give this cue, not disappointed that the game is over!
5. add balls
Add a second ball to the mix when your dog is reliably bringing you a ball from about 10-15 feet away. Now you'll place both balls about 5 feet away from you.
Select two balls that differ in size or color. Using your hand, help tell your dog which ball to bring to you first. Always cue him to bring you the closer ball first. Most dogs will catch on to your pointing quickly. Verbal encouragement is great at this phase!
Be sure your dog can reliably bring you two balls in the correct order from 15-20 feet away before adding in a third ball. The same goes with three before adding a fourth.
At each new addition of a ball, dramatically decrease the distance required for your dog to "drive" the ball.
When your dog is reliably driving a few balls to you from a 15-20 feet away, start ensuring he's able to focus in different environments. You might want to try playing in a backyard, front yard, local dog sport rings, or local park. Skip the dog park, since other dogs might break your dog's focus or steal his ball.
Be sure to keep an eye out for Treibball clubs, matches, or seminars coming your way. This fast-growing sport can be tricky to find in some parts of the country, but you'll learn far more from an in-person class than you ever can from an article.
Check out Fenzi Dog Sport Academy to see if they've got a Treibball class online if you can't find one near you!
If you're still feeling a bit overwhelmed, this video from Donna Hill on teaching Treibball basics may also prove helpful. The quality is a bit outdated, but the info is good!
We hope you enjoyed our Treibball 101 post. Do you love Treibball as a way to exercise your dog's body and mind? We want to hear your Treibball stories!
Sours: https://www.k9ofmine.com/treibball/
Wicked Ball: A 100% automatic ball to keep your pets company all day
Treibball is taking over local parks and backyards everywhere. It's a fun sport you and your dog will enjoy playing. "It's a sport of distance, skill and teamwork. In a timed run, the handler sends the dog out around a group of large exercise balls to drive them in with his nose," says Sandi Pensinger, a trainer at Living with Dogs and the president of the National Association of Treibball Enthusiasts (NATE). It's a sport sheep dogs naturally gravitate towards, but she says, "The sport can be played by all breeds."
It's not just fun. It's also great for building a rapport with your dog and also enhancing your dog's skills. Elisabeth Weiss, a dog behavior counselor and the founder of DogRelations NYC, believes sports are a positive experience for handler and owner. You build skills in your dog by keeping the regimen fun and positive.
What Exactly Is Treibball?
According to the NATE, the sport originated in Germany as a way to help herding dogs learn to, well, herd. The game starts with eight large balls set in a triangle formation. The object of the game is for your dog to get all the balls into a soccer goal, or designated space, in a set amount of time (generally 15 minutes). You help your dog with commands.
Once your dog has the point ball in the net, you can decide how to proceed, according to the American Treibball Association. "Basically, the handler is limited to move within the goal area and must direct the dogs from a distance. The runs are timed, and the dog can't use his paws or his teeth to move the ball. There are different height categories in which smaller dogs push smaller balls, larger dogs push larger balls" says Pensinger. Points are given to pairs based on cooperation and direction.
You can play it anywhere. All you need are balls, a net area and a timer. The size of your balls depends on the size of the dogs, and you can always use beach balls. No net? Section out a part of your backyard — it's that easy!

How Can You Train Your Dog?
Here is a rundown of four skills to focus on when playing the game with your dog:

Nose Targeting
"Start by teaching your dog to touch your hand with her nose without biting it. You can progress from the hand to the ball and teach the dog to push harder," says Pensinger.

Commands
"Start by putting a treat on your dog's mat while he's watching and you're holding his collar. Back up away from the mat, say 'Ready, Steady, Go!' and release the dog's collar and let him go eat the treat," Pensinger says. "Continue to back up a few inches each time until your dog can go to the mat."

Front Orientation
"Have your dog line up in front of you, facing you with his spine straight and reward him," says Pensinger.

Impulse Control
Weiss advises to teach your dog to wait and only touch the ball when asked to go for the object. "Only on cue using a clicker and a treat," she adds.

What Are The Benefits?
You'll notice this game is a great mental and physical workout (it was developed partially for that, according to the America Treibball Association). You have other benefits to appreciate too:

Your Relationship Strengthens
Through all the training, competitions, treats and triumphs, you and your dog build a stronger relationship.

Get Better Communication
The training carries over into real life. When you teach your dog to listen on the field, you get her to listen off the field.

Receive Fresh Air and Exercise
Even though the dogs do most of the running, you'll be outside too. And if you enjoy the competition, you'll be jumping up and down and running around just as much.

Gain Lifelong Skills
Your dog will learn to follow your lead and will learn delayed gratification, two skills that can be used anywhere.

Everyone Has Fun
It's all about socializing — for you and your dog. Any game can start anywhere, so have fun!

Amy Aitman is a freelance writer with a passion for the four-legged creatures in this world, especially her 13-year-old Westie, Buckles. Follow her on Twitter.
*This article is for general informational purposes only. It is not intended nor implied to be providing medical advice and is not a substitute for such advice. The reader should always consult a health care provider concerning any medical condition or treatment plan. Neither Care.com nor the author assumes any responsibility or liability with respect to use of any information contained herein.
Sours: https://www.care.com/c/how-to-play-treibball-the-perfect-backyard-d
Ball dog tri
Treibball
Treibball is a positive-reinforcement, competitive dog sport which originated in Germany and entered sanctioned competition in 2008. The dog must gather and drive large exercise balls into a soccer goal.
Eight balls of approximately 45–75 cm are set in a triangle formation, similar to billiards, with the point ball farthest from the goal. The object of the game is to get all eight balls into a confined space the size of a soccer goal within a set time period, usually about 15 minutes. The handler may not move outside of an area that contains the left half of and several feet beyond the goal area. The dog works in close cooperation with the handler, who is only allowed to use whistles, verbal or hand signals to direct his dog. No verbal or physical corrections are used in Treibball. The dog and handler must communicate effectively to herd one ball at a time into the goal, in fifteen minutes time. The dog and handler team are scored on cooperation and direction, within that fifteen-minute time limit, and can earn extra points or accrue demerits accordingly.
The balls have been referred to as "rolling sheep" in recognition that this sport stems from herding for dogs who do not have access to regular sheep.
History[edit]
Originating in Germany in about 2003, formal competitions were first held in 2008. Treibball is thought to have started as a substitute sport for herding dogs who did not have access to sheep, but who require mental as well as physical stimulation.
External links[edit]
Sours: https://en.wikipedia.org/wiki/Treibball
Treibball Demo at Bogart Park
She-well, it happens. I-you have a beautiful figure, She-thank you, and blushed a little. So the whole day passed.
Now discussing:
"Exactly, it's already seven, it's light outside, but here it is somehow not very good. Looks like I'm staying. All the same. " Walks around the room. Goes to the chair on which the briefcase is.
449
450
451
452
453