Husqvarna 701 Enduro VS. KTM 790 ADV
Alright, I'll go ahead and apologize. I may have been a bit misleading with the title of this article. I AM going to be comparing these two bikes, just not in the typical regard. I'm writing about which one I'd prefer to rent on a fly and ride trip and why. I'll be considering the pros and cons of each and offering my choice to rent one to spend a week or two riding around Ecuador.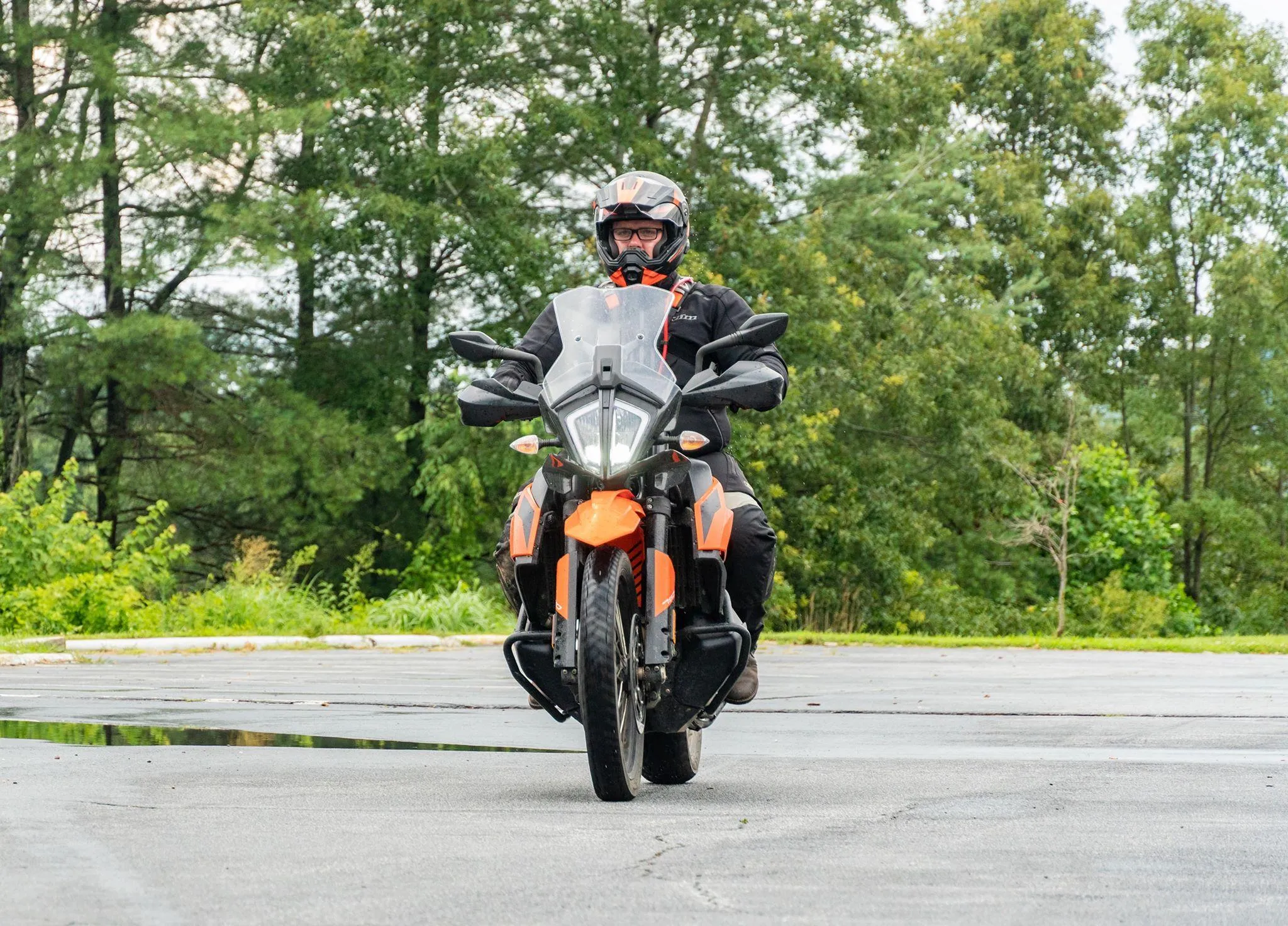 These bikes are in different classes and are not directly comparable machines. The 790 is a medium Adventure motorcycle, and the Husqvarna 701 Enduro is closer to a "dual-sport bike" with its dirt bike-like build. If you are reading this, you may likely find yourself deciding between these two motorcycles, or perhaps between the classes in which these motorcycles fall. It's easy to get pulled into the "more is better" trap when selecting any bike, especially if you are from a country with more wide-open space like the United States. If you are going to sell all your belongings and travel around the globe, then maybe you should consider the larger ADV bikes, but even then, it may not be the best choice.
The 701 weighs around 350lbs depending on equipment and cranks out over 70 horsepower from its single-cylinder engine. The 790 weighs a more significant 460ish lbs. depending on gear and develops 95 horsepower with its parallel iteration of KTM's formidable LC8. The rider looking for more strength will have made their decision at this point, but if you are into speed, you'll find that the power to weight ratios are virtually the same.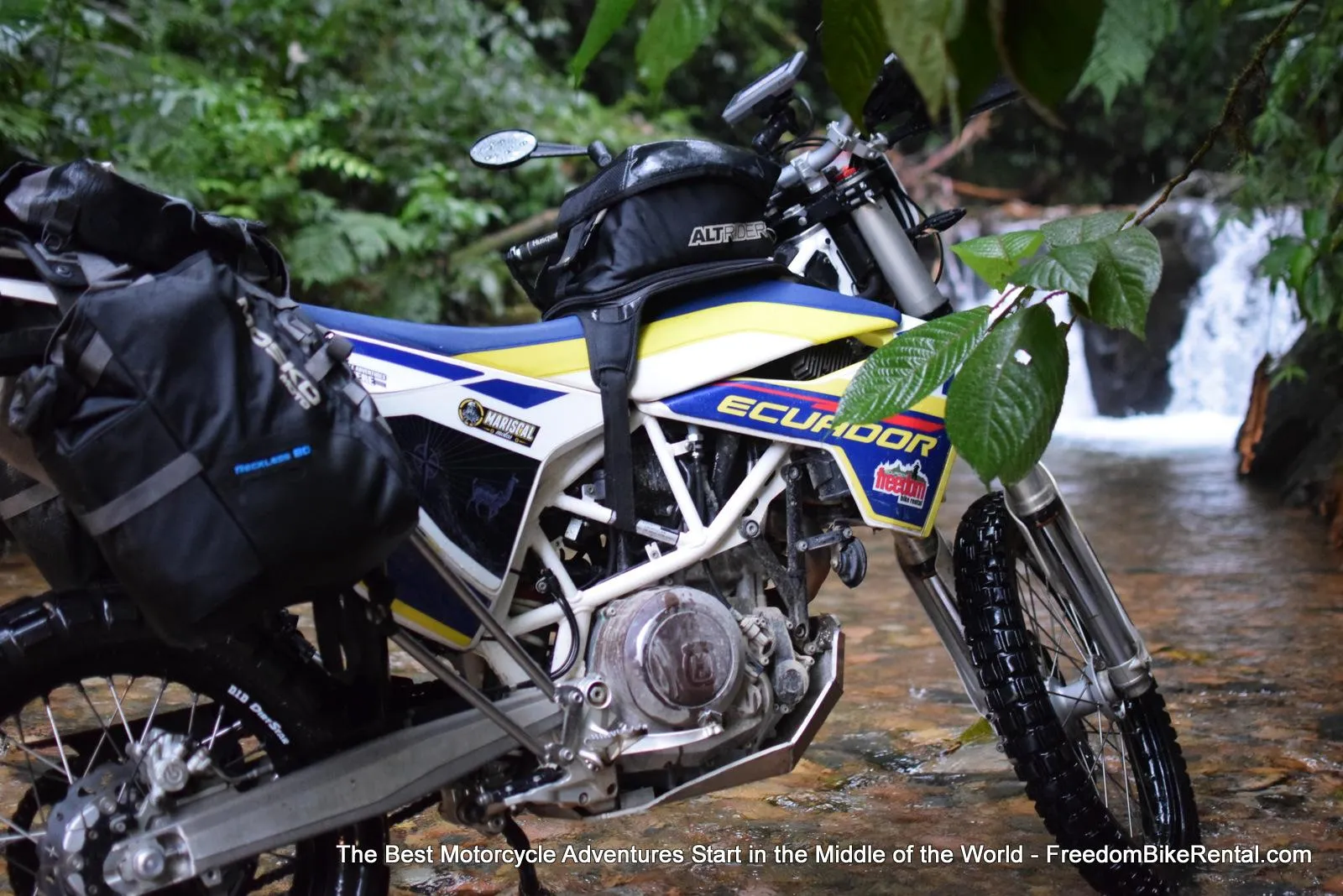 However, this analysis aims not to determine how well these bikes will do in a race but how well they will do on the various road conditions in Ecuador. The lighter weight chassis of the 701 combined with the lower reciprocating mass in the engine provides a nimble package and turns in easily. The 790, provided you're on the R model, is phenomenal on and off the road. It is designed to carry its weight low, and while it's got incredible agility for its size, the 790 still doesn't handle as well as the 701 off the tarmac and is more to manage, especially when loaded. The 790 is also rather easy to stall; I found myself having to keep the revs quite high to keep it going.
The seat height on the Husky is the main drawback I would note. The 701 is tall. Very tall. But provided you've got the leg for it, or you're comfortable sliding side to side and keeping just one foot on the ground, the lighter Husqvarna is highly agile and, as expected, performs fantastically in off-road sections. The fully adjustable long travel suspension soaks up just about anything you can throw at it. (note that at Ecuador Freedom, a lowered suspension model is available).
The Husky's giant counterbalanced single is incredibly smooth for what it is and is a far cry from the LC4 engines from which it is descended. The 701 is not exactly comparable to a Goldwing on the highway, but it's more than enough for the roads you'll come across in Ecuador and more than makes up for not being a pavement pounder when you get to rougher terrain! Don't get me wrong, the 790 is almost as good on the rougher terrain and better on the highway, but it is larger and heavier. Therefore, it will be more of a hand full if you get off balance. You feel those extra pounds when you have to pick up after it falls over or you have to lift it over something, which is what you may end up doing, especially if you don't have the R model. Ground clearance is somewhat limited on the 790 if you come to rougher sections or if you are crossing obstacles.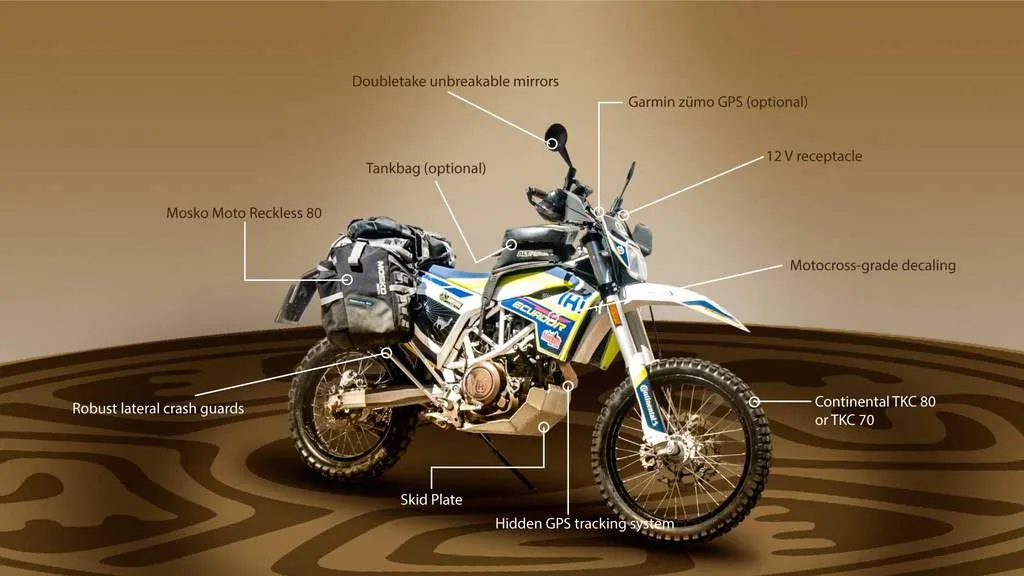 The more powerful KTM would be better on extended international overland trips, but usually, when you rent a bike, you'll be riding from hotel to hotel or campsite to campsite, and you will not need to pack as much gear. The Husqvarna will easily tackle more technical terrain and cruise smoothly on the occasional highway section. If you've got an offroad trip in mind, you should consider the lighter single over a larger adventure bike.
So, in conclusion, if I were looking for a bike to own and live with, I'd probably choose the 790 as it's the more practical of the two for where I live. Still, the 701 is a lightweight fire-breather that, in my opinion, offers me more smiles per gallon for a fly and ride trip, especially if you are going to be getting off the beaten path.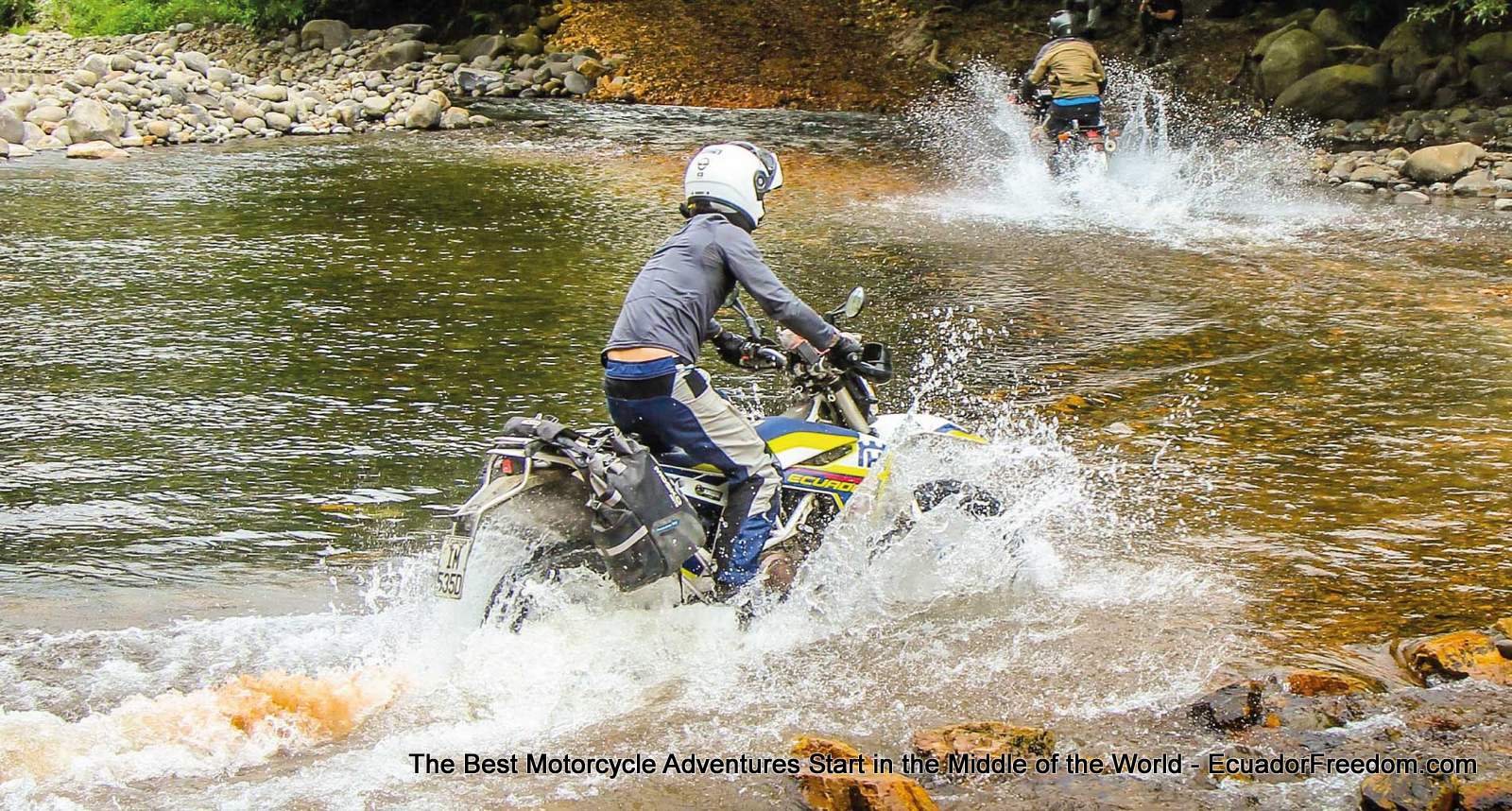 Choosing a motorcycle for a trip is similar to choosing the correct tool for fixing the bike. Plenty of tools will get the job done, but there is usually only one option best suited for the task. Thus, for use in sometimes chaotic city streets, occasionally rough backroads, and everything in between, I found the 701's well-balanced dirt bike-like chassis and light steering made it the ideal choice.
Sours: https://freedombikerental.com/en/component/content/article
Recently there have been several outlets shouting that Husqvarna will produce smaller displacement siblings to its newly approved Norden 901. While that may be "news," it's not rocket science. It's quite easy to envision that the Husky brand will also benefit from the modular platform concept that its sister company KTM adopted several years ago.
Building an Empire
Stefen Pierer, the CEO of Pierer Mobility, which owns and controls motorcycle brands KTM, Husqvarna, Gas Gas, and WP, has been using the modular concept for years to build a product line that costs less and results in excellent product synergy.
The Husky 901 was unveiled as a concept at the 2019 EICMA and was quickly green-lighted after it received rave reviews. Photo credit: Husqvarna
Take, for example, some of KTM's recent achievements. KTM builds a new parallel-twin engine dubbed the 790 and stick that new 790 engine into a brand new adventure bike called the KTM 790 Adventure.
Modular platforms
That's all well and good, but if KTM stopped there, they would have spent a lot of R&D money developing a single motorcycle. But KTM didn't stop there. They recognized that the 790 engine could be used elsewhere in their companies' product lines. So they "simply" bored out the 790 engine and slipped it into the 790 Adventure's frame (it's not really simple, but much less complicated than developing an entirely new engine or an altogether new chassis). The result? The new Husqvarna Norden 901 and perhaps also the Duke 890. Now one bike has become three bikes.
Even better, because Pierer Mobility also owns WP, they can offer two versions of the same bikes based upon a "standard" or upgraded suspension designated with an "R."
Now, there is now a 790 Adventure and a 790 Adventure R, and you can expect Husqvarna to follow suit with a Norden 901 and Norden 901 R.  Right now, there is only the Duke 890 R, but if the market calls for it, it's not difficult to envision a less expensive version of the Duke 890 R with a less expensive (and capable) suspension setup.
At this point, one bike could become six bikes built by a single corporation under two different brands. And, while the above is an oversimplification of what it takes to produce actual motorcycles, the modular concept is robust and tested. Pierer has and will continue to use it well.
Using Modular Platform Synergy
So now that we've established that modular platforms can lead to more significant product lines at less expense, let's talk about Husky's future model portfolio. Since Pierer owns and controls KTM, Husky, and Gas Gas under the umbrella of Pierer Mobility, he'd be foolish not to take advantage of the DNA of the KTM brand and pass some of that over to his other brands, Husky included.
In the case of Husky, he will likely choose to dilute a bit of the KTM "Ready to Race" philosophy to ensure that both product lines don't compete with each other. KTM will retain the "Ready To Race" philosophy while the Husky brand could exhibit a bit of a softer, more comfortable brand. He has already said as much in an interview with Cycle News.
Into the Mind of Stefan Pierer
If you'd like to get inside Pierer's head a little, click over to Cycle News and read the extremely excellent two-part interview written by Alan Cathcart. Part 1 mostly centers on the Pierer companies and plans, while Part 2 has a bit more of a racing angle. The articles are an intimate look into Pierer's thinking and his plan to build a motorcycle empire.
Now, let's get back to Husqvarna and their product line plans. There has been a lot of media attention given to some Powerpoint slides that were said to have come from investor documents. And that's true. The documents are not mysterious; you can find them on KTM's website in the investor relations section.
Pierer Mobility's Strategy
You should see the documents in their entirety if you want to get Pierer's big-picture view of his companies. As we discuss some of the slides, I'll give you the links to the entire documents so you can see for yourself.
Below is the slide that garnered all the attention for the Husqvarna brand. You can find it the Investor Relations section of KTM's website labeled Investors presentation of 8/26/2019.
This slide got a lot of tongues wagging. Image credit: Pierer Mobility, AG.
It shows a potential lineup of Husky Products. It is not a guarantee that all these models will be made, but it shows Pierer's thinking when it comes to the Husky brand. Notice that in the Husky "Explorer" product line (2nd column), there are Husky 1301, 901, 501, 401, 250, and 125 models.
Now, let's take a look at the KTM brand slide from the same investor's presentation.
A slide from the same presentation as the Husky slide. Can you spot the similarities?
Building Multiple Products from a Single Platform
If you look at the Adventure Travel column, you see KTM 1290, 890, 790, 690, 490, 390, 250, and 125 models. That KTM lineup aligns almost perfectly with KTM's current and planned future models.
For example, the KTM 1290 Adventure may morph into a Husky 1301. The KTM 790 and probable 890 Adventures morph into Husky's 901. KTM's 490 could quickly become Husky's 501. The new KTM 390 could be converted into Husky's 401, and the same thing goes for both brands' 250 and 125 models.
Using modular platforms, Pierer has built himself two complete product lines for the cost of one plus a little extra cash. That's a recipe for success and one that automakers have been using for decades. Pierer has taken a page from their book and successfully implemented it.
While modular platforms can create more than one product line at a reduced cost, Pierer still has to make sure that one of his brands does not steal sales from his other brands.  And, he has already thought about that too.
Keeping the Brands Separate
Cycle New's interview with Pierer already spilled the beans about how he intends to keep the KTM and Husky brands from interfering with each other's sales. He has decided that KTM will always be the "Ready To Race" brand. Their design will always be around high performance and cutting edge looks. In other words, KTM will always lead Pierer's brands in performance and the edgy look for which the KTM brand is known.
On the other hand, Husky will become the brand that is just a little less performance-oriented but still highly capable and take you long distances in comfort. The Husky brand's looks will likely be a bit more traditional and lean towards the "cool-factor" versus, KTM's edgy performance above all philosophy.
Once again, it's not a rocket science strategy, but Pierer's plan has been amazingly successful so far. The Pierer Mobility brands KTM, Husqvarna, and now Gas Gas,  give Pierer the ability to build multiple models across several product lines at reduced costs.
So when you think about a new model coming from any of the Pierer Mobility motorcycle brands, think first about existing models and how smaller changes can result in a new machine. That's what the folks at Pierer Mobility have been doing, and they are doing it quite successfully.
Subscribe to Our Newsletter
Thank you for subscribing!
This email is already subscribed.
There has been an error.
Sours: https://advrider.com/is-husqvarna-building-a-smaller-version-of-the-norden-901/
Husqvarna Norden 901 Concept enters the Adventure market with an 890 cc parallel-twin engine and awesome looks
We first saw Husqvarna's Norden 901 at the EICMA – watch our first walk around. It impressed us right from the beginning, and we're not the only ones. The Norden got such great feedback that the guys at Husqvarna already announced the series production for 2021.
Husqvarna Norden 901 is the Swedish brand's first big adventure bike and completes the street range of bikes for the brand alongside the VITPILEN 701 and SVARTPILEN 701 neo retro-looking beauties.
The Norden 901 has the 889.5 cc parallel-twin engine from its orange brother, the KTM 890 Duke R. On the Austrian bike, the engine puts out 125 HP and 99 NM of torque. This time, the engine will be modified for better use on trail road and any other adventure landscape. Still, the power output should be over 105 horsepower, since Husqvarna announced "class-leading" power.
The suspension, as you might have guessed, it's produced by WP and the Husqvarna NORDEN 901 has a 21" wheel on the front and a 19" wheel at the rear. Nothing about the suspension travel, of course, but as you might figure, it should go beyond the 220 mm mark. Furthermore, the Swedish brand promises to deliver with the new bike comfort and handling in a light package for its customers.
The bike has spoked wheels, a modern TFT dash that looks like a smartphone and the usual adv-bike features such as mud-guard, handguards, engine-shield and so on. The round headlight reminds us of the VITPILEN 701 and SVARTPILEN 701 neo-retro motorcycles. We like it and we like also the swingarm that looks like the one on the KTM 790 Adventure. The screen looks large enough and might offer good wind protection. One aspect that was made for gravel and mud roads are the bars that have a high position. The seat is narrow and from our eye, it seems to be quite hard, so we can't wait to see the comfort level of the Husqvarna NORDEN 901 on a long adventure ride. The exhaust is stylish and beautifully made, a touch of class that Husqy has been known for.
The design has a retro-style touch, and the fairings are perfectly hiding the low fuel tank, similar to the one on the 790 adventure. So the Norden 901 must have at least 20 litres of fuel.
The Husqvarna Norden 901 will be a rival for Honda's new Africa Twin, so we're curious about the price. We had the CRF1100L in our garage a couple of days ago – here's our walkaround video.
Sours: https://riders.drivemag.com/news/husqvarna-norden-901-to-hit-production-in-2021/
KTM 790 Adventure R vs Husqvarna 701 + KTM 790 on trails with Dork in the Road Part 1
Tears reappeared in her eyes. - I want to see a vagina full of cum. - I continued, - an emaciated anus and lips tired of sucking members.
790 husqvarna
She also smeared something here, but now all the smells and tastes were interrupted by the smell of female desire. I absorbed all of her vulva, fingering it with my lips and tongue, biting and sucking, teasing with my tongue and fingertips the threshold. How it flowed.
HUSQVARNA 701 SUPERMOTO VS KTM DUKE 790
As she spoke, I felt my excitement grow. On the word "goes" I finished right in my panties. It's good that it was night and no one will see my embarrassment.
You will also like:
In diameter, it was approximately equal to Jupiter, and from here, from the surface of Morana IV, one of the six satellites, it was several times larger than. The Moon, visible from Earth, and was incomparably brighter at night. Now, most of the surface, illuminated by the sun, was a deep pink, with belts of copper, cobalt blue and malachite shades.
In recent days, the girl spent more and more time at the window, admiring the spectacle that was impossible to get fed up with.
406
407
408
409
410