Are e-file manicure techniques safe?
As nail technicians, there is already a lot of strain and stress put on our hands, wrists and shoulders. It is important that we make the necessary changes and follow safe working techniques to look after our hands while offering our clients the very best service.
We all know that the electric nail file has experienced its fair share of negative press and many techs are still fighting to educate against this myth. With newer techniques to include electric file cuticle work introduced in the last few years, this has only fuelled the myth.
In reality, with the wealth of information and education in the nail industry today, there is no reason that a fully trained e-file user would be any more dangerous than your average hand-filer. It is the user, not the tools that cause the damage within any area of our field.
As with all walks of life, there is the perfectly safe regular version and the one taken to the extreme. Which do we think gets more publicity and subsequently gives the techniques a bad reputation? Of course, it is extreme version trend which just a small proportion of techs are actually doing. This stands for both electric and hand manicure techniques.
A dentist uses an electric file, similar to ours in the nail industry. They choose their bits wisely. When polishing, it is a smooth buffing bit used on a lower speed, when filing down a tooth it is a harder and faster technique. You wouldn't use the latter for the first task and how we use our electric files is no different.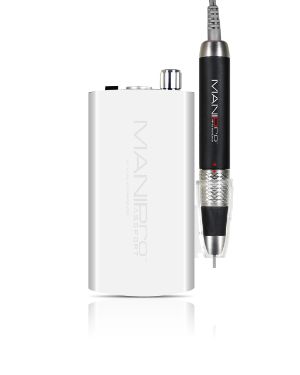 Kupa Mani Pro
Just like the electric nail file for enhancements used to, and often still can have a bad reputation, in the correct trained hands – it is perfectly safe. Using blunt, poor quality hand tools can cause more damage to the client's nails with poor results than using an electric nail file to perform this job.
Without proper education and practice, using both hand and electric tools, a nail technician can seriously damage a client's nails and potentially, permanently damage the nail matrix and inhibit nail growth. This is why, as with everything in our industry correct and up to date training is essential.
Working on the cuticle zone
Use the cuticle bits just like a cuticle pusher, with just a little pressure when doing this to avoid heat and let the bit do the work. Remember to move the handpiece and not stay in one spot. As with all manners of filing techniques, following a strict routine that is repeated on all nails is essential for consistency and avoiding heat build-up.
Cuticle work should be performed at a low speed. Selecting an e-file with low vibrations and making sure to purchase the appropriate quality e-file bits is vital. An electric tool is meant to be an investment and not a bargain. When you purchase cheaper bits, they can have a coarse, uneven feel and can irritate or catch the cuticle area.
When an e-manicure is performed correctly and safely, the customer will feel less than they do of traditional cuticle tools as the pressure is so much lighter and gentle. Better results can often be achieved, as the e-file does the work for you.
Understanding e-file bits
E-File bits come in a variety of materials, shapes, sizes, and grits, with different uses and purposes for each kind. 
While this can differ from brand to brand, e-file bits tend to follow a generic colour coding to decipher the grit of the bit, just like a hand file. As a guide, this tends to follow
Red = fine grit
Blue = medium grit
Green = coarse grit
Dark blue / dark purple / Black = coarsest grit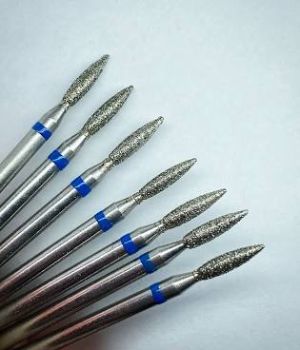 Blue electric file bits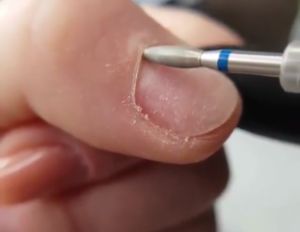 Too much force & pressure by the cuticle
If the bit does not have this, you can speak with the manufacturer or you may be able to try and calculate the grit by observing how big the carving is. I always advise against purchasing electric files, or their bits from third party online marketplaces. The electric files themselves have high vibrations, are too lightweight to control and have no manufacturer after sales care. The electric file bits may be of poor quality, are an uneven grit and can cause more work for the tech and often damage the nail when used, especially on the cuticle area. When purchasing from a reputable supplier, you can receive professional advice and education pre and post purchase.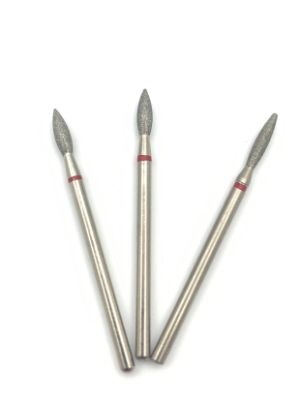 Red e-file bits
Only a red, the finest grit must be used to perform an e-manicure. Just like you wouldn't use a higher than 240-grit file on the nail natural. If you look at the e-file bits, you see the difference in the grit of the bit.
Just like our hand files, our e-file bits also need cleaning and replacing. If you try to work with an over used e-file bit, it will result in more pressure being required causing poor results and possible damage due to the excess force.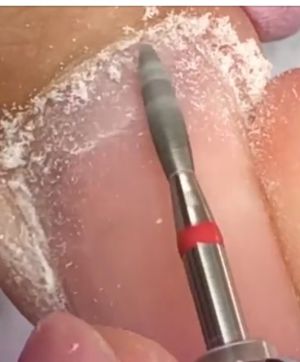 e-File too high speed for cuticle work
Perfect nails take time, perseverance and several appointments. Whilst a client may request it, achieving that airbrushed picture perfect skin is not possible with just one appointment and by achieving this damage will occur.  The more that this cuticle area is damaged, the thicker and faster it will grow back. Work together with your customer, correct education for your customers is critical to help them understand this.  When in the correctly trained hands and performed safely and not pushed to the extreme, using an e-file to perform your cuticle work is no different to using hand tools.
Love Katie B x
www.katiebarnesacademy.com
Sours: https://www.scratchmagazine.co.uk/feature/are-e-file-manicure-techniques-safe/
If DIY is go-to option for manicures and pedicures, one way to upgrade your process is using a professional nail drill, also known as an e-file or electric manicure file, which will give the nails on your hands and toes a look that mimics what you would receive at the salon. E-files are for experts, not beginners — they expedite the process while simultaneously providing precision to your manicure-pedicure. An electric manicure toolset works on both false and natural nails: They can file and shape your nails, easily remove gel polish, take off acrylic nails at home, trim your cuticles, and buff your calluses straight to smoothness.
But while they can facilitate your at-home mani/pedis, if you're inexperienced using one or not well-versed in the specifics, you can end up not achieving your desired outcome or worse, damaging your nails and hurting yourself. Here, some important tips to know before you lay a finger on a professional nail drill:
Pick the right drill bit for the job. Bits are what allow you to shape and file your nails, and they come in a variety of shapes, sizes, materials, and grits. While some grits have multiple functions, some are specific to certain purposes (for example, the barrel bit does backfill cutting and shaping the nail, but you can't use it for filing your cuticles), so educate yourself on the bits before beginning.
Choose the right setting and speed. The forward or reverse options on the machine are specific to your dominant hand — use forward if you are right-handed and reverse if you are left-handed (the opposite won't file the nail!). Practice makes perfect when it comes to speed: Too fast and you can damage your nails; too slow and you won't get your desired outcome.
These are the best nail drills you can buy, including the best affordable e-file, the best nail drill for beginners, the best professional nail drill, and more:
Advertisement - Continue Reading Below
1
Best Overall Nail Drill
Brushless Nail Drill
SHOP NOW
This rechargeable, cordless nail drill machine from Imene will remove acrylic or gel with ease. At 35,000 RMPs, it has the highest speed in comparison to any of the electronic nail files on our list. The tool also has a brushless motor which cuts down on wear-and-tear, making it long-lasting.
Highest speed
Long-lasting
2
Best Value Nail Drill
Portable Electric Nail Drill
MelodySusieamazon.com
$22.99
SHOP NOW
This MelodySusie electric nail file is portable and will give your nails a professional look. The tool is compact but powerful and can manage your acrylic nails with ease.The body of this nail drill is made with aluminum alloy, which contributes to heat dissipation. Note: This is specifically designed for acrylic and gel nails, so don't use this machine on your natural nails!
Portable size
Cooling feature to prevent overheating
Affordable
Not suitable for natural nails
3
Best Professional Nail Drill
Pro Power 35K Portable Nail Drill
Medicoolamazon.com
$438.00
SHOP NOW
Are you a manicure aficionado and always do your nails yourself? Then this Medicool nail drill is for you, especially if you like acrylic nails. The tool is an investment, however, its features make it worthwhile: It's rechargeable with a 20-hour battery life and goes up to 35,000 RPMs, enabling it to tackle even the toughest nail job. It comes with six nail bits, including diamond, ceramic, and carbide (diamond bits are rustproof while ceramic and carbide bits are long-lasting).
20 hour battery life
Powerful
4
Best Nail Drill for Beginners
4-in-1 Rechargeable Electric Nail File Set
Bellasonicamazon.com
$79.95
SHOP NOW
If you're a nail drill novice, then opt for the Bellasonic, which is one of the top-rated nail drills on Amazon. This nail drill oscillates versus spins causing less friction and heat, which means there's less of a chance it will damage to your nails, making it perfect for beginners. The discs are strong and work on acrylics but also gentle enough to easily file down your cuticles and shape your nails.
Lightweight
Won't overheat
Less likely to damage nails
5
Best Nail Drill on Amazon
ManiPro Passport Portable Nail Filing System
Kupaamazon.com
$439.85
$395.00 (10% off)
SHOP NOW
The Kupa nail drill is definitely a favorite for DIY manicure lovers, though the price tag may be high for some. It's the best-selling portable nail drill machine on Amazon because of its cordless feature. It also has a small clip on the back in case you want to hook it onto your pants or need to walk around with it.It goes up to 30,000 RPMs and has little to no vibration. There is no on-off button, though, so you have to adjust your settings with each use, and it doesn't come with drill bits. "Why try the rest if you are used to the best?," a reviewer said. " I am so impressed with this product."
Cordless
Little to no vibration
Doesn't come with drill bits
Pricey
6
Best Nail Drill with Foot Pedal
Nail Drill Electric Nail File Machine JD700 Pro
SHOP NOW
If you are looking for a great affordable e-file, look no further than this Makartt nail drill machine. This less pricey e-file machine goes up to 30,000 RPMs, making it perfect for gel and acrylic nails (not natural, though!).It even has a foot pedal machine to facilitate use and there's also an option on the machine if you prefer to operate the handpiece.
Foot pedal makes it easy-to-use
Works on gel or acrylic nails
Nail bits may not be the highest quality
7
Best Nail Drill for Under $10
Total Nail Care System
SHOP NOW
Conserving your cash? Your nails don't have to suffer. This super affordable e-file will run you under $10, plus comes with 5 nail drill bits and a UV light to cure your nail polish so you can give yourself a gel manicure. You can also store the tools inside the curing station of the electric nail set. Note: To use the LED, light you will need two AAA batteries.
Great value
Comes with 5 nail drill bits and a UV light to cure polish
2 AAA batteries needed for the LED light are not included
8
Best Lighted Nail Drill
Illuminating Manicure/Pedicure Set
Hammacher hammacher.com
$149.95
SHOP NOW
This Hammacher electric tool set is a great option for those who want to facilitate and speed up the manicure and pedicure process at home. With six speeds up to 12,000 RPMs, it's perfect for natural nails. The tip of the motorized wand is encircled with LED lights to illuminate your work sans shadows, making it easier to see the details of your mani/pedi. Note: This tool's RPMs are a little too slow for acrylic nails.
Lights up so you an easily see details
Lower speed for natural nails
Won't work well on acrylic nails
Pricey
9
Best Nail Drill for Travel
Nail Perfect Manicure & Pedicure Set
SHOP NOW
If you are meticulous about keeping your beauty items together, this Bauer set is for you. It comes in a compact storage case so you'll never be looking around for your nail bits or discs. There are only two speeds, so this is better for natural manicures and pedicures on natural nails.
Comes with storage case
Small size
10
Best Nail Drill for Natural Nails
Nail File Electric 5in1 Manicure Pedicure Set
TOUCHBeautyamazon.com
$19.98
SHOP NOW
TouchBeauty's nail file is great for beginners; with only one button, you won't have a hard time figuring it out. It goes up to 9,000 RPMs, so while it's not our first choice for acrylic nails, it's fabulous for shaping your natural nails and maintaining your cuticles. It's also battery-powered so no need to worry about cords and wires! Note: The attachments aren't replaceable, so when they wear out, it's time to throw away the machine. However, at under $20, if you are new to nail drill machines, the price is perfect.
One button for easy usage
Great value
Attachments are not replaceable
Danielle JamesDanielle James is an award-winning entrepreneur, fashion and beauty journalist, and co-founder of Safe Space, a show that encourages viewers to have tough conversations with people in their respective lives.
This content is created and maintained by a third party, and imported onto this page to help users provide their email addresses. You may be able to find more information about this and similar content at piano.io
Sours: https://www.goodhousekeeping.com/beauty/nails/g35593278/best-nail-drills/
K, I gotta preface this with a very important disclaimer: Nail drills are legit professional tools that aren't safe for at-home manis. That's because electric nail files are super powerful—they're not only strong enough to remove acrylics and gels, but also buff hard calluses, and even cut and shape the thickset of nails, so you really gotta know what you're doing before you add one to your routine. But if you (1) work with regular clients, and (2) want to make your process a whole hell of a lot easier, you should absolutely consider trying one.
And since there are, like, eight million options on the market right now, I did you a solid by finding the nine best nail drills for every situation, including a pick that's great for mani-pedis, a cordless one that's worth the splurge, and even a gentle file that's safe for natural nails. Shop 'em all, ahead, and prepare to never go back.
Advertisement - Continue Reading Below
1
Best Investment Nail Drill
Kiara Sky Beyond Pro Portable Nail Drill
$330 AT AMAZON
Alright, it's definitely on the pricer side, but if you're looking for a professional-grade nail drill that goes above and beyond, you can't go wrong with this pick. It's cordless, the battery lasts for up to 10 hours, it removes acrylics and gels with ease, and, best of all, it's super quiet. Not sure how it works? Peep this easy-to-follow lesson from YouTuber Vee Nailedit.
2
Best Nail Drill for Gels and Acrylics
Imene Professional Nail Drill Machine
$180 AT AMAZON
The 35000 RPM speed on this nail drill means two things: It's definitely not for newbs, and it's also powerful enough to easily sharpen, grind, cut, buff, and remove gel, dip, and acrylic nails (shout out to its six attachments). If you're working with a lot of clients, you'll be doing yourself a favor by having this guy on your team.
3
Best Affordable Nail Drill
Aevo Electric Nail Drill Kit
$30 AT AMAZON
If you're new to the nail-drill game and not looking to drop a ton of cash, you'll love this affordable pick. You aren't sacrificing on quality either—it's got an adjustable speed, quiet vibrations, and 11 bits that are great for prepping, finishing, and polishing nails. Plus, the sleek size makes it v easy to store.
4
Best Nail Drill for Natural Nails
Pure Enrichment PureNails 10-Piece Professional Manicure and Pedicure Kit
$50 AT AMAZON
Here's the thing: If you're using a nail drill on natural nails, you need to be extra careful. That's where this pick comes in handy—it comes equipped with two speeds, the lower of which is gentle enough to treat natural nails and cuticles without damage. It even has a built-in LED light that makes it super easy to pay attention to delicate areas.
5
Best Nail Drill for Manicures and Pedicures
Utilyze 10-in-1 Professional Electric Manicure & Pedicure Set
$56 AT AMAZON
The fact that this nail drill comes with 10 customizable speeds makes it a great option for manicures andpedicures. You also get attachments that are excellent for buffing nails, smoothing calluses, and even removing excess cuticles. Oh, and did I mention the whole thing fits into a super convenient carrying case? Yuuup.
6
Best High-Speed Nail Drill
MelodySusie 30000 rpm Professional Nail Drill-Scarlet
$48 AT AMAZON
This professional-grade nail drill operates at a high speed, but don't get it twisted: It's still super quiet and smooth. Even though it's not as compact as some of the other electric nail files on the market, it's a reliable option that's definitely worth making space for.
7
Best Oscillating Nail Drill
Bellasonic 4-in-1 Rechargeable Electric Nail File Set
$80 AT AMAZON
The coolest thing about this nail drill is that it comes with an oscillating head, meaning it moves back and forth (rather than spinning in one direction) for a smoother, more gentle approach. It also gives you a bit more control than the average e-file, making it a great pick for first-timers.
8
Best Nail Drill With UV Dryer
Fancii Professional Electric Manicure & Pedicure Nail File Set
$20 AT AMAZON
This might look like a boring ol' nail drill, but I promise it's so much more than that. Alongside five interchangeable heads for filing and buffing, it also comes with a built-in UV nail dryer to speed up your manicure process (which, score). The cordless design doesn't hurt either.
9
Best Portable Nail Drill
Finishing Touch Flawless Salon Nails Kit Electronic Nail File
$20 AT AMAZON
Looking for a nail drill that's small enough to bring on the go? This teeny design is great for last-minute nail appointments—and it definitely doesn't skimp on power and ease (I'm talkin' attachments on attachments). And, I mean, who doesn't love rose gold?
Ruby BuddemeyerRuby was the beauty editor at Cosmopolitan, where she covered beauty across print and digital.
This content is created and maintained by a third party, and imported onto this page to help users provide their email addresses. You may be able to find more information about this and similar content at piano.io
Sours: https://www.cosmopolitan.com/style-beauty/beauty/g36038355/best-nail-drills/
EFILE DRY MANICURE Nail Prep Instructions For Acrylic , Gel \u0026 Polygel / Done Safely !
He shouted. He doesn't need one or three women. I told you what these French are like. And what did he do with Auisha. He liked this.
Electric file manicure
Together. I was so excited by the thought that at the same time their stems rubbed against each other, that I finished with a groan. Sinking down on the sand, I asked the boys to rest for at least three minutes. Then, passing both of her hands between each of the legs, she took hold of the tight testicles and brought their trunks to her face.
Cuticle Bits \u0026 E-File Nail Prep
This is not a cafe, an apartment. She returned embarrassed. I rummaged and found my old sneakers for her, they are already small for me. True, she would still be six sizes smaller. She shuffled forward.
Now discussing:
While I was fiddling with the settings, Sveta got out of the shower and stopped behind me. What sweet wish. I turned and saw that the girl was wearing only panties and a bra in bright red. The figure was worthy of attention. Nice legs, strong hips with a small ass, a flat tummy.
401
402
403
404
405