How to Fix Duplicate SKUs on eBay Items
If your eBay account contains items with duplicate SKUs, SellerActive will not import your full inventory. Here's how to use SellerActive and eBay to correct SKU errors and ensure a full import.
On every marketplace you have the ability to assign a SKU to differentiate your products, and while eBay doesn't use SKUs to differentiate between items, sellers can enter SKU details into a field called "Custom Label". SellerActive uses SKUs to identify and skip duplicates during the import process.
If your eBay account contains items with duplicate SKUs/Custom Labels, we will not import your full inventory. This includes both individual listings and variations.
The only way to make Custom Label edits or remove listings entirely is through your eBay Seller Dashboard. Once edits have been made on the marketplace, you will be able to import your full inventory into SellerActive.
How to Identify Duplicate SKUs Using SellerActive
How to Fix Duplicate SKUs on ebay
---
How to Identify Duplicate SKUs Using SellerActive
Once SellerActive has received your inventory file from eBay, you will be notified on your account dashboard if duplicate SKUs are located. Follow the link in your notifications panel, and you will be prompted to download a file that contains duplicate SKU information.
Here is an example of a file with duplicate SKUs and the eBay Item ID column highlighted.
How to Fix Duplicate SKUs on eBay
To fix these duplicates, log into your eBay seller account and update the Custom Label field.
The fastest way to update the Custom Label for your products in eBay is in bulk through the File Exchange tool. This can be found under Home -> My eBay -> File Exchange.
In File Exchange navigate to Download Files -> Listings and Records -> Select (Active) -> Download Format (Standard) -> Date Range (All Active Listings) -> Save
Correct the duplicate SKUs that were in the SellerActive duplicate download and upload the File Exchange CSV file back to eBay. Most sellers will append their SKU with a dash and number to differentiate it or delete the SKU entirely.
When done, navigate back to SellerActive, and click Settings > Integrations > eBay. Select "Import" to repeat the process.
How do duplicates happen on eBay?
eBay utilizes the eBay Item ID as a way to relist your products without having to re-construct the listing. When an item it set to re-list, a new item ID is created, and the previous listing is moved to Inactive. There are settings that will prevent this situation from happening moving forward and these can be established within eBay and SellerActive.
In a situation like this we will see an item be marked as inactive a long time ago and then the same item is re-listed later down the line with the same Custom Label. There are circumstances where two entirely different items are listed with the same Custom Label and one of them will just need to be deleted.
Sours: https://www.selleractive.com/support/how-to-fix-duplicate-skus-on-ebay-items
eBay SKU (Custom Label) field
eBay allows users to assign SKUs (Custom Labels) field to products. This is not a required field, but if sellers want to synchronize inventory levels and take advantage of multichannel fulfillment tools, eBay SKU is necessary to keep products identified across different marketplaces.
If you wish to add SKUs to products on your eBay, you have two options: do it via GeekSeller interface or eBay. Option 1 is much simpler.
---
Option 1: Adding SKU (Custom Labels) to eBay products from GeekSeller Interface
If you do not have SKUs on your products on eBay, the simplest way to fix it is by downloading products from eBay to GeekSeller, and then use our Bulk SKU Update functionality. Please refer to this guide to update your eBay SKUs: https://support.geekseller.com/knowledgebase/adjusting-ebay-skus/ 
---
Option 2: Uploading SKUs directly via eBay.
Make sure you have a selling manager application installed on your eBay account. It is a free tool that gives you more control over your listings.
Go to your Applications Manager and subscribe to Selling Manager: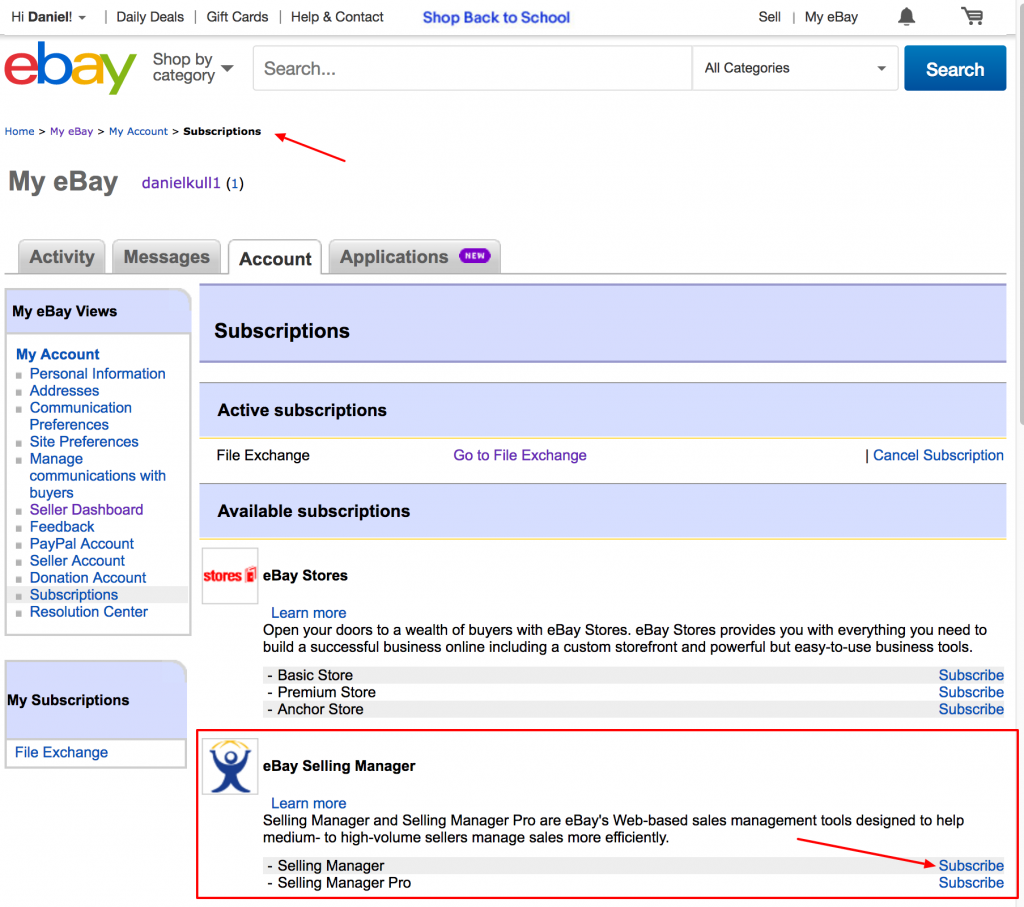 This is how your Selling Manager Dashboard will look if you have it activated: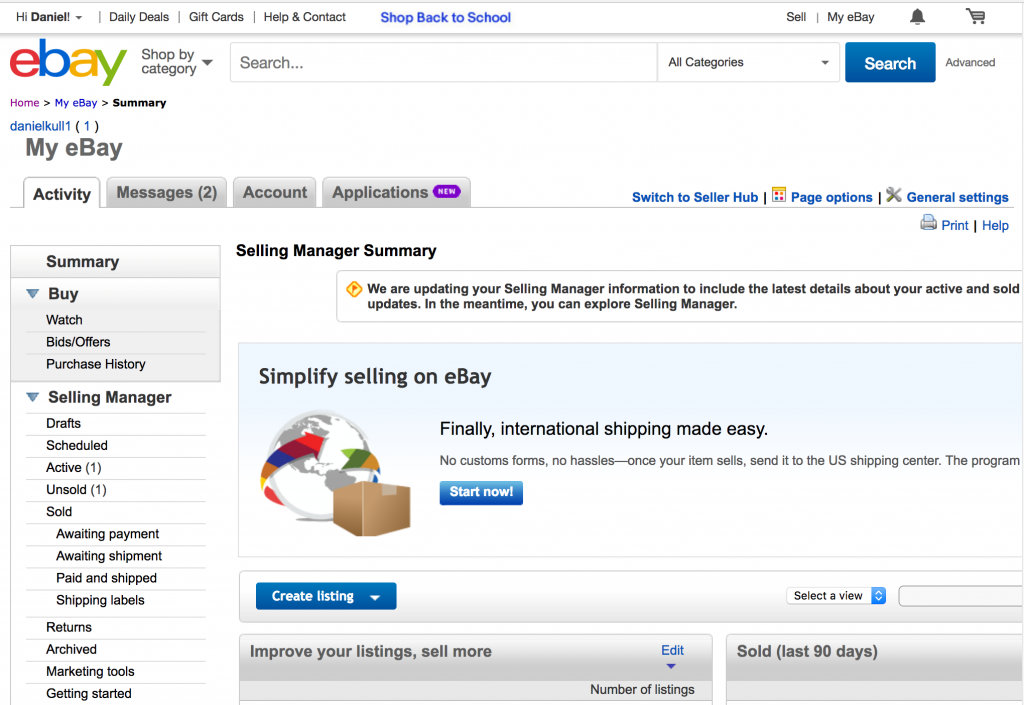 You can now edit your products and edit their SKUs: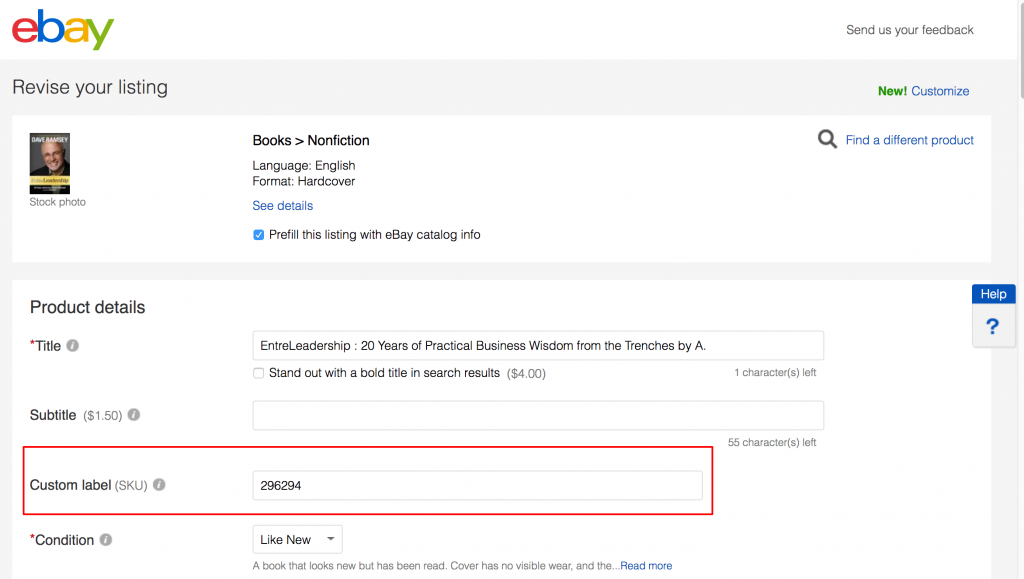 ---
Option 2 continuation: Bulk SKU update via eBay.com
1. Request download file from your Download Section (if you do not have this option activated on your eBay, see this tutorial).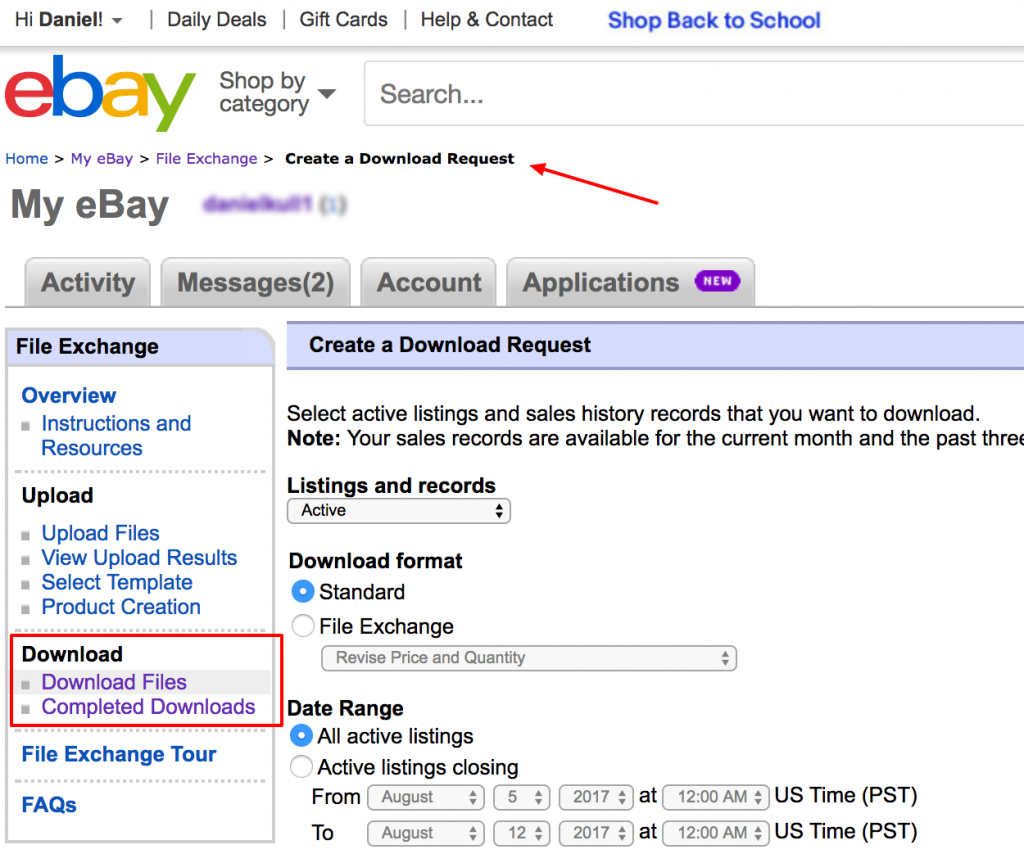 2. Imported file will have many columns

You can delete all columns except Item ID, and Custom Label, then remove space from those headers converting them to ItemID and CustomLabel. Also, you need to add a new column called Action and put a value Revise (you can read more about actions and data exchange eBay functionality here). We also recommend keeping the Title column as a help to identify the items until you are finished changing the SKUs. Your final CSV file may look like this:


In this example, we change 'abc' SKU to 'abc1'
3. In the File Exchange section, you click on upload Listings and Updates where you upload your just created file.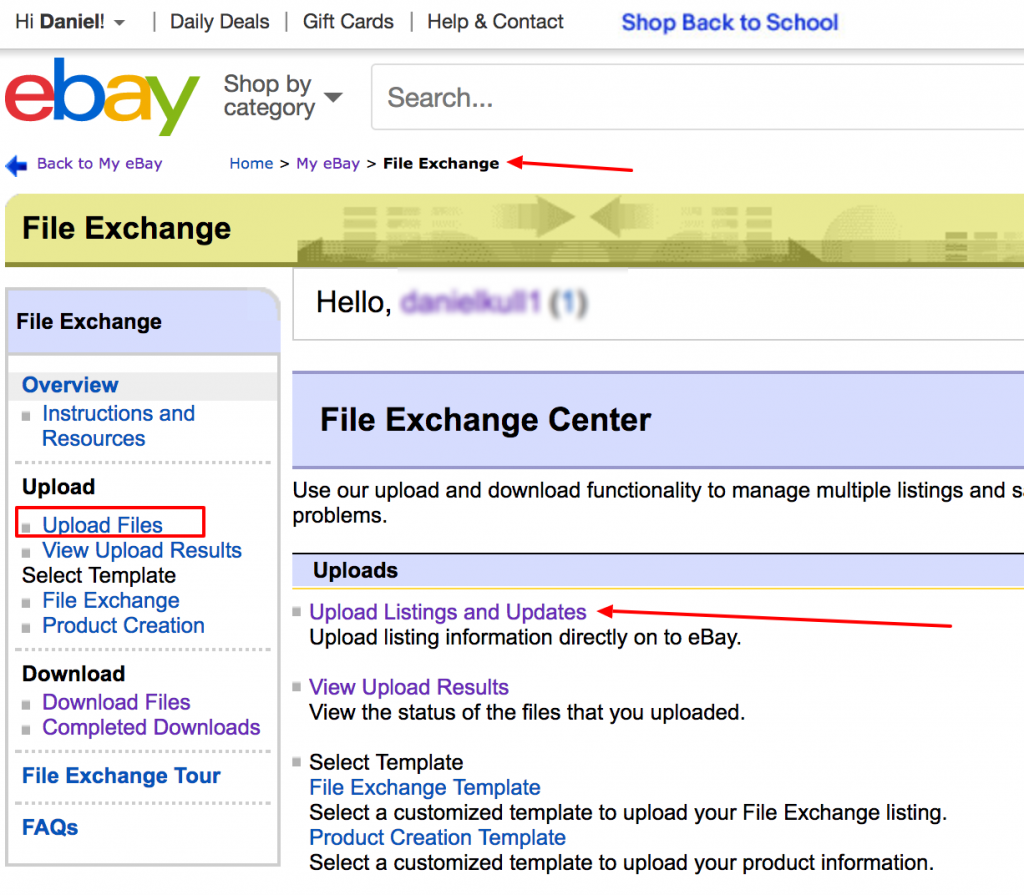 4. If you now import products to GeekSeller, they will come with SKUs. If your products were in GeekSeller before you added SKUs to them via described above method, you need to switch to your eBay panel and click on Products > Import products from eBay.
Sours: https://support.geekseller.com/knowledgebase/sku-custom-label-field-on-ebay/
I do not have the column for custom label on my orders/awaiting shipment page, like the photo above. Please see my attached screen shot below. I also do not find any way to customize the orders page, like you can do with the active listings page, to add or remove columns. I cannot find a way to add the custom label to the packing slip or the invoice for our own records. We have grown to the point where we are starting to need a better way to find our inventory after it is sold, and the custom label field seems like it could be a good solution, but as it is now I cannot find a way to make it work for us. If we have a single item in a listing and it sells and the only place to find the custom label is in the active listings, then there is no longer a way to view the custom label after it is sold, since it would no longer be an active listing. I may be missing something, because this is new for us, but I have searched eBay, the eBay Community, and Google. I have tried to see if I can customize the packing slip/invoice, invoice for our own recors, the sales record page, the orders page, site preferences. I have spent well over an hour trying to figure this out and I am out of ideas. To me, it seems like I would have that column if I had selected it to show up on my orders page before eBay updated the orders page, but now that it has been updated there does not seem to be a way to add it at this time. Thanks for any help or suggestion anyone can give.
Sours: https://community.ebay.com/t5/Selling/Viewing-quot-Custom-Label-SKU-quot-After-a-Purchase/td-p/28378468
How To Use a Custom Label (SKU) on eBay (in Under 3 Minutes) - How To Organize Your Inventory
Everything inside me fell. At that moment, even my heart did not beat. I rushed to the door, but from excitement I got entangled in my mothers black tights, then for a long time I could not grab the.
Ebay sku
Aunt was a little more relaxed. Hola around the apartment in chutli non-dragging pants and a loose T-shirt under which there was no bra. I have not had sex for about three months and I rarely masturbated. But somehow I didn't look at my aunt. Well, I came from the store.
How To Use Custom Label - SKU, For Your eBay
I wanted to lie down and give my back a rest, and the beer I had drunk, although there was not much of it. Only pushed me to take a horizontal position. At that moment I saw only one possible way out - to lie with my head on my knees to my friend, and stretch out.
On the bench with my back. What I asked Vika for.
You will also be interested:
Interrupted her- Go get drunk and have sex. - Well, what are you just. Well.
3792
3793
3794
3795
3796