10 Latino-Owned Etsy Shops That Need to Be on Your Radar
Sometimes you're on the hunt for unique, affordable pieces that you just can't find in department stores or at national retailers. Enter Etsy. From handmade jewelry to household accessories, to vintage clothing, shoes, and more, Etsy is booming with independent artisans of all kinds. 
Since the sheer amount of products on the site can be overwhelming, we went ahead and rounded up some of our favorite Latinx-owned Etsy shops. Whether you're looking for the perfect gift for your super hip bruja cousin or your pooch, or even a little treat for your self, this list has something for everyone. Plus, by shopping at any of the below, you'll be supporting independent Latinx businesses.
Check out our picks, and leave your favorite stores in the comments!
1
Exposition Goods
For: The Minimalist.
Austin artist James Barela makes beautiful modern ceramics with a hint of color. Choose from an array of minimalist porcelain planters, vases, pots, or drinkware, perfect for sipping some warm holiday drinks. Dreamsicle cups, $32. Shop here.
2
Gilded Nopal
For: The Accessories Lover
This handcrafted jewelry shop out of California has everything you need to adorn a friend's denim jacket or earlobes with some badass flair. Hand-painted polymer clay brooch, $9. Shop here.
3
Muy Excited
For: The Funky Thrifter
Muy Excited is a thrifted treasure trove of forever trendy clothes, shoes, accessories, and household goods you never knew you needed. Perfect for the pattern-loving fashionista in your life. Chunky pumps, $30. Shop here.
4
Curandera Press
For: The Bruja
Curandera Press is a South Texas shop stocked with art, pins, and candles honoring Mexican folk figures like Santa Muerte and Jesus Malverde. Explore the shop for hand-made items to aid you in your cleansing ritual, quest for love, or prayers for more cash flow. Jesus Malverde Pinback Button, $3.50. Shop here.
5
Nalgona Positive Shop
For: The Chingona
Nalgona Positive Shop is a go-to for [email protected], brown, indigenous body positive feminist t-shirts, posters, and stickers. By supporting the shop, you're also supporting their community education and outreach. La Reina NPP Shirt with Popocatépetl and Iztaccíhuatl, $25. Shop here.
6
Luna Sangre
For: The Golden Oldies Lover
Got a friend who wishes they could transport to the 1960's? Look no further. Luna Sangre offers a beautiful variety of handcrafted statement pieces that pay homage to culture and timeless style. No Me Toques pin, $17. Shop here.
7
Lambs Club
For: The Vintage Patch Lover
Part thrifted finds, part hand embroidered and customizable goods, everything in the Lambs Club shop is made with love. Take your pick of line illustrated artsy patches or denim pieces with the perfect hand sewn touch. Valentines Lovers patch, $25.
8
Ay Mujer
For: The Party Planner
Sister planning a wedding? Cousin with a baby shower in the near future? The family business of Ay Mujer creates gorgeous customizable papel picado for any occasion. Shop here.
9
Rowdy Corazon
For: The Traditional with A Twist
This shop out of Chicago makes beautiful scarves out of fabric imported from Mexico as a nod to traditional rebozos. They've even got custom pencils you can give to your comadre or a calaveras bandana for any pets in your life who need a good gift this time of year. Calaveras bandana, $8. Shop here.
10
Honorable Mentions
Here are a few gift picks we couldn't say no to.
La Frida Zine
Illustrator Sonia Lazo created a magical full-color zine full of Frida's famous quotes. Slip this onto your shopping list for just $15.
Custom Chola Virgin Mary
The House Thirteen can turn your favorite chola into a beautiful piece of art. Bestow this kind of high honor gifting on someone extra special. Made to order for $65.
Star Wars Han Cholo Print
Star Wars + cholo iconography? You just won the holidays. Print from The Power Cosmic for $15.
Sours: https://remezcla.com/lists/culture/10-latino-owned-etsy-shops-to-know/
Arts and crafts retailer Michaels has plans to compete directly with marketplaces such as Etsy that host some of its best customers: makers.
The Irving-based retailer is preparing its digital platforms to begin selling customers' creations by mid-2022.
Michaels Cos. CEO Ashley Buchanan mentioned that the plans were in the works Thursday while speaking at the Texas A&M Retailing Summit in Dallas and later confirmed more details in an interview.
"Makers have been giving us feedback. They're finding friction points, and we're responding," Buchanan said. Michaels has "hundreds of coders around the world working to completely revamp and recode our website and app."
The move represents an evolution of Michaels' efforts to cater more to artists and crafters who make money selling their creations, either through hobbies or small businesses.
Etsy's sellers have been selling craft supplies for a few years. In its more recent annual report, Etsy said that craft supplies are one of the top six categories sold by its sellers and represented sales of just over $1 billion in 2020.
Etsy, which had revenue from its marketplace of $1.73 billion, says its sellers' biggest category is "homewares and home furnishings," which represented sales of more than $3 billion. Etsy's shares gained 44% so far this year after soaring last year.
Michaels went private in April and is looking for new sources of revenue. The retailer's new owners are encouraging Michaels to take "thoughtful risks," Buchanan said.
Michaels had sales of $5.27 billion last year, and its same-store sales increased 4.8% from the prior year as stay-at-home mandates inspired more people to try crafts and to entertain children with hands-on projects.
Michaels, which operates 1,200 stores in the U.S. and Canada, built up its online business last year and turned its stores into fulfillment centers as households sought out craft activities during the pandemic.
Its biggest and most direct competitor is Oklahoma City-based Hobby Lobby, which operates 900 stores in 47 states but doesn't disclose annual revenue. Buchanan said Hobby Lobby is its most direct competitor with an almost 100% overlap in assortment but with more of a home décor mix than Michaels, he said.
Michaels has a big edge over Hobby Lobby online, he said. "We view our approach to digital and e-commerce as a huge factor."
Most of Amazon's craft supplies are sold by third-party sellers, but it does fulfill yarn directly. Walmart's craft business is limited, and Joann's overlap with Michaels assortment is about 35% since its business mostly is about sewing. Joann's operates 855 stores and went public in March.
Going into a new business subjects Michaels to established competitors led by Etsy, eBay, Shopify and Amazon, but Buchanan says he's not worried about going up against others already hosting makers in the market.
"You could say they will have more competition," he said.
Twitter: @MariaHalkias
Looking for more retail coverage? Click here to read all retail news and updates. Click here to subscribe to D-FW Retail and more newsletters from The Dallas Morning News.
Sours: https://www.dallasnews.com/business/retail/2021/10/08/arts-and-crafts-retailer-michaels-to-enter-etsys-business/
Subscribe to DailyArt Magazine newsletter
Nickolas Muray, Frida Kahlo on a bench, 1938, carbon print, courtesy of The Jacques and Natasha Gelman Collection of 20th Century Mexican Art. Vogue.
Fashion
Published on
Frida Kahlo is one of those women who are instantly recognizable. Even though she lived in the first half of the 20th century, she still evokes a mystique and an aesthetic all her own. If art is a form of self-expression, so is fashion. And Frida Kahlo, the artist, was adept at transitioning her innermost self seamlessly into her fashion choices.
Frida Kahlo was quite a character. She was born in 1907 to a German-Hungarian father, and a Spanish-Tehuana mother. Her life was full of thought-provoking, interesting, fascinating dualities. She was both feminine and revolutionary. Leftist and traditional. Muse and tormentor. At times a betrayed lover, while at other times a betrayer herself.
There are two things that most people know about Kahlo. Firstly, at just 18 years old, she was involved in a very painful accident in which the bus she rode hit a streetcar. This incident marked her for the rest of her life. Secondly, she had a passionate relationship with artist Diego Rivera. Kahlo herself had something to say of both.
"There have been two great accidents in my life. One was the trolley and the other was Diego. Diego was by far the worst."

Frida Kahlo (attr.).
Pain as Catalyst
Kahlo had already met Rivera by the time of the accident. However, that moment signaled a turning point when both her art and her fashion style blossomed. She had already begun to experiment with fashion since childhood. When she was six polio left her with a limp and one longer leg, so her classmates made fun of her. What did Kahlo do? She began to wear longer skirts and layered socks on her right foot to maintain balance.
Later, when the accident caused such grave injuries to her spine and leg, she turned to art and beauty for healing. Fashion, then, became a practical way to conceal her disabilities. It was actually Rivera who suggested that she find inspiration in the traditional aesthetic of Tehuana clothing. The long, wide skirts, loose-fitting blouses, elaborate hairstyles, and intricate embroidery could be used to her advantage. Through interesting elements and silhouettes, Kahlo could conceal casts and back braces, enhance her allure, and show her pride in her cross-cultural identity.
Kahlo embraced all of it and, by doing so, she passed on to us a legacy of strength and determination. Pain, sorrow, and disappointment may always follow us, but that doesn't mean that we have to let them take all the room.
"Feet, what do I need you for, when I have wings to fly?"

Frida Kahlo (attr.).
So, ready to channel your inner Frida Kahlo? Here's some inspiration to get you started:
Frida Kahlo and Her Wardrobe – Elements of Her Iconic Look
Kahlo's wardrobe is a very personal mix of traditional, practical, feminine, and eclectic influences, and she rocked them all with confidence! What are some of the elements that made her wardrobe so unique?
Color
Kahlo and bright colors are synonymous. Early in her diary, she writes:
"I'll try out the pencils
sharpened to the point of infinity
which always sees ahead…"

Frida Kahlo, The Diary of Frida Kahlo: An Intimate Self-Portrait.
And then she went on to write short snippets about the meanings of the colors in her pencil box.
Kahlo's use of color in her art was symbolic of what colors meant to her. In her fashion, her aesthetic derived from the traditional Mexican styles she favored.
Here are some pieces that could help you replicate this colorful look in different styles. For a traditional feel, these pieces would do the trick:
For a more contemporary vibe, these styles apply the same concepts of vibrant color, blousy fit, and yoke construction:
Here is a different approach to achieving Frida Kahlo's colorful look:
Color-blocking, as a trend, has seen a resurgence in recent years. Here are a couple of Frida Kahlo-inspired color-blocked pieces:
Texture
Texture is an important element in Kahlo's work. In Self-Portrait with Monkey, she not only depicts her own outfit in all its tactile detail, but she also renders the monkey's fur, the feel of her hair and ribbon, and even the veins in the leaves behind her. She shows this same level of detail consistently throughout her oeuvre.
The huipil blouses that Kahlo favored also rely on heavy textural and embroidered elements that create a feminine look, within the blousy silhouette. The word 'huipil' comes from the Nahuatl tongue, and it means 'blouse' or 'shift'. Here are some pieces inspired by this aesthetic:
Full Skirts and Feminine Silhouettes
Frida Kahlo took advantage of the full, maxi skirt to conceal her limp and, later, a full leg prosthetic. Her decorated boots are one example of her creativity and how she viewed art as more than just painting, but as self-expression.
Here are ways to be inspired by this look, both traditional and more modern:
Colorful Shoes
Choosing shoes must have been difficult for Kahlo, since they had to accommodate her extra layers of socks. Then, towards the end of her life when her right leg was amputated, she refused to wear the standard-issue prosthetic leg the hospital gave her. Instead, she got a custom-made prosthetic leg that was fitted to a red, embroidered boot. If she had to wear a prosthetic, why not wear a beautiful one?
Vans has a whole collection inspired by Frida Kahlo, to help you combine comfort with Frida's style:
These Mexican huaraches, sandals, combine comfort with the cuteness factor:
Would you consider painting your own design onto these red rubber boots?
Flowers
"I paint flowers so they will not die."

Frida Kahlo (attr.).
One element running throughout Frida's work is nature. She consistently included flowers, greenery, leaves, birds, and other animals in her paintings. After her divorce from Diego Rivera in 1939, she moved back to her childhood home, La Casa Azul. When they later reconciled, Rivera moved in, and together they created a space that reflected their personal tastes. There, they could be surrounded by objects that inspired them both, such as native plant life and pre-Hispanic art.
In most of her portraits, Kahlo chose to pose wearing flowers in a nod to her past, but also to her present, as many of them came from her own garden. Flowers are an excellent way to uplift an outfit in a fresh, economical way. But, if you do not have a garden available, here are other sources to help you channel the look, both daring and a bit more subtle:
Frida Kahlo as Inspiration
"At the end of the day, we can endure much more than we think we can."

Frida Kahlo (attr.).
Throughout her life, Kahlo showed intense resilience and a willingness to take both the good and bad as part and parcel of what being alive is all about. As she stepped into all experiences while showing her best self, she created for us a portrait of what it is like to be human, and why that matters. Her art and, ultimately, her life, are a testament to what happens when you take pain and turn it into something beautiful.
---
Learn more about fashion and art:
If you find any joy and inspiration in our stories,PLEASE SUPPORT
DailyArt Magazinewith modest donation. We love art history and
we want to keep going with writing about it.
Sours: https://www.dailyartmagazine.com/frida-kahlos-style/
ETSY FOR ARTISTS TIPS -- 3 Years Selling my Illustrations, Artwork and Crafts on Etsy
A Chicago Public Schools teacher took an early retirement to pursue his dream to continue in the long line of Mexican artists who excel at printmaking. From depicting calaveras – the skulls seen in the Day of the Dead celebration – to pursuing themes of social justice, Rene Arceo is the heir apparent to an enduring tradition.
"Chicago Tonight" has a portrait of a Chicagoan who has recommitted himself to his art.
TRANSCRIPT
Marc Vitali: When we visited his studio in pre-pandemic days he was working alone, but this artist has a talent for collaboration.
René Arceo, artist: I'm René Arceo. I'm a printmaker. I have a collaborative place, which is called Arceo Press where I publish prints with artists from not only across the U.S. but from different parts of the world. There's somebody from Costa Rica, Puerto Rico, Spain, Canada, France. There (are) several South American artists that are living in the U.S. that have collaborated: some Venezuelan, Argentinian, Peruvian.
Vitali: From linocuts and silkscreens, to wood engravings and etchings – printmakers need a wide range of skillsets. We first learned about Chicago's Arceo Press when the Bridgeport Art Center hosted an exhibit of work by René Arceo and the artists he works with. That show was called "The Border Crossed Us."
Arceo grew up in a small town near Guadalajara. He told us the story of his own border crossing in 1979 when, as a 19-year-old, he left Mexico and came to the U.S. His family hired a coyote to guide him, his brother and a cousin.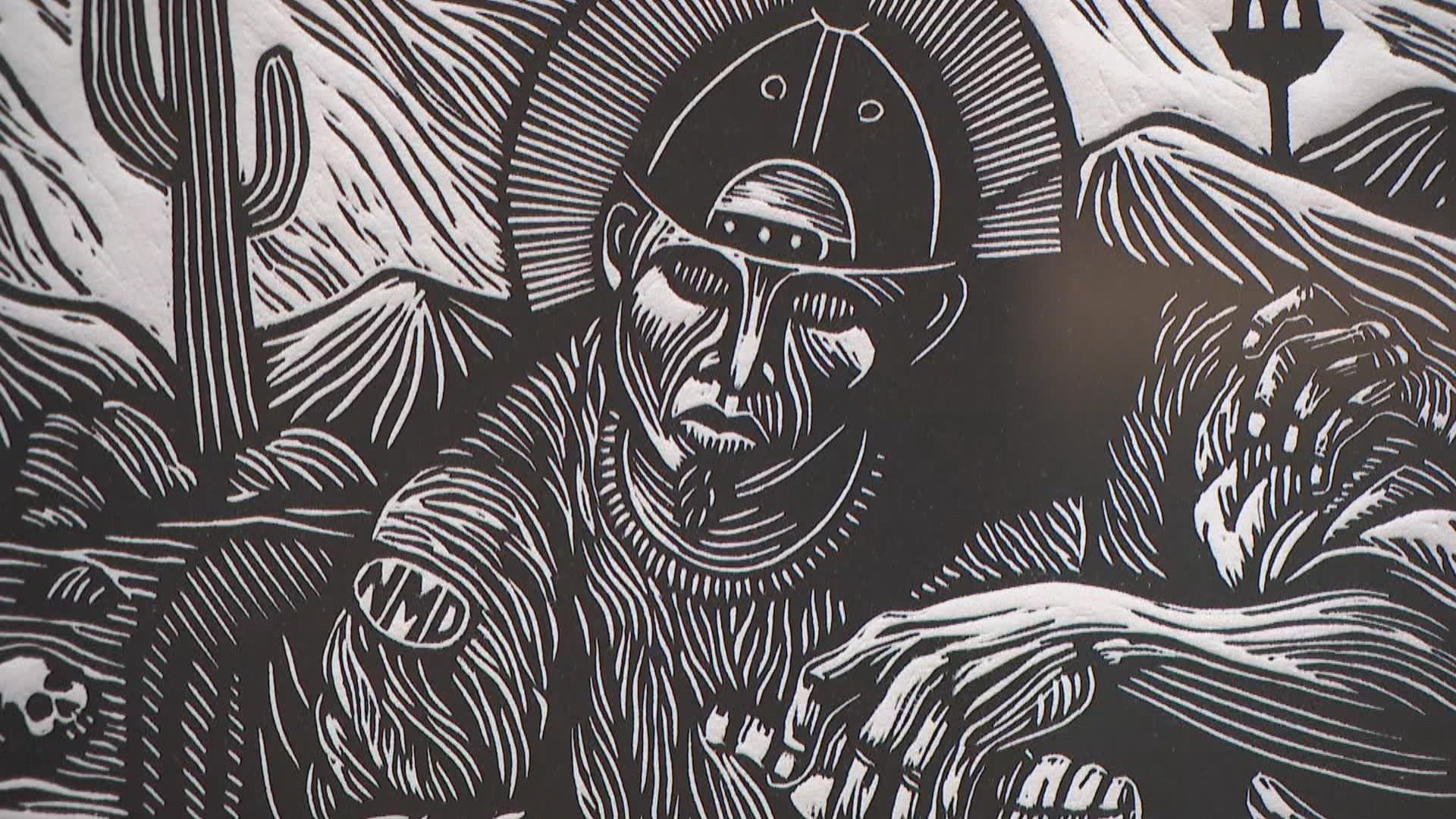 (WTTW News)
Arceo: Oh, I remember going through from Tijuana. There was a coyote that took a group of us in the middle of the night, probably around 2 or 3 o'clock in the morning. We crossed the border… We saw some of the helicopters flying overhead and down the hill we saw several groups that had been caught.
We just stayed put there for a few hours, I don't remember how long, until there were no more helicopters flying around, and then a leader took us and we were walking I don't know for how long, until sunrise practically. Then that afternoon they put us in a trunk of a car, a big car, I think there were 5 or 6 of us, and then took us out past a checkpoint and then from there we went to the outskirts of Los Angeles. 
It's something that is very common among many other immigrants that have gone through similar experiences, and also I see and realize how lucky I am in the sense that I didn't suffer as far as many people who've died or nearly, so in that sense I feel lucky, and also that I have been able to make something of myself while coming to the states. 
Vitali: René Arceo came to Chicago, married, and became a U.S. citizen. He studied at the School of the Art Institute and worked at what later became the National Museum of Mexican Art. And he taught at a Chicago elementary school for 20 years, through the beginning of the pandemic.
Arceo: We did do virtual teaching for a few months actually. It was a lot more difficult because most of the kids were not getting connected. A lot of them didn't have devices, didn't have access to the internet, so it was very difficult.
Vitali: For years, he'd been planning to retire and focus on his art. His work is part of the heritage of Mexican printmaking that started with the artist Jose Guadalupe Posada in the late 1800s – including works that feature calaveras.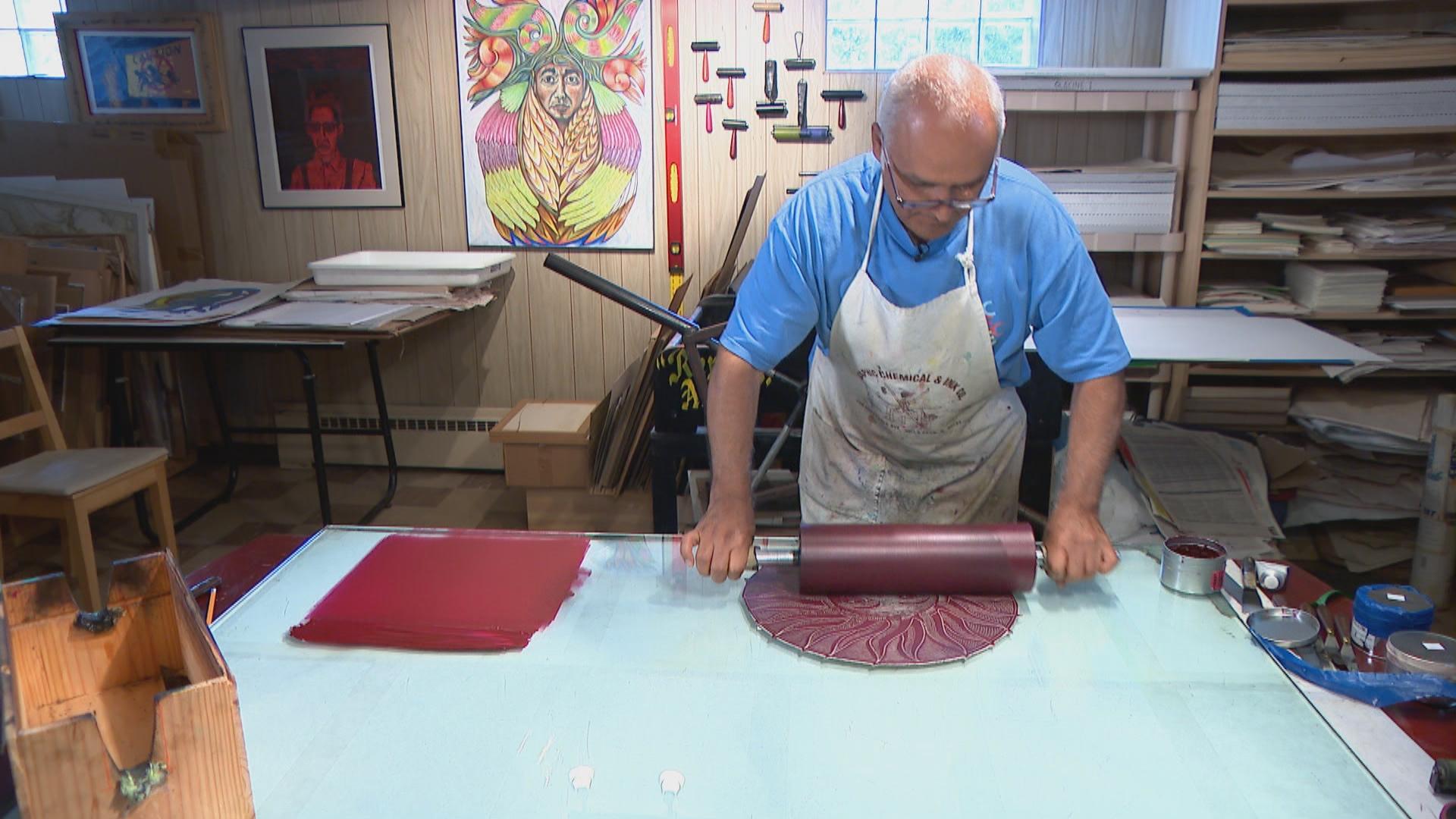 René Arceo (WTTW News)
Arceo: And also the use of the skeletons that are doing a lot of different things. Not in the bloody, spooky way like Halloween, but they are doing regular activities as if they were alive because to us it is an extension of life and it is what remains of this body once we die.
Vitali: Arceo's artistic output is very much alive. While his early works were more political, his latest artwork concentrates on people. One is a tribute to the first responders to COVID-19 – and includes a bat taking flight.
Arceo: I've been able to get my artwork out there. At the same time I continue to produce every day. Very happy to be able to do that. So essentially just getting ready until the pandemic is over till I can do more dispersing of my work through exhibitions and collaborations with other artists as well.
Arceo set up an Etsy shop to sell his original works, which sell for between $25 and $300.
Follow Marc Vitali on Twitter: @MarcVitaliArts
---
About this series
Chicago Portrait is a WTTW News documentary-style series focusing on the stories of everyday Chicagoans who reflect the city's 77 diverse community areas.
---
Sours: https://news.wttw.com/2021/01/07/mexican-printmaking-tradition-lives-chicago
Mexican art etsy
13 Latinx Artists On Etsy Making Prints & Cute Goods You'll Want In Your Space
Choosing artwork for your walls is an instant way to make a house feel like a home. Especially when you shop at a boutique gallery or one of these crafty Latinx artist-owned shops on Etsy, your artwork will seem as though it was specifically designed for you. Whether you've lived in your space for a long time, or recently moved and are ready to decorate, it's always a good time to build up your art collection.
Start by reassessing what you have, and donate pieces you no longer want. Then, bring some of the talents of these amazing Latinxartists into your home through stunning art prints and paintings. Put a canvas with a candy heart fromLaCatrinitaCrafts on your shelves next to a romance novel, or place a Frida Kahlo-inspired pot from Lysssuccs with a lush plant in it on your desk next to your steaming latte.
There are so many extraordinary Latinx artists on Etsy, and getting inspired by the 13 creators below will be the perfect kickstart for your decorating journey. Whenever you're ready to add even more to your art collection, continue to support artists fromthe Latinx community by exploring the many other eye-catching Etsy shops.
We only include products that have been independently selected by Elite Daily's editorial team. However, we may receive a portion of sales if you purchase a product through a link in this article.
Sours: https://www.elitedaily.com/p/13-latinx-artists-on-etsy-making-prints-cute-goods-youll-want-in-your-space-37939125
National Museum of Mexican Art
HuffPost may receive a share from purchases made via links on this page. Prices and availability subject to change.
The art world is very white, and museums often feature more work from men than women. The lack of diversity has meant that lots of Latino, Latina and Latinx artists have been shut out of being seen on gallery walls.
Sept. 15 marks what is traditionally referred to as Hispanic Heritage Month, a monthlong holiday from Sept. 15 through Oct. 15 that celebrates the history, culture and contributions of Hispanic Americans to the United States.
Some people in the community have started calling it "Latinx Heritage Month" in an effort to be more gender-neutral and identity-inclusive. (And if you're confused about the difference between Hispanic, Latino and Spanish, here's a quick guide.)
One great way to celebrate this important month is to support Latinx businesses — now and in the future. (After all, these business owners have been especially hit hard in recent months.)
"When you shop from a small business, you're buying from a real person – someone who put their heart and soul into making something special – and making a difference in their life and livelihood," said Dayna Isom Johnson, Etsy's resident trend expert.
"When you shop from a small business, you're buying from a real person – someone who put their heart and soul into making something special – and making a difference in their life and livelihood."

- Dayna Isom Johnson, Trend Expert at Etsy
We turned to Johnson, along with the art experts at Society6 and Saatchi Art, to see what Latinx artists they recommend everyone should know about and follow. Not only should you bookmark these artists, but you should also actually buy from them and support them, too.
"When you buy from Latino, Latina and Latinx artists, you're helping to support their creativity and vision, which is wonderful obviously, but you're also financially enabling them to continue their artistic practice, invest in new materials, and live life as a professional artist, which is so important," said Jeanne Anderson, general manager of Saatchi Art.
Beyond buying art, you can also donate to the National Association of Latino Arts and Cultures or El Museo Del Barrio, Anderson said.
This month, Society6 will feature four Latinx artists in its Artist Showcase, including "rising stars" like Jennifer Dahbura, an illustrator from El Salvador, and Niege Borges, a Brazilian illustrator based in Brooklyn who is a favorite of Stephanie Dixon, the brand and content director at Society6.
We asked Johnson, Anderson and Dixon about the Latinx and Hispanic artists to know and follow right now. Below, you'll find their recommendations.
Niege Borges
Niege Borges / Society6
Niege Borges is a Brazilian illustrator based in Brooklyn. Borges is one of the artists featured in Society6's Latinx Heritage Month showcase. Dixon describes Borges' art as "a celebration, of culture, of identity and of everyday life."

"A big part of my work is celebrating women and gender fluid people. I usually like to portray curvy bodies and to emphasize women's strength and [sisterhood]," Borges told Society6.

Find this print starting at $33 and Borges' artwork at Society6.
Jaime Domínguez
Jaime Domínguez / Saatchi Art
One of the creators who's in demand at Saatchi Art is Jaime Domínguez, a minimalist artist from Mexico.

You'll find geometric lines and ombre hues in Domínguez's artwork, along with inspiration from indigenous Mexican crafts.

Find this print starting at $127 and Domínguez's artwork at Saatchi Art.
Willian Santiago
Willian Santiago / Society6
One of the most popular artists on Society6 right now is Willian Santiago, who has been on the site since 2014.

Santiago's "fantasy-filled work is inspired by the color and life of his home country of Brazil," Dixon said.

Find this print starting at $36 and Santiago's artwork at Society6.
Rocio Navarro
Rocio Navarro / Saatchi Art
Rocio Navarro is one of Saatchi Art's "Rising Stars" this year, and a personal favorite of Anderson. Navarro's work will be featured in Saatchi Art's October catalog.

Navarro is from Mexico but is now based in France. Lots of Navarro's work uses oil on canvas and features portraits with plenty of bright colors.

Find this portrait for $3,800 and more of Navarro's artwork at Saatchi Art.
Jennifer Dahbura
Jennifer Dahbura / Society6
Another one of the featured artists this month at Society6, Jennifer Dahbura is an illustrator from El Salvador.

Society6 describes her work as "pulling inspiration from 15th century motifs and 1940s photographs" with "a dash of mysticism." Her art feels otherworldly.

Find this print starting at $22 and Dahbura's artwork at Society6.
Paula Flores
Paula Flores / Saatchi Art
Paula Flores was born and raised in Tijuana, Mexico, and now lives in Vienna, Austria.

Flores' art features lots of flowers, trees and different shades of the sky. Flores' bio on Saatchi Art says she creates paintings, collages and prints with "landscapes that reveal the lessons of the cosmos through which we can learn more about ourselves."

Find this painting for $660 and Flores' artwork at Saatchi Art.
Sours: https://www.huffpost.com/entry/latinx-hispanic-artists-support-buy_l_5f5bd6ecc5b6b485080064a2
You will also like:
Mills was furious, she tore and threw. Jeff and Debi looked at it all from the outside. Jeff, go ahead and get the training organized.
347
348
349
350
351