The following Church capital campaign slogans experiment with verbs that motivate action. Use them to express why your campaign goals are important as opposed to describing campaign attributes. To best communicate your needs, tell a compelling story. Provide opportunities for dialogue. Gaining the emotional and intellectual acceptance of your congregation is an essential starting point.
"Take-Action" Church Capital Campaign Slogans for Thought & Growth - Not Exploitation.
Your audience's perception of your motivation will undoubtedly dictate success. So, make the campaign theme showcase how your church's needs align with God's will. Aim to collectively growth faith and wisdom. Allow God's blessing and fulfillment to be widespread. As you seek God's counsel, lean on His word, and pray for direction, His presence will become more apparent.
To accomplish all of the above, you will need to select a spiritually motivated church capital campaign theme like the ones below.
#1 Preserve His Promise. " His divine power has given us everything we need for a godly life." -2 Pet. 1:3
Urge your congregation to take advantage of God's promises. Present case statement needs that align with His purpose and according to His plan. Broaden the scope of your campaign goals to address your audience's spiritual, emotional, and physical needs. Get them to embrace the changes God is making in their lives, and never doubt His desire to answer our prayers. Maintain His living word with an understanding that everything happens in His time. Use this church capital campaign slogan to "preserve the understanding of His promise" for future generations.
#2 Live Our Faith. " For we live by faith, not by sight." -2 Cor. 5:7
Put your congregation's faith to work! Use this effective yet simple church capital campaign slogan to discuss how to put faith into action. The theme speaks volumes and for itself. Good deeds alone won't get us to heaven. Proactively "living our faith" promotes God's will, which is your organization's primary source of growth.
#3 Share Faith. Secure Futures. " Your beginnings will seem humble, so prosperous will your future be." -Job 8:7
Create a platform for God to open doors. This two-part church capital campaign slogan has to do with the impact of one's life. As this church capital campaign theme delivers an underlying sense of urgency, it remains free from stigmatization. Focus on the next generation, and promote church outreach that achieves your church fundraising goals.
#4 Glorify His Gifts. " A faithful man will abound with blessings." -Pro. 28:20
Communicate God's truth and salvation for your audience to fully realize, embrace, and live God's Gifts. Use this church stewardship campaign slogan for your congregation to clarify their faith. Strengthen their understanding of grace and freedom to receive God's gifts. These efforts will open the doors of opportunity far beyond the fulfillment of your church's case statement needs.
#5 Build With Humility. " At the proper time, He may exalt you." – 1 Pet. 5:6-7
Humble your church building efforts before God. This church capital campaign slogan encourages humility to build trust. Motivate your congregation around God's ability to exalt and take care of those that are humble, and those that reach out to share his gospel and mercy. Communicate the need to place trust in Him. Instill the understanding that He is the true provider- not the church or its members.
#6 Exalt His Sacrifice. "Do not merely look out for your own personal interests, but also for the interests of others." - Phil. 2:4
Use this powerfully focused slogan and tagline to glorify our Savior's actions while He was on earth. We celebrate Christ by putting others first. However, without the proper biblical context, this church capital campaign slogan and tagline could be taken as gifting for salvation. It's important that your church capital stewardship does not come across as a "checklist of givers." With the right context, mobilize your congregation around the premise of giving Him praise and serving His way.
It is ironic that many Christ-like deeds today fall short, as the establishment of faith in Christ gets overlooked. Perhaps "exalting His sacrifice," when we serve, build, and grow, will have more of an impact than we know.
#7 Cast Our Care. "Therefore, as we have opportunity, let us do good to all people." -Gal. 6:10
Use this church capital campaign slogan to underscore the need for care. To boost engagement, establish a robust initiative for reciprocal internal and external community growth. Align fundraising efforts with delivering material, physical, emotional, and spiritual assistance to your congregation as well as non-church members. This mission- driven theme could serve as a wake-up call to motivate action.
#8 Assemble to Serve. "Whatever you did for one of the least of these brothers and sisters of mine, you did for me." - Mt. 25:40
Place priority on building a more dynamic community of servant leadership. Use this church capital campaign slogan to set and achieve goals by committee. Perhaps your campaign-needs require labor commitments beyond monetary pledging. If so, this theme puts that in perspective to motivate a more broad-based response and higher levels of service.
#9 Build God's Will. Surrender to His Time. "For I know the plans I have for you." -Jer. 29:11
Use this church capital campaign slogan to send a message of obedience. Sometimes abundant blessings are birthed from simple acts of obedience. This could result in greater opportunities to serve. Get your congregation to commit to carrying out God's instructions both large and small. God will step in!
#10 Gather & Grow in Harmony. " Not giving up meeting together, as some are in the habit of doing, but encouraging one another." - Heb. 10:25
Strike a chord with people looking to become their best self. Aim to motivate members that yearn for fellowship opportunities. Use this church capital campaign slogan to motivate those that are on the fence about your new vision. Address leaving old methods behind to embrace new ways of doing things according to God's will. With this capital stewardship theme, build a buffer around the change your organization will encounter.
#11 Restore His House. "The LORD is my strength and my defense; he has become my salvation." -Ps. 118:14
Use this church capital campaign theme to build a fortress around His salvation. Restoring His house involves building up God's temple that resides in us all. Get your congregation to view their trials and temptations as opportunities to mature and grow.
Construct the pillars of faith for them to rebuild and strengthen God's presence in their life as well as your church. As hardships test our faith, trust, and endurance, help them grasp the big picture of Christ as a savior.
Let's Bring Your Church Capital Campaign Theme to Life!
Get cohesive communications strategy with various custom print and digital materials. Simply convey your church's unique needs through our humanized online project planning system. And we will build your Church Capital Campaign Communication Package end-to-end (design-to-print, design-to-direct mail, web design & hosting, etc). Helping pastors, stewardship teams, and consultants achieve higher levels of realization is our mission. Together, we can build a more comprehensive capital campaign experience to secure ample funding as well as impact lives.
Other Church Capital Campaign Names:
// 12 "Christ-Themed" Church Capital Campaign Slogans
// 7 Church Capital Campaign Slogans for Construction Projects
// 10 "Gospel-Themed" Church Capital Campaign Slogans
Posted in
April
Church Campaign Themes
category
Back to BlogSours: https://www.abstractunion.com/blog/11-church-capital-campaign-slogans-take-action-themes-verse-ideas-names
The Baptist Church is a place of worship and congregation for the Baptist sect within Christianity.
The Baptists are Christians who believe that babies or children should not be baptized but rather adults should be baptized when they are old enough to understand the religion and publicly profess their love for the faith and accept Jesus Christ as their savior and the one true son of God.
Best Baptist churchSlogans
Closer to god
Feel god closer to you
Heal yourself
Connecting to god
To serve Christ
Faith and devotion
Spirituality discovered
Connecting souls
Feel the difference
The positive aura
Opposed to other churches where infants and babies are baptized by affusion or sprinkling holy water, Baptist churches baptize an individual by wholly immersing them in a pool or a tub of holy water.
This comes from the Biblical event where John the Baptist baptized Jesus Christ in a similar fashion in the river Jordan. Baptists believe they should follow this example of atonement Jesus Christ.
The Baptist Church began in the modern day Netherlands in early 17th century, as a Reformation within mainstream Protestantism, and has since spread throughout the world.
List of Best Slogans for Baptist Church
A Church of God, a Church for you.
By the people, of the God, for the people.
Come and be together with God.
Bringing you closer to our Lord.
We serve the Almighty.
Let's celebrate our togetherness.
You're destined to join us.
We believe together, we belong together, we come together.
Changing the world, a prayer at a time.
Bringing people closer to Christ.
Serving Christ with our souls.
We save your souls.
We are your family.
Come closer to God.
Celebrate Jesus and the Lord!
God's grace illuminates this place.
God shall speak to you.
Become one with Jesus.
Have your faith rewarded.
A home for your faith.
A family with Jesus as our Father.
In the light of God.
Come, feel the love of our Lord!
We save lives, we save souls, we save you!
Come alive with Christ within you.
We want to change the world.
The Church lies within you.
Spreading Christ throughout.
Rebuilding your faith.
We bring people into the light.
Worship our one true saviour.
Where your life and your faith become one.
Welcome to the Brightside.
Bid farewell to the Darkness.
Built to serve, serving to build.
Many people, many souls, one church, one Lord.
The Church you have been looking for.
Your destiny's call.
Baptize into your new life.
We gift you a new life.
Shaping people, shaping society.
Saving you from your misery.
Heed God's call, you shall never fall.
A Church for the ones who want to be saved.
We love you, Jesus loves you.
The only home you need.
Find your soul a new home.
Glory to the Almighty!
Praying for a living.
We do not chastise. We baptize.
No criticism. Only baptism.
A Church like you have never seen.
Let the Lord touch you through us.
A sanctuary for the lost.
Even the homeless have a home in us.
We give more than we get.
Saving humanity with the help of Jesus.
Trying to create a better world.
No love is purer than the love of God.
You will never find a better home for your soul.
Praying for a better living.
Love God, love Jesus, love all.
The community of Christ.
The culture of Christendom.
A Church like no other.
The Church of the people, the church of the world.
The Lord embraces us.
God holds us in His bosom.
Our Church is your grand revelation.
Step into our light and be free.
We believe in God, we believe in you.
Loving God takes you closer to God.
A Church without boundaries.
You believe in our Lord, we believe in you.
We serve all.
Making lives better.
Many problems, one solution: our Church.
Come let us celebrate God's creations together.
The one true Church.
Ensuring you a better life.
Saving your soul from being lost.
We immerse you, so that you can rise!
Drowning is the new awakening!
We dunk you like dunkin' donuts in coffee.
Freeing the world of impurity.
Cleansing Earth, one sin at a time.
God breathes life into the Church.
You do not need another book if you have a Bible!
One true Bible, one true God, one true Church.
We spread God's love to all corners of the world.
A Church with a reason.
Every soul needs a Shepherd.
Our purpose is your joy and peace.
Our vision is your salvation.
A peace-loving church for peace-loving people.
Let's come together and pray.
Together we can change our lives.
An evolving church for the evolving times.
Non-believers will now believe.
Experience a new life with your new family.
The Church of the masses.
Believe in the truth, believe in Jesus Christ.
A church for you, a church for everyone.
Charity begins at our church.
The path to Heaven starts form here.
To serve mankind is to serve God.
Forget your woes and worries.
Your life will be remarkable, you will no longer be miserable.
Centering on Christ, focusing on your family.
We win over you through love.
Let your soul free.
Be kind, be merry, be Baptist.
Lead a healthy Christian life.
When you join the church, a new church builds inside you.
You are a vessel of our saviour.
Jesus was a Baptist, you should be too.
Jesus' very own church.
Be baptized, be virtuous.
Baptism delivers you from evil.
Believe in Jesus and all shall be good.
Live a life of grace and honour in God's light.
The church of the merciful.
The church for benevolent souls.
Grow under God's love and grace.
The church where friends, family and faith come together.
Let us guide you in this world of misguidance.
We are lambs and Jesus is our Shepherd.
Holding true to Jesus' words.
The almighty step towards the Almighty.
Granting your soul the wings to fly.
Heaven's image on Earth.
An institution of faith and love.
We provide, we care, we deliver.
Take the step towards a greater and better life.
The church of prayers and promises.
Readers also Love to Read:
Categories Catchy SlogansSours: https://thebrandboy.com/baptist-church-slogans/
The Christian faith is based on the teachings of Jesus Christ and the New Testament in the Bible. However, 86% of Christians spend their time alone reading the bible and not engaged with others. 40% of readers feel confused and overwhelmed with the contents of the bible. Majority of Christian followers desire more in depth teachings of the Bible by their church. The following Christian slogans have been used by other Christians previous and are aimed at encouraging dedication to Christian faith.
1 Cross + 3 Nails = 4 Given
Advice you can bank on.
All sin is the same to God.
An Idea can change your life.
Because he lives.
Better Growth Through Research – Read the Bible.
Better ideas better life, the Bible says it all.
Bible. Soul Food Every Day.
Breakfast of God's Children.
Breakfast of the Faithful.
Brush your soul. Brush up on the Bible.
Can't Get Enough of God's Written Word.
Christ literally walked in our shoes.
Christ, Inspired Living.
Christians aren't perfect, just forgiven.
Come in and pray today. Beat the Christmas rush!
Complete Idiot's Guide to Life.
Don't be so heavenly minded that you're no earthly good.
Dusty Bibles lead to Dirty Lives.
Everything is easier on a Bible.
Faith – It does not make things easy, it makes them possible.
Faith Over Fear.
Fight truth decay — study the Bible daily.
For fast, fast, fast relief, take two tablets.
Forbidden fruit creates many jams.
Free Trip to heaven. Details Inside!
God can hear you.
God can't be in the presence of sin.
God has a great plan for your life.
God hates the sin but loves the sinner.
God helps those who help themselves.
God is giving.
God is most glorified in us when we are most satisfied in Him.
God is stronger than my circumstances.
God is Within her. She will not fall.
God loves each of us as if there were only one of us.
God loves everyone.
Got Jesus?
Have trouble sleeping? We have sermons — come hear one!
Have you asked Jesus to come into your heart?
He's a hyper-Calvinist.
Hell is the absence of God.
How will you spend eternity — Smoking or Non-smoking?
I believe in God. Never panic, just pray.
I'm hoping for a breakthrough.
If God is for us, Who can be against us?
If God is your partner, make your plans BIG!
If you can't sleep, don't count sheep. Talk to the Shepherd.
If you don't like the way you were born, try being born again.
If you're headed in the wrong direction, God allows U-turns.
In the dark? Follow the Son.
It is unlikely there'll be a reduction in the wages of sin.
It is well with my soul.
It's a Spirit-filled church.
It's for the glory of God.
It's not all about you [it's all about God].
Jesus in my Heart.
Jesus paints a smile in me.
Jesus thinks we should see other people.
Justification is God's part; sanctification is our part.
Justification means just-as-if-I'd-never-sinned.
Keep calm and let a Christian handle it.
Keep pressing forward.
Know God, Know Peace; No God, No Peace.
Let all that you do be done in love.
Let Go and Let God
Let God's promises shine on your problems.
Let your fingers to the walking, in the Bible.
Live as a Christian today or burn in Hell tomorrow.
Live in such a way that if someone spoke badly about you, they would never believe it.
Looking at the way some people live, they ought to obtain eternal fire insurance soon.
Love every Word.
Love is the core of God.
Man, Knowledge, Freedom, Righteousness – The Bible.
My Savior is Tougher Than Nails
No God — No Peace. Know God — Know Peace.
No Greater Love
Once saved, always saved.
Pray More, Worry Less
Running low on faith? Stop in for a fill-up.
Searching for a new look? Have your faith lifted here!
Servant leadership.
Sign broken. Message inside this Sunday.
Solutions for every situation.
Sophisticated thought for sophisticated people.
Thankful and blessed.
The best thing about the future is that it comes only one day at a time.
The Bible belongs on your daily timetable.
The Bible is everywhere else – it ought to be in your family library.
This is a ch_ _ ch. What is missing? U R
Too good to hurry God's Word.
Try our Sundays. They are better than Baskin-Robbins.
Walk By Faith
What the Word Will do.
When down in the mouth, remember Jonah. He came out alright.
Whoever you are, My God died for you.
You are chosen.
You are loved more than you will ever know.
You are my treasured possession.
You live. Read the Bible for details.
Your potential is the sum of all the possibilities God has for your life.
Go here to see some more slogan examples and find out the perfect slogan formula for creating a catchy slogan that brings in more customers.


See the 31 Greatest Christian Names of All-Time
The following infographic outlines the bible engagement trends in present time. An average of 700 people quit reading the bible every day.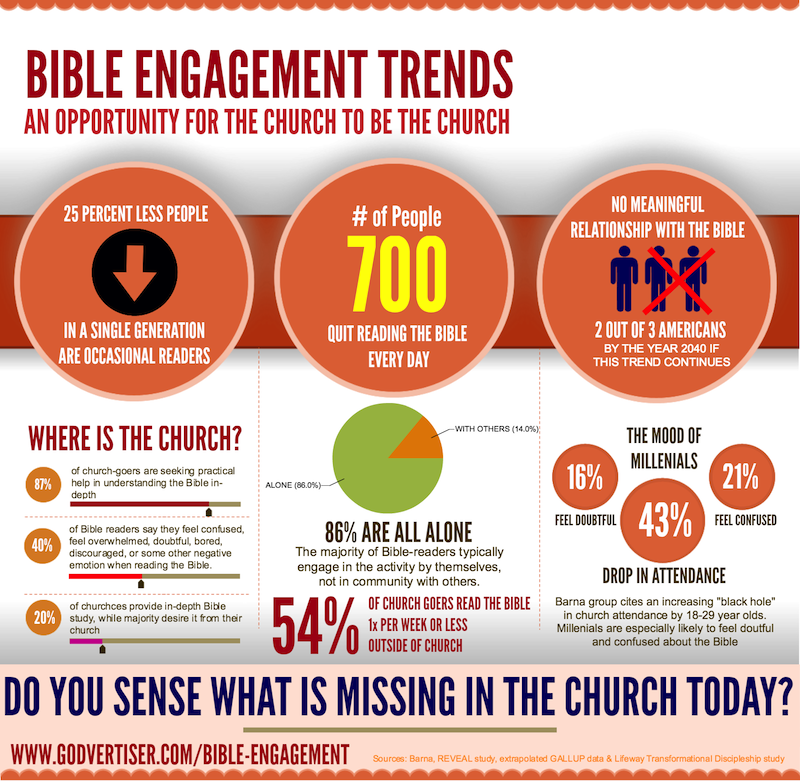 Here's the big list of business name ideas that covers over 150 of the most popular industries, and here is a directory of all of my slogans.


Categories Catchy Slogans, SlogansSours: https://brandongaille.com/34-cool-christian-slogans-and-taglines/
Slogan Creator Company Video Example
Free Christian Slogan Maker
Creating an apt and successful slogan is a real challenge for companies. It's the key phrase people will associate with your product or service so you need to choose it wisely. Our phrase generator will provide you with free slogan ideas.
Use our slogan generator to find an awesome catchy name for your advertising campaign. With our clever tagline generator you will become the maker of a good catch phrase in no time.
How It Works
After you submit the keywords our cool catchy title maker will instantly create an advertising slogan based on one of our random templates. If you want another one, simply press the "Generate" button again. Finally, choose the best idea among all the examples you could get.
In addition, it can be used not only as a catch phrase generator but also as a motto maker for your company.
If you are thinking about how to call your website or looking for a project name generator, your search stops here. You should try our free business name creator with lists of suitable options.
Need a different type of slogan?
Sours: https://getsocio.com/tools/slogan-generator/christian
Slogan generator church
Last Updated on
What is the difference between a mission statement and a vision statement? TopNonprofits.com distinguishes them this way:
Mission Statement (What You Do): A one-sentence statement describing the reason an organization or program exists and used to help guide decisions about priorities, actions, and responsibilities.
Vision Statement (Desired End-State): A one-sentence statement describing the clear and inspirational long-term desired change resulting from an organization or program's work.
For this list, we'll look at 50 unique church mission statements collected from churches notable for their size, influence, or communications ability. Details on how this list was compiled can be found by scrolling down to the bottom of the page.
For examples of vision statements, check out 30 examples here.
General Findings
The best church mission statements are clear, memorable, and concise.
Church mission statements are often much too long to remember.
The average length of the church mission statements here is a full 16.3 words compared to only 15.3 on Top Nonprofit's 50 Example Mission Statements
The shortest church mission statement contains only 2 words (Calvary Chapel Ft. Lauderdale)
The longest church mission statement from this list contains 42 words (Second Baptist Church Houston)
A number of churches base their mission (and/or vision) statements around the great commission, but see the difference between Calvary Chapel Ft. Lauderdale (2 words) and Second Baptist Church's 42-word versions.
50 Examples of Effective Church Mission Statements
Calvary Chapel (Ft. Lauderdale, FL): Making Disciples (2 words)
Westover Hills (San Antonio, TX): Making New, Making Great (4)
The Rock (San Diego, CA): Save, Equip, and Send (4)
City on a Hill (Melbourne, Australia): Know Jesus and Make Jesus Known (6)
Highpoint Church (Memphis, TN): Love God, Love People, Make Disciples (6)
Christ Church of the Valley (Peoria, AZ): To reach the valley for Christ (6)
The Church of the Resurrection UMC (Leawood, KS): To Know, Love and Serve God (6)
Celebration Church (Jacksonville, FL): Leading people to experience a God-First Life (7)
Southeast Christian Church (Louisville, KY): Connecting people to Jesus and one another (7)
Red Rock Church (Littleton, CO): We exist to make Heaven more crowded (7)
Missio Dei Church (Cincinnati, OH): Establish and multiply gospel-centered, city-focused, church communities (7)
Fellowship Church (Grapevine, TX): To Reach Up, Reach Out, and Reach In (8)
Emmanuel Church (Brighton, England): Helping people find their way back to God (8)
Prism Church (Pasadena, CA): To revive believers, reach friends, and renew culture (8)
Community Christian Church (Naperville, IL): Helping people find their way back to God (8)
Brooklyn Tabernacle (Brooklyn, NY): A church for worshipping God and loving others (8)
Eaglebrook Church (White Bear Lake, MN): Empowered by God to reach others for Christ (8)
Granger Community Church (Granger, IN): Helping people take their next step toward Christ…together (9)
East 91st Street Christian Center (Indianapolis, IN): To help people take their next steps with Jesus (9)
LifeChurch.tv (Edmond, OK): To lead people to become fully devoted followers of Christ (10)
National Community Church (Washington, DC): To make the name of Jesus famous in our generation (10)
North Point Community Church (Alpharetta, GA): To lead people into a growing relationship with Jesus Christ (10)
Spanish River Church (Boca Raton, FL): To lead people into an authentic, life-changing relationship with Jesus Christ (11)
Glad Tidings (Omaha, NE): A church where anyone can be transformed by the story of Jesus (12)
Central Christian Church (Henderson, NV): We exist to introduce people to Jesus and help them follow Him (12)
Austin Stone Community Church (Austin, TX): To love God, love the church, love the city, and love the nations (13)
Elevation Church (Matthews, NC): We exist so that people far from God will be raised to life in Christ (15)
Seacoast Church (Mt Pleasant, SC): To help people find God, grow their faith, discover their purpose, and make a difference (15)
Biltmore Baptist (Arden, NC): We exist to glorify God, by making disciples that reach up, reach in, and reach out (16)
Church of the Highlands (Birmingham, AL): We're here to help people know God, find freedom, discover their purpose, and make a difference (16)
Gateway Scottsdale (Scottsdale, AZ): Helping every person believe in Jesus, belong to a family, become a disciple and build His kingdom (17)
Potential Church (Cooper City, FL): To partner with people to reach their God potential, in order to impact our world for good (17)
Dream City Church (Phoenix, AZ): To lead people into a fully-devoted relationship with Jesus Christ by loving people, cultivating community, and inspiring hope (18)
The Potter's House (Dallas, TX): We are the voice and the hand that encourages people to change their lives with hope, comfort, and peace (19)
Gateway Church (Southlake, TX): To help each person at Gateway believe in Jesus, belong to family, become a follower, and build God's kingdom. (19)
Perimeter Church (Duluth, GA): To make and deploy mature and equipped followers of Christ for the sake of Family, Community and Global Transformation (19)
Coral Ridge Presbyterian Church (Ft Lauderdale, FL): We equip our people to develop a Biblical worldview, share the Gospel, build healthy relationships, transform communities, and renew culture (20)
Mosaic Church (Hollywood, CA): To be a church that lives by faith, is known by love, and is a voice of hope to the world (21)
Glide (San Francisco, CA): To create a radically inclusive, just and loving community mobilized to alleviate suffering and break the cycles of poverty and marginalization (21)
Mars Hill (Grandville, MI): Living out the way of Jesus in missional communities, announcing the arrival of his kingdom, working for measurable change among the oppressed (22)
Woodlands Church (The Woodlands, TX): To help people experience Christ rather than man's creation of religion, so they can grow strong in Christ and take the Christ experience to the world (26)
Hillsong (Sydney, Australia): To reach and influence the world by building a large Christ-centred, Bible-based church, changing mindsets and empowering people to lead and impact in every sphere of life (27)
James River Assembly (Ozark, MO): Our mission is to help lead people into a growing relationship with Jesus Christ by creating a dynamic environment for authentic worship and effective communication while developing genuine community with each other (32)
Redeemer Presbyterian Church (New York, NY): To build a great city for all people through a gospel movement that brings personal conversion, community formation, social justice and cultural renewal to New York City and, through it, to the world (33)
Christ Fellowship (Miami, FL): Our mission is to make fully devoted followers of Christ. We want to be a part of witnessing lives saved by the grace and truth of Jesus Christ and helping believers grow as disciples. (34)
The Journey (St Louis, MO): We are a diverse community centered on Jesus Christ, seeking to wholly enjoy His grace, faithfully embody His love for one another, and boldly engage our culture with His truth, from our neighborhoods to the nations (36)
New Hope Christian Fellowship (Honolulu, HI): To present the Gospel of Jesus Christ in such a way that turns non-Christians into converts, converts into disciples, and disciples into mature, fruitful leaders, who will, in turn, go into the world and reach others for Christ (38)
Prestonwood Baptist Church (Plano, TX): To glorify God by introducing Jesus Christ as Lord to as many people as possible and to develop them in Christian living using the most effective means to impact the world, making an eternal difference in this generation (38)
Cornerstone Church of San Diego (National City, CA): Turning the hearts of youth and families to God and each other. Developing our God-given potential in order to win in every area of our lives. Advancing the Kingdom of God, first throughout our circles of influence, then the nations abroad (40)
Second Baptist Church (Houston, TX): "Go therefore and make disciples of all the nations, baptizing them in the name of the Father and the Son and the Holy Spirit, teaching them to observe all that I commanded you; and lo, I am with you always." Matthew 28:19-20 (42)
How the List Was Compiled
Churches were sorted based on their length and organized from shortest to longest (based on the number of words).
The number in parenthesis at the end of each line depicts the number of non-branded words included in their church mission statement.
In order to standardize the list, we removed things like "[Brand's] mission is" or "The mission statement of [Brand]" when it created redundancy.
Sours: https://www.churchrelevance.com/2013/03/28/50-examples-of-church-mission-statements/
Ultimate Church Connect Card Template [FREE DOWNLOAD]
Brady Shearer: A church slogan isn't just a catchy tagline, it's your church's story, your vision, and mission distilled down to a short, memorable phrase. It should inspire your congregation and help with your leadership's decision-making. And yet so few churches actually have a good one. Let's change that.
In this episode of Pro Church Tools, we're going to highlight a trio of amazing church slogans and walk you through the process of crafting your own.
Alex Mills: Well, hey there, and welcome to Pro Church Tools, the show to help you share the message of Jesus while we navigate the biggest communication shift in 500 years. I'm your host, Alex Mills, joined as always by Brady Shearer.
Brady Shearer: Let's begin this episode, Alex, by defining what a slogan is.
Alex Mills: Okay.
Brady Shearer: Because it's probably an imperfect term to use here. A lot of us, when we think of a slogan, we think of a catchy tagline.
Alex Mills: Sure.
Brady Shearer: But there actually is a distinction between what a tagline is and a slogan. These definitions come from HubSpot. They say, "A slogan encompasses a company's mission, what it stands for, and even how it's helping customers in the individual campaigns the company might run. Slogans can therefore be longer than taglines. A tagline is a catchy quip that evokes an image of your brand in the minds of your customers." Like when I see X, I think X.
Alex Mills: Like eat more chicken, I think about Chick-Fil-A. Or like when I hear that commercial, I think about Sleep Country Canada.
Brady Shearer: Right. Right.
Alex Mills: For our Canadians, you'll get that one and I know you're singing that commercial in your head right now.
Brady Shearer: Very nice. Others that would fall in this, others that would fall into this category for American friends, America runs on Dunkin, got milk, think different, bet you can't eat just one, I'm loving it, just do it. For most of us, I didn't have to say the company names that accompany those taglines. We all know them.
But again, slogan different from a tagline. Slogan is a lot more encompassing of your church's mission and vision and how your congregation kind of works within that. What else is not a slogan? It's not your church website headline. We have an entire article on prochurchtools.com that highlights some of the best church website headlines. They say things like a safe place to explore your faith or we're saving a seat for you. You matter to God, you matter to us. Church for all people. That's not what your slogan is. Because those are particularly crafted phrases to explain to someone who's unfamiliar with your church, why they might be a great fit.
Alex Mills: Okay.
Brady Shearer: But those aren't your mission as a church necessarily. They're specifically targeted for new people to explain who you are and why that matters to them, but it's not an all-encompassing mission or vision. That's still different.
Alex Mills: Right. It's like a greeting. Like a first introduction, which is basically what that first interaction on your website is. That's why that headline is so important. It's your new digital front door, right? So when someone lands there, you want to introduce yourself and say say Hey, and that's what that headline is for. But when you're first saying, Hey to someone, you don't just start explaining who you are and what you're about. Right? It's just you make that interaction. So that's kind of where that headline fits in. So you don't want to copy and paste your slogan into your headline, especially because your slogan is probably going to be longer than your headline is going to be.
Brady Shearer: Yeah, and sometimes the two can intersect, but they don't have to, and that's okay.
That's what a slogan is not. What is a slogan? Three things to define what a slogan is to help us understand how would we create this for our own church? And then we can get to some great examples. Firstly, a slogan includes a key benefit, meaning it has to relate to the people you're trying to serve in some way. A lot of church mission and vision statements wouldn't necessarily be a good slogan. They aren't even good mission or vision statements necessarily, because they're all about what we as a church, as an organization, as an entity are trying to accomplish.
But a great slogan is about how your congregation can be included in the work of the church and how together that creates something important. Now we knew … we do need to be a bit careful here because I think when I say it includes a key benefit, it's very easy to cross the line into weaponizing Christianity into this amazing thing that's going to help you have a better life.
Alex Mills: Yeah. Like using it like a sales pitch.
Brady Shearer: Absolutely. Because at its core, I think what we're trying to sell as Christianity is denying yourself.
Alex Mills: Right.
Brady Shearer: It's dying to yourself, and essentially living a life where you give your entire life away for the good will of others, but that we do believe is the most fulfilling and rewarding way to live. So it's okay to talk about that as a benefit, but we don't want to cross the line into taking the life of Christ and trying to make it attractive as this thing that's going to enrich your life in the ways that people traditionally think.
Alex Mills: Right.
Brady Shearer: And that's why I'm saying like even the words I'm using here, I'm using them carefully because this is a very tight rope to walk and it's easy to fall into the wrong side or it's easy to not even talk about a benefit at all because you're too afraid of making something attractive that's not meant to be attractive.
Alex Mills: Sure.
Brady Shearer: But those two things can coexist. The idea that really following Jesus, a life of following Christ, is a life of denying yourself. And yet at the same time, that is the most rewarding and fulfilling life to live. And that's why we're all trying to chase after that.
Alex Mills: And that's why we're even spending this this time together today, talking about what a slogan is, what it's not, and how to craft one. Because it seems like it's really important that we're very intentional, as churches, about how we write this slogan, how we use it, where we use it, and what we try to communicate with it. Not that we try and turn our faith, our practice of faith, into some sort of golden ticket like Willy Wonka, right?
Brady Shearer: That's a great way of saying it.
Alex Mills: But we have to be really intentional about the language we're using to define who we are and what we're doing. And so yes, something super important to consider when you're crafting a slogan for your church.
Brady Shearer: The term that I always use to describe life in Christ is the upside-down kingdom, in that everything that Jesus offers is very often completely antithetical to what the world is saying the way to go is. And so this is why I think we get, hit this crossroads and hit this tension with a lot of people and they're like why are we using traditional methods of communication for something that is antithetical to everything the world teaches? How can we use a practice that is traditional for the world if the message is completely untraditional.
But those two things can pair. This isn't some paradox that cannot be resolved. They're not mutually exclusive. And so again, that's the difficult territory that we need to navigate.
The second thing, what a slogan is, it's something that differentiates your church. And the reason that I believe very few churches have a slogan that is any, unique at all, is because there's kind of this assumed script of what church is meant to be.
Alex Mills: Sure.
Brady Shearer: This is why most slogans are bad. It's also why most churches don't have one, because they're like everyone knows what church is meant to be.
Alex Mills: We all have the same mission statement, right? Love God, love others, make disciples. Sure we say it differently. But fundamentally it's all the same mission statement.
Brady Shearer: Absolutely. And that can be true. And yet at the same time, you believe your church is unique, right? Your leadership has certain strengths and weaknesses. The place, the location where you're serving in that specific community, that's different than the place where Alex or I am serving.
Alex Mills: Sure.
Brady Shearer: And the way that your church, who it's made up of, that's unique. The size of your church, the history of your church, your certain beliefs, the things that you are good at, the things that you're not so good at. And so to put us all in the exact same camp, I think, minimizes the uniqueness of each of our local communities. And so what's amazing about a good slogan is it can differentiate you from another church. And that's not to say you want to compare yourself to them necessarily, but it's like when you know your identity, when you know who you are as an individual, it allows you to actually fulfill your calling as a person.
That's the same for an individual church. And it's easy to kind of take a piece from this church that you look up to, and this piece. It's like, oh, and now you're just kind of this collage of different churches, but you still don't know who you are. And we see those people, right? You can tell. You're still trying to figure out who you are. Kevin Durant. But then there are other people love Lebron James, who know who they are and they're okay with who they are. No matter what you say about them, they're still the greatest player of all time.
Moving on to point number three of what is a slogan. Essentially, at the end of the day, it's your church's story. It's your vision, it's your mission, it's your narrative. And a slogan is just a concise way of phrasing it. But at the end of the day, everything you're trying to do as a church should be encompassed within this slogan. And what's amazing about a slogan is that once you have it, it's a narrative that your entire church can buy into.
Church becomes so much more than just, oh, we attend every week because that's what you do. And we sing four songs, then we do this sermon. And then sometimes we have love week. It becomes so much more than that. It's like, no, no, no. This is what our local community is trying to accomplish in our local community and in the world. And every single thing that we do is connected to this story in some way or another.
And then for your senior leadership, it allows them to make decisions by looking at the choice you have and then running it through your slogan, your narrative, your story, and saying, okay, if we go in this direction, does that help us accomplish this? Yes or no? It doesn't. Okay, then that's an easy no. When we shifted Pro Church Tools from we help you understand media, video, graphic design, websites.
Alex Mills: We didn't have a slogan.
Brady Shearer: Right, because we were like, we know what we're doing, but how do we actually phrase it?
When we moved from that to seize the 167 hours beyond your Sunday service, not only did we see a fundamental shift in our audience when they truly grasp, oh, this is more than just like choosing cool fonts. This is about the biggest communication shift in 500 years. When we were able to encapsulate what we were all about into a concise phrase that made it accessible to people that were new but also to people that had been with us for a long time, that changed everything. But it also allowed us to make decisions with content and with product and with hiring and everything that we do. We said, is this going to help people seize the 167? If yes, then it's something to consider. If no, that's an easy no. That's what makes slogans so powerful.
Alex Mills: This is particularly exciting to me because I think for anyone who's listening or watching on YouTube, if you would, even if you have a slogan, just take some time and kind of work through these things. Re-examine your slogan. Or if you don't have one, try and craft one. Because I think it's going to be a great activity for self-discovery. You hit on it a few moments ago. A lot of us as as churches, especially smaller churches like the one that I pastor, we look up to all these other churches we see online. We try and do a little bit of what Elevation is doing, a little bit of what Bethel is doing, a little bit of this, a little bit of that, and we don't really know exactly who we are. So coming up with a slogan or reworking a slogan, if you have one, it's going to be a great activity for self-discovery to figure out, okay, who are we? Who is Life Abundant Niagara? Who do we serve? Why do we serve them? How do we serve them?
And then when you can lock into your identity, like you said, your congregation, just like our audience at Pro Church Tools, when they can grasp that too, when they can see that, oh, our leadership is united, they know who we are. And when they start to get a hold of it, when they see your slogan around, they see it online, they start to hear it. They're going to know why they show up every Sunday. Why they're a part of your church community. You're going to see people dig into what you're doing. You're going to see people volunteering more because they have a sense of identity now. Oh, this is why I'm here. This is why I'm doing this. This is why I'm getting up early on a Sunday morning to go and volunteer. Maybe it's just to make the coffee. Maybe it's serving in kids ministry because this is what we do here. So this is more than just like some words to put on your bulletin or on your church website. This is really, really meaningful stuff and a great activity activity in self discovery.
Brady Shearer: There are plenty of you that wish we had gotten to the three slogans right away because you just want to hear what other churches are doing. The reason we just spent a ton of time on this is because if you don't understand the foundation, how these churches arrived at these slogans, you're just going to copy them. And then every single person's website says welcome home at the top of it, and it's like this doesn't really mean anything to you, I don't think. You just copied it from another church. With that being said, let's copy some other churches.
Number one. You know what? No, no, no. I'll get to there now [inaudible 00:12:12]. Example number one, see what God can do through you, and this is from Elevation Church. Example number two, be the church everywhere every day. That's from Northland. Example number three, God wants to change the world through your faith, and that comes from Saddleback.
And why are each of these three examples great? A couple of reasons. For me, the most important reason why these stood out to me, when I was doing my research on what I thought made a great church slogan, these three stood out to me above the rest because they infer agency upon every single person that attends your church. And that to me is so important. And this is where maybe people's theology will differ, but at the end of the day, I think that God wants us, the followers of Jesus, to be his conduits to see change in the world.
Alex Mills: Hands and feet, if you will.
Brady Shearer: I'm not familiar with that phrase, but when I think about the early church, let's talk about the Bible. When I think about the early church, I think about Jesus saying, "All right, I'm going to leave the Holy Spirit with you. I'm going to leave though. So Holy Spirit's here. I've got to go. Good luck. This is on y'all now."
And then you have these early apostles and early disciples giving up their lives for the sake of Christ. But the fact that we now have the Christian faith here and now today is because of their efforts in those earliest days taking what Jesus had given them and saying, "All right, it's now on us to figure out what this looks like. How are we going to take this message that is right now isolated in this small corner of the earth and do what Jesus asked us to do, which is to baptize people, every nation, every tribe, every tongue, and take this to the ends of the earth." It was on them.
And I think that's still the same today. When I think about how Jesus asked us to pray and taught us to pray, it's on earth as it is in heaven. I am the person and you are the person and Alex is the person that has the power to bring heaven to earth with every action that you take.
And so what I love about these specific slogans is they have nothing to do with attending church.
Alex Mills: Right.
Brady Shearer: They have nothing to do with showing up for a service. It's more like the world needs God and God is going to use you to make that happen. We are going to help equip you on that mission, but it's not about us. It's about you. And that is a powerful framing. That it might just seem like a slight distinctive change, but it's so, so purposeful and it makes a big difference in how we think about church and how we are involved in church. Because now it's not just about like, Oh, we've got to get up for 11:00 AM service. It's like we're trying to change the world and that … it's on us to do it.
Alex Mills: No, that's a perfect example about how a headline differs from a slogan, because I headline that I love, that headline that we used to use on our church website is we're saving a seat for you. And-
Brady Shearer: Such a good website.
Alex Mills: It's so welcoming. When somebody comes to your church website, they already feel like, okay, I'm seen, and I'm nervous because I'm choosing to go back to church. I haven't been to church in a while. These people see me and they're expecting me. It feels good as a visitor. But that's super like Sunday service hyper-focused, right? That's literally what it's referring to. But these slogans are all about like, yeah, we are here to equip you. What was this one? Be the church everywhere every day. It's [inaudible 00:15:24] 167, right? It's acknowledging that we are living life that exists a lot more outside of Sunday service than it does inside of Sunday service.
So yeah, we're going to meet on Sundays and sing the songs and do the sermons and all that stuff.
Brady Shearer: Because that's part of it.
Alex Mills: Right. But what we do is rooted in equipping everyone to do their part in this story of faith. And that's where you can see that the difference between how you would use a headline on a church website and what a slogan can really mean for your church community.
Brady Shearer: And I want to tie this into Nucleus, our platform that helps churches build websites and create these destinations for next steps. The slogan for Nucleus is more next steps, more life changing. And the idea there is that we don't, I always say this, we don't want passive spectators in our church. We want active participants. People that are getting involved moving toward Jesus every single week. Not just showing up and sitting through a service, but actually volunteering and giving and serving and small grouping. All of these things. When your slogan has that idea baked into it, you can see how this all starts to work together, right? So maybe you have Nucleus set up at your church. Maybe you've got the kiosks in the lobby, that central hub, and you're pushing people to get involved, to take those next steps, to not just attend, but to be ingrained into the life of the church throughout the week.
Now you have a slogan that, let's say, reads see what God can do through you or God wants to change the world through your faith. Well now that that's your slogan and your story, the way that you communicate your sermons, it always ties back to that. And the way that you communicate your announcements ties back to that. And those little moments in between worship tie back to that. So at the end of every announcement, at the end of every message, at the end of every service, when you now present your church with opportunities to take their next steps, that is the perfect, pardon the pun, next step to the mission and story that you've been crafting week after week, after week.
And now it just plays into it over and over and over again. It's not just like this novelty of go to this iPad set up in the lobby and we have this cool new wood background. It's exposed brick or whatever. It's part of the lifeblood of your church, and it's all working together in step. And when you can have that type of congruency from the announcements to the message to the sermon series artwork to the worship, to the next steps, and it's all working together, that's when you actually see these words on a page become the actual culture of your church.
Alex Mills: So good. We're preaching, about slogans.
Brady Shearer: Y'all thought you were getting some eat more chicken, read more scripture, misspelled. No. It's so much more than that. That'll do it for this episode of Pro Church Tools. We'll see you next time.
Sours: https://prochurchtools.com/3-of-my-favorite-church-slogans-plushow-to-write-your-own/
You will also like:
Create a Free Church Logo Design
1. Strong, identifiable visuals
Most church logos use an image or symbol that is specific to their faith. Often incorporating a cross, dove, menorah, star or image of Christ, these widely-recognized symbols impart the specific type of worship practiced and are often selected for their ability to convey feelings of peace, unity and comfort.
2. Tagline, ministry slogan or scripture
Summarizing a philosophy or founding tenet, a tagline or sloganOpens a new window can be a short inspiration taken from the church's core principles. In the same way, passages of scripture can be used to highlight the specific values that the church adheres closest to, backing up your ministry's tagline or slogan. But remember, this is going to have to fit on a number of materials, including letterhead, envelopes and postcards. So make sure you select something concise.
3. Colors
In the same way that a symbol can impart a tranquil mood, so too can the choice of colorOpens a new window. Though varying widely though unique branches and denominations, many churches are centered on a philosophy of peace. As a result, colors used for typographic and symbolic elements are often cast in shades of yellow, white, blue and red, with combinations of these four also popular.
4. Fonts
Though ministries differ from church to church, most religious organizations strive toward a more formal appearance, respecting ideas that are often serious in nature. So when selecting a fontOpens a new window, many churches go for Times New Roman or similar serif-derived fonts. But this rule comes with a catch. In addition to formal services, some churches offer youth ministries and other outreach programs. These branches create their own materials with fonts, symbols and colors more representative of their target audience.
5. Scalability
As mentioned before, your finished logo will appear on a range of different canvases, from mailings for newsletters and fundraising initiatives to your website… and maybe even the side of your building. That's why it's essential to select elements that are highly scalable to representations of all sizes. For example, you don't want to choose an ornate symbol for the way it looks on your building only to discover that, when reduced to a letterhead, the image overtakes the type (or vice versa). So it's always best to stick to strong, basic elements that effectively tell your unique story.
Create a Church Logo Now
Sours: https://www.freelogoservices.com/church-logos
197
198
199
200
201