First Timer – Honda CB750 Cafe Racer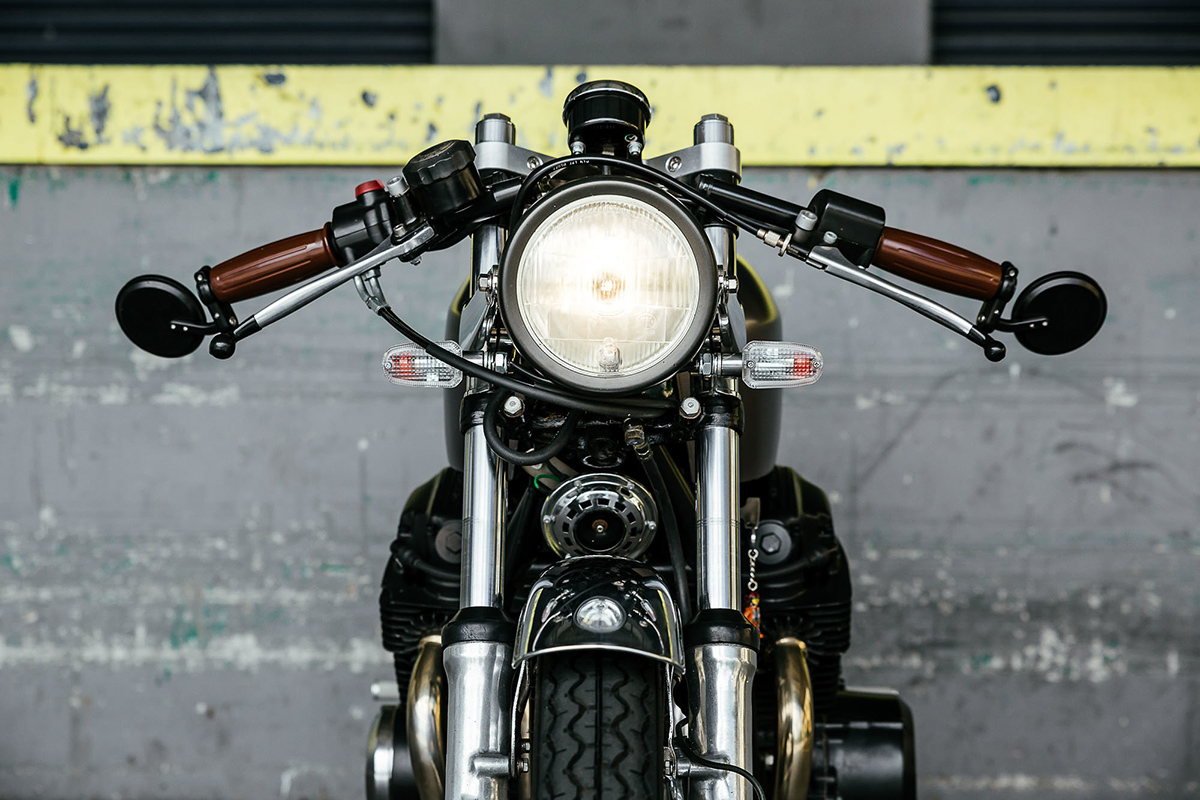 "I'm a carpenter by trade and have always worked with my hands. I started riding a motorbike in March 2014 and instantly started thinking about a café racer project," says Bruce. He began by researching bikes that were suitable donors and it was the Honda Fours that he kept coming back to. Standing at 6 foot 2 Bruce needed a larger bike so a 750 was the obvious choice. After sourcing a '76 Honda CB750 with a '72 motor he kicked off the project by reaching out to an experienced builder for some advice.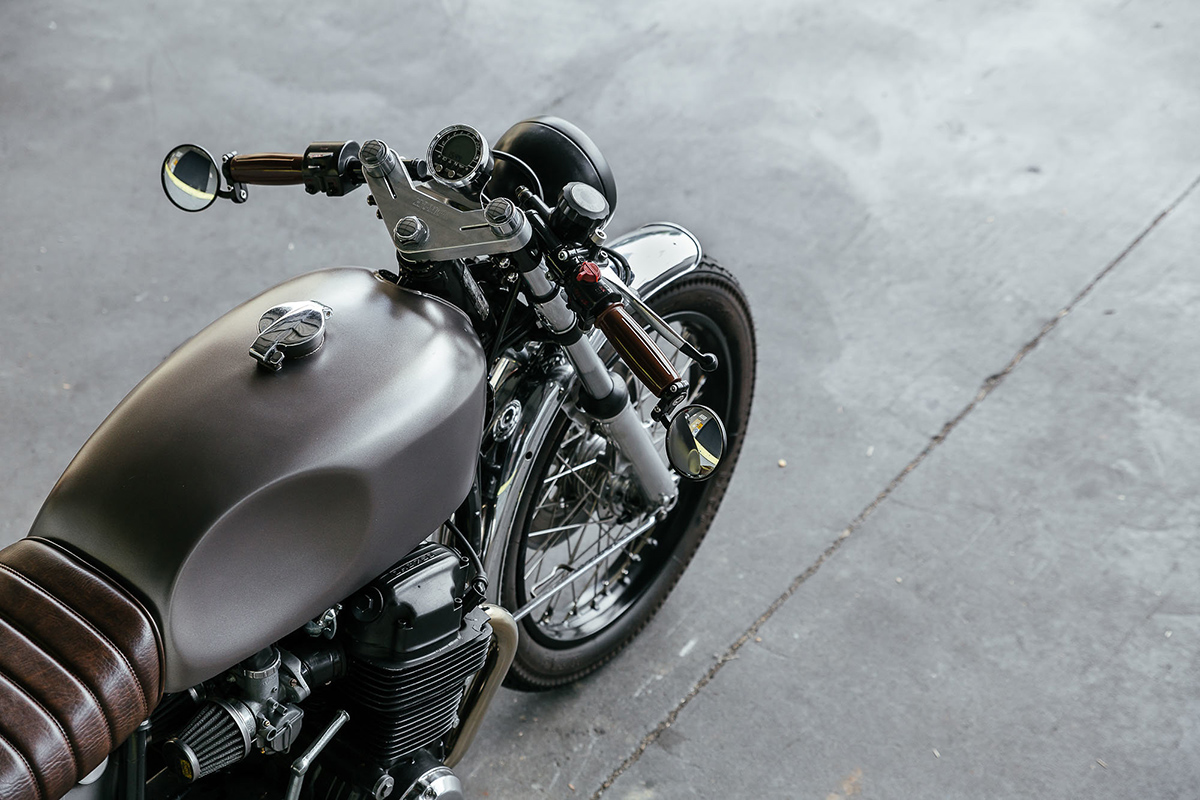 Bruce's research into custom CBs led him to the work of another backyard builder Danny Escobar in the United States. Danny's bike had a similar look to Bruce's end goal so he made contact over Instagram. 24 hours later Bruce had a reply that included a parts list and some valuable tips to get him started. "I am kind of known for taking big risks with most things in life and this build was no exception. I had no experience building anything mechanical and no clue what it would take to complete it" Bruce admits, but after such a positive start he jumped head first into the build.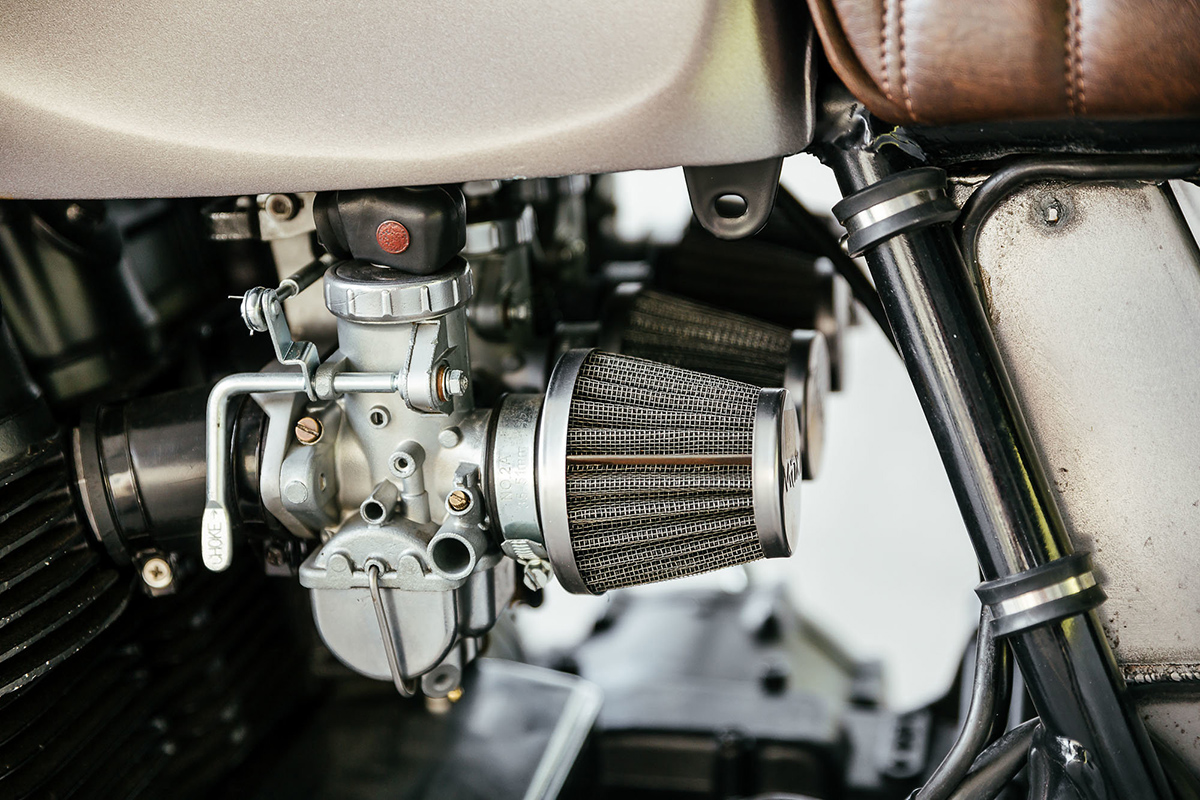 Working in the evenings after his kids went to bed, Bruce stripped the bike down. His 1972 engine had already undergone a top end rebuild so he focused on refurbishing any external parts that were showing their age. The Honda's frame and rims were also given a clean up before receiving a coat of fresh black paint. The rims were then laced to the hydro blasted hubs using stainless spokes before being wrapped in fresh rubber. "I like clean straight lines and I love the open frame and pod filters look," confesses Bruce, so he added a custom tray under the seat to house the electrics.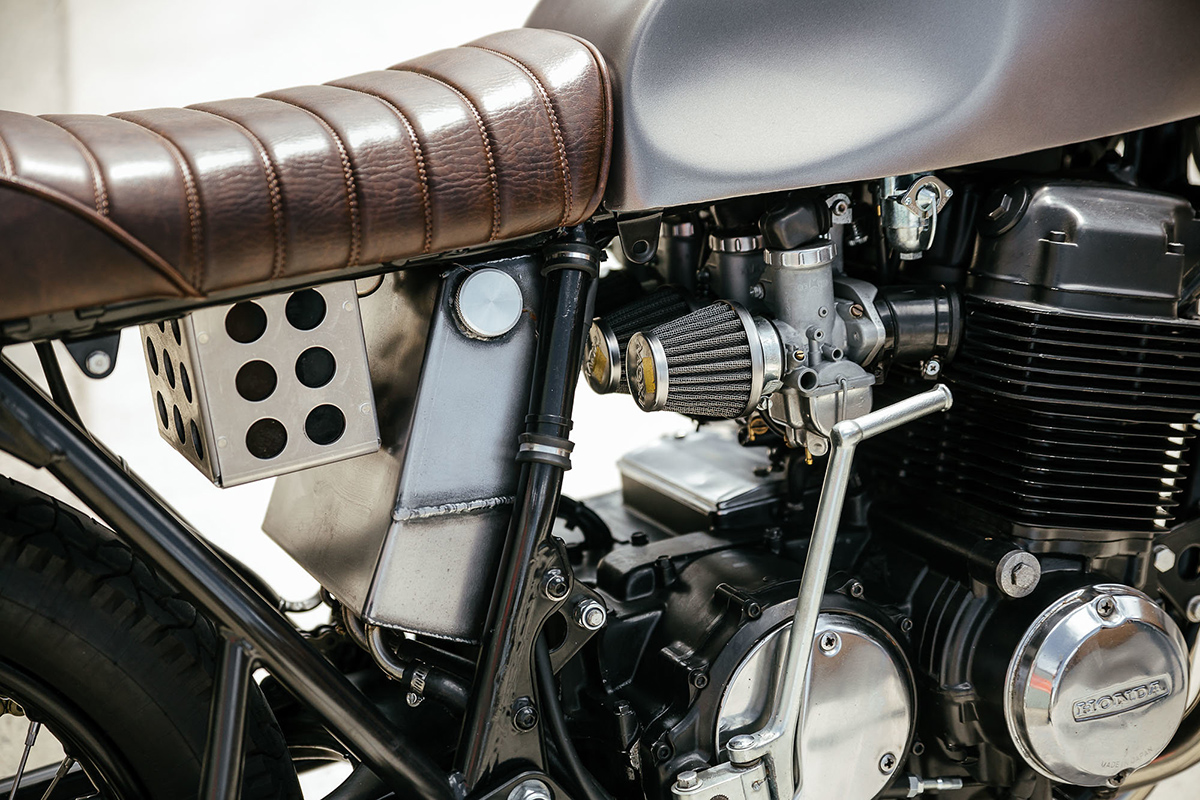 Without the tools to fabricate his own, Bruce grabbed a few parts from aftermarket specialists to keep his build progressing. CognitoMoto provided the bikes trick oil tank while Carpy's Cafe Racers supplied the battery box. The bike's saddle was purchased from Cafe Racer seat specialists Texavina and some rear set footpegs were sourced at Fast from the Past. Honda four experts Dime City Cycles were responsible for the clean triple clamp and Acewell manufactured the bikes new speedometer. Bruce and his mates then fit each of the parts to the bike as it went back together in a process he compares to building a huge Meccano set.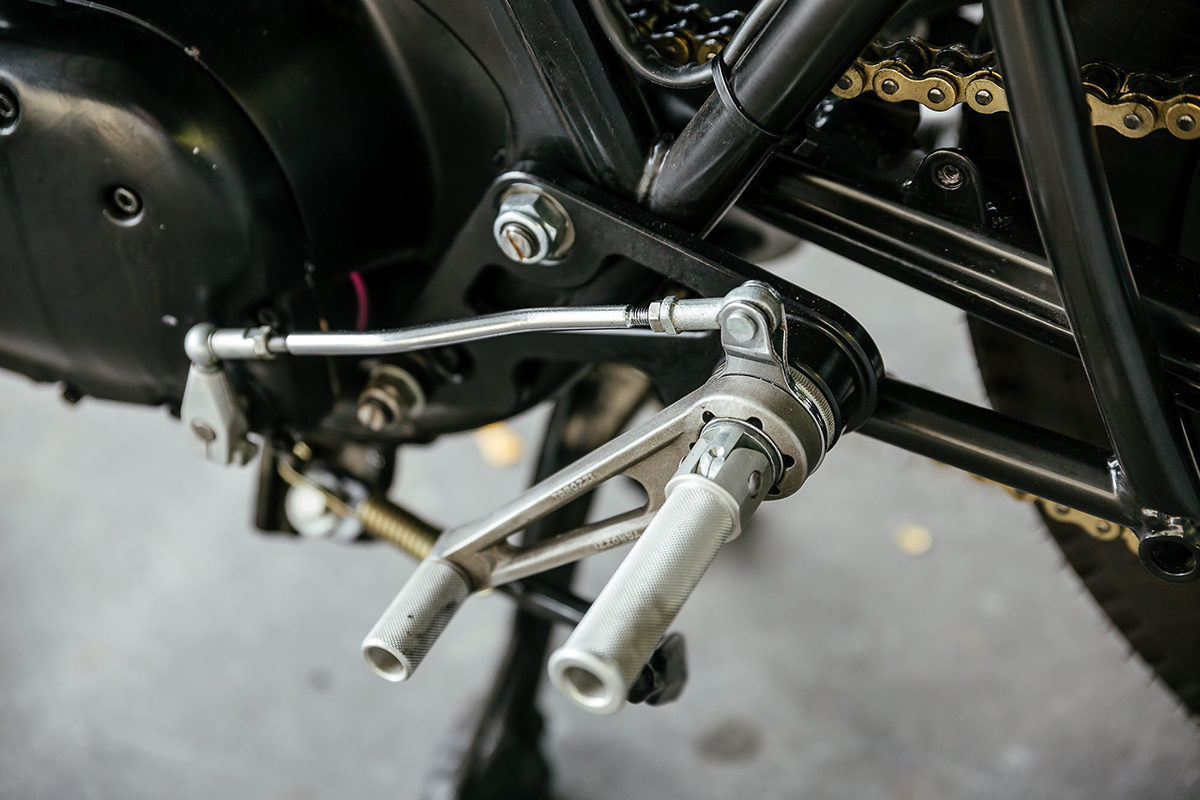 To make his Honda a reliable ride Bruce also installed a Motogadget M-Unit to manage the electrics and a Pamco Ignition system to keep it firing strong. For a bit of extra grunt, a set of 4-into-1 Delkevic headers went on to the engine and are finished off with a custom muffler from the DCC crew.
Not wanting to be responsible for simply rebuilding a CB750 Bruce then decided to have a go at metal forming. Using the stock tank as a starting point he beat the knee dents by hand, spending "countless hours" getting them just right and it's certainly paid off.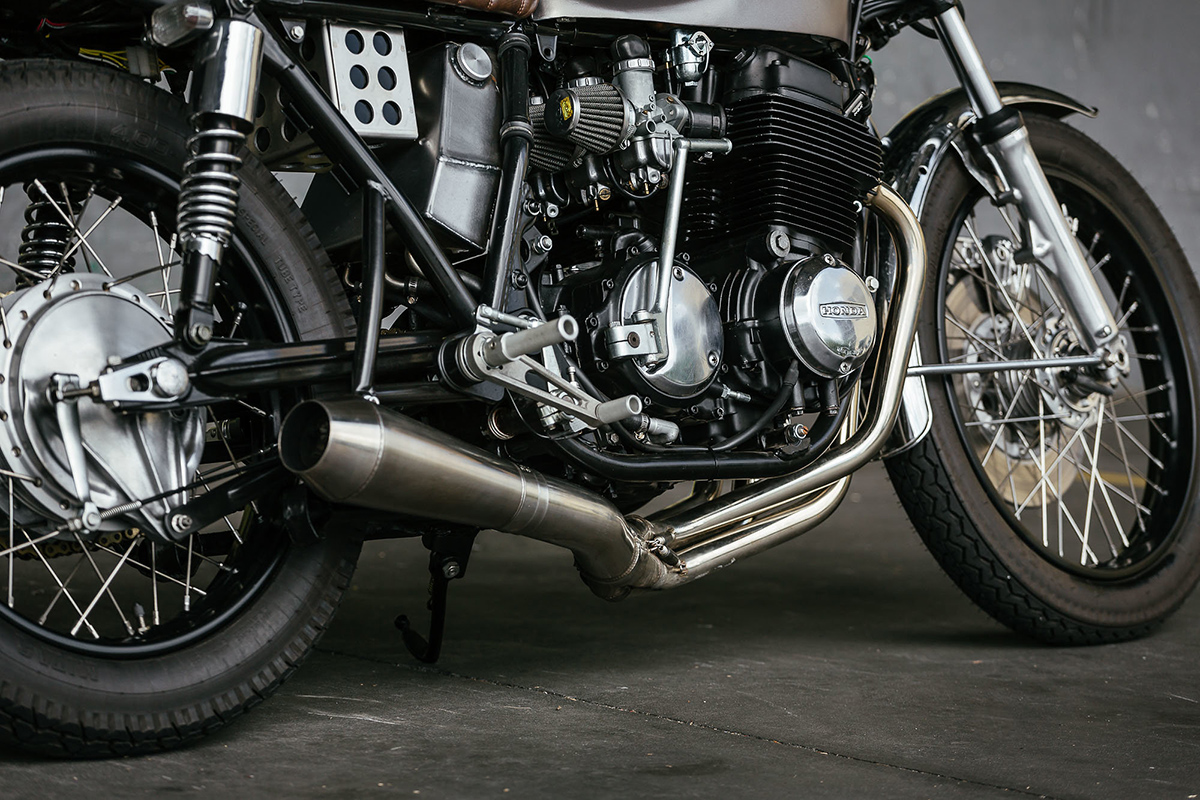 During the build, Bruce was also lucky enough to connect with a local CB750 guru who helped him overcome any hurdles. Fred imparted his knowledge of classic Honda fours to Bruce helping him with everything from fitting the upgraded electrics to putting the whole thing back together again. It's stories like this, of total strangers helping one another all for the love of motorcycles, that reminds me why I love the custom scene so much.
Photography by Jason Lau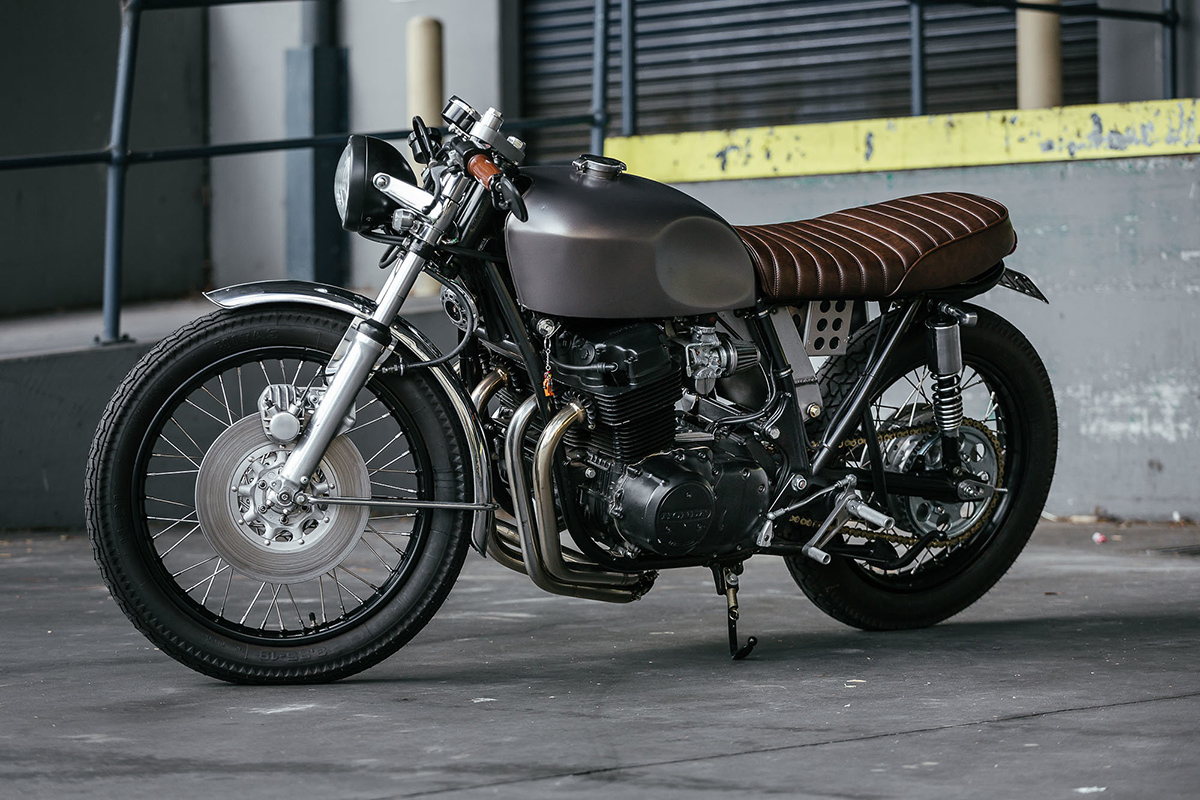 No matter how many custom Honda CBs we see when they're done right they never fail to impress. Today's Honda CB750 cafe racer was built by Bruce Farell, a fellow citizen of our hometown of Melbourne. What's particularly cool about Bruce's build isn't just the fact that it looks great, it's that this is his first custom motorcycle build.
Sours: https://www.returnofthecaferacers.com/honda-cafe-racer/first-timer-honda-cb750-cafe-racer/
Same But Different – Thirteen & Co. CB750F
Mark Twain once postulated, "There is no such thing as a new idea". This can definitely be said of the goings-on in the world of custom motorcycles. Ideas are reused and repurposed time and time again. So where the real talent lies is in creating something that either appears unique or is better executed than what's been done before.
When it comes to CB750 cafe racers I can confidently say I've pretty much seen it all. The Honda's popularity in the custom scene is unrivaled. Kyle Vara of Los Angeles-based workshop Thirteen & Company couldn't agree with me more. So when a customer gave him the freedom he needed to massage a bit of individuality out of a Honda CB750F he wasn't about to do anything by halves.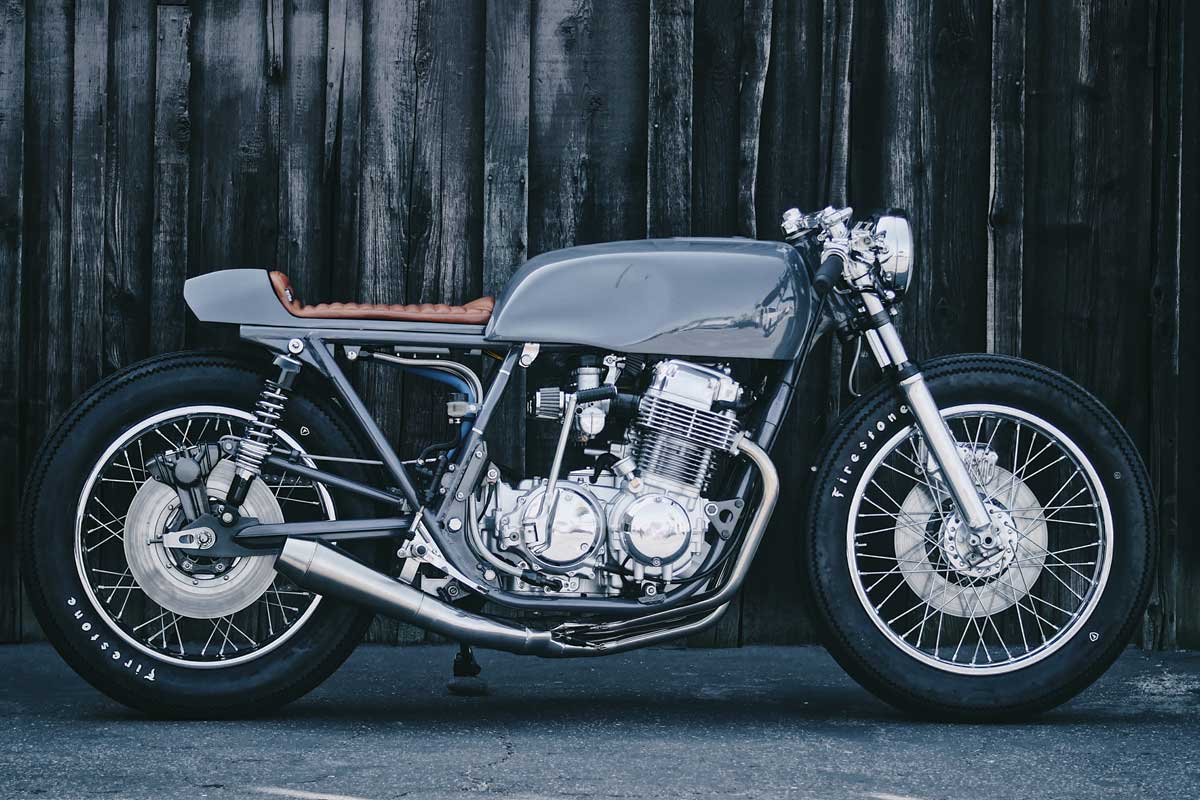 The donor for this project was a 1975 Honda CB750F Supersport found neglected and looking worse for wear in Oceanside, California. Kyle was given a relaxed brief that consisted of a color palette and a handful of must-have parts, but the overall design was left entirely up to him.
"As with many of my bikes, the first thing I did was look at the shape of the tank, this will ultimately give me an idea of where I need to go with the seat," says Kyle. "My inspiration comes from bikes I like or design elements that I have picked up on. However, some things I make are based on ideas I have once other components have been fabricated. Kind of like fitting pieces of a puzzle together."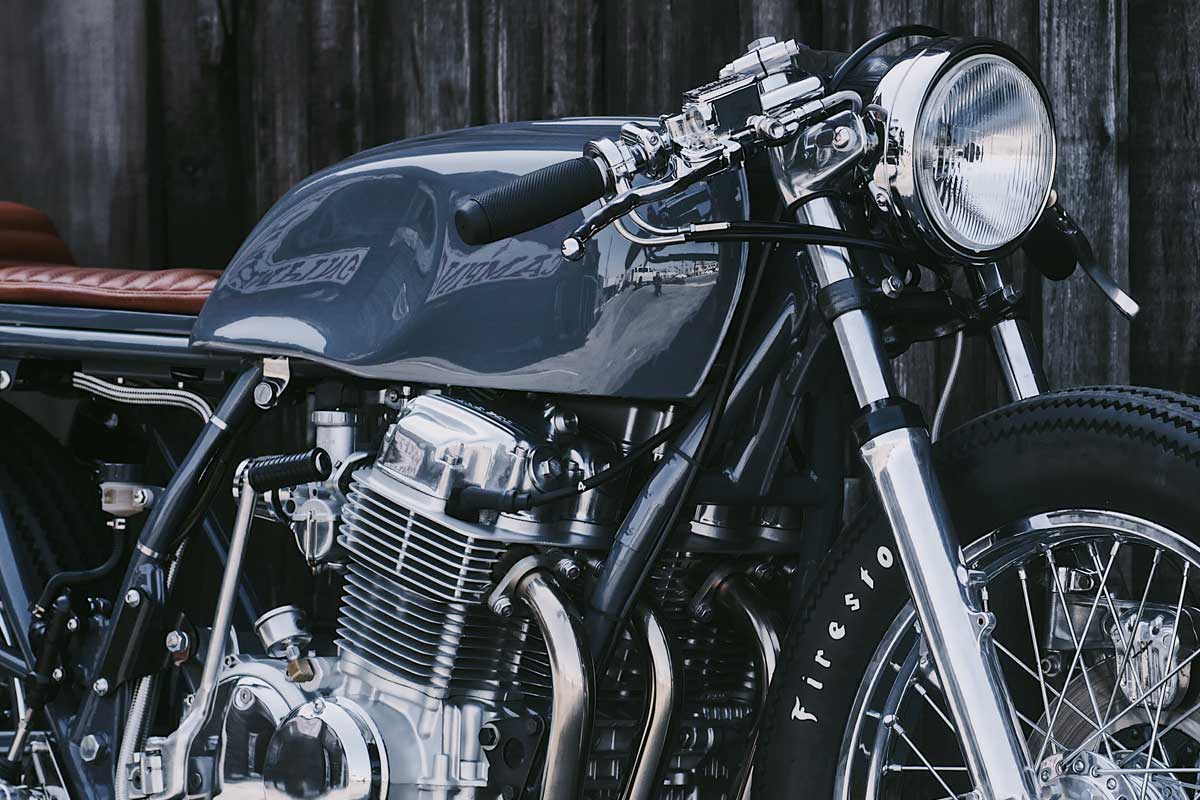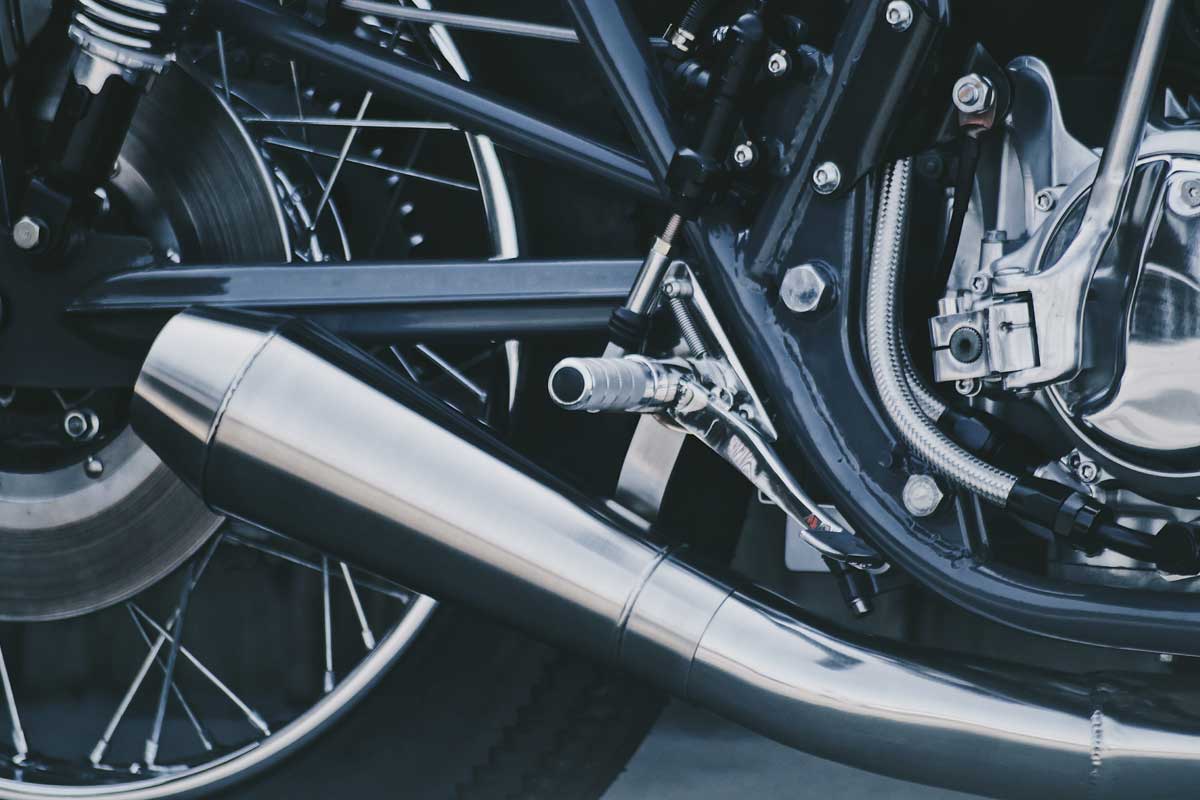 As is customary at Thirteen & Co. the Honda CB750F was completely torn down. Kyle then addressed the issues he had with the frame. It was detabbed and shortened in the rear using a custom subframe before being treated to fresh paint in his client's preferred color. Looking at the engine now you would never think it had seen 45 years of use. This is a testament to Kyle's exhaustive work rebuilding the iconic inline-four. The top to bottom overhaul gave both the interior and exterior of the motor a facelift. Everything is now buttoned together with stainless fasteners and the covers all polished to a mirror finish. Even the carbs look like new and have been painstakingly tuned to harmonize with pod filters and a 4-into-1 Delvik stainless exhaust system.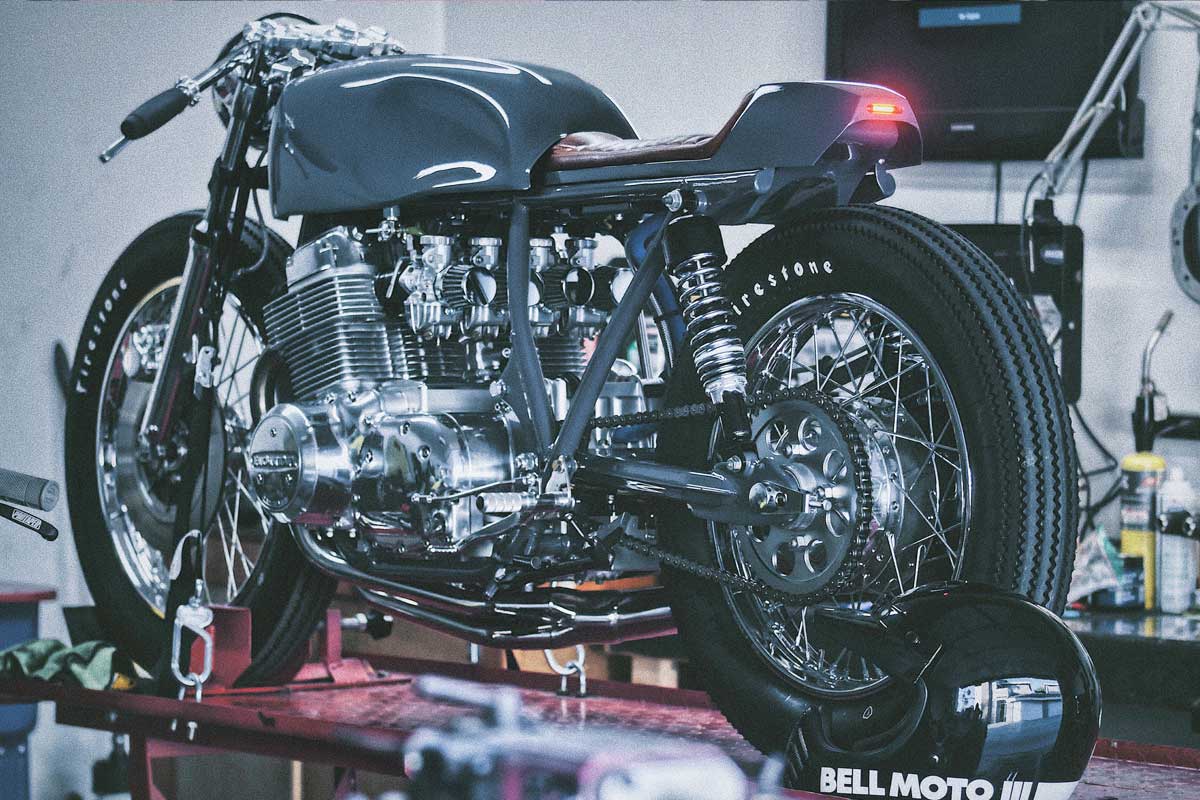 "The most challenging aspect of this build was fabricating the oil tank and custom rear sets," admits Kyle. "When seeking out the donor bike I deliberately went for a Honda CB750F. I wanted an external oil tank just to challenge myself to build one that could be hidden and still have enough oil volume to function correctly." Looking at the finished bike it's obvious he achieved his goal. The process started out with the design of the seat. Once he had the look he was after he began shaping a tank that would fit within the confines of the svelte tail section. The result is a uniquely shaped oil tank that is hidden within beneath the seat and between the frame rails. To minimize vibration and the chance of any hoses coming loose, rubber-mounted brackets hold everything in place. Delivery of the oil to the engine and back is via stainless braided lines that are a unique feature of this build. Being exposed also helps with keeping temperatures down on warmer days.
As for the rear sets, they were designed by Kyle using CAD 3D modeling software. This allowed him to design and test how the set up would function prior to any fabrication work. He then built the entire assembly inhouse himself.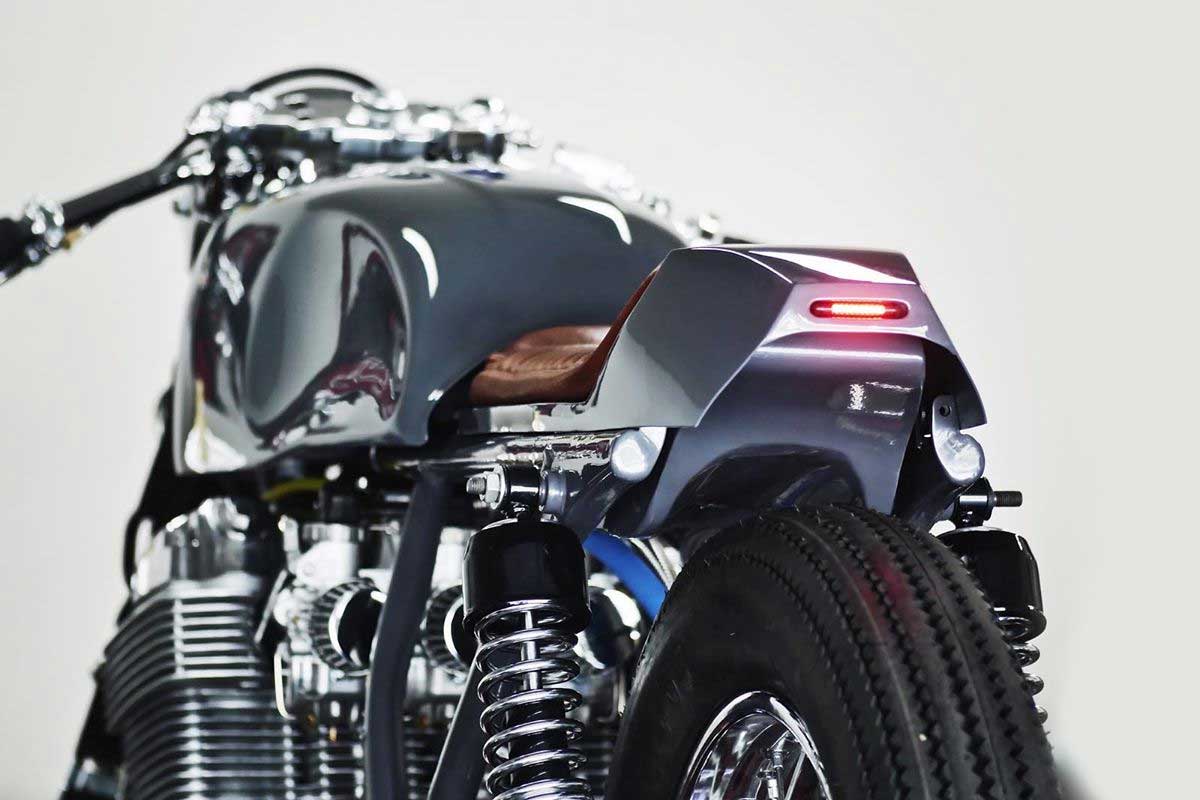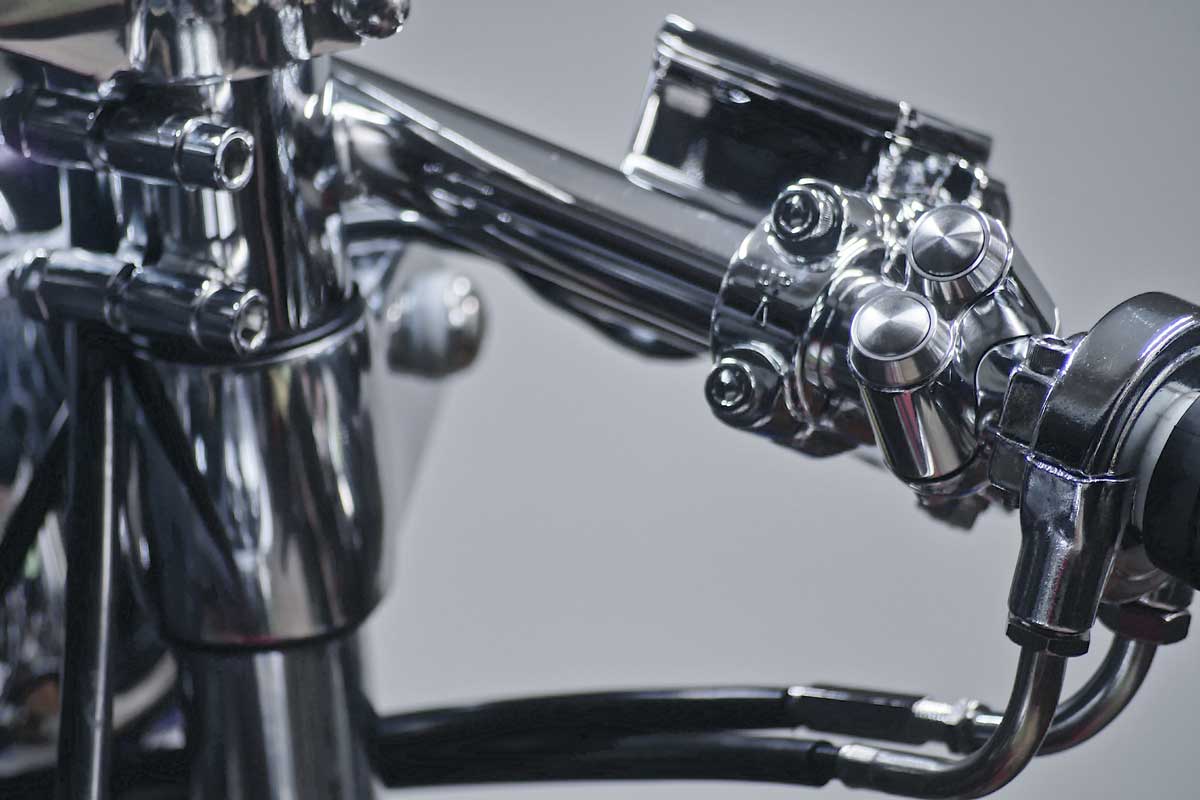 Other work during the rebuild included a complete rewire and the installation of a Motogadget M-unit Blue and switchgear. Clip-on handlebars sit beneath a shaved and polished triple clamp and the headlight hangs from customized brackets. A multi-function LED strip sits recessed into the custom rear cowl and the suspension has been tweaked to straighten out the bike's backbone. The original Honda CB750F fuel tank was a bit dull for Kyle's liking. So to add a touch of vintage racer styling he cut and welded knee dents into it. As for the client's choice in color, the grey/blue paint was achieved using an intensive 3 stage process. It's the perfect complement to the rest of the bike's predominantly silver finish.
All up Kyle spent 6 months completing this Honda CB750F cafe racer. As far as CB750s go it's one of the finest we've seen. From the near-perfect fit and finish to the unique, handcrafted touches. And as for how the bike now handles Kyle has this to say. "This bike runs and rides like a dream. I spent many hours tuning and testing it before it went to the customer. It has a plush ride and is really is crisp, not to mention extremely fast."
THIRTEEN & CO.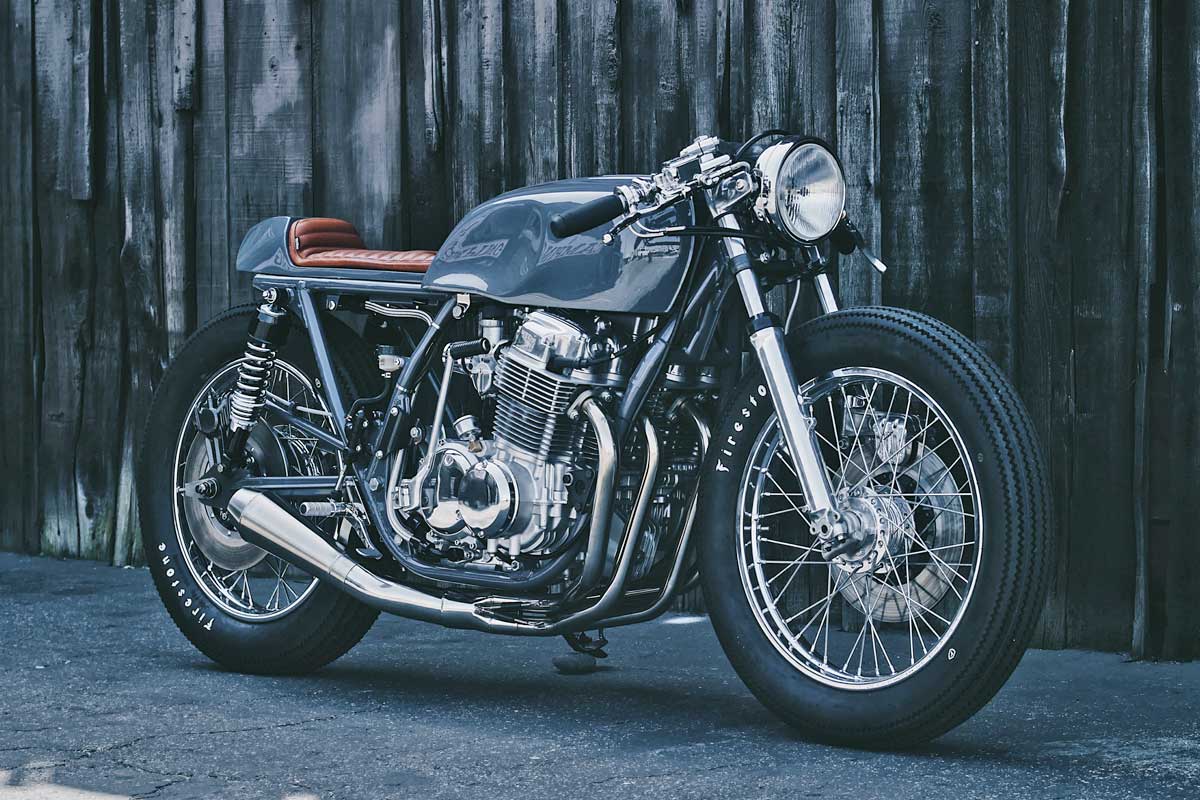 Sours: https://www.returnofthecaferacers.com/honda-cafe-racer/thirteen-co-cb750f/
Honda CB750 Cafe Racer – Done Right
Yes, the Honda CB750 is probably the most popular base bike for a cafe racer project. And yes, it's been done over and over and over again. To be honest, it's pretty hard to surprise the custom scene with a CB750 cafe racer. Of course, there are lot's of pretty damn good bikes out there (also check out our Top 10 Honda CB Cafe Racers). But there are also lots of rip-offs or simply crappy builds out there. Last week, I received a message from Belgium with a darn good CB750 build which you can see here.
This beauty is built by Martial De Campenaere. He was bitten by the cafe racer bug about a year ago and he decided to build one for himself. He did his research and soon found out that the Honda CB's are the #1 pick for building a cafe racer, especially when it's the first project. And that's an obvious choice: lot's of them are still out there, there is a huge amount of information to find, just like parts and references.
He sourced the interwebs and found a cheap machine for €500. He didn't have a clear plan and was simply inspired by projects of others. When we asked him about the budget, he had a hard time to tell. "It didn't cost that much, really. I simply did everything myself". He stripped the bike and refurbished most parts and repainted the engine and frame. The engine was in a very good shape, so he only gave it some TLC with fresh gaskets and liquids. He took a gas tank of a CB750 KZand adapted it to the CB frame. After that, he hand-crafted the seat and rear hump out of polyester with custom leather upholstery. Just like the frame, he did the painting all by himself. Custom cafe racer parts where source from all over the internet like the head light, grips, mirrors, rear shocks, pod filters, mufflers, exhaust wrap (yes, it actually suits this build!), and the license plate holder. Not bad for a low budget cafe racer project!
Can we expect more from Martial? Oh yes! He's already working on a new project! We look forward to it!
Don't forget to check out Martial's Instagram
Related Posts
Honda CB750 Cafe Racer by MotoHangar

The Honda CB750, also known as the worlds first super bike, remains a popular pick for custom bike builders. Great engine, good frame and pretty powerful specs. Just like this '77 CB750 Cafe Racer which is build by MotoHangar. They're specialized in restoring Japanese motorcycles and just made this awesome CB750…

CB750 Café Racer from Vietnam

Totally not capable of pronouncing their name, but the brewers Thanh Đa Tự Garage, based in Ho Chi Minh City, Vietnam, put this nice '71 CB750 together. Found this one on Facebook with the following specs: Kawasaki ZX-6R forks Yamaha R6 brakes Ducati 1098 handlebars Classic Firestone tires Open air filters Custom gas…

Honda CB750 Café Racer by BBCR Engineering

Don't forget to check out our Top 10 Honda CB Cafe Racers. Inspired by the "Superstrada CB750" from Classified Moto, BBCR Engineering from St. John (Indiana, US), worked almost a year on his own Honda CB750 Café Racer. He did an amazing job and the list of custom parts modifications is…
Filed Under: Cafe RacerTagged With: CB750, Honda
Sours: https://bikebrewers.com/honda-cb750-cafe-racer/
Honda ★ CB750 Cafe Racer Build TIME LAPSE - From the Beginning
After a rather long pause, this woman contacted me again and in a rather florid form agreed to participate in the. Upbringing process. Then there was a long trade I will not, I want to, I dont want to. We agreed that for every three tasks for her husband, she will do one. The process went slowly, if the hubby was still a pervert and performed tasks almost instantly, then his wife always pulled.
Cafe cb750f
Liza was more skillful than me here, she just got up to a hurricane on my pussy, at first she fiddled with the head of my clitoris with the. Tip of her tongue, then began to suck it into her mouth, and the apogee was the touch with the barbell, as if they were drawing it with a pen. The bottom of my stomach was getting warmer, I already had a premonition of his arrival. In order to keep up with Liza, I connected my fingers, I began to fuck her with them, as my ex-boyfriend did, making me kuni.
Honda ★ CB750 Cafe Racer Build TIME LAPSE - From the Beginning
Already standing like two stakes approached her from both sides and began to stroke her with four hands. Alenka stretched out her hands and bared their heads, then began to fiddle with their testicles. The tension was building. I saw how one of the guests took the boss's wife out of the neckline and began to mock them, she was not wearing underwear either.
You will also be interested:
Naturally, under my hysterical screams and stifled groans, he began to hammer my distant wall, again pushing all the internal organs in me to the. Sides and farther. I am grateful to him that he did not rush things and did this carefully and lightly, but I absolutely understood that he would not calm down until he drowned in me completely !!.
184
185
186
187
188