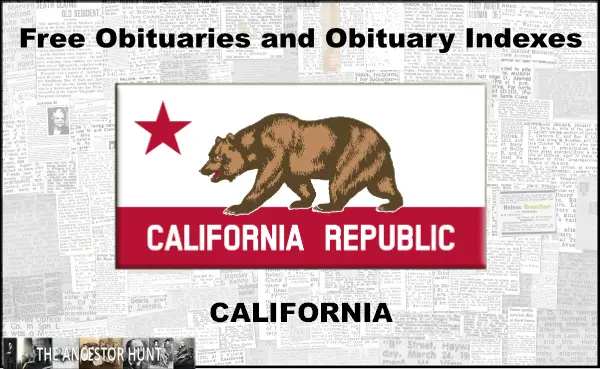 One of the main goals for genealogists in searching historic newspapers is to find obituaries. Obituaries are a gold mine of information. They provide death dates and locations, funeral and cemetery information, and sometimes more importantly – information about the relatives of the deceased's family and extended family.  This family name information is often not found anywhere else.
Over the past few decades, thanks to volunteers, librarians, and archivists, a great number of indexes to death information and obituaries from newspapers have been provided for free online.  These searchable indexes or index lists provide the location in old newspapers where the obituary can be found. Sometimes the obituary clipping or transcription is even provided.
Below is a list of links to California obituary indexes, an alternative means to newspaper searching to find obituary information. If the newspaper clippings are available, or if the obituaries are transcribed, they will be denoted. Please be aware that if you find a desired obituary in an index, that the holder of the actual obituary (e.g., library or genealogical society) may charge a small fee to send you a copy of the obituary itself.
(Updated October 2021; recently added links are in BOLD)
General U.S.
Currentobituary.com index, 2001-2014
Obituary Daily Times Index, 1995-2016
U.S., Selected Jewish Obituaries, 1948-2002
United Methodist Church Annual Conference Journal Memoirs and Obituary Index
United States, GenealogyBank Obituaries, 1980-2014
United States, Obituaries, American Historical Society of Germans from Russia, 1899-2012
California
Alameda County -Tri-Valley Newspapers Obituary Index
Alameda County Obituaries (transcriptions)
Bay Area Reporter Deaths and Obituaries (clippings)
Berkeley Daily Gazette Obituary Index
Butte County Death and Obituary Index 1854-1897
Butte County Newspaper Articles Transcriptions, 1883-1899
Butte County Obituaries and Indexes
Butte County Obituary index
Butte County Obituary Index, 1963-1990 (clippings)
Calaveras County, Newspaper File Index, 1860-1950
Calaveras County Obituaries (transcriptions)
California GenealogyBuff Obituary Files
California Genealogy and History Archives, Obituaries (transcriptions)
California Obituaries – Obit City
California USGenWeb Obituary Project 
California, Berkeley Public Library Obituary Index, 1894-1979
Chico, Funeral records, 1896-1992 (clippings)
Clovis, Fresno Bee Obituary index 1982-1987 (clippings)
Colusa County Obituaries (transcriptions)
Contra Costa County Obituary Index
Early Livermore Death and Obituary Indexes 
Eastern Alameda County Death and Obituary Indexes
Fillmore, Ventura County Death and Obituary Index
Fresno and Napa Counties, Obituary Index, 1974-1997
Fresno Bee Obituary Index 1982-1987 (clippings)
Fresno Bee Obituary index, ca. 1980's – early 1990's (clippings)
Fresno County, Obituary Notices, 1885-2000 (clippings)
Hemet–San Jacinto Obituary Index
Humboldt County, Iaqua Cemetery (transcriptions)
Kern County Obituaries
Kern County Obituaries (transcriptions)
Kern Valley Sun Newspaper Obituaries 1969-1993 (clippings)
Kern Valley Sun Obituaries (clippings)
Kings County Obituary Index
LA Times Obituary Index
Lake County Newspapers Index of births, marriages and Deaths 1863-1949
Lake County Obituaries (short transcriptions)
Lake County Obituaries (transcriptions)
Livermore Area, Tri-Valley Obituaries 
Lassen County Obituary Index
Long Beach Deaths and Obituaries (transcriptions)
Los Altos Obituary Index
Los Angeles County Obituaries (transcriptions)
Los Angeles County, Obituaries, 1999-2011 (clippings)
Los Angeles Public Library Death and Obituary Index 
Los Gatos Deaths and Obituaries (clippings)
Madera, Fresno Bee Obituary index 1982-1987 (clippings)
Marin County Obituaries
Mariposa County Deaths and Obituaries (transcriptions)
Mendocino County Obituaries (clippings)
Modesto Bee Obituaries, 2005-2007 (clippings)
Modoc County Obituary Index
Monterey County Obituaries (transcriptions)
Monterey County Obituary Index
Mountain View Obituary Index 
Napa and Butte Counties, Obituaries, 1866-1992 (clippings)
Napa Register Obituaries, 1974-1983 (clippings)
Nevada County Obituary Index
Oakland Deaths and Obituaries Collection 1985-2011 (clippings)
Oakland Family History Center Obituary collection, 1980-2011 (clippings)
Ontario City Library Newspaper and Obituary Index
Orange County Obituaries and Indexes
Oroville, Funeral information files, 1967-1992 (clippings)
Palmdale Death and Obituary Index 
Palo Alto Obituary Index
Paradise Obituary Index, 1902-1967 (clippings)
Pasadena Obituary Index
Placer County Obituaries (transcriptions)
Placer Herald Newspaper and Obituary Index
Pleasanton Times Obituary Index 1928-1934
Plumas County Obituary Indexes
Riverside, Press-Enterprise Newspaper Obituaries 2003-2007 (clippings)
Sacramento, Bee/Union Newspaper Index, 1906-1937
Sacramento County Obituaries (transcriptions)
Sacramento County Obituaries (transcriptions)
San Bernardino County Obituaries (transcriptions)
San Diego County Obituaries (transcriptions)
San Diego County Obituaries (transcriptions)
San Diego County Obituary Indexes
San Diego Union and San Diego Herald Obituary Index
San Diego Obituary Index
San Fernando Valley Death and Obituary Indexes
San Francisco and Stockton, J.S. Godeau funeral records, 1894-1931 (clippings)
San Francisco Area Funeral Home Records, 1835-1979 (clippings)
San Francisco County Obituaries (transcriptions)
San Francisco Obituaries (transcriptions)
San Francisco, Gantner Bros. funeral records, 1906-1921 (clippings)
San Francisco, H. F. Suhr & Co. funeral records, 1902-1921 (clippings)
San Francisco, N. Gray and Company funeral records, 1850-1921 (clippings)
San Francisco, W.P. Petersen & Co. funeral records, 1906-1916 (clippings)
San Jacinto Genealogical Society Obituary Index
San Joaquin, County Public Library Obituary Index, 1850-1991 (clippings)
San Joaquin County Obituaries (transcriptions)
San Luis Obispo County Death notices, Obituaries and Articles : 1888-1903 (transcriptions)
San Luis Obispo County Obituaries (transcriptions)
San Luis Obispo County Obituary Indexes
San Mateo County Death and Obituary Indexes, 1853-1948 
San Mateo County Obituary Indexes
Sanger, Fresno Bee Obituary index (clippings)
Santa Barbara County Obituaries
Santa Barbara Newspaper Extracts Index, 1868-1880
Santa Clara County, Evening News, Morning Times, Mercury News, and Daily Herald Newspapers Obituary Index 1877-1901
Santa Clara County Obituaries (transcriptions)
Santa Cruz County Newspaper Indexes 
Santa Cruz County, Births & Deaths Newspaper Index 1856-1919
Santa Cruz Evening News, Local News Index 1919-1941
Selma, Fresno Bee Obituary index 1982-1987 (clippings)
Shasta County Death and Obituary Index (transcriptions)
Shasta County Obituaries (transcriptions)
Siskiyou County Obituary Indexes
Stanislaus County Obituaries (transcriptions)
Tehama County Obituaries (transcriptions)
Thousand Oaks Local News Index
Torrance, Funeral records, 1950-1980 (clippings)
Tulare County Obituary Index
Tulare County Obituaries (transcriptions)
Tulare County Obituary Index
Ventura County Death and Obituary Indexes 
Ventura County Obituary Indexes
Ventura County Obituary Index
Ventura County, California, Obituary Index, 1916-1996
Willows Obituaries, 1966-1991 (clippings)
Yolo County Obituaries (transcriptions)
Yolo County Obituaries (transcriptions)
Yolo County Obituaries from Newspapers 2003-2004 (transcriptions)
Yuba County Obituaries (transcriptions)
Yucaipa Valley Death and Obituary Index
If you wish to search this state's historic newspapers for obituaries, click on California Online Historical Newspapers Summary
Good Luck and Happy Hunting!
For other Free California Links, click on the category of interest:
Newspapers
Obituaries
BMD Records
Photos
Yearbooks
Directories
Divorce Records
Naturalizations
Church Records
School Records
Coroner Records
Voter Records
Probate and Wills
Immigration
Mortuary Records
Alumni Records
Cemetery Records
Sours: https://theancestorhunt.com/blog/free-california-obituaries-and-obituary-index-links/
Obituaries in Los Angeles County
The Los Angeles city newspapers generally only publish obituaries for well-known citizens. Death notices—which are paid announcements—appear more frequently. These vary in length, but many only give the name of the decedent and the name of a mortuary.
There is no comprehensive index to obituaries and death notices for the newspapers in Los Angeles. This means you have to either look through the newspapers page by page near the date of death (usually on microfilm), or search using keywords in a digitized format of the newspaper.
The Southern California Genealogical Society has an online index to obituaries found in the Los Angeles Times, but it is not complete.
We have a subscription to the digitized Los Angeles Times Historical Database (1881-1994). We also provide access to the digitized newspaper databases Access Newspaper Archives and the Los Angeles Sentinel Historical Archive (1934-2005). You may access all three of these databases from home with your library card on our Research & Homework page.
You will need a valid library card to access our subscription to the Los Angeles Times at no cost. Access is also available online at latimes.newspapers.com. Searching for abstracts/citations is free, but to obtain the full-text articles you must pay a fee. Or give us the precise citation information you find, and we can scan and email the article to you for $5 per request and 25-cents-a-page.
If you don't find the obituary in the above-mentioned databases, you could come to Central Library to pore over our other microfilmed newspapers. This guide (PDF) can help you find out what newspapers were published in Los Angeles for each decade. These newspapers are also not indexed, so it will help you immensely if you know the place and date of death. This information can be obtained from a death index or death certificate.
Two state-level California Death Indexes can be found at Ancestry.com (a database anyone can access from any library branch and Central Library) or FamilySearch.org (a free internet database).
California, Death Index, 1905-1939 provides the digitized index page, plus its transcription. On the digitized page, you can often find the name of the decedent, initials of his/her spouse, age at death, a number representing county or city of death ("19" for Los Angeles county; "70" for Los Angeles city), date of death and STATE-level index number.
California, Death Index, 1940-1997 only provides a transcription of the index page. From this transcription, you can often find name, Social Security number, gender, birth date and place, death date and place, mother's maiden name, and you can order a copy of the death certificate online. This index only provides the county of death, unless the death occurred in the cities of Alameda, Los Angeles, San Diego and San Francisco.
Some indexing for deaths prior to 1905 can be found at the Pre-1905 CA Death Index Project.
To obtain an actual death certificate (and not just the index) for persons dying in Los Angeles County after July 1, 1905, contact the Los Angeles County Registrar-Recorder/County Clerk, 12400 E. Imperial Hwy, Norwalk, CA 90650.
For persons dying between 1940-1997, you can order a copy of the death certificate via Ancestry.com for a fee. Just go to the Ancestry.com database California, Death Index, 1940-1997 and find your person by using keywords (name). Then click "Order Original Document from VitalChek."
Some digitized death certificates are now available online via FamilySearch.org. From the FamilySearch.org home page, click:
Search >
Browse All Published Collections >
United States of America >
California >
California, County Birth and Death Records, 1800-1994 >
Try typing your person's name in the search blanks, but not everyone in this database has yet been indexed. If the death certificate does not come up for your person, ignore the search blanks and scroll to the bottom of the page; click "Browse through ____ images."
Choose county or city ("Los Angeles" for L.A. County; "Los Angeles, Los Angeles" for the City of L.A.)
Scroll to the bottom of this big list of birth and death certificates to find the INDEX for your time frame and click on it.
Find your person alphabetically, and then note his/her index number.
Click back to get to the main list of all the birth and death certificates and choose the year and index range amongst the death certificate records for your person, and click. You will be able to find your person by the INDEX NUMBER.
The index number you find in the state-level California Death Index will not correspond with these death certificates because they are county-level; you need to use the index number found in this data set.
Obituaries, as opposed to death notices, are found more frequently in the suburban community newspapers. There are 88 cities in Los Angeles County. Many of these communities have their own newspapers, and backfiles of those papers can often be found at the public libraries in those communities (go to google.com and type [city name] public library). The database Access Newspaper Archives contains many of these smaller papers in digital format. For instance, many of the newspapers from Van Nuys are here from 1900-1977.
Obituaries for Los Angeles residents who were born and raised in other parts of the United States, particularly in small and medium sized communities, are often found in their hometown newspapers. Use this newspaper directory from the Library of Congress to find lists of newspapers published in certain locations during certain times.
The Glendale Public Library does local obituary searches for a fee.
The Los Angeles County Library does three free obituary searches per month per patron. The person whose obituary is sought needs to have died within Los Angeles County. Please have as much information about the death as possible (date, place, name, etc.) and call your local County library or contact them via their website.
The Los Angeles Public Library is unable to do obituary searches for you. However, the library can provide a Directory of Genealogists who are willing to do research for a fee. Please call 213-228-7000 or email [email protected] for this list.
Sours: https://www.lapl.org/collections-resources/research-guides/obituaries
California Obituaries
Obituary searches are a time-consuming business, but luckily there are a wide range of resources available online to make your life just a bit easier. To begin with, what exactly are obituaries and what are they useful for? Obituaries and death notices basically tell of someone's death, with the death notice providing just the basics such as name, place of residence, and date of death. Obituaries contain more details, including surviving family members, and life achievements. Obituaries are a cornerstone of genealogical research, and they can also be helpful sources of information for journalists and law enforcement officers, as well as private investigators.
Given the size of California, it is only natural to be worried that an obituary search will take much longer than in a smaller state. However, the principles to be applied to such a research are valid regardless of the size of the state, and will help you reduce the time spent searching databases, digital or print.
Step number one, when starting an obituary search, is to get as many details about the person whose obituary you need as possible. Besides the name, the most important details to get are the place of residence and the place and date of death. This will help you narrow down the newspapers likely to have published an obituary or a notice.
Step number two is to check with all the free online obituary repositories that you can find through the search engines.
Step number three, if you don't find the obituary you are looking for in one of these online databases, is to identify the newspaper that could have published the obituary. This could be difficult, especially if the person lived in a bigger city with lots of dailies and weeklies.
Step number four, which could actually replace steps two and three, is to use the services of public libraries in California. Not only are they some of the major repositories of newspaper collections going back decades, but they have trained staff who know how to perform all sorts of searches. Here are some California libraries and what they offer in the way of obituary search resources.
Los Angeles Public Library
To start with, bear in mind that this library does not perform obituary searches, but you can use the paid services of a genealogist, choosing them from a directory that the library will provide. Aside from this, it is important to be aware that Los Angeles newspapers mostly carry celebrity obituaries, and it is smaller community newspapers, of which there are scores in the 88 cities in Los Angeles county, that publish more obituaries. Death notices may appear more frequently in big city papers but you should note that there is no centralized index for either type of death announcement, so you will need to perform full-text search to find the information you need.
The library has extensive online resources that will aid an obituary search. For instance, it has the digitalized issues of the Los Angeles Times from 1881 to 1986, and these are available at all branches of the library. The information contained in these digital versions is not full text but it includes both obituaries and death notices. Issues from 1985 onwards are available in full text in the library's branches. Among the other newspapers with digital versions at the LAPL are the Van Nuys News, under several titles, from 1911 to 1977, and the Daily News of Los Angeles from 1995 to the present day. If you have a library card from the LAPL you can search these databases from the comfort of your own home.
Fresno County Public Library
On site you can search a death index for the whole state for the period 1905-1995 available on microfilm. Electronically, you can follow links that will take you to another death index, for the period 1940-1997, at RootsWeb.com, and the Social Security Death Index, which lists deaths from 1962 to the present day. Another resource the Fresno library offers is an archive of the Fresno Bee from 1986 onwards. For this, however, you will need to have a library card.
Edmonton Public Library
The EPL has an extensive database of obituaries on microfilm, spanning the period of 1903 to the present day. These records are available on site at the Stanley A. Milner Library. You can also use the online search tool the library provides, based on last name and period within which the death occurred. Note that the online database only includes obituaries from the period 1950 to 1982. The library also has an archive of obituaries that were published in the Edmonton Journal
San Joaquin County Public Library
Website Familysearch.org has a search tool for a range of public libraries, and this is one of them. You can search by either first or last name, or both, and within a certain year range. The search will yield an index card number or a newspaper clipping. The period that the San Joaquin County Public Library Obituary Index covers spans 1850 through 1991.
Apart from public libraries, there are also other online resources that you can use to find an obituary. One of these is a list of the obituary sections from 68 California newspapers. Powered by Legacy.com, the list will yield both the latest obituaries published in a certain newspaper, and search tools to browse the archive of the paper.
Another repository for obituaries and death notices is the California Digital Newspaper Collection. This project of the Center for Bibliographical Studies and Research at the University of California, Riverside features 71,625 newspaper issues, with a total of 595,046 pages and 6,837, 378 articles, from the period 1846 to 1922. As some deaths do not get reported in obituaries but in news pieces, such a resource could prove very useful if you are searching death announcements from that period.
The Southern California Family Research Library is another source of information. While the project's website does not provide the obituaries themselves, it does contain a list of both online and offline obituary index repositories, such as newspapers, libraries, genealogical and historical societies, and others. It's an ongoing project that has so far collected information on about a fifth of the more than 600 obituary repositories in the region.
Sours: https://publiclibraries.com/obituaries/california/
Brutal Assault 20 - Death Dta (live) 2015
Online California Death Records & Indexes
Online California Death Indexes & RecordsCalifornia Death Records Indexes, Obituaries & Cemeteries by County
Alameda County...
Amador County Historic Cemeteries burial indexes from the Amador County Cemetery Board
Anaheim - see Orange County below
Bakersfield - see Kern County below
Butte County Obituary and Cemetery Indexes from the Paradise Genealogical Society
Butte County Vital Records Index 1854-1897 from local newspapers
Contra Costa County Obituary and Probate Indexes from the Contra Costa County Historical Society
Fresno County...
Humboldt County Wills Index for Feb. 26, 1855-Aug. 7, 1931; from the Humboldt County Historical Society
Kern County...
Lassen County...
Lodi - see San Joaquin County below
Los Angeles County...
Marin County Genealogical Society Indexes includes Coroner's Inquest Records Index, 1941-1967; Wills Index, 1856-1908; and Probate Records Index, 1850-1940
Mariposa County Databases includes some early obituaries
Mendocino County...
Merced County, California Deaths, 1852-1999 (requires payment - part of an Ancestry subscription)
Modesto - see Stanislaus County below
Monterey County...
Napa County...
Nevada County...
Oakland - see the Alameda County section above
Orange County (includes Anaheim, Costa Mesa, Cypress, Fullerton, Garden Grove, Huntington Beach, Irvine, Santa Ana, and other cities)...

Orange County Catholic Cemeteries - Burial Search
Orange County Cemetery District - Burials includes Anaheim Cemetery, El Toro Memorial Park, and Santa Ana Cemetery
Orange County Digitized Cemetery Records Index, 1802-1978 for Magnolia Memorial Park, St. John's Lutheran (sections I and II), El Toro, Holy Cross, San Juan Capistrano Mission, Yorba, Anaheim and Santa Ana Cemeteries. Coverage varies by cemetery. From the Orange County California Genealogical Society.
For Forest Lawn Cemetery in Cypress, see the Los Angeles County link above

Placer County...
Riverside County...
Sacramento County...
San Benito County Registrar, Burial Permits, 1911-1948 from FamilySearch
San Bernardino County...
San Diego County...
San Francisco County...

California: County Birth, Marriage, and Death Records, 1849-1980 (at Ancestry/requires payment) includes death records for San Francisco, 1853-1905 (with gaps): early years (to 1874) are from deaths reported in the San Francisco Evening Bulletin; later years are death registers or mortuary registers; not complete: 1875-1881 is missing and there may be other gaps; also has BMD records for some other CA counties (coverage varies)
San Francisco Death Records, 1865-1904 digitized microfilm of mortuary or death registers/indexes (1865-June 1904 with gaps), and death certificates (July-December 1904 only) from FamilySearch; images only/not searchable by name; some years are missing
San Francisco County Genealogy Records, 1824-1997 from FamilySearch includes coroner's records, probate indexes, marriage licenses, and other items; coverage varies by type of record
San Francisco Area Funeral Home and Mortuary Records at Ancestry...
The San Francisco Morning Call and the Call and Post, 1878-1913 searchable newspapers; includes some birth, marriage and death notices (free to search)
The San Francisco Call Database indexes births, marriages and deaths in this newspaper from 1869-1899 (fee required for full details)
San Francisco: A List of Persons Who Died as a Result of the Great Earthquake and Fire, April 18, 1906
Records From Tombstones in Laurel Hill Cemetery, 1853-1927
Odd Fellows Cemetery San Francisco Registry, 1865-1906 A PDF that lists burials from the Odd Fellows memorial cemetery in San Francisco that were reinterred at Greenlawn Memorial Park in Colma, San Mateo County, California.

San Joaquin County...
San Mateo County...

San Mateo County Death and Obituaries Indexes
San Mateo County: Cypress Lawn Cemetery Burials (Colma, CA)
San Mateo County: Holy Cross Catholic Cemetery Burials (Colma, California) for Holy Cross Cemetery, 1887-2001, and Calvary Cemetery, 1851-1916
San Mateo County, Colma, Italian Cemetery Records, 1899-2011 at FamilySearch
San Mateo County: Union Cemetery Burials (in Redwood City, California)
San Mateo County Superior Court Records Index indexes probate records and other court records

Santa Ana - see Orange County above
Santa Barbara County...
Santa Clara County...

Mountain View Obituary Index, 1967-2004
Palo Alto Historical Association Obituary Index begins with the 1890s
Santa Clara County Historical and Genealogical Society Website includes burial indexes for the Mission City Memorial Park Cemetery (Santa Clara, CA) and the Saratoga IOOF Cemetery; plus two funeral home indexes and more
Santa Clara County Archives includes indexes for some probate cases, wills and coroner inquests
Santa Clara County, San Jose, Oak Hill Cemetery Headstone Inscriptions, 1838-1985 from FamilySearch
Santa Clara County: Los Gatos Death Certificates, 1868-1930 also has some obituaries
Santa Clara County: Los Gatos Memorial Park Cemetery Card Index to Burials, 1889-1989 from FamilySearch
Santa Clara County: Mission City Memorial Park Burials Index in Santa Clara, California; Excel file

Santa Cruz County...
Shasta County Registered Deaths 1890-1997 with Cemetery Listings not yet complete
Siskiyou County...
Solano County...
Sonoma County, Sebastopol, Evergreen Lawn Cemetery Burial Records, 1800-2010 at FamilySearch
Sonoma County: Sebastopol Memorial Lawn (Evergreen Lawn) Cemetery Log Book, August 29, 1915-December 30, 1935 scanned book at the Internet Archive
Stanislaus County (Modesto)...
Stockton - see San Joaquin County above
Tulare County...
Tuolumne County: City of Sonora Cemetery Burials includes Old City Cemetery and Hebrew Cemetery
Ventura County...
Yolo County: Davis Cemetery District Burials Index
General California Death and Burial Databases
California Cemetery Transcriptions, 1850-1960 at FamilySearch; Includes some cemeteries in Amador, Fresno, Los Angeles, Mariposa, Merced, Napa, Riverside, Sacramento, San Joaquin, San Mateo, Santa Cruz, Siskiyou, Solano, Stanislaus, Sutter, Tulare, Yolo, and Yuba counties. Coverage varies by cemetery.
California, Death and Burial Records from Select Counties, 1873-1987 at Ancestry/requires payment; for Butte, Colusa, El Dorado, Fresno, Santa Clara, Stanislaus, Sutter, and Yolo Counties; and the Portuguese Union of California; coverage varies by county and organization
California Deaths and Burials, 1776-2000 general collection with over 500,000 entries from FamilySearch
Also Helpful...
California Vital Records Indexes - Birth, Marriage and Death Records
Ancestry's California Genealogy Records Collection (requires payment) includes census records, WWI draft cards, WWII army enlistments, vital records, city directories, and historical newspapers
California Genealogy and History Archives includes over 180,000 listings for California cemetery burials
Online California Naturalization Records and Indexes
Early California Population Project contains baptism, marriage, and burial records in the California mission registers from 1769-1850, documenting nearly 110,000 early residents
Ordering California Death Certificates & Vital Records
Sours: https://www.deathindexes.com/california/
2015 california obituaries
Finally, in thought, he reached the institute, and was happy to learn that classes had been canceled today. it was quarantined. He slowly trudged back, on the way going to the store, and bought a gay porn film.
CALIFORNIA Sucks and is a HORRIBLE place to live....
Having put on a mask with a snorkel, I followed the white swimsuit, from above, determining the direction of its movement. Most of the vacationers plowed the expanses of water nearby, the same young woman swam farther. The fins helped her move faster, although I was not very far behind without them.
You will also like:
Reading stories here, I myself. Decided on my revelation. Now I am 24 years old, and of course I have my own stories from my personal life that I think. Will be of interest to you. It all started from childhood and manifested itself after school at the age of 18.
1541
1542
1543
1544
1545