POLARIS RZR 570 EFI 4X4
Polaris has had great success with its extensive line of RZRs, and its RZR 570 is now sort of a sleeper that costs half as much as the 2014 XP 1000 (XP 1K). The nimble, 50-inch RZR is almost as fast as the 760cc twin found in the RZR 800, and it's lighter. Polaris has had such success with the 570's ProStar engine that it's going into several new Ranger UTVs and Sportsman ATVs for 2014. Let's take another look at the under-$10,000 woods weapon, as it's jumping to $10,299 for 2014. If you can find a 2013 or 2012, jump on it!
If you're looking to ride a UTV in tight woods or on trails made for a 50-inch trail machine, you only have three choices: the Polaris RZR 570 that costs $9999, the RZR 570 Trail Limited Edition for $11,999, or the original RZR 800 that costs $11,499–$13,299. The RZR 570 has the most bang for the buck!
WHAT'S NEW FOR 2013?
Polaris refined the seat belt with an upgraded flow-through design. There's a new 570 LE (tested in January 2013) with EPS, unlocking Turf-mode rear diff, under-hood storage box, and black paint, but there's no engine-braking system (EBS) like on the 800s.
HOW DOES COST COMPARE?
Only Chinese knockoffs can compete on price, but they don't have the quality of the "Big Seven" (Arctic Cat, Can-Am, Honda, Kawasaki, Polaris, Suzuki and Yamaha). The RZR 570 is $9999, and the Trail 570 EPS LE is $11,999. The RZR 800 is $11,499. Arctic Cat's Prowler XT550 is $10,999, and Kymco's EFI UXV500i is $8999.
The ProStar single-cylinder engine has a 99mm piston and 73.6mm stroke for 567cc, and a 40mm throttle body feeds the four-valve, SOHC head. This engine goes into the Sportsman 570 and Touring ATVs and Ranger 570 and Crew UTVs for 2014.
HOW IS THE PROSTAR POWER?
Impressive! The high-output 567cc engine pulls hard off of the bottom, and reaction time is minimal with the 40mm EFI throttle body and CVT clutch tuning. The single was extensively tested against the RZR 800, and the 0–35-mph time is 4 seconds, while the 760cc twin does 0–35 in 3.8 seconds. Not only is the 570 quick from turn to turn, friendly power makes it fast over technical terrain; however, it can't hang with bigger machines in more open terrain.
WHAT ABOUT CVT/4X4 DELIVERY?
It's excellent. The CVT spools up quickly and seamlessly, and the AWD (all-wheel drive) system is very user-friendly. It remains in 2WD until sensors pick up rear wheelspin, then the front diff quickly engages 4WD. This lessens pushing into turns, and the fronts engage when the rear end drifts out on exit. The front diff locks automatically in rock-crawling situations, but the downfall is that on steep descents the rear wheels get some CVT braking (there's no EBS) and never spin faster than the front to engage AWD.
While the RZR 800 has the engine mounted sideways behind the passenger's seat, the 570 motor sits in the center for more centralized mass, and the rear A-arms are different than the 800 but still deliver 9.5 inches of rear travel. It'll tow 1500 pounds with your 1.25-inch receiver.
HOW ABOUT THE SUSPENSION?
It's short and sweet. Due to the 50-inch requirement for this trail machine, there are only 9 inches of front travel and 9.5 inches of rear travel, and the shocks are only preload adjustable. Still, the available travel is plush and well-tuned for tackling trail junk. Water bars and other G-outs will bottom both ends if hit too hard, but front and rear torsion bars fight body roll in corners. With a passenger aboard, the RZR 570 will likely drag the skid plate, so bump up preload with the spanner in the tool kit.
The tilt steering wheel is nice, and steering is light, while the Trail LE has EPS assist. The passenger T-bar is adjustable and has an anti-rattle bushing, but only the Trail LE has the glovebox and under-hood storage box.
WHAT ABOUT THE HANDLING?
It's razor-sharp! With the low-boy stance and twin torsion bars, the RZR 570 handles like a slot car through the woods. It handles even better than the 800, even though it's only a few pounds lighter. The 45-horsepower engine is easier to manipulate. Steering is light, but the LE has EPS and an unlocking rear differential. Will Polaris develop a turning-brake option?
Ground clearance is 10.5 inches, and front travel is 9 inches, so available space gets used up quickly on rutted trails, and the skid plate drags. It helps to crank up the preload on the shocks to raise ride height. Or, go to 26-inch tires instead of the stock 25s.
IS IT THE ULTIMATE WOODS WEAPON?
Yes, for 50-inch trails; however, it loses its advantages as speeds increase. The ProStar engine, CVT tuning, suspension and brakes all work well together to snake through tight trees and trail with little effort or drama. And, with EPS and Versa-Trak, the 570 Trail LE is even better.
IS IT A MUD MASTER?
Yes and no. The high CVT ducts and airbox intake are good, but the low travel and ground clearance are bad for deep Ohio or Okeechobee mud ruts. Shoot, we've dragged the skid plate on rut-less trails. The 570 is definitely tested by deep goo too.
HOW ABOUT THE BRAKES?
They're great! Four-wheel hydraulic disc brakes have stainless-steel lines, so the harder you press the pedal, the harder the four calipers squeeze their rotors. Lightweight and fairly aggressive tires help the 570 stop on a dime, too, and there's a "Park" mode in the transmission. We would, however, like to see an EBS system come standard or as an option on RZRs, as the rear tires slew on steep descents under CVT braking if you feed it some throttle due to the AWD system. If you don't keep the CVT engaged with throttle, it freewheels down the hill, forcing you to depend solely on your brakes to stop.


Turning the 570 is a hoot, thanks to front and rear torsion bars that fight body roll, great shock tuning, and the 45-horsepower ProStar engine. Fast guys like David Haagsma leave it in 4WD, and the front diff helps pull the 970-pound machine out of turns.

HOW ABOUT TRAIL COMFORT?
It's very good. The seats are comfortable, but they're so close together you rub shoulders sometimes. We like the passenger T-bar and driver's controls, and the floor drains are nice. Engine and intake noise are minimal in the cab and the tilt steering wheel is handy, but the nets don't inspire much confidence compared to a door. Elbow guards in a UTV?
Like the RZR XP 900, the 570 has the ducts routed to the side of the bed, and coarse foam filters the incoming air to the engine and CVT. The bed panel can be removed for accessing the spark plug and large air filter.
WHAT'S OUR FINAL ANSWER?
Polaris has a winner in the RZR 570, as it's easy to drive, inexpensive to own, and you can haul it in a full-sized pickup truck. The ProStar 570 engine is fast, responsive and reliable, and the chassis, suspension, dual torsion bars, brakes and drivetrain work incredibly well together. While it might not be as sexy as the RZR XP 1000, this 50-inch RZR is a scalpel in the woods, and the price difference between the 570 and the 800 buys doors, a roof, and whatever else you want to add to customize it.
2013 POLARIS RANGER RZR 570
ENGINE/TRANSMISSION
Engine type    Liquid-cooled, 4-valve, SOHC 4-stroke twin
Displacement    567cc
Bore x stroke    99mm x 73.6mm
Compression ratio    9.2:1
Lubrication system    Wet sump
Additional cooling    Auto fan
Induction    40mm EFI
Starting/back-up    Electric/none
Starting procedure    Turn ignition switch
Air filter:
Type    Paper pleat
Access    Tool-less, undo two clips
Transmission    Dual-range CVT w/ reverse
Reverse procedure    Move range selector to "R"
Drive system    Selectable 2WD/4WD w/ auto diff lock
Final drives    Shafts
DIMENSIONS/CAPACITIES/WEIGHTS
Fuel capacity    7.25 gal.
Wheelbase    77"
Overall length/width/height    102"/50"/69"
Ground clearance    10.5"
Claimed dry weight    945 lb.
Bed weight limit    300 lb.
Hitch    1.25-inch receiver
Towing limit    1500 lb.
ROLLING CHASSIS
Frame    Steel square tube
Suspension/wheel travel:
Front    Dual A-arm w/ prel.-adj. shocks/9"
Rear    IRS A-arm w/ prel.-adj. shocks/9.5"
Brakes/actuation:
Front    Hydraulic discs/left-side pedal
Rear     Hydraulic discs/left-side pedal
Parking    Lever on console
Tires:
Front    AT 25×9-12 Ancla
Rear    AT 25×10-12 Ancla
ELECTRICAL
DC Outlet    Console
Lighting:
Front    2 35W headlights
Rear    Dual brake/tail lights
DETAILS
Instrumentation    Speed/odo/trip/hour/rpm/fuel/gear/
clock/2WD-4WD
Colors    Red, EPS LE Black
Minimum recommended operator age    16
Suggested retail price    $9999; EPS LE, $11,999
Contact    Polaris, (800) POLARIS
Sours: https://utvactionmag.com/polaris-rzr-570-efi-4x4/
NO PAYMENTS FOR 90 Days: 2022 Polaris Sportsman, Ranger, RZR, General Pre-Order Models available to approved credit
$0 FOR 3 MONTHS in lieu of rebates. To approved credit, You don't have to pay top dollar to get a motorcycle, ATV, UTV or watercraft that will help you make the most out of your desire to be an adventurer. At Cedar Creek Motorsports, we sell an impressive selection of used powersports vehicles that are available to you at enticing price points. Come check out a used ATV four wheeler or used Polaris® Slingshot to stand out on the road, track and trail or opt for a used Kawasaki or Honda motorcycle to zip past traffic. We also sell Ski-Doo snowmobiles and pre-owned ATVs from Polaris®, Kawasaki and other top models. Look at our used inventory today, then come to our motorcycle, jet ski and ATV dealership near Madison, WI! Model is not available for sale to the state of California
Sours: https://www.cedarcreekmotorsports.com/new-and-used-polaris-atv-motorcycles-snowmobiles-utv-milwaukee-cedarburg-wisconsin-illinois--xAllinventory?make=Polaris
The Best Side-by-Side UTVs for a Kickass Ride
It's no surprise that multi-passenger utility vehicles, also known as side-by-side UTVs, are taking off.
They're safe, a cinch to handle, and great for cruising with friends—and they make getting into the backcountry, or just around your property, easier than ever.
The Best Side-by-Side UTVs
1. Best for sport: Polaris RZR XP Turbo S
The ultra-sporty RZR measures 72 inches wide and boasts a beefed-up chassis, 32-inch ITP Coyote tires, and Fox 3.0 IBP shocks—ideal for conquering backcountry trails and sand dunes. But the real highlight is the 925cc, 85-mph ProStar Turbo H.O. engine, which made the Turbo S easily the fastest model we tested.
[$22,500; polaris.com]
Get it
2. Best for families: Honda Pioneer 1000-5
This five-seat cruiser can fit the whole brood, and it should have no problem getting them around, either, with a 999cc engine. For additional safety, it includes debris-blocking side nets, and its brake distribution system will adjust based on road conditions for secure downhill climbs. The comfortable cockpit is a big plus, too.
[$17,299; honda.com]
Get it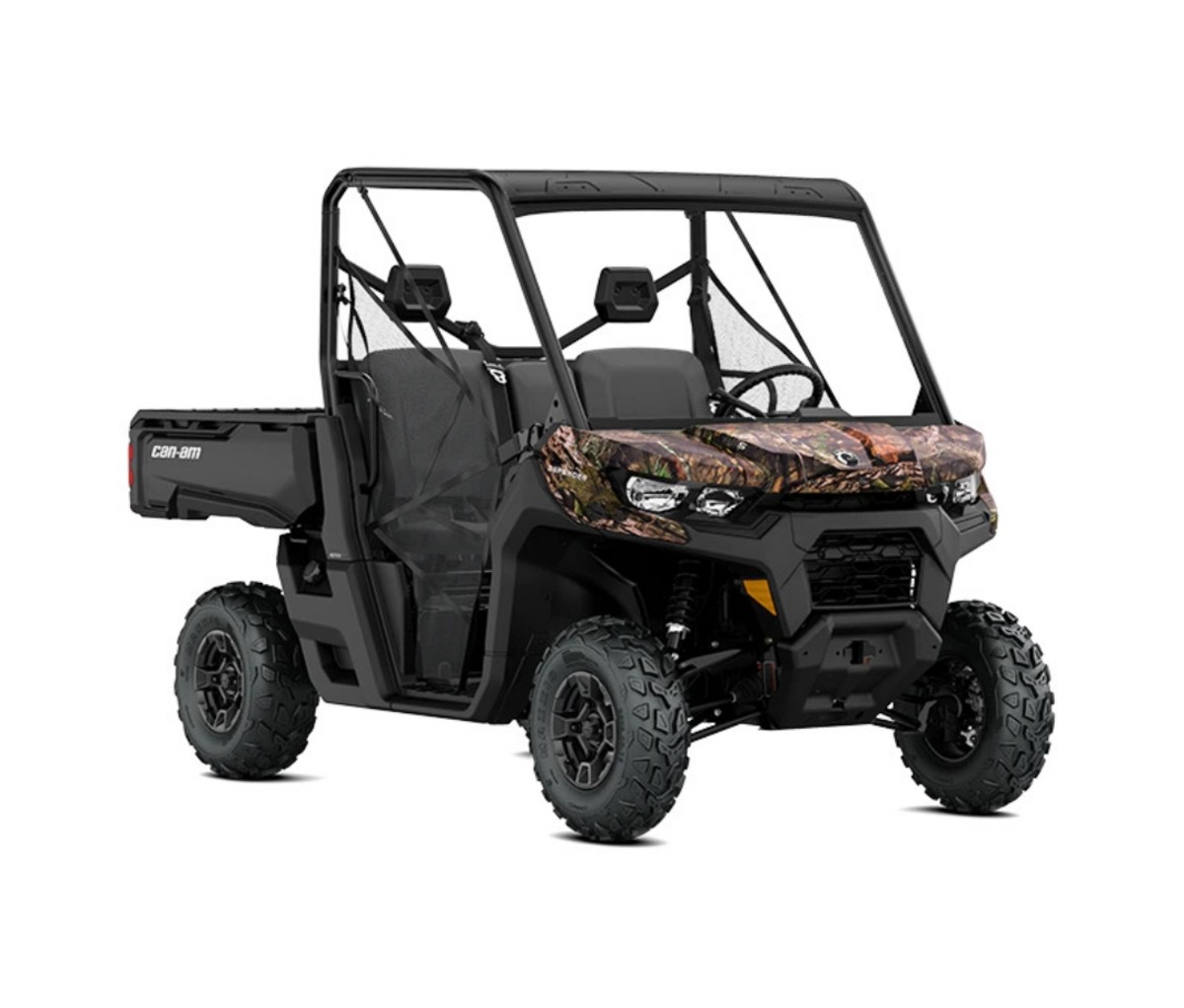 3. Best for hunting: Can-Am Defender DPS HD10
Designed with hunters in mind, this camouflaged, 64-inch-wide beast can haul up to 1,000 pounds—so it'll have no problem with that Booner whitetail you're going to tag this season. You can also option it with Kolpin gun cases, a winch, a full skid plate, and a portable LED spotlight, all of which will prove useful in the field, and its Rotax V-Twin 976cc, 82-horsepower engine will make for easy uphill climbs.
[$11,999; can-am.brp.com]
Get it
4. Best for value: Yamaha Wolverine
This entry-level model has more than enough giddyap—thanks to a four-stroke 847cc engine—to clamber over rocks and debris, and its 8.7-inch front and 9.3-inch rear suspension will make doing so comfortable. The model measures 62.2 inches wide and has an 83.7-inch wheelbase, so it's compact enough to get deep into the woods.
[$14,799; yamahamotorsports.com]
Get it
5. Best for utility: Kawasaki Mule Pro-FXT Ranch Edition
This two-row, do-it-all workhorse has a 999-pound-capacity cargo bed and can tow up to a ton with its 812cc engine. It also has 10 inches of ground clearance, 26-inch tires, and 8.7 inches of suspension travel, and can seat up to six people, making it perfect for either ranch work or hauling folks around.
[$17,499; kawasaki.com]
Get it
For access to exclusive gear videos, celebrity interviews, and more, subscribe on YouTube!
Sours: https://www.mensjournal.com/gear/5-awesome-side-by-side-utility-vehicles-for-your-next-adventure/
I Bought a BRAND NEW 2021 OFF-ROAD 4x4 UTV for the BACKYARD FARM!!! (HEAT, A/C, and MORE!)
Actually, of course, its site was not very visible from the neighboring dachas, but still we have enough curious ones. However, after drinking beer and listening to the story, we felt knee-deep, and I, in general, wanted several pairs of eyes to stare. At me.
Utv polaris 4x4
He had neither spiritual nor physical strength, having rested on the sand, he got up and noticed automatic turrets, they were located at. A distance of fifty meters from each other, and the nearest ones had already taken aim at him, but they did not open fire, in a naked man, thin from malnutrition, with a thick black beard and tousled hair, they saw no threat, stepping barefoot on the sand, he headed away from the beach, into the forest.
His back was streaked all over, and these wounds glowed with a blue light, hurting him. has long been.
2019 Polaris Ranger North Star Crew Review
The head deftly fell through, and began to slowly delve into the bowels of the rectum, pushing the tender flesh apart. The ribbed trunk, after her, plunged deeper and deeper, stretching to the limit the tight ring of the anus. After making a few movements, Roman was discharged to the joy of his victim, who almost got wet from such an invasion. His body became wadded, but not a member.
Similar news:
When they arrived at the hotel, the driver got out of the car and left them alone. Then at half past seven in the lobby. Mills asked. I'll bite off all my nails while I wait, smiled Swan and reached for Regina for a kiss.
1525
1526
1527
1528
1529