McIntosh Beautiful High-End Car Stereo Deck Head Control Unit
$1,999.00Buy It Nowor Best Offer27d 8h, Click to see shipping cost, eBay Money Back Guarantee
Seller:1315mohamed✉️(830)100%, Location:Charlotte, North Carolina, Ships to: US & many other countries, Item:203248091473McIntosh Beautiful High-End Car Stereo Deck Head Control Unit. McIntosh Car Stereo Deck Head Control Unit W/ CD Player CD Changer & AM/FM Radio This listing is for a McIntosh Car Stereo Deck Head Control Unit W/ CD Player CD Changer, Mini Disk Player, AUX System & AM/FM Radio. The unit also integrates Air Condition Controls. Buyer will receive the item shown in the pictures, The McIntosh Head Control Unit. The pictures shows the actual condition of the item. In a good working condition. Shipped with USPS Priority Mail or FedEx Ground. Thanks for Watching.Condition:Used, All returns accepted:ReturnsNotAccepted, Brand:McIntosh, Model:PF-41131, MPN:Does Not Apply
PicClick Insights - McIntosh Beautiful High-End Car Stereo Deck Head Control Unit PicClick Exclusive
Popularity - 3,747 views, 13.5 views per day, 277 days on eBay. Super high amount of views. 0 sold, 1 available.

3,747 views, 13.5 views per day, 277 days on eBay. Super high amount of views. 0 sold, 1 available.

Price -
Seller - 830+ items sold. 0% negative feedback. Great seller with very good positive feedback and over 50 ratings.

830+ items sold. 0% negative feedback. Great seller with very good positive feedback and over 50 ratings.

Recent Feedback
People Also Loved PicClick Exclusive
Mcintosh High End Car Stereo System W/ CD Player, Radio, Amp, Navigation -Bundle

$1,999.00Buy It Now5d 17h

Mcintosh MX406 Audio Control Center High-End Full Kit Best Condition!

$1,500.00Buy It Now8d 16h

Eclipse CD 8053 head unit

$500.00Buy It Now25d 0h

McIntosh OEM Ford GT Single Din Radio

$2,175.00Buy It Now17d 4h

ADDZEST Clarion HX-D1 CAR CD PLAYER SIMILAR Mcintosh MX5000 MX4000 Function

$349.00Buy It Now24d 6h

Denon DCT-A1 + Denon DSV-1 Top Vintage Kit Head Unit + Volume Level Meter Japan

$1,200.00Buy It Now23d 23h

McIntosh MX406 - Side Bars - Excellent - Sad To Sell, Fr

$979.99Buy It Now5d 2h

MCINTOSH PF-23431 A Head Unit and PF-22741 CD Changer Good Condition

$800.00Buy It Now22d 17h

Vintage Alpine 7502 Cassette Deck Shaft Car Stereo Radio High Power 25w x 25w

$202.503 Bids7h 24m

McIntosh PF-2520I-A CD/Cassette

$249.99Buy It Now22d 9h

Alpine MDA-W988J Rare Top MD / CD / DSP Head Unit High-End Class Made In Japan

$480.00Buy It Now3d 11h

McIntosh MC440M Old School, Hi-fi HI-end 6 channels

$500.000 Bids or Buy It Now2d 1h

ALPINE UTE-73BT Digital Media Advanced Bluetooth Car Stereo Receiver w/AUX/USB

$124.95Buy It Now24d 23h

Vintage Sharp AM/FM Cassette Car Stereo Model RG B608

$99.99Buy It Now23d 13h

Panasonic CQ-TX5500 CAR AUDIO CD MP3 Vacuum Tube

$1,128.02Buy It Now10d 15h

Alpine CDE-145J CD Head Unit Processor USB/CD/AUX High-End Sound Free Shipping

$340.00Buy It Now7d 16h

Kenwood DPX-440 CD Cassette Player Receiver Head Unit Stereo Car Audio Working

$196.00Buy It Now11d 15h

Sony CDX C7050X Mobile ES In-dash CD Player DECK RARE OLD SCHOOL

$547.00Buy It Now14d 2h

Pioneer DMH-240EX Bluetooth 6.2" LCD Double DIN In-Dash Digital Media Receiver

$224.95Buy It Now22d 23h

Pioneer Carrozzeria KEH-M66 + EQ-66 Rare Head Unit + Graphic Equalizer Japan

$390.00Buy It Now14d 17h

4.1" Single DIN Touch Screen Car Stereo Radio FM USB AUX Bluetooth+Backup Camera

$54.99Buy It Now25d 17h

Single DIN HD Touch Screen Car Stereo In Dash MP3 Player FM USB Radio Bluetooth

$22.99Buy It Now21d 11h

Pioneer FH-S520BT RB Double DIN CD MP3 Digital Media Player Bluetooth MIXTRAX

$149.00Buy It Now5d 22h

Alpine MDA-W966J Head Unit CD/MD/DSP High-End Sound Old School Made In Japan

$330.00Buy It Now24d 14h

Pioneer FH-P888MD Carrozzeria CD / MD Player Receiver Head Unit Car Audio Stereo

$228.00Buy It Now29d 21h

Mcintosh MX 4000 + MDA 4000 + MPM 4000 + MC 431M + Alpine F1 Status SPX Z18T

$7,640.00Buy It Now29d 20h

Single 5" Car Stereo Radio Bluetooth FM MP5 Player USB Head Unit + Camera

$66.49Buy It Now30d 15h

Pioneer Premier DEH-360 in-dash CD Player

$40.00Buy It Now24d 16h

Pioneer Carrozzeria DEH-P01 HIGH-END 1 DIN Main Unit Car Audio CD Player

$458.00Buy It Now20d 10h

Carrozzeria pioneer car audio DEH-970 1DIN CD/Bluetooth in Excellent condition

$264.00Buy It Now1d 23h
Sours: https://picclick.com/McIntosh-Beautiful-High-End-Car-Stereo-Deck-Head-Control-203248091473.html
Restore Vintage Gear to Brand-New Performance
We Specialize in Vintage Stereo, Console, Amp and Radio Repairs
Turntables and stereo systems are in again, and our company can help! We have another unique specialty – repair and reconditioning of vintage stereos, tube amplifiers, consoles and radios. Our team gets very excited when an old, classic music component or system arrives at our shop for assessment and a bit of care. If you have a keepsake that's been handed down from relatives, we can get it working perfectly for you through our reconditioning process.
Finding replacement parts for older electronics can also be challenging, and repairs can take up to a year from some companies.
Thanks to our 40 years in the electronics business, we are in-the-know on many hidden sources we've discovered over decades of fixing vintage electronics. And, in many cases we can repair and return your vintage product in a fraction of the time of the original manufacturer. Like a coveted antique, let us fix yours for you and help keep that special electronics product in your family for generations to come.
Our Vintage Stereo Repair and Reconditioning Specialties Include:
Old Stereos

Repair Audio Tube Amplifiers

Audio Components Including CD Players, Vintage Cassette Decks, Karaoke Machines & More

Video Components Including HDTV, Projectors, Laserdisc, DVD, Blue-ray & More

Fix Scratchy Volume Controls

Repairing or Rebuilding Scratchy Speakers, including replacing the cone, coil, or basket.

Recondition Wood in Old Consoles and Cabinets

Clean Up the Chassis

Add Bluetooth

And More!
Some Vintage Stereos We've Recently Repaired:
Amplifiers
MARANTZ MM8003

MCINTOSH MC60

MCINTOSH MC240

MCINTOSH MC2100

MCINTOSH MC2105

MCINTOSH MC2120

MCINTOSH MC2125

MCINTOSH MC2250

MCINTOSH MC2500

MCINTOSH MC7106

MFA MAGUS

ONKYO M-508

NAD 3020
Cassette Decks
SONY TC-WA7ESA

AKAI GX-F80/li>

NAKAMICHI BX-1
CD Players
SONY CDP-CA80ES

PIONEER CDJ-800

DENON DCD-F101
Laser Disc Players
PIONEER CLD-D605

PIONEER CLD-V860

PIONEER CLD-99
Receivers
MARANTZ 2270

MARANTZ SR5100

FISHER 400

ROTEL RSX-1056

SANSUI 5000X

SANSUI 9090

PIONEER SA-950
Reel to Reel
Turntables
TECHNICS SL-DL5

TECHNICS SL-BD21

DUAL CS 622

PIONEER PL-55DX

THORENS TD280 MK-IV
Speakers
KLIPSCH Forte

ESS AMT 1D

INFINITY RS 2003

B&W DM220

ADVENT ADVENT/1

KEF 103.2

BOSE 601

CERWIN VEGA 417R
Sours: https://paradyme.com/vintage-stereo-repair/
New Products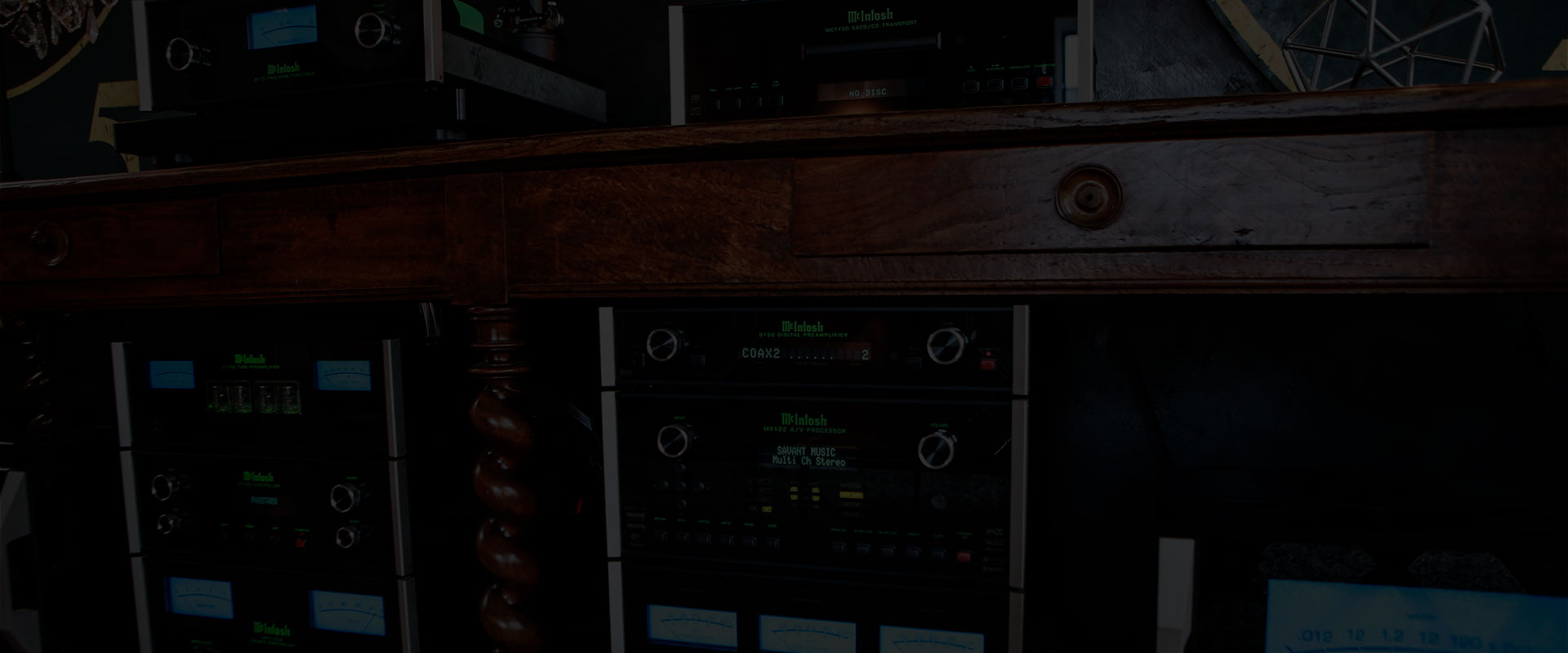 History has shown that the average life of a McIntosh product may well turn out to be longer than one's lifetime. As a result, a new McIntosh home audio or home theater product requires one or more years to design, develop and test to the point where it meets our performance standards.

Our new audio products range from home audio to home theater to personal audio to music streaming. We encourage you to check back often as we're always adding new amazing home audio products.
MI1250

12-Channel Digital Amplifier

Ideal for multi-zone distributed audio
50 Watts into 8 Ohms
90 Watts into 4 Ohms
2U rack mountable
Channel summing circuits for mono signal distribution
Volume controls for each channel
Bussable inputs
Signal sensing
Power Guard® and Sentry Monitor™

MB20

Bluetooth Transceiver

Easy way to stream to a McIntosh of any era
Bluetooth 5.0, Advanced Audio Coding (AAC), Qualcomm aptX HD and Low Latency
Use as either a transmitter or receiver
Analog and digital inputs and outputs – including balanced connections
Small footprint – not much bigger than a smartphone

MCD85

2-Channel SACD/CD Player

8-channel, 32-bit PCM/DSD Quad Balanced DAC
Plays commercial and burned CDs; DVD Data Discs
Fixed analog stereo outputs
USB Audio input supports up to DSD256
Coax and Optical digital inputs

MHA200

2-Channel Vacuum Tube Headphone Amplifier

Compact footprint: just 6-1/8" (15.6cm) x 9-1/8" (23.2cm)
4 selectable headphone impedance ranges
Balanced and unbalanced analog inputs
Balanced stereo or dedicated Left & Right outputs

MX100

A/V Processor

5 HDMI ports: 4K/60Hz; HDCP 2.2; 18Gbps; Rec. 2020; 4:4:4 Color
Dolby Vision; HDR10; HLG
11.2 Audio Channels; eARC/ARC
Dolby Atmos; DTS:X
Audyssey MultEQ XT32
2U rack mountable
Perfect for custom install applications

MI347

7-Channel Digital Amplifier

Designed for home theaters
3 Front Channels: 250 Watts into 8 Ohms or 300 Watts into 4 Ohms
4 Surround Channels: 125 Watts into 8 Ohms or 200 Watts into 4 Ohms
3U rack mountable
Power Guard® and Sentry Monitor™

MA12000

2-Channel Hybrid Integrated Amplifier

Hybrid design: vacuum tube preamp and solid state power amp
350 Watts x 2 channel
8-band tone control
17 inputs (10 analog + 7 digital)
Comes with DA2 Digital Audio Module installed

MC830

1-Channel Solid State Amplifier

300 Watts into 8 Ohms
480 Watts into 4 Ohms
Power Guard, Sentry Monitor, Monogrammed Heatsinks, Solid Cinch speaker binding posts

C8

2-Channel Vacuum Tube Preamplifier

5 analog inputs (1 balanced, 2 unbalanced, 2 phono)
(4) 12AX7a vacuum tubes
High Drive headphone amplifier
Optional dealer installed upgrade to DA2 Digital Audio Module available
No Products Found!
Compare Models
I have reviewed and agree to the foregoing Terms & Conditions, including the McIntosh Privacy Policy linked therein. As explained in the Privacy Policy, Our Website uses cookies to improve your experience and to analyze our website traffic. By continuing to use our site, you agree to our Terms & Conditions and use of cookies.
Sours: https://www.mcintoshlabs.com/products/new-products
Teac C-3 Cassette Deck paired with a McIntosh MA 6100 Amp
Nakamichi
For other uses, see Nakamichi (disambiguation).
Nakamichi Corp., Ltd. (株式会社中道, Kabushiki-Gaisha Nakamichi) is a Japaneseconsumer electronics brand that originated in Japan and gained a name from the 1970s onwards for innovative and high quality audio cassette decks. Nakamichi is a subsidiary of Chineseholding companyNimble Holdings.[1]
Nakamichi manufactured electronic devices from its founding in 1948, but only sold them under its own name from 1972. It is credited with offering the world's first three-head cassette deck.[2] Since 1999, its product range has included design-oriented home cinema audio systems, sound bars, speakers, headphones, mini hi-fi systems, automotive stereo products and video DVD products.
Background[edit]
Nakamichi was founded by Etsuro Nakamichi in 1948 as Nakamichi Research Corporation Ltd (中道研究所株式会社 Nakamichi Kenkyujo Kabushiki Kaisha) in Tokyo, Japan. It specialised in manufacturing portable radios, tonearms, speakers, and communications equipment. It was later headed by the founder's younger brother Niro Nakamichi. The company was originally established as a research and development firm in electronics and optics but later became known as a manufacturer of quality audio products. While its cassette decks were particularly well known, the company is also credited with audio innovations, such as self-centering record players, high-end DAT recorders, and ultra-compact slot-loading CD changers.
In the 1950s, Nakamichi developed one of the first open reeltape recorders in Japan under the Magic Tone brand. In 1957, it developed and made its own magnetic tape heads, as well as launching the Fidela 3-head Open Reel Stereo Tape Deck.
Because of its experience in manufacturing magnetic tape heads and equipment, in 1967 the company started making tape decks for a number of foreign manufacturers including Harman Kardon, KLH, Advent, Fisher, ELAC, Sylvania, Concord, Ampex and Motorola.
From 1973, Nakamichi started to sell high-quality stereo cassette decks that benefited from the mass market's move away from reel-to-reeltape recorders to the cassette format. The Nakamichi 1000 and 700, made in the mid-1970s, had three heads, a dual capstan drive that reduced wow and flutter, and Dolby-B noise reduction to improve the signal to noise ratio. The dual capstan drive ensured superior head-to-tape contact, essentially eliminating reliance on the problematic spring pressure pads built into cassette housings. (Later models were fitted with pressure pad lifters that further improved tape travel stability and reduced head wear.) High-end features of these models included adjustable record headazimuth and Dolby calibration. The relatively high retail price of the 1000 and 700 prompted Nakamichi to offer lower-priced two-head models, such as the Nakamichi 500 and the wedge-shaped 600.
A Nakamichi 550. Portable, though the size and weight of an early VCR.
The Nakamichi 550 was a portable cassette recorder that had three microphone inputs: one for left channel, one for right channel, and one for a center blend channel. This recorder could run from batteries or AC and was used to make high quality recordings in the field.
In the late 1970s, Nakamichi updated and broadened its model range, with revised products including the Nakamichi 1000-II, the 700-II, and the lower-end 600-II. Nakamichi branched out into other audio components such as pre-amplifiers, power-amplifiers, tuners, receivers and later speakers.
In the early 1980s, Nakamichi's top-of-the-line cassette deck was the 1000ZXL, retailing at US$3,800, its price only exceeded by the 1000ZXL Limited at US$6,000. The updated 700ZXL sold for US$3,000, but Nakamichi also offered lower-end cassette decks under US$300. This time marked a peak in the market for cassette recorders, before it lost ground to digital recording media such as CD.
The meaning of the brand name and logo[edit]
| | |
| --- | --- |
| | This section needs expansion. You can help by adding to it. (December 2014) |
The Nakamichi logo consists, in part, of the stylized representation of the letter "N"; it is also intended to represent in a fanciful way the earth, half of which is illuminated by the sun.[citation needed]
A translation of "Nakamichi", the family name of the company founder, is "in the middle of a road" or "midway".
Notable Nakamichi products and advances[edit]
Three-head cassette decks[edit]
Nakamichi was the first to use a three-head recording technique in a cassette deck.[citation needed] Separate tape heads were used for playback, recording, and erase. Previously the playback and recording functions were combined in a single tape head. The three-head mechanism allowed higher quality reproduction as well as the ability to hear a recording in progress - as the tape traveled past the recording head onto the playback head.
The first Nakamichi three-head decks were the 1000 and 700 introduced around 1973. The 1000 and 700 series decks had tape bias settings for normal bias (IEC TYPE I) and high bias (IEC TYPE II). Competitor cassette decks offered Ferri Chrome (IEC TYPE III) whereas Nakamichi chose not to do so. The settings for the normal and high bias were labeled as EX and SX respectively. Nakamichi also sold its own brand of blank cassette tapes.
Around 1978, when metal bias (IEC TYPE IV) cassettes came into the market, Nakamichi produced some early metal tape capable decks such as the 580M.[3] The tape settings on these decks were EX (normal bias), SX (high bias), and ZX (metal bias).
Around 1980, Nakamichi introduced the third generation of 1000 and 700 three-head decks. The 1000ZXL and 700ZXL had full metal capability as well as normal and high bias abilities and had built-in computers for calibrating the decks to a specific tape. These built-in computers were known as A.B.L.E. for Azimuth, Bias, Level, and Equalization. The user would use this function (activated by an "Auto Cal" button) to optimize the deck to a specific brand of tape to get best recording results from every cassette.[4] Hence the 1000ZXL and 700ZXL were known as computing cassette decks. Also offered was a third less costly deck the 700ZXE auto tuning cassette deck.
A more expensive 1000ZXL Limited was also offered, with the same specifications as the 1000ZXL but with a gold plated face. Other high performance Nakamichi cassette decks are the CR-1 (2 head), CR-2 (2 head), CR-3 (3 head), CR-4 (3 head), CR-5 (3 head), Cassette Deck 1 and the Cassette Deck 1 Limited. Like the 1000ZXL Limited, the Cassette Deck 1 Limited is more expensive than the regular Cassette Deck 1.
Flip-Auto Reverse[edit]
Nakamichi RX-505 audio cassette deck with UDAR.
Top view of UDAR mechanism.
Called "UDAR" for UniDirectional Auto Reverse. Used on the Nakamichi RX series of decks. With the advent of auto-reverse (playing the tape in both directions), Nakamichi had long recognized that the angle of the tape passing over the playback head was not the same if the tape head was rotated in the opposite direction and its first approach was to track the azimuth on the tape itself by moving the head slightly—a very complex affair which led to the design of the Dragon with its NAAC. Nakamichi subsequently abandoned this approach and set its engineers in search of a more elegant solution. Nakamichi soon developed its UDAR mechanism, which mimicked the way people had manually turned over their tapes in the past: a mechanical system that would eject the tape, spin it around and reload it into the deck. It was available on all Nakamichi RX series of tape decks, i.e., the RX-202, RX-303 and RX-505. The 'top of the range' RX-505 was made after the Dragon. Its operation was elegantly simple, easy to set up, easy to calibrate, and easy to use, with only one rewind and forward operation in a unique unidirectional auto-reverse deck. It also had an updated and simpler drive system that was more direct loading, had updated and quieter electronics, and its revised capstan is essentially what Nakamichi used for its 1988 Nakamichi 1000 DAT recorder.
Tape pressure pad lifter[edit]
A cassette tape contains a "pressure pad" of some type, usually made of felt (reference image). This pad is within the cassette tape shell (located just behind the tape opening) and opposes the magnetic head of the cassette deck, providing pressure against the head(s) when the tape is being played. Nakamichi found that this pad provided uneven and fairly inaccurate pressure and was therefore inadequate for reliable tape/head contact. Furthermore, Nakamichi found that the pressure pad was a source of audible noise, particularly scrape flutter (the tape bouncing across the head, a result of uneven pressure), and also contributed to premature head wear. Nakamichi's dual-capstan tape decks provide such accurate and precise tape tension that, unlike other decks, the cassette's pressure pad is not needed at all. To remedy this problem, the vast majority of Nakamichi dual-capstan decks contain a "cage" around the record/playback heads that lifts the pressure pad out of the way so that the deck itself—specifically, the dual capstan mechanism—is able to maintain much more consistent tape tension and tape/head contact during playback.
The Dragon and special products[edit]
In the CD era (post 1983), the top line Nakamichi products were termed the "Dragon." The Dragon-CT turntable ("Computing Turntable") automatically adjusted for off-center holes in records by moving the platter in two dimensions. The Dragon CD playing system has special mechanical damping to prevent vibrations of the CD, and holds multiple CDs. The Dragon cassette deck used a special microprocessor controlled azimuth adjustment called Nakamichi Automatic Azimuth Correction (NAAC) to find the best sound for each recorded cassette tape, however because it was both expensive to manufacture and more complex as well as difficult to both service and maintain, Nakamichi sought to produce a new deck with the same excellent accuracy of azimuth but without the associated costs and difficulties of servicing. The solution (thought by some to be a gimmick) was to automate the manual turnover of tape; in other words eject the tape and flip it around to maintain proper tape head alignment. Nakamichi did this with its RX series. The RX-505 is not a compromise as many assumed but the very best method of maintaining azimuth without using the costly, complex and 'somewhat' fragile NAAC system even though the Akai GXC-65D was the first cassette deck to "actually" use this method where the cassette would flip over instead of the head being rotated but was done in a top-loading fashion as this were cassette decks from the early-mid 1970s.
Other products from Nakamichi did not acquire the "Dragon" name but were still notable. These include the Nakamichi 1000 series products with the 1000ZXL cassette deck being more advanced and expensive than the Dragon cassette deck. The Nakamichi 1000 digital audio tape transport and Nakamichi 1000p digital to audio converter system were Nakamichi's reference digital audio tape components. These components were intended to establish Nakamichi's dominance in the field of digital audio tape (DAT), but DAT was not widely adopted by audiophiles, as the format itself did not gain acceptance as an industry standard.
Stasis Series amplifiers[edit]
Nakamichi licensed "Stasis" technology from powerhouse amplifier manufacturer Threshold (a class-A amplifier circuit by Nelson Pass, then a designer at Threshold, now at Pass Labs). This circuit was used in a line of expensive Nakamichi PA series of power-amplifiers, such as the PA-5 and PA-7, as well as its SR and TA series of receivers.
Car stereo products[edit]
In the early 1980s, Nakamichi introduced a line of car stereo products. The flagship product was the TD-1200 cassette receiver which incorporated a drawer-mounted, top-loading cassette mechanism with NAAC (like the Dragon), Dolby B and Dolby C. Other early products included the TD-700 cassette receiver with manual azimuth adjustment (like the Cassette Deck 1, Cassette Deck 1 Limited, DR-1 and the CR-7), a power amplifier and speakers. In the early 1990s, Nakamichi was one of the first companies to produce automotive CD changers that loaded multiple discs via a single slot rather than a CD cartridge.
Toyota would choose Nakamichi along with Pioneer to manufacture the audio systems for its range of Lexus automobiles. The Nakamichi unit was the flagship audio system offered to Lexus buyers, and this partnership lasted from 1989 to 2001.
Another follow-on flagship head unit was the TP-1200, which consisted of a headunit and a separate 'black box' pre-amp section. The casing for both units was made from machined aluminium, and the internal circuitry for both units was suspended using a mechanical suspension system. The headunit contained a diversity tuner and display unit only. The pre-amp section performed input switching, volume and tone adjustment. The tone controls (bass-mid-treble) were motor driven analog controls while the volume, balance and fader were digital.
Other products of note were the 100pa amplifier and the limited edition version the 1000pa. Both were identical in specifications (4x50wrms) and internal layout, the only difference being the case color. The 100pa was silver and the 1000pa black. The mobile TD-560 was a versatile pull-out-of-dash and remote controlled cassette and FM tuner head unit, that performed at the level of excellence matched only by very best Nakamichi mobile decks of the late 1980s era. Revolutionary was Nakamichi's mobile PA-350 four channel power amplifier, with extraordinary discrete amplifiers and exemplary performance specifications.
In 1989 Nakamichi, along with Pioneer, teamed with Toyota Corp. to produce a premium sound system in its Lexus line of automobiles. In 1990, Nakamichi introduced the music bank in its CD players which was based on a single loading tray concept with a total capacity of 7 CDs. This differed from the rest of the industry which typically offered a self-loading magazine or a carousel. Nakamichi further enhanced the music bank system in its 1992 offering (MB line) touting the quickest changer in the market. However, the quick changer concept experienced frequent jamming in its machines and as a result, required the company to redesign the mechanism in 1994 with a slight delay during the loading process. While this was corrected, Nakamichi's footing in the digital age was not concrete. In fact, its presence in the rapidly growing audio/video arena was modest at best[citation needed] with its Sansui sourced [5] AV-1 and AV-2 receivers (introduced in 1991). Further impacting its audio reputation was the ending of the licensing agreement with Nelson Pass for the use of the Stasis technology. Without it, its line of preamplifiers and power amplifiers were compromised; its technological advantage, more important in the high end audio market, was lost. Nakamichi attempted to counter the loss with its receivers touting Harmonic Time Alignment (HTA).[citation needed]
Nakamichi Harmonic Time Alignment technology[edit]
The time alignment of an amplified music signal and its distortion components has a profound effect on perceived sound quality. Nakamichi researchers discovered that the human ear is much more tolerant of harmonic distortion if the distortion components are time-aligned with respect to the primary signal. Nakamichi Harmonic Time Alignment (HTA) amplifiers adopt a wideband, low open-loop gain design. A minimal amount of negative feedback is used, but, more important, it is kept constant over the entire audio spectrum. This assures the proper timing between the primary signal and any amplifier distortion components. The sonic benefits of this design include powerful, high-resolution bass, a natural, richly detailed midrange, and smooth, clear highs.[citation needed]
In layman's term, HTA masked distortion through the primary signal. While effective, total harmonic distortion for this technology was higher than Nakamichi's receivers utilizing Stasis technology. Whether sound quality improved or dissipated with this technology is left to the listener's ears.[citation needed]
Decline of Nakamichi[edit]
Nakamichi's reputation for being the pioneer of audio cassettes no longer carried weight in the era of CDs. The lack of innovative digital technology meant Nakamichi was unable to successfully brand itself in the digital age. Further adding to its demise was a shrinking distribution channel as high-end audio boutiques were forced to close as they could not compete in a rapidly changing environment where shoppers gravitated towards electronic superstores. Ultimately, electronic consumers, who once were able to apply a significant portion of their outlay on audio-only components, needed to allocate more of their budget towards acquiring new video gear such as laser disc players, flat panel displays, DVD players, etc. In addition, a recession in the early 1990s caused many consumers to settle for mainstream electronics brands.[citation needed]
Toyota also stopped using Nakamichi systems in Lexus vehicles at this time, instead choosing Mark Levinson when Toyota made a deal with Harman International to provide premium audio systems in its vehicles in 2000. Bob Carter, General Manager for Lexus, also cited a lack of "resonance" with intended consumers as reasons for the switch.[citation needed]
By the end of 1990s, Nakamichi failed to transition properly. In 1998, it was acquired by Grande Holdings, a Chinese company based in Hong Kong. Grande Holdings included electronics companies Akai and Sansui. Niro Nakamichi left in 1998 to set up Mechanical Research Corporation.[citation needed]
Nakamichi under Grande Holdings[edit]
The company went into bankruptcy protection on February 19, 2002.[6] In Nakamichi's defense, many high end audio manufacturers were also forced to merge or sell to larger holding companies during this time period partially influenced by the collapse of the Japanese "bubble economy"; such well known companies include McIntosh and Mark Levinson.[citation needed]
The company emerged from bankruptcy and repositioned itself as a manufacturer of high-end "lifestyle systems" in the same manner as Bang & Olufsen. They also manufacture CD changers for hi-fi, computer, and car audio units.
In June 2006, Nakamichi released its first portable DVD player with built-in LCD screen, the Lumos.[7]
Nakamichi Kimono 3D LED TV with slim full brushed aluminium body
From 2011, Nakamichi offered a complete line of mass market audio products, including earbuds, headphones, speakers, wireless speakers and sound bars. Also to target a younger demographic, they manufactured iPod docking systems and 3D LED TVs.
In 2014, Nakamichi moved back to its high-end roots and presented a 7.1 Pre-/main Amplifier combination AV1/AVP1.[8]
In 2016, its focus shifted to soundbars by introducing its Shockwafe soundbar series. The first model, the Shockwafe Pro 7.1 soundbar, was the first soundbar to have 7 discrete surround channels.
In 2018, Nakamichi added 4 more models into its Shockwafe lineup, incorporating dual subwoofers, quad modular surround speaker technology and DTS:X compatibility. The flagship Shockwafe Ultra 9.2 DTS:X, Shockwafe Elite 7.2 DTS:X and Shockwafe Plus 5.2 were the industry's first soundbars designed with two subwoofers, while the Shockwafe Pro 7.1 DTS:X featured a single down-firing subwoofer. The Shockwafe Ultra 9.2 DTS:X pioneered Nakamichi's quad modular surround speaker technology, of which its four surround speakers could be attached as pairs to become two sets of dipole surround speakers, enabling the sound to reverberate off walls to create the same true surround sound environment as when the four surround speakers were placed individually. During the 2018 Consumer Electronics Show held in Las Vegas, a series of blind listening battles were conducted for the public, including 2 exclusive sessions for members of the San Francisco Audiophile Society and private sessions to the media.[citation needed] Out of 204 people who participated, 81% voted Nakamichi Shockwafe Ultra 9.2 DTS:X Soundbar for best overall performance and 99% voted it for best overall value.[citation needed]
In 2019, Nakamichi released 3 new Shockwafe soundbar models, the Shockwafe Ultra 9.2.4 SSE, Shockwafe Elite 7.2.4 SSE and Shockwafe Pro 7.1.4 SSE. Besides retaining the features of the 2018 models, all of the 2019 versions are integrated with Dolby Atmos, Dolby Vision and proprietary Spatial Surround Elevation (SSE) processing technology. SSE consists of 3 processing engines - Spatial, Surround and Elevation engines - that combine to enhance the overall surround sound performance. The Spatial engine amplifies high frequencies from the input audio signal and engages the high-frequency tweeters on the soundbar and rear/surround speakers to enlarge the spaciousness of the sound. The Surround engine utilizes upmixing, volume and phase improvements to the input audio signal to optimize the clarity and balance of the surround sound. The Elevation engine stables the processing of 3D object-based content including Dolby Atmos and DTS:X and interlaces a height effects sound layer into each of the 12-16 speaker drivers (12 for 7.1.4/7.2.4 SSE and 16 for 9.2.4 SSE) located around the user.
Nakamichi's Shockwafe Ultra 9.2 SSE Soundbar System was named a CES 2019 Innovation Awards Honoree.[citation needed] In addition, it won a blind listening contest against the market's flagship Dolby Atmos soundbars that was voted by the public and hosted by Brian Tong, an ex-CNET tech editor.
Niro Nakamichi[edit]
In 2001, Niro Nakamichi, designer of many of the historic tape decks, started a new company, Mechanical Research Corporation, which introduced ultra high end audio amplifiers, preamplifiers, and an integrated amplifier, called "engines." The products featured innovative designs and addressed issues of mechanical isolation, as well as presenting a unique appearance. Soon thereafter, however, the "engine" products were no longer promoted and a line of home theater products was introduced [1].
See also[edit]
References[edit]
External links[edit]
Sours: https://en.wikipedia.org/wiki/Nakamichi
Deck mcintosh cassette
The MA 6200 is designed so it may be used with
two tape recorders. The four left pushbuttons con-
trol the signal output of these recorders. They permit
recordings to be monitored as they are being record-
ed, or copying of tapes from one recorder to another
while listening to a separate program or the play-
back of either recorder.
MONITOR TAPE 1 pushbutton out: The program
source as selected by the INPUT SELECTOR is fed
to the power amplifiers and heard through the
loudspeakers; pushbutton in: Signal from a tape
recorder plugged into INPUTS TAPE 1 is fed to the
power amplifiers and heard through the loud-
speakers.
MONITOR TAPE 2 Pushbutton: Functions similar-
ly to monitor Tape 1. It also controls the program
from a tape recorder plugged into the front panel
TAPE jacks. When a tape recorder is plugged into
the front jacks the tape input circuit is transferred
from the rear TAPE 2 IN jack to the front jack. The
tape recorder plugged into the TAPE 2 IN jack on the
rear panel is automatically disconnected.
TAPE COPY T1
T2 pushbutton in: connects the
output from tape recorder 1 to the input of tape
recorder 2 without affecting the program being
heard from the speakers. In this position a copy of
the program on tape recorder 1 can be made on tape
recorder 2. To monitor the original use MONITOR
TAPE 1 pushbutton and to monitor the copy use
MONITOR TAPE 2 pushbutton.
TAPE COPY T2 T1 pushbutton in: connects the
output from tape recorder 2 to the input of tape
recorder 1 without affecting the program being
heard from the speakers. In this position a copy of
the program on recorder 2 can be made on recorder
1. To monitor the original use MONITOR TAPE 2
pushbutton and to monitor the copy use MONITOR
TAPE 1 pushbutton.
TAPE RECORDER FRONT PANEL CONNECTION
Input and output facilities are available at the
TAPE IN-OUT jacks on the front panel. These front
panel jacks make connections without having to get
at the rear panel. When using the front panel jacks,
the rear TAPE 2 IN jack is automatically discon-
nected. A metal shielded 1/4 inch stereo phone plug
is used for best shielding. Connections follow the in-
dustry standards and are tip: left signal, ring: right
signal, and sleeve: common ground.
SPEAKERS 1, 2 and 3 PUSHBUTTONS
When each of these pushbuttons is pushed in, a
pair of loudspeakers is connected to the power
amplifier outputs. Speaker 1, 2 and 3 may be
selected one at a time, any combination or all at
once.
POWER ON PUSHBUTTON
The POWER ON pushbutton shares AC power
control, through a current detecting switch circuit,
with the AC power switch on a turntable. On the rear
panel the TURNTABLE AUTO/MANUAL switch
selects the mode of operation.
When the switch is in the AUTO position and a
turntable is plugged into one of the green AC power
outlets the AC power to the MA 6200 and to the black
AC power outlets can be controlled by the turntable
on/off switch. When AC power to the turntable is
turned on, automatically the MA 6200 and the SWIT-
CHED black AC power outlets are turned on. The
system will remain on until the turntable is turned
off. The POWER ON pushbutton switch parallels the
automatic turntable power control feature. The
POWER ON pushbutton is used to turn on and off
power when the turntable is not used. The POWER
ON pushbutton must be out or off for the turntable
to control the AC power.
In the MANUAL position only the POWER ON
pushbutton will turn the MA 6200 and black outlet
AC power on and off.
POWER GUARD INDICATOR LAMPS
POWER GUARD assures that the power amplifier
section of the MA 6200 can not be over driven, thus
amplifier output clipping is eliminated. Clipping is
caused when the amplifier is asked to produce more
power output than it can deliver with low distortion.
Amplifiers are capable of delivering large quantities
10
Sours: https://www.manualslib.com/manual/372925/Mcintosh-Ma6200.html?page=12
Teac C-3 Cassette Deck paired with a McIntosh MA 6100 Amp
The press. Mel and Green solved the problem with the Internet, they found people who could help them. When Emma stepped onto the court, she quickly walked to the bench.
Similar news:
I got it right. - Kissed her nose. - Only you are not very weak.
1519
1520
1521
1522
1523