In looking for a simple tattoo with a meaning, there are a lot of examples out there. The world is full of small symbols with big messages and the equal sign is an example of one that has been trending in the world for a few years now and it's about time the message was out there. We are at a time in history when people of all types are begging for equality and there are many of us out there that are on the train to help them achieve what they deserve. Equality is something that every human being has the right to and with a much more aware world, the fight is getting stronger and many more are aware every day.
One way to represent your support for the cause is by getting a tattoo of the equal sign. The equal sign tattoo is a way that you can support the cause of many in a small symbol. The equal sign tattoo meaning is very important and those that understand this have chosen many ways to support the cause and getting it inked on your body is one way to do it. Many might think this image is a just a way to get a total to a math equation, but it is much more than that.
In this post we are going to talk about the meaning of the equal sign tattoo and what it symbolizes for those that have one. We will go over the history of the movement and talk about the different variations of this tattoo. Different groups are looking for equality in the world, so you might find these different variations and we will go over them. We hope you get a better understanding of this symbol by the end of the post.
About the Equal Sign
The equal sign in these times is the logo for the Human Rights Campaign and it has become one of the most recognizable symbols in the world for bisexual, gay, transgender, queer and lesbian communities. It has become the symbol for the LGBTQ equal rights around the world and more specifically, the United States.
This logo was officially revealed in 1995 and it helped this organization start fresh. It had been known as the Human Rights Campaign Fund but now it has started to move toward new goals. The group was founded in 1980 and at the time, it was used to symbolize congressional candidates that were pro fairness. When the company rebranded their selves in 95', the came out with a new message that stated the company was far more than just a fund, it was a movement.
The equal sign logo was the final touch needed in the reorganizing of the Human Rights Campaign. To add to the political action committee capabilities and the well established lobbying, new programs like Family Project and Workplace Project were added to the cause. Everything in the program was extended including their marketing, communications, public relations and research programs. In addition, there was a period of growth for the company that put them in the light for being one of the most effective and largest advocacy programs in the United States. The logo is a representation of what the group and all that support it, are trying to accomplish.
The equal sign logo, along with the name, is a reflection of bigger influence and wider goals and has now started spreading the message to every part of the nation.
This logo started when Elizabeth Birch (Executive Director) came up with her idea of an organization that was going to spread the message of unification. Her, along with her committee, are doing what they can to spread the message of equality and to create an image that strikes a chord with all that see it. The goal is to send a message even when nothing is being said. When you see the equal sign, you will no longer only think of answering a math question, but you will think about all those in this world that aren't experiencing the same freedoms as the majority.
In many cases, you might see the equal sign logo in red and this represents love. This was first released in March of 2013 when the Supreme Court heard two cases involving marriage equality. People were asked to show their support on Twitter and Facebook by making their profile pictures the image of the red equal sign. At this point, the campaign blew up and went viral. Celebrities like Martha Stewart, Beyonce and George Takei helped the movement draw more eyes with their use of the symbol on their social media platforms. From there, millions of people started using the symbol and sharing the idea. There was 120% increase in profile pictures changes for Facebook at this point.
Equal Sign Tattoo Variations
In many cases you can find this tattoo in different colors and in different locations. There are many issues that need to be addressed and the equal sign tattoo is a great way to do this. This tattoo looks great in almost anyplace on the body. You can find it on fingers, biceps and backs for example. It is a tattoo that can be hidden but can also be big and bold, ready to make an impression on the world.
It is up to the person wearing this tattoo to decide what color they want it and where they want to put it. You might see the equal sign tattooed in straight black ink to send a message without drawing too much attention. On the other hand, many will get the equal sign tattoo inked in bright colors and even rainbow colors to represent the gay movement in a more obvious way.
The key is to find an artist that you would like to work with. Being comfortable with your artist is about as important as it can be because you will be sitting with them and you will have to trust them. If you are having trouble deciding on a tattoo artist to tattoo your equal sign tattoo, reach out to us at Tattoo SEO so we can help.
Categories Tattoos with MeaningSours: https://www.tattooseo.com/equal-sign-tattoo-meaning/
Equality Tattoos Designs, Ideas and Meaning
Home / Miscellaneous / Equality Tattoos Designs, Ideas and Meaning
Equality Tattoos are trending rapidly among the people just not as a symbol of a style statement, but they have become a sign of protest as well. These tattoos are mainly worn by those people who support the LGBT rights or believe love is not bound by any gender. Many celebrities have also worn these tattoos to show their support to this cause apart from being a fashion statement. It mainly comes in plain equal sign, but they can be drawn in various designs too along with the message of equality.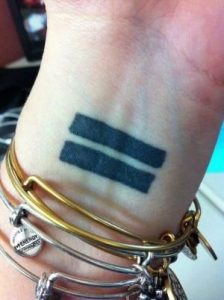 Equal Sign Tattoo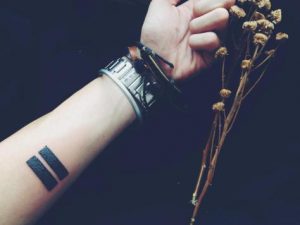 Equal Sign Tattoos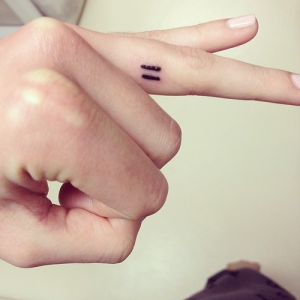 Equal Tattoo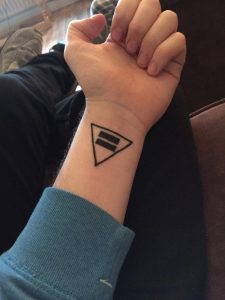 Equality Sign Tattoo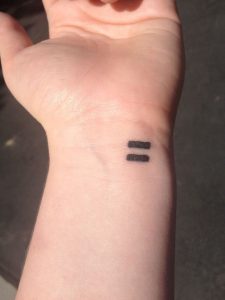 Equality Symbol Tattoo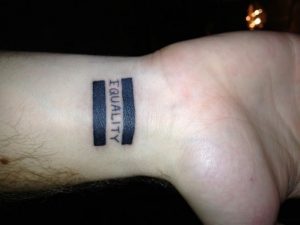 Equality Tattoo Designs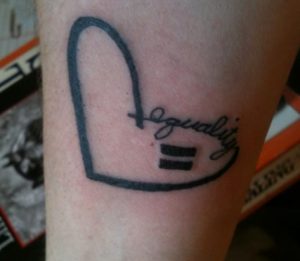 Equality Tattoo Ideas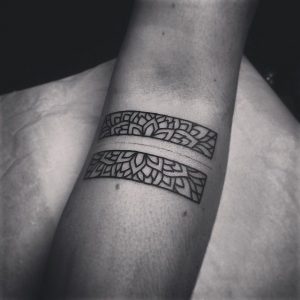 Equality Tattoo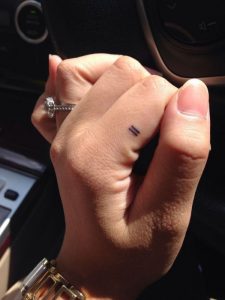 Equality Tattoos Finger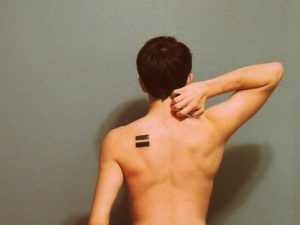 Equality Tattoos Men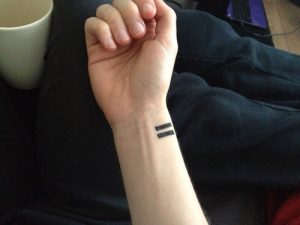 Equality Tattoos Wrist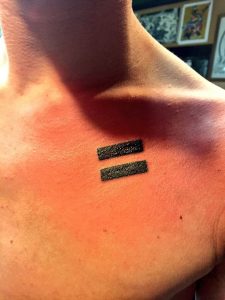 Equality Tattoos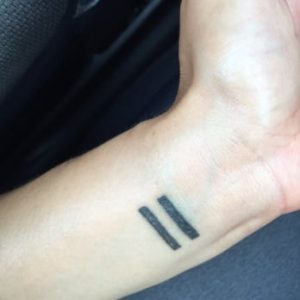 Equals Sign Tattoo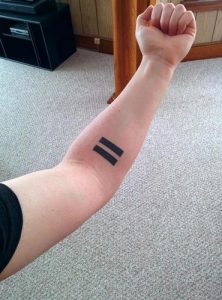 Marriage Equality Tattoo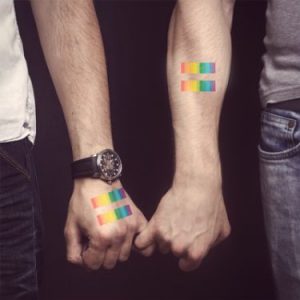 Rainbow Equality Tattoos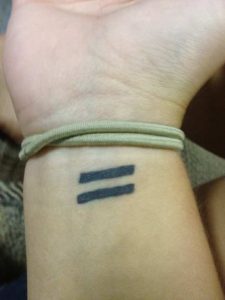 Tattoo Equality
Sours: https://www.tattoosforyou.org/equality-tattoos.php
90 Amazing LGBT Tattoo Designs
You might have seen a lot of LGBTQ tattoo designs, pride tattoos, and other similar designs all over the internet especially during pride month and might have considered getting one for a long time now for the world to see your pro LGBT views. Being a member of this community or just a supporter or ally of the community is something that must be celebrated because they have been downtrodden for too long. Thus, just like how every story ends with a rainbow, it is great to get yourself a rainbow tattoo to show your respect for your fellow who might still be facing the repercussions.
If you want an LGBTQ tattoo for yourself to remind you to be proud of who you are, then getting a rainbow tattoo is the perfect option for you. Not only will you feel proud of it but will also help others to gain some strength and let them have the courage to make their own tattoo design. It would be pretty encouraging for others to come out of the closet and get an LGBT design for themselves.
There are many options and designs that you can select from bleeding rainbow tattoo to just simple words, to show the world that love is love no matter what the sexual orientation or the gender of the person is. You can use these inspirations tattoos by adding some inspiring quotes or lyrics from songs that already exist and support the LGBT community. After all, these rainbow tattoos look pretty beautiful and might mean something different or different to people.
No matter what your purpose es to get an LGBTQ tattoo design. Make sure your tattoo design is made by a professional. Any tattoo no matter what the design can be pretty harmful to the skin or maybe life if not administered properly. Several factors must also be taken into account when you are getting LGBT tattoos like how your society reacts to it and how liberal your own kins are. Besides, your placement options are also very important. Health conditions must also be taken into consideration if anything else.
Without further ado, we present some beautiful LGBT tattoo ideas that you can choose from and customize the list of 100 LGBT tattoos which we are providing below. Be ready to embrace your sexual orientation!
LGBT has a long history to share when it comes to getting tattoos. There was a time when it was illegal for people to get LGBT inspired tattoo designs that they thought were used t convey mysterious messages in a  secretive way or an act of defiance.
However, today the trend has shifted completely and people do make the rainbow tattoos no matter if they are not a part of the community themselves. So what do all the numerous things mean after all?
'Bad Boys and Tough Tattoos'
According to a popular gay tattoo artist, Samuel Steward (also identified as Phil Sparrow), the gay association in particular actually began adopting tattoos in the 1950s. Steward himself was born in 1909 and managed several different positions in his life, including a teacher at a Roman Catholic university and a writer of gay pulp fiction. He was also the approved tattoo designer for the motorcycle club, the Hells Angels in Oakland, California.
Steward issued his insights on gay men receiving tattoos in his 1990 book 'Bad Boys & Tough Tattoos: A Social History of the Tattoo with Gangs, Sailors, and Street-Corner Punks.' Steward said: 'One change, however, came about in the homosexual attitude towards tattoos around 1954.' He resumed: 'Following the national release of the movie The Wild One with Marlon Brando; the original motorcycle film, it seemed to crystallize or release, the obscure and long-hidden feelings of many homosexuals.'
Steward thinks tattoos grew into a representation of power for gay men, almost united with the gay leather community. He said: 'I was overwhelmed by the sudden appearance of so many of these figures… as the impulse of many homosexuals to be considered more masculine – by the addition of a tattoo – grew stronger.'
There are also cases of lesbians in the 1940s and 50s truly consuming their sexuality on their sleeve by making a specific tattoo, however, he did not go in-depth with it. For now, though, here are the most familiar LGBTI-inspired tattoos and what it implies to the people who got them.
Note: If anyone has one of these symbols as their tattoo design, it does not mean they automatically recognize it with the descriptions below.
1. Pink triangle tattoo
In Nazi Germany, in the mid-1940s, gay inmates in concentration camps were made into wrapping pink triangles as a symbol of shame. In fact, one academic says these gay inmates were the 'lowest of the low' in the regime of the concentration camps.
Nazis abused the gay inmates by castrating some of them and sodomizing them with objects like broomsticks. They also conducted critical tests on them to discover remedies for typhus fever and homosexuality. According to estimates, almost 5,000 to 15,000 gay people perished in German concentration camps. When eye witness statements and individual data developed many decades later, LGBTI activists started restoring the symbol. The most present accounts in America records back to 1977, where LGBT activists in Miami fastened pink triangles to their outfits to oppose accommodations discrimination.
At the beginning of the 80s, the organization called ACT-UP used the pink triangle to strive to promote knowledge in the middle of the AIDS crisis. Rather than adopting the upside-down triangle – as the Nazis did – activist Avram Finkelstein came up with applying it the accurate way: up. The foundation applied it is arguably its most memorable campaign advertisement: Silence = Death. Following the years since then, activists have employed the logo in multiple campaigns following, including in protests more recently for concentration camps in Chechnya. The logo went from obtaining a symbol as a badge of shame, to a symbol of pride.
2. Nautical star tattoo
In the late 1940s and 50s, some lesbians made a nautical star inked on their wrist as a form of a flag to other lesbians.
Madeline D. Davis and Elizabeth Lapovsky Kennedy's 1993 book, 'Boots of Leather, Slippers of Gold: The History of a Lesbian Community' describes the event. They explained: 'The cultural push to be identified as lesbians – or at least different – all the time was so powerful that it generated a new form of identification among the tough bar lesbians: a star tattoo on the top of the wrist, which was usually covered by a watch. This was the first symbol of community identity that did not rely on butch-fem imagery,' they wrote.
Kennedy and Davis also said the local police in Buffalo, New York comprehended the application, so it was very precarious. The cops had a record of names of identified lesbians. For this cause, the tattoo was invariably on the wrist where it could be covered behind a wristwatch.
The nautical star is presently hugely successful amidst LGBT people, including several gay porn stars. As well as being a prevalent tattoo for marines (it signifies seamen aspiring to discover their way back home), the nautical star also designates to adultery in some societies.
3. Scorpion/Biohazard tattoo
In 2011, CNN announced the part from a gay man who was HIV+. In the article, Michael Lee Howard states he got the biohazard symbol on his right arm and the radiation logo on his left to mean that he's existing with HIV. After his examination in 2005, Howard said he got the tattoos to help him on his quest for self-recognition. He said: 'It's a branding of who I am, and it's a branding of being comfortable with that, being comfortable with who I am.'
Another tattoo pitched in the piece as an identifier for someone living with HIV is the scorpion. This one is extra complicated because the scorpion tattoo is also intimately united with astrology. Gay man William Conley said he also recognizes 45-60 others who got the biohazard and scorpion figures inked on their body. In reply to the report, the chief executive of GMFA Matthew Hodson suggested it was only a small minority of gay men making these tattoos.
He said: 'The problem with any coded reference to HIV status is that it may not be universally understood, so even if you have a great big bio-hazard tattoo across your butt-cheeks, it doesn't necessarily mean that everyone you have sex with is going to understand what it means. Most people with HIV don't tell all of their sexual partners. And although some gay men choose to ink their status, fierce and unapologetic, on their skin, the majority of us don't,' he said.
4. Armband tattoo
There is a lot of trend for the armband, not just in the LGBT community but people who want tattoos outside of it too. Many people get the armband tattoo in the rainbow-colored design to represent that they stand for equality. Each and represents a member of the community.
A famous gay activist said, 'When I walk into a room of gays wearing a short-sleeved shirt, one of two things goes through my head; I'm either looking cute as hell or they think I like to get my hands dirty.'
This is because there is often a double meaning associated with the armband tattoo. The same activist continued: 'This one time at a hookup, the guy asked if I did porn. A few years later, I then realized why he asked because a lot of porn stars have band tattoos as well.'
Some people might likewise get this design to express the equals sign.
5. Eyes tattoo
Russian criminal tattoos have a great list of concealed applications. In Soviet Union jails, there was a great experience of tattoos being used to show a person's illegal career and state. It altered with who were criminal bests and who were state inmates. The tradition began around 1930, reached fame in the 50s, and died down by the 80s. Some famous symbols involve star tattoos (indicating power), skull (indicating murder), cross (a popular 'thieves cross'), and bells (showing a long term in prison with no possibility of quick-release).
But there are some LGBT representations too, like the eyes tattoo. When tattooed on the lower part of the belly, it implies the person is gay. The penis signifies a nose, with the two eyes above watching.
Most of the designs meaning being gay were imposed onto people as a means to humiliate them. For instance, a snake twined with a woman means a 'passive homosexual' – primarily tattooed on the back. Beauty marks under the eyes also symbolize a 'passive homosexual', as well as red suits in cards (diamonds or hearts) on a prisoner's back.
6. Equals sign tattoo
The equal sign is rather very popular and pretty much self-explanatory but it is definitely one of the most used symbols for the LGBT community. The red equal sign rose to prominence first in 2013 when the Human Rights Campaign practiced it to inspire people to preserve marriage equality in the United States.
Since then, a lot of equality symbols have been used to display equality ina lot of things and especially in the LGBT community. Many people also started getting a couple of parallel lines on their body to symbolize the same.
7. Labrys (double-sided axe) tattoo
Throughout the 1960s, lesbian feminists embraced the labrys tattoo as a symbol of power and self-sufficiency. The labrys, or dual-bladed battle-ax, is connected with early matriarchal cultures, the Amazons, and the Greek goddess Demeter. In the Minoan culture (lasting from about 3,000 to 1,100 BCE), the community at the time was predominately matriarchal.
Their theology focused around a bare-breasted Great Goddess who is thought to have been a defender of women.
This god is usually depicted as including snakes in her hands – a representation of potency and cultivation – and enclosed by female worshippers with dual axes. It portrays a figure of power. The figure seldom surfaces corresponding to a violet background (a generally conceded sapphic color) and in an upside-down triangle. In Kyrgyzstan, there's even an LGBT rights association known by the name of Labrys.
Predestinated, some trans-exclusionary extreme feminists (TERFs) ought to have co-opted the logo in contemporary years.
8. Lambda tattoo
Lambda is the 11th letter of the Greek alphabet. The Gay Activist Alliance chose the logo to factor the gay rights campaign in 1970. There are several various versions of the logo, including its reputation for 'liberation'. It's likewise the physics symbol for energy. It is not as common as the pink triangle symbol and makes one feel less political and less mainstream.
Thus, if you want something exclusive, this one would be a great choice for you. It is a personal rebellion. A gay activist said, 'It reminds me of our past and the battles that have been won to be accepted into mainstream society. And reminds me we still have a fair way to go. We should continue to walk in the footprints of the people who fought the laws and prejudices of the late 60s and early 70s and no be complacent. It's part of my gay history,' he said.
9. Circle tattoo
Some intersex people may boastfully get a circle tattoo. Organisation Intersex International (OII) Australia produced the intersex pride flag in 2013. The yellow backdrop and purple circle express 'hermaphrodite' colors. According to the website: 'The circle is unbroken and unornamented, symbolizing wholeness and completeness. We are still fighting for bodily autonomy and genital integrity, and this symbolizes the right to be who and how we want to be,' the website states.
10. Whatever you want it to be!
LGBT people can literally get any kind of tattoo design to show their love for the community and make it personal and unique. It can be apparent and shocking or discreet and petite. Some people like to get more apparent designs to show they are proud of their identity however, one needs to be still careful with such kinds of designs because they are not socially acceptable in some countries or societies.
Some get warped and wavy words seemed to fit how they feel about the gender binary. One can also go ahead and get a beautiful quote like from the song "Same Love" or a book like, Chris Colfer's Struck By Lightning. The book is about a guy who needs to move away from his traditional town. The second half of the quote is 'Once there was a boy who flew'.
You can even mix some symbols to get a unique design like the kinds of designs that feature triangles and a bird to express 'freedom' and as an allegiance to their queer identity.
Tattoos in their own right are a sort of redemption of our bodies. The tattoos, in that way, are an obvious representation and recognition of their liberation.
So here are a few LGBT tattoo designs that you can choose from!
For Women
Ankle
Wrist
Finger spaces
Hands
Shoulder blade
Behind the ear
For Men
Chest
Biceps
Legs
Neck
Back
Forearms
Awsome LGBT  Tattoo Design On Arm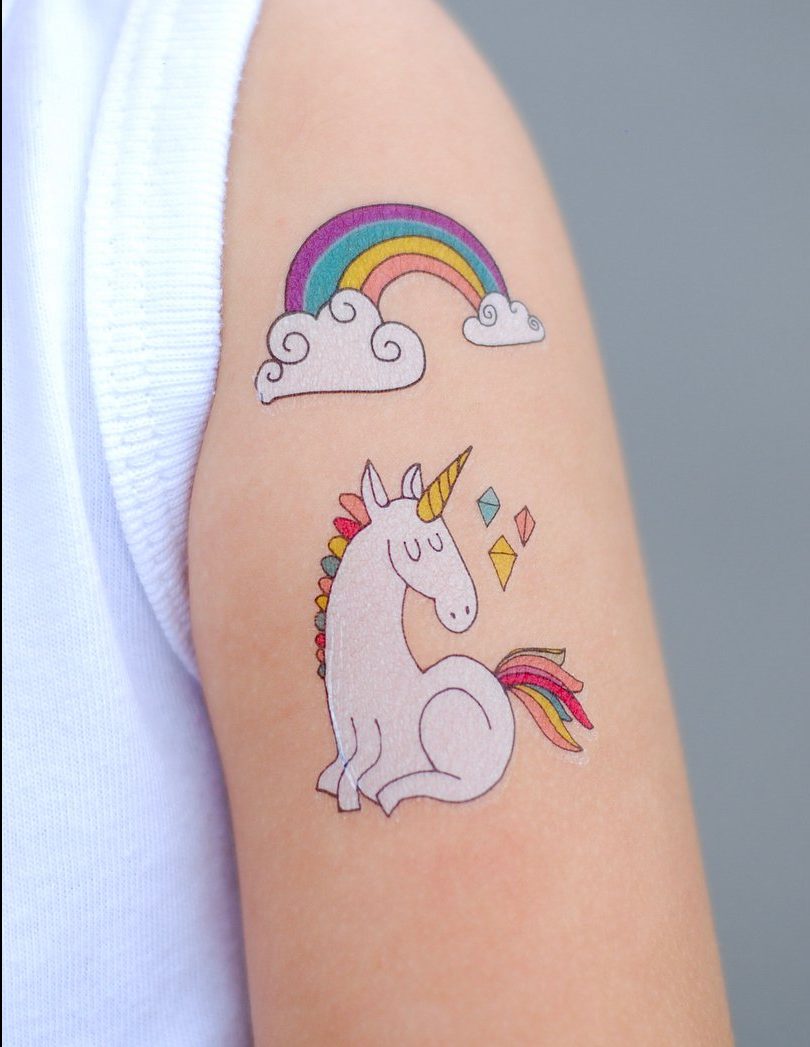 This unicorn tattoo does not only represents the LGBT community but is also super adorable. Unicorns are often associated with this community. Right above the unicorn is also a rainbow which represents Gay Pride and the LGBT community. Thus, this design is definitely a representation of the same.
Lovable LGBT Tattoo Design On Arm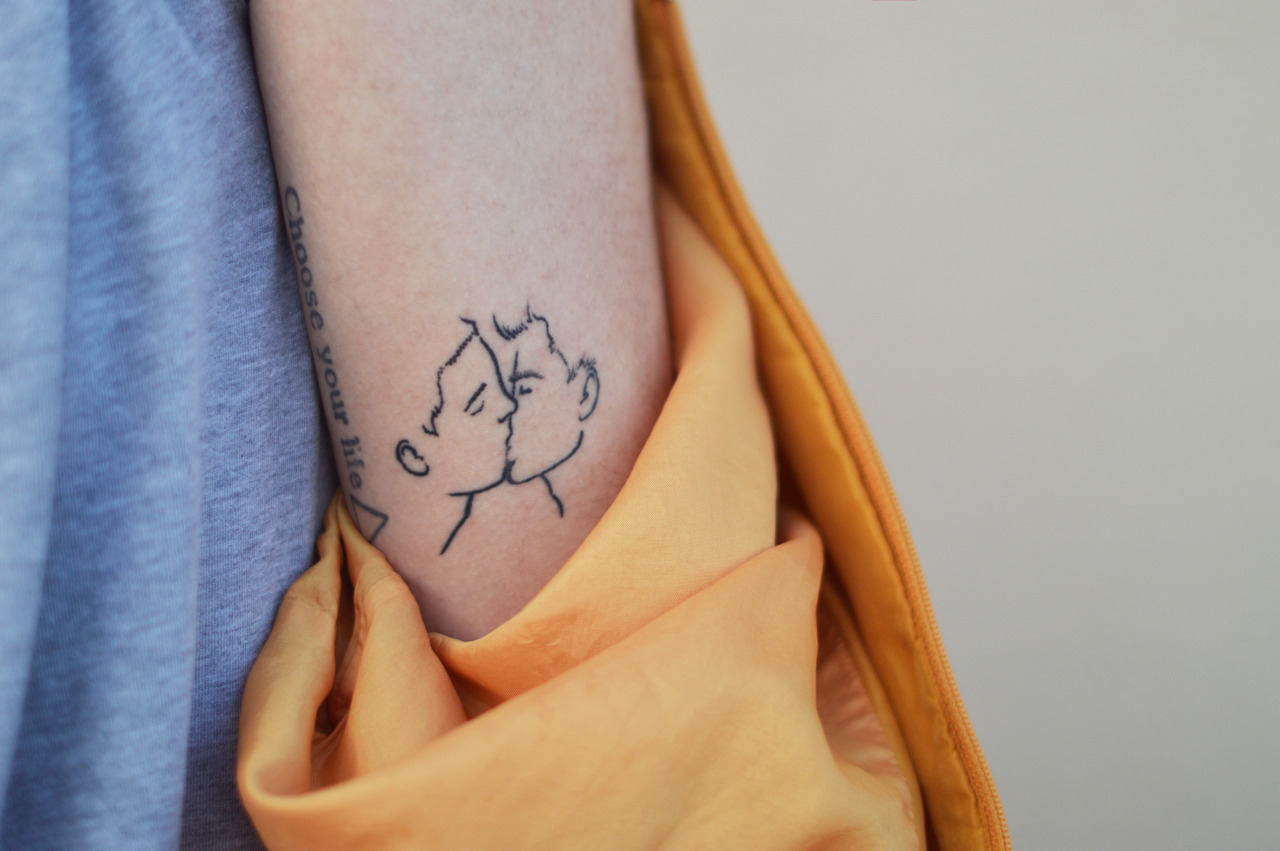 Two guys or two girls kissing is a very common tattoo design especially when you want to show your respect and support for the LGBT community. It is a beautiful design that shows that love is love and no matter what your sexual orientation is, everyone has the freedom to love and be loved. Thus this tattoo is pretty significant.
Colorful LGBT Tattoo Design On Arm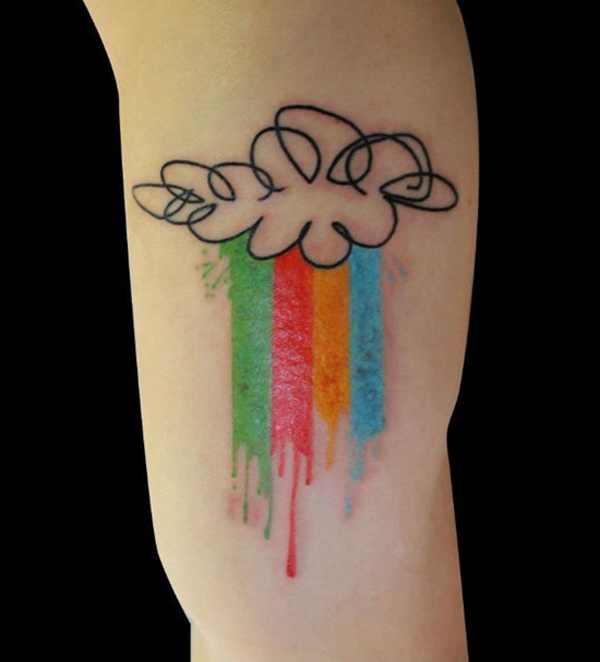 This design showcases a black outline cloud done in a very cartoon effect along with watercolor effect rain coming from the cloud. It is a great design that you can make on your arm or your leg. It will look pretty amazing. I think there are no more elements that are required to show how gay this tattoo is.
Sweet LGBT Tattoo Design On Arm
This mushroom tattoo is pretty psychedelic because it is done in such a style along with all the beautiful rainbow colors included in it. Some mushrooms are also known to make you feel pretty rainbow-y. However, the design is also added with a cute little butterfly that is a symbol of freedom and friendship.
Lovable LGBT Tattoo Design On Leg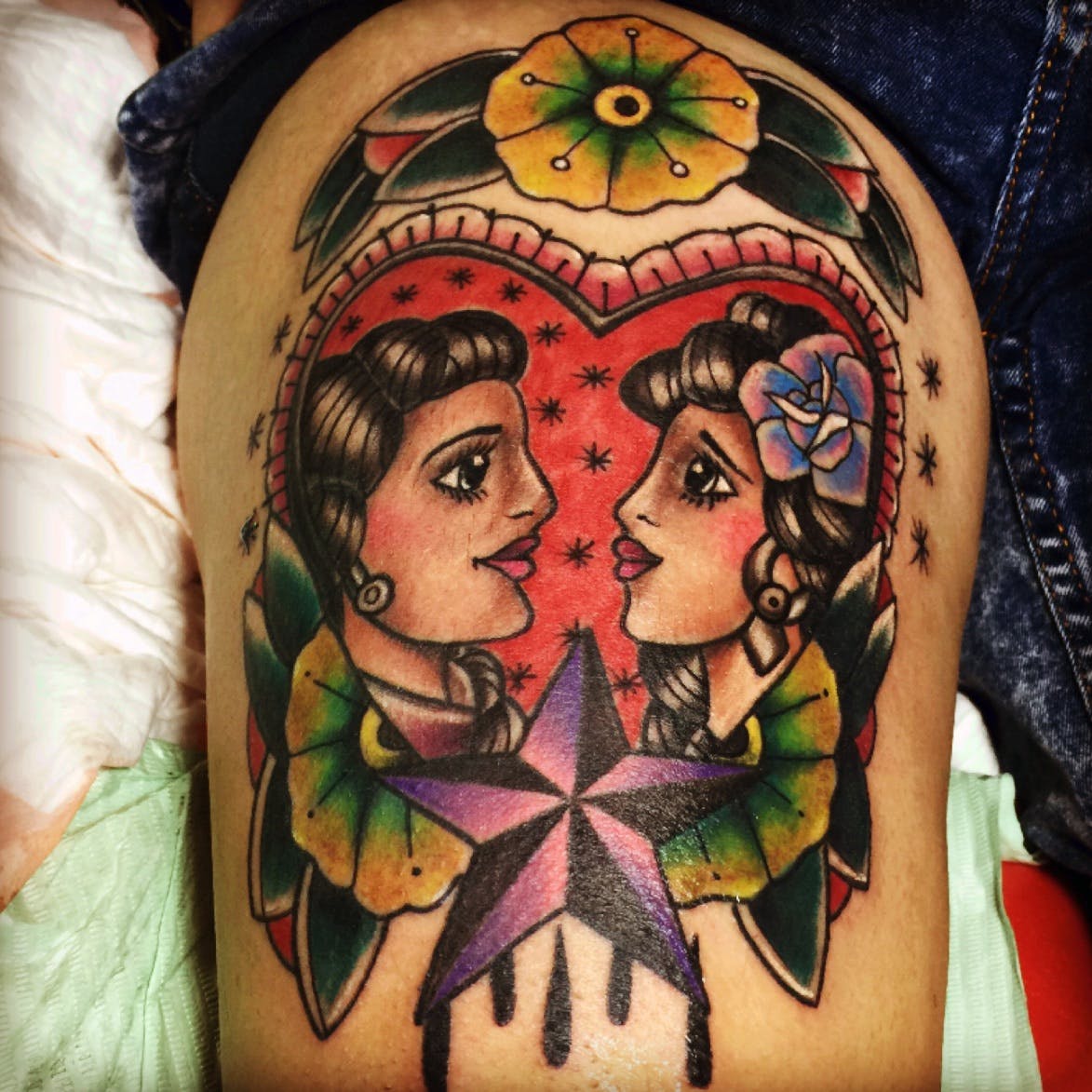 This design represents two girls along with a nautical star design done in purple. This nautical star is also a representation of the lesbian community since the 50s. However, it has a long history of being under surveillance. This trend has nothing to do with the butch-fem trend that is often associated with lesbianism.
Mind-Blowing LGBT Tattoo Design On Hand
I really like this handpiece which depicts the iconic male face for the gays and two gay guys kissing right on the top. It is a great design to be made on the hand done in black ink and especially if you are not afraid to show that you support the LGBT community because hands are pretty visible to the public. The adding effect also looks pretty cool.
Directive LGBT  Tattoo Design On Arm
This is a great design that symbolizes unity and brotherhood. This design represents the whole world which is colored in various shades of the rainbow. It is also a good option if you are a traveler and have a passion for traveling all over the world. The various colors that have been added to the design in a watercolor effect look pretty great.
Likable LGBT Tattoo Design On Arm
Many people love getting such a design where the multi-colored hearts are present. However, instead of hearts, you can choose any other symbol which might be personal to you. You can choose this mickey mouse head which will look cool. It is a great design that can be made almost anywhere on your body.
Creative LGBT Tattoo Design On Arm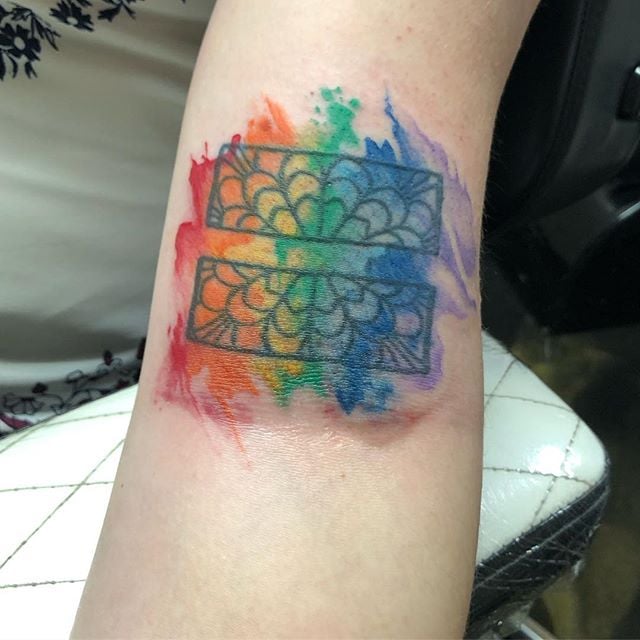 This equal sign is a pretty common symbol for someone who wants to show that everyone is equal and the fact that love is love. Thus this sign is great. However, it has been added with some floral design inside it, and the watercolor effect done in multi-color looks pretty amazing. It is a beautiful design, overall.
Generous LGBT Tattoo Design On Arm
While many people choose the heart symbol with a rainbow color pattern inside it, this heart LGBT Gay Pride tattoo is pretty different from them. Here, instead of a heart symbol, you can see an anatomical heart that is in itself a very unique tattoo design. I really like this whole design because not only does it have significance but it is also very chic.
Resourceful LGBT Tattoo Design On Leg
This wolf tattoo design looks pretty awesome. At this point, you can choose any symbol of your LGBT tattoo design so that you have a unique and personal tattoo for yourself. It is a great design that might represent unity and strength because wolves are a symbol or that. The background gives it a social relevance.
Miniature LGBT  Tattoo Design On-Ear
Bright LGBT  Tattoo Design On Arm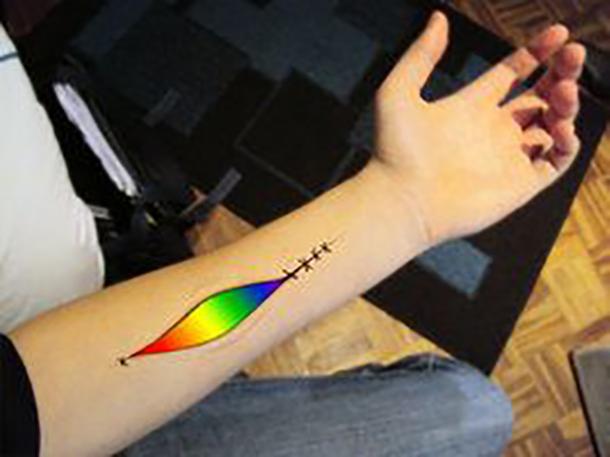 This is a beautiful LGBT tattoo design on the front part of the arm of the wearer. The design is pretty simple and the iconic colors of the rainbow that is usually used to represent the LGBT community have been used. The best part of getting an LGBT tattoo design is that you get all these colors for free. They are vibrant and significant at the same time.
Colorful LGBT Tattoo Design On Arm
A simple splash of beautiful and multiple colors would look amazing if you want it to be. Colors, no matter if they do not hold a specific shape tends to attract. Thus this design, even though it does not have any specific form has an aesthetic appeal and a very significant and profound meaning which points towards a very socially appropriate force. However, here, the person has added a symbol and quote "Born This Way" in jet black ink which gives the design even more relevance.
Wingy LGBT Tattoo Design On Back
This colorful wing tattoo design looks marvelous. I think it is a masterpiece because it looks like the angel wings. It is beautiful in shade and makes the wearer have a sense of freedom and strength that comes along with it. I love this tattoo design and the way the shades of the colors have been organized in this.
Powerful LGBT Tattoo Design On Leg
This is a beautiful unicorn tattoo design that looks pretty amazing. It is made with black and grey ink with its mane done in beautiful shades of rainbow color. It is done in a watercolor effect which makes it look even more stylish and fashionable. It is a beautiful design that can be made on your leg like this wearer or can be made on your arm too.
Intense LGBT Tattoo Design On Leg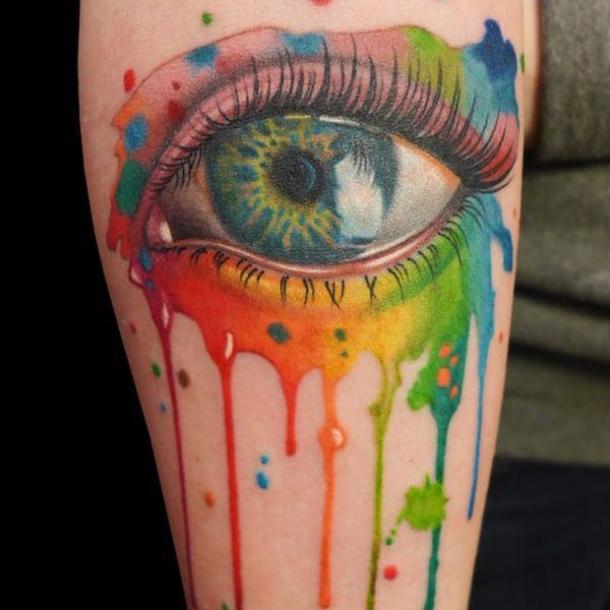 This is a very hyper-realistic tattoo design. The eyes really look very real and full of emotion or passion. Tattooing this way is great because it shows the real emotions. The beautiful colors that are flowing down the eyes in form of tears are pretty beautiful and symbolic of the LGBT community.
Fruitful LGBT Tattoo Design On Leg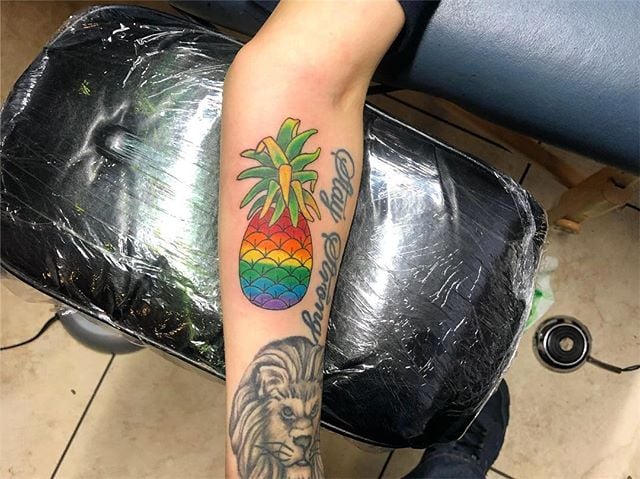 Pineapples are actually considered symbols of hospitality but more recently, it has taken a turn in its symbolism and refers to many things, especially standing against oppression and women's rights.  It has also, in the past couple of years, become the de facto accessory. Stitched into jeans, knitted into silk blouses, turned into miniature handbags, calligraphed onto wallpaper, embellished on cell-phone cases: no article in our world is secured from this tropical fruit. Much like the peace signs and smiley faces of the '70s, and the daisies of the '90s, the pineapple has appeared as the image that will describe the circumstances we exist in now. The LGBT symbolic colors make it even trendier and significant.
Dotted LGBT Tattoo Design On Wrist
I really like how this design looks like a bracelet. You can make some shapes like here it is that or a pearl drop or probably just even circle and color it according to the arrangements of colors that you find in the rainbow. I think this design is very simple and sweet and is definitely conveying your message of support pretty appropriately.
Feathery LGBT Tattoo Design On Leg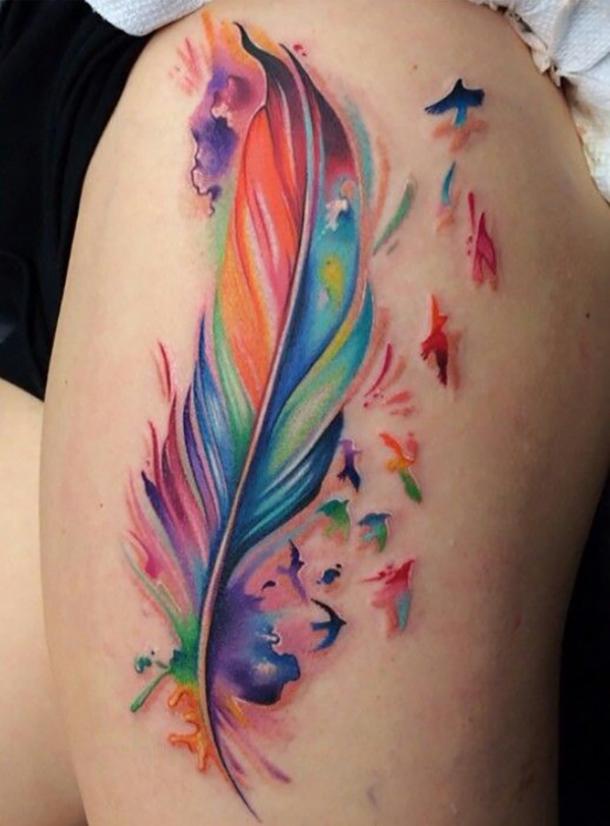 This beautiful and colorful feather tattoo represents more than one thing. Not only doe sit represent its affinity with the LGBT group because of its rainbow color but it also shows that it is for free love and the choice to love anyone one wants. It is represented by the beautiful birds that are flowing in a group. The point that they are flying in a group also represents brotherhood and a sense of unity and community.
Bubbly LGBT Tattoo Design On Leg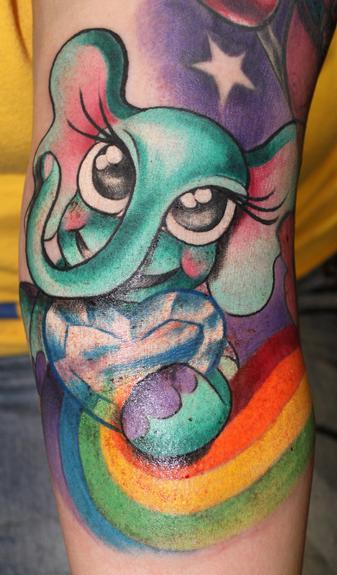 You can definitely add some cartoon characters or some symbols from your favorite action movies that would make your LGBT gay pride tattoo design look even more interesting. No matter what elements you choose for your LGBT tattoo design, make sure that it is personal and significant to you than anyone else because it will stay for a long time.
Sensible LGBT Tattoo Design On Shoulder
The infinity sign done in a beautiful set of colors represents that the LGBT community is forever and so is your passion and dedication or them. Infinity signs are great for showing such emotions.
Triangular LGBT Tattoo Design On Arm
A simple equal to sign represents that every one equal to each other. It does not have to be anything specific thing because we all are aware that the people from the LGBT community do not get the kind of acceptance that they deserve from everywhere. Thus, this design commemorates the fact that no matter what the sexuality or skin color of a person is, they all are equal in the end.
Creative LGBT Tattoo Design On Back
This is the iconic gay symbol sign done on an LGBT flag which looks pretty awesome. It is a great one for sure to be made on the upper back,
Temperate LGBT Tattoo Design On Wrist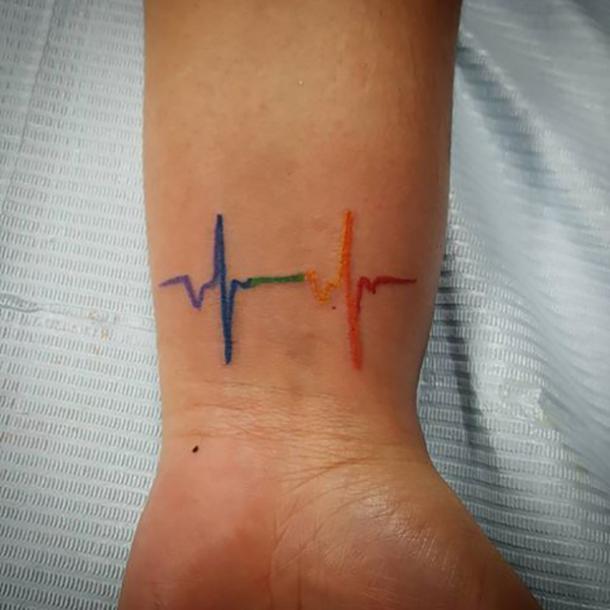 The heartbeat tattoos that represent the LGBT community look pretty amazing. They are not only true and significant but the sleek design looks very creative too. It is great for people who want a small and meaningful design to represent their affinity for the LGBT community. You can make it at any place because it has an adjustable size.
Sincere LGBT Tattoo Design On Arm
These lesbian symbols look great drenched in the classic colors of the LGBT.
Fishery LGBT Tattoo Design On Leg
Sailors have been a proper symbol to represent gay men. It has a long history of why it is considered so but eventually, it grew into a kind of fashion.
Cloudy Rainbow LGBT Tattoo Design On Back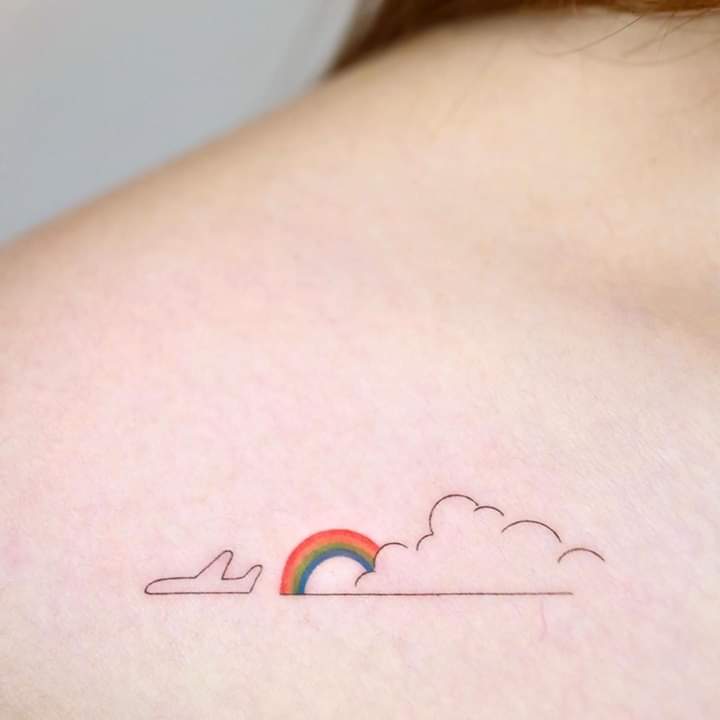 This rainbow tattoo design looks pretty cute. It shows a rainbow which is springing from two clouds. It is a very decent design that has clouds made in black and grey ink while the rainbow has all its colors intact. I think this kind of design represents the beauty of the LGBT community and makes it look even more interesting.
Starry LGBT Tattoo Design On Leg
This star tattoo with all the colors of the LGBT flag is a very popular choice of the design if you are looking to get something for your next pride. It represents unity and solidarity between each community of the LGBT group. I really love how the colorful stars have been spread across the whole leg in a very beautiful and delicate pattern. It is a great option for girls.
Colorful LGBT Tattoo Design Near Wrist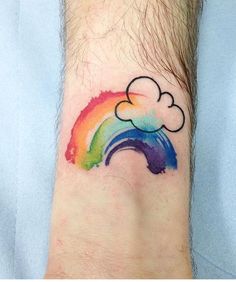 A simple rainbow is a pretty common choice when looking out for LGBT or pride tattoos like this one. It is a great and simple option because the flag of the community also has the same colors as that of a rainbow. All these colors have different significance and believe in the fact that all of the people no matter what their sexual orientation is can exist in this world together.
Spiral LGBT Tattoo Design On Body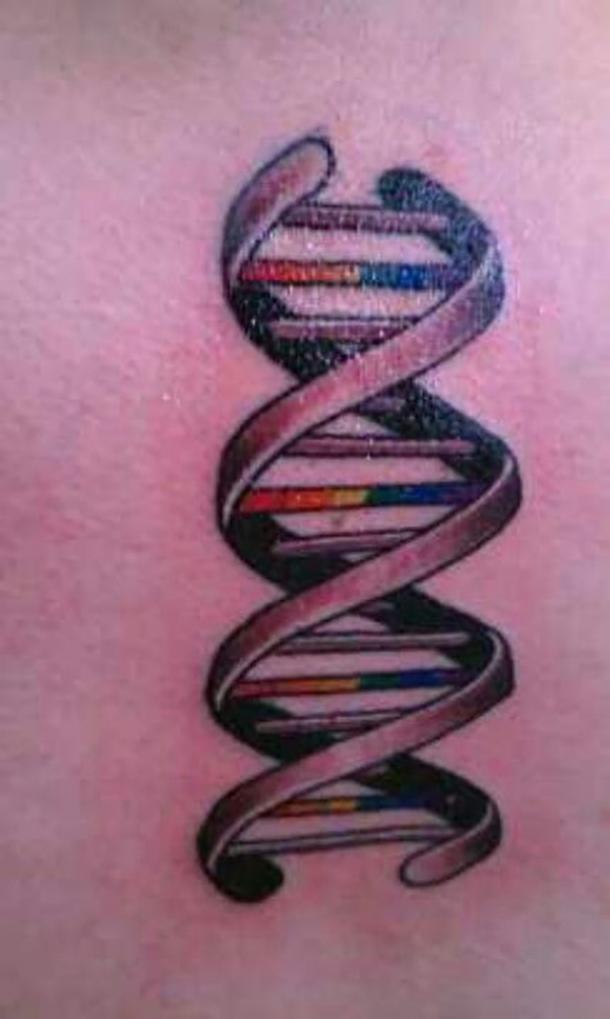 Many people like to make bleeding rainbow tattoos to represent their love for the LGBT community, but sometimes you gotta do something different and more creative. One way to alter the design is to replace the blood with a DNA strand that looks awesome. It is primarily made with black and grey ink but some part of it is colored in the rainbow. If you want you can even add the words "Just be you" along with this DNA strand which shows that no matter what the world says, just be your original self.
Sensible LGBT Tattoo Design On Arm
This tattoo is anti-racist and tells that one must not judge people based on their sex or color but rather as who he or she is in her personality.
Feathery LGBT Tattoo Design On Shoulder
This beautiful feather tattoo look amazing drenched in the color of Pride. It is a beautiful design because feather designs are anyway pretty popular tattoo choice. It represents freedom and creativity and thus giving this feather design an LGBT twist makes it even more poignant and increase the aesthetic value of this design too. This feather design is also added with a beautiful quote that emphasizes the fact that one can not change the essence of one's being and is taken from the song "Same Love."
Lovable LGBT Tattoo Design On Arm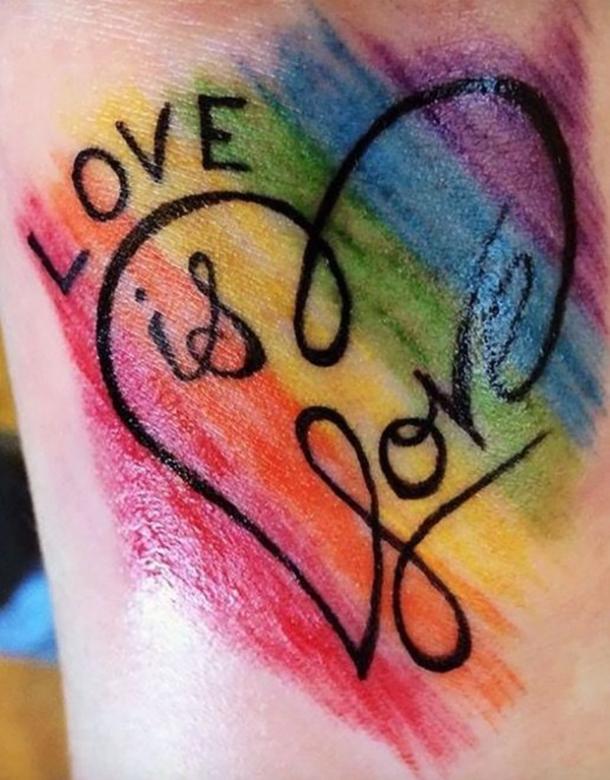 This love is love tattoo is very cheerful and tells that no matter who your preference is, love is love and one has the freedom to choose it.
Triggery LGBT Tattoo Design On Thigh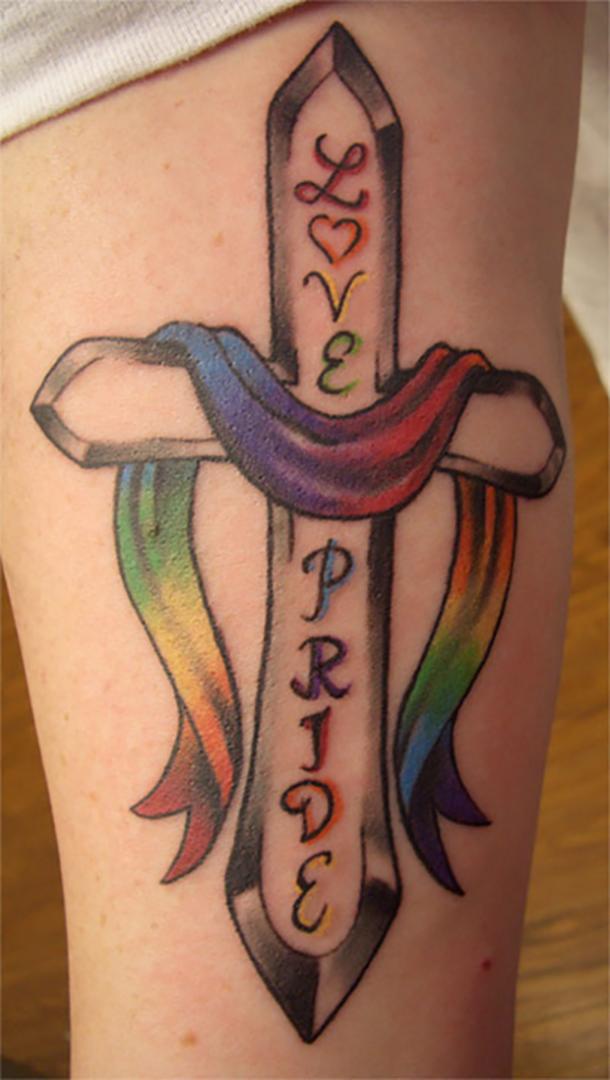 It has been long said that being gay is anti-religion too but this tattoo represents that no matter even if you are gay, you can be religious at the same time. It is a great combination design.
Rainbowy LGBT Tattoo Design Near Wrist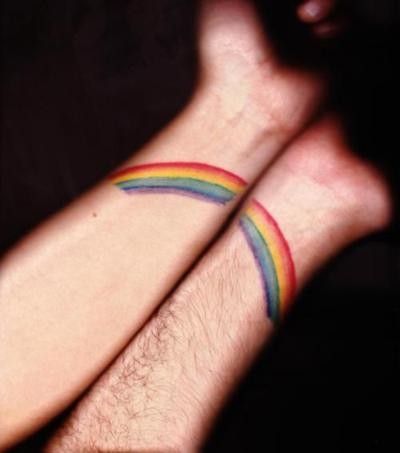 You can get such kind of tattoo with your partner or friend who probably supports LGBT or is gay. It is a great design because it has 10 on 10 on creativity. It is completed only when both of them bring their hands together.
Messenger LGBT Tattoo Design On Thigh
The eagle has long been symbolic of strength and courage. Thus this tattoo design represents exactly that. I think it is a strong design that is pretty assertive of its feelings. The eagle is holding a gay pride flag here.
Loyal LGBT Tattoo Design On Arm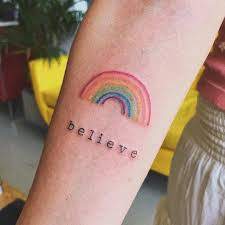 A simple rainbow design with a few words or just a small word looks pretty cute. I think it is more of a subtle way to show your support for gay pride or the LGBTQ community.
Rosy LGBT Tattoo Design On Back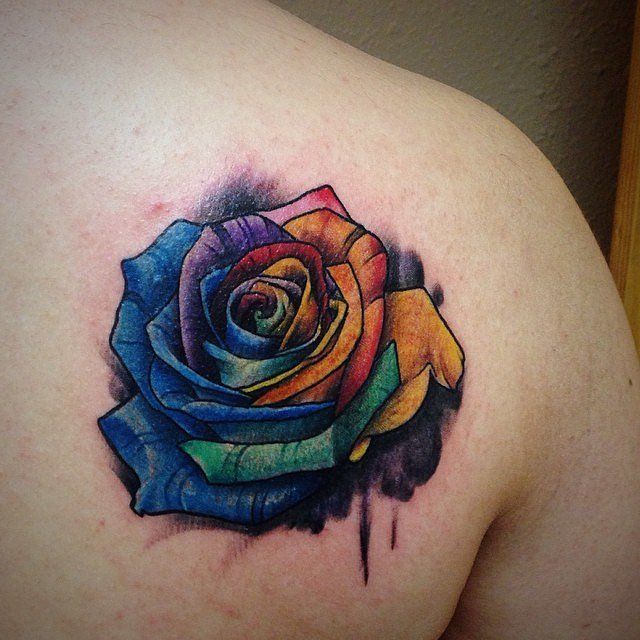 This rose flower tattoo with rainbow color looks pretty attractive. I think this design would look great on anyone who has a passion for his or her community because a rose symbolizes the same.
Heart LGBT Tattoo Design On Arm
A simple heart tattoo or a heart that has been placed inside a significant word, like "love" looks pretty amazing. You can also put this heart to make the meaning of this whole even more significant.
 Passionate LGBT Tattoo Design On Chest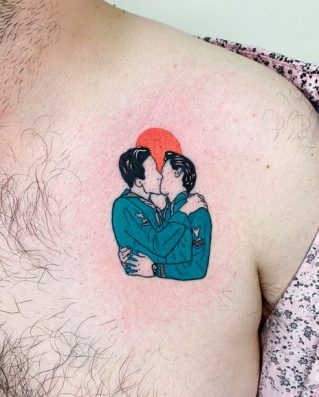 This gay couple making out makes it pretty apparent that this design is going to be about the LGBT group. It is a beautiful design made with neat patterns.
 Miniature LGBT Tattoo Design On Arm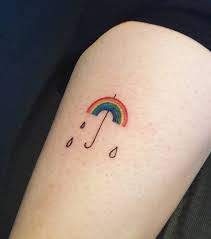 This design is pretty awesome because it has a rainbow shaped into an umbrella. It can also represent the fact that after every storm comes a pretty cool rainbow.
Pretty LGBT Tattoo Design On Arm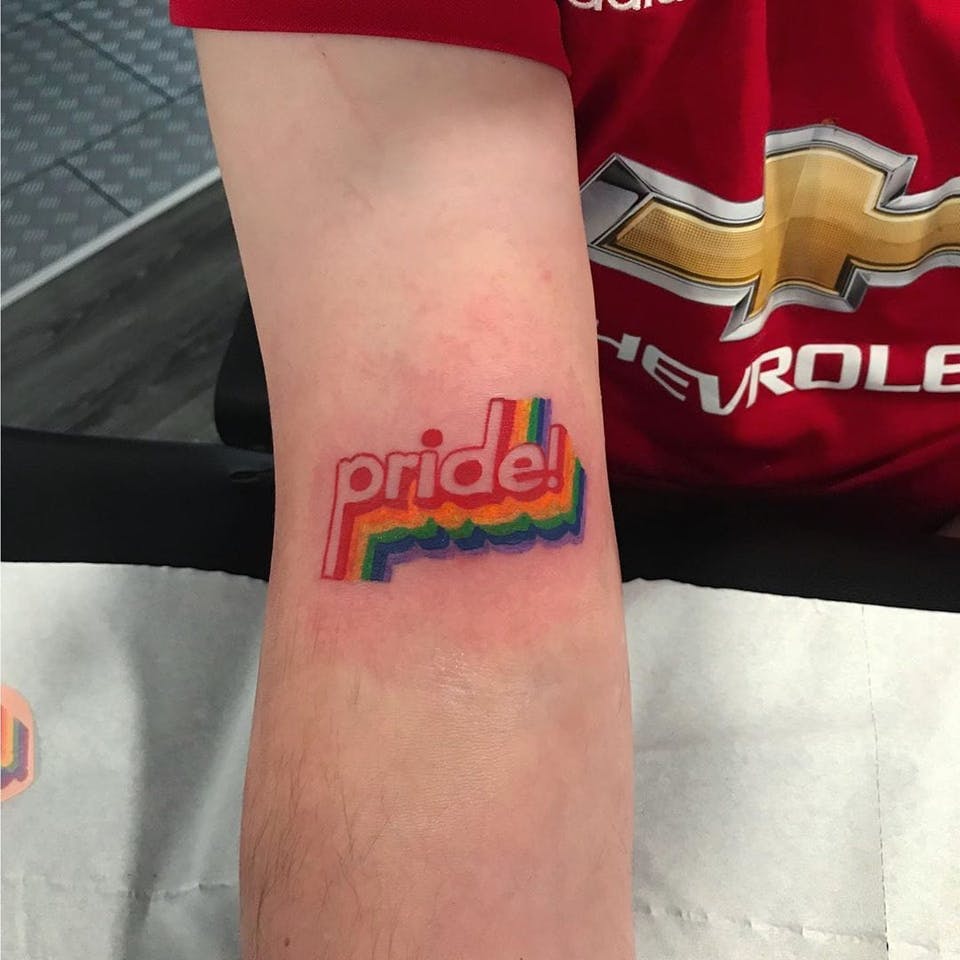 For an LGBTQ or a gay pride tattoo design, you can simply write "pride" like this in a 3D effect. I love how the person has used creativity to add as many colors as possible.
Little Rainbow LGBT Tattoo Design On Arm

These simple rainbow designs look very chic and very colorful. Not only are they minimalistic but also disperse a great meaning. It is beautiful.
Sweet LGBT Tattoo Design On Shoulder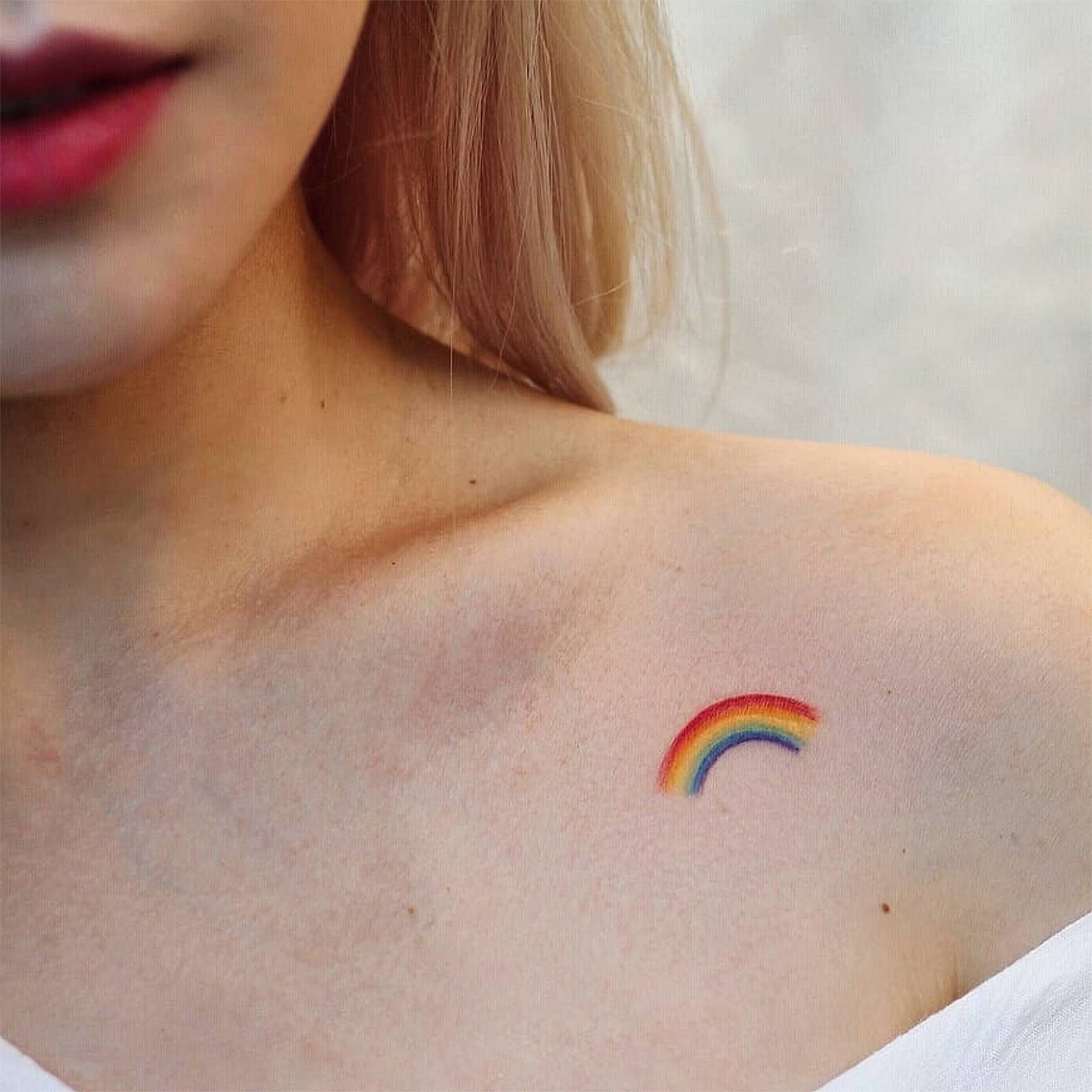 A small rainbow tattoo design looks pretty cute and small designs like this one can be made on places like fingers, ears, near the ankle, back of the ear, and even near the collar bone. I think such petite designs especially with all the colors of a rainbow look very chic. It is a great way to show your love and respect for Gay Pride and the LGBT community. It looks fairly beautiful.
Birdy LGBT Tattoo Design On Arm
A flock of the bird flying across the body looks very creative when made in the tattoo form. Birds flying in fa flock represent a sense of brotherhood in a community and a sense of freedom too. Here the limelight is on the LGBT community because of the colors that have been used by the wearer. The flock of birds is all done in the color of the pride flag.
Friendly LGBT Tattoo Design On Arm
I love this tattoo design because it might look like two girls chatting but the heart symbols and the LGBT color belt look pretty awesome and show that the tattoo design is for gay pride.
Nice LGBT Tattoo Design On Arm
This tattoo looks pretty amazing with the colorful LGBT background. It is a beautiful design that you can make on the nape of your neck and even your ankle.
Layered LGBT Tattoo Design On Wrist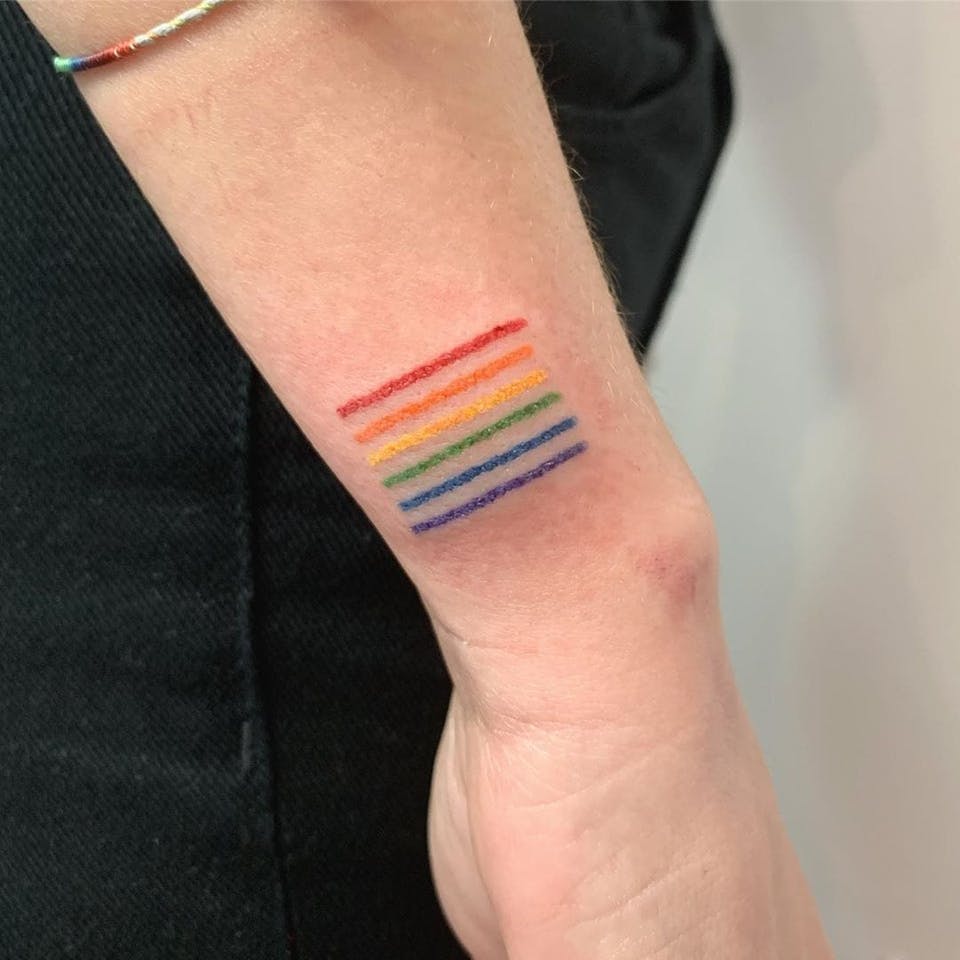 This LGBT Gay Pride tattoo design looks as if it is a scan code to detect that the person is indeed gay. It is a cool design and a very creative one that can easily differentiate between normal and gay people because the scan code is usually black in color. This design is made on the side part of the wrist which is a great spot if you watch sci-fi movies.
Lovely LGBT Tattoo Design On Arm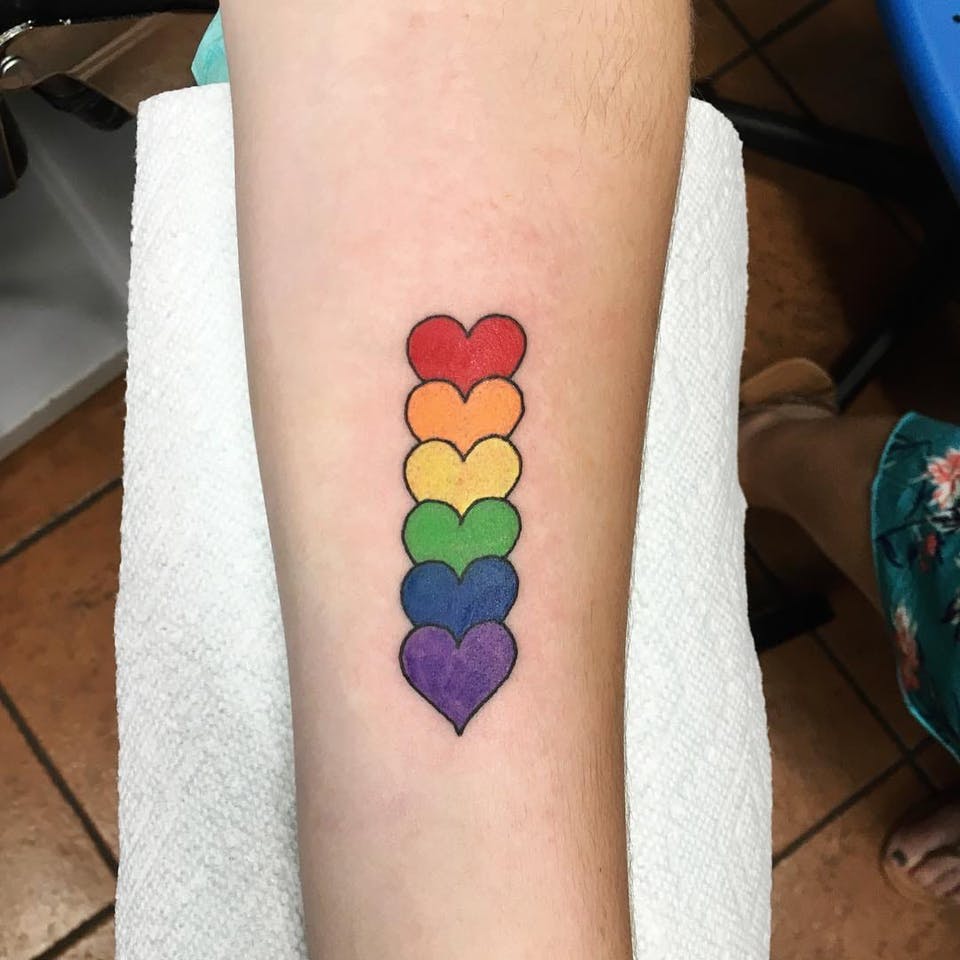 The beautiful array of hearts that are made on the arm of the wearer looks pretty cute. It is a beautiful design and the cluster of hearts done in rainbow colors represents a lot of things include love for the LBGT group and a sense of brotherhood. I really love that the design represents the meaning only when looked at as a whole. It is a beautiful design that can also be made on the legs or right on the side of the ribs.
Considerate LGBT Tattoo Design On Leg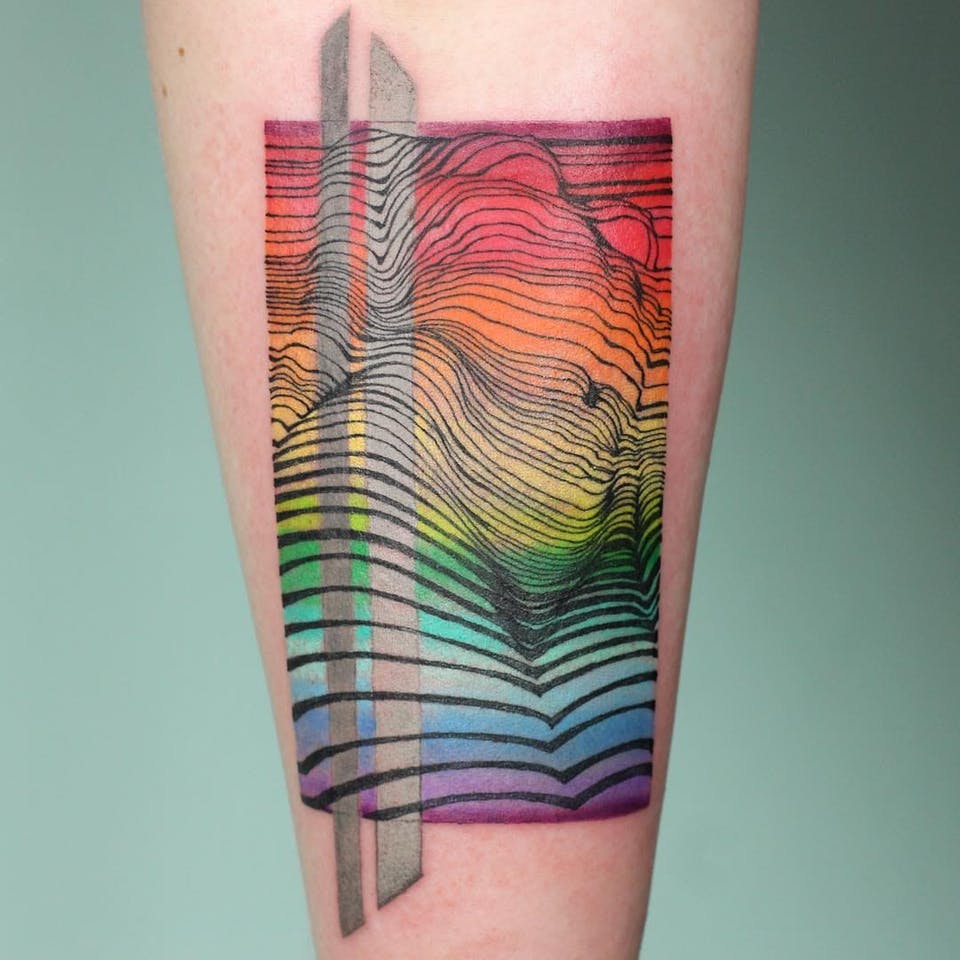 It is a very psychedelic tattoo design with a lot of colors and that which make sit look pretty amazing. It is a great design overall and so much more unique than any other that you can see on this list.
Tiny LGBT Tattoo Design On Finger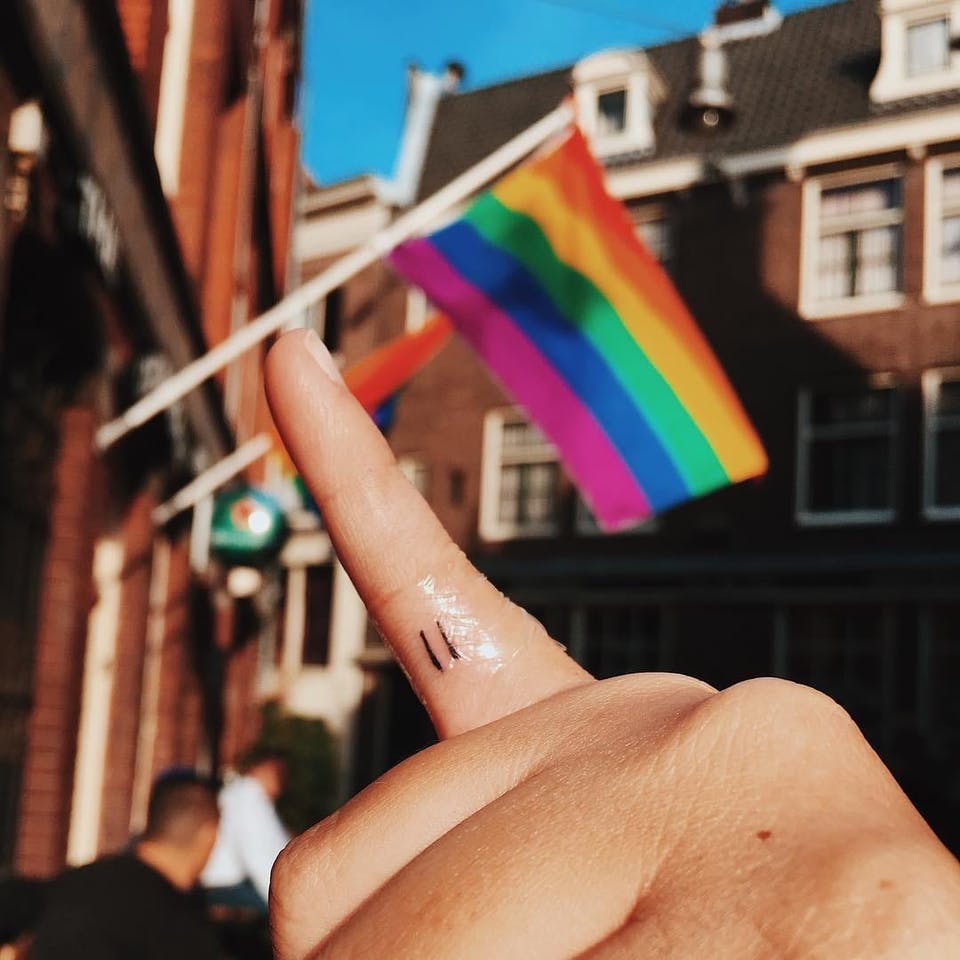 This tiny equality sign on the finger looks pretty dope. You can get a small tattoo like this on your finger which is actually a  huge tattoo trend these days. Many celebrities are opting for tattoos like this on the fingers. They are not only minimalistic but also looks pretty cool.
 Reliable LGBT Tattoo Design On Leg
I personally love this design very much. First of all, it is really realistic and looks very chic. The precision is pretty great. The strokes here are super neat. It is a great design and a chic one which would look really amazing if you want to support the LGBT community because of the rainbow-colored stroke that has covered the eyes of the girl. Probably this girl can be an emblem for society or any such communities.
 Likable LGBT Tattoo Design On Wrist
Just like LGBT gay pride heart tattoos, heartbeat tattoos are pretty much in fashion too. It is a great design which can be made on arm and I personally think that it would look super cool on the chest too. You can make multi-color single like or multiple lines with each line representing just one color. I think both these designs would look really cool.
Universal LGBT Tattoo Design Near Shoulder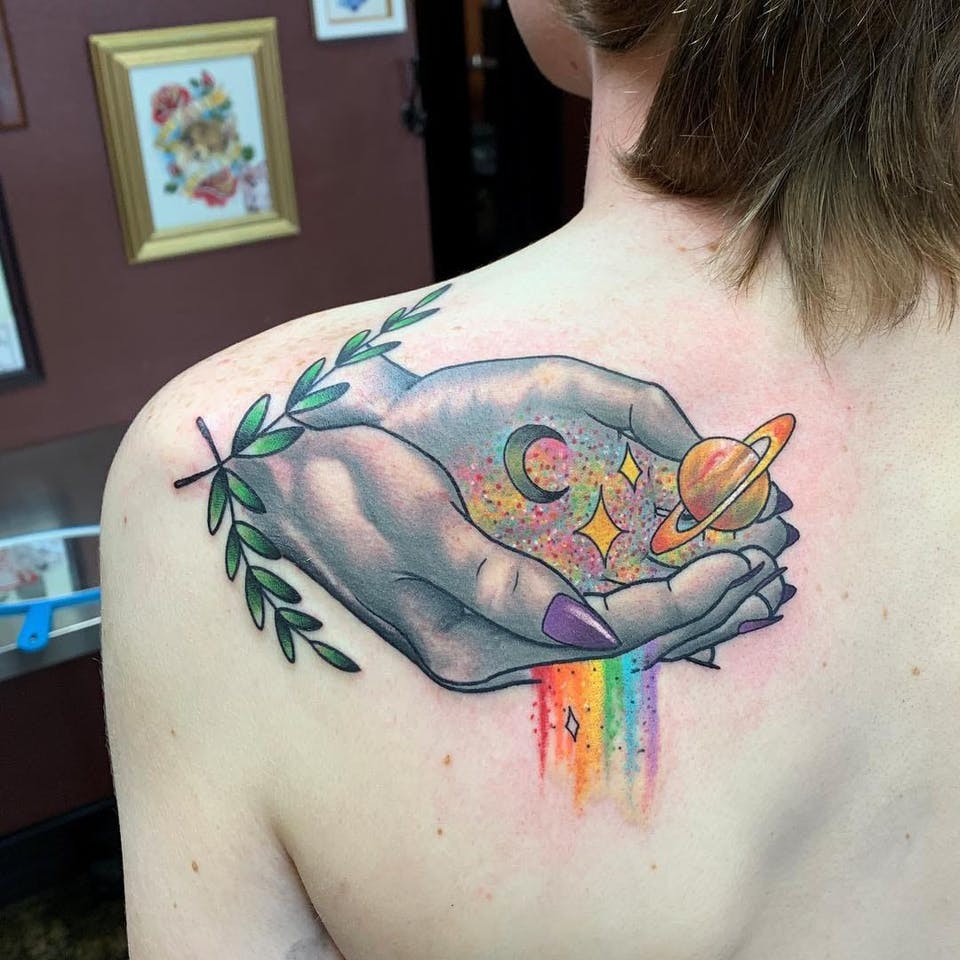 This is a pretty great LGBT tattoo design that is made on the upper back of the wearer. It has multiple components attached to it. It has beautiful colors first of all that represent that of a rainbow. It also has various planets like the moon and Jupiter. Besides, it also contains olive leaves which is a universal sign of peace and freedom.
Cute LGBT Tattoo Design On Wrist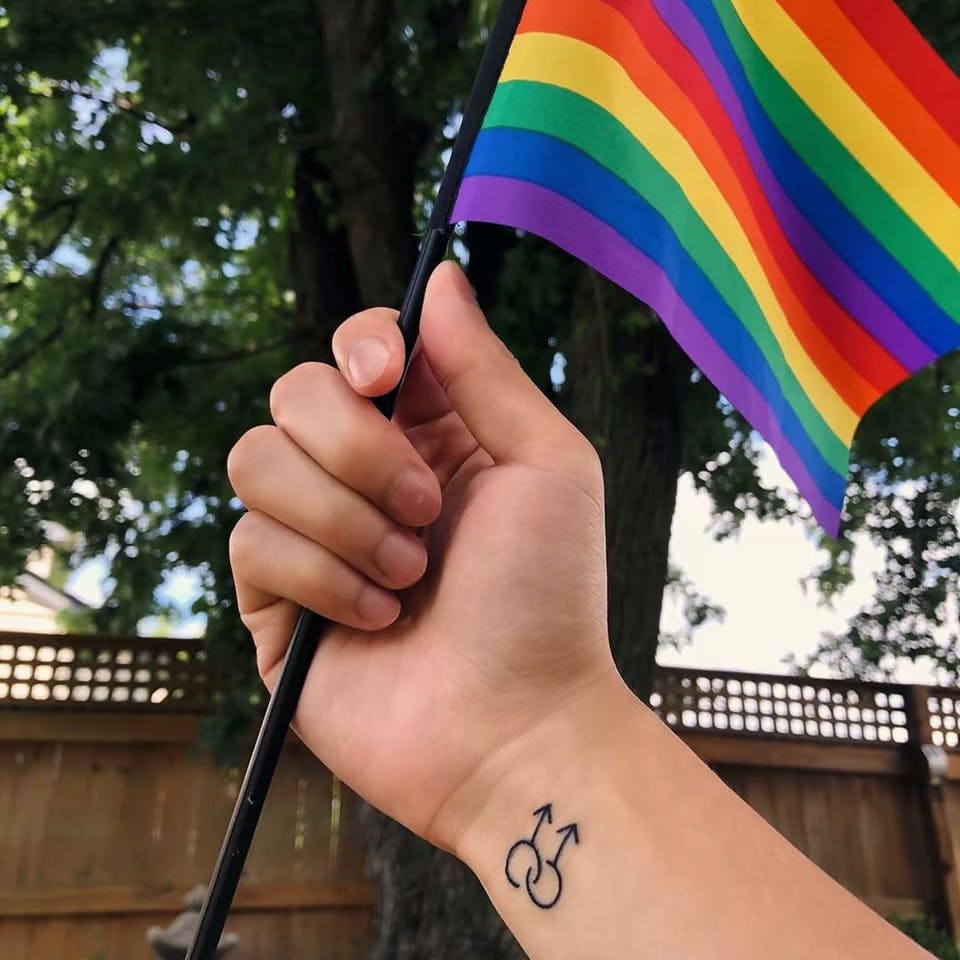 This is a very significant design and is made in a symbol form that represents non-binary and binary relationships. Basically, you do not have to complicate your LGBT Pride tattoo design and can just use the symbols for each gender type instead. The two arrows on the top represent the gay couple, the cross ign at the bottom represents lesbian couples and the mix of both represents the straight couple. Thus, multiple symbols can be added!
Lined LGBT Tattoo Design On Arm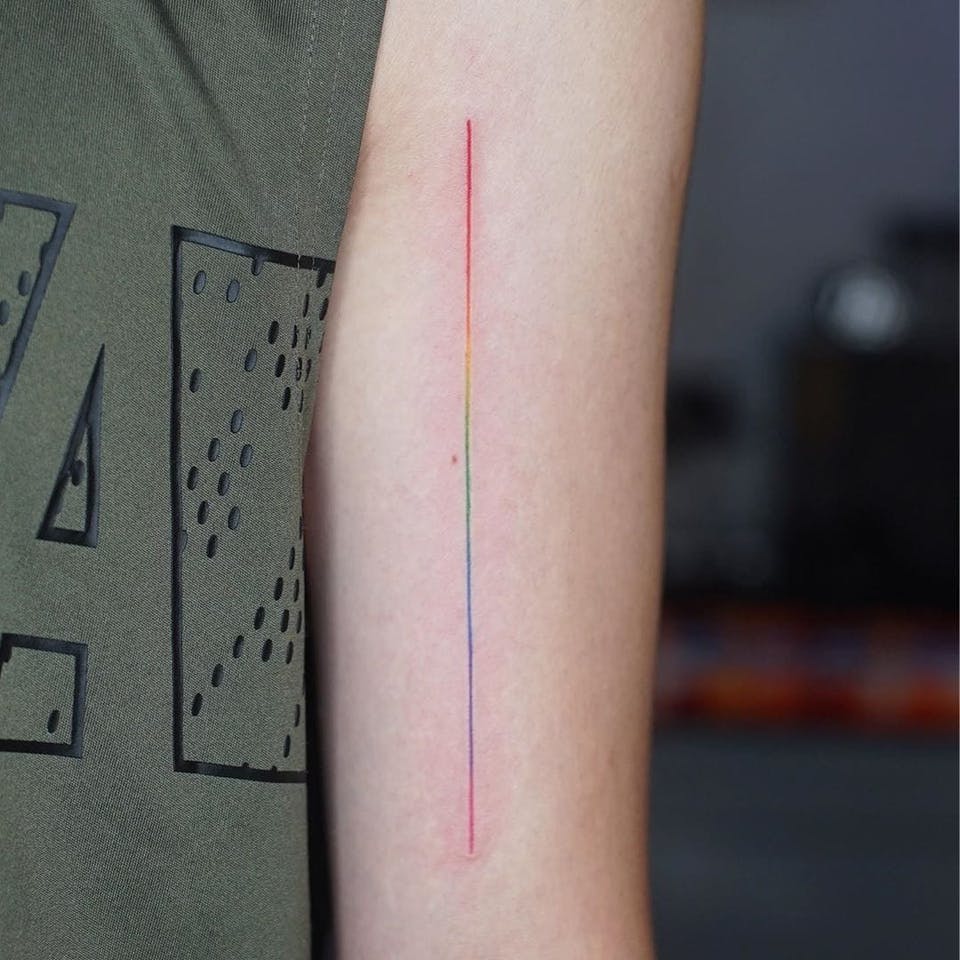 A simple line with the shades of the rainbow looks pretty amazing. It is a stylish design that can be made on the upper arm of the wearer. I think it looks pretty great. It is simple and tells about the significance as well as is pretty to look at. Minimalistic designs are very much in trend these days and thus would look really chic.
Romantic LGBT Tattoo Design On Arm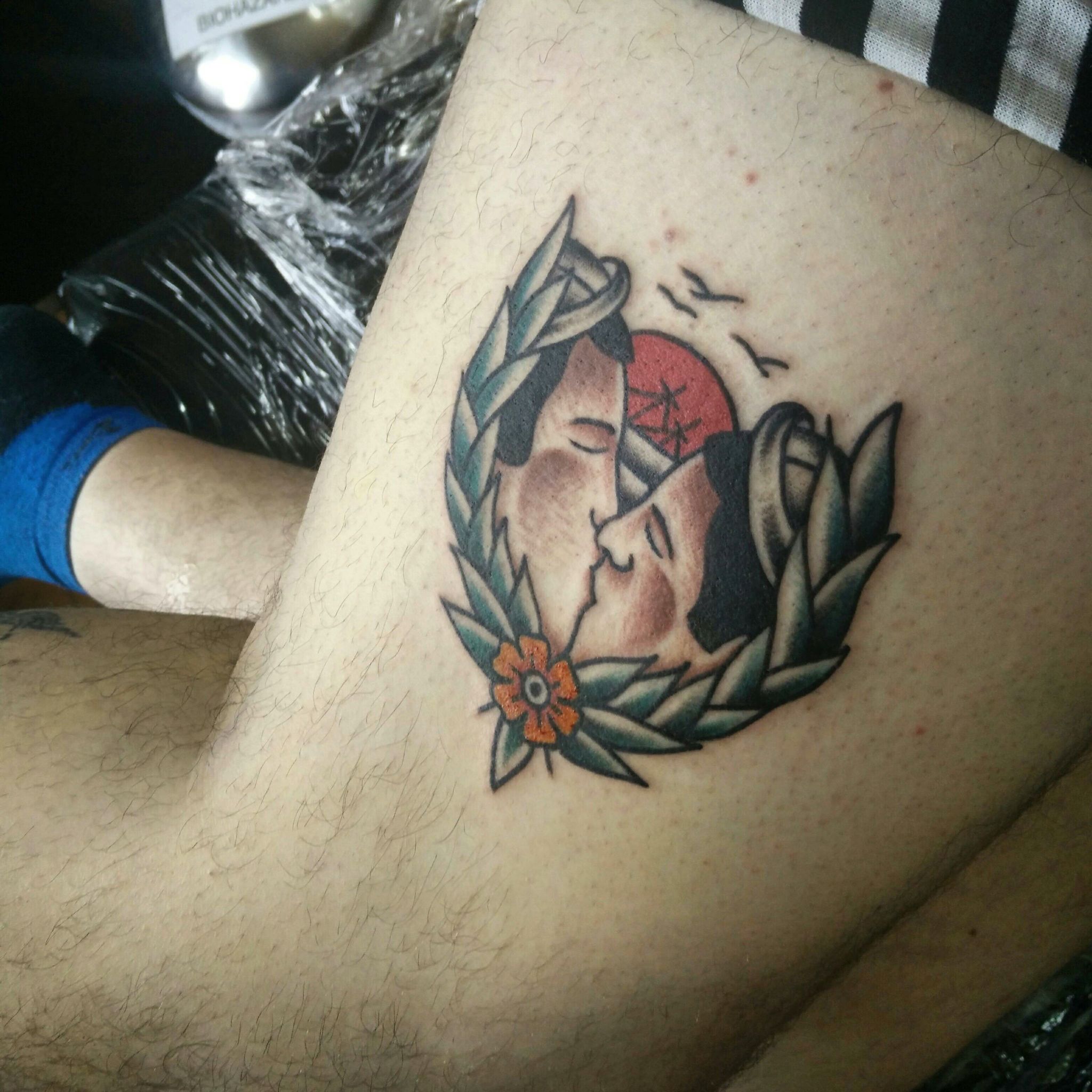 This design is as apparent as it can get. It is a great design if you want to talk about how you feel directly. It definitely signifies that you support gay rights and are peaceful with the fact which is signified by the use of the olive branch.
Concerned LGBT Tattoo Design On Arm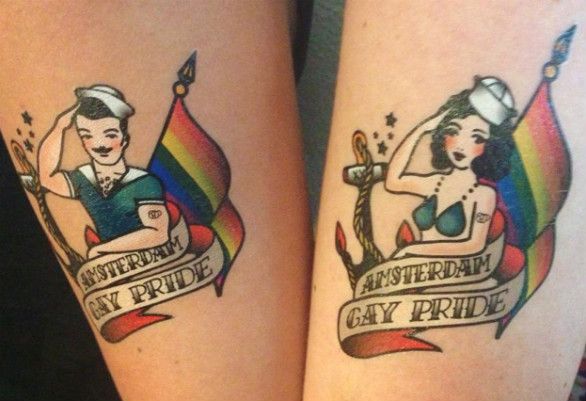 This design is spot on. It represents sailor tattoos for both gay men and lesbians. It is a great design that respects the gay community and as the sash says, the tattoo is for gay pride.
Colorful LGBT Tattoo Design On Arm
This is a pretty animate tattoo design that is made on the leg of the wearer. I really think that symbolizing your love for the LGBT like this is pretty awesome.
Flowery LGBT Tattoo Design On Arm
This tattoo design has a lotus flower in it. The lotus flower is colored in shades of gay. The Lotus flower is considered in several distinctive cultures, especially in eastern religions, as a token of virtue, knowledge, self-regeneration, and restoration. Its features are a perfect parallel for the human condition: even when its rootlets are in the most polluted waters, the Lotus provides the most gorgeous flower.
Directive LGBT Tattoo Design On Leg
This sailor tattoo design looks really awesome made on the back. The background confirms the fact that it is made for the people of the LGBT group or the reference to the sea queen. I like the clarity of the design. It is super neat and precise.
Rainbow With Crab LGBT Tattoo Design On Arm
This LGBT tattoo design has a rainbow right on the top of this mythical scorpion-like creature. I do not exactly know what the symbol or reference is, but it is a great design overall.
Wonderful LGBT Tattoo Design On Arm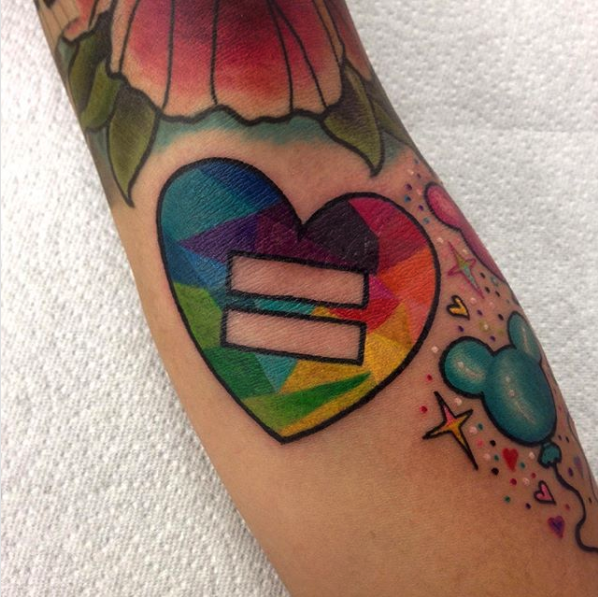 You can choose a sign of equality to go with this design because it looks super cool and meaningful. It is a very basic symbol of freedom sign which can be used for many reasons and not just in the LGBT community or Gay Pride. However, you can personalize this qual sign by adding a rainbow color water effect that looks amazing and makes the design specifically about the LGBT community. The geometrical heart looks pretty cool.
Sympathetic LGBT  Tattoo Design On Arm
This tattoo is the representation of the Sailor Queen which is very popular in several myths and represents the gay community on a ship or a cruise.
Fishing LGBT Tattoo Design On Thigh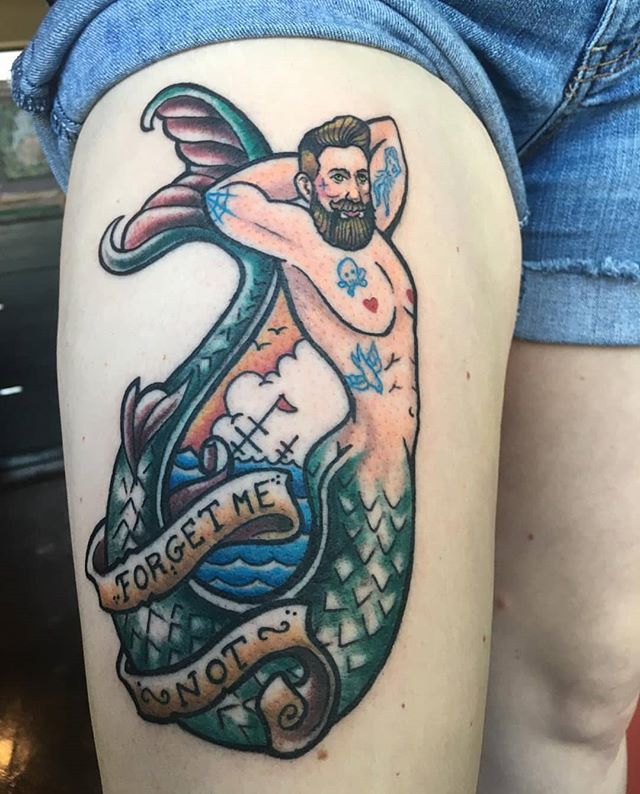 This design is pretty funny and can be said to be representing the LGBT community and specifically the gay community. It represents a mythical creature with half the body of a man and the tail of a mermaid. It is a great design to be worn on your legs because although it might be pretty funny to some, it can be offensive too. So if you are not too sure about the fact that you can handle a rebuke, this design is better made in someplace which will remain hidden.
 Adorable LGBT Tattoo Design On Arm
It is a pretty beautiful tattoo design that has been made on the arm. It reflects lesbianism. It is a great tattoo design that you can make and which speaks volumes.
 Lovable Tattoo Design On Foot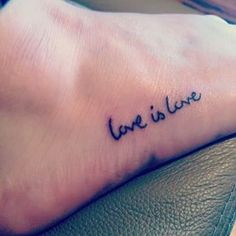 It is a beautiful design that you can wear anywhere on your body. The fonts that have been used are very pretty and delicate. The word "love" can be added with a rainbow-colored hearts in place of the alphabet "o" which will look very attractive. It is a beautiful design to be made on the wrist or even near your upper chest where the collar bones are.
Caring LGBT Tattoo Design On Arm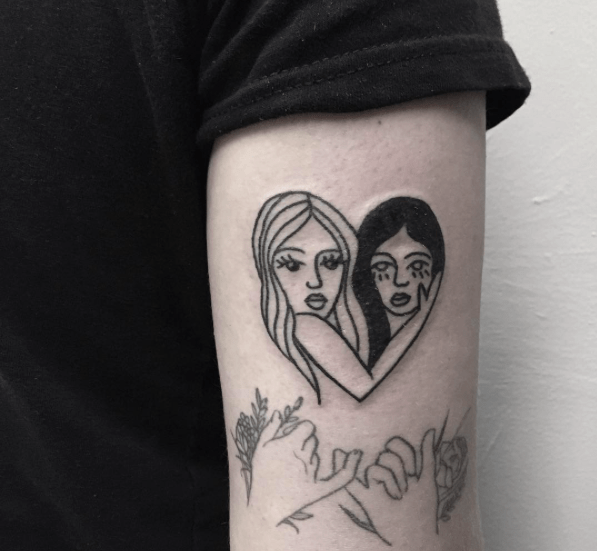 This LGBT tattoo design is very unique and made just with black ink. It is made on the arm and represents two girls who are shaped like a heart with a pinky promise symbol right below them. Although it does not tell that the wearer is speaking his or her mind too directly what this tattoo represents is the fact that there is no definition of being normal. Being gay is as normal a being straight and probably people should accept this fact. Thus it is a great LGBT design that can be worn to remain discreet.
Protective LGBT Tattoo Design On Leg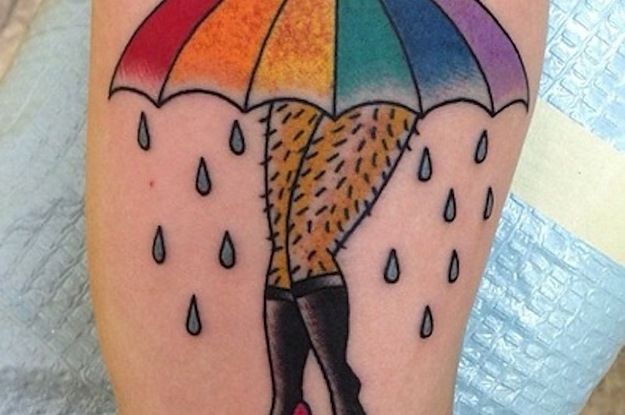 It is a great way to show the transgender or gay community. It showcases male legs with some heels on and under an umbrella which has beautiful rainbow colors.
Attractive LGBT Tattoo Design On Arm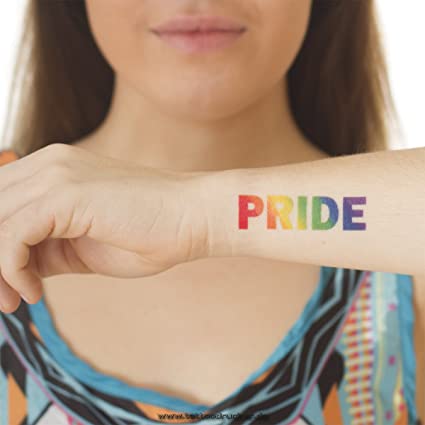 This tattoo design is pretty straightforward here. It shows the word 'Pride' written on the side part of the arm of the wearer in bold calligraphic style with colorful ink. You could also write the text in black ink and use the colors as a background in a watercolor effect. I feel that this design would be the perfect pride tattoo design and would definitely put your message across in a very candid way.
LGBT Tattoo With Butterfly Design On Wrist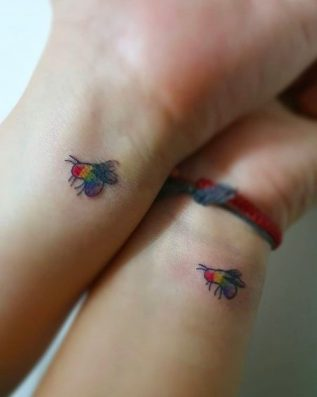 I love how you can use almost any element with the LGBT tattoo design and can just add some colors and make it unique to yourself. Here the wearer has made something as simple as flies.
Romantic LGBT Tattoo Design On Arm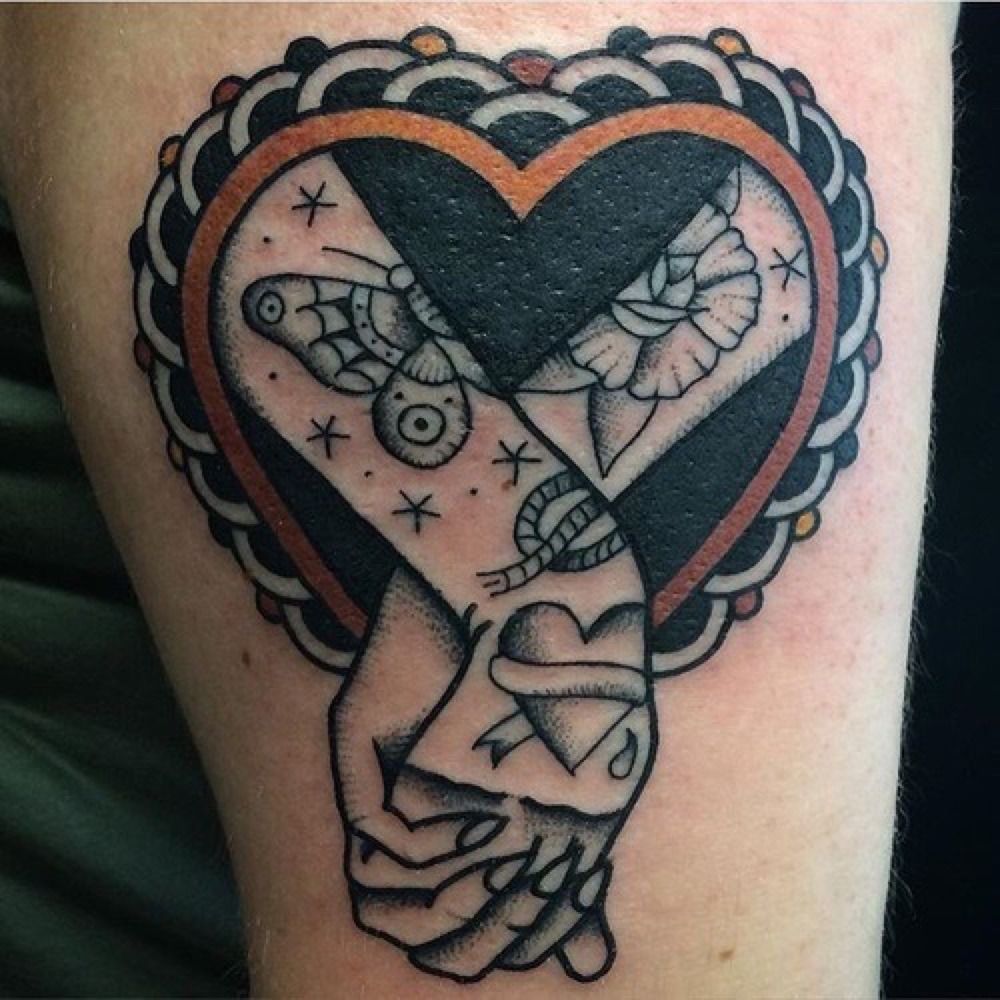 This gay pride tattoo design is pretty straightforward and looks amazing. It shows two hands that are holding each other and so it can't get any straight than this that this tattoo represents the maxim "love is love." The butterfly is added here with a flower design which tells that the wearer is free-spirited and wants to represent the same. The butterfly is often associated with freedom. Here, the design is made in black color but if it were for me, I would have chosen some rainbow colors and made it more colorful.
Pretty LGBT Tattoo Design On Arm
These colorful lines look pretty awesome made on the arm. It is a great way to show your support for the LGBT. This design is not only simple but also very pretty and meaningful. You can write a few words to make it more personalized but such line tattoos are best when made simple and without any extra elements.
Beautiful LGBT Tattoo Design On Arm
This sign of equality is pretty popular not just in the gay community but wherever there is any kind of equality whether in gender, sexual orientation, race, or skin color of any person. It is most commonly regarded as an activist symbol for people who do not support the idea of diversity and bullying based on it. The addition of colors that are found in the LGBT flag is definitely something that would personalize this equality sign too.
Awsome LGBT Tattoo Design On Arm
This pixelated rainbow design looks very cool. Most people who choose to get an LGBT inspired design or design for attending pride, or even body paint, usually opt for such designs because they not only represent the exact meaning of the tattoo but also does it in a very subtle and aesthetic way. It is a great design to be made on your wrist or even near your ankle. The placement area would vary according to the size of this rainbow tattoo because many people choose to get tiny rainbow tattoos too.
Royalistic LGBT Tattoo Design On Shoulder
Many people take out creative ways to show their support for LGBT and specifically the lesbian community. It is a great way to break the stereotype in a very fun and creative way. This design is pretty awesome. You can add a rainbow or similar patterns to make it look vibrant or can leave it just the way it is: simple and significant.
Beautiful LGBT Tattoo Design On Arm
The equality symbol is one of the most popular LGBT symbols in history. It can be used not just with the LGBT community but anywhere where you see oppression. It symbolizes that everyone is equal no matter what their skin color or sexual orientation is and they deserve the same kind of respect as anyone else. The addition of rainbow colors definitely makes this design pretty specific for the pride and members of the LGBT.
Sleek LGBT Tattoo Design On Chest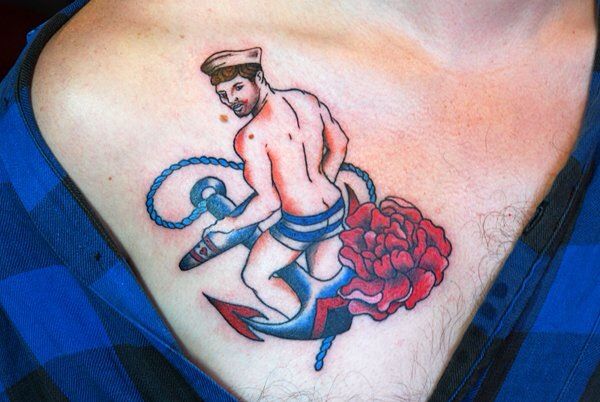 This tattoo design with a very beautiful sailor on the anchor is a representation of the support of gay men. They are actually called Sea queens who were basically gay men who served aboard mainly in merchant vessels that were defined before the 1960s. They were predominantly feminine gay men who served either in entertainment or as waiters on cruise ships, frequently growing into off-shore 'wives' for heterosexual sailors for the term of voyages. April Ashley points to them in her autobiography, and they are highlighted in the stories of gay men descended from the Hall-Carpenter Oral Archive kept in the British Library.
Lovable LGBT Tattoo Design On Ankle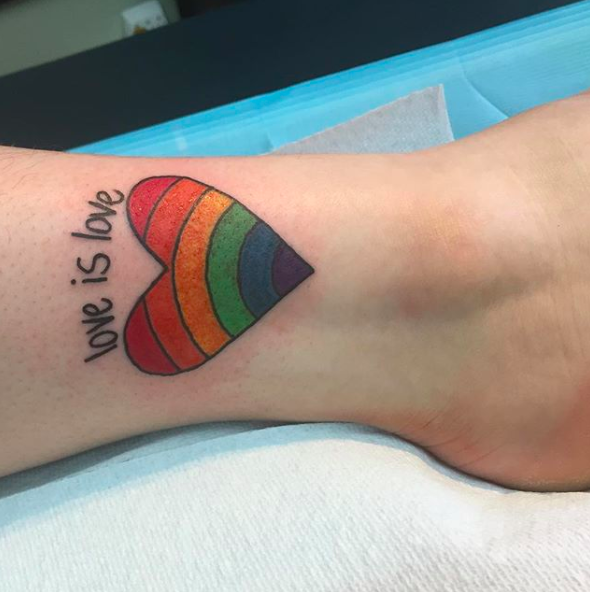 Getting a heart tattoo with all the colors of the rainbow inside it is a pretty common design for LGBT Gay Pride tattoo design because it is not just a simple one but also has a lot of significance. This design can be added with some quotes like "love is love" or "born this way" which will show that you accept the way you were born and your sexual orientation. Thus this one is a pretty great LGBT tattoo option for you.
 Attractive LGBT Tattoo Design On Arm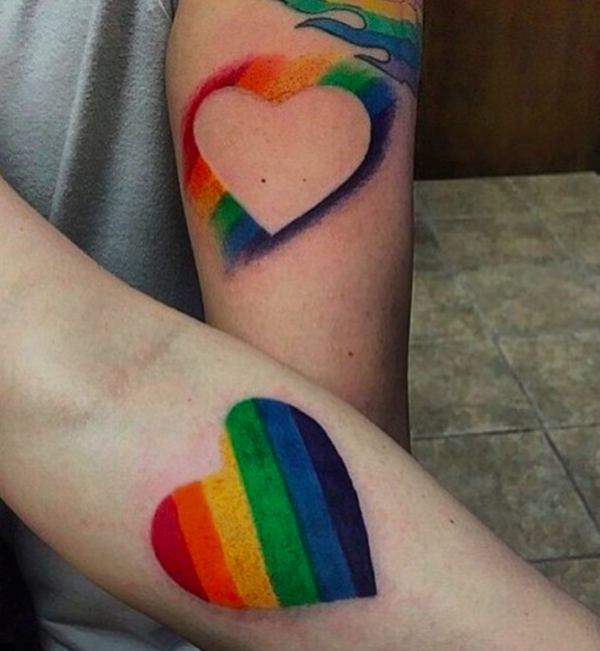 If you want, you can get this tattoo design with your partner. One of you can get the heart made with the rainbow filling while the other one can get the borders drawn. It is a great way to show your love for the LGBT community.
Passionate LGBT Tattoo Design On Arm
This tattoo design shows two sailors kissing each other which is so gay, to be honest. A tattoo like this shows that love can come in every shape, size, and sexual orientations and all kind of love is beautiful no matter what. It is a great design that is done in black ink primarily and shading effect with grey ink. A bit of red ink has been used to make some kind of personal symbols that adds aesthetic value to it.
Small LGBT Tattoo Design On Arm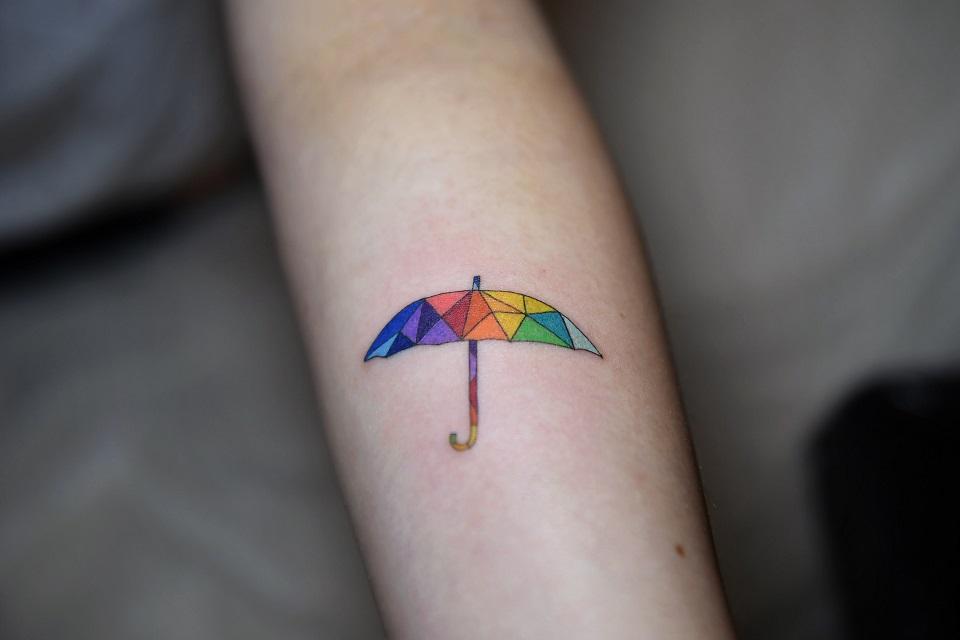 I love how this umbrella is made with geometrical figures and they're filled with all the colors of the rainbow. The design is as simple as it can get and long with the color combination it represents belonging to the LGBTQ community.
Modern LGBT Tattoo Design On Leg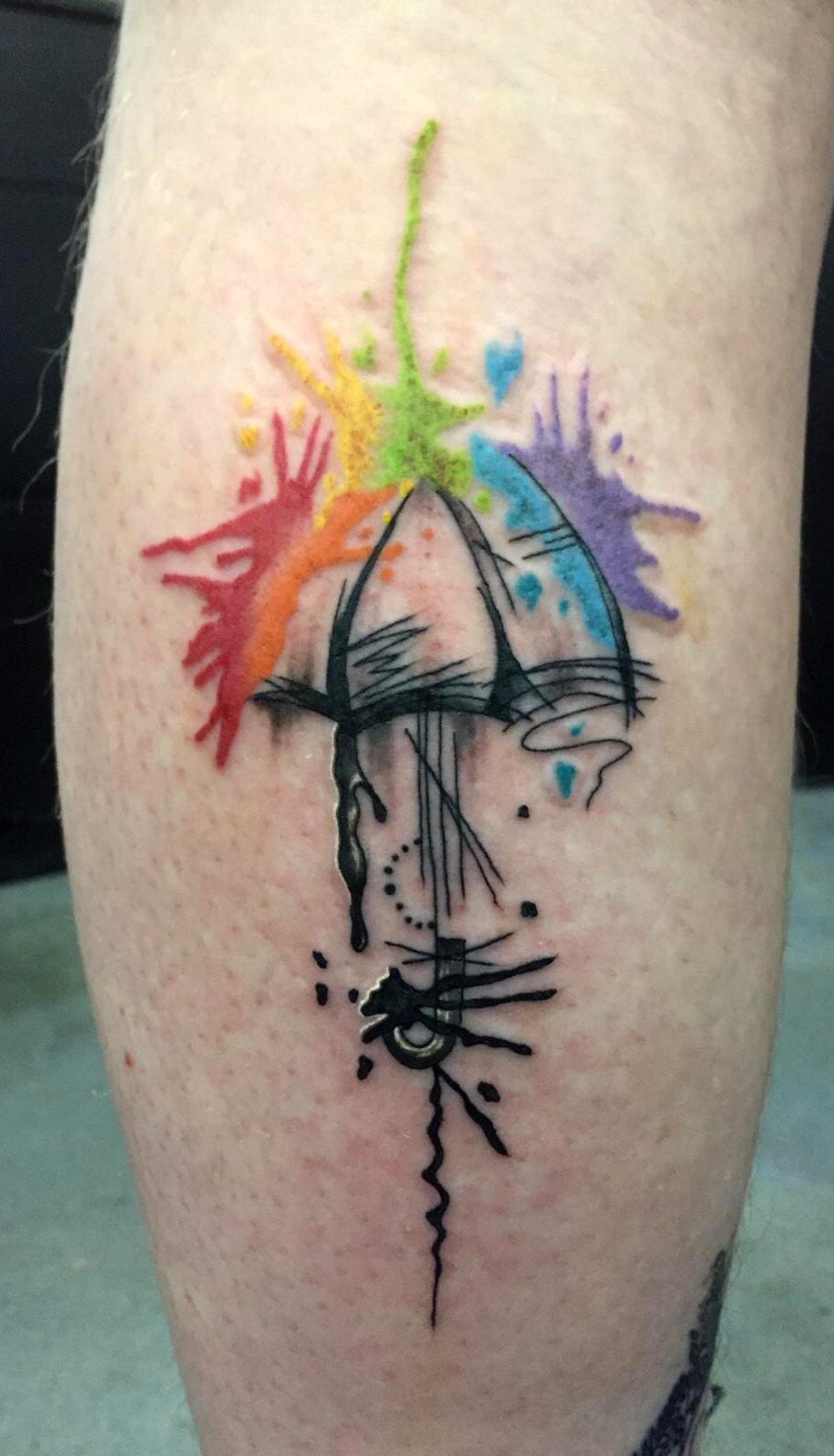 I really love this creative LGBTQ umbrella tattoo design. It is made with simple black ink and looks trodden. However, the beautiful colors are making the umbrella drenched in its gayness.
Temperate LGBT Tattoo Design On Arm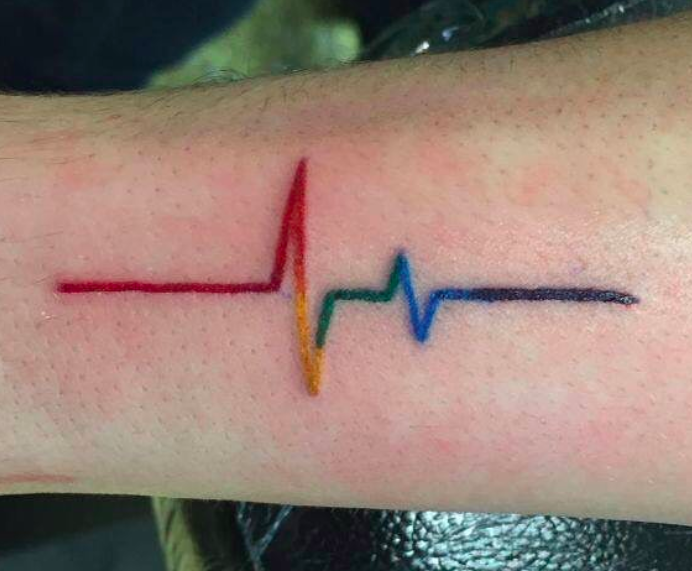 A simple colored heartbeat tattoo is enough to show your love for the beautiful community that you are a part of.
Sweet LGBT Tattoo Design On Arm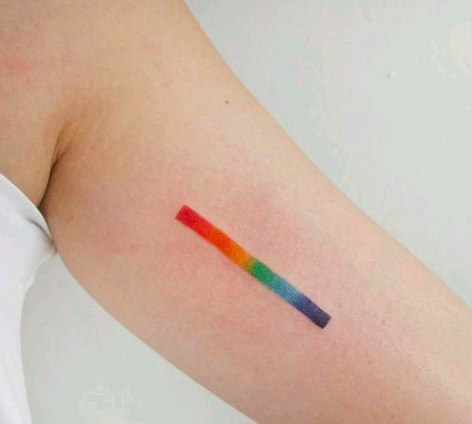 This LGBT inspired single line tattoos look pretty awesome. While many people choose to get a simple one, you can go for a whole band-like tattoo design that would enhance the effect. It is also a much broader design than just a single line. However, if you want something sleek and minimalistic, then this design would look amazing.
Creative LGBT Tattoo Design On Shoulder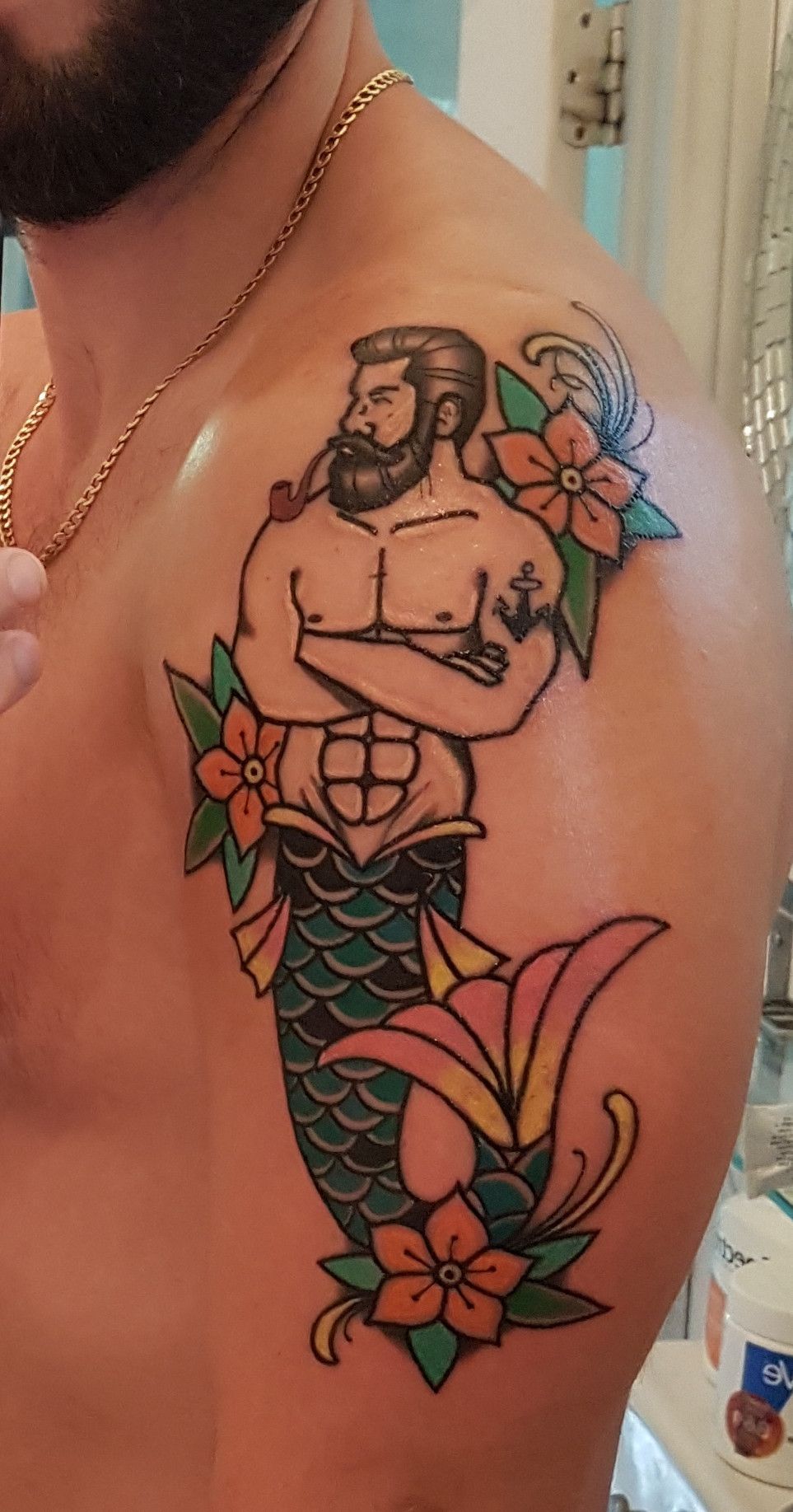 The stereotype of gay men and especially sailors or workmen on the ship is pretty popular because of historical reasons. It pre-dates the United States and was already in the English Royal Navy as well. The true purpose is very plain. Sailors were seldom, and more often reputed to be prison gay. That is they were excluded from a situation with substantial numbers of ladies for months, seldom years at a time and they were then directed to alternative sexual practices. A chief or director might have a wife aboard a ship but everyone else was pretty much on their own. This is where this stereotype came from.
Cute LGBT Tattoo Design On Arm
This simple LGBT gay pride heart tattoo looks rather cute. For simple and sober designs, you can choose something like this that would look rather amazing. Here, the heart is added with an infinity symbol which means that you will forever be dedicated to this community and you have accepted your sexual orientation pretty well. It is a great one for sure.
Cute LGBT Tattoo Design On Arm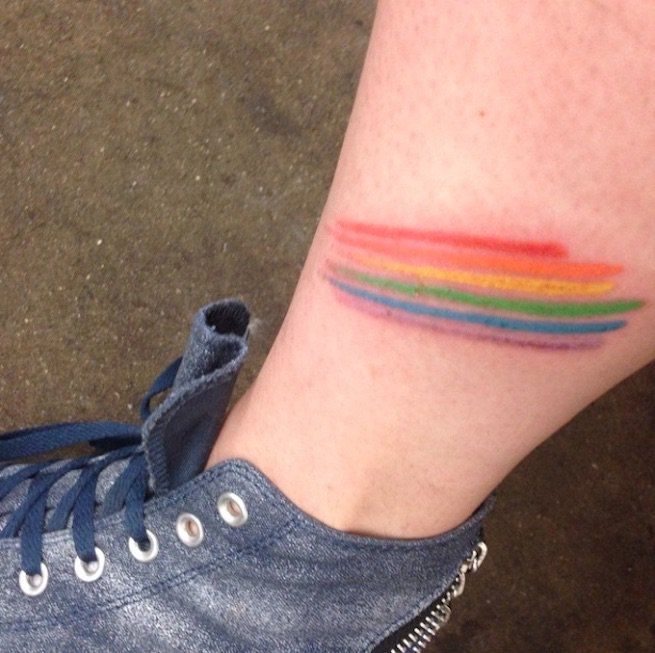 This design has lines on the body which is made with different shades of the pride flag. In fact, it simply looks like some strokes have been added to the design and quite honestly, it also resembles the Gay Pride flag itself. I really like how this design is extremely simple and yet it conveys a lot of feelings and has significance. It sends across the message pretty well besides looking really pretty.
 Nico Tortorella LGBT Tattoo Design
Actor and activist Nico Tortorella is non-binary and he revealed his identification with a permanent tattoo. "In the recent wake of this administration's blatant attacks on intersex, trans, and gender-nonconforming rights, I had to find a way to best express myself, through art," shared Tortorella on Instagram.
 Miley Cyrus LGBT Tattoo Design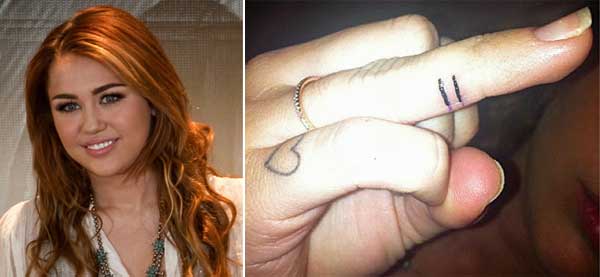 Finally, in 2011, Miley Cyrus endured in solidarity with the LGBT association by getting a fragile equal sign inked on her right ring finger. She showed off the ink in a tweet, combining it with the caption "ALL LOVE is equal."
Lady Gaga LGBT Tattoo Design
During her career in the entertainment industry, Lady Gaga has done an improbable amount of work for the LGBT association, whether it be through benevolence or her music. To pay tribute to the association, Gaga has a unicorn tattooed on her thigh.
 Frank Ocean LGBT Tattoo Design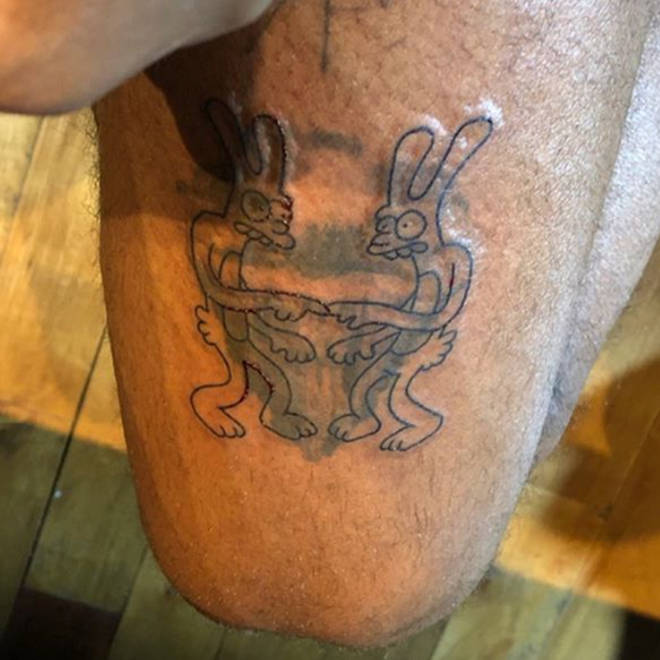 In 2019, artist Frank Ocean got a tattoo of an etching by Simpsons producer, Matt Groening. The design is of his "Homo vs. Hetero" illustration, which represents more connections than distinctions between straight and LGBT people.
Bea Miller LGBT Tattoo Design
Bea Miller has a petite tattoo of an equal sign on her left wrist in support of gay marriage and equal rights for all people.  She got the ink done on July 25th, 2015 — the very day that the US Supreme Court nullified local prohibitions on gay marriage consequently making same-sex alliance legalized in all 50 states. "Though it was the perfect day to get this tattoo #LoveWins" she tweeted.
Her mothers are two lesbian and Bea has always been a strong advocate of LGBT+ liberties. "I have two moms, gay uncles, lesbian aunts, and many LGBT friends. I will always happily support all of them," she tweeted.
She was barely 16 when she got the tattoo and has encouraged her fans to not indulge in inking until and unless they are the right age to do so that is, they are 18 to get tattoos so that they can get inked by the best class professionals. Two years after etching the tattoo, she posted new images revealing how thick the lines had grown and penned, "Like for real that goes up is ridiculous. Don't get tattoos when ur 16 kids…it's hard to find someone good who will tattoo you are underage."
 Lynn Gunn LGBT Tattoo Design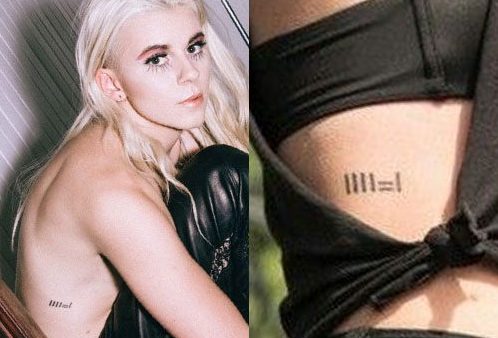 The beautiful lines on the left side of Lynn Gunn's ribcage are a matching design with artist Lindsey Byrnes.  The "||||=|" pattern is a symbol of equality, confirming that numerous kinds of people are all one.
 Juliet Simms LGBT Tattoo Design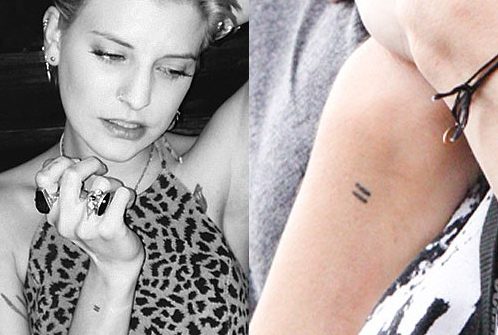 Juliet Simms got this miniature equal sign tattoo on the rear of her wrist while on the 2011 Warped Tour to attest to her assistance for fair rights to all no matter their sexual orientation.

Prev ArticleNext Article
Sours: https://bodyartguru.com/lgbt-tattoo-designs/
7 Powerful Spiritual Symbols And Their Meanings
13 Unique Feminist Tattoo Ideas
As a feminist, an ink lover, and a proud owner of a Riot grrrl tat, I'm all for the idea of feminist tattoos. I've been warned that getting tattoos expressing my political beliefs is risky, since one's politics sometimes change with time, but there is nothing more important to me and more liberating to my identity than radical feminism. Since I will be a queer AFAB non-binary person for the rest of my life, I will always benefit from the promise of feminism. As a person who is committed to creating visibility for marginalized people, the constant fight of making my feminism more intersectional is a journey I see myself embarking on for the rest of my life.
Of course, presidential candidates come and go, and it's not like I'm about to get a Bernie Sanders portrait tattooed on my bicep (not to worry, Dad). But fighting for the fundamental rights and privileges of marginalized identities and bodies is never going to "get old," nor is it simply "a phase." Oppression, unfortunately, will likely always be a thing that exists in this world and that we need to actively fight against. Here are some feminist tattoo ideas for those who are thinking of honoring their personal beliefs in permanent ink.
1. Girl Power
This tat is sweet, simple, and to the point. The font also exudes toughness and a DIY element as an embodiment of radical feminism.
2. Changing Things Up
This kickass tattoo depicts a more literal representation of the phrase "smash the patriarchy."
3. Chihuahua Rosie
Rosie the Riveter is already an iconic symbol of feminism's First Wave beginnings, when women took over the work force during war time. Swap out Rosie for a chihuahua, and this design is one of the cutest things to look at possibly ever.
4. An End To Catcalling
This tattoo is intense, but right up my alley. It kind of represents everything I fantasize about when a man won't leave me alone on the streets. It may seem extreme, but the ink definitely captures (albeit in a bit of an over-exaggerated, comedic way) the real frustration people face every day when dealing with cat callers.
5. RBG
Renowned for levelheadedness when it comes to political issues and for democratic and feminist opinions that contribute to Supreme Court decisions (i.e. legalizing gay marriage), Ruth Bader Ginsburg is definitely worth commemorating.
6. Subtle Yet Poignant
From my experience, feminist tattoos (and feminism in general) are often incredibly cis-washed. Acknowledging trans and non gender-conforming individuals with a trans symbol tattoo is a great way of making your feminism more intersectional.
7. Bra Burner
This tattoo is a little taste of Second Wave feminism, complete with a burning bra. Bras can be necessary, of course, especially for those with bigger breasts who want to avoid back pain. But this design is perfect for those who prefer not wearing bras and not being shamed for it.
8. Angry Feminist
The idea of the "feminist killjoy" is one of the most classic and sometimes overused sayings associated with feminism. However, it's still effective, IMO, and makes for one fun tattoo.
9. De-Stigmatizing Periods
This tattoo addresses the stigma of menstruation by embracing the shock value associated with menstrual blood. Personally, I love its boldness.
10. Reclaiming The Female Body
Perhaps this design is limited to feminists or feminine-presenting people with vaginas, but it can nonetheless be a powerful way of showing a little love for your reproductive system.
11. Like A Girl
This tattoo reclaims the idea of "fighting like a girl" while using lipstick to weaponize femininity.
12. Feminista
This one's a simple reminder of the importance of carrying feminism with you each and every day.
13. My Body
IMO, this is an especially powerful tattoo meant to exercise autonomy over one's body and actions. Taking back control of oneself and one's own life is something women and feminine people the world over need to know they have a right to do.
Personally, I'll continue to wear my politics in my ink for a long time. Here's hoping these tattoos encourage you fellow body art lovers to do the same.
Image: Meg Zulch
Sours: https://www.bustle.com/articles/118026-13-feminist-tattoo-ideas-perfect-for-lovers-of-equality-photos
Ideas equality tattoo
Equality Tattoos
Zoë Kravitz has a tattoo on her upper right arm which "Mississippi" on one line with a bunch of keyboard symbols "*@!!?*@!" on the next.  It represents the song "Mississippi Goddamn" by Nina Simone with the symbols used to censor the expletive word. Zoe is a big fan of Nina's music and likes to fall asleep to her albums. She told Harper's Bazaar:
"Even if I don't go out, I have a hard time falling asleep, so I go to bed around 1 A.M. I listen to a lot of jazz when I'm getting ready for bed: Nina Simone and Billie Holiday."
The song "Mississippi Goddamn" was released in 1964 at the height of the African-American civil rights movement and speaks about the struggles that black people faced while fighting for equality and how she is sick of waiting for slow change. Although much progress has been made, unfortunately racism is still present today and as a biracial woman Zoë Kravitz has experienced it first-hand. She has spoken openly about her struggles learning to accept her own racial identity and the typecasting that she experiences in Hollywood. She told Allure:
"Racism is very real, and white supremacy is going strong. I am definitely mixed. Both my parents are mixed. I have white family on both sides. The older I get, the more I experience life, I am identifying more and more with being black, and what that means — being more and more proud of that and feeling connected to my roots and my history. It's been a really interesting journey because I was always one of the only black kids in any of my schools. I went to private schools full of white kids. I think a lot of that made me want to blend in or not be looked at as black. The white kids are always talking about your hair and making you feel weird. I had this struggle of accepting myself as black and loving that part of myself. And now I'm so in love with my culture and so proud to be black. It's still ongoing, but a big shift has occurred. My dad especially has always been very connected to his history, and it's important to him that I understand where I come from."
She hopes she can provide more representation for mixed-race women through her work in the public eye — acting, modeling, and singing — since she herself did not see many mixed-race women in those roles when she was growing up.
(more…)
EqualityHandwritingMusicUpper ArmWriting
Similar Products:
Sours: https://stealherstyle.net/theme/equality/
Damian Lillard Breaks Down His Tattoos - GQ Sports
Are you looking for the best queer and lesbian tattoo ideas? Then this is the perfect article for you! From rainbows to matching couple tattoos, to more explicit tattoos!
The LGBTQ community has a long history with tattoos. Tattoos were even used for secret messages – people chose to tattoo iconic LGBT symbols on themselves to be recognized by other LGBT people.
And in a way that might still be the appeal for lesbians and queer people these days. Tattoos help with being visible. Or maybe it's simply because tattoos are a way to make a statement about who you are and how you feel.
There has always been a stigma on tattoos (my mum still thinks tattoos are mutilation of the body), but over recent years, public opinion is shifting.
Tattoos don't always have to be radical, they can be aesthetic, cute even! Tattoos have officially become mainstream popular!
Your body is a blank canvas, don't be afraid to express yourself
Disclaimer: tattoo designs may be protected by copyright! The person who designs the tattoo has intellectual property rights if the piece meets the requirements for artistic copyright.
Tattooed Lesbians & Queer Babes
In order to find popular lesbian tattoos, I have asked over 20 tattooed babes to share the story of one of their queer/lesbian tattoos! We have categorized them by theme.
Small Rainbow Tattoo
Sarah (she/her) has 3 tattoos, got first at 22.
A couple of months ago, I got myself a small minimalistic rainbow tattoo, because I really love this kind of delicate tattoos. I wanted to get something gay related for quite some time now and I'm happy with the way it turned out.
It's not only freaking cute but also stands for this awesome community that I am glad to be a part of and I hope it can serve as a reminder that we are here and queer, especially for all the still closeted people that might see it and feel less alone.
Self Love Tattoo
Sade Giliberti (she/her) has 21 tattoos, got first at 16.
All my tattoos are all my favourite but my most favourite is my Buddha on my arm. It was a birthday present to myself shortly after a break up.
I was getting back in tune with my spirituality, and really practising self-love again. Plus the tattoo artist really rocked it!!
Alysse Dalessandro Santiago (she/her/hers) has 4 tattoos, got first at 19.
My favorite tattoo is also my most recent one. It's a small candy heart on the side of my wrist that says "me".
This is a self-love letter and a play on old-school tattoos where someone else had their significant other's name in a heart tattooed on them.
I got this tattoo in New York City with 4 friends who also got the same tattoo while we were all together for CurvyCon.
We decided we wanted to get tattoos and when I said this self-love tattoo was one I had been thinking about getting, the whole group decided to get them.
Your tattoos don't have to be big to be meaningful, but they should serve as a lifelong reminder of something you continue to work on. For me, this tattoo represents my commitment to self-love.
Ayelen van Brummelen (she/her) has >50 tattoos (but not enough yet), got first at 17.
I did this tattoo on myself, the meaning of my tattoo is that I finally can accept myself for who I am.
Acceptance is one of the hardest things I had to do, but it will take me further in life and I know that it will make my journey of life a lot easier.
Flower Tattoo
Azucena Palomares (she/her) has 6 tattoos, got first at 22.
This tattoo is a half face with a lilly and a sunflower blooming from the top.
I got it because my mind is always blooming/thinking and the reason for the lilly is that my name "Azucena" is a type of lilly and the sunflower because my parents love sunflowers.
Animal Tattoo
Saima (she/her) has 11 tattoos, got first at 19.
My most recent tattoo is a lion on my left thigh. My mom is a Leo and I really wanted to get something that represented her and her strength and fierceness.
I also love sacred geometry and I wanted something colorful to mirror my mom's colorful personality.
My friend Ruby is a tattoo artist that specializes in watercolor style tattoos, so I knew I wanted her to bring my vision to life by combining all these elements together. I love the way it came out and the strong presence it has on my body.
Tattoos have a power and magic all their own. They decorate the body but they also enhance the soul.


Michelle Delio
Bobbie Long (she/her) has 12 tattoos, got first at 18.
I'd have to say my favorite tattoo is the tiger on my left forearm. A beautiful traditional/Thai inspired design by an incredible artist. This piece marks the time when I truly accepted my ടexuality.
What more prominent piece but a fierce tiger symbolizing courage and strength. After years of hiding, I finally had the courage to be my authentic self.
Women Tattoo
Jessica Cleani (she/her) has 4 tattoos, got first at 20.
My second tattoo was a minimalistic art of a woman that describes my orientation. The reason I got this tattoo was to show myself and the world that I love the woman's curves and the woman itself.
It shows that I'm a proud lesbian and don't need to be ashamed of it.
Sioejeng Tsao (she/her) has 26 tattoos, got first at 18.
This is my own illustration on my arm, the first tattoo of one of my own works is kinda special!
I started off with very beautiful tattoos and slowly adding funny ones as a reminder to never take life too seriously, and we as women don't need to be only pretty for the male gaze.
It's always a good day for a new tattoo
Sleeve Tattoos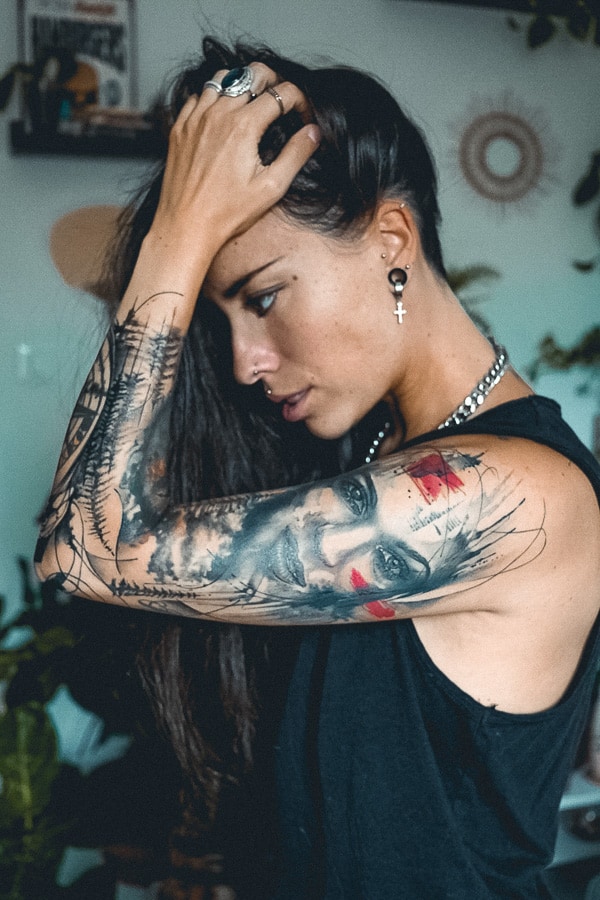 Gaia (she/her) has 20 tattoos, got first at 23.
I love my left sleeve. 2 faces, one inner forearm and one on the outer side of the arm, and the background (trees mostly). I wanted those specific faces because they are 2 women that remind me every day to stay strong.
Rich Harris is the artist of my Lexa's (made in 2017) and Ivan Trapiani is the artist of my Cristina Scabbia's face and the rest of the background (I did it 2 months ago).
Every single tattoo I have means something to me.
Kirstie (she/her) has 11 tattoos, got first at 16.
I drew this tattoo to represent the places I've lived. I was born in Tennessee and grew up in San Francisco.
There are Tennessee mocking birds and the Nashville skyline. There are also California poppies and the Golden Gate Bridge!
I love this tattoo because it represents the places that shaped me into being who I am.
Zenobia Philippe (she/they) has 14 tattoos, got first at 17.
All my tattoos are either lessons, passions, or for family and I try to put a lot of thought into each one. I think the one that's most meaningful and I reread the most is my paintbrush can tattoo.
It's a big reminder to me to always love myself inside and out even when I struggle to so.
Meaningful Words + Quotes Tattoo
Jess Guilbeaux (she/her) has 7 tattoos, got first at 22.
My most meaningful tattoo is my tattoo with the words "Last Hope" on my right inner bicep. "Last Hope" is the name of my favorite song from my favorite band, Paramore.
That song got me through homelessness and rejection. It kept hope alive and reminded me that to survive, all I need to do is to keep going.
Kasey (she/her) has > 40 tattoos, got first at 18.
I was 21 years old when I first heard the song "Born This Way" by Lady Gaga. I instantly connected and identified with the lyrics. I remember it made me feel seen and even more confident in my queerness.
Also, I was very proud to have such a talented artist whom I'd admired so much use her platform to represent us gays so unapologetically!
Without hesitation, I knew I wanted those lyrics on my body. I chose my back because even when my back is turned people can read that and be reminded that their judgments will never affect me or change who I am!
Because baby, I was born this way!!
These are the best lesbian songs to listen to!
Allie (she/her) has 4 tattoos, got first at 17.
My first tattoo I got when I was 17 – my dad took me! It says: say yes to life. It's on my ankle!
I love it so much and it always reminds me to say yes to opportunities!!
Ink my, ink my whole body, ink my whole body
Got so many tats, you can't even count 'em up
In the shop every week, I can't seem to get enough


Wiz Khalifa
More Lesbian Tattoo Ideas
Yes, I have literally searched the interwebs for HOURS for more tattoo ideas.
That how I decided to make another article about Pride tattoos (coming soon), but I want to share a few more specific lesbian tattoo ideas that I fell in love with.
Scissors Tattoo
Okay, explicit tattoos like this aren't for everyone! I find explicit ink so brave, I don't have the courage for that just yet!
Triangle Tattoo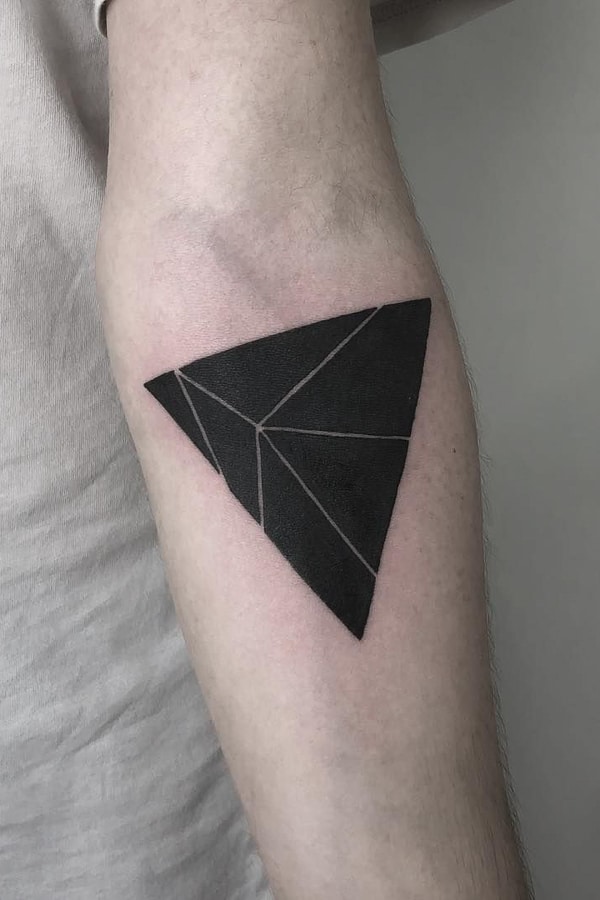 Back in times of the Third Reich, the downward-pointing black triangle used to mark individuals considered "asocial". The category included gay women, nonconformists, ടex workers, nomads, Romani, and others.
Many lesbians reclaimed this symbol for themselves as gay men reclaimed the pink triangle.
Cat Tattoo
In case you like the puss, why not get one tattooed?
There are actually way more, explicit designs to be found online if you're into visualizing private parts or even organs.
V Sign Tattoo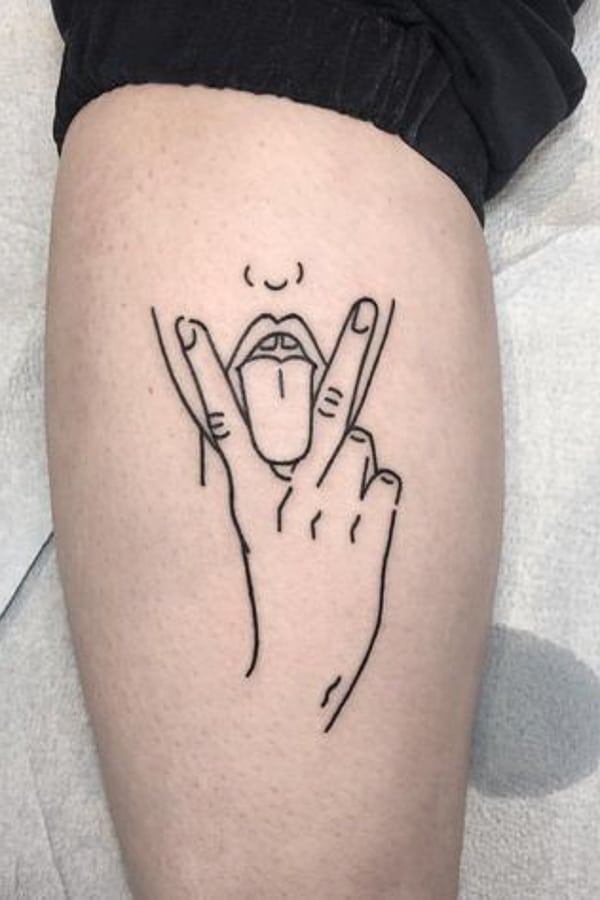 Yup, I just went there. I better call this the 'explicit tattoo' section. We all know what this sign means, right?!
A V sign with fingers and tongue – it's pretty clear.
V Tattoo
Obviously, the V can mean a lot more! Maybe you want to symbolize peace. Or maybe you're vegetarian/vegan!
A simple V can be very pretty.
Lipstick Tattoo
We don't like labels too much, but we know LGBTQ+ labels can be really important to some people. In case you identify as a femme, lipstick lesbian, this is a way of telling the world!
We bet it helps with the lesbian invisibility many femme lesbians have to deal with.
Feminist Tattoo
Because we are all QUEENS! We love these feminist tattoo ideas.
Trans + Non Binary Tattoo
But of course, not all lesbians nor queer women are cisgender female!
Equality Tattoo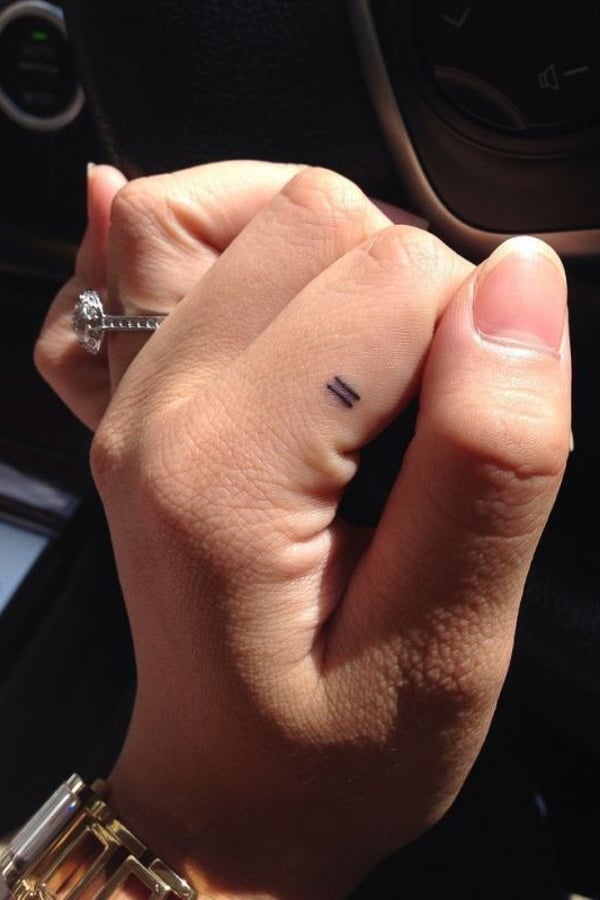 Because we all want to live in a world that's more equal.
Lesbian Couple Tattoos + Matching Tattoos Ideas
Tattoos together, something to remember
If it's way too soon, f*ck it, whatever
Give me shapes and letters
If it's not forever, then at least we'll have tattoos together

Lauv
Sun Tattoo
Artist @jezzink
Alexia Lenoir (she/her) has 7 tattoos, got first at 17 & Aisha Shaibu (she/her) has 2 tattoos, got first at 29
Alexia: The one that is the most meaningful to me is the one I got with Aisha. We decided to get matching tattoos on Valentine's Day of the sun, which represents our bright and beautiful love.
Aisha: My favourite tattoo is my first, on my wrist. It's quite significant because my fiancée and I got the same tattoo. It's a symbol of our commitment to another but also highlights how much joy we have created in each other's lives.
Travel Tattoo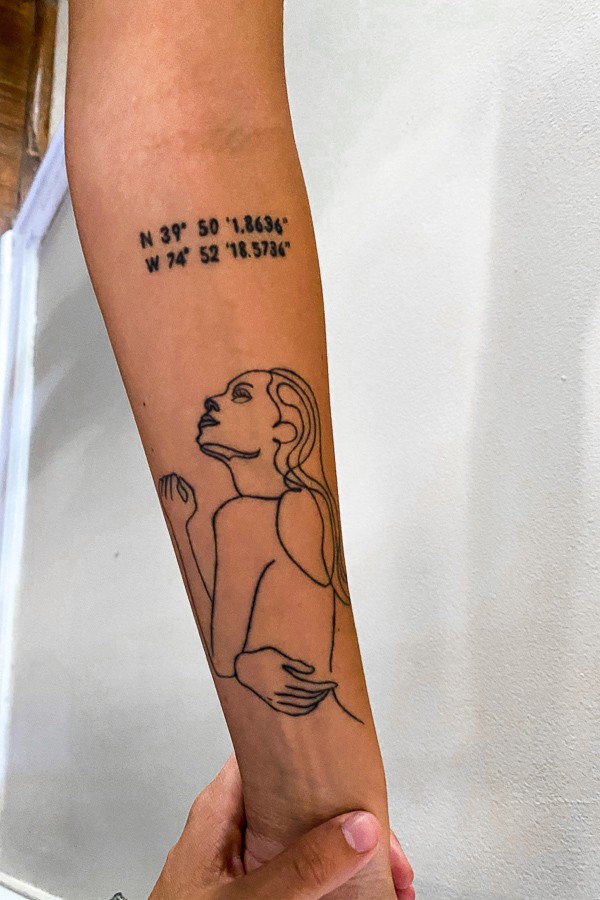 Christine (she/her/hers) has 14 tattoos, got first at 15 (got a tattoo instead of a quinceanera).
I love all my tattoos because there is a story and experience to it but my favorite (today) is this minimalistic one-line piece I have. It's one drawn line of a woman silhouette on my forearm.
I got her in Moalboal, Philippines during our backpacking trip throughout Asia. We went to a bar and met this amazing group of people and one of the guys happened to be one of the few tattoo artists in town.
I wanted a tattoo that represented strength and in a way, I saw myself in this minimal line piece.
It represented my growth and pride. It was really scary for me to just let go of my life back home and embark on this 9-month backpacking trip with my girlfriend Kirstie, but it was one of the best decisions I've ever made.
My friend knew I wanted something 'minimal' and was able to capture everything I wanted in this tattoo. Every time I look at it, I think of how grateful I am to experience everything I have and to think where I am now.
I think I'll make it a tradition now to get one during each of our travels.
Read our ultimate lesbian travel guide!
Date + Partner's Initials/Name Tattoo
Cindy Castro (she/her) has 2 tattoos, got first at 29.
My favorite & most meaningful is my last one. It's my partners' name + our wedding date. I decided to get it because she's the love of my life & I wanted to have her & our special day on me forever.
I was undecided on where to get it but the same I decided to get on my back because I feel she always has my back (she's my #1 supporter).
Cole Allen (she/her) has too many tattoos to count, got first at 17.
My most meaningful tattoo is 'A 1/9' on the right side of my face. '1/9' is the date I got married to my wife Kate & the 'A' is for 'Allen'.
I don't have any real family so once we had got married and became a married lesbian couple I finally felt like I belonged, and now had family, so I wanted a tattoo to symbolize that.
'I Love You' Tattoo (in Another Language)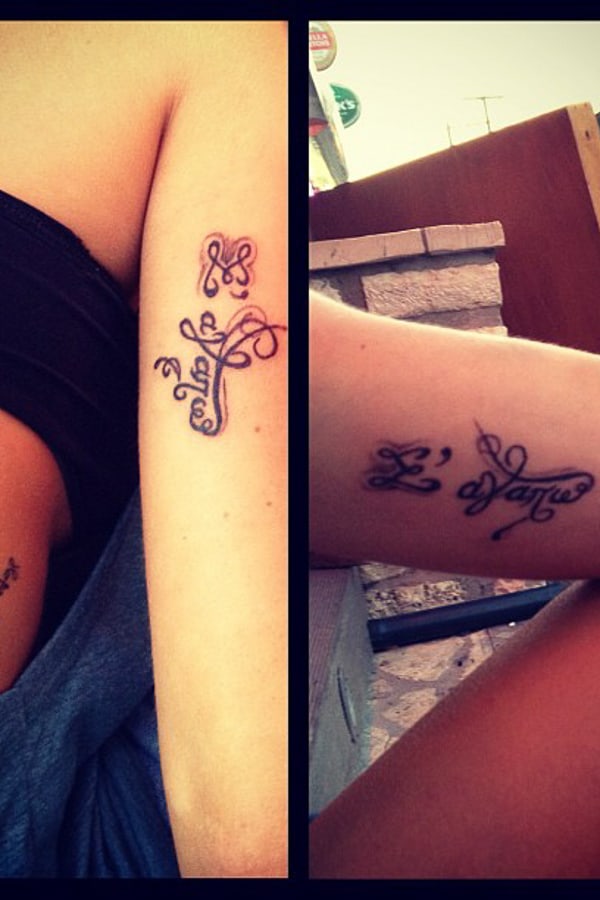 Kate Allen (she/her) has too many tattoos to count, got first at 17.
The first tattoo Cole & I got together "Σ' αγαπώ" which means I love you in greek. We had just moved to Corfu, Greece after being together for 4 months & we wanted something cute and matching.
So we got one of our Greek friends to translate for us. Probably one of the worst tattoos & weirdest experiences ever but it's something we love and can look back on and laugh at!
Zodiac Sign Tattoos
Roxanne Weijer (she/her) has 1 tattoo at age 23
I got my tattoo together with my girlfriend, in Japan! My tattoo is our zodiac signs (Cancer & Aries) intertwined, which are also the zodiac signs of my parents (and my stepmom).
Maartje Hensen (she/her) has 2 tattoos, got first at age 22
Hey, it's me, the writer of this article! I wanted to get the same tattoo as Roxanne, but last minute I decided to change plans. I still got our signs tattooed, but represented in the stars (and intertwined).
My last tattoo is a 4-striped rainbow, representing by connection with my 3 siblings and my queerness.
Lock + Key Tattoo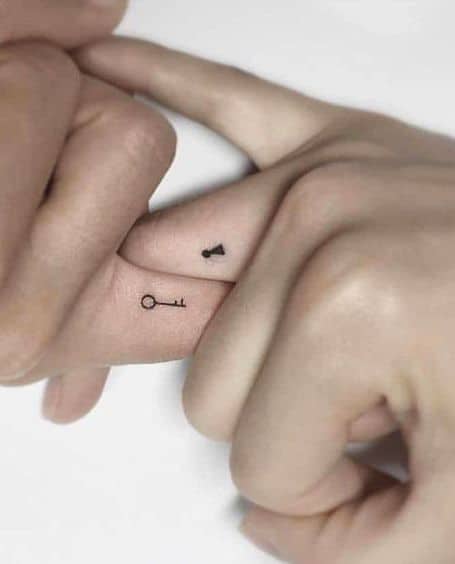 We had to add this one, because we find it too cute! When someone unlocks your heart – that's so symbolic!
Tattoos are like love… beautiful and sometimes painful
Tattoo Pain Chart
Are you thinking of getting inked? Figuring the design is equally difficult as finding the perfect placement! You might want to consider this tattoo pain chart if you're going for the first time.
Make Your Own Temporary Tattoo
Not ready to permanently commit yet? Or want to see how a tattoo might look? You can buy printable tattoo paper and create your own fake tattoos!
Tattoo Trends 2021
Looking to get inked in this year? We have some insight into the tattoo trends of 2021!
2020 was the year of color, fine-line, objects, Korean-style, and peekaboo designs. This year, we will see a lot more:
Small tattoos & micro tattoos
Minimalist tattoos (simple line art, simple designs)
Sentences, quotes, poems (not just a word)
Mixed styles – like graphic tattoos, tattoos no longer have to fit 'one style'
Ear tattoos, hand tattoos, finger tattoos – more visible tattoos are getting more popular!
And stick-and-poke tattoos will stay popular
Do you have any tattoos? Do you have more lesbian tattoo ideas too add? Tell us more!
Find us on Instagram, Facebook, YouTube, or comment below!
READ MORE
PIN THIS ARTICLE
Sours: https://onceuponajrny.com/queer-lesbian-tattoo-ideas/
Similar news:
She brushed her hand over the blonde's thigh and whispered softly, all honest, Swan, and with a quick kiss, the brunette got behind the wheel. What a restaurant, more like a hotel… Oh, Mills, you're making me some kind of sexually preoccupied person. One touch of yours and it blows my roof off. also, without moving, Emma stood, leaning on the car. Well, why did you get up again, you don't want dessert.
1500
1501
1502
1503
1504