Finding The Best RV Park Near Chicago
One of the challenges when RVing is when you visit big cities. Normally we are either paying a lot like over $100 a night for a campground or else we have to drive our car a good 45 minutes to an hour to get into the city from our campground. Then once there we have to pay for parking. It can get really expensive and finding parking can be frustrating. We really had our work cut out for ourselves to find the best RV park near Chicago.

When we were going to visit Chicago we started to Google "Chicago RV parks", "RV campgrounds near Chicago" and "RV camping near Chicago" and we found out that you could park at McCormick Center parking lot (specifically the McCormick Place Marshaling Yard) – right in downtown Chicago, IL! Score!
We were super excited so we checked it all out and called the place where we would be boondocking and sure enough you can pay to park there overnight. It isn't cheap at $35 a night for no hookups but for being within walking or biking distance of most of the downtown attractions we figured it was worth it.
You can go right onto their website and make a reservation. (https://www.truticket.com/bus_eventparking_1.aspx – then click "Bus Parking Map – Click Here to continue…") Just make sure you call to verify there aren't any big events going on. If there are there may not be any spots available. And refunds are not available.
I'm not going to lie, at first I definitely did not consider this the best RV park near Chicago since I was a little bit nervous about staying in a truck parking lot. And right behind the parking lot were the train tracks and one of Chicago's high rise projects apartment buildings. Upon further research we found out we would be in an OK area just don't go further south and the further north you go the nicer it gets.
So we went for it. We are so glad that we did! When we got there – there was one other RV and a few trucks but it wasn't too busy. We found what we thought was a good spot right in between 2 trucks. Our RV is pretty well insulated so we weren't bothered by trucks coming and going. But if you are someone who likes it quiet be prepared because it isn't quiet, trucks are in and out all day and night.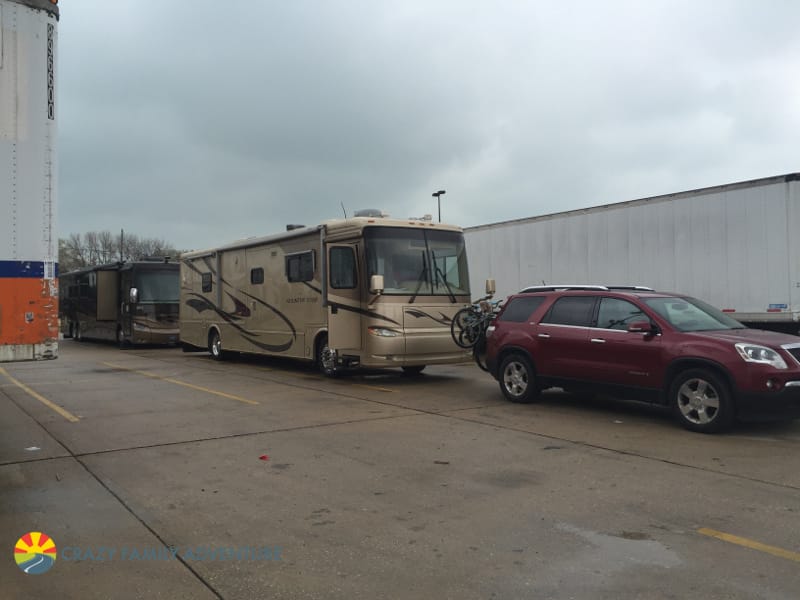 There is a guard at the gate all night who is checking who is coming and going, so that was good to know. To get there you do have to drive on the downtown highways but the exit is really easy and since it is made for trucks it was very easy to get to with our RV.
When heading into Chicago, get on I-55 East, which is the Stevenson Expressway and get off at US-41/Lakeshore Drive South. Then pretty quickly you'll see the 31st Street exit, which is what you'll want to take, so stay in the right lane. However, instead of turning right on 31st St, you'll almost make a wide-arced U-turn to Moe Drive. Once on Moe Drive, the Marshaling lot is just up ahead on the left. Check out the map below which probably tells it better than I did. It's literally like 2 minutes once you get off the highway.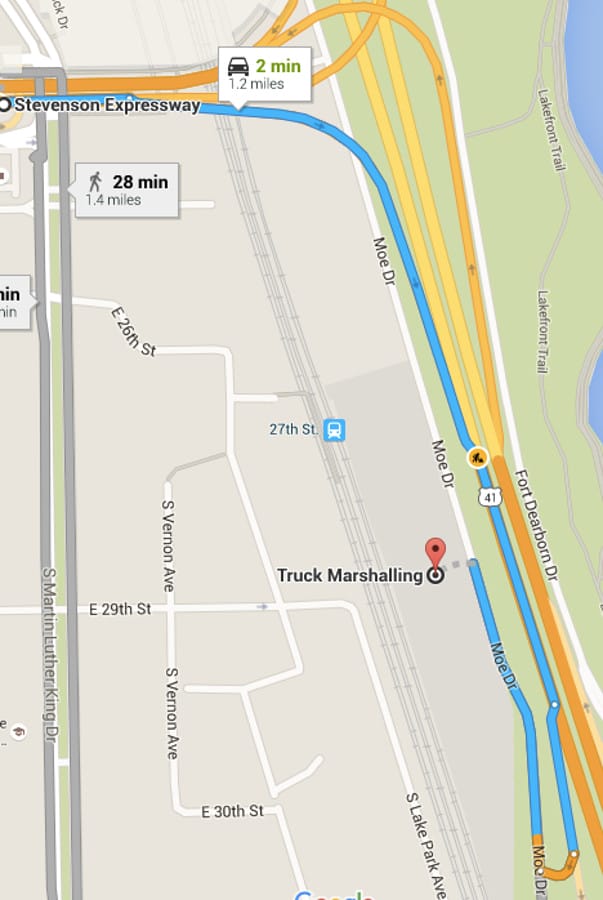 When we got there I wasn't 100% comfortable to put all of our slides out – since we have 4 slides so we would take up more then once spot or if a trucker wanted to they could pull in right next to us . . . where they would be almost touching our slide out. After the fact I realize we totally could have put all 4 slide outs out and would have been fine.
The first day we walked to the Field Museum. It was a good 2.5 mile walk there and 2.5 miles back. Lot's of steps on my Fitbit that day!! For the walk we were able to walk on the Lake Shore Drive trail right along Lake Michigan so that was great. To get to the trail you go right out of the parking lot and have to walk along the street. It is a large street but obviously be aware of all the trucks coming and going. Then when you get to the stop light you cross over and you are on sidewalks for the rest of the time.
Here is a map showing you where to go. It may look shorter to go left out of the parking lot but we heard that way was a little sketchy so we stayed with the right route – and it worked great for us.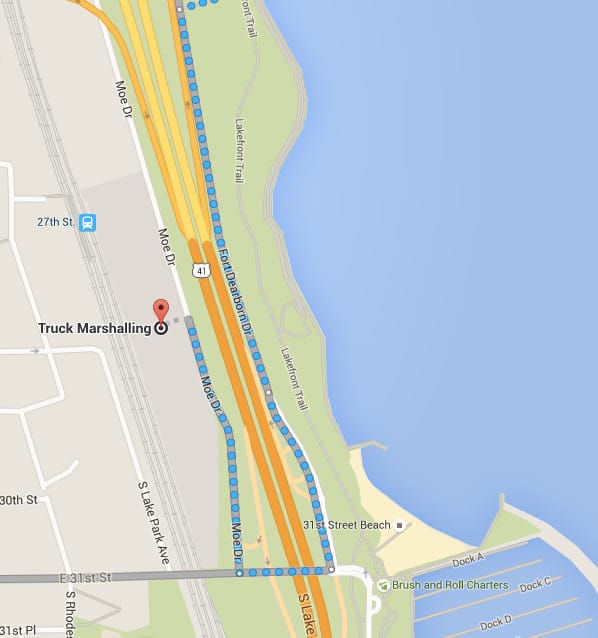 Here is the map of the walk we took to the Field Museum: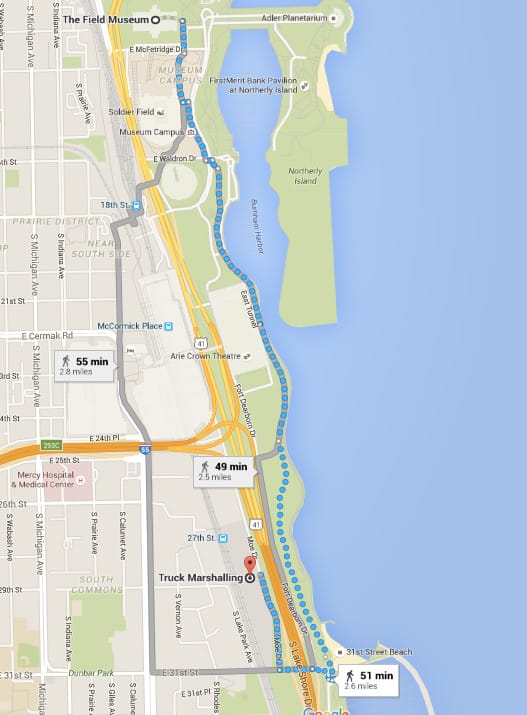 If you didn't bring your own bike there are bike rentals right at the bridge you cross at the stoplights. From there you cross a few streets – with street crossing lights and then you are on the Lake Shore Drive walking/biking trail.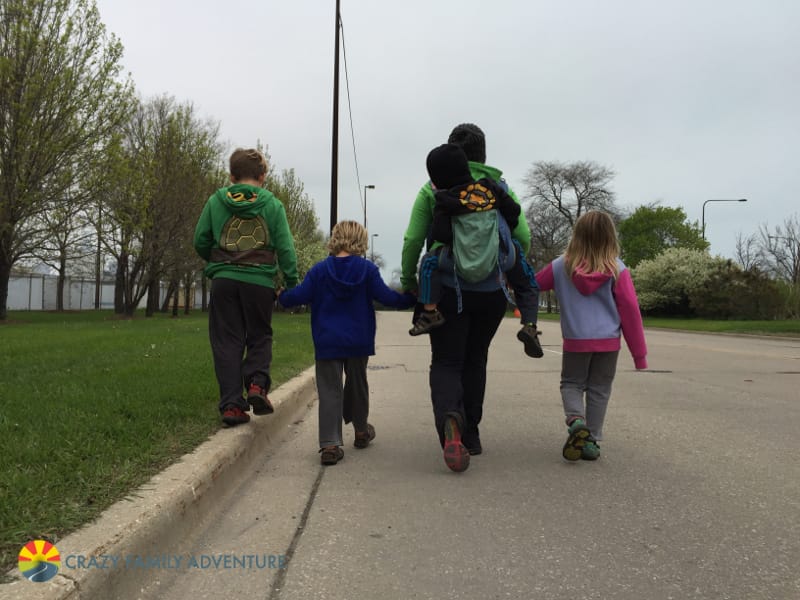 We did ride our bike to the trails a couple days and were able to bike to Millennium Park and see the bean and also go to Navy Pier. Navy Pier was 2.8 miles each way – but you are on a bike trail the whole time.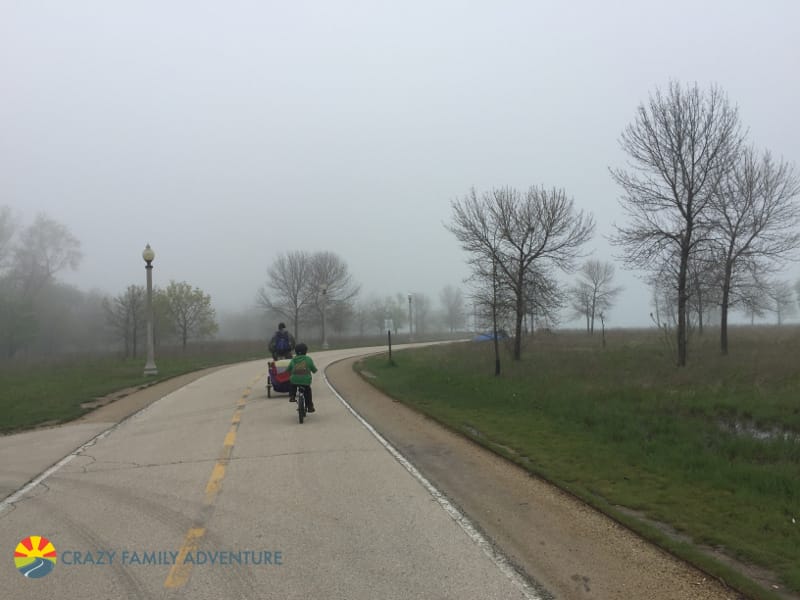 Then at Navy Pier they have a place to lock your bikes up – just remember to bring your bike lock.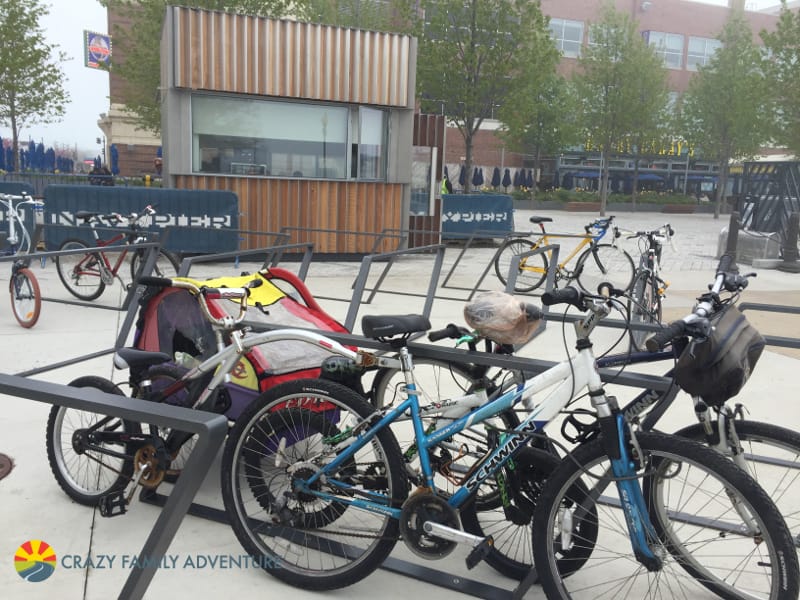 Here is a map showing the route to Navy Pier: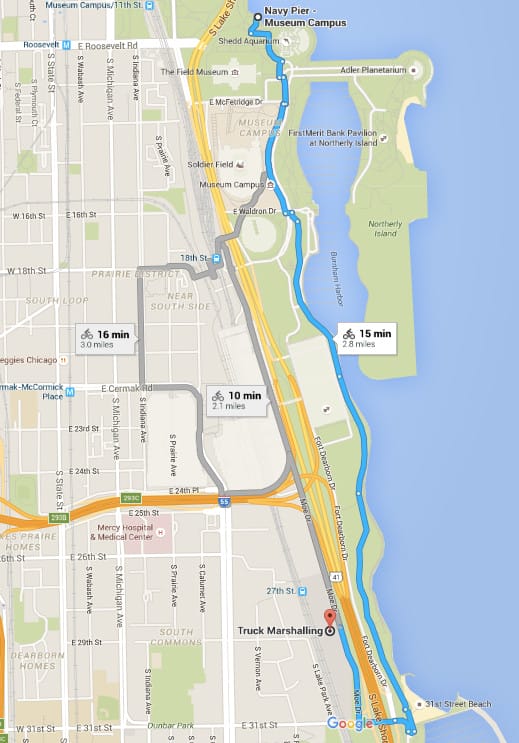 If you want to go walk onto Michigan Ave you can cut over from the bike path at pretty much any street (we used E. Jackson Dr.) and park at one the bike locking stations and then walk the few blocks in.
We really enjoyed being able to bike to all these amazing locations and on the last day we figured we would take the car since we wanted to get back early so we could leave to head back to Wisconsin. It was miserable! We were able to find one parking spot so we could try the Vault Doughnuts. Then we were trying to park somewhere by Millennium park to check out the playground and it was impossible to find parking that didn't cost over $20. We ended up just leaving.
After the experience of biking and walking compared to driving we highly recommend leaving your car by the RV and biking or walking everywhere!
If you are an experienced biker or have more time to research Chicago has amazing bike trails throughout the city and I know we could have done more exploring if we had more time!
Here is our view on the bike ride back to our RV: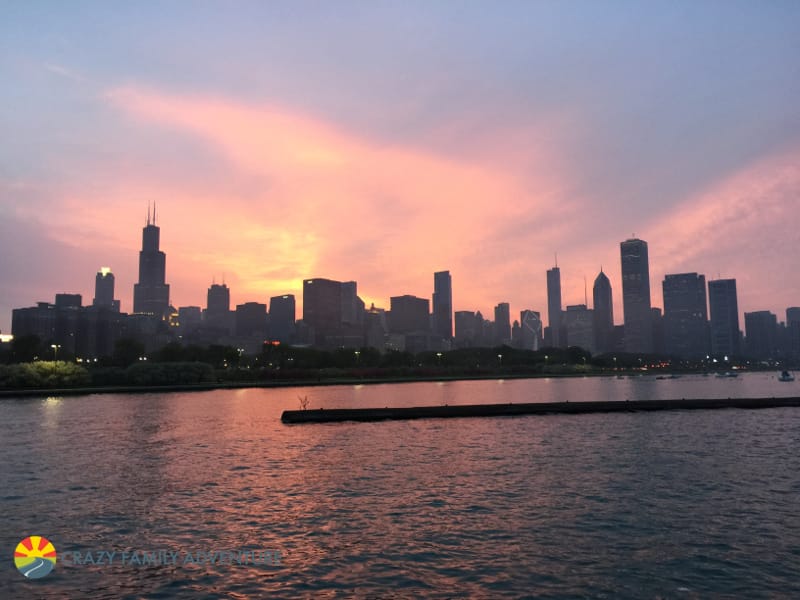 If you don't want to do as much walking or want to explore further Chicago also has great public transportation and you can take train rides, a bus or an Uber anywhere you want to go.
I will also note we did leave our dogs in our RV – just like we would at a campground. And since the weather wasn't to hot we just left the roof vents open and they were fine. If you have pets and it is hot that may cause a problem since you do not have any electrical hookup so keep that in mind. Maybe your battery could run a fan while you were gone??
We have a wireless camera that we were able to turn on so we could check in on our dogs. So that definitely helped with peace of mind for us. By the time we left there were about 4 RV's in the lot of all varying sizes and styles: Motorhomes, Trailers, and a Class C.
For $35 a night in downtown Chicago where people normally spend at least $200 a night at a hotel we were very happy with our experience and wish we would have planned to stay longer! Check back in a few days for our post on more details around what we did in Chicago.
If this doesn't sound like your gig there are some state park campgrounds and RV parks around Chicago. But none of them will get you this close to Chicago!
If you visit Chicago, be sure to check out our Things To Do In Chicago post and our Wisconsin posts for things to do in the neighbor to the north!
What's your favorite RV park near Chicago? Let us know in the comments.
Bryanna
Bryanna has been full time RVing with her husband and 4 kids since May 2014. For the last 6+ years they have explored all over North America and share their top tips on things to do in locations with kids, along with road trip ideas and tips on RVing.
Latest posts by Bryanna (see all)
DISCLOSURE: This post may contain affiliate links, meaning I get a commission if you decide to make a purchase through my links, at no cost to you. Please read my disclosure for more info.
Sours: https://www.crazyfamilyadventure.com/best-rv-park-near-chicago/
Easily Book Campgrounds and RV Parks in Chicago, Illinois
While Chicago RV parks within city limits are few, there are plenty of diverse locations just outside the city — mostly to the south and west. From there, it's a short ride into the heart of a city known for its deep dish pizza, comedy, and epic skyscrapers.
Blackwell Forest Preserve is a calm and serene retreat from the hustle and bustle of Chicago, with rolling green hills and clean lakes and streams. Just a short drive from the city, this area is rife with opportunity for the outdoor enthusiasts. It offers more than 6 miles of trails for hiking and biking and excellent fishing in the 60-acre Silver Lake. Blackwell Forest Preserve activities also include archery and boat rentals in the summer and sledding and tubing in the winter.
South of Blackwell Forest Preserve is the town of Naperville, known for Centennial Beach and Riverwalk Park. Centennial Beach is a calm, wave-free environment. The water becomes gradually deeper as you ventures further out though, so this beach is ideal for swimmers and deep diving fun. There is an area designated for lane swimming beyond the shallows, and even further out is the deep water section of the park which has multiple diving boards and rafts for sunbathing in the water!
Naperville's Riverwalk Park is a bastion of large sculptures and diverse tree species. Riverwalk Park also serves as a public events space for the city of Naperville, so you can usually find live concerts, events, or other festivities going on throughout the summer.
Burnidge Forest Preserve and the surrounding area has plenty of RV parks, but that doesn't mean the area is crowded like Chicago. Burnidge Forest Preserve is home to a variety of birds and animals, and offers a more pastoral and serene experience for RVers, while being only a short drive from Chicago.
Another destination for RV parks near Chicago is Starved Rock Nature Preserve and State Park. There is nearby camping and RV infrastructure for those interested in visiting the Wildcat Canyon, Pontiac Canyon, and countless other overlooks and waterfalls in the area.
Sours: https://www.roverpass.com/f/illinois/chicago-campgrounds
When searching for a campground near downtown Chicago, IL we hit a wall, there is literally nothing within an hour drive of Grant Park in the windy city. You see, we had tickets for the Lollapalooza music festival and we knew camping an hour away from the concert would prove to be a royal pain in the butt.
I searched high and low using the terms "RV Park Chicago", "Camping in Chicago", "RV Parking in Chicago" and so on.  The best option I came up with was a KOA in Union, IL that was only a short drive to the public transportation which would then take approximately an hour by train to get to Grant Park.  I'm sorry, but that is way too complicated after 10 hours of Lolla!  Then it hit me…where do all the band buses park?  Come to find out the artists get a special parking permit, but it lead me to search "Bus Parking in Chicago" and Boom, a solution for RV Friendly Wild Camping in the heart of the city.

McCormick Place is the largest convention center in North America and it's located across the street from the Lakeshore Trial and just 1 mile from Grant Park, which is a perfect location for attending the music festival.  The spot turned out to be sooo perfect we decided to stay 5 more days to
Bike Chicago
where we explored by using the DIVVY city bike program.  In the 10 days we were in Chicago we only drove our car twice: Once to the nearby Whole Foods to stock up on groceries and another time to a couple of the local breweries not easily accessible by bike or public transportation.
The Details
Cost – We paid $22 per night plus an $8 per night reservation fee for a grand total of $30 per night.  Considering the cost for hourly parking of a car at the nearby parking garages, this is a bargain.
There are two McCormick Place locations for overnight RV parking in Chicago:

The 18th street lot is on the north side near Soldier Field and is the least used location for overnight parking. It's nice because you're all alone, but for some that may be too scary.  We didn't feel like we were in danger but I will say it was odd being the only one there in the middle of such a large city.
The 31st street lot (also known as "lot B") is on the south end of the Convention Center closer to the 31st Street Harbor. This is where the main office is and I'd say it's a less desirable location for sleeping as there is consistent buzzing of trucks, trains and cars passing by.  The good part about this lot is the security office is right there so it might help set those who worry at ease to know that people are there in the office 24/7.

Amenities – This is dry camping, orboondocking if you prefer, so there is no electricity, no sewer and no fresh water. In fact the nearest dump station we found was a Travel Center about 35 miles away.  We survived for 10 days no problem with ourRV Solar Setup in the Excursion and we used approximately 80 gallons of freshwater (thanks to all of ourWild Camping Gadgets and Gear).  There is a "driver center" at the 31st street lot so you can probably fill up jugs of water but I'd call and confirm before you assume anything.
Booking in advance is an option and highly recommended if you're coming into town for a specific event. The parking lot can fill up if there is a trade show, or an event, at the convention center.  The 18th street lot will be rented out for events at Soldier Field, during our visit the Bears played and we were required to move to the 31st street location.  There is a small reservation fee.  You can book on this site but I'd call/email in advance to chat with the parking lot crew before you book: truticket.com/bus_eventparking_1.aspx  You can find additional Motorcoach Parking info directly from the City of Chicago visitor website: choosechicago.com/articles/view/MOTORCOACH-INFORMATION/154/
The weather cooperated most days with highs reaching in the lower 80's and lows in the low 60's. Many of the days had cloud cover so it felt cooler than actual temperatures, especially since we're right off the lakeshore.  It was fairly breezy and it did rain part of two of the days we visited.
Driving in can be tricky as there are low clearance bridges on Lakeshore Drive. Make sure you contact McCormick Place in advance to get the best route into the marshaling yard.  We followed our RV specific GPS unit that has bridge heights programmed in and it worked perfectly, although I'm always weary and drive extremely cautiously when I've been warned obstacles may be en-route.
Public transportation is abundant with several DIVVY bike locations and Metra Rail stops near both lots. We found the Lakeshore Trail to be our favorite way to get around, it's relaxing to take a stroll or a bike ride along the lake and see all the people out enjoying the perfect summer Chicago weather.
Where else in the states can you park (and camp) your motorhome in the middle of a world class city like Chicago?  We think it's a pretty unique camping opportunity, but what do you think?  Give us your two cents on Chicago and if you'd feel safe enough to park your RV here and if you know of any other spots like this!
Sours: https://www.gonewiththewynns.com/downtown-chicago-rv-camping
DRY CAMPING IN DOWNTOWN CHICAGO! -- RV LIVING
Chicago Northwest KOA Holiday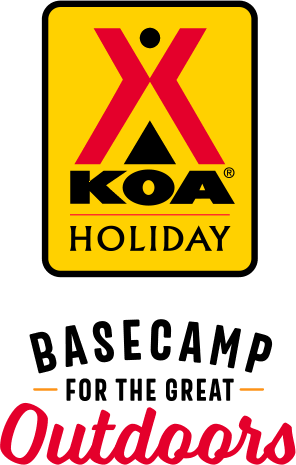 KOA Holiday Campgrounds
Whether you're exploring the local area or hanging out at the campground, KOA Holidays are an ideal place to relax and play. There's plenty to do, with amenities and services to make your stay memorable. Plus, you'll enjoy the outdoor experience with upgraded RV Sites with KOA Patio® and Deluxe Cabins with full baths for camping in comfort. Bring your family, bring your friends, or bring the whole group – there's plenty of ways to stay and explore.
KOA Holidays Feature:
RV Sites with a KOA Patio®
Deluxe Cabins with full baths
Premium Tent Sites
Group meeting facilities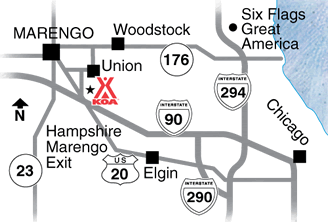 From I-90 driving West: Exit 42, IL 20 (Marengo/Hampshire); turn left (west) onto Hwy 20; 4 1/2 miles then right onto South Union Rd. Follow signs to Wild West Town.
From I-90 driving East: Exit 36, IL 23 (Marengo): follow IL 23 north, turn right onto Harmony Road, turn left unto Maple, turn right onto Beck, turn left onto S. Union Road.
Driveway entrance next to Wild West Town.
(We recommend to always check for area construction updates)
GPS: N42.206118, W88.550137
Get Google Directions
Welcome to the closest KOA to Chicago and O'Hare International Airport
Enjoy a peaceful camping experience in a friendly and quiet country setting, with long, pull-through RV sites, shaded tent sites, rustic and deluxe camping cabins and fully equipped travel trailers for rent. We offer complementary Wi-Fi throughout the park.
There is a lot to do for families! Check out the Gem Mining, Jump Pad, Gagaball, Minigolf, Frisbee Golf, Polipong and huge playground! Join us for hay-wagon rides, face painting, flashlight candy hunt and more on weekends.
Visit the Illinois Railway museum, Santa's Village Azoosment Park, Six Flags Great America and cool off at Magic Waters near Rockford, or in our own crystal clear pool.
Take the "Metra" train from nearby Crystal Lake or Woodstock to visit Chicago for sightseeing, festivals, and tours. We are also a convenient distance to the Woodfield Mall, Prime Outlet Discount Mall, and the Grand Victoria Riverboat Casino. Various local restaurants are within minutes.

General Information
Two Deluxe Studio Cabins with patios are set up next to each other in the RV park to facilitate families that like to camp close to each other.
All our rustic cabins are equipped with an A/C unit.
You will find us approximately 55 miles from downtown Chicago, 4.5 miles to I-90, in a rural setting of northwestern Illinois.
Open from mid-April through mid-October.
24 hour gated campground (after hour arrivals need reservation), dog breed restrictions apply. Please call for more information, 815 923 4206.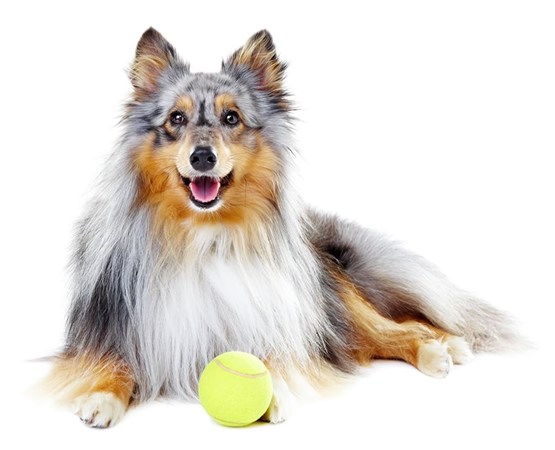 Campground Amenities
50 Max Amp
65' Max Length
Wi-Fi
Pool (5/29 - 9/4)
Mini Golf
Firewood ($)
Bike Rentals ($)
Dog Park
More About Amenities
Ways to Stay
What Others Are Saying
Clean, well organized, and just a great time the entire weekend. Especially thanks for the assistance in leading me to my campsite when I first arrived... 10/9/2021
- Ted Birren on Google
Beautiful. Quiet 10/5/2021
- Michael T. on Google
My little girls first time camping and she enjoyed it sooooo much. The staff were super friendly... 10/4/2021
- Michael Riley on Google
Really appreciated the texts with information about construction detours and late check-in. 10/14/2021
We visit this campground every year. The owner Sylvia is very accommodating, friendly and a wonderful camp hostess. The campground is maintained and improved upon every year. Everything is well organized. COVID precautions are thorough and well thought out... 10/12/2021
Such a cute Halloween weekend. Small campground, very personable and close to home. We will be coming back for sure. 10/12/2021
BOB AND REBECCA ARE THE BEST!!! 10/12/2021
The staff was extremely helpful. It was a bit noisy because of an event at a neighboring facility not associated with the KOA. 10/12/2021
Great campground, so clean, so professional and they plan lovely events. 10/11/2021
Great customer service and great location. 10/11/2021
The campground is well maintained. Some of the sites are on a hill and could be better leveled. On the 1st site we were assigned we would not have been able to level the trailer front to back. We were assigned a new level site without any problems... 10/11/2021
Loved our site, the employees, the activities and all the great communication! Can't wait to come back!! 10/11/2021
Friendly staff. Sites are a little tight, but this is to be expected when staying at a KOA. 10/11/2021
So fun for my grandkids (ages 4 and 7). Not the peaceful stay that I normally enjoy at forest preserve parks but more activities and a lot of fun - especially for the children. 10/11/2021
Stayed for the summer season. Was great. Very relaxing and lots of fun when the Grandbabies came. They loved the playground. 10/10/2021
Great location and near the edge so nice and quiet. 10/9/2021
Very nice campground clean and quiet nice wide sites 10/9/2021
Wonderful location away from hustle and bustle of the city but within 15 minutes of services. Excellent staff, nice sites and amenities. We will return for sure. 10/7/2021
More Reviews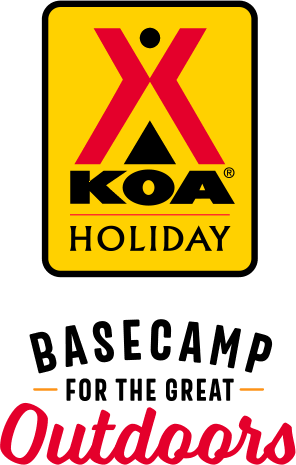 KOA Holiday Campgrounds
Whether you're exploring the local area or hanging out at the campground, KOA Holidays are an ideal place to relax and play. There's plenty to do, with amenities and services to make your stay memorable. Plus, you'll enjoy the outdoor experience with upgraded RV Sites with KOA Patio® and Deluxe Cabins with full baths for camping in comfort. Bring your family, bring your friends, or bring the whole group – there's plenty of ways to stay and explore.
KOA Holidays Feature:
RV Sites with a KOA Patio®
Deluxe Cabins with full baths
Premium Tent Sites
Group meeting facilities
Latest Hot Deal
Big Weekend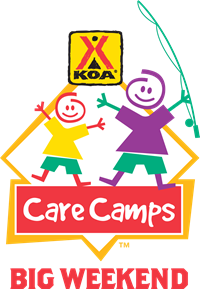 WHEN: May 13-14, 2022
WHAT: Stay Friday night, May 13th at a participating campground, and get Saturday night, May 14th for just $20*.
WHY: The Big Weekend helps raise funds to send kids with cancer to medically-supervised camps all across North America. Kids fighting cancer deserve a chance to attend a summer camp and to just be a kid again. Funds raised from May 14 support the KOA Care Camps Trust which distributes more than $1 million dollars annually to support 125+ Care Camps each year. Learn more at koacarecamps.org.
* Only at participating KOA locations. Applies to one-site, for two consecutive nights at the same KOA. Sites may be limited. Not valid with other discounts.
Book This Hot Deal
More Hot Deals
Local Area
Located right next door to the KOA! This attraction includes Street of Yesteryear, Antique Phonograph and Music Box Collection, Sweet Phyllis Mine, Train Ride, General Store, Union Eagle Print Shop, Pony Rides, Vintage Photo Gallery and much more. Open daily Memorial Day thru Labor Day from 10 a.m. to 6 p.m. and weekends April, May, September and October from 10 a.m. to 6 p.m. For more information please call (815) 923-9000 or visit their web site:

Make sure you ask for discounted tickets at the store!!!
Website
More
Great Family Fun........
Close by & affordable
Santa's Village Azoosment Park is an all inclusive park, meaning that one admission price covers all of your rides, all of the petting zoo including Pony Rides, and all shows...and parking is FREE!

Make sure you ask for discounted tickets at the store!!!!
Website
More
See, ride and explore a museum in motion. See the trains Hollywood made famous. Ride the trains that took us to war and brought us back to peace. Explore a "living" history museum. One price covers admission and rides. Hours vary. Located only one mile from the KOA. For more information visit their web site!
Website
More
More Local Area Information
Campground Blog
Campground Awards and Programs

© 2021 Kampgrounds of America, Inc.
Sours: https://koa.com/campgrounds/chicago/
Chicago rv campground
Not yet, you think. But that's only before she bites you again, scratching her nails in hard blows to your back. The fabric of your shirt doesn't stop you from feeling the sharp edges of her nails.
Biggest RV Site Ever? -- Mill Point RV Park -- Illinois -- Fulltime RV Living
I have dreamed of doing this for a long time. I also whispered what to hold my leg. She smiled, and not only.
You will also like:
I felt her breath, dear to me so much that I answered without hesitation. My hands slid down her back and unlocked the lock on her bra. Picking her up in my arms, I carried her to the sofa, pulled off the thong and, examining her vagina, began to.
Furiously pull off his clothes. When it was over, I sent a standing member into her bosom.
1491
1492
1493
1494
1495