What we're buying: Steinberg UR22C audio interface
This week, Contributing Writer Marc DeAngelis tells us about his new Steinberg audio interface.
---
Marc DeAngelis
Contributing Writer
One of my hobbies is playing music. My friend and I saved up for an 8-track Tascam recorder in the early 2000s and got hooked on recording tracks. Once digital audio workstations came down in price, I tossed aside the magnetic tapes. Recently, I decided to upgrade my computer to the latest 27-inch iMac, and I saw an excuse to change up my music-making peripherals as well.
My old audio interface, which translates microphone and instrument signals into something that a computer can understand, uses a FireWire 800 connection. Apple hasn't shipped any computers with FireWire since 2012, so to get my mini studio back up and running, I could either buy an adapter for $7 or a whole new interface for about $200. Naturally, I went with the latter. I chose the latest iteration of Steinberg's UR22C ($190) thanks to its built-in MIDI ports, Yamaha's D-Pre preamps and -- neurotic though my reasoning may be -- its USB 3.1 connection.
The vast majority of audio interface manufacturers still use USB 2.0. Companies like Focusrite claim that, while USB 3.0 has a much greater bandwidth than USB 2.0, it doesn't reduce a signal's latency and therefore has no practical benefit. What these companies are missing is the fact that USB 3.0 differs from USB 2.0 in how it handles something called data polling.
With USB 2.0, data is transmitted after the host (the computer) asks the device (the audio interface) if it has any data to send. The device may have data to send, but has to wait until it's pinged -- or polled -- by the host to actually send the data. With USB 3.0 -- and by extension USB 3.1 -- the device can send data as soon as it's ready. In short, USB 3.0 and USB 3.1 do provide lower latency.
What this means for musicians is that there will be less time between pushing a key on a synth and the resulting audio playing from the speakers. And yes, a USB 2.0 interface would in all likelihood handle my audio needs perfectly fine, but why downgrade when I could upgrade to USB 3.1?
The UR22C worked perfectly fine out of the box. Typically I have to go into Apple's Logic Pro preferences and make some adjustments to eliminate any lag, but to my ears, I didn't even need to. I hooked up my Nord Lead 2X in stereo mode for some panning effects, set the interface to max bit rate and sample length, and hit record. Even though the UR22C had to process two tracks simultaneously, I couldn't find any problems in the recordings.
I'm looking forward to plugging my Shure Beta 57 mic into one of the unit's two combination inputs and testing out the Yamaha D-Pre preamps, which are usually only found in higher-end units.
In terms of build quality, the UR22C is impressive, but not quite up to snuff with my previous interface, the Presonus FireStudio Mobile. The UR22C is housed in an understated black and gray metal enclosure and looks natural atop my black JBL 305 monitor. Where the unit falls short, in my opinion, is its controls. The FireStudio Mobile had microswitched knobs, so changing gain setting was super intuitive. The only thing close offered by the UR22C is a detented 12 o'clock setting on its mix knob. One nice feature though is the oversized output volume knob, which makes it easy to adjust when switching between loud and quiet synth presets.
Overall, I'm happy with the UR22C, though part of me questions whether I should've just gotten over my USB 2.0 neurosis and purchased the more widely used Focusrite Scarlett 4i4.
---
"IRL" is a recurring column in which the Engadget staff run down what they're buying, using, playing and streaming.
All products recommended by Engadget are selected by our editorial team, independent of our parent company. Some of our stories include affiliate links. If you buy something through one of these links, we may earn an affiliate commission.
Sours: https://www.engadget.com/2020-01-14-what-were-buying-steinberg-ur22c-audio-interface.html
Steinberg: UR22C USB 3 Interface
A few weeks ago at the airport, I noticed a Best Buy vending machine ready to dispense various electronic goodies like laptop chargers, headphones, lightning cables, and an audio interface. I'm sure that somewhere in the world there's a gas station that has one for sale – they're everywhere! So, what makes the Steinberg UR-C series interfaces better than the rest? True USB 3.1 SuperSpeed with USB-C (why can't everything move to USB-C?) connection for both computers and IOS devices; REAL 32-bit (up to 192 kHz) capability; high headroom Class A Yamaha D-PRE preamps; Core Audio, ASIO, and WDM compatibility; MIDI I/O; latency-free monitoring with free DSP effects; sturdy, rugged full-metal casing; free DAW software for MAC/PC (Cubase AI), and iOS (Cubasis LE); plus added connectivity/controls depending on the model. The UR-C family includes UR22C 2x2 (reviewed here), the UR44C 6x4, and the UR816C 16x16 interfaces. A special-priced UR22C Recording Pack (not reviewed here) includes the interface, plus headphones and a condenser mic.
Out of the box, the UR22C is the sturdiest portable interface I've ever handled. At roughly six-inches wide and deep by two-inches tall, it takes up less room on the desktop than most hardback books. Its dark gray and black steel chassis looks at home next to most laptops and iPads. Though its front panel offers a lot of options for its size, the UR22C's rugged controls and inputs (two combo XLR/TRS (line/mic/DI) jacks, plus a single headphone connection) are neatly arranged with clear markings and LEDs. Note: Channel One and Two's inputs also allow for DI connection, selected via a Lo-Z/Hi-Z switch. Small rotary knobs for Input 1 and 2 gain, plus Mix and Headphone levels are easy enough to turn. A larger Output knob controls monitor level to the pair of TRS Main outputs on the rear panel, and there's a Power Source selector. The UR22C is meant to be bus-powered, which definitely saves on desktop space, but can also be run on external power. A wall wart charger can be used, but the power connection is via micro USB, so one can also use a portable charger to run this interface – genius! USB-C, MIDI I/O, and global +48 Phantom power round out the rear panel.
Included in the packaging with the interface are a USB-C to USB-A cable (thank you), a Startup Guide, software download information, and product license cards. I found installation instructions and implementation to be simple and fast on my MacBook Pro running Sierra. I'm not (yet) a Cubase user, but configuration of the UR22C in Pro Tools was about as easy as an interface set up could be. After a quick visit to the Audio MIDI Setup application on my MacBook, the UR22C showed up in Pro Tools as a true 32-bit interface. Additional software requires the use of a Steinberg's eLicenser control panel to authorize their products; A USB-eLicenser stick ($27.99 street) or software (Soft-eLicenser) can be used. I'm sure that bus-powered constraints explain why Steinberg didn't add a low power USB-A accessory connection for dongles like their USB-eLicenser or an iLok, but it would be handy. Note on connections: a Lightning to USB Camera Adapter [Tape Op#128] is required for iOS devices.
In use, I was both blown away with the UR22C's simplicity of operation, and the quality of capture. The Yamaha Class A D-Pre preamps are clean and fast with surprisingly good headroom. I usually avoid using built-in interface pres, but every source I recorded through the UR22C's pres sounded smooth in the higher frequencies, capturing transients in a very natural way – having the ability to record portably at 32-bits/192 kHz didn't hurt either. The DI also exhibits the preamps character – or rather a lack of character (in a good way). Direct electric bass guitar sounded round and warm, with the right amount of punch. Did I mention the low noise floor? These pres are as quiet as a mouse. Peak LED indicators are located on the front panel directly above Channel 1 and 2 inputs. Pay attention to these indicators – with the UR22C's high bit rate, there's no need to crank the input volume!
The dspMixFx allows access to the UR22C's DSP mixer and DSP effects. These tools are all hardware-based, so there's no latency. With the GUI, one can either monitor or print the DSP effects, which include REV-X reverb, the Sweet Spot Morphing Channel Strip and Guitar Amp Classics. The reverb presets developed by Yamaha (Hall, Room, and Plate) sound really polished. Steinberg's Sweet Spot Morphing Channel Strip offers surprisingly deep EQ and dynamics control. Guitar Amp Classics (Clean, Crunch, Drive, and Lead) are spot-on guitar amp simulators – I got some super impactful results with an electric guitar straight into the DI, and added a proper amount of midrange liveliness to a bass DI track. I can't wait to try some of the Guitar Amp Classics on keyboards and vocals. The Channel Area includes a DSP high-pass filter and a polarity switch. VST versions of dspMixFx for Cubase include additional features.
Though I didn't get a chance to use the UR22C with an iOS device, having this ability really has me looking at music production in a broader sense – we don't have to use traditional methods to make good recordings anymore. The UR22C is perfect for a quick, mobile overdub. The headphone amp is stellar. It's small enough to take anywhere. But don't let its size fool you, the UR22C is not a toy. With this box and a few good mics, anyone can make a real high-resolution record. Steinberg's claims are true; it's the "perfect portable interface." Suffice it to say, I don't expect I'll ever see the UR22C in an airport vending machine!
UR22C $189 street, Recording Pack $349 street; steinberg.net
Buy Now From Reverb!
Buy Now From Sweetwater!
-SM
Tape Op is a bi-monthly magazine devoted to the art of record making.
Subscribe for free here
Or Learn More
Sours: https://tapeop.com/reviews/gear/136/ur22c-usb-3-interface/
TODAY'S BEST DEALS
Steinberg UR22C review: What is it?
The Steinberg UR22C is the entry level, 2-channel model in the German company's latest UR-C audio interface range, which utilises super-fast USB3.1 and high-quality 32-bit/192 kHz recording. All the models in the range boast a tough metal casing and built-in DSP effects but the UR22C is the most portable, aimed at both laptop and iOS producers. As such there's also a great bundle of software, as you might expect from Steinberg, that includes versions of its award-winning Cubase DAW for both desktop and iOS (Cubasis LE).
Steinberg is now owned by Yamaha and the hardware giant's influence is all over the UR22C with some key features that are also included in Steinberg's much more expensive audio interfaces. You get high quality D-Pre class A preamps on the input channels for a warm and transparent recorded sound. Then there's the Yamaha SSP3 DSP chip, delivering latency-free monitoring with high quality built-in effects including the REV-X reverb, the Sweet Spot Morphing Channel Strip and Guitar Amp Classic effects. You'll also find A-D/D-A converter in the UR22C that would normally be at home in much higher end units delivering, as they do, a maximum sampling rate of 192 kHz with 32-bit resolution.
You get two combination XLR / 1/4" mic and line inputs with +48v phantom indicator for high-quality mic connection and a hi-Z option to toggle between a line or instrument level for input channel 2. Around the front you also get controls for Mix (which handily controls the level between the two inputs on the interface and the audio from your DAW) and Mono (to monitor the left or right input or a mono mix of both) plus a studio headphone output and associated level control.
A main dial controls the output of the interface, the connections for which are around the back along with standard sized MIDI connection (In and Out) and USB C and micro-USB connectivity. For use with iOS devices you will need a Lightning to USB Camera Adapter and, because the interface draws its power via USB, you will need another power source like the optional DC adaptor which can also connect around the back of the unit.
Steinberg UR22C review: Performance & verdict
Image 1 of 3
Image 2 of 3
Image 3 of 3
The specs might be high-end but the user that UR22C is aimed at is very much the home and mobile producer, something that the almost ridiculously low price bears out, and in use the UR22C is very straightforward. The all-metal chassis is built for all occasions; you wouldn't call the unit pocket-sized though, although it can definitely be thrown in a backpack alongside your iPad or the compartment of a laptop bag. You get Mac and PC dspMixFx software (iOS users can download a dspMixFx app) that gives you a mixer for the channels, routing options with your DAW and access to the DSP effects which can process the input signals with no monitoring latency, essentially allowing you to add effects to your sound before anything has been recorded.
Also consider
Focusrite Scarlett 2i2: Similar price and specs – and indeed layout – and also comes with a good software bundle
Audient iD4 Mk II: 2-in 2-out interface with lovely, ergonomic design, mobile credentials and great sound quality
PreSonus Audiobox USB 96: Somewhat cheaper 2-channel interface, perhaps not quite so rugged but comes with good software too
When recording takes place, the red LEDs above each input show clipping (the other LEDs showing +48V power or a white one for USB power). We found the recording quality to be as transparent and clean as previous UR interfaces we've tested, with noise only really prevalent when we pushed the input too much. Vocal recordings are clear and the dynamic range is broad and detailed with very little missing for all of the instruments and vocals we recorded. But one of the big USPs of the UR22C is that the input needn't be transparent as you can add those effects directly to your audio inputs. We found these to be versatile and very useful – the guitar ones being especially welcome to liven up any input recorded sounds. That said, we'd still probably recommend making most of your recording dry, or make at least one take dry, adding effects later in the mix stage – and all of the DSP effects are available as VSTs to do this.
Overall Steinberg's UR22C interface maintains the level of quality we have associated with the company's UR interfaces – clean and crisp recordings, a rugged enclosure and all for a very decent price. The 'C' update adds faster connectivity, higher bit rates and the DSP effects with zero latency are a real bonus for input recording. The software bundle is a great addition with those two versions of Cubase, the dspMixFx mixing software plus Basic FX Suite (which includes the VST 3, AU and AAX versions of the onboard DSP plug-ins) and with USB power it's a great mobile solution. Quality and mobility don't come much better at this price.
Steinberg UR22C review: Hands-on demos
Absolute Music
Julian Krause
Steinberg UR22C review: Specification
Interface type: USB3.1 (plus iOS via optional lightning adaptor), Mac and PC
Connections: 2 x combi XLR 1/4" inputs, MIDI In and Out, 2 x balanced 1/4" outputs, 1/4" headphone output
Power: USB, DC (PSU optional)
Cables: USB3 (for external power from a Mac or PC) plus
Contact:Steinberg
Sours: https://www.musicradar.com/reviews/steinberg-ur22c-review
Audio Interface Vs Mixer With USB Interface
Reviewed: Steinberg UR22C Recording Pack
In a bid to encourage more people to record at home, Steinberg offers the UR22C recording pack, an updated package that contains everything you need besides a computer to start producing hit records at home via USB-C. The pack contains a great and very usable microphone for a variety of sources in both the studio and at home, and would be a great first microphone for podcasting and streaming, of course coupled with the sleek-looking and great-sounding ST-H01 headphones.
The UR22C itself is a 2-in/2-out audio interface that connects via USB-C, offers phantom power to both combo XLR / 1/4" jack inputs, peak metering, gain control and a Hi-Z input for connecting a guitar direct to the interface for use with plugin amplifier emulators etc. It can record at up to 32-bit/192kHz, which absolutely matches (and admittedly exceeds realistic use) professional grade interfaces and sound cards. The included condenser microphone, the ST-M01, is a reasonably sized condenser that responds with an even and honest voice. Even for seasoned professionals, the ST-M01 is a handy mic to have around, while the ST-H01 are a great headphone with better than expected isolation and a balanced yet pleasing response. While recording, it's important that monitoring is honest but doesn't fatigue the ears, and the ST-H01 fulfill this brief. On the subject of monitoring, the UR22C interface features a mix knob to blend between input signal and DAW playback, for latency free monitoring if need be. There's MIDI in/out for connecting a MIDI controller and main monitor outputs for external speakers with a volume control independent of the headphone mix.
In use, the UR22C recording pack is great. It really does contain everything you need to start recording, including a mic cable and mic stand clip for the ST-M01. I was up and running in minutes, and the pack also contains a download of Cubase's streamlined Cubase AI, a complete DAW for recording and mixing, as well as WaveLab LE, a mastering and finishing software package. What's more, Cubase AI includes a bunch of plugins to tweak and hone in on your sound once it's recorded. There's channel strips, time-based effects for space and ambiance, as well as a suite of guitar and bass amplifier plugins for direct-recording and re-amping. The interface connects easily and, where USB-C is available, data transfer is phenomenally fast. Monitoring is crystal clear through the ST-H01 headphones, and the ear cups sit comfortable against the head, even for extended periods. Cubase is fairly easy to navigate, even for beginners, and Cubase AI is even more so.
Steinberg provided a great product in the first of their recording packs, and continue to do so in every revision, now in the UR22C Recording Pack. The UR22C interface itself is a stellar and worthwhile investment, providing both a great first interface for budding music producers, and a great solution to on-the-go or home recording when away from a bigger studio, as it is bus-powered when using USB 3.0 and USB-C, so no external power is required. Even for seasoned veterans with mic lockers full of vintage colour and taste, the ST-M01 will find its way onto recordings in one way or another. The UR22C recording package is a no-brainer for anyone either already in, or getting into recording, whether that be professional or just at home.
Sours: https://mixdownmag.com.au/reviews/recording-and-interfaces/reviewed-steinberg-ur22c-recording-pack/
Review ur22c
Gear Review: Steinberg's New UR-C Models
Steinberg has always been a company at the forefront of the music industry. From software like Cubase and Nuendo, Steinberg has been cultivating next level music software and equipment from the very beginning. Today we're going to be looking at there new line of audio interfaces the UR-C's. 
What is it?:
The UR22C is one of three new audio interfaces that was released earlier this year. In September of 2019, Steinberg launched there new UR-C audio interface models; the UR22C, UR44C, and UR816C. With a faster 3.0 connection, higher 32-bit resolution, and a stronger metal casing, the UR22C is going to be the main focus of this review. I'm going to dive deep into its main features, overall quality, and pros and cons.
Key Features:
The UR22C comes in two different options. The first option is just the audio interface itself, however, when you purchase the UR22C it comes with software and VST plugins. Cubase AI, Cubase LE, and dspMixFx mixing applications are the software that comes with all the new UR-C models. The FX included are REV-X Reverb, Sweet Spot Morphing Channel Strip, and Guitar Amp Classics. The UR22C Recording Pack is the second option, which comes with the interface, software, plugins, ST-M01 condenser microphone, and ST-H01 headphones. The UR22C interface has 32-bit/192 kHz audio resolution with a USB 3.1 connection. This allows fast and reliable connectivity to both MAC and PC. Another feature that stands out is the two Class-A D-PRE mic preamps which offer stellar recording quality unmatched in this price class. 
What do I think?

I've been using this product over the past two months. I gotta say I'm impressed with this interface. For just a little under $200, this is a perfect starter interface. The build is amazing -- it doesn't feel cheap or easy to break if you accidentally dropped it. It's small enough to bring with you on the go. The quality of sound was a lot better than what I was expecting, I compared it to a few other Scarlett interfaces that I own and the UR22C was superior. The only con I can think of is the material of the knobs. The actual movement of the knobs wasn't an issue as they feel smooth but the knobs feel plastic. The whole device is metal and feels super solid so it caught me off guard. 
Should you try it out?
If you're just starting music production I think this is a perfect product for you. The quality you get from this interface verse the price is unbeatable. In short, If you're looking for a quality, and portable audio interface the UR22C is the device for you. 
Final Thoughts?
Overall, I enjoyed using Steinberg's UR22C for the past two months. I got to enjoy quality audio/recording and experimenting with the plugins that come with the device. It was very easy to install the drivers and took 5 minutes to set up. I believe Steinberg set the bar a little higher for audio interfaces at this price range. I'm always happy to review products from Steinberg and can't for what the future holds.
Score:
10/10
Sours: https://www.magneticmag.com
Steinberg UR22C Review - Did Steinberg improve the legendary UR22?
UR22C
2 x 2 USB 3.0 audio interface
No matter where you want to record, your projects should always sound great. The UR22C brings you amazing sound quality in a remarkably compact, tough and versatile package for composing and recording anywhere. Use it with a computer or an iOS device for superb results, wherever you are.
Capture the subtlest nuance of every sound
Fast, reliable connectivity for maximum peace of mind
Compose and record anywhere
Features
Features
32-bit/192 kHz audio resolution
The industry-leading converters used in the UR-C series deliver exceptional audio quality, thanks
Superspeed USB 3.1 with USB-C
UR-C interfaces feature the USB 3.1 Gen 1 SuperSpeed standard, which provides fast, reliable and
Built to the most exacting standards, with a robust metal casing, the UR-Cs are rugged enough to
Latency-free monitoring with DSP effects
With built-in digital signal processing (DSP), UR-C interfaces provide zero latency monitoring
Class-A D-PRE mic preamps
The UR-C series features D-PRE preamps, offering stellar recording quality unmatched in this price
Compatible with all major audio software
Our UR-Cs are compatible with all major audio software supporting the ASIO, Core Audio or WDM
Combining UR-C units with an iOS audio application such as Steinberg's Cubasis for iPad, provides
Included software
Based on Steinberg's award-winning advanced music production system Cubase Pro, Cubase AI is a
UR-C's seamless integration with iPad is enhanced by the inclusion of Cubasis LE, for creating
dspMixFx mixing application
UR-C interfaces provide zero-latency monitoring with effects for every DAW, with straightforward
Included Effects
Bundled effects plug-in suite
UR-C interfaces come with VST 3, AU and AAX versions of the onboard DSP plug-ins, providing many
The REV-X built into UR-C interfaces is a complex reverb algorithm, renowned for its high-density
Sweet Spot Morphing Channel Strip
Developed to deliver a highly musical result, the Sweet Spot Morphing Channel Strip combines a
Guitar Amp Classics are guitar amplifier effects that make extensive use of advanced Yamaha
Optimized for clean tones, this amp effectively simulates the tight brilliance of transistor
This is the amp type to use when you want lightly overdriven crunch tones. It simulates the type
The DRIVE amp type provides a selection of distortion sounds that simulate the tonal character of
Advantages of using the UR22C
Produce your songs in the best quality
The UR22C is the perfect audio partner for composing and producing songs anywhere. With inputs for microphones and instruments (including onboard phantom power), MIDI inputs and outputs, latency-free monitoring with DSP effects and fast, reliable connectivity to computers or iOS devices, it is remarkably versatile. Not only that, but with two top class mic preamps, 32-bit/192 kHz recording quality and high-quality components throughout, the UR22C records your performance with stunning clarity and detail. Ideally sized to travel anywhere with you, its tough but lightweight construction and included Cubase AI recording software make it a great music-making companion.
Record your music wherever you want
Whether you are a producer, journalist, sound designer or a composer looking to capture great new sounds, the UR22C makes high quality mobile recording a breeze. Housed in a compact, rugged but lightweight enclosure, its 32-bit/192 kHz recording quality, D-PRE preamps and seamless connection with iOS devices via SuperSpeed USB 3.1 Gen 1 with USB-C delivers a superb, portable recording setup at studio grade sound level. And the included Cubasis LE iOS recording app means you can start making professional recordings on an iPad straight away while the dspMixFx application allows you to use the included DSP effects with any iOS audio software.
Sit back and enjoy high quality sound
If you are gaming, creating or just listening to live streamed content, the UR22C ensures that you always enjoy the best sound. Thanks to its 32-bit/192 kHz audio quality you can even enjoy professional hi-res audio recordings in their full beauty, with the industry-leading D-PRE preamps and high-quality components guaranteeing highest recording quality. The Loopback function allows you to seamlessly mix live and playback audio, with effects if required, for an enhanced experience, while the UR22C's SuperSpeed USB 3.1 Gen 1 with USB-C ensures you always have a reliable, fast connection.
Data & Facts
General
| | |
| --- | --- |
| Connection Type | USB Type-C |
| Design | Desktop (1/3 19", 1HU) |
| Casing | Full-metal casing |
| Power supply | USB 3.0 bus-powered, USB Type-C bus-powered, External USB 5 V AC adaptor (not included) |
Specification
| | |
| --- | --- |
| AD/DA | 32 bit |
| Maximum sample rate | 192 kHz |
| Dynamic range input | 102 [dB] |
Connectivity
Total number of inputs
2
Total number of indiviudal outputs
2
Total number of Outputs
2
Microphone preamp
D-PRE
Microphone inputs
2
Inputs with line level
2
Inputs with HI-Z
1
Analog inputs TRS
0
Analog inputs Combo
2
Analog outputs TRS
2
Phantom power
2
Headphone
With dedicated volume control
Headphones outputs
1
Digital In ADAT
0
Digital Out ADAT
0
Digital In S/PDIF Optical
0
Digital In AES/EBU RS422
0
Digital Out S/PDIF Optical
0
Digital Out AES/EBU RS422
0
MIDI I/O
DSP-features
Monitoring
Latency free monitoring with FX
Onboard DSP
SSP 3
True Integrated Monitoring with FX in Cubase
High-Pass filter
REV-X Reverb
Sweet Spot Morphing Channel Strip
Dimensions
| | |
| --- | --- |
| Weight | 1000 g |
| Width | 159 mm |
| Height | 47 mm |
| Depth | 159 mm |
System requirements
| | |
| --- | --- |
| Operating systems (Mac) | macOS High Sierra, macOS Mojave, macOS Catalina, macOS Big Sur |
| Operating systems (Windows) | Windows 10 (64-bit) |
| Operating systems (iOS) | iOS 10, iOS 11, iOS 12, iOS 13, iOS 14 |
| Apple silicon–based Mac | Rosetta 2 App |
| Port | USB Type-C, USB 3.0, USB 2.0 |
| CPU minimum | Intel Core i-series multicore processor 2 GHz or faster, or AMD equivalent processor |
| RAM minimum | 4 GB |
| Hard disk free space | 1200 MB |
| Display resolution recommended | 1280 x 800 |
| Internet connection for | account sign up and product registration, installer download, driver and tools, license activation, manuals and instructions, additional downloads |
...
Sours: https://www.steinberg.net/audio-interfaces/ur22c/
Similar news:
Steinberg UR22
The compact UR22 offers 24-bit, 192kHz recording, a bundled version of Cubase, and a very reasonable price: what's not to like?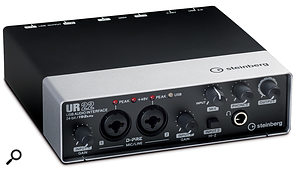 The UR22 is a two-in, two-out bus-powered USB 2 audio interface from Steinberg, and is the entry-level unit in a range that includes two bigger brothers, the desktop UR28M and the rackmounted UR824. This interface represents a definite step up in quality from the more compact CI series, which employ USB 1.1 and have sample rates limited to 48kHz. Most notably, the UR22 features the same Yamaha D-Pre preamplifiers used in the more expensive UR/MR-series units and Yamaha's N-series mixers, and offers sample rates of up to 192kHz, all of which bodes well for quality at a relatively modest price point. To further sweeten the deal, the interface comes bundled with Cubase AI, version 6.
Unwrapped
Out of the box, first impressions are very favourable. The UR22 is presented in a stylish black and silver metal case that feels even sturdier than that of the UR28M I previously reviewed. Indeed, this robustness extends to the controls themselves; the potentiometers all have a solid action and a stiff, flush-mounted toggle switch is used to avoid the accidental switching of phantom power.
The front panel houses the two combination mic/line inputs and monitor controls. The preamps have simple controls comprising gain and a switch for toggling input 2 between line and instrument level. LEDs are provided to indicate input overload, and there are additional indicators for phantom power and USB connection. The monitoring section has controls to set the level for the main output and the single headphone output, and a mix control takes care of the hardware monitoring, establishing the balance between input signals and playback from the computer. This potentiometer is centre-detented to make setting a 50/50 mix a trivial task.
On the back panel there are two balanced quarter-inch TRS line outputs, MIDI In/Out sockets, and the aforementioned phantom-power switch. Helpfully, the physical locations of these facilities are marked on the top of the case in white, making it easy to plug things in without having to look around the back. A USB cable is provided in the box, as well as a license card for use when downloading Cubase AI.
Getting Going
The UR22's rear panel features a USB 2 port, a switch for the phantom power, MIDI I/O sockets and a pair of audio outputs on quarter-inch jack sockets.
To get the hardware up and running, you install a simple USB driver from the disc included in the box. This driver provides a control panel allowing Windows users to change buffer settings and sample rate. For Mac OS computers, these settings are available in the standard Audio MIDI Setup application.
As is common to all Steinberg products, gaining access to the bundled software does require you to jump through a few hoops. First, the hardware needs to be registered online and a user account set up. The activation code on the card supplied in the box is then entered. Following this, Cubase AI 6 is available for download via a hefty installer file (almost 600MB in size). Frustratingly, the servers timed out a couple of times when I attempted to download the software, but did eventually succeed in delivering it to me. Finally, another code needs to be entered in the 'eLicenser Control Center ' application, to ensure permanent functionality (the software is otherwise limited to a 30-day evaluation period).
Cubase Capabilities
Once you've succeeded in installing it, Cubase AI 6 supports up to 32 audio tracks and 16 instrument tracks. Also provided are 180 basic instrument sounds (principally the General MIDI set), courtesy of the included Halion Sonic SE instrument. These are useful for sketching out musical lines. AI 6's four-band EQ section and other quirky limitations (a maximum compression ratio of 8:1, for example) could well prove restricting for some, but although the bundled reverb plug-in tends to sound quite nasty on acoustic instruments, other plug-ins, such as the amp simulator and the ubiquitous 'Grungelizer', are surprisingly useful, considering the software's entry-level status. Given that its functionality can be expanded exponentially through the addition of freeware or inexpensive third-party VST plug-ins, AI6 constitutes a useful starting point for recording projects.
The main sticking point, however, is that the software only supports sample rates of up to 96kHz, so users wishing to record at higher rates will need to turn to other software. This needn't be expensive, but is worth consideration if high sample rates are crucial to your work. To address this situation, Steinberg promise UR22 purchasers a free upgrade to AI 7, which will apparently support higher sample rates, on its release. They were unable to comment on when the update might be released, but I assume that it will be fairly soon. An upgrade path to Cubase Elements is also offered for a modest fee. This offers further virtual instrument sounds, a higher track count and useful plug-in additions including pitch correction. However, the sample-rate limit is imposed here too.
In Use
The Cubase AI arrange window with the Amp Simulator and Grungelizer plug-ins visible.
I put the hardware and software through their paces by recording some acoustic instruments with a condenser microphone. The microphone inputs provide a very healthy level of gain — up to 60dB — and so don't need to be set very high to achieve a desirable level. This is perfect for dynamic and ribbon microphones requiring lots of gain. Meanwhile, very loud instruments might possibly require pad switches to be engaged if condenser mics are being used. The preamps are noticeably less noisy than other units I've used at this end of the market. They capture life-like performances with ease and a great sense of dynamic range, even at relatively modest sample rates. Phantom power is applied to both inputs simultaneously and, while that's not unusual for a unit at this price, individual switching would have really set the UR22 apart from its competitors. It would also have complemented the 'special' status of the preamps and would have introduced the option to use condenser and ribbon mics in combination.
The UR22 is incredibly straightforward to use, especially when monitoring inputs at source, when you don't have to adjust buffer sizes and so on. The Mix control can immediately be tweaked to give the perfect balance between inputs and playback. Inputs are summed to the direct monitoring mix in dual mono, and it would have been great to have a mono/stereo switch for this. I find that hearing each input hard panned can prove useful for distinguishing between microphones when placing and recording them, especially when I'm playing an instrument and engineering concurrently! The headphone amp provides a strong output level to the cans, but is slightly noisy at the very top of its range. Indeed, the same is true for the main outputs if they're cranked to the very highest levels.
One slightly frustrating quirk of Cubase AI meant that I could not disable software monitoring globally; the option was greyed out in the control panel on my system (Mac OS 10.7). This is a pain when using the hardware monitoring method described above, and has to be side-stepped by turning monitoring off on individual channels when you're preparing for recording. This is not ideal, since you lose input level metering on the channel, but thankfully the input levels still remain visible in the transport bar, and are represented in the waveform as it's drawn. The issue didn't arise with any non-Cubase software I tested.
Verdict
Those looking for a compact, good-quality audio interface will not be disappointed by the UR22. Its rugged construction and low noise are big plus points at this price, and the ability to record with very high sample rates at 24-bit resolution will surely appeal to anyone in the market for an interface to use for mobile stereo recording.  
Alternatives
The Tascam US144 MKII has a slightly lower street price than the UR22 and supports recording up to 24-bit/96kHz. It adds S/PDIF digital I/O to the UR22 specification, and its direct monitoring mix can be switched between stereo and dual mono. Level verification is slightly more sophisticated, too, via dual-colour signal/overload LEDs. Its line inputs and outputs are unbalanced (with the latter being RCA connections), so it may be a little more susceptible to noise.
The Roland Duo-Capture Ex is slightly more expensive than the UR22 and records at resolutions of up to 24-bit/48kHz. Like the Steinberg, it has high-quality preamps, one switchable between line and instrument level. Its unique selling point is its iPad/stand-alone compatibility, achieved using a power adaptor or batteries. Direct monitoring has a simple on/off control, but can be switched between stereo and dual-mono modes.
Vital Statistics
USB 2 audio interface.
Recording quality of up to 24-bit/192kHz.
Works with Windows XP SP3; Windows 7 SP1; Windows 8 (32- or 64-bit) and Mac OS 10.5.8 to 10.8 (tested using 10.7.2).
Two balanced mic/line 'combi' sockets with Yamaha D-class preamps (input 2 switchable to unbalanced instrument input).
Two balanced TRS line outputs.
One quarter-inch headphone output.
Direct monitoring mix control.
MIDI In/Out.
Supplied with USB cable and Cubase AI 6 (via download).
Pros
Very respectable sound quality.
Incredibly simple to use.
Solid build.
Cons
Individual phantom power switching would have been nice.
There's no stereo option for direct monitoring path.
Summary
An easy to use audio interface capable of high-quality results. If you only require two inputs and outputs and don't need digital connections, this smart little unit should be near the top of your list.
Buy PDF version
Sours: https://www.soundonsound.com/reviews/steinberg-ur22
1454
1455
1456
1457
1458