The Big Problem With Mini-Pigs
In 2012, as a favor to a friend, Canadians Steve Jenkins and Derek Walter adopted a three-pound (1.4-kilogram) "mini-pig" named Esther. Or so they thought. Within two years Esther wasn't so mini. In fact, she weighed 500 pounds (227 kilograms).
"We didn't want to believe it," says Jenkins, "but at four months it became painfully obvious she would be larger than we thought. She grew about three-fourths of a pound a day. And she's still growing now."
Like thousands of others before them, Jenkins and Walter had been duped into thinking that their tiny pig would stay tiny—perhaps small enough to fit in a teacup—and make as good a house pet as any dog or cat.
But as the couple soon learned, those promises are essentially marketing ploys—ones that unscrupulous breeders have been using more and more frequently over the past 15-plus years. Since 1998, the number of "mini-pigs"—a catch-all term that characterizes just about any small-breed pig—in the United States and Canada has risen from 200,000 to perhaps as many as a million.
To keep the animals' size down, many breeders have been inbreeding and underfeeding their pigs, telling buyers that piglets are actually adults, or—as in Esther's case—passing off commercial pigs originally intended for food as a smaller breed of pig.
Most of these animals end up in overburdened shelters or are euthanized once they outgrow their suburban habitats.
But there may be some good news. Reputable breeders and rescuers are working to educate the public and regulate the trade in the U.S. and Canada. And the number of sanctuaries has grown significantly—from a handful in the 1980s to a few hundred today—thanks, in recent years, to 21st-century fund-raising efforts.
Will those measures be enough to curb the surprisingly big mini-pig problem?
Please be respectful of copyright. Unauthorized use is prohibited.
How It All Began
The novelty of petite pigs in the U.S. began in 1986, when a few dozen Vietnamese potbellied pigs were imported to American zoos. Private breeders took notice. Some began to breed (or inbreed) and underfeed their potbellies and other small-breed lines, such as New Zealand's kunekune and the state of Georgia's Spanish-descended Ossabaw Island pigs.
These strategies produced pigs much smaller than, say, a thousand-pound farm hog (455 kilograms). But they're never the size of a Chihuahua, as some breeders promise. And their weight is impossible to predict.
Until now, the mini-pig trade in North America—and to a lesser extent Europe—has been a hazy, unregulated industry, with few if any rules. But some individuals and nascent organizations are trying to change that.
The recently established American Mini Pig Association comprises 250 breeders across the country working to create a strict code of ethics and height-based breed classifications. Jaimee Hubert, one of the founders, hopes to launch the organization's website this year.
At the same time, she and others are trying to strengthen purchase contracts, extensively interview prospective buyers, and disseminate accurate information about mini-pigs. If reputable breeders, rescuers, and sanctuary owners agree on one thing, it's that education is key.
"Understanding the nature of your pet, whether it's a pig or a lizard, is vitally important to being a successful caretaker for that animal," says Susan Armstrong-Magidson, a breeder turned rescuer who has run the Pig Placement Network, a fostering and adoption system, since 1998. "Had the people buying them—from a roadside stand, county fair, or backyard breeder—been given more information, they may not have bought the pig in the first place."
Hubert says bad breeders can ruin things for the good ones.
"It really irritates us," she says. "We're just as mad as everyone else about it. We have to spend an exorbitant amount of time educating. And we're taking a lot of flak and having to defend ourselves."
Hubert says sanctuaries are quick to blame all breeders for the overwhelming numbers of rescued mini-pigs. Best Friends Animal Society in Kanab, Utah, estimated a total of 300,000 in 2009—a figure that's grown in the years since.
But, says Hubert, breeders who are reputable understand that they're responsible for the pigs they bring into the world. It's their duty to spay and neuter piglets, match them with dedicated and informed owners, and find new homes for them if anything goes wrong. Places that don't, Hubert adds, are no better than puppy mills.
Rich Hoyle, a 20-year sanctuary veteran who founded The Pig Preserve in Jamestown, Tennessee, eight years ago, says he's seeing more rescued minis with congenital problems—such as deep recessed eyes, males born with retained testicles, and females born without an anus—because of poor breeding practices. On many rescues, the herd of 50 to 100 pigs he encounters are descended from one pair of siblings.
"These poor inbred and half-starved pigs are inundating sanctuaries," says Hoyle. "Probably 90 percent of the so-called micro pigs"—that's one of the mini-pig's many nicknames; others include teacup pigs and pocket pigs—"will either be dead or in a sanctuary before they are two years old."
Fortunately, there are more sanctuaries than ever to receive them.
Please be respectful of copyright. Unauthorized use is prohibited.
Seeking Sanctuaries
Lana Hollenback founded the Forgotten Angels Rescue and Education Center in Deer Lodge, Tennessee, in 2008 as a resource for individuals and other sanctuaries that need new homes for pigs. These days she fields ten calls a day for false minis.
Armstrong-Magidson's Pig Placement Network adopts out 60 pigs a year from her boarding program at Ross Mill Farm in Rushland, Pennsylvania. She says phone calls—mostly concerning pigs under two years old whose owners thought they would fit in their pocket—have been "increasing tremendously" over the past few years.
And then there are Esther's owners, Jenkins and Walter. As Esther grew, so did the couple's resolve to keep her. That meant upgrading from their 1,000-square-foot home (93 square meters) and moving to a place large enough to open a sanctuary for Esther and other farm animals. This year, people from 40 countries donated more than $400,000 to make their Happily Ever Esther Farm Sanctuary a reality.
Jenkins, a real-estate agent, and Walter, a magician, say the "Esther effect"—their term for how one pig has caused them to rethink their entire way of living—is inspiring them to do more. To make sure the sanctuary in Campbellville, Ontario, is eventually self-funded, they want to open a year-round bed and breakfast, which would give visitors ample time to interact with the pigs and walk the area's forest trails. They also plan to open a meatless restaurant, with food grown in a community garden that becomes an ice rink in winter.
"It's easy to make changes to your lifestyle when you've got that kind of motivation," Jenkins says. "We love Esther so much that it's not a stretch to make it our life's work."
Havens are opening elsewhere as well. The American Sanctuary Association now accredits 37 such places in the United States, and estimates there are a few hundred more. About 20 long-running sanctuaries rescue only pigs.
Since the early 2000s, Best Friends Animal Society has taken in stray pigs let loose in the desert or left behind when people move. The organization recently remodeled its living quarters for the pigs, using $500,000 it received via donations to turn the space into Marshall's Piggy Paradise sanctuary.
Meanwhile, mini-pig numbers at Marana, Arizona's Ironwood Pig Sanctuary grew from 329 in 2005 to nearly 600 today. Half the rescues in the past nine years were non-mini mini-pigs like Esther.
Too Many Pigs, Too Few Dollars
While the number of sanctuaries has been growing, the funding for them hasn't been keeping pace. That means overcrowding is becoming an issue at existing havens. At least ten pig sanctuaries have closed in the past two years from lack of space and funding.
Forgotten Angels' Hollenback says a big part of her job these days is persuading owners to say "no." The Pig Preserve's Hoyle calls it the "potato-chip theory"—thinking you can fit just one more rescued pig in the sanctuary is like thinking you can eat just one more chip.
"If you are not careful," says Hoyle, "you can 'just one more' yourself and your sanctuary right into bankruptcy. Our hearts sometimes get in the way of our brains."
The fiscal solution may lie in the wisdom of crowdfunding. In the past two years, crowdfunding sites have hosted thousands of campaigns for a variety of animal sanctuaries.
For contributing to Esther's home, the 7,461 online donors received an assortment of goodies, including a piece of Esther's blanket, a video chat with the pig herself, and an apple tree planted in their name (the apples will be used as food for the animals).
Esther's "dads" say they gladly ran a five-kilometer race in their Esther-adorned undies after receiving a $30,000 donation. And they've promised that if someone donates $1 million, they'll get married and let the deep-pocketed donor officiate.
Funding methods have come a long way since 1986, when Farm Sanctuary set up the first reserves in the U.S. for abused and neglected farm animals. Social media is a big reason why. Esther's Facebook page reaches two million people each week, and she's been "social" for only ten months.
Going Forward
As the mini-pig problem wears on, new sanctuaries continue to open—but not quickly enough. Virtually all of the existing ones are already at or exceeding capacity.
Hoyle says part of the problem is generational. "We know that there are not too many young people coming along behind us who are crazy enough to want to step into our shoes," he says.
Hoyle's wardrobe consists of dirty jeans, battered boots, and sweat-stained shirts. One of his trucks, covered in mud, rust, and "a few petrified pig turds on the inside," has almost 500,000 miles (805,000 kilometers) on the odometer. And his refrigerator contains more pig medicine than human food. But he wakes before dawn every day and works into the dark every night because, as he puts it, pigs don't respect holidays, bad weather, or doctor's notes.
To keep costs down Hoyle has learned to do routine veterinary procedures himself—a common strategy among sanctuary owners. He gives enemas to pigs that overindulge on acorns, trims their tusks and hoofs, and occasionally lances abscesses.
Hoyle has pared down his lifestyle to make up for donor shortfalls. He's built a financial cushion that will allow him to stay operational for six months with no support. He's networked with other sanctuaries, swapping pigs to level the cumulative load. And he's traveled from New Jersey to New Mexico to help stage emergency rescues from failed sanctuaries.
"We watch the flash-in-the-pan sanctuaries that so often hit the scene with a lot of fanfare and up-front money," he says, "and we wonder how long they will last before they go the way of so many before them. And lately, we have watched a few of our old guard lay down and die well before their time."
Jenkins and Walter are months away from moving to their new farm. They've already secured spots in the sanctuary for a rescued horse and donkey.
But they're already having to deny animals; if they gave in to current demand, they say, their future sanctuary would be at full capacity within a week. So they know they need to develop Esther's haven slowly and carefully.
"People know who we are, and they want their animals to come to us," Jenkins says, "which is beautiful, but heartbreaking—when you have to say 'no'—and terrifying."
It's a lot to handle for a couple who, just a few years ago, didn't know farm sanctuaries existed. But the Esther effect makes it worthwhile. Jenkins and Walter continue to care for the pig that inspired it all, feeding the not-so-little lady her 14 cups of food each day.
Sours: https://www.nationalgeographic.com/animals/article/140930-animals-culture-science-miniature-pigs-breeders-sanctuaries
Great soft fluffy pigletCarlI was worried the dogs would tear it apart. They sniff at her ((it?) and left alone. Cote piggy. Great pillow too.5
FriendsPamelaI originally bought this for my daughter but when my son was born it became his. 3 years later, we now have 3 piggies!5
Next to Wilbur...Mary L.According to my granddaughter, this piggie had to have a curly tail. This soft toy has the best curly tail ever. The toy is so soft and not so stuffed that the child can't hide her face in its being.5
Granddaughter loves this pigJenniferGranddaughter loves this pig5
So cute and soft!AndreaSo cute and soft!5
RyderdogSeems to be well made and durable. I bought it for our dog Roland's birthday. So he has not received it yet. He loves large stuffed animals.5
When Pigs Fly!KCKateGreat value and appearance!5
So cute.She even had Che-Ches !msmarybabaShe was s gift for a friend who collects flying pigs, so I added wings. My friend loves her too!!5
Granddaughter loves it!grammybarbBought this for my granddaughter and she absolutely loves it! Carries it around everywhere.5
Delightfully soft and squishy!TomatinaI only planned to buy one and ended up buying three. From their tiny gray hooves, to the curly pigtails, I can't help but smile whenever I see them hanging out in my home.5
Four legged grand baby loves itKjseyBought this to replace my daughter's Boston terrier's favorite toy. She loves to carry it to bed and snuggle with it. If u have a pet who loves a soft toy this one is great5
Awesome Stuffed Animal!AuntieDiThis was the perfect toy for my nephew! He lives with us full time, and he wanted to get a few stuffed animals to make his bed more homely and comfy. Since we've brought this home, he plays with the piggy every day and snuggles with it at bedtime.5
Very soft and plushGailM45This soft toy has held up well with lots of play time and a number of trips through the laundry. Nice quality and good value.5
Soft and cuddlyErinWI bought this about a month ago for my son and he loves it. It has held up well to his play and nightly snuggling.5
Adorable!AlexisLMy daughter fell in love with this stuffed piggy. She named him oink oink and has been learning her animals from this brand.5
Some Pig!!!motherbuschI love this pig!! Since it is the year of the Pig, we have been gathering pigs for our stuffed animal collection, and this is a great add!!5
Cuddly softMsSaraMy daughter absolutely loves this cuddly soft piggy. She wants to get babies for it, but no luck yet.5
Lovely Gift for a FriendAngelica TexMy friend loved it! It is well made and very soft.5
Stuff pigJoe kidThe smile that it brings to my little one is all the I can ask for. I like how durable and soft it is.5
My pig loves this toy!RannieMy pig Finley loves this toy. He sleeps with her every night. Very soft and comfortable.5
Sours: https://www.ikea.com/us/en/p/knorrig-soft-toy-pig-pink-20260450/
The Importance Of Enrichment
Animal enrichment is the process of providing a stimulating environment for your pet. Enrichment is described as improving or enhancing the environment to provide an outlet for natural behaviors and needs through physical and mental challenges. These types of enrichment are used by zoos, sanctuaries, and pet owners worldwide. Enrichment is essential to a healthy and happy pet. You are likely already providing enrichment every day to your pig without realizing it. By understanding pig's natural behaviors you can create activities for him to enrich his life and meet his needs.
Pigs are incredibly sensitive and intelligent animals. This high level of intelligence can be challenging in a home environment. Pigs require physical and mental stimulation to meet their needs. A busy pig is a happy pig! Keeping a pig contained to a crate or alone in a room all day with no companionship or stimulation is sure to create a bored, agitated, destructive, and possibly aggressive pig. By using activities to enrich their lives (with or without you) you can avoid many unhealthy behaviors while building a better bond with your pig. Enrichment helps to provide the life your pig deserves.
Enrichment activities offer an outlet for natural behaviors. Daily routines are the perfect opportunity for enrichment. Instead of feeding in a bowl, pig feed can be sprinkled throughout the yard for foraging. Instead of giving vitamins/supplements, the pig can do a few tricks and then rewarded with the vitamins. Enrichment is open ended fun. Get creative, get interactive, have fun!
Enrichment activities should be interesting, challenging, and novel. Enrichment should be used every day with your pig, although the complexity will vary. This is one area routine is not preferred. Switch it up, keep it interesting, and always challenging.
Types of enrichment may include physical exercise, mental exercise, training or interactions with the human family, olfactory using scents, auditory using sounds, food related, novel objects, exploring new environments or manipulating the home environment.
See our Pinterest board of enrichment activities by clicking here.
Enrichment Activities
Treat Balls or dispensers: Treat balls come in many shapes, sizes, varied difficulty, and different movements. Some are made for pigs while others are made for dogs, cats, or horses. The different toys will work similar in that the pig uses her natural rooting/nudging behaviors and is rewarded with a snack. All sorts of foods can go into these balls.  Depending on the individual ball you can use the pigs normal feed pellets, black oil sunflower seeds, cranberries, oatmeal, other natural whole grains, popcorn, cheerios, puffed rice cereal, other seeds, any unsalted nuts, or healthy low sugar whole-grain cereals.
Homemade treat dispensers: You can use any type of bottle, small water bottle, big two liter bottle, an empty oatmeal canister. Any container safe for food or drinks is fine. You can either leave the cap or lid off or cut, punch or drill holes the size you want. Remember, the bigger the holes the more versatile it will be with different foods but the faster the food will come out! Less holes will be more challenging giving the pig more exercise and stimulation. Yogurt tubs, margarine tubs, juice bottles, and Pringle's cans with holes have also made great homemade piggy treat containers.
Other food balls: An open type ball is another great choice for stashing snacks. Rubber webbed balls for dogs found in pet stores or amazon make an excellent pig toy. It works great to stuff lettuce, veggies, and grass clippings. The pigs will have to work to get the food out. You can also stuff some newspaper or cloth inside, crumpled up with pellets or treats. Another option is a whiffle ball with the holes. Just tape over as many holes as you need for the desired difficulty.
Sandbox or Sand pit: A sand box is a great enrichment activity for pigs. They enjoy rooting around in the soft sand. Be sure to supervise your pig to avoid eating the sand. You can hide treats like popcorn or cheerios in the sand and watch them "treasure hunt". Pigs have a very keen sense of smell, hiding treats in the sand allows them to use that super power and satisfy their natural need to root and forage for food.
Hay pile or box: Hay makes a great rooting/foraging medium. It's soft and they enjoy digging through searching for their snacks. As they flip it around the hidden treats will shift, giving them more of a challenge. Any snack is appropriate, the pigs normal feed pellets, black oil sunflower seeds, cranberries, oatmeal, other natural whole grains, popcorn, cheerios, puffed rice cereal, other seeds, any unsalted nuts, or healthy low sugar whole-grain cereals.
Rooting Box: This is a great indoor activity. Just like with sand and hay, a rooting box gives the pig a place to root while satisfying her natural foraging and searching needs. Appropriate items for a rooting box are ANYTHING safe, big enough to not swallow, not sharp, ect. Many use play pit balls, river rocks, large stones, stuffed animals, an assortment of toys, blankets, newspaper, anything your pig can search through will work fine. For the box itself, it can be an actual wooden frame, a plastic tub (if pig has trouble with traction put sandpaper for traction and hoof care on the bottom or a rubber suction cup mat made for bathtubs), small kiddy pools work great, some people put the rooting objects into a dog crate to keep things contained. Use your imagination! Again, an assortment of options for the reward, the pig's normal feed pellets, black oil sunflower seeds, cranberries, oatmeal, other natural whole grains, popcorn, cheerios, puffed rice cereal, other seeds, any unsalted nuts, other healthy low sugar whole grain-cereals.
Tied Towel or Fabric: These can be tied in a variety of ways. Treats can be hidden in a loosely tied piece of fabric or towel. Alternatively, dab some coconut oil on a fabric or towel tied in knots.
Hanging Treats: Can be hung from the ceiling or the top of a crate. By hanging an enrichment toy you increase the difficulty level giving the more satisfaction, more time to be busy, and more of a mental and physical workout. This can be accomplished with the rubber "webbed" dog balls that you can stuff veggies, lettuce, grass, or hay into. You can also put a hole through a water bottle to tie it up, put a few treats in the bottom and piggy has to nudge the bottle to flip it up for the treats to drop out. Large pieces of fruits or vegetables can be strung up and hung, such as watermelon or pumpkin. Water can be mixed with fruits, vegetables, or juice and frozen into a block or ring that can hang providing much needed cooling relief and enrichment during the summer months.
Cardboard Box: Most pigs enjoy the searching through a cardboard box. Fill it with hay outside or crumpled paper inside.
Frozen Swing: Using a large bowl, fill halfway with water; add a few pieces of fruit or veggies. To make an ice ring, place a glass in the center (to create the hole). Place in the freezer overnight. Once frozen, run under warm water to loosen the ice from the mold. Ice ring can be hung from a branch; ice blocks can be placed on the ground or in a kiddy pool.
Food Hide: Hiding food gives the pigs an opportunity to use their natural abilities to forage, an excellent mental and physical workout. This can be done with their normal pig pellets, fruits, vegetables, or treats. They thoroughly enjoy searching around for their food. Hide bits of food around the yard or under rocks or stones (paving stones and flagstones work well). You can also hide food around the house and watch them hunt it out. A fun idea is to cut up their lunch salad & take it into the yard alone. Throw a few pieces in plain sight. Then hide the rest. Put a tomato under a bucket. A cucumber piece in the chair. A pumpkin chunk behind a planter. Set some eggplant on the bench. Sprinkle some lettuce near the fence line. Make it a challenge and the pig will appreciate it that much more.
Scents: Pigs have an incredible sense of smell. They use this sense of smell to explore their environment. You can use this to provide enrichment to your pig by using smells or scents as mental stimulation. Only use a very small amount of product so your pig doesn't try to ingest it. Perfume, lotion, spice pates, or essential oils are popular choices for scent enrichment. These scents can be sprayed or smeared on items that are too large to be ingested: toys, flooring, stones, pavement, fence posts, trees, bushes, or various areas of the yard.
Toys: Some pigs enjoy stuff animal toys, crinkly toys, squeaky toys, or infant toys that make sounds.
Treat Jugs: 5 gallon water jugs make excellent enrichment. Drill holes along the sides, fill with old fashioned oats, and water the pig roll it around the yard. An excellent workout with minimal calories. Alternately, juice bottles or peanut butter jars can be used.
Tube Dispenser: Cut a section of PVC pipe with cap ends. Drill holes throughout the pipe. Treats can be added inside the pipe. Then, the pig can roll the pipe around the yard OR it can be mounted to a frame to keep it in place, either indoors or outdoors. As the pig roots at the pvc pipe, it will rotate allowing the treats to drop through the holes. Start with minimum holes and increase holes as necessary to accommodate the challenge level your pig desires.
Mud: Summer is the perfect time to flood a mud hole in the yard. Use the hose to drench several inches of water in a low area. The pigs will root, roll, and wallow. They will use this water and mud to cool off and protect their skin from sun and insects.
Plastic Crates: Crates with holes already in them such as plastic milk crates can work as a puzzle for larger pigs. Tie two crates together with lettuce or other snacks inside. This will create a challenge for the pig and he will get more enjoyment out of his salad.
Trick or Command Training: A great way to bond with your pig while letting her use her brain and earn rewards. Training also reinforces herd hierarchy and builds trust. Sit, stay, bow, crawl, kiss, wave, shake, run through tunnel, run through weave poles, circle 8 between mom's legs, run a circle around mom, back up, come, spin, reverse spin, play golf, basketball, fetch, sort puzzles, roll out the red carpet, the possibilities are endless. Obstacles courses area great fun! Can be purchased for cheap or repurposed from common items around the house.
Kiddy Pool: Pools are GREAT! Inflatable pools or hard plastic pools work unless your pig is a destructor. Many vegetables will float in the water. This is a great way to introduce your pig to the pool and make it rewarding. A pig can enjoy her pool in many ways, cooling off, splashing, flopping, having a floating salad, etc. If your pig is particularly fond of the water you can even SINK treats and she will snorkel around the bottom of the pool!! I find pigs like traction, so the inflatable pools work great for that. If you have a hard plastic pool your pig hesitates to enter, try using a rubber bathmat with suction cups. It'll give her peace of mind and make her adventures more adventurous. Snacks in the pool are a great way to cool off, hydrate by drinking more water, and make that lunchtime salad last a big longer.
Adventures: An often overlooked form of enriching your pig's life is to show her the world. Harness train the pig and go for a car ride. Go check out the mountains, go for a hike, mingle at Petsmart or Tractor Supply, go to the beach, play in the sand & water, check out the lake and snorkel for little bugs, play in a stream, check out a friend's house with all different toys and smells, go camping, take a walk, visit a nursing home, meeting new people, vacationing, ride in the car to pick up the kids from school. A pig is so intelligent they really do enjoy broadening their horizons, exploring the world around us is a great mental exercise and enrichment for them.
Pallet on Wall Filled with Hay: Attach a pallet to a sturdy wall and fill with hay. Hide treats inside the hay for rooting fun.
Frozen Snacks: Frozen snacks are a great treat to give during the summer. They can be as low calorie as you want. They can also be used to float in the kiddie pool for extra fun. Water or juice can be frozen into bowls or Tupperware. Include a string or rope before freezing if you want to hang it. Alternatively, ice cube trays can be used for smaller treats. The following ingredients can be added for variety and nutrition: chopped fruits or vegetables, canned pumpkin, yogurt, apple sauce, or coconut oil.
Puzzles: Pet puzzles, usually designed for dogs, are another great fun toy.
Hanging watermelon: Watermelon is an excellent treat in the summer. It is nutritious and hydrating. A large piece of watermelon can be hung from a tree branch. This will be challenging for your pig as the melon moves freely.
Scratcher: A rigid brush can be attacked to the side of a building, wall, or fence to offer a scratching spot for your pig.
Bowling Ball, Soccer Ball, or 5 gallon bucket: Some pigs love to push a ball or bucket all over the yard.
Horse Toys: An assortment of toys would be appropriate for a pig. Look at your local feed store or tractor supply to shop enrichment toys they have for horses. Amazing Graze is an excellent choice for rolling around the yard.
Toddler toys: Many toddler toys are great fun for pigs. Some pigs love the motion toys or lights/sounds. Toys that would roll around with a nudge would be a favorite. Crinkle toys are popular with some pigs.
Pianos: You can teach piggy to play piano. A toddler piano would work just great.
For photos of enrichment activities and more ideas see our Pinterest board by clicking here.
The AMPA's official Mini Pig Training Handbook: Tricks, Life Skills, and Communication With Your Mini Pig is the first training book of it's kind! An impressive 130 pages full of training instruction, behavior, communication, problem solving, aggression, tricks, manners, and FULL COLOR or B & W photos to help you visualize the wonderful companion that is within your reach.
One of the keys to a long and successful relationship with your mini pig is training and enrichment. Pigs are incredibly intelligent animals. Highly trainable and they thrive when their minds are stimulated and challenged. A well trained pig is a happy pig. Every time you train with your mini pig, you are improving your communication and strengthening your bond. Training teaches your mini pig the skills she needs to be a well behaved member of the family. Training also gives her the tools she needs to communicate with you.
Basic Life Skills ♦ Harness and Leash ♦ Potty Training ♦ Fun Tricks  Obstacle Course ♦ Teaching Respect ♦ Enrichment Activities
Order Your Copy Today!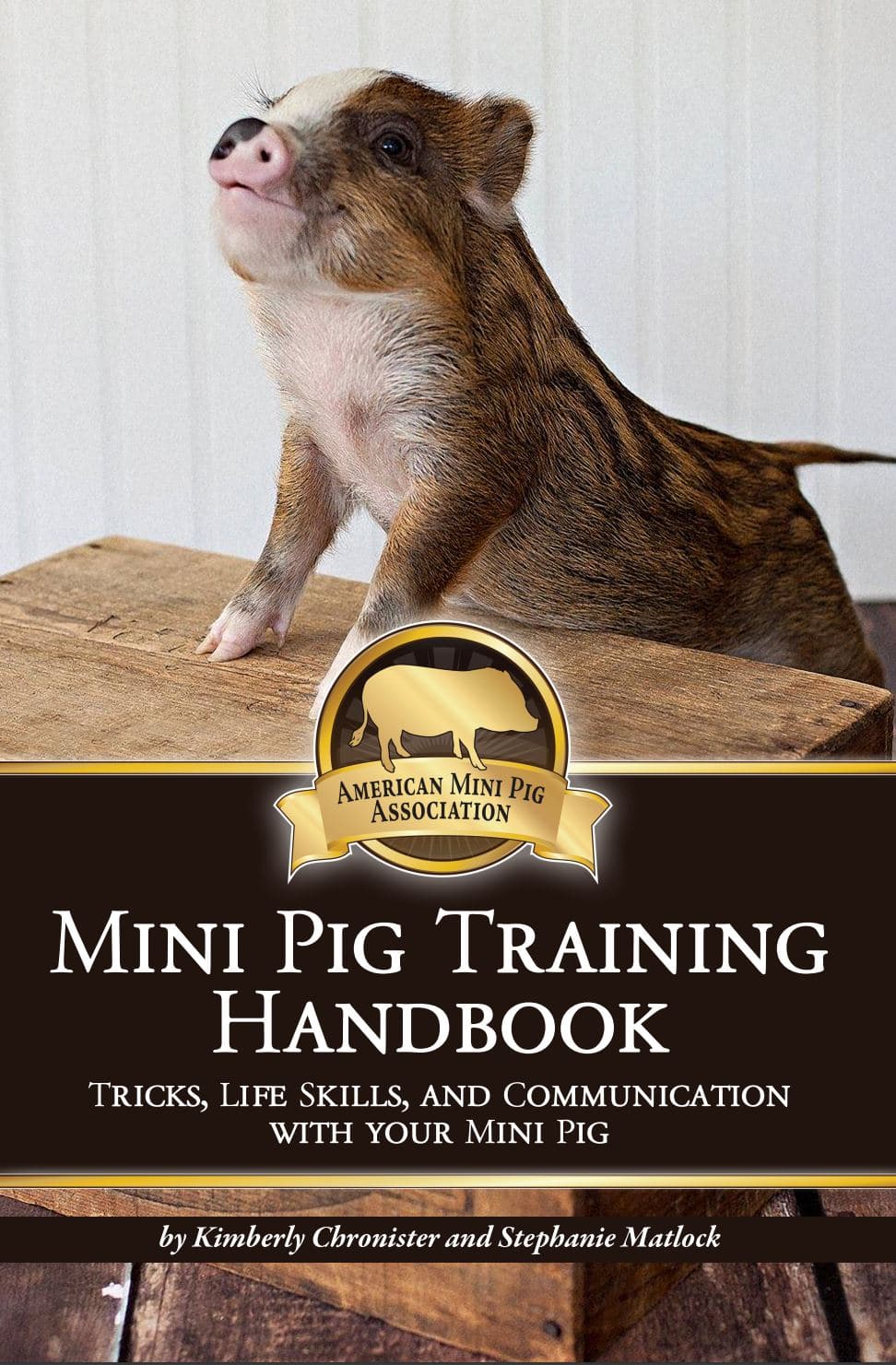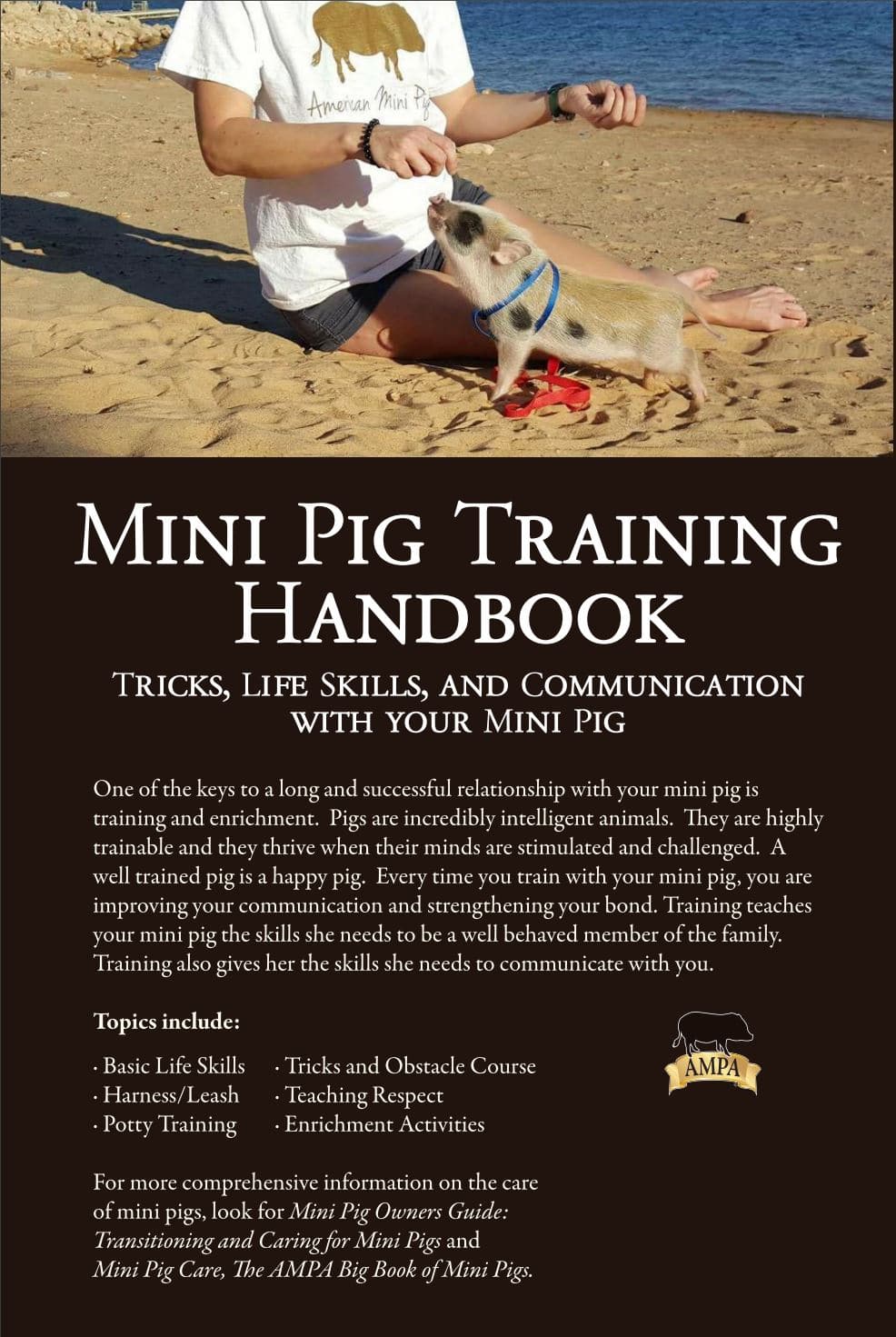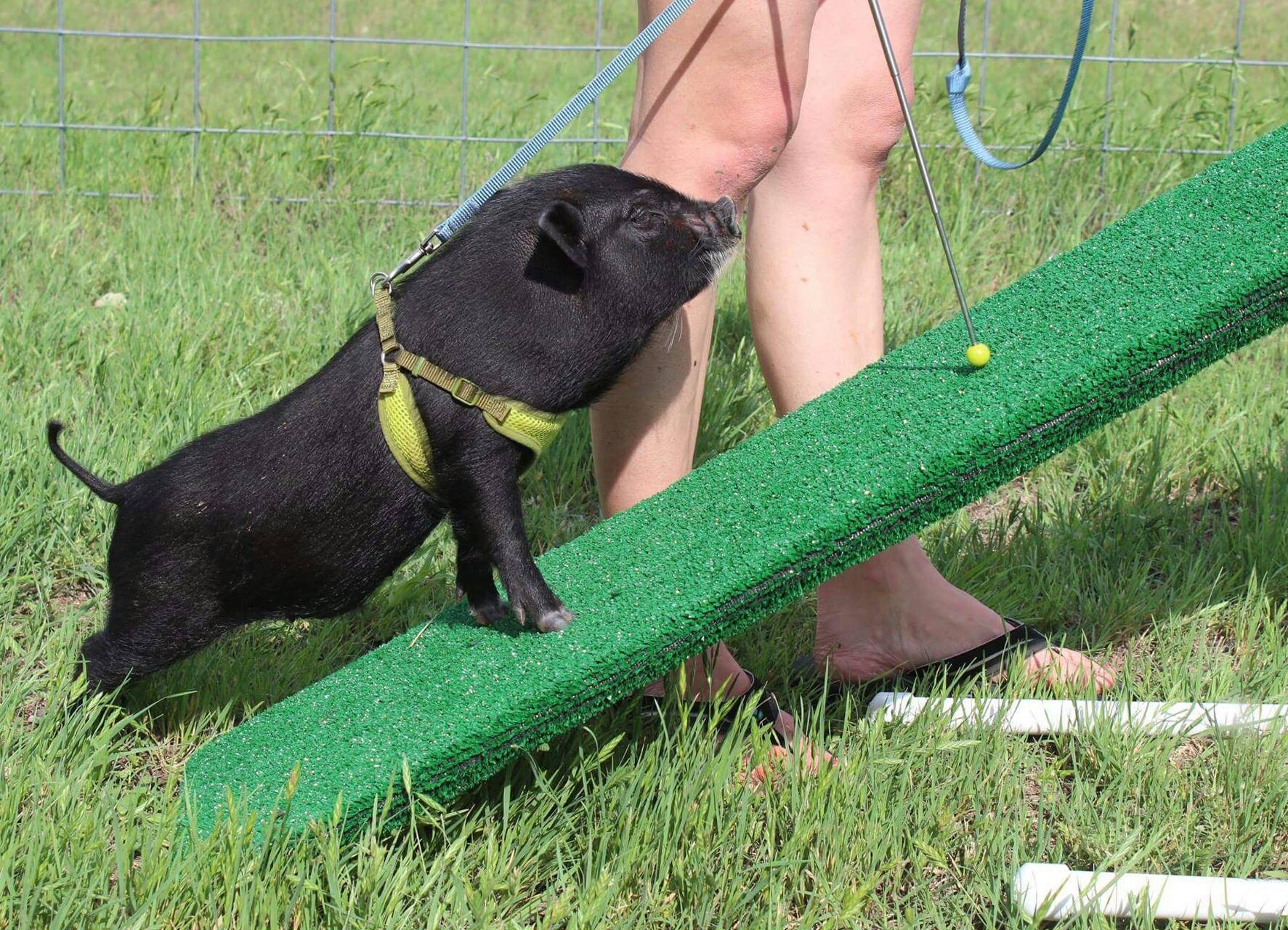 Mini Pig Training Handbook
Tricks, Life Skills, and Communication 
With Your Mini Pig 
Sours: https://americanminipigassociation.com/mini-pig-education/training-your-mini-pig/enrichment-activities-bored-pig/
Peppa Pig 💖 Cartoon Movie Toy Character in Real life (Full of all Characters)
Pauline Spotted Pig, Large
Out of stock
Go hog wild with the largest size of our endearing Pauline the Pig stuffed animal! Our lovable big piggy is 16" of huggable, cuddly fun! Sporting a smartly spotted white and grey coat, Pauline's look is accented with soft pink details from her snout to her four adorable trotters to her curly tail! Large expressive dark eyes will melt your heart and her enormous ears add further charm. Crafted with materials of the highest quality, this plush pig is a superb companion when it comes time for cuddle time hugs. Or lean back and let her cushion your head because Pauline can be a cozy pillow too! Make this pig your cuddly plush pet today!
Additional information
| | |
| --- | --- |
| Weight | 28.6 oz |
| Dimensions | 16 × 11 × 7 in |
| Age | 24 Months & Up |
| SIZE (IN) | 16" Long |
| SIZE (CM) | (41 cm) |
| Stuffed Toy Size | Large |
| WASHING | SURFACE |
SKU: 1821Categories: Animals, Farm, PigsTags: Easter And Spring, Farm
Sours: https://douglascuddletoy.com/shop/animals/pauline-spotted-pig-jumbo/
Animal toy pig
If adorable chubby pig stuffed animals happen to be your current obsession, then you've found the list for you! Here you'll find seriously fluffy pigs, pigs with wings (yep, you read that right), pigs dressed in handsome tuxedos, everyone's favorite diva – Peppa pig, and even a pigasus (you read that right too).
Gund Mini Chub Pig Stuffed Animal Plush
Doesn't that stumpy snout just make you go "aww"? So cute. This little piggy went wee-wee-wee all the way from its makers; Gund, and is one of the mini Chub series (well, piggies are a bit chubby, but they're adorably so). We don't know about you, but we couldn't resist giving it a squeeze.
BUY FROM AMAZON.COM
---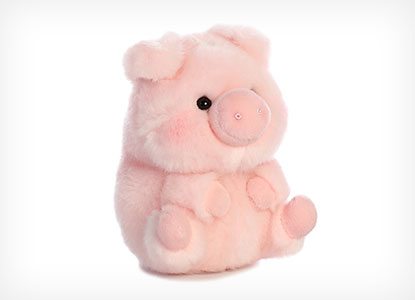 Aurora World Rolly Pet Prankster Pig Plush
There's no way any pig lover could go without adding this adorable little guy to their piggy plush collection, he's just so cute! He's ever so lovable, intensely squishy and seriously soft. He's partially bean-filled so he's just the right weight for sitting up – the beans are double-bagged too so there'll be no accidental spills.
BUY FROM AMAZON.COM
---
GUND Prissy Pajamas Mini Pig Stuffed Animal Plush
Oh my gosh, this Prissy Pajamas pig from Gund is just the most delightful pig, isn't she? We think we all want a pair of those awesome pajamas for ourselves! Not only is she wearing the sweetest bedtime outfit, she also has a precious pink bow on top of her head.
BUY FROM AMAZON.COM
---
Aurora World Tubbie Wubbie Plush Pig
Isn't this Aurora World Tubbie Wubbie Plush Pig just the cutest? (With a name like that, you can't resist it). With that silky soft plush pink material, she would make the perfect addition to any new baby's nursery, giving it those important cozy finishing touches, and could easily become your little one's new cuddly best friend.
BUY FROM AMAZON.COM
---
Aurora World Sweet and Softer Percy Pig
Aurora's World Sweet and Softer Percy Pig is utterly darling. We're sure if you looked up 'cute' in the dictionary, dear little Percy Pig would come up. He is just one of the huge collection of Sweet and Softer plushies from Aurora, and we know once you have one you'll undoubtedly want to collect them all.
BUY FROM AMAZON.COM
---
Brown Spotted Pig
Here we have the charming Douglas the brown spotted pig, isn't he just the sweetest little thing? We just wanna scoop him up and give him cuddles. Douglas is a tea-cup size pig, so he's just the right size for kids to give him a snuggle. He's one of a set of three – collect them all!
BUY FROM AMAZON.COM
---
Wild Republic Pig Baby Plush
Whether you're looking for a perfect plush to add to your pig stuffed animal collection, or you're on the hunt to find the perfect piggy for a loved one, take a look at this Wild Republic pig baby plush. He's from the cuddlekins collection and is 8 inches of irresistible cuddly cuteness.
BUY FROM AMAZON.COM
---
Melissa & Doug Becky Pig Patterned Pal Stuffed Animal
All little kids are going to LOVE this plush Becky Pig by Melissa & Doug. She's made with the incredibly soft 'butter fleece' fabric that everyone's bound to love stroking and cuddling. Becky Pig isn't your usual run of the mill pig though, her fleece is printed in sweet, delicious looking candy and lollipops.
BUY FROM AMAZON.COM
---
Aurora World Pigasus Pig Plush
Is it actually possible to look at the name 'Pigasus' and not laugh? Pigasus is, well, you guessed it, a pig…but no normal pig, he's a pig with a difference – he's an awesome, chubby yet majestic flying pig (yes, we know, we're just as impressed). He absolutely has to be your new piggy friend.
BUY FROM AMAZON.COM
---
Steiff Sissi Sitting Piglet
We all know of Steiff and their well-loved high quality teddy bears, most often becoming family heirlooms, but have you seen their sweet little Sissi the Sitting Piglet? Sissi is just like no other; she has gorgeous big black eyes, handmade custom-dyed pink woven plush, and is delightfully finished off with intricate hand-airbrushed detailing.
BUY FROM AMAZON.COM
---
Moana Pet Pig Pua Stuffed Animal
We're sure you've already heard about (and probably seen at least 5 times) the much-loved Disney movie, Moana. Yes, the beautiful Moana is the main character, but she always has her tiny sidekick pet pig Pua, right by her side, judging her decisions. Now you can get your very own Pua, right here.
BUY FROM AMAZON.COM
---
Aurora Plush Percy Pig Flopsie
Aurora's Percy Pig will definitely become your little one's new favorite toy. At just 8 inches, the adorable Percy is easily portable, so children can carry him wherever they go. Percy is one of Aurora's Flopsies; super cute mini bean-filled plush characters, that all kids will adore and love to collect.
BUY FROM AMAZON.COM
---
Ty Beanie Boo Piggley the Pig
Kids are surely gonna want to 'hog' Piggley the Pig all to themselves, she's far too irresistibly cuddly and cute. Ty beanies have been around for years and years, and we're sure you mommies all had a few when you were younger, so why not let your kids build their own collections, too?
BUY FROM AMAZON.COM
---
Dongcrystal Pink Sleeping Pig with Hand Warmer
It's now socially acceptable to sleep and cuddle with a pigs butt – who knew? In all seriousness, a fluffy chubby butt looks like it would make a pretty comfortable pillow, and we're sure any pig fan would love to try it out. He also has inbuilt hand warmers – what more could you want?
BUY FROM AMAZON.COM
---
Wildlife Artists Pig Farm Critters Plush Toy
This sweet little 8 inch pig is by Wildlife Artists, and is one of their farm critters collection. The pig is made from a lovely soft material and is perfect for those snuggles and kisses; he's sure to be adored by any fan of these cute oinking animals.
BUY FROM AMAZON.COM
---
Jellycat Dancing Darcey Piglet Stuffed Animal
Jellycat's Dancing Darcey would be the best fitting gift for any little girl or equally any aged ballet/dancing enthusiast – as they'd just love her little fluffy white tutu (perhaps even matching one of theirs) and matching bow accessories. Who could ever turn down the opportunity to play with those quirky little ears?
BUY FROM AMAZON.COM
---
Melissa & Doug Giant Pig
If you're after a realistic pig stuffed animal, then this is it! Melissa & Doug's Giant Pig is impressively over 2 feet long and 15 inches tall. He's made with a strong wireframe structure to help him withstand fun and adventure with this new friends, but don't worry – he's also seriously soft so cuddles are welcomed.
BUY FROM AMAZON.COM
---
Wild Republic Potbelly Pig Plush
We know you're going to welcome this irresistibly cuddly Wild Republic Potbelly Pig, native from the North American wilderness, right into your home; after all, how could you possibly say no to that adorably chubby face? Potbelly Pig is around 12" and is silky soft, making for some delightful cuddles.
BUY FROM AMAZON.COM
---
UNIQME Pig Plush Doll 3D Animal Stuffed Piggy
Ssshhh! Don't wake this sleepy UNIQME pig plush, you know what they say; never wake a sleeping…pig. This large squishy snoozing farm animal would love to make himself at home anywhere as long as it's with you; either on the back of the sofa, on your bed, or even the shelf in your car.
BUY FROM AMAZON.COM
---
Aurora World Multicolor Miyoni Plush Toy
The Aurora World's spotted piglet plush is superbly made; it's got lock-washer eyes and a cute button snout, meaning not only is it made to withstand the rough and tumble kids will give, but it'll also last years and years – so you're sure to get your money's worth.
BUY FROM AMAZON.COM
---
Intelex Cozy Microwaveable Plush Pig
This is a one of a kind multi-use pig. Not only can you place the plush into the microwave (great for those cold nights) – not just a beanbag, the WHOLE pig, so there's less chance of accidental scalding, but you can also place it into the freezer to help cool down on those hot summer nights.
BUY FROM AMAZON.COM
---
Hallmark Rockin' Cupid Plush Stuffed Animal
Who said pigs can't fly? Cupig has his very own set of wings, sure to make any hearts flutter their way to cloud nine. He wiggles his wings and sings "cupid shuffle" – no loved one will be able to resist. I'm sure you've never seen a pig stuffed animal quite like Cupig (we know we haven't).
BUY FROM AMAZON.COM
---
GUND Wiggles Snoring Pig Animated Stuffed Animal Plush
This sleepy snoring piggy is simply dreamy. While he's away in the clouds dreaming of rolling in that cool squishy mud, he recites sleepy phrases, wiggles that chubby butt and flaps his floppy ears. Kids and adults alike will find him cute and ever so hilarious.
BUY FROM AMAZON.COM
---
Pigs Plush Stuffed Animals Set
This adorable piggy plush duo definitely won't be taken for 'grunted' by any lucky animal or pig-loving recipient. With this set you get a large fluffy 'mommy' pig and a chubby little 'baby' piglet, making the pair a fitting gift for mommies and their kids, or maybe older and younger siblings.
BUY FROM AMAZON.COM
---
Aurora World Taddle Toes Stuffed Animal
How can you not swoon over this adorable Taddle Toes stuffed Pig by Aurora World? This may have to be the most beautiful plush we've ever seen – it's not everyday you see a piggy wearing cute bunny slippers! Now, where can we buy a pair for ourselves…
BUY FROM AMAZON.COM
---
Bacon Piggy by Precious Moments
Bacon Piggy is from the Precious Moments collection by Aurora. She is made with stunningly smooth plush material and their signature embroidered teardrop-shaped eyes, so she's perfectly safe for little ones as you don't have to worry about any loose parts. Once you get Bacon Piggy, you won't be able to resist collecting the others, too.
BUY FROM AMAZON.COM
---
Ty Beanie Babies Ballerina Peppa Pig
We couldn't really have written a list about pigs and not include the most famous pig herself, Peppa Pig, could we? (sorry parents, it's true you can't escape her). This is the Ty Beanie Baby Ballerina Peppa Pig that all little girls are sure to adore, twirl, and dance around with for hours on end.
BUY FROM AMAZON.COM
---
Pig Zoopurr Pets 2-in-1 Stuffed Animal and Pillow
ZooPurrPets have made this 2-in-1 stuffed animal pillow, that's great for kids (or adults who enjoy some fluffy company) that are often out and about, either at grandparents' houses, vacations/camping trips, or having sleepovers at their friends. Not only do they provide reassuring cuddles but they're a cute and comfortable pillow, too.
BUY FROM AMAZON.COM
---
Gund Formal Pop Mini Pig Stuffed Animal Plush
Wow, I've never seen such a well-dressed pig; when it comes to first impressions, this handsome Prissy & Pop Pig Plush has definitely hit the mark. Though, we do hope his dashing black tuxedo, matching top hat and smart red bow haven't hit his piggy bank too hard.
BUY FROM AMAZON.COM
---
GUND Prissy Mini Pig Stuffed Animal
Gund's everyday signature Prissy mini pig is a beautiful plush, who clearly takes fashion very seriously. Her outfit is definitely one that's going to make those other piggies jealous, with her fluffy tutu, lovely pink bow and the star of the show, those precious pearls.
BUY FROM AMAZON.COM
---
Toasty Pig Lavender Aromatherapy Microwavable Plush
Toasty Pig provides both hot and cold therapy and even has a calming lavender scent. For cold, cool him in the freezer, and for warm, heat him up in the microwave for effects that last up to 4 hours. Weighing in at 1.8lbs Toasty Pig is perfect for children with ADHD, Autism, PTSD, etc.
BUY FROM AMAZON.COM
---
ADORE Standing Shirley the Pig Stuffed Animal
Don't you just want to give Shirley tons of 'hogs' and kisses? We know we do!. Shirley stands at a decent 15 inches, making her a great decoration for any little one's room. She also has bendy legs and a twisty twirly tail, making her brilliant fun for all kids.
BUY FROM AMAZON.COM
---
Ty Beanie Babies Peppa Pig Regular Plush
Here we have the Ty Beanie Babies Peppa Pig Plush. If you watch the show, you'll know she's always holding one of her favorite toys, Teddy, and this plush version is too, of course, so your youngster is going to feel like they have the real thing as they sit and watch the show together.
BUY FROM AMAZON.COM
---
Aurora World Taddle Toes Snortster Pig Plush
Aw, just look at that squishy snout and those adorably over-sized feet! Snortster is the fluffiest, silkiest, cuddliest, piggie plush ever. She's around 10 inches tall, and has a double bagged bean filling, giving her just the right weight for cuddles but also comfort in knowing there'll be no beans spilling out everywhere – perfect.
BUY FROM AMAZON.COM
---
Betina Pink Pig
Made from high quality soft pink plush, any piggy fan of any age would truly love Betina – the sweet little pink pig made by Douglas Cuddle Toys. She has the most stunning beady eyes, fluffy ears and the cutest corkscrew tail, making her the most desirable piggy plushie friend.
BUY FROM AMAZON.COM
---
Mary Meyer Putty Nursery Soft Toy
This sweet peachy-pink plushie piglet with sweet taupe markings is one from the Mary Meyer's Putty Nursery set – designed to fit in seamlessly to the modern nursery. Putty Nursery toys and character blankets are made with purposefully ultra-soft textured fabric, just perfect for those precious babies' sensitive skin.
BUY FROM AMAZON.COM
---
Melissa & Doug Meadow Medley Piggy with Sound
Melissa & Doug's pig stuffed animal is incredibly fluffy and cute, and is made with textured plush material that children can soothe themselves with by gently stroking and cuddling. Not only is the plush a perfect cuddle buddy but it also makes a humorous 'oink' sound when its tummy is squeezed! How fun.
BUY FROM AMAZON.COM
---
3 Diy Pig Crafts for Your Pig Lover
Diy Sew Your Own Pig and Piglets
Kids can have tons of fun learning all about Mama pig and her little piglets with this crafty DIY project. Follow the easy to understand step-by-step instructions to make your own Mommy pig (that doubles up as a footstool) which has a zippered compartment inside to hold all of her 6 baby piglets inside.
Diy Crochet Amigurumi Pig
Over on CoolCreativity.com you'll find this sweet DIY with free useful downloadable patterns on how to make your own crochet Amigurumi Pig. Amigurumi is the craft of crocheting stuffed animals, dolls and other cute objects, We're sure once you make your first pig you'll be eager to try out more crochet projects.
Diy Stuffed Pig
By using any fabric you like – could be a plain felt or patterned cotton – you can make your own unique stuffed pig by following this cool DIY. All you have to do is print out the templates, cut the shapes out of chosen fabric, sew them all together and ta-da; your cute piggy is made.
(You may also like: 27 Classic and Interactive Stuffed Animals for the Elephant Obsessed)
---
Other Posts You May Like
Sours: https://toynotes.com/pig-stuffed-animals
Peppa Pig Toy Learning Video for Kids - 20 minute Compilation!
Okay, okay, I'll give, of course, where am I going to get off the submarine. A rustle rustled in the reeds and splashed quite loudly. A large fish in the local pools seems to be found. Max winced.
Now discussing:
I hug you and hold you tightly. So we lay, hugged, kissed. Suddenly there was some noise in the distance.
1412
1413
1414
1415
1416