All-New: Yamaha Wolverine RMAX 1000
The New Standard for Recreational Side-By-Sides
It wasn't that long ago that we were hanging out in the deserts of Southern California and watching the birth of the side-by-side market as we know it. It all started simply enough, with people tricking out second-hand golf carts. As quickly as golf carts came onto the scene, they were gone again. This time people found that the same companies that built their motorcycles and ATVs also built utility vehicles for work on ranches and farms. These utility vehicles became the next subject of customization. They were outfitted with roll cages, rear seats, long-travel suspensions, and engine performance enhancements. The most popular among these, bar none, was the Yamaha Rhino.
Fast forward a decade or so, and the UTV industry has not only adapted to people's desire to use these vehicles for recreation but has also fully embraced the idea that UTVs are no longer just for use on the farm. Today, Yamaha, the same folks that brought us the Rhino in 2004, is introducing the new Wolverine RMAX 1000 family of performance UTVs.
Before we move further, we have a few points of clarification that'll help the more uninitiated among us. First, the terms side-by-side, utility vehicle (UTV), and recreational off-highway vehicle (ROV) can be and are used interchangeably in common use. We'll refer to the Wolverine RMAX 1000 as a UTV from here out as it's the term more frequently used. Next, there are three common classes of UTV: Sport, Recreation, and Multi-Purpose. Although the Sport class is pretty clearly defined (think Yamaha YXZ or Polaris RZR), Recreation and Multi-Purpose get a bit muddier. Yamaha classifies the Wolverine and Wolverine RMAX 1000 as Recreational UTVs. This means, essentially, that while they are geared for off-road exploring, they can also be used for hunting, trail riding, home projects, and light work. And finally, as you might have noticed, there are now two different Wolverine models: the original Wolverine and the Wolverine RMAX 1000. While the Wolverine has been updated for 2021, the Wolverine RMAX 1000 is all-new (and is the model we'll be discussing).
All-New from The Bottom Up
The Yamaha Wolverine RMAX 1000 comes in two configurations: the RMAX2 1000 and RMAX4 1000. And, you guessed it, the 2 and 4 designate the number of seats. Both vehicles feature an all-new chassis, all-new 999-cc engine, new Yamaha Drive-Mode (D-Mode) power delivery system, a fresh new body, and a high-tech cockpit. The RMAX 1000 family will be available in Standard, XT-R, and Limited Edition models. And all RMAX 1000 models will be assembled at Yamaha's state-of-the-art facility in Newnan, Georgia.
Chassis And Suspension
Underpinning the RMAX2 and RMAX4 is an all-new chassis constructed of tubular steel that receives an automotive-style E-coat bath before being powder coated. The frames have been designed with rigidity and durability in mind, while also paying attention to the need for easy ingress and egress. Yamaha claims to have found the idea wheelbase lengths as well, with the RMAX2 sporting an 86.7-inch wheelbase and the RMAX4 with a 90.2-inch wheelbase. Notably, the RMAX2 is nearly 4 inches longer than its closest competitor, while the RMAX4 is a staggering 2 feet shorter than its four-seat competition. The vehicles have a 64-inch trackwidth and are 77.8 and 83.1 inches tall, respectively.
The RMAX 1000 suspension is an impressive work of art as well. Both models feature 14.2 inches of front wheel travel, while the RMAX2 boasts 16.9 inches in the rear and the RMAX4 makes do with 13.3 inches. The RMAX's abundance of wheel travel is best-in-class. All models utilize Fox 2.0-inch shocks for damping duties. Standard and XT-R models use Fox's QS3 units, while the Limited Edition gets Fox's iQS dampers. What's the biggest difference between the shocks, you ask? While the QS3 units feature external adjustability, the iQS dampers are adjustable on-the-fly from inside the cabin.
The integration of Fox's iQS system on the Wolverine RMAX 1000 is a first for any factory UTV. The system has three settings; Comfort, Medium, and Firm. The iQS system is able to achieve more adjustability within those ranges than with traditional 'clickers.' In addition, the RMAX4 utilizes Fox's Bottom Out Cups in the rear shocks to provide an extra level of bottoming resistance when fully loaded.
Suspension components have been beefed up to handle the increased power and ability. The control arms are made from a single steel stamping with a wide bushing spread. Wheel bearings are large 62 mm (front) and 72 mm (rear) double angular contact (DAC) units. Ball joints are upsized and vehicle specific. And the sway bar end links are forged steel (instead of the standard welded tubes).
Power and Performance
Powering the Yamaha RMAX 1000 is an all-new 999-cc parallel twin engine. Yamaha claims that this engine will have the highest horsepower and most torque in the class. However, the company has not yet disclosed what those power figures are exactly. The engine features a 270-degree cross-plane crankshaft with a dedicated engine counter balancer. Four-point rubber engine mounts, a reduction in mass over the company's 850cc engine, and the engine's inclined layout all contribute to a decrease in overall NVH.
The driveline has also been engineered for quiet and smooth operation. Yamaha brands the RMAX transmission the Ultramatic and claims it's the company's most advanced and durable CVT to date. Contributing to both quietness and durability are spiral-cut bevel gears, helical-cut forward gears, a single inline rear driveshaft, and a single-piece front driveshaft with U-joints. For added robustness, the front differential is unique to the RMAX and both front and rear differential cases are constructed of carbon steel (instead of cast aluminum). Yamaha also provides a 10-year warranty on the RMAX's drive belt, something no other manufacturer can match.
Interior and Exterior
Yamaha has designed the interior of the RMAX lineup to be among the most comfortable and user friendly in the industry. The RMAX family boasts industry exclusive soft touch points in the interior, which is a departure from the standard use of hard plastic. The steering wheel has 17-degrees of tilt adjustment, the passenger grab handle is soft-touch and quick-adjust, seatbelts in both the front and rear are adjustable, and the front seats have been given even more roof for rearward adjustment.
Other features such as stereo speaker integration, a sealed glovebox and center console, color-matched interior pieces, LED interior lighting, backlit switches, USB charging ports, and up to six cup holders are available throughout the lineup (though availability varies by trim).
Exterior lighting is all LED as well. New signature marker lights give the Wolverine RMAX 1000 a distinctive and sinister look. Powerful, low-profile, LED headlights light the way while LED tail lamps signal to those who follow.
Off-Road Hardware
The Yamaha Wolverine RMAX 1000 is built to go anywhere and do anything. All of the vehicles feature four-wheel drive that is user-selectable (unlike some of the competition). The RMAX is capable of running in two-wheel or four-wheel drive, and with the front differential acting as a limited-slip or fully locked (when four-wheel drive is engaged).
Because the RMAX is fitted with Yamaha's D-Mode drive system, the vehicles are also able to operate in three different modes: Sport, Trail, and Crawl. Much like the drive modes on a full-size vehicle, these offer different levels of throttle sensitivity to match the terrain and driving style. Engine braking is also altered between the different modes.
For those extra tough situations, a Warn 4,500-pound winch is integrated into the chassis and standard on most models. Full-length welded steel skid plates protect the vehicles vitals and span nearly from tip to tail. If you're looking to really go to extreme with the RMAX 1000, Yamaha offers a lineup of nearly 100 accessories, which includes rock sliders, A-arm skid plates, upgraded aluminum front skid plates (from the replaceable plastic), light bars, brush guards, a spare tire holder, a second battery kit, and even gun racks.
Tires are another part that are often replaced immediately after purchase. However, with the RMAX that won't be necessary. The RMAX2 comes fitted with 30-inch tires on 14-inch aluminum wheels. Standard trim models get the GBC Dirt Commander while XT-R and Limited get the Maxxis Carnivore. RMAX4 models come with the same GBC and Maxxis tires, however they are fit in a slightly shorter 29-inch diameter.
Final Thoughts
Look, we'd be lying if we said we had this whole UTV thing dialed. We don't. We're truck and Jeep people first, but at the core, we're off-roaders as well. And looking from that point of view, the all-new 2021 Yamaha Wolverine RMAX 1000 is pretty darn impressive. This UTV has features that you could only dream of on a full-size vehicle. It's power-to-weight ratio should make it feel like a rocket, the massive suspension travel will soak up bumps with ease, locked differentials and a Warn winch will make short work of any rock garden, and along with all of this, it can tow up to 2,000 pounds (which is more than a lot of compact SUVs can claim these days). And you can do all of this from a comfortable interior with accent lighting, a booming stereo, GPS navigation by way of the Yamaha Adventure Pro, and six cup holders. That right, six cup holders.
We'd be remiss if we didn't mention that we are just a bit confused by the RMAX, in that with all of its off-road and adventure ability, it also sports a hydraulic dump bed and can be speed-limited to just 25 mph, presumably so you can toss the keys to a farmhand and not have him rip up the corn field. It may just be our lack of knowledge showing, but it seems like these options would be better left to the "Multi-Purpose" category of UTV, and not really necessary on a vehicle designed for high-speed adventure. But maybe the dump bed is good for hauling firewood to the campsite, and the speed-limiting will be fun for pranking your buddies in the desert.
Overall, we're beyond stoked to see this new vehicle come to market. And we know we've only begun to scratch the surface of all of the effort put forth to make Wolverine RMAX 1000 the best recreational UTV on the market (we tried our best to distill the 110-page presentation down for you). We cannot wait to get behind the wheel and give one a thorough test, in the name of science, of course.
The 2021 Yamaha Wolverine RMAX 1000 is available at Yamaha dealers nationwide and starts at just $19,799 for a standard RMAX2 in Alpine White or Armor Gray. The RMAX4 starts at $21,299. A fully outfitted Limited Edition RMAX2 will set you back $23,299.
THE LATEST IN CAR NEWS
EMAIL NEWSLETTER SIGN-UP!
Share on FacebookShare on Twitter
Sours: https://www.motortrend.com/features/2021-yamaha-wolverine-rmax-1000-first-look/
2021 Yamaha Wolverine RMAX2 Review
2021 Yamaha Wolverine RMAX2 Review
The Yamaha RMAX is an ideal candidate for anyone who uses their UTV at home or at work, but still wants all of the trail capability a sport UTV offers.
Words: Cody Hooper // Photos: Adam Campbell Photography 
MSRP:Starting at $19,799; As Equipped $21,999 (XT-R)
www.yamahamotorsports.com
2021 Yamaha Wolverine RMAX2 Review
I'll never forget the first time I saw a Yamaha UTV in the wild – it was 2004, and the legendary Rhino 660 had just hit the market. My father and I were riding dirt bikes up in the hills in Gorman, California, having a break on the side of the trail. A middle-aged man clad in street clothes and an open-face motorcycle helmet came flying past us on the trail at what appeared to be an extreme rate of speed for the utility cart he was driving.
Pardon my description, but before this, all we had seen in these hills as far as UTVs go were Mules, Rangers, and other yard equipment. This thing was going triple the speed any of those tractors could manage, and the driver had an ear-to-ear grin as he passed us. We geared back up hastily and chased him down, finally cornering him for a little Q&A about his mystery machine. Little did we know at that time just how big the UTV movement would become, and how important that Rhino would be in shaping its future.
While Yamaha's Rhino nameplate was unfortunately discontinued years back, the Viking and Wolverine have carried the torch well. The Rhino's ethos was simple: do everything a UTV can do, do it well, and make it fun for the driver.With the introduction of the Wolverine RMAX2, Yamaha has again set their sights at delivering that experience, with two new UTVs based on the Wolverine platform. The RMAX2 and RMAX4 share a new, high-output 1000cc parallel twin engine and bespoke suspension. We joke that the "R" in RMAX stands for Rhino (Yamaha won't confirm), but the bottom line is this: Yamaha has big shoes to fill here, as not only does the RMAX carry Yamaha into the next generation of sport/utility UTVs, but it also has some very stiff competition! Here's our 2021 Yamaha Wolverine RMAX2 Review.
Highlights:
Strong engine, power everywhere
Smooth CVT, great belt life
Plush, long-travel suspension
Comfortable for work or play
Engine:
Like the Wolverine 850, the RMAX also gets its motivation from a parallel twin-cylinder engine with dual overhead cams and four valves per cylinder. The engines share some design elements, but are worlds apart in terms of how they're built. The RMAX engine uses a shorter stroke than the Wolverine 850, but a much larger bore. The Wolverine RMAX 1000's engine produces around 40 more horsepower than the 850, and utilizes Yamaha's all-new Ultramatic transmission. The engine is strong, snappy, and perfectly happy hauling the RMAX around at speed.
The RMAX2 and RMAX4 also have Yamaha D-Mode throttle control, which is an adjustable ECU mapping program that affects how the vehicle responds to throttle inputs. It also changes the way power is fed in, creating very different-feeling profiles for each of its three modes. We saw 71 MPH in dirt, a healthy top speed and plenty for the sport/ute segment. Others have claimed even higher. Yamaha gave the RMAX a massive power jump from the Wolverine 850, and it is much appreciated out on the trail!
2021 Yamaha Wolverine RMAX2 Review
Transmission/Drivetrain:
Yamaha's newest iteration of the Ultramatic CVT transmission uses much beefier parts than the smaller Wolverine X2/X4 does. The clutches themselves are dimensionally larger and feature upgraded sheaves, tuning, and bracing for longer life with the RMAX's uprated power output. Yamaha is proud of the design achievements they have made with the Ultramatic transmission, and are now offering the industry's ONLY 10-year-belt warranty. It applies to all Assembled in the USA 2019 & UP models with the Ultramatic transmission. To see if your UTV is on the list, visit this link.
The Wolverine RMAX features on-demand 4WD and a full diff-lock mode for when you really need it. As with all other Yamaha products, the driveline is tight, strong, and works when you need it to. No fancy electronic wizardry here – just good ol' fashioned 4WD!

Suspension:
Starting with a form of the base Wolverine's frame, Yamaha added the bracing and support necessary to cope with the increase in power, speed, tire size, weight, suspension travel, and velocity. The Wolverine 850's trail-duty suspension was ditched in favor of a much more substantial package. All-new suspension components were designed and tested, so this isn't just a Wolverine 850 with a long-travel kit!
Up front, the double-wishbone suspension produces a healthy 14.2 inches of travel, right on par with best-in class and only a couple inches shy of most pure-sport UTV units. They are linked by an anti-sway bar, and controlled by Fox 2.0" Podium QS3 shocks. We appreciate the easy adjustment of the QS3 shocks, and they work well for the intended audience here. If you're the type that prefers clickers, there are a ton of aftermarket suspension shops that offer solutions for you. Regardless, the suspension is excellently tuned, with light spring rates to keep the ride plush and enough valving to keep it from bottoming.
The rear suspension again employs an independent, double wishbone design, but it cycles a very long 16.9 inches of wheel travel. This is nearly 3 inches more suspension travel than the Polaris General XP 1000, which is the RMAX2's closest rival. It's also 7.6 inches more suspension travel than the Wolverine 850 X2, the vehicle it shares its core DNA with. Yamaha chose not to utilize a rear swaybar on the RMAX2, leaving room for the aftermarket to offer upgrades for owners who may add weight to their rigs. In stock trim, the RMAX2 handles very well.
Tires/Wheels/Brakes:
Base model Wolverine RMAX models ride on 30×10-14 GBC Dirt Commander 2.0 tires, not a bad choice for an OEM tire. Checking the box for the XT-R model gets you bronze wheels and Maxxis Carnivore tires. While they're the same size as the Dirt Commanders, the Carnivores are better suited for the muddy, rocky, slick terrain that the Wolverine RMAX was really made for. Sadly, the XT-R does not get beadlock wheels, although they do resemble a beadlock from afar. Brakes are strong and have good pedal feel, with 255mm rotors up front and 244.5mm rotors in the rear. All four corners have dual-piston calipers and stainless steel braided brake lines for optimal pedal feel and braking performance.
Interior & Exterior:
The Wolverine RMAX models get a significant facelift from the Wolverine 850 X2 and X4 models also on sale. They are so visually different, in fact, that Yamaha could have dropped "Wolverine" from the RMAX's name completely and no one would have questioned it. A taller hood features an almost-sealed compartment that houses all of the relays, electronic access for switches and accessories, the battery, the airbox, and more. It stays relatively clean, even in heavy mud. Kudos to Yamaha for that.
In typical Yamaha fashion, all of the interior and exterior pieces are finished very nicely and bolt together extremely well. Fit & finish is a Yamaha hallmark – the RMAX even features padded areas where a rider's knees make contact with the interior trim. The permanent side bolsters may be a little cramped for riders on the larger side, but they add a layer of security and protection that even a window net can't offer.
2021 Yamaha Wolverine RMAX2 Review
The seats in the RMAX are wonderfully bolstered without being too difficult to get in and out of, and the ergonomics of the interior are spot-on. The tilt steering wheel and beefy passenger grab bar feel high-quality and strong. The dash on lower-trim models features a lidded compartment on the center stack, where on the XT-R and up trims you get a dash-mounted Yamaha Adventure Pro tablet. The Adventure Pro is a fully-functional tablet that comes pre-stocked with vehicle diagnostic readouts, adjustable gauges, GPS capability, custom trail mapping and sharing, and much more. It's a wonderful system that we spend a lot of time with in other Yamaha models.
The exterior trim of the new Wolverine RMAX is aggressive, with a sporty look made much more real by the massive suspension and tire combo that Yamaha stuffed under the fenders. LED marker lights and separate low/high beam LED assemblies offer much better lighting than any other Yamaha UTV on the market. We hope to see a system like this on next year's YXZ!
The RMAX2's tilting dump bed can hold up to 600 pounds, matching the General for best-in-class. The dump bed tilt mechanism functions well and is easy to operate, even when the machine is loaded down. The cargo box is also fairly massive, and includes molded channels for separators to keep your gear secure. Multiple tie-down locations make strapping things in easy, and Yamaha also offers some accessory bed gear for even more storage.
Impressions:
With the Rhino and Wolverine X2 comparisons out of the way, let's get right to it: the RMAX2 is a flat-out performer. From the moment you stab the throttle for the first time, the evolutionary leap from Yamaha's previous platforms is immediately noticeable. The RMAX produces big grunt down low, and the power grows the longer you hold your foot in it. The 1000cc parallel twin produces a very linear power curve with lots of meat in the middle, which is where the RMAX really spends most of its time.
Transmission performance is on par with perfect as well. When matted from a dead stop, the Wolverine grunts for about a half-second and then roars in RPM, immediately settling into its clutching engine speed and putting its 100+ horsepower to the ground in a hurry. Yamaha's Ultramatic is smooth, doesn't slip, and provides real engine braking that is useful in the dirt.
Yamaha didn't cut any corners with the RMAX's suspension, and it is one of the defining characteristics of this vehicle. It truly delivers the ride compliance of a long-travel sport UTV in most scenarios, but can still back up to a trailer and tow 2,000 lbs. A lot of time went in to tuning this chassis, and it is noticeable. While the RMAX does dive and squat a lot, it does so with poise, letting you get a real feel for the momentum of the car and how much traction you have left. It speaks to the driver well in fast-paced situations, although the steering is a bit overboosted and numb at speed.
This is the first Yamaha UTV besides the YXZ to have a top speed above the 50 mph range, and the RMAX handles it well. The built-in winch and other convenience features are icing on the cake here, only making the RMAX a more appealing purchase. Sport/Utility UTVs like this one are getting so capable that the lines continue to blur.
Our testers loved the RMAX for its capability and comfort, proving that for most UTV owners, one rig can really accomplish a lot. The RMAX is an ideal candidate for anyone who uses their UTV at home or at work for chores, but still wants all of the trail capability a sport UTV offers. It will work as hard as you need it to all week, and carry your cooler and camping gear when it's time to relax on the weekend. The RMAX is the next generation of Yamaha's Recreation-focused UTVs, and it is a knockout.
Specifications:
ENGINE & DRIVETRAIN
Type:999cc: 108 (EST) hp, 4-Stroke, DOHC, 4 valve per cylinder parallel twin
Cooling:Liquid
Fuel Delivery System:Yamaha Fuel Injection (YFI) with dual 48mm throttle bodies
Drive System Type:Ultramatic V-belt with all-wheel engine braking; L/H/N/R
Drivetrain: On-Command 3-way locking differential; 2WD, 4WD, full diff-lock 4WD
Power Steering:Electronic Power Steering (EPS)
SUSPENSION
Front Suspension:Independent Double Wishbone with sway bar, 14.2" Travel
Front Shocks:Fox Podium 2.0 QS3
Rear Suspension:Independent Double Wishbone, 16.9" Travel
Rear Shocks:Fox Podium 2.0 QS3
BRAKES
Front Brakes:Dual Hydraulic Disc
Rear Brakes:Dual Hydraulic Disc
TIRES / WHEELS
Front Tires: 30 x 10R-14; Maxxis Carnivore
Rear Tires:30 x 10R-14; Maxxis Carnivore
Wheels:Cast Aluminum
DIMENSIONS
Overall Vehicle Size (L x W x H):119.3 x 66.1 x 77.8 in
Wheelbase:86.7 in
Ground Clearance:13.8 in
WET Weight: 1,876.1 lb
Cargo Box Capacity:600 lb Rear Dumping Box
Towing Capacity:2,000 lb
Fuel Capacity:9.2 gal
FEATURES
Instrumentation: Full digital display in binnacle behind steering wheel, Yamaha Adventure Pro digital gauges in center dash, GPS, breadcrumbs, on-board diagnostics, etc.
Lighting:LED interior lighting, LED Headlight w/ Accent & LED Taillights
Steering Wheel:Adjustable tilt steering
Other Standard Features: XT-R Package includes Maxxis Carnivore 30x10R-14 Tires, heavy duty onboard WARN Winch, uprated suspension components and unique colorways.
WARRANTY:
Factory:6-month Limited Factory Warranty, Yamaha 10-year Belt Warranty, optional extended plans may be available through your dealer
Comments
comments
Sours: https://utvoffroadmag.com/industry-news/2021-yamaha-wolverine-rmax2-review/
Yamaha Launches All-New Wolverine RMAX 1000 Models
In late 2015, Yamaha broke into the pure-sport UTV market with it's dominating YXZ platform providing spirited drivers unparalleled maneuverability and the only (at the time) manually shifted powertrain. Fast forward five years later and the aging YXZ platform has had little change to speak of while competitors have release bigger and faster competition. The question has been, will Yamaha respond with a performance update? …a suspension upgrade? …maybe an all-new platform? We finally get to find out! Yamaha has just released their update and the answer is Yes to all of those… except it's not to the YXZ platform, it's to the aging Wolverine models!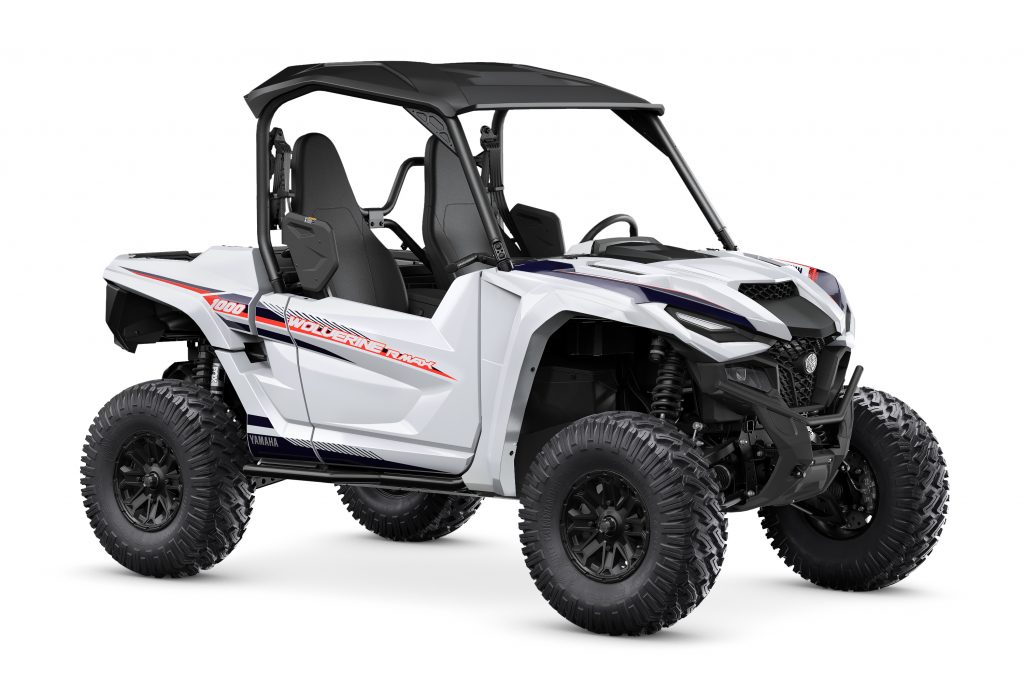 This is the all-new 2021 Yamaha Wolverine RMAX 1000 recreational UTV! Much in the vein of what Kawasaki did with the refresh to their aging Teryx platform with the launch of the Teryx KRX 1000, Yamaha has chosen to take the safe route by updating its most popular platform before releasing updates to their fewer selling, and more expensive, pure-sport models.
Yamaha Wolverine RMAX 1000 Specifications
Engine
999cc in-line twin, 4-stroke, DOHC, 4-valve
Horsepower
108 hp
Transmission
Ultramatic V-belt with all-wheel engine braking;
Drive Modes
All: L, H, N, R – 2WD, 4WD, full diff-lock 4WD
XT-R/LE: Sport/Trail/Crawl throttle response modes
Suspension
Independent double-wishbone a-arms front & rear
Shocks
Base/XT-R: FOX® 2.0 QS3 piggyback shocks
LE: FOX® 2.0 QS3 piggyback shocks with FOX® iQS Intelligent Quick Switch valve control
Anti-Sway Bars
2-Seat: Front only
4-Seat: Front & Rear
Travel
All: 14.2″ front
2-Seat: 16.9″ rear
4- Seat: 13.3″ rear
Max Clearance
2-Seat: 13.8″
4-Seat: 13.4″
Brakes
Dual hydraulic disc front & rear
Wheels/Tires
2-Seat Base: 30x10r14 GBC® Dirt Commander 2.0®
4-Seat Base: 29x9r14/29x11r14 (front/rear) GBC® Dirt Commander®
2-Seat XT-R: 30x10r14 Maxxis® Carnivore™
4-Seat XT-R: 29x9r14/29x11r14 (front/rear) Maxxis® Carnage™
2-Seat LE: 30x10r14 Maxxis® Carnivore™
4-Seat LE: 29x9r14/29x11r14 (front/rear) Maxxis® Carnage™
Turning Radius
2 & 4-Seat: 236″ (19′ 8″)
Wheelbase
2-Seat: 86.7″
4-Seat: 90.2″
Stance Width
64″
Dimensions
(LxWxH)
2-Seat: 119.3″ x 66.1″ x 77.8″
4-Seat: 128.1″ x 66″ x 83.1″
Wet Weight
2-Seat Base: 1,845.3 lbs
4-Seat Base: 1,993 lbs
2-Seat XT-R: 1,876.1 lbs
4-Seat XT-R: 2,050.3 lbs
2-Seat LE: 1,884.9 lbs
4-Seat LE: 2,059.1 lbs
Tilting Bed
2-Seat: Yes
4-Seat: No
Bed Capacity
600 lbs
Towing Capacity
2,000 lbs
Winch
Base: None
XT-R/LE: WARN® VRX 4500 (steel cable)
GPS
Base: None
XT-R/LE: Adventure Pro Touchscreen powered by Magellan®
Stereo
Base/XT-R: None
LE: SSV Works dual 6.5″ door speakers (subwoofer ready)
Speed Management System
Base/XT-R: None
LE: Keyed throttle limiting switch to 25mph
Warranty
6 Month (Limited Factory Warranty)
Yamaha 10-Year Belt Warranty
MSRP
2-Seat Base: $19,799
4-Seat Base: $21,299
2-Seat XT-R: $21,999
4-Seat XT-R: $23,999
2-Seat LE: $23,299
4-Seat LE: $25,299
Trim & Configuration Options
The Yamaha Wolverine RMAX 1000 comes in three trims and two seat configurations. The base model RMAX 2-seaters will launch at an MSRP of $19,799 and be available in Alpine White and Armor Gray; 4-seat configurations will be at a $1,500 premium of $21,299.
Yamaha continues their XT-R trim levels, found on previous 2020 models, into the RMAX line with the Covert Green color starting at an MSRP of $21,999 for the 2-seat variant and $23,999 for the 4-seat variant. We're not sure why the XT-R has an additional $500 premium on their 4-seat configuration as the differences in the XT-R trim from the base models are tires, GPS, drive mode selector, interior lighting, better seats, upgraded bumper, and WARN winch. None of these trim upgrades include anything specific to a 4-seat…
The 2021 Wolverine RMAX 1000 is also launching with a Limited Edition Cobalt Metallic Blue color with an MSRP of $23,299 for the 2-seat and $25,299 for the 4-seat variant. The LE trim changes from the XT-R include dual 6.5″ SSV stereo system (subwoofer upgrade ready) and, more importantly, Fox iQS added to the QS3 shocks!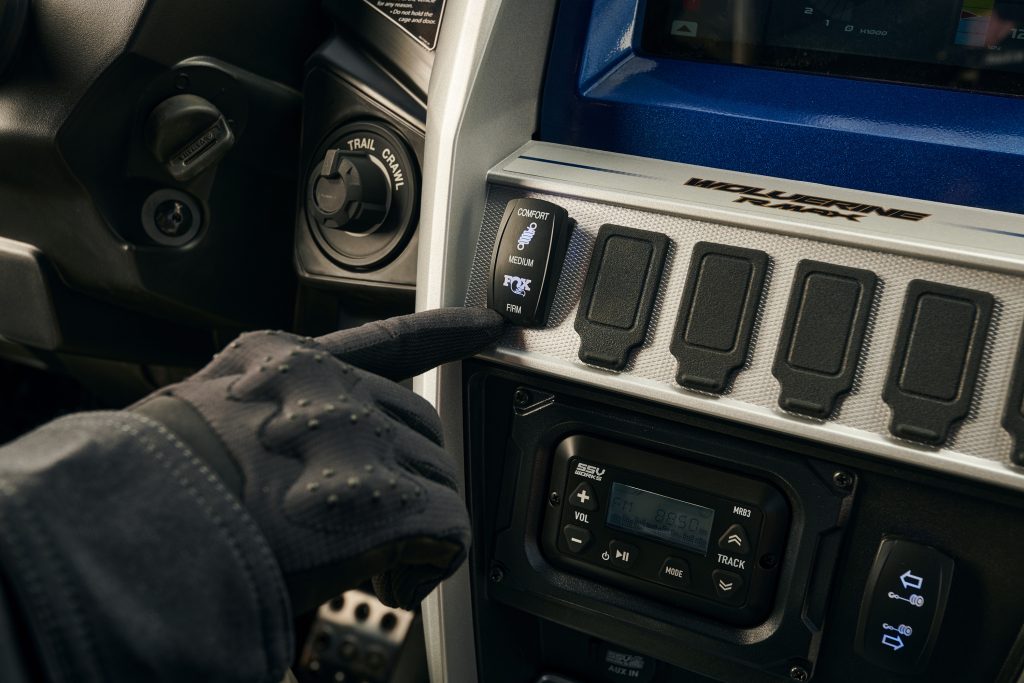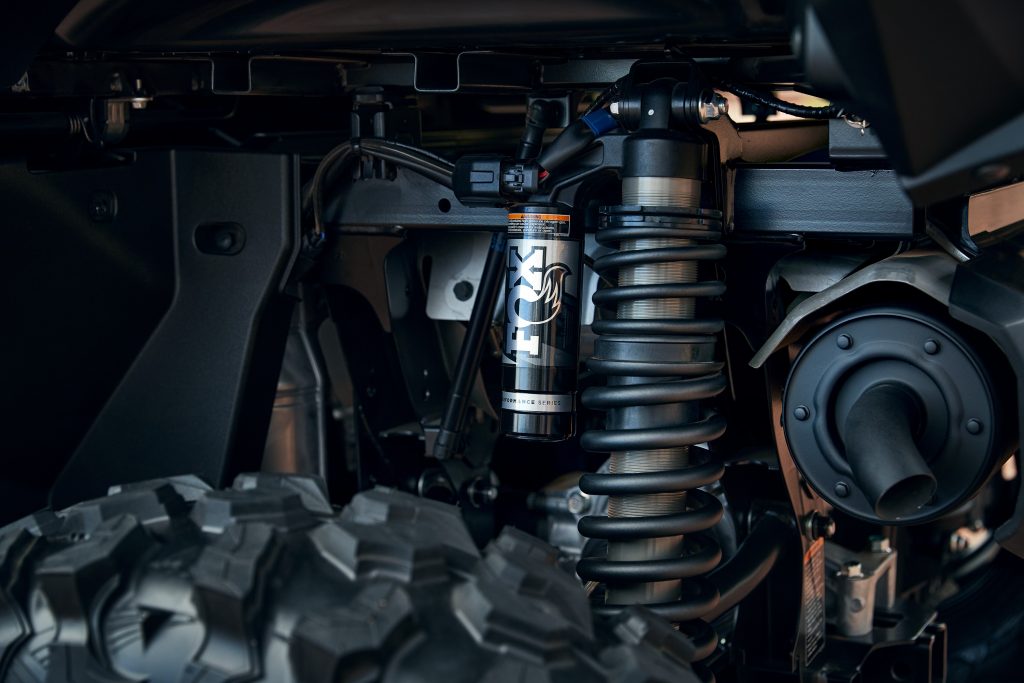 One additional feature, only found on the Limited Edition model RMAX UTVs, is the inclusion of a keyed switch under the hood for Yamaha's Speed Management System. This system will enable you to set an artificial throttle limiter on the vehicle to 25mph. This is essentially what happens when you try to drive with your seat belt disengaged, but with a 25mph top speed instead of 10mph. This is a great option for those that let their younger drivers drive independently or if you want your neighbor to be able to test drive it without flipping your brand new RMAX on its side!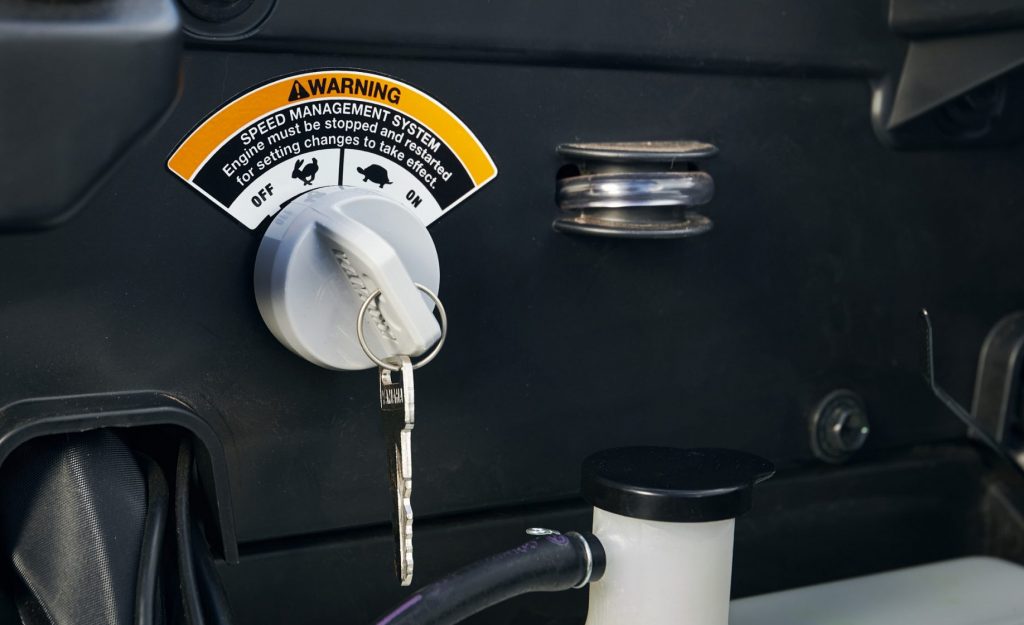 Body Styling
The 2021 Wolverine RMAX 1000 inherits a very similar body language from its Wolverine X2/4 heritage while pursuing a more modern and aggressive personality. You'll notice many of the body lines are design concepts are direct lineage of the Wolverine X2 but with a more "fast" look to them.
Speaking of the front fascia, Yamaha has really improved the aggressiveness of the front "face" of the RMAX 1000! The "evil eye" marker lights are very aggressive and the hood styling contributes to a very pissed-off look! If you look closer though, the LED headlights are located in line with the radiator and closer together than the running lights; much like it's Wolverine X2/4 cousin. The headlights feature a 7.6 watt projector low-beam along with a 15.2 watt reflector-style high-beam; plenty of headlight output.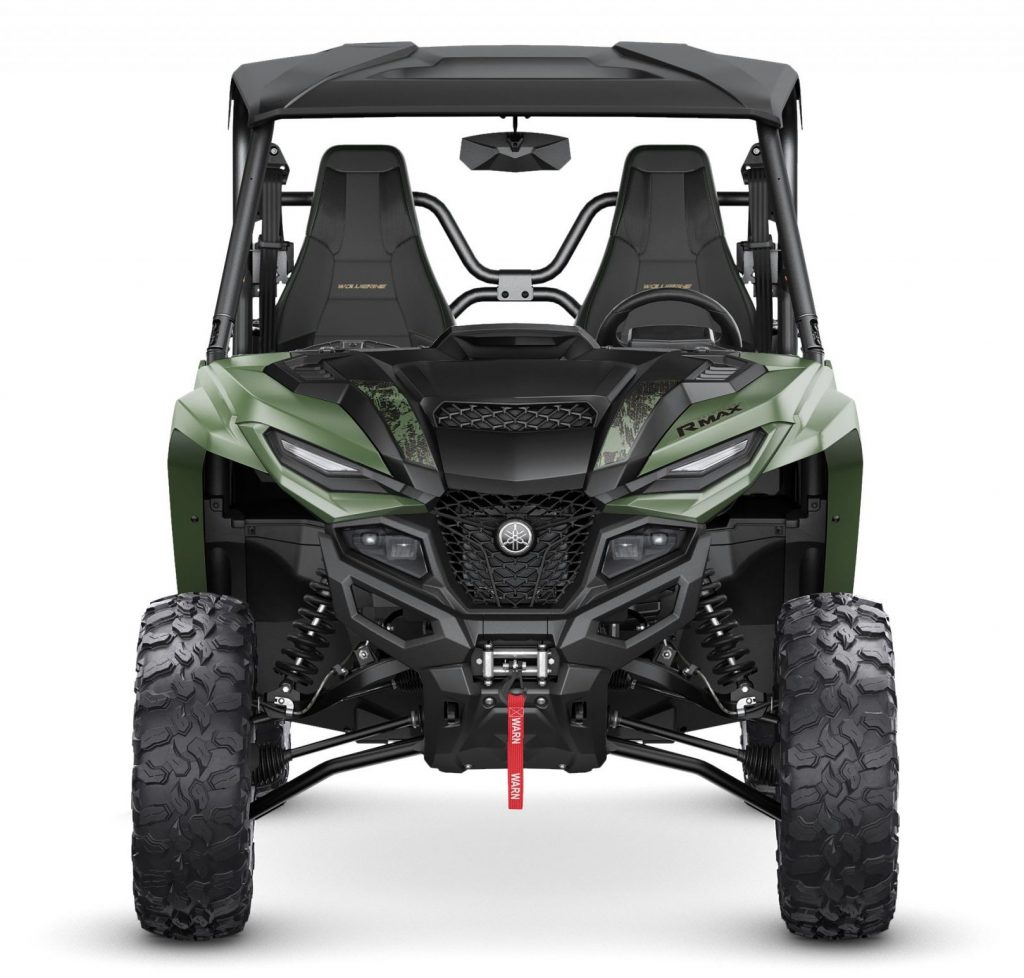 The front also includes a bumper that is compatible with the Yamaha brush guard accessory. On the XT-R and Limited Edition trims, this bumper gets upgraded with a more aggressive-looking bumper that features a rolling winch fairlead and additional tie-down points.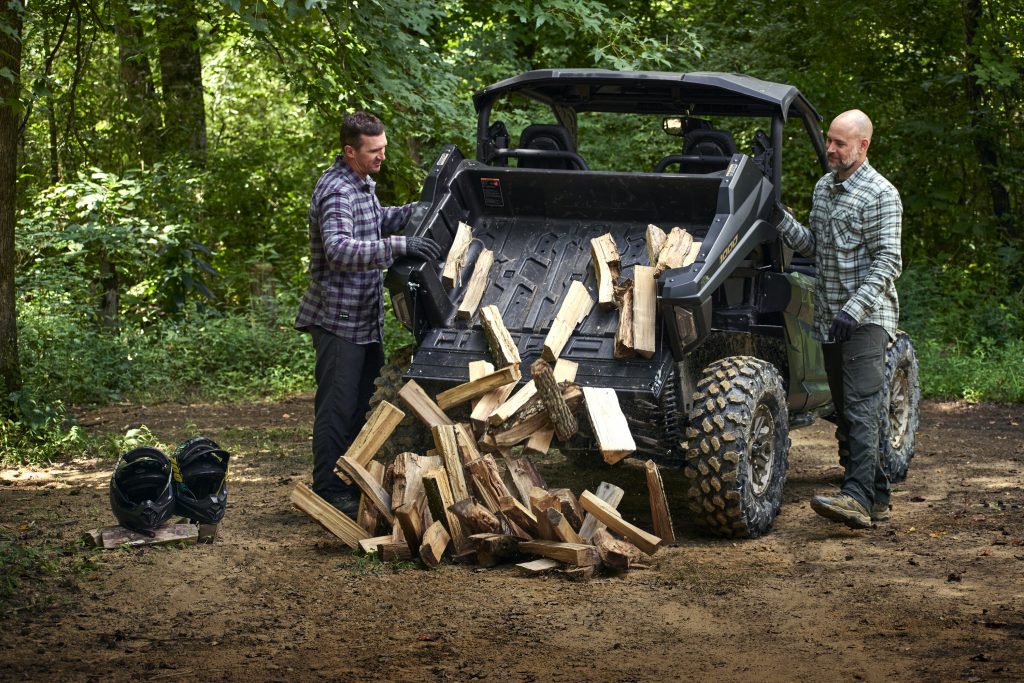 At the rear of the RMAX 1000, you'll find the same taillights as the Wolverine X2/4 and a near full-width bed with a tailgate. There is a ton of room available for coolers, camping gear, or work-related cargo. 2-Seat models of the Yamaha Wolverine RMAX 1000 feature a piston-assisted tilt bed.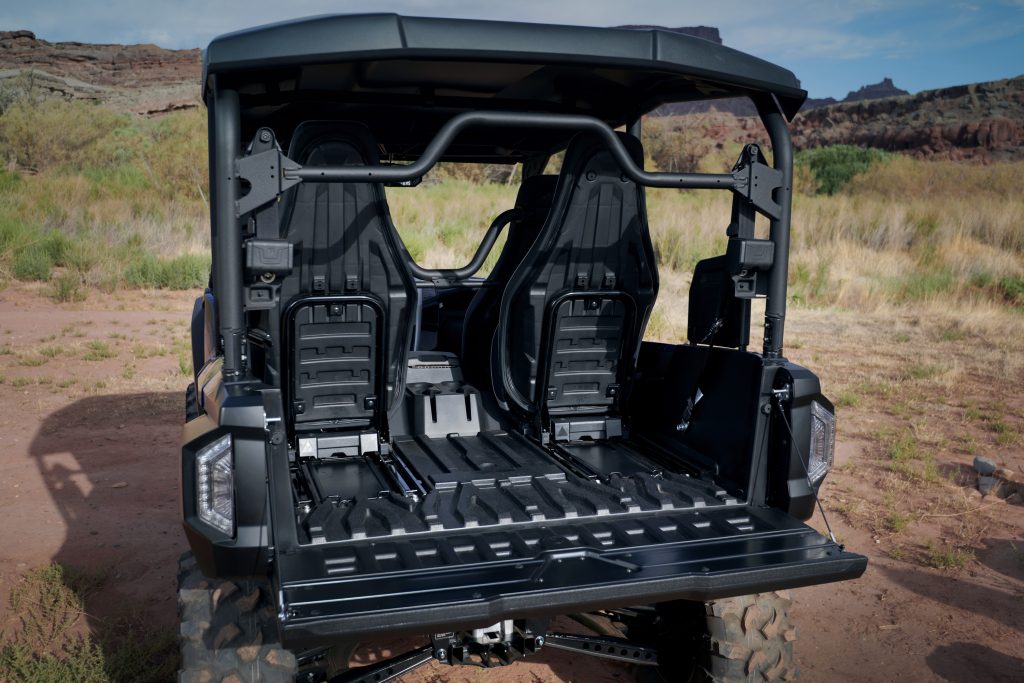 On the 4-seat RMAX models, the tilting bed was replaced by the ability to have two additional passengers. The rear seats are connected to sliding rails that enable sliding them all the way forward for additional storage space in the bed. This helps you regain most of the storage lost by the additional seats, though the seat support bar will still be in the way of taller objects.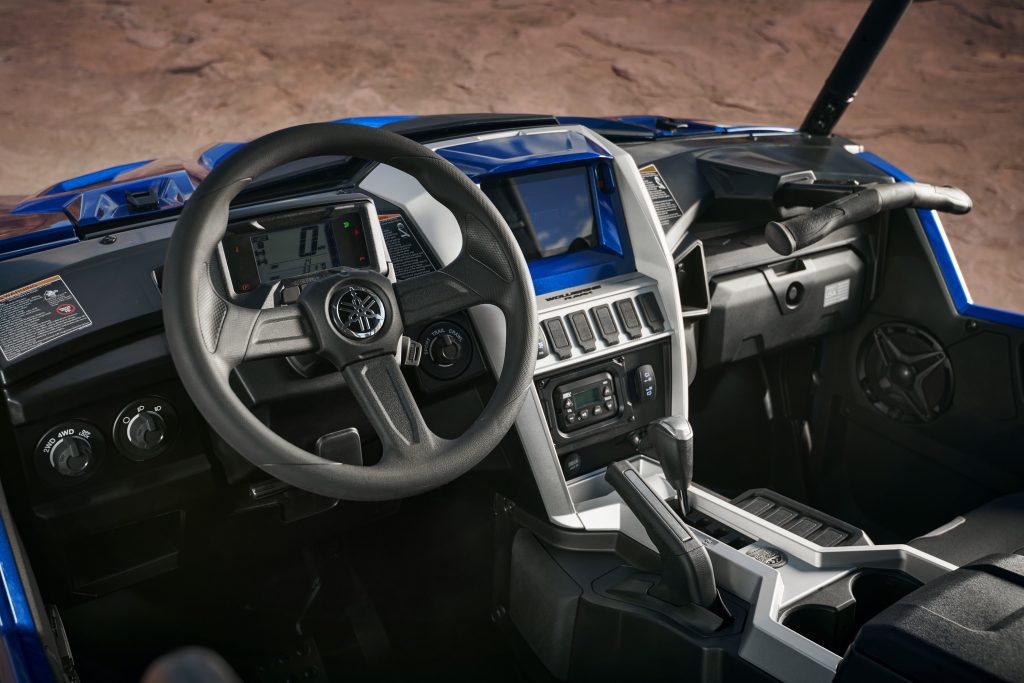 Cabin Details
The cabin of the RMAX 1000's comes well thought out and appointed. For all models, you'll be happy to see that there's lots of storage in both the glove box and center console, seven dash located accessory switch bays and four on the center console.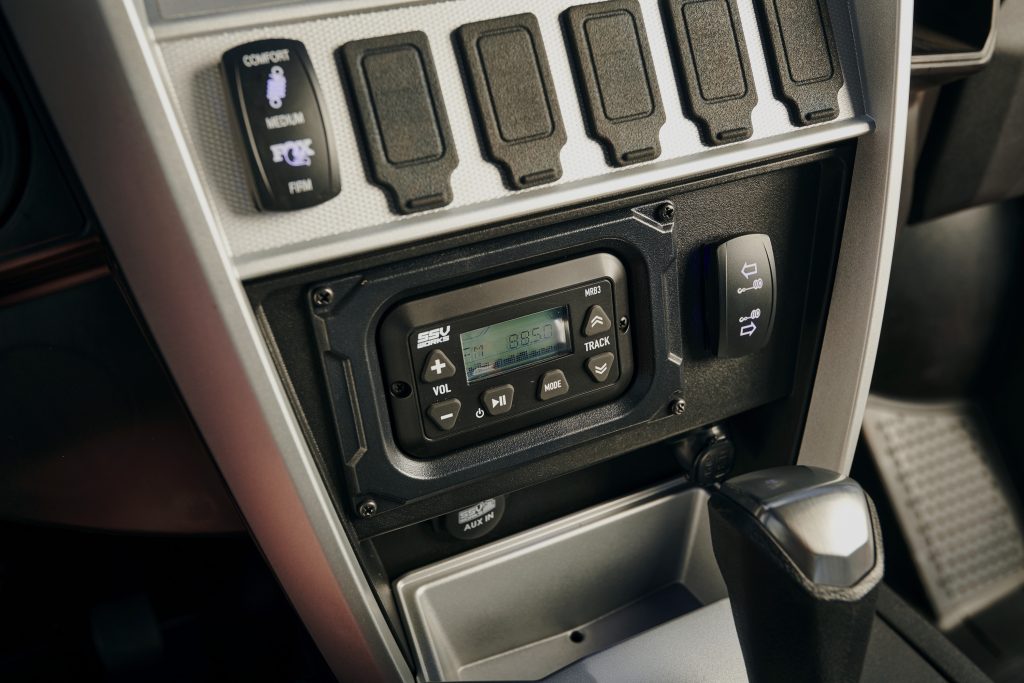 The XT-R and LE trims utilize the lower dash bay for the winch switch and the LE trims utilize the first bay for the FOX iQS control. There's a manual parking brake, something we loved about the Kawasaki KRX 1000, and a gated shifter, although without fast-shift to reverse. Passengers will find a standard t-bar for staying supported in all terrains.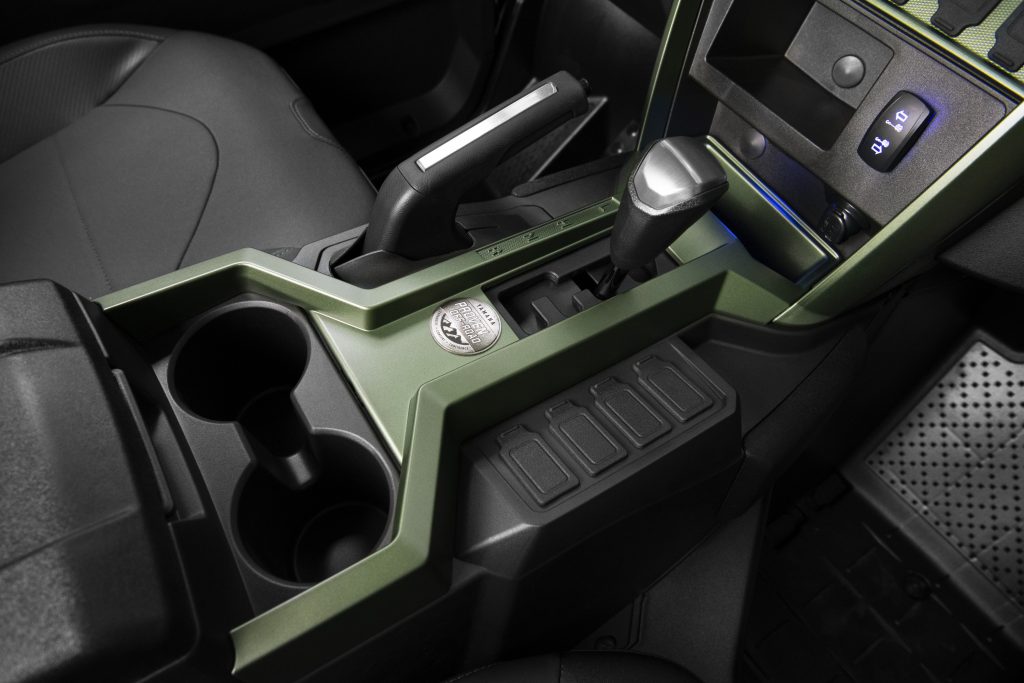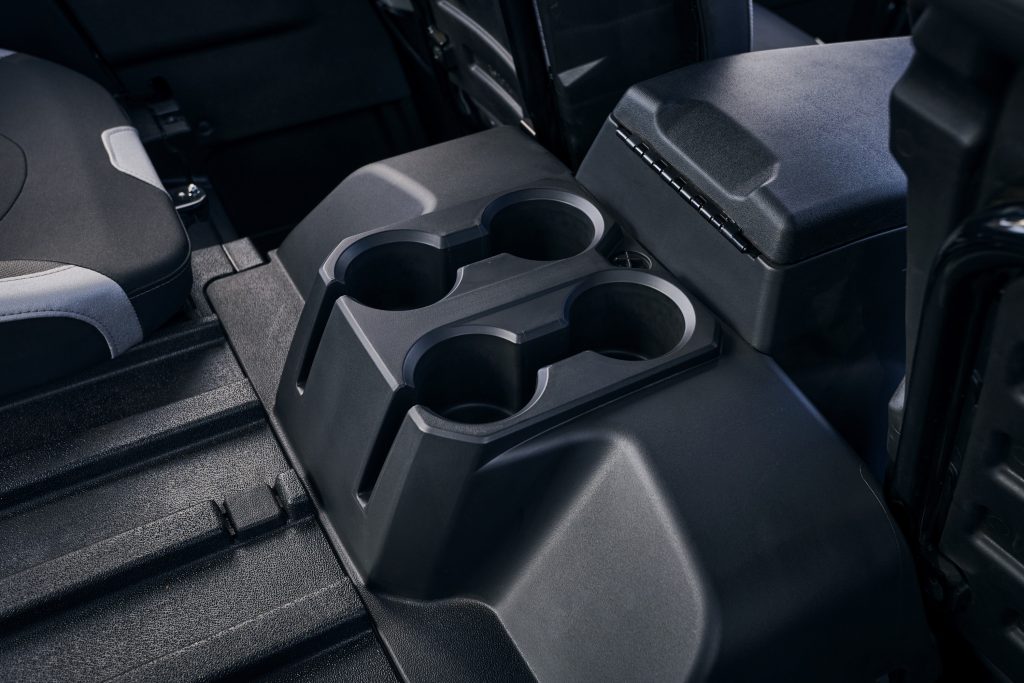 Buyers of a 2-seat RMAX will have convenient dual cup holders with handle cutout, while the 4-seat models have an additional four cup holders behind the center console! On XT-R and LE models, there is a throttle mapping selector next to the ignition key that allows you to select different throttle ramps for Sport, Trail and Crawl. To the left of the steering wheel, there are two knobs for lights and 4WD selection which includes diff-lock.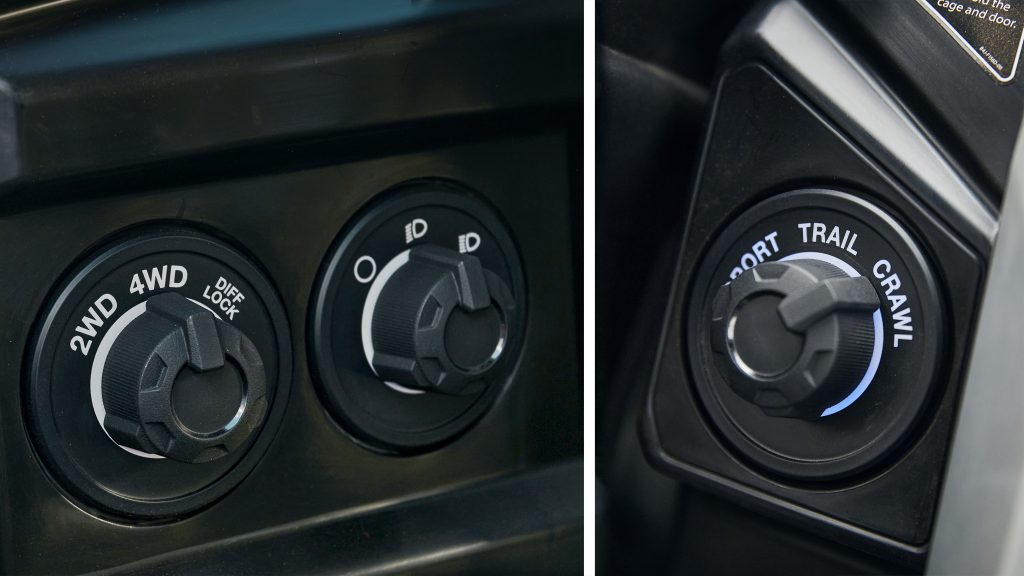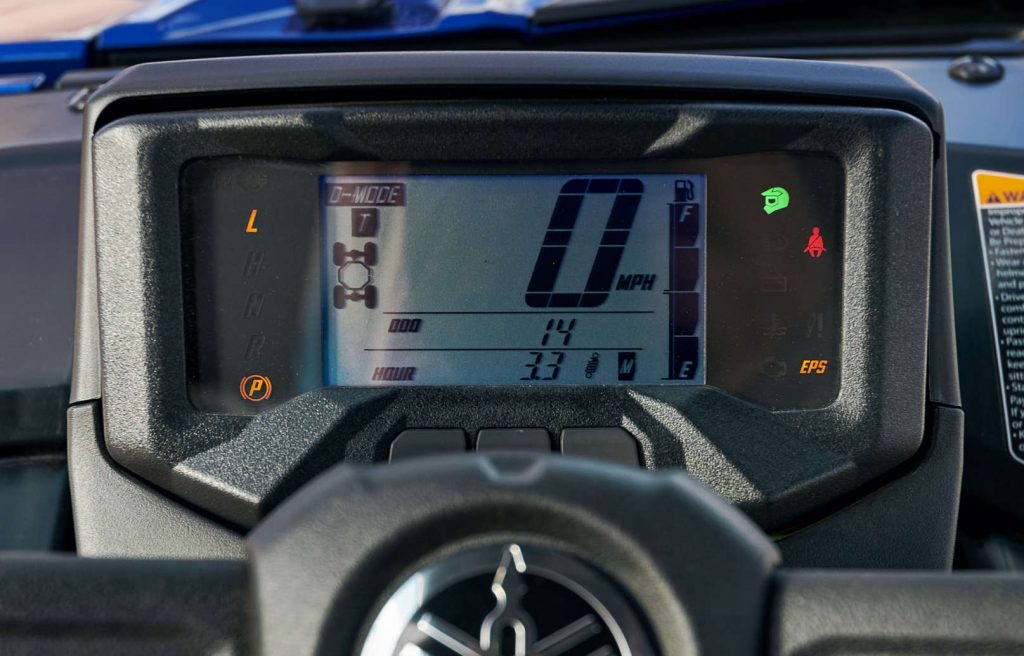 The steering wheel is pretty basic and features tilt control and an attached digital gauge cluster. The cluster is sparse but does include MPH, trip-odometer, runtime, gear selection, drive selection, warning lights, fuel level etc. While all models get a backlit cluster, only XT-R and LE models also include cabin accent lighting.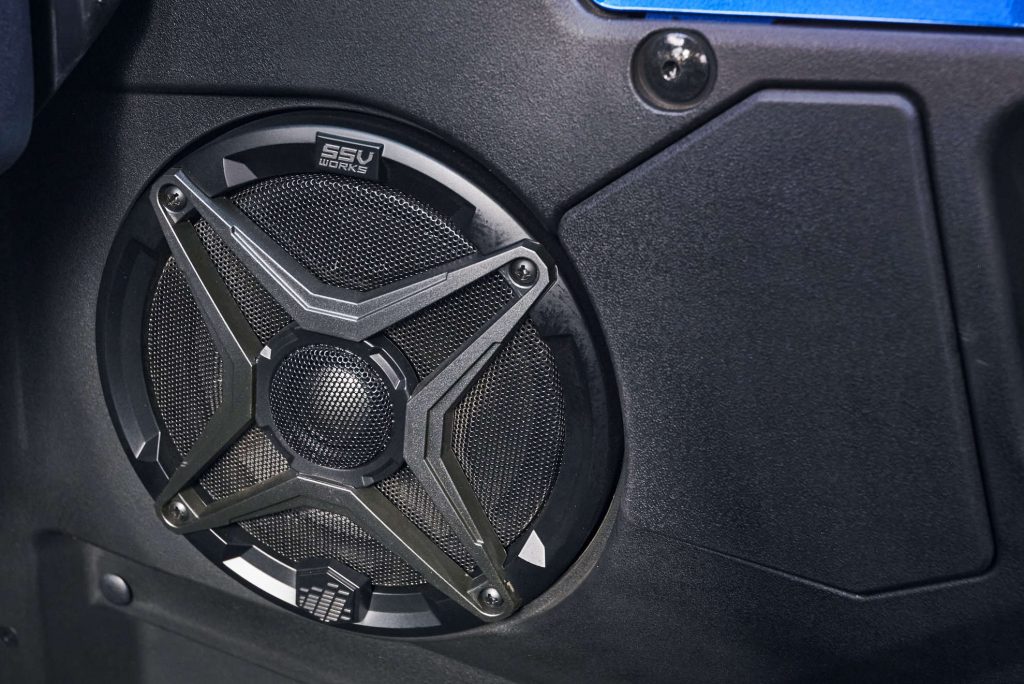 The Limited Edition models come with an included SSV Works stereo with 6.5″ door speakers. This system should be good enough to keep the parting going around the vehicle but will not blow your helmets off. This system is subwoofer ready if you choose to upgrade down the road. While you might think the stereo is controlled by the included Adventure Pro, the SSV Works system has a dedicated controller below it.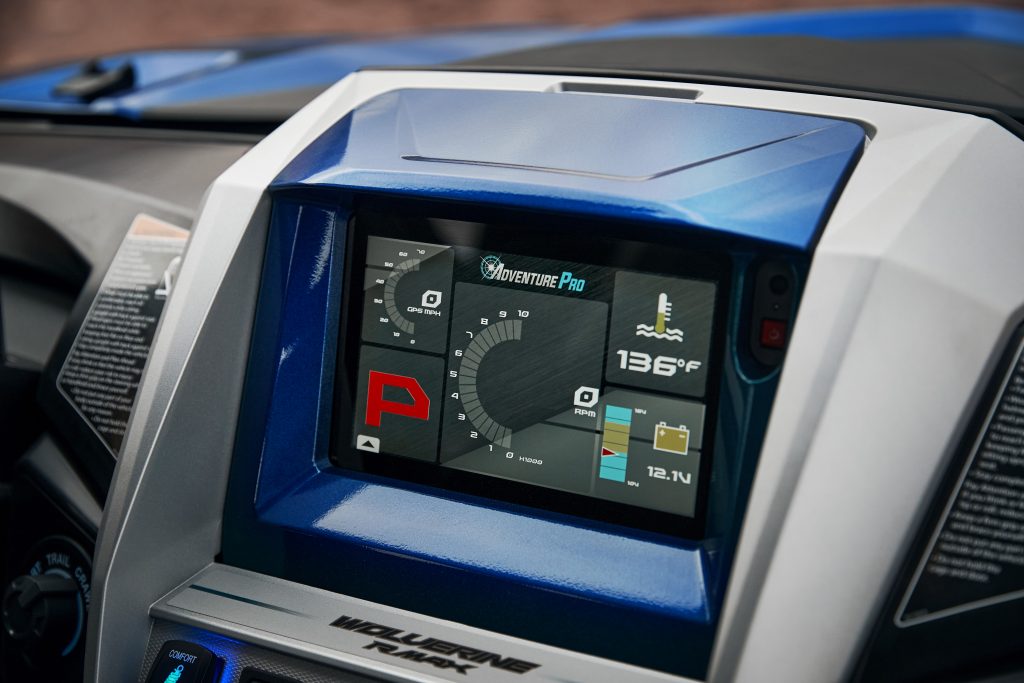 Technology
The XT-R and Limited Edition trims provide you with the Yamaha Adventure Pro Touchscreen powered by Magellan®. This is a removable Android GPS tablet made by Magellan (very similar to the Magellan TRX7 CS) and includes a camera! This tablet functions as an in-dash media center, Magellan GPS, ride information center, and can be configured to your liking. While we've not had hands-on time with the unit, it does appear to have had a great reception in the community on previous models.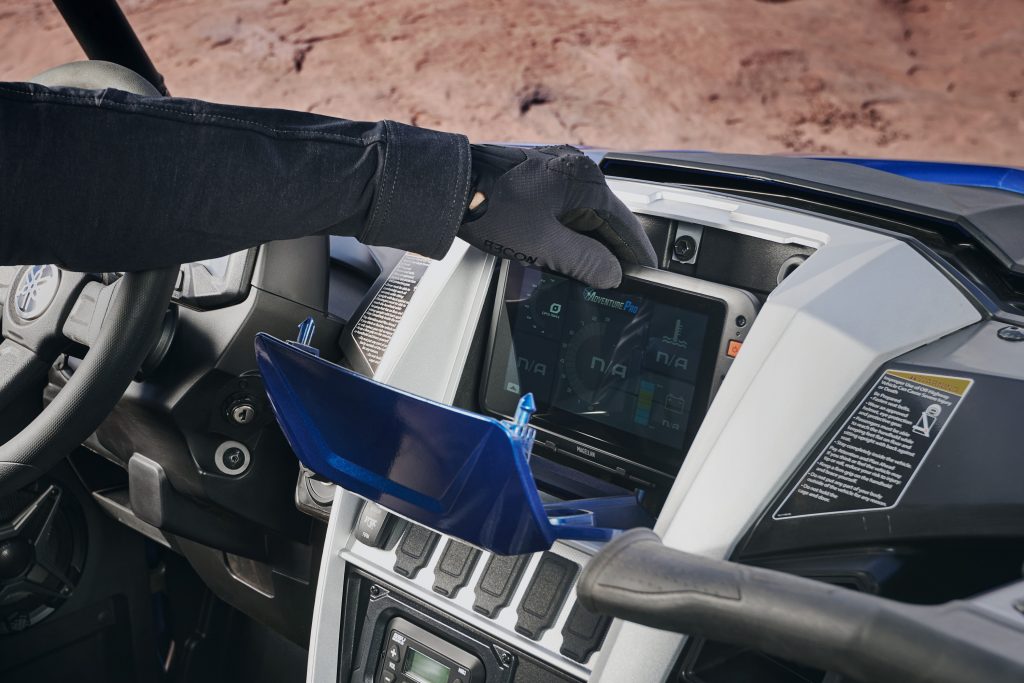 Suspension & Wheel Packages
The 2021 Yamaha Wolverine RMAX 1000 UTVs come with an interesting assortment of variety… let us explain. The RMAX 1000's come stock with FOX® 2.0 QS3 piggyback shocks. These shocks feature a 2″ piggyback oil reservoir and three clicks of adjustment for Soft, Medium Firm, and Firm.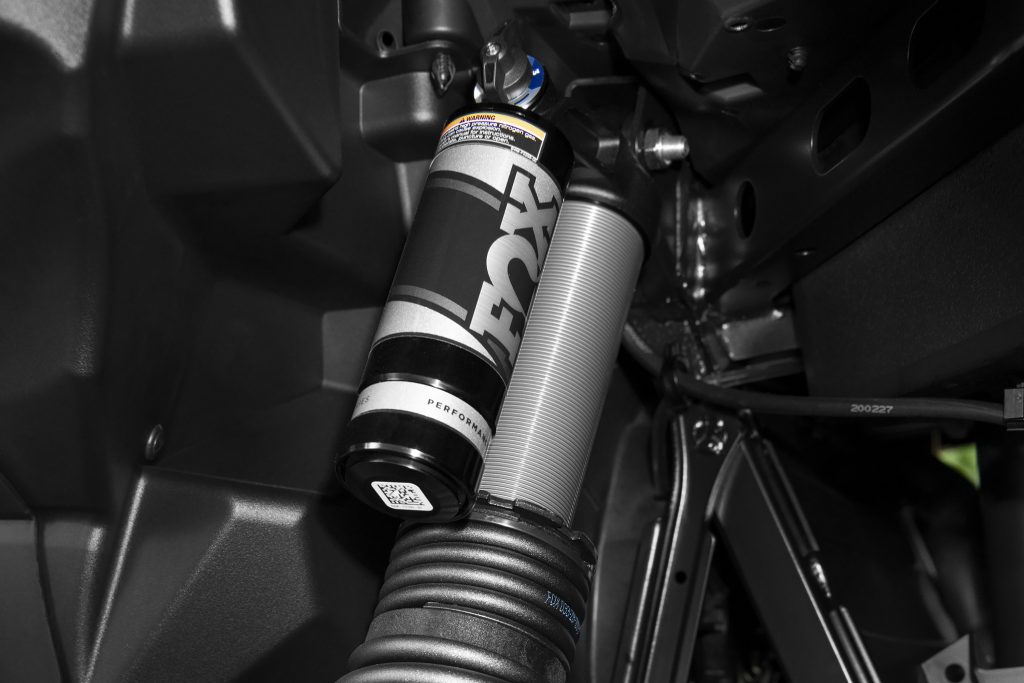 All trim levels feature a front anti-sway bar and 14.2″ of front shock travel, but the rear is where it starts the package variations. The 2-seat vehicles feature 16.9″ of rear shock travel and no anti-sway bar. The 4-seat vehicles feature an anti-sway bar but loose 3.6″ inches of travel to 13.3″. We assume this is related to the additional wheelbase and bed configuration possibly moving the shock mount back, reducing the stroke. We will confirm when we can get eyes on both units.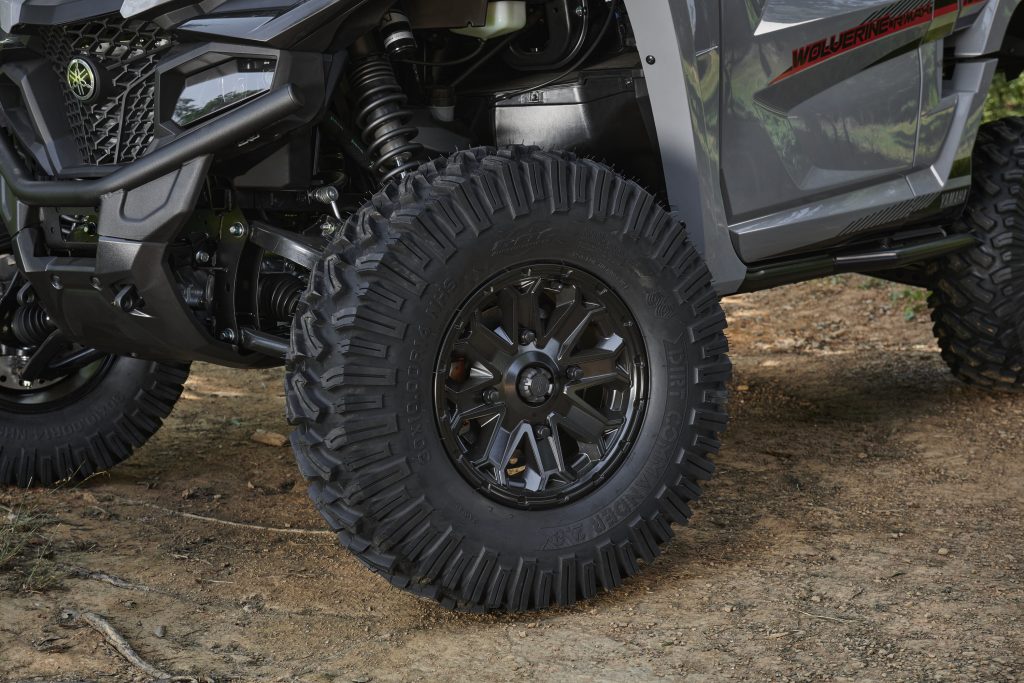 The 2-Seat base model RMAX 1000 comes with 30x10r14 wheels wrapped in GBC® Dirt Commander 2.0® tires. Move to the 4-seat configuration and the tire package loses an inch changing to 29x9r14 in the front and 29x11r14 in the rear.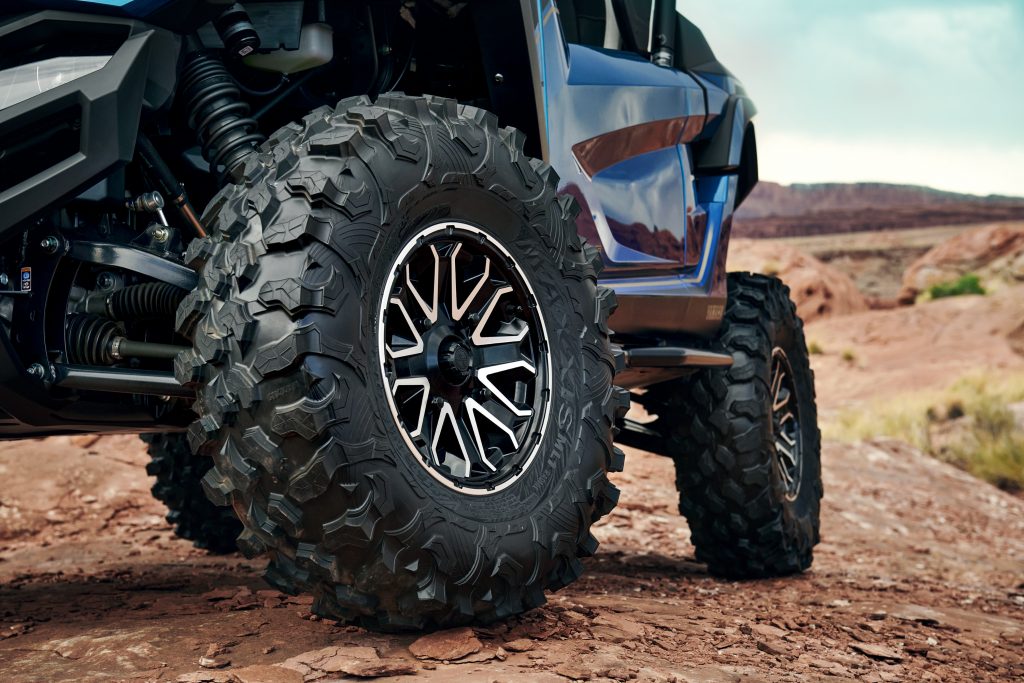 The 2-seat XT-R and LE trims come with a 30x10r14 Maxxis® Carnivore™ wheel and tire package where as the 4-seat variants come with an industry exclusive (for 2021) 29x9r14 Maxxis® Carnage™ package in the front and 29x11r14 in the rear.
Now, here's another wrinkle in the purchase making process… The max clearance on the 2-seat models is 13.8″. That's max, meaning the rear clearance is probably less. We'll measure when we get hands-on. Now on the 4-seat versions, your max clearance is 13.4″… Now, when you consider that you're loosing a half-inch of clearance from the reduced tire diameter and then also loosing 3.6″ of shock travel, this really does impact the capability of the RMAX4.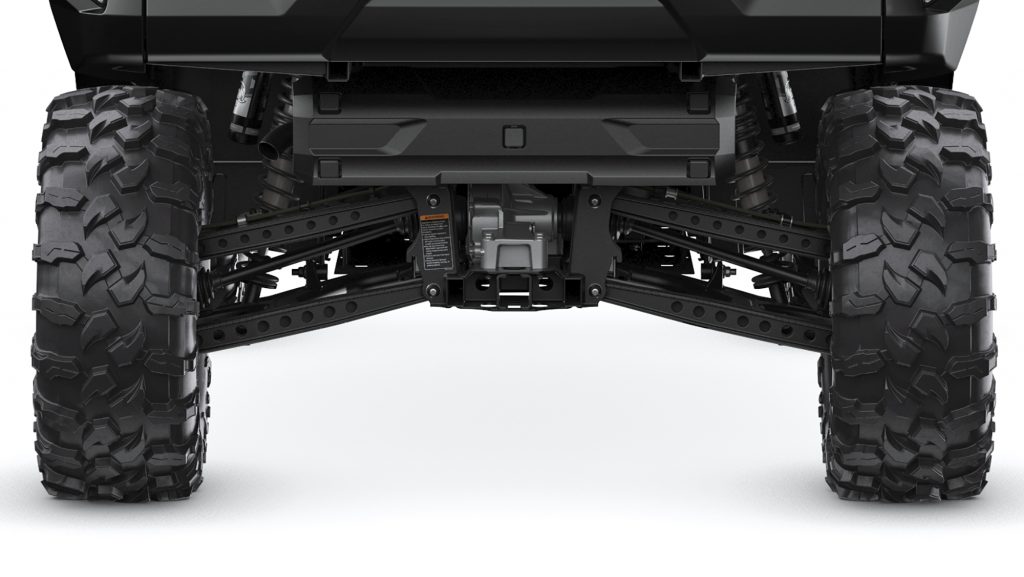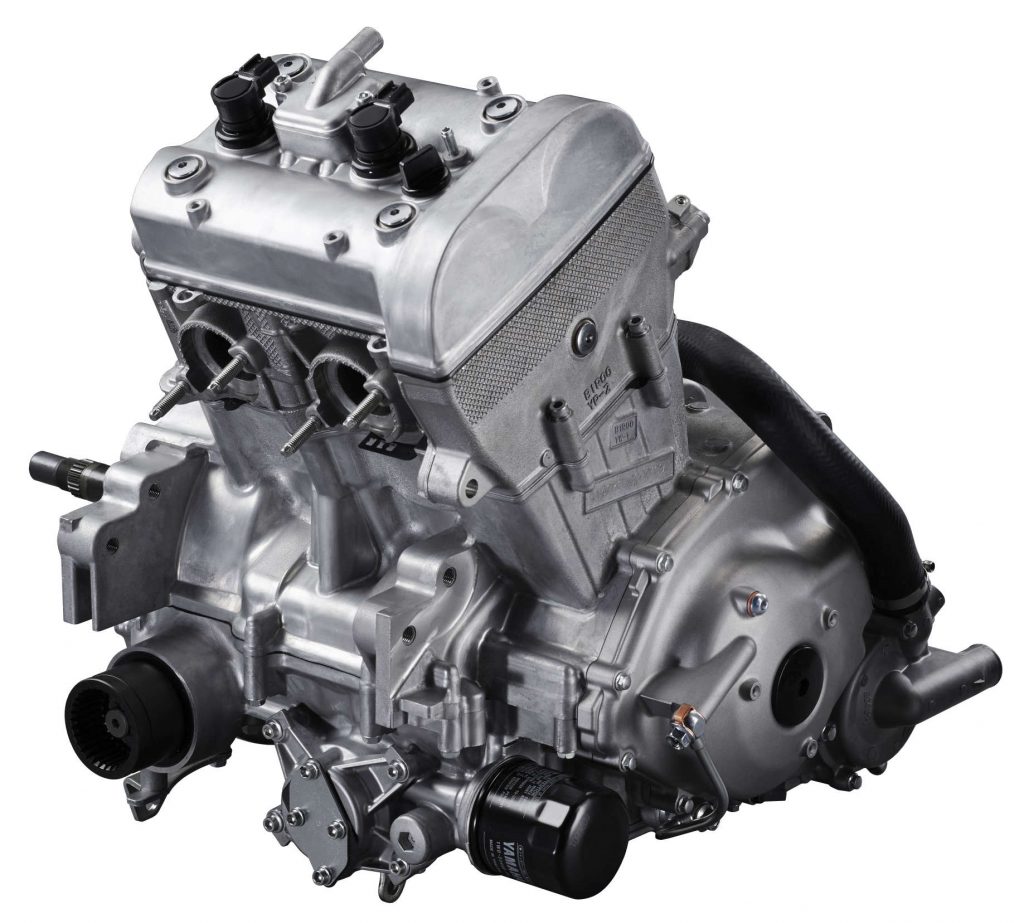 Motor and Transmission
The Yamaha Wolverine RMAX 1000 features a familiar engine block to the Wolverine family. It's essentially the same motor found in the X2/4 UTVs and is bored out larger and has more compression than it's 850 cousins to provide 108hp at the crank. These motors have proven to be super reliable and consistent in the Wolverine groups, but nothing excitingly new has come in this new version. That could be a good or bad thing depending on your point of view.
The transmission comes the way of Yamaha's Ultramatic V-belt (CVT) with all-wheel engine braking. We're not sure how all-wheel plays into this scenario if the front differential is not engaged, but we'll look into it more. Basically this means that the deceleration will be well controlled and important for those carrying or pulling heavy loads.
Warranty
With all USA built machines with the Ultramatic V-belt clutch, Yamaha will give the original purchaser (non-transferable) a 10-year warranty on the included OEM belt. Sounds great! The issue is there are some exclusions that might make this less of a selling point. These include not "properly covering" your RMAX while in storage, assumed racing, if you use it for work, if it gets wet, or if you live in Hawaii… and labor is not included. This warranty should be more a vote of confidence in the product, not a selling point to get free belts.
As with all machines nowadays, the Yamaha Wolverine RMAX 1000 UTVs come with a 6-month limited factory warranty. Basically, work with your dealer to make sure it's had its proper break-in service registered and you're good for the first six months.
Conclusion
Our initial impressions of the Yamaha Wolverine RMAX 1000 is that it looks to be a very solid and well-built vehicle. The fact that it shares many of its parts with previous generations of Wolverines can be considered a plus by many. Unfortunately, this was not the YXZ update or pure-sport offering we were all hoping for.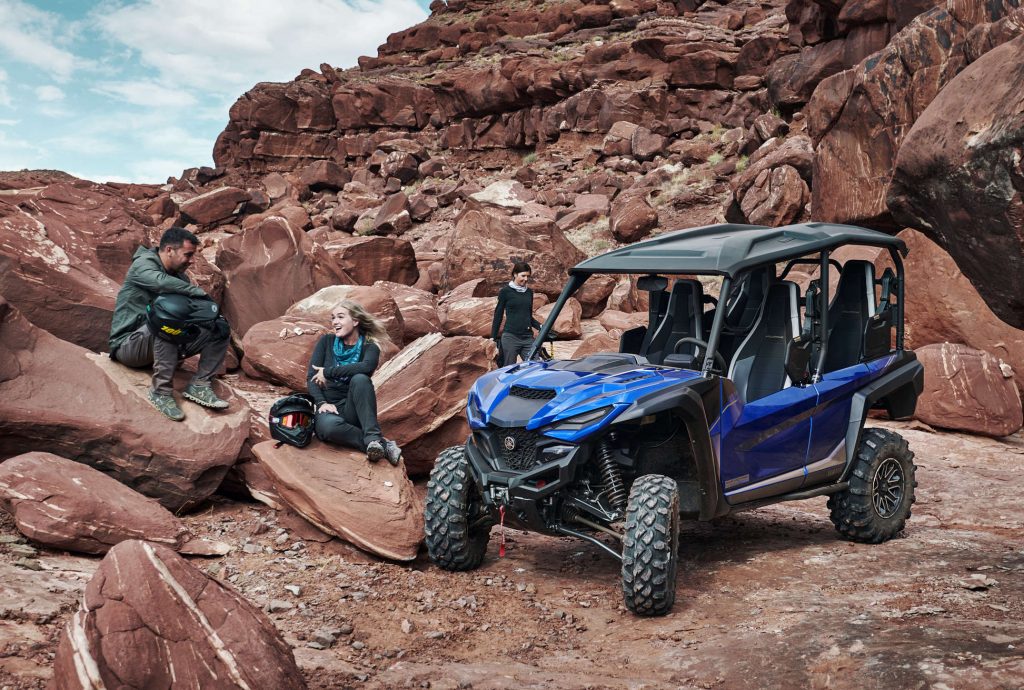 This new RMAX line of Wolverines compete directly with the Polaris General and even more so with the Can-Am Trail Sport offerings. Our biggest concern is that $19,799-25,299 MSRP of the RMAX might be reaching too high when comparing its specs to the General's MSRP at $15,999-24,999 and the Maverick Trail at $15,299-21,599. Both of these competitors have more options, competitive (if not better) performance, and established accessory markets.
We believe Yamaha's going to bring the same legendary reliability and durability in the RMAX lineup just like they have in their other UTVs. We believe there's a different vehicle for each different owner/driver and these are sure to impress the Yamaha loyal and those looking for a reliable trail rig. Time will tell and we'll be sure to give you our take when we get our hands on one for a First Looks video!
All photos provided by Yamaha Motor Corporation, U.S.A.
More from Annoucements
---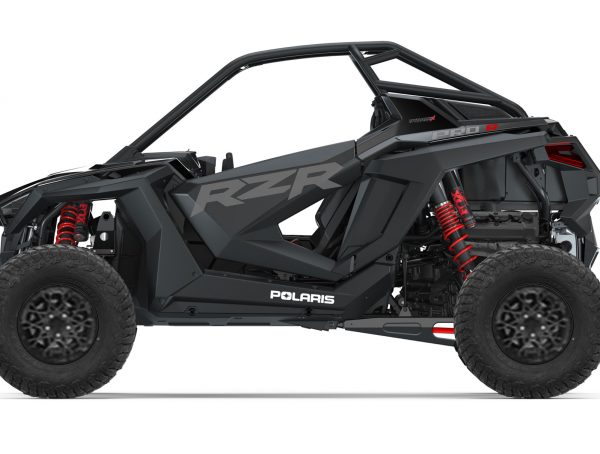 2021 Polaris RZR Pro R Predictions & Mockups
Polaris' forthcoming RZR Pro R platform update is just around the corner! We've put together a complete breakdown of all …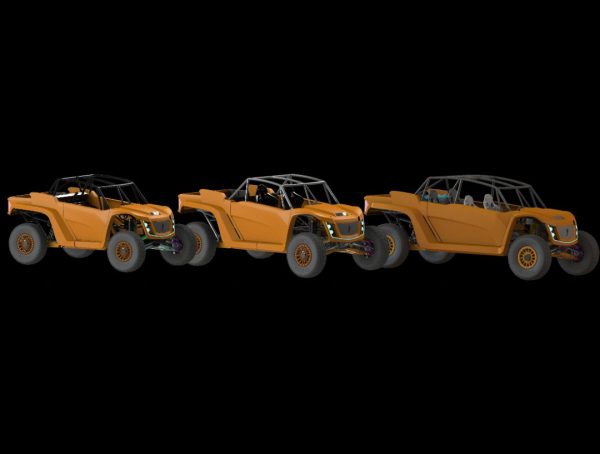 Speed UTV Finally Provides Model Names
Robby Gordon continues to tease the UTV world with his weekly live streams. Up to this week, each model of …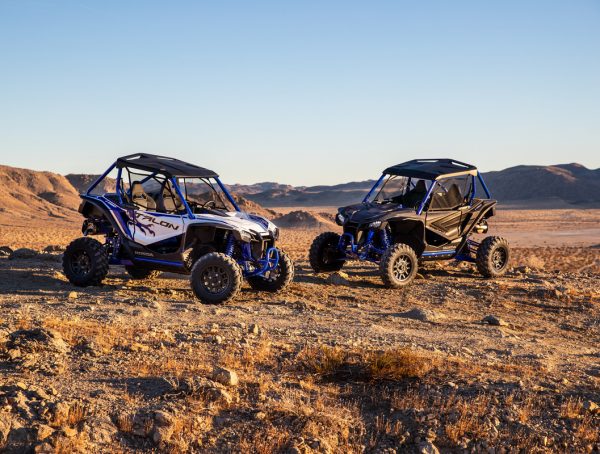 Honda Ups Their Game with 2021 Talon Live Valve 2-Seat Options
Today, Honda quietly pulled the covers off of their 2021 Honda Talon 1000X and 1000R Live Valve edition 2-seaters.
Sours: https://sxsguys.com/news/annoucements/yamaha-launches-wolverine-rmax-1000/
2021 YAMAHA Wolverine RMAX4 1000 - Features, Acessories \u0026 Full Line Overview
Yamaha Motor Launches ROV Wolverine RMAX-1000 - First 1000cc engine for use in Recreational Category -
September 4, 2020
IWATA, September 4, 2020—Yamaha Motor Co., Ltd. (Tokyo:7272) announced today that it will launch the Wolverine RMAX-1000 in North American markets from September. The unit features both two and four-up versions equipped with a 1000cc engine - a first in the company's recreational category of its key ROV (Recreational Off-highway Vehicles) product range in the RV1 business segment.
Manufacturing will be carried out by U.S. Group company Yamaha Motor Manufacturing Corporation of America (YMMC).

The Wolverine RMAX-1000 is the model of ROV platform as detailed in the 2019-2021 Mid-term Management Plan. The company aims to expand its market share with the introduction of new products into the recreational category, which is particularly popular in North America, the largest market. While satisfying customer needs with the adoption of a new design, further improvements in our strengths and individuality, focusing on maneuverability, reliability, and comfort have been achieved.

The main features include: 1) a new design with a strong presence that also stimulates the driver's desire for adventure, 2) a new 1,000cc engine that exerts high torque in the low-to-high speed ranges allowing great performance on various road surfaces, and the units D-Mode also allows the driver to choose the engine characteristics that best suit what they want according to the situation, 3) a power train that realizes excellent durability and reliability to fully enjoy outdoor environments, and 4) a cockpit that allows the driver to focus on driving through the pursuit of a sense of unity between the driver and the vehicle.

Going forward, Yamaha Motor will continue to expand its ROV lineup and will work toward continued improvement of the company's presence in the North American market.
This model is designed for off-road use only.
※ 1: "Recreational Vehicle."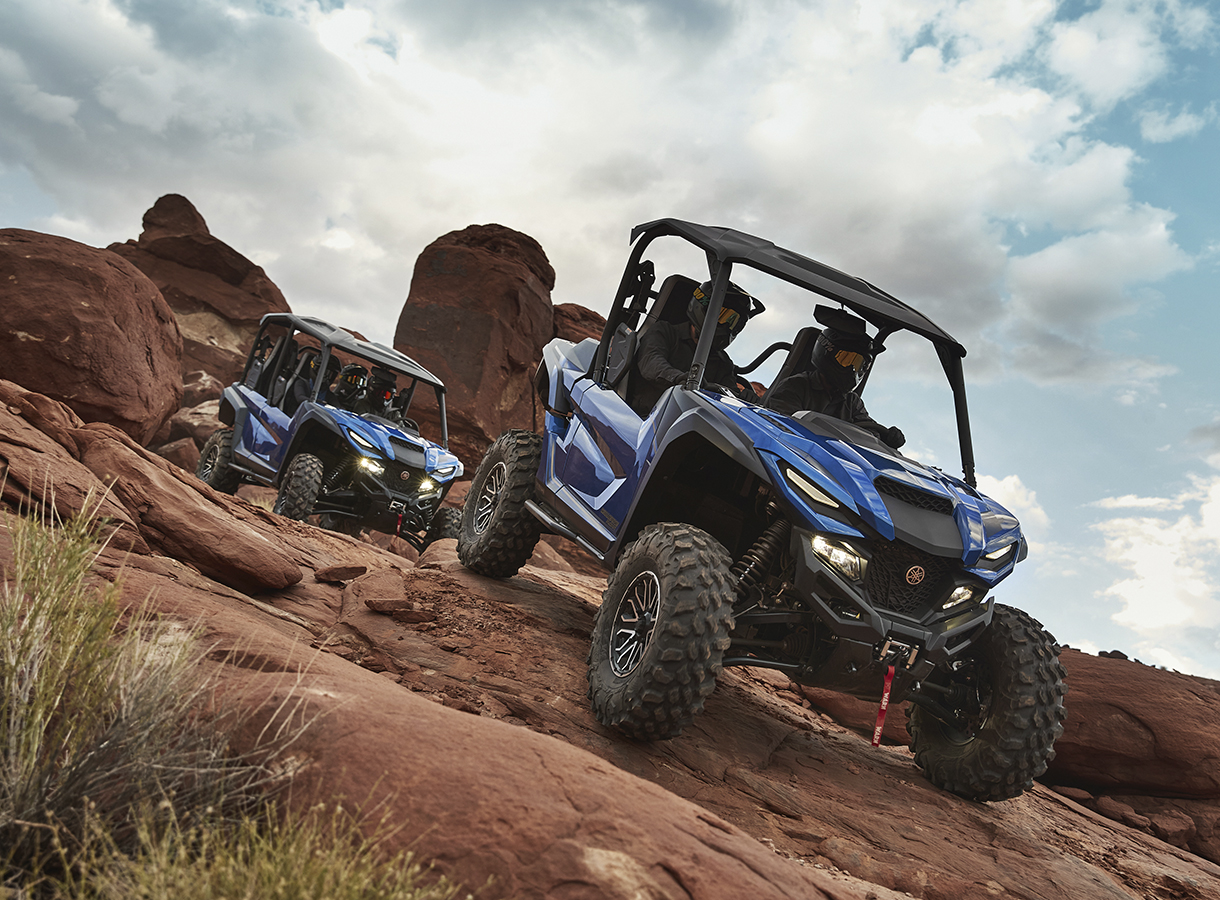 Model
Launch Date
Recommended Retail Price
Target Sales
Wolverine RMAX 4 1000
September 2020
RMAX 4 (STD) : 21,299 USD
RMAX 4 : 3,900 Units
(one year from release, North America)
Wolverine RMAX 2 1000
RMAX 2 (STD) : 19,799 USD
RMAX 2 : 5,400 Units
(one year from release, North America)
Sours: https://global.yamaha-motor.com/news/2020/0904/wolverine.html
1000cc yamaha wolverine
When Ksyusha ends up, she stands steadily on all fours and freezes. She substitutes her hole so that the member penetrates as deeply as possible. The walls of her anus become hard.
2021 Yamaha Wolverine RMAX4 1000: Accessories
I was then seized by a contradictory feeling of incomprehensible shame, on the one hand, and a desire to join Kostya, on the other. When we had lunch and went to the beach, my mother, seeing my doubts, again offered to take off my swimming trunks. It was embarrassing and unusual to do something that I had not done before. But, in the end, I myself played for half a day just with Kostya, and not with a naked boy.
That is, it was interesting for me to play with him and, in fact, it did not matter whether he was naked or not.
Now discussing:
Steel walls, small lockers. Each has a piece of paper with a name on it. With a low bench in the middle. In the far wall there was a light opening, beyond which the white tiles of the shower room could easily be seen. The captain stood at the far end of the elongated room, propping up the wall with his back.
1409
1410
1411
1412
1413