Metal Typographica
On my very first day working for JUMP, I was told by Andy, our Head of Design, that we listen to heavy metal music. Brilliant! I thought, I can finally listen to my type of music without shame. I was somewhat disappointed to find this was not the case in the Design Studio (though it is a different story with the Developers). Since then I have subtly tried to add metal songs to the communal studio playlist with varying degrees of success. Ghost seem to hit the right notes, but Mastodon, not so much.
When you like both metal music and typography you start to notice a few things. Metal music (and all of its sub-categories) is one of the most consistently branded genres of music out there, with many of the logos sharing a 'sharp' aesthetic and the majority of logos remaining unchanged over the years. The jagged letters come in many forms, from the stiletto-thin Def Leppard to the heavier-weight Iron Maiden, with each logotype reflecting the music. Characterised by amplified distortion, screeching guitar solos, ardent drum beats and an aggressive performance style, metal bands need to look as heavy and intimidating as they sound.
Even if you don't recognise the bands listed, it is more than likely that you will have seen the style of logos before and can probably guess which genre they belong to. Not all the bands listed are strictly metal, however many have gone on to influence metal artists and share common themes musically and lyrically. There are however a few exceptions to the 'sharp typography = metal' rule.
Black Sabbath is considered to be one of the first heavy metal bands, emerging out of the steel factories of Birmingham in 1968. Guitarist, Tony Iommi, famously lost the tips of two of his fingers in an industrial accident, though that didn't stop him playing.
The band do not follow the trend of consistent branding, nor do they stick strictly to jagged fonts. Their self-titled debut album features the band's name set in the typeface Eminence which is somewhat Art Deco inspired with its swirls and flourishes. The imagery however did set the tone for many bands that followed. Photographed on infrared film by Marcus Keef, the haunting figure dressed all in black gave off an eerie and unsettling vibe. Bassist, Geezer Butler, is quoted as saying: "I don't think you could pick up the album and think you were getting a collection of Christmas songs." Moving through the band's discography, it is their fifth album, 1973's Sabbath Bloody Sabbath where we get our first taste of blackletter, a style trend that would go on to dominate the metal genre.
A knowledge of typography and typefaces is an essential for any graphic designer and part of that knowledge includes the history of each face. Though not its sole use, blackletter has a long history associated with religion and Christianity in particular. Blackletter script was used throughout Western Europe from the 12th through 17th Centuries, from handwritten manuscripts to mass produced works printed on movable metal type presses.
Sometimes referred to as Gothic, Fraktur or Old English, blackletter typefaces are characterised by dramatic thick and thin strokes and decorated serifs. Notably, Johannes Gutenberg used blackletter for his printed bible. The Gutenberg Bible was one of the first books to be printed using mass-produced moveable metal type in Europe during the 1400s. It is difficult to understate the importance of the Gutenberg Press; it allowed people access to knowledge, ideas and religious texts unlike ever before.
Christianity is a common theme in metal music, often in the form of explicitly anti-Christian lyrics or, as is the case with Judas Priest, the band name itself. It is not surprising then that metal bands would adopt and distort the face that brought religious works to the masses to invalidate or otherwise subvert religion. It is a move designed to create friction with the establishment and provoke conservative society. Another connotation with blackletter lies with that of Nazi symbolism and the Third Reich.
In the 1920s, Germany was making waves in the design and influence of sans serif type [see Jan Tschichold's The New Typography published in 1928]. However, with the rise of Adolf Hitler and the Nazi Party, Modernist typography and design was deemed to be un-German. In an effort to try and unite (read: control) the German national identity, Modernism was rejected in favour of traditional German art and design. Fraktur was declared as the Volksschrift, or the people's font, and was used extensively by the Nazis in propaganda from 1933 until 1941 when it was dropped in favour of more legible roman text, as it was thought to be a more appropriate means to communicate with occupied territories. To go back to Sabbath Bloody Sabbath, we can see an influence of the Nazis, with the S's in the title being replaced with stylised Armanen runes as used by the SS. This album cover was not the only instance of German/Nazi influence in aesthetics of metal music type, just take a look at the logos for Slayer, KISS, Motörhead and Mötley Crüe. The baby boomer generation (whose parents lived through World War II) created the metal sound. Between the connotations with the Bible and the Nazi Party teamed with the anti-social noise, the look that metal created was deliberately designed to provoke (read: p*ss people off).
Over time, the metal aesthetic which was once so controversial has become fodder for the high street and high fashion alike. Stores like Topshop, H&M and Primark carry officially licensed t-shirts by the likes of Metallica and in some instances they have used the iconic typefaces of bands like Iron Maiden for their own messages. Consumer culture theory argues that people buy one brand over another because they feel it reflects their own personal identity, or one they wish to create.
There is certainly a sense of camaraderie to be had when an army of music fans descend on the gig venue, identified by their uniform of band t-shirts. To see part of your identity used as a disposable fashion trend is somewhat insulting (and perhaps reminds us of when metal bands adopted and subverted existing styles for their own use in the first place…). A prime example of the backlash caused by metal bands being used as a fashion statement occurred in 2015 when Kendall Jenner was papped wearing a Slayer t-shirt. Though there is a possibility that Jenner is a fan of the thrash metal band, guitarist Gary Holt clearly didn't feel the same way, donning a 'Kill the Kardashians' t-shirt (set neatly in Helvetica) on stage. The statement was such a success that the now trademarked design is being sold officially. Touché.
From the metal aesthetic becoming a fashion trend to the totally unapproachable and illegible, the logos of black metal bands don't welcome outsiders. Sharing the same spiked serifs of blackletter, the custom logotypes of black metal bands go one step further to distancing themselves from the average listener. Being able to decrypt the text is part of being in the know, with the more indecipherable logos tending to belong to more extreme or underground sub-genres.
Belgian designer Christophe Szpajdel has designed over 6,000 logos for bands from all over the world, getting his big break in 1994 when he designed the logo for Norwegian black metal band, Emperor. However, the extreme style of black metal logos gives way to parody, from memes of a pile of twigs to Szpajdel himself creating logos for some unconventional names.
Parody continues with the likes of Dunfermline-based grindcore band Party Canon whose logo lifts the Toys R Us typeface. For a typically unwelcoming and somewhat serious genre of music, it's nice to see that metal doesn't always take itself too seriously.
Typefaces have associated meanings which stem from their inception and various uses over time. This meaning can change, as we've seen with blackletter going from holy begins to German fascism and beyond, but it remains important to have some knowledge of history to guide appropriate use. For now it seems as though the look of metal band typography is fairly set in its trajectory, but in the end does any of this really matter if you like the music?
Sours: https://www.wesayhowhigh.com/blog/article/metal-typographica
65+ Best Free and Premium Death Metal Fonts
I'm not a music expert, but the fonts inspired by the heavy metal genre, Death Metal, are very violent, powerful, and the guitarist-driven musicians convey a sense of violence and fury to everyone. Bands like 'Possessed', 'Death', and 'Autopsy' were legends and foundations of this genre of music.
Well, let's back to the Death metal fonts, with sharpened and cutting edges that look exactly like death in front of our eyes. In addition to cover music, in many mysterious, dangerous, and sci-fi movies, these fonts play a major role in their titles. The store of tools like knives, swords is another example of using these fonts.
Best Death Metal Fonts
If you're a brave person, and listening to Death metal music or watching horror movies doesn't wake fear inside you up, you're ready to download and design with this Death metal font. Let's go to the heart of death?
Death Crow
Death Crow font has a gothic and death metal style. The effect and design seen in the letters have sharp and scary edges. This font is suitable for many styles of metal, cover or logo music as well as Halloween flyers.
Price: Premium
Who asks Satan
The designer of Who asks Satan font has shown spraying and hitting a sharp object such as glass or a knife in a really believable way. You can also convey this feeling to the audience for music posters, bloody and scary movies, and flyers and invitation cards for traditions such as Halloween.
Price: Free
Special Offer
Convert your favorite text, font, or logo to Death Metal and Chrome styles with just one click!
Big Fish DD rock metal
Big Fish DD rock metal has a typographic and scary style font. The font is mostly used for musical designs, Harsh, Death Metal music albums.
Price: Premium
YOUREVER
Perhaps real violence and anger can be found in the letters of YOUREVER font. With sharp edges that are difficult to read, it has become one of the scariest fonts. You can use blood elements, scary scenes for design super scary designs.
Price: Premium
Freeday
Freeday font has Traditional countries style such as Korea and China that write their texts on paper with ink. This font is suitable for martial arts films, wood art workshops.
Price: Free
XXII Total Death
XXII Total Death font is unique. Letters such as dry branches have grown everywhere, and with sharp edges, it can be a great choice for Metal Music brand, Halloween horror themes with spider webs, and crows.
Price: Premium
Blanksack Immortal
Blanksack Immortal Designed by Lettersiro Studio. Due to the death metal style, the drops of blood are very large, which shows a very scary effect. The death metal font is used for danger signs in oil areas, horror movie titles, and video games in zombie cities.
Price: Free
Zanaz – Deathmetal
Zanaz – Deathmetal font evokes the splashing of blood on stone walls. With great skill, Garisman Std was able to design the letters on the side of these blood and prepare a scary effect for many designers. All you have to do is download those scary Halloween, zombie, and vampire designs.
Price: Premium
Lamebrains
Halloween is a good excuse to refer to scary style fonts. Lamebrains font, with its Halloween symbol, is the right choice for Halloween designs.
Price: Free
XXII Daemon
XXII Daemon font has a black metal style, and each branch that is branched both to the ground and upwards has created a special and different beauty. You can use this font in the cover of generic music, flyers, and Halloween invitation cards, subtitles of science fiction movies in the deep forests.
Price: Premium
Venom
Venom font is for characters who emit green saliva and sludge from their mouths, which is generally in the category of science fiction and horror genres. We recommend using this font to design scary themes.
Price: Free
Grind and Death Typeface
Grind and Death Typeface font shows the sharp cuts of the knife in the background in a beautiful way that can be a great subject in the designs of zombie creatures and vampires.
Price: Premium
Aligator Deathmetal
Aligator Deathmetal has a hash and distressed style font. If you do not like to spend a lot of time and convert a simple font to a death metal font with different effects, we recommend this font.
Price: Premium
Heartless
Heartless font, in addition to having a metallic style, is a kind of dancing letters. You can see the sharp and dry branches in this death metal font, the best use of which in Flyer Halloween and scary themes.
Price: Free
Special Offer
Convert your favorite text, font, or logo to Death Metal and Chrome styles with just one click!
Sinister Typeface
Sinister Typeface font is in the style of a classic musical style. The letter extensions are in the form of old daggers, and you can use them for old horror movies, Halloween invitation cards, and horror book covers.
Price: Premium
XXII GoreGrinder
XXII GoreGrinder font has so many blades that it is very difficult to read. This font can be used for posters of death metal bands, vampire and horror movies.
Price: Premium
Brack
Texts designed with Brack font will have a good result because this font has both a scary style and is like drawing paint or blood on a wooden board. Therefore, for roadside danger signs and posters of films that take place in a wooden place are suitable.
Price: Free
Black Queen
Black Queen font designed in the style of Latin texts. The high pitch of the letters makes it look like condensed styles, which are used in many designs that require attention. These designs can be the logo of a music band, scary themes, and death metal.
Price: Premium
Ghastly Panic
Ghastly Panic font is very condensed and looks almost like a sharp object being drawn on the surface of a wall or glass. This font is suitable for scary movies produced by Chinese country.
Price: Free
Horsemen
Horsemen font with retro style and synth-wave has become one of the most popular fonts in the death metal font collection. By using this font in graphic designs and a combination of happy colors, you will win the audience.
Price: Premium
GOREINFECTION
GOREINFECTION font looks like spider webs woven into the dry branches and symbolizes fear and mystery. You can use other scary elements in posters, flyers, and even in scary games of zombie and vampire creatures.
Price: Premium
Slashtacular
In Slashtacular font, a thunderbolt of lightning strikes the letters and an interesting effect appears. The diagonal lines on the edges of the letters are like rain that scatter colors. This death metal font is perfect for posters of movies that take place on a dark, rainy night.
Price: Free
HeavyMetal Typeface
With HeavyMetal Typeface font, Metal bands can have a successful experience and increase their fans to their music genre with attractive and stunning posters.
Price: Premium
MetalShow
MetalShow font is similar to the Japanese style and ink writing. So you can use sharp objects for Japanese martial arts movies, such as having scenes with saws, chains, and swords.
Price: Free
Gangster label typeface
Gangster label typeface font, as its name implies, is great for gangster and action designs, and would be a different design if some of them used it for rock band music logos.
Price: Premium
Horror Type
Horror Type font has a runny style like pieces of ice or blood splattered on a wall, falls off, making it a great death metal font for dealing with other scary Halloween elements such as the skeleton, spider webs, and crows.
Price: Free
SARKEM / TECHNICAL DEATH METAL
SARKEM / TECHNICAL DEATH METAL font is similar to the Japanese texts and their tradition, where the letters are written almost in ink. On the other hand, the sharp edges of the letters can explicate the feeling of fear into the whole design.
Price: Premium
Skid
In Skid font, blood stains are strangely and distinctly placed on the edges of the letters, and the letters are designed to be angry, loud, and chuck style. You can use it in designs such as wall paintings, coloring items, and posters of metal and rock bands.
Price: Free
Strange Absinthe label typeface
Strange Absinthe label typeface font has Death Metal style and with the effect of Vintage and Deco, it has a good choice for music covers, alcoholic beverage, and beer packaging.
Price: Premium
Karbetz
Karbetz font is designed by Ahmad Zamzami and its edges look like sharp saws used in many horror movies. Prepare other scary posters by using a little creativity and adding now.
Price: Free
Motorcycle Gang label
The designer of Motorcycle Gang label font combines Vintage, Deco, and Gothic styles in an interesting way, and its output is a font that is very impressive in the horror genre and can be used for tattoo, Halloween t-shirt design.
Price: Premium
Another Danger
Another Danger font shows the sense of danger and confusion in some of the titles, which means that you can convey the feeling of fear just by having these letters in order to title scary movies, posters, and video game horror brands.
Price: Free
Deadly Killers
Deadly Killers font can visualize the most deadly moments in a different way for the audience. Letters with a razor's edge are suitable for danger signs on deserted roads, horror movie posters and Halloween themes, and death metal music styles.
Price: Free
The Macabre
The Macabre font has a scary style and also supports Latin numbers and letters, which means that you can use both letters and font numbers for different movie series.
Price: Free
Martyric
Martyric font is ultra-Italian and was designed by Måns Grebäck. The font can use for scary genres and backgrounds for desktops and movie posters.
Price: Free
Alpha Death Personal Use
Alpha Death Personal Use font has vintage and rock style. The letters are made up of rectangular bricks that also have slits. You can use it for posters and logos of mechanical brands, cars, adventure movies.
Price: Free
Zanaz
Zanaz font's letters are like sharp fence razors and battle camps. You can use this font for scary movie posters that contain many deadly tools.
Price: Free
Special Offer
Convert your favorite text, font, or logo to Death Metal and Chrome styles with just one click!
October Crow
October Crow font has a handwritten and scary style and is recommended for designs that have a blood bath and a lot of murders and horror scenes of jaw-dropping. Of course, in addition to this, an original element in an invitation to Halloween.
Price: Free
Hungry Hunters
Hungry Hunters font has a different style than other death metal ones, and that is the use of a wooden stick, which is often seen in science fiction and magic films such as Harry Potter. You can also use this font for horror movies, magic for teens.
Price: Free
Horroroid
Horroroid font is designed by Iconian Fonts. And thanks to the designer of this font, it gives a lot of choices to the designers of the logo and scary posters due to having light, lightital, bold, boldital, rotate, 3d, stag, condensed, expand styles.
Price: Free
Brutal Tooth
The level of anger in Brutal Tooth font is so high that perhaps every audience will grit their teeth. The very sharp edges of the letters evoke fear in everyone. You can use this death metal font for mysterious, scary, sci-fi plants with deep roots.
Price: Free
Swamp Witch
Vampires are creatures that play the role of blood in many horror movies, and Swamp Witch font can be useful for designing such posters and flyers, depending on the scary and metallic style.
Price: Free
Bates Shower
Bates Shower font feels hypnotic due to the messy lines thrown from the letters in different directions, and for many mysterious films, the poster of metal groups with mysterious names is appropriate.
Price: Free
Darker
The style of the Darker font, such as lightning and physical, is dangerous, making it suitable for designing brands of fireworks, bombs, as well as video games in the space.
Price: Free
Needleteeth
Needleteeth font is designed by Sinister Fonts. Abbreviations of color or diameter, or even icy chandeliers, all have a scary feeling, and for a scary theme, you can use the regular, psycho, creepy or spooky style of this death metal font.
Price: Free
Gotharctica
Gotharctica font is designed by Iconian Fonts. The spears at the bottom of the letters are reminiscent of the gothic style, and many designers can use each of these font styles: gotharctica, gotharcticaital, gotharcticaleft, gotharctica3d, gotharctica3dita, gotharcticarotradep, candharcticaex, gotharcticarotal, gotharcticarotal in Halloween invitation cards, the epic movies.
Price: Free
Histeria
Epic and martial arts films produced by Japan, Korea, or China can stand out with Histeria font that has an epic and martial arts styles. Just download it and use it in your design.
Price: Free
Crucifixion
Crucifixion font is a good solution to show the anger and violence. The smell of death, blood can be felt in each letter. So with these interpretations, scary movie posters, mysterious video games, and awful games are suitable for this font.
Price: Free
Blade
Blade font has a rustic and Japanese style. The edges of the letters are similar, with the sides curved. You can consider this death metal font in movies made in Japan, martial arts classes, and many more.
Price: Free
Burn The Witch
Burn The Witch font style has a spider's web and the letters are designed like trapped creatures. For scary mystery movies, you can make the poster more elegant by adding elements of skeletons, zombies, or faceless eyes.
Price: Free
Black Dahlia
Black Dahlia font is designed by font Monger and has 30 glyphs and 62 characters. The font's terrifying and spidery style is perfect for sci-fi science fiction movies and movies similar to Spider-Man.
Price: Free
Eater of Children
Eater of Children font conveys a good sense of flight and fear at the same time. Twisted branches in windy weather can be a great choice for scary and mysterious movies.
Price: Free
Black Nemesis Personal Use
Black Nemesis Personal Use font has a decimal metal style, and due to its three-dimensionality and scratches, which may be blood or sharp objects drawn on the letters, it can be used for many brands of rock music, album covers, and tattoos.
Price: Free
dead feather
Dead feather font has endangered letters, but still, due to the sharp edges, it can be considered a scary style. You can use it for posters of horror movies, psychological and many more.
Price: Free
The FrontMan 2 demo
The FrontMan 2 demo font is very attractive with a different and semi-complete style that letters have. There are irregularly cut pieces of paper on each side that you can use for scary movies that are about attacking things like axes, saws.
Price: Free
The Defiler
The Defiler font looks like lightning that strikes the surrounding objects and becomes very bright and refreshing. Use this death metal font for purposes such as the risk of lightning strikes, Flyer of Halloween, and science fiction movies that have the main hero of power and lightning energy.
Price: Free
PowerDark
PowerDark font is designed by LJ Design Studios. You can prepare different posters and reviews for the scary effects of vampire movies, ghosts.
Price: Free
Grind Mafia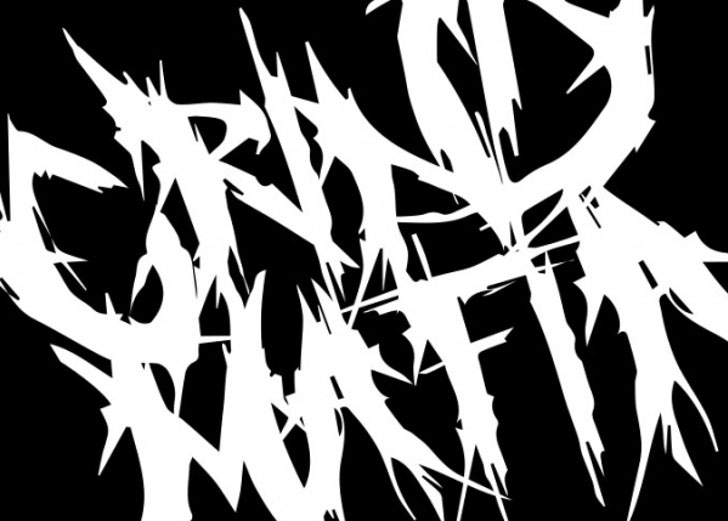 Grind Mafia font shows exactly the state of anger and rage that many brain neurons are igniting and exploding. You can use it for posters of psychological movies, danger signs, and music bands.
Price: Free
Taste death
Taste death font has a death metal style, and if warm colors such as red and yellow are used for the design, it indicates the peak of fear. This font is suitable for many adventurous, scary games and movies with killing tools and creatures.
Price: Free
Pack of Wolves
Pack of Wolves font embodies letters with anger on a stone or glass wall. You can use this death metal font in designing bloody designs, scary Halloween themes.
Price: Free
Fit for Murder
Spray style of Fit for Murder font is suitable for many scary designs that need to be sprayed with blood. In fact, with this font, many effects will no longer be necessary and you just need to choose the desired color
Price: Free
Conclusion
After reviewing the Death Metal fonts that were introduced, if you are one of the brave people who would like to show scenes full of blood and scary zombies in a blood poster with writings in the same style, many fonts will surely be suitable for your goals. You can also download scary and stencil fonts to add other materials.
Sours: https://hyperpix.net/fonts/death-metal-fonts/
Hot metal typesetting
Mechanical analog method for text composition
In printing and typography, hot metal typesetting (also called mechanical typesetting, hot lead typesetting, hot metal, and hot type) is a technology for typesetting text in letterpress printing. This method injects molten type metal into a mold that has the shape of one or more glyphs. The resulting sorts or slugs are later used to press ink onto paper. Normally the typecasting machine would be controlled by a keyboard or by a paper tape.
It was the standard technology used for mass-market printing from the late nineteenth century until the arrival of phototypesetting and then electronic processes in the 1950s to 1980s.[1][2][3]
History[edit]
Hot metal typesetting was developed in the late nineteenth century as a development of conventional cast metal type.[4] The technology had several advantages: it reduced labour since type sorts did not need to be slotted into position manually, and each casting created crisp new type for each printing job. In the case of Linotype machines, each line was cast as a robust continuous block (hence "line o'type") which was useful for rapid newspaper printing.
Types of typesetting[edit]
Two different approaches to mechanising typesetting were independently developed in the late 19th century. One, known as the Monotype composition caster system, produced texts with the aid of perforated paper-ribbons, all characters are cast separate. These machines could produce texts also in "large-composition" up to 24 point.
The Super-caster, another machine produced by Monotype, was similar in function to the Thompson, Bath, pivotal and others casters but designed to produce single type (including even larger sizes) for hand setting.
The other approach was to cast complete lines as one slug, usually comprising a whole line of text.
Of this system there have been at least 5 different enterprises:
The Linotype and similar Intertype machines came out with paper tape and electronic automation near the end of their life cycles that allowed for the news wire services to send breaking news to remote newspaper offices for prompt setting into late editions.
All these machines were operated by non-qwerty-keyboards. There was however another system, where the matrices for each line were assembled in a stick by hand:
This machine was able to cast display body sizes that other mechanical composition systems were unable to produce. In this way headings could be produced to complement text produced on other machines. It also used the same alloy as Linotype machines, so was a useful adjunct to page makeup for newspapers as, when complete, all the metal could be remelted without having to be separated or the type from the headings redistributed back into case.
The success of these machines lay in different fields: the Monotype caster was more popular for bookwork that required the ability to make manual corrections and edits while the slug casting systems found success in newspaper production where speed of production and 'make ready' for print was essential.
There is another essential difference between Monotype and all the "slug"-producing machines: a Monotype machine functions with a minimal set of matrices: each character needs one matrix. Linecasters cannot function this way, and these systems need quite large magazines of matrices to be able to set a complete line of text with the usual character repetitions. Indeed, the nominal 90 channel magazine of a linecaster really has 91 total channels, with the first two channels allocated to the lower case 'e', and with these matrices being alternately selected from channel 0 or channel 1, for alternate lines of cast type.
There is an additional difference: Monotype must use a punched paper tape, and the "reading frame" is always backwards (right-to-left) in order to achieve justification, as justification is not an inherent capability of the machine (however, "flush left" is an inherent capability); whereas Linotype may use a punched paper tape, although this option is seldom-used outside of daily newspapers, and whether a tape is used, or not, the "reading frame" is always forwards (left-to-right), with justification being an inherent capability of the machine (and, "flush right", "centered" and "flush left" may be very easily accommodated manually, or automatically using a "quadder" attachment).
Linotype[edit]
Main article: Linotype machine
The key feature of the Linotype is the use of molds which circulate through the machine in its various stages of operation. One type is a space band (a special two-part sliding wedge) and the other is a letter matrix made of brass. The matrices are stored in one or more magazines on top of the machine (providing the operator with a choice of fonts; these can also be exchanged with other extra magazines as desired) while the space bands are stored in a box closer to the keyboard.
Once a key is pressed, the matrix passes through what is known as the 'assembler front', down past a rotating fiber reinforced wheel (known as the star wheel) and into the 'assembling elevator' which serves the same purpose as the hand compositor's stick. When the space band key near the keyboard is pressed, one of the space bands drops out of the box and almost directly into the assembling elevator. The assembling elevator (or more commonly just the 'assembler') is adjustable for different lengths of line (in picas).
Once the line approaches its correct length, the operator is made aware of this by a bell or other indicator. If the line is 'loose' or too short, there is too much 'white space' for the space band wedges to fill out the line, and the matrices could possibly turn sidewise or fail to seal against each other as the machine prepares for the casting operation. If the line is 'tight' or too long, the elevator carrying the matrices and space bands will not seat properly in front of the mold slot. Both the Linotype and Intertype machines have two important safeties that act during the casting operation—the 'pump stop', which comes into play on loose lines, and the 'vise automatic', which comes into play on tight lines. Both scenarios, if not stopped by these safety features, usually result in a "squirt" of molten type metal, encasing the matrices and the elevator in metal in the process. Not only is it time-consuming to clean up after a squirt, a tight line usually has not come down far enough to mate with the slots on the mold face, resulting in damage to the matrices. Therefore, it is considered very poor form for an operator (or the machinist who cared for the machine) to permit this to happen.
When the line is assembled to the correct length, the operator presses down on a lever which raises the assembling elevator up into the delivery channel and starts the automatic casting cycle. The delivery channel transfers the matrices out of the assembler and into the first elevator. The first elevator then descends to a position in front of the mold, and if the elevator has not descended fully by the time the machine starts the process of aligning the matrices (most often caused by a 'tight' line), the first of the two safeties, the vise automatic, brings the machine to a full stop before the supporting lugs on the matrices are crushed by the mold. Once the matrices are in proper position, two actions take place in sequence: the matrices are aligned vertically and face-wise while a bar rises from below to force the movable sleeves on the space bands upwards to cause them to fill out the line to the exact width of the mold. If the justification bar has made a full cycle and the line is still not fully justified, the second safety, the pump stop, prevents the plunger in the metal pot from going down. The space bands were an important feature of this machine, providing automatic justification of each line by equally adjusting the white space between each word. Since the type used was proportional and not fixed in width, solving this justification problem mechanically was very important. Some later models had a feature that permitted the lines to be cast with the alignment to either left, right or centered. Operators running earlier models would use special 'blank' matrices (in 4 sizes) to manually create the proper amount of whitespace beyond the space bands' range.
With the matrices aligned and the space bands set to the correct measure, the machine then 'locks up' the line with great force and the plunger injects the molten type metal into the space created by the mold cavity and the assembled line. The machine then separates the mold disk (carrying the freshly cast slug), the metal pot, and the first elevator. The mold disk then turns to present the line at the ejecting position, in the process passing by a knife that trims the base of the slug to type height (0.918″ on US machines). The slug is then forced through an adjustable pair of knives to trim the slug to the proper body height before sliding down into a 'galley' of finished lines next to the operator. Depending on the model of machine, the mold disk could have 4 (standard), 6, or 2 molds, giving the operator his choice of line lengths and body sizes.
As the mold disk is turning, the first elevator simultaneously rises to its upper position and the space bands and matrices are vertically aligned in preparation for the second transfer. The matrices have a series of teeth in a V-shaped notch on top, and as the transfer is completed, the matrices slide onto the second elevator bar which carries the matrices by these V-shaped notches. The space bands, having no such notches, remain in the second transfer channel and are soon gathered by two levers and pushed back into the space band box. While the space bands are being pushed into their box, the second elevator continues rising towards the distributing mechanism at the top of the machine, which returns the molds to their proper places in the magazine. At the top of the machine, a lever (the distributor shifter) moves left to get in position to push the incoming line of matrices off the second elevator and into the distributor box. This mechanism feeds the matrices at precise intervals such that they travel between three rotating screws. Each matrix is carried along a notched bar between the three screws until the notches on the bar and matrix match, whereupon the matrix drops down into its proper channel in the magazine.
It was a source of pride for trained operators to boast of being able to 'hang' a line: to keep a line waiting in the delivery channel while the machine was casting the previous line and the operator was composing the next one.
The metal pot was kept filled by the operator tossing in small ingots of type metal every few lines, or later, by mechanical feeders that carry large ingots of type metal (and which often carried two 'pigs' at a time to be consumed in turn, the operator hanging a fresh one when one was consumed). These feeders are actuated by various methods, but the end result is the same: the ingots are fed little by little into the pot, keeping it filled to the correct level.
From time to time, the slug galley is transferred to the composing table to be set in the form, and once the press run is completed and the slugs removed from the form, they are tossed into the 'hell box' for remelting into new ingots. At intervals the lead is remelted and the oxidized metal (dross) skimmed off. As part of this process, 'plus metal' is added in the form of small ingots to replenish that portion of the alloyed metals that was lost by the formation of dross (by oxidization of the metal in the machine's pot or during the remelting stage). The type metal is poured into ingot molds: small molds for manually feeding the metal pots or larger molds for the metal feeders. (In the latter case, special attention must be given the 'eye' end as it has to support the weight of the entire ingot; failure often results in it dropping into the pot and splashing molten metal everywhere.)
Funded largely by the Ridder newspaper interests, the Intertype Corporation developed (c. 1914) a compatible version of the Linotype machine when the patents ran out and it became quite popular as well. This led to a long-lasting legal fight by the Mergenthaler Linotype Company (who eventually lost).
Various methods were used to power the Linotype / Intertype machines, the most common being a fractional horsepower motor, one wired for single-phase 60 Hz alternating current eventually becoming the default offering. To accommodate the customers' requirements, motors were also built to be powered from direct current, 25 Hz AC, or 50 Hz AC circuits. Also, motors wound for various polyphase circuits (two-phase, 3-phase, wye, delta, etc.) were made available for the customers as well. In a few cases, where electricity was not available, it was possible to drive the machine by a belt connected to a line shaft.
Initially, the metal pot was heated by gas (whether natural or 'manufactured'), but an electric pot was later developed and which became a standard option. As with the motors, the control machinery for the metal pot heaters was produced in a variety of voltages and in direct or alternating current versions. For locations with access to neither gas or electricity, the gas-fired pot could be fitted with a burner kit to allow the use of kerosene or other 'white gas' fuels.
Thus, regardless of the power sources available (within reason), it was possible to install a Linotype (or Intertype) machine in almost any newspaper office, whether in a remote mountain community or a downtown office in an urban metropolis.
Typograph and Monoline[edit]
These machines were bought out by Linotype, to minimize competition.
Ludlow[edit]
A manual linecasting solution known as the Ludlow Typograph also met with success because it was able to cast display type sizes that other mechanical composition systems were unable to produce.
The Ludlow consisted of a very heavy metal table with a flat top about waist high and a depressed slot into which a "stick" was inserted. Underneath was a pot of molten type metal and a plunger. The stick was used to hand compose the lines of type, typically headlines in 18 point or larger with 72 point commonly being available, but the machine could cast type from 4pt to 600pt without a mould change. This was from brass matrix stored in cases on either side of the Ludlow. The cases were not the traditional "California Job Cases" used to set body type, but simpler alphabetically arranged wooden or metal cases, each one containing a given font in a specific size and style such as bold face, italic or condensed. The metal type cabinets were built with inclined drawers for easy access to the matrices.
After a line of type was assembled into the stick a special blocking slug was inserted to seal the end. Then the stick was placed mold side down into the slot on the table, a clamp locked down to securely hold the stick and the Ludlow activated. The plunger would snap down into the pot with considerable force, injecting molten type metal into the mold at a high speed to ensure the mold was filled before the metal solidified. If the stick was not properly filled out or mounted firmly, or the special terminating block was forgotten, a dreaded "splash" would result, often encasing the operator's toes in molten lead and leaving a mess that needed to be peeled off the Ludlow surfaces. Operators were encouraged to wear heavy boots with steel toes and be quick at removing one. It was also not uncommon for some of the type metal to be projected up onto the ceiling, no matter the height. As with the Linotype / Intertype machines, the Ludlow machines were often fitted with metal feeders to keep the pot filled to optimum level.
Towards the end of its life as a common backshop type setter, the Ludlow was often joined by the "Super Surfacer" a specially designed surface plane that would smooth the surface of the freshly cast type and ensure it was exactly type high. A Ludlow slug was just the letters overhanging a central spine about 12 points wide (T shaped viewed from the end). It needed to be bolstered by Elrod slugs on either side for support. The number of slugs above and below the central spine could adjust the white space above and below the type making it a very flexible system for large type.
The Elrod was a machine used to cast rules and spacing material (leading) of a specific width: 1, 1+1⁄2, 2, 3, 4, 6, 12, 18, 24, 30, or 36 point. This was used extensively in page layout and line spacing, that is, adjusting the white space between paragraphs and any other area when small bits of white space were needed. Large areas of white space were created by wooden or later metal blocks called 'furniture'. Smaller odd areas were filled with square or rectangular blocks in various point sizes called quads.
All these line-casting machines used various alloys near the eutectic point and which typically consisted of approximately 4% tin and 12% antimony and the balance being lead. These alloys were proportioned such that the type metal would solidify as rapidly as possible at the lowest possible freezing point.
Monotype[edit]
A Monotype composition case showing bronze matrices struck from steel punches.
The Monotype System took a different direction in hot metal typesetting, with the ability of the Composition Caster to cast loose type using a paper tape operated automatic casting machine. The paper tape would be first generated on a keyboard and then used to cast the type, the tape could be stored for future casting for subsequent editions. This was a popular system for book work. Text was produced completely aligned, with all spaces in each line exactly the same width. Corrections and complex work could be done on the text by hand after the bulk of the text had been set by machine. The Super Caster and Orphan Annie were used to cast fonts of loose type for hand setting as well as spacing material and patterned rules.
This type was most times made of an alloy (8-10% Tin, 15-20% Antimony) slightly harder than the line casting alloys but was not as hard as the foundry type used for hand setting of loose letters. This allowed reasonable print runs or conversion to stereotypes for longer print runs. But these machines could produce type with all possible alloys, when needed.
The used type, like the slugs from line casters, was re-melted when no longer needed. Each time remelting caused some loss of Tin and Antimony, through oxidation. This loss needed to be monitored and compensated.
The Monotype Corporation survived the demise of the hot metal typesetting era by selling digital type.
Transition[edit]
Towards the end of its life hot metal composition in newspapers was kept alive by the proof press. As each page was set and locked up, it was moved on a turtle (a rolling table with an accurately flat steel surface[5]) to the manual proof press where it was hand inked and a single very high quality proof was pulled. This proof could then be photographed and converted to a negative.
Black paper was inserted before the proof was photographed for each of the photos on the final page to create clear windows in the negative. The separately made halftones would be taped into these clear windows on the negative. This negative could then be used to expose the photosensitized printing plate for an offset press. In this way the heavy investment in hot metal typesetting could be adapted to the newer offset technology during a transition period.
Comparison to successors[edit]
The nature of text printed via the hot-metal method is notably different from that produced by the phototypesetting processes that followed it. As the lead type used to print (letterpress) a page had been directly formed from the type matrix, a good fidelity to the original was achieved. Phototypesetting suffered (at least in its early days) from many problems relating to optical distortion and misalignment. These disappointing results were a thorn in the sides of many authors and readers (especially of complex or mathematical texts that had many small sub- and superscripts). A desire to re-create the aesthetic qualities of hot lead spurred Donald Knuth to create one of the first general-purpose digital typesetting programs, TeX.
Although not technically typesetting, stereotyping (electrotype or nickeltype) could be used to cast a reproduction of an entire typeset page (or pages imposed in a forme) using a mold made with an impression using flong (similar to papier-mâché). The ensuing casting could be made curved for use on a rotary press or flat for the slower flat bed presses. This technique was often used in newspaper production.
References[edit]
External links[edit]
Sours: https://en.wikipedia.org/wiki/Hot_metal_typesetting
CARA MEMBUAT BRUTAL CHROME TYPEFACE
M & H Type
Hot Lead is Still Hot in San Francisco
Now entering our second century, M & H continues to cast metal type from our extensive library of faces for letterpress customers around the globe. If you'd like to purchase type, please look through our catalog to see what we can cast. Check the current price list, then get in touch with us to determine what is on hand and ready to ship. Please have a couple of options as we do not have our full collection in stock.
Type Fonts
Complete fonts consist of capital and lowercase fonts.
Size
Capital
Lower
Complete
*6 pt
46.00
54.00
100.00
*7 on 8 pt
33.00
42.00
75.00
*8 pt
33.00
42.00
75.00
*9 on 8 pt
33.00
42.00
75.00
*8 on 10 pt
39.00
46.00
85.00
*9 on 10 pt
39.00
46.00
85.00
*10 pt
39.00
46.00
85.00
*11 on 10 pt
39.00
46.00
85.00
*10 on 12 pt
46.00
54.00
100.00
*11 on 12 pt
46.00
54.00
100.00
*12 pt
46.00
54.00
100.00
*12 on 14 pt
52.00
63.00
115.00
*13 on 14 pt
52.00
63.00
115.00
*14 pt
52.00
63.00
115.00
14 pt
85.00
95.00
180.00
*16 pt
60.00
70.00
130.00
16 pt
85.00
95.00
180.00
*16 on 18 pt
70.00
80.00
150.00
16 on 18pt
85.00
95.00
180.00
*18 pt
70.00
80.00
150.00
18 pt
85.00
95.00
180.00
*22 pt
75.00
85.00
160.00
22 pt
75.00
85.00
160.00
*20 on 24 pt
85.00
95.00
180.00
20 on 24 pt
85.00
95.00
180.00
*22 on 24 pt
85.00
95.00
180.00
22 on 24 pt
85.00
95.00
180.00
*24pt
85.00
95.00
180.00
24 pt
85.00
95.00
180.00
30 pt
95.00
105.00
200.00
36 pt
105.00
120.00
225.00
42 on 36 pt
115.00
125.00
250.00
42 pt
115.00
125.00
250.00
48 pt
130.00
155.00
285.00
60 pt
140.00
160.00
300.00
72 pt
155.00
175.00
330.00
84 pt
250.00
§ Large Font
100.00
115.00
215.00
Massey Initials, 2-color
175.00
Handy fonts, all sizes
60.00
Figures are included in the capital fonts except in some ornamental and titling faces. Figures are not supplied with small capitals. Small capitals are priced as capitals.
* Indicates fonts cast on the Monotype composition caster. All other fonts are cast using a harder alloy on Thompson or Giant casters.
§ Large fonts are Goudy Bible and Goudy Thirty in 18 pt.
Russian, Greek, Typewriter faces are special castings by weight.
Spacing Material
Fonts are assorted spaces and quads.
1 pt. spaces (lead) per 2 oz. package, 1/2 pt. (paper) per 1/2 oz. package.
1 pt
1/2 pt
6 pt
13.00
26.00
8 pt
12.00
24.00
10 pt
11.00
22.00
12 pt
9.50
19.00
14 pt
9.50
19.00
16 pt
9.50
19.00
18 pt
9.50
19.00
22 pt
7.50
15.00
24 pt
7.50
15.00
30 pt
7.50
15.00
36 pt
7.50
15.00
42 pt
7.50
15.00
48 pt
7.50
15.00
60 pt
7.50
15.00
72 pt
7.50
15.00
Quads and Spaces: $12.00 / pound.
5 pound Quad and Space font: $60.00
Prices are for sizes 6 pt through 72 pt.
Strip Material
Cast in two-foot strips, per pound.
Leads
Slugs
Rule
Border
3 pt
10.00
20.00
4 pt
10.00
6 pt
10.00
20.00
30.00
12 pt
10.00
20.00
30.00
18, 36 pt
10.00
Orders and questions placed now will be handled after August 4, 2021.
Sours: https://www.arionpress.com/mandh-pricelist-ordering
Typeface metal
Squarish forms of Metal are a nod to the modernist grotesque types of 20th century, such as Microgramma, Eurostile, or Bank Gothic. As a result, the typeface is very much akin to both brutalist architecture and 1970s sci-fi visual culture.
The typeface has nine widths: from the almost normal, to the very vast and display one. The wide proportions are emphasized by the distinctive ascenders (very short) and descenders (tucked above the baseline).
Both Latin and Cyrillic include ligatures and alternate forms, including ones with conventional ascenders and upright italic forms.
Shorter ascenders and descenders, closed aperture, and dense metrics allow Metal for making vertically compact text blocks — while there's always plenty of air left on the inside.
Pizza Typefaces is an enterprise of Adrien Midzic and Luc Borho, founded in 2018. The two got acquainted as teenagers, living in Southern France, both passionate about graffiti and drawing letters. After graduating from art school, Adrien and Luc moved to Paris and decided to release retail fonts under a shared brand.
Adrien Midzic, the author of Metal, is a French type and graphic designer with a background in graffiti and street art. Apart from Latin, Adrien works with Cyrillic and Hangul script. He has designed bespoke typefaces for Mane SA, Penguin Books USA, and Creasenso.
Buy Metal
from $44 on tomorrow.type.today
Simple Things Festival, Bristol, October 2019
Emperia, VR design studio
It's Our Playground, Paris-based artist duo
Buy Metal
from $44 on tomorrow.type.today
Sours: https://type.today/en/journal/metal
HOW TO MAKE METAL/BRUTAL LOGO ON ANDROID .
I enjoyed this moment, when the light turned on abruptly and with the words "Well, why should we wait a long time?" Tanya and Seryozha burst into the. Room. My head was clouded, so I didn't react in any way. Anton slowly, mockingly took his penis out of me and in front of the guys got out of bed to get dressed. A few seconds later, when the fog in my head cleared, I realized that I was lying naked with legs spread out to the sides and bent at the knees.
Similar news:
Ivan knew that his nephew was henpecked of his wife, and clearly lacked sex, which all his relatives whispered about. He was sure that it was not in vain that he had revealed his weaknesses to him. After such words, Artyom lost his head, male sex and availability enveloped his mind in a fog of passion. Now he could only think of his uncle as the object of his inexhaustible sexual desires.
135
136
137
138
139