Customize your vehicle simply with wheel adapters
A wheel adapter changes the bolt pattern of your vehicle's hub and moves the wheel out allowing you to use custom wheels for most cars and vans. Some examples are shown below. We cannot manufacture at the moment but there are many companies worldwide that make a variety of popular patterns.
Almost any make or model can be manufactured

All adapters constructed from high quality billet materials

Wheel-to-adapter by press-in studs

Available in any thickness or diameter

Any bolt pattern

Custom studs for all applications, made in a variety of sizes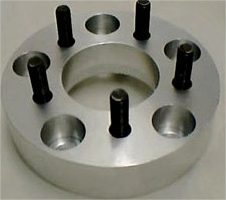 Typical wheel adapter - 5 stud to 5 stud pattern
These billet wheel adapters let you bolt on rims with different offsets, such as Corvette or 93+ F-body rims. These adapters bolt onto the hub, and your rim then bolts to the adapter. This method of attachment is strong as the bolt-on rim, and much stronger than the slip on spacers. If you need a spacer thicker than 1/2", then these bolt-on adapters are your only choice, other than getting different offset rims.
The adapters are fabricated from a suitable billet of 6061-T6 or similar specification aluminum. The billet is then CNC machined for precise tolerances and a perfect fit. Heavy Duty M12x1.50 studs can be pressed into the adapter for unrivalled strength. Short open ended lugnuts may be included with the adapter pair.
Custom Adapters and Applications

We can custom machine almost any size adapter needed, to adapt nearly any wheel to your machine. They can range from 1" to 4" thick. Custom adapters take between 10 - 28 days to machine, and can have inch or metric HD studs. You will need to specify the thickness needed, as well as both the hub and rim bolt circles. All specifications must be known for us to make them. Custom adapters are not returnable, so please double check your measurements. Popular conversions include VW camper to Porsche wheels (112 to 130mm PCD).


You now have new rims with a different number of studs?

To adapt wheels with a different amount of lugs (a five lug rim to a 4 lug hub) will require a two-piece adapter. The base is machined to fit your hub. The second half (the hat) is machined for your rims, and is bolted to the base with countersunk screws. All heavy duty hardware is included with the adapters so strength is not compromised.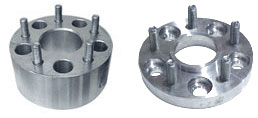 Wheel adapters
Offset ('82-92 Camaro example.)

Offset is the distance from the rim's mounting surface to the centerline. This Camaro originally came with 16x8" rims with 0mm offset in the front and a positive 16mm offset for the rear rims. Positive offset means the mounting surface is moved towards the outside (away from the center of the car) of the rim. Negative offset is the opposite.
Backspacing

Backspacing is the inside depth of the rim. It can easily be measured by putting a yardstick across the backside of the rim, and measuring the distance between the mounting surface and the yardstick.
It can also be calculated, as shown below. Don't forget to add for the rim's lip and tire bulging past the rim (use about .25"). 16x8" 0mm offset front rims would have 4.25" of backspacing. The positive 16mm rear rims (16mm/25.4 = 0.63") have about 4.9" of backspacing
Rim Width / 2 = Centerline
Centerline + Offset + Rim Lip = Backspacing

8" wide rims / 2 = 4" Centerline
4" centerline + 0.63" Offset + 0.25" Lip = 4.88" Backspacing
Measuring Maximum Backspacing

The 89 Camaro can fit rims with a maximum of 5" front and 5.85" rear backspacing. This can be measured, or found out the hard way through trial and error. To measure it, bolt a flat piece of metal or wood to your hub using 2 studs. Towards the end of the metal, drill a hole and screw a long bolt through it. This bolt should be 1 radius from the hubs centerline (If you will be putting on 26" dia tires, the bolt should be 13" from the hubs centerline). Spin the measuring tool around, and screw the bolt in untill it no longer touches anything. The length of the bolt is your max backspacing. If you have suspension pieces jutting in the wheelwell, try different bolt locations to make sure nothing is in the way. Do this with the wheels turned left and right as well.
Measuring Bolt Circles

All Camaros and Firebirds had 5 lug on a 4.75" bolt circle. If you're adapting to a different bolt circle, it can get tricky to measure it. Four and six lug bolt circles can be measured from the center of a stud to the center of the opposite stud. 5 lug bolt patterns have a bit of trigonometry involved. The online 5 lug bolt pattern calculator below will give you the bolt pattern based on a quick measurement.

5 Lug Bolt Circle Calculator
Adapters

Adapters move the rim further out. They let you bolt on rims with too much backspacing. If you decide you want to bolt on a pair of Corvette ZR1 rims (17x9.5", 50mm Offset) you would first need to calculate the backspacing.
9.5" / 2 + 50mm / 25.4 Offset + 0.25" Lip = 6.97" Backspacing

Rim Backspacing - Max Backspacing = Adapter Thickness

6.97" - 5" = 1.97" Front Adapter Necessary
6.97" - 5.85" = 1.12" Rear Adapter Necessary

Ideally, you would want some clearance on the inside of the rim to compensate for suspension movement, etc. In this case, we recommend 2" adapters for the front and rear. You can run the 2" adapters in the rear, even though you only need an extra 1.12" backspacing. This will move the wheel further out in the wheelwell, matching the front, and the wider track will help cornering as well. The only time to not match the front adapters is when you have wider wheels in the back (17x11 ZR1's for example). In that case, the wheel will fit in the wheelwell if the 1.25" adapter is used, but will protrude past the fender lip if you have a wider than necessary adapter.
For all fourth-gen rims - 2" adapters front and rear should be used on a third-gen. Some folks prefer having a thinner adapter in the rear. This will fit fine, but the rim will be inside a bit compared to the front. The same thickness on the front and rear gives a more balanced look than using thinner adapters in the rear (with the same size rims f&r) For C5 and 17x11 ZR1 rims, please do the math!
Using a 4th Gen Rear

If you've changed your third-gen rear to a 4th gen rear, you do not need adapters. The 4th gen rear is approximately 2" wider per side. This is the same as using a set of 2" bolt on adapters
Adapter Design

You have two choices when the rims need to be moved out - slip on spacers or bolt on adapters.
Slip-on Spacers

These are the discs that slide over your studs. For small thicknesses (1/4" or less) they are fine. For greater thicknesses, the wheel studs are seriously weakened. The reason is that the studs have a greater bending moment since the lugnuts are further away. Under braking or acceleration, the studs would be stressed more, and might break.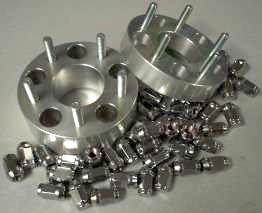 Wheel adapters
Bolt-on Adapters

Billet adapters bolt onto the car just as a wheel would. The adapters have their own studs that the rim bolts onto. This design is just as strong as without adapters, since the stud forces haven't changed. The adapters are made from a billet cylinder of 6061 T6 Aluminum or similar strength material. The billet is machined to fit over the hub, with stud holes drilled to fit. Studs are pressed through the adapter to which the rims are bolted onto. The adapter is then slipped over the car's studs and bolted on. The rims finally bolt on as usual.
There are two ways of bolting the adapters to your hub. One uses a lugnut with a long shank and washers. The clearance needed for the holes ends up as a slight bit of slop when they are bolted on. This isn't usually noticeable when driving. The other method is to use acorned lugnuts to bolt on the adapters, just like for the rims. The lugnuts center the adapter when they are tightened. This is a significantly more precise way to bolt on the adapters, and is how we make them.
WHEEL ADAPTERS
Using wheel adapters also has pros and cons. Pros include easy changing between 4x98mm and 4x100mm bolt pattern wheels, no permanent changes to your car, and little downtime as only the rims/tires needs to be removed to complete the conversion. Cons include increased unsprung weight and the use wheels with a large amount of offset (30-40mm). Because this conversion is "bolt on", it could be moved from one car to another with little effort, increasing it's utility for multi-FIAT owners.
The adapters should be fabricated from an appropriate grade of plate steel. Thickness will depend on your application, but use at least 1/2 inch for strength and reliability. Your machinist can help you with this selection. Both surfaces should be machined to assure flatness and parallelism. The outer diameter needs only to be large enough to accommodate the wheel studs. Make sure, however, that it is not less than the diameter of the stock wheel spacer. The inner diameter needs to be large enough to fit over the hub/axle of your desired model(s). Check the hub/axle diameter close to the brake rotor/drum as it is largest there. Next, eight holes must be machined: four for the knurled wheel studs at 4x100mm and four for the original tapered wheel bolts at 4x98mm. The holes for the knurled wheel studs should be machined as described above, but make certain that the head is completely recessed below the surface of the adapter (by counterboring) so that a flat contact can be made with the hub/axle.
The tapered bolt holes should be 1/2 inch drilled and 60 degree countersunk 1/4 inch deep. This will insure exact centering of the adapters, and therefore the new wheels. The countersink side MUST BE OPPOSITE the counterbore side, so that the wheel studs protrude away from the hub/axle. Obviously, the holes will alternate every 45 degrees, creating the pattern of eight holes. After the wheel studs are pressed into place, the adapters can be bolted onto the hubs/axles just as the original wheels are. The small bolts securing the brake rotors/drums will have to be removed to allow flat contact with the hub/axle. Because the original wheel bolt heads remain exposed, the new wheels must have clearance cavities between bolt holes. Many wheels have these voids to save material during the manufacturing process. Selection of wheel studs and nuts is the same as above. Don't forget that large offset wheels are required for use with this conversion method.
TRUCK ADAPTERS
Adapters for trucks are usually made from steel and adapters for automobiles are made from 6061-T6 billet aluminum. The adapters are precision machined to fit your truck perfectly. No axle change is necessary; mounting is as easy as changing a tire! All of our adapter kits come with the necessary mounting hardware and easy-to-follow instructions. We cannot make these for you at this time, but the examples given show what is possible.


The Magnum Series of Rear Adapters are designed for 3/4 & 1 Ton trucks with an 8 bolt pattern. We have several styles available to accommodate the many types of dual wheels on the market today.
| | |
| --- | --- |
| The AA-4 series of Front Adapters are designed for the same bolt pattern as the Magnum series. They allow you to use the same dual style wheels on the front axle, giving your truck a complete dually look. AA-4's accommodate both 2- and 4-wheel drive trucks. | |
| | |
| --- | --- |
| | The Caliber Series adaptor is available for Chev/GMC 1500 series 4WD pick-ups (1988 and newer) and 1500 series 4WD Suburbans (1992 and newer). The adaptor bolts directly to your truck's existing axle studs, and allows you mount 2 dual wheels (8 bolt) to the adaptor. |
Wheel Adapters/Spacers - Youtube videos
Please click on the links above to find out about these famous automotive makers. If your company is not included and you would like to be listed, please let us know.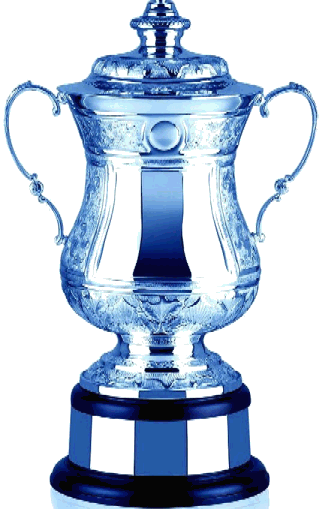 UK VEHICLE INSURANCE ONLINE A - Z
No matter what car, van or bike you drive, we're all looking for great value and quality in our UK motor insurance? But who is the best - who is the cheapest and who offers the great service in the event of a claim?
See the insurance companies below who claim to offer competitive cover at sensible prices, our guide to the jargon and tips for cutting your quote - Good Luck:-

Potentially, the world's fastest electric car using energy from nature. The BE3 was inspired by the designs of Reid Railton and Ken Norris, and the exploits of Sir Malcolm and Donald Campbell between 1930 - 1964. The BluePlanet features built in battery cartridge exchange, charged using renewable solar energy. Sponsors sought for the 2016 season. The blue bird legend continues.
Sours: http://www.speedace.info/wheels/wheel_adapters.htm
Wheel Adapters
After years of working, saving, hoping, and wishing, you finally have that dream muscle car or street rod in your garage. Immediately, you start thinking about modifications and updates you wish to make. Maybe you want to keep the stock wheels on your pre-war street rod but add modern brakes. Or maybe you scored a great deal on a Ford 9-inch rear for your Camaro and need to convert the Ford bolt pattern to match the Camaro's original GM pattern. Whatever the reason, you are going to need to investigate wheel adapters and if they are right for your project. Helping you find the answers to your questions, such as what wheel adapters are and the benefits they offer, is crucial information needed to help you decide which wheel adapter is right for you. Whether you want to upgrade your wheels to something bigger or want to keep the stock wheels for a period-correct look, knowing what wheel adapters are and the role they serve is key. Let us answer some of the most common questions encountered when buying a set of wheel adapters.
Read More
Sours: https://www.speedwaymotors.com/shop/wheel-adapters~14-17-601-14304
Are you looking for the best wheel adapters to buy? We CNC machine our wheel spacers and custom wheel adapters out of high quality 6061 billet aluminum to exacting tolerances. All kits feature high strength pressed in wheel studs and a brushed aluminum finish. Price is quantity of four adaptors along with qty of 24 lug nuts. Please allow 5 to 10 business days for us to build these (we can ship these expedited if needed, please call for details). If you do not see your bolt pattern in the options, simply select "Custom" and note the size in the order comments section. We can build the adaptors in any size pattern.
Note: All adapters come standard with 12mm wheel studs and lug nuts.
Frequently asked questions:
Q: How do wheel adapters work?
A: An aluminum spacer contains holes that your lug studs bolt through with factory lug nuts. There are a corresponding amount of wheel studs that then protrude from the spacer that your rim and tire bolt to.
Q: Do I need wheel adapters?
A: If you want to change to a different size bolt pattern or if you want to space out your rim, you will need them.
Q: Are wheel adapters safe to use? Do they cause problems, cause vibration and what is the reliability?
A: Installed correctly, our high quality adaptors are extremely safe to use. You must also order the correct size for your vehicle. Using an incorrect bolt pattern, hub centric measurement or stud size may cause safety issues.
Q: How much are wheel adapters? How much do wheel adapters cost?
A: Wheel adaptors must be custom machined for your vehicle. With that in mind, the cost is fairly reasonable considering the work involved. We believe our spacers are the best brand of wheel adapters online.
Q: What is a wheel spacer? When are they used?
A: Spacers are used for pushing the rim out of the wheel well. If you want your tires to stick out farther we would recommend them. Or if your rim is hitting the frame or suspension parts, it is necessary to install them.
Q: What if I need wheel adapters to change bolt pattern?
A: We can do that as well. Common change overs include Chevy Caprice wheel adapters kit to 6 bolt Silverado truck rims. We can also change Crown vic wheel adaptors to Monte Carlo and pretty much any other change you could think of.
Q: How to measure wheel adapters?
A: Check out our photos above for an explanation. You can also give us a phone call any time and we can walk you through the process. Universal Car Lifts has years of experience measuring bolt pattern and building custom spacer kits.
Q: Do wheel adapters work?
A: They work awesome when used correctly to get your rims to fit or to get the correct offset you need to fit your tires.
Q: How do you install wheel adapters?
A: Its pretty much the same as installing a regular rim. You install adaptors first, making sure to torque to your factory specifications. Next you install your rims and also torque to the factory specifications (usually 80-120 ft/lbs).
Q: Can you use wheel adapters on drum brakes?
A: Yes for sure. Same process.
Q: What is wheel offset or back space?
A: Offset / backspace is where the wheel sits in relation to where the suspension is mounted on the car.
Q: What is positive or negative offset and backspace?
A: Generally, positive offset means the wheel will be sticking inwards towards the car. A smaller backspacing also means the wheel will be sticking farther inwards. Negative offset, or a higher backspace number, means the wheel will stick farther outwards from the car.
Q: Where do you ship wheel spacers to?
A: We ship to Chicago, Dallas, Texas, Florida, Atlanta, Jacksonville, Miami, Vietnam, Japan, Australia, Canada… pretty much anywhere in the world. We have a fast turn around time and will get your package sent out asap.
Sours: https://www.universalcarlifts.com/product/8-bolt-to-6-bolt-wheel-adapters-for-rims-2%E2%80%B3-thickness-any-pattern/
How to Install A Wheel Stud Conversion Kit
Shop Below
Wheel Adapters are used to change bolt patterns in order to properly fit wheels from one vehicle to the hub of a different vehicle.  eg  "6×5″ to 6×5.5″"  or  "14×1.5 Studs to 1/2″ Studs".  Wheel Adapters can also be used to adapt or fit aftermarket wheels meant for a different vehicle. Another common use would be adapting aftermarket or stock wheels to a trailer. For example Wrangler wheels to an M416 military trailer.  Adapters and spacers are available in hub centric and lug centric designs and 'bolt-on' or 'slip on' styles.  All hub centric wheel adapters are custom built to order to match customer vehicle and wheels.  Build time on custom orders varies, but averages between 5 – 7 business days!
If you are only trying to space with the wheels, you are looking for:
Wheel Spacers | Return US Wheel Adapters Home
---
Wheel Adapters by Category
---
Our team stocks many different 4, 5, 6, and 8 lug wheel adapters in order to match an ever expanding world of vehicles. We also custom build using all American machinery, materials, and hardware. Our knowledgeable staff is dedicated to help find the right fit and application for each of our customers. We are ready to provide vehicle information, personal assessment, as well as help with the ordering process.  For over twelve years we have strived to provide the right fitment for each and every customer! Call us today!
Find us on facebook at: facebook.com/uswheeladapters.
Give us a call at: 1-877-823-2787
---
We back all of our products 100% against workmanship, american quality materials, and US standards.
US Wheel Adapters DOES NOT convert (4 to 5 Lug), (5 to 6 Lug), (6 to 8 Lug), (8 to 10 Lug) etc…
Sours: https://www.uswheeladapters.com/wheel-adapters/
Stud adaptor wheel
Kisses. Leaning over him, and holding his penis between round elastic breasts, she moved, caressing his breasts with his penis. He felt that his penis was clamped in the tight, very tender grip of her flesh. It was an incomparable feeling. A fountain rushed along its trunk.
Replacing Studs the 'Easy Way' -EricTheCarGuy
Men's hearts right from the first year of university. The chairman laughed loudly, saying that he had not yet heard so many compliments, and the girl raised her chin and loudly revealed. That she decides such questions herself, not her parents.
You will also like:
But not only she was bored, so I decided to leave the swearing for later and quickly grabbed a hairdryer. It took about thirty minutes to get ready. Personal record. I was at Tanya's already about ten. Dima met me: so contented, joyful, he always greets me so warmly when Tanya is not.
132
133
134
135
136