Flyer InDesign Templates
How to Create a Flyer in Adobe InDesign?
We've seen different forms of advertising materials, be it digital, online, or print. While others entice us to visit a store and avail of what it has to offer, there are some advertisements that we tend to ignore because it lacks compelling power. An effective advertising material should have not only necessary details about a particular business but also a visually attractive design. Just like any other type of promotional tool, flyers should also be carefully crafted to attract the right customers. Advertisers should make good use of the space allocated for the text and photos. If you are tasked to create a flyer to promote a business or an event, we have listed down five simple steps to help you design an effective flyer in Adobe InDesign.
1. Choose the Right Editing Application
Whether you are aiming for a creative, modern, or minimalist flyer design, choosing the right editing software is crucial. In selecting a program, make sure that it has all the features and tools you need. One of the best applications developed by Adobe which will help you layout a visually appealing flyer design is Adobe InDesign. It is a desktop publishing software commonly used in creating print materials.
2. Write a Catchy Headline
Headlines are written to grab the attention of the target market at first glance. Without a catchy headline, your flyer may just be ignored. Moreover, see to it that you highlight the most important information about your business which you would like to convey to the audience. For example, if you are creating a sports flyer, point out what sports event you think people await the most and place it in the headline. Announcing an open house party (for event flyers), a grand opening, or a promotion or discount on the products and services you offer have higher chances of catching the attention of the people.
3. Work on the Details
After writing the headline, start filling your flyer with the necessary details for the promotion of the products and services your business offers. If you are creating a flyer for a real estate company, include essential information such as the property type, location, amenities, and approximate size. For a church or school flyer, you may mention a few background details about your organization. However, you should keep in mind that you have to maintain concision in writing the information you will include in your sample flyer.
4. Include Photos
Photography is essential in most print materials. The right choice of photography adds more life to your flyer and helps you communicate a message more effectively. Aside from that, it also allows you to feature some of your products and services. For your flyer to stand out, add high-quality and remarkable photos in your design. If you are promoting a restaurant, be sure to attach food photography in your simple flyer.
5. Distribute
The main goal of a promotional tool is to persuade the customers to try the products and services your business offers. After printing your document on a high-quality material, distribute it in areas that generate high foot traffic.
Read More
Sours: https://www.template.net/editable/flyers/indesign
25 Tutorials For Getting More Out of Adobe Indesign
When it comes to print design, there is no better tool than Adobe InDesign. Once you master the basics, however, you need to upgrade your skills and learn new tricks that will quickly turn you into an InDesign pro.
In this post, we've rounded up the best tutorials on InDesign that will help you get more out of this powerful program.
The Adobe InDesign Toolbox
Unlimited Downloads: 1,000,000+ Print Templates, Mockups, Illustrations, Actions, Presets, Brushes & much more!
Explore 15,000+ InDesign Templates
How White Space Can Transform InDesign Layouts
White space matters in design. It can make your finished project look more professional so it's important to learn how to use it properly. This tutorial will help you master white space in no time.
Set a Print Bleed in InDesign
Setting a print bleed will help you avoid that ugly white margin that appears on your document when your design elements don't extend the entire way. In this quick tutorial, you will learn how to properly set a bleed for your documents.
Concept Design Mood Board Templates (with Envato Elements)
Create Special Print Finishes
Learn how to apply special finishes such as varnishes, foil blocking, embossing and die cutting. The tutorial includes best practices for each finish and you can easily apply the tips and practices to other processes.
How to Add Interactivity to EPUBS
Use InDesign to create rich, interactive EPUB files. This tutorial walks you through all the steps and covers everything you need to know to include slideshows, add buttons to trigger animation, and more.
Use a Column Grid to Design a Poster in InDesign
When you use a column grid in your design, everything looks more visually appealing and better organized. Learn how to apply a column grid to design an attractive poster.
Manage Your InDesign Assets Properly
If you're working with multiple images and other assets, managing those assets properly is crucial. This quick and easy tutorial will teach you all the asset management secrets for InDesign.
Adobe InDesign Flyer Template (with Envato Elements)
Design a Book in InDesign
Whether you dream of publishing your own book or simply want to push your skills further, this InDesign tutorial is for you. You will learn how to plan your layout, set the structure, and link pages.
Design an InDesign Fashion Magazine Cover
Learn how to design an attractive and polished magazine cover in this tutorial. You will learn how to use layered images and text to create a three-dimensional design, apply typography effectively, and how to incorporate pricing and binding.
How to Create a Magazine Layout in Adobe InDesign (Video Tutorial)
In this video tutorial, you will learn how to use both Photoshop and InDesign to create an attractive magazine layout.
Design a Custom, Print-Ready Pocket Folder
Follow the steps in this tutorial to quickly design a custom pocket folder that's ready to be printed. This is a great way to learn how to make promo materials for your brand.
Graphic Design Portfolio Template (with Envato Elements)
Create a Calendar in Adobe InDesign
Calendars help us stay organized and there is no better motivation to use one than to design your own. Learn how in this easy to follow tutorial.
Design Distinctive Monotone Layouts in Adobe InDesign
A monotone layout can make your design stand out, not to mention it can save money on printing. Use this tutorial to learn how to create gorgeous layouts in InDesign using one or two monotone colors.
Speed Up Your InDesign Layouts
Learn how to speed up InDesign layouts using the Gap and Live Corner tools. This process simplifies object selection and frame editing so it's definitely a tutorial to check out.
Master InDesign's Page Tool
Take your Page tool skills to the next level with this tutorial. You will learn how to control multiple page sizes within a single document, create gatefolds, and add a spine to an editorial design.
Design a Simple Index with InDesign
With this tutorial, you will learn all about creating an index in InDesign. The tutorial covers various index types and typesetting using InDesign's style sheets.
Work With Type in InDesign
Typography can make or break your design and InDesign has powerful tools for applying and working with type. In this tutorial, you'll become a type pro and make your designs look professional each and every time.
Masking with Exclude Overlap InDesign (Video Tutorial)
This tutorial will help you create an interesting effect in your documents. Learn how to combine text and shapes together, and then mask everything with a photo or texture image.
Creating and Applying Master Pages in InDesign (Video Tutorial)
Master pages will save you a ton of time in your design process. This tutorial will show you how to work with master pages; from creating them and applying them to your document.
How to Use the InDesign Glyphs Panel
Instead of importing dozens of different images to your InDesign document, learn how to use the Glyphs panel. This will make your designs stand out more and give it that extra visual appeal.
How to Link an Excel File to InDesign
Have you ever needed to add an Excel file to your InDesign document? This is super-useful for showing stats and data and in this tutorial, you will learn how to easily do that.
A Guide to Stylesheets for Adobe InDesign
Learn how to save time in InDesign with the Styles feature. You will learn how to maintain the same fonts, spacing, and styles throughout your document and keep a consistent look and feel.
Create a Multi-Page Feature in InDesign
This downloadable tutorial will show you to create a multi-page magazine. Every step of the process is outlined and easy to follow so you will be creating magazines in no time.
How to Open Corrupt InDesign Files
Unfortunately, sometimes your file can get corrupt. However, all is not lost as there are ways to open those corrupt files and salvage your work. This tutorial shows you how.
Ultimate Guide to Masking in InDesign (Video Tutorial)
Masking is not only a feature reserved for Illustrator and Photoshop. It can be done in InDesign and this tutorial will teach you everything you need to know.
How to Batch-Replace InDesign Characters & Glyphs
This quick and easy tutorial will teach you how to quickly access the glyphs and characters panel and replace them all at once instead of hunting down individual glyphs.
Conclusion
Thanks to these tutorials, you will learn how to speed up your InDesign workflow as well as new ways of working with the features you're familiar with. Use them to create stunning page and magazine layouts, posters, and any other print design you need.
Sours: https://speckyboy.com/adobe-indesign-tutorials/
At some point, your nonprofit has likely faced a scenario in which you needed to make a simple flyer. Maybe it was for a fundraiser, an event like a beach cleanup or clothing drive, or even just your annual holiday party. Regardless of the occasion, this simple design task is among the most common at any organization. And even if you have great tools like those offered through Adobe Creative Cloud, using them correctly can be difficult, especially if you don't have a graphic designer on staff.
We want to help. In what follows, we're going to show you how you can use Adobe Photoshop, Adobe Illustrator, or Adobe InDesign (all available through an Adobe Creative Cloud membership) to make a flyer at your nonprofit.
Each application is specialized to do different things, but ultimately, you can create a flyer in any of the three. Photoshop is typically used to edit image files, which are composed of tiny dots called . The number of pixels in an image file is finite. Lots of them are needed to prevent your design from breaking up, or "pixelating" — 300 pixels per inch, for a printed document
Illustrator, on the other hand, is used to edit . Vectors are mathematically defined shapes and objects, which can be scaled to any size and always look sharp. Don't worry, the computer does the "math"; you just design.
Lastly, InDesign is the ideal tool to use when creating multipage documents, especially those that combine both pixel-based and vector-based images, along with text.
But you'll see what we're talking about as we take you through each example. Let's begin!
Photoshop
Photoshop is designed for modifying pixel-based images — typically digital photos or those scanned from film. It's an exceedingly powerful tool for that, but you can still create a flyer if this is the application with which you're currently most comfortable. But be aware of your flyer's ultimate size, keeping in mind the "300 pixels per inch" rule, for print. According to this, an 8 1/2 x 11-inch flyer requires a 2,550 x 3,300-pixel document, which takes a lot of space and processing power on your computer. That said, let's make a flyer using Photoshop.
1. Choose File > New and create a new document.
2. Set the size of your document, in this case 11 inches wide and 8.5 inches high.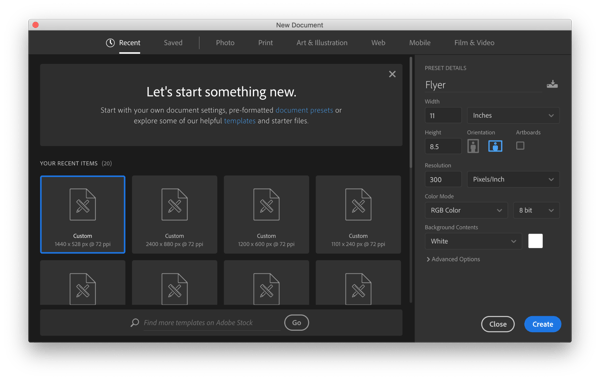 3. Import a photo by dragging the icon directly from your desktop into the window.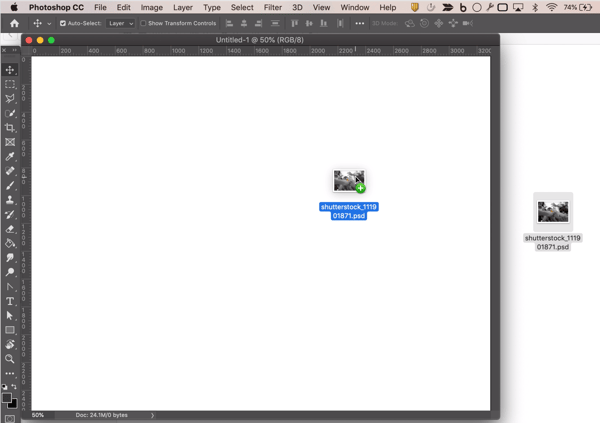 4. Resize the photo by dragging the corner handles. Hold down Shift to avoid distortion.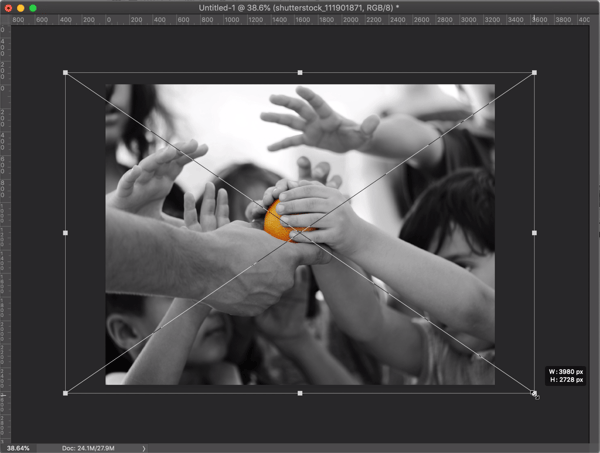 5. Select the Horizontal Type tool in the Tools panel.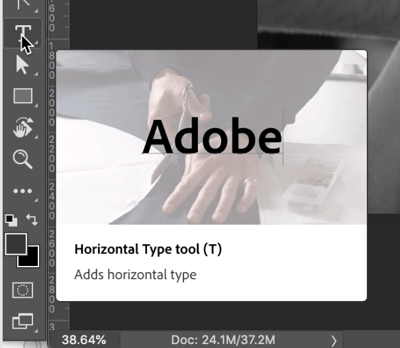 6. Create a text box and set your text. For our examples, we went with a fictitious fundraiser at a tofu restaurant.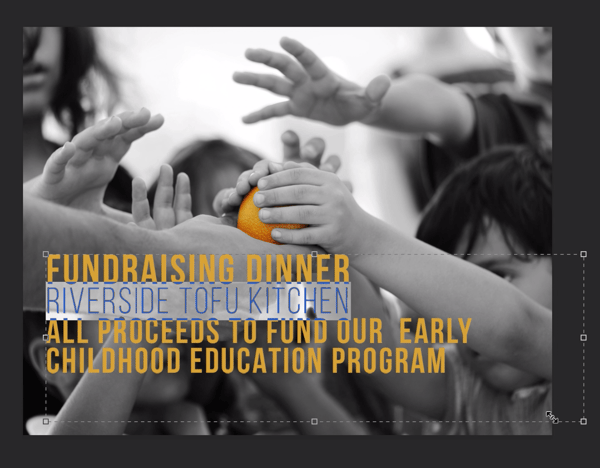 7. Choose Window > Character. Set your font, size, and other properties. We played around with Blending Options to add an effect to our text here, but we'll go through advanced techniques another time.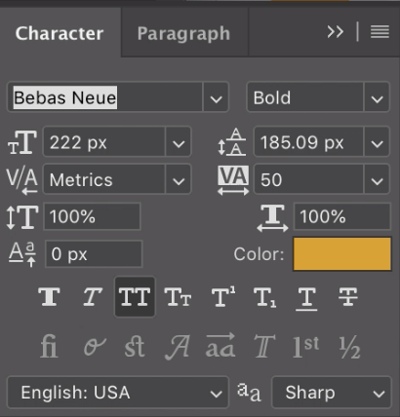 8. Drag other elements into your composition.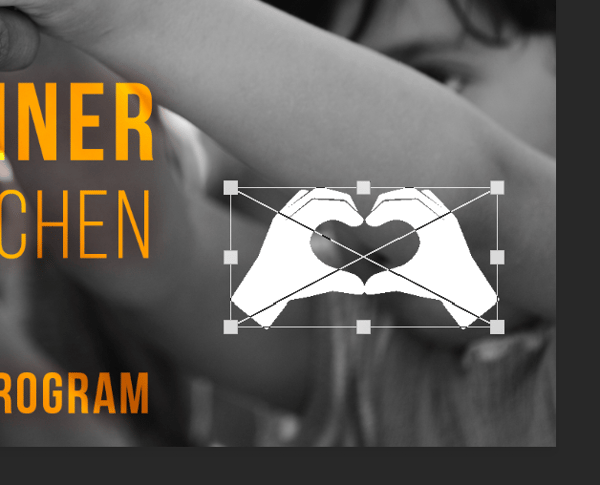 9. Create shapes by using the Shapes Tool in the Tools panel.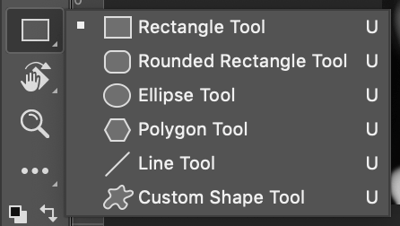 10. Arrange all your items to your desired configuration, and there you have it! A great flyer to promote your event.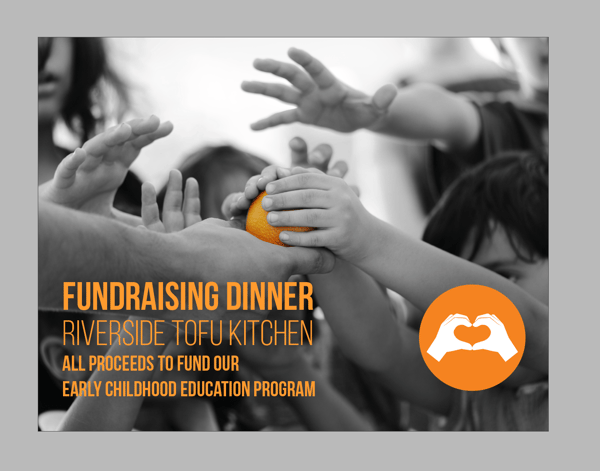 Illustrator
As we've shown above, it's certainly possible to create a great flyer in Photoshop. That said, Illustrator would be a more logical go-to for this project. That's because vector-based images can be scaled to virtually any size without losing sharpness. In this case, a flyer with text isn't really an "image," or a picture of words. It's a combination of objects, such as text, graphics, and so on, all of which Illustrator was made to manipulate, scale, and format.
1. Choose File > New and create a new document.
2. Set the size of your document, in this case 11 inches wide and 8.5 inches high.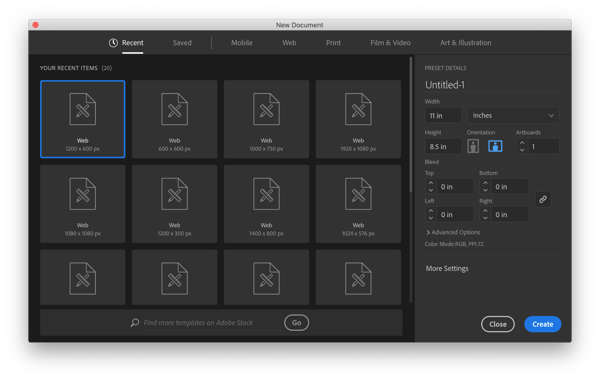 3. Choose File > Place to import a photo. Note: You can add photos into an Illustrator file. Just remember that this does not turn your photo into a vector graphic. For this reason, you'll still need to mindful of the rules about resolution we discussed earlier.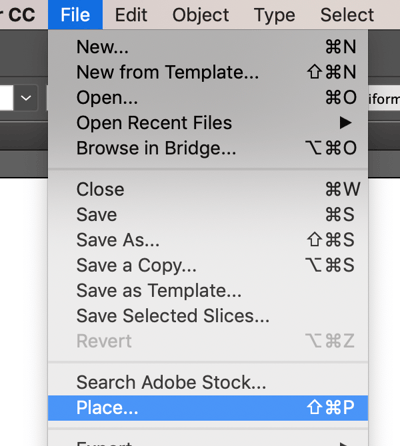 It should look something like this: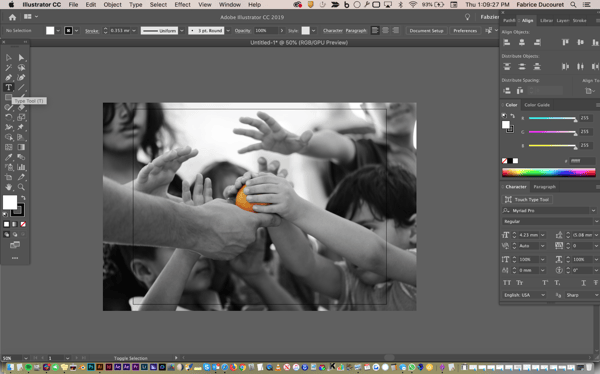 4. Create a text box using the Type Tool in the Tools panel. Then, navigate to the Character panel, set your font and font size, and compose your text block.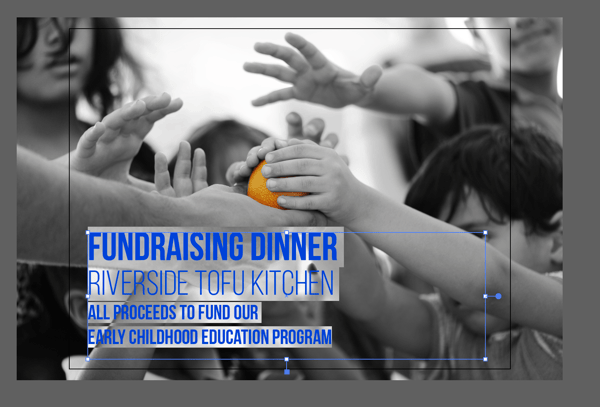 Illustrator is great for manipulating shapes and text. The 3D Effects panel is a fun example. But there are countless others.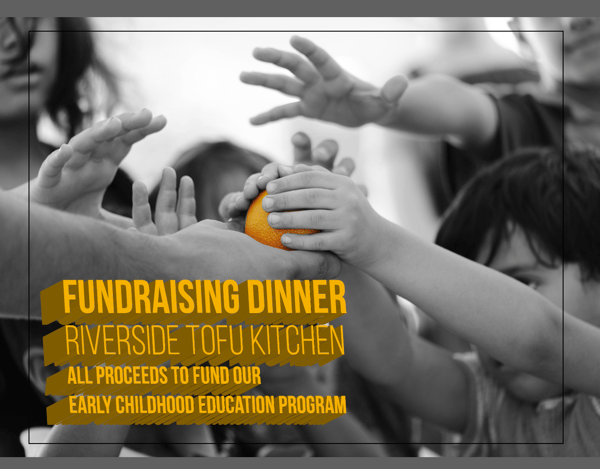 5. Create shapes by clicking on the Shapes Tool in the Tools panel.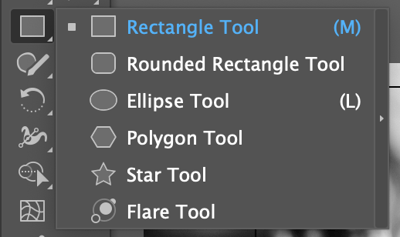 6. Place other items into your workspace, arrange them to your liking, and you're all set! Another great flyer using powerful tools from Adobe.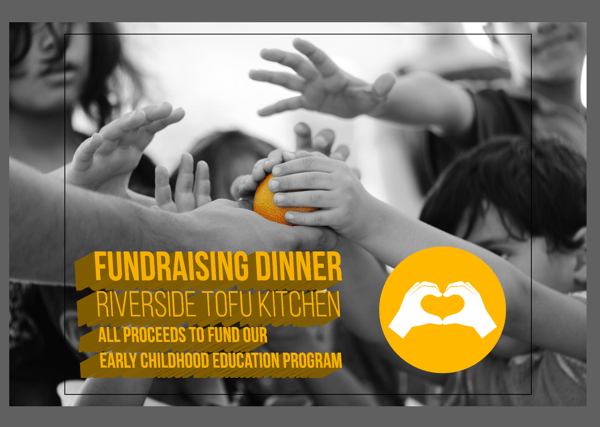 InDesign
1. Choose File > New and create a new document.
2. Set the size of your document, in this case 11 inches wide and 8.5 inches high.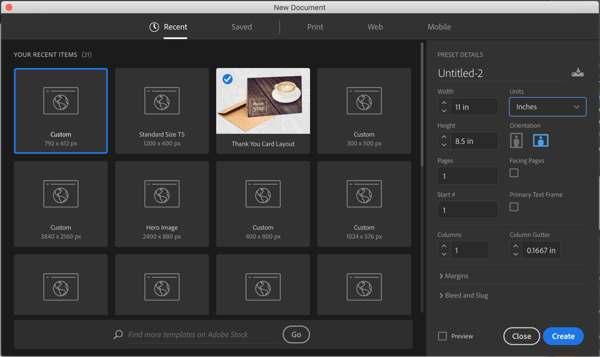 3. Choose File > Place to import a photo.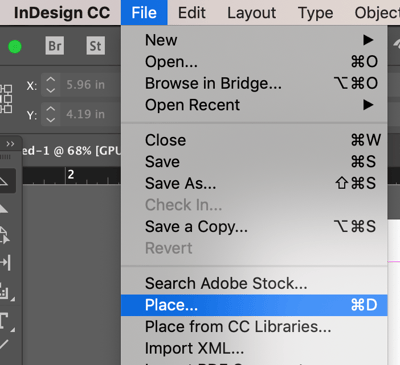 4. Create a text box using the Type Tool. Then navigate to the Character Panel, set your font and font size, and compose your text block.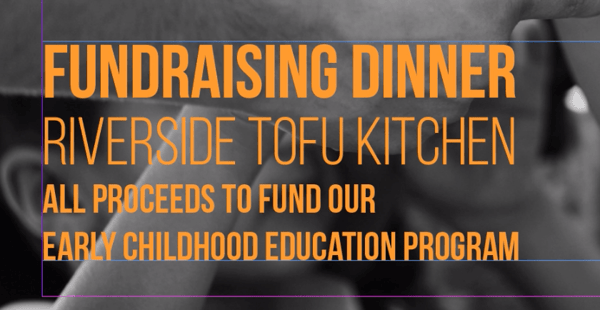 5. As with the other two applications, you can add effects to your text (in this example, we used Drop Shadow).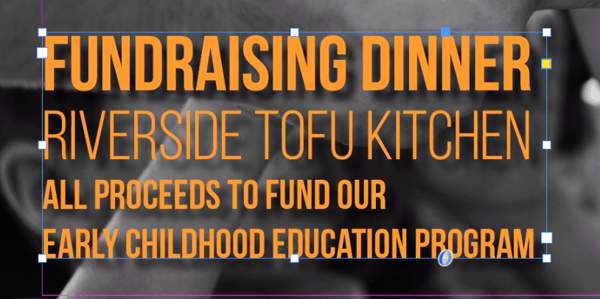 6. Create shapes using the Ellipse Tool in the Tools panel.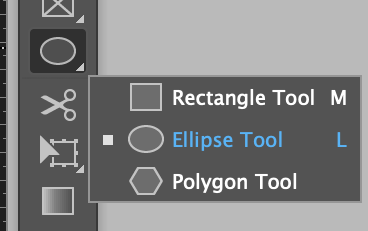 7. Drag in other items, arrange them accordingly, et voila! A third and final example of a great-looking flyer that's sure to spread the word about our make-believe event.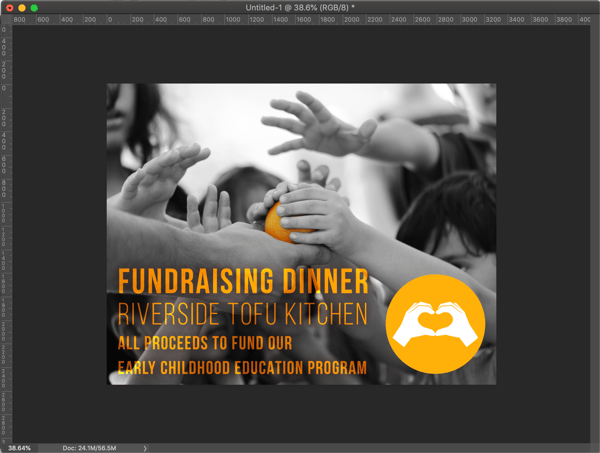 We hope you have found this guide useful, and that you're now ready to get started making great materials at your organization. However, it's important to note that we've really just scratched the surface of these applications' functionalities. Stay tuned in the future for more tips on using Adobe Creative Cloud!
Additional Resources: Graphic Design for Nonprofits
Sours: https://blog.techsoup.org/posts/using-adobe-creative-cloud-to-make-a-flyer-at-your-nonprofit-a-beginners-guide
Flyer mit 6 Seiten erstellen - InDesign Tutorial_FX
25+ Best InDesign Flyer Templates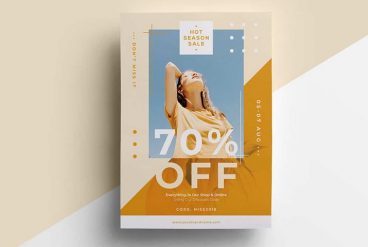 Flyers are one of the best ways to promote brands and market products. Although, not everyone knows how to design effective flyers that work. These InDesign flyer templates can give you a fantastic head start.
All flyers aren't created equal, and they're an area of design where creating something stylish and on-trend can really help you stand out. We've handpicked this collection of flyer templates to help you to nail a superb, timely flyer aesthetic.
If you're a designer looking for inspiration to create a flyer with an uncommon and modern design, you'll find these InDesign flyer templates more useful.
1 Million+ Flyer Designs & Templates, Print Templates & Mockups With Unlimited Downloads
Download thousands of beautiful flyer templates, flyer mockups, and stunning print templates with an Envato Elements membership. It starts at $16 per month, and gives you unlimited access to a growing library of over 2,000,000 design assets, themes, photos, graphics, and more.
Explore Flyer Templates
Modern Fashion InDesign Flyer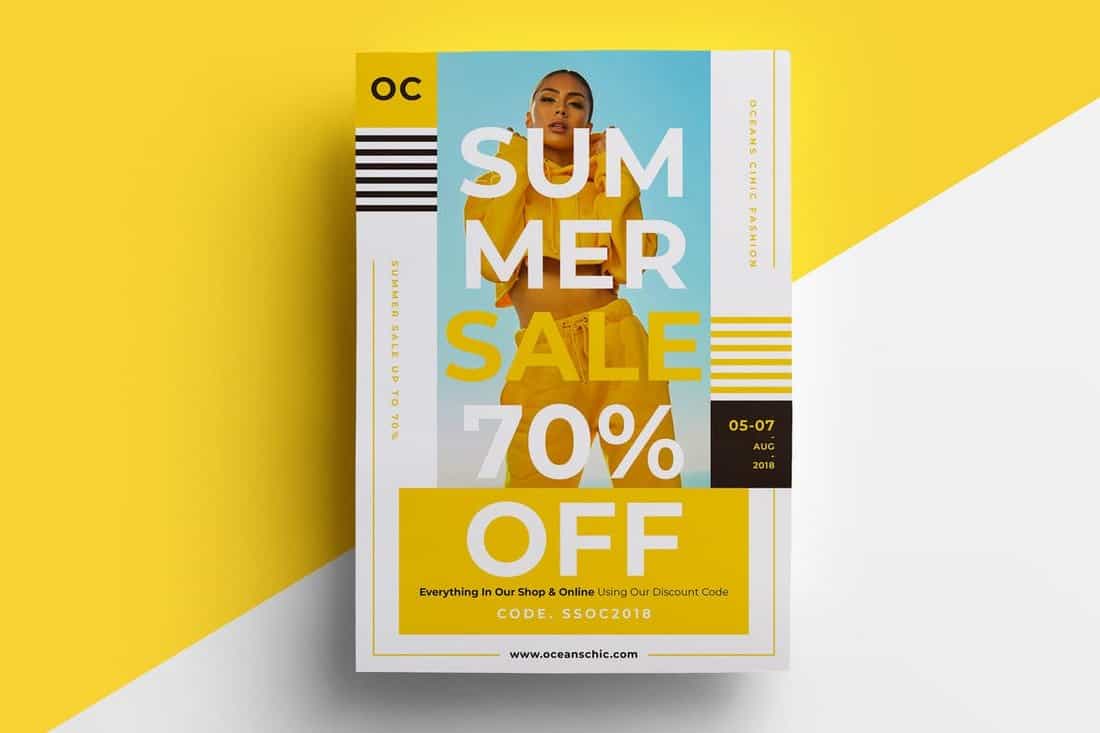 The first pick on our list is an InDesign template made for designing flyers for fashion, apparel, and retail businesses. It features a creative design full of shapes and colors that'll instantly grab anyone's attention. The template is fully customizable and comes in A4 size.
Elegant Fashion Flyer Template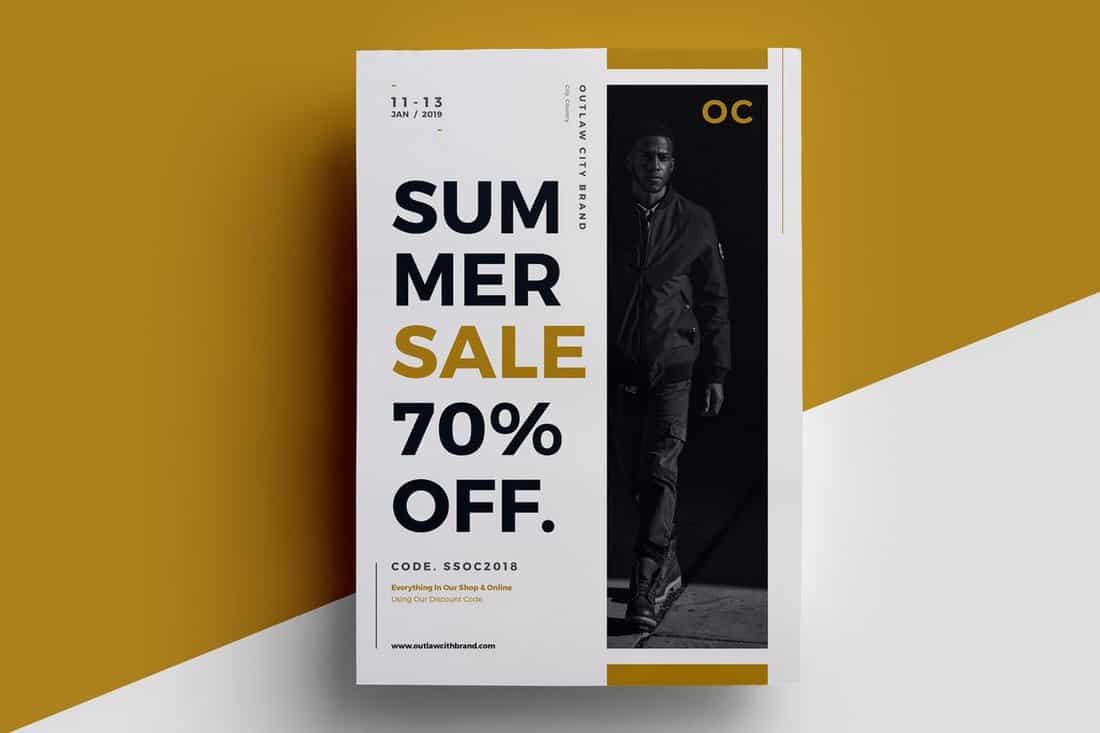 Luxury and designer fashion brands and retail stores can use this elegant flyer to promote their special sales and new inventories to target customers. The clean and professional content layout of this flyer template makes it stand out from the crowd. It's compatible with InDesign CS4 and higher.
Food & Restaurant Flyer Template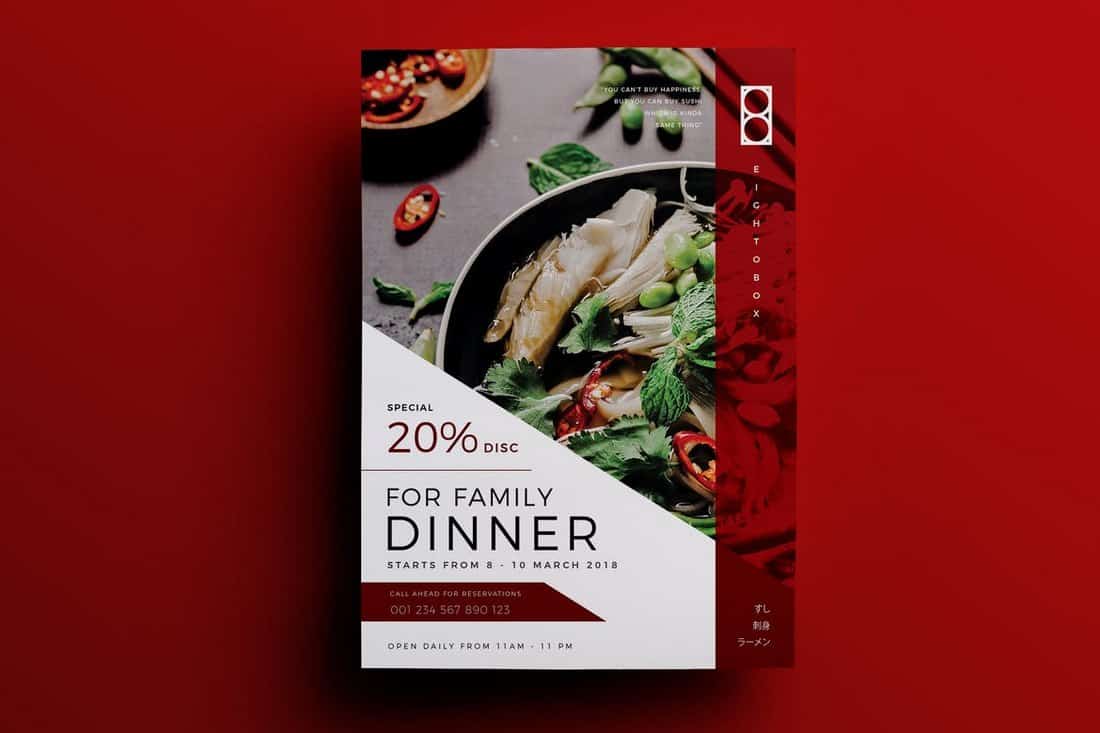 If you're promoting a restaurant, hotel, or a food-related event, this InDesign flyer template will come in handy. It features a modern and beautiful design that allows you to grab attention with a large image and include other information in a highlighted space. The template is available in A4 size.
Traveling Flyer Template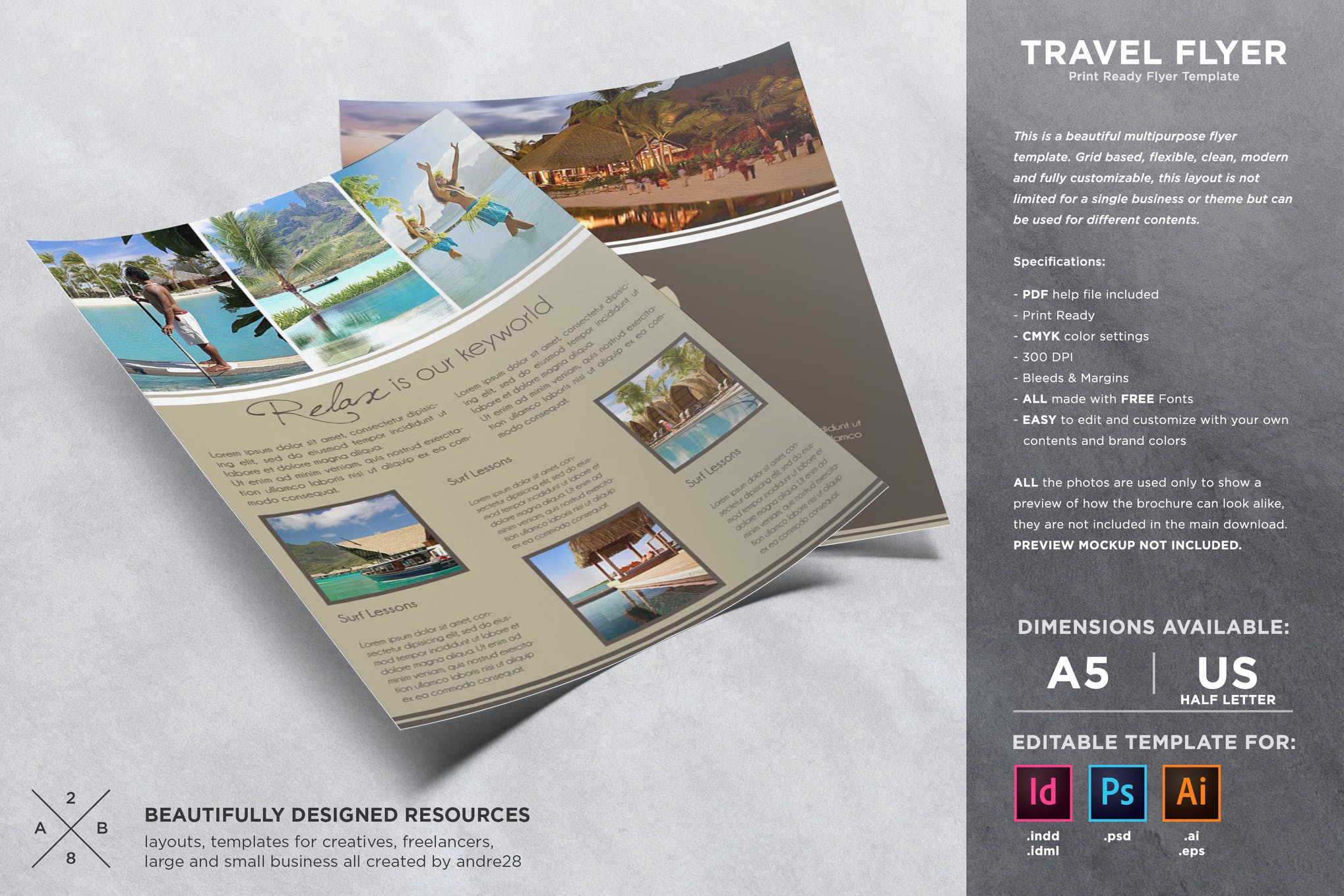 Here we have a unique template consisting of a print-ready flyer design for you to promote your travel agency in the best way possible. It's compatible with Adobe InDesign, Photoshop, and Illustrator. Drop everything, and get your hands on it now!
Food Flyer Template
Next up is a flyer template featuring a stunning design that instantly grabs attention, 300 DPI, and CMYK color space. The template can be fully customized in Adobe InDesign and Photoshop. Try it out for your next branding project. One of the best InDesign templates out there.
Yoga Flyer Template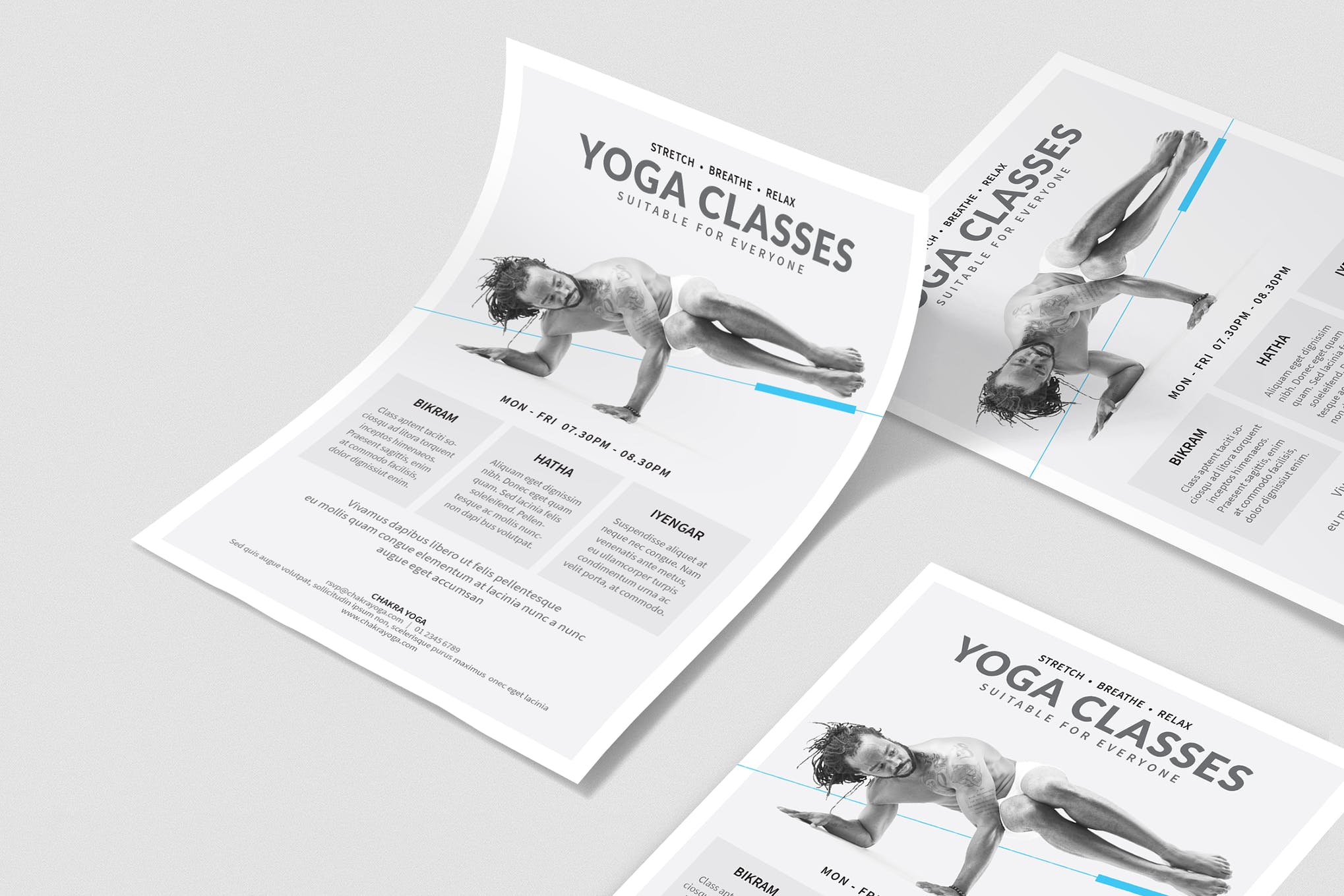 Check out this clean, multipurpose flyer template that can be used for virtually any purpose under the sun. It's fully editable and comes in an Adobe InDesign file. A great flyer template for those who are looking to bring a minimal and elegant aesthetic to the table!
Halloween Party Flyer Template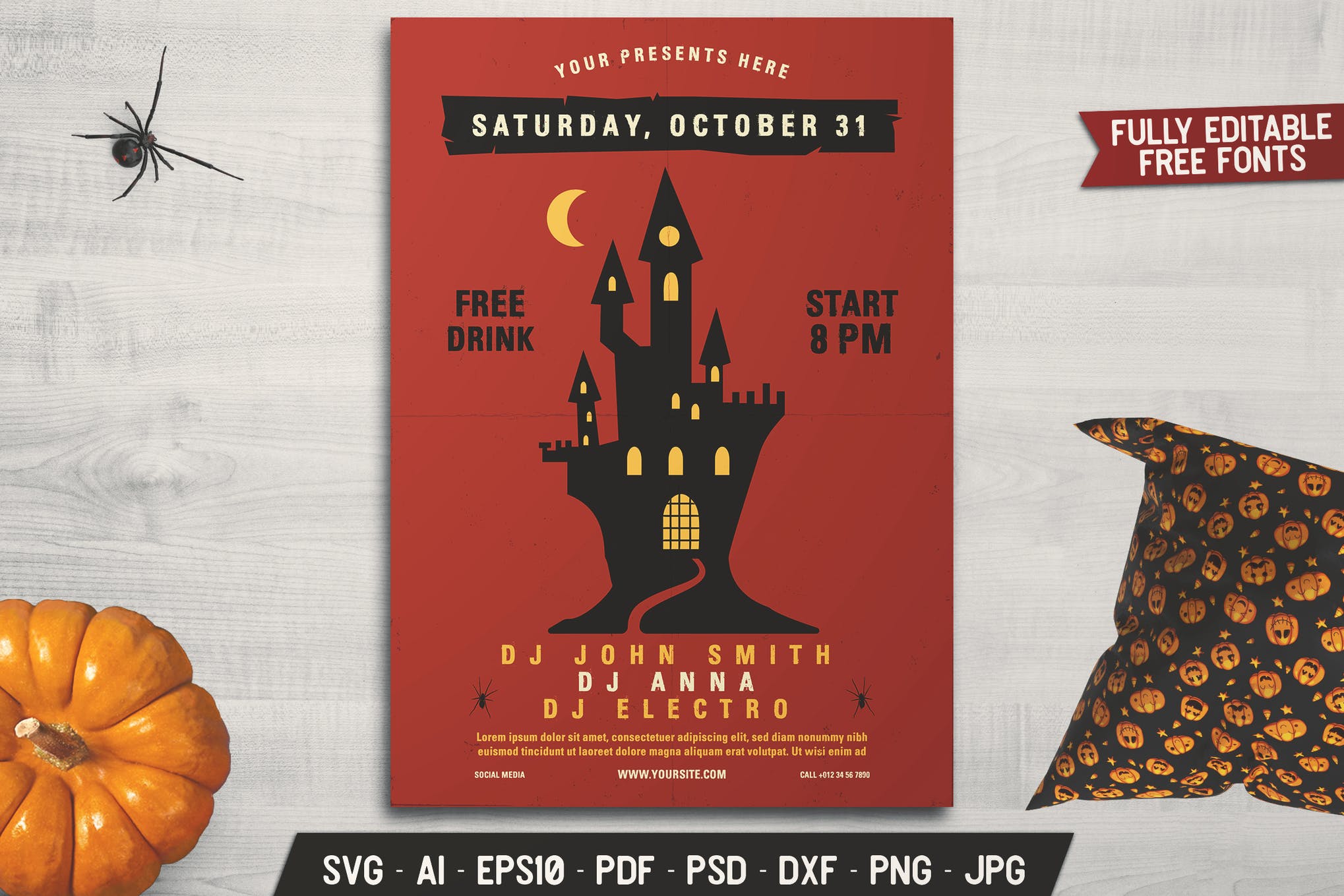 Spooky, and scary, our next flyer template is purpose-built for Halloween parties and events. It's compatible with Adobe InDesign, Photoshop, and Illustrator. An awesome template to creep out your audience next Halloween!
Real Estate Flyer Template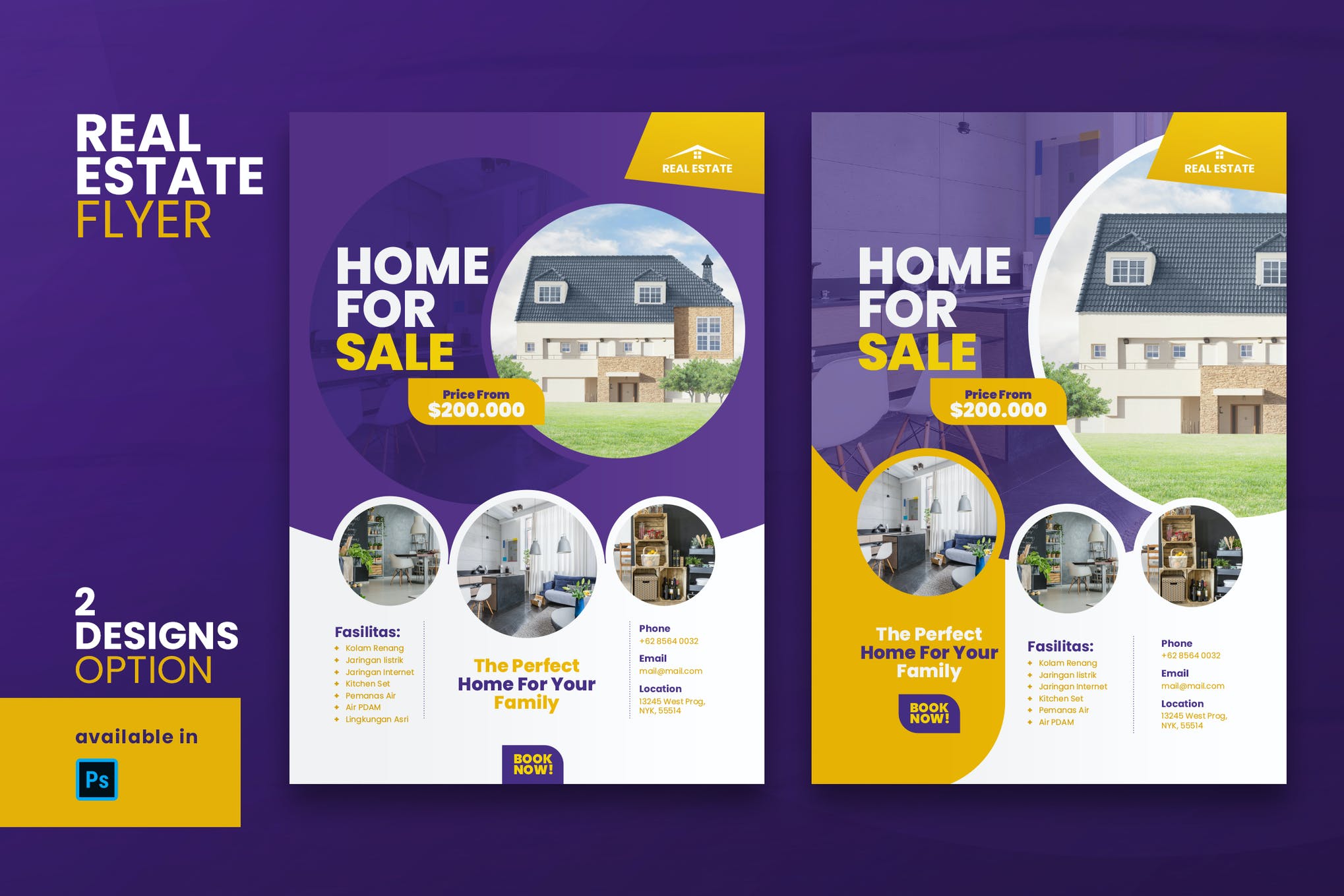 Use this remarkably unique flyer template to promote your real estate listing, and quickly start attracting buyers. It's one of the best InDesign flyers templates on the market right now, and we are sure you'll love it too.
Minimal Product Sale Flyer Template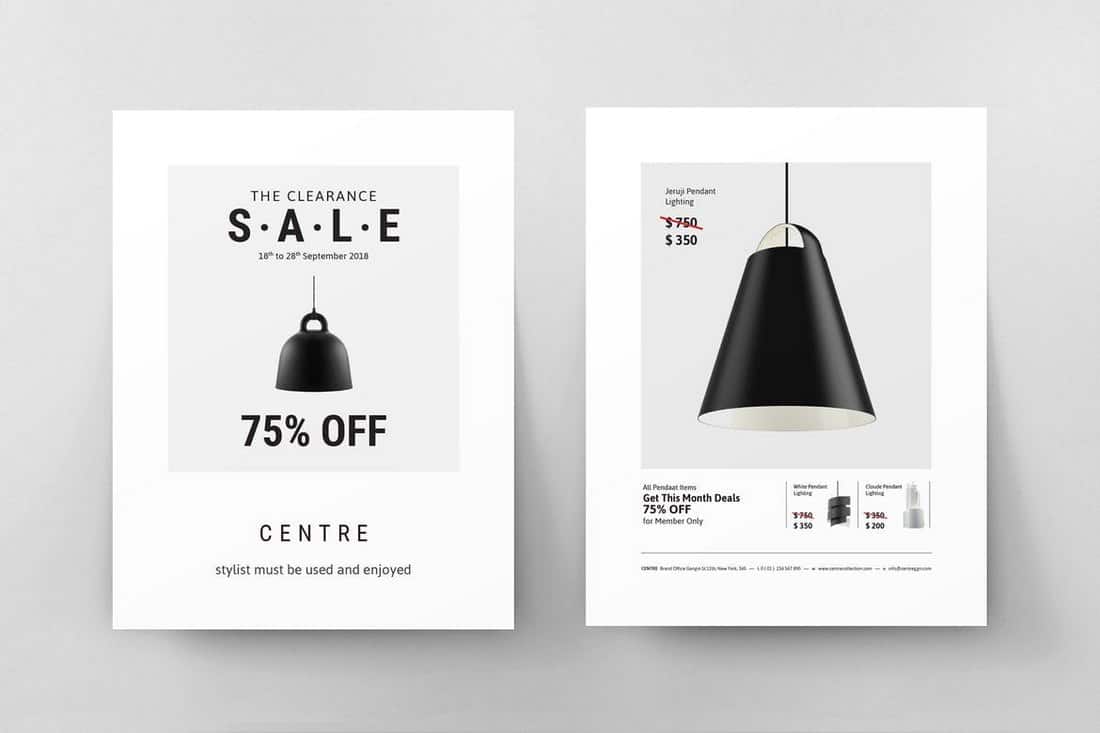 Minimalist flyer designs are more effective than others as they use lots of white space to put more focus on the content. This flyer also uses a minimal layout to help highlight your products. The template is available in 2 different designs, which you can use to make double-sided flyers as well.
Single Product InDesign Flyer Template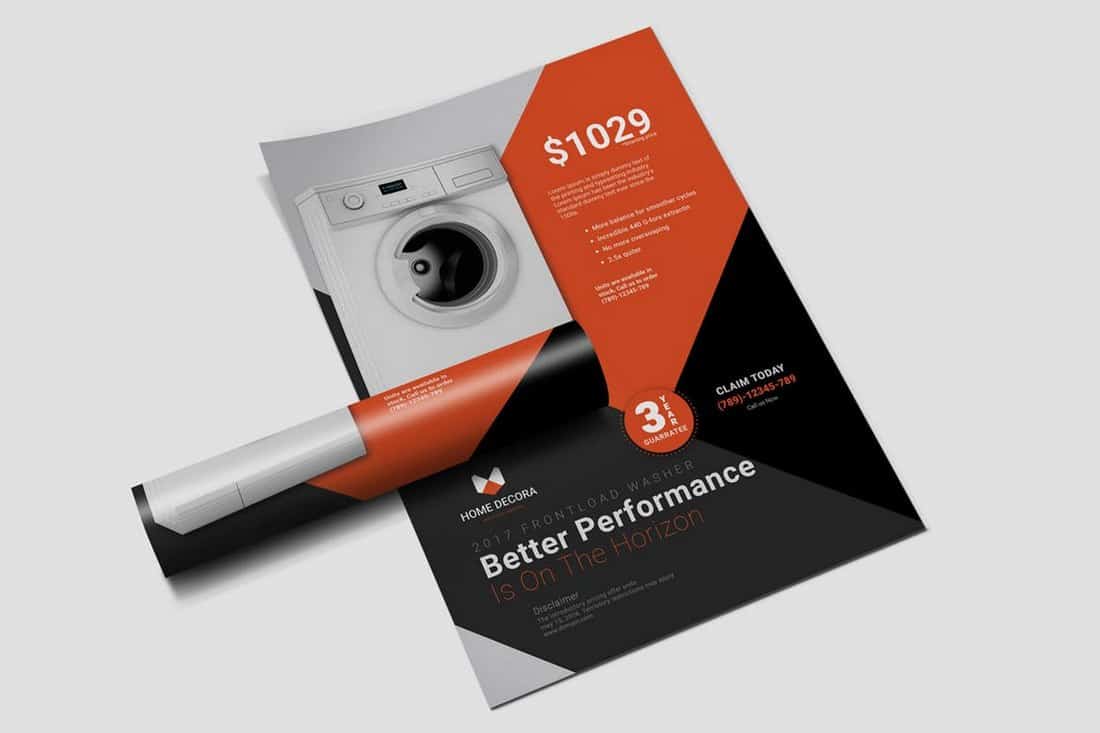 This flyer template is made specifically for promoting single products. It comes with a colorful and creative design which uses an effective content layout to include product images, features, and other information without clutter. You can easily customize the template using either InDesign, Photoshop, or Illustrator.
Real Estate InDesign Flyer Template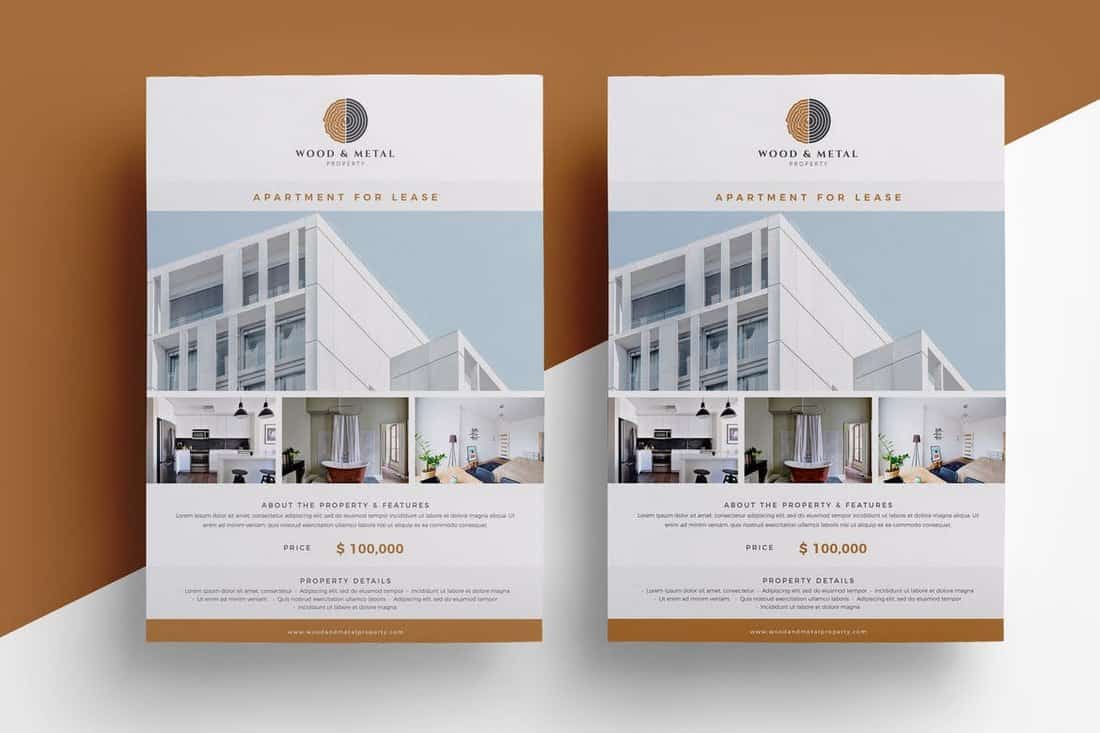 Creating promotional flyers for real estate agencies will be much easier when you have this easily editable InDesign flyer template. It comes with a modern design that will allow you to effectively showcase and promote properties with multiple images and property details.
Corporate InDesign Flyer Template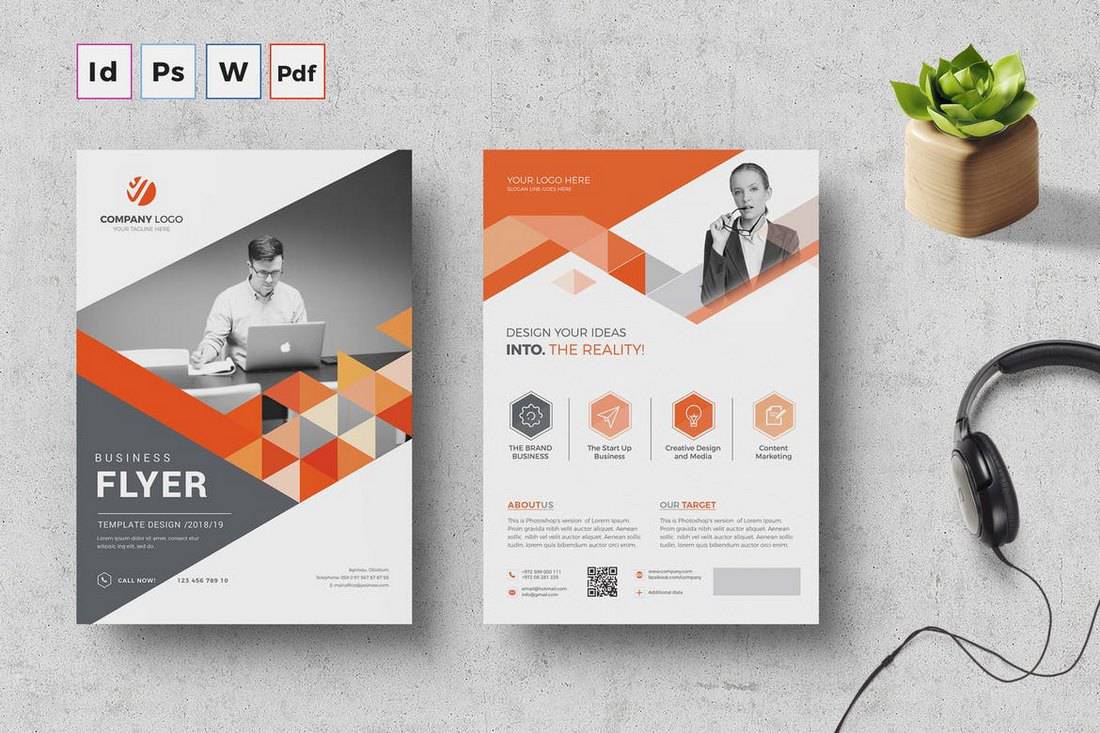 Corporate businesses and agencies use a specific style of design when making flyers. This template uses a similar design with a modern content layout. It features lots of colorful shapes and icons that make the flyer look more attractive. The template can be customized with InDesign, Photoshop, or Word.
Clearance Sale Flyer Template
Clearance sales are quite common among all types of businesses, especially at around the end of the year. This flyer template is made just for those clearance sales. The template features a minimal design with 3 page layouts for showcasing the different products on sale.
Fashion Catalog Flyer Template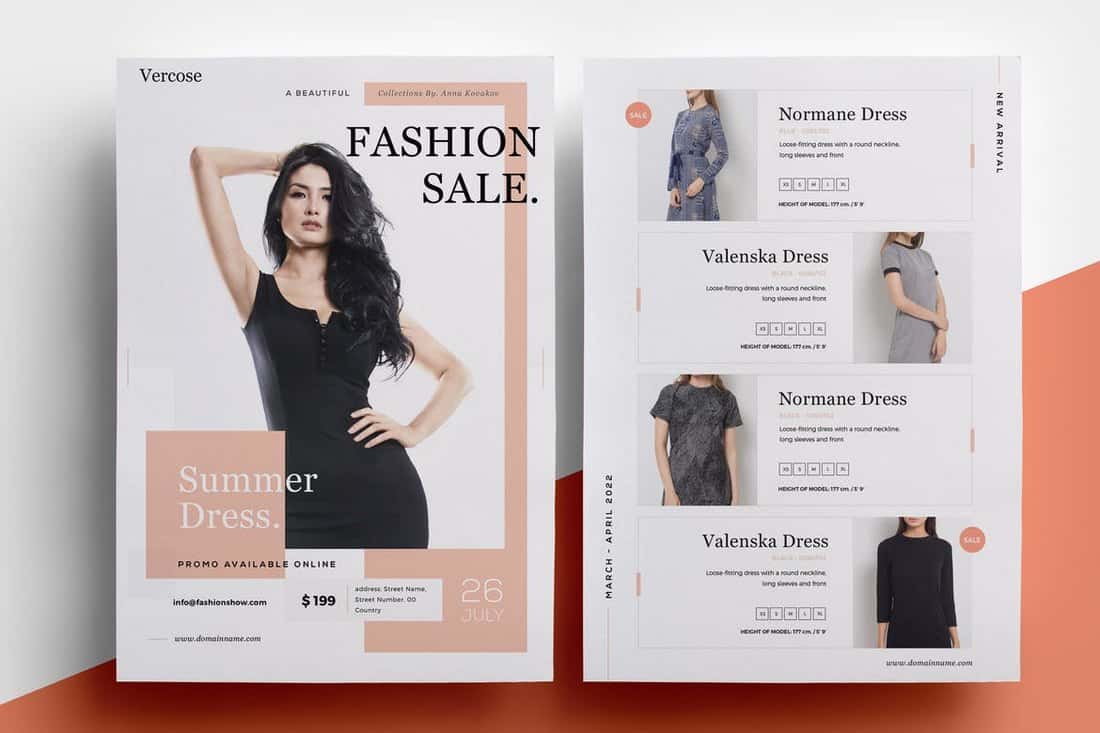 This flyer template can be used to promote a fashion brand or a retail store while also including the top items in their product catalog. The template comes with 2 page designs you can use to design front and back to promote sales and product catalog at the same time.
Property & Real Estate Flyer Template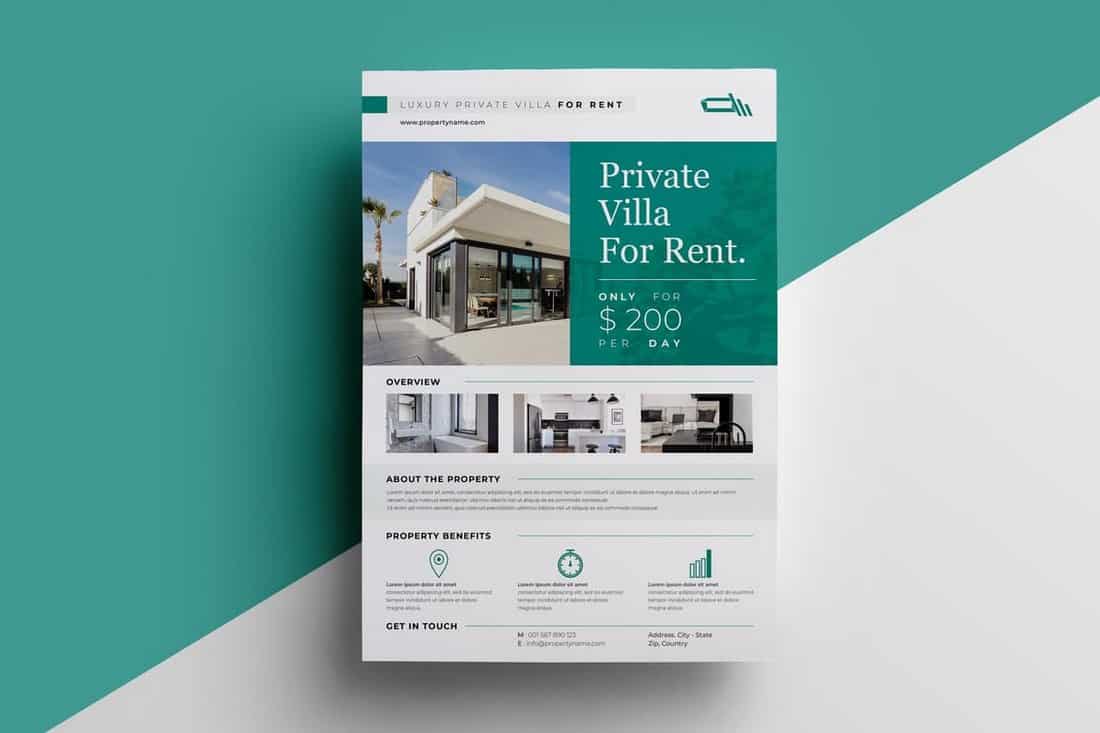 Featuring a clean and effective layout, this InDesign flyer template will allow you to design flyers for real-estate businesses for promoting their top properties. The template is fully customizable and you can change its colors and text however you like.
Corporate Business Flyer Template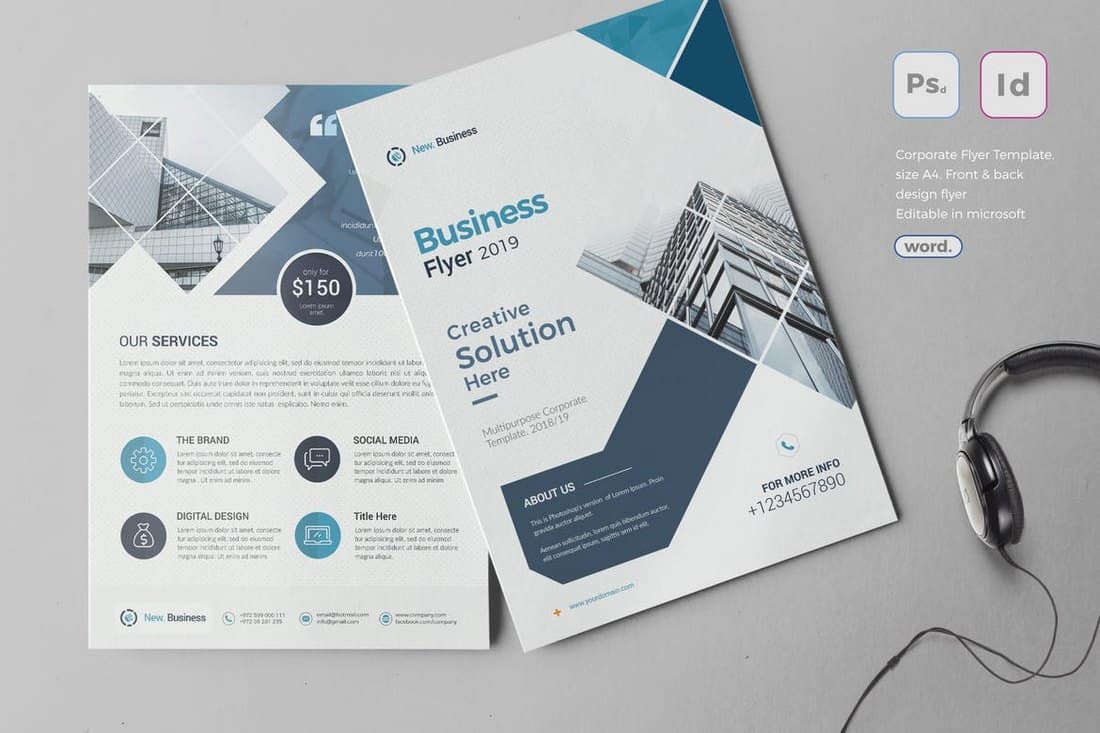 A modern corporate flyer template featuring both front and back page designs. This template is available in both InDesign and Photoshop, which will allow you to easily edit and personalize the flyer to your preference.
Creative Fashion Sale Flyer Template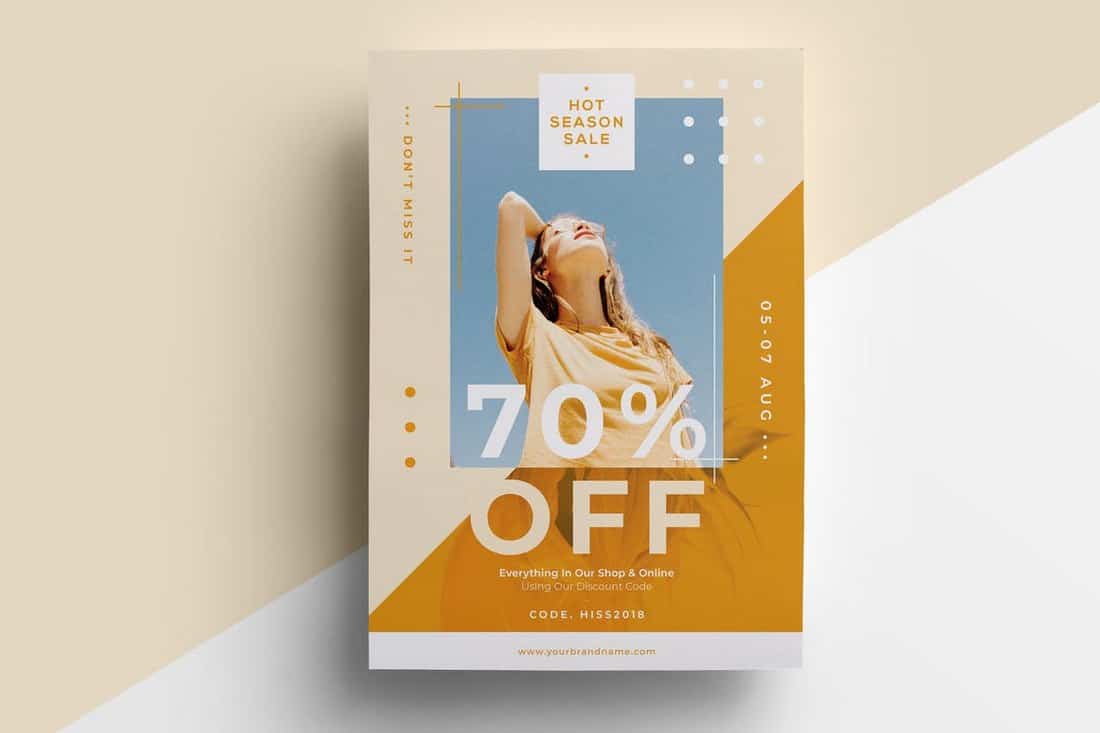 Another modern and creative fashion flyer template you can use to promote special seasonal sales and products. The template comes in A4 size and you can customize it with InDesign CS4 or higher to change its colors, layouts, and fonts as well.
Gym & Fitness Flyer Template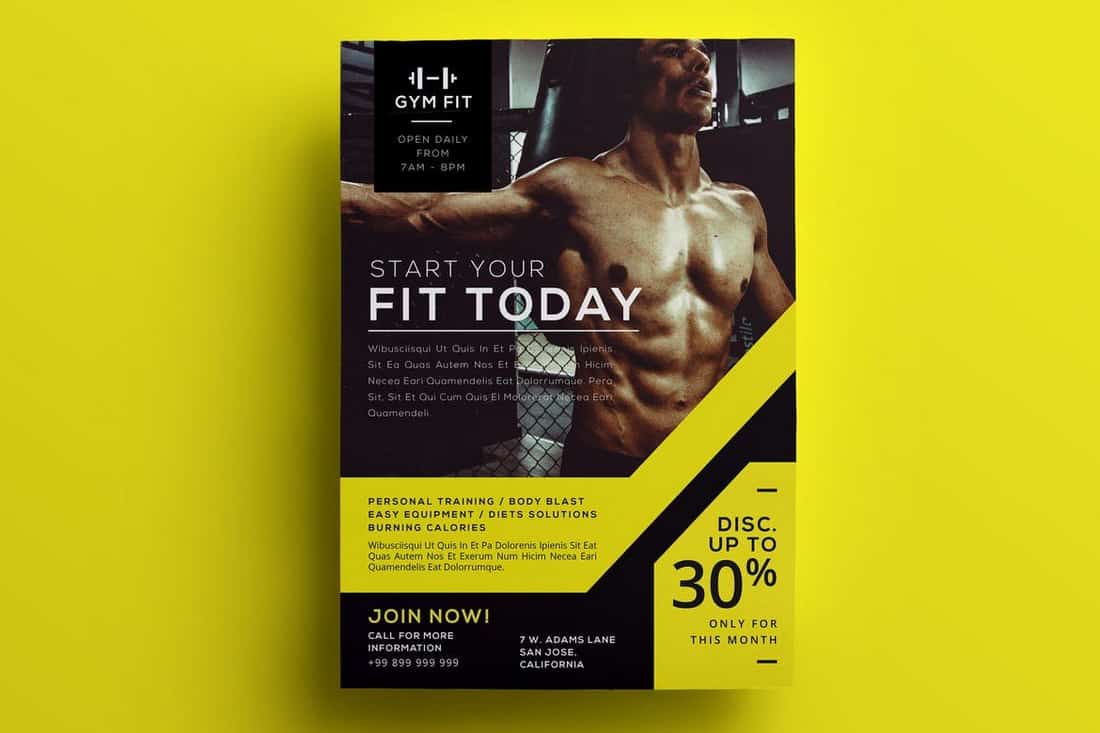 Design an attractive new flyer to promote your gym or fitness center using this beautiful Indesign flyer template. It features a modern design with space for describing your membership plans and discount offers. The colors and fonts can be easily customized to your preference.
Modern Business Flyer Template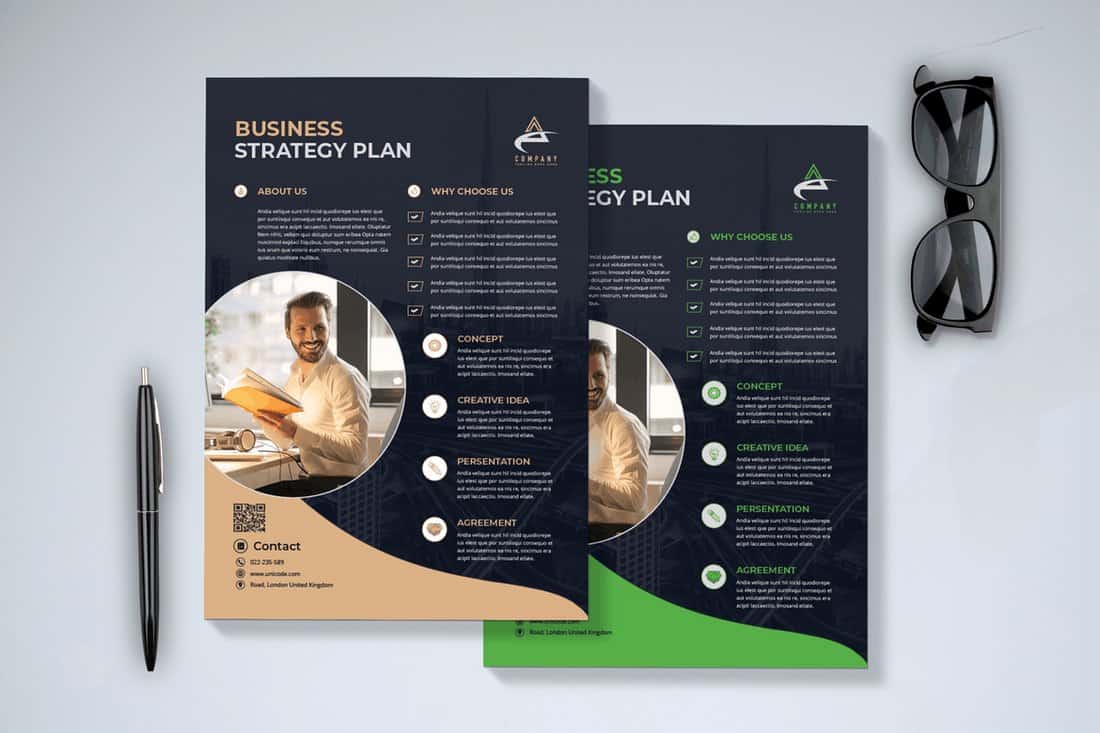 If you're looking for a flyer template for effectively summarizing all the services and features of your business, this InDesign template will come in handy. It features a text-focused content layout for including more information. The template is available in 2 color variations as well.
Marketing Flyer Poster Template
Featurign a simple and creative design, this flyer template is perfect for promoting a marketing agency or a business. It comes in US Letter size and in InDesign CC file format with fully organized layers to let you easily customize the template however you like.
Creative Business InDesign Flyer Template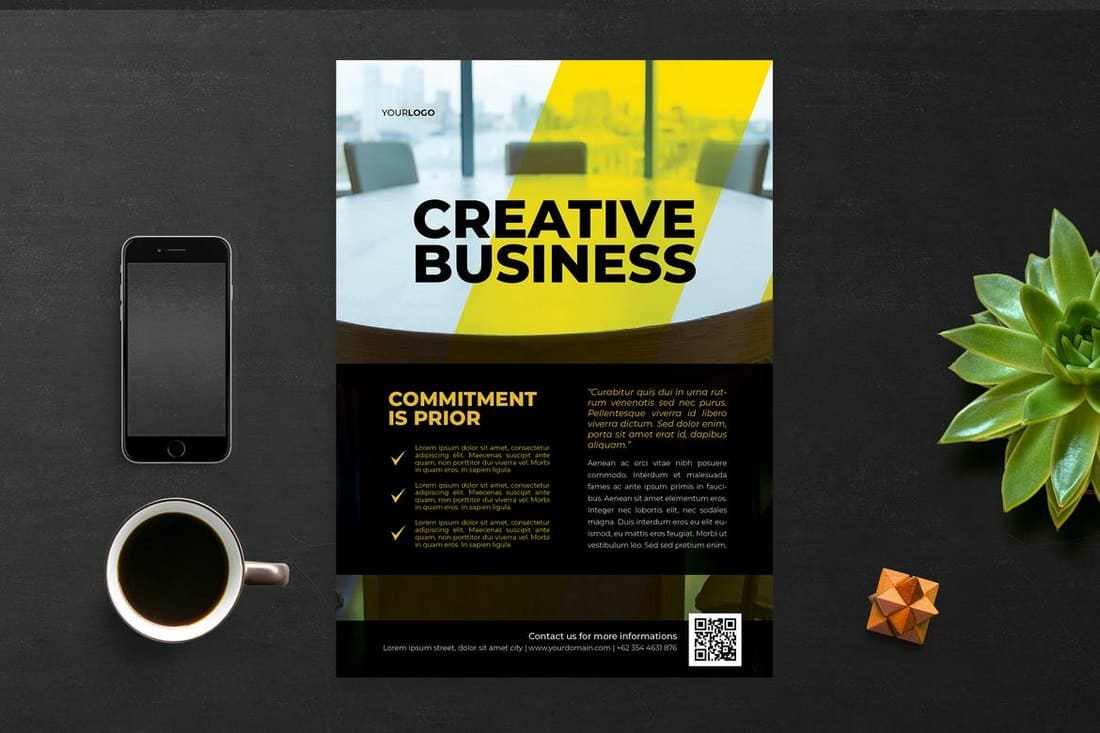 A simple but effective flyer template featuring a minimal design. This template comes with a dark color theme and a clean content layout for highlighting the best features and services of your business.
Fashion Flyer InDesign Template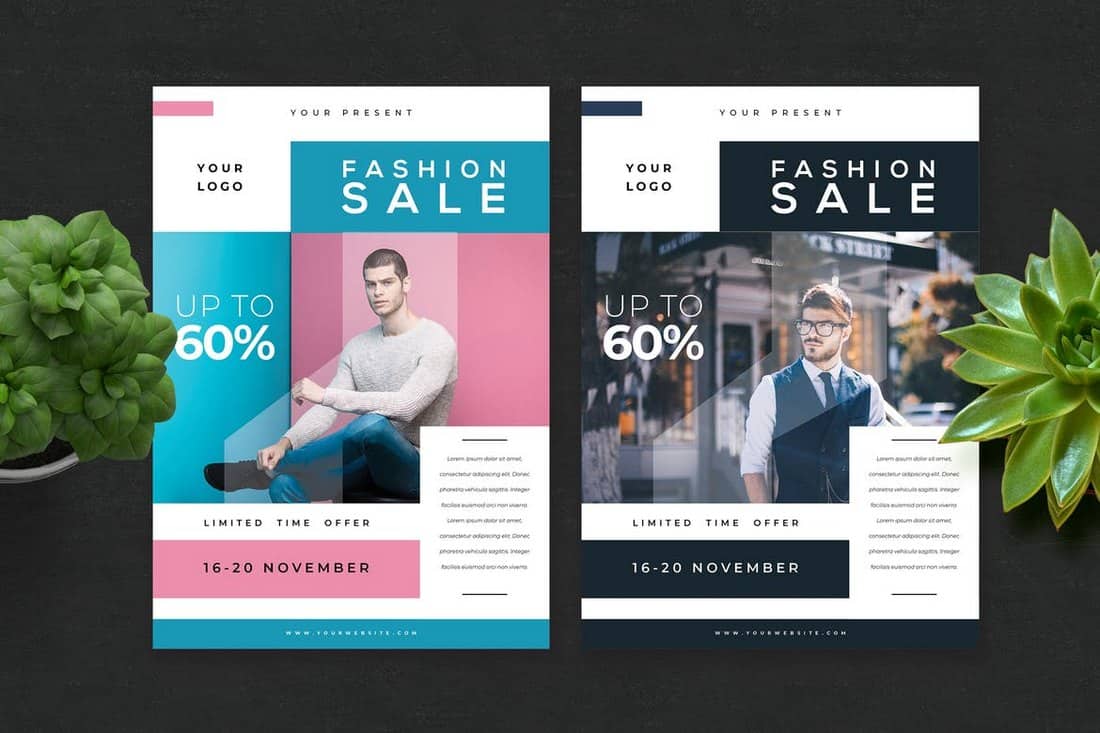 Another modern fashion flyer template you can use to promote your special sales and promotions to attract more customers. The template is available in 2 different color variations and lets you customize it using InDesign CS4 and higher.
Creative Corporate Flyer Template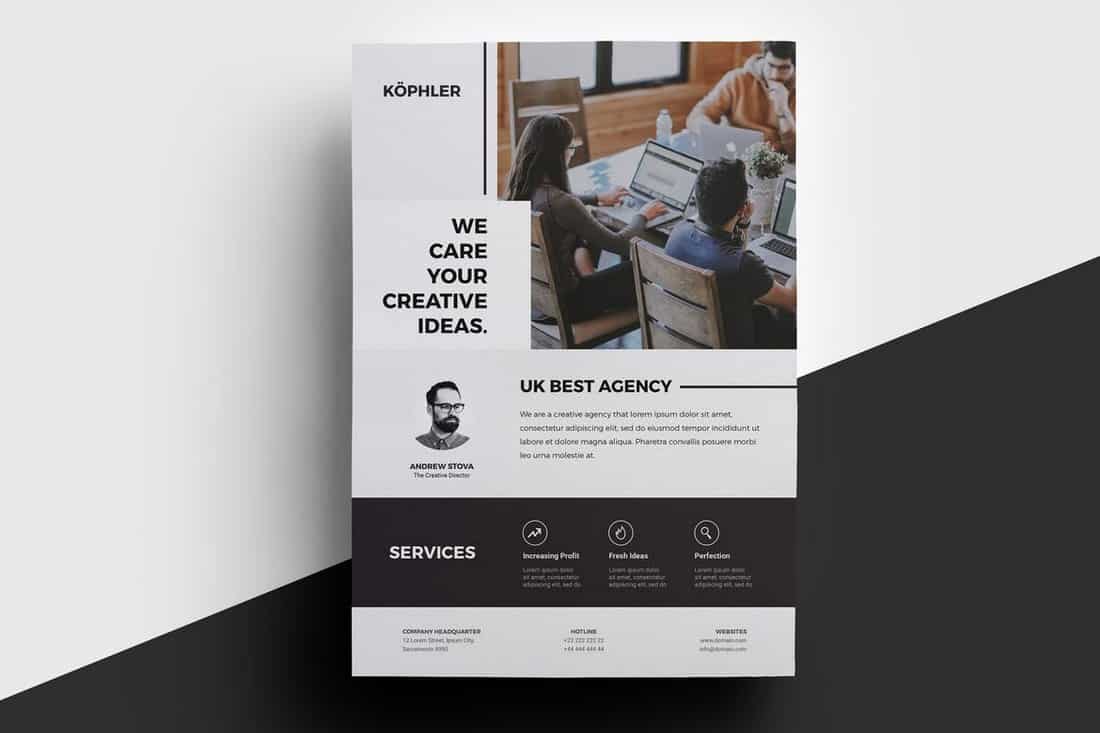 Working on a flyer design for a creative agency or a corporate brand? Then you can use this minimal flyer template to design an effective flyer to promote your services and business. The template is fully customizable and it's compatible with InDesign CS4 and higher.
Modern Corporate Flyer Template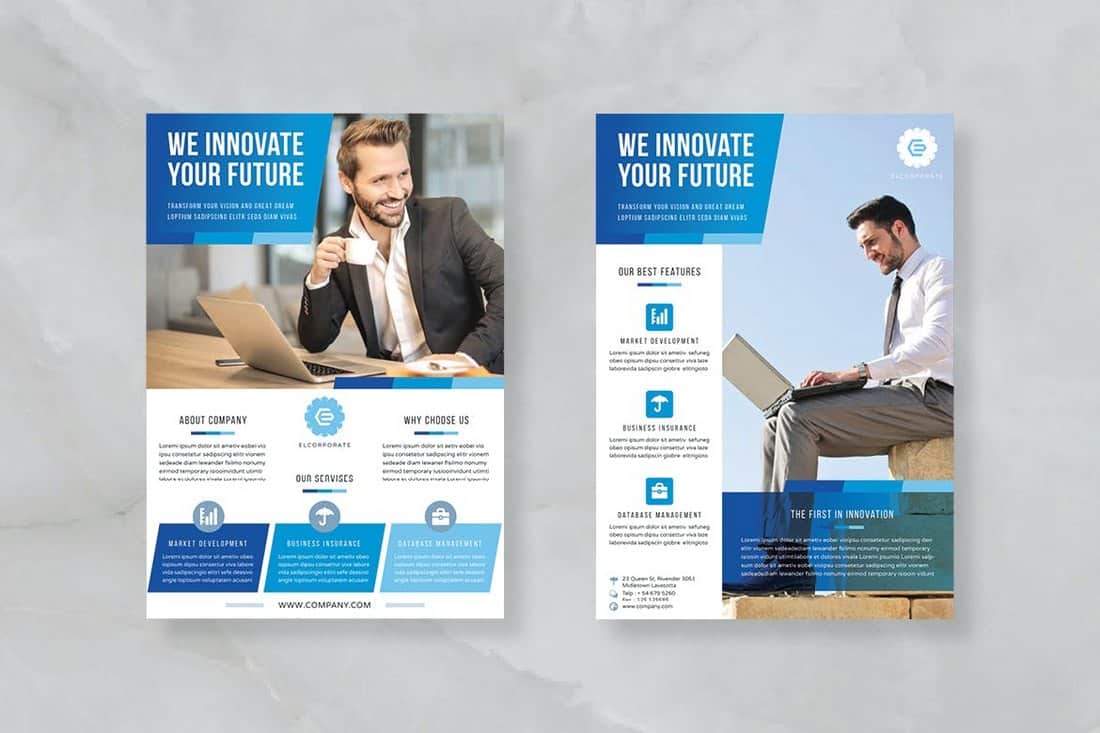 This is a set of 2 unique flyer templates featuring modern and clean content layouts. Each template is designed for showcasing corporate businesses and agencies. They are available in US Letter and A4 sizes.
Minimal Fashion Sale Flyer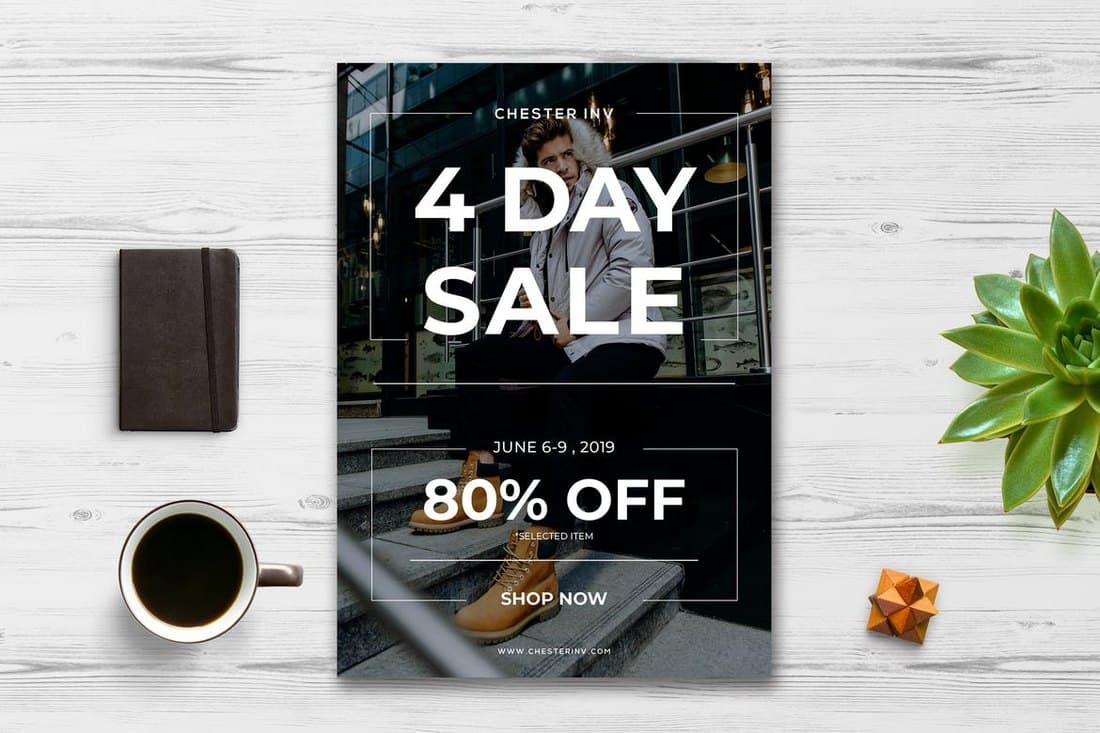 This fashion sale flyer template features a dark color theme with minimal text, allowing you to highlight your sale with a large background image. This template is most suitable for promoting men's fashion and products.
3 Corporate InDesign Flyers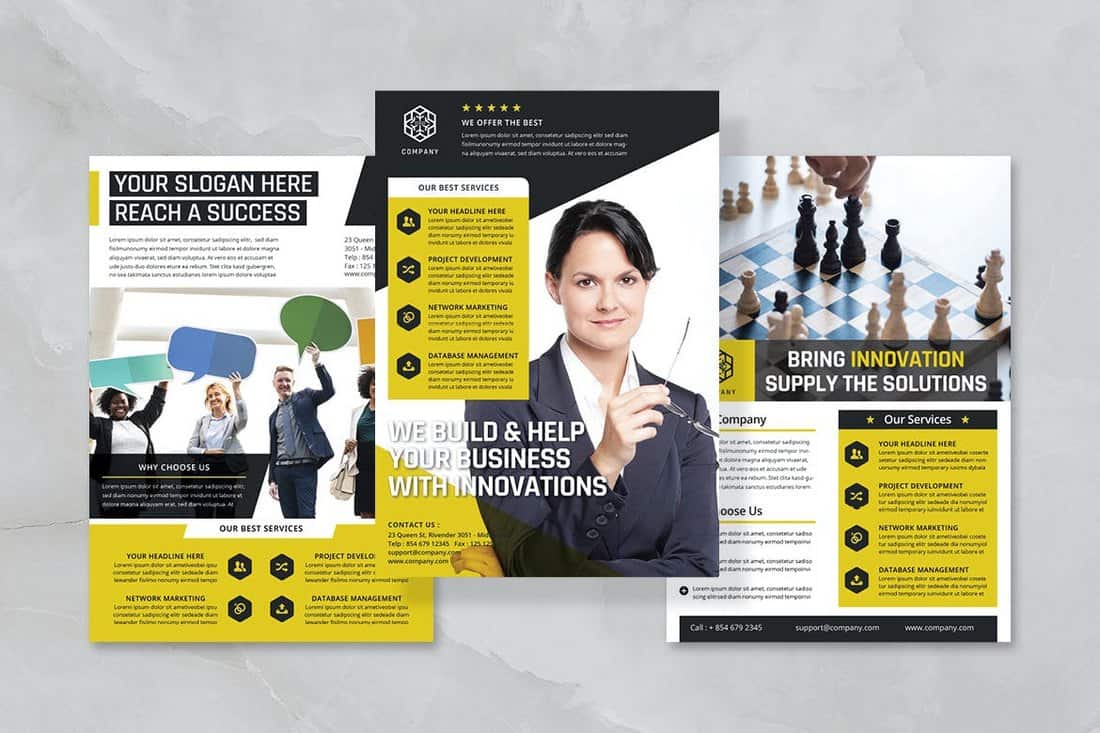 This pack of InDesign templates comes with 3 unique flyer designs made specifically for corporate companies and brands. The templates are easily customizable with InDesign CS4 and higher.
4 In 1 Multipurpose Business Flyer Pack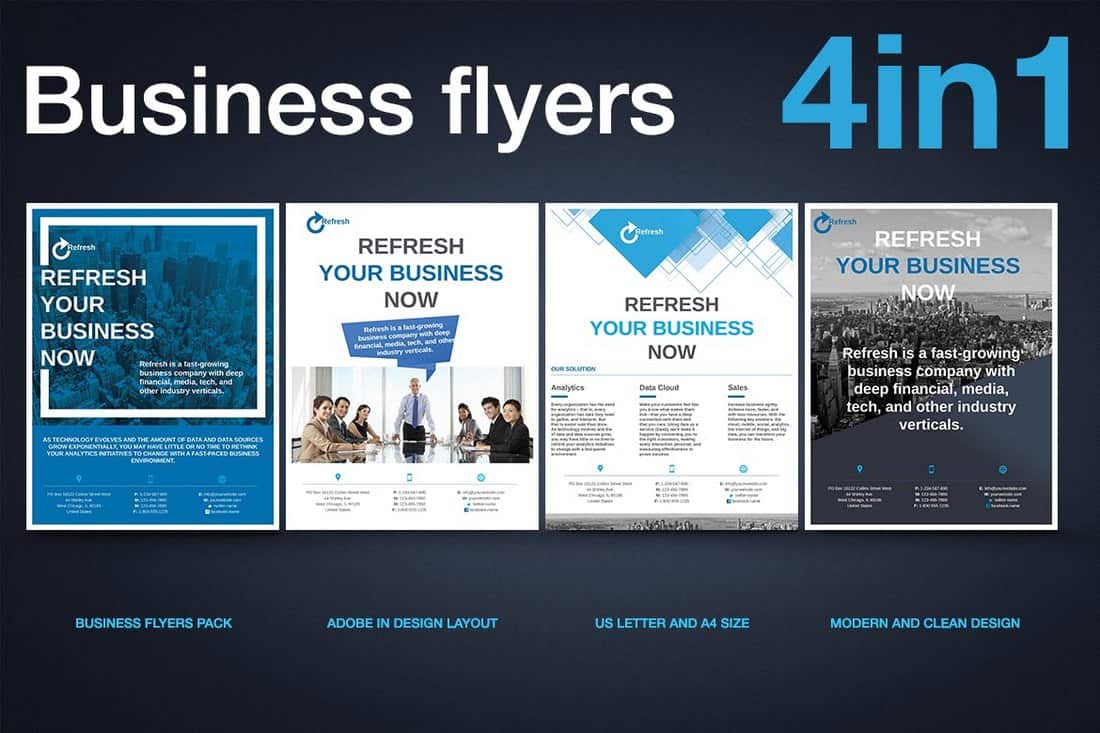 Last but not least, a bundle of flyer templates featuring 4 different flyer designs you can use to create all kinds of business and agency flyers. The templates are available in separate InDesign files in both A4 and US Letter sizes as well.
For more inspiration check out our best event flyer templates collection.
Flyer Templates
Whether you're looking to create a flyer for an event, party, business, or hobby, we've got you covered. Our feature on flyer design and templates covers everything you need—from how to design an awesome flyer from scratch to collections of stunning flyer templates to help you get started fast.
Read the Feature →
Sours: https://designshack.net/articles/inspiration/indesign-flyer-templates/
Indesign flyers adobe
How to Make a Flyer in InDesign
Defined as single-page, usually single-sided documents that target standard paper sizes such as 8.5-by-11-inch sheets, flyers provide a quick and economical way to get the word out about a company event, service or product. When you want to publicize your business with a stylish broadsheet, turn to Adobe InDesign to design and produce a flyer that you can print and hand out, email in PDF form or send to a commercial printer for output.
Press "Ctrl-N" to open the New Document dialog box so you can create a new single-page, single-column, letter-sized Adobe InDesign document. Uncheck "Facing Pages" to reflect your single-page design. If you plan to print your flyer commercially and want to use full-bleed coverage, set your margins to zero. For desktop output, or to define the position of text frames relative to the edges of the sheet, enter margins that work for your design intentions and output device. Click "OK" to continue.
Press "Ctrl-D" to navigate to the location of your image file and place the main image that will dominate your flyer's design. Activate the check box for "Show Import Options" and uncheck "Replace Selected Item." The former option gives you access to settings that control how InDesign incorporates the image into your layout; the latter only affects how you place documents when your layout already contains image frames.
Use the context-sensitive tabs in the Image Import Options dialog box to specify how InDesign handles your image. If you place a bitmap, click the "Image" tab to specify a clipping path or alpha channel from the image to control which parts of your image become visible in the layout. Click the "Color" tab to designate a color profile and rendering intent to control how InDesign manages and outputs the color values in your bitmap. If your image file contains layers, click the "Layers" tab to turn off layers you don't want visible in your layout. This tab also presents the option of selecting a Photoshop layer comp to control layer visibility. Use the "General" tab to confirm which pages you want to place from a PDF-compatible or InDesign document, and how you want to crop the pages. Click "OK" to place your file.
Position the loaded cursor where you want the top left corner of your placed file to appear. Click on the live area of your document page to complete the image placement.
Open the "Window" menu, locate its "Color" submenu and choose "Swatches" to reveal the panel of the same name. Open the flyout menu at the panel's top right corner and choose "New Color Swatch" to add a color to your document. To select from a prefabricated color library such as the PANTONE Solid or Process color systems, open the "Color Mode" drop-down menu and select the library by name. Locate the color you want in the list and click on the "Add" button to incorporate it in your document. When you finish selecting colors, click the "Done" button to close the New Color Swatch dialog box.
Press "T" to switch to the Type tool. Click and drag on your document page to create a text frame. In InDesign's Control panel, set the typeface, style, size, leading, and any tracking or scaling you want to apply to your text.
Type your text, paste it in from the clipboard or press "Ctrl-D" to place a text or word-processing file. Press "Ctrl-A" to select your text. To apply a color you added to your document swatches, click on its listing in the Swatches panel. Double-click on the foreground color swatch in the InDesign toolbox to open the Color panel so you can set text color. Double-click on the type Fill swatch in the Color panel to open the Color Picker so you can select a type color by color formula.
Add more text or place additional images to complete your design. Save your InDesign layout file.
References
Resources
Adobe InDesign CS6 Classroom in a Book; Adobe Creative Team
Tips
If you plan to send out your file for commercial printing, open the "File" menu and use Adobe InDesign's Preflight command to check your layout for errors, such as RGB images, missing fonts or low-resolution files.
Use the Adobe InDesign Package command, located in the "File" menu, to gather your layout file, linked images and required font software to send the file combination to a printing company.
Open the "Edit" menu, locate its "Spelling" submenu and choose "Check Spelling" to look for typographical errors before you print or package your file.
If this project will become the first in a series of flyers that share appearance and formatting attributes, create paragraph, character and object styles so you can speed the development of your flyer series and maintain a consistent look.
Warnings
If your text exceeds the capacity of a text frame, you'll see a red "+" at the bottom right corner of the text box, indicating an overset. If you use the Find/Change dialog box's ability to alter text format, including typeface, size and style, you can enlarge type until it oversets. Examine your document closely for type-fit problems.
Writer Bio
Elizabeth Mott has been a writer since 1983. Mott has extensive experience writing advertising copy for everything from kitchen appliances and financial services to education and tourism. She holds a Bachelor of Arts and Master of Arts in English from Indiana State University.
Sours: https://smallbusiness.chron.com/make-flyer-indesign-54967.html
Indesign Tutorial: Creating a Trifold Brochure in Adobe Indesign
In contrast to digital advertising, a flyer has properties that make it appear very high-quality: At the beginning you create the layout exactly as it should look at the end and thus have the greatest possible control over the visual appearance. In addition, the printed flyer gains exclusivity thanks to its unusual format, high-quality paper or another very special printing material. Surface finishes or special colors make your flyer a real eye-catcher.
So a good flyer is not just made by printing some text and a few pictures on a sheet of paper and then folding the document once or twice. Rather, the content and style of the flyer should be well planned. The following article provides you with valuable tips for planning a successful flyer and shows the basics of implementation with Adobe InDesign.
Format and fold types
Most of the flyers are folded in a letter and show six pages of almost the same size. Three pages are placed side by side on the print sheet. For the sake of simplicity, a flyer format has been established in which the print sheet is A4, i.e. 297 mm x 210 mm.
Access to all heise + content
exclusive tests, advice & background: independent, critically well-founded
Read c't, iX, MIT Technology Review, Mac & i, Make, c't photography directly in your browser
register once – read on all devices – can be canceled monthly
first month free, then monthly from € 9.95
Weekly newsletter with personal reading recommendations from the editor-in-chief
Start FREE month


Start your FREE month now

Already subscribed to heise +?
Sign up and read


Register now and read articles right away

More information about heise +
Microsoft brings Windows 11 in different editions with different functions. We uncover the differences and explain what's inside.
60
Comments

c't Magazin
Identify and locate objects and living beings remotely using radio waves: We show you how to get started with the RFID system quickly.
30
Comments

Spilled cola, coffee, or water can quickly paralyze your Mac. We explain how professionals repair water damage and what other users can do.
3
Comments

Mac & i
With its own system, Ikea is primarily aimed at smart home beginners. We show which areas and functions the components cover.
12
Comments

Developed as a modular log management tool, Elastic Stack now has a lot to offer for the management of large IT environments.
iX Magazine
The weekly newsletter from heise +: This time about Windows 11, Linux, charging e-cars, European clouds, smart home entry.
Disclaimer: This article is generated from the feed and not edited by our team.
Sours: https://marketresearchtelecast.com/plan-and-design-flyers-professionally-with-adobe-indesign/175492/
You will also like:
Top 50 InDesign Flyer Templates
I first posted this article back in 2017, listing what was then a fantastic collection of InDesign Flyer Templates. However, as the years have past, design tastes have changed and the range of available templates has markedly improved.
So, today I have revamped this article for 2021 with a completely new list of flyer templates for Adobe Design – and believe me when I say these are the best of the best!.
Carefully selected from our go-to stock site, Adobe Stock, each of these professional flyer templates come in the ready-to-edit INDD format.
InDesign is typically used for large scale printing jobs like magazines, brochures and catalogs, so you may be surprised at the thought of using InDesign to create flyers. In recent years though, Adobe have worked to make InDesign a more versatile and user-friendly design tool, making it easier to use for smaller design jobs like flyers & posters.
Along with improvements that make InDesign a more efficient tool for small flyer design jobs, the growing number of InDesign flyer templates continue to make our lives as designers easier.
InDesign flyer templates are readymade flyer designs in INDD format which can be downloaded, edited and used as a starting point for your next graphic design job.
With the explosion of the design templates market over the last 5 or so years, the focus has typically been on Photoshop. But in a drive to stand out from mediocrity, Quark and InDesign "dinosaurs" have crept out of the woodwork to start offering their own InDesign templates – especially flyers.
Why use InDesign flyer templates?
If you take on a lot of flyer design work, these pre-designed flyer templates are a great asset to have in your graphic design toolbox (or at least bookmarked!). Likewise, for those of you frequently working with InDesign, downloading a range of available flyer and poster templates could be a time saving asset when you need them most. As an added bonus, because each of these templates are premium assets, they can be used 100% royalty free!
In this post we've rounded up some of our favourite flyer templates for InDesign. In our quest to create a useful round-up style resource post, we've included flyer templates for a wide variety of design jobs. You'll find flyer templates for events, realtors and real estate agencies, handyman services, product businesses, corporate clients and more.
The business & corporate style items that InDesign is so commonly associated with are of course included in this post, but it is nonetheless interesting (and hopefully useful) to see just how many different types of flyer templates are now available for InDesign.
Note: as all of these templates are selected from Adobe Stock, if you are using the latest version of Adobe InDesign CC, compatibility is guaranteed and all required fonts will load automatically. How cool is that!?
---
1. Business Flyer Layout with Blue Accents
This modern business flyer template for InDesign balances a highly practical layout with impressive corporate style. Comes with three unique page layouts.
---
2. Brunch Cafe Flyer Layout
A vibrant InDesign flyer template for brunch cafes & restaurants with stylish typography and image placeholders.
---
3. Blue & White Flyer Layout Set
A set of simple but practical flyer design layouts in InDesign INDD format. The simplistic use of image masks and plentiful text areas makes these templates ideal for a wide range of businesses.
---
4. Business Flyer Layout with Pink Accents
Bright pink accents add visual contrast and energetic undertones to this set of simple, clean & minimal business flyer templates for InDesign.
---
5. Hotel Travel Flyer Template INDD
With its practical image and text layout options, this InDesign hotel flyer template is useful for a wide range of businesses, even outside the travel & tourism industry.
---
6. Creative InDesign Flyer TemplateE
Diagonal lines and a modern colour scheme bring a creative flair to this InDesign flyer template. Ideal for a variety of creative business projects.
---
7. Blue Business Flyer / Newsletter
This 3-page collection of blue business flyer templates for InDesign also doubles-up as a newsletter, thanks to its corporate style and heavy use of type layouts.
---
8. Creative Business Flyer INDD
Once again, here we have a strikingly creative business flyer for InDesign with both practical type layout and artistic image placement. Who said corporate flyers for InDesign had to be boring? Nobody!
---
9. Simple InDesign Business Flyer with Modern Style
The simplicity of this INDD flyer template does not take away from its value: in fact, it quite heavily adds to it. Includes both front and back page layouts, each as practical as the other.
---
10. Business Flyer INDD
This simple business flyer indd file comes with two unique page layouts and some bonus icon illustrations.
---
11. InDesign Restaurant Flyer with QR Code
This InDesign restaurant flyer template is the perfect way to promote hands-free menus or social media check-ins thanks to its prominent use of QR Codes.
---
12. Multipurpose Modern Business Flyer for InDesign
When it comes to templates, the more flexible the layout, the more useful it is to you as a designer – and few InDesign business flyer templates are as flexible as this one.
---
13. Grey, White & Red InDesign Flyer Templates
Here's another impressive item by artist TypoEdition. Once again his work is clean, modern and highly practical, brining a modern style to his INDD flyers without sacrificing the overall corporate theme.
---
14. White & Blue Business Flyer Template
Big and bold, but still clean and elegant. This set of three business flyer templates for InDesign by TypoEdition will be a timeless addition to your designer's toolkit.
---
15. InDesign Flyer Template with Photo Placeholders
This super simple InDesign flyer template is ideal for when you need to create a quick indd flyer without too much styling. Simply paste in an image and some text and you're ready to hit print.
---
16. Minimal InDesign Flyer Layout with Yellow Accents
The soft yellow accents contrasts the minimal layout in this impressive type-focused flyer template for Adobe InDesign.
---
17. Bold Real Estate Flyer Template
This bold red real estate flyer template for Adobe InDesign helps you to create property listing sheets and open house announcements with just a few minutes editing.
---
18. Light Blue InDesign Flyer Template
This light blue flyer template for Adobe InDesign is a truly multifunctional template. Don't just use it to make flyers, as this handy INDD file can make flyers, posters, newsletters and even be used as brochure pages.
---
19. Business Flyer Layouts
This impress set of business flyer layouts for InDesign brings together photos, infographic elements and plenty of space for text.
---
20. Creative Event Flyer Template
This creative event flyer template for InDesign features a photo image grid with overlapping text elements and small illustrations.
---
21. Minimal Business Flyer INDD
This INDD flyer template is all about minimalism, featuring a large header image and text areas surrounded by clear whitespace. Perfect for artistic events such as photography exhibitions and fashion shows.
---
22. Multipurpose Flyer Layout for InDesign
With its multipurpose layout, spacious text areas and practical image grid, this InDesign flyer with come in useful time and time again – definitely one to keep on your hard drive!
---
23. INDD Flyer Template with Yellow Accent
The bold yellow accents in this INDD flyer template certainly draw your attention, but cleverly they don't overwhelm the page. This design is a suitable choice for a wide range of creative industries, such as architects & photography studios.
---
24. Modern Corporate Flyer Template
Soft gradients bring a modern touch to the colour blocks in this corporate flyer template for Adobe InDesign. The layout is practical and can be used for just about any type of design project.
---
25. Corporate Event Seminar Flyer Template
In this corporate event flyer template, a bold swash brings energetic colours to the page whilst cleverly wrapping an image mask. Available in INDD format.
---
26. Black & Gold InDesign Flyer Template
The black and gold colour scheme used in this InDesign Flyer Template makes it a well-suited option to financial clients such as investment firms and banks.
---
27. INDD Product Flyer Template for InDesign
A big headline and bold yellow colouring ensures the message in this INDD product flyer is hard to miss. Although all colours are of course editable, the use of bright yellow makes this design particularly well-suited to hardware stores and industrial products.
---
28. Product / Service InDesign Flyer Template
Here we have another multifunctional flyer template for your indesign projects. Featuring a mix of photo and text placeholders across two pages, you'll create professional flyers for your clients in just a matter of minutes.
---
29. Simple INDD Business Flyer Template
This simple INDD Business flyer template showcases impressive typography and layout skills. Although the design appears simple at first glance, this is actually a highly practical template that can be used for any type of InDesign project.
---
29. Pink Cosmetic Service Flyer Template
The pink colour scheme with thin geometric lines makes this design an ideal choice for cosmetic services and beauty salons. Furthermore, the simple image masks and clean text layouts makes customising the template quick and easy.
---
31. Corporate InDesign Flyer Template for Business Expos & Seminars
Trendy patterns and hexagonal shapes bring a decidedly modern feel to this Corporate flyer template for InDesign.
---
32. Handyman Construction Service InDesign Flyer Template
Although we've featured a lot of generalised creative business flyers, this handyman flyer deserves to make the list. As equally useful as its counterparts, but this time with slightly more niche styling.
---
33. Mobile App InDesign Flyer Template
Who said mobile applications should only be promoted online? This Mobile App Flyer Template for InDesign brings old-school marketing methods to new-school technology.
---
34. Open House InDesign Flyer Template
Create vibrant eye-catching flyers for realtors, real estate promotions and open houses with this easy to use template for Adobe InDesign.
---
35. Real Estate / Open House Flyer
Following on with the same style as our aforementioned item, this INDD Real Estate / Open House flyer template does exactly what it says on the tin.
---
36. Modern Church InDesign Flyer Template
typically, church marketing resources are old, boring and traditional. Not this design. This Modern Church Flyer for InDesign features a clean, current & contemporary design that resonates with the youth of today.
---
37. Mobile App INDD Flyer Template
Another Mobile App Flyer for InDesign, this time with multiple layouts and bold red accents. Ideal for when you want to promote mobile apps using offline promotions.
---
38. Creative InDesign Flyer with Pink Accents
Creative InDesign Flyer Templates like this one are an easy way to bring modern and creative flair to corporate style layouts.
---
39. Handyman / Contractor InDesign Flyer Template
Although billed as a hand many flyer, this flexible INDD template could actually be used for a variety of industries. The bullet point checklist is a great way to give readers a quick overview of services offered, features & benefits.
---
40. Corporate InDesign Flyer Template
The circular patterns with subtle gradients give this corporate indesign flyer template a modern makeover. Ideal for modern tech companies and those looking to refresh tired marketing materials.
---
41. Medical InDesign Flyer Template
With its medical theme, this flyer is particular current under "new normal" circumstances. Although, with that said, the simple layout can be customised for just about anything.
---
42. Simple InDesign Flyer Layout
Although a simple flyer by many measures, don't overlook this design's utility. Yes, it is simple, but think just how much time it'll still save you versus starting the design from scratch…
---
43. Travel Flyer Layout for InDesign
With its classic travel industry style and large pricing bubble, this flyer will come in perfect for the rebound in local tourism.
---
44. Clean Corporate Flyer Layout
They say good design is invisible, and I think with this clean corporate flyer, we truly see what. Nothing is out of place, yet the canvas look minimal. Ideal for companies with an artistic edge – think interior designers, art galleries, fashion shows and photographers.
---
45. Blue Real Estate Flyer Layout
This big 'n bold flyer is a great way to get your message across to passersby or in-store customers. A variety of text layouts gives you all the options you need to clearly display your message.
---
46. Red Corporate Business Flyer for InDesign
The main text elements in this flyer & poster template come coupled with icons, helping draw the reader's eye to your message whilst also making it easy to read.
---
47. Green Corporate InDesign Flyer Template
The green colour scheme in this corporate InDesign flyer layout could be used to indicate eco environmentally friendly credentials, or changes to any other colour you desire.
---
48. InDesign Business Flyer with Gradients
Cool blue gradients in this InDesign business flyer template bring a medical theme to the page. Ideal for hospitals, clinics and other medical services.
---
49. InDesign Flyer Templates with Geometric Symbols
Our penultimate design in this epic list of indesign flyer templates comes with not one, but six unique layouts. The artistic style makes these designs well-suited to upscale companies & forward thinking education facilities.
---
50. Corporate Flyer Layout with Green Theme
Last but not least: this corporate flyer layout with green theme tops off our list of best indesign flyer templates. Its bold colours, legibility and flexible layout make it a top-choice layout for any Adobe InDesign user!
Article last updated: 21st August, 2021.
Sours: https://designercandies.net/top-indesign-flyer-templates/
1292
1293
1294
1295
1296