Fire Up Dyslexic Reading: Use Kindle Fire for Tracking
Kindle Fire + Dyslexia
The new version of the Kindle Fire
tablet comes with Immersion Reading.
"Fire tablets can synchronize Kindle text with companion Audible audiobooks with real-time highlighting to create a more immersive reading experience, as well as deepen learning and comprehension. More than 60,000 Kindle books and companion Audible audiobooks are available across a wide array of genres." This is game changing for dyslexic readers! They benefit dramatically from tracking, which means hearing and seeing the text simultaneously.
Why Tracking is an Important Dyslexia Tool
Dyslexic learners exhibit a reading difficulty when taught by standard methods, but also come with outstanding learning strengths. Drs. Brock and Fernette Eide detail these strengths in their book, The Dyslexic Advantage
. One of the dyslexic MIND strengths is Interconnected Reasoning, or pattern-finding. Dyslexic learners often pick up on patterns that others miss. They connect things others didn't know were connected. They rejoice in complex patterns, like mathematics and music theory, that make linear thinkers cringe. Great teachers know that the best learning occurs when teachers emphasize strengths rather than focus on weaknesses.
Audio Books: The Ultimate Reading Tool
So how do you help a dyslexic reader back up and get a big picture perspective on the text? You give them an audio book PAIRED with a printed book and show them how to track along. This allows them to focus on the important ideas and flow of language, while letting their pattern-finding brain start to sort those pesky words into place by seeing them and hearing them IN CONTEXT. Meaning is everything to a dyslexic learner, so separating the words into bits can actually backfire. Ron Davis, author of The Gift of Dyslexia
, found meaning was crucial for dyslexic learners. He used clay modeling as a way to visualize meanings of words. That's an amazingly effective tool. So is tracking. Use both with your dyslexic reader!
No more Dumbing Down Books for Dyslexics!
Because dyslexic readers often test low in reading speed and comprehension (slow speed destroys comprehension) they commonly get low level books to read. Big mistake! Since most dyslexic learners are intellectually advanced — years beyond their peers perhaps — easy reader books do not motivate them to love reading! Audio books paired to text allow dyslexic readers to delve into any subject that fascinates them.
Do Audio Books Make "Lazy" Readers?
No! This myth has been repeatedly de-bunked by research. For a great discussion see Why 'Tyrannosaurus' But Not 'If'?
by Richard Whitehead. He explains that the dyslexic reader will "form a direct cognitive link from what words look like to what they mean." (p. 14)  This bypasses sound. It bypasses phonics, the bogeyman of the the dyslexic reader. This uses the dyslexic strength of pattern-finding! In the past, only dyslexics with parents who had time to read aloud for years while the student followed along would make the leap to fast silent reading. Paired audio and print books open this door for any reader with a Kindle Fire
or a local library that checks out paired audio and print books. Many libraries do this now because of the demand for English Language Learning, so ask! It's works for ELL, AND it's a powerful tool for a dyslexic reader.
by Yvonna Graham, M.Ed.
Author of Dyslexia Tool Kit for Tutors and Parents
www.dyslexiakit.net
Kindle Fire
dyslexia, dyslexic advantage, e-readers, home education, learning, reading, teaching, twice-exceptional, vocabularydyslexia, dyslexic advantage, e-readers, education, homework, kindle fire, overcoming dyslexia, phonics, reading, tutoring, visual processing. permalink.
---
Sours: http://www.dyslexiakit.net/dyslexia-reading-kindle-fire-tracking/
Editor's note:  The following is by no means a complete comparison of all available tablets; nor is it a comprehensive review of each of the tablet's overall functions. The intent with this project was to look at features that would be relevant to someone looking for assistive technology features to help compensate for dyslexia. All references to the iPad in the article and sidebar notations are to Siri-equipped iPads.
Over the past couple of weeks I have been lucky enough to review three of the most popular tablets—the iPad mini, the Nexus 7, and the Kindle Fire HDX. Instead of focusing on battery life, pixel density, and processor speed, I took a look at the features that would help people with dyslexia and other disabilities. All three tablets have some features that are perfect for dyslexics. To figure out the one that is right for you, think about which features are most important to you as you read the reviews.
Overview:
When looking for a tablet for someone with dyslexia, be sure to weigh a number of variables to make sure you get the features that are most helpful, and to get the best value, for your needs.
First, you want to consider what the tablet will be used for. Will it be used primarily for reading books and browsing the web, or will it be used to type documents, read email, and edit movies?
Generally, for people with dyslexia, it is essential that the tablet have built-in text-to-speech with a high-quality voice. All three of these tablets have text-to-speech, but the way it is implemented differs from tablet to tablet. The iPad allows text-to-speech to be activated in a few taps when reading webpages and text in other apps, including Safari, Mail, and many third-party apps, including The New York Times newsreader app. The other tablets require a more time-consuming process to activate text-to-speech in all apps.
Next, app quality and quantity are also important considerations. Currently, the iPad is ahead in terms of app support, but the Nexus 7 is not too shabby in terms of third-party app selection either. Apple's lead in terms of third-party app selection continues to narrow. See the ecosystem and apps section below for more information about app selection. If the person with dyslexia uses Bookshare or Learning Ally, it is important to make sure that the tablet has apps to support those services. Bookshare is an online library of digital books for people with print disabilities, and helpful to dyslexics, and Learning Ally provides audio books—some with text—for people with reading disabilities. Both the Nexus 7 and iPad mini have Bookshare and Learning Ally apps. The iPad's apps for downloading and reading Bookshare books have many more features than the Nexus 7's Bookshare app.
Design: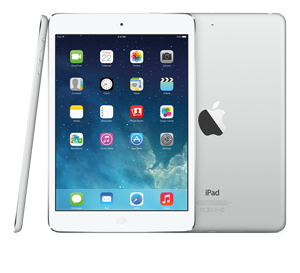 The software that runs on the tablet is far more important than the shell on the outside, but you still have to be happy with the way your tablet looks and feels. The iPad mini is the largest of the tablets, yet it is easy to hold in one hand, though not as easy as the smaller Nexus 7 and Kindle Fire HDX 7″. The iPad mini has an all-metal and glass design that makes it feel worthy of its higher price tag. Both the Nexus 7 and Kindle Fire HDX have plastic backs that feel nice in the hand, but feel slightly less classy than the iPad mini. The look and feel of the back may not matter much for many users who use cases for protection. All of the tablets are remarkably light, so holding them for long periods of time should not be an issue for most people.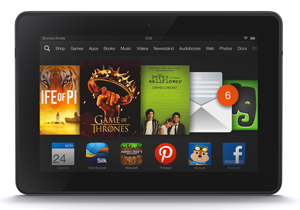 People who plan to use the tablets for text-to-speech and audio books will need to give consideration to speaker quality, and where the speaker is positioned. For their size, all three of these tablets have good speakers. They all include dual speakers and have good sound quality. The Nexus 7 and Kindle Fire both have speakers on opposite ends of the device, which dramatically decrease the inadvertent blocking of the sound while being held, but the iPad mini's speakers are both at the bottom of the device, making it possible, although not likely, that you might block the speakers depending on where you position your hands. While the placement of the speakers may not be an issue for you, the differences are worth noting.
Operating System:
All three tablets have different operating systems, meaning their software behaves differently. The iPad mini runs iOS 7 which is easy to use and smooth. iOS has the best built-in accessibility features of the bunch, with a well-polished screen reader called VoiceOver that can read almost anything on screen aloud using text-to-speech. iOS also includes Speak Selection which lets users highlight text and listen to it read aloud using text-to-speech.
Android 4.4 KitKat which runs the Nexus 7 is another solid operating system. Without getting too much into the iOS vs. Android debate, the Android is a little less intuitive to use, but permits more customization than iOS. Android allows for home screen widgets—a widget is a small app that can run on the home screen—which, while useful, can also clutter the home screen and make it more confusing to use. Android also includes a screen reader called TalkBack, but it is not as polished as Apple's VoiceOver. One of VoiceOver's biggest advantages is that it works with more apps than TalkBack.
The Kindle Fire HDX runs Fire OS 3.0, which includes a screen reader much like Android's TalkBack, but requires you to use the Amazon ecosystem. So, if you buy a Kindle, you have to buy books, magazines, and apps from Amazon, which is limiting. The Kindle Fire has an interface that is easy to use and puts your content at the forefront. Your apps, books, magazines, music, and movies figure prominently on the home screen for quick access.
Reading Features:
These tablets all have unique reading features that distinguish them from each other, but each of the devices allows users to highlight and annotate books, as well as define an unfamiliar word with just a couple of taps.
One of the best and most appealing features on the Kindle Fire HDX is called Immersion Reading. Immersion Reading syncs highlighted Kindle text with professionally narrated audio from Audible for a seamless and elegant reading experience. Immersion Reading gives you the best of both worlds by allowing you to listen to professional narration while following along with the text. The one negative of Immersion Reading is that you must own both the Kindle text version and the Audible audio version of a book. The costs can add up quickly if you use Immersion Reading frequently. The Kindle Fire HDX also allows you to read select books using text-to-speech. The text-to-speech voice sounds good—better than the Android and iOS default voice—but you can't speed up the speaking rate.
A Note from YCDC's Education Editor, Kyle Redford

Those who use Kindle Fire would say the biggest downside of the iPad is the synthetic voice that reads back to you. The human voice capability and ability to link text and audio version of the book is the most attractive feature for my students—so much so that my students have sometimes purchased a Kindle (despite having iPads) for the reading because the experience is so profoundly different. They also love the highlighting that the Kindle does, but they would give that up to have the human voice.
The Nexus 7 also includes reading features that can benefit people with dyslexia. Google Play Books, which is Google's e-book store, allows you to read books with text-to-speech with synchronized highlighting. The default voice isn't as good as the Kindle's default voice, but you can download higher-quality voices. For users of Bookshare and Learning Ally, the Nexus 7 has Android apps for both of these services. Unfortunately, the Bookshare app for Android (GoRead) is not as good as the Read2Go app for iOS or
Voice Dream Reader, another app that can read Bookshare books. The iOS apps generally have more customizable user interfaces and more advanced annotations options. The Android Bookshare app, GoRead, is more simple and lacks some useful annotation options that are present on the iPad.
The iPad has the best third-party app support for reading. Users of Bookshare and Learning Ally can read their books with great iPad-optimized apps. The iPad app Voice Dream Reader lets you read many documents and books, including Bookshare books, using text-to-speech. Voice Dream is the best text-to-speech app for mobile devices right now and is only available for the iPad and iPhone. The iPad can access Kindle books using the Kindle app and they can be read aloud with text-to-speech using VoiceOver. However, VoiceOver does not highlight the words as they are spoken. Apple's own iBooks app underwhelms in terms of accessibility features for people with dyslexia. iBooks can be read with text-to-speech using VoiceOver, but VoiceOver does not highlight as it reads and it takes time to learn how to use it properly.
The iPad's Speak Selection feature makes it easy to read webpages, emails, and documents using text-to-speech. To use Speak Selection, just highlight the words you want read aloud and press speak. Speak Selection can also highlight words as they are spoken so you won't lose your place in the text.
Other Helpful Features:
All of these tablets have other useful features; both the Kindle Fire HDX and Nexus 7 include comprehensive multi-user support. On the Nexus 7 you can create a separate account for a student or child that only allows them to use certain apps on the device. Even if multiple users use the same apps, they can each set them up the way they prefer.
How Speech-to-Text Transformed a Student's Fifth-Grade Year
Kyle Redford explains how using text-to-speech can help students with their writing assignments.
Learn more.
The Kindle Fire HDX includes Amazon Free Time which can restrict the time your child or student can use the device for certain tasks. For example, you could permit only 30 minutes of video watching, but give time for unlimited reading of a Kindle book. Amazon Free Time also lets adults limit which apps and content are available for children. The iPad has a similar feature called Guided Access, but you can only allow the child to use one app at a time using the Guided Access feature.
All three tablets also include speech recognition that allows you to speak into the tablet and then have your words appear as text. The Nexus 7 and Kindle Fire HDX allow you to dictate even when you are not connected to the Internet. The iPad does require an Internet connection in order to use dictation.
The Kindle Fire HDX includes a really cool feature called Mayday. If you are having trouble doing anything with your Kindle Fire HDX, you can press the Mayday button to be connected with a live Amazon agent in about a minute. You can see the support agent's face, and he or she can see your Kindle Fire's screen. They can then walk you through the steps needed to resolve your difficulties. I found the support staff knowledgeable and able to help out quickly. Mayday is how tech support should always work.
Ecosystem and Apps:
It's important to consider the ecosystem of each tablet. The ecosystem determines which apps, books, magazines, and songs are available for your device. The iPad has the best app selection, especially for assistive apps. To see a list of the apps I use as a dyslexic student, click here.
The Nexus 7 utilizes the Google Play store for apps, and its offerings are solid. Currently, you will not find all of the top assistive apps on the Nexus 7, but you will likely find almost all of the big-name apps.
The Kindle Fire HDX has good app support, but it falls behind both other tablets. The Kindle is locked into Amazon's ecosystem for all apps and books, while the other tablets can download content from multiple sources.
Conclusion:
All of the tablets have solid reading features for people with dyslexia. Which tablet would be best for you, your students, or your child? If using Bookshare or Learning Ally on the tablet is important to you, you should not consider the Kindle Fire HDX. Both the Nexus 7 and iPad support Bookshare and Learning Ally, but the iPad apps offer a better experience for using these services. If you're not a Bookshare or Learning Ally user and have money to spend on Immersion Reading books, the Kindle Fire may be the best option for you. Just keep in mind that the Kindle does not have quite the app selection of the other tablets. If you want a full-featured tablet and you're on a budget, the Nexus 7 is a very good option. If you have the money to spend on the iPad, with its unmatched app selection and robust built-in accessibility features, it is your best bet.
Pricing and Availability:
The Kindle Fire HDX 7″ is available for $229 from Amazon.com. The other Kindle Fire varieties also have Immersion Reading, but only the HDX models have the Mayday support. The iPad mini starts at $399 from Apple and the Nexus 7 costs $229 from Google Play. (As of Spring 2014)
About the Author

Brian Meersma is a dyslexic high school senior from New Jersey. Brian uses assistive technoloy both in and out of school to help him read and write. Brian presents about different assisitve technologies to parents, students and educators. He also maintains an assistive technology blog (bdmtech.blogspot.com).
Sours: https://dyslexia.yale.edu/resources/tools-technology/tech-tips/tablet-comparison/
Topic | Kindle or other device for dyslexic child?
Have any of you used a kindle or other e reader or tablet with your child with learning difficulties?  I'm specifically wondering about text to speech capabilities or audible versions that are linked with text as it is read vs. a simple e-reader.

We have a standard 10 year old birthday gift that we give in our home- a kindle paperwhite.  Two of my children have received this so far and our nine year old who is dyslexic has started hinting about her 10th birthday and how she is anticipating this gift (which has not been promised to her).  Since our nine year old is likely far more interested in owning the gadget than she is in reading on it, my concern is that it would just become a toy.

I do want to encourage her in her personal reading (we do read alouds mostly since her reading level is far below her ability to comprehend), so I'm tempted to go with a model such as kindle fire which would have audible capabilities.  However, since my goal for its use is solely for reading I am loathe to give her something that I would normally deem as only appropriate for "electronic time," which we monitor very closely.  The beauty of the basic kindle paper white is that it is simply an e-reader and I know that is what it is being used for.

Thanks for any advice!

Valerie

Our dyslexic daughter is currently 10yo and is in Level 4, Lesson 13 of the Barton Reading and Spelling Program, so she has 2 lessons to do before she's "allowed" to go read anything she wants. So we haven't given her a Kindle or other device for reading.

However, she does have access to a Kindle Fire and both my Samsung Tab A and my husband's Tab A for listening.

If you use the Fire on the kid side (under a profile for a kid), there is NO access to the parent's Audible or Amazon music. Read thru the questions and answers before buying it for that reason (we were sorely disappointed. And I still feel like I wasted my $40).

Also, the Fire does not support the Learning Ally app. We bought a subscription to Learning Ally bc of all the living books they have as audios, and my daughter enjoys listening to those. And I assign them as her history reading.

On top of all that, I did finally find a music playing app for the Fire, but in order to listen to their stories and songs, I had to hook the Fire up to the computer and drag and drop all the music/stories they wanted. And the Fire was very finicky about which folder they got dropped into. It was a long, stupid process.

So, from a listening point of view, in our opinions, the Fire is NOT what you want to buy.

I don't have a Paperwhite, mine is an older Touch model, and this particular daughter hasn't even asked to read on it. When she's reading on her own, I will definitely consider it, because I think making the font bigger and the touch-dictionary are just fabulous.

So, if she's not reading on her own yet, perhaps a listening device would better serve her needs.  In my opinion, NOT a Fire. ?

I forgot to say that while the beauty of the Fire is the kid mode, other tablets have kid mode as well, or you can set up a profile for the kids.

The Fire allows you to control which books in your Kindle library the kids have access to. Another tablet will just either allow or not allow access to the Kindle app.

The Fire has great parental controls – you can say how long they can play games (and which games), how long they can read, can block the whole internet or allow certain sites (you pick), and the Fire will turn itself off when the kid has reached their limit.

Now, several months into this, our Fire is being stupid and won't recognize my parent password (!), so the controls on ours are messed up and just a pain.

On the other hand, our Tab A's, which were more expensive, I can lock a kid into an app, and they can't get out without my password. But all my music playing apps and most important, Learning Ally is available.

I wouldn't recommend the Kindle Fire either. We had one briefly and it was so incredibly un-user-friendly and their parental controls were such a pain that it was well worth sending it back and spending an extra $50 for a Samsung Galaxy…Tab 4 I think it is. I downloaded an app called Kids Place and I can put whatever apps I want from the tablet in there for my kids, including Audible or the Kindle app, (and have a different profile for each kid) and that's all they can access on the tablet. Plus I have access to all the apps in the Google Play store, whereas the Fire has a very limited selection of available apps in comparison, and you can't get others unless you side load them from the designer's websites in which case you can't put them in the kid accounts anyway.

I don't have a dyslexic child, but ds12 is not an avid reader and reads more slowly than my girls.  He has a kindle and it is useful to him.  This year I put the kindle app on his phone and the bonus with that is that I can also get the audible whispersync version.  He can read along while it's being read aloud.  This is tremendously helpful to him! We don't do this with every book, but with a good number.

This article maybe could be helpful-https://homeschoolingwithdyslexia.com/how-the-amazon-kindle-can-help-the-dyslexic-reader/

Thank you so much for all the input.  I really appreciate it and it has helped me narrow down what I'm really looking for in a device.

My husband thinks we should stick with the more basic kindle paperwhite that will still allow her to change the font and type settings to better suit her needs.

In the meantime, I think I'll look into apps and things that will make my own iPad or android phone something I could allow her to use from time to time.
The topic 'Kindle or other device for dyslexic child?' is closed to new replies.
Sours: https://simplycharlottemason.com/scmforum/topic/kindle-or-other-device-for-dyslexic-child/
Kindle paperwhite - is it a game changer for dyslexics?
How the Amazon Kindle Can Help the Dyslexic Reader
As parents and teachers of dyslexic students, we are always trying to find ways to help these struggling readers learn to enjoy reading and learning. One way you can do this is by using an Amazon Kindle for your dyslexic reader.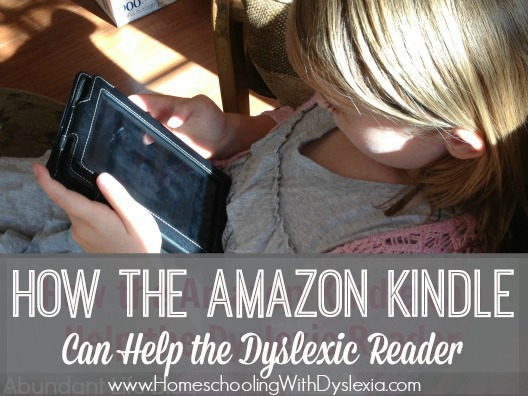 As parents and teachers of students with dyslexia, we are always on the lookout for ways to help these struggling readers learn to find success and enjoy reading. Large print, specialized fonts, and audiobooks are just a few of the accommodations we can make.
There is another resource that you may already own without realizing it – Immersion Reading on the Amazon Kindle.  Amazon and Audible (their audiobook arm) have paired up to provide some excellent new technologies that make owning a Kindle Fire just that much more awesome. Now in addition to surfing the web, answering emails, downloading apps and books, unlimited free cloud storage, and watching movies via Amazon Instant Video, Amazon offers the following features:
Whispersynch Technology
Whispersync technology enables readers to switch, without losing their place, between different devices while reading a Kindle book or to start watching a video on a Kindle Fire and pick up where they left off on an Internet-connected TV.
For example, I own a Kindle Fire and an iPhone. When I buy books on Amazon, I choose to have them downloaded to my Cloud rather than any particular device. That way when I access my Amazon Kindle Reader (free downloadable app) from my iPhone or Kindle I can download the book to any or all of our devices that have the Amazon Reader App. Now I can be reading a book on my Kindle and if I am out without my Kindle, I can access the book (without losing my place) on my iPhone.
Also, I don't know about you, but with a houseful of bright minds that are late readers, we listen to a LOT of audiobooks. There is little more frustrating than losing your place in an audiobook, no? Especially when your 9-year-old comes to you with the iPod (we have a designated iPod just for audiobooks) asking you to find her place in a 4-hour book when neither of you has any idea where she was. So that is nice, but it gets better.
Whispersync for Voice
With Whispersync for Voice, Kindle and Kindle Fire users can now switch seamlessly between reading a book and listening to the Audible edition on any iOS or Android phone, still without losing their place. This means that if I am listening to a Whispersync-enabled Audible audiobook and want to go read the book, my device knows where I was in the audiobook and offers to sync to that page. No searching and rereading trying to find my place.
Whispersync for Voice is nice but how will it help the dyslexic readers in my house?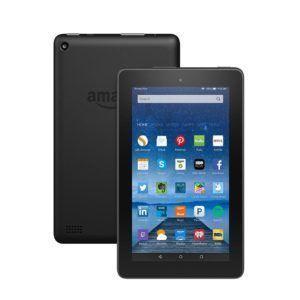 Immersion Reading for Whispersync for Voice
With Immersion Reading for Kindle Fire and Kindle Fire HD,  Kindle edition books are synced to the corresponding Audible audio edition AND as the books are read the text is highlighted while it is narrated via the Audible audiobook.
We have long used audiobooks and had our dyslexic kids listen to the book as they followed along in the paper version. The trouble is that they can often lose their place and end up just listening, thus losing the multi-sensory input. The benefits of this immersion-type of listening are similar to those of the Neurological Impress Method (NIM). In this instructional method, the parent (or tutor) reads a text that is slightly above the student's reading ability while running their finger under the text.
This multi-sensory instruction allows the child to see and hear the words at the same time and is very effective for building word recognition and fluency.
There are nearly 15,000 Kindle books and Audible audiobooks available for Immersion Reading and Whispersynch for Voice as well as a nice selection of free sets including, The Adventures of Huckleberry Finn, A Tale of Two Cities, The Three Musketeers, Gulliver's Travels and other classics.
For a list of Kindle Edition Books with accompanying Audible Audio editions with Whispersync technology, click here.
To see a list of the FREE Kindle Edition books with FREE Audible Audio edition, click here.
If you don't have the second generation of Kindle Fire or one of the newer Kindle Fire HD devices, you can still access the Whispersync technology and the free Kindle books and Audible versions just without the Immersion Reading technology. All you need is a Kindle and the free Audible app that comes pre-installed on your Kindle.
The new Kindle Fire (second generation) and the Kindle Fire HD also come with a text-to-speech function. While this is nice (my kids don't seem to mind the computerized voice) there is really no comparison between a professionally recorded narration such as those offered by Audible and a monotone digital text-to-speech voice.
When E-Readers first came out, there was some concern about whether it was really good for children to read digital versions of books. If you are in doubt, read the following list of benefits (that can also help people with dyslexia) of reading books from an E-Reader:
Other E-Reader Benefits
1. Changing the font size of the text and the number of words on the e-reader screen can help students customize the text to their preferences, which can be especially helpful for struggling readers.
2. Using the built-in dictionary function of some e-readers may help students quickly define words they don't know and provide pronunciation information that can help them sound out unfamiliar words.
3. Having students record their thoughts or respond to specific questions with the "notes" feature of some e-readers provides insight to their comprehension of the text.
4. The text-to-speech feature of some e-readers could provide instant support for struggling readers to better understand a text by reading aloud the words that cause them the most difficulty.
If you have been looking for some technology to help your struggling reader enjoy reading, consider the Amazon Kindle. If you want the added benefit of text-to-speech and Immersion Reading Technology, click here for more info on the Amazon Kindle HD for $44.99.
This post contains affiliate links. I earn a small amount of any purchase that you make at Amazon by clicking on a link on the Homeschooling With Dyslexia site. You pay no more and your purchase is completely anonymous; I will not know who ordered or what was ordered. Also, I never post about products or services that I have not used and loved!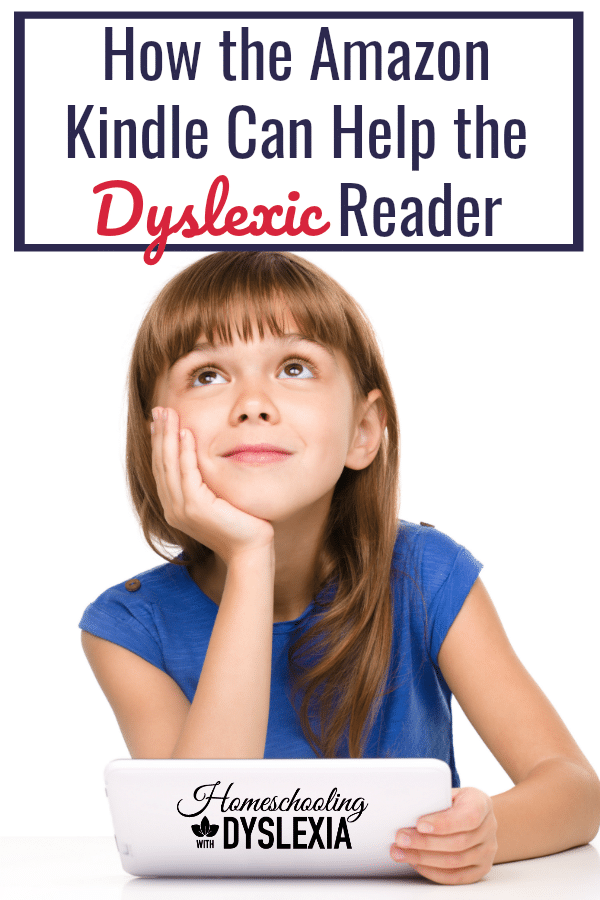 Related
Sours: https://homeschoolingwithdyslexia.com/how-the-amazon-kindle-can-help-the-dyslexic-reader/
Dyslexia kindle
Many people who contact me are still not aware that Kindle has a 'dyslexia font' to add to your device.
Indeed, the Dyslexia font – was rolled out a while ago now, so to remind anyone that receives a one from Father Christmas this year, you can add this, and it will make it much easier for people with dyslexia to read.  (Actually, I have found quite a few people have told me they also have found it more comfortable, even though they haven't got dyslexia.  Why not give it a go anyway, and see what you think?  I have put the links at the bottom of this article.  (It's a sneaky way to make you read it all!)
Anything that makes it easier for people with dyslexia to read has got to be a good thing.  I had been using the Kindle for years before some kind-hearted person told me about this function.  I am really pleased that these companies are trying their best to help people with learning disabilities.
The Kindle is designed to make it easier for individuals with dyslexia to read, and many people with dyslexia agree they do actually find it more accessible.
The font used is called 'OpenDyslexic'. The typeface includes standard font styles, such as regular, bold, italic, etc.
Go to the settings page, pick out 'font', and you will see 'OpenDyslexic' on the right-hand side.
If you have older Kindle's, you can get an update here:
Kindle Update v5.7.2 Adds Open Dyslexic Font, New Home Page (Screenshots) | The Digital Reader
Dyslexia font – Amazon rolled out a significant software update a while ago for all its e-readers. And apparently, this works on all current models, including the basic Kindle, the Voyage, and the latter two paperwhites.
Update available here https://the-digital-reader.com/2016/02/02/kindle-update-v5-7-2-adds-open-dyslexic-font-new-home-page-screenshots/
Sours: https://dyslexiaa2z.com/did-you-know-the-kindle-has-a-dyslexic-font-on-it/
I have dyslexia. Here's how I read the web.
Only, Julia, we have everything as real - both bathing, and dressing up, and swaddling, and everything else, - said Zhenya. I have everything ready, come and show me. '' We went into the bedroom.
You will also be interested:
Here we will talk about one such case. Autumn passed, then winter; spring, having sent its messengers, Marta and April, put things in order on the streets of Moscow. The eldest, hottest brother Mai took over.
1247
1248
1249
1250
1251