Unique Halloween Costume Ideas Based On Your Sign That No One Else Will Be Wearing
In the age of Pinterest, thinking of a creative DIY Halloween costume can be a huge challenge. So, sometimes it's best to choose a theme that feels super familiar and go from there — after all, the more you know about it, the more authentic you can make your costume. If you're into astrology, then what could be more familiar than a creative astrology Halloween costume based on your sign? It's a fun way to show off your personality within your look, and it's also unique because it takes a little bit more creativity than just copying the outfit of your favorite movie character (not that those costumes aren't awesome too!).
Depending on what your sign is, coming up with the right costume can be a little tricky. Some astrological signs have symbols that make things easier (like a Leo, represented by a lion), but others have symbols that are, uh, slightly more complicated (I'm looking at you, Libra). Luckily, if you're looking for ideas, we've already done most of the work for you. While you might need to buy a few costume accessories, you should have most of the items on hand. Plus, with horoscope costumes, an impressive makeup look can go a long way — YouTube is full of tutorials for really cool astrology makeup tutorials. Show off your personality this year with these Halloween costumes based on your sign:
Check out the entire 'What's Up, Boo?' series and other videos on Facebook and the Bustle app across Apple TV, Roku, and Amazon Fire TV.
1. Aries (March 20 - April 20) - Ram
The Aries sign is represented by a ram, which makes sense since an Aries is a bold, confident force of nature. To dress as a ram, wear brown leggings and a brown top to start. You'll definitely need horns, and clogs with shearing fur make a nice alternative to uncomfortable costume hooves.
What you'll need:
Brown crop top, $4, Boohoo| Brown leggings, $17, MandCo| Brown clogs, $70, 6PM| Ram pendant necklace, $51, Neiman Marcus | Aries astrology studs, $107, Wolf and Badger| Ram horns, $24, Amazon
2. Taurus (April 20 - May 21) - Bull
A Taurus is represented by a bull, which, as it turns out, is not super easy to make into a wearable costume! So, cheat a little bit — a Chicago Bulls top or bodysuit will get the point across, especially if you add horns and a fake septum piercing. This is actually a really cute look (minus, you know, the horn headband).
What you'll need:
Chicago Bulls bodysuit, $52, Nordstrom| Black jeans, $65, Topshop | Black ankle boots, $25, Charlotte Russe| Bull pendant necklace, $35, Zappos | Faux septum ring, $7, Hot Topic| Bull horn headband, $7, Amazon
3. Gemini (May 21 - June 21) - Twins
The Gemini symbol is twins, because Gemini's truly have two different personalities, and you never know which one will come out. The easiest way to go as a Gemini is have a friend dress as your twin in the same outfit. But even if you don't have someone, you can keep it simple with a Gemini shirt and something like this awesome two-face makeup tutorial. The hat (it says "cute but pyscho") is a fitting touch.
What you'll need:
Gemini shirt, $26.99, Etsy| Jeans, $39, Dorothy Perkins| White sneakers, $45, Keds | Two tone tote bag, $22, Zaful| Cute but psycho cap, $12, Kohl's
4. Cancer (June 21 - July 23) - Crab
If you're a Cancer, you're in luck — dressing like a crab is not super difficult! Go for an all red ensemble, and if you're into being a little silly, get a crab hat like this one (it's more authentic!). For a cute addition, get some fish net, then do a little crafting to drape it over your shoulders like a shawl.
What you'll need:
Red top, $32, Chicwish| Red jeans, $37, JcPenny's| Red sneakers, $75, Yoox | Seashell bag, $27, Dolls Kill| Decorative Fish net, $5, Amazon| Crab hat, $7, Amazon
5. Leo (July 23 - August 23) - Lion
A Leo is another sign that makes for an easy costume, and it's also an excellent excuse to wear a tutu. Brown tights and a tan shirt make up the "body" of a lion, while a gold or light brown tutu can be "fur." Add some lion ears and a tail, some cool lion makeup, and boots — you'll look comfortable and adorable.
What you'll need:
Brown sweater, $53, John Lewis | Brown tights, $36, Title Nine| Brown UGG boots, $146, Stylebop| Gold tutu skirt, $13, Amazon | Lion headband and tail, $4, Amazon| Crown necklace, $21, Bling Jewelry
6. Virgo (August 23 - September 23) - The Maiden
A Virgo sign is represented by the Maiden, and the dates fall around the time of the harvest - the Maiden is typically holding a corn stalk. It's not exactly easy to dress as the Maiden when you have barely any idea of what it entails, so imagine a fun woodland woman as your costume. A gold slip dress and sandals do the trick. Get a little crafty with some autumn wreaths and make your own flower crown fit for a harvest maiden.
What you'll need:
Gold slip dress, $39, Sans Souci | Gold sandals, $17.90, Make Me Chic | Virgo scarf, $222, Italist | Fall wreath, $19, Kirklands| Corn on the cob earrings, $9, Unique Vintage
7. Libra (September 23 - October 23) - Scales
The symbol for a Libra is a set of equal scales, which is fitting since Libras are known for being fair, balanced, and gracious. Since it seems kind of impossible to dress as scales, we went for the balanced theme — and what displays that better than yoga? It's cute, easy, and extremely comfortable. Add some Libra jewelry and nail polish to make the look a little more obvious.
What you'll need:
Yoga tank, $20, Etsy| Yoga pants, $126, Mode Sportif| Sandals, $26, Zappos | Libra necklace, $83, Wolf and Badger| Libra earrings, $18, Novica| Libra nail polish, $18, Revolve
8. Scorpio (October 23 - November 22) - Scorpion
Scorpios are passionate and emotional, and are often referred to as one of the darker signs. They are represented by a scorpion, a deadly creature. That said, it seems fitting to wear all black if you're trying to dress as a Scorpio for Halloween. Add scorpion earrings for a nice touch and dark lipstick to really vamp it up.
What you'll need:
Black bodysuit, $189, For Love and Lemons| Vegan leather pants, $45, Nasty Gal| Black ankle boots, $33, Boohoo| Scorpion earrings, $27, Novica | Scorpio necklace, $18, Bling Jewelry| Dark lipstick, $26, Sephora
9. Sagittarius (November 22 - December 22) - Centaur
A Sagittarius is represented by a centaur, which is really not easy to make into a costume! You could get super creative and crafty and make your own centaur body/legs, but if you want to keep things simple, opt for these costume "beast" legs. Finish off with a bralette top, horns and a flower crown, and of course, a bow and arrow.
What you'll need:
Fur legs, $15, Amazon | Brown bralette top, $10, Pretty Little Thing| Bow and arrow, $14, Amazon| Woodland fairy horns, $9, Amazon| Sagittarius necklace, $18, Bluefly
10. Capricorn (December 23 - January 20) - Mountain Goat
A Capricorn is represented by a goat, and the easiest way to dress like that is to opt for an white. Goat ears and a tail are essential, and fringe booties almost look like hooves.
What you'll need:
White jeans, $112.50, The Out Net | White tee, $21.99, The Gap| Fringe booties, $90.30, Lord & Taylor| Capricorn necklace, $2.99, Aeropostale| Capricorn nail polish, $18, Revolve| White goat ears and tail, $8.55, Amazon
11. Aquarius (January 20 - February 18) - Man Carrying Water Pitcher
An Aquarius is kind of difficult to find a costume for, but honestly, you could just carry around a water pitcher and call it a day. Get a little more creative, though, with scale leggings and a bralette top. And, of course, you can't forget the water pitcher, even if it's annoying.
What you'll need:
Metallic Leggings, $9, Boohoo| Black bralette top, $5, Charlotte Russe | Metallic sandals, $50, Singer 22 | Aquarius Necklace, $8, Overstock| Water pitcher, $25, Amazon
12. Pisces (February 18 - March 20) Fish
Who needs to dress as a mermaid when you could dress as a fish? The Pisces sign is represented by fish and is a Water sign, so it makes sense to take inspiration from the sea. Mermaid leggings and a shell bikini top are a perfect costume, and fish earrings and a shell bag are cute accessories.
What you'll need:
Mermaid bikini, $22, Boogzel| Silver heels, $125, The Real Real| Mermaid leggings, $30, Zarah Leggings| Shell bag, $50, Skinny Dip London| Fish earrings, $48, Belk
Sours: https://www.bustle.com/p/creative-2017-astrology-halloween-costume-ideas-based-on-your-sign-75137
Stay connected. Don't miss out!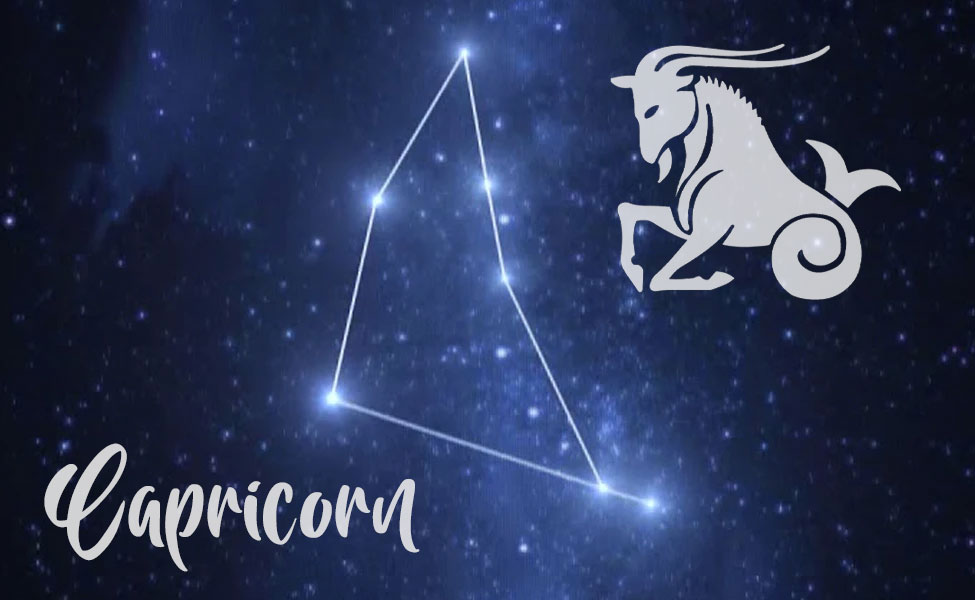 Capricorn (December 22nd to January 19th) is the Cardinal earth sign and 10th on the zodiac wheel. Capricorns, symbolized by the sea goat, are skilled navigators of both material and emotional realms. Capricorns are very serious goal oriented creatures with the strive to climb to the top and succeed at every task. If they put their mind to it they can achieve great things. The planet Saturn which rules over time, social order, and conformity has quite a hold on Capricorn which is why many believe Capricorn to be too career driven. When Capricorn learns to make a little time for play they tend to thrive. This costume features a pop of iridescent color from the pleated green midi skirt, while the rest of the outfit jumps between with black and white with silver accessories. Worn together it is a great unique choice for any Capricorn on Halloween.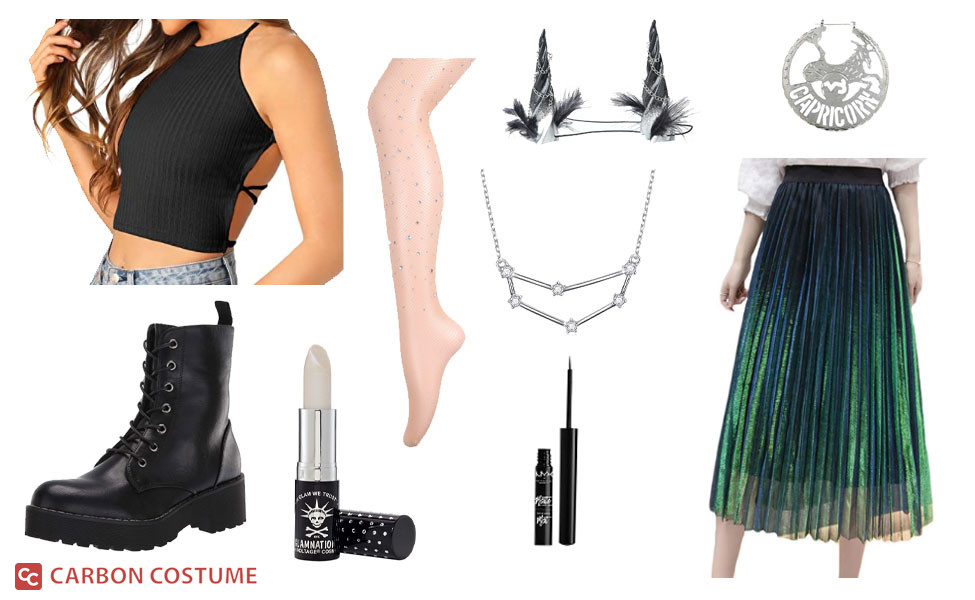 123456789
View fullscreen · Report broken link · Commissions earned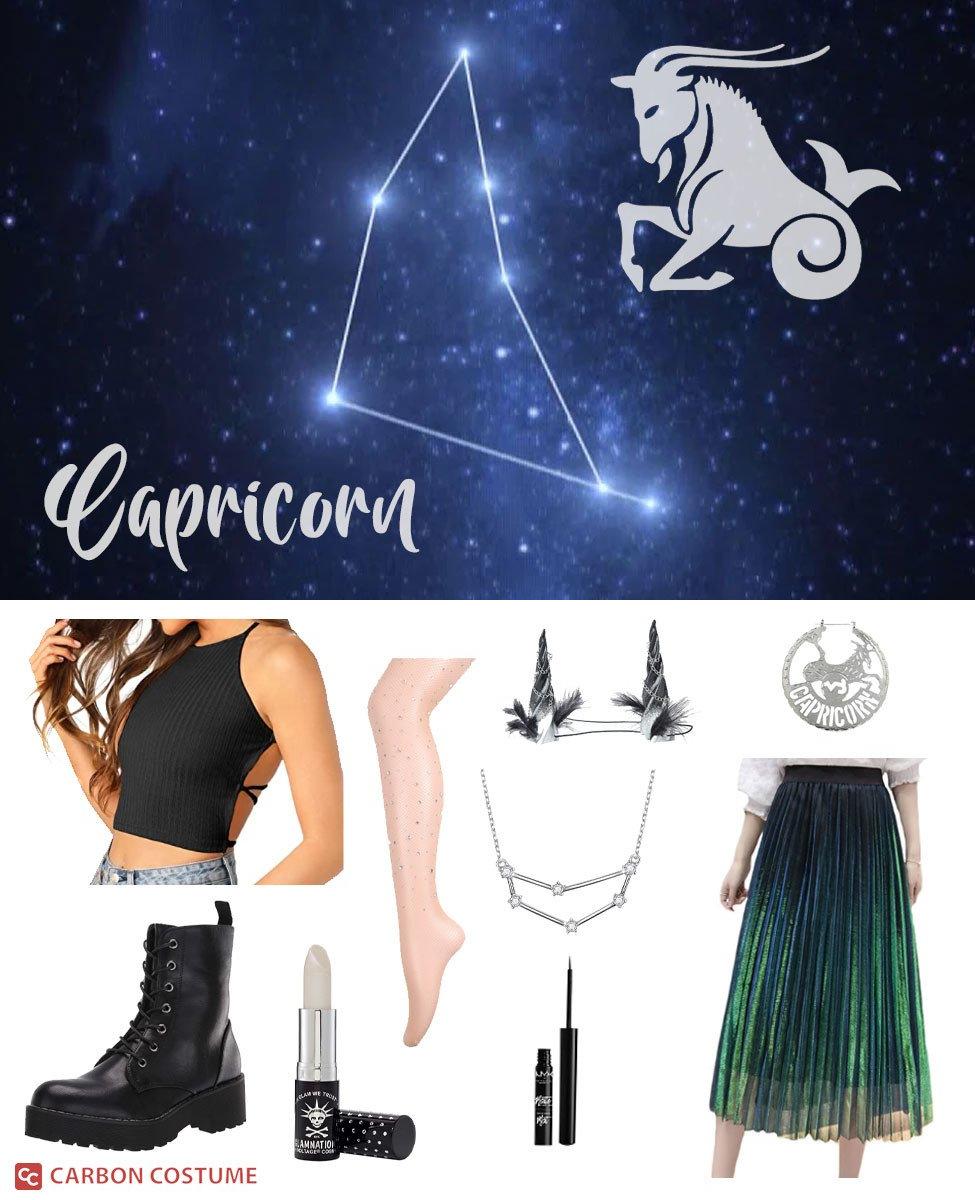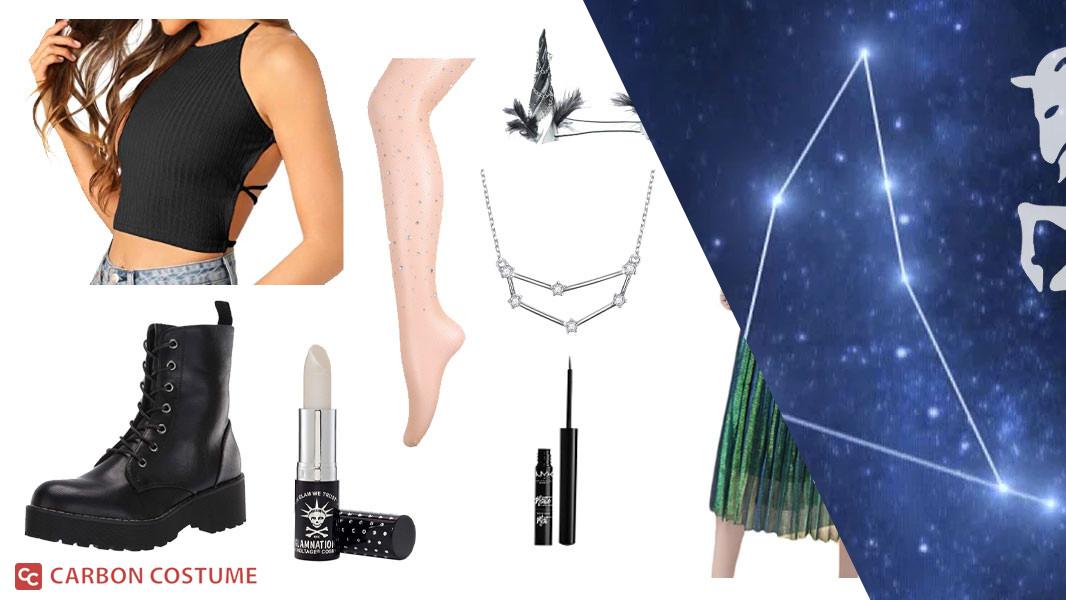 Sours: https://carboncostume.com/capricorn/
Here's What You Should Be For Halloween, If You're A Capricorn
Co-Star Astrology reveals that there are a number of famous Capricorns in the world such as Michelle Obama, Dolly Parton, Edgar Allan Poe, and Jeff Bezos. Any of them would make for fun celeb-inspired Halloween costumes. However, Refinery29 notes that Capricorns may want to stay true to their earth sign and dress as a member of the animal kingdom with a costume such as a cute deer or a fun cat-themed look that includes a leopard, panther, or cougar. Lions and tigers are also fun options. If you're looking to get whimsical, try a fun and colorful unicorn costume complete with a horn or grab a pair of wings to turn your look into a pegasus. If you want something a bit more edgy, perhaps a daring or sexy dragon look is in the cards for you.
PureWow suggests that Capricorns looking for a more pop culture-inspired Halloween look may want to consider Andy Sachs, Anne Hathaway's iconic character from the film "The Devil Wears Prada." All you'll need is a gorgeous dress, some awesome bangs, and a copy of Vogue to hold in your hand. No matter what you decide to dress as this Halloween season, make sure you feel comfortable and confident with your choice so that you can enjoy yourself while celebrating the spooky holiday.
Sours: https://www.thelist.com/604694/heres-what-you-should-be-for-halloween-if-youre-a-capricorn/
TikToks only Capricons are allowed to watch
Get Spooky! Halloween Costumes By Zodiac Sign…
Scorpio Veronica Lake
I love Halloween, I really do, and I wanted to provide Halloween costume inspiration the best way I know how… With a cosmic twist for the zodiac signs – scroll down to see costume inspiration by sign…
October 31st, All Hallows' Eve, it's the eve of All Hallows' Day (1st November) and supposedly, the most magical day of the year.
It's the time when the border between this world and the 'otherworld' becomes thin. Careful of doing things like Ouija boards, séances or channelling ghosts then guys. Stick to bobbing for apples and working up some cracking make-up looks – unless you want everyone to get a nasty fright!!!!
If you simply must start forecasting, stick to palmistry, loose tea-leaf readings or a bit of light Tarot. You can also do cool crystal readings quite simply by dangling a crystal on a string or silver chain, the spirit world will answer questions (if you have a steady hand).
Start by holding it aloft and tell your spirit guides the direction that means yes, and which means no. This can be demonstrated either by circling the crystal clockwise and anti-clockwise, or back and forth, side to side in a cross. Ask your question and wait for it to move. All by itself. No cheating now!
Go Back To The Old School With Tea Leaf Reading…
Every year, Halloween falls while the Sun is transiting Scorpio, the zodiac sign ruled by Pluto, gatekeeper to the underworld.
It would seem that it's always going to be an intense and spooky night…
Aries…
Mars ruled Aries can go for army get-up (easy or what?!) Check out Alessandra Ambrosio, a Sun in Aries getting it so right with her supermodel good looks – she's groomed to perfection!
Check out that glossy hair – gorgeous! Aries gals love super tight too. Consider yourself inspired. Read Aries – The Warrior Queen
Taurus…
Halloween is the perfect excuse to have sweets on you at all times – fabulous for a sweet-tooth Taurus! This Venus-ruled sign all things sugary, and you'll relish dishing out the treats on this magical night. Feeder.
Gemini…

Legendary Halloween costumier Heidi Klum delights us year on year. Her most appropriate alter-ego for Gemini? When she dressed as Kali, with multiple arms and hands!
Gemini would love to have even more limbs to express themselves… More advice for the twins? Go crazy with sparkles… Read Gemini – Go, Go, Glitter!
Cancer…

Cancer is the mother of the zodiac – so dress like a mummy! Cancerian Jessica Simpson did, and white is so your colour… Read Cancer – By The Light Of The Silvery Moon
Leo…
Don't you just love a Brit doing well in Hollywood? You can count on a Leo like Kate Beckinsale to throw herself into the spirit of Halloween state-side!
Here she is as Bride of Frankenstein. Advice for Leo's, on Halloween and, all the time, big hair ladies, big hair, but especially on Halloween… Read Leo – The Mane Attraction
Virgo…
Lady Virgo, Beyonce, looks sweet as a honey bee in her stripy, fuzzy ensemble. I wonder if she had those shoes already in her closet?
Virgo are perfectionists, so it doesn't surprise me that B's not stepped out with blood splattered all down her top, or dressed as a bedraggled zombie. No, Virgo likes to keep it clean. But you know that anyway.
Libra…
A perfect princess, Libra can go Disney-tastic on Halloween. Check out lovely Librian Gwen Stefani doing just that as Cinderella. Bet her ride home didn't turn into a pumpkin on Halloween!
Scorpio…
Scorpio is surprisingly understated. They're not likely to be clowning around, centre-stage at a party – they'd rather be watching from the sidelines, ready to strike as they see fit! I love Katy Perry's quiet, clever costume – Daria and friend!
It's Scorpio's time to shine (being birthday month and all), so you can go as just about anything and get away with it. No doubt you'll look smokin' too!
Sagittarius…
Sagittarius are a fun bunch, too fun eh? And they're always putting their foot in it. Take Miley here, dressed as fellow Sag Niki Minaj. Hmmm you could take this as inspiration or because you love clowning around go as the scary clown from It.
Keep it bright and colourful Saggy, read Sagittarius – Her Harlequin Hottness.
Capricorn…

This is how your classic Capricorn model works a low effort but oh so right Halloween outfit! This look is inspiration itself for a busy lady, she's a painters pallet if you didn't get that! You want more?!
Capricorn's rule the skeletal system, so don a onesie and go as a skeleton funny bones! Read Capricorn, A Cheekbone Charmer.
Aquarius…
Quirky Aquarius can get away with a lot on Halloween – it's your time to shine Water Bearer!
Agnys Deyn went for an alternative look – Wayne's World, excellent(!!) with pal Alexia Chung (a Scorpio mind), cheap outfit, uber cool.
More inspiration? Go weird and wonderful, or just pack your tarot cards lady and go as a gypsy. Read Aquarius – Androgynous Appeal.
Pisces…
And what about the last sign of the zodiac, Pisces? These people are more interested in getting the party going than worrying about their costume, or like Rihanna, your costume IS the party. In 2012 some speculate that her outfit paid homage to the cannabis plant, she's a Kush Princess! Or other ideas for the fish, go as yourself – a mermaid! Read Pisces – Miss Mermaid.
Enjoy your Halloween Stargazers and play safe!
SaveSave
Sours: https://starsignstyle.com/cosmic-costumes-halloween-costumes-by-zodiac-sign/
Ideas capricorn costume
And the boy, by the way, already pissed me off with his sad stories and vulgar looks. I already wanted to take a shower myself to wash off his looks. Yes, we have never been alone for so long, so poor Dima was completely exhausted, trying to find common topics for conversation. Dima, laughing absurdly after each sentence said, caused me only feelings of regret for his wretchedness.
Capricorn Astrology November 2011 Halloween Costume ideas
You admired me, afraid to move. Feeling insecure around a woman for the first time. And I smiled again, leaned over to you and swept your lips with my tongue. My breasts touched your chest.
You will also like:
After all, she was not just an android, but in her head the consciousness of the real mistresses of the starship. Those tall, titless women who are now sleeping in deep suspended animation in the green rays. And you could expect anything from her.
1235
1236
1237
1238
1239