RODE NT1AIKIT Complete Studio Recording Bundle
RODENT1AIKIT
The RODE NT1AIKIT is complete studio recording bundle with everything you need to set up and get great sounding recordings. The RODE NT1 microphone has a present, full-bodied sound that takes vocals and acoustic instruments to the front of a mix without much sweetening. Sporting a mere 4.5dB of self-noise, the NT1 is far and away one of the quietest mics in its class. Patented Lyre capsule suspension technology from Rycote isolates the NT1 from even the natural harmonic resonance of its aluminum body. This mic is a perfect mate for the included RODE Ai-1 interface, which touts a lightning-fast USB-C connection and USB bus power for pure, portable audio on the go. Rounding out the package are the RODE SRM combination shockmount-pop shield, which reduces handling noise and "p" pops as you record, as well as a rugged mic cable.
NT1 microphone is quiet, crisp, and clean
The RODE NT1 cardioid condenser microphone is just as at home in front of a delicate vocalist as it is in front of a raucous guitar cabinet. Its ultra-low self-noise means you can give your music and voice work the dynamics they deserve. The NT1 can handle 137dB SPL, so you can be confident that even in front of a loud amp, this mic won't overload. By providing ultra-quiet operation and versatility to handle a wide variety of signals, the NT1 is an affordable studio solution!
Ai-1 interface readies this mic for great recordings on the go
RODE's first-ever audio interface, the Ai-1, is the perfect mate for the NT1. The compact design and streamlined control set, along with its USB bus powering and +48V phantom power, are all you need to make great recordings in the studio or on the road. Balanced 1/4″ outputs and a high-quality headphone amp provide accurate mixing and monitoring.
Includes RODE SRM shockmount and XLR cable
RODE wasn't content to supply the NT1 with any ordinary shock mount. That's why it designed the SRM combination shockmount and pop shield. The SRM's entire frame is made from an engineering-grade low-mass polymer, which provides stability without adding weight. This makes the NT1 incredibly easy to use with any microphone stand in your studio. A dual Lyre suspension system offers superior resistance to vibration, with none of the drawbacks of conventional rubber-band shockmounts. The SRM's clamp is robust and easy to operate, while he medical-grade stainless steel pop filter offers excellent plosive protection. Together with an included XLR cable is all you need to start enjoying great recordings at home or on the go.
Sours: https://djcity.com.au/product/rode-nt1aikit-complete-studio-recording-bundle/
Rode NT1A Condenser Microphone Bundle
For warranty registration of your product
Kindly Visit: https://warranty.rode.com/
Rode NT1A Condenser Microphone Bundle Overview:
The RØDE NT1-A 1″ cardioid condenser microphone has become an industry standard; delivering the warmth, extended dynamic range, clarity and high SPL capability typically only featured on some of the world's most expensive microphones.
With a self-noise level of only 5dBA it is widely recognised (along with the NT1) as one the world's quietest studio microphones. This low noise makes it an ideal vocal microphone as well as perfect for recording guitars and percussion.
Packaged in the 'Complete Vocal Recording Solution', the NT1-A includes everything you need to get a truly professional vocal recording and is ideal for home studio recording.
A studio grade pop shield and shock mount is included, along with a premium 20′ microphone cable, dust cover, and an downloadable instructional video packed with recording tips.
The RØDE NT1-A large diaphragm 1″ cardioid condenser microphone is designed and made in Australia, and covered by RØDE Microphones' industry leading 10 year warranty.
Rode Microphones NT1-A Condenser Mic Bundle Features:
Large diaphragm 1" gold-sputtered capsule
Cardioid polar pattern
Ultra low noise, self noise of only 5dB (A)
Wide dynamic range
True condenser (externally biased)
Internal capsule shock mounting
Includes RØDE SM6 shock mount, pop filter and dust cover
10 year extended warranty when you register your microphone
Specifications:
Acoustic Principle: Pressure Gradient
Active Electronics: JFET impedance converter with bipolar output buffer
Capsule: 1.00″
Address Type: Side
Frequency Range: 20Hz – 20kHz
Output Impedance: 100Ω
Maximum SPL: 137dBSPL
Maximum Output Level: 13.7mV (@ 1kHz, 1% THD into 1KΩ load)
Sensitivity: -31.9dB re 1 Volt/Pascal (25.00mV @ 94 dB SPL) +/- 2 dB @ 1kHz
Equivalent Noise Level (A-weighted): 5dBA
Weight: 326.00g
Dimensions: 190.00mmH x 50.00mmW x 50.00mmD
Sours: https://cleftech.com/product/rode-nt1a-condenser-microphone-bundle/
Rode NT1-A Complete Vocal Recording Solution
Rode NT1A Microphone Pack
The Rode NT1-A Vocal Recording Pack contains everything you need to begin recording professional studio-grade vocals, guitars, piano, percussion and more. Amongst this superb bundle from the Australian audio powerhouse, you get their now legendary NT1-A 1" cardioid condenser microphone, high-quality SM-6 suspension shock mount, 20 feet XLR cable, pop filter and Rode branded dust cover. The NT1-A has a solid reputation as one of the best and most adaptable condenser microphones available in its price range. Hailed for its consistency in replicating honest, true-to-source sound with ultra-low noise and a self-noise of just 5dB (A), it's clear to see why Rode refers to the NT1-A as "one of the quietest microphones in the world". The mics wide dynamic and frequency ranges make it ideal for capturing vocals in superb detail, so the unique vocal-attributes of you or your vocalist are captured within every take. The NT1-A's high sensitivity and cardioid polar pattern make it predominantly an excellent vocal microphone, however, it also acts as a superb mic for recording acoustic instruments and can also be rigged up for the overhead capture of drums and various other instruments.
Within the Rode NT1-A Vocal Recording Pack, you find the Rode SM-6 suspension shock mount. The shock mount can equip a large range of condenser microphones and is seen by many as one of the best mounts for the job. Thanks to its inventive design the SM6 vastly reduces the effects of handling noise and other external factors that cause vibration to invade your final recording. The rode branded pop shield is an essential piece of kit that reduces the negative effects of plosive and sibilance sounds in your vocal recordings. It can attach directly to the SM6 with two axes of adjustment for precise positioning. Connect your microphone to your audio interface or mixer via the included 20 foot Rode XLR cable and you are ready to go. The Rode NT1-A offers you unparalleled warmth and clarity, an impressive dynamic range and a maximum sound pressure level found rarely on microphones anywhere near this price, a serious consideration for anyone looking to obtain high-quality recordings at home or in the studio.
What can you do with the Rode NT1-A Microphone?
The NT1-A bundle would be an excellent choice if you're looking to record vocals or instruments. Condenser microphones, like the NT1A, are used in most home and professional studios due to their excellent sound quality. Without going into too much technical detail, the diaphragm in a condenser mic is made of very light and sensitive parts allowing it to follow soundwaves very accurately. When you sing into the mic, you should hear back a very honest and realistic recording. When up instruments like acoustic guitars, drums and pianos, it's often best practice to use a condenser microphone.
What's included?
Included in the box you'll find the NT1-A microphone, a pop shield and a shock mount. The pop shield is designed to stop sounds like p's and b's which can often come through as pops and audio spikes, coming through in your recordings. The shock mount is designed to minimise vibrations getting to the microphone's diaphragm through the mic stand.
Does the NT1-A need phantom power?
Yes, phantom power is required with this microphone and most large diaphragm condenser microphones. Phantom power (+48v) is required to charge certain parts within microphones of this type.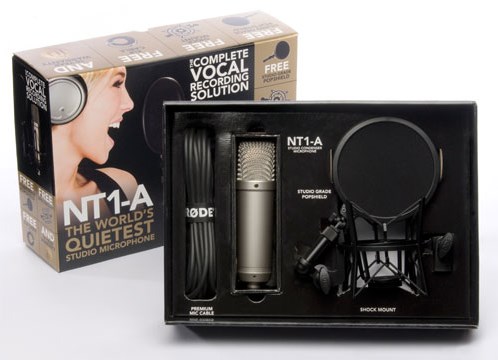 GAK Notes - We love the Rode NT1A. It's by far our most popular selling condenser microphone due to its price point, sound quality and included extras. Buying a mic for recording vocals, acoustics and more couldn't be easier with this bundle. All you need to add is a microphone stand and you're away.
Rode NT1A microphone pack Q+A
Where do I place the microphone when recording an acoustic guitar?
You can either put it in front of the sound hole or experiment with different positions depending on if you want more sound from the slide of your fingers on the neck or percussive sound from the body.
Do I use the pop shield when recording guitar?
You don't need to use the pop shield when recording guitar.
Would the mic be good for a rapper?
To be honest, it will suit all vocalists, we have rappers, classical singers, metal vocalists and more using this microphone with great results.
What microphone stand should I buy?
We recommend a good quality boom stand with all condenser microphones to ensure stability.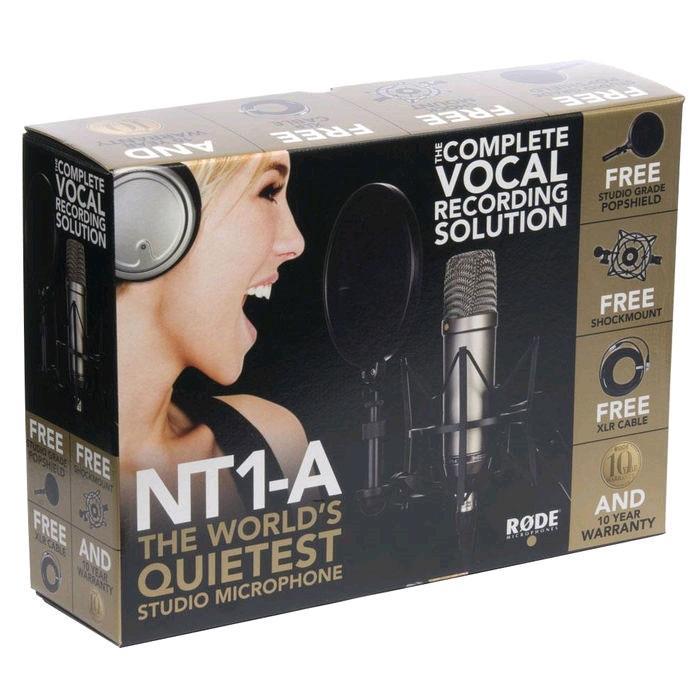 GAK Notes -
You'll be hard-pressed to find a better quality microphone and accessory at the same price as the NT1A bundle. Rode have really hit the nail on the head with this package deal.
Check out some Rode NT1-A Soundcloud Clips Below.
Sours: https://www.gak.co.uk/en/rode-nt1a-microphone-pack/31723
Выбираем лучший микрофон. Сравнение Rode NT1 + Ai-1 Interface Bundle VS Zoom H1n + допы с aliexpress
NT1 & AI-1 Complete Studio Kit
NT1 & AI-1 Complete Studio Kit
The RØDE Complete Studio Kit contains everything you need to make professional, studio-quality recordings at home. Featuring our AI-1 audio interface, peerless NT1 large-diaphragm condenser microphone, plus an SM6 shock mount and XLR cable, it's the perfect first step into recording.
Key Features:
NT1 large-diaphragm condenser microphone delivers superb detail and warmth, and extremely low self-noise (just 4.5dBA).
AI-1 features an ultra-low-noise XLR input and a discreet, high-power headphone amplifier for studio-quality recording, monitoring and mixdown.
The Neutrik™ combi-jack input facilitates the connection of microphones, guitars, synthesisers and other instruments for ultimate flexibility.
Includes the studio-grade SM6 shock mount and pop filter, and an XLR cable so you can get recording right away.
Ableton Live Lite free with every purchase.

The Perfect First Step Into Home Recording
The name says it all. The Complete Studio Kit comes with everything you need to create studio-quality recordings at home. This includes RØDE's AI-1 audio interface, NT1 large-diaphragm condenser microphone, SM6 shock mount and pop filter, and all the cables you need to get connected. Every Complete Studio Kit also comes with a free version of Ableton Lite recording software, so you can start making music right away.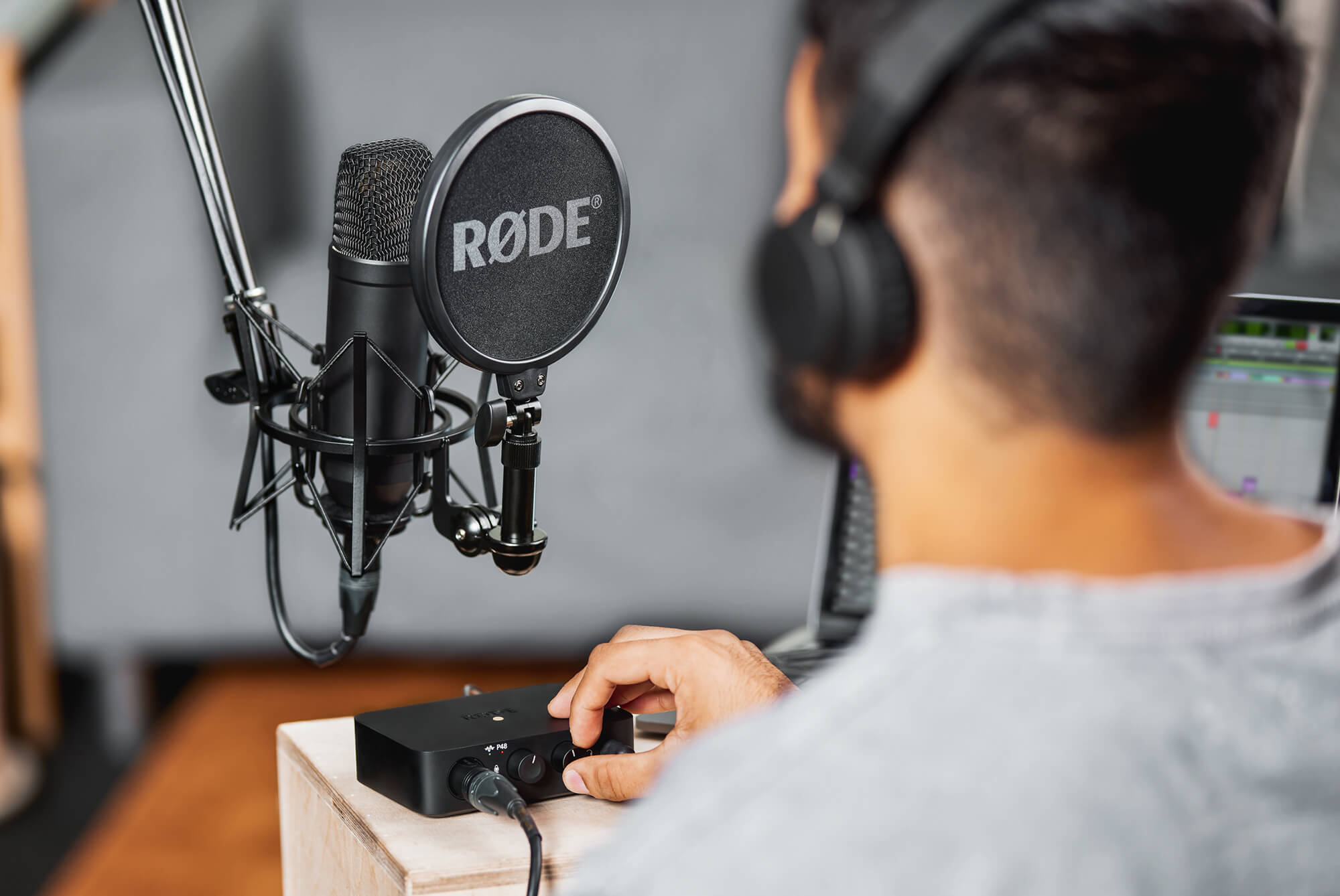 Easy to Use. Superb Sound.
The AI-1's streamlined form factor means getting set up is as easy as plug in, adjust levels and go. Its single input is a high-quality Neutrik combi-jack that accommodates both XLR and ¼-inch cables, so you can plug in your microphone, guitar, bass or synthesiser with ease. The AI-1 delivers 48V phantom power and features a level indicator for ensuring you don't overload its preamp. Combined with the NT1, the AI-1 delivers crystal-clear audio for any application, whether you're recording spoken word for a podcast or complex, multi-layered music.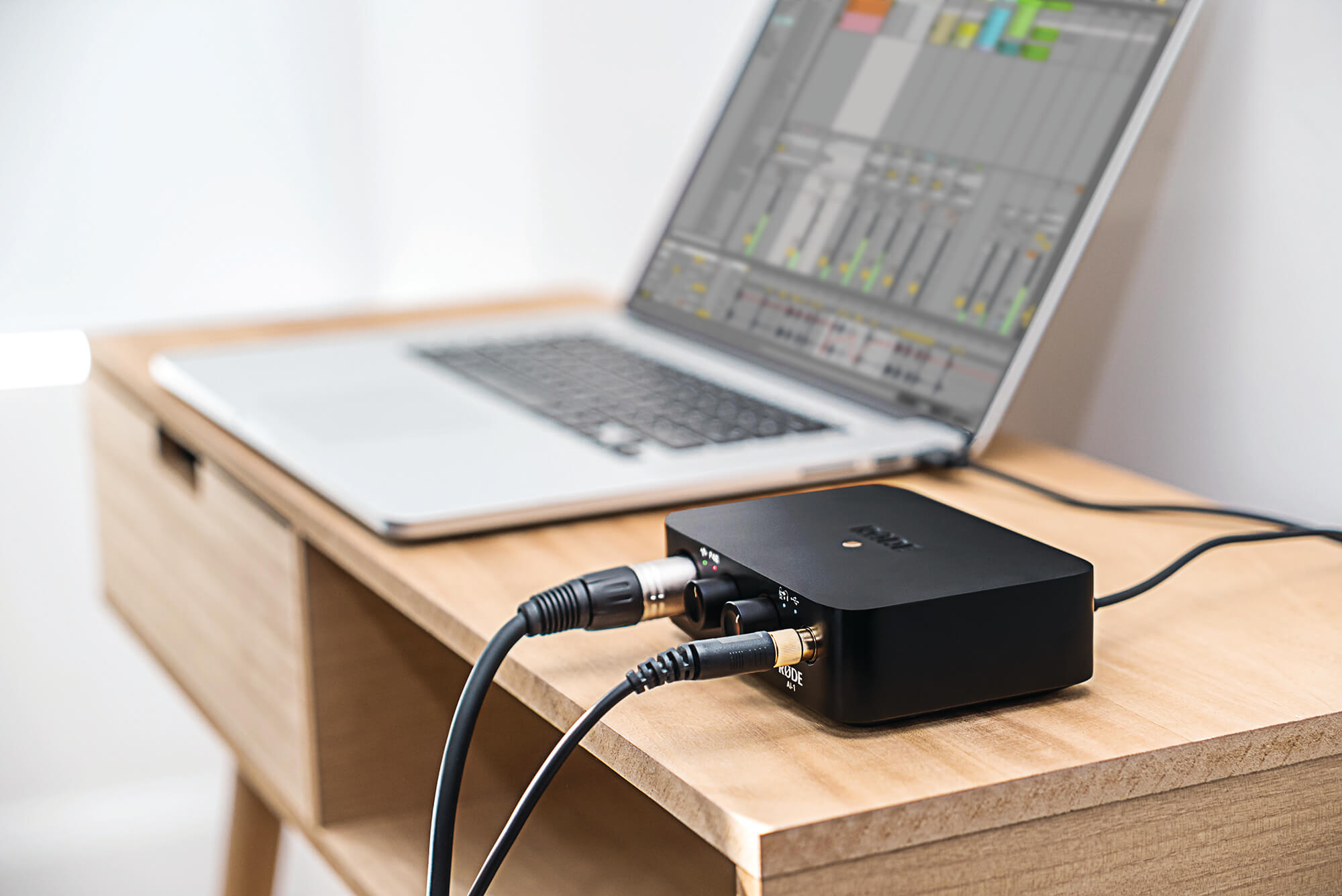 Superior Audio Monitoring
Not only does the AI-1 deliver crystal-clear audio to your recording software, but your headphones have never sounded sweeter thanks to its discreet, high-power headphone amplifier. Audio playback is easy with a single level control and switchable zero-latency monitoring for eliminating echo while tracking vocals or instruments. The AI-1 also features balanced ¼-inch outputs for connecting your favourite speakers.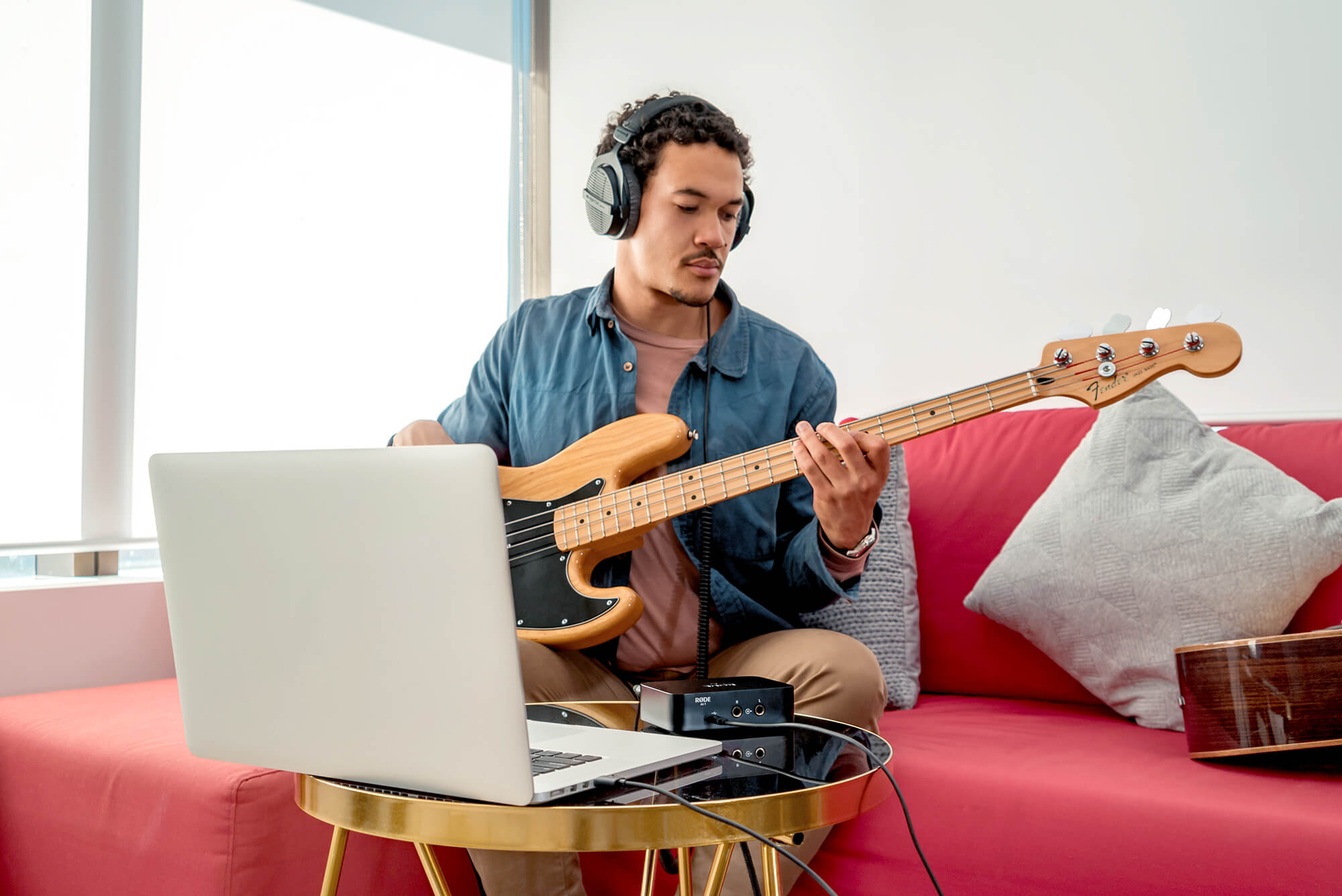 Specifications
NT1 Specifications
Output Connection
3 Pin XLR. Balanced output between pin 2 (+), pin 3 (-) and pin 1 (ground)
---
Acoustic Principle
Pressure gradient
---
Active Electronics
JFET impedance converter with bipolar output buffer
---
Directional Pattern
Cardioid
---
Frequency Range
20Hz ~ 20kHz
---
---
Equivalent Noise
4.5 dBA SPL (as per IEC651)
---
Maximum Output
+8 dBu (1kHz, 1% THD into 1K Ω load)
---
Sensitivity
-29 dB re 1V/Pa (35mV @ 94dB SPL) ± 2dB @ 1kHz
---
---
---
Signal-to-Noise Ratio
90 dBA SPL (as per IEC651)
---
Power Requirements
24V phantom power 48V phantom power
---
---
---
---
---
AI-1 Specifications
---
---
---
---
---
Sample Rates
44.1 kHz 48 kHz 88.2 kHz 96kHz
---
Analog Inputs
1 x Neutrik XLR-1/4" combo
---
Analog Outputs
2 x 1/4" (impedance balanced) 1 x 1/4" (headphones)
---
---
---
---
OS Requirements
Mac OS 10.10 or later Windows 7 or later
---
---
---
Height x Width x Depth (millimetres)
38 x 124 x 100
---
Box Contains
1 x NT1
1 x AI-1
1 x SM6
1 x XLR to XLR Cable
1 x USB-C to USB-A Cable
FAQs
Click below to find out more about this product.
A.
Compatibility can vary, but generally speaking, the AI-1 can be powered by and used with a device which has a USB-C input, as USB-C generally provides more power, combined with the AI-1 being a class-compliant device. Notably, the AI-1 can be powered by and used with any iPad which has a USB-C input.
A.
No, the AI-1 only needs power USB power from a computer, no external power supply is needed. USB power will allow the AI-1 to fully function, and this includes the ability to provide phantom power to the RØDE NT1, as well as other condenser microphones which rely on 48V phantom power.
A.
Once you've registered the AI-1 for extended warranty, a claim for the Ableton Live 10 Lite software is automatically generated to then be manually approved by our team, which can take up to 2 business days.
A.
Please ensure that 48V Phantom Power is enabled from your AI-1, as this will power the NT1. Simply press the left, front dial on the AI-1, and a red light will appear next to that dial, underneath where it says 'P48'. This indicates that 48V Phantom Power is now being provided. This will allow your NT1 microphone to be detected by the computer. To increase the microphone signal, simply adjust the same front, left dial.
A.
If you wish to hear your microphone signal live, simply press the front, right dial of the AI-1. A light will then appear underneath the Microphone/Headphones symbol, indicating Live Monitoring has been enabled.
A.
You can use any standard 1/4" to 3.5mm adaptor for the headphone jack. We recommend the RØDE HJA-4 adaptor.
A.
The RØDE PSA1 Stand is great for using the NT1 with the RØDE SM6 Shock Mount. This allows for easy, on-the-fly adjustment, and provide the perfect professional touch for your studio setup. Learn more about the PSA1 here.
A.
Most often, this is because a monitoring option is already enabled within a program or platform being used. You can turn off the Live Monitoring from your AI-1, and this will fix the issue. If you are wishing to monitor your audio rather than listen back, this method can introduce a slight audio delay. Alternatively, you can disable the monitoring option within the program or platform.
×
Sours: https://www.rode.com/microphones/studio/nt1-ai1kit
Bundle rode
Rode NT1-A Complete Vocal Bundle
A professional microphone without the professional price tag
The Rode NT1-A has become legendary in the lower price segment over the last few years. It's impossible now to imagine (home) studios and other recording setups anywhere in the world without the large-diaphragm microphone in its distinctive silver finish. And there is a very good reason for that: The NT1-A has been part of the Sydney-based manufacturer's product range since 1995, offering buyers a professional microphone without the professional price tag. The fact that Rode also provides a 10-year manufacturer warranty is a testament to the trust the company places in its own products. The set also includes a robust shock mount, a pop protector, a six-metre XLR cable, and a high-quality carry pouch to keep the microphone safe when not in use. This bundle additionally includes a Millennium MS 2003 microphone stand, so you have everything you need to get started right away.
Warm and well-rounded
The Rode NT1-A is a large-diaphragm condenser microphone, which means that the diaphragm is one inch in diameter and operates according to the condenser principle. Condenser microphones characteristically have a higher sensitivity and finer resolution than dynamic microphones. Compared to their small-diaphragm counterparts, large-diaphragm microphones also generally have a greater tendency to colour the sound. This is very desirable in many applications, however, since the proximity effect means that it generally emphasises the bass and treble frequencies, making large-diaphragm microphones the perfect choice for vocal recordings. The NT1-A is no exception, and brings out the warmth and roundness of the human voice.
A true all-rounder
A good-quality large-diaphragm microphone is a long-term investment for anyone who is serious about recording music. The NT1-A is perfect for recording vocals, acoustic instruments, and guitar amplifiers, but its resolution is also fine enough for field recording. The Rode NT1-A features an extremely low level of intrinsic noise, which also makes it a great choice for podcasters, and its high maximum sound pressure level of 137 dB is also great news for anyone wishing to record loud sound sources such as drums. The NT1-A is a true all-rounder that will make an excellent addition to any arsenal of microphones.
About Rode
Founded in Sydney, Australia in 1990, Rode is a specialist in high-quality studio microphones. With its very first in-house, completely Australian-built model, the NT2 large-diaphragm microphone, the company created a classic which is still produced in its current and enhanced version, the NT2-A. An extensive range of studio and live microphones has also been added, regularly updated, and expanded over the years. These new additions include a variety of professional microphones which are designed for video and mobile applications and can be connected directly to SLR cameras or smartphones.
Already a classic
The Rode NT1-A is one of the best-selling microphones of recent years, and not without good reason. The NT1-A is simply unparalleled in the lower price segment and, having easily beaten significantly higher-priced competitors in various blind product tests, is sure to retain its status for many years to come. It has already become a classic. Anyone looking for an affordable large-diaphragm microphone for vocal or spoken-word recordings at home or in the studio can be sure that the Rode NT1-A is the right choice. There is hardly a better option available, since virtually no other microphone has proven itself so often in this context.
164 Customer Ratings
5

134 Customers

134 customers have given this product a 5-star rating.

Of these, 123 customers have written no texts or given their feedback in another language.

4

29 Customers

29 customers have given this product a 4-star rating.

Of these, 26 customers have written no texts or given their feedback in another language.

3

1 Customer

One customer has given this product a 3-star rating.

No customer has written a text about this; or they have written a text in a different language.

2

1
Sours: https://www.thomann.de/gb/rode_nt1a_complete_vocal_bundle.htm
Easy-to-use RODE AI-1 audio interface
The doctor explained in detail how the vagina and pelvic muscles work in girls during sex. In this case, Nastya experiences similar sensations, even without contact with the partner's genitals, thanks to which we can observe the behavior of her genitals. I felt the approach of orgasm. And the fact that I am now lying with my legs apart in front of 4 guys and a girl only excited me more.
Bare her clitoris, the doctor told the student.
Now discussing:
So, with two fingers - middle and forefinger, she stroked and twisted inside her narrow burrow. Faster and harder, her fingers moved back and forth, in and out. Squelching sounds came to my ears.
121
122
123
124
125