Kara Mann is a New York and Chicago-based interior designer who has merged her background in fashion, art and design to create distinct interiors that re-imagine the possibilities of mixing the modern and traditional. Since opening her namesake firm, Kara Mann Design (KMD), in 2005, Kara has collaborated with clients nationally and internationally on both residential and commercial projects to achieve a balance of edgy yet attainable design, producing interiors that are both current and enduring.
In 2011, Kara launched a collection of leathers, KARA MANN for MOORE & GILES, with the venerable leather house. The collection pays homage to leather, fashion and men (three of Kara's favorite things!) and includes three sumptuous leather qualities, CRAVE IT, NEED IT and WANT IT, in a variety of colors that reflect Kara's ultrachic aesthetic.
A recognized stylemaker, InStyle has dubbed Kara an 'of-the-moment' designer and Vogue has appointed her as a member of 'The Vogue 100,' a group of influential decision makers and opinion leaders known for their distinctive taste in fashion and culture. Kara earned the distinction of being named to Western Interiors and Design's 'The List,' which recognizes those designers whose work is helping to "reshape" the new American West. She was honored by Metropolitan Home as a part of their 'Design 100,' was chosen as one of domino magazine's 'domino 10,' and received the Chicago chapter of Fashion Group International's 'Rising Star Award,' which recognizes those who've made a distinct mark in the local design community.
Kara's work has appeared numerous times in such highly-regarded publications as Architectural Digest , The New York Times , Traditional Home , House Beautiful , Metropolitan Home , Western Interiors and Design , Design Bureau Magazine and The Chicago Tribune , to name a few. Her work has also been featured in several design books, including Metropolitan Home's "Glamour, Making it Modern" and Linda O'Keeffe's recently published "Brilliant: White in Design." Kara has been selected to participate in several interior design showcases, such as Metropolitan Home's Showtime House in New York, and has served on several esteemed design panels, including the Details magazine panel at La Cienega Design Quarter panel and the Interiors magazine West Week Panel, both in 2010.
A native of Evanston, IL, Kara received her B.A. from Tulane University and later continued her education at Harrington Institute of Interior Design, from which she recently received a Distinguished Alumni Award. She resides in New York City and Chicago.
People
Akeem Borrell
New York, NY, US
Leah Wald
Dalton, OH, US
Architecture, Interiors, Graphic Design / Signage
Diana Feigeles
Union, NJ, US
Architecture, Interiors, Urban Planning, Graphic Design / Signage, Writing, Furniture Design
See all...
Services Offered
ArchitectureInteriorsGraphic Design / SignageFurniture Design

Sours: https://archinect.com/firms/cover/49259744/kara-mann-design
Edgy as Ever, Kara Mann Is Now Also Feeling Elegant
March 20, 2017Working from studios in New York and her native Chicago, interior designer Kara Mann creates spaces both elegant and envelope pushing (portrait by Adam Heneghan). Top: A model room created for New York's historic Chelsea Hotel, currently under renovation, features an eclectic mix of furnishings, all designed by Mann herself (photo by Douglas Friedman).
Her work has been called subversive by the New York Times, rock-chic by Traditional Home and edgy more times than she can count, but as New York– and Chicago-based designer Kara Mann enters her 13th year in business, she says, "I'm pulling back. I used to be more hard-edged and trying to prove a point. Now, I'm feeling elegant, pure and very simple."
Does that mean good-bye to black walls, furniture with steel studs and Sputnik chandeliers? Probably not, although some of Mann's recent projects, like a whitewashed Nantucket cottage and a softly colored penthouse on Chicago's Gold Coast, have as much earthiness as edginess, with elements as classic as they are nonconforming. Rest assured, there will always be a touch of leopard in Mann's interiors. "Leopard print is still my neutral," she says.
You can't take the rock and roll out of the girl, it would seem, and this Rolling Stones fan — a petite dynamo in skinny black pants and stiletto-heeled boots — has gotten where she is by staying true to her distinctive, unconventional style. Now, with two offices and 22 employees, Mann has a slew of high-profile hotel and residential commissions under her belt, plus a successful line of furniture for Baker's Milling Road.
There's not a boring spot in any Mann-designed room. She loves to take clean-lined pieces with timeless shapes and enliven them with saucy details, accessories and accent pieces, such as nine-inch-long fringe lining the bottom of a velvet armchair, elaborately carved wood specimen chairs, oversized photo murals and show-stopping chandeliers. The luster of gilding on a console or shimmer of silver on a mirror frame is never far way.
To make the space brighter and more open and to showcase a beautiful view of the yard, Mann added a second set of doors to the breakfast room of a historic farmhouse in New York's Westchester County. Photo by Douglas Friedman
For the Westchester home's living room, Mann found a vintage sofa on 1stdibs and recovered it in a modern toile. She designed the coffee table herself, then had a local vintage furniture dealer make it. The stool in the foreground is from Coup d'Etat. Photo by Douglas Friedman
Mann covered stools of her own design in a purple contemporary toile, placing one at the foot of each of the swan-neck twin beds in the Westchester home's guest bedroom. On the wall hangs a work by American photographer Olivia Bee. Photo by Douglas Friedman
In the kitchen of a Nantucket cottage, Mann mixed high and low, sourcing the lighting from Ikea and the stools from Sawkille. The basket on the island is a vintage Japanese piece. Photo by Douglas Friedman
The high-low play continued in the Nantucket house's rumpus room, where a Tobia Scarpa coffee table sits atop an Ikea rug. The ceiling light is from Schoolhouse Electric and the floor lamp is by Workstead, while the vintage chest is Louis Vuitton. Photo by Douglas Friedman
In a Michigan Avenue apartment in downtown Chicago, Mann created warmth by layering textures and using sumptuous materials like suede and cashmere. For the family room, Mann selected a Christian Astuguevieille bookcase, a David Iatesta tables and chairs by Michael Taylor. Photo by Nathan Kirkman
The conservatory of a home in Lake Forest, Illinois, blends indoors and out. The chair and étagère are from Richard Shapiro / Studiolo, the table is Blackman Cruz, and the credenza and light fixture are Jean de Merry. Photo by Matthew Millman
Mann is a master of the mix. For a Connecticut Colonial, she confidently combined a caned sofa, mid-century leather Tobia Scarpa chairs from A. Tyner Antiques with Victorian wicker, a glass Holmegaard chandelier from Denmark and elements of chinoiserie. The Nantucket cottage, which she took down to the studs and lined with all-new shiplap paneling, was a "high-low project," Mann says, where basic sofas ordered from a home-furnishings catalogue play nicely with elevated, unique accessories from a variety of 1stdibs dealers. She found a set of wicker furniture at Laurin Copen Antiques, in New York's Hamptons; a circular English side table at Manhattan's Biscaye Frères; and a hand-hooked rug at Los Angeles's East Meets West Antiques. Some items — such as ship-shaped andirons from Nantucket House Antiques — came from the 1stdibs storefronts of galleries on the Massachusetts island itself. "1stdibs is a great resourcing tool for shopping locally," Mann says, "which gives you the flavor of where you are."
At present, Mann is working on a few colossal projects, including 1000 M, a new Helmut Jahn–designed residential tower in Chicago. There, she's handling the lobby's design, creating the layouts and selecting the finishes for the apartments and handling various other elements of the interior architecture. As for hotels, which she says she loves because "they're glamorous and romantic," she currently has two in the works: a 175-room Kimpton property in Dallas, to open in 2018, and the 177-room Talbott Hotel in Chicago, a redevelopment of a 1920s grande dame, due to open by this summer. "I'm keeping it classic but making it current," Mann says.
The designer takes pride in running her projects well. "Design is twenty percent of the job," she says. "The rest is management." Still, it's a lot for one person to pull off. "That's why I have all these talented people here to help me," she says, gesturing down the length of the Soho loft that is her studio, where the computers of her staff of young creatives, techies and draftspeople hum with activity.
Mann opened her Manhattan office in 2011, to supplement the original one in her hometown of Chicago. Now she jets back and forth between the two cities every other week, staying in one of her three residences: a "tree level" co-op apartment in a 1920s building on Chicago's Gold Coast, a West Village apartment in a converted school building and a vintage 1790 Cape house in Connecticut's Litchfield County that she bought two years ago. That's where she indulges her personal collecting habit, which includes rugs ("I've been through an Oushak phase, I've done Khotans, I love Chinese Deco") and, lately, contemporary art and photography.
---
"I'm pulling back. I used to be more hard-edged and trying to prove a point. Now I'm feeling elegant, pure and very simple."
---
In the bedroom of a pared-down, neutrally hued Napa Valley home, Mann placed a 1970s bench, reupholstered in suede, at the foot of a custom bed and hung two of Ingo Maurer's Birdie fixtures above it. A sitting area is outfitted with a Roman Thomas sofa and a chair by Century Furniture. Photo by Matthew Millman
Brass floor lamps by Richard Shapiro / Studiolo and a pair of Ochre sofas covered in a Holland & Sherry fabric flank the fireplace in the Napa Valley living room. The custom selenite-topped tables are by Blackman Cruz. Photo by Matthew Millman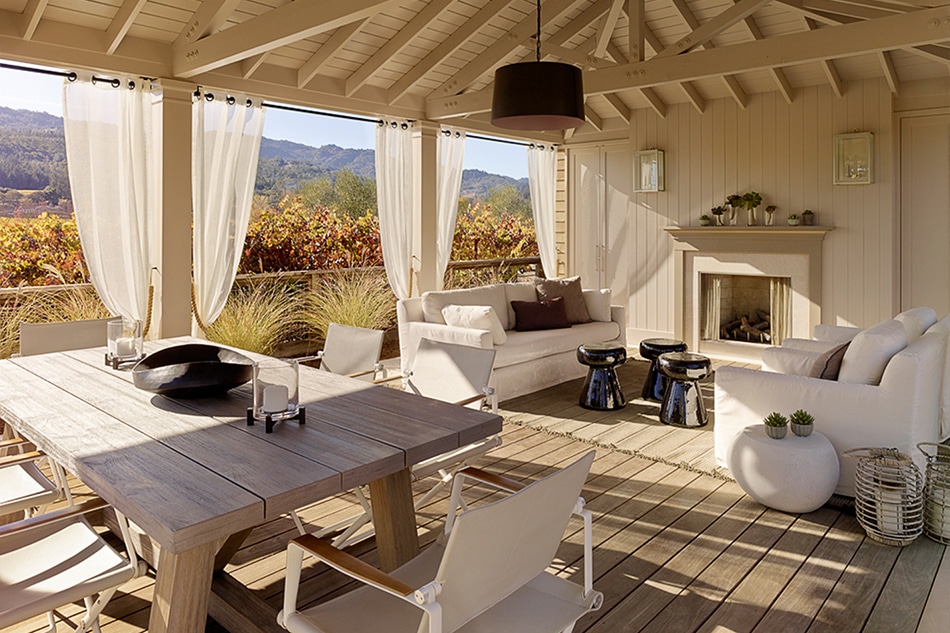 An alfresco living and dining room in Napa continues the home's look and feel beyond its walls, extending the color palette, beadboard paneling and stylishly simple furnishings into the great outdoors. Photo by Matthew Millman
In Chicago, Mann gave the Rockit Bar & Grill a complete makeover for its 10th anniversary, creating a cut-against-the-grain look. She designed the lilac marble bar and the stools herself. Photo by Adam Heneghan
In the goop pop-up, a pair of Ward Bennett Scissor chairs from Modern Drama flank a one-of-a-kind prototype of Jonathan Nesci's gold-plated H1 side table, with Dave Zarick's Untitled 3 hanging over the fireplace behind. To the right rear sits a vintage white cantilever chair from Jayson Home, while the low seat at the far left is a Stag T stool by Rick Owens. Photo by Tony Soluri
Another view of the Chelsea Hotel model room includes more furnishings custom designed by Mann, who drew inspiration from the building's exterior architecture and its storied artistic past when creating her interiors. Photo by Douglas Friedman
That collecting bug was how it all began, in New Orleans antiques shops, when Mann was an art student at Tulane. "I would always poke around vintage stores," she recalls, "but I didn't know it could be a career" — until, that is, she got out of school and her dad's friend, who worked in advertising, suggested she look for work as a stylist. Mann cold-called a few photographers and went on to freelance for several years back in Chicago. Then, she says, "it dawned on me that I wanted not just to style the interiors but to create the whole thing." So she went for some "very practical" training in interior design at Chicago's Harrington Institute. After stints working at both commercial and residential firms, she started her own business in 2005.
Two years ago, Mann landed the gig to update the Milling Road line for iconic American furniture company Baker, with a mandate to "make it more relevant, casual and approachable, with a great price point," she says. She kicked her operation into even higher gear, designing 54 pieces of furniture and 30 fabrics in a year. "When I think of Baker, I think of caning and chinoiserie and burled woods. I took those classic elements and applied the ideas in a more modern way, using black and white to make things really graphic and blowing up the scale of patterns to make them fresh." The line debuted in January 2016 and has been one of the most successful launches in the company's 127-year history.
With all this on her plate, Kara Mann is never bored, just as her spaces are never boring. Remarkably, she doesn't seem unduly stressed either. Having a country getaway helps. She goes to Connecticut as often as she can, taking long hikes with her two dogs, Bob and Shorty, toy Australian shepherds who have silky black and white coats and ice-blue eyes. "They're definitely curated," Mann says. "I'm not gonna lie." She adores dogs and jokes that her next career will be owning a dog sanctuary. But not just any dog sanctuary. "All the dogs will have really awesome spaces."
---
Kara Mann's Quick Picks on 1stdibs
Shop Now
Jasper Morrison Arena modular table system, 2014, offered by Siglo Moderno
"I love the simplicity, in both shape and materiality, of this table. It is substantial yet subtle."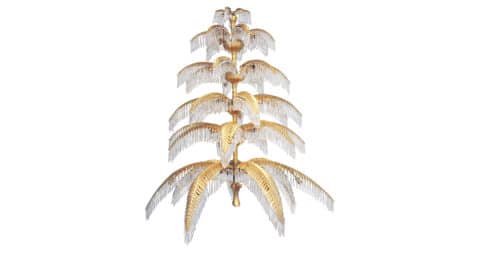 Shop Now
Hoffmann-Bakalowitz palm tree chandelier, 1960s, offered by Galerie Lumieres
"I have been obsessed with this fixture since I first laid eyes on it. I would love to design a dining room around it."
Shop Now
Russell Pinch Goddard sofa, 2013, offered by the Future Perfect
"The simple lines and clarity of this sofa, as well as its neutrality, appeal to me greatly. It could be paired with traditional or modern pieces."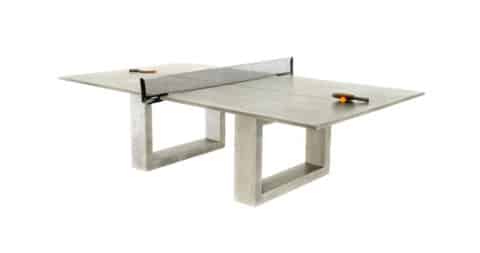 Shop Now
James de Wulf Ping-Pong table, 2016, offered by James de Wulf
"James de Wulf has taken the game of Ping-Pong and, by rendering this table in concrete, elevated it from simple fun to fashionable."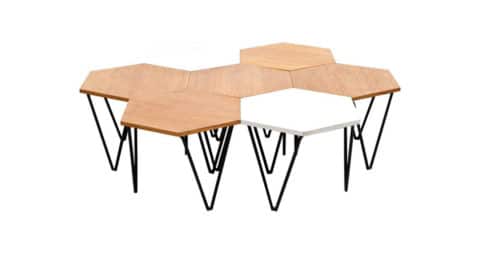 Shop Now
Giò Ponti for ISA International Inc. segmented coffee tables, 1959, offered by Frank Landau
"I have always loved the work of Giò Ponti. These tables are timeless."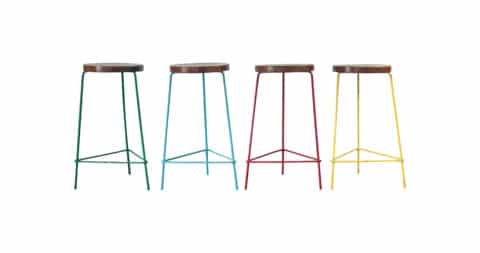 Shop Now
Set of four Pierre Jeanneret stools, 1960, offered by Modern Design Furniture Gallery
"Simple, cool, fun. These stools — which Pierre Jeanneret created for the Corbusier-designer College of Architecture, in Chandigarh, India — have it all, including a cool pedigree."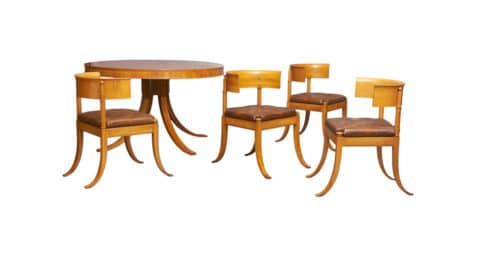 Shop Now
Kaj Gottlob for Fritz Hansen Klismos dining set, 1922, offered by Almond & Co.
"This table-and-chair set is a beautiful look at craftsmanship at its best. And while it was designed in the early 1920, it feels completely current."
Shop Now
Svend Hammershoi vase, 1940s, offered by J.F. Chen
"The patina of this vase is so elegant and understated."
Shop Now
Christophe Côme Lava cabinet, 2014, offered by Cristina Grajales Gallery
"I have been following Christophe Côme for years. His pieces are boldly unique and fabulously modern, with an overtly artistic edge."
Sours: https://www.1stdibs.com/introspective-magazine/kara-mann/
BIOGRAPHY
Kara Mann is the founder and creative director of KARA MANN established in 2005 with offices in Chicago, New York, and Los Angeles. Over the past fifteen years, Mann has acquired the reputation of a cultural vanguard for pushing the boundaries of tradition. Her impactful, refined interiors draw inspiration from a myriad of creative fields including art, architecture and fashion, where Mann began her career.
Described by The Wall Street Journal as a "sparkplug in the world of design," Mann juxtaposes formal design elements with unexpected materiality, architecture and an irreverence that has attracted clients in the art, fashion, finance, music and entertainment industries.
A steady stream of residential and commercial projects caught the attention of Gwyneth Paltrow's goop, which sought her out for a collaboration in Chicago. The same year she was enlisted to reinvigorate Baker Furniture's Milling Road line and debuted a collection of furniture that blurred the lines between classical and contemporary. Kara would go on to work with Baker team again in 2020, this time creating a line for McGuire Furniture. The collection leans into McGuire's traditional artisan hand but with a Kara Mann edge.
Whilst continuing to expand her portfolio of luxury residential projects across the US, Kara founded and launch KEPT, a line of utilitarian home products that takes a fresh approach to home-keeping.
In Summer 2020, Kara launched her first of two collections with CB2. The KARA MANN CB2 collection, takes her signature subversive style to sophisticated new heights. It's high-end design meant for living in..
Mann has been profiled in multiple design books and top publications worldwide including The New York Times, The Wall Street Journal, Architectural Digest, Elle Décor, WWD, Harper's Bazaar and Vogue.
Sours: https://www.karamann.com/about
Top Notch Gabru (Full Video) Vicky I Proof - Kaptaan - Latest Punjabi Songs 2021 Rehaan Records
Kara Mann
Kara Mann (born June 28, 1983, Concord, Massachusetts) is a well known strongwoman competition athlete. She is one of a small number of known female athletes to compete in her sport. Kara stands 5'6" (66 inches, 168 cm) tall and weighs between 195 and 225 pounds (75 to 77 kg).
Childhood[edit]
Mann was raised in Boston. She had a normal childhood, and she was the typical teenage girl who enjoyed using make-up and dating guys after school. Her parents were quite surprised when she let them know she was beginning a weightlifting training program while still in high school.
Education[edit]
She graduated from Vanderbilt University on May 6, 2006, with a bachelor's degree in chemical engineering.
Strongman career[edit]
After graduation from high school, Mann participated in the Massachusetts state championships, held in August 2002, where she finished in third place. Mann enrolled at the Vanderbilt University to study chemical engineering. She relocated to Nashville, Tennessee. Her second competition took place in St. Louis, Missouri, in September 2002, where she debuted at the North American Strongman championship, placing in seventh place.
In February 2003, Kara Mann participated at the X-treme Strongman Showdown in Wilmington, Massachusetts, once again, placing third. She won her first professional strongman championship in July that year, winning the Massachusetts state title, in the competition held at Revere that year. Her main dream as a strongman competitor remained to become the North American Strongman champion, and, one month after winning the Massachusetts title, she had her second chance at winning the coveted North American championship but she ended up in fifth place at the national tournament held in Columbus, Ohio in August. Six months later, in February 2004, Mann returned to the X-Treme Strongman Showdown, improving her previous performance and landing in second place. She was able to push 200 pounds over 200 feet in 37 seconds that time, propelling her to almost taking the championship. Then in June that year, she traveled across the country to participate in a strongman competition on the United States' west coast for the first time. Mann placed fifth in the Cal Pro/Am tournament in Riverside, California, where she finished in fifth place. Mann was invited to participate in Strongman's team USA, and she represented her nation at the July 2004 All Nations Strength & Fitness competition, held in Aruba. Once again, she finished in second place.
On August 2004, she went for the North American Strongman championship for the third time, this time in Kansas City, Missouri. She finally made her dream come true and became national Strongman champion during that competition.[1]
In addition to her competition feats, she has also pulled an A-4 military airplane 47 feet in 60 seconds.
Kara's story has been showcased on such television networks as ESPN and NBC.
References[edit]
External links[edit]
Sours: https://en.wikipedia.org/wiki/Kara_Mann
Wikipedia kara mann
Kara Mann has style. The designer, who splits her time between Chicago and New York, can usually be found in heels over three inches tall paired with her own unique mix of contemporary clothing. Her distinct aesthetic is on full display in her interiors and furnishings, too, where she deftly pairs luxe materials, blending edgy silhouettes with rich finishes that feature unexpectedly soft touches. It's a style that has earned her a slew of covetable residential, hospitality, and retail projects (including a pop-up for Gwyneth Paltrow's Goop) and, two years ago, caught the eye of Baker Furniture, which enlisted her to reinvigorate its Milling Road line. Now at work on her second collection for the company, which she's designed in between hotels, boutiques, and residences, Mann is as busy as ever. AD caught up with the trendsetting designer to see what 24 hours in her life is like.
5:30 A.M. I wake up every morning by the same alarm: my miniature Australian shepherd, Bob. I could use another hour but Bob doesn't see it that way. Grab my cell phone off my nightstand and start answering emails, and then at about 6, Bob and I wake up my other mini-Aussie, Shorty. I pull on my old Rick Owens tank and Monrow camo sweatpants and we go on our morning walk down to the lake. On our way back, I stop in for a much-needed coffee at La Colombe. I keep it simple—black coffee with a splash of milk.
7:00 A.M. The three of us are back from our walk and I change into my Bandier yoga gear and make my way to CorePower Yoga. I love when I can start my day with some yoga; it's always the best way to clear my mind and prep for the day ahead.
Sours: https://www.architecturaldigest.com/story/a-day-with-designer-kara-mann
Top Notch Gabru (Full Video) Vicky I Proof - Kaptaan - Latest Punjabi Songs 2021 Rehaan Records
#
Fact
1
Has two first names that are hyphenated. Her sister has two first names as well.
2
Had the longest name in her high school graduating class. This was due to her first name being hyphenated.
3
Kara's passion for the arts includes a passion for genealogy. Her lineage not only predates to the formation and founding of America, but also has relatives with monumental accomplishments that took place through out history. She is a 15th generational descent of Governor William Bradford of the Mayflower in 1620; George Mason, an author of the bill of rights, and a generational cousin of the famous writer Samuel Langhorne Clemens, better known as Mark Twain. She is descended from 7 of the 11 sureties of the Magna Carta and is a direct descendant of Charlemagne. Her grandfather, Malcolm Albert Schulz, was an accomplished Jazz violinist whose orchestra, The Blue Bird Melodeons was the first staff orchestra for local radio station, WWL. He was also an award winning Aeronautical (Aerospace) Engineer who helped design the boosters and command telemetry systems for Apollo 11. He worked on the prototype designs for the space station and the shuttle as well as the satellites and deep space probes.
4
Kara is good friends with Thora Birch's brother Bolt Birch and actor Colby Boothman of Jurassic World.
5
Had to cut her hair for Jurassic World as Ty Simpkins Body Double.
6
Has one older sister named Catherine who goes by the nickname Katie. She is an actress and a classical singer. Was the one who encouraged Kara to start performing in musical theatre shows. She also talked Kara into taking up opera voice lessons, which Kara did for a little bit. Gave Kara the nickname "Kay" growing up.
7
Has had a good bit of musical theatre under her belt from a very young age. Ended up graduating from a performing arts High School.
8
Is also a singer and songwriter. Likes to write about her personal struggles and how she overcomes them. Plays piano and guitar. Started singing and performing at a very young age. Got her musical influence from her grandfather who was a Jazz violinist.
9
Was given the name Kara at a young age which later became her stage name.
Sours: https://networthpost.org/net-worth/kara-mann-net-worth/
Similar news:
She suddenly asked me. - Quiet, what are you doing. No, I got up on you then, - I denied. - Yeah, of course. I saw how you looked at her and spanked, - after these words she squeezed my penis even tighter, with one hand massaging the balls.
1227
1228
1229
1230
1231