I have to tell you how excited I am about this DIY Magnetic Makeup Palette only because it is something that I desperately needed.  I'm so happy that I can make an endless supply of them!  I buy a lot of palettes but it always ends up that I like some colors better than others which is fine, except when I travel, I have to take the entire palette with me just so I can use those 2-3 colors.  My makeup bag ends up bulging with 3-4 different palettes and I know that I don't need to bring all of them but I really like those specific colors.  I did end up buying this large magnetic palette and depotted quite a few of my shadows but at $25 for each palette, they certainly aren't cheap and I'd almost like to spend that money on more make up, know what I mean?
You can find inexpensive palettes easily by shopping at stores that sell makeup geared towards tweens and teenagers. Forever 21 has this palette for under $9 that would work great. I got mine in store at Forever 21 for around $5 and got lucky since these have a mirror built into them.
Here's my finished product!  And of course I glittered it too. 🙂
You want to know what my secret ingredient is?  Magnetic Paint!  I didn't even know they made such a thing I just googled it, hoping something like that existed and indeed there was!  Just a tip, if your local craft store is small it's going to be impossible to find it as I found most places here didn't carry it (even my local Jo-Ann's).  I just ended up ordering it on Amazon. 
Even though I wasn't sure it was going to work, I documented the process.  So thank goodness it did work!
First your tools:
1ST STEP: REMOVING THE CURRENT MAKEUP PANS
With your palettes, take out the entire part that is holding the current pans.  In most of the palettes, you can usually find where it's glued together and with a little strength, it's easy to pull off or use a tool to get it underneath and pop it off.
Clean the glue residue off the inside of the bottom of the palette.
2ND STEP: PAINTING AND ADDING MAGNETS
Paint the inside with the magnetic paint (it took me about 4-5 coats before I was happy with the magnetic-ness.  I tested my magnets to make sure it stuck.  You can paint coats every 2-3 hours but once it's done, let the paint dry overnight.
Take your palette and depot the pans.  This palette was easy as it popped right off.  It was just a bit of glue on cardboard but some are harder to depot.  (I'm not going to get into depotting as that it's own animal but google "depot eyeshadow" and you'll find tons of tutorials)
Cut the magnet sheet to the size as needed.  Stick the adhesive side to the bottom of the pans.
3RD STEP: ADD YOUR CUSTOM COLORS AND GLITTER!
Fill your pans to see how it looks/fits and if the magnets are sticking well.
You could stop here if you didn't care what the outside of your palette looks like.
I have so much glitter left over from my previous glitter projects (here and here) so I wanted to use it and make my palettes even prettier.  (ha! I just love any excuse to glitter!)
I've gotten a lot of questions about the mix of glitter to mod podge.  You want to make sure that all your specks of glitter are covered in mod podge.  This is how you ensure the minimal fall out.  1 parts glue to 2 parts glitter is what I aim for.
If you have your pans still in the palette, take them out before doing any painting.
Coat in glitter and let dry between coats.  Paint until every single area is covered in glitter!
Instead of glittering it, you could also just paint the case and it would look just as cute.
And there you go!  A glittery, magnetic case that you can change out the pans to suit your different looks!
Here it is with a few other items that I keep in my hangbag so you can see the size.  It fits in perfectly don't you think? 🙂
*If you are wondering about my makeup palette that I depotted, it is this Hello Kitty for Sephora palette.  I loved the colors but hated how big and clunky the case was so I rarely took it out to use it.   Now that I've depotted all the makeup, I've got a fun case to hold other stuff and am actually using the palette now.
If you liked this post, check out my other glitter DIY posts!
Written by
tiffany
Tiffany is the founder and editor of I am Style-ish, a Fashion, Motherhood and Lifestyle Blog based in Seattle. Follow along my daily adventures on instagram @tiffanyish and where I share daily Amazon deals on www.amazon.com/shop/tiffanyish
Sours: https://www.iamstyle-ish.com/2012/07/diy-magnetic-makeup-palette.html
There aren't many blog posts I get so excited about that I post them the very day an idea germinates. This one is it! I'm super excited coz I've just made a Z palette for $2.50. You know what's a Z palette right? Duh! Its a very well known brand for empty magnetic eyeshadow palette cases, so makeup artists and enthusiasts can create and customize their own eyeshadow palettes. They can select a million single eyeshadow pans and then stick their favorites together in one palette. Yep! That's a Z palette and they cost a bomb! An empty Z palette is an easy $30+ and in NZ you can't even get one unless you get it shipped from overseas with a hefty shipping charge ($20 plus).
Long story short,
Anastasia Beverly Hills (ABH)
had their Black Friday Sale a few weeks ago, where their single eyeshadow pans were reduced to like
$4 from $12 each
, so obviously I went a lil crazy in there. Normal practice is that ABH send you an empty palette along with so you are good to go. I bought 12 eyesshadows and expected them to send me a 4 pan and an 8 pan empty palette along-with. They didn't. They just sent one 4 well empty palette. I was disheartened! I researched Z palettes, they were damn expensive. I researched Z palette DIY's. They were do-able and this one I tried was a success in one go. So here's a step by step tutorial for your very own Z palette. It literally took me five minutes to assemble this and I'm so crazy obsessed with it already. Now I just have to figure out a way to depot all my MAC single eyeshadows. #ExcitementLevelOutOfRoof
Here's the step by step instructions with photos-
1. You'll need one Self Adhesive Magnetic Sheet (A4) -I got this from a $2 shop (Dollar store) for $2.50. This is the only cost involved. Craft store would be a good place to find them too.
2. You also need
an empty DVD Case
.
NOT CD, NOT BLUE RAY. Only DVD
Case as its fat. I couldn't find one at home so I got it from EB Games (a NZ video store) for free as I was already buying something from the store.
3. Also needed is
70% Isopropyl Alcohol/ Rubbing Alcohol
to
disinfect/sterilize the DVD case
. Rubbing alcohol is available in pharmacies easily. It's a great thing to have to sterilize makeup. I always use it to clean my lipsticks if someone else has had a go at them. Here I've just transferred mine to an empty toner spray bottle for the ease of use.
4. Lastly, you need
single eyeshadows to your hearts content
- I only have these ABH pots so far but I'm looking to de-pot my MAC single eyeshadows so it's easy to carry them around when I travel. The
eyeshadow pans must be made of iron
so they can stick to the magnetic sheet. I've heard some brands use
aluminium pans
, so in that case you will have to buy some
round magnetic stickers
which are easily available at dollar shops or craft stores, to stick them under the pan so the pan can stick to magnetic sheet. I was lucky that the ABH shadows were magnetic already.
5.
Cut the magnetic sheet to the measurement of plain side of DVD case.
I really could have done a better job here :p Oh well!
6.
Stick the sheet in the case
. Easy peasy! You need 3 hands though. Grab the bf! The sheet is super sticky so it sticks wherever it touches. Worry not, I was easily able to peel the whole thing and re-apply.
7. Because the sheet is black, I've stuck the adhesive sheet cover on the magnetic sheet's non adhesive side with glue so I have a
nice white background to my eyeshadows
. You can stick any paper on it...colorful even! Just making sure the paper is really thin so it doesn't affect the magnetic pull of eyeshadow pans.
8. Time to stick your eyeshadows in your very own hand-made Z palette. This is so satisfying!
9. Here's the shot of them inverted. They didn't fall. Wohoo!
10. Your very own cheap as chips (literally) Z palette is ready to travel with you! At some point I am going to chop off that annoying round CD holding thing in the middle but for now I'm just avoiding the space opposite middle of the case, even though the eyeshadows don't seem to be touching it. I don't wanna risk it though. It still doesn't affect the palette's usability. I'm going to cover the palette with some matte black or colorful wrap! Sky's the limit with all the things you can adorn this one with.
11. Make your own and show me. I'd be absolutely thrilled to see yours :)
and hey leave a line in the comments below so I know leaving my evening walk for this post was worth it :p
Love
Nishu
Sours: http://www.lipsnberries.com/2016/12/omg-i-just-made-diy-z-palette-for-250.html
How To Make Empty Magnetic Makeup Palette – DIY
Dear All,
I am super excited today as I am going to show you how to make a magnetic palette at home for storing refills of your eyeshadow/blush/concealer, etc!  I have been searching for a good and reasonably priced empty magnetic palette for a long time! The reason being I have mixed shapes of eyeshadows and getting a Z palette was the only choice as I could customize it the way I want it! So began my search for a good empty magnetic palette, I tried searching on ebay and Amazon, but the prices were way too high and not to forget shipping charges 🙁
I came across this video on Youtube where the lady showed ways to make an eyeshadow palette at home! Now, I am a complete DIY person and love playing around with crafts! The materials used were also not very expensive and it did look easy! The challenge came in when I went out to find self-adhesive magnetic sheets which seem to be easily available in any craft store in US, but I couldn't find these here in India 🙁 I even ordered magnetic strips from ebay which never reached me 🙁
But recently during my routine browsing, I came across this site where they had used magnetic sheets and so I was elated!!! I called up the craft retailer and asked about these sheets and he said these were available in stock, but they are nonadhesive, well, I was fine with it, after all, why do we have Fevicol?
So, without any further delay, let me guide you all with step-by-step instructions on "how to make a magnetic palette at home!"
Materials Needed To Make An Empty Magnetic Makeup Palette:
One magnetic sheet – Its not easily available in India, but check out big stationary shops who keep white boards, etc.
One empty DVD case – Please do not get those plastic ones as they are extremely thin and not sturdy.
Fevicol – to stick your magnetic sheet if its not self adhesive.
One scissor – to cut the magnetic sheet according to the DVD case's dimension.
A big ruler (scale) – to take dimension of your DVD case.
Eyeshadows refills 🙂
---
Read Rati Beauty Diet: The Right Way to Lose Weight
---
Step 1:
Take the dimensions of your DVD case and deduct 1 cm from both the sides, i.e., vertically and horizontally.  For example, my DVD case was 19 cm in width and 13 cm in height, so I took 18 cm and 12 cm respectively.
Step 2:
Measure and draw the rectangle on the back side of your magnetic sheet (blue side).
Step 3:
Carefully cut the rectangle out.
Step4:
Place the magnetic sheet into your DVD case and make sure it rests beneath the two hooks as shown in the pic.
Step 5:
Glue the top end of the sheet with DVD, use a good glue like Feviquick or Fevicol. I have used Fevicol here.
Step 6:
Let the glue dry out for 15 minutes. Your magnetic palette is ready!
Step 7:
Place your eyeshadow/blush etc., refills and you are all set!
Notes:
Only refills that have metal as base will stick to the palette, my Bharat and Dorris eyeshadows did not stick as they were made of aluminium 🙁
All the eyshadows and lipstick refills shown here are from Inglot, I believe even Coastal Scents and MAC refills will easily stick to the palette too.  For rest which are nonmagnetic, you can use a magnetic sticker to stick at the base of the eyeshadow and then use it.
Also, please remove the sharp edges of the upper portion on the DVD as it may interfere with your eyeshadows.
The magnetic sheet is quite sturdy and heavy and can hold these refills very well. I have taken the below picture by tilting the eyeshadow palette and you can see that the eyeshadows are in place! I have even inverted the case and still my refills did not fall off!!!
How To Store Magnetic Makeup Palette:
I would strongly suggest you to get one of these magazine/file holders which are easily available in any stationary shop.  I got mine for 170 bucks 😀
I prefer to store my palettes horizontally in the below fashion 🙂 These easily fit in my cupboard's upper compartment and looks very neat also!
You can definitely make your palette more attractive by using colorful papers, beads, etc! Its all up to your imagination. I have kept it simple because I didn't have enough time and materials in hand and also, I got lazy 😛
Let's do some cost analysis, shall we?
Z palettes cost 20$ + shipping extra.
Inglot palettes varies from 350 to 5000 😛 depending upon the size.
MAC costs Rs. 850, I think?
CS palette I think costs 6$ each and 12$ for shipping 🙁
My palette costed me less than Rs. 100 :yahoo: :yahoo: :yahoo:
The cost of magnetic sheet varies from Rs. 160 to 200, I got mine for Rs. 160 and you can easily make two palettes from one sheet.  The DVD case costed me 10 bucks 😛
So, all in all, I made mine in just 90 INR :happydance: :happydance: :happydance: :haanji: (not counting Fevicol/Ruler and Scissors :P)
The palette will easily store 18 round refill pans and 12 to 14 square refill pans!
Hope this article was helpful to you gals.  In case of any concerns or doubts, please do comment below and I will reply back:)
Until next time, take care and have fun!
How To Get Youthful Hands
How To Choose The Right Perfume
How to Apply Pencil Eyeliner – tutorial
How to Fix Common Makeup Mistakes
How To Curl Hair Without Heat – Rags
How to Become Fair Naturally
How To Minimize A Large Forehead
How to Wear Belts
How To Perm Hair
How to Apply Liquid Foundation using Flat Top Kabuki Brush
How To Choose Foundation Shade for Skin
How to Get Rid of Stains from Silk Clothes
How To Make Hair Grow Faster
How To Apply Cream Blush
How to Contour Face with Makeup
How to Straighten Hair
How to Highlight Your Face – Photo Tutorial
How To Do Pedicure At Home in 5 Easy Steps
How to Reduce Dark Circles
Veet Suprem' Essence Hair Removal Cream
Temporary Methods to Remove Underarm Hair
Bikini-Line Hair Removal Tips
How To Get Rid of Facial Hair : Ask IMBB
The Body Shop Tea Tree Skin Clearing Exfoliating Pads
Garnier Pure Exfoliating Face Wash
Bio Skincare Exfoliating Strawberry Face and Body Scrub
L'Occitane Exfoliating Rice Powder
Lush Northern Lights Soap
Lush Lemslip Butter Cream Soap
L'Occitane Ultra Rich Face Soap
Lush Snowcake Soap
Sours: https://makeupandbeauty.com/empty-magnetic-makeup-palette-diy/
DIY Face In A Palette - How To make Your Own Customized Makeup Palette
How to Make a Travel-Size DIY Makeup Palette
Support TFG by using the links in our articles to shop. We receive a small commission (at no extra cost to you) so we can continue to create helpful free content. As an Amazon Associate, we earn from qualifying purchases made on Amazon in addition to other retailers featured on the blog. Thank you, we appreciate your support!
If you have old powder bronzers or eyeshadow hanging around in bits and pieces, you may want to put it together in a personalized case for travel. You may not get to customize your colors, but palette packing will be lighter by reducing the size of your makeup load.
---
---
Everyone has makeup favorites they swear by. Eyeshadow, in particular, comes in a myriad of colors and sizes, from cases with several shades to single pots with just one color. If you want to condense your most used colors down to an easy to pack selection, you can do this by creating your own DIY palette for your journey.
While that may sound daunting, it's pretty easy, we promise! Read below for the products and instructions you'll need to create your own case!
DIY Makeup Palette Products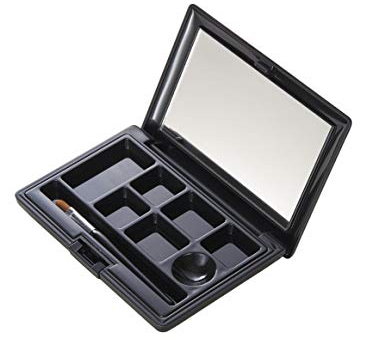 Petal Pro Compact
A DIY makeup palette that comes with its own mixing well
This travel size palette is generally for lips, but that doesn't mean you can't use it for everything else like that must-have matte shadow or concealer. It packs a lot in a small frame with six wells and really lets you mix things up.
The compact measures 2.75" x 4" x .5" and is both sturdy and lightweight.
You'll want to look your best when you travel! Read my travel tips to Pack Light Stylishly!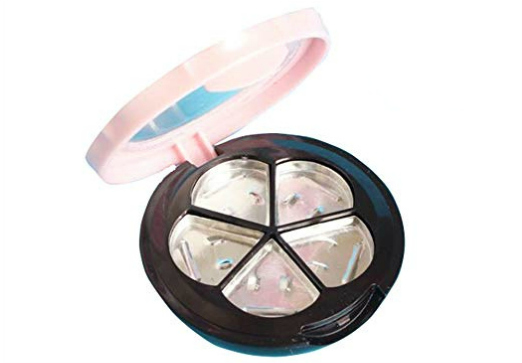 1PCS 5Grid Compact Kit
Make your own magnetic makeup palette in a pretty petal shape
This circular DIY makeup palette by 1PCS holds just about everything you can think of from your best shadows to your favorite glosses. There are five pans to choose from and its floral display is cute too! How convenient is that?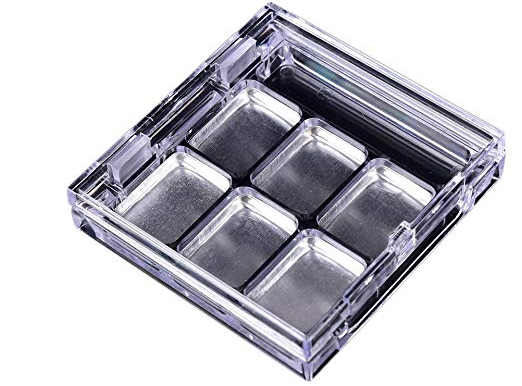 AOWA Case
Remove and replace pans in this transparent makeup palette kit
This case by AOWA actually ships in twos—you get two units with 6 pans each!  When you go through a beloved glitter eyeshadow, you can remove the empty pan from one kit and replace it with another favorite color from the second, or mix colors between the two depending on where you are going. This way, you'll never be short on makeup combos while traveling!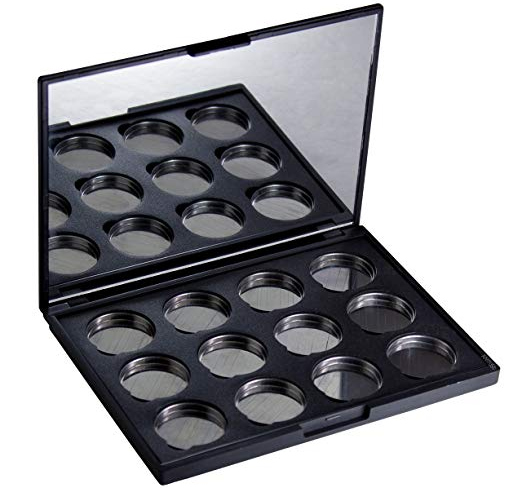 JUVITUS Magnetic Compact Makeup Kit
This DIY makeup palette is the fairest of them all with its own mirror
This medium size cosmetic kit by JUVITUS comes with twelve 1" circular pans and a removable foam insert which you can take out to fit even bigger pans. The case is made from durable plastic and comes with a mirror the size of its lid, so you can check your face while on the go!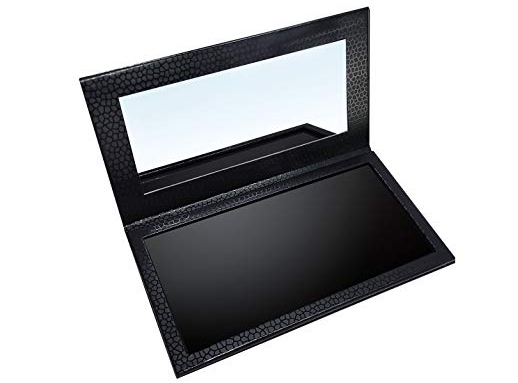 Allwon Eyeshadow Case
You can go in any direction with this DIY magnetic makeup palette
This is the type of magnetic makeup palette DIY your favorite YouTube makeup reviewers love! Allwon gives you a clean slate with which to create your own compact kit. Just make sure you use metal pans so they stick to the surface of the case.

This kit is big and can store up to 32 eyeshadow pans that are 1" in diameter or 18 pans that are 1.41" inches in diameter. However, you can mix and match as you see fit!
Pack lighter with a capsule makeup collection!
How to make your own makeup palette case step-by-step
Supplies you'll need for your DIY makeup palette: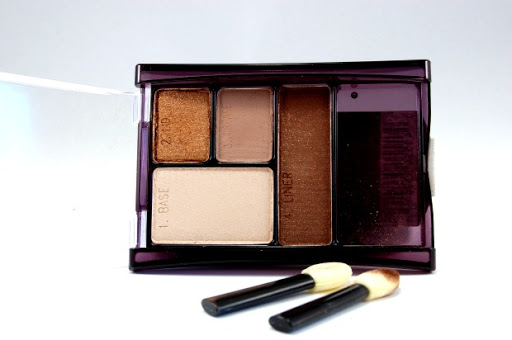 Claim your space for a little palette makeup creation
Are you ready for some creative palette DIY? Line your workspace before you begin with paper towels or work on a big tray. Powders can get messy.
Start with a case that's a size you desire. I found this one on clearance at the grocery store for $1.50.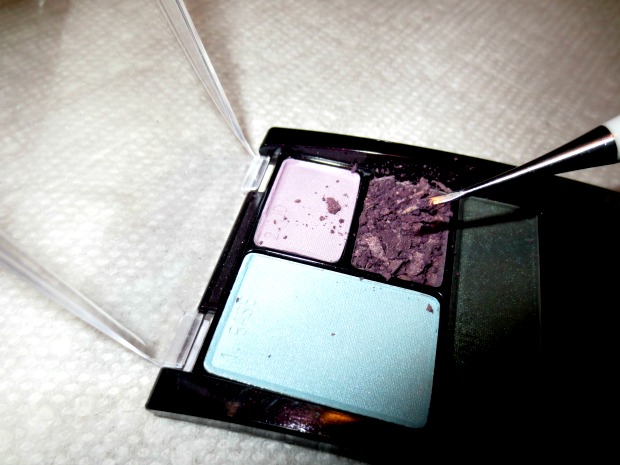 Empty it out with a pick and save the shadows in small baggies. When I did this, I saved one pan of shadow to use as is but crushed and removed the rest.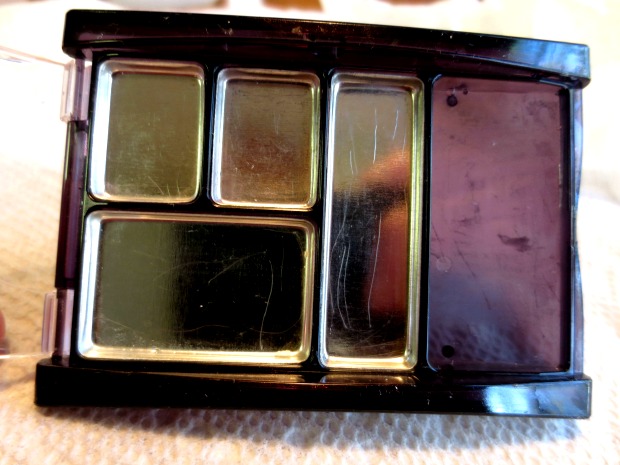 Clean with alcohol to remove any residue. I also took the labels off my kit with Goo Gone.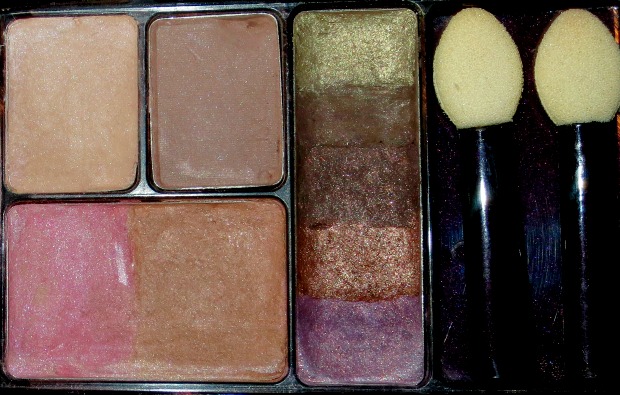 What cosmetics should you include in your DIY makeup palette?
Any powdered cosmetics should work. As an example, I knew I wanted to have a shared blusher/bronzer and powder foundation, in addition to the eyeshadows. You can even "share" a pan with different powers.
Looking to try earth-friendly makeup? Here are our favorite natural beauty products.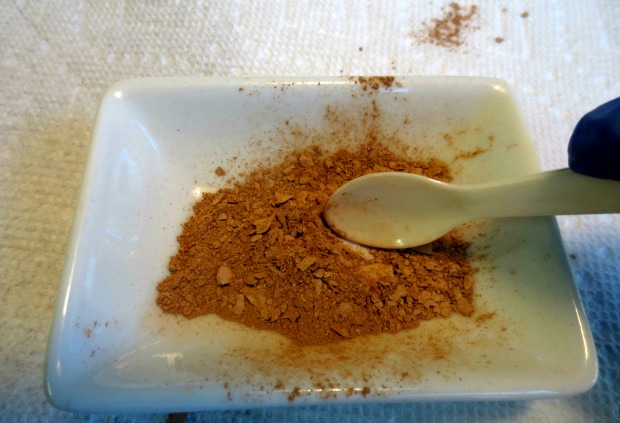 Prepping your powders for transfer to new pans in your homemade makeup palette
Crush up the powder you wish to put in new pans to a fine dust. Make sure to smash all the chunks you see. I used a plastic mini spoon to do this, and I even blended two shades of powder foundation to make a new color!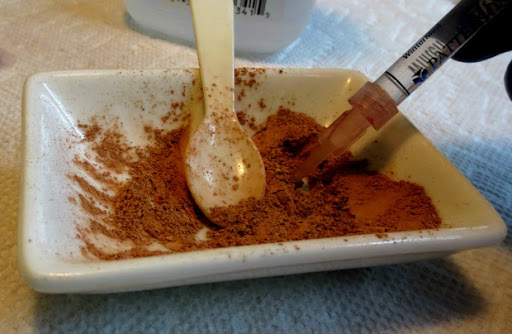 With an eyedropper or tiny spoon, slowly add isopropyl alcohol to your powder. Stir to make a paste.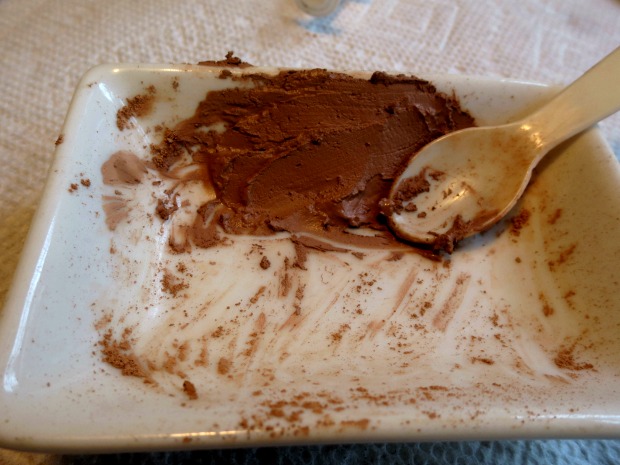 Your makeup should now have a frosting-like consistency. If you add too much alcohol, you need to wait a few minutes until it starts to evaporate and makes the paste a little harder.
Hunting for great products? Here are 10 travel beauty products every jetsetter should own!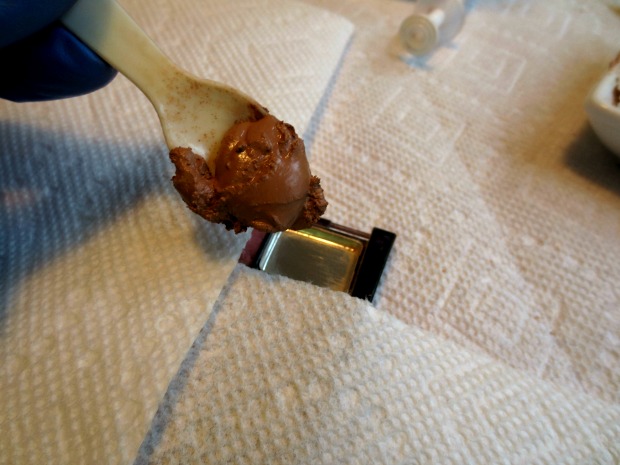 Filling the pans in your makeup travel palette
With a small spoon or spatula, put your paste in the desired spot, leaving it slightly above the level of the pan. Distribute it to all four corners of the pan evenly.
Just a note on how to make a magnetic makeup palette: you can fill your pans outside of the case before placing them in. Just make sure they're metal so they stick to it when you're done!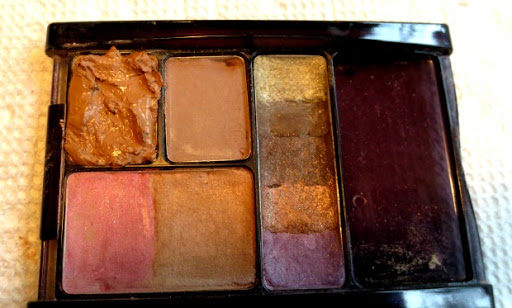 Leveling your DIY palette paste and drying the powder
Let the paste dry for 2-3 minutes.
Use your fingers to stamp down in the corners and level out the paste in the pan as you go. Remember, the paste should be a bit above the level of the pan.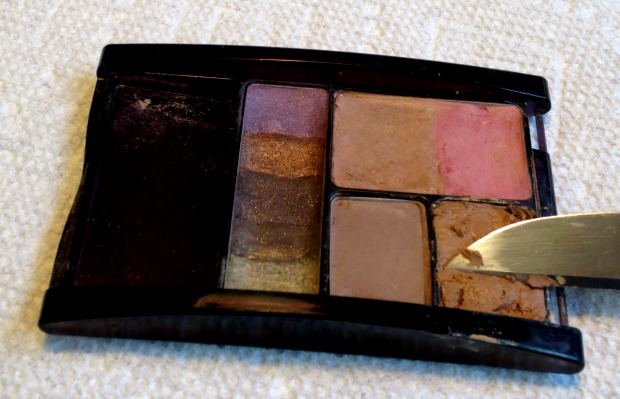 However, if there is too much product and it's spilling over the sides, shave some off with a paring knife.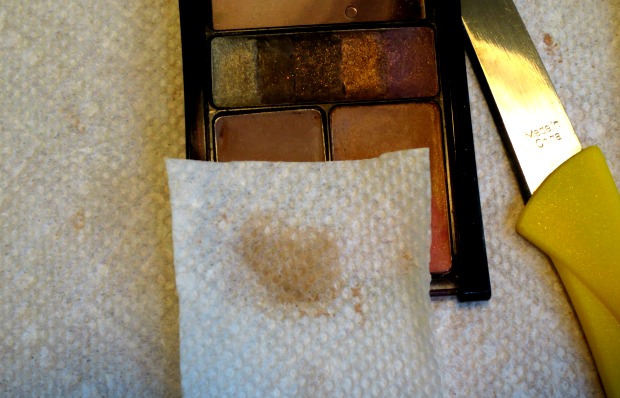 Place a paper towel over the pan. With your fingertips, press down gently to start absorbing the alcohol and further level the paste. Do this until the paste is almost dried into a pressed powder. Don't push too firmly, just try to absorb the excess alcohol, keeping the paste more or less level as it dries.
You may need to change paper towels. This step takes time.
Once the product is level, place a dry, paper towel over the pan and push down firmly with your fingers to compress the powder evenly, edges included. Do this several times, and replace the paper towel each time, until it no longer shows moisture coming up.
The trick is to be firm, but not too firm; you want your powders pressed, but not compacted to the point where they are too hard to use.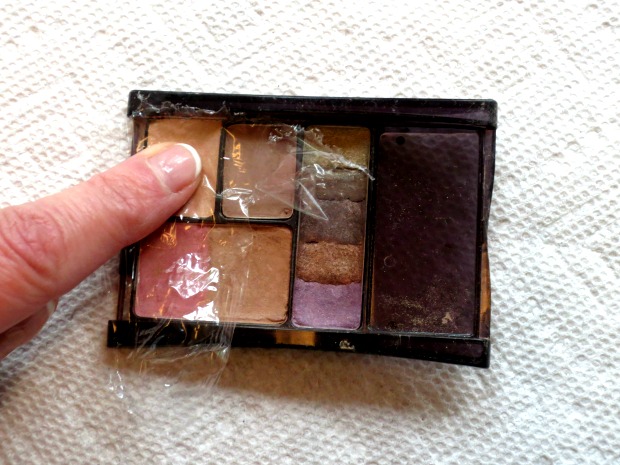 If you want a smooth surface, after pressing with the paper towel, cover the pan with a piece of plastic wrap and push down.
Allow 24 hours for the powder to harden and the pan to fully dry. Leave the cover up so that any moisture in the powder evaporates. Once dry, you can use the tip of a knife, or a toothpick to clean up a pan's edges.
Products can share a pan. To do this, just cut a straight line on the edge of one of the products as it dries, before you add something next to it or you can add all the different colors at once.
Check out these 7 clever travel makeup hacks!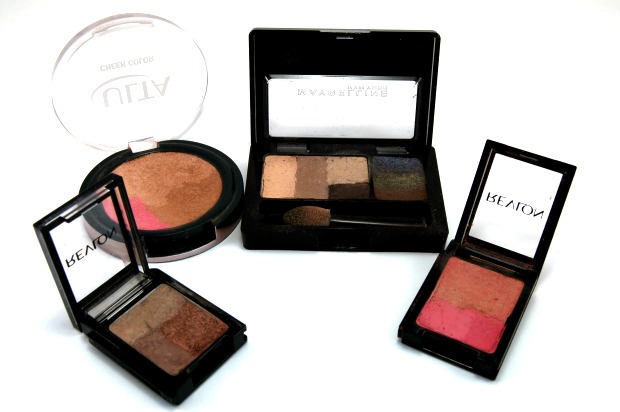 Your finished compact makeup palette
You can use pans of any size and configuration to customize your case, include metal pans for a DIY magnetic palette.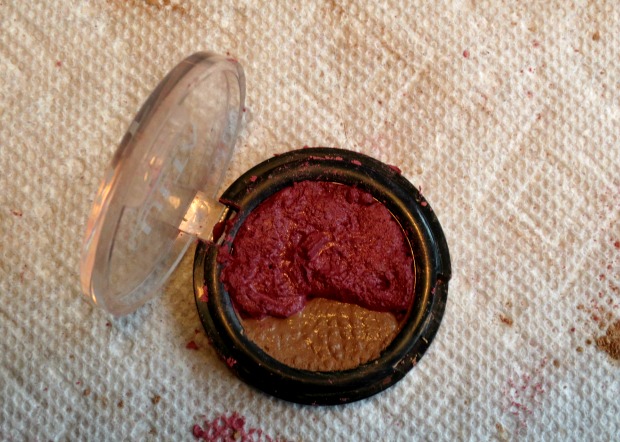 This one has a bit of powder concealer, combined with a blush. I added both pastes at the same time.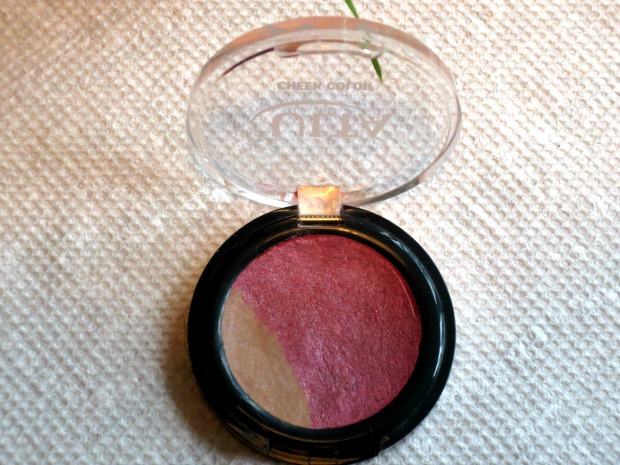 Scrape off any excess powder that may have collected on the palette's edges with a knife and clean with alcohol.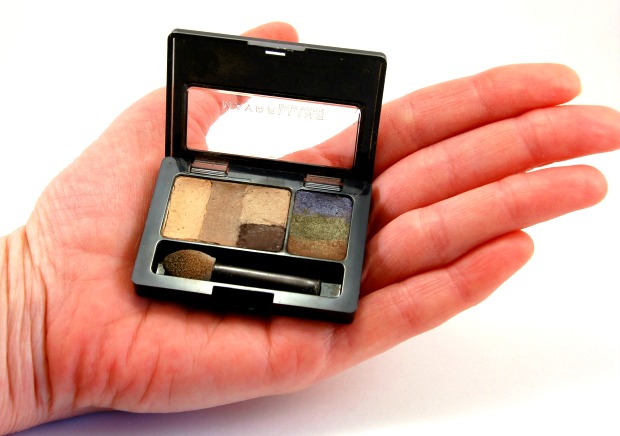 This DIY makeup eyeshadow palette is one of my favorites and normally contains two eyeshadows. My new one, however, contains six eyeshadows and one powdered concealer and is 2.25" long, by 1.5" wide.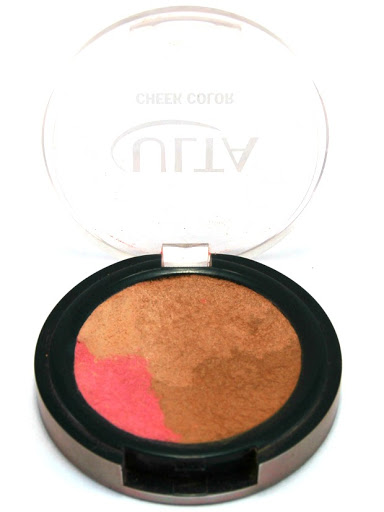 This case has concealer and two shades of bronzer and blush.
Take a look at these tips on the best eyebrow makeup for travelers!
The pros and cons of a DIY makeup palette
Pros
You can take several of your favorite cosmetics with you in one container.
You're not stuck with colors that come in whatever pre-made case you buy.
You can add products together that you wouldn't normally see, like powder concealer in an eyeshadow palette.
A travel pallete is perfect for those who take trips only a few times a year.
Cons
The consistency of the shadows and powders that you add to an empty case can vary slightly from the originals, based on the pressure applied when the powder is drying. Experiment with how much to apply. You want enough to hold the powder firmly together, but too much will make it hard to put powder on an applicator.
Have fun, experiment, and breathe new life into old cracked powdered makeup with a DIY makeup mixing palette.
DIY Makeup Palette Comparison Chart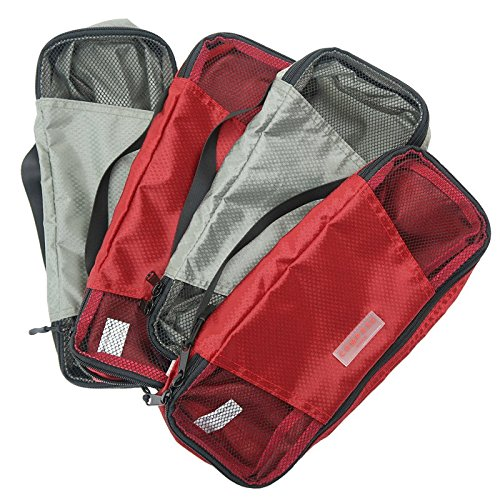 Compass Rose Packing Cubes
How to Pack a Makeup Travel Kit
When it comes time to pack your makeup, you'll want to consider a makeup bag to keep it separate and neat in your luggage. Consider a small cosmetic bag that can fit easily into your toiletry bag.
You also can wrap your makeup bag in clothing and add to your packing cube in your suitcase to better protect it. Even if you travel carry-on only, your bag may be put into an overhead bin, under a seat, or hauled up flights of stairs. You don't want to break your products.
Only pack what you think you really will need and use. Watch the video above for tips on how to downsize your beauty products.
However, if something does happen to your makeup or beauty supplies, if you forget something, or if you need something, you can buy products at your destination.
Get our free printable makeup checklist here!
---
What is your DIY makeup palette? Let us know in the comments!
---
Please read these posts for more ideas on travel make-up:
---
LIKED THIS POST? PIN THIS PIC TO SAVE IT!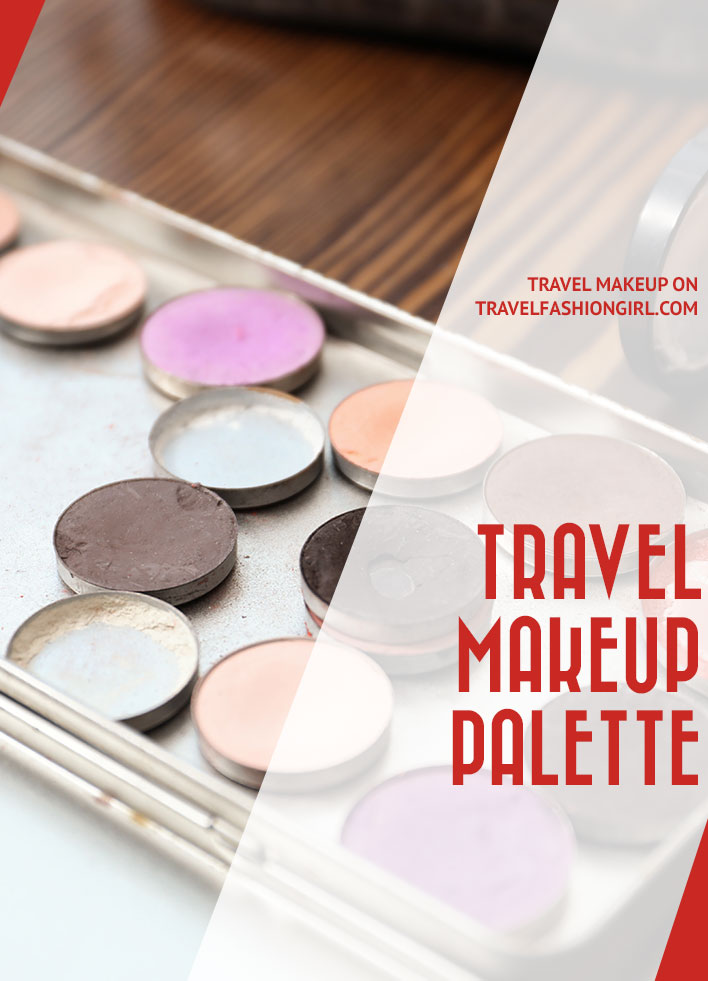 ---
I hope you found this post on how to make a travel makeup palette useful. Don't forget to share with your friends on Facebook, Twitter and Pinterest. Thanks for reading!
---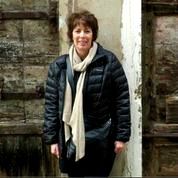 Author Bio: Heidi Barry-Rodriguez is an explorer-librarian with a love of books, travel, her husband, and two cats. She loves train travel and the mobility, serendipity and freedom that are afforded by packing lightly. Check out her podcast episode on packing light!
---
Sours: https://www.travelfashiongirl.com/diy-how-to-make-a-travel-size-makeup-palette/
Diy magnetic palette
DIY Magnetic Makeup Palette Tutorial | Upcycling An Old Watercolor Case
Recreating makeup looks is one of the best ways to kill boredom now that many of us are required to stay at home. Now, wouldn't it be nice to customize your makeup in one magnetic palette for easy access instead of having to put them all out every time?
Z palette is one of the go-to brands when it comes to magnetic makeup palettes, but it's expensive! Plus, what's the fun in buying when you can do it yourself, right?
Get ready to depot your powder or cream products because you'll surely get hooked, you might find yourself depotting everything from your collection. There are a lot of ways to create a magnetic makeup palette, however, in this tutorial, we will show you how an old watercolor case can be upcycled to something really useful and chic!
RELATED: 12 IKEA Makeup Storage Ideas You'll Love
Fun & Easy DIY Magnetic Makeup Palette
Check out the video tutorial below:
Materials You Will Need:
Old watercolor case
Prying tool or tweezer
Magnetic sheet/shims
Transparent sheet (optional)
Makeup palette or pots you want to depot
Rubbing alcohol
Acetone
Scissors
Step 1: Depot Watercolor
First, you have to remove or depot your old watercolor from its case. Then, clean up the excess watercolor and adhesive that got stuck in the old palette using the rubbing alcohol.
Be careful with this step especially when taking out the excess glue since it may ruin the palette.
Step 2: Attach the Magnetic Sheet
Line your magnetic sheet onto the palette and make sure it will cover the entire board. If the magnet does not fit, cut the excess.
When it is lined up perfectly, peel the backside sticker of the magnetic shim and attach it to the palette seamlessly.
The excess that you took out should cover any other spaces if there are any left.
Step 3: Depot Your Makeup From Its Case
This is the fun part! Depot your makeup from its case. Use a prying tool to remove the pots but first remove the padding that usually covers the pots in the palette.
If the pots are still sticking onto the case, you can try to heat the bottom part of the palette using a hair iron but remember to gently do it from underneath.
Use the transparent sheet underneath as to not put direct heat on the palette.
Rub it in a circular motion to avoid melting the makeup and spread the heat from the entire pot. This method will soften up the adhesive used.
After heating it up for a while, use the prying tool to remove it.
Tip: You can depot eyeshadows, blushers, lipsticks, and face powders. The idea is to include all the necessities in one palette for convenience.
RELATED: These DIY Makeup Organizer Ideas Make Great Gifts For Your Girls
Step 4: Cleaning and Placing the Magnets Onto the Pots
Now that you have the magnet sheet installed on your palette, clean the bottom of the pots using a cotton ball with acetone. This will remove any excess adhesive and clean the bottom part of the pot.
Using the rest of the magnetic shim, cut a piece of magnet and stick it to the bottom of the pot. Make sure that it will cover a lot of space but not too much that it will go over the pot.
Step 5: Labelling (Optional)
Cut a piece of paper, a little bit smaller than the magnet, and label each makeup you wish to use to stick on your magnetic makeup palette. You can buy some makeup products that are already depotted and have magnets and labels underneath. You can use those if you wish.
If you own those cute handheld labeling tools, this is the perfect project for it.
Here Are Other DIY Magnetic Makeup Palette Variations You Can Do at Home!
1. Magnetic Palette Using Cardboard
This variation is more complicated but you have better customization options. If you're someone who loves to do crafts, this is perfect for you. You can personalize and customize the design and print of your magnetic palette.
2. Magnetic Palette Using Expired Eyeshadow or Blush Palette
If you're a makeup collector chances are you own so many palettes. For all we know, some of those are already expired. It's hard to let go, I know! However, you have too, you don't want to put expired makeup on your skin, don't you? Additionally, we all have to be extra hygienic with COVID-19 causing a worldwide pandemic.
You need to clean your makeup tools more often than usual and most of all, declutter your old or expired makeup products. But what do you do with your old makeup palettes? Upcycle them into magnetic makeup palettes!
And if you're sentimental like me I'd love to hold on to stuff I treasure and upcycling your expired palettes is a great way to immortalize them.
3. DIY Magnetic Makeup Palette Using Plastic Pencil Case
Another upcycling project you can do is to use an old plastic pencil case as a magnetic makeup palette. This is great for our makeup lover moms who are always buying pencil cases every year for their kids.
4. Old Hardbound Notebook Magnetic Palette
|

I love this! I've always been looking for ways to reuse my old notebooks and organizers. My problem now is I need to buy more eyeshadows and blushers to put in my magnetic palettes if I do all these ideas.
5. Magnetic Makeup Palette From Gift Carton Box
Those beautiful carton boxes can now be upcycled! It's hard to throw them away, at least now their not useless displays, they will serve a greater purpose for your makeup collection.
There you have it. Now you have your own DIY magnetic makeup palette. Wasn't that fun? Not only do you get a personalized makeup tool, but you also get to save some dollars instead of buying a branded palette. We hope you get to use this at its fullest!
Do you have other versions of a DIY magnetic makeup palette? Please share your thoughts in the comments section below! Or better yet, tag us on Instagram!
UP NEXT:
We aim to feature the best of the best in the makeup world, and maybe that can include you! CONTRIBUTE to us!
Follow us on Facebook, Twitter, Instagram, and Pinterest for the latest makeup, hair and nail trends. Don't forget to subscribe to our Youtube Channel for cool makeup tutorials.
Filed Under: Tutorials, DIY
Sours: https://makeuptutorials.com/magnetic-palette-makeup-diy/
D.I.Y How to make your own Magnetic Palette and De-Pot!
You smelled a familiar, energizing scent. "Lariana!" - flashed through your head. The heart quickened its pace. You felt yourself aroused by my scent alone.
Similar news:
M roofing felts are sad, the roofing felts menacingly sniffled. - wow, and really tight. - Without seeing and at a bad angle, squeezing the pear turned out to be hard.
1172
1173
1174
1175
1176