The Modded Mega: A 2012 Ram 2500 Packing the Right Upgrades.
Throughout North America, auto enthusiasts from all walks of life rely on diesel pickups to tote their toys to and from the track. In recent years, these hobbyists and semi-professional racers have begun to realize that their tow rigs can be significantly modified with very few negative side-effects. Take R.C. Ellis for example. After using the '12 Ram 2500 Mega Cab shown here to haul his 1,100 hp LS-powered Camaro for several years, he learned that the truck's horsepower and torque could essentially be doubled without sacrificing fuel mileage, functionality or overall durability.
Armed with the knowledge that the 6.7L Cummins wouldn't break a sweat with some extra fuel and air in the mix, R.C. got started with an aftermarket programmer, exhaust system and intake manifold. Then, a BorgWarner S400 turbo and high flow exhaust manifold were added, a FASS fuel system was installed and a 3-inch Carli Suspension lift was bolted on. The truck's appearance was further amplified with a set of 20x9-inch BMF Novakanes mounted on 35-inchNitto Ridge Grapplertread. Check out the full rundown on R.C.'s modded Mega Cab below and decide for yourself if it's the perfect tow rig.
Low-Mile B-Series
The 31,000-mile 6.7L Cummins under the hood of R.C. Ellis' '12 Ram 2500 is bone-stock, aside from being treated to several airflow improvements. Most notably, a BorgWarner S465 turbocharger and Stainless Diesel T4 exhaust manifold sit in place of the factory components. The upgraded turbo and manifold combination yields stock-like spool up and considerably more mid-range and top-end pull. And thanks to the S465's fixed geometry design, the engine sees less drive pressure (reducing the chances of a blown head gasket) and the vain-sticking issues associated with the factory HE351VE VGT Holset turbo have been eliminated.
Increasing Intake and Exhaust Flow
Opening up airflow between the cold side of the intercooler and the cylinder head is a high flow intake manifold from H&S Motorsports. The gloss black powder coated manifold is a very popular, bang-for-the-buck add-on in the Cummins world and it vastly improves flow over the restrictive factory piece. On the exhaust side, a 4-inch aluminized-steel downpipe connects to the back of the S465 turbo, while a 5-inch diameter system routes exhaust gases out the tailpipe.
Stock Slushbox, For Now…
Although the 68RFE six-speed automatic has been left alone up to this point, R.C.'s future plans entail installing a beefed up, full-billet version—if not a full-on 48RE swap. So far, the untouched, low-mile slushbox has had no problem harnessing the extra power being produced by the S465 and aftermarket tuning.
Mini Maxx Monitor
An H&S Mini Maxx monitor mounted on the lower driver side windshield allows R.C. to keep an eye on exhaust gas temperature (EGT), boost, transmission and coolant temp. Once the stock injectors are fitted with larger nozzles and the CP3 is stroked to 10mm, R.C. will be contacting an aftermarket vendor for custom, Maxx Calibration Control (MCC) tuning.
Carli Suspension Lift
A Backcountry 2.0 suspension lift from Carli Suspension provides approximately 3-inches of additional ride height up front. The high-end kit replaces the factory coil springs with taller, lighter-rate units, features internally gusseted, high-clearance control arms (equipped with notched recesses to reduce the possibility of tire rub) and two pairs of Carli-tuned Fox 2.0 remote reservoir shocks.
Diesel-Rated Rear Spring Packs
A full replacement spring pack (spec'd specifically for diesel-powered Rams) sits in place of the factory stack and increases the rear ride height by roughly two inches. According to the folks at Carli, this spring pack minimizes axle wrap and wheel hop, yet also softens the initial spring rate at ride height.
The Death of Death Wobble
R.C. also opted for Carli Suspension's torsion sway bar and dual steering stabilizers. The dual purpose torsion rate sway bar features heavy-duty, chromoly arms and end links, and also incorporates 5/8-inch heim joints. The T-style dual steering stabilizer kit is fully adjustable (for all tire configurations) and is tied into Carli's 1/4-inch thick front differential guard. An adjustable track bar combats the lift's natural tendency to shift the front axle toward the driver side by forcing it toward the passenger side of the truck.
Nitto Ridge Grapplers
Choosing a 35-inch tire with sound street manners yet plenty of off-road bite, R.C. settled on the 35x12.50R20 Nitto Ridge Grappler. Nitto's groundbreaking hybrid tire combines the off-road capabilities of a mud terrain with the comfort, quietness and longevity of an all-terrain. The Ridge Grapplers are mounted to 20x9-inch BMF Novakane wheels, which with their Machine Black finish complete the truck's sleek black look.
Planning Ahead
With plans to eventually upsize injector nozzles and install a higher flowing CP3 pump, R.C. made the call to be proactive on the low-pressure fuel supply side of the equation. Doing away with the factory lift pump and in-tank pick up, a 150-gph Titanium series fuel system from FASS was installed (top, right), along with a Beans Diesel Performance fuel tank sump. Capable of supporting as much as 900 hp, the FASS system will be there when he decides to pull the trigger on a bigger set of injectors and CP3. As for the sump, it will ensure plenty of fuel volume is always on tap for the FASS lift pump.
A Well-Rounded Package
In its current 500-to-550 hp state, R.C.'s Cummins-powered Mega Cab is the perfect tow rig for his Camaro and one heckuva fun daily driver. The quick-spooling S400 lends itself to great streetability, the Carli Suspension lift and steering upgrades make the truck a pleasure to drive and the BMF Novakane/Ridge Grappler wheel and tire combination give the truck the aggressive appearance it deserves. In the future—and knowing that with the right mods in place the 6.7L can be leaned on even further—R.C. plans to push the truck into the 650-to-700 hp range.
Find out which is better- the 6.7L or the 5.9L Cummins Diesel Engine.
Sours: https://www.drivingline.com/articles/the-modded-mega-a-2012-ram-2500-packing-the-right-upgrades/
Many say that the Dodge RAM is the king of the trucking world, praising it for its numerous virtues. For a start, it is a great road cruiser, with lots of power, good fuel economy, and smooth handling. And it is a capable off-road machine, as the link-coil rear suspension and impressive ground clearance lets it tackle any kind of terrain. Moreover, if we talk about payload and towing capacities, this is where the RAM is unbeatable. Lastly, with engines ranging from economical V6, over a legendary HEMI, to a well-proven Cummins diesel, RAM offers a powertrain solution for every application. Everybody will agree that this is a great truck straight from the factory. Still, all of that does not mean that there is no room for improvements.
If you are thinking about upgrading and modifying your RAM, then you're in luck. With a wide range of aftermarket parts and assemblies available on the market, tuning options are practically endless. You can choose from suspension upgrades, engine modifications, heavy-duty exterior parts to aftermarket lights. In this article, we will go through most popular mods and upgrades, explaining what are they designed for.
Suspension modifications
Suspension upgrades will transform both driving characteristics and looks of your truck. With a ton of choices on the market, you need to know what you want to achieve. Lift and leveling kits will give your truck more ground clearance, making it unstoppable on trails, especially if combined with a disconnecting sway bar. Lowering springs, on the other hand, will improve on-road and cornering capabilities by lowering the center of gravity. Lastly, an air ride kit will give your truck a smooth ride.
Lift and leveling kits – what's the difference?
Lift kits and leveling kits are one of the most popular modifications on any truck, and the same goes for RAM.
Leveling kit
A leveling kit, in general, lifts only the front of your truck. In most cases, this is a spacer that goes on either at the top or the bottom of the strut, bringing up the front of the truck. Trucks are designed with a front end that sits lower than a rear, so when you load the bed, it sits leveled. By installing a leveling kit, you are bringing up the front of the truck so it is at the same level as the rear when not loaded. In most cases, a leveling kit ranges from 2" – 3", as anything above that would upset the suspension geometry, causing excessive stress on the front end of your truck.
Lift kit
A lift kit, on the other hand, affects both the front and the rear of your truck. Usually, the front suspension gets modified spindles, sway bar links, and longer struts, while other parts stay original. On the rear suspension, the situation is somewhat similar as when installing a leveling kit, only now you are doing it to the rear. Unlike most trucks, newer RAMs use coil springs on the rear, and a suitable spacer is installed at the top of them to bring the rear end up.
With prices ranging from $50 to $150, leveling kits are an affordable option for raising your truck up to 3″. Anything above that will call for a lift kit, and this will set you back anywhere from $500 to $1500.
Whatever kit you choose, if you are looking at saving some money, consider installing it yourself. It's actually not that hard and doesn't require any special tools. Check out the videos below for more information.
How to install a leveling kit
How to install a lift kit  
---
Air ride
Air ride kit essentially replaces coil springs with air-bags, which are filled with pressurized air. There is also some hardware that goes along with this. Additional frames which hold the air-bags are installed on the chassis. Next, there is a reservoir and an air compressor which supply pressurized air to the system. Lastly, height sensors are installed to monitor the ride height at each corner. Other components, such as shock absorbers or sway bars, remain unchanged.
What are the advantages of this system? 
One of the advantages of this system is an adjustable ride height. With lower ride height, you get easier entrance into the truck, reduced drag, and better fuel economy. However, since serious off-road driving needs more ground clearance, a higher approach and departure angles are needed, so ride height needs to be as high as possible. With air ride, you can have both. Finally, the adjustable ride height will prevent the rear end from sagging down under the load, as the system will automatically increase air pressure to raise the truck bed up. Another benefit of air suspension systems is improved ride quality, as the truck will feel pretty much the same from a comfort standpoint regardless of how much weight it's carrying.
As you might imagine, they don't come cheap. Prices for a whole kit range from $1.500 to $2.500.
Although these kits will generally come with prefabricated parts and all the accessories, you will still need to do some measuring, drilling, and cutting. Still, this is more than manageable for a DIY-er. Check out the video below for more information.
---
Lowering kits – what are they for?
Lowering kits are another popular modification, although you may not associate it with a RAM truck at first. This provides several important advantages that you might not be aware. Lowered trucks will have the center of gravity lower to the road surface. This will improve the handling and reduce the body roll, allowing higher speeds through turns. Getting in and out of the truck will also be much easier and comfortable. And loading heavy items in the bed will require less effort. Majority of lowering kits come with new springs, shock absorbers, and all the hardware needed for installation.
Much like lift kits, prices vary depending on how low you want to go. Going down less than 3″ will require just for springs to be replaced, and they can be found for around $250. However, for lowering more than 3″, shock absorbers should be replaced as well. Kits that include springs and shocks go for $400 – $500.
You can easily install any lowering kit by yourself, as it not that hard and does not require any special tools. Check out the video below for more information.
In the end, a few words about the law. Although some states may limit the amount of lift or prohibit leveling kits, most states have no restrictions regarding suspension modifications. Consult your local laws for more detailed information.
---
Air intakes
Looking for an easy-to-install and affordable way to get some more punch out of your engine? Then modified air intakes should be your first step. These aftermarket performance parts are bolted on and will not cost you a fortune. You can go either for a performance filter or cold air intake.
Cold Air Intake
A good Cold Air Intake (CAI) is designed to move the air filter away from the heat of the engine and feed the engine with oxygen-rich cold outside air. When that air enters into the cylinder, you get a larger bang and a little bit more power. There are several advantages. First of all, they are very easy to install and make the engine bay look better. All you need is a basic tool set and a few hours of spare time. The stock air-filter box is replaced with an intake tube, which is usually made out of stainless steel and a massive open air filter. Next, if installed correctly and combined with a proper engine tune, performance gains can be expected.  So, when choosing a CAI setup for your RAM, make sure that the filter is not near the engine, and that there is good heat insulation. Lastly, but most importantly – the sound. The stock air filter box acts as a resonator, muffling intake sounds. This makes your truck quieter and more civilized. With the air filter box removed, the cold air intake will make a tremendous roar when you put your foot down. That sound will be truly addictive.
Prices go from $150 to $300, depending on the brand and application. Installation is very simple and straightforward. Check out the video below for more information.
Panel filter
A performance panel air filter is a less intrusive option that still allows your truck to breath a bit easier. They are a direct replacement to your stock air filter, which adds a little bit more power to your engine. Instead of paper, these high-flow units have several layers of premium cotton gauze, pleated between wire screen mesh. As cotton naturally breaths easier than paper, this results in increased airflow and reduced restriction. As a result, your truck will run better and have more power. The secret to increased airflow without engine protection sacrifices lies within the air filter oil, which is suspended within thousands of microscopic cotton fibers. The cotton gauze media and sturdy construction allow these air filters to be cleaned time and again by using an appropriate service kit. This will save you money over time and help reduce the waste associated with disposable filters.
Prices for this type of filter go from $30 to $60, and installation is no different than replacing your stock filter. Check out the video below for more information.
Regarding the law, most states don't have any special regulations regarding engine modifications. However, in the state of California, all engine upgrades must be CARB approved. Consult your local laws for more detailed information.
---
Off-road bumpers
A set of off-road bumpers can completely transform both the look and performance of your truck. They give you clearance for larger tires, protection from rocks and trees, a better approach, and departure angle. On top of all of that, they will give your truck a more aggressive and menacing look. However, a set of good off-road bumpers can be pricey and finding the right one can be complicated. With different styles and types of construction, they are designed to improve your truck in a specific way.
Heavy duty off-road bumper
Heavy duty off-road bumper is the most common choice for most off-roaders, as they offer incredible protection for your truck using a thick steel plate, welded together into a solid one-piece construction. This makes them strong, durable, and able to handle serious punishment. They are very tough and capable of handling trees, rocks, and anything else you may encounter while on the trail. As they are very popular, there are many different configurations and styles are available. They are designed with steep angles, which improves departure and approach angles. Also, with sharp angles and bumper being flushed to the vehicle, much larger tires can be installed.
Prices for these go from $700 to $1200.
Winch bumper
A winch bumper is something you need if going for some serious off-roading. A winch can be one of the most valuable tools that you can have when out on the trail. Still, as bolting a winch to a stock bumper is not possible, you will need a winch bumper. This is something that is strong enough to support the weight of your truck while being pulled out of a muddy hole. In general, there are three main types of winch bumpers. Some of them incorporate the winch behind the bumper itself. Others have the winch the front of the bumper using a frame. And some bumpers simply have a bracket on top, allowing you to bolt the winch in that spot.
Prices for these start at around $900.
Prerunner bumpers
Prerunner bumpers were primarily developed for high-speed desert racing. They are designed to prevent a rollover if a truck nosedives after a jump. In such situations, a stock bumper tends to dig into the ground, which may flip over the truck. A prerunner bumper, on the other hand, will slide over the ground. They are made from steel or aluminum tubing, to keep them strong and lightweight. However, they are not as strong as a heavy-duty steel plate bumper. Also, as they are designed for desert racing, there are many mounting points for auxiliary lighting. It is worth mentioning that the majority of prerunner bumpers are offered with a winch or a winch-mounting point.
Prices for these range from $1200 to $2500.
Rear bumpers
Rear bumpers, as similar to front ones, come in two different configurations. The first kind is heavy duty, which is constructed out of steel plates welded together. Other kind is called prerunner, with welded steel tubing for a compact and lightweight design. Still, both of these types offer great additional features besides just protection and performance. For starters, trailer hitches, as they are not necessarily standard on all trucks. In that case, getting an off-road rear bumper with an integrated hitch allows you to have the off-road protection combined with additional towing versatility. Next, for serious off-road use, D-ring mounts are a must. Depending on how and where you get stuck, having mounds in both the front and the rear is important. With a wide selection of off-road rear bumpers on the market, you just need to decide which one is perfect for you. Lastly, having an integrated step is an important and helpful feature that allows easier climbing on to the truck bed.
You can find a completely equipped rear bumper for $600.
Some general notes
Once you figure out what bumper type you want, you need to select your finish. Usually, there are only two options: black powder-coat or raw steel. A standard black powder coat is most common because it's perfect for off-roading. It protects the metal itself from rust and corrosion and it's way stronger against impacts and traditional paint, plus it does look great. A bare metal gives you the option to make your bumper your own and unique to your truck. You can paint it to match, use accent colors and it's all up to you well everyone.
As these bumpers are prefabricated to fit your truck, fitment is quite straightforward in most cases. However, you might need an extra pair of hands to help you, because these bumpers can be very heavy. Check out the video below for more information.
Most state laws don't have any restrictions when it comes to bumpers. Consult your local laws for more detailed information.
---
Exterior modifications
Grille guard
The grille guard is a great way to add both looks and protection to your truck when running a stock bumper. In most cases, they are constructed out of welded steel tubing that wraps around the front end of your truck. Some grille guards are designed just to protect the front grille, while others go all the way around the headlights and usually include a mesh or lateral bars for added protection. In both cases, the true purpose is to keep the front end of your truck protected from tree limbs and tall brush. And with an additional mesh grille, it will even provide increased protection from smaller debris, such as small rocks and sticks.
Prices start from $500 but can go as high as $1000. Check out the video below for installation information.
Front grille
Speaking of grilles, if you think that factory grille looks a little bit boring than an aftermarket one is what you need. It will make the front end look more aggressive and a little bit stealthier. With various styles and finishes to choose from, you should easily find a grille that will enhance the style and look of your RAM in a way you like the most. And you might expect better cooling effects, as most grilles allow better airflow to the radiators and intercoolers.
Prices from $150 to $500. Check out the video below for installation information.
Bull bar with skid plate
Skid plates are an important addition to your RAM if you are doing some serious off-roading. These metal plates are designed to protect all the important parts, such as the oil pan, transmission components, suspension, and cooling system. When on the trail, damage on any of these parts would end your day quite quickly. But aside from actually protecting all of those parts, having a skid plate will give you the confidence to get over obstacles that you otherwise wouldn't try to tackle. As they are designed specifically for your truck, installing them is easy and usually does not require any modifications or fabrications.
Prices from $200 to $400. Check out the video below for installation information.
Fender flares
There are several reasons why fender flares are a very useful addition on your RAM. First, maybe you want that aggressive off-road styling to the exterior appearance of your truck. Next, you might have a wheels and tires combo that sticks out just a little bit from your fenders. This is usually illegal for road use, so adding fender flares extends that coverage over the tires and makes them street legal and it also gives your truck a little bit of a wider stance. Lastly, they will protect the paint and body panels from rocks or road debris, both on and off-road, being kicked up and damaging your body and paint. Having fender flares gives you that extra coverage around the wheel well arches, so if something does get kicked up, it hits these and not your body panels.
Prices from $200 to $400. Check out the video below for installation information.
Side steps or running boards are one of the 'must-have' upgrades on any truck, especially if it is lifted. Not only that these will make getting in and out of the truck much easier, but they will also improve the appearance of your truck, making it look tougher. And they also add some side impact protection. You can choose from various shapes, step plates, and finishes to find a type that best suits your RAM. Installation is, in most cases, very simple, and requires fixing it with just several bolts.
Prices start at around $200 but can go up over $1000. Check out the video below for installation information.
Most state laws don't have any restrictions when it comes to exterior add-ons. Consult your local laws for more detailed information.
---
Gasoline engine tuning
Your RAM comes from the factory tuned in such a way to ensure an optimum balance of various factors, with power being just one of them. Things such as gas mileage, durability, prolonged maintenance intervals, various running conditions, and unfavorable driver habits are some of the aspects that the manufacturer takes into account when tuning the engine. While trying to balance all these factors, the factory tuned engine is not developing its full power and torque potential. However, this means that you can install an aftermarket tune, unleashing that hidden power in a relatively easy and inexpensive way. Engine tuning is trying to get the right mix of variables for peak engine performance. There are several ways this can be done.
Map tuning
Map tuning is a much better option. In the past, you would actually physically replace a chip on your car with another one that would have different software loaded on to it. This would result in altered engine parameters and increased horsepower. Today, it's as simple as plugging into your OBD2 port and installing new software. This is done using a laptop or a handheld tuning device. These devices connect to the OBD2 port to read and write the engine map tune. In most cases, handheld devices come with various tunes installed on the device, giving you a number of high-performance preset tunes. Usually, they will include a tune for 91 octane or 93 octane fuel, with or without a cold air intake. You can also modify the stock tune, remove the speed limiter, change the spark advance, or change the transmission shift points. And, of course, you can change the fuel table to make it run richer or leaner. On top of that, these devices usually can be used as diagnostic and scan tools, as well. Another popular option for RAM engines is swapping out the PCM with another unit that has a tuned map installed.
A good tuner, such as this Predator P2 from DiabloSport, can be found for $350.
Supercharger
Last, but definitely not the least, is the real power gainer – the supercharger. This is a belt driven air compressor that provides a huge increase in power and acceleration while keeping stock drivability, sound, and street manners. As HEMI engines are very popular, there are a number of kits that are designed to be easy to install. These kits make your RAM both at home while sitting in the traffic or blasting through a high rpm run. Usually, a supercharger kit includes all that you need for the upgrade. A manifold with a rotor assembly with an integrated air-to-water intercooler which cools the air charge and intake runners. A flash tuner, preloaded with a specific calibration tune file for your new supercharged engine. An integral high-efficiency air-to-water heat exchanger that fits under your stock hood. And finally, all the accessories and wiring needed to complete the installation. Usually, supercharger has a self-contained lubrication system, so drilling the oil pan or plumbing is not needed. The supercharger widens the powerband, making your RAM perfect for all out highway blast, as well as everyday street duty. As these upgrades are usually very balanced and quiet, there is no penalty in day-to-day driving. But all those extra horses are just a push of the throttle away from being unleashed.
Supercharger kits are not very cheap, with prices ranging from $5.500 to $7.000.
Regarding the law, most states don't have any special regulations regarding engine modifications. However, in the state of California, all engine upgrades must be CARB approved. Consult your local laws for more detailed information.
---
Diesel engine tuning
Diesel RAM trucks use engines made by a company called Cummins, and they are a powerful, durable, and reliable power plant that serves any need – daily driving, towing, and performance. Cummins engine is a great name in the industry and there is a reason for that, as a lot of time, energy and resources to was invested into these units. Still, as with any other modern-day diesel engine, you can upgrade the performance of a Cummins engine by using several tuning methods.
Map tuning
As with gasoline engines, installing an aftermarket tune is the easiest way. Although Cummins engines pack enormous horsepower and torque with class-leading tow ratings and smart exhaust brake, it is no secret that these units are somewhat detuned from the factory. This is where various tuners and chips come into play, helping you to unlock the potential in this enormous power plant. These handheld devices connect to the OBD2 port, allowing you to alter parameters such as boost pressure, amount of fuel or turbine actuation. Not only that this will give your truck more power, but it will also widen the torque range. This allows more favorable use of the engine power, keeping the engine speed down. As a result, you even get better mileage. And the best thing, it is all done without any hardware modifications. Tuning is a safe and easy way to add power to your vehicle, as there are no permanent irreversible modifications.
Among many devices on the market, Smarty seems to be the most popular option. They are around $500.
Bigger turbocharger, intercooler, and injectors
Still, the amount of additional power you can get from ECU tuning is limited by stock engine parts. So, if you are looking for serious power upgrades, some hardware modifications must be done. First of all, a larger turbo will ensure that there is enough charge air. Secondly, a more effective aftermarket intercooler will cool down that air. Lastly, bigger injectors are needed to supply enough fuel into the equation. However, you must be very careful with these modifications, as they can easily drive your engine to the limit.
Also, this big power will not be cheap, as you can easily spend over $10,000 to get all this done.
DPF delete – should you do it?
Modern diesel engines utilize various emission control systems. They are not only used to keep the pollution down but to make the engine operation more civilized as well. Newer RAM trucks use a Diesel Particulate Filter (DEF) in conjunction with Diesel Exhaust Fluid (DEF) and Exhaust Gas Recirculation (EGR) systems. These systems are often accused of killing performance, and many truck owners decide to remove them. This is especially noticeable when it comes to DPF, as they can clog up if the vehicle is not maintained properly. Although removing DPF will surely remove any eventual exhaust restrictions, there are several drawbacks that go with emission system delete. It is illegal in most places, and it will disrupt the fine manners of your truck, taking away that smoke and smell free ride.
Regarding the law, most states don't have any special regulations regarding engine modifications. However, in the state of California, all engine upgrades must be CARB approved. Consult your local laws for more detailed information.
---
Exhaust tuning
If you are looking at ways to get some extra horsepower from your engine, installing a performance exhaust system will probably be your first step. For start, it is not very expensive when you compare it to other engine power upgrades. And if you go for the cat-back system built specifically for your truck's make and model, it is quite simple to install, too. This is an affordable way for increasing horsepower by maximizing exhaust airflow. A properly designed aftermarket system reduces exhaust flow restrictions, allowing decent power gains for. When talking about truck such as RAM, there are several notable choices.
Cat-back system
A cat-back system will change everything behind the catalytic converter onwards, hence the name cat-back. These systems usually include new mid and intermediate pipes, mufflers and resonators. Axle-back system, on the other hand, will only change the muffler and exhaust. A cat-back system generally offers more performance gains compared to an axle-back system. However, this comes at a higher price as they tend to cost noticeably more. Axle-back system, being a cheaper and more affordable alternative, is a good option if you are aiming to change the exhaust note of your car.
Prices from $350 to $1200, depending on the brand and exhaust configuration.
Mid-pipes
Another important segment of the exhaust is mid-pipes, as these can have a noticeable impact on engine performance. The main pipe choices are Y-pipe, X-pipe, and H-pipe. Some RAM trucks may come with Y-pipe from the factory, combining two exhaust sides into one single exit. With X-pipes offering increases in peak horsepower and H-pipes increasing low-end torque, it comes down to personal preference. Although the X-pipe seems as like a logical choice, as it allows better overall power gains, do not underestimate the importance of the low-end torque gained from the H-pipe. This is very useful in cars that need to do towing and in daily driving circumstances, where torque is more useful than peak horsepower.
Prices range from $50 to $150.
High-performance catalytic converter
Straight piping is only an option for those who are planning on making a track-only truck or if you live in an area that doesn't have strict emission regulations. This involves removing the catalytic converter and replacing it with a piece of pipe. However, this is illegal in many areas, so be sure to check your local laws before doing so. A much better option is installing a high flow performance catalytic converter. Many tests have shown that modern high flow catalytic converters have no negative impact on engine performance. There are two different types. Cheaper ones that have ceramic substrate rely on lower cell count, ranging from 400 to 100 cells. As this causes lower catalytic capability, your engine will have to be tuned for optimum efficiency. Also, they are not suitable for heavy-duty application due to their low meltdown temperature. More durable and expensive ones have a metallic substrate. Here, as the mesh structure is considerably thinner, there is far less restriction. Also, as a metallic substrate has a much higher meltdown point, they can withstand high exhaust temperatures that are present in heavy-duty applications.
You can find a good high-performance catalytic converter with a metallic core for about $100.
Most stock engines have exhaust manifolds made out of cast-iron material. Although they are quite heavy and tend to be less-than-optimal when it comes to air flow, manufacturers still use them due to the low price and better sound reduction. Still, if you are going for maximum performance on a naturally aspirated engine, a set of performance headers is a way to go. There are two main ways how this helps bring up the power. One of them is larger piping, which improves exhaust flow. The other thing is that long exhaust pipes support scavenging effect. In addition to this, aftermarket headers offer lighter weight, increased build quality, and better appearance. However, they come with a very high price tag, and fitment can sometimes be troublesome due to the bulkiness.
Prices range from $250 for short headers, to over $800 for long headers.
Almost all states require trucks to have mufflers and prohibit any kind of exhaust cut-outs and mufflers. Consult your local laws for more detailed information.
---
Performance brake kits
Anytime you add weight to your vehicle by hauling a load-towing trailer or even adding heavier wheels and tires, you make your brakes work a lot harder. As that generates much more heat, your stock brakes may not be up to the challenge. You may experience brake fade or even extended stopping distances during these high brake temperatures. By installing an uprated brake kit, you replace brake rotors, pads and sometimes even brake calipers.
Brake pads
Performance brake pads are made using a carbon fiber ceramic compound. The carbon fibers reinforce the pad compound to withstand heat and improve stopping power. The ceramic makeup also provides superior resistance to brake fade and reduces that annoying brake squeal, providing a smooth, noise-free ride while keeping your wheels looking clean.
Rotors
Brake rotors that come in these kits usually have slots on them. Not only do they look great behind your wheels, but they also help prevent rotor heat damage. The slot patterns are designed to provide maximum cooling and to help wipe away brake dust and debris. All of this ensures that your pads grip tightly each time.
Calipers
Lastly, with uprated brake calipers, you get an increased amount of clamping pressure, which results in greater braking force. There are various types, such as brake calipers with larger pistons, multiple piston calipers, or staggered pistons calipers. The key to a good brake kit is the confidence it gives you to stop whenever you need to, whether you are towing a load, driving at high speed, or in any other situation.
Installing pads and rotors is relatively easy. Brake calipers are not much harder but do require brake lines to be bleed.
While most states don't have any specific regulations regarding brake upgrades, they all have various maximum stopping distances. Consult your local laws for more detailed information.
---
Lights
There is a whole range of aftermarket lights that will boost both visibility and appearance of your RAM. Whether you are looking for headlights or taillights that will make your truck stand out in the crowd, powerful fog lights that will improve your safety, or auxiliary lights for hitting the trail after the sunset, you will have a wide selection to pick from.
Headlights & tail lights
Factory installed headlights do their job just right, but they are not going to turn any heads. You can replace them with an aftermarket option that will make your truck look stunning, whether it's a stealthy black-out style, a race-inspired feel, or a splash of color. To make your truck even better, aftermarket headlights usually offer better illumination, upgrading your RAM's visibility. There are many options you can choose, such as CCFL Halos, daytime running lights, or LED accents. Another important distinction is between projector and non-projector models, which are available in chrome or matte-black finish. As similar as with headlights, aftermarket RAM tail lights improve both safety and appearance. This is especially noticeable during nighttime or in rough weather. And again, you can choose from a wide range of styles, colors, and setups.
Additional lights
Another very popular and common option that RAM owners choose is additional lights. As they are available in many shapes and sizes, you are sure to find one that matches your needs perfectly. Have in mind that each light pattern is used for a specific application. While spotlights penetrate far into the darkness, driving lights spread the light in front of your truck, giving better all-around visibility. Additionally, there are floodlights, which are an ideal choice for worksites or as back-up lights due to their extra-wide illumination spread. Lastly, additional fog lights will give you better visibility in bad weather. These can be mounted on the bumper, above the cab, or almost anywhere you need some added lights.
https://www.youtube.com/watch?v=sgyonaVRqyQ
When buying a set of headlights or tail lights, make sure that they are road legal. Look for DOT, FMVSS, or SAE certificates. As for additional lights, some states limit the number of them that can be installed. Consult your local laws for more detailed information.
Sours: https://mechanicguides.com/dodge-ram-performance-upgrades-mods-and-accessories/
Is there anything more American than a Cummins? A hardy engine that responds notoriously well to power adders, the 5.9 Cummins is a definite favorite in the diesel community. And, as a popular engine for hot rodding, the first thing you'll likely ask yourself upon scoring one of these powerplants is, "What can I do to make even more power?"
So, today, we're going to take a look at some proven 5.9 Cummins mods, why they work, and what you need to consider when building.
Computer Programmer
Alright, the first thing you will notice every Cummins build has in common is an aftermarket programmer or custom tune. This really doesn't come as much of a surprise to most of the diesel community. Sure, some argue this is a waste of time, as there are so many other mods you can do that will increase engine performance. However, I still think it's worth mentioning.
Why? Because even with a base engine, you can reap some serious rewards with an aftermarket programmer. And when you start tackling some of the other recommended 5.9 Cummins mods, you will certainly want an aftermarket programmer to take advantage of them.
With that in mind, selecting the right programmer will depend on what you toss at it. My advice is to take your time and do the homework on what your ultimate goals are, so you can better decide which tuner will help you unlock the most potential with your particular engine. Quality brands like Bully Dog, DiabloSport, Superchips, Hypertech, and ATS Diesel Performance are all great places to start your search.
Upgraded Cams
As the first real upgrade on our list of 5.9 Cummins mods, let's talk about camshafts. Diesel engine builds almost always surround the concept of upping the amount of fuel and air introduced to the engine. While turbos and fuel injectors certainly make for major gains, they can only help so much without the use of an aftermarket cam. Most mild builds will leave the stock cam untouched. But when you start aiming to produce over 400 hp, it's a must-have upgrade.
Aftermarket cams are responsible for when, how far, and how long the valves open up. Even with direct injection, this is critical to making sure the right amount of air is being introduced to the burn. It also makes sure the spent fuel can escape.
Hamilton Cams is a popular brand that diesel enthusiasts turn to when they're looking to harness more power, torque, and pulling strength. Canadian-based Colt Cams, known for its performance and drivability, is a go-to choice as well.
Improved Manifolds
Just like the fact that many Cummins builds won't be well-supported by the factory camshaft, the same holds true for the factory manifolds. It's really cool that late-model stuff often won't need much attention in this area, but unfortunately, the 24-valve Cummins doesn't fit the criteria.
Factory-cast equipment is built to work, not perform. They will do the truck well with builds up to about 300 hp, but more than that will require some better flow. Hence why swapping the intake and exhaust manifolds is next on our list of worthy 5.9 Cummins mods. This upgrade, paired with a better fuel system will be key to supporting big power builds.
aFe Power, ATS, and BD Diesel Performance are just a few great names to turn to for durable diesel intake and exhaust manifolds.
Bigger Fuel Injectors
What you will find in your studies, is that virtually every Cummins build (at least the serious ones) has fuel injectors thrown in the mix. Even build plans aiming to make a mere 300 hp feature bigger injectors in place of the factory ones. Some suppliers guarantee that adding bigger fuel injectors will increase wheel power by at least 60 hp—even with just the smallest upgrades. Suppliers to consider for your shopping cart are BD Power, Scheid Diesel, and Sinister Diesel.
This is power you feel behind the wheel. And the bigger the injectors are, the more power you'll gain. Why is this? With gas engines, just dumping a ton of fuel in an engine that's not at wide open throttle is harmful to performance—and they have twice the RPM capabilities that diesels do. Well, this is partly because of the turbo on the motor. Consider that the stock turbo size is 62mm, which is absolutely massive in comparison to what you may find on a gas engine. Also, the way the fuel is injected in a diesel engine allows it to make more use of more fuel.
By feeding more fuel into this massively-compressed engine, it's only natural that you can unlock more power. Though, you can still out-do the factory turbo by adding too much fuel. With the 5.9 Cummins, 50-hp or 75-hp injectors are about the maximum injector size with the factory turbo. (But with the right combination of injectors, intake, and exhaust upgrades—along with a proper tune—a 400-hp build is possible.)
Keep in mind…
Before slapping the biggest injectors and turbo combination possible onto your Cummins, heed some popular industry advice, and upgrade the lift pump. The bigger injector size is going to require more fuel pressure to achieve the power as the stock lift pumps just don't pump enough fuel. These mods go hand in hand even with the 50-hp fuel injectors I mentioned before.
MORE TURBO
Everyone's favorite topic in the diesel world and the top of our list of top five 5.9 Cummins mods. Some would even say that a diesel without a turbo is not worth your time. Considering we just talked about how the stock turbos can only support the addition of so much fuel, I feel like it's a good time to get into the goodness of boost now.
So, with a 62mm turbo already on board, one looking to still hang low with power output might wonder why they should even consider an aftermarket turbo over the stock one. While the 62mm turbo will push tons of air, the factory Cummins turbo has a really small exhaust side. So, with lower horsepower builds, although the turbos are larger, it's not by a huge amount. Some builders even reach for turbos that use the same intake side but an upgraded exhaust side.  Some great names to look out for here are ATS Diesel and BorgWarner.
Keep in mind…
Moving up to bigger turbos will increase power output but will demand more from the engine. Not only will every other mod we discussed need to be made, but also you need to look out and not blow the block to smithereens. Yes, the 5.9 is notorious for handling serious amounts of power. But if you're climbing up toward 800 ponies or more, you should definitely entertain the idea of heading to the machine shop to have the rotating assembly beefed up.
At the very least, you will want to take the time to set your Cummins up with aftermarket hardware. Its factory equipment is pretty rugged, but the nuts and bolts that keep everything together can fall short. You should replace them with aftermarket head studs and rotating assembly hardware to make sure the power is properly managed.
You may also know that the factory transmissions often fall short of handling power from a beefed-up Cummins. There are two ways you can deal with this situation if you're set up with an automatic. You can either have the auto built, which is plenty viable, but you can also make the swap to a beefy manual transmission—which is something we will be talking more about shortly. So, stay tuned!
Related
Sours: https://www.theengineblock.com/tech-corner-top-five-5-9-cummins-mods-and-why-they-work/
Top 5 Upgrades for ANY 5th Gen Ram
Popular Ram Truck Upgrades and Modifications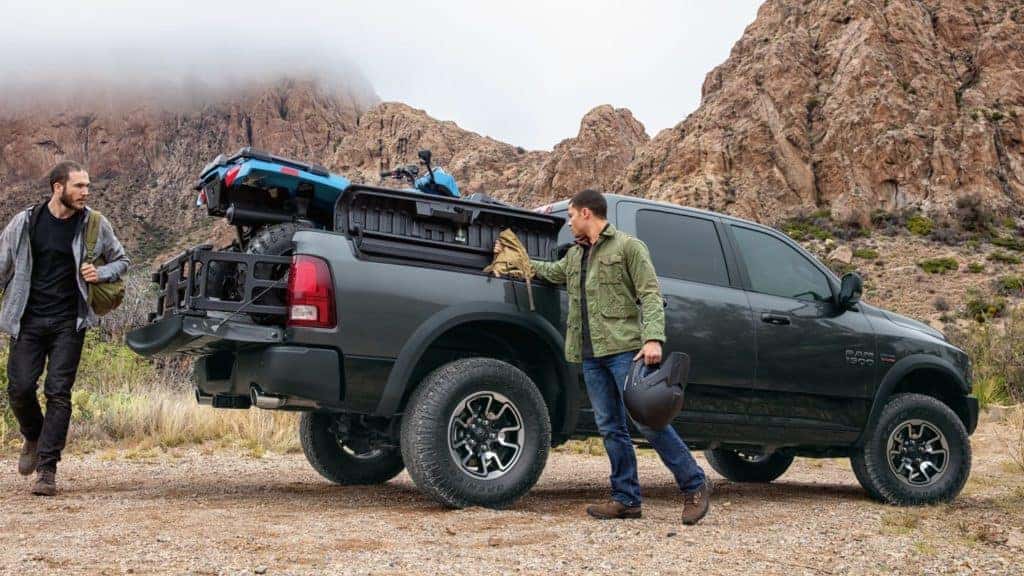 If all the configuration options offered by a Ram truck aren't enough for the average consumer, that's alright. Just like a Jeep, there are plenty of ways consumers can modify their Ram truck with unique features and style that make it theirs. Here are some of the most popular mods for Ram 1500 models.
Now, we have covered many different modifications for the Ram 1500 before. There are many ways someone canadd suspension to a Ram truck. There are also a couple of things one can do toimprove the fuel economy of a Ram pickup truck. It doesn't stop there though, no sir.
Utilities
By far, possibly the best available upgrade one can add onto their Ram 1500 truck is the Class-Exclusive RamBox® Cargo Management System. Attached to the side rails of the truck bed and designed with several compartments for tools and equipment, the RamBox is the utility modification to choose when getting a Ram truck (available option add-on). It lights up to illuminate items in the dark, won't break easily, and has a draining system – that means keeping beers cold as a nice reward after all tasks have been completed. Plus, the RamBox locks and unlocks with the push of a button with the available Class-Exclusive AllSecure® Central Locking System.
Exterior Additions
The exterior of a Ram truck is unmistakable from any other truck out there, so we're not talking aesthetics, although chrome accents and dual-tone paint jobs are popular. If looking to modify the exterior of a Ram 1500 for specific reasons, then one may want to look into a new set of lights, upgrading the exterior mirrors, or even a body kit depending on the tasks ahead. There's also always a tonneau cover and truck caps for keeping cargo secure or turning that truck into a small camper.
Modifying the Interior
Yes, there's upgrades like leather upholstery, as mentioned above. There's also technology, like upgrading the audio system or opting in for an infotainment system if not readily available. When it comes to sprucing up, seat covers and inserts and floor mats can not only increase one's comfort in a Ram truck but also make cleaning it easier after a long day's work.
Rims and Tires
Many Ram trucks, like the Ram 1500, come standard on 17-inch steel wheels. However, some have the option of upgrading them to aluminum wheels for a lighter vehicle, or larger wheels if looking to go off-road. What truck enthusiast doesn't like to get a little muddy anyhow? Just be sure to give it a good scrubbing andclean that truck after mudding.
Well, we think that about covers it, but we like to hear from our readers. Any other popular Ram truck mods, upgrades, or options you can think of? Let us know on social media.
Photo Source/Copyright: RamTrucks.com
Posted in car accessories, Dodge
Sours: https://www.aventurachryslerjeepdodgeram.com/popular-ram-truck-upgrades-and-modifications/
Modifications ram 2500
Budget Diesel Mods: '07.5-'17 Cummins
Building on what common-rail injection made possible on the 5.9L Cummins, the 6.7L version is (arguably) better in every possible way. First and foremost, thanks to the added displacement of the 6.7L Cummins, '07.5 and newer Rams can turn out huge torque numbers and spool larger turbochargers. In fact, with the stock injectors still in the mix you can run an S400 framed turbo without any ill side-effects (lag, heat or surging). Second, the fuel rail, fuel rail feed lines, injector lines and crossover tubes are all larger on the 6.7L. Finally, the 6.7L mill's injection system produces more pressure than what was observed on the 5.9L.
But, while the 6.7L Cummins benefits from injection system improvements and an obvious displacement advantage over the 5.9L, the old "weak transmission" drumbeat continues with the '07.5-present Rams. The 68RFE six-speed Chrysler automatic is rarely up to the task of harnessing increased horsepower and torque. Luckily, aftermarket tuning of the transmission control module (TCM) is available, which helps prolong the life of a stock 68RFE, considerably. However, for those looking to make big power with the 6.7L Cummins, there is no getting around the fact that you'll have to spend big bucks on a transmission solution. Whether you choose to build the 68RFE ($8,000), convert to a built 48RE ($11,000) or swap in a six-speed manual ($6,000), you're looking at an expensive proposition.
All transmission woes aside, the 6.7L Cummins is the current platform of choice in diesel motorsports. From truck pulling to drag racing to dyno competitions, the 6.7L dominates the performance landscape. Below, we'll get started with the mods that the stock 68RFE will let you get away with, followed by a sound 550 to 600rwhp recipe and an all-out, 700rwhp parts combination.
Things to Keep in Mind:
Beyond simple bolt-ons—and due to the common-rail injection system—these trucks can be fairly expensive to upgrade.
Like all Cummins-powered Dodge Rams, automatic transmission versions will need to be upgraded from the get-go if plans for big power are on the table.
The average life span of common-rail injectors is approximately 200,000 miles, so if you just bought a high-miler, don't be surprised if they need to be replaced.
More than 80 percent of all heavy-duty Ram trucks sold are equipped with automatic transmissions. As such, all budgets have been configured with an assumption that your truck is equipped with the 68RFE automatic.
Owners of manual transmission trucks can save themselves a lot of money by not having to build up the 68RFE automatic, but a reputable dual disc clutch should be installed at higher power levels.
Each budget assumes you're starting new, with a bone-stock truck.
Most of the items listed in these budgets are things that you and a buddy (or novice mechanic) could install in a weekend. As such, the labor to have these parts installed has purposely been excluded.
Due to slight changes in third and fourth generation Ram trucks, pricing on parts and tuning can vary. Typically, model years are broken down into three sections: '07.5-'09, '10-'12 and '13-'17.
$2,100–$2,300 Budget (450–500rwhp)
EFI Live with TCM Tuning: $989-$1,200
For utmost reliability, drivability and performance, there is no substitute for EFI Live tuning. EFI Live-based programming from a reputable tuner can yield as much as 175 extra horsepower at the wheels. Thanks to many aftermarket companies also offering TCM tuning (which adds roughly $250 to $300 to the cost of ECM tuning), the 68RFE automatic transmission can be kept alive in the 500rwhp, 1,000 lb-ft range.
Edge Insight CTS2: $680
The Insight CTS2 from Edge Products is the most popular product in the industry for monitoring your truck's powertrain. Its 5-inch color touch screen allows you to view as many as nine parameters at once. To keep an eye on boost and EGT you will have to install the optional EGT and boost sensor kits (included in the price shown above). We will note that you can save a couple hundred bucks by installing a set of boost, transmission temp and pyrometer analog gauges along the A-pillar.
5-Inch Exhaust System: $420
A 5-inch diameter, turbo-back exhaust system will allow the 6.7L Cummins to breathe a bit better and will also help cool EGT. A basic, aluminized system void of a muffler or exhaust tip can be had for a little more than $400, while a bare-bones stainless steel version can be had for approximately $530.
$19,500–$19,800 Budget (650–700rwhp)
60-Percent Over Injectors: $3,300
Also known as a 120hp injector, these units are equipped with 60-percent over nozzles. While a set of smaller (50hp) injectors can get a 6.7L Cummins into the 650rwhp range, it takes max effort tuning to get there, which means added power comes at the expense of the engine seeing more heat. By using a larger injector to get to this power point, the tuning can be left conservative and the engine will see a lot less stress.
PPE Dual Fueler Kit: $2,000
After adding larger injectors, the factory Bosch CP3 injection pump won't have the capacity to adequately support them. Therefore, a modified CP3 (often referred to as a "stroker" pump) or a second injection pump is required. Being that the price of a typical stroker CP3 (10mm) matches the cost of Pacific Performance Engineering's dual fueler kit ($2,000), for us it's a no-brainer to go with dual pumps. With two CP3s working together (one is supplied with this kit), the workload of producing injection pressure is shared. In addition to being easier on the pumps themselves, two stock displacement CP3s can support well north of 1,000rwhp—meaning this is likely the last injection pump upgrade you'll ever have to make.
Aftermarket Fuel Supply System: $739
With a second CP3 feeding the injectors and larger injectors in the engine, a low-pressure fuel supply system that can keep up is mandatory. An AirDog II system with a 165 gph flow rating will have no problem maintaining 15-17 psi worth of supply pressure for the CP3s and is known to support as much as 800rwhp.
Second-Gen Turbo Kit with S400: $3,000
A second-gen style turbo system that incorporates a BorgWarner S400 is the perfect fit for a 6.7L Cummins. Even with stock injectors, the engine can spool an S400 framed charger sufficiently, thanks to its displacement bump over the 5.9L. Kits like these (available from companies such as Fleece Performance Engineering, Stainless Diesel and Industrial Injection) facilitate the use of a more efficient exhaust manifold (the style used on the '94-'02 5.9L Cummins) and allow a higher-flowing turbo to be utilized (i.e. an S400). When combined with the aforementioned 60-percent over injectors, everything from a S463 to an S472 can provide exceptional drivability throughout the rpm range.
ARP Head Studs: $415
Due to the 6.7L Cummins' ability to produce higher cylinder pressure (i.e. torque) than its 5.9L predecessor, head studs should be included in any plans for higher horsepower. When venturing beyond this point, an O-ringed or fire-ringed head and Custom Age 625+ studs should be considered to make sure the head doesn't budge.
Built 68RFE: $8,000
At this power level, cracking open the 68RFE automatic and reinforcing it isn't a suggestion, it's a requirement. If you daily drive or tow with your truck, go with a built 68RFE and spot-on TCM tuning. If you want to use your truck as a hot-rod, invest in a 48RE swap. If you don't mind shifting your own gears, a G56 or NV5600 manual might be your thing. Surprisingly, a built 68RFE is still not as reliable as you would think. While some live at higher power (we'll note that we've always heard good things about the units built by RevMax Converters, shown above), many others don't seem to—and the parts are expensive when they break. You should always drive sensibly with a 68RFE in the mix (stock or built) and avoid aggressive, boosted four-wheel drive launches.
EFI Live with TCM Tuning (Mentioned Above): $989-$1,200
Edge Insight CTS2 (Mentioned Above): $680
5-Inch Exhaust System (Mentioned Above): $420
$20,700–$21,000 Budget (700–800rwhp)
100-Percent Over Injectors: $3,900
Based on the same premise as the 60-percent over injectors we recommended in the 650-700rwhp budget, it pays to go with an injector that can exceed your power goal rather than one that barely meets it. Additional fueling from big injectors can always be dialed back via ECM tuning. A set of 100-percent over injectors can be used to make 1,000rwhp (or more) or be fine-tuned to make a street-friendly, daily drivable, yet race-worthy, 700 to 800rwhp (as is the case here).
Second-Gen Turbo Kit with S472 or S475: $3,600
Adding a 72mm or 75mm S400 in conjunction with a second-gen style turbo system can easily produce 700 to 800rwhp, along with being well-mannered and completely drivable on the street. The key at this power level is keeping the built 68RFE alive (manual transmission owners, you're $6,000 ahead at this point, needing only a dual disc clutch upgrade…namely a DDC3600G from South Bend).
PPE Dual Fueler Kit (Mentioned Above): $2,000
Aftermarket Fuel Supply System (Mentioned Above): $739
ARP Head Studs (Mentioned Above): $415
Built 68RFE (Mentioned Above): $8,000
EFI Live with TCM Tuning (Mentioned Above): $989-$1,200
Edge Insight CTS2 (Mentioned Above): $680
5-Inch Exhaust System (Mentioned Above): $420
Sours: https://www.drivingline.com/articles/budget-diesel-mods-075-17-cummins/
BEST MODS for your 2020 Ram 2500 (6.7L Cummins Diesel) - Truck Central
The 5th Generation Ram, debuted for the 2019 model year, came after a long-awaited period of no major body style change to the 2010-2018 model years. Indeed, there were notable changes to the suspension and some minor alterations to the powertrain, but from a sheer body style standpoint, design was at a stalemate. We are here to reassure you that Ram came out swinging for the 5th Gens and it's not just a cheap makeover. But, before we dive into the details, we need to break the news to our manual transmission fans…..Ram has finally given up the good fight and there will be no option for a three pedaled Cummins moving forward. Yeah, we know. Now that we've gotten that out of the way, onto the good news! Ram is the first to break the four digit torque benchmark when you opt for the Aisin AS69RC automatic transmission equipped High Output model. You'll have 1000 pound feet of torque coming in at 1800 RPM and 400 horsepower at 2800 RPM for unmatched towing capabilities. And if you go for the newly upgraded 68RFE auto, don't worry, you'll still have plenty of ponies under the hood, making 850 lbs. ft. of torque at 1700 RPM and 370 horsepower at 2800 RPM. Where much of the competition makes their power at RPM's rarely seen when towing, the 6.7 Cummins gets it right where you want it, below 2000 RPM.
In order to support these higher power figures, numerous upgrades have been made to the running gear. The block is built from Compacted Graphite Iron (CGI) which has proven itself to handle sustained EGT's (Exhaust Gas Temperatures) and a new cast iron head that's strapped down with larger head bolts compared to previous years. Inside of the head, new self-adjusting hydraulic lifters and rocker arms means you won't need to adjust the valves anymore, stronger exhaust valves and springs are in place to support additional boost over previous years (33 psi), and lighter pistons with forged connecting rods keep the rotating assembly making power. In order to shove more air into the cylinders, a larger, revised Variable Geometry Turbo (VGT) is in place that bolts to a newly designed exhaust manifold, all done so in an effort to increase airflow.
With all of this additional airflow, Bosch, Cummins fueling partner, upped the ante, as well. Cummins finally bit the bullet and abandoned use of the tried and true CP3 in favor of a twin piston CP4.2 injection pump capable of pressures as high as 39,000 PSI. While other automakers have gone to a piezo injector, Bosch kept with common rail injectors. While the injectors may look very similar to those found in previous model 6.7L Cummins, they do have many differences that net an increase in potential displacement compared to their predecessor and take advantage of the higher potential pressure of the injection pump.
On the suspension side of things, Ram had already made some major changes in 2013 and 2014 model years, being the first to debut a rear coil sprung heavy duty pickup on the 2500 models along with rear air ride options on both 2500 and 3500's. Taking advantage of the air ride technology, you can now have the option for a Bed Lowering Mode that does just what the name implies, lowers the bed roughly two inches to allow for easy trailer hookup. If you're really good, you can actually lower the bed by releasing air pressure, snake under the trailer tongue, lift the bed, lock the trailer in place, and take off. Pretty sweet.
From there, a ton of other creature comforts and upgrades have been made to the sound system, interior, multiple camera options, and so forth. No longer do you have to sacrifice any of the available options found on the most luxurious sports cars when you drive a truck, and with four digit torque, you can feel like you're driving a sports car too. When you're ready to increase the capabilities of your Cummins, get ready, because we've got a slew of tricks up our sleeves to help you make it faster, more reliable, and more comfortable, no matter how you use your truck. Don't hesitate to give us a call or shoot an e-mail our way and we can help make your Cummins exactly the way you want it.
We get a lot of calls and e-mails each day with various product, vehicle, and installation questions. Some are completely off the wall and can even catch us off guard at times, but many others are fairly routine, so we thought we'd post some of the most popular questions that can hopefully be a good resource for you.

Q: Does your HE351VE (Variable Geometry Turbo / VGT found on 6.7L Cummins) come with an actuator, and if so, is it pre-calibrated?
A: Yes, all HE351VE's we sell come with an actuator, and is pre-calibrated, ready for installation.

Q: Will a DPF (Diesel Particulate Filter) back system provide more sound to my truck?
A: Generally speaking no, the emissions equipment upstream will still act as a muffler. However, that doesn't mean installation will not help in other areas by improving exhaust flow. While minor, the benefits are noticeable, plus an aftermarket exhaust looks way better than the stock exhaust.

Q: Will an aftermarket "2nd Gen" turbo swap kit on my 6.7 Cummins remove the factory exhaust brake?
A: Yes, the stock exhaust brake is part of the factory turbo. When removing the factory turbo in favor of a non-VGT (Variable Geometry Turbo), the factory exhaust brake function is removed, as well.

Q: Can I buy just EFILive tuning for my 2013+ Ram 6.7L Cummins without an unlock device?
A: In short, no. Beginning in model year 2013, if you're looking to tune your Cummins with EFILive, you'll need to "unlock" the ECM. Firewalls were installed to prevent aftermarket tuning, yet there are several ways to bypass this to allow the installation of EFILive. We carry the Edge Insight CTS2 Cummins Unlock and the Bully Dog GT with Unlock Cable.

Q: I'm looking at an exhaust kit on your website, but it doesn't state which cab and bed configuration it fits, will this fit my application?
A: In most cases, unless it is specifically stated as fitting a certain configuration, all exhaust kits on our website will fit all cab and bed lengths. Further, most kits will not fit cab and chassis applications unless otherwise noted.

Q: I'm looking at this 5" (or other) exhaust kit, but my truck only has a 4" exhaust now. Does this 5" exhaust include an adapter / reducer?
A: Yes, the exhaust systems we sell will adapt down to fit the application at the designated starting point (turbo back, cat back, DPF back, etc.) for a hassle free installation.

Q: What are EGT's?
A: EGT stands for Exhaust Gas Temperature, which is the temperature of the exhaust leaving your engine. This measurement is typically measured before the turbo to ensure you are not overheating components. For most applications, we recommend not exceeding 1300 degrees.

Q: Will the products you offer void my warranty?
A: Some parts may void your warranty and some may not. We recommend researching the Magnuson-Moss Warranty Act that specifically protects consumers when choosing to install aftermarket components on their vehicles, as well as consulting with your local dealer.

If you've got a question about your Cummins, feel free to give us a call at 888-99-DIESEL and we would be happy to assist.
Sours: https://www.dieselpowerproducts.com/mm5/
You will also like:
Today, we'll go over some of the best 6.7 Cummins upgrades as well as suggestions for handling warranty claim denials. The 6.7 Cummins engine is one of the most well-known pickup truck engines.
Dodge developed the Cummins and outfits several of its pickup trucks with the tried and true diesel-powered motor. While these engines produce significant power, you can modify and tune them to get even more out of them.
However, if you own a new Cummins, you need to know which mods affect your truck's factory warranty because you will likely want to delay them until after the first three years or 36,000 miles. Do not worry, though. There are plenty of modifications you can do as soon as you drive your new truck off the lot.
History of the Cummins Diesel Engine
Cummins is an international manufacturer of engines for cars, aerospace, motorhomes, RVs, buses, and heavy-duty commercial vehicles. The company also builds equipment for drilling, gas compression, construction, and defense, and it has a history that spans more than 100 years.
By the time Dodge teamed up with Cummins, the latter already had a name in the automotive industry, so enthusiasts were thrilled to learn that Dodge would add the first-ever 6.7-liter Cummins Turbo-Charged Diesel engine in 1989.
Dodge Cummins Diesel trucks have been powering Ram 2500, 3500, and 4500 for more than 30 years. However, the 6.7-liter Cummins is the newest version of the best-selling motor. It was introduced to the line in 2011.
With the 6.7-liter engine, the RAM 3500 was the first truck in its class to get more than 1000 lb-ft of torque. Other automakers responded, starting a new era of trucks with 1,000+ lb-ft of torque. The 2021 RAM 3500 with a 6.7-liter Cummins engine is comparable to the  2021 Ford F-450 SuperDuty, with the new Ford producing slightly more horsepower and torque but carrying a much heftier price tag.
What Voids the 6.7-liter Cummins Warranty?
The warranty covering new RAM trucks is pretty clear about what voids the contract, and you may be surprised to learn that many of the upgrades you might think you need to put off until after the warranty expires are allowed by the manufacturer. However, there are some stipulations.
Here are the actions that void your Cummins diesel truck's warranty:
Altering or tampering with the speedometer
Adding a device that changes the speedometer
Other upgrades will not void your warranty. However, the dealership may deny a warranty claim if the parts you add cause other components to fail. The pieces you switch out are no longer covered because the warranty only covers parts installed through the dealership or during manufacturing.
Your warranty also fails to cover your paint or rust damage if you repaint your truck or add an anti-rust product. You also need to maintain your vehicle because any damage caused by failing to perform routine maintenance is not covered.
Tuners also void your warranty, and because most aftermarket mods require tuning, it is better to go with Mopar parts that you can use without a tuner.
Cummins Warranty Timeframes
The warranty for most parts and systems on your Cummins-powered truck is limited. So, here is a quick guide to help you determine which components are still covered under your vehicle warranty:
Limited Bumper-to-Bumper Warranty
Your entire RAM truck, except wearable components, like windshield wiper blades, batteries, filters, light bulbs, fuses, and tires, has coverage for the first three years or 36,000 miles.
Cummins Diesel Warranty
Cummins diesel engines have a longer warranty than most gasoline-powered trucks at five years or 100,00 miles.
Emissions Warranty
The emissions warranty is lifelong on Cummins diesel motors. However, altering it will void the lifetime coverage.
6.7-liter Cummins Performance Mods
When you purchase your RAM truck, it is understandable that you want to modify it. However, Cummins finely tunes the 6.7-liter engine, which is one reason it produces such impressive numbers.
If the countless hours Cummins skilled engineers spent crafting the 6.7-liter motor, there are some performance mods you can do. There are also some you might want to put off until you've put some miles on your truck.
Cold Air Intake
Cummins diesel engines come with a relatively advanced cold air intake (CAI) system. Replacing it with an aftermarket kit will not necessarily help your vehicle gain horsepower. However, it is an 'upgrade' you can do without voiding the warranty.
High-quality aftermarket S & B air intakes are available for less than $500. It is a good idea to have the dealership install it, and you can also talk to the parts department about what other options they may have available.
While adding a performance CAI will not make a significant impact on the overall performance, if any. It may alter your engine's sound and may extend your motor's life if it does a better job of keeping your engine cool.
Twin-Turbo
Cummins diesel engines all come with turbochargers. However, you can upgrade the turbocharger to get even better gas mileage, torque, and horsepower. An Aura Twin-Turbo Kit is a good choice for around $5,000, depending on the year and model.
Nitrous Oxide Injectors
Nitrous oxide injectors are excellent upgrades for diesel-powered motors. While NOS boosts any engine with an increase of oxygen, adding it to a gasoline engine can prove problematic if the air to fuel ratio is off. Cummins engines have more flexibility, though, and you can gain a short boost of several hundred horsepowers and lb-ft of torque.
Exhaust
Exhaust is something that a lot of truck owners have near the top of their mod list. Some dealerships may tell you an exhaust system will void your warranty. The warranty guide does not mention the exhaust system at all. However, a technician may find that the exhaust alteration caused another engine failure, thus voiding the affected components' warranty.
To avoid coverage issues, you can opt for an inexpensive DPF-back system, like the 5″ aluminized exhaust from Diamond Eye for less than $300 or another DPF-back option.
Diamond Eye K5252A Exhaust Kit | Amazon
Delivers a rich, mellow exhaust note. Installs with common hand tools. Can improve fuel economy by 1-2 mpg.
Buy at Amazon.com
We earn a commission if you click this link and make a purchase at no additional cost to you.
10/17/2021 07:50 pm GMT
Intercooler
An intercooler is an excellent mod for vehicles with superchargers or turbochargers because it cools the air these systems pull into the engine. An intercooler will not necessarily void your warranty. However, there is always a possibility that the dealership could blame something else on the component.
Oil Filter Bypass Kit
An oil filter bypass kit adds filtration for the oil in your engine, which helps extend your engine's life and keep it running efficiently. Amsoil is a trusted brand that sells a kit for 2004 and later Cummins diesel engines for $392.45.
Adding this mod should not void your warranty as it is not altering the vehicle's output or altering the computer codes or odometer. The only way the bypass filter could affect the coverage is if a part broke off the bypass and clogged the engine, which is highly unlikely, especially if you have it professionally installed.
Lift and Leveling Kits
If you want more ground clearance, you will likely want a suspension or body lift. You should be able to install either on your vehicle without it affecting your warranty plan. However, raising your truck more than two to three inches will likely cause the dealership to deny claims.
Many dealerships install lifts. So, if this is a mod you want, have the dealership you take your truck to for service do the work and use approved parts.
This might interest you: Best Clutch Kits for Cummins
Wheels and Tires
Upgrading your rims and tires is one of the safest modifications you can do. However, like most components and systems, there are limits. Some dealerships deny warranty claims if you add tires that are above a specific size. Nevertheless, if you go to an approved RAM service center, you should not have any problems later down the line.
FAQs
Searching for information on the Cummins engine returns many results, yet much of the data is inconsistent and challenging to piece together. So, we addressed some of the most commonly asked questions here.
Question: Is the Dodge 6.7 Cummins a Good Engine?
Answer: The 6.7-liter Cummins replaced the smaller 5.9-liter, and it is a cleaner-burning, more efficient motor. Dodge adopted the change in 2011 and added a diesel particulate filter (DPF) to keep the engine free from the debris that would otherwise accumulate and potentially clog vital parts. That helps to increase the lifespan of your motor.
Question: Does DPF Delete Void Cummins Warranty?
Answer: Although DPF helps to keep contaminants out of your diesel motor, it can also reduce the horsepower your truck receives. So, many RAM owners install a DPF delete. The delete does not void the warranty. However, it requires a tune that alters fuel consumption, which is illegal and can void the manufacturer's warranty.
Question: Does DPF-Back Exhaust Void Warranty?
Answer: According to the warranty, no parts or components, even those not produced by Chrysler, void it. However, some features may lead to more claims denials. DPF-back exhaust is not one of those components, making it one of the safest mods to purchase.
Question: Does a Diesel Tuner Void the Warranty?
Answer: Yes, a diesel tuner will void your 6.7-liter Cummins warranty, making it impossible to use nearly every mod efficiently. Many components require a tuner to work at all and certainly to produce noticeable results. However, you can add some upgrades early on and tune your truck after being in service for a few years to get the most out of your investment.
Final Advice on 6.7-liter Cummins Mods
Modifying your vehicle always comes with some risk of warranty denials. If you damage a component during the installation or a component you upgrade causes damage to another part down the line, RAM will deny your claim. However, the vehicle warranty is pretty specific about the two things that void the contract, tampering or disconnecting the odometer.
Other than that, it is unlikely that the manufacturer will void your coverage, but getting claims approved with extensive engine modifications could prove troublesome.
If you are in the market for a truck and looking for information because you intend to do upgrades shortly after you buy, you might want to spend the money on factory upgrades instead. RAM offers various performance enhancement options that will give you real benefits without causing you stress over your warranty.
Sours: https://axleandchassis.com/accessories/best-6-7-cummins-upgrades/
1155
1156
1157
1158
1159