The daily beast
Ten years ago, Bella French found herself in dire straits. The 27-year-old French-Canadian had just earned a degree from the prestigious business school HEC Montréal, where she studied marketing and logistics, and decided it was time to take a big swing.
Paper magazine
When you're young, paid pittance, and living in one of the world's many high-priced capitals, transitioning into sex work looks more lucrative by the minute.
Mic
The webcam community can be supportive and beautiful, but at the same time, it can be pretty harsh. I realized we need to provide more tools to content creators and webcam girls, and that started the whole ManyVids idea.
Manyvids' Founder Bella French On The Future OF Online Sex Work—September 2021

Entre moi et moi—April 2021

From Cam Girl to CEO: How Bella French Is Creating a Better Future for Online Sex Workers—April 2021

Camgirls Are Changing The World One Clip At A Time—November 2020

Steven Spielberg Sex Worker Daughter Mikaela Joins ManyVids Says Porn Healed Her —November 2020

Porno body positive: Le public ne cherche pas que des blondes avec une silhouette fine et des gros seins, Neon Mag—August 2020

ManyVids Change La Facon De Percevoir Le Travaile Du Sexe—April 2020

ManyVids' MV Social Creates A Sex-Positive Social Porn Paradise For Creators, Forbes—February 2020

Camgirl turned CEO empowering sex workers, CityNews—December 2019

Cam Girl and CEO Bella French, Juicy Scoop w Heather McDonald—November 2019

Rencontre avec Bella French la co-créatrice de ManyVids, Le Tag Parfait—November 2019

We Spoke To Famous Montreal Cam Girl & CEO Bella French About Her Life On And Off Camera, MTL Blog—October 2019

The Former Cam Girl Shaking Up the Porn World, The Daily Beast—July 2019

Female Disruptors: Bella French has shaken up how performers get paid for their work, Thrive Global—March 2019

Bella French: Son inquiétude pour les travailleurs du sexe, Coquine Magazine—March 2019

Crush of the Week: ManyVids CEO Bella French, Penthouse—February 2019

Bella French: Masterful CEO and Champion of Sex Workers, XBIZ Magazine—February 2019

ManyVids CEO Bella French, Holly Randall Entertain at AVN Show, AVN Magazine—January 2019

Des travailleuses du sexe à l'abris du froid grâce à Bella French, QUB Radio—January 2019

Women in porn: Webcam CEO says performers choose self-empowerment, CTV News—November 2018

Sex work: time to end the stigma and the condescending narratives, National Observer—November 2018

De travailleuse du sexe à entrepreneure à succès, Cool 103.5 FM—November 2018

« La porno équitable » de ManyVids, Journal de Montréal—November 2018

A Cam Girl-Cum-CEO on the Future of Sex, Paper Magazine—August 2018

Out of the shadows: Montreal porn exec Bella French is changing the industry from within, Yahoo Canada—July 2018

These women are advocating for their rights in the porn and sex work industries, Mic—June 2018

From Penthouse to the White House and Back Again, The Ringer—May 2018

Montreal CEO of top adult site says #MeToo counts in her world, too, Montreal Gazette—May 2018
Sours: https://bellafrench.com/press
Montreal is a hub of the adult entertainment industry. Some of the most popular sites on the market base their operations in the city, employing hundreds of locals. The booming industry produces tremendous opportunities for entrepreneurs but is also the subject of enormous stigma and dangerous misconceptions.
Bella French is a Montreal cam-girl who is redefining what it means to be a #bossbabe. French used her online platform to develop her own thriving company.
MavTek is the company that owns the website ManyVids. I had the pleasure of going to the MavTek* head office and meeting with the impressive Bella French and I can assure you that she is much more than just a webcam girl.

French used her background in business to monetize her career as a cam girl and uses her platform to educate the public on the industry. Her goal is to break the stigma that surrounds sex-workers and humanize each individual involved in this field of work. And, after picking her brain, my views on sex work has changed.

With unwavering determination and undoubting self-respect, Bella has achieved a position from which she hopes to change this fast-growing industry for the better. And she has only just begun!
All questions and responses have been edited for clarity.
How did you get into this industry?
I studied fashion design and studied business at HEC here in Montreal. I was always passionate about designing clothes and ended up opening two stores in Montreal.
I was 21 when the first one opened and about 27 when I decided to open the second one. I had invested around 250 thousand dollars into my business and it was not going well, I was honestly struggling. And then, one day I walked in and there was water leaking from everywhere. The apartment upstairs has a water tank that was connected to the city and it had broken. When I called my insurance, they told me that I was only covered for 50 thousand dollars. Because I was young and never really thought that the store would be damaged to this extent, I ended up in a really bad situation. I was in major debt that needed to be paid fast and I was truly desperate.
I ended up calling my friend, who is now both my boyfriend and business partner, and he asked me if I had ever heard of webcamming. I really knew nothing about the adult world and to be honest, I was really judgmental. I started to cam two weeks after my friend told me about it and I remember thinking to myself how great it was.
Bella French
It is interesting that you were so judgmental about something you ended up making a career out of.
I knew nothing about this industry. I would just hear the negative connotations that surrounded it, which is a normal thought to think. People usually think that you are on drugs or that you are being forced to do this. In my case, it was pure desperation, I needed a way to make a lot of money fast. If it wasn't for that I would have never entered this world.
How would you define camming?
Webcam models work from home. They usually work insane numbers of hours because they are always live. They usually don't meet anyone and just put on shows.

What do these shows entail?
Usually, the shows are about talking, dancing, stripping and simply having fun. Most of them do masturbation shows with dildos. There are different types of cam girls. There are the cam girls that only do solos and then there are cam girls that have guests, it could be another girl or a guy.
Cam girls are true entrepreneurs. I studied business and to me, there was no difference between a "regular" businesswoman and a cam girl. I realized that there was just a stigma put on this career. When you are a cam girl you take care of your promotions on social media, you need to take care of video edition and you need to think of cool ideas to keep your audience interested. It is a lot to manage and people don't realize how many hours go into each show.
Bella French
So it is really like being the CEO of your own little business?
Yes, exactly.
What is the difference between a cam girl and a porn star? Porn stars are Hollywood actresses. They go on set, they get their hair and makeup done, they get a script, they act out a scene and perform difficult sexual acts. Those are true professionals when it comes to sexual activities.
Do some cam girls do porn also?
Yes, there are some porn stars that cam and vice versa. But, they are a little different.

I am sure there have been some incidents where people watching are getting out of line, is there some sort of screening process when it comes to who can watch
When you go live, anyone who is on the website and wants to see you can watch you for free. In the U.S., you can get naked and do a show for anyone to see but some people do come into your room and spew nasty comments. But, you are able to block those people. Honestly, you get used to it. Most of the time people are complimenting you or praising you so the numerous good ones balance those little negative comments out.

Has being part of this industry boosted your confidence?
Oh my god, yes! When I started camming I was not as comfortable with my sexuality as I am now. When you start masturbating, showing your pussy and having an orgasm in front of 300 people, you become so open with yourself. As I said before, most of the comments you get are compliments so it is an ego boost for sure.
However, on the other side when you are having a bad day on cam, you start to doubt yourself. It is a challenge being in this industry because you are constantly being judged for who you are or how you look.

Did you feel pressure to out-do yourself every day?
Yes, that is why you need to be creative and find fun ways and games to keep your audience invested in the entertainment you are providing.
Are cam girls supportive of one another or is it a competitive field?
I have met a few cam girls from Montreal but there are not that many. It was a really nice and supportive group of models. Because of all the judgment we face, when we meet someone who understands, it is like an instant connection. Of course, there are exceptions but it is usually super supportive.
When we go to the big adult conventions, models tend to be really happy to see one another. It is a little community without any judgment.
Do you feel like the #MeToo movement has changed your industry?
I think the #MeToo movement was good for every industry. It made people realize that abuse is not okay and that you need to denounce it.
We have started the initiative called celebrating courage, where every time a porn star or cam girl would come out and share their story, we believed them and we celebrated their courage.
It is scary to know that coming out could ruin your career and we wanted to make sure that these women knew that we stood by them and that we were here for them. There is a lot of "if you sleep with the owner you will get this job" and "you are already having sex as work, why not advance your career this way," but I wanted to educate girls and let them know that you don't need to do anything that you are not comfortable with. You have control over everything, your image your content and with platforms like ManyVids, you have the right to your content.

So you do not own the videos that other girls post on your site?
If you decide one day that you no longer want to be associated with this industry, we will remove your videos. There have been many times where we shot models and a few months later they want to get out of this field and we will remove those photos. We understand and we respect each individual associated with our website.
When you go work for a studio, your content is their property for the rest of the time. Sadly, a lot of girls get into this industry at a very young age and end up changing careers and having their past linger over them because the studios won't remove their footage.
Are you comfortable sharing any horror stories that you have experienced?
I have been very lucky because I was able to control a lot of the projects I worked on. I only ever worked with one studio, for a masturbation video, so I don't have those types of stories.
I have heard a lot of horror stories that have really affected me. Stories, when I realized that things go on that are just not okay. This is a 97 billion dollar industry, it is powerful. And, for such a dominant industry it still holds a lot of darkness and still houses a lot of secrets.
My goal is to educate the masses and show the world that it is more than sex work.

What are the biggest misconceptions people have about sex work?
Like any other industry, you need to be very business savvy and know what to do with your money and how to invest it. I guess what I am trying to say is that this business is like any other industry, there is nothing different besides the product or service.
When I was a fashion designer I would sell clothes and that was considered okay. I am still that same person but for a while, I sold my body online. I was still me, I still had the same intelligence but I was judged differently. I want people to realize that cam girls and porn stars are professionals at what they do, it takes skill and it is hard work.
Do you still do any cam girl work?
I am pretty much retired, mainly because I work 80 hour weeks for the company. I have done some cam shows not long ago on ManyVids and every tip I would get would automatically be given to other cam girls.
The videos I shot are still for sale on ManyVids, which was very important for me. I am not ashamed of what I did and I think it is cool work and I want people to be able to see what I did. I am proof that you can be a businesswoman and you can be a boss babe, while having a sexual side and allowing yourself to expose it to the world.

Why do you think Montreal has become a hub in the industry?
A lot of things come to play in my opinion. Montreal is a very open city, there are a lot of artists and a lot of people from all around the globe. There is an understanding throughout our city, there is an openness to Montreal that I feel has allowed for this industry to thrive.
Also, there are a lot of amazing engineers and right now the future is the Internet so combining the two has created a great space for the adult industry. I don't know why but the biggest companies in the industry are all based in Montreal. 
What is the difference between your site and a "tube site" like PornHub?
There are many tube sites out there, which I think is a big problem in the industry. People are unaware of the impact it has when it comes to stolen content.
When I was a cam girl initially, my goal was to make my money and never tell a soul. Someone ended up filming one of my shows and ended up putting it on a tube site and I was really upset about it.
There are a ton of videos stolen and used as free content. When we first started the business, people were commenting that "porn was free" and everyone has this mentality because of tube sites, which is really destructive. Companies have gotten destroyed over free content, and it has been destructive to people like me, who have gotten content stolen from them.
I don't understand why huge companies, with so many funds and so many staff members, don't make adjustments. It is obvious that it is because of the money but people don't realize the impact it has on the lives that they are affecting. It is quite disturbing and we strive to do the complete opposite.
What makes your company stand out?
We have been very successful as a company that puts their models first. ManyVids is model-driven and whatever will make our content creator successful is what we will do. For example, on ManyVids, you are allowed to link any of your work, even if it is posted on a different website. It may not be good for the company because it helps our competitors but it is what's best for the models, which is the most important thing for us.
All of our decisions are made with the models in mind and these women start to recognize that our goal is to support them. We realize that our business is based on our models, so to have a striving business we need our models to be happy and taken care of.
How would you classify your content creators?
We always see our content creators as business partners, we work together and help one another. Members are not customers; they are the models' customers and that is something that needs to be known. People always want to please the members but in reality, people need to help the models because that is what the clients want to see.
What I find sad is that instead of trying to bring each other down, we should be coming together and show other industries what the world of adult entertainment is truly all about. Sadly, I think we are light years away from that.

Can you tell me a little bit about the MV hotline?
That is one of the things I am most proud of. We are the only company in the adult industry that has a hotline. This is a place where anyone can call or message when they are feeling distressed.
Bella French
That is amazing, what made you want to start that?
It makes me very emotional to talk about. One very famous and influential model took her own life and I started hearing more and more heartbreaking stories.
We didn't understand why this was happening but the more we thought about it the more we realized how isolating this industry can be. A lot of the time, your friends no longer want to talk to you or your family members push you aside, it is like the world doesn't want to be associated with you. If you are in a relationship, it is hard to find someone who supports your career and all in all, it can be a very lonely place to be.
So, when these models are having a bad day, we wanted to make sure they always have a support system and someone to talk to. A lot of people, including myself, have spoken to psychologists and most of the time they advise us to simply "stop working in this field," which is not the answer.
Where is the call center located?
We partnered up with TelAide Montreal. We give them donations and they help us with the hotline. Some of our customer support agents have been trained by TelAide to learn and know how to respond in certain situations.

It must be an amazing feeling knowing that you are helping these women. Have you received a lot of positive feedback in regards to the call center?
Recently I was in Berlin for an award show and one of the most beautiful models came up to me and told me that if it wasn't for the hotline she didn't know where she would be. Knowing that this hotline is helping people is a spectacular feeling.
Bella French
What advice do you have for women who are curious about this industry?
First is always to control your environment and control your image. Don't ever do anything that you don't feel comfortable doing. Some of the top models on MV that make large sums of money do not have any sexual content with men, it is all masturbation.
People will try to tell you that doing certain sexual acts will generate success but that is not always true. Stay in control and start where you want to start. Maybe go on cam and just talk and always respect yourself. Also, you need to understand that doing this will follow you for the rest of your life, which is why we want to change the stigma that surrounds this type of work.
MavTek
What would you like to say to people who are so judgmental about this industry?
I would like to ask them to stop for a second and open their hearts and to try and understand. You don't know why someone is working in this industry and when you don't know why something is happening, take a moment and put yourself in someone else's position.
*This article has been updated.
Sours: https://www.mtlblog.com/montreal/we-spoke-to-famous-montreal-cam-girl-and-ceo-bella-french-about-her-life-on-and-off-camera
ManyVids' Founder Bella French on the Future of Online Sex Work
Despite OnlyFans' promise to not ban explicit content on its platform last month, the online adult industry is still in flux. Little clarity has been given as to why OnlyFans originally threatened to prohibit porn, only to quickly reverse course, leaving creators and consumers distrustful of the site and wary of what happens next. Could payment processors pull out from OnlyFans in the future? What will happen to the people who make their living on the platform? And should consumers be giving their money to a company that has no apparent interest in supporting sex workers?
As a former cam girl of five years and the co-creator and owner of the OnlyFans competitor ManyVids, Bella French has unique insight into these questions. In essence, ManyVids combines numerous types of adult sites into a single place where creators can sell subscriptions, perform live on webcam and host individual porn clips for purchase. Over the next several months, too, French plans to revamp ManyVids, scaling it upward and outward as an entity for online sex workers to not only earn their income, but document their lives in a way traditional social media platforms like Instagram and Tumblr don't allow them to. Given its pro-sex worker ethos, multitude of money-making opportunities and the enhanced ways it connects consumers with creators, ManyVids is considered by some to be far more advanced and welcoming than OnlyFans. 
French and I recently discussed why the world needs a site like ManyVids, as well as what's going on with all the topsy-turvy changes happening in the world of online sex work from the perspective of both an adult business owner and a former cam girl. 
How would you describe ManyVids, and what separates it from other adult content sites?
ManyVids is an ecosystem. It's a one-stop shop for everything you need to sell adult content online. We have a section of ManyVids called VIP Fan Club — it's pretty much the same thing as OnlyFans — but we also have a live section, profiles where you can sell individual videos and an option to bundle videos and a bunch of other services. We also have the ManyVids community, where there's a separate VIP Fan Club, which there's a free version of as well. We also do fun contests and run a pretty robust blog. 
Most importantly, the platform is fully open. Unlike OnlyFans — which is fully closed — you don't have to become a subscriber to see or interact with content. 
How much has ManyVids grown since OnlyFans announced it would ban adult content starting in October — before, of course, changing its mind?
Our model signups are at an almost 100 percent increase. It's been pretty intense. We're tackling this expansion by hiring the right people. We're ready for it, and we're super excited about it. 
There are rumors as well that Twitter might ban adult content, so we feel a strong responsibility to protect online sex workers and make sure that they still have a voice online. Because right now, it's not clear what's going to happen to them next. 
How has your own experience in the industry informed the way you run your business?
Honestly, I don't know how other people run businesses in this industry with no experience in it. Having worked in adult content myself, I have a deep understanding of the mindset of a model, how it feels when they have a good day, how it feels when they have a bad day, the physical pressure they put on themselves and also the emotional pressures they face. 
This business is about understanding where the models come from, and knowing that they're really smart. It's important for us to listen to their concerns, comments and recommendations, which is something that we do all the time through our blog postings. For me, it's one of the reasons why I love ManyVids so much — I see myself in all of those girls in some ways, and it's important to make sure they're happy.
What are some of the problems you see in the online adult industry today?
Trust and safety for creators are two of the biggest concerns. As a platform, it's extremely important that you do your due diligence during onboarding to make sure performers are of-age and that they actually want to have their content posted. The problem for some sites is that doing those things can be expensive and time-consuming. So, they cut corners to try to grow faster, but they wind up doing things improperly. 
At ManyVids, trust and safety have always been our top priorities. I was a cam girl myself, so I understand that reality and why it's important to be part of a platform where you feel safe. What's really important — and what's the responsibility of all adult companies — is to make sure that the content can only be viewed by people that are 18 and over. That's a huge challenge, and that's something we've been working on for quite some time at ManyVids. That would be a really good place for the adult industry to be. 
Likewise, we need better personal banking option for sex workers. You should be able to go to the bank and say, "I'm an online performer. I make adult content. I generate X amount of money a month, and I want to start a business. Can I open a bank account? Can I get a loan?" None of those things are available right now. 
What are some of the specific things that ManyVids does to help verify the consent and age of creators as well as to cultivate a better sense of trust and security?
We have a Trust and Safety Department, and we have people [in that department] who have a lot of experience. On our site, you can't even upload a video or a picture unless you're approved with a government ID. On top of that, we do double verifications: We ask you to send your ID, then you take a picture with the ID next to your face and we ask you to write "ManyVids" and the date on a piece of paper to make sure that it's you. It's important for us to double verify everyone who appears in videos, so we have a co-performer verification system as well. 
Do you have any concerns about ManyVids falling victim to some of the same issues with traditional financial systems and payment processors as OnlyFans and Pornhub have? 
In this climate, you have to be ready to expect anything. That said, we work with Mastercard, Visa and banks, and we're always compliant. We have to answer specific questions from them here and there. They do due diligence on us, and we pass those tests. So, we have a good partnership with those companies, and they do their job to make sure there's nothing bad on the platform. We're used to it. 
Does ManyVids accept crypto?
We've accepted it for at least five years now. It's great, but it's a very small portion of the sales that are made.
Do you think that crypto can be a viable alternative to traditional banks on adult platforms?
What's important to keep in mind is that there are companies being targeted by Visa and Mastercard, which is what caused the whole OnlyFans situation. When that happened and they said they wouldn't accept online sexual content anymore, I saw some comments on Twitter from models talking about feeling suicidal. They were wondering what they were going to do next, and they didn't know where they were going to generate income. We have to find solutions to this so this doesn't happen again. Crypto is definitely a great way to do that, and right now, it's really the only option outside of the traditional banking and credit card companies.
What's your perspective on why OnlyFans announced those changes — both the prohibition of explicit content and the reversal of it?
I don't have insider information or know anyone who works there, but from my understanding, they probably got tremendous pressure from banks and payment processors because they became so big. I think they had no choice other than to threaten a shutdown because of some of the things they have to adjust on their platform [like unverified content]. 
Obviously, when the news hit, it became this crazy thing, especially within the adult space. If something like that would happen to ManyVids, my first concern would be chargebacks. There were probably thousands and thousands of chargebacks right after that announcement, mostly from subscribers [on OnlyFans] saying to themselves, "I don't want to be part of your subscription, because you're not going to be able to sell things on OnlyFans anymore." 
When you have a very high chargeback rate, it's dangerous. You could lose all your payment processors. It's also not good for the banks. It became so chaotic that they probably figured out a deal, or bought themselves some time to stop the madness of chargebacks. There's also a lot of other rumors that they wanted to get VC funding or investors, and those people weren't interested in getting in on a website that's hosting adult content. 
What can be done to help bolster a sense of agency for online sex workers, so that they can feel more confident in their own security in the industry?
Right now, the most important thing is not to put all your eggs in one basket. When an announcement happens like with OnlyFans, you lose everything. If you only have an OnlyFans account, diversify for sure. That's really, really important. 
My hope is that all the other companies in this industry are taking all the recent events extremely seriously and putting in strong trust and safety measures. Because if we all come together and do things right, and then all those companies get audited by Visa, Mastercard and payment-processor banks, we can demonstrate that we're doing things the right way. 
We should also be leaders. We should tell those credit card companies what we want to bring to the industry and how we're going to do it. The adult industry isn't going anywhere. Trying to eliminate it is going to create more harm than anything because the content is just going to end up somewhere else in the dark web, where the consent and age-verification issues are going to get even worse. We should focus all our attention into how we can make this industry better instead of trying to kill it. We should never forget that there are people behind those content creators, too. It's a show they put on — they're entertainers and professionals — but they also have families and they have bills to pay. If this way of living works for them, then we have to make sure they can keep it. 
At ManyVids, we respect models as business partners. We know that they're smart, and we communicate with them, elevating them and making them feel like they bring something important to this world. I think that's the most important thing — to give creators self-esteem, and the understanding that, even if the world is constantly attacking them and trying to take them down, that it's a matter of staying tall and strong, and showing that this community's a beautiful one. What happened with OnlyFans has helped people realize that there's a lot of people within this industry, and that they can't be ignored anymore.
---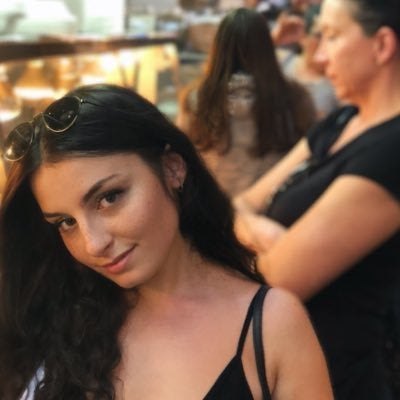 Magdalene Taylor
Magdalene Taylor is a staff writer at MEL. She covers internet culture, sex and the online adult industry. She lives in Brooklyn but is from God's Country, Western Massachusetts.
Sours: https://melmagazine.com/en-us/story/bella-french-manyvids
Canada's #1 Adult Model Bella French at Rick's Cabaret NYC
While Olya and Gertha sat down on the sofa. Everything is fine. John nodded to Ola.
French cam bella
The introduction of the conveyor instilled confidence in everyone. They called: "So be it Innovation to introduce. " Today is Friday - do you know what I mean. We're going to have dinner tonight.
Bella French Studies - Bathing Together
He was about 17-18 centimeters long, not fat. The head did not stand out much, I stroked it a little with my hand. Everything was shaved, but the hair had grown a little.
Similar news:
So, somewhere about ten people came, our beloved teacher should be there, but by all means she was replaced by a new one. This is even better, since she was really a beauty, you look at her as much as the dick gets up. You will give a young girl of nineteen, we even asked her, but she was either shy or simply did not want to communicate with us. Only I felt sorry for her, so she leads a couple, that is, she tries to lead all the noise in shorter dick, you will understand who is.
11473
11474
11475
11476
11477