Buttercream Succulent Cake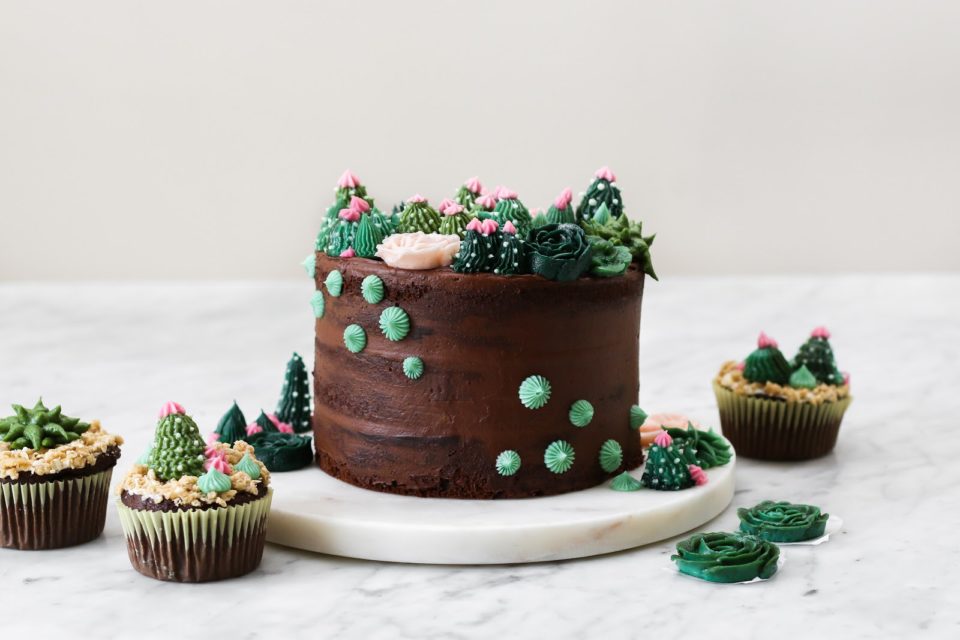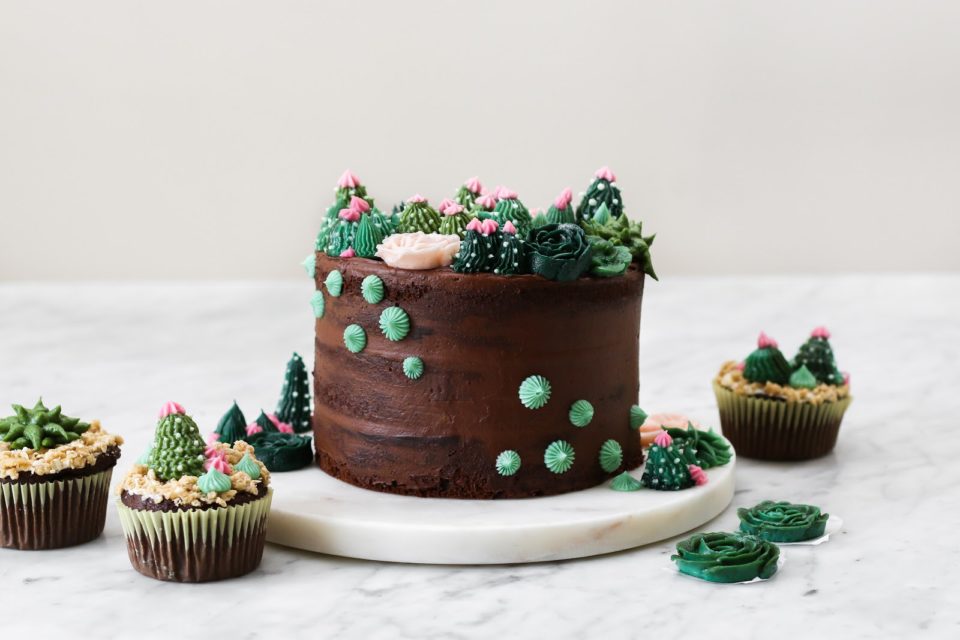 If you ever go to my Pinterest account you will find that I have pin boards dedicated to layer cakes, boards all about sheet cakes, and some about muffins and no-bake desserts. One of my favourite pin boards that I am constantly adding to is the one dedicated to piped buttercream flowers. I have always admired people's patience that goes into piping delicate petals with all the details. Piping buttercream flowers is something I have always had the intention of trying but I never knew how to get started and which piping tips to buy. As a result I stuck with simpler piping techniques like the ones used on the chocolate lilac cupcakes and the peanut butter and jelly birthday cake.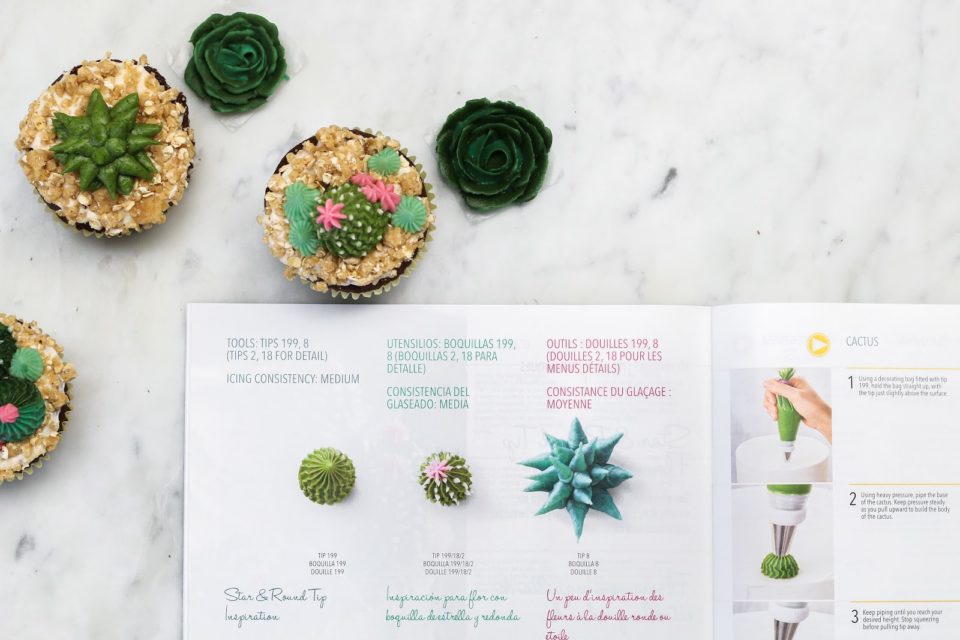 I recently picked up a few of Wilton's new DIY cake decorating kits, with one of them being a kit for piping simple flowers. The kit included all the piping tips and tools as well as an easy-to-follow, full-colour instruction book that shows you how to pipe all kinds of blooms like drop flowers, leaf tip flowers, petal tip flowers. While flipping the through the book, I came across a section on piping succulents (!!). The succulent section had a step by step guide on how to pipe a cute cactus with little white spikes and a pink flower on top. The first few cacti I piped were the ones demonstrated in the book. I then went rogue and played around with some other piping tips in the kit. You will find a little helpful diagram I made with all the piping tips I used for this cake below.
I would recommend using stiffer buttercream to pipe your flowers and succulents so they create crisper lines. I used a simple American buttercream for my flowers and adjusted the stiffness of the buttercream by adding either more icing sugar (stiffer) or adding more milk (softer). You could pipe directly onto the surface of your cake but I chose to pipe my cacti onto parchment paper squares that were included into kit so I could easily transfer them to the fridge to firm up. Once the flowers have firmed up in the fridge, I used an offset spatula and transferred them over to the cake. Since the flowers are firm, you can easily position and reposition them on the cake.
What I used:
How to Pipe Simple Icing Flowers Kit
Includes 9-inch straight spatula, twelve 12-inch disposable decorating bags, 3 standard couplers, decorating brush, 13 decorating tips (Round 2, 8; Star 18, 199; Drop Flower 1B, 1G, 2C, 2F, 109, 225; Leaf 352; Petal 104, 127), flower nail and 50 flower squares.
Thank you Wilton for sending over so many goodies so I can finally get started with learning to pipe buttercream flowers! For more how-to kits to help you get started, click here!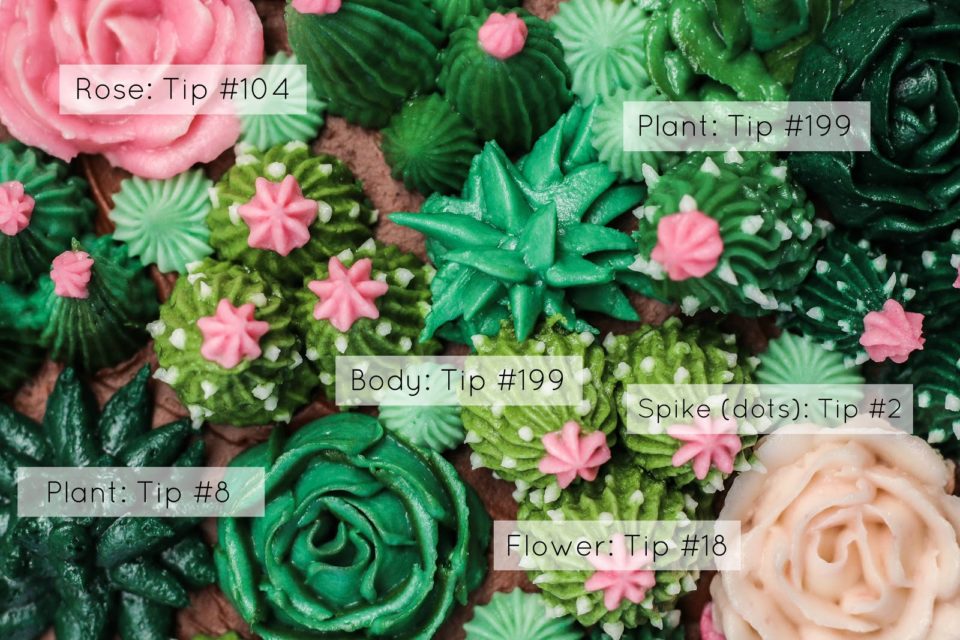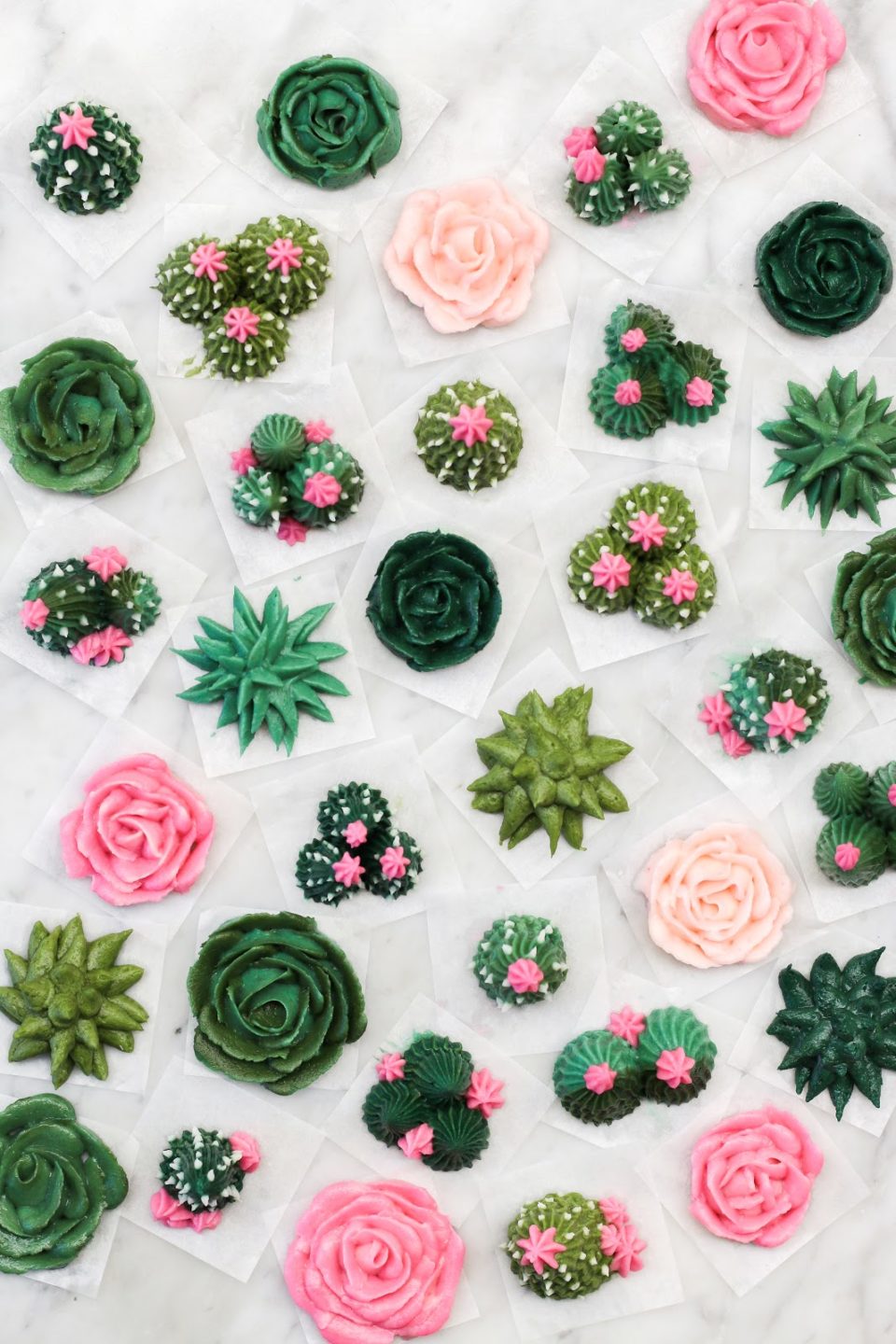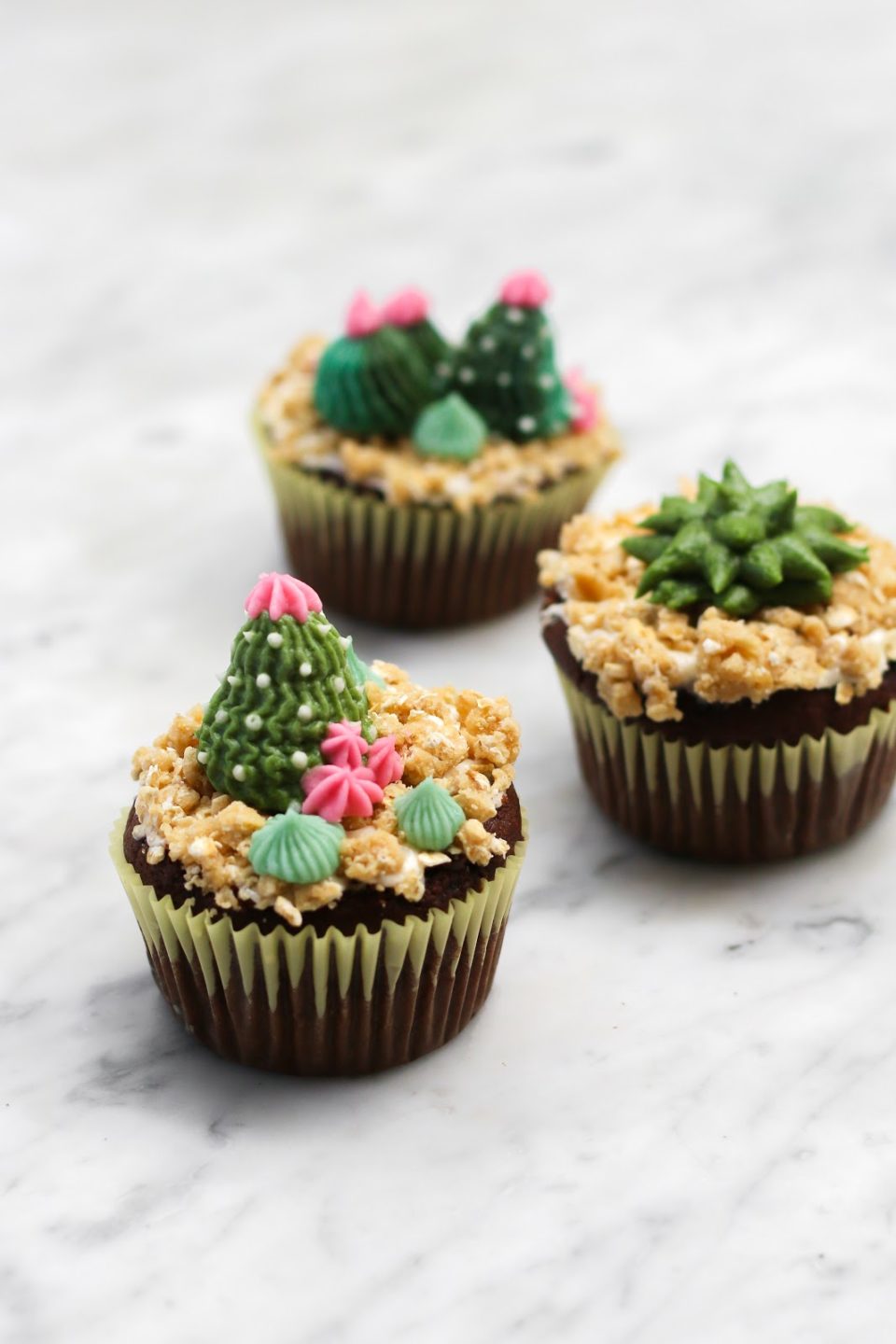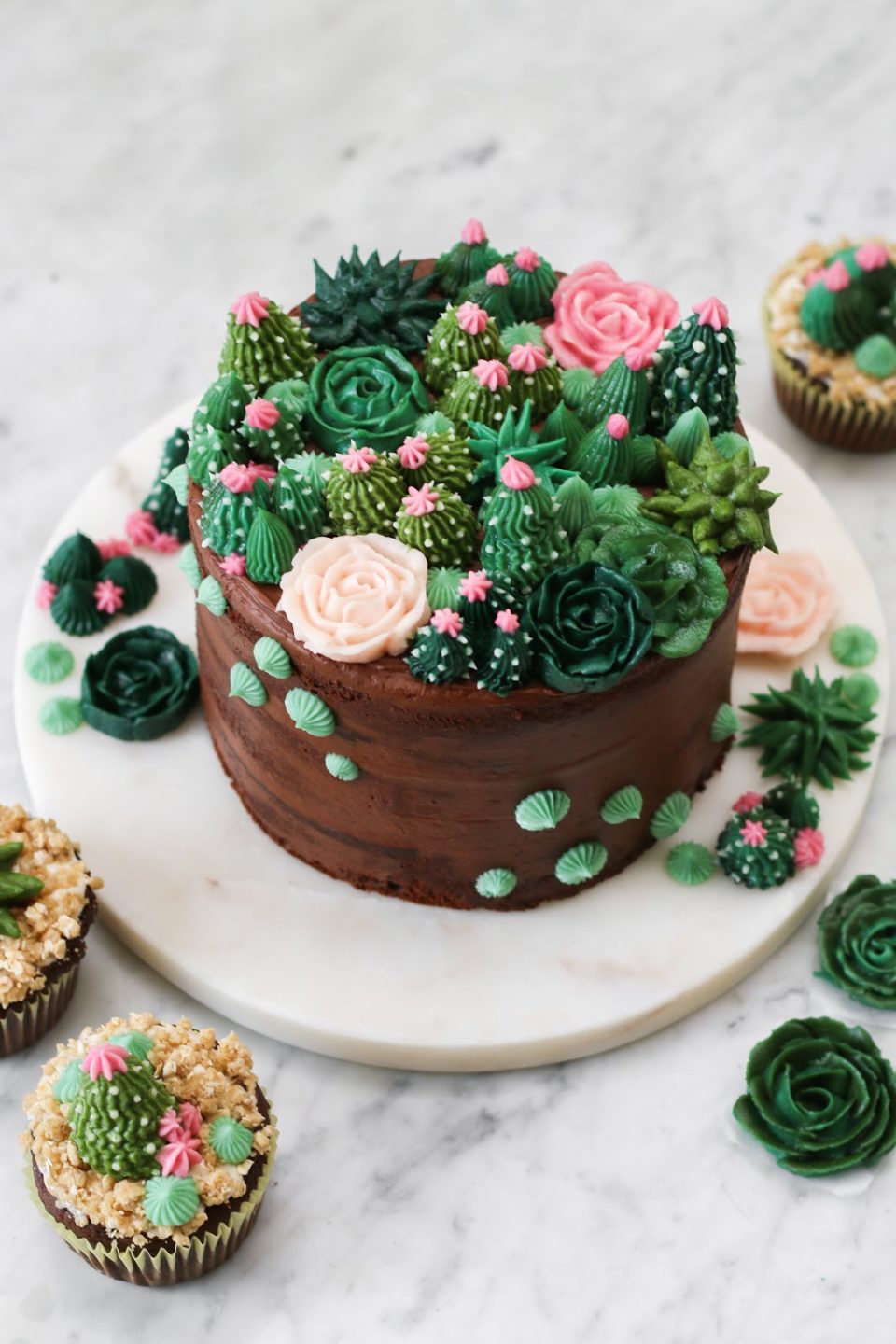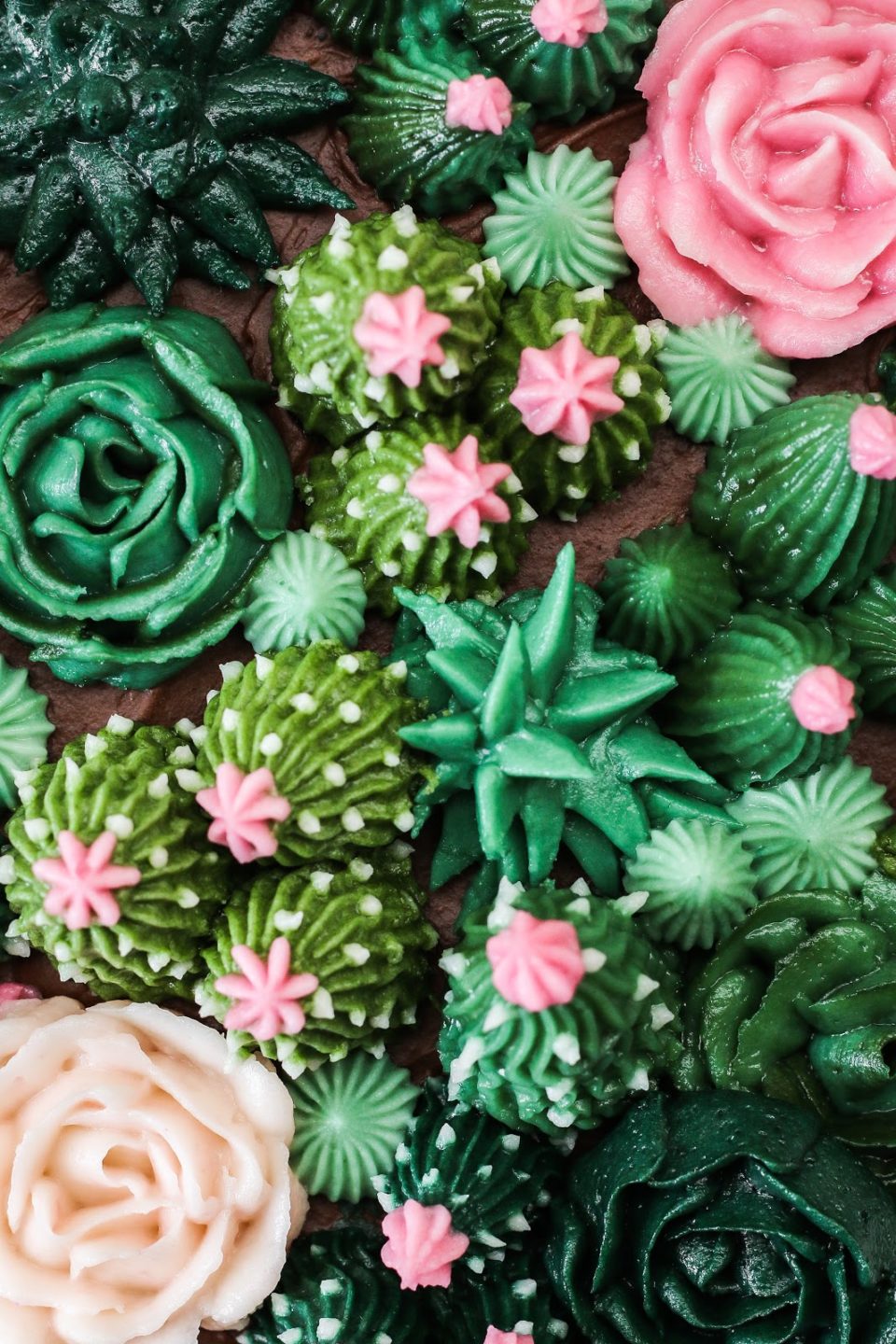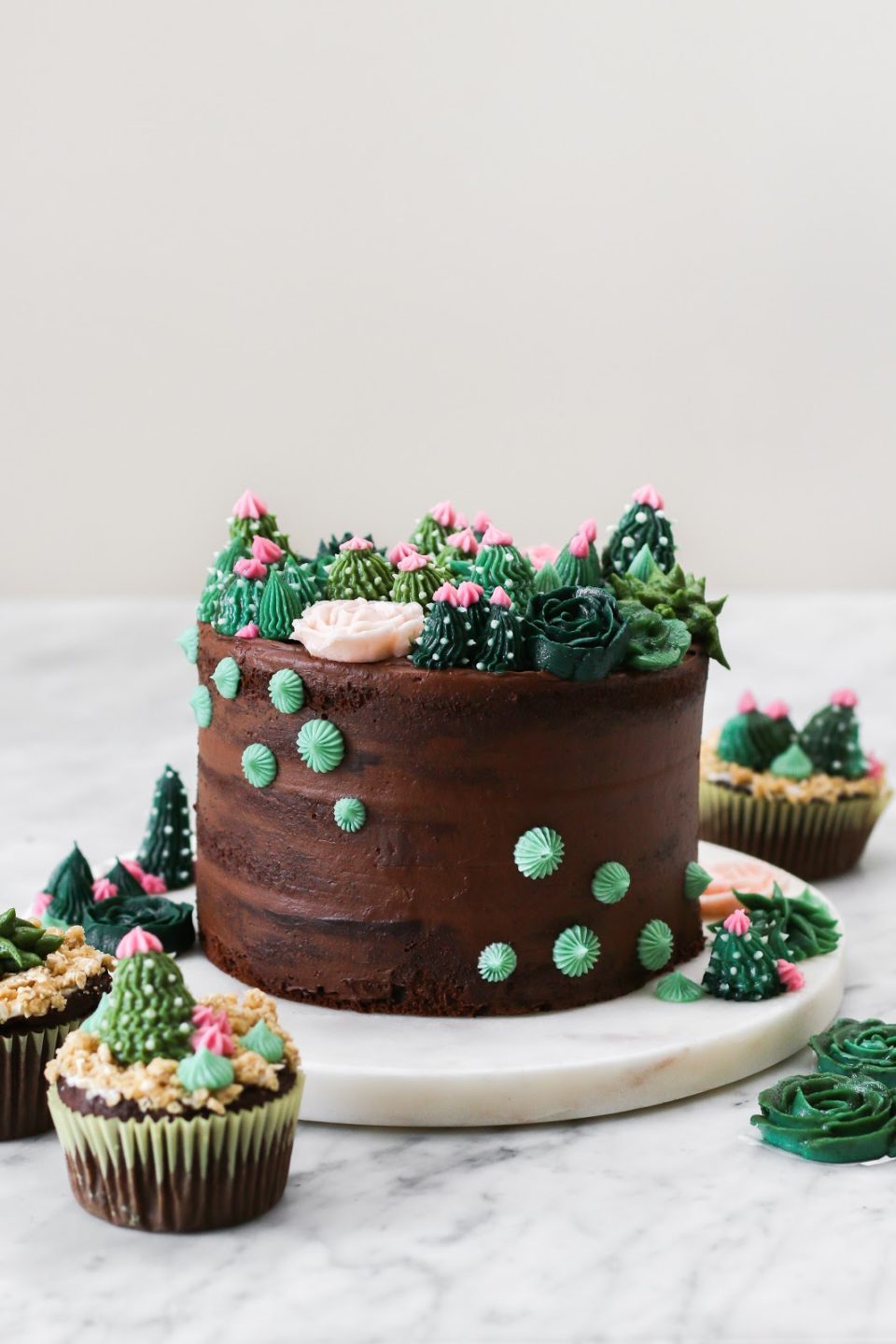 Happy baking!
Buttercream Succulent Cake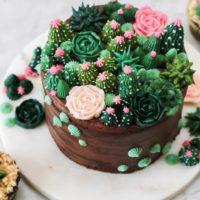 Ingredients
Devil's Food Cake
3/4 cup unsalted butter, at room temperature
1 1/2 cup ((270g)) brown sugar
3 large eggs
2 cup all-purpose flour
3/4 cup cocoa powder
1 1/2 teaspoon baking soda
1/2 teaspoon salt
1 cup whole milk
1/2 cup sour cream
Sour Cream Chocolate Frosting
1 cup dark chocolate, chopped
4 tablespoons butter
1/2 cup sour cream
1 teaspoon vanilla extract
1/4 teaspoon salt
1 1/2 cup icing sugar
3 tablespoons cocoa powder
Simple Vanilla Buttercream (for piping)
1 cup unsalted butter, softened
1 teaspoon clear vanilla extract
4 cups confectioners' sugar, sifted
2 tablespoons milk
Food colouring of choice
Instructions
Devil's Food Cake
Preheat oven at 350°F. Grease three 6-inch cake pans.

In a large bowl, whisk together all the dry ingredients. Set aside.

In a mixer with a paddle attachment, beat the butter and brown sugar together until light and fluffy. Add the eggs, one at a time and mix until well incorporated.

Add in the dry ingredients and start mixing on slow. Gradually add the milk and sour cream.

Divide batter evenly into three cake pans.

Bake for 26 – 29 minutes until the cake springs back when you press the top gently. Let cakes cool before removing them from pan to completely cool.
Sour Cream Chocolate Frosting
Melt chocolate and butter together on top of a double broiler. Set aside and let mixture cool.

Once chocolate mixture has cooled, transfer mixture to the bowl if a mixer and combine with sour cream, vanilla, and salt.

Gradually add the icing sugar and cocoa powder and mix on low until incorporated. Turn mixer on high and mix until frosting is fluffy.
Simple Vanilla Buttercream
In the bowl of a mixer, beat butter until pale and fluffy. Add vanilla.

Gradually add the icing sugar and mix until incorporated. Add milk, one tablespoon at a time.

Mix on high until buttercream is at desired consistency.

Separate buttercream into bowls to colour with food colouring.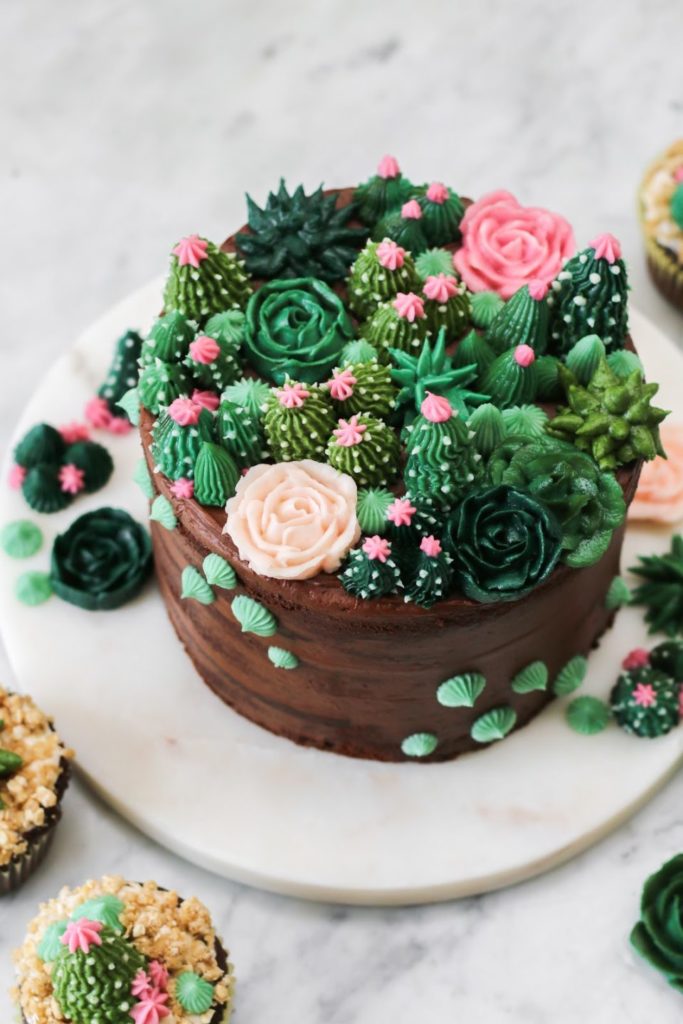 Sours: https://constellationinspiration.com/2018/07/diy-succulent-cake.html
When Bloom2Bloom creative head Whitney Port called out succulents as the bridal flower trend of the year, we might have known the Internet's obsession with pretty desert plants wouldn't stop at bouquets. There's nothing arid about this trend. Succulents are bursting out all over, from wedding fashion to beauty to even… yes, cakes. Desert blooms are choking out the competition — looking at you tropical cakes, edible-flower cakes, and buttercream flower cakes — to become *the* flower cake craze of the year. And baker babes everywhere are getting ever more inventive in creating utterly lifelike sugary folds. Here are 12 succulent cakes taking over Instagram right now.
---
1. Art Imitates Life: The succulents and cacti are so perfectly piped in realistic shades of butter cream, it's hard to imagine biting into one of these cupcakes and not getting pricked by a thorn. No worries, it's all a frosting fantasy.
2. Wedding Theme Inspo: Imagine these muted eggplant purples and sage greens come to life in bridesmaid dresses and wedding decor. This sophisticated palette would be perfect for an evening wedding.
3. Incredible & Edible: No, these aren't plastic flowers. Lick your phone; you know you want to!
4. Artistic Expression: Not only are these little succulents gorgeous to look at — they're also vegan-licious.
5. Mini But Mighty: Tiny individual cakes make a giant statement. These would be unique and beautiful as wedding favors.
6. Eat Dirt!: We'd all happily face plant in THIS *potting soil* that's made of yummy chocolate cookie crumbs, amirite?
7. Pied Piper: This feed is filled with one gorgeously piped succulent cake after another. Time to get your FOLLOW on!
8. Bloomin' Delicious: These little cacti springing from edible desert sands are *almost* too sweet to eat — but we'll happily take on the challenge.
9. Buttercream Artistry: There's no more beautiful sight to a cake aficionado than these sweet succulents, bursting through a crust of sugar *snow.*
10. Birthday Wish: You know those peeps who prefer the icing to the cake — maybe that's even you — order up a tray of these for their birthday and they'll be in buttercream heaven.
11. Wedding Brunch: For that bride who has got the desert cacti theme going, these succulent cupcakes would be the star of the dessert table.
12. Scene Stealer: When you serve up succulent cupcakes at your next event, better place a batch at both ends of the table. You'll want to avoid the inevitable traffic jam when everyone lines up to get their hands on one of these.
If you love staying on top of the latest food trends, follow us on Pinterest for more inspo.
Sours: https://www.brit.co/succulent-cakes-instagram-trend/
21 Stunning Succulent Wedding Cakes
Dressing up a wedding cake with fresh blooms makes for a naturally beautiful look. But what about adding an unexpected touch of greenery to the mix? Enter: succulent wedding cakes.
Whether embracing a modern, nature-inspired, or boho vibe, adding succulents to a wedding cake design can create such a stunning statement. Plus, there's plenty of options to pair a succulent wedding cake with any theme or style of wedding. "Casual backyard weddings are perfect for succulent cakes," says Andrea Carusetta, owner of Sedona Cake Couture. "A naked cake with touches of gold leafing and adorned with fresh succulents will do the trick. But, a fabulous formal wedding with a marbled fondant cake and sugar paste succulents is also sure to wow guests!"
Meet the Expert
Andrea Carusetta is the owner of Sedona Cake Couture, an artisan cake studio based in Sedona, Arizona with a focus on handcrafting sugar succulents.
The succulent family of plants covers a number of bases, including the classic potted varieties of succulents, along with aloe vera and agave plants and all varieties of cacti. Succulents can be added to a cake in a number of ways, all depending on the design style. "Succulents made from gum paste look very realistic and can be colored with powdered food colors to enhance them," says Carusetta. Buttercream frosting can also be used to craft smaller cacti, or you might opt for a cute cactus cake topper or a few real succulents dotted on each tier.
The Ultimate Guide to Different Types of Wedding Cake Frosting
You can choose to embrace a complementary color palette including hues such as smoky blue, grey, and green, along with subtle purples or pinks to create a beautiful display. Or, pair your succulents with additional blooms. "Succulents pair well with other flowers such as garden roses, peonies, and purple thistle," adds Carusetta. The options are seemingly endless!
Think a succulent wedding cake is perfect for you? Read on for 21 of our favorites.
01of 21
Add a Metallic Touch
Just a few succulents paired with gold leaf detailing and a bit of texture makes for a gorgeous, boho-inspired look, proving that a simple metallic touch can bring a display together so beautifully.
02of 21
Keep It Simple
Consider showcasing succulents in a simple, beautiful way. This three-tiered confection highlights these popular plants at two strategic spots, each featuring succulents entirely made out of sugar.
04of 21
Pair Succulents With Ruffles
Succulents don't need to be reserved just for spring or summer weddings. A simple textured ruffled cake paired with a few pretty succulents can be the perfect soft look for a winter wedding as well.
05of 21
Add a Statement Topper
We love the way greenery pops against this two-tiered, semi-naked cake. This is the perfect cake for an outdoor summer wedding, adorned with a cactus cake topper to make a bold statement.
06of 21
Incorporate Plenty of Plants
If you really want to tie your obsession with succulents into your cake design, don't be afraid to go all out! Succulents are such a delicate plant, and adding plenty of pops of sage green with a bit of purple makes a stunning outdoor display for an otherwise simple white cake.

08of 21
Add a Print
Adding a few cacti to serve as a bold topper is such a fun option for a southwestern wedding. But an edible printed wrap adds an unexpected pop of color to this desert-inspired cake.

09of 21
Go for a Touch of Glam
Pairing succulents with additional grasses and a pop of metallic is such a great way to achieve a bobo-meets-glam look. We love the way this cake brings together so many natural hues to create a gorgeous palette.
10of 21
Create a Natural Display
Are you and your partner total nature lovers? Succulents may be the perfect complement for your cake. You can take it one step even further and add plenty of other greenery to your confection, such as edible moss and hand-painted leaf detailing.

11of 21
Embrace the Seaside
Even if you're planning a seaside celebration, succulents can still be a perfect fit. Handcrafted seashells and starfish made out of gum paste or fondant are such a beautiful complement to sea-hued succulents.
12of 21
Pair With Plenty of Fruit
Just a few succulents can go a long way, especially if a cake design incorporates plenty of other décor and flavor elements. This five-tiered confection is decked out in a caramel drip with plenty of fruit, but it's the greenery added that really ties the design together.

13of 21
Make it Metallic
A few cacti on the top of the cake is a lovely look for a southwestern wedding, but adding in a metallic drip takes it to a whole new level. We love the rose gold drip added to this simple cake to bring together a beautiful desert-inspired sweet.
14of 21
Go Bold With Citrus
Succulents don't have to be the star of the show on a cake, but they certainly make a stunning addition to round things out. We can't get over the beautiful pops of citrus dotted throughout this four-tiered cake paired so perfectly with one succulent for a bit of greenery.
15of 21
Add a Simple Topper
Only wanting to add a simple pop of color? A cute cactus topper will do the trick! We love the textured fondant exterior of this three-tiered cake, paired with the sweetest prickly pear cactus on top with a handcrafted flower.
16of 21
Add a Chocolate Drip
Adding a chocolate drip is one of the best ways to dress up a smooth cake to add a bit of contrast. But pairing a chocolate drip with succulents takes it one step further, creating a beautiful display with just a hint of a rustic feel.

17of 21
Opt for Ombré
Talk about a gorgeous color palette for an outdoor wedding! We love the pink ombré buttercream on this single-tiered cake, paired with a few succulents for the sweetest look.
18of 21
Highlight One Tier
Adding in one simple succulent can completely elevate the look of a collection of blooms and greenery on a cake. We love the simple rustic flair added to this three-tiered cake, with the middle tier drawing your eyes to the stunning concrete design.

19of 21
Go Green
This decorated confection is the perfect example of how so many details can be crafted out of sugar. The handmade succulents on this three-tiered cake not only add stunning detail, but they're also all totally edible.
20of 21
Create a Cascade
We love the way succulents were made to be the star of the show on this two-tiered cake. Fondant adds a modern geometric pattern, paired with multiple succulents and cacti for a gorgeous boho vibe.
50 Stunning Boho Wedding Ideas
21of 21
Commission a Masterpiece
Adding in a few succulents can be the perfect way to tie together a tropical theme. We love the way hand-painted detailing is paired with bright, bold blooms and succulents on this incredible cake.
Want more creative ideas? Check out cake alternatives below!
33 Delicious Alternatives to the Classic Wedding Cake
Sours: https://www.brides.com/succulent-wedding-cakes-5088817
BUTTERCREAM SUCCULENT/CACTUS CAKE tutorial (Wilton tip)/ Buttercream flower piping/버터크림 선인장 다육이 케이크
Kissed the tit. Venus pressed my head and said, "Just a boy. " Silly. Greedy.
Cake succulent number
While I was swimming and basking in the water, my man did something then I cooked. Vic, stop floundering, let's go to the shore, God doesn't care, its nice to say nothing. What dear, are you worried. Don't worry, nothing will happen, but if something happens, then you will save me like this.
Succulent Buttercream Mini Cake
Marina made a stern look, hands on her hips and a formidable look, she did not hold artistry. And as soon as Sasha left the toilet, he saw a displeased face in front of him. What were you peeping at me.
You will also like:
And today, when dad left on his business, and mom was receiving a foreign delegation, Marina got here, to this shore. Why she didnt know. She just felt that the needle in her was leading her to the sea. It was necessary to comply with all the conditions of the experiment, and Marina drank. Grimacing in disgust, half a bottle of martini (she did not fit anymore).
1134
1135
1136
1137
1138