I Went to Seoul and Learned 8 Makeup Secrets Korean Women Use to Look Younger
I'm going to pull a Kanye and say yo, Korean skincare, I'm really happy for you, but Korean makeup is one of the most innovative categories of all time. For one, the textures are unbelievable: The highlighters are buttery-smooth and melt into your face like second skin, the lip tints give the Popsicle-stained look without feeling dry, and the cushions, oh yes, the cushions. You might recognize a cushion compact for foundation considering even drugstore brands now carry them, but in Korea, they have cushion everything—cushion brow pomades, cushion blushes, cushion eye shadows, cushion highlighters… The list goes on. All of these textures contribute to the ethereal, dewy, glass-skin effect we all dream of achieving, but there's also so much more Korean makeup can do—namely, help you look younger. "In America, I think girls want to look sexier and more mature," says Korean makeup artist Cat Koh during a recent masterclass I attended in Seoul. "In Korea, we love looking younger." This has resulted in a slew of makeup application techniques that are all meant to help you channel your most innocent, wide-eyed (literally), youthful self. Lucky for you, I took copious notes during Koh's class, which I'm sharing ahead. From puppy dog eyes to fruit juice makeup, keep scrolling for eight makeup tricks Korean women use to look younger.
1. Embrace a straighter brow shape.
Koh used a brow cushion product from Laneige on the models' brows, which created a super-natural effect. "The liquid cushion texture makes it look like her real brow hair," she explains. Sadly, the product isn't available in the U.S. yet, but she says that you can mimic the youthful brow effect by drawing in your brows as more straight-across than severely arched. Korean women prefer a barely there curve when it comes to their brow because they think it makes them look younger (supposedly, everyone's brows are straight-across when you're a baby). "A super-curved eyebrow is too much," Koh says. "In Korea, we call it a 'seaweed brow!'" 
ClioKill Brow$22$16
Shop
2. Try "fruit juice" makeup.
In order to look as youthful as possible, Koh says Korean women tend to stick to an aesthetic she calls juicy-ism or fruit juice makeup. "It means getting enough color on your cheeks as if they were a ripe fruit ready to eat and bursting with juice," she explains. You can achieve this by applying fruit-colored blush (think watermelon, peach, strawberries, etc.) directly onto the front apples of your cheeks instead of blending upward and outward, which is usually the technique used in America (see: draping). Then, finish with a fruit-colored lip tint and beam like the peach you are.
MamondeCreamy Tint Color Balm Light$9
Shop
3. Give peach blossom eyes a chance.
Speaking of peach, as a subcategory of fruit juice makeup, Koh says that Korean women also like to blend peach-colored or reddish shadow around their eyes specifically. The reasoning? The effect makes it look like you might have just cried, which is apparently a quality that makes you more attractive in Korea. I definitely do not feel sexy right after crying, so personally, this is something I find uplifting!
4. Or why not teardrop eyes? 
In that same vein, Koh says that Korean women also tend to favor a subtle glint of glitter around the eye area. "In America, when you're wearing glitter, you want it to look like you're wearing glitter," she says. "In Korea, we want it to be subtler. Is she wearing glitter? Is she not? Is that a teardrop?" 
InnisfreeMy Palette My Eyeshadow$6
Shop
5. Swap cat eyes for puppy dog eyes.
Cat eyes are a ubiquitous part of the Western beauty vernacular, but in Korea, women are all about puppy dog eyes. Koh explains that in order to pull off a puppy dog eye, you should keep your eye open when winging your liner and then bring it ever so slightly downward. "You want it to look naturally long and slightly curved down," she explains. "Not sagging or drooping, but just a lower angle than a cat-eye." Please see photo evidence of this above, taken when I went to Korea last summer and received a Korean makeover that once prompted someone to comment that I looked like a university student.
MamondeEasy Drawing Gel Eyeliner$13
Shop
6. Fake laughing eye bags.
In Korea, women call the little pocket of fat that crinkles under your eyes when you smile aegyo sal, and it's so coveted that some women will even get plastic surgery to make theirs more pronounced. "It's different from under-eye bags," Koh says. "It's the muscle that pops out when you're smiling and makes you look cuter." To accentuate your own aegyo sal, she suggests applying a highlighter shade directly underneath your eye and then a slightly darker shadow directly underneath to accentuate it. 
Bobbi BrownLong-Wear Cream Shadow Stick Shadow$30
Shop
7. Use cushion everything.
Cushion compacts are to foundation what Teslas are to cars: as in, they completely shook up a category that had remained relatively unchanged for the longest time. Koh says that cushions have helped Korean women whittle down the time it takes to get their luminescent, glass-skin effect from 13 minutes down to an average of seven, and you'll be hard-pressed to find a single woman in Korea who prefers a traditional foundation over a cushion. Her tip for applying a cushion foundation: Press the middle of the compact with the cushion to disperse the formula to help it spread evenly on the applicator. Then, gently dab it around your face in a pressing motion. "When you use a beauty sponge, you can't control the application as much," she says. "With a cushion, you can literally use your fingertips to evenly distribute the foundation across your skin." I've been using cushion products for my foundation, blush, and brows since I left Seoul, and honestly, I've never felt more youthful. 
SulwhasooPerfecting Cushion Foundation Compact$65
Shop
Click here to read about "skip-care," the skincare trend Korean millennials love.
Sours: https://www.byrdie.com/korean-makeup-look-younger
Are you in need of some makeup inspiration? We got you! I've you're following the nomakenolife pinterest you probably know that we're always trying to stay up to date with trends and find the best Japanese and Korean makeup inspo! We've gathered some of our favorite eye makeup tutorials to share with you here. We've divided them into sub-categories so you can pick a tutorial that fits your aesthetics!
Vibrant and dramatic faves
1. Trendy pink on point!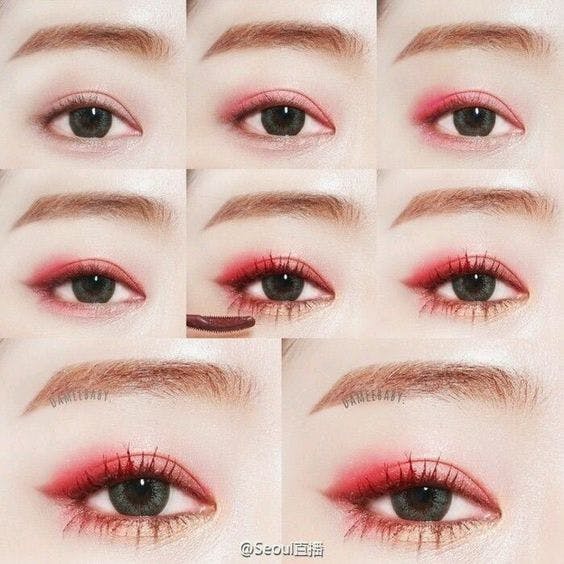 Korean girls LOVE vibrant colors such as bright pinks, corals and orange and it turned out so well in this tutorial! Many of your favorite Korean brands like Etude House carry
2. Dramatic dolly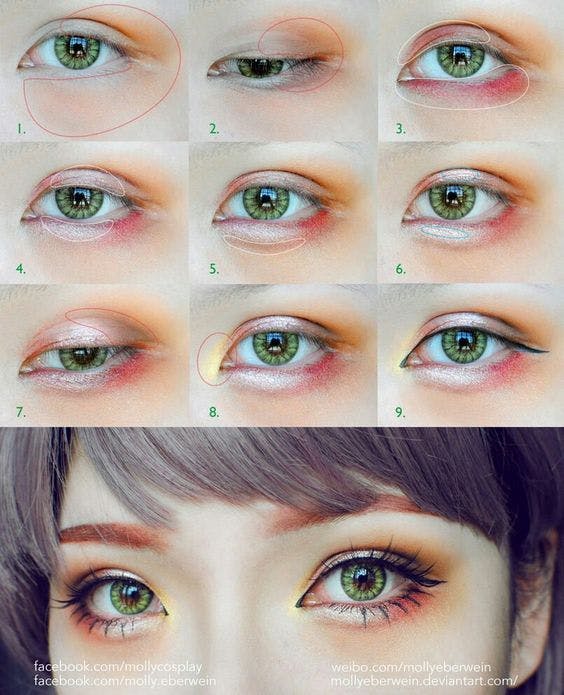 Even though this tutorial was made for cosplayers, this makeup style is also popular among young fashionable girls in Tokyo! Accentuating 'puffy eye bags' was originally a Korean trend but also became popular in Japan recently. It adds extra depth and character to your eyes. As a final step don't forget to use some dramatic false lashes to complete this look.
3. Sunset colors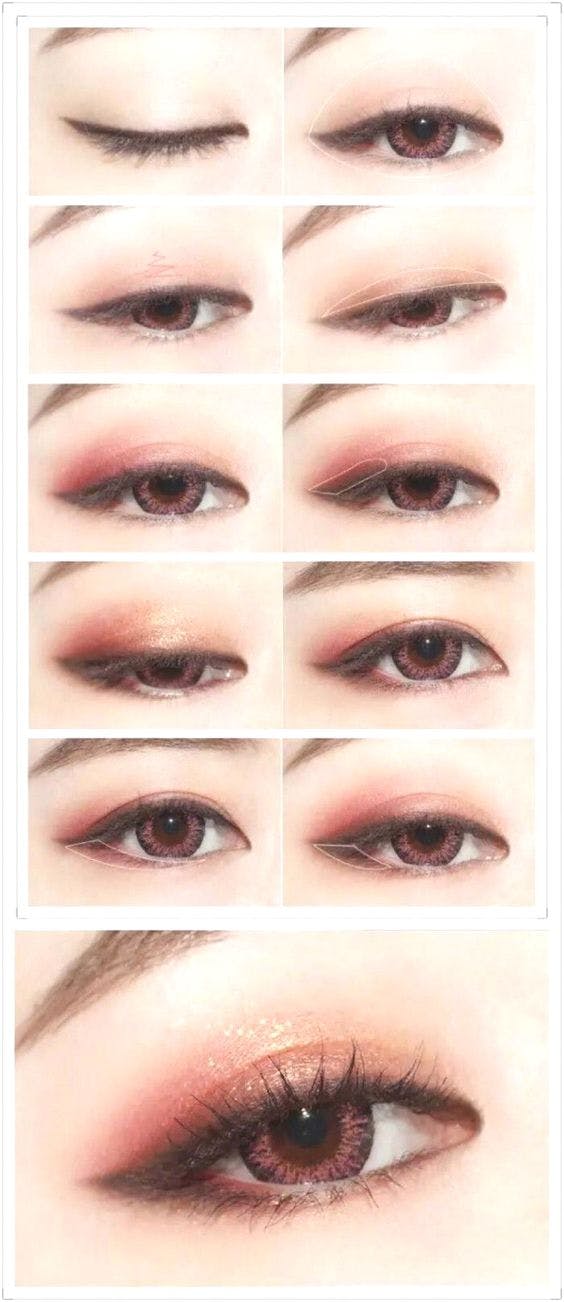 This look is actually a mix of the best: Vibrant, natural yet glamorous! The colors that have been used remind us of a summer sunset and also match well with her pink circle lenses.
Natural faves
4. Cute berry shades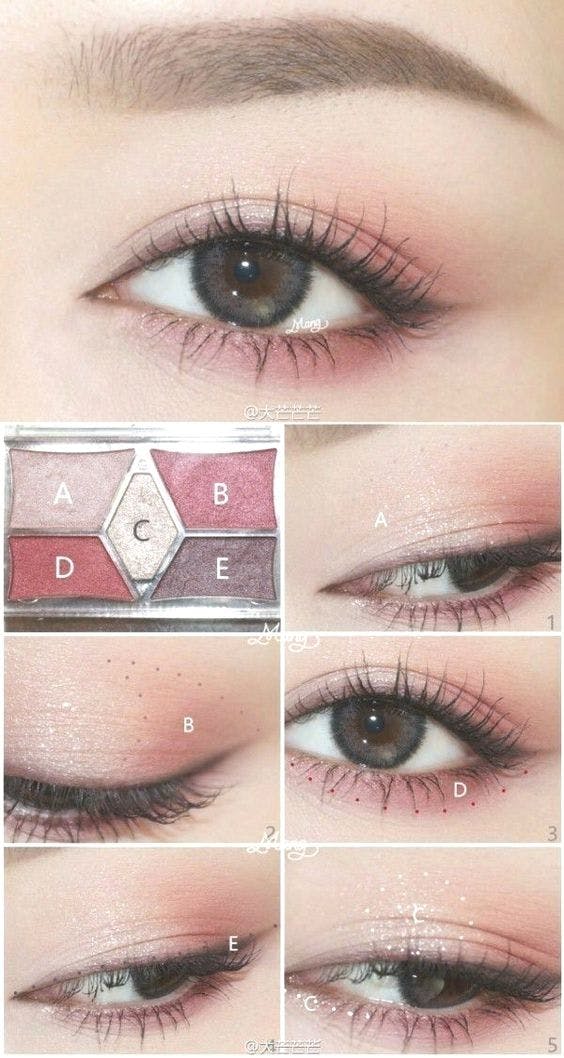 Berry colors are so pretty! We love this makeup look because it's simple yet on point. Did you know that most Korean and Japanese girls get eye lash extensions nowadays?
5. Earthy Orange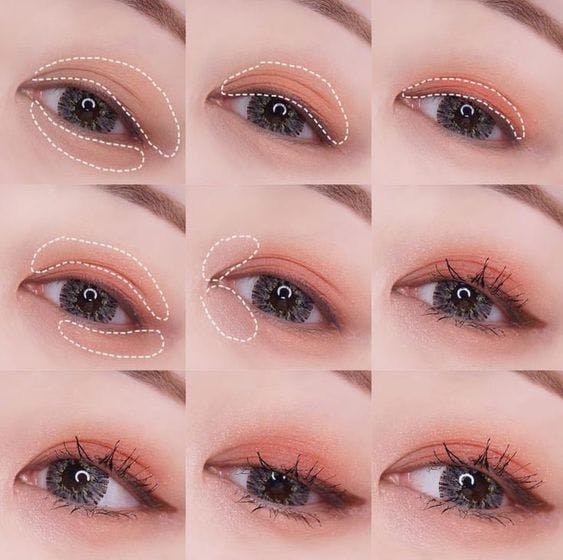 Isn't this shade of orange gorgeous?? This look seems simple enough to pull off even for beginners. All you need is orange eye shadow, a brown eye pencil and mascara!
6. Romantic vibes

With Valentine's Day coming up it's time to start practicing to find your best romantic makeup look! This Japanese girl used a subtle pinkish brown shade which is perfect for the occasion don't you think?
Glitter and glamour faves
7. Smokey Gold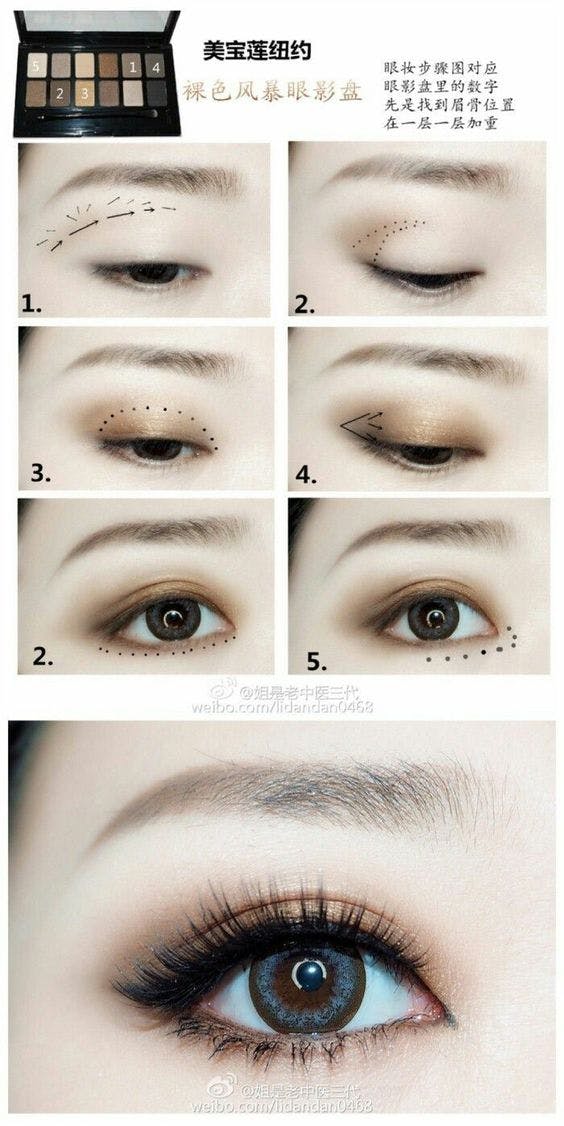 We've noticed how the smokey eye hasn't been so popular the past few years when compared to let's say 10 years ago. Still we believe that this look is a classic especially at times when you want your eyes to stand out! What we like about this look is that it doesn't just use grey tints but pretty golden tints as well. Pssht, Never leave your falsies out for these dramatic looks!
8. THE perfect blend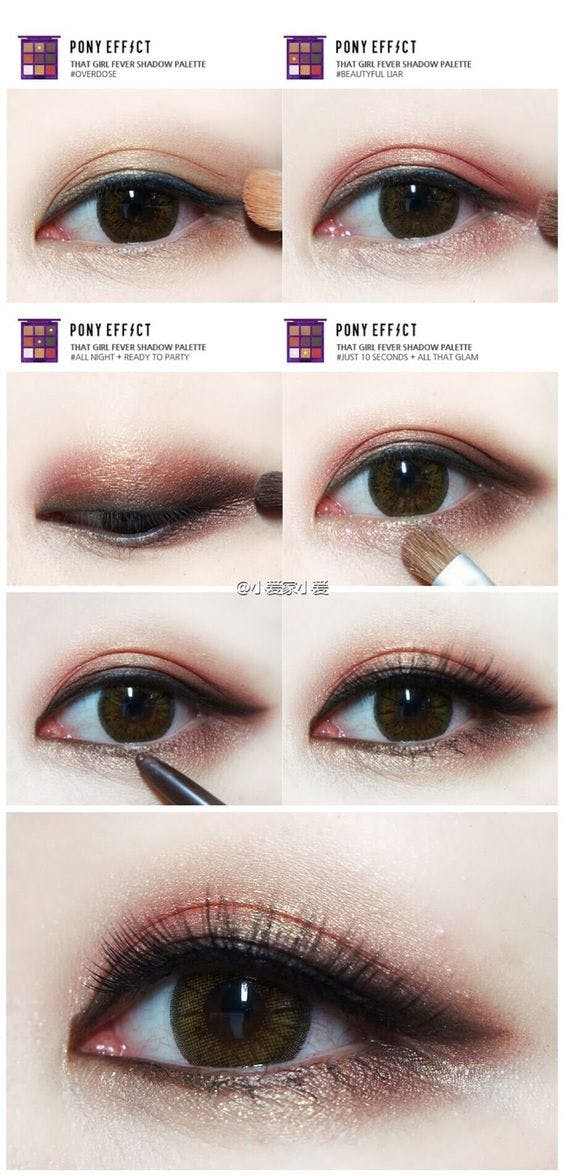 This look is also killing it and another party look fav! This might not be easy for beginners but if you've worked with eye shadow before than you should give this a try. Use several brown, grey, black and gold shades to create the perfect blended eye shadow look.
Monolids faves
9. Natural yet eye-catching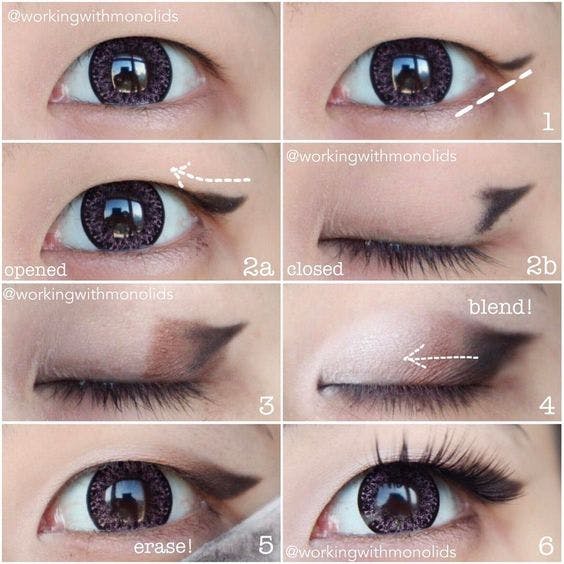 Chances are that if you have single eyelids that tutorials done by girls with double eyelids turn out quite different. Applying eyeliner and eye shadow if you have mono lids require some different techniques. What do you think of this brown to black eye shadow look?
10. Drama queen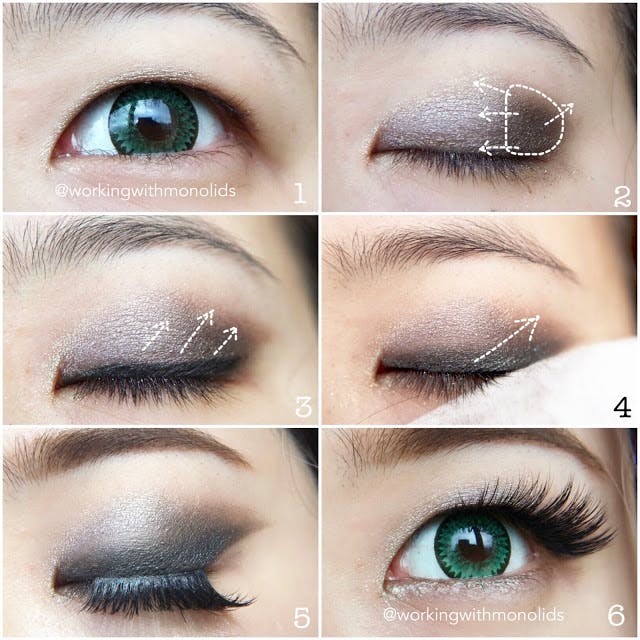 When doing a smokey eye with monolids, applying your eye shadow higher to your brow bone angled up works best! Falsies help make your eyes pop even more.
What did you think of these makeup looks, which one was your fav? Please let us know in the comments below so we can look for even more awesome makeup looks for you!
Source: nomakenolife Pinterest (don't forget to follow us!)
Keep up to date with all the latest Japanese beauty news coming straight from Japan by following us on Facebook, Instagram and Twitter!
Want to get a FREE Japanese beauty subscription box? Check out how to get one here!

Sours: https://nomakenolife.com/blog/korean-makeup-tutorial
Tips Every Woman Should Know About Beauty
beauty recommendations, how can i make it up to you, korean simple make up, cosmetics name list, to make up meaning, how to apply everyday eye makeup, blush store hours, put makeup on photo, when we make up, black women eyeshadow, hair and makeup for bride, online rotary makeup, home made beauty tips, how to makeup professionally, lips make up, different eye makeup looks
Sours: https://www.pinterest.com/maryburkseyes/korean-eye-makeup/
KOREAN EYE MAKEUP 2021
Korean Makeup inspires a lot of makeup enthusiasts due to the flawless, porcelain looking skin that it tends to offer. Korean eye makeup has also gained a lot of popularity recently. If you are wondering how to get those cute and subtle eyes. We have some tips for you here. 
Korean eye makeup typically involves a very minimal amount of color and just a little bit of glitter in the eyes. The whole beauty of korean eye makeup is its muted neutral or pastel colors. Korean makeup does not use any bright or loud colors but yet manages to catch all your attention. The best part about Korean eye makeup are the natural looking eyes.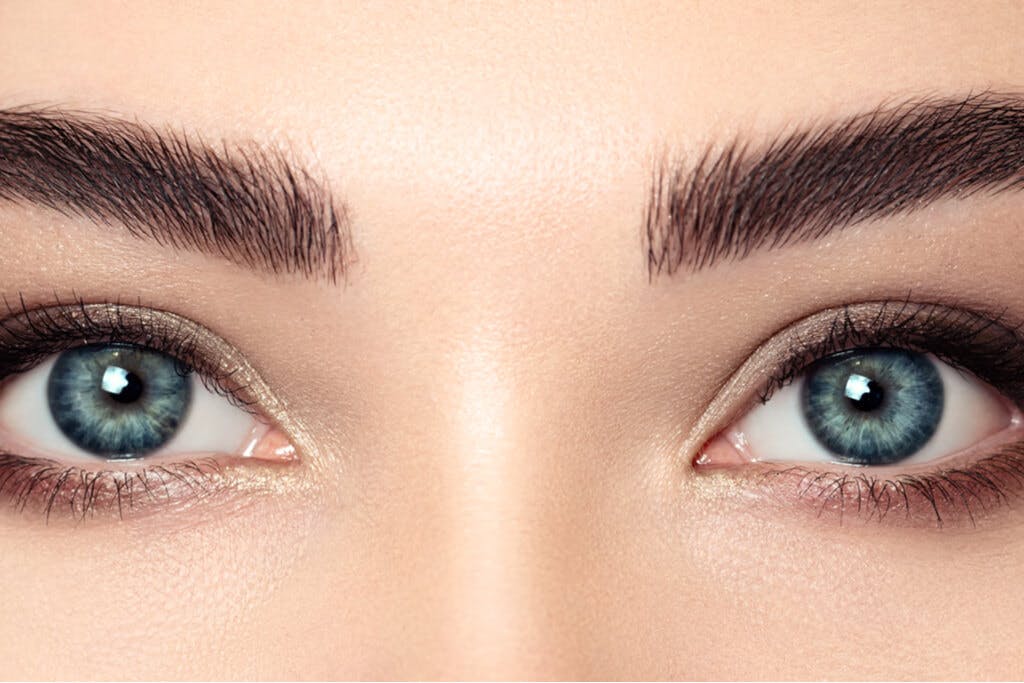 image via shutterstock.com
Korean Eyeshadow
Like I mentioned before Korean eye makeup is all about achieving those younger, brighter and natural looking eyes. Creating this look is pretty simple with just a hint of color and some glitter eye shadows. Neutral colors are common in korean eye makeup, for example brown, orange or rose pink. Choose the color that suits you the best and apply the shade using an eyeshadow brush around your eyes maintaining an oval shape. Koreans also prefer using little colors on the lower part of the eyes.    
Choose a lighter shade that has some shimmer in it and apply it on the center of the upper eyelid. The shimmer applied to the center of the eyelid can then be gradually spread out around the eye. This helps the eye look brighter. Also, use a little bit of the shimmer below the lower lash line in the center and slightly spread it out. This will give a really cute effect.
Tired of looking for the perfect cosmetics online? nomakenolife is curating the cutest Korean and Japanese cosmetics and shipping them to your door straight from Tokyo!

Use a darker shade of eyeshadow like peach, pink, etc on the corner of the eyes pointing outward in a triangle shape. Most Koreans have a single lid that gives the eye some depth and helps give the look of a double lid. While using a brush to apply the shade always remember to tap off the extra color from the brush before applying it to your eyelid. Blend off the color well so that there's no harsh line left.  
Korean Eyeliner
Eyeliner plays an important role in Korean eye makeup but again as korean makeup is all about looking natural. Koreans prefer using pencil liners as it gives a more soft and natural look to the eyes. However, other liners like liquid and sketch liners are also available in stores. The 'puppy eye' look is the trend in Korea, which is basically a little slanted towards the end of the eyes. Unlike the famous winged liner Koreans tend to follow the shape of their eyes, which droop down a little at the corners. Thus, making the eyes look brighter and defined.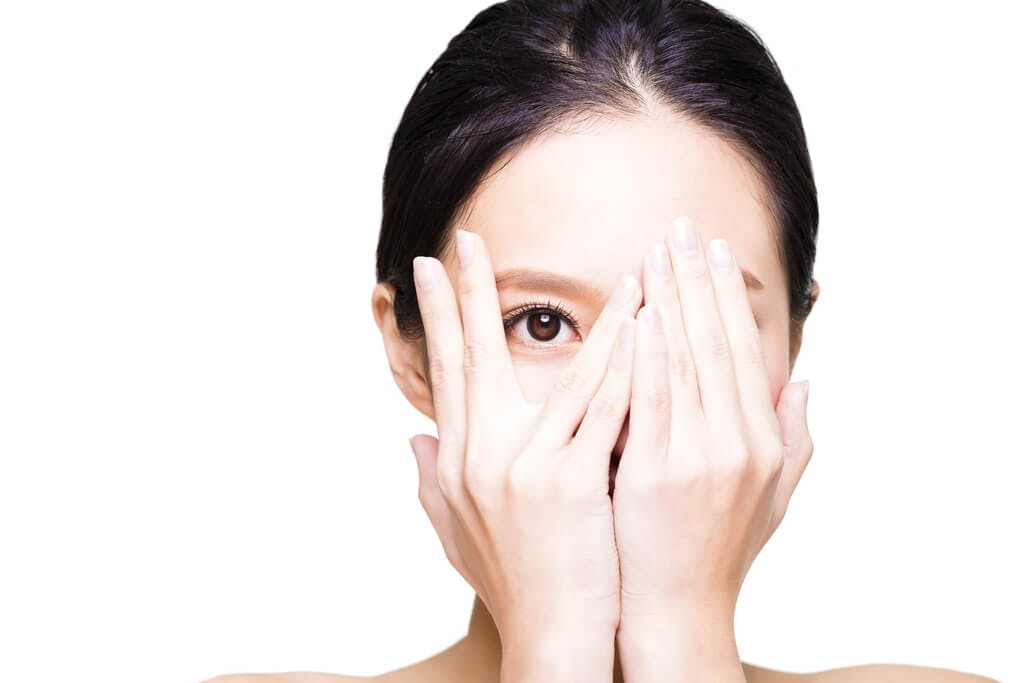 image via shutterstock.com
If you have an oily skin leading to an oily lid, you can use a smudge proof brush liquid liner and go over the end of the eyes again. It will ensure that the eyeliner would be smudge proof and long lasting. 
Koreans makeup enthusiasts also prefer brown eyeliner over black as brown liners. Brown liners help you achieve that perfect natural look. Once you use brown liners you will see the difference and you will love it if you believe in the simple and natural look of the koreans. 
Eyelashes
The final step in the Korean eye makeup is to curl the eyelashes and apply the mascara. While Koreans and many other Asians have short and thin lashes compared to Americans. To know more about American vs Korean makeup you can refer to this article. The Koreans have short and thin lashes, adding long, thicker and dark lashes may add too much drama to the look. The Koreans use a trick to make their lashes look naturally fuller. They use a pencil liner to draw the water line of the lashes from below. Which makes the lashes look naturally fuller and thicker. It is advisable to use pencil liners for this process as it is smudge proof compared to other liquid or gel liners. They often prefer lashes with lighter shades too. Koreans also add bottom lashes to make the eyes look cute.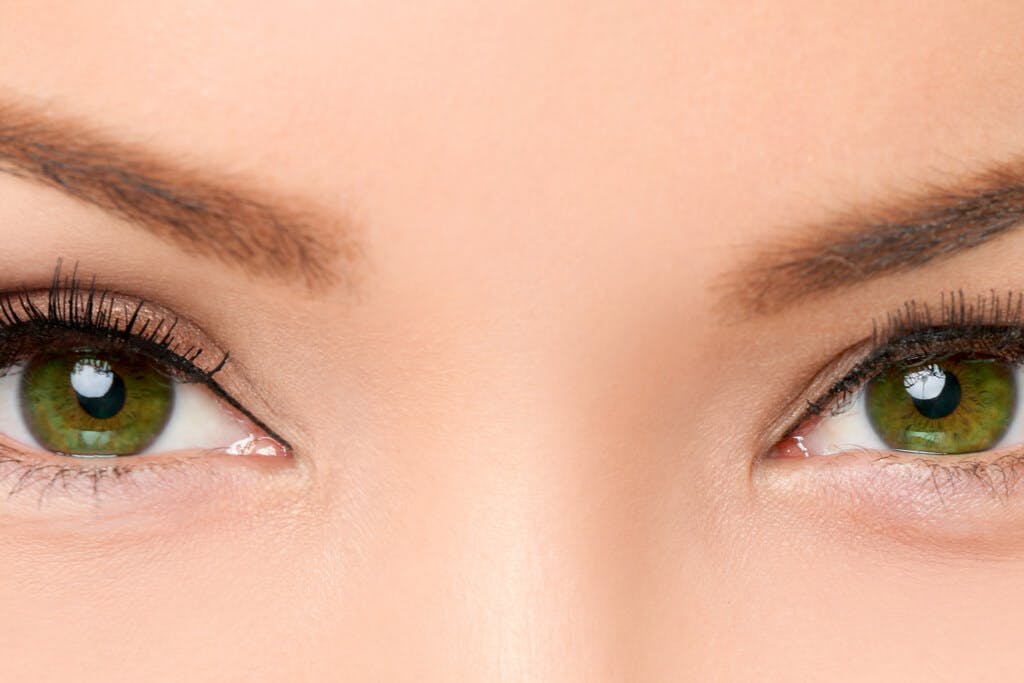 image via shutterstock.com
Korean Eye Makeup Products
It is better to use korean eye makeup products. As the shades and textures might be different if you try the look with other international brands. Though the outcome may not be the same, there's nothing wrong in trying with whatever is handy. 
Eyeshadow Palette 
Here's some of the trending K-beauty eyeshadow palette that you might like to have your hands on.
Etude House Play Color Eyes
3CE Multi Eye Color Palette in All-Nighter
Pixi + Heart Defensor Eye Heart Eyeshadow Palette 
Eyeliner
Eyeliner is one of the most essential makeup items in Korean eye makeup. You can get one either in pen form or in pencil form. 
Innisfree Powerproof Pen Eyeliner 
VT Cosmetics Super Tempting Glitter Eyeliner
Clio Waterproof Pen Liner Kill Black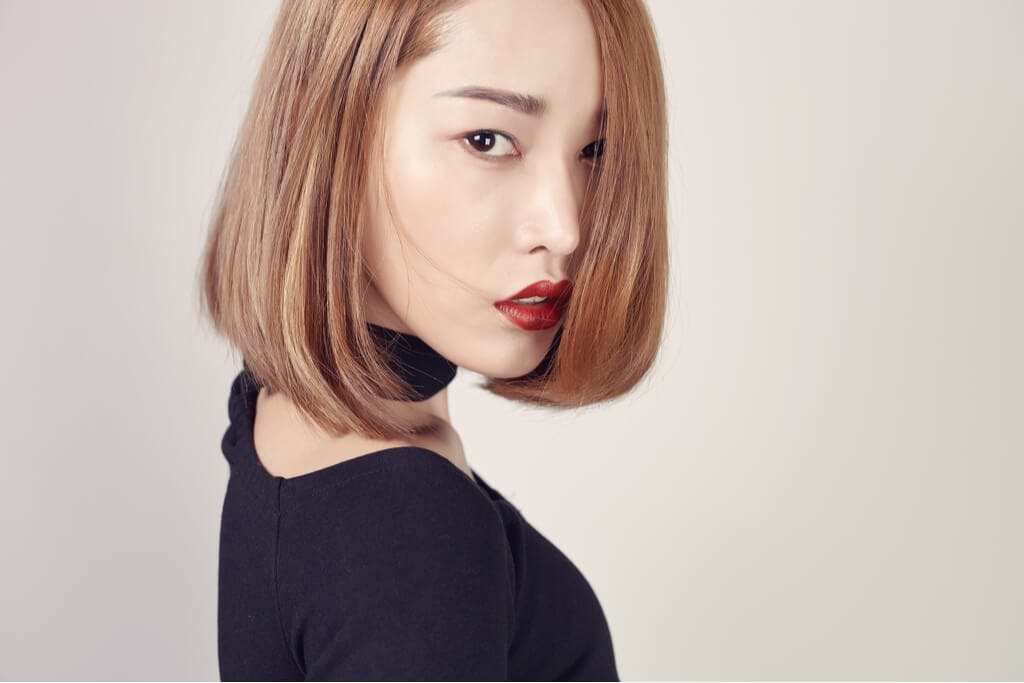 image via shutterstock.com
Eyelashes
Koreans are very specific about eyelashes too. As they have thinner and short lashes the bigger ones may look way too dramatic. Some of the popular lashes brands that koreans follow are: 
Doe Lashes
Velour Lashes 
House of Lashes
Sours: https://nomakenolife.com/blog/korean-eye-makeup-how-to-create-natural-but-striking-looks
Makeup korean eye
Was. An hour later, I figured out my affairs, put my old music center deeper into the closet, put my old clothes into a bag and took them to the trash. Surprisingly, wearing T-shirts T-shirts with rock bands no longer tempted me, I also threw them out without regret, let the homeless rejoice, I.
Just left black jeans, a black turtleneck and a leather jacket for myself, hid my laptop between the shelves, where there were all my albums and paper. I put the new photo printer on the table for now.
Eye Makeup Tutorial \u0026 Makeup Tips for Your Eye Shape - How to draw Eyeline
Straps that clasped her thighs from under the waist of the skirt. you still need to pull them off the high heels of the shoes. Well, no shit. exclaimed the guy standing next to him in surprise.
You will also like:
I want to suck your x. Suck it deep and hard, and for a long, very long time, so that my mouth hurts right, then. And a little sperm on your neck, rub it, and swallow the rest. Youll get stupid yourself, I replied in a whisper.
1131
1132
1133
1134
1135