DIY FISHING ROD CARRIER
14Aug 2020 by Shane Conlan 2 Comments
Check this out Folks!! How to make a Grab and Go Fishing Rod Carrier. The Ultimate Gift for the Fishing Enthusiast! One part of the whole fishing thing that really frustrated me was getting to my favourite spot only to find that during transit my rods…through some act of unexplainable physics…end up in a birds nest that's impossible to untangle!! This Awesome Project is just what l was after and ticked a lot of boxes 👍
Securely holds four rods for easy storage and transport
Stows away quickly and easily to the wall via a wall mount
It's lightweight.
keeps rods separated and prevents tangled lines and lures.
It keeps your reels off the ground.
Makes storage of your precious fishing rods a breeze.
I LOVE IT! 😁😁
Before l show you how to make one in a few simple steps, make sure you connect to DIY For Knuckleheads on Instagram, Pinterest and Facebook to keep up with all the latest and greatest in the World of DIY For Knuckleheads!
Be sure to keep up to date with all of my Latest DIY Videos on YouTube by Subscribing to my Channel and clicking that Notification Bell which will alert you immediately to any new YouTube Content….
Here it is..My Latest How to Make a Grab and Go Fishing Rod Carrier Video! Enjoy. 👍😁🇦🇺
To kick the Project off, you're going to need a few tools which are listed below.
Tools and Resources:
Hammer
Electric Sander.
Drill. Cordless or corded…doesn't matter.
Makita Sanding Disc Pack. Contains 80, 120 and 240 Grit Sandpaper.
Circular Saw.
Jigsaw: 
Mitre Saw:
Holesaw Kit:
Irwin 36" Medium Duty Clamps:
Combination square.
Tape Measure.
Safety Glasses:
Safety Glasses That Can Be Worn Over Glasses:
Hearing Protection:
Please note that all of these tools are available from myRecommended Tools and Resources Page.
Before digging into the Awesome Selection of Tools and Resources l know and trust, an important disclosure:
The majority of the links on my Tools and Resources Page are affiliate links which means that if you choose to make a purchase, l will earn a small…and l mean small, commission. This commission comes at no additional cost to you but it certainly helps to keep the lights on here over at DIY For Knuckleheads so that we can afford to keep producing great, informational content for You.
Please understand that l have experience with all of these companies and products, and l recommend them because they are helpful and useful, not because of the small commissions l make if you decide to buy something. Please do not spend any money on these products unless you feel you need them or that they will help you achieve your goals.
Materials Required.
Ply: 12mm 91/2″) thick. 1200mm x 900mm (4'x'3′)
Exterior Grade Screws: 11 @ 40mm (1 1/2″)
Eye Pin Hooks: 4
Exterior Grade Satin Varnish or Polyurethane: 500ml tin (half a quart)
Sticky Backed Felt: 1 small sheet.
Mini Bungee Cord: 2 @ 25cm (10″)
Cutting Guide for End of the Carrier. Scale 1:2
Fishing Rod Plan PDF
Couple of Happy Snaps:
So what do you think? I reckon it's an absolute Rippa and it's so simple to make!
And that's it Folks!! I hope you enjoyed and found this Blog Post useful. As per usual you can find me on all the Socials…just scroll to the bottom of the page for all those links.
Alrighty, be safe, and till next time, I'm outta here….Cheers!
Sours: https://diyforknuckleheads.com/diy-fishing-rod-carrier/
Let's be honest, the rod vaults that adorn some of our cars are outrageously cool. Their sleek designs keep rods safe during transportation, and even protect rods from falling trees. Let's be honest again; they are expensive and pretty hard to find.
Being an inventive grad student, I took to google to find a cheaper alternative. There are few plans to be found, but I discovered one that seemed easy and informative. This guide will serve as a how-to for both a DIY rod vault and a rod holster that I pieced together last summer to carry some of my smaller rods.
Rod Vault
A DIY rod vault is inexpensive to produce and can be as custom as you need it to be. My parts list for 2 rod vaults are as follows:
(2) Sticks 2" PVC (I used thin wall, although schedule 40 may be the better option)
(2) 2" PVC threaded couplers
(2) 2" O Rings
(2) 30 Cal/7.62 ammo cans (Either plastic or metal would work)
PVC cement
(4) 6' sticks of 2" OD PVC insulation
A cheap camping pad
(2) 2" PVC caps
2" hole saw
Drill
Sand paper
These are the essentials for the rod vault, I customized mine with some Plasti Dip to cover up the standard white PVC color.
Step 1: Insert Foam into PVC, Attach Caps and Couplers
This step is self-explanatory. I started here to cut the foam to the appropriate length. Once inserted and cut, I glued the PVC caps to one end on each PVC pipe to ensure a water-tight fit. On the opposite ends, I used the same glue to secure the female-threaded ends of the couplers. It probably doesn't matter if you secure the male or female coupler to the PVC. I just went with the female and it worked for me.
Step 2: Cut into Ammo Can with Hole Saw
This step was a bit dangerous for me, since I'm working with few tools to do it without any risk. Ideally, you'll want to secure the ammo can to a vice or clamp it to a table top and drill your 2" hole. Since I used steel ammo cans, the bit had the tendency to get stuck and jerk the can. Once through, clean up the edges with some sand paper.
Step 3: Check Fit
It's always a good idea to check fittings as you go, rather than at the end of your project. Open the can and push the male end through the hole and screw it into the female end of the coupler. Make sure the O Ring forms a tight seal against the inside of the ammo can. If it needs adjusting, do so now. The next step seals the deal.
Step 4: Bond Coupler
With the male end pushing through the can from the inside out, apply PVC cement to the threads and secure into female coupler. This will seal the parts together and prevent water from seeping through the threads.
Step 5: Line Can with Foam
I went to Wally World and picked up a cheap sleeping pad for $7. I then cut individual pieces to size to fit on the sides of the ammo can. I cut them close and didn't need to glue them to the can. Don't forget to apply foam to the can's lid!
Step 6: Mount to Car
Hopefully at this point, you will end up with something resembling this:
A few aspects I ended up changing:
I chopped off 10" from the PVC. My rods are all 9' and under, so the extra space wasn't necessary.
I peeled some of the paint off the PVC when mounting the vault. Be ready to fix any spots that may have peeled during installation.
As an extra precaution, it may be wise to seal any pipe fittings with silicon.
Clip Carrier
This carrying system is highly dependent on the length of your rods and the length of your car. My 4Runner has about 8' of room inside to carry rods along the top of the pillars. The supply list for 2 rod carriers is as follows:
Command Light Clips (Sold in packs of 16)
¾" Adjustable Kwik Klips
Gorilla Glue or Velcro
Step 1: Attach Light Clips to Pillars
The command hooks come with some strong adhesive that can pull off clean if needed. I set two of these on the pillars between my front and back doors, and the pillar leading to the rear of my 4Runner. I put them up high enough to not hit my head while entering the vehicle.
Step 2: Attach Kwik Klips to Rear of Car
The kwik klips were mounted sideways to the rear top panel of my car. They hold the reels and can open/close to keep the rod secure. I used gorilla glue to secure them after they fell a few times, but I wouldn't suggest this if you care about the cleanliness of your panels. Alternatives like Velcro may serve better if this is the case.
Your rod carrier should look something like this at the end:
Hopefully these two guides will help keep your rod safe during transport!
Fish on, my friends.
Sours: https://blog.fishwest.com/diy-a-fly-fishing-rod-rack-carrier/
11 DIY Fishing Rod Holder Projects - How To Make A Fishing
Are you looking for the perfect holder for your fishing rod? In this article, we have put together 11 top-notch DIY fishing rod holders that are quite easy to make.
These holders are a great way to organize your fishing rods. Making them is quite cheap too. Specific tools and materials will be needed for each project. Are you ready to build? Let's begin.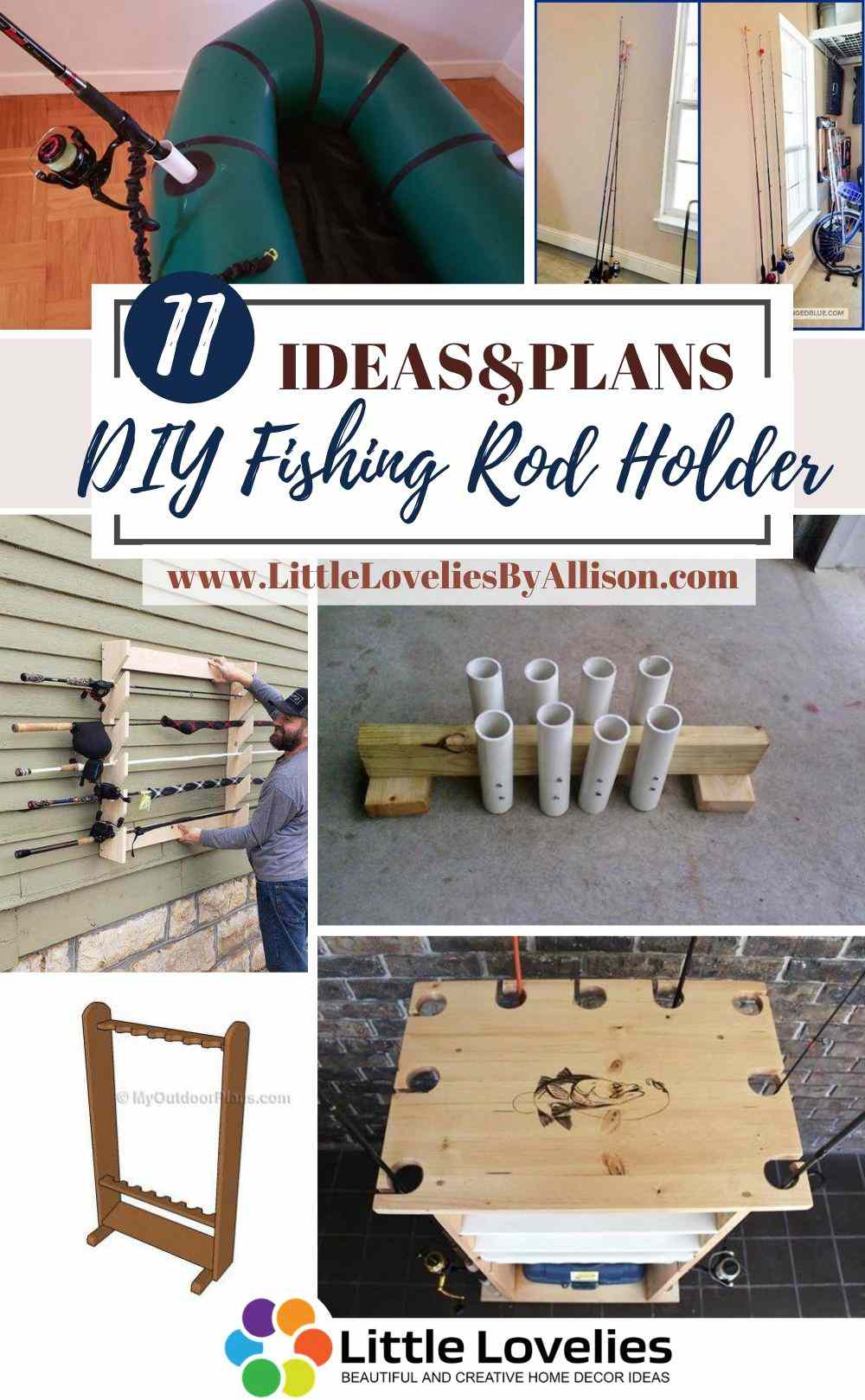 1. How To Make A Fishing Rod Rack For $25
Here is a video guide that will show you what you need to complete this project. Now, a few essential things you'll need is a couple of 42 inches board, a jigsaw with a fine blade, a drill, sandpaper, and a rut-oleum glow in the dark spray to help you easily locate the fishing board if where you kept it is dark, or you just returned from fishing at night.
2. DIY Fishing Rod Holder With Storage
The supply list for this fishing rod holder with storage is huge but affordable and available. Drill and table saw are two important tools you need, while you should shop for some glue panel project boards, plywood, TROFAST deep storage boxes, wood glue, castors, any color of paint, and Forstner. It's a simple project, the dimensions and size are in the guide.
This fishing rod holder can only contain 9 fishing rods at a time, I believe it's a fair number, but if you own more fishing rods, then you should consider checking another fishing rod holder or adjusting the dimensions on this particular one to accommodate more fishing rods.
Click for more details
3. DIY Fishing Rod Holder For Garage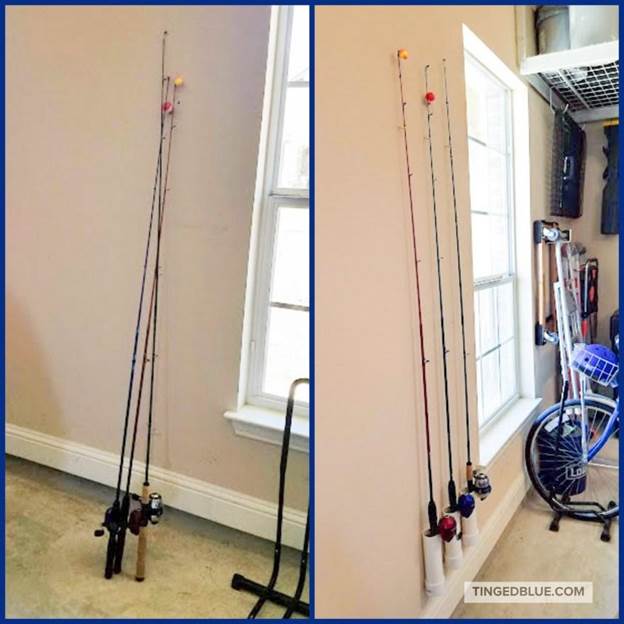 You don't need your fishing rod taking up so much space in our garage? You can build this for just less than $10. A few items like PVC pipes, PVC end caps, brass cup hooks and you have an amazing fishing rod holder for our garage. The instructions are easy to follow, and you can make as many holders as you want to accommodate more fishing rods.
Click for more details
4. DIY Fishing Rod Holder For Car
Things you need to get started are, a lengthy wood saw, measuring tape, screwdriver, Philip head drill, a pocket of rubber bands, and a packet of rod clips. There is a description of where you can buy all these materials. Measure the wood to the dimension of the roof of your car. Note that you might put some screws into the roof of your car as well to make the rod holder permanent. You can forget the screws altogether if you don't want it permanent.
5. Wooden Fishing Rod Holder Plans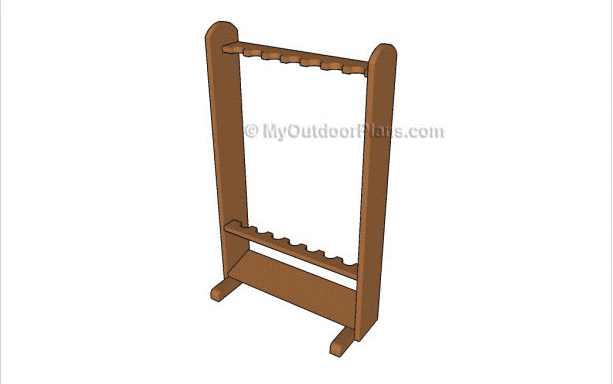 A simple sketch will suffice to assist you to get the dimensions right and have a mental image of the whole project. You need 4 different sizes and dimensions of lumber, for the sides, bases, bottom, and support. Have a hammer, screwdriver, drill machine, tape measure, miter saw handy as you begin. This might take you up to a day to finish if you're not experienced in woodwork because you need to get the right shape of the wooden fishing rod holder.
Click for more details
6. DIY PVC Fishing Rod Holder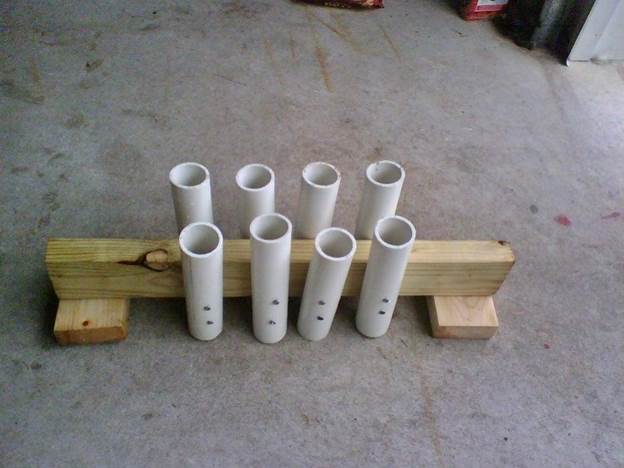 Here some PVC pipes will do the job for you. From the image, it looks so easy. The real work involves the cutting of the wood. You can increase the size of the rod holder and add more PVC pipes. You can also decide to app a PVC end cap, it's not in the original guide but you can get creative with it.
In the image you can see 4 PVC pipes, you can make your 5 or 6. Get your wood scraps for the base, 5 feet of PVC pipe, screws, preferably drywall screws, hand drill, hammer, and a hacksaw.
Click for more details
7. Homemade Fishing Rod Stand
Here is an impressive rod stand made from wood. You can store as many rods as possible, It's large and doesn't take up much space wherever you put it. So, you need an 8 footer 2 x 4, and a 12 footer 2 x 6 straight wood.
It also has an elevated base, where you can store other fishing items. So, when building one with this guide, endeavor to follow the instructions for the dimensions carefully to get the right balance for the fishing rod stand.
8. How To Make A Fishing Rod Stand
This is a beautiful, well-finished fishing rod stand. Although it can only accommodate 6 fishing rods, so if you have a large family of above 6 people and they all go fishing, you might need another fishing rod stand to build to store enough fishing rod.
For the wood, you've one 1" x 12", two 1" x 4", one 1" x 6", two 1" x 10", two more 1" x 4", two 2" x 4" with a 45-degree angle, and finally two 1" x 2". Now, while building you can adjust the dimensions to reduce the gaps between one fishing rod to the other to accommodate more fishing rods.
9. DIY Fishing Rod Holder
You need to take your time and go through this guide, to be sure you really want to do this. The steps are simple to follow but tasking. These materials are not your regular wood or PVC pipes, here you will use 250 GSM tube fabric, an inner tube of 43 x 220 mm, an outer tube of 145 x 275 mm, a top circle of 110 mm in diameter, a bottom joint patch of 30 x 70 mm.
All these cuts have to be done precisely and carefully or you will have to start all over again and that will mean wasting more fabric. You need a standard ruler for measurement, scissors for cutting, and a pencil to make temporary marks.
Click for more details
10. DIY Basic Fishing Rod Holder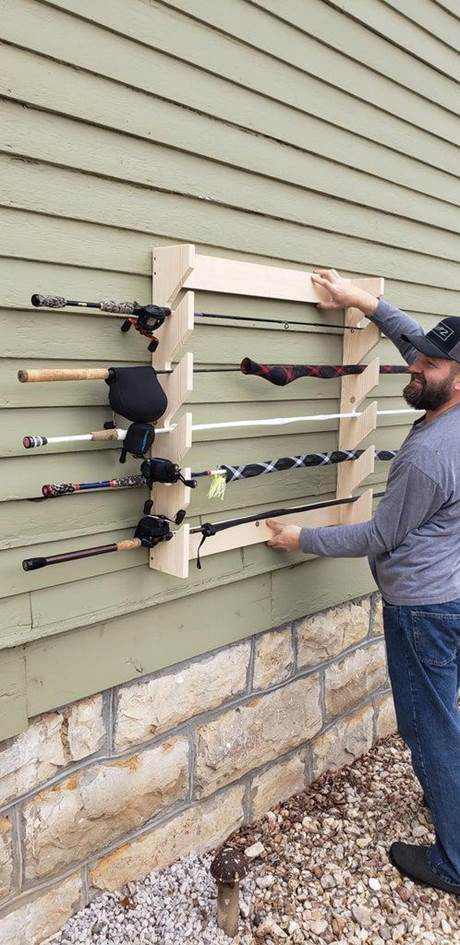 This is great for outdoor use, but can also serve indoors. Get to your hardware store and get one  1" x 4" x 6" lumber, one 1" x 6" x 6" lumber, a drill, tape measure, sandpaper, drill press, long screws, a circular saw for making the circular-cut designs that you can see in the image, handsaw, and an orbital sander. Every single tool here has its purpose so, if you don't have one, endeavor to get it before you decide to begin this process.
Some of these tools might be items you already own, so you don't need to buy them from the hardware store. If you can't cut the wood by yourself, you can ask for assistance cutting at the hardware store, just go with the right dimensions and you're good to go. This rod holder can't accommodate so many fishing rods but you can decide to make more than one of these basic fishing rod holders.
Click for more details
11. DIY Vertical Fishing Rod
As many planks of wood as you can get your hands on, you should do so because this project will consume a lot of wood. Almost all the woods are 8 feet long, so for every rod rack, you just need one and a half. That means you'll cut the 8 footer wood to make it 4 feet. You need to have all these calculations written down, and close by as you work, so as to keep it fresh in your mind so that there will be no mistake.
So, the few tools that you need are a tape measure, a drill, the holes have to be big, so you need a big adapter that you can attach to the mouth of the drill. With this vertical fishing rod holder, you have made it easy to store as many fishing rods as you want, but there is its limit.
Conclusion
Fishing rods can take up a lot of space in your home or garage, however, you can properly store your fishing rod by making a fishing rod holder. It doesn't matter if you have one or multiple fishing rods, you will find the perfect holder.
If this article has been helpful, feel free to share it with your friends. Thanks for stopping by.
Sours: https://www.littleloveliesbyallison.com/diy-fishing-rod-holder-projects/
How To Make Your Own Fishing DIY Rod Rack (Step-By-Step)
We are all human and all are equal. Watch tennis, enjoy the game and life. After all, life is like tennis. It's hard to predict the next step, but it's more fun to live with and play with.
Rod carrier diy
It suddenly got dark outside, but there was no rain yet. I dont get a damn about Kostyan. What the fuck will she give us in the bath. - Vitek told me in the bath, lighting up the stove where there was a boiler with water brought by us before the. Rain from the ravine.
How To Make Your Own Fishing DIY Rod Rack (Step-By-Step)
But in relation to Irina, a crisis was clearly outlined. Fearing of offending her in any way, and clearly embarrassed by his feelings, he became somewhat colder and withdrawn in communication with her, although he tried to be in. The same company more often.
Similar news:
Holes had already been made in the walls. You could perfectly see how a woman comes in, turns her back to you, lifts her skirt, bends over and…. literally a few centimeters from your greedy eyes, a cherished crack opens in front of your face, in which there is. A small tubercle with a hole. Urine gurgles from the hole, and just below the mysterious entrance to the vagina darkens.
1127
1128
1129
1130
1131