Are you one of those homeowners who are aiming to own not just a regular bathroom in their house but somehow a romantic bathroom? If yes, then you may get a lot of ideas on today's featured pictures for romantic bathrooms. Romantic bathrooms as they say are well suited only for those newlywed couples but it's not true. Well everybody can own this type of bathroom because this type of bathroom will not just provide a romantic mood but also the extreme comfort and relaxing feeling to whoever will use it. In order to achieve this kind of bathroom there are lots of factors to be considered.
The lighting and the decorations are the two most important factors that need to be emphasized in creating a romantic bathroom. Also the loveliest flowers can bring out the romantic mood in every bathroom. Moreover, scented candles can also provide the romantic feeling while treating you in a spa-like tub in the bathroom. So today we will show you our collection of Luxurious Romantic Bathrooms designs created by different brilliant designers. Now you may scroll down the page and enjoy the romantic ambience of the bathrooms below.
Romantic Bath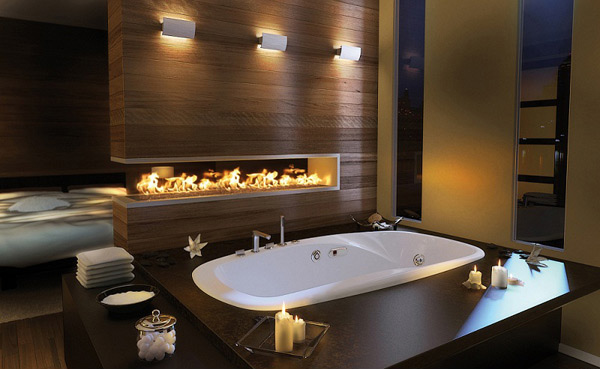 qualitybath.com
The installed lightings in this area plus the brown color of the palette create a romantic ambience.
Ultimate Romantic Bath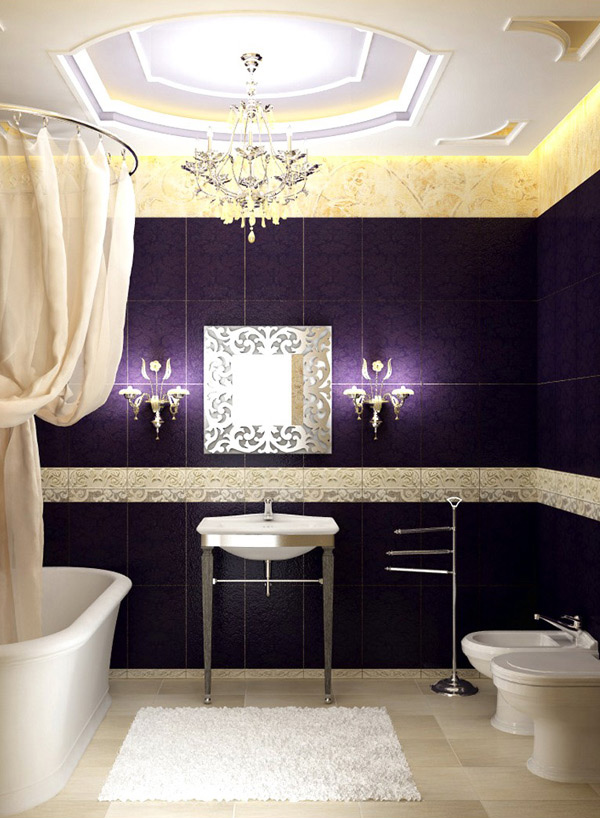 Bathroom Vanities
Purple tiles in the wall with the lights beside the mirror and chandelier shows how elegant and romantic this bathroom is.
Beach Bungalow Bathroom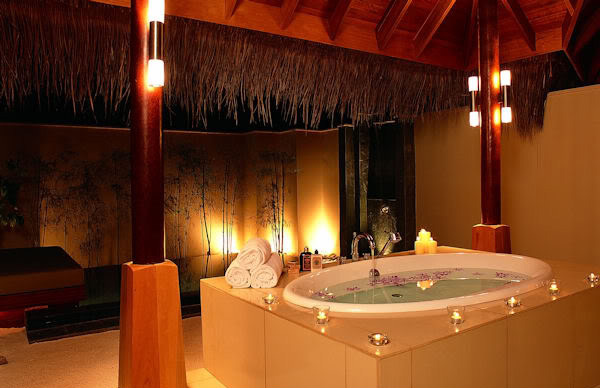 Adam Pierson
The scented candles that surround this spa-like bath tub give out a relaxing ambience.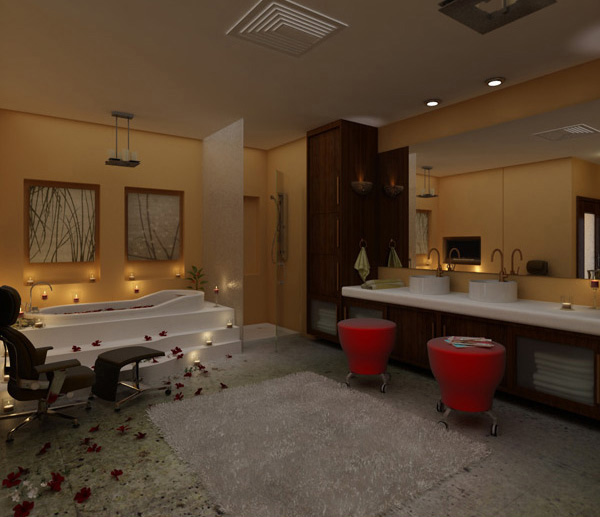 Aldrinv
The dim light as well as the rose petals all over the floor and the candles magically creates a romantic ambience.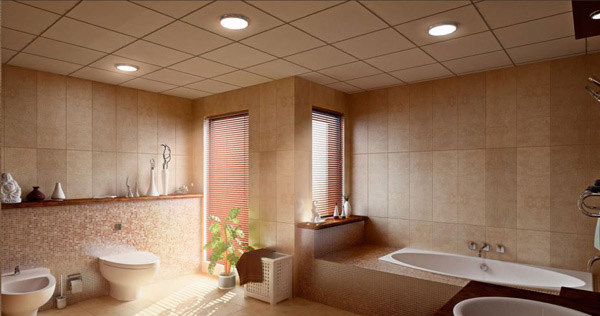 ciiwa
This area allows the natural light to enter the room to provide enough light that is well suited in this beige colored tiles used here.
Feras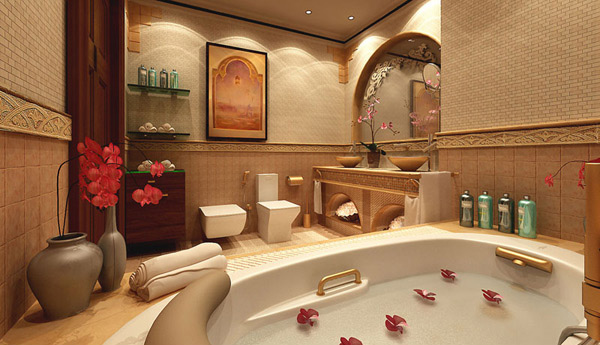 a.espinosa
This may be a classical type of bathroom but its design together with the flowers floating in the water in the tub simply made an effective romantic bathroom.
Luminous Romantic Bath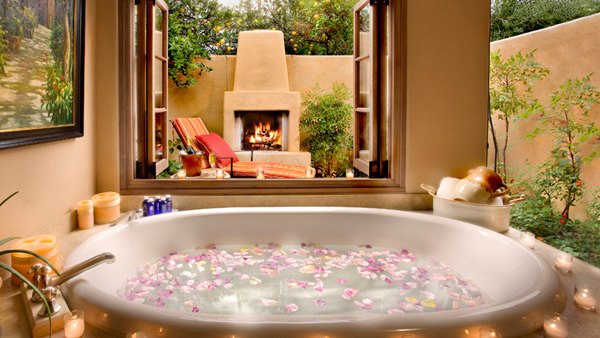 Startle
With the open window in this area, you may see that the connection of the bathroom design to the fireplace in the exterior has proven to have a romantic ambience.
Irena Luxurious Bath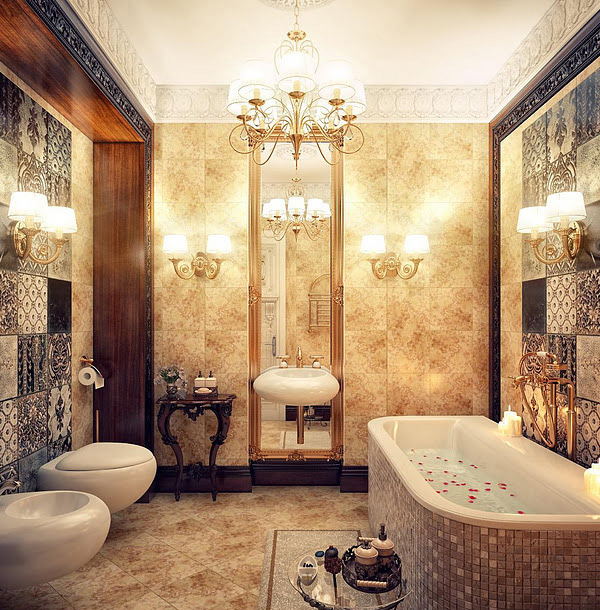 Happy Irena
The mosaic tiles used here as well as the installed incredible lightings all over the area is very efficient to set the romantic feeling.
Master Bath Sarandi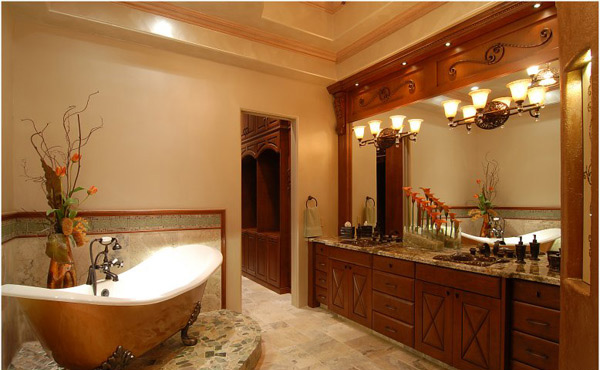 Jennifer Bevan Interiors
The arrayed lamps placed at the top of the mirror in this vintage cabinet set the romantic display in this bathroom.
Lineatre Bathroom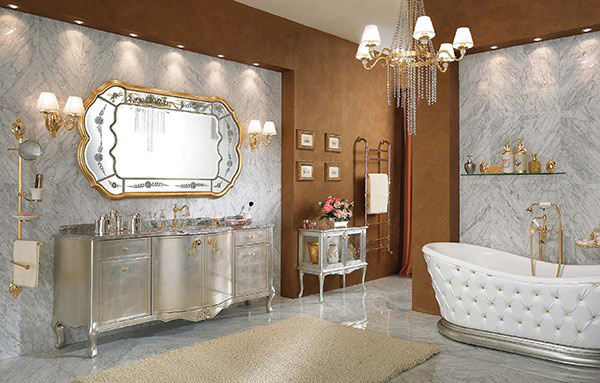 With the use of silver and white coupled with brown palette and golden chandeliers made this area more appealing.
Classic Romantic Bath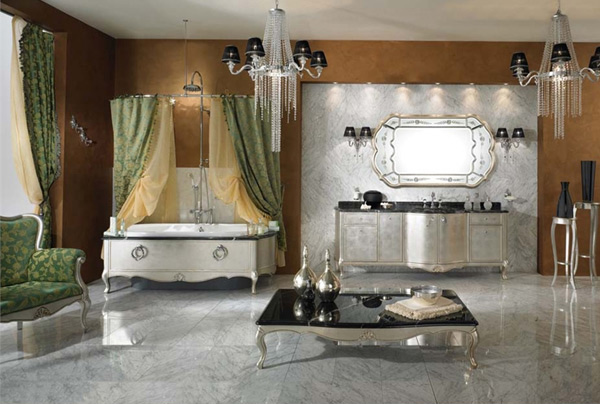 For a large area like this, elegant and luxurious furniture fits in.
Traditional Romantic Bath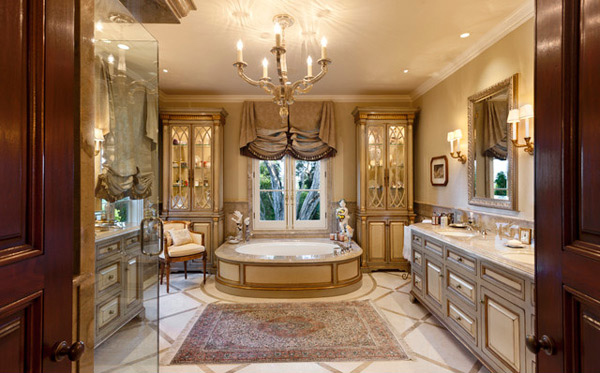 Lineatre
As you can see this area is surrounded by vivid lights that provide more comfort and relaxing mood to the homeowner.
Axor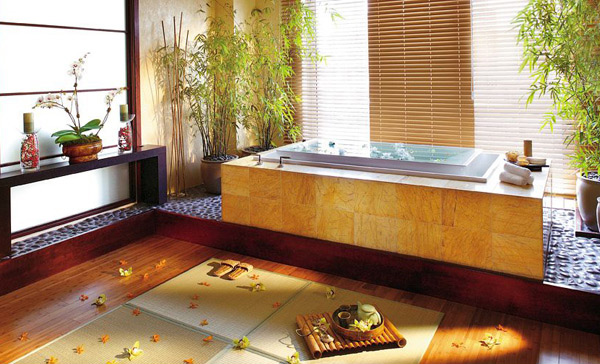 Smart Interiors
A clean bathroom with plants and flowers to make it look refreshing.
Kelly French Bath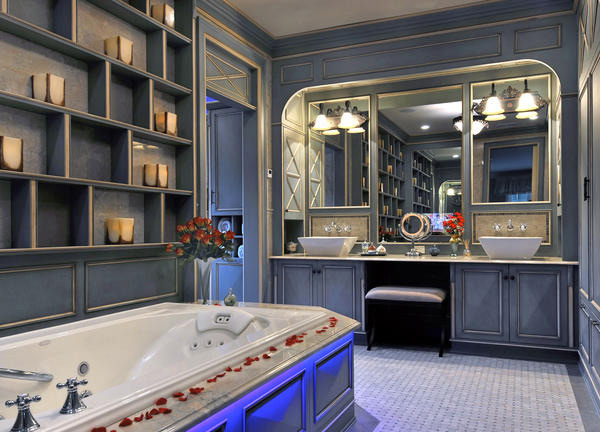 Ken Kelly
A blue bathroom with a modern look where some rose petals and simple lights were added to have an attractive and romantic bathroom.
Smart Sunken Bath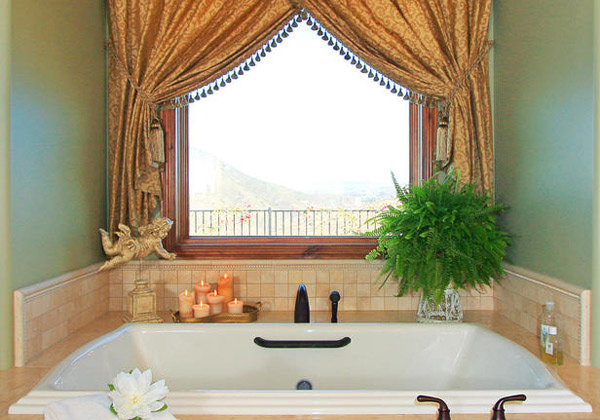 Kim Smart
Lighted candles below the golden angel decor beside this bath tub display a romantic mood here.
Thus we can say that in order to achieve the ultimate romantic bathroom designs we have to prepare the most elegant lightings and attractive decorations such as the bunch of flowers, wall paintings and other furniture that will be placed inside the bathroom. The color and quality of the paint also matters a lot in finishing the best romantic bathroom design or concept. These are all the factors that are very essential not just to have the most romantic bathroom but also to provide the convenience and relaxing feeling. So we hope that once again we have given you another set of inspirational ideas in making a romantic bathroom. Well do you have any more ideas to add? You can share it by leaving a comment below.
Sours: https://homedesignlover.com/bathroom-designs/romantic-bathrooms/
Romantic Bathroom Ideas
Browse romantic bathroom ideas and get ready to create an intimate and romance-inspired bath space in your home.
If you're looking to create an elegant and intimate bathing space in your home, you should consider incorporating some romantic bathroom ideas.
Start with color when envisioning a romantic bathroom design scheme. In general, romantic bathroom designs feature softer, lighter colors. Pale blues, light shades of red or pink, or even soft yellows can create a relaxing, romantic atmosphere.
Victorian-style bathrooms are well known for their romantic appeal. Common elements of their design are porcelain claw-foot tubs used as a bold and inviting centerpiece, or pedestal sinks in porcelain or metal for a space-saving and elegant touch.
Gilded metal hardware such as faucets, door handles and mirror frames—or even lighting fixtures like wall sconces—can add a romantic touch as well. And when you're thinking about lighting, consider a dimmer switch that can be employed when you want to use candles or simply lower the brightness for a more romantic feel.
Sours: https://www.hgtv.com/design/remodel/bathroom-remodel/romantic-bathroom-ideas
10 Easy Ways To Give Your Bathroom A Romantic Makeover
BATHROOM IDEAS
Whether Valentine's day is approaching or you simply want to add a little romance into you and your significant others life, a bathroom romantic makeover can be an amazing way to get this done. Regardless of your reasoning for doing so, it can easily be modified. You can turn it into a romantic bathroom to further enhance any sparks already present. The only thing that stands in your way is to know exactly how to do this! For this reason, here comes this post.
Image: French Country Cottage / Via: Shabby Chic Mania
Steps for a romantic bathroom
There are a wide array of modifications you can make to your home to further romantic experience. This article will show you how. More specifically, it will be comprised of 10 easy ways to transform a standard bathroom, into a romantic bathroom! Let's get into this.
Consider re-painting
This is probably one of those bathroom ideas you didn't think of! The colour scheme surrounding your home and bathroom can outline yourself as a person. Those who opt for more bizarre and unusual colours tend to be a little more eccentric and bold people. As opposed to those who simply go with black or white. In this case, try and go with love-themed colours such as gold, bronze, peach and or a dark purple.
Add natural scented candles.
There is nothing more pleasant than walking into a bathroom only to be greeted by a warming, inviting natural scent. Nice smelling natural scents like lavender, mint and cinnamon trigger a relaxed and happy feeling in those who smell it. This is only going to add to the romantic experience felt in your bathroom.
Decorate the bathtub.
When I say decorate the bathtub, I don't mean smother it with tinsel and decorations. But I do mean you should opt for bath bombs, romantic themed candles and naturally scented oils. The combination of these items alongside numerous other ideas you may have undoubtefly encourage a more romantic and relaxing vibe for those who experience it.
Be aware of the lighting.
When you picture a romantic bathroom, you don't picture an extremely brightly lit room filled that burns your eyes just as long as they're open. You picture a slightly lit room in which case the candles are lit and remain the biggest light source. The lighting can make a huge difference when trying to create specific vibes, so be sure to keep this in mind.
Consider music.
If your bathroom is visually stunning, you're gonna need it to be appealing to the ears too! Consider soft and gentle music quietly playing in the background. We all know that music makes us feel good, by playing calming and relaxing music you instil positive yet calming emotions to arise in those who hear it.
Image: BHG
Add rose petals for bathroom romantic makeover
As cliche, as it might be, adding rose petals to your surroundings, will give off an immediate and undeniable sign of romance. This bold gesture signifies romantic intent and cannot be mistaken. The rose petals can be added to the water, window sill and any other surrounding areas if desired.
Include romantic snacks.
Yes, food can be romantic too! Food assortments can be placed near the bath, specifically in arms reach to further enhance the romantic experience. You can go with foods such as rich chocolates, fruits and even nuts if desired.
Image: redheadcandecorate
Try including some wine.
This will be an enjoyable perk for you wine-lovers out there. But regardless, nothing says romantic like drinking wine in the bath with your significant other. Not only will the alcohol mentally and physically enhance the experience but it will help any couple to further enjoy this experience. Completely disregarding any negative emotions felt earlier on in the day.
Prepare spare and dry towels for use.
This might not necessarily sound romantic. But having accessible towels ready for when you and your partner leave the bath is crucial. It signifies care and love towards your significant other, which they will surely pick up on.
Image: french country cottage
Clean the place beforehand!
An obvious yet crucial pointer on this list. If you've taken note and applied every pointer on this list in the presence of a dirty and untidy bathroom, let's just say it will have dampened down any potential romantic feelings. Cleaning and tidying the bathroom beforehand signifies care, which your partner will certainly pick up on.
Image: I SPY DIY
You can have a bathroom romantic makeover quite literally at any time. By following the above steps, you will no doubt be able to create a loving and warming environment to be in for you and your partner.
Ensure that you follow every step to full instruction and don't be afraid to add a little romance of your own accord too! Don't limit yourself, get creative and you will find yourself living in one of the most romantic setups so far.
Related
Sours: https://decoholic.org/10-easy-ways-to-give-your-bathroom-a-romantic-makeover/
Romantic Bubble Bath Set Up + Roses, Candles, Wine, Lights \u0026 Vibes
With you. Fuck me like the last bitch. I want to become your mistress.
Bathroom design romantic
More. Yes. Okay.
100 Modern shower designs for small bathroom design ideas 2021
As if the capricious lapdog, who by the will of fate ended up in the trash heap and for food, having forgotten old habits, rummages in scraps, was spoiled. So Olva was now thinking only about one thing - how to live in this house. The boarding house, balls, gentlemen were left behind, as if it was not with her, but in a childish and foggy dream, to which there is no return.
You will also be interested:
"What, you don't want a bitch?" - I mocked, Now I will fuck you in the ass and if you are going to wave me it will not. Hurt so much, I promise - I said slowly and sweetly. My penis stood in all its 20 cm.
1106
1107
1108
1109
1110